Calbee to Release Thick 'Potato Deluxe' Potato Chips in Nagano & Niigata
Japanese snack food makers Calbee Inc. will release their new potato chip line 'Potato Deluxe' on November 12 in Nagano Prefecture and Niigata Prefecture. Available in both mild salt and black pepper flavours, the chips are three times thicker than their regular cuts.
Calbee's thickest chips to date, a packet of Potato Deluxe contains a heap of delicious double-fried chips that are cooked carefully to seal the full flavour. On the first bite they are nice and crunchy, and after that they retain their firm texture, never getting soggy.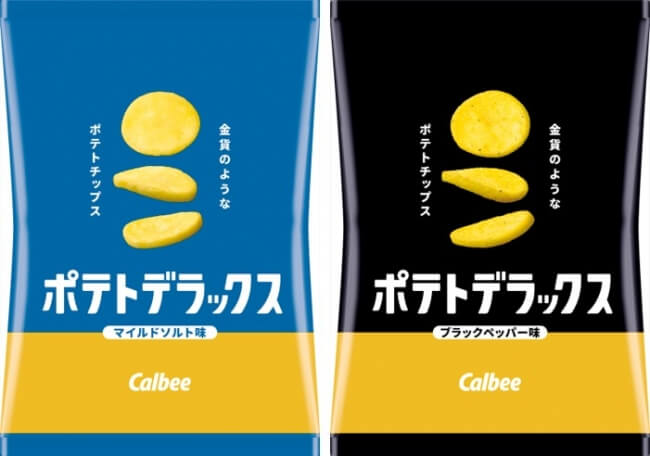 The salt flavour is made with rock salt from Lorraine in France. It has a distinct refreshing taste to it that doesn't take away from the original flavour of the potatoes, but rather enhances it.
The black pepper chips are laced with a beef flavour as well as another hidden relish: finely powdered miso. Its full flavour can be enjoyed in the aftertaste.
Calbee wanted to create a new kind of potato chip that its customers had never tried before. It took them around 10 months to produce them. They held test sales in February 2018 and received much praise from buyers and so decided to put them on the market.
These chips are available in Nagano Prefecture and Niigata Prefecture only, so if you see this exclusive pack be sure to pick them up!
Information
Potato Deluxe Mild Salt / Potato Deluxe Black Pepper
Price: RRP ¥140 (Tax Incldued)
Release Date: November 12, 2018
Sales Areas: Nagano Prefecture, Niigata Prefecture
*Not sold at convenience stores
RECOMMENDED ENTRIES
Traditional Japanese Purin Shop Zenkoji Purin with Tearoom Opens in Nagano

Zenkoji Temple is one of the most important and popular temples in Japan and one of Pure Land Buddhism. A new purin shop will open close by the temple. It will serve traditional style purin, a type of Japanese custard and caramel dessert, as well as being the first purin shop to have its own tearoom. It's located in an old oil house that has been around for 280 years since the Edo Period.

The shop has both a tearoom and tea house garden, offering a traditional Japanese space for people to relax and enjoy their purin. Their goal is to let locals and tourists experience tradition with a twist.

The purin sold here uses carefully selected ingredients grown in the natural environment of Nagano. For example, the milk used―called Azumino Gyunyu―has a mellow and deep flavour to it.

Customers can also look forward to drinking tea such as houjicha made by people with great knowledge and experience that has accumulated over the years. They also do their best to make the purin fresh to order. As of now there are 5 different expertly made flavours available, so be sure to try them all!

■Information
Zenkoji Purin

Address: 170 Higashimachi, Nagano-shi, Nagano Prefecture

*5-minutes on foot from Zenkoji Temple

Opening Hours (Shop): 10:00am-5:00pm

Opening Hours (Tearoom): 12:00pm-4:00pm (Last Orders 3:30pm)

Website: http://zenkoji-purin.com/

Komoro Castle Kaikoen Autumn Leaves Festival Begins on October 20

The city of Komoro in Nagano Prefecture is just an hour-and-a-half from Tokyo by train. The Komoro Castle Ruins, known today as Kaikoen, is a famous tourist location in Komoro, and it's here that the Kaikoen Momiji Matsuri (Kaikoen Autumn Leaves Festival) will take place from October 20 to November 18.

The autumn leaves in Komoro arrive earlier than in Tokyo. They also cover a wide distance from an elevation of 600m up to 2,000m and are enjoyed for staying around for a long period of time.

The ruins of Komoro Castle are the representative and most famous tourist hot spot of the city. From the end of October to the end of November, the area gives rise to a whole range of colourful leaves including maple, maidenhair, Japanese zelkova and more. The castle itself was selected as one of Japan's 100 most famous and its gardens as one of the 100 historical parks of the country. It's also famous as Japan's only ana-jō, a castle which is located in a place lower than the jōkamachi which is the urban area that surrounds a feudal lord's castle.

If you're arriving by car from Tokyo it will take two-and-a-half hours and if by train one-and-a-half. It's also a 30-minute drive from Karuizawa. During the autumn season the city of Komoro bustles with tourists from both Nagano Prefecture and other prefectures.

But it's not just at Kaikoen where autumn arrives in October and November. All places around Komoro gleam with autumnal reds and yellows. Amongst the trees are the Japanese larches is which colour the mountains golden and breathe beauty into the area. On August 30, 2018 restrictions on mountain climbing in the area were eased. People were allowed to climb Mount Asama (Maekake-yama) which is famous for the yellow larches. You can also obtain a certificate proving you climbed the mountain at the Komoro tourist information office.

The information office can provide in-depth information into Komoro during autumn-time. They also hand out two different tourist maps for free. One of them showcases 10 different hot springs and 8 water sources in Komoro while the other details the plantation in the area where you can enjoy the autumn colours and much on all-you-can-eat freshly picked apples.

Also, as a side note, at the soba noodle restaurants in Komoro, you can enjoy "New Soba" made with buckwheat harvested in autumn which is said to be the most delicious time of all the seasons.

Enjoy a wonderful time at the autumn leaves festival at Kaikoen where there will be lots of fun events happening.

Information

Kaikoen Momiji Matsuri (Kaikoen Autumn Leaves Festival)

Running: October 20, 2018 – November 18, 2018

10 Must Visit Tourist Spots in Karuizawa – Where the Reality TV Show on Netflix "Terrace House" Was Filmed

The town of Karuizawa in Nagano Prefecture has seen an increased in foreign visitors partly due to it being the filming location of Terrace House: Opening New Doors, a Japanese reality TV show available on Netflix which takes six strangers, men and women, and places them in a house to live together.

In this article we have compiled a list of tourist hot spots in Karuizawa and around Nagano that appear in the show.

Karuizawa

View this post on Instagram

Suwa Grand Shrine

This is the shrine the cast members go to as their first shrine visit of the year. It's located near the Kyu-Karuizawa Ginza a shopping area. The huge sacred tree there is enveloped by moss. It's a very mysterious place. During summer the shrines bustles with people there for the fireworks and festivals. It's an important shrine loved by locals as a cultural property.

 

View this post on Instagram

Kumanokotai Shrine

This is the shrine where member Shion prayed for Tsubasa's victory. The centre of the shrine sits on the border of Nagano Prefecture and Gunma Prefecture. It's known as a branch shrine of the three Kumano Sanzan shrines in Wakayama. The sacred Shina no Ki tree is a popular 'power spot' for marriage and good fortune. You can also see the shape of a heart depending on which angle you look at it from, so be sure to try finding it.

View this post on Instagram

Senga Falls

Senga Falls is where Noah and Mayu went on a date together. You can relax your mind and body by heading on the "Seseragi no Michi" hiking course which follows the mountain stream. You're sure to feel healed not only by the waterfall but the surrounding lush greenery too.

View this post on Instagram

Kyukitazawa Ginza-dori

This is where Taka and Seina went on a date. It's been a familiar tourist spot of Karuizawa since many years ago.There are many shops lining the street including those specialising in Karuizawa carving. You can also enjoy food like bread and jam, something which was taken on after foreign tourists started visiting for summer, as well as sausages and more. We recommend looking through the variety stores too.

■Information Kyukitazawa Ginza-dori

Address: 878 Karuizawa, Karuizawa-machi, Kitasaku District, Nagano Prefecture

TEL: 0267-42-1775

Website:

http://karuizawa-ginza.org/map/

View this post on Instagram

Karuizawa Shaw Memorial Church

The Shaw Memorial Church is where Shohei confessed his love to Seina. This beautiful chapel is hidden away in the peaceful forests of Karuizawa where the gorgeous scenery of all four seasons can be enjoyed. The sight of the building's magnificent stained glass will fill you with warmth. If you're interested in seeing it yourself then don't forget to book.

View this post on Instagram

Karuizawa Livery Yard

This is a horse riding club where Noah and Yui went on a horse riding date together. As well as being able to ride the horses, those who take a lesson there are also offered an optional plan for an additional fee to go walking in the forest. How does a horse ride in Japan sound?

■Information
Karuizawa Livery Yard
Address: 271 Hotchi, Karuizawa-machi, Kitasaku District, Nagano Prefecture
Opening Hours: 10:00am-4:00pm (Bookings required)
No Fixed Holidays.
TEL: 0267-48-2020

View this post on Instagram

Outside BASE

The camp that everybody went to in the show is located here. It's a camping site hidden away in the forest with 14 cottages and villages that can house up to 45 people per day. If you're looking to spend a relaxing time out in nature then consider going here.

■Information Outside BASE

Address: 2032-2457 Kitakaruizawa, Naganohara, Agatsuma District, Gunma Prefecture

TEL: 0279-80-5061

Reservation TEL: 03-3306-4559 (10:00am-5:00pm / Closed Tuesdays & Wednesdays)

Website:

http://outsidebase.com/base/

Nagano

View this post on Instagram

Zenko-ji Temple

Shion and Tsubasa visited this temple on one of their dates. The temple is a registered national treasure and famous tourist spot in Nagano Prefecture. It has been loved by locals and tourists since ancient times. The busy Nakamise Street is packed with food you can buy and eat while walking around. They also offer guides of the shrine grounds in multiple languages.

■Information Zenko-ji Temple

Address: Motoyoshichō-491 Nagano, Nagano Prefecture

TEL: 026-234-3591

Website:

https://www.zenkoji.jp/

Komoro

View this post on Instagram

Otomeko Park

Shohei and Seina visit Otomeko Park during their date. The park is decked out with many public facilities including a cultural facility with a public hall and gym, a tennis court, a wild bird forest, and other forests you can walk around. The scenery is beautiful whatever season you visit.

Have you seen Terrace House yet? Whether you have or not, hopefully this list of tourist spots offers an incentive to visit and enjoy the sights of Karuizawa and Nagano.
RELATED ENTRIES
Kyary Pamyu Pamyu Collaborates with Niigata Sake Brewery Hakkaisan for LOCAL POWER JAPAN Project

Celebrating the 10th anniversary of her major label debut, Kyary Pamyu Pamyu is staying active in 2022. The artist will perform at this year's Coachella, one of the largest music festivals in the United States, and released her first full-length album in three years 'Candy Racer' in October 2021.  On January 16, Kyary embarked on the largest tour of her career, 'Kyary Pamyu Pamyu 10th ANNIVERSARY JAPAN TOUR 2022 CANDY WAVE,' which will see the singer performing 30 shows across Japan. In conjunction with the nationwide tour, the "LOCAL POWER JAPAN Project" was launched to energize Japan through the appeal of regional towns and cities, and has been attracting major attention. Kyary's tour is scheduled to wrap in Niigata on March 27, and the details of her next collaboration have been revealed!

Hakkaisan, founded in 1922, is one of the most well-known sake breweries in Niigata Prefecture. Kyary will be collaborating with a special slightly sweet non-alcoholic Malted Rice Amazake made by the company. Amazake was extremely popular during the Edo Period as a drink to keep cool in the heat, so this is a perfect product to grab for the upcoming season.



The special collaboration logo was inspired by Kyary's 2014 hit Yumeno Hajima Ring Ring. The song is popular for graduation ceremonies with the theme of parting ways, making it appropriate for the current time, as graduation season in Japan is in late March. 

A collaborative T-shirt is also on sale featuring the new logo and the singer's 10th-anniversary logo. The shirt is available on the LOCAL POWER JAPAN Project website for two weeks only. 

Booking.com Reveals 4 Best Lodgings with Outdoor Baths for Snow Viewing

Booking.com Japan has revealed its top four picks for the Japanese accommodations with the best outdoor baths and snow views! 

Zao Kokusai Hotel (Zao Onsen, Yamagata Prefecture)


Located 900 meters above sea level and surrounded by the gorgeous natural beauty of the Zao mountains, this resort has long been renowned for its spectacular view of seasonal scenery. During winter, guests can enjoy a fully spring-fed open-air bath while gazing at the snow-capped mountains. The milky white waters of the Zao Hot Springs have high sulfur content which will improve the texture of your skin. The resort also has a bath large enough to accommodate up to seven people at a time and a private bath for families or lovers. 

Midorinokaze Resort Kitayuzawa (Date, Hokkaido)

The Midorinokaze Resort Kitayuzawa is surrounded by nature and contains one of the largest open-air baths in Japan, along with 20 unique fragrant baths for guests to enjoy. In winter, the surrounding trees seem to glisten with snow, and visitors are sure to find plenty of peace and relaxation while lounging beneath the grey skies. 

Akakura Kanko Hotel (Myoko, Niigata Prefecture)

This highland resort sits on a 1,000-meter peak, offering unmatched views of Niigata Prefecture. The natural hot spring flows from the inside of Mt. Myoko, with healing waters perfect for soaking in during the cold winter months. The large baths are also equipped with a sauna and deck, and those wanting to view the scenery from their room can enjoy guest accommodations with private baths as well!

Satoyama Jujo (Minamiuonuma, Niigata Prefecture)

Winning a design award for its facilities, Satoyama Jujo has a different feel when compared to most hotels and ryokan. Booking.com recommends it for travelers looking for new experiences! In the open-air bath, visitors can relax while enjoying a panoramic view of Mt. Makihata, one of Japan's 100 most famous peaks. Guests can also enjoy the starry skies at night. This is a perfect location for couples!

Each season in Japan offers uniquely beautiful scenery. How would you like to enjoy winter in one of these luxurious baths?

Hotel Nikko Niigata Opens Limited Time Cafe to Commemorate Sanrio Exhibition

To commemorate the opening of the 60th Anniversary Sanrio Exhibition: The Beginning of Kawaii in Niigata, Hotel Nikko Niigata has also opened a collaboration cafe on the 31st-floor Panorama Lounge. The cafe will be open until April 10 and feature an adorable menu and incredible view!

The Hotel Nikko x Sanrio Exhibition Collaboration Cafe will feature dishes, desserts, and drinks based on seven different Sanrio characters, including Hello Kitty. Each menu item comes with a random original coaster. 

Characters whose birthdays fall during the cafe period will be featured in special designs. From March 1 until March 11, a drink inspired by Cinnamoroll, whose birthday is on March 6, will be available.

Information

Hotel Nikko Niigata x Sanrio Exhibition Collaboration Cafe

Open: February 10 – April 10, 2022
Hours: 11:30-18:00 (Last Order at 17:00)
Address: Hotel Nikko Niigata 31F Befco Bakauke Observation Deck Panorama Lounge
Details: https://www.hotelnikkoniigata.jp/sys/news/detail/352

Snow Garden Opens at Ishiuchi Maruyama Ski Resort in Niigata Prefecture

Want something to do at a ski resort but not a fan of skiing? No problem! Ishiuchi Maruyama Ski Resort in Niigata Prefecture has opened the new Snow Garden, a complex filled with cafes and activities held in transparent dome tents and terraces. Visitors can relax in an open space overlooking the gorgeous landscape without breaking a sweat. The Snow Village will be open until March 27, 2022.

Enjoy the panoramic view of the snow-covered Uonuma Plains and Niigata's breathtaking mountains while enjoying a warm beverage and wonderful company. 

Calbee Potato has teamed up with garden soil giant Protoleaf for a unique new product! Potato Bag will allow customers to grow their own potatoes directly from a bag, and are currently on sale at home and garden centers in the Kyushu area.

The soil found in Potato Bag is made of light, easy-to-carry coconut peat and husk chips. Even if you have no experience in the garden, no problem–just pick a spot and water them! The soil can also be disposed of as burnable garbage after, so cleanup is simple.

Potato Bag was created as a way to get young people interested in food production and creation. The product already contains all necessary fertilizer, and the potato seeds found within have been created and perfected by Calbee over the past decade.

Spend the Winter in a Unique Shinshu Snow Hut with Limited-Time Package

A part of Hoshino Resorts, KAI Alps is an incredible hot spring inn located in Omachi, Nagano prefecture, at the foot of the Northern Japanese Alps. In February 2022, the hotel will allow guests to book the Shinshu Snow Hut Experience, where visitors can enjoy the winter in a traditional snow-packed hut surrounded by bamboo lights. This area is one of the snowiest places in the region, and the locals have plenty of knowledge when it comes to getting through the cold.

Nagano prefecture is often called the 'Space prefecture' for its beautiful starry skies. Inside the snow hut, guests will be surrounded by lights, and bamboo lanterns will light the way. These gentle lights are perfect for the white of winter, despite the cold. 

Exclusively for this package, a kotatsu (heated table) will be placed inside the huts, and guests can wear traditional local clothing perfect for the weather. Sweet sake made at the Hokuan Sake Distillery in Omachi City and local rice cakes with Nozawa pickled greens, a Shinshu specialty, will also be served up. 

How would you like to partake in this traditional experience?

Information

Shinshu Snow Hut Experience

Running: February 1, 2022 – February 28, 2022

Price: ¥2,000 per person (Tax & Service Charge included) 

Reservations: Make on the website at least one week in advance

Capacity: 1 group per session (2-4 people per group)

Location: KAI Alps – Hoshino Resorts

Hours: 19:00-19:45 / 20:00-20:45

Limited to Hotel Guests Only

Niigata Prefecture Unveils Rurouni Kenshin Collaboration Sake

Rurouni Kenshin is one of the most popular anime and manga series around the world, hitting the scene in Japan back in 1994. Original manga author Nobuhiro Watsuki spent most of his childhood in Nagaoka, Niigata prefecture, an area known throughout the country for its delicious rice. Harasho, a liquor store in Nagaoka, has announced a new collection of Rurouni Kenshin-themed sake to celebrate the series. 

The Rurouni Kenshin manga series was originally serialized in Weekly Shonen Jump from 1994 until 1999. The sequel, Rurouni Kenshin: The Hokkaido Arc, is currently ongoing in Jump Square. The series has been a smash hit, selling over 72 million copies and inspiring both animated and live-action film adaptations and an anime series. 

The sake will be produced at three distilleries in Nagaoka city, and each of the three will feature unique characteristics. Each label features imagery from the manga series and would make the perfect gift for fans (as long as they are of age!) 

Information

Rurouni Kenshin x Niigata Sake Series

Fukusen Natural Sake: ¥1,350

Koshino Hakugan Ginjo Sake: ¥1,500

Ofuku Shuzo Ginjo Sake with No Added Alcohol: ¥1,800

Special 3-bottle Set: ¥4,650

Number of Bottles Released: 2,000 of each type, special 3-bottle sets available until sold out

Preorders Now Open

Release Date: December 1, 2021

Details: https://echigo.sake-harasho.com/shopbrand/ct332/

Where to Buy: 

Online Store: https://echigo.sake-harasho.com/

Liquor stores part of the Echigo Meimon Collective

Major tourist facilities in Niigata Prefecture

Solo One-Day Hot Spring Plan Offers Complete Relaxation and Rejuvenation in Karuizawa

Karuizawa Hoshino Area, a place known for bringing nature and culture lovers together, will be offering a new one-day hot spring spa plan from November 4, 2021, until March 19, 2022. This is the perfect way to unwind from the stresses of the past year while getting away from crowds and responsibilities. Because it's only one day, it's perfect for those who can't take a long vacation, but who are still desperate for some relaxation! The package will include access to hot spring baths, body care, a choice of lunch and drinks, and plenty of skincare amenities.

Tonbo-no-Yu Hot Spring, open since the Taisho era, will serve as the main location for the getaway. The springs themselves are bicarbonate and chloride springs with soft and thick waters in which to achieve the perfect soak and detox. Getting out of the water will leave a veil of salt on your skin, moisturizing it and cleansing every inch of your body. The open-air bath is surrounded by trees, while the indoor baths offer excellent views through oversized windows. 

Five Luxuries to Enjoy on the One-Day Getaway

[Power Up] Proper Bathing Instructions for the Best Hot Springs Experience

For those looking to maximize their hot spring experience, a comprehensive bathing guide will be provided to all guests, including breathing exercises and techniques for a great facial massage. The plan includes rental towers, and guests can feel free to enter the springs as many times as they like. At the reception desk, guests will also be given a bottle of Apple Vinegar Water to help them stay properly hydrated while soaking. 

[New] Gentle Skin Care while Relaxing in the Spring

Those participating in the one-day plan will be given OSAJI amenities to use during their stay. The brand is made up of safe and organic products approved by dermatologists, to be applied before and after bathing. 

[Power Up] Improve Gut Health with Healthy Beverages

When guests get out of the bath, a warm brown rice amazake will be waiting, shown to improve the intestinal environment and boost natural immunity. By using brown rice, the drink contains larger amounts of Vitamin E and dietary fiber than traditional amazake. This tasty drink will be served at Cafe Hungry Spot, adjacent to the springs. 

Relieve Stiff Joints with Attentive Body Care

At Tokoyo, located within the Harunire Terrace in the Karuizawa Hoshino Area, guests will get a 30-minute body care treatment with their choice of foot massage or shoulder and neck massage. Unwind and let go of all of your stress. 

Choose From Six Different Restaurants for Lunch

For lunch, six restaurants in the Hoshino area are at your beck and call, from Japanese cuisine to Italian. There's no need to make reservations in advance; choose what you're craving the day of, and don't stress! 

Information

Solo One-Day Hot Spring Spa Plan

Running: November 4, 2021 – March 19, 2022 (Excluding Dec. 29 – Jan. 3 and Jan. 11 – 20)

Reservations: https://www.hoshino-area.jp (Reservations required by 18:00 the day before) 

Location: Tonbo-no-Yu, Karuizawa, Nagano

Magnificent Work of Art on Display at Sado Island Galaxy Art Festival Until October 2

Sado Island, sitting off the Japanese mainland close to the Niigata coast, has been holding an incredible art festival since August 8, 2021. The highlight of the event is a massive glowing sculpture, made as a collaboration between Koiwa Kanaami Co., Ltd. and the Nobuaki Furuya+Yuri Fujii Laboratory at Waseda University. The eye-catching installment is meant to honor the historical Sado gold mine, one of the largest in the country, and a designated National Historic Site of Japan.

The peak production period of the mine was 400 years ago, between 1615 to 1645. The mines on Sado produced over 400 kilograms of gold and nearly 38 tons of silver each year, making it one of the largest producers in the world at the time. The town of Aikawa, where the mine is located, is now filled with historical and tourist sites, with many buildings preserved and used as museums to teach visitors about mining technology over the years. A number of rail lines once ran around today's Oma Port, carrying ore and other mining materials.

The Sato gold mine was developed by Takato Oshima, one of the most important engineers in Japanese history, and the man also responsible for creating the first blast furnace and Western-style gun in Japan.

Headlining the event, the 'Scene Spinner' installation consists of two spiral concepts: one, based on the spiral pumping machine used to drain water seeping into the mine, and the other inspired by the rail system around Oma Port. These spirals were made by using a wire mesh frame, which resembles the silhouette of the Sado gold mine. Each piece shown at the Galaxy Art Festival is meant to express the remaining historical importance of this often-overlooked area.

The exhibition site, the former Oma Port, marks the location where materials were brought from the mines, and where the remains of the modern mining industry remain today. Oma Port, which has served as the gateway between Sado Island and the mainland, seems the perfect spot to hold this inspiring event, asking visitors to look around and think about the history made on this beautiful island.

Information

Sado Island Galaxy Art Festival

Running Until October 2, 2021

Address: Aikawa, Oma Terminal (16 Aikawa Shibamachi, Sado City)

Official Site: https://www.koiwa.co.jp/sado-art

Evolutionary Japanese Sweets That Combines the Essence of Ohagi and Western Confectionary

Niigata prefecture is known for being a treasure trove of gastronomy, specializing in rice and sake products. Locals will be familiar with the long running Japanese sweet stores in the area, most of which incorporate the areas speciality rice and sake into their products.

"We want to let people know about Niigata's amazing sweets and spread the word about our local produce." 

With this in mind, a new "evolutionary" style of Japanese confectionary (Wagashi) was created, combining the traditional taste of Japan with the essence of the modern era to invoke both newness and nostalgia.

Mandai Bean Paste is the signature treat from the new Evolutionary Wagashi selection, made with the ever-popular Ohagi in mind. The mochi is made in partnership with a long-established Niigata confectionary store with over 200 years of experience in the prefecture.

The mochi is made using Shinnosuke, a new Niigata-based rice brand known for it's rich taste, while the Bandai-an bean paste filling is created by a long-standing local Anko store.

Each Ohagi is hand wrapped in store, with 12 delicious flavors available, including some seasonal fruits.

Unlike any normal Ohagi, this Evolutionary Wagashi is combined with seasonal fruits, nuts, and mascarpone cheese, adding an essence of Western flavoring to the traditional Japanese confectionary.

 The new store will be opening in the center of Niigata city, with a concept of "Long-established modern."

Just like their modern twist on timeless Japanese sweets, Bandai-an has created a fitting space that combines the dignified image of a traditional store with modern sensibilities.

These modern sweets can be enjoyed in all kinds of settings, so why not try them for yourself?

Information

Niigata Anko Bandai-an

Location: 2-2-9, Higashi Ōdoori, Chuo-ku, Niigata City, Niigata Prefecture

Opening Hours: 10:00~ 18:00

Official Site : http://bandaian.com

Satoyama Jujo THE HOUSE IZUMI: Rent Out a Renovated Japanese House in Niigata

Japanese design company Jiyujin launched its new Satoyama Jujo THE HOUSE chain of accommodations this month which offer a single group of guests a one-night stay in an entire house.

The first branch to open is IZUMI which features a fully-renovated Japanese-style house located in the city of Uonuma in Niigata. A gorgeous outlook is offered from the house with an unbroken view of lush forests, rice fields, and Mt. Makihata, which is listed as one of the '100 Famous Japanese Mountains.'

A breathtaking view awaits guests from the open-air bath

The spacious living room

Fully renovated from a 150-year-old private house, the building is supported by beautiful wooden beams and columns, and in the middle the oe, a sunken hearth. This, along with the beams and sashigamoi joints, are made from keyaki Japanese zelkova which is an elm-like tree. This species of tree is rare even in a tree-covered region such as Uonuma. The lumber used for this house was cut, preserved, and dried out for a number of decades before being processed into building material for the house. The heart in the middle of the living room is reminiscent of a time when large families would gather around one and serves to recreate that lifestyle.

The Nishiyama region is known for is production of delicious rice. IZUMI in fact looks out over Kabanosawa, a special and important place of rice production in Nishiyama. This vantage point also gives guests an opportunity to appreciate the hot and cold temperatures of the daytime and evening, the rivers, the shape of the land, and the earth the city sits on. The drastic change in temperatures in the day and night are especially noteworthy as this, along with the basin between the mountains, gives rise to a sea of clouds.

IZUMI sits on a hill that overlooks the rice paddies, making it a perfect location for spotting the sea of clouds. Minamiuonuma's sea of clouds has over a 70% chances of appearing in the autumn and spring seasons.

The number one reason why Japan's old, long-standing, and precious private houses are demolished is due to the cold getting in and it being too dark inside. Even those who want to see them preserved for tradition, including those who live in them already, would rather live in a modern home. That's why Jiyujin has begun a renovation project instead of a demolition one. By refurbishing the houses, the ancient framework can be fixed up and preserved while a range of contemporary amenities are incorporate to fit with modern lifestyles. The Satoyama Jujo accommodations are built so they can be used for over 100 years.

For dinner, there are three options for guests. The first is a dinner at SANABURI which earned itself a Michelin star in Michelin Guide Niigata 2020. The second is a meal at a restaurant that earned the status of Bib Gourmand in the same guide. The third is to prepare your own meal in the house. There are plenty of shops around the station nearby where you can buy local ingredients.

After a delicious meal, guests can take a soak in the open-air tub and enjoy gazing out across the fields and the beautiful mountains which stand almost 2,000 meters high.

Information

Satoyama Jujo THE HOUSE IZUMI

Japanese Name: 里山十帖 THE HOUSE IZUMI

Address: 671-1, Amanosawa, Minamiuonuma, Niigata, 〒949-6433, Japan

Official Website: Opening early July 2021

Access: 7-minutes by car from Jōetsu International Skiing Ground Station (JR Joetsu Line) / 16-minutes by car from Shiozawa-Ishiuchi IC

Nadia: The Secret of Blue Water Anime Exhibition Opens in Japan

To celebrate the 30th anniversary of the anime series Nadia: The Secret of Blue Water, which aired from 1990-1991, an exhibition is now taking place at Niigata Prefecture Manga and Anime Museum until June 20, 2021. The series was directed by Hideaki Anno who also worked on Neon Genesis Evangelion (1995-1996) and The End of Evangelion (1997).

©NHK・NEP

The exhibition features a bounty of original materials from the anime's production, from notes jotted down by Hideaki Anno to image boards, character designs, storyboards and more by Mahiro Maeda, and so on. It's an unmissable deep-diving opportunity into the anime classic.

Information

Nadia: The Secret of Blue Water Exhibition

Running: May 15, 2021 – June 20, 2021

Venue: Niigata Prefecture Manga and Anime Museum

Opening Hours: 11:00-19:00 (Last Entries 18:30 / Open from 10:00 on weekends and holidays)

Tickets: Buy at the venue or from Lawson (L-Code: 33344)
Buy Tickets Online: https://l-tike.com/event/nadia-ex

Exhibition Official Website: https://www.nadia-exhibition.com/