See Autumn Leaves of Toyota in Aichi Prefecture at Korankei and Shikizakura Park
The peak season to see the autumn leaves will arrive imminently at the popular autumn tourist spots Korankei and Shikizakura Park in Toyota, Aichi which are being celebrated with festivals that are currently running until November 30.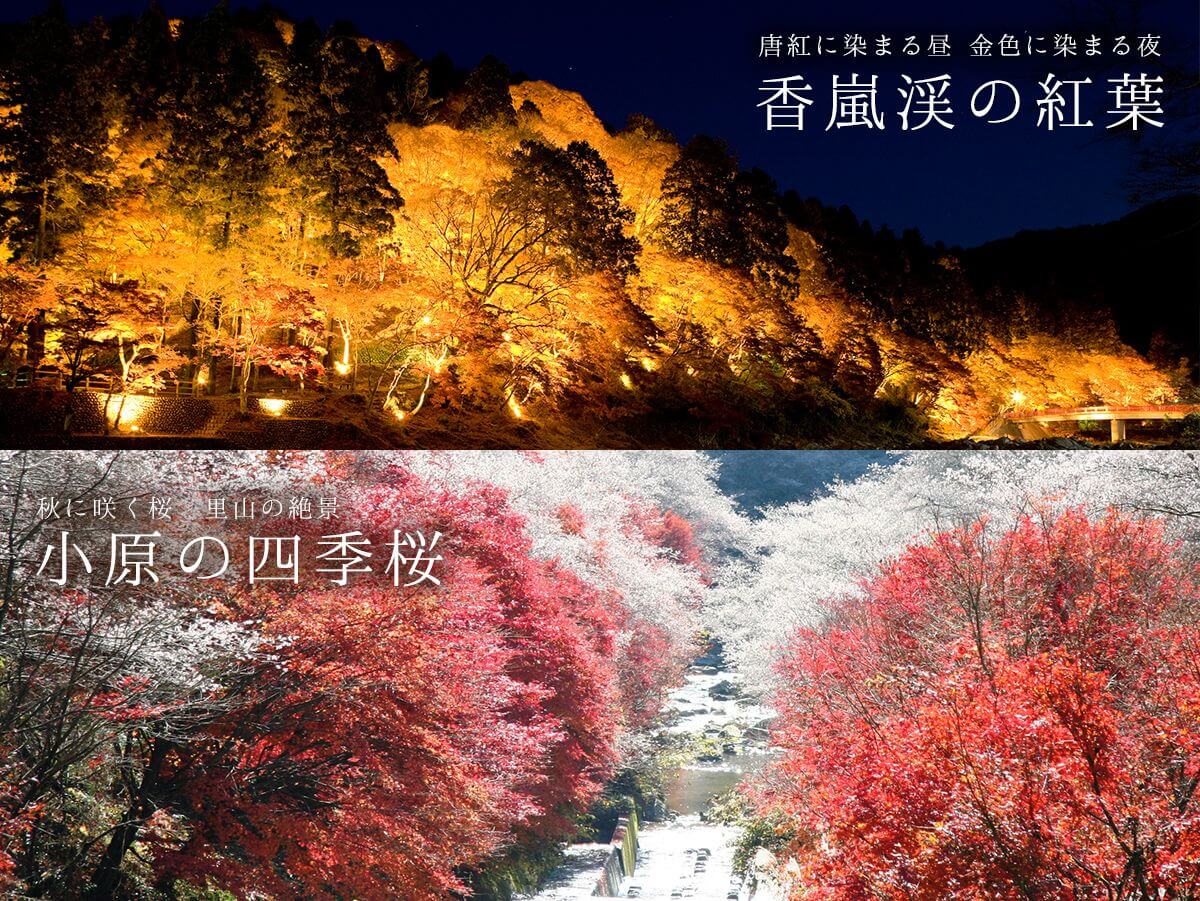 When talking about famous autumn leaf spots in Toyota, Korankei is the one that always crops up, but in recent years more people have come to learn about Shikizakura Park which has now become another must-visit location during the fall season. Close to 10,000 four-season cherry blossoms decorate the mountain surfaces in the area along with maple trees.
The highlight of the Korankei Maple Festival is the light up of Mt. Iimori. The mountain will turn a golden colour from the trees as Taigetsukyo Bridge and Tomoe River are illuminated, creating a magical atmosphere.
The thing to see at the Shikizakura Park Cherry Blossom Festival is the herbarium workshop where attendees can experience handmaking their own herbariums from Japanese paper. You must book a place in advance to join in so be sure to check the official website.
A special bus is also running to and from both Korankei and Shikizakura Park from November 10 to 30.
Enjoy autumn in full bloom at Toyota, Aichi.
Information
Korankei Maple Festival
Running: November 1, 2018 – November 30, 2018
Location: Korankei (Iimori Asukecho, Toyota, Aichi Prefecture)
Access: 20-minutes from Toyota-Matsudaira Interchange via the Tokai Loop Expressway
Website: https://www.tourismtoyota.jp/spots/detail/782/?bl=krm
Shikizakura Park Cherry Blossom Festival
Running: November 1, 2018 – November 30, 2018
Location: Toyota (Aichi Prefecture), Shikizakura Park, Senmi Shikizakura Four Seasons Cherry Blossom, and elsewhere
Access: 20-minutes from Toyota-Matsudaira Interchange via the Tokai Loop Expressway
Website: https://www.tourismtoyota.jp/spots/detail/291/?bl=skz
Limited Run Bus – Korankei to Shikizakura Park (香嵐渓・小原四季桜バス)
Running: November 11, 2018 – November 30, 2018
Price: ¥500 (Korankei to Shikizakura Park)
Details: https://www.tourismtoyota.jp/columns/detail/3/?bl=kob
RECOMMENDED ENTRIES
Autumn Illuminations Arrive at Rinno-ji Temple's Shoyo-en Japanese Garden in Nikko

Rinno-ji Temple in Nikko is a recognised World Heritage Site that is home to the Shoyo-en, a Japanese-style garden famous for its autumn-time leaves. An all-new annual light-up event began running at the garden on October 25.

Shoyo-en was built in the early years of the Edo period as a garden for the head priest of Rinno-ji, a temple with a history spanning over 1250 years. Construction was completed during the Kan'ei period, but it has undergone numerous renovations and as a result has become famous as a garden where you can see changes across the whole Edo Period. It houses many species of tree including various types of Japanese maple.

An event commemorating the completion of the Tayuin, the mausoleum of Ieyasu, will also take place during the running of the illuminations.

Use this opportunity to visit a famous spot in Japan during autumn.

Information

Shoyo-en Light Up

Running: October 25, 2018 – November 15, 2018

Light-Up Time: 17:00-20:00 (Last Entries 19:00)

Price: ¥500 (Free for pre-school children and children accompanied by a parent or guardian)

*Sanbutsudo light-up also taking place (¥500)

Garden Entry Time: 08:00-17:00 (08:00-16:00 on November 11)

Entry Price: ¥300 (¥100 for children)

Rinnoji Temple Website: http://rinnoji.or.jp/

Tayuin Completion Commemoration Light-Up

Running: November 2-4, 2018

Time: 16:30-20:00 (Last Entries 19:30)

Nikko Light-Up

Running: November 9-11, 2018

Kifune Shrine's Bewitching Autumn Illuminations Begin on November 3

Eizan Electric Railway and the Kibune Tourist Association are teaming up to hold an autumn illumination event which will run from November 3 to 25.

This marks the 16th run of the event which will once more be held in co-operation with Kyoto Hanatouro who will provide paper lanterns and spotlights. The Momiji Tunnel, Ninose Station and Kibuneguchi Station along with Kifune Shrine and elsewhere will be lit up with enchanting illuminations.

As the train runs through the Momiji Tunnel―a tunnel of maple trees―it will cut its lights and slow down for passengers to enjoy riding past the lit-up magical maples with autumnal hues. The path leading up to Kifune Shrine as well as the main shrine itself too will glow with warm colours.

Take in the spectacle of Japanese autumn-time at Kifune Shrine in Kyoto.

Information

16th Kibune Momiji Tourou

Running: November 3, 2018 – November 25, 2018

Illumination Time: Sunset to 21:00

Locations

Kifune Shrine – Shrine grounds and surrounding area (approx. 1,000m)
Eizan Electric Railway – Ninose Station and Kibuneguchi Station
Eizan Electric Railway – Momiji Tunnel (Ichihara Station to Ninose Station) (approx. 250m)

Special Bus Run: (Kibuneguchi Station Bus Stop – Kibune Rinji Bus Stop) Special bus service with Kyoto Bus until 21:00

Train Schedule: (Autumn Leaf Weekday Schedule) Weekdays from November 5 to 30

<Eizan Main Line> 10:00-15:00
・Demachiyanagi Station – Yase-Hieizanguchi Station (Running approx. every 15 minutes. Normally every 20 minutes)

<Kurama Line> 10:00-15:00
・Demachiyanagi Station – Kurama Station (Running approx. every 15 minutes. Normally every 20 minutes)

・Demachiyanagi Station – Nikenchaya Station (2 trains every hour until 12:00)

Train Schedule: (Autumn Leaf Holiday Schedule) Saturdays & Holidays from November 3 to 25

<Eizan Main Line> 09:00-18:00

・Demachiyanagi Station – Yase-Hieizanguchi Station (Running approx. every 6 to 13 minutes. Normally every 15 minutes)

<Kurama Line> 09:00-18:00
・Demachiyanagi Station – Kurama Station (Running approx. every 13 to 15 minutes. Normally every 15 minutes)

<Kurama Line> 19:00-20:00

・Demachiyanagi Station – Kurama Station (Running approx. every 15 minutes)

Website: http://momiji-tourou.xii.jp
RELATED ENTRIES
Demon Slayer: Kimetsu no Yaiba x Lagunasia Theme Park Collaboration Event Begins in March

Lagunasia, a theme park managed by Laguna Ten Bosch, has announced an event in collaboration with the TV anime series Demon Slayer: Kimetsu no Yaiba which will run from March 6 to June 5.

©Koyoharu Gotouge / Shueisha・Aniplex・ufotable

©Koyoharu Gotouge / Shueisha・Aniplex・ufotable

The event will feature an immersive attraction called "Trial of Recollection: Tanjiro's Journey" as well as a rally event to hunt down all the stickers around the theme park, a Demon Slayer themed menu line-up, exclusive merchandise, and more.

Further details will be announced in the coming months.

10 Spots in Kyoto to Fall Into the Autumn Colours

Kyoto, the ancient capital of Japan, is littered with countless leafy spots to enjoy the autumn colours. Here's a list of must-visit, little-known good spots in the city that enjoy all the visual treats of the seasonal, all of which are carrying out proper social distancing and anti-COVID-19 measures.

Forgot about the time and enjoy the scenery with few people around

Soak up autumn with a boat ride | Hozugawa River in Kameoka

Ride the Hozugawa River along the 16km valley from Kameoka to Arashiyama. The autumn spectacle in this area is a grand sight to behold. Visitors can enjoy two hours along the valley stretch with the colours of the maple trees reflected off the water's surface, allowing them to fall into nature and forget their stresses for a while.

Hozugawa River
Peak Autumn Time: Mid November – Early December
Address: Shimonakajima-2 Hozucho, Kameoka, Kyoto
Boat Times: 09:00-15:00 (Changes depending on season)
Price: Adults ¥4,100 / Children ¥2,700
TEL: 0771-22-5846 (Hozukawa River Boat Service)
Official Website: https://www.hozugawakudari.jp/

Shrouded amongst it all | Kuwayama Shrine in Kameoka

Planed on the grounds of Kuwayama Shrine are around 1,000 individual trees which give rise to vivid colours during autumn. Since the shrine is located among the mountains, the site enjoys an earlier bloom than other parts of Kyoto, with trees blossoming from early to mid November.

Kuwayama Shrine
Peak Autumn Time: Early to Mid November
Address: Kamigaichi-22-2 Kamiyadacho, Kameoka, Kyoto
Viewing Times: Any time
Price: ¥300
TEL: 0771-22-1023
Official Website: http://www.kuwayama-jinjya.jp/

Walk the autumn carpet | Komyo-ji in Nagaokakyo

Komyo-ji Temple, also known as Autumn Colour Temple (Momiji-ji), is famous for being the head temple of Seizan Pure Land Buddhism. Easily accessible from the city proper, the temple site is home to hundreds of towering trees which dye the area vibrant reds and yellows around this time. One of the main paths at the temple in particular has been nicknamed Autumn Colour Road (Momiji Sando) as the overhead trees and fallen leaves on the ground create a tunnel and carpet of brilliant colour.

Komyo-ji
Peak Autumn Time: Mid to Late November
Address: 26-1 Aosaijonai, Nagaokakyo-shi, Kyoto
Viewing Times: 9:00-16:00
Price: ¥500 (Free outside autumn season)
TEL: 075-955-0002
Official Website: http://www.komyo-ji.or.jp/

Thousands of fiery trees burn red and yellow | Kongoin in Maizuru

Kongoin is famous for its autumn scenery and is nicknamed Autumn Temple of Tango. The temple is home to thousands of maple trees all of various ages from decades to hundreds of years old. It faces Kahara Park which itself boasts incredible autumnal sights and is also home to a 3-storied pagoda which makes for a picturesque snapshot together with the trees.

Kongoin
Peak Autumn Time: Mid to Late November
Address: 595 Kawara, Maizuru, Kyoto
Viewing Times: 09:00-17:00
Price: ¥300
TEL: 0773-62-1180
Official Website: http://www.maizuru-kanko.net/spot/sightseeing/kongoin.php

Contrasting beauty of red maples and ordinary greens | Omoto Shinen in Ayabe

Omoto Shinen is a popular sightseeing spot in Ayabe, home to several must-sees including a wooden structure called "The Palace of Eternal Life," the Konohana-an building which is listed as an Important Cultural Property, and more. Its expansive grounds are also home to a garden where the autumn colours collide with the greens of ordinary trees, creating a beautiful contrast.

Omoto Shinen
Peak Autumn Time: Mid to Late November
Address: 1-1 Hongucho, Ayabe, Kyoto
Viewing Times: 09:30-16:30
Price: Free
TEL: 0773-42-0187
Official Website: https://www.ayabe-kankou.net/spot/omotoshinen/

A magical scene at an Important Cultural Property | Gansen-ji Temple in Kizugawa

Gansen-ji Temple is an ancient Buddhist temple that was built in 729. It's home to a three-storied pagoda which is is a registered Important Cultural Property which nestles amongst the trees. If you visit the temple this year by November 30, you will be treated to a very rare look at one of its treasures which is normally closed to the public.

Gasen-ji
Peak Autumn Time: Mid November – Early December
Address: Kaminomon-43 Kamocho Iwafune, Kizugawa, Kyoto
Viewing Times: 08:30-17:00 (09:00-16:00 from December to February)
Price: Adults ¥500 / Junior High School Students ¥400 / Elementary School Students ¥200
TEL: 0774-76-3390
Official Website: http://gansenji.or.jp/

The garden of special scenic beauty | Joruri-ji Temple in Kizugawa

Joruri-ji is a temple of the Shingo Ritsu school of Buddism. It's also home to a famous garden which is listed as a Place of Special Scenic Beauty. The vibrancy of the reds trees is truly an overwhelming delight to the eyes which is enhanced by the bright-red three-storied pagoda.

Joruri-ji Temple
Peak Viewing Time: Mid to Late November
Address: Futaba-40 Kamocho Nishio, Kizugawa, Kyoto
Viewing Times: 09:00-17:00 (Last Entries 16:00)
Price: Adults ¥400 / Children – Free
TEL: 0774-76-2390
Official Website: http://0774.or.jp/temple/jyoruriji.html

Red and yellow hue fusion | Choanji in Fukuchiyama

Choanji's autumn colours make for a truly staggering experience as the dazzling reds and yellows complement each other. There's a 600-year-old tree in near the temple which throws in another huge chunk of yellow to the red dye of the temple grounds.

Choanji
Peak Autumn Time: Early to Mid November
Address: 577 Okunobe, Fukuchiyama, Kyoto
Viewing Times: 09:00-16:30
Price: Adults ¥300 / Children ¥100
TEL: 0773-22-8768
Official Website: http://www.chouanji.jp

Evening illuminations for a late-night autumn experience

Breathtaking in the day or night | Nariaji Temple in Miyazu

Nariaji is an ancient temple huddle among mountains that overlook Amanohashidate, one of Japan's Three Scenic Views. The five-storied pagoda there is an example of Kamakura Period architecture and offers an unmissable view together with the hundreds of trees during autumn. On November 14 and 15, the area will be lit up in the evenings.

Nariaji
Peak Autumn Time: Early to Late November
Light Up Times: 17:20-21:00 (Regular viewing times are 08:00-16:30)
Address: 339 Nariaji, Miyazu, Kyoto
Price: Adults ¥500
TEL: 0772-27-0018
Official Website: http://www.nariaiji.jp/

Autumn reflected on the water | Keihanna Commemorative Park in Soraku

Keihanna Commemorative Park is split into several areas such as the Suikei-en (Japanese garden) and Mebuki-no-Mori (Budding Tree Forest). There's also the Momijiya, a garden designed in a valley where maple trees grow. Talking a stroll along the bridge and looking down at the 80 trees in their autumnal garbs reflecting off the water surface is a sight to not be missed. especially at night when the lights are turned on.

Keihanna Commemorative Park 

Peak Autumn Time: Mid to Late November

Light-Up Period: Fridays, weekends, and holidays from November 3, 2020 – November 29, 2020

Light-Up Time: Sunset to 21:00 (Last Entries 20:30)

Address: 6-1 Seikadai, Seika, Soraku District, Kyoto

Price: Adults ¥200 / Children ¥100
TEL: 0774-93-1200
Official Website: https://keihanna-park.net/

Attack on Titan The Final Season Themed Cafe to Open in Ikebukuro

Two branches of Animate Cafe, Animate Cafe Ikebukuro 3 and Animated Cafe Nagoya 2, are set to collaborate with Attack on Titan from November 25 in promotion of the anime's upcoming final season which will begin airing on December 7. This marks Animate Cafe's fourth collaboration with the anime.

Menu

Animate Cafe held a poll amongst customers who dined at the previous Attack on Titan collaboration cafes to find out what the most popular dishes were. These have been chosen to go on the menu for this collaboration.

5 Years Colossal Hamburger & Mother's Handmade Stew | ¥1,000


Eren Meringue & Bertholdt Tart | ¥750


Hange's Experiment Drink | ¥600


Eren's Death Wish Drink | ¥600

New additions to the menu include Hange's Experiment Drink and Eren's Death Wish Drink.


The Final Season Special Rose Cake | ¥750


Gorgeous Champagne Jelly | ¥600

Original merchandise


Big Acrylic Stands (4 Designs) | ¥1,600


Trading Pins (A Group: 6 Designs/B Group: 7 Designs/C Group: 4 Designs) | ¥400 Each


Print Cookies | ¥1,000 Each (Comes with 1 illustration card)

©️Hajime Isayama・Kodansha / Attack on Titan The Final Season Production Committee

Information

Animate Cafe x Attack on Titan The Final Season
Running: November 25, 2020 – December 14, 2020

Locations: Animate Cafe Ikebukuro 3 / Animated Cafe Nagoya

*On November 25, November 27, and weekends, customers must sign up to dine at the cafes – those who sign up will be selected randomly. On all other days, it's free-entry where you don't have to book, but keep in mind that the cafe may still be busy on these days.
Official Website:  https://cafe.animate.co.jp/event/shingeki2011/

Autumn Illuminations to Light Up the Red and Yellow Trees at Musashi Kyuryo National Government Park

Musashi Kyuryo National Government Park is set to host an autumn illumination event from November 14 to 29 where around 500 individual trees of 20 species will be lit up with beautiful lights. The best time to see the park's autumn colours is dated at November 20.

Musashi Kyuryo National Government Park opened as Japan's first national government park in 1974. This enormous park spans 5km between its north and south entrances. It's home to many fun family activities including trampolines, an athletic course, and more. It also offers gorgeous natural scenery throughout the year.

500 maple trees lit up at night

The park will be open in the evenings for this event when red, yellow, and orange maple trees will be illuminated in breathtaking lights. There will also be art installation illuminations for visitors to enjoy too.

Information

Maple Tree Illuminations
Running: November 14, 2020 – Novmeber 29, 2020

Location: Musashi Kyuryo National Government Park
Time: 16:30-20:30 (Last Entries 20:00)

Musashi Kyuryo National Government Park 
Address: 1920 Yamata, Namegawa, Hiki District, Saitama
Closed: December 31, January 1, and the 3rd and 4th Sunday of January

Official Website: https://www.shinrinkoen.jp/

Six Spots in Tokyo's Chiyoda Ward To Enjoy The Autumn Scenery

There's no better way to embrace autumn in Japan than to take a relaxing stroll in the autumn leaves. There are so many spots around Tokyo where the autumn leaves make for a breathtaking sight you just can't miss. Today we'll be introducing you to six spots around Chiyoda Ward which would make for the perfect autumn stroll.

Hibiya Park

The 160,000㎡ park is home to maidenhair trees, Japanese maple trees and flowering dogwood. When autumn arrives, the park turns a yellow and red tinge. There is a spectacular row of maidenhair trees in the shape of an "S" which extends from the side of the tennis court near Kasumigaseki. Make sure to also visit Kumogata Pond where the red and yellow leaves reflect off the water's surface with a relaxing effect.

Address: Hibiya Park 1-6, Chiyoda Ward, Tokyo

Yasukuni Shrine


Enter through the shrine's main gate known as Ōtorii and continue down the path to the main shrine. The 240 metre-long path is lined with beautiful maidenhair trees and stone lanterns, creating a gentle amber path for you to follow. Make sure to visit Kamiike Garden located at the back of the main shrine for a breathtaking scenery of autumn leaves.

Address: 3-1-1, Kudankita, Chiyoda Ward, Tokyo

National Diet Building


The eight-lane road facing the National Diet Building is lined with graceful maidenhair trees in perfect symmetry. Enjoy a peaceful stroll around the garden joined to the National Diet Building which is filled with a variety of species of trees. The park changes colour from season to season.

Address: Nagatachō 1 Chōme, Chiyoda Ward, Tokyo

Gyōkō-dōri Avenue

This road connects the Imperial Palace and Tokyo Station. It represents the gateway to Japan and its rich history and culture. The road is pedestrian-friendly and is lined with an abundance of trees. As autumn falls, the trees turn to yellow and amber, brightening the streets with warm colours.

Address: Kokyogaien, Chiyoda Ward, Tokyo

Kitanomaru Park

This park is located among the Edo Castle ruins. The west side of the garden is home to a large area of Japanese Maple trees of different varieties. The autumn leaves pile so high that it was nicknamed the "Momiji-yama" (mountain of autumn leaves). At the peak of autumn, the scenery makes for one of the most beautiful spots in Tokyo.

Address: Kitanomaru Park 1-1, Chiyoda Ward, Tokyo

Shimizudani Park

Shimizudani Park is a breath of fresh air hidden amongst the hustle and bustle of busy Tokyo life. You can reach it in just a three-minute walk from Akasaka-mitsuke Station or a five-minute walk from Nagatachō station. The bright red maidenhair leaves create a peaceful atmosphere perfect for relaxation. The park is also home to Ōkubo Toshimichi Memorial which celebrates the life of Ōkubo Toshimichi – a great samurai from the 1800s who is regarded as one of the main founders of modern Japan.

Address: Kioicho 2-1, Chiyoda Ward, Tokyo

If you're in Tokyo and need a break from busy city life, head to one of these spots to put your mind at ease.

Autumn Leaves at Ibaraki Prefecture's Ryujinotsuri Bridge Are a Must See in 2020

The marvel that is the 375m-long Ryujinotsuri Bridge in Ibaraki, is a must-see this autumn season as maple trees, sawtooth oaks, and other autumnal spectacles dye the area in breathtaking reds from mid to late November.

Ryujinotsuri Bridge: Japan's biggest suspension bridge

Ryujinotsuri Bridge is located in Okukujichanosato Park in Ibaraki Prefecture's city of Hitachiota. From atop the towering bridge one can overlook at the expansive gorge 100m down below where the misty Ryujin Lake flows. Trees stretch to a horizon in this incredible breathtaking environment, offering beautiful vistas throughout all four seasons.

Bungee jump over Ryujin Lake

Ryujinotsuri Bridge is the biggest suspension bridge in Japan, and so of course it has to offer something special to visitors. And that would be bungee jumping which is sure to excite thrill-seekers travelling to Japan.

Outdoor activities galore

Visitors can enjoy the surrounding nature by taking a canoe or boat on top of Ryujin Lake.

BBQ and camping facilities

There are also BBQ and camping facilities in the area for people to enjoy the outdoors and see the stars at night.

A full hiking autumn experience at Ryujinotsuri

There are several hiking courses on offer that cater to both beginners and pros. Get close with nature and see the autumn colours, hear the birds sing, and breathe in that fresh air.

Demon Slayer Merchandise Collaboration With Onigawara Demon Decorative Tile Makers Announced

Sanshu Onigawara Kogeihen, a traditional crafts company in Takahama, Aichi, which is known for making 'onigawara'—a type of decorative tile in Japan (kawara) traditionally bearing the face of a demon—has announced a collaboration with the hit TV anime series Demon Slayer: Kimetsu no Yaiba which will begin in the city of Takahama on October 30, 2020.

The tiles are made by artisans called Onishi and are used for warding away evil spirits and evil in general. For the collaboration, Demon Slayer fans can get their hands on a selection of original kawara tiles, get involved in an Onishi workshop, and more.

Original Kawara Merchandise

Demon Slayer x Kawara

Crafted by a real Onishi, the kawara line-up includes paperweights, magnets, card stands, and other items all with Demon Slayer designs. They can be purchased at the ONI-House tourist information centre, Takahamashi Yakimononosatokawara Museum shop, Sanshu Onigawara Kogeihen's online shop, and elsewhere.

Onishi Workshop (Reservations Required)

A special workshop will be held by a real Onishi where people can learn to make their own paperweights featuring characters from Demon Slayer. All participants will also receive a free original pin badge and folder. Bookings for December workshops will open at the end of this month (October) and January workshop bookings open in November.


Other Merchandise

A monument to the 14 Taishi from the Demon Slayer: Kimetsu no Yaiba series will be put up in front of Takahama City Hall for a limited time. A selection of exclusive merchandise will also be sold at the city's tourist information centre and museum shop too.

There is lots planned for this collaboration which is set to run until January 29, 2021. More details can be found on Takahama City's official website.

©Koyoharu Gotouge/Shueisha・Aniplex・ufotable

Information

Onishi x Demon Slayer: Kimetsu no Yaiba Collaboration
Running: October 30, 2020 – January 29, 2021

Location: Takahama, Aichi
Takahama City Official Website: https://www.city.takahama.lg.jp/
*Event subject to cancellation or postponement depending on the situation of COVID-19

Fujikawaguchiko Autumn Leaves Festival 2020 Begins This November

The Fujikawaguchiko Tourism Association will host this year's Fujikawaguchiko Autumn Leaves Festival, which will be the 22nd run, to help support the tourism industry in the northern region of Fuji which has seen a great impact as a result of the COVID-19 pandemic.

With much less people travelling to Japan during the pandemic, and the virus having continued for a long time, the Fujikawaguchiko Tourism Association is instead focusing on travellers within the country by hosting various events that can be enjoyed at Fujikawaguchiko.

All the necessary precautions will be taken at this year's festival, including taking people's temperature upon arrival, the mandatory wearing of face masks, alcohol gel being available at the site, and more. This will protects not only the locals but sightseers too, and so cooperation is being asked of everyone visiting.

At this year's festival, visitors can look forward to the popular Momiji Tunnel of maple trees which will be lit up at sunset until 10:00pm. The beautiful autumn colours can be enjoyed with Mount Fuji in the background. There will also be food, souvenirs, and a variety of activities to be enjoyed.

The Momiji Tunnel is an absolute must-see for anyone visiting Yamanashi during autumn and is nothing less than Instagram-worthy.

Information

22nd Fujikawaguchiko Autumn Leaves Festival
Location: Around Lake Kawaguchi
Running: November 7, 2020 – November 29, 2020

Opening Hours: 9:00-19:00 (Light up is from sunset to 22:00)
Access: 25 mins from Kawaguchiko Station by bus (nearest bus stop: Itchiku Kubota Art Museum Stop)
Entry: Free

*Please observe social distancing and government guidelines in relation to COVID-19.

*Fujikawaguchiko is a World Heritage Site and recognised as a place of natural beauty. Please take your trash home with you.

Autumn Lights Set to Illuminate Kyoto's Konkai-Komyoji Temple This November

Autumn illuminations are set to shine on Konkai-Komyoji Temple in Kyoto from November 13.

Konkai-Komyoji Temple is a Buddhist temple that was founded in 1175. It is one of the eight temples of the Jodo sect of Buddhism and his home to numerous treasures including a painting by Edo period painter Itō Jakuchū, folding screen paintings by Tomioka Tessai, and more. There are many wonders to behold at the temple, such as the Tora-no-ma which has sliding doors that depending on how they are open or closed display a different number of tigers, or the Shiun Gardens which have a stream that reflects the beautiful autumnal colours of the overhead trees.

The temple is also home to the Goko Shuyui Amida Butsu statue, which has been picked up by the Japanese media on many occasions and referred to as the "Afro Buddha" due to its afro hairstyle.

There will be Japanese music performances with traditional instruments like the koto and shinobue three times an evening for the illumination event. If you're in Kyoto this autumn, this is one event to not miss.

Information

Konkai-Komyoji Temple Autumn Lights
Running: November 13, 2020 – December 6, 2020

Viewing Hours: 17:30-20:30 (Last Entries 20:00)

Price: General ¥1,000 / Elementary School Students ¥500 / Infants – Free / Groups of 20+ ¥800 each

Konkai-Komyoji Temple

Address: 121 Kurodanichō, Sakyō-ku, Kyoto
Official Website: https://www.kurodani.jp/lightup_aut/

Taiko-en: Osaka's Oasis in the City Begins 2020 Autumn Illumination Event

Taiko-en is an enormous site spanning 250,000 square feet and is home to a breathtaking garden, restaurant, and more. This year, the site is giving host to a special illumination event for autumn this year which began on Saturday.


Since July 2019, Taiko-en has been lighting up its garden with illuminations for people to enjoy the beautiful garden in the evening, bringing together nature with the history of the site.


The illuminations begin with projection mapping at the entrance of the garden which rolls out an autumn colour carpet. As visitors walk along the projected path, the lights and colours dance beneath their feet.

Further in they will come to the "Night Museum" area where they will find stone statues collected by Denzaburō Fujita lit up, as well as paper lanterns, and more, offering a magical atmosphere different from that during the daytime. There's also a path home to moso bamboo as well as acrylic bamboo with LED lights in it which lead visitors into a mystical world of dazzling radiance. In the main area, there's a lake with a sea of clouds above it, and the trees of the garden coloured bright red.

The restaurant and banquet area are open for business, so after enjoying a gourmet meal, visitors are encouraged to go and see the light show.

Information

Taiko-en 2020 Autumn Garden Illuminations (Japanese: からくれないに染まる夜~2020 秋~)

Running: From September 26, 2020 everyday from 19:00
Price: Adults ¥500 / Children ¥300

*Price subject to change depending on the season

Kyoto's Rokuo-in Temple to be Illuminated in the Autumn Evenings

Keifuku Electric Railroad is lending its strength to Rokuo-in Temple in Kyoto this autumn to light up the ancient site in the evenings from November 14 to December 6.

Shari-den (Photo taken in 2019)


Temple path (Photo taken in 2019)

This year marks the 5th run of the autumn evening light-ups. The temple, just a four minute walk from Rokuoin Station, is known for its beautiful maple trees which blossom breathtaking autumnal colours during the fall season.

Temple reception hall with fusuma images


Fusuma image example

The temple is selling new goshuin temple stamp books this year for the light-up event. Visitors will also be able to see 56 fusuma images drawn by contemporary Japanese artist Takaya Fuji.

Rokuo-in Temple will close early next year for approximately 2 years and 9 months for repairs. The temple is also currently limiting the number of people allowed at once, making this year the best time to see the autumn leaves.

Information

Rokuo-in Temple Evening Light-Up
Running: November 14, 2020 – December 6, 2020
Time: 17:30-19:30 (last Entries 19:00)

Price: ¥2,000 (Comes with matcha and Japanese confections)

Capacity: [Weekdays] 100 People / [Weekends] 150 People

Access: 4 minutes on foot from Rokuoin Station
Apply Here: 嵐電webサイト専用フォーム

Ojamajo Doremi Cafe 2020 ~FRUITS PARLOR~ to Open in Tokyo, Osaka & Aichi

Japanese company LEGS has announced the opening of the limited-time Ojamajo Doremi Cafe 2020 ~FRUITS PARLOR~. The themed cafes will open in Tokyo on October 29, Osaka on October 30, and Aichi on October 23.

Ojamajo Doremi is an original magical girl created by Toei Animation that ran from February 1999 to January 2003. To celebrate the series's 20th anniversary last year, LEGS opened a different Ojamajo Doremi limited-time themed cafe in collaboration with Cafe&Kitchen which welcomed lots of magical girl fans.

This year once again welcomes Etoile et Griotte as the art director for the fruit parlor-inspired cafe.

Ojamajo Doremi Cafe 2020 ~FRUITS PARLOR~ celebrates the 20th anniversary of Ojamajo Doremi Sharp is the second series in the Ojamajo Doremi series. Fans will be able to get their hands on a range of exclusive magical merchandise as well as tuck into pastel coloured fruity food.

FOOD

Doremi's Cheese Steak Doria in Cherry Sauce | ¥1,699


Steak is Doremi-chan's favourite food, so it was a must-have on the menu. The cream cheese is coloured like Doremi, and there's a cute musical note topping too. It comes with a cute lunch mat that looks like Doremi's skirt.

Hazuki's Omurice in Porcino & Orange Cream Sauce | ¥1,399


The omelette is made to look like Hazuki's yellow skirt. Enjoy together with the delicious porcino sauce and orange combination.

Onpu's Waffles With Crepe & Mascarpone | ¥1,299

Blueberry sauce-drizzled and mascarpone-topped waffles served with a mashed potato skirt. The sweet and sour mix is to die for.

DESSERT

Aiko's Blueberry Float | ¥999

A fresh blueberry float inspired by Ai-chan. Mix everything together to create a different flavour.

Momoko's Lemon Cheesecake Parfait | ¥1,399

A fresh lemon cheesecake packed parfait with lots of enjoyable flavours and textures.

Rhythm Tap Tart | ¥1,300


Inspired by the Rhythm Taps seen in the series, the tart imagines Doremi's transformation scene in Ojamajo Doremi Sharp.

DRINK

Onpu Melody Drink (5 Flavours) | ¥1,099


A rainbow line-up of colourful Onpu drinks available for takeout.

Movie Theater Menu

Girls Meet Sushi | ¥1,299


Inspired by the meat sushi that Sora and the gang eat in the animated film Majo Minarai wo Sagashite. Comes with an original postcard.

Exclusive Merchandise

Acrylic Keyrings (6 Designs) – ¥600 Each

Letter Set (1 Design) – ¥1,200 | Folder Set (2 Designs) – ¥700

A selection of super kawaii cafe-original merchandise is available for fans to grab.

Bonus Items


Those who book a table in advance, order a drink, or spend more than ¥2,000 at the cafe will receive one of six possible A5 folders.

Become a magical girl like Doremi at the Ojamajo Doremi Cafe 2020.

©Toei Animation


Information

Ojamajo Doremi Cafe 2020
Tokyo Cafe
Running: October 29, 2020 – December 6, 2020
Location: SHIBUYA BOX cafe&space
Address: Shibuya LOFT 2F, 21-1 Udagawacho, Shibuya, Tokyo

Osaka Cafe
Running: October 30, 2020 – November 23, 2020
Location: Abeno Q's Mall 4F
Address: Abeno Contact, 1-6-1 Abenosuji, Abeno Ward, Osaka

Aichi Cafe
Running: October 23, 2020 – November 23, 2020
Location: NAGOYA BOX cafe&space
Address: LACHIC B1F, 3-6-1 Sakae, Naka-ku, Nagoya, Aichi