Sumo, Sake & Other Events to Celebrate Ryogoku Edo Noren's 2nd Anniversary
Ryogoku Edo Noren will have been open for 2 years on November 25, 2018. To celebrate, the restaurant and shopping complex will host a series of events over the course of three days.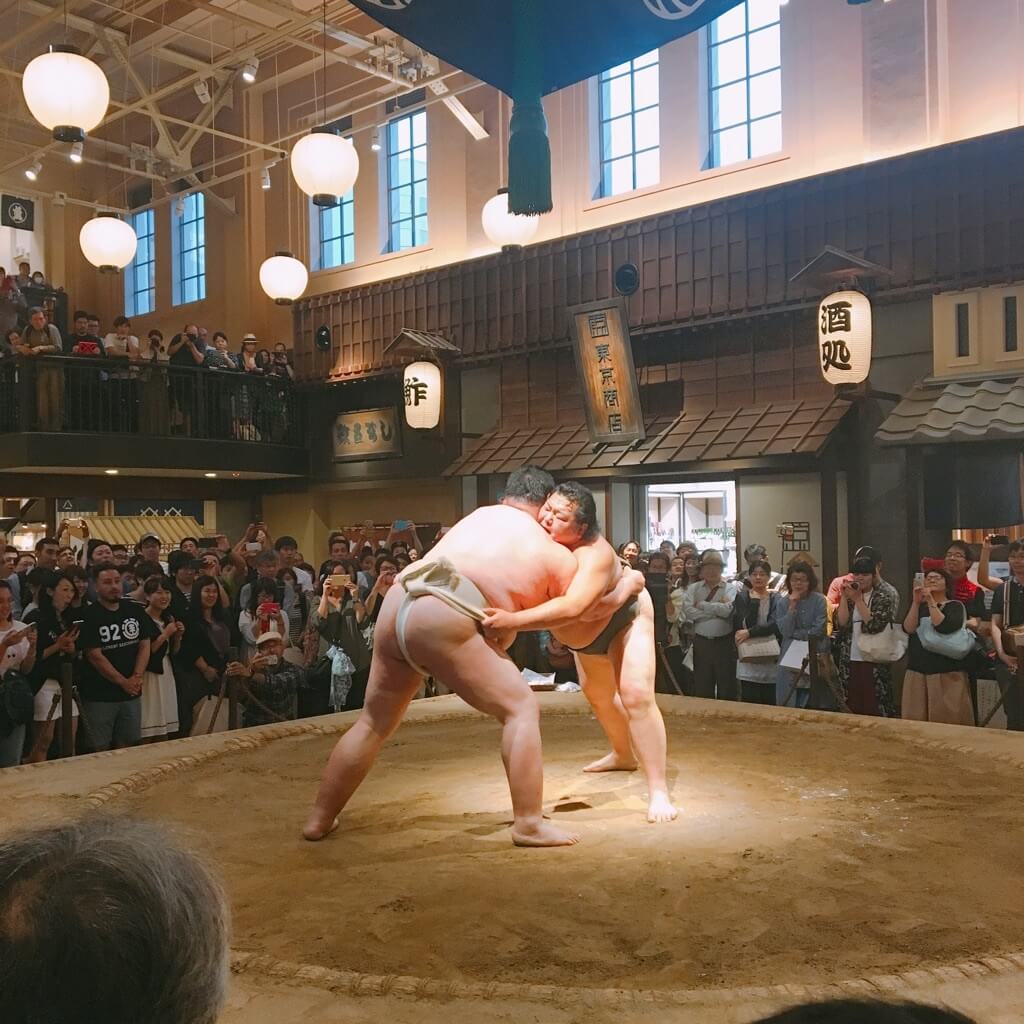 The establishment is a restoration of the former Ryogoku Station building that was built in 1929. It was renovated and re-opened in November 2016 as a place for people to enjoy Edo-style cuisine.
To celebrate turning two-years-old, a range of events will take place at Noren from November 23 to 25 including sumo performances, as well as special discounts on the best sake at each restaurant inside. Select restaurants are also holding an all-you-can-drink service.
Join the celebrations and enjoy Edo culture at Ryogoku Edo Noren.
Information
Ryogoku Edo Noren
Address: 1-3-20 Yokoami, Sumida Ward, Tokyo (directly connected to JR Ryogoku Station's west exit)
Opening Hours: 10:00-23:30 (business hours differ at each shop/restaurant)
Official Website: http://www.jrtk.jp/edonoren/
RECOMMENDED ENTRIES
Don't miss this chance to meet with ex-sumo wrestlers! -Ryogoku- Edo NOREN's events

Various kinds of New Year's events which all generations can enjoy will be held at -Ryogoku- Edo NOREN which was created under the concept of "enjoying stylish food cultures of the Edo Period."

During the first season of the grand sumo tournament, a routine event where poems regarding sumo will be presented. The events are gaining much popularity among many people. Also, limited menu items using special ingredients produced in Kagoshima Prefecture will be held in accordance with the first season of the tournament.

Shinshun! Furumaizake

The venue will offer nihonsyu (sake) sold at "Tokyo Shoten" for free as a celebrative event of New Year's Day.

Date: 01,03 (Wed.) from 12:00 (the amount of nihonsyu is limited)

Customers who have a receipt of a product they bought on the same day (older than 20 years old) can participate in the event.

Rice cake-making event with ex-sumo wrestlers!

Mochi(rice cake) is a food which has been loved by Japanese people since the Edo Period and many people still participate in mochitsuki events. The mochitsuki event which will be held at -Ryogoku- Edo NOREN will invite ex-sumo wrestlers to participate! Performances by experts in mochitsuki can also be enjoyed.

Date: 01,06 (Sat.) from 14:00

※mochi will be handed out after the event is finished

Customers who have receipts of products bought on the same day (older than 20 years old) can participate in the event.

Ex-sumo wrestlers will show you some sumo performances!

Ex-sumo wrestlers will explain some techniques including forbidden techniques. After the explanation is finish, you can fight with them or take some photos with them. Both adults and children can enjoy the event!

Date: 01,06 (Sat.), 21 (Sun.) from 16:00

Delicious food from Kagoshima Prefecture will be offered!

2018 is the 150 anniversary-year of the Meiji Ishin (Meiji period revolution). "Shokuno Miyako Kagoshima Fair" offering original menu items using lots of ingredients produced in Kagoshima Prefecture will be held at -Ryogoku- Edo NOREN. The theme of the fair is "black." They will offer dishes using ingredients related to the color black, such as black pork, black Satsuma chicken and kanpachi (greater amberjack), black vinegar and black koji shochu.

Date: 01,14 to (Sun.) to 02,11 (Sun.)

Let's experience the culture of the Edo Period during the New Year's holidays.

■Information

-Ryogoku- Edo NOREN

Address: 1-3-20, Yokozuna, Sumidaku, Tokyo (beside JR Ryogoku Station)

Business hours: 10:00 to 23:00 ※the business hour of each store differs.

Fixed holidays: 01,01& 01,02, facility-inspection-day (random)

Professional Sumo Wrestlers Team Up With Aoyama Gakuin to Bring Sumo to Aoyama!

Shibuya-Aoyama Gakuin Basho are set to hold Oosumo de Sekai to Tsunagaru Mirai e Tsunagu on 8 August 2018. The event aims to connect the world through professional sumo wrestling for the future.

The event will be held in the Aoyama area of Shibuya, known as the hub for cutting-edge culture, art and information. Numerous plans are being schemed so that people who have never seen a sumo match before can easily enjoy one.

Tickets go on sale from 10:00am on June 20th. Tickets are expected to sell out quickly, so be sure to mark the date on your calendar to get yours early!

◼︎Information
Shibuya-Aoyama Gakuin Basho
Location: Aoyama Gakuin Memorial Hall, 4-4-25 Shibuya, Shibuya-ku, Tokyo
Time/Date: 8 August 2018 – OPEN 08:00 / FINISH 15:00
Tickets: On sale at ticket vendors in Japan from 10:00am on June 20th.

Flying sumo wrestler? The video of indoor skydiving at Koshitani Lake Town was released.

FlyStation is an indoor sky diving facility which was built in April of 2017 in Japan. The attraction can fulfill everybody's dream of flying the sky.

The great gusts of wind produced in a wind tunnel allows the sky diver to float in the air, a truly amazing experience. This indoor skydiving which persons older than four years old can enjoy is a new generation entertainment which about 60 million people mainly in Europe and the U.S. are enjoying.

At the base of this attraction there is a trampoline-like net for those of you who are not familiar with this kind of attraction so you can enjoy the flight with no worries. Of course, the attraction is safe to use.

The WEB movie shows the beauty and amusement of indoor sky diving where a wind speed of up to 360 ㎞ can be experienced.

「Love Flying? / Heiwa (Peace)」version

The "Heiwa" version represents the amusement of flying in the sky at the speed of 360km with the flight of a sumo wrestler. The video does not use any CG. Take a look at the wrestler's body, watch his skin dance in this wind.

「Love Flying? / Seimei (life being)」version

The instructors of FlyStation appear on this video. Let's enjoy their brilliant and artistic flight and in the"mystery of life beings."

「Love Flying? / Fuatsu (windpressure)」version

In this version, the furious wind created by a special device called a Wind Tunnel is represented. You will be surprised with the latest technologies used in this device which enables the making of a 360km wind.

Let's check the epic scale of indoor sky diving with these WEB movies.

■Information

FlyStation

Address: 6-19-3, Lake Town, Koshigayashi

TEL: 0120-102-035 (9:00 to 22:00)

03-4530-6100 (9:00〜22:00)
RELATED ENTRIES
Tokyo's Revolutionary Buena Àrte Hostel to Open in Ryōgoku Area On September 14

Buena Àrte Hostel is a revolutionary new hostel set to open in the Ryōgoku area of Tokyo on September 14, 2019.

In response to the increase in the number of foreigners staying in Tokyo, and especially in anticipation of the Tokyo 2020 Olympics and Paralympics-when numbers are expected to skyrocket-Japan's capital is well underway in developing more accessible accommodation options for foreign travellers, from hotels to hostels.

Hostels in particular are a huge focus for the city, and so more and more of them are opening. Catered to younger people and travellers, hostels are a much cheaper accommodation option when compared to hotels, and thus are likely to increase the number of days in which people will stay.

However, what is considered much more valuable for foreign travellers is the level of comfort, cleanliness, and safety. Buena Àrte Hostel is all of these and more, meaning even somebody travelling on their own can feel safe and secure. With over 200 pieces of art adorning its walls, it is the world's first art-centred capsule hotel, focusing on "fun, comfort, and encounters."

The hostel has collaborated with globally-active artists and up-and-coming illustrators to bring their art to the walls of the communal spaces, restaurant, and even bedrooms. A lot of the pieces you can buy too.

Found in over 160 of the bedrooms are illustrations drawn by artists who want to convey the fun and excitement of travel. These illustrations are exclusive as they were drawn for the hostel and so there is only one of each in the world. There are around 60 rooms without illustrations yet, so the hostel is asking for submissions. If your illustration is picked, the hostel will offer you a free night with breakfast and dinner as thanks. You can find more details on the official website.

Buena Àrte Hostel has its own cafe and restaurant on the first floor, the Buena Cafe & Dining Bar, where guests including foreign tourists can enjoy authentic Japanese cuisine. The "Washoku Plate" is a meal set aimed at those arriving from overseas so they can enjoy a filling portion of Japanese-style cuisine. It includes everything from sukiyaki to tempura, kushikutsu, and more. It also includes Japanese sake. The bar sells other drinks too including wine, whisky and highball.

The closest station to Buena Àrte Hostel is Ryōgoku Station. Ryōgoku is a district of Tokyo filled with Japanese tradition. It is home to Ryōgoku Kokugikan, which is considered the holy ground of sumo wrestling, as well as the Sumida Hokusai Museum which houses works by the famous ukiyo-e painter Hokusai, the Japanese Sword Museum, the traditional Japanese garden Former Yasuda Garden, the Edo-Tokyo Museum-the list goes on. And all of these places and more are within 10-minutes' walking distance from Buena Àrte Hostel.

©2003-2019 valuepress CO,LTD. ALL RIGHT RESERVED.

Information

Buena Àrte Hostel

Address: 2-9-11 Yokoami, Sumida, Tokyo

Grand Opening: Buena Arte Hostel – September 14, 2019 / Buena Cafe & Dining Bar – September 20, 2019

Opening Hours: Breakfast 7:00-10:00 / Lunch 11:00-15:00 / Afternoon Tea 15:00-17:00 / Dinner 17:00-23:00

Access: 6-minutes on foot from Ryōgoku Station's JR Line Building West Exit / 5-minutes on foot from Ryōgoku Station's Toei Ōedo Line Building A1 Exit

TEL: 03-6658-8489

Official Website: http://buenaarte.com/

*No car park

*Children aged 6 years and under not permitted; those aged 6+ must share a room with parents or guardians and are charged the same price as adults

Edo Cat Café: Enjoy the World of Ukiyo-e and Cats at Edo Neko Chaya

Edo Neko Chaya is a new Edo-style cat café opening in Tokyo on June 15 for a limited period where you can enjoy the world of ukiyo-e while playing with real cats.

 Alpha

The concept behind this event is: "A rumour between the residents of an Edo 'nagaya' and cats. Travellers from across the country catch sound of the rumour and come to get a glimpse."

The nagaya was a type of living quarters in the Edo period made like a row of houses. The cat café building is made to look like one of these. Ukiyo-e paintings and models will decorate inside and bring to life the street and atmosphere of the Edo period. There will be several zones inside building, including the cat tea room, cat 'red light district,' cat bath, cat nagaya, and cat plaza. Each area will be furnished with ukiyo-e that fit the scene, bringing to life the world of Edo.  You'll have the chance to learn about the deep relationship between the people of Edo and cats through the commentaries of each ukiyo-e piece.

Romeo

The majority of the cats at Edo Neko Chaya are rescue cats. The number of rescue cats remains high as a result of the country's record breaking cat boom. To raise awareness of this issue, part of the proceedings made at the café will go towards support funds tackling the issue of stray cats.

A range of original merchandise will also be sold including t-shirts, cushions, purses, book covers, phone cases, towels, hand towels, clear files, tatami coasters, stickers and more. Artists fond of cats have also agreed to support tackling the issue of homeless cats by selling limited-edition ema plaques.

But it doesn't stop there. There will also be a chance to enjoy Edo's food culture at -Ryogoku- Edo NOREN, join in a campaign being held in collaboration with Sumida Hokusai Museum, and more.

Immerse yourself in the world of Edo and cats at the Edo Cat Café!

■Information

Edo Neko Chaya

Location; Ryogoku Station West Exit Event Space (Sumida-ku, Tokyo)

Date: June 15, 2018―August 31, 2018

Time: 11:00-20:00 (Last Entries 19:00)

Access: 1-minute on foot from West Exit of Ryogoku Station via the JR Sobu Line

*Event subject to date changes in case of natural disasters or other unpredictable causes.

*Please refrain from picking up the cats, speaking in a loud voice, chasing cats and other such behaviour.

Entry Price (60 Minutes / Tax Included)

*Same-day tickets. Prices in brackets denote tickets bought in advance.

Adults: ¥1,500 (¥1,000)

High School / Junior High School Students: ¥1,200 (¥800)

Extension: ¥500 per 20 minutes

Advance Tickets Sales Window: May 10, 2018―June 14, 2018

*It is advised you do not enter the café if you are allergic to cats.

*Those at elementary school age and below are not permitted entry.

*Please do not use flash on your cameras.

*Please do not take food or drink into the café.

*Please do not take your pets in with you.

Lawson Tickets (Sold at all Lawson stores and Mini Stop Loppi in Japan)

http://l-tike.com/edonekochaya

Official Website: https://edonekochaya.com

Edo Cat Cafe Combines the Worlds of Ukiyo-e and Cats

An Edo-style cat café will bring to life the world of ukiyo-e with real cats you can play with. The Edo Cat Cafe will run from June 15 to August 31 this year at the event space outside the West Entrance at JR Ryogoku Station.

The concept behind this event is: "A rumour between the residents of an Edo 'nagaya' and cats. Travellers from across the country catch sound of the rumour and come to get a glimpse."

The nagaya was a type of living quarters in the Edo period made like a row of houses. The cat café building is made to look like one of these. Ukiyo-e paintings and models will decorate inside and bring to life the street and atmosphere of the Edo period. There will also be entrances, streets and staircases for cats to use. You'll be able to enjoy a unique experience and take photos while playing with cats in what will really feel just like the world of Edo.

There will be several zones inside building, including the cat tea room, cat 'red light district,' cat bath, cat nagaya, and cat plaza. Each area will be furnished with ukiyo-e that fit the scene, bringing to life the world of Edo. As well as being able to take photos with the cats anywhere inside the café, you'll also have the chance to learn about the deep relationship between the people of Edo and cats through the commentaries of each ukiyo-e piece. There'll even be a merchandise corner to purchase original goods related to cats.

But it doesn't stop there. There will also be a chance to enjoy Edo's food culture at -Ryogoku- Edo NOREN, join in a campaign being held in collaboration with Sumida Hokusai Museum, and more. Part of the proceedings made at the café will go towards tackling the problem of homeless cats. Cat-loving artists are also set to cooperate in the event and they will produce original ema plaques.

If you're also a cat-lover then don't miss out on this unique Edo and cat café mashup!

■Information

Edo Cat Cafe

Location; Ryogoku Station West Exit Event Space (Sumida-ku, Tokyo)

Date: June 15, 2018―August 31, 2018

Time: 11:00-20:00 (Last Entries 19:00)

Access: 1-minute on foot from West Exit of Ryogoku Station via the JR Sobu Line

*Event subject to date changes in case of natural disasters or other unpredictable causes.

*Please refrain from picking up the cats, speaking in a loud voice, chasing cats and other such behaviour.

Entry Price (60 Minutes / Tax Included)

*Same-day tickets. Prices in brackets denote tickets bought in advance.

Adults: ¥1,500 (¥1,000)

High School / Junior High School Students: ¥1,200 (¥800)

Extension: ¥500 per 20 minutes

Advance Tickets Sales Window: May 10, 2018―June 14, 2018

*It is advised you do not enter the café if you are allergic to cats.

*Those at elementary school age and below are not permitted entry.

*Please do not use flash on your cameras.

*Please do not take food or drink into the café.

*Please do not take your pets in with you.

Lawson Tickets (Sold at all Lawson stores and Mini Stop Loppi in Japan)

http://l-tike.com/edonekochaya

Official Event Website

Professional Sumo Wrestlers Team Up With Aoyama Gakuin to Bring Sumo to Aoyama!

Shibuya-Aoyama Gakuin Basho are set to hold Oosumo de Sekai to Tsunagaru Mirai e Tsunagu on 8 August 2018. The event aims to connect the world through professional sumo wrestling for the future.

The event will be held in the Aoyama area of Shibuya, known as the hub for cutting-edge culture, art and information. Numerous plans are being schemed so that people who have never seen a sumo match before can easily enjoy one.

Tickets go on sale from 10:00am on June 20th. Tickets are expected to sell out quickly, so be sure to mark the date on your calendar to get yours early!

◼︎Information
Shibuya-Aoyama Gakuin Basho
Location: Aoyama Gakuin Memorial Hall, 4-4-25 Shibuya, Shibuya-ku, Tokyo
Time/Date: 8 August 2018 – OPEN 08:00 / FINISH 15:00
Tickets: On sale at ticket vendors in Japan from 10:00am on June 20th.

Don't miss this chance to meet with ex-sumo wrestlers! -Ryogoku- Edo NOREN's events

Various kinds of New Year's events which all generations can enjoy will be held at -Ryogoku- Edo NOREN which was created under the concept of "enjoying stylish food cultures of the Edo Period."

During the first season of the grand sumo tournament, a routine event where poems regarding sumo will be presented. The events are gaining much popularity among many people. Also, limited menu items using special ingredients produced in Kagoshima Prefecture will be held in accordance with the first season of the tournament.

Shinshun! Furumaizake

The venue will offer nihonsyu (sake) sold at "Tokyo Shoten" for free as a celebrative event of New Year's Day.

Date: 01,03 (Wed.) from 12:00 (the amount of nihonsyu is limited)

Customers who have a receipt of a product they bought on the same day (older than 20 years old) can participate in the event.

Rice cake-making event with ex-sumo wrestlers!

Mochi(rice cake) is a food which has been loved by Japanese people since the Edo Period and many people still participate in mochitsuki events. The mochitsuki event which will be held at -Ryogoku- Edo NOREN will invite ex-sumo wrestlers to participate! Performances by experts in mochitsuki can also be enjoyed.

Date: 01,06 (Sat.) from 14:00

※mochi will be handed out after the event is finished

Customers who have receipts of products bought on the same day (older than 20 years old) can participate in the event.

Ex-sumo wrestlers will show you some sumo performances!

Ex-sumo wrestlers will explain some techniques including forbidden techniques. After the explanation is finish, you can fight with them or take some photos with them. Both adults and children can enjoy the event!

Date: 01,06 (Sat.), 21 (Sun.) from 16:00

Delicious food from Kagoshima Prefecture will be offered!

2018 is the 150 anniversary-year of the Meiji Ishin (Meiji period revolution). "Shokuno Miyako Kagoshima Fair" offering original menu items using lots of ingredients produced in Kagoshima Prefecture will be held at -Ryogoku- Edo NOREN. The theme of the fair is "black." They will offer dishes using ingredients related to the color black, such as black pork, black Satsuma chicken and kanpachi (greater amberjack), black vinegar and black koji shochu.

Date: 01,14 to (Sun.) to 02,11 (Sun.)

Let's experience the culture of the Edo Period during the New Year's holidays.

■Information

-Ryogoku- Edo NOREN

Address: 1-3-20, Yokozuna, Sumidaku, Tokyo (beside JR Ryogoku Station)

Business hours: 10:00 to 23:00 ※the business hour of each store differs.

Fixed holidays: 01,01& 01,02, facility-inspection-day (random)

Flying sumo wrestler? The video of indoor skydiving at Koshitani Lake Town was released.

FlyStation is an indoor sky diving facility which was built in April of 2017 in Japan. The attraction can fulfill everybody's dream of flying the sky.

The great gusts of wind produced in a wind tunnel allows the sky diver to float in the air, a truly amazing experience. This indoor skydiving which persons older than four years old can enjoy is a new generation entertainment which about 60 million people mainly in Europe and the U.S. are enjoying.

At the base of this attraction there is a trampoline-like net for those of you who are not familiar with this kind of attraction so you can enjoy the flight with no worries. Of course, the attraction is safe to use.

The WEB movie shows the beauty and amusement of indoor sky diving where a wind speed of up to 360 ㎞ can be experienced.

「Love Flying? / Heiwa (Peace)」version

The "Heiwa" version represents the amusement of flying in the sky at the speed of 360km with the flight of a sumo wrestler. The video does not use any CG. Take a look at the wrestler's body, watch his skin dance in this wind.

「Love Flying? / Seimei (life being)」version

The instructors of FlyStation appear on this video. Let's enjoy their brilliant and artistic flight and in the"mystery of life beings."

「Love Flying? / Fuatsu (windpressure)」version

In this version, the furious wind created by a special device called a Wind Tunnel is represented. You will be surprised with the latest technologies used in this device which enables the making of a 360km wind.

Let's check the epic scale of indoor sky diving with these WEB movies.

■Information

FlyStation

Address: 6-19-3, Lake Town, Koshigayashi

TEL: 0120-102-035 (9:00 to 22:00)

03-4530-6100 (9:00〜22:00)

"Ryogoku Edo NOREN" will hold its first anniversary event. You can see a Sumo performance.

 "Ryogoku Edo NOREN" which was opened in November of last year under the concept of "enjoying the fashionable food culture of the Edo Era." cerebrated its annual anniversary.

In commemoration of its first anniversary, they will hold an event where many amenities such as limited time offer menu items and original goods offering events for four days around the 25th of November.

A very popular sumo comedian will appear on stage, a talk show of popular ex-sumo wrestlers and a performance show of sumo wrestling will be held.

Don't miss this chance to observe the January round of Ozumo! One-year Festival Stamp Rally

One stamp will be stamped by spending more than 800 yen (tax included). You can apply for the lottery to get your favorite gift using the stamps. Gifts will be given to 82 persons!

Applicable date: 10,25 (Wed.) to 12,10 (Sun.)

Amenities: Gifts will differ depending on the number of the stamps obtained.

・4 stamps <special prize> Ozumo January round watching ticket – two persons (lottery)

・3 stamps <NOREN prize> Edo NOREN's meal ticket (5,000 yen worth) – 30 persons (lottery)

・2 stamps <Edo prize> A set that comes with Tokyo's local sakes & snacks – 50 persons (lottery)

※Refer to website regarding detailed information

Why don't you visit the event "Ryogoku Edo NOREN?"

◼︎Information

Ryogoku Edo NOREN
Address: 1-3-20, Yokozuna, Sumidaku, Tokyo (beside JR Ryogoku Station West Exit)

Business hours: 10:00 to 23:30 ※Business hours differ depending on the stores

Access: Beside JR Ryogoku Station West Exit / 7 minutes on foot from Toei Oedo Line Ryogoku Station