Tuck Into Chocolate Fondue Atop a Terrace in View of Tokyo Tower
Tokyo Prince Hotel's Café & Bar Tower View Terrace has unveiled its new Cheese Fondue Set and Chocolate Fondue Set which is available this winter from November 21, 2018 to February 28, 2019.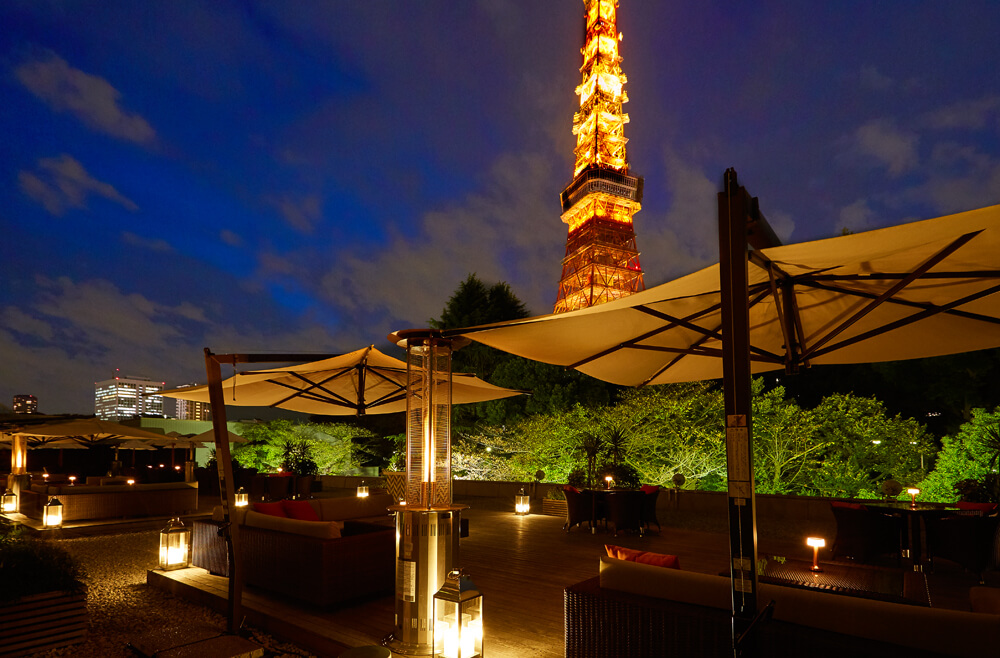 Though the hotel is surrounded by the greenery of Shiba Park, the Café & Bar Tower View Terrace is a spacious, open-air area that makes guests feel like they're at a resort. Tokyo Tower, a symbol of the city, is just 300 meters from the hotel and in plain view of the terrace.
The hotel wants guests to enjoy a wonderful experience at the terrace because despite the temperature dipping, winter offers unique and beautiful scenery. With that in mind, they have created a winter-time only menu of fondues.
Cheese Fondue: 1 Person – ¥4,000 (Tax Included) / 1 Person All-You-Can Eat – ¥6,500 (Tax Included)
The cheese fondue is served with a thick and rich original cheese fondue sauce that comes with lobster, Japanese scallop, roast beef and an assortment of other foods to dip and enjoy. Its colourful appearance makes it a great party meal.
Chocolate Fondue: 2-3 People – ¥2,100 (Tax Included)
The chocolate fondue is made from dark chocolate which is indulged with marshmallows, fruits and other delectables. There's also raspberry flakes and silver dragee toppings to decorate the fondue.
A line-up of all-you-can-drink hot drinks are also available including hot wine and hot plum wine. Experience winter in Tokyo at the Café & Bar Tower View Terrace.
Information
Café & Bar Tower View Terrace
Location: Tokyo Prince Hotel – Floor 3F
Address: 3-3-1 Shiba Park, Minato Ward, Tokyo
Time: Lunch 12:00pm-3:00pm / Dinner 5:00pm-9:30pm (Last Orders 9:00pm)
Restaurant enquiries: 03-3432-1140
*Orders include a separate 10% service charge.
*Photos are for illustrative purposes only.
RECOMMENDED ENTRIES
Tokyo Stroll: A Christmas date with Yutaro at Tokyo Tower wrapped in sparkly illuminations

A late-night date is nice once in a while, am I right? Well, for the first time since the initiation of this series, that's where we're headed.

We went to Tokyo Tower where one can gaze at the bright and sparkly nightscape of the city.

Our meeting place was the entrance to Tokyo Tower. Yutaro-kun had arrived early. Maybe because we're meeting at night? It has a slightly more mature vibe to it than usual.

"Geez, it's cold!!"

Yutaro-kun is always in good health.

At the entrance of Tokyo Tower is the city's biggest Christmas tree – one that's 60 years old. Its 60,000 or so decorative lights are so entrancingly beautiful they make you forget about the cold!

These illuminations will be up until February 28th. They are on between 16:00-22:00, with a special light show running every 30 minutes. These colourful and sparkling lights are a must-see. Yutaro-kun was spellbound by all the different colours of the illuminations too.

There's lots of other great places to take photos around the entrance too besides next to the tree. Taking an interposed photo with the lit-up mini Tokyo Tower or heart-enveloped Tokyo tower will most certainly be a memorable occasion.

■Information

Tokyo Tower Winter Fantasy 〜Orange Illumination〜

Running: November 2, 2017 – February 28, 2018
Time: 16:00-23:00
Location: Tokyo Tower front entrance
The "Orange Garden Lighting Show" runs every 30 minutes between 16:00-22:00 every day. The final show is at 22:00.

After getting our fill of illuminations, we made our way to the Main Observatory of Tokyo Tower. The elevator made a steady climb up 150m.

When we arrived at the Main Observatory, there it was. Tokyo's night skyline. It was a most spectacular view and looked like an entirely different place from the Tokyo we spend our time in.

"This is my second time in Tokyo Tower. It might be my first time to come at night."

The Main Observatory is currently holding a projection mapping event called "CITY LIGHT FANTASIA." They use the windows and floor of the observatory to make it look like Tokyo Tower is snowing.

There's a photo spot in conjunction with the event too. The lights are turned on at this spot, so you can take beautiful photos even with your phone. Look out for the snow crystals changing colour as time passes too!

"It really looks like it's snowing!"

Snow was falling everywhere we walked around the observation deck. This was also part of the "CITY LIGHT FANTASIA" performance. Snow was emulated by lasers which sparkled as it fell. The highlight of the event was experiencing this snowy environment with the Tokyo nightscape as the backdrop. The snowfall "Diamond Dust" experience runs for 15 minutes.

■Information

CITY LIGHT FANTASIA

Running: November 15, 2017 – January 31, 2018

Time: 18:00-22:50

Location: Tokyo Tower 2F Main Observation

Price: Costs only the observation deck fee all the way to the Main Observation

After being satisfied with seeing the nightscape, we went to the official shop where they sell souvenirs. They have Tokyo Tower merchandise you can't get anywhere else, so be sure to find your favourite that captures your memory of heading up to the Main Observation.

Straight ahead after leaving the shop is the Tokyo Tower Love Power Spot "Another Diamond Veil" made by Swaroviski. It's famous as a 'power spot' radiating with loving energy, so don't forget to check this out if you want to increase your chances of love.

Both of us were tired after so much fun, so we took a breather at "Cafe La Tour" located in one corner of the Main Observation. Yutaro-kun ordered his favourite match drink without hesitation: the "Koi Uji Matcha Late Float" which costs ¥520 (tax included).

Yutaro-kun, thank you for always sharing with me!

This café has window seats, so you can enjoy your food and beverages while gazing over Tokyo. It's a great spot for viewing the city scenery while kicking back and relaxing.

■Information

Cafe La Tour

Open: 9:30-22:30

TEL:03-3433-1850

After unwinding at the café, our Tokyo Tower date came to an end!

My end-of-year was spent with Yutaro-kun who vibe was a little different from usual. I wonder what kind of Yutaro-kun I'll get to meet next year? I  pray that I can have another fun date with him next year too!

■Information

Tokyo Tower

Address: 4-2-8 Shiba Park, Minato, Tokyo

Price: Adults ¥900 / Elementary & Middle School Students ¥500 / Children over 4-years ¥400

Main Observation (150m): 9:00-23:00 (last entries 22:30)

*Last entries may be carried out earlier during busy periods.

Tokyo Tower Official Website: https://www.tokyotower.co.jp/

Model:Yutaro  @aaaoe__

Yutaro was born in Hiroshima on June 3rd 1998. His modeling career has earned him lots of attention as a fashion icon of the new generation. The famous model also works as a "charisma" shop assistant. Yutaro has gained his reputation as a "mysterious and handsome guy" from his appearance on Japanese variety shows. His debut was made on the show "Gyoretsu no Dekiru Horitsu Sodanjo" and has since then appeared on numerous different TV shows. He challenged himself to appear on stage for the very first time in March this year and is gaining popularity by the day for his diverse work.

Photographer: Kayo Sekiguchi

Writer: Sayuri Mizuno(ASOBISYSTEM)

Translator: Joshua Kitosi-Isanga

The 333rd volume of the comic "ONE PIECE" commemorating the 3rd anniversary of Tokyo One Piece Tower, will be sold

The theme park of "ONE PIECE," "TOKYO ONE PIECE TOWER" which was opened in March of 2015 will reach its 3rd anniversary in March, 2018. This time, they decided to sell the 333rd volume (not for sale) of the comic which can be purchased only at TOKYO ONE PIECE TOWER.

"TOKYO ONE PIECE TOWER" is the first giant theme park of the animation "ONE PIECE" which was opened on the 13th of March 2015 (Fri.) inside Tokyo Tower Foot Town. The theme park has lots fun things such as an attraction/live shows where you can experience the world of "ONE PIECE," and restaurants and shops where you can buy original goods.

The special volumes of the comic were released several times in the past such as "ONE PIECE"0 volume (an amenity given to the viewers of the movie "ONE PIECE," "ONE PIECE" 1000 volume and 777 volume. This time, the special volume of the comic will be sold in commemoration of the 3rd anniversary of TOKYO ONE PIECE Tower.

The number "333" traces back to the 3rd anniversary and the height of TOKYO ONE PICE TOEWR.

Don't miss this chance to get this comic which includes lots of rare stories regarding the history of TOKYO ONE PIECE TOWER.

■Information

"ONE PIECE" comic – volume 333

Distribution starting date: 2018,03,09

Persons who can receive the comic: Persons who enter the park using LIVE & PARK PASS after 2018,03,09. The number of the comics is limited.

Detailed information: https://onepiecetower.tokyo/tokuho333

TOKYO ONE PIECE TOWER: http://onepiecetower.tokyo

Experience the snowfall-night-view of Tokyo! "TOKYO TOWER CITY LIGHT FANTASIA" at Tokyo Tower

On the second floor of the main observation deck an event titled, "TOKYO TOWER CITY LIGHT FANTASIA" will be held. This event will integrate Tokyo's night view and projection mapping and it will be held from 2017 November 15th (Wed.) ~ 2018 January 31st (Wed.). This event was planned and will be carried out by NAKED Inc. This year's event will utilize a snow machine, laser beams and mirror balls to create a sparkling snow fall – a first for Tokyo Tower.

In recent years, NAKED Inc. has been producing Tokyo Tower's Observation Deck Christmas illumination experiential event, "TOKYO TOWER CITY LIGHT FANTASIA." The theme of this year's illumination program is "SNOW CRYSTAL TOWER" and they are going to play out the scene where a frozen and still Tokyo Tower, comes alive making for a "Magical observation deck of snow and ice." Using laser beams, a snow machine and mirror balls, it will seem as if glistening snow is falling throughout the observation deck. Furthermore, by projection mapping on the windows and the floor of the observation deck they will create a magical frozen world. During this grand collaborative event when the night view from Tokyo Tower and the illumination performance can be seen, a "snow crystal" photo spot will be installed for an event limited time.

Snow illumination

Utilizing the snow machine, snow will fall all around Tokyo Tower. Then using lazer beams and mirror balls this snow will sparkle making for a fairy-tale like atmosphere.

Snow crystal

By projection mapping on the windows and the floor, one will experience a magical world which expresses a frozen Tokyo Tower world.

Along with the spectacular night view of Tokyo, why not come and experience this magical world of Tokyo Tower enveloped in snowfall.

■Information

「TOKYO TOWER CITY LIGHT FANTASIA」

Event duration: 2017 November 15th (Wed.) ~ 2018 January 31st (Wed.)

Hours: 18:00~22:50 *the projection will be continuous during this time

Venue: Tokyo Tower Maini Observation Deck 2nd floor (inside) 4-4-8 Shiba Koen, Minato-ku, Tokyo

Entrance fee: Entrance fee for Main observation deck

Adult (high school student and older) : 900 yen

Child (elementary and junior high) : 500 yen

Child (age 4 and older) : 400 yen *all prices tax included
RELATED ENTRIES
Tokyo Tower Gets Decorated With 333 Koinobori Carp Streamers

Tokyo Tower's annual "333 Koinobori" event returns for Spring 2021 which sees 333 colourful carp streamers adorning the 333-meter-tall tower. The decorations will blow in the Tokyo breeze until May 9.

Koinobori streaming up Tokyo Tower's base

Giant 'Sanmanobori' streamer

Flying alongside the koinobori is also a 'sanmanobori,' a giant streamer that stands out from the rest at 6 meters in length. This Sanmanobori flies every year as a message of support to the city of Ofunato in Iwate which was devastated during the Great East Japan Earthquake.

Tokyo Nightlife Beckons With Tokyo Tower's NAKED SAUNA & SPA

It's time to strip down and relax as Japanese company NAKED announces that its 'NAKED NIGHT SAUNA' event, which is being held as part of its 'NAKED SAUNA & SPA' project, will take place atop Tokyo Tower from March 12 to 14. Visitors will also receive a relaxation drink called 'CHILL OUT' in collaboration with Endian.

NAKED SAUNA & SPA is a sauna project launched by NAKED in November 2020 to promote equilibrium of the senses. The first event was held in the village of Achi in Nagano Prefecture which is known for being Japan's best location for enjoying the starry night sky. The second event was themed around the concept 'Art of Meditation.' It was held in Ariake and had visitors becoming one with nature as they sat under the expanse of Tokyo's night sky to enjoy every gleaming speck that twinkled above them. It was an opportunity for busy city workers to reset and recalibrate.

Now, the project is set to host its third event in collaboration with Tokyo Tower. Visitors can enjoy towering above the capital's city streets as they enjoy a sauna experience inside exclusive tents. It will be a fusion of analogue and technology as people enjoy sitting by the fire, smoking shisha, and gazing at mist that will be pumped and illuminations that will be lit to create atmosphere. Of course, this entire event will be held in accordance with government guidelines to prevent the spread of COVID-19. Social distancing will be enforced which will include a drive-through system so you don't come into contact with people, and all visitors will have their own tents (groups of 4 max), and all tent saunas will be separated with partitions.

The tent saunas that will be used are MORZH SKY, a type of tent with a transparent roof made by the Russian tent company MORZH. They are provided by Sauna Camp.Inc. The tents are fitted with a stove and chimney so visitors can adjust the temperature to their liking.

To attend the event, you must register to the Facebook online community NAKED SAUNA CLUB and fill out the form that will be made available there on March 1 and 2. A select number of visitors will be chosen at random on March 3 and winners will be contacted directly on March 4 with further instructions.

If you're in Tokyo this March, then don't miss out on a chance to kick back and unwind up Tokyo Tower with a sauna treat.

Information

NAKED NIGHT SAUNA at Tokyo Tower

Running: March 12, 2021 – March 14, 2021

Location: Tokyo Tower

Address: 4-2-8 Shibakoen, Minato-ku, Tokyo

Opening Hours: 17:00-20:00

Price: ¥20,000 (tax included) for 1-day tent rental (max 4 people)

Tickets: Will be posted on NAKED SAUNA CLUB Facebook Group

NAKED Official Website: https://naked.co.jp

Ginza's Italian Restaurant FARO Earns Michelin Star

FARO, an innovative Italian restaurant in Ginza, Tokyo, has earned itself a Michelin Star in Michelin Guide Tokyo 2021 which went on sale on December 10, 2020.

Located on the 10th floor of the Tokyo Ginza Shiseido Building, the restaurant offers a taste of contemporary Italy, fusing tradition and innovation with a menu that incorporates Japanese ingredients and culture for an original dining experience.

Chef's Special: Potato spaghetti

The individual credited with the creation of a new food culture is FARO's executive chef Kotaro Noda who is the only Japanese person to own two Michelin-starred restaurants in Italy. He has been at the forefront of the Italian cooking world for the past 20 years.

Vegan Menu: Daikon Mochi [Winter Season Item]


Flower Tart

FARO puts a lot of work into its array of colourful vegan courses. These courses aren't only aimed at vegans either – they are available to anyone wanting to eat delicious and healthy food.

The restaurant is also a display of Japanese craftsmanship, with all cutlery, crockery, table accessories, and more made using traditional Japanese methods, like the lattice work on the doors from Niigata Prefecture, the Tajimi and Arita ware, fabrics from Imabari, Edo kiriko cut glasses, and more.

The decor of FARO is an elegant and stylish fusion of both Japanese and western tastes, with a colour gradation representing the earth, sea, and sky. This colouring offers a completely different dining in both the daytime or during evening hours.

Information

FARO
Address: 8-8-3 Ginza, Chuo-ku, Tokyo

Opening Hours: [Lunch] 12:00-13:30 / [Dinner] 18:00-20:30

Closed: Sundays/Mondays/Mid August/New Year Holidays
TEL: 0120-862-150 / 03-3572-3911
Official Website: https://faro.shiseido.co.jp/ 

Tokyo Tower to Begin Morning Tea Gathering On 150-Meter Main Deck

Tokyo Tower is set to host a special morning tea gathering on its 150-meter-high main deck, which overlooks central Tokyo, from November 21, 2020.

A peaceful morning cup of tea above Tokyo

Tokyo is a communications tower in the middle of Tokyo which has its own observation deck open to the public which offers an incredible view of the capital. During the day, the tower is very busy with visitors, and so this morning tea gathering aims to offer people a chance to enjoy the tower and its view in peace and quiet, before opening hours, with a cup of Japanese tea.

An open display showcasing Japanese crafts

The event is cooperating with the Japan-France Tea Ceremony Association who is providing specially-selected traditional Japanese tea-making and serving equipment, all of which were made by traditional Japanese artisans and have been passed down since the Edo Period for an authentic.

Open to foreigners even if you don't know Japanese or the etiquette of the Japanese tea ceremony

Don't worry if you can't speak Japanese or don't know the manners or proper etiquette when it comes to the Japanese tea ceremony – the event is open to all, and you can participate without sitting in the traditional seiza positioning. The staff can speak English, French, and Spanish, so foreign tourists won't miss out on anything.

Information

Morning Tea Gathering
Running: November 21, 2020 / December 5, 2020 / December 19, 2020 / January 9, 2021 / January 23, 2021 / February 6, 2021 / February 20, 2021
Time: Meeting at 8:15am / Entering at 8:30am
Meeting Point: Tokyo Tower Floor 1F Foot Town
Sign Up: アソビューサイト

SOAK: Tokyo's New Entertainment Restaurant & Bar Opens Bookings

Japanese creative company BAKERU has opened bookings for the new entertainment restaurant and bar SOAK which is set to open on November 13, 2020 on the top floor of MIYASHITA PARK's new brand hotel "sequence MIYASHITA PARK" in Shibuya, Tokyo. The restaurant will served up a 'Japanese innovative' menu made by Takeshi Nagashima of Nishiazabu 81 and Hideaki Nagaya of L'Effervescence.

An otherworldly restaurant and bar serving Japanese innovative cuisine

"BUILD NEO TOKYO" is the theme of SOAK. SOAK welcomes by Takeshi Nagashima of Nishiazabu 81 which delivers performance style-entertainment to customes, and Hideaki Nagaya of L'Effervescence, who was chosen for "JAPANESE CUSINE TOP 5 CHEF IN HONG KONG." Bartending will be Takashi Goto who has worked as the main bartender at Sake Bar DECIBEL in New York and Shampoo in Shinjuku Golden Gai.

An event and party space which can hold up to 100 people

Located just a 3-minute walk from Shibuya Station, SOAK can be used as a party and event space with a maximum capacity of 100 people whether it be a wedding reception or a gathering of friends, family, or business, as well as for events, catering to any and every need. The space was designed by Noiz, a leading interior designer in Japan. The monuments were designed by contemporary artist Akira Yoshida, while the audio design is by Acoustic Engineering and the music is selected by Hirokazu Yamasaki from the post-rock and instrumental band Toe.

OYU: The rooftop terrace offering a panoramic view of Shibuya

Take in a panoramic view of Shibuya atop the rooftop terrace, and enjoy the pool either in the sunlight or shrouded luxuriously in the night with gorgeous illuminations and a glass in hand.

The pre-opening is set for November 13, 2020, but this is subject to change depending on the state of the pandemic.

Information

SOAK

Pre-Opening: November 13, 2020

Address: MIYASHITA PARK North Floor 18F, 6-20-10 Jingumae, Shibuya, Tokyo

Opening Hours: 17:00-24:00 (Last Orders 23:30)

Closed: Mondays

TEL: 03-6427-9989 (17:00-22:00)

Official Website: https://soaks.tokyo/

Gaze Up at Tokyo's Night Sky From Home Using Virtual Tokyo Tower

Tokyo Tower's official VR entertainment service "Virtual Tokyo Tower" finally launched on Sunday (November 1) which enables people, who are unable to travel to Tokyo and Tokyo Tower due to the pandemic, to see the tower itself and the capital's night sky virtually from the comfort of their own homes.

Virtual Tokyo Tower is a virtual future entertainment space that imagines what Tokyo Tower would look like in 100 years. Users each have their own 3D avatars to walk around Tokyo Tower which has been fully recreated from the Main Deck which stands up 150m high and the top deck at 250m. Users can enjoy a 360° panoramic view of the tower and the city of Tokyo outside under a beautiful night sky. They can also communicate with others, go on dates, and participate in events.

The virtual tower also allows access to digital version of Tokyo Tower Aquarium and even has its own virtual shop where users can buy items. There are live concerts, fashion shows, food festivals, and more to enjoy for the whole month of November.

Information

Virtual Tokyo Tower

Running: November 1, 2020 – November 30, 2020

Observation Deck Price: ¥800 (Tax Included)

Official Website: https://www.virtual-tokyotower.com

Sip Sparkling Wine and Other Drinks Among Tokyo's Nightscape With Sarabeth's HIGH TEA TERRACE NIGHT

The Tokyo branch of New York-based restaurant chain Sarabeth's has announced a special autumn event that goes by the name 'HIGH TEA TERRACE NIGHT.' Set to run from September 23 to October 31, customers will be able to sit on a rooftop terrace in the evening with Tokyo's towering cityscape surrounding them while drinking sparkling wine and other all-you-can-drink free-flow alcoholic beverages—high tea style.


High tea refers to post-dinner evening tea time. At Sarabeth's, customers can look forward to dining on a special set menu for grown-ups with alcohol and other treats.


High Tea Style Set Menu With Free Drink | ¥5,000 (Before Tax)

Served on an afternoon tea stand, tuck into six different appetisers, meatball sliders, and truffle flavoured French fries. For the main dish, there's steak made in a red wine sauce and boletus mushrooms. Free drinks include sparkling wine, red and white wine, beer, high balls, cocktails, soft drinks, and more.

Feel the evening breeze of autumn while indulging in a special high tea experience in Tokyo.

Information

Sarabeth's Tokyo – HIGH TEA TERRACE NIGHT

Running: September 23, 2020 – October 31, 2020

Location: Sarabeth's Tokyo

Address: 1-8-2 Marunouchi, Chiyoda-ku, Tokyo

Serving Hours: 17:00-20:30
TEL: 03-6206-3551
*Free -flow drinks are all-you-can-drink for 90 minutes

*Reservations required by 16:00

Official Website: http://www.sarabethsrestaurants.jp/

Harajuku's New Carbonara Restaurant Serves Pasta Japanese Style

A new spaghetti carbonara restaurant by the name of Nama Carbonara opened in Harajuku, Tokyo on September 17, 2020.

The restaurant opened in the same building as Harajuku's popular fresh cream shop MILK and bubble tea shop Mot Tram. The restaurant makes its own fresh flat pasta everyday and uses fresh, rich cream sourced from Hokkaido.

The current menu lineup consists of six dishes, from classic carbonara to Japanese twists. Let's take a look at some of them.

Classic Carbonara | ¥790

Walleye Pollack Roe Japanese Carbonara | ¥1,090

Freshly Grated Cheese & Bacon Carbonara | ¥1,090

Seafood, Avocado & Basil Carbonara | ¥1,190

Discover a brand new world of carbonara like never before at Nama Carbonara in Harajuku.

Information

Nama Carbonara (生カルボナーラ専門店 原宿店)

Grand Opening: September 17, 2020

Address: THE SHARE 1F, 3-25-18 Jingumae, Shibuya, Tokyo

Opening Hours: 11:00-19:00 (Last Orders 18:30)

TEL: 03-5772-8858

Official Website: http://www.opefac.com/

Dine at Harajuku's New Tarako Spaghetti Restaurant Tokyo Tarako Spaghetti

Tokyo Tarako Spaghetti opened its all-new, second branch in Harajuku Omotesando on July 31, 2020. The restaurant opened its first branch back in January this year.

To commemorate the opening of the new restaurant, it is serving up two brand new tarako (cod roe) spaghetti dishes made with Japanese dashi.

Tarako & Kombu Umami With Dashi Spaghetti | ¥990 (Before Tax)

The first new dish is a combination of tarako, kombu, and dashi spaghetti. This dish adds a Japanese flair to it by combining tarako spaghetti with tarako boiled in soy. The full flavour of the kombu is extracted when the dashi is poured over, creating an irresistible flavour.

Three Fish Egg Tarako Spaghetti | ¥1,390 (Before Tax)

The second new dish on the menu is the "Three Fish Egg Tarako Spaghetti" which combines lots of tarako with toppings of salted salmon roe and flying fish roe. There's a whopping 100g of fish eggs on there, so you won't be going hungry with this filling, colourful serving of spaghetti.

Discover new kinds of tarako spaghetti dishes at Tokyo Tarako Spaghetti Harajuku Omotesando.

Information

Tokyo Tarako Spaghetti Harajuku Omotesando

Address: MS Bldg. 2F, 6-7-16 Jingumae, Shibuya, Tokyo

Opening Hours: 11:00-23:00 (Last Orders 22:00)
TEL 03-6803-8688

Official Website: https://www.tokyotarako.com

Tokyo's Famous Blue Note Tokyo Jazz Club Creators Launch Online Dinner Service

BLUE NOTE JAPAN Co., Ltd. launched an online store called "STAR TABLE" on August 5 which gives lets customers enjoy the same dinner experience as the company's restaurants from the comfort of their own home. BLUE NOTE JAPAN operates the entertainment business, restaurant business and bridal business of live restaurants such as the famous Blue Note Tokyo, a jazz cafe in Aoyama.

The first menu line-up on the website is "Home Dinner Course vol.1."

Weekend Dinner Course vol.1 | Serving: August 2020 – October 2020
Dishes: 5 | Price: ¥8,400 (Tax Included/Shipping Fee Separate) | Serves: 1

Home Dinner Course vol.1 is a full dinner course with a French taste which customers can warm up and arrange at their home, resulting in a meal so tasty they will feel like pro chefs themselves. This is the perfect way for busy people working remotely or people who aren't good at cooking to treat themselves from the comfort of their own home. The meal can also be cooked for get-together dinners with family.

The "Weekend Dinner Course" is the umbrella name for this service which will introduce a new course every three months. The next course, "vol.2," will be served in November. BLUE NOTE JAPAN is planning to introduce desserts and other items to the line-up.

Blue Note Tokyo is also live streaming music performances from the restaurant from fantastic artists so that customers can enjoy the full Blue Note experience.

With social distancing measures and other restrictions in place, this is a great service for people to enjoy a dining experience while staying safe.

THE AOYAMA GRAND HOTEL to Open on the Former Aoyama Bell Commons Grounds This Summer

THE AOYAMA GRAND HOTEL in Aoyama, Tokyo will officially open on August 5, 2020. Set to be a new landmark of Tokyo as "a hotel where you have fun," the establishment will house 42 rooms and a restaurant which serves everything from food around the world to authentic Japanese cuisine. Table bookings for the restaurant opened on July 1, 2020.

THE AOYAMA GRAND HOTEL is opening on the former Aoyama Bells Commons building which is just a 3-minute walk from Gaiemmae Station. The hotel is managed by Plan・Do・See who also manage 6th by ORIENTAL HOTEL (Yurakucho), ORIENTAL HOTEL (Kobe)< WITH THE STYLE (Fukuoka), THE LUIGANS (Fukuoka), and more.

Gaiemmae in Aoyama is a hub for fashion and culture in Japan which is visited by people all over the world. THE AOYAMA GRAND HOTEL will slot nicely into place in the area, serving a timeless experience with its polished and relaxing atmosphere and incredible restaurant.

ROOM

All guest rooms are fitted with a unique mid-century modern style design that maintains both the welcoming vibe of the region and brings a contemporary feel. Rooms are made to offer an experience akin to living there, where guests can look forward to indulging all their senses.

The bathroom amenities offered are provided by Oltana, making this the first hotel in Japan to stock the company's products. The items were developed specially for THE AOYAMA GRAND HOTEL and blend essential oils with Japanese fermentation methods. Everything from the raw materials to the finish product is made in Japan, and all are made sustainably and ethically.

RESTAURANT

Welcoming guests at the hotel entrance is THE BELCOMO on the fourth floor which offers a delicious casual dining experience whether it be for lunch, dinner, coffee, or an evening drink.

On the same floor is SHIKAKU, a counter-style restaurant serving authentic and seasonal Japanese food that is prepared before guests' eyes with fresh ingredients.

And hidden on the 19th floor where the guest rooms are located is Aoyama Sushi Kanesaka, a sushi bar that serves exquisite sushi courses made with artisanal care and the utmost care.

Opening on the hotel's top floor this autumn too is TRATTORIA ANDREA ROSSI, a classic Italian restaurant which will serve simple yet delicious dishes, wines, and desserts prepared in front of customers. On the same floor, a rooftop bar called THE TOP will also open where you can enjoy seasonal original cocktails, specially-selected wines, champagnes, and more.

Information

THE AOYAMA GRAND HOTEL

Address: 2-14-4 Kita-Aoyama, Minato-ku, Tokyo

Rooms: 42

Price: ¥60,000-¥120,000 (2 people for 1 room)

Check In From 15:00 / Check Out By 13:00

Official Website: https://aoyamagrand.com/en/

Little Twin Stars 45th Anniversary Celebrated at Tokyo Tower

To celebrate the 45th anniversary of Sanrio's popular characters Kiki & Lala, also known as the Little Twin Stars, Tokyo Tower is now hosting an event called "Twinkle color miracle☆" which began on July 1.

A special projection mapping display called "TOKYO TOWER CITY LIGHT FANTASIA ~Twinkle color miracle☆~" by NAKED, INC. is being shown on the second floor main deck of Tokyo Tower. This three-minute video covers the entire 30-meter long north window of the tower, showing a cluster of fireworks, the ocean, Tanabata, and other designs featuring Kiki & Lala's iconic pastel colouring. The video can be enjoyed with the gorgeous Tokyo nightscape in the background from the window.

TOKYO TOWER CITY LIGHT FANTASIA ~Twinkle color miracle☆~

Schedule
Dates: July 1, 2020 – July 31, 2020 / Time: 19:30-22:50
Dates: August 1, 2020 – August 26, 2020 / Time: 19:30-22:50
Dates: August 27, 2020 – September 22, 2020 / Time: 18:30-22:50
Location: Tokyo Tower Main Deck (150cm) Floor 2F, North Side
Price: Adults ¥1,200 / High School Students ¥1,000 / Children (Elementary & Junior High School Students) ¥700 / Aged 4+ Years ¥500

Tokyo Tower's first floor cafe "Cafe La Tour" is also serving some exclusive Little Twin Stars menu items, like ice cream and drinks. If you order one of the Kiki & Lala drinks, you'll get one of the above-pictured coasters which feature the various Little Twin Stars designs from over the years.

Cafe La Tour x Kiki & Lala Collaboration
Running: July 1, 2020 – September 30, 2020
Time: 10:00-22:00 (Last Orders 21:30)
Location: Tokyo Tower Main Deck (150cm) Floor 1F

Information

Tokyo Tower x Little Twin Stars 〜Twinkle color miracle☆〜
Running: July 1, 2020 – September 30, 2020
Location: Tokyo Tower

Tokyo Tower Official Website: https://www.tokyotower.co.jp