Tokyo Stroll: A Christmas date with Yutaro at Tokyo Tower wrapped in sparkly illuminations
A late-night date is nice once in a while, am I right? Well, for the first time since the initiation of this series, that's where we're headed.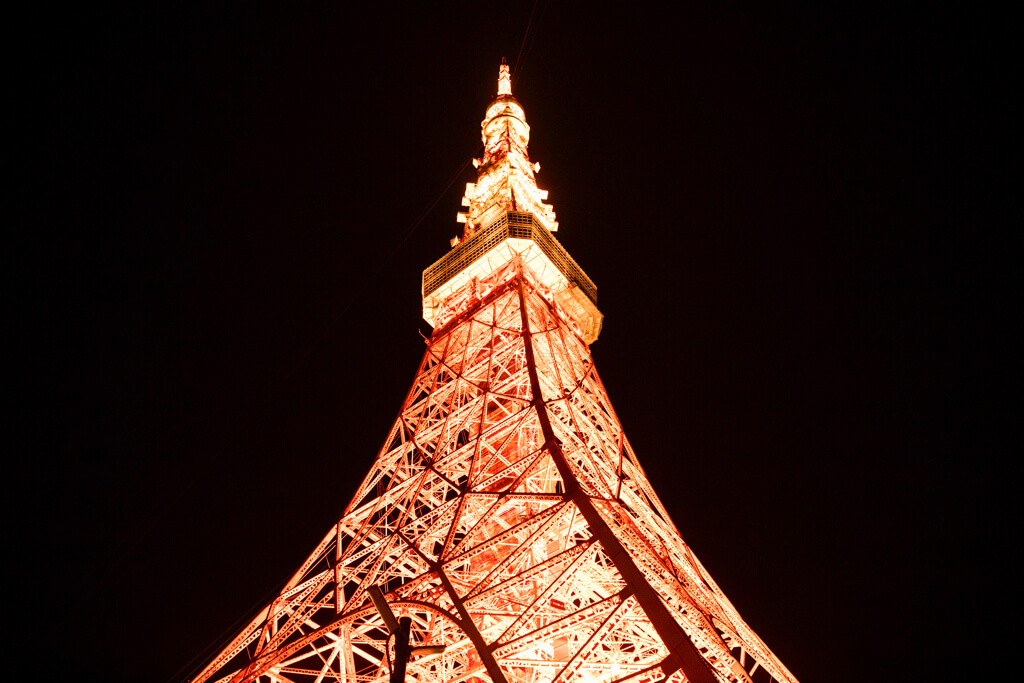 We went to Tokyo Tower where one can gaze at the bright and sparkly nightscape of the city.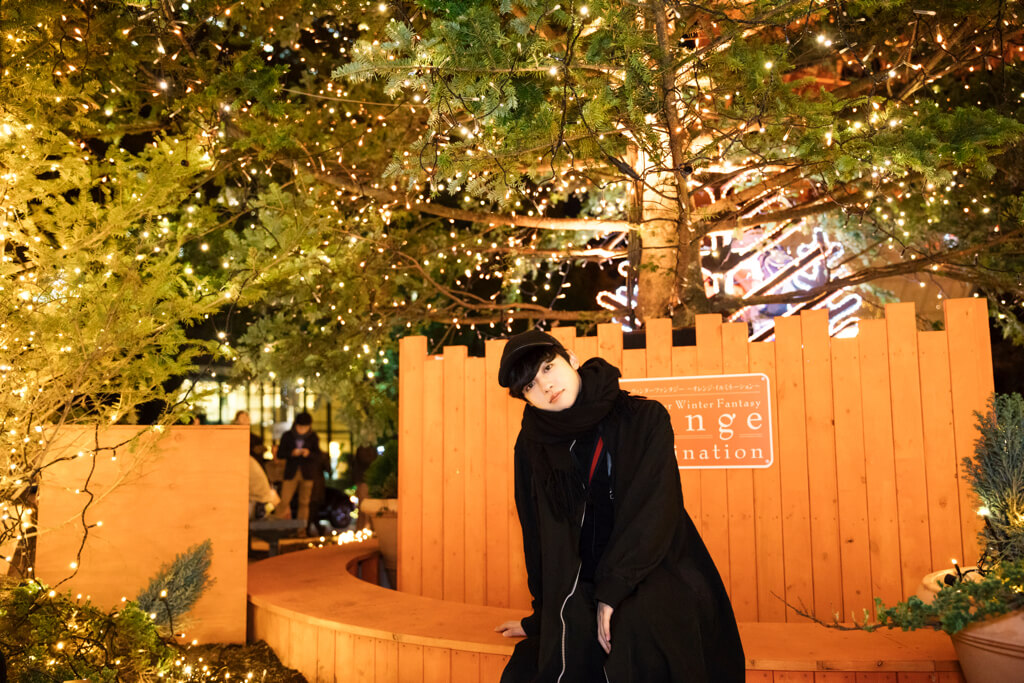 Our meeting place was the entrance to Tokyo Tower. Yutaro-kun had arrived early. Maybe because we're meeting at night? It has a slightly more mature vibe to it than usual.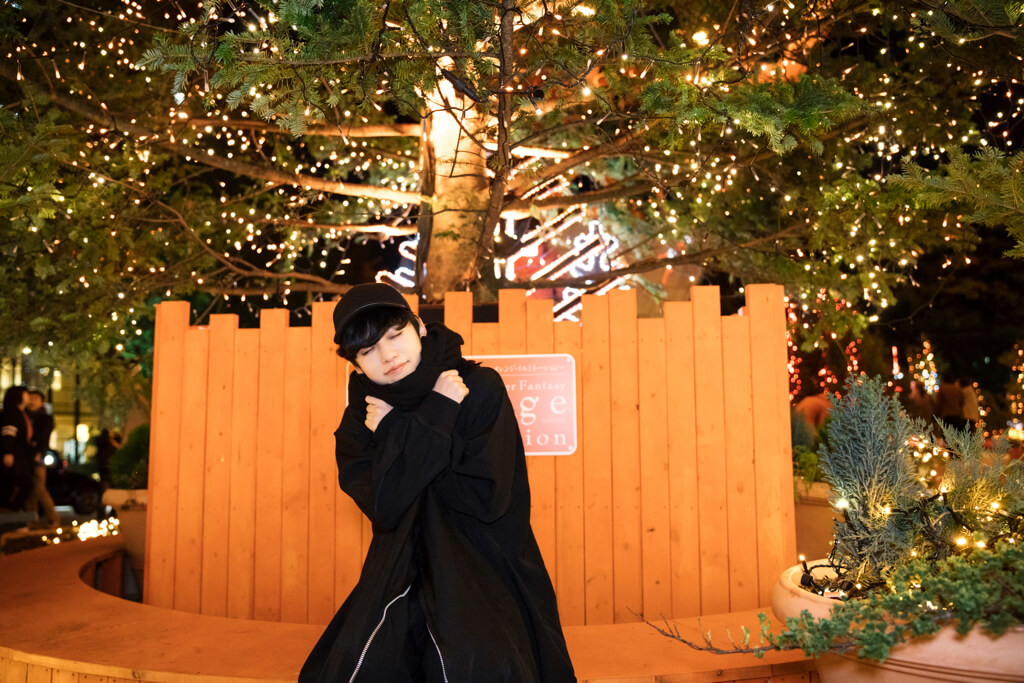 "Geez, it's cold!!"
Yutaro-kun is always in good health.
At the entrance of Tokyo Tower is the city's biggest Christmas tree – one that's 60 years old. Its 60,000 or so decorative lights are so entrancingly beautiful they make you forget about the cold!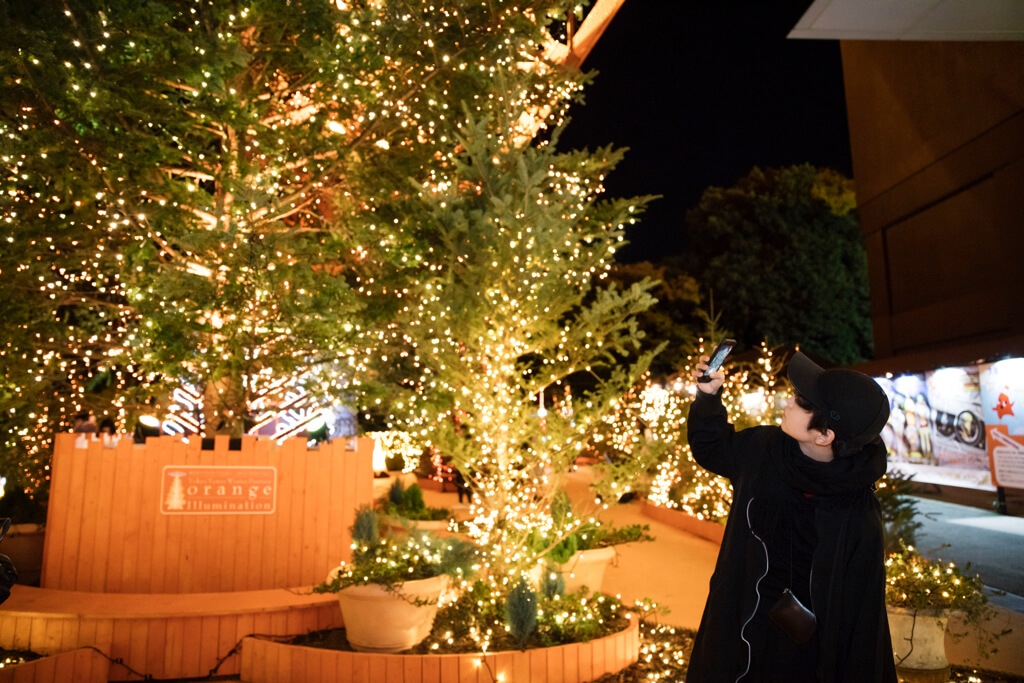 These illuminations will be up until February 28th. They are on between 16:00-22:00, with a special light show running every 30 minutes. These colourful and sparkling lights are a must-see. Yutaro-kun was spellbound by all the different colours of the illuminations too.
There's lots of other great places to take photos around the entrance too besides next to the tree. Taking an interposed photo with the lit-up mini Tokyo Tower or heart-enveloped Tokyo tower will most certainly be a memorable occasion.
■Information
Tokyo Tower Winter Fantasy 〜Orange Illumination〜
Running: November 2, 2017 – February 28, 2018
Time: 16:00-23:00
Location: Tokyo Tower front entrance
The "Orange Garden Lighting Show" runs every 30 minutes between 16:00-22:00 every day. The final show is at 22:00.
After getting our fill of illuminations, we made our way to the Main Observatory of Tokyo Tower. The elevator made a steady climb up 150m.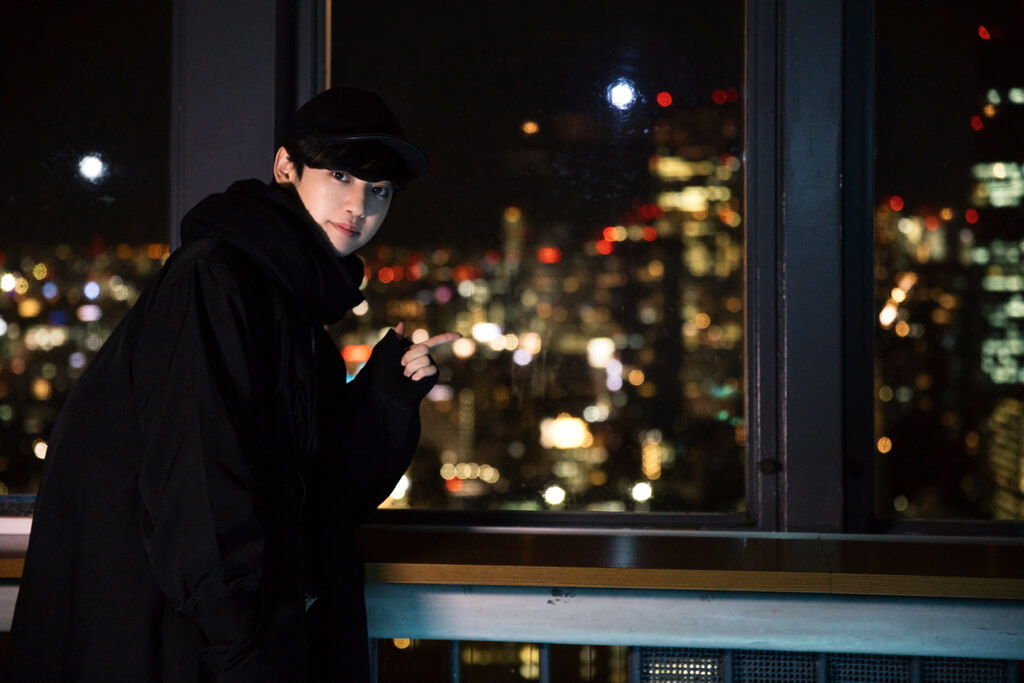 When we arrived at the Main Observatory, there it was. Tokyo's night skyline. It was a most spectacular view and looked like an entirely different place from the Tokyo we spend our time in.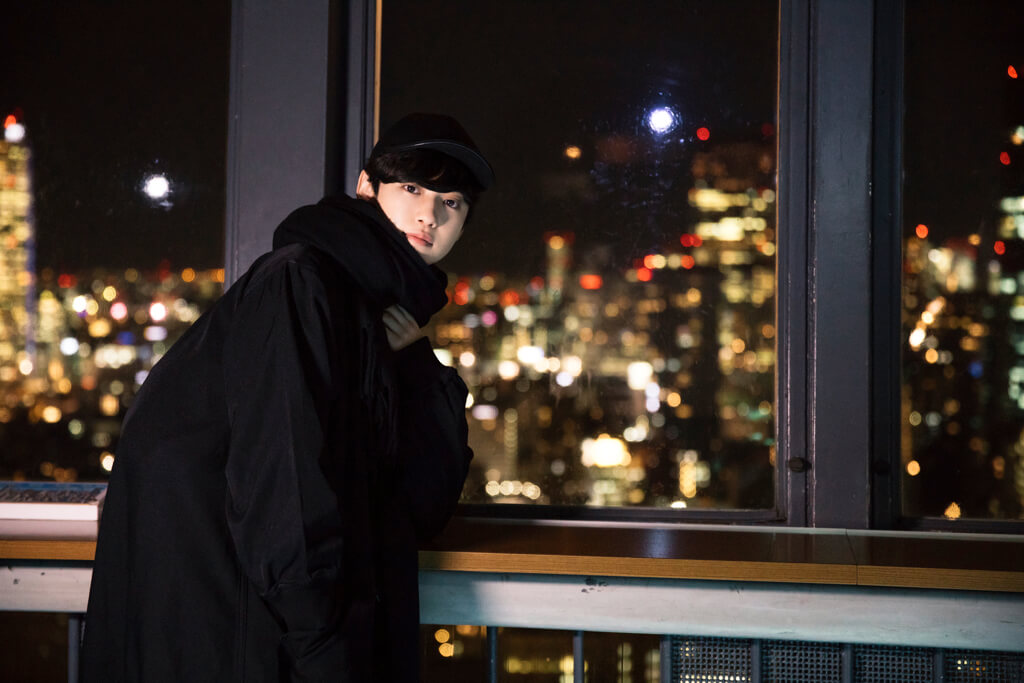 "This is my second time in Tokyo Tower. It might be my first time to come at night."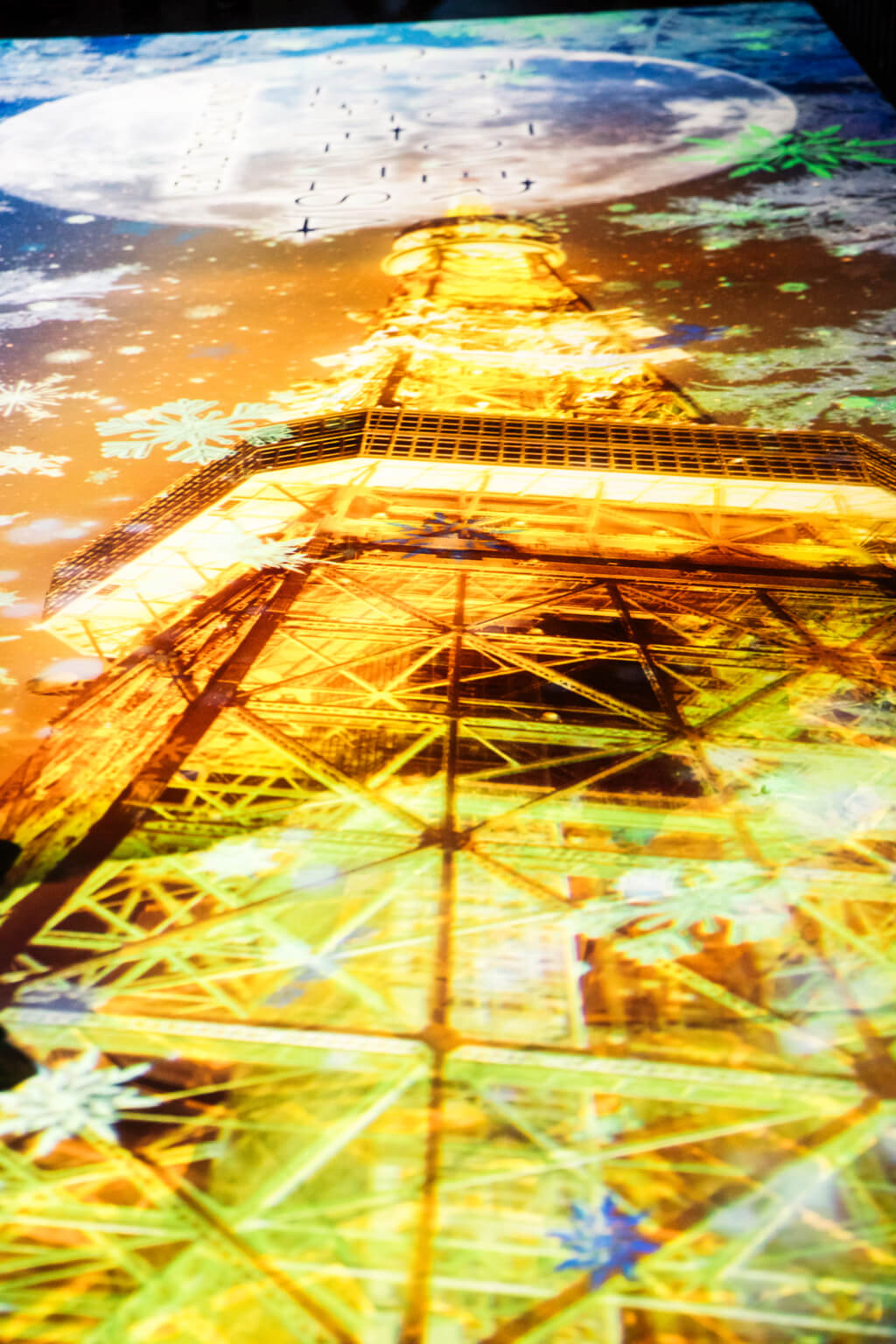 The Main Observatory is currently holding a projection mapping event called "CITY LIGHT FANTASIA." They use the windows and floor of the observatory to make it look like Tokyo Tower is snowing.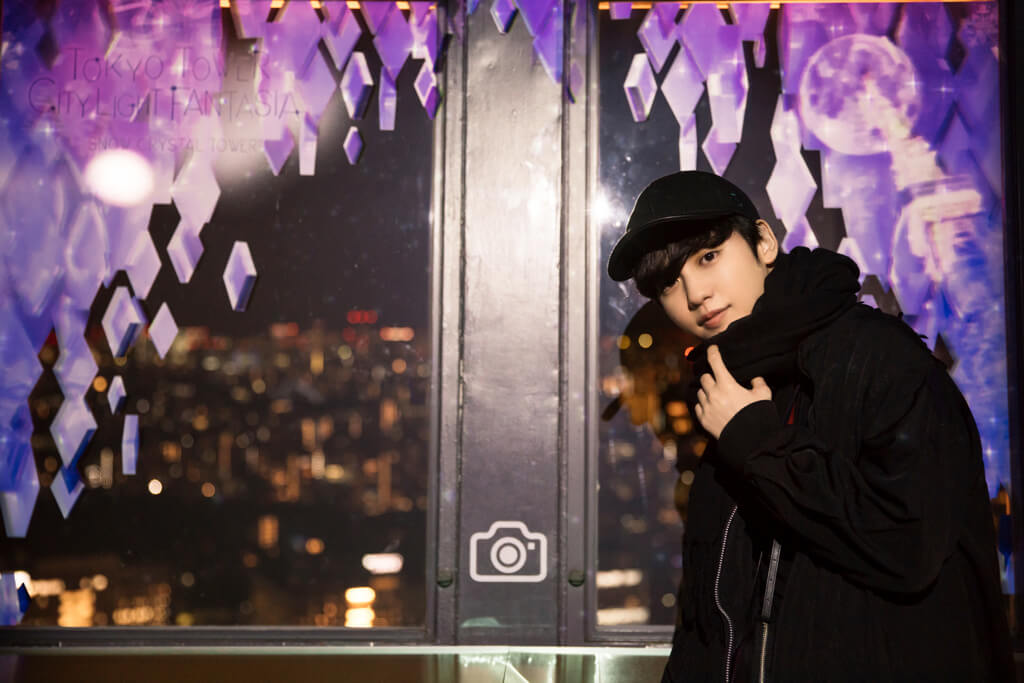 There's a photo spot in conjunction with the event too. The lights are turned on at this spot, so you can take beautiful photos even with your phone. Look out for the snow crystals changing colour as time passes too!
"It really looks like it's snowing!"
Snow was falling everywhere we walked around the observation deck. This was also part of the "CITY LIGHT FANTASIA" performance. Snow was emulated by lasers which sparkled as it fell. The highlight of the event was experiencing this snowy environment with the Tokyo nightscape as the backdrop. The snowfall "Diamond Dust" experience runs for 15 minutes.
■Information
CITY LIGHT FANTASIA
Running: November 15, 2017 – January 31, 2018
Time: 18:00-22:50
Location: Tokyo Tower 2F Main Observation
Price: Costs only the observation deck fee all the way to the Main Observation
After being satisfied with seeing the nightscape, we went to the official shop where they sell souvenirs. They have Tokyo Tower merchandise you can't get anywhere else, so be sure to find your favourite that captures your memory of heading up to the Main Observation.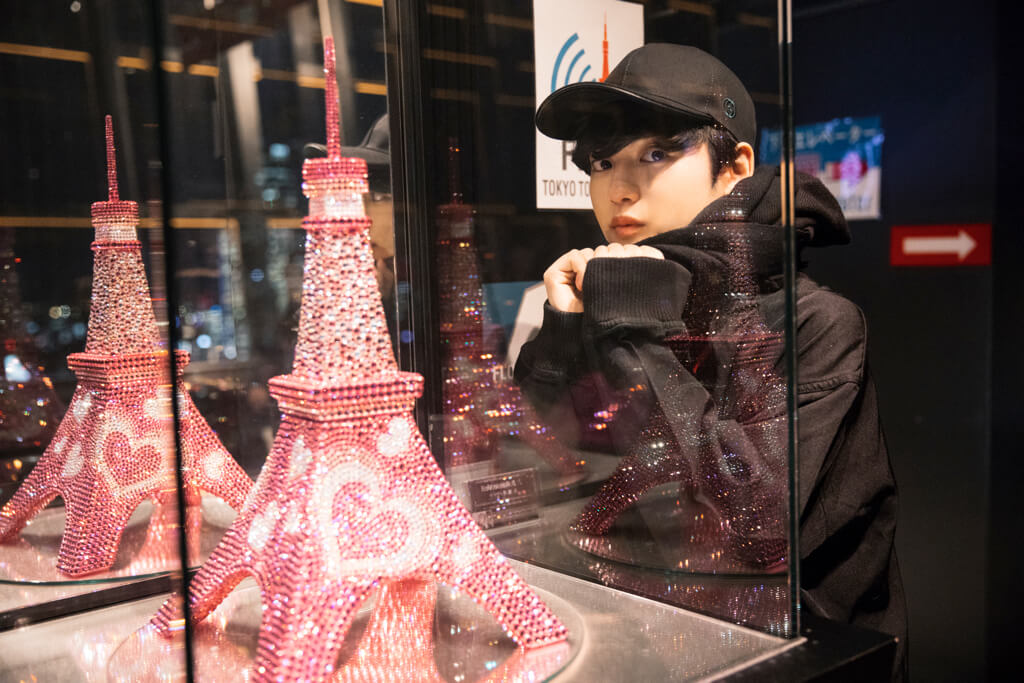 Straight ahead after leaving the shop is the Tokyo Tower Love Power Spot "Another Diamond Veil" made by Swaroviski. It's famous as a 'power spot' radiating with loving energy, so don't forget to check this out if you want to increase your chances of love.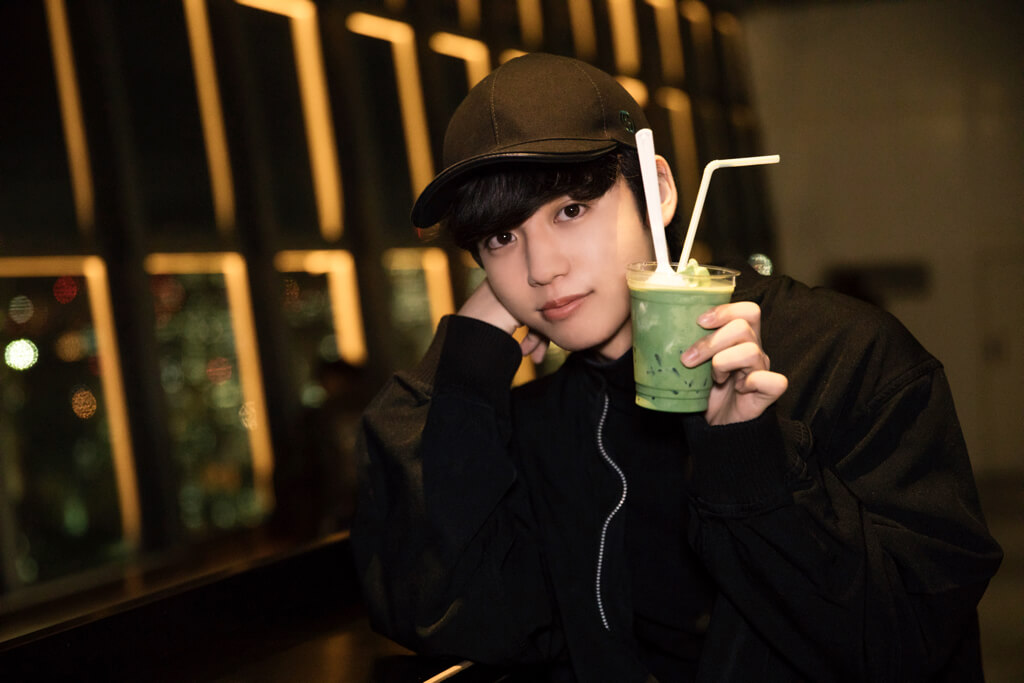 Both of us were tired after so much fun, so we took a breather at "Cafe La Tour" located in one corner of the Main Observation. Yutaro-kun ordered his favourite match drink without hesitation: the "Koi Uji Matcha Late Float" which costs ¥520 (tax included).
Yutaro-kun, thank you for always sharing with me!
This café has window seats, so you can enjoy your food and beverages while gazing over Tokyo. It's a great spot for viewing the city scenery while kicking back and relaxing.
■Information
Cafe La Tour
Open: 9:30-22:30
TEL:03-3433-1850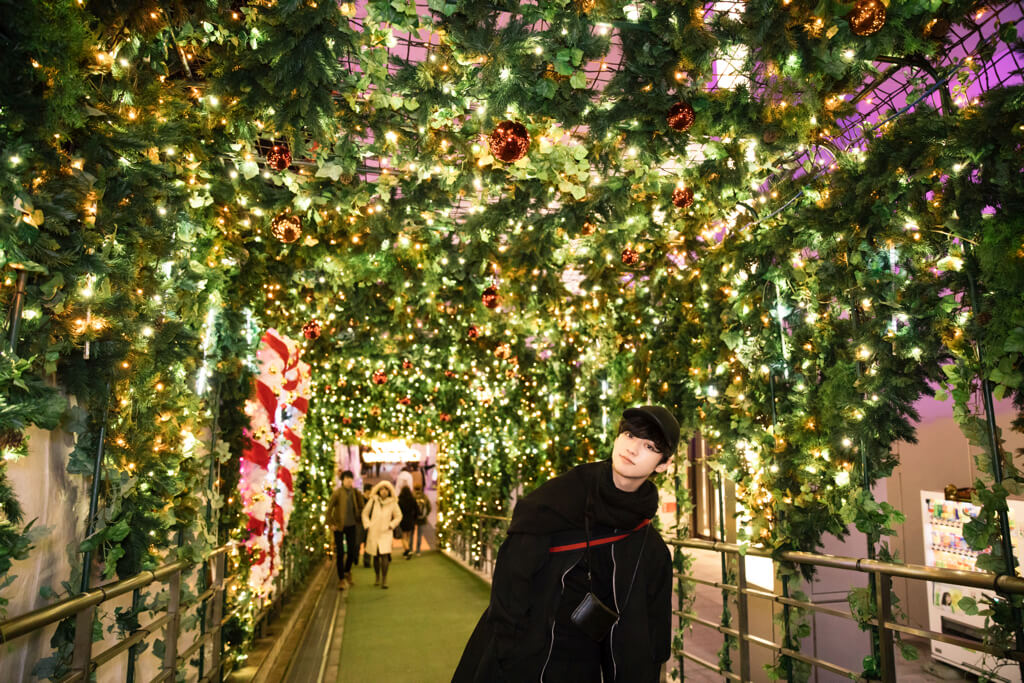 After unwinding at the café, our Tokyo Tower date came to an end!
My end-of-year was spent with Yutaro-kun who vibe was a little different from usual. I wonder what kind of Yutaro-kun I'll get to meet next year? I  pray that I can have another fun date with him next year too!
■Information
Tokyo Tower
Address: 4-2-8 Shiba Park, Minato, Tokyo
Price: Adults ¥900 / Elementary & Middle School Students ¥500 / Children over 4-years ¥400
Main Observation (150m): 9:00-23:00 (last entries 22:30)
*Last entries may be carried out earlier during busy periods.
Tokyo Tower Official Website: https://www.tokyotower.co.jp/
Model:Yutaro  @aaaoe__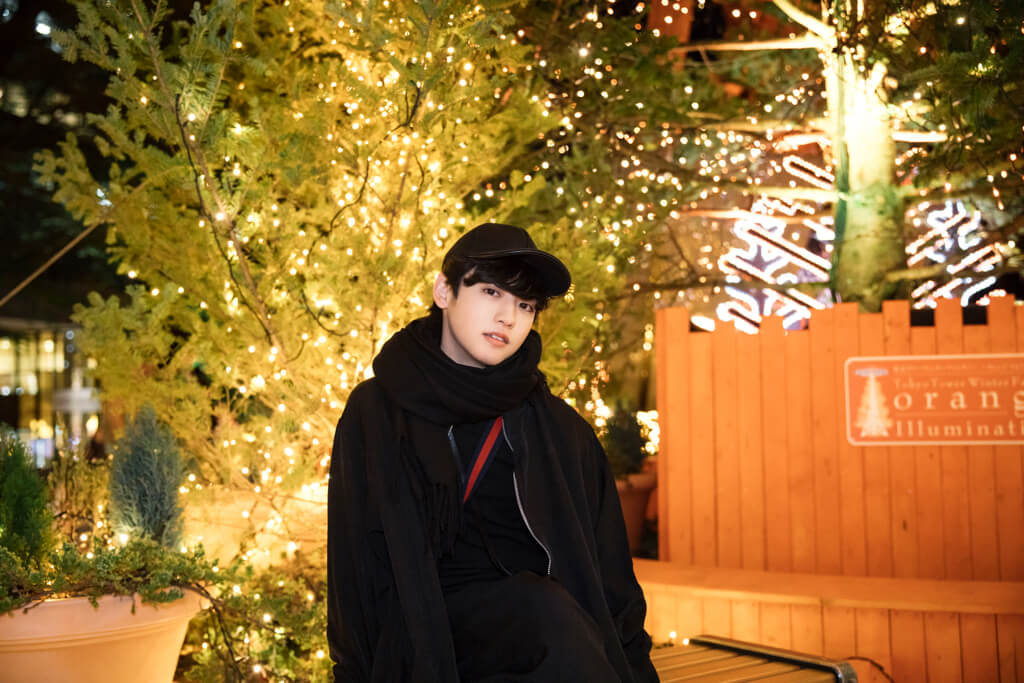 Yutaro was born in Hiroshima on June 3rd 1998. His modeling career has earned him lots of attention as a fashion icon of the new generation. The famous model also works as a "charisma" shop assistant. Yutaro has gained his reputation as a "mysterious and handsome guy" from his appearance on Japanese variety shows. His debut was made on the show "Gyoretsu no Dekiru Horitsu Sodanjo" and has since then appeared on numerous different TV shows. He challenged himself to appear on stage for the very first time in March this year and is gaining popularity by the day for his diverse work.
Photographer: Kayo Sekiguchi
Writer: Sayuri Mizuno(ASOBISYSTEM)
Translator: Joshua Kitosi-Isanga
RELATED ENTRIES
Light and Shadow 2022 Event at Hotel Gajoen Tokyo Attracts Over 10,000 Visitors

Hotel Gajoen Tokyo, which blends a hotel and a traditional Japanese museum, is celebrating summer in the spookiest way possible. From July 2 until September 25, guests can enjoy the 'Wa no Akari x Hyakudan Kaidan 2022 ~Light and Shadow: 100 Stories~' event, inspired by the tradition of telling ghost stories in summer to send a chill down your spine. Since opening, over 10,000 visitors have come to experience this once-in-a-lifetime event. 

Each of the seven exhibition areas is connected to the stairway, and each has its own theme pulled from the overarching theme of light and darkness. From Light of Passion to Midnight Light, guests will be surrounded on all sides. As you ascend the stairs, a festive atmosphere transforms into a more frightening one. Although the ghosts are out to play, guests are welcome to enjoy the many art pieces and crafts on display. 

Sokyu Room / Lights of Passion

This Kabuki stage is filled with the passion of women who are addicted to love, a common theme in many traditional plays. The eye-catching Japanese umbrellas and lanterns will no doubt leave an impression, and the wistful music is titled Red Thread. The tale depicted here tells the story of a woman who becomes a haunting specter clad in flames of passion, sobbing and laughing in time with the song. 

Still Water Room / Inverted Light

The three trees crowned with horse heads were created by the artist Eros Nakazato. Guests will feel as though they've been transported to the middle of a meadow as they explore this fantastical room covered in traditional paintings. In the work The Reverse of the Reverse, there are no wild horses on the earth, and those who have been tamed by humans sway in a beautiful and sad way. To make this scarier, the story has been reimagined as guests look through a crystal ball–now, humans are ruled by horses

Starlight Room / Midnight Light

Passing through a corridor of suspiciously flickering yokai lanterns, you will find that the clock has struck midnight. In the darkness, as most humans are asleep, specters are having a lively party. Playful cats dance and play and a number of artistic works by contemporary artists are on display. The music played fuses Japanese and ethnic instruments, some of which are interspersed with the voices of creatures of the night.

Experience this immersive art experience that will delight all five senses through light and shadows while you can!

Information

Wa no Akari x Hyakudan Kaidan 2022 ~Light and Shadow: 100 Stories~

Running: July 2 – September 25, 2022

Hours: 11:30-18:00 (Last entry at 17:30) *Closing at 17:00 on August 20 (Last entry at 16:30)

Venue: Hotel Gajoen Tokyo Hyakudan Staircase (Tangible Cultural Property Designated by the Tokyo Metropolitan Government)

Tickets/Details: https://www.hotelgajoen-tokyo.com/100event/wanoakari2022

Official Site: https://www.hotelgajoen-tokyo.com/

Hotel Gajoen Tokyo Opens Artistic Summer Ghost Story Event

Hotel Gajoen Tokyo, which blends a hotel and a traditional Japanese museum, is celebrating summer in the spookiest way possible. From July 2 until September 25, guests can enjoy the 'Wa no Akari x Hyakudan Kaidan 2022 ~Light and Shadow: 100 Stories~' event, inspired by the tradition of telling ghost stories in summer to send a chill down your spine. The art illumination exhibition promises to be a once-in-a-lifetime experience.

Jounen no Akari (Lights of Passion)

Bamboo Lights

Without light, there are no shadows. In this exhibition, light and shadow complement one another, portraying the popular 100 ghost stories in a new way. Last year's event received critical acclaim as guests found themselves moving breathlessly from room to room, exploring the many incredible pieces put on display. Along the dusk-lit promenade, goldfish lanterns lead guests to the start of their mysterious adventure. The atmosphere changes from room to room, with bamboo lights and shadows surrounding you from all sides. 

An Immersive Light Art Space

Odawara Wind Chimes at Dusk

Luxurious Cherry Blossom Hairpins

Glass Lamp, Iroshita Studio

Flower Arrangement, Rikou Otsuka

As you ascend the stairs, a festive atmosphere transforms into a more frightening one. Although the ghosts are out to play, guests are welcome to enjoy the many art pieces and crafts on display, from flower arrangements by master ikebana artist Rikou Otsuka and sculptures by some of Japan's most influential traditional creators. 

Enjoy Traditional Summer Ghost Stories with Light Art

Ghost Lanterns

Born from the Earth, Yasumaro Ozawa

Byakko, Yuji Nishijima

Inverted Light, Eros Nakazato

Mysterious music will drift through the air, making guests feel as though they've been transported into another world. The eerie space is lit by Ghost Lanterns made by a 200-year-old company in Fukuoka, and the venue is decorated with art blending ukiyo-e with contemporary styles. 

Culture and Crafts from Around Japan

Paper Lanterns from Ise

Bamboo Lights, Akarinowa

3D Knit Lights

Paper Fireworks

Summer fireworks have been recreated in colorful paper form by an artist in Nagaoka, Niigata Prefecture, and materials found in a neglected bamboo grove in Shizuoka Prefecture were used to create the many iconic lights seen throughout the unique exhibition. Local craftsmen are at the heart of the event, with pieces brought in from areas all around Japan.

Wa no Akari Room

A concept room featuring gently flickering lights and lanterns is available to book for a limited time. Why not come spend your summer in this otherworldly atmosphere?

Information

Wa no Akari x Hyakudan Kaidan 2022 ~Light and Shadow: 100 Stories~

Running: July 2 – September 25, 2022

Hours: 11:30-18:00 (Last entry at 17:30) *Closing at 17:00 on August 20 (Last entry at 16:30)

Venue: Hotel Gajoen Tokyo Hyakudan Staircase (Tangible Cultural Property Designated by the Tokyo Metropolitan Government)

Tickets/Details: https://www.hotelgajoen-tokyo.com/100event/wanoakari2022

Wa no Akari Room

Available: July 2 – August 31, 2022 (1 room available per day)
Details/Reservations: https://www.hotelgajoen-tokyo.com/stay/plan

Upcoming Film 'We Are Not Alone,' Starring Yutaro, to Release in December

The popular actor Yutaro will star in the upcoming film We Are Not Alone, scheduled to release in theaters in December 2022.

The film promises to be a unique take on the world of today, focusing heavily on justice, greed, and egoism. It will be directed by Tomoaki Kaneko and produced by yucca. 


The film will ruthlessly depict the contrast between the darkness of adults and today's youth. It will take place in a desolate shopping district and follow the main character, Shun Miyata (Yutaro), who is not good at interacting with others, and who works part-time at a bento shop. More information will be announced on the official film website soon, so keep an eye out!

Comment from Tomoaki Kaneko (Director)


"What are we living for? Everyone has their own story,  their own reasons, and their own justifications. It may seem easy to distinguish between right and wrong, but everyone has their own beliefs, and some of those thoughts may be distorted. Rather than immediately labeling someone as 'evil,' the world might be made a little better if we can imagine why people do what they do. 

This film is set in Tokyo, but the story doesn't depict the standard 'positive, glamorous, fun' version of Tokyo, instead telling a more somber and lonely story. The actors expressed themselves in such a powerful way, and I was impressed by the way they took on these challenging roles. 

This story may not be upbeat, but it can be perceived in so many different ways depending on the viewer. I hope that the positivity in the film will come through and inspire everyone to see things from a different angle."


Comment from Yutaro

"I'm Yutaro, and I play Shun Miyata.

I didn't expect to be cast in the lead role after the audition, so the pressure was immediately on! But when I read the script, I was told by the director and staff that I was the only person who could play the part of Shun. I was immediately determined to do my best. 

The film tells the story of a young man who is slowly moving towards the future and searching for his own right answer. Is love what he imagined it to be, and are the righteous words he's been saying really righteous at all? I hope you'll come to see the film in theaters and connect with it in some way. We are not alone."

Summary

Shun Miyata isn't good at interacting with people. Submitting his work to tons of publishers to fulfill his dream of becoming a novelist, the response isn't great. Needing a change of pace, he moves to Tokyo and starts working part-time at a bento shop. The friendly and beautiful shopkeeper Yuriko Kodama and another part-time worker Yuka Kosaka welcome him to the city, and his new life in Tokyo seems to be off to a good start.


But happiness doesn't always last.



One day, Shun and Yuka discover Yuriko's secret–a brutal plan involving the entire shopping district and the local chairman Saiki.  Agonizing over their inability to take any action, Shun and Yuka begin to grow closer.

What are these two young people feeling? An ordinary landscape can hold unexpected darkness, and this work will bring those fears to light. 

Nissy (Takahiro Nishijima) Announces New Song, Tokyo Tower Collaboration

Nissy (Takahiro Nishijima) has announced that his new song, I Need You, will be released digitally on July 7, 2022. The jacket cover has also been revealed.

This love song depicts how it feels to warmly live each day with the person you care about. It's a relaxed mid-tempo number, a far cry from the cool sound heard on Nissy's third album HOCUS POCUS 3.

In addition, Nissy will also be collaborating with Tokyo Tower's popular summer event, the Milky Way Illumination. Approximately 21,000 LED bulbs found on the first floor of the main deck, a stunning 150 meters above Tokyo, will change color periodically to match the beat of the new song I Need You.

Along with the new track, Nissy will also be embarking on a five-dome tour, so keep an eye on his activities going forward!

ⓒTOKYO TOWER

Information

I Need You – Nissy
Streaming Release Date: July 7, 2022

Tokyo Tower Milky Way Illumination x Nissy Special Collaboration
Running: July 4 – August 16, 2022
*The Milky Way Illumination will take place from June 17 until September 4.
Address: Tokyo Tower Main Deck 1F North Floor (Towards the Imperial Palace/Marunouchi)
Light-up Hours: 9:30-22:00 (Until 22:30 on Saturdays) 

Details: https://www.tokyotower.co.jp/event/illumination/2022-amanogawa-illumination/

Official Site: https://nissy.jp

Summer-Exclusive Shaved Ice Available at Tokyo Tower Adjacent Terrace Dining TANGO

Terrace Dining TANGO, located at the base of Tokyo Tower, will begin selling three unique flavors of shaved ice for summer starting on July 1! These tasty treats will only be available until August 31, so be sure to visit while you can.

WA! Bear

TANGO's original shaved ice is popular every summer, and in 2022, customers can grab a bear-shaped treat made with brown sugar syrup and condensed milk.

Strawberry Milk ~Rose Scented~

Made with fluffy ice and homemade strawberry sauce, this delectable treat is topped with condensed milk and smells like sweet roses. Inside, customers will find rose gelato and strawberry compote.

Taiwanese Pineapple and Coconut

This fluffy shaved ice is topped with coconut milk, Taiwanese pineapple, and a generous dollop of sweet sauce. The ginger adds a spicy accent, keeping it interesting until the final bite.

Terrace Dining TANGO is attached to The Place of Toyo, a wedding hall overlooking Tokyo Tower. The shaved ice, available only during the summer, is made of natural ice that has been filtered and frozen slowly for 48 hours to create a fluffier texture. Each is served with a special sauce made by the restaurant's pâtissier.

Come enjoy these sweets that make summer a little more fun!

Information

Terrace Dining TANGO Summer Shaved Ice

Available: July 1 – August 31, 2022

Address: 3-chome-5-4 Shibakoen, Minato-ku, Tokyo (1F)
Official Site:http://www.tango-tpt.com/

NAKED's Popular Night Walk Returns to Illuminate Jozankei Onsen in Hokkaido

The JOZANKEI NATURE LUMINARIE -WATER LIGHT VALLEY- event is coming back in 2022! The event, which shows off the natural beauty of Jozankei's rivers, valleys, and forests, from June to October. Guests can enjoy an illuminated walk along the Toyohira River in the Jozankei area of Hokkaido and wander across the picturesque Futami Suspension Bridge. 

 

This year, the park area at the entrance to the event has been redesigned with new lights. A 2.5-meter-high blue dome will welcome guests with an image of water, and the trees and wisteria trellises will be decorated with twinkling golden lights.

Welcome Light Lake *Image from 2021

River Road

Forest Water Ripple

Nature Projection

Futami Valley

Visitors will encounter a variety of unique light art as they stroll through the rich nature of Jozankei guided by the elusive kappa, known to be the guardian Gods of the region. As visitors approach, the river begins to glow while flowers bloom in this interactive art experience. By using projection mapping across the Futami Suspension Bridge and an all-encompassing light show within the canyon, the event hopes to remind visitors that nature is important and worth preserving. 

How would you like to spend your summer deep in the illuminated nature of Hokkaido?

Information

JOZANKEI NATURE LUMINARIE – WATER LIGHT VALLEY

Address: Jozankei Futami Park – Futami Suspension Bridge
(Jozankei Onsen Nishi 4-chome, Minami-ku, Sapporo, Hokkaido)

Running: June 1 – October 23, 2022
Hours:
June – August: 19:00-21:00
September – October: 18:00-21:00

*Tickets available for guests of Jozankei Onsen only
Official Site: https://jozankei.jp/jozankei-nature-luminarie

NAKED's Projection Mapping Show at Tokyo Tower Illuminates the City at Night

Digital art collective NAKED has announced a new projection mapping show taking place at Tokyo Tower starting May 24! Welcome summer with the 'Tokyo Tower City Light Fantasia ~Summer Landscape 2022~ event on the second floor of the 150-meter-high main deck of the classic landmark.

In 2019, the company introduced the 'Tokyo Tower City Light Fantasia ~Cool Japanese Summer~ event, which has now been upgraded to a new version. Guests will now be treated to a colorful show highlighting the transition of the seasons in Japan from the rainy season to early summer to midsummer, filled with hydrangeas, sunflowers, and fireworks. Colorful flowers bloom in the rain giving way to a bright summer day complete with the sound of cicadas and bright white clouds in the sky. After the sun sets over the sunflower fields, fireworks light up the Tokyo sky.

The 'Tokyo Tower City Light Fantasia' nightscape event was planned, directed, and produced by NAKED, and began in 2014. By combining the night view from the observatory with projection mapping, guests can experience something one-of-a-kind.

Following the original launch of the event, it has traveled to towers and observatories around Japan including Abeno Harukas and the Nagoya TV Tower, playing off the particular characteristics of each locale.
 

This event isn't the only thing going on at Tokyo Tower this summer. Guests can also enjoy the DANDELION PROJECT by NAKED and Ryotaro Muramatsu in the northwest section of the second floor of Tokyo Tower's main deck. The project is based on the concept of world peace and harmony and was unveiled at Miyashita Park, Tokyo Tower, Gardens by the Bay in Singapore, and Nijo Castle in Kyoto in 2020. The networked art project invites guests to send their wishes for world peace on digital dandelion fluff to other locations where DANDELIONs are planted around the world, and these messages are delivered in real-time. 

Come enjoy this incredible night view while you can!

Information

CITY LIGHT FANTASIA ~Eternal Lights in TOKYO~

Venue: Tokyo Tower Main Deck (Height: 150m) 2F Facing North

Running: May 24 – September 4, 2022
Periods:
May 24 – June 5, 19:00 – Close
June 6 – July 18, 19:30 – Close

July 19 – August 21, 19:00 – Close

August 22 – September 4, 18:30 – Close
Fee: The event is included in the price of observation deck admission. 

Official Site: https://naked.co.jp

World's First Ninja Specialty Store 'Ninja Tokyo Pro Shop' to Open in Tokyo Tower

The world's first store dedicated exclusively to ninjas will open inside Tokyo Tower in 2022.

It's said that Japan's top three tourist attractions are Mt. Fuji, Kyoto, and ninja–but the latter has no dedicated location for visitors to enjoy. This shop will specialize in ninjas, for ninjas, by ninjas!

Ninja Tokyo Pro Shop will open on the second floor of Tokyo Tower, still one of Tokyo's most popular attractions. With 22 years of experience, the company running the shop offers ninja-specific goods, armor, sweets, and more.

Special Sanrio Characters are Back!

Sanrio Characters NINJA, an original brand first developed in 2016, will make a triumphant return! Original goods featuring new illustrations will be available at the store. The characters were first created to celebrate the Sanrio collaboration with the Ninja Cafe at NINJA KYOTO, but no new products in the series have been released since 2017.

The Ninja Tokyo Pro Shop will offer authentic armor that will satisfy not only domestic and international tourists but also ninja enthusiasts and cosplayers. Visitors can try on armor and enjoy a shuriken experience using the 'Ninja Trainer' as well! The store will include a large selection of original swords, bowls, and plenty of exclusive goods only available on site.

Be sure to visit in October 2022!

UNDER WATER SPACE in Yokohama Illuminated in Cherry Blossom Colors for Spring

UNDER WATER SPACE, a limited-time aquarium space event located at Yokohama World Porters, is lighting up a portion of the event space in gorgeous cherry blossom colors until April 10, 2022 to coincide with the 2022 cherry blossom season!

The pink-lit space and swimming fish give an entirely new feel to the UNDER WATER SPACE event. You won't want to miss experiencing this magical spring illumination! 

Information

Hanami Illumination

Running: April 1 – April 10, 2022

Aquarium Space Travel 'UNDER WATER SPACE'

Running until January 15, 2023

Hours: 10:30-21:00 (Last entry at 20:00)

Address: Yokohama World Porters 4F (2-2-1 Shinko, Naka-ku, Yokohama)
Tickets / Official Site: http://uws-yokohama.jp

Lake Biwa Canal's Cherry Blossoms to Come to Life During Spring Illumination 2022 Event

Lake Biwa Canal, one of the best places to see cherry blossoms in Shiga, will be completely illuminated each night from March 25 until April 10! The nearby Onjo-ji Temple will also be lit up during the duration of the event.

Lake Biwa, Otsu Spring Illumination – Cherry Blossoms on the Lake Biwa Canal

The Lake Biwa Canal carries water from the biggest lake in Japan to Kyoto and was built during the Meiji era using the best civil engineering technology of the time. Both sides of the bank are lined with almost 200 cherry trees, making it one of the most beautiful cherry blossom viewing spots with a spectacular view leading to Onjo-ji Temple.

Onjo-ji Spring Illumination 2022

Over 600 lights will be set up around the temple grounds to illuminate the cherry blossoms. The national treasures and designated cultural properties will be completely open to the public for nighttime viewing.


Information

Lake Biwa, Otsu Spring Illumination – Cherry Blossoms on the Lake Biwa Canal

Running: March 25 – April 10 (Dates may change depending on when cherry blossoms bloom)
Hours: 18:00 – 21:30
Location: Lake Biwa Canal
Sponsored by the Lake Biwako Otsu Tourism Association

Onjo-ji Spring Illumination 2022

Running: March 25 – April 10
Hours: 18:00 – 21:30 (Last Entry at 21:00)
Location: Onji-ji Temple
Admission: Adults ¥1,000 / Children ¥500
*Public transportation is recommended due to heavy congestion on surrounding roads during the event period.

HIBIYA BLOSSOM 2022 to Welcome Spring with Tokyo Midtown Hibiya Illumination

Tokyo Midtown Hibiya will hold HIBIYA BLOSSOM 2022 from March 25 until April 17, coloring the streets with luminescent spring flowers!

Massive floral decorations will be erected as part of the Hibiya Blossom Garden, and each will feature lights and music from classic films to bring the feeling of spring to the streets of Tokyo.

Running: March 25 – April 17, 2022
Light-up Hours: 18:00-23:00 (Special performances held every 10 minutes)
Location: Hibiya Step Plaza, Hibiya Step Plaza Grand Staircase

A selection of local stores will also participate in the Hibiya Blossom Flower Wagon project, which will take place on Sundays in April only.

As part of the Hibiya Blossom Gourmet project starting March 18, certain shops are also offering some tasty springtime treats. 

NAKED FLOWERS 2022 Cherry Blossom Exhibition to be Held at Nijo Castle in Kyoto

NAKED will open a new Cherry Blossom-inspired outdoor light-up event at Nijo Castle from March 18 until April 17, 2022!

The NAKED FLOWER interactive art exhibition has been held at Nijo Castle since 2018. In autumn, the leaves change color, and in spring, the cherry blossoms blooming at night around the castle combined with NAKED's art experience create a breaktasking experience like no other. 

This year, in addition to the projection mapping on the Karamon Gate, the largest-ever projection mapping of cherry blossoms will cover the entire 140-meter-long stone wall on the east side of the inner moat. Also, for the first time ever, the exhibition will add special effects that can only be seen in rainy weather. 

 

Information

NAKED FLOWERS 2022 Cherry Blossom Event at Nijo Castle
Location: Nijo Castle Imperial Villa
Running: March 18 – April 17, 2022
Hours: 18:00-21:00 (Grounds close at 22:00)
Official Site: https://flowers.naked.works/nijojo/