Kyoto by the Sea: Amanohashidate and Funaya, Japan's Most Beautiful Village
The captivating hues of autumn are sweeping across Kyoto, the ancient capital of Japan admired by both Japanese and foreign tourists alike.
The staff at MOSHI MOSHI NIPPON took a trip to Kyoto to enjoy the sights. The theme of this new feature is "Discover your own Kyoto" where we introduce to our readers little-known good spots around the city.
Our third article in this series is titled Kyoto by the Sea. If you love being by the ocean and enjoy its sights and sounds then we've got several places to show you.
1: Funaya – The most beautiful village in Japan
Our first stop on our aquatic adventure is Ine no Funaya which is recognised as the most beautiful of all of Japan's villages. It's also officially listed as an "Important Preservation District for Groups of Traditional Buildings."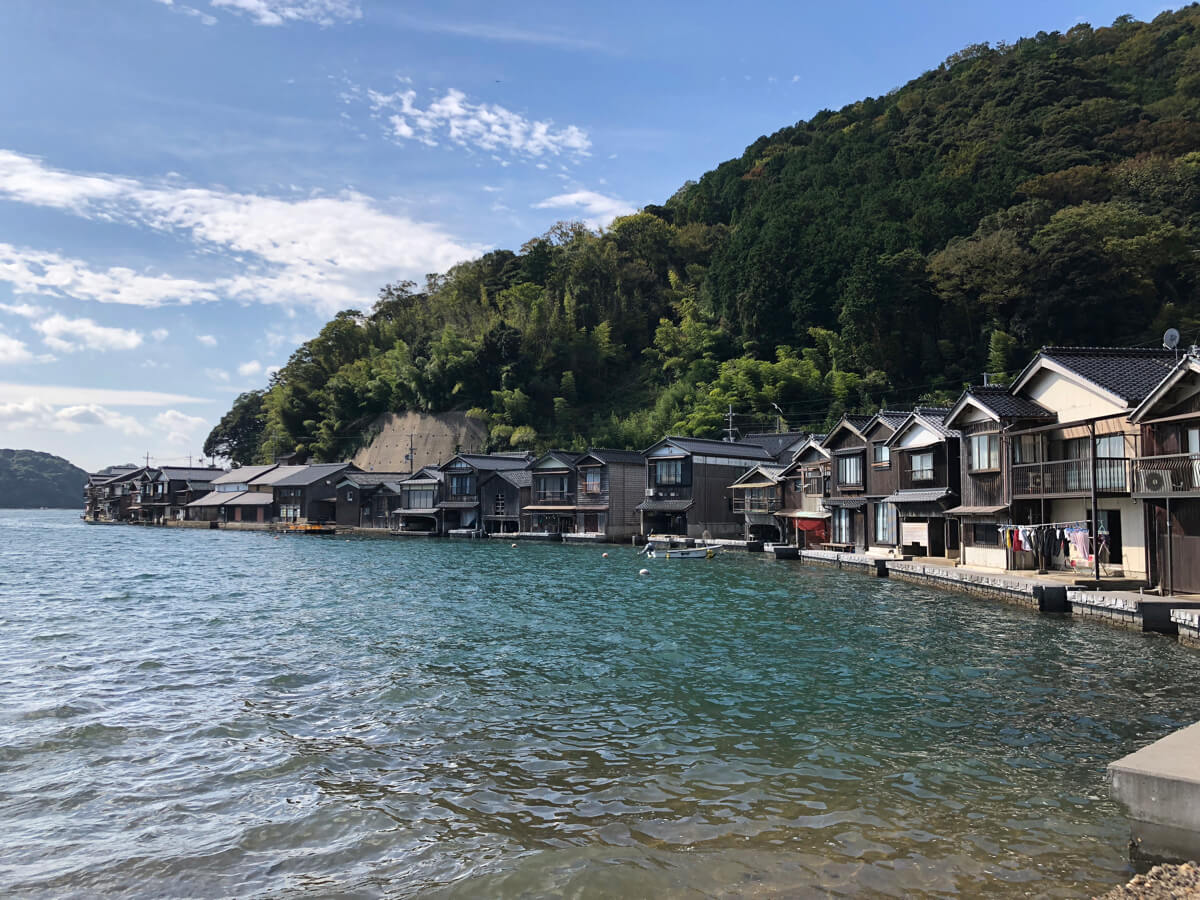 Funaya literally means "boat houses." The first floor of the buildings are garages for the boats while the second floor are the residents' living spaces. Around 230 funaya line the seashore of this hidden fishing village in Kyoto.
It's possible to board a sightseeing boat there which takes you into the middle of Ine Bay to take in the sights and see what it's like to live there. You will cruise along together with common gulls and black-tailed gulls who will hop on for the ride.
The tourist information centre also offers tours of the boat houses themselves which are carried out by locals, enabling a closer inspection of them. Above is a photo of what it looks like from inside the first floor garage.
There is also a free rental bike service in the area. Be sure to follow the rules above if you decide to borrow one.
While you're in the local area, why not visit Mukai Brewery for some sake taste testing?
We recommend trying this one, it's a very old brand. It tasted sweet and was an easy sake to drink.
Many travellers from outside Japan visit Funaya. Some of the boat houses can be stayed in but due to the limited number they are often bombarded with reservations. If you're thinking of staying there don't forget to secure a place in advance. You're sure to enjoy scenery and tradition you won't experience anywhere else but in Ine.
■Ine no Funaya
Address: 491 Hirata, Ine, Yosa District, Kyoto Prefecture
Access: "Amanohashidate" via Kyoto Tango Railway / 1-hour by bus (Tango Rosen Bus) from Miyazu Station
Enquiries: 0772-32-0277
Website: http://www.town.ine.kyoto.jp/
■Ine Bay Sightseeing Boats
Opening Hours: 9:00-16:00 (25-minute ride every 30 minutes on the hour and half-past)
Price: Adults ¥680 / Children ¥340
Enquiries: 0772-42-0323
Website: https://www.inewan.com/02yuransen.html
■Mukai Brewery
Address: 67 Hirata, Ine, Yosa District, Kyoto Prefecture
No Fixed Holidays.
Enquiries: 0772-32-0003
Website: http://kuramoto-mukai.jp/
2: Amanohashidate – See one of Japan's 'three scenic views' from Kasamatsu Park
Amanohashidate is known as one of Japan's 'three scenic views.' This beautiful sandbar covered with close to 8,000 pine trees gets its name from how its bridge, when viewed from the mountains at either side of the bay, looks like it stretches across the heavens.
We took the chair lift up to Kasamatsu Park where you can enjoy an unbroken view of Amanohashidate. The cable cars and chair lifts can be used from March to November.
As well as enjoying a panoramic peek at the entire sandbar there's also a terrace where you can enjoy a light meal and a shrine from which you can see Kanmurijima Island and the volcanic island of Kutsujima.
In the place where you ride the chair lift there is a map where you can pin what country you are from. People from all around the world had visited on the day we went.
When riding back down you can sit back, relax and take in the breathtaking scenery of Amanohashidate. Your journey there promises amazing sights from start to finish.
■Amanohashidate Kasamatsu Park
Address: 75 Ōgaki, Miyazu, Kyoto Prefecture
Cable Car/Chair Lift Price: Adult Return ¥660 (Single ¥330) / Child Return ¥330 (Single ¥170)
Access: 25-minutes by bus from Amanohashidate Station via the Kyoto Tango Railway (get off the bus at Kasamatsu Cable)
Enquiries: 0772-27-0032
Website: https://www.amano-hashidate.com/030kasamatu.html
3: Tsuruya Shokudo – Enjoy fresh fish caught in Kyoto
Tsuruya Shokudo is a restaurant located along the path to Kono Shrine near the Kasamatsu Park cable cars. They use vegetables farmed in the local region and all the fish is caught from the waters of Tango! One of the meals you can eat there is the "Tango Otakaradon" which is served with seafood.
Tango Otakaradon (丹後のお宝丼): ¥1,650 (Tax Included)
This dish is served with Japanese Babylon sea snail, bigfin reef squid and Japanese amberjack. In the small bowl is akamoku seaweed which you mix until it becomes sticky before being put in the rice dish. If you aren't a fan of raw egg you can ask the staff to remove it.
Taste all the flavours of the local region by ordering the Tango Otakaradon.
Tsuruya Shokudo
Address: 848 Nakano, Miyazu, Kyoto Prefecture
Opening Hours: 08:30-17:00
No Fixed Holidays.
Enquiries: 0772-27-0114
Website: http://www.amanohashidate.jp/food/turuyasyokudou/
Did you enjoy our new "Discover your own Kyoto" feature? Experience Kyoto by the sea with your very own eyes during your trip.
■Writer 
Sayuri Mizuno / MOSHI MOSHI NIPPON Chief Editor
Instagram: @sayuri.mizuno
■Translator
Joshua Kitosi-Isanga
Twitter: @anokomorebi
RECOMMENDED ENTRIES
3 Little-Known Places to Experience Tea Culture in Kyoto

The colours of autumn are now hitting Kyoto, Japan's ancient city steeped in history, culture and tradition and one visited by countless tourists―both Japanese and foreign―every year.

The staff at MOSHI MOSHI NIPPON took a trip to Kyoto to gather information. The theme of the research is "Discover your own Kyoto." We will introduce you to 3 little-known places in Japan's former Imperial capital that are not yet known by many people.

This is the first article in a series where we look at the tea of Kyoto. Here are our recommendations if you want to experience Kyoto Infused with Tea culture.

1: "How to Properly Pour Tea" –  Learning the proper methods at Fukujuen

The first place we want to recommend is Fukujuen Uji Tea Workshop. The closest station to it is Uji Station which you can get to in one stop from Kyoto Station via the JR Line.

Fukujuen Uji Tea Workshop was established after seeing the amount of people sitting comfortably at home pouring tea from a teapot on the decrease in favour of bottled tea. In response to this, they decided to set up a facility for people to relearn the culture of the traditional Japanese kyūsu teapot and the history of tea. They currently hold over 20 courses for people to get involved with.

Learning to Pour Tea Course (Gyokuro Tea): ¥1,188 (Tax Included)

We took the tea-pouring course which uses gyokuro green tea. Gyokuro has a sweeter taste to it compared to sencha. It's also different from sencha in that it is grown under the shade, outside of sunlight. This means it has more theanine in it, giving the tea a more delicious taste.

The necessary tools and confection needed to pour the tea are laid out for you when you sit down. You must then follow the directions of the staff while pouring the tea.

This was the first gyokuro tea we poured. The first cup has gyokuro extract in it which tastes rich. The tea tastes sweet and smooth. We could really feel its full, ambrosial taste.

The first 1-2 cups you drink are to fully appreciate the taste of the tea. From the third cup you can start eating the houjicha sweet bean jelly confection provided. The sweet taste of the jelly goes perfectly with the tea. The tea leaves used in this course last for 6 cups so relax, take your time and enjoy.

The tea-pouring course has instructions in both English and Chinese, so foreign visitors can enjoy themselves without worry.

Other courses include tea leaf picking in the tea gardens which is available during certain seasons only. There's also a reference library to learn all about the history of tea.

If you love tea and want to learn all there is to know about tea culture in Japan, then head to Fukujuen Uji Tea Workshop to enjoy the tea of Kyoto to your heart's content.

■Information

Fukujuen Uji Tea Workshop

Address: Yamada-10 Uji, Uji-shi, Kyoto Prefecture

Opening Hours: 10:00-17:00 (Last orders at Fukuju Saryo – 16:00)

Closed: Mondays (or Tuesdays if the Monday falls on a national holiday)

Access: 8-minutes on foot from Uji Station via Keihan Line / 15-minutes on foot from Uji Station via JR Nara Line

TEL: 0774-20-1100

Website: http://www.ujikoubou.com/

2: "Eating Tea" – A matcha-filled meal at Tatsumiya

After learning all about tea, we headed to Tatsumiya to eat food dotted with all kinds of tea. To get there, head across the bridge opposite Fukujuen Uji Tea Workshop and walk for about 10 minutes. See the sign and entrance above.

We ordered the matcha course (抹茶料理) which cost ¥4,500 (tax included, service charge separate). Lots of different matcha-incorporated food came out the kitchen one by one.

Everything on the trays used matcha. The tempura is eaten with matcha salt, there was matcha rice porridge – the list goes on.

Of course the final dessert had matcha in it too♡

We recommend trying this matcha course for yourself, it's something you don't really see. Plus, you can enjoy a gorgeous view of the Uji River.

■Information

Tatsumiya

Address: Tōgawa-3-7 Uji, Uji-shi, Kyoto Prefecture

Opening Hours: 11:00-15:30 (Last Orders 14:30 / 16:30-22:00 (Last Orders 19:30)

No Fixed Holidays.

TEL: 0774-21-3131

3: "Ikkyuji Temple"  – Where Ikkyū spent his last years

The final place we'd like to recommend is Shuonan Ikkyujin Temple where the famous witty Buddhist monk Ikkyū spent his final years. The temple grounds are home to maple trees which are best seen from mid-November to late November.

The red and yellow leaves had already begun blooming when we arrived. The temple is one famous for its autumn colours, but its real highlight is that it's the place where Ikkyū spent his time.

Zenzai (with Ikkyuji Temple Natto): ¥700 (Tax Included)

Zenzai is a red bean soup made with adzuki beans eaten during wintertime in Japan. Did you know that it was Ikkyū himself who named this dish? Apparently it was his favourite thing to eat. At the temple you can enjoy zenzai, Ikkyuji Temple natto and tea altogether.

"Ikkyū's wit looks at things from both sides," explained Tanabe, the temple's chief priest.

Are we thankful to ourselves and those around us, or do we envy others? The choice is ours, but Tanabe kindly taught me the former. You may enjoy having a relaxing conversation with yourself too while looking out at Shuonan's Japanese-style gardens.

■Information

Shuonan (Ikkyujin Temple)

Address: 102 Takigisatonouchi, Kyōtanabe-shi, Kyoto Prefecture

Opening Hours: 9:00-17:00 (Sanctuary 9:30-16:30)

Price: General ¥500 (13+ years) / 12 years and below ¥250

Access: 5-minutes by taxi from Shin-Tanabe Station via Kintetsu Line / 5-minutes by taxi from Kyōtanabe Station via JR Line

Did you enjoy our 3 picks for Kyoto Infused with Tea? These aren't the only places either – Kyoto is home to lots of hidden gem locations."Discover your own Kyoto" too, one that only you know about.

■Writer 

Sayuri Mizuno / MOSHI MOSHI NIPPON Chief Editor

Instagram: @sayuri.mizuno

■Translator

Joshua Kitosi-Isanga

Twitter: @anokomorebi

Kyoto Travel: Enjoy Food, Discover Art in a Traditional Japanese Building & More

The colours of autumn are now hitting Kyoto, Japan's ancient city steeped in history, culture and tradition and one visited by countless tourists―both Japanese and foreign―every year.

The staff at MOSHI MOSHI NIPPON took a trip to Kyoto to gather information. The theme of the research is "Discover own your Kyoto," where we introduce little-known places to you in Japan's former Imperial capital that are not yet known by many people.

This is the second article in the series where we consider a trip to Tokyo for adults. We have a list of recommended spots where adults can go to enjoy a quiet and peaceful time while strolling through traditional places.

1: "Oyamazaki Villa Museum of Art" – Appreciate Claude Monet in a traditional western-style building

The Oyamazaki Villa Museum of Art is a western-style house that was built around the Taisho and early Showa periods and was turned into a museum. It was formerly used as a villa.

On either side of the museum sits the Underground Jewelry Box―an underground building built to turn the villa into a museum, and the Dream Box―a gallery, both built by Japanese architect Tadao Ando. Both buildings house permanent art exhibitions as well as periodic exhibitions. The second floor of the museum also has a café. We received special permission to tour the site but it is normally off-limits.

The inside of the building has a retro style to it. The doors, lamps and stained glass windows create an otherworldly atmosphere. The stained glass window pictured above has been there since the building was first built.

Inside the Underground Jewelry Box, paintings such as those from Claude Monet's lauded Water Lilies series line the undressed concrete walls. These are housed here permanently but the pieces may be switched for certain events.

When we visited there was an event happening titled "Viewing the Kimono in Junichiro TANIZAKI's Literary Works." The exhibition looks at how Japanese author Junichiro Tanizaki depicted women and their fashion and examines the way they dress. On display are kimono recreated from his works. The exhibition is ongoing until December 2, 2018.

The designs revive those used in the time. Dot patterns are used as is lace. The outfits are also finished with baskets and boots too. Every kimono there will have you thinking just how stylish the women of that time were. You can really get a sense of the fashion back then.

The second floor café has a terrace where you can enjoy an unbroken view of the cityscape. When you've had your fill of art, head up and indulge in some tea and cake while enjoying the scenery.

■Information

Asahi Beer Oyamazaki Villa Museum of Art

Address: Zenihara-5-3 Oyamazaki, Otokuni District, Kyoto Prefecture

Opening Hours: 10:00-17:00 (Last Entries 16:30)

Closed: Mondays (or Tuesdays if it is a national holiday. Also closed on November 19, 26 and New Year's)

Entry Price: Adults ¥900 / University & High School Students ¥500 / Middle School Students and under – Free

TEL: 075-957-3123

Access: 10-minutes on foot from Yamazaki Station via the JR Kyoto Line or from Ōyamazaki Station via the Hankyu Kyoto Main Line

Website: https://www.asahibeer-oyamazaki.com/english/

2: "Yanagimachi" – A restaurant renovated from a townhouse

Next on the list is Yanagimachi, a restaurant located in Fukuchiyama. The surrounding area of the city is rich in agricultural produce and livelihood is still surrounded by the grace of the forest today.

Situated within this "Forest of Kyoto" is Yanagimachi, a restaurant that was renovated from a traditional townhouse built in the Meiji period. Despite being in the middle of Fukuchiyama it's located in a place that still has that old fashioned Japanese castle town atmosphere. The entrance can be found on the side as you walk across the stone paving.

When you walk in, it doesn't feel like a building from the Meiji period at all – it's so modern!

We ate food made using vegetables harvested locally, amazing chicken and fish. The sashimi included pickled mackerel, greater amberjack, porgy and young Pacific bluefin tuna. Their huge portions of karaage fried food are also one of their specialties.

This photo above is another one of the restaurant's famous foods: kamosuki. The fat of the duck is smooth and melts in your mouth. The locally harvested Kujo green onions are sweet and went perfectly with the duck.

Discover the taste of Kyoto by trying this food yourself – food you can't find anywhere else, served in a restaurant hidden and tucked away from the world.

■Information

Yanagimachi

Address: Shimoyanagimachi Shimoyanagi, Fukuchiyama, Kyoto Prefecture

Restaurant Opening Hours: 11:30-14:30 (Last Orders 14:00) / 18:00-23:00 (Last Orders 22:00)

*On Sundays and national holidays, restaurant hours at 18:00-22:00 (Last Orders 21:00)日祝は18:00〜22:00(L.O21:00)

Café Bar Opening Hours: 11:00-01:00 (Last Orders 00:30)

Closed: December 31, 2018 – January 4, 2019

TEL: 0773-22-1809

Access: 15-minutes on foot from Fukuchiyama Station via the JR Line and Kitakinki Tango Railway

Website: http://yanagimachi.kyoto.jp/

Did you enjoy this "adult" trip to Kyoto? Kyoto is home many hidden gem locations. Try finding your own "Discover own your Kyoto" too and discover new things to enjoy in the city.

■Writer 

Sayuri Mizuno / MOSHI MOSHI NIPPON Chief Editor

Instagram: @sayuri.mizuno

■Translator

Joshua Kitosi-Isanga

Twitter: @anokomorebi
RELATED ENTRIES
Final Fantasy Artist Yoshitaka Amano Holds Art Exhibition at Myoshin-ji in Kyoto

Yoshitaka Amano, known by international fans as the artist behind the legendary Final Fantasy video game series, is celebrating his 70th birthday with a unique art project from November 23 until December 8 at Myoshin-ji in Kyoto. 

On the first day of the event, the venue, decorated with autumn leaves, was crowded with visitors including foreign tourists, who marveled at the fantastic space filled harmoniously with gold and blue. The exhibition will be held at Myoshin-ji, the head temple of the associated branch of Rinzai Zen Buddhism. This collection of works was designed to question visitors' sensibilities and provide a new kind of art exhibition for fans to enjoy.

After the exhibition, the main art piece by Yoshitaka himself will be converted to 3DCG, and a Virtual Golden World will be developed in collaboration with the Yoshitaka Amano VR Museum. By integrating traditional and modern art methods, guests will be able to engage more deeply in the art by enjoying digital works, the metaverse, and NFTs.

Don't miss this curious exhibition!

Information

Golden World: Infinite Light by Yoshitaka Amano 

~GOLDEN VIEW OF THE WORLD~

Running: November 23 – December 8, 2022

Venue: Myoshin-ji

Hours: 9:00-12:00 / 13:00-16:00

Tickets on sale until 15:30 each day.

Official Site: https://www.myoshinji.or.jp/


Collaboration NFTs Highlight Drafts of Kyoto's Traditional Painted Silk

The NFT marketplace HINATA will start selling collaborative pieces on November 25, combining classical drafts of Kyoto printed silk images with modern art pieces by up-and-coming creators.

Kyoto Printed Silk Draft x Modern Ukiyo-e Artist Ono Tako

Draft (Left) and Spring Dreamland – Sunshine by Ono Tako

Ono Tako is a modern-day ukiyo-e artist who creates unique paintings combining Eastern and Western elements.

A beautiful woman stands in front of lush spring scenery in this gorgeous piece.

 

Although this is clearly an ukiyo-e piece, it has a more modern flare, expressing a more universal standard of beauty while also infusing traditional elements.

 

A total of six works will be available in two variations: the soft and warm Sun and the calm and tranquil Shade. 



Ono Tako: https://twitter.com/ono800

Kyoto Printed Silk Draft x Illustrator Omulettomato

Draft (Left) and Full Moon by Omulettomato

Omulettomato is an illustrator who is rapidly gaining popularity for their feminine portraits.

 

Three different drafts depicting beautiful Japanese nature have been combined and transformed into a modern lady with moe elements.


A total of eight works will be available in three variations: Daybreak, Sunrise, and Full Moon.


Omulettomato: http://omutoma.tumblr.com

Enjoy this curious collaboration and own a piece of classical and modern Japanese culture.

Hirosaki and Hakodate to Begin Winter Tourism Campaign with Snow Miku Starting December 2022

The cities of Hirosaki and Hakodate in Hokkaido have announced that they will team up with Hatsune Miku's popular iteration Snow Miku to promote tourism in the area this winter. A number of activities will begin in December 2022.

[Snow Miku x Hirohako] Collaboration Project

■Hirohako Winter Tourism Campaign Poster Featuring Snow Miku

・Period: Mid-November~February 28, 2023

・Locations: Facilities in both cities, tourist facilities, hotels, shopping areas

■Snow Miku Illustration Contest Exhibition Event

Over 50 illustrations have been submitted under the theme of Snow Miku and Hakodate / Snow Miku and Hirosaki. These will be on display through the winter!

・Running: December 1, 2022 – February 28, 2022

・Venues: Hirosaki Municipal Tourist Center (Hirosaki)
                    Kanemori Red Brick Warehouse (Hakodate)

■Snow Miku Photo Spot

Snow Miku panels featuring shamisen and apples from Hirosaki will be on display, while the Hakodate version will include references to squid fishing and footbaths. 

・On Display: December 1, 2022 – February 28, 2022

・Locations: JR Hirosaki Station, Chuohirosaki Station (Hirosaki)
                        JR Hakodate Station, Hakodate Airport (Hakodate)

■Digital Stamp Rally Using the Mikunavi App

A number of panels will be installed at five checkpoints in Hirosaki and Hakodate. A total of 1,000 people–500 in each city–will win original merch including a Snow Miku mask case and decorated masking tape. All you need to do is check in!

・Available: December 1, 2022 – February 28, 2022

・Locations: (Hirosaki) Hirosaki Municipal Tourist Center, Hirosaki City Machinaka  Information Center,

                         Hirosaki Tourist Information Center, Hirosaki Castle Information Center, Tsugaru-han Neputa Village

      (Hakodate) Kanemori Red Brick Warehouse, Yunokawa Hot Spring Footbath, Goryōkaku Tower,

Hakodate Green Plaza C Block (Hakodate Lumi-Pop), Old Public Hall of Hakodate Ward

■Hirohako Winter Tourism Campaign Theme Song and Music Video 

The tourism theme song will get a new music video that will be broadcast on YouTube, at local tourist facilities, and on TV and radio!

・On Air: December 1, 2022~

・Theme Song: Mahou no Keshiki (Lyrics/Composition: ryuryu)

■Snow Miku Welcome Announcements to be Broadcast at Tourism Facilities, etc. 

A one-minute welcome announcement by Snow Miku will air at tourist facilities!

・Running: December 1, 2022 – February 28, 2022

・Locations: Tourist areas in both cities

■Snow Miku Filters Using AR

When each barcode is scanned with a smartphone, Snow Miku will appear on the screen! Visitors can take pictures with Snow Miku to commemorate their winter trip to Hirosaki and Hakodate.

・Available: December 1, 2022 – February 28, 2022

NAKED GARDEN ONE KYOTO to be Held at Ninna-ji, a World Heritage Site

From December 10 until December 18, 2022, creative company NAKED will hold NAKED GARDEN ONE KYOTO at Ninna-ji! The event is part of a larger next-generation art project being held around Kyoto until Christmas Day.

This exhibition marks the first metaverse-centered event at Ninna-ji, and guests will be able to enjoy a virtual fashion show in collaboration with Jotaro Saito, a kimono designer from Kyoto. Participants will begin by creating their own avatar by snapping a photo of their face. After that, they will be able to choose a kimono by Saito to use as clothing for their avatar before taking to the runway with other visitors from all around Japan.

NAKED's goal is to bring traditional Japanese kimono culture into the digital space, and the company believes that this is only the beginning. In the future, NAKED hopes to bring other artists into the metaverse as well.
 

NAKED Distanced Lanterns


NAKED Tsukubai

Five-Storied Pagoda Projection Mapping


DANDELION PROJECT

Virtual Fashion Show


Limited Edition Paper Goshuin

This year's event also includes the DANDELION PROJECT, popular with art fans around the world. Created by Ryotaro Muramatsu, the art project has appeared in a number of towns and cities around the world, inviting participants to create flowers and send them around the globe digitally as a hope for peace. Visitors can use their smartphones to send dandelion fluff digitally to other participants around the world, sharing a wish for world peace. 

This year, the participatory art piece was installed in the main temple. Why not visit this stunning exhibition in Kyoto this winter? 

Information

NAKED GARDEN ONE KYOTO Ninna-ji
Venue: Ninna-ji (Five-storied Pagoda, Main Temple)
Running: December 10 – December 18, 2022
*No admission on December 17 due to a private event.
Hours: 17:30-21:30 *Last entry at 21:00
Official Site: https://garden.naked.works/kyoto/

monopo Collaborates with Kyoto-Based Brand Shokuraku Asano to Share Traditional Japanese Textiles with the World

Global creative agency monopo is teaming up with Shokuraku Asano, a 100-year-old obi maker from Kyoto! The company is working to create a digital experience for interested viewers, sharing each artisan's personal story. Those who love Japanese culture are welcome to enjoy traditional Japanese crafts in an entirely new way!

Using a one-of-a-kind QR obi, a new storytelling method is showing off the hard work and love that goes into the company's textiles. A special website and video allow interested viewers to experience the process of making an obi digitally, simply by using their smartphone. Even those unable to visit Japan to see these obi in person can dive into the history of the area's textiles and become more acquainted with one part of Kyoto's manufacturing culture. 

Kyoto was the ancient capital of Japan. The city is known for its history and preservation of Japanese culture, and prior to the pandemic, the city was constantly filled with visitors from around the world anxious to learn more about the country's traditional culture. When the pandemic hit the world in 2020, it changed the city forever–tourists disappeared and the city became much quieter. Now that Japan has opened its borders, however, tourists are returning in droves.

While Shokuraku Asano upholds tradition, it also seeks to leave a mark on new generations by embracing new technology. This unique project is worth noting, so get your smartphone out and start learning!

We applaud monopo's attempt to share this incredible traditional Japanese craftsmanship with people around the world. 

Special Jujutsu Kaisen Exhibition Highlights Attractions and Products from Kyoto

From November 11 until December 8, a series of Kyoto-inspired Jujutsu Kaisen goods will be on sale outside the West Gate at JR Kyoto Station! Along with the merchandise, fans will also be able to snag local foods at the exhibition. 

Collaborative Packaging: Local Products from Kyoto

*The products shown are under development and may change slightly. 

Purchase Bonus: Limited Edition Kyoto Postcard

*The postcard's design will change during the first and second halves of the exhibition.

*Postcards from the Sendai venue will not be available.

*Postcards will only be available while supplies last.

Be sure to grab some of these Jujutsu Kaisen products packed with Kyoto charm!

©芥見下々/集英社・呪術廻戦製作委員会

Kyoto National Museum Decorated by NAKED and Kojima Shouten's Famous Lanterns for Special Event

From December 10 until December 25, the Light and Food Ensemble event will be held in the garden of the Kyoto National Museum.

A new projection mapping show featuring enormous flowers will be shown on the wall of the Meiji Kotokan Hall, unchanged since its opening in 1897. The history of Kyoto will take center stage, however–NAKED is only there to make it all the more impressive.

NAKED will also collaborate with Kojima Shouten for the first time, decorating the venue with the local company's famous lanterns.

At the venue, local shops from Kyoto will be selling sweets to guests. Come enjoy Kyoto in a whole new way during this exclusive winter event!

Information

Light and Food Ensemble

Running: December 10 – December 25, 2022

Hours: 18:00-21:30 (Last entry at 21:00)

Light and Food Ensemble ~Evening Flower Banquet Directed by NAKED~

Venue: Kyoto National Museum

Tickets / Official Site: https://ensemblekyoto.com/

Final Fantasy Artist Yoshitaka Amano Holds Art Exhibition at Myoshin-ji in Kyoto

Yoshitaka Amano, known by international fans as the artist behind the legendary Final Fantasy video game series, is celebrating his 70th birthday with a unique art project in Kyoto. 

The exhibition will be held at Myoshin-ji, the head temple of the associated branch of Rinzai Zen Buddhism. Stepping into the temple, guests will be met with colorful autumn leaves and a sea of gold and blue art pieces.


"I want people to enter this world of light and experience being part of it," Amano said. "Rather than art being something flat on a wall, I want to present something new and unique." This collection of works was designed to question visitors' sensibilities and provide a new kind of art exhibition for fans to enjoy.

The main art piece, newly painted by Amano himself, will be on display in the Dharma Hall, which was decorated by one of Kano Tan'yu's masterpieces. Tan'yu was an Edo-period painter. 

The three meter tall column features Amano's own interpretation of Hiten, part of Mount Meru, a part of Buddhism cosmology considered to be the centre of all the physical, metaphysical and spiritual universes. Four smaller pieces will be displayed on all four sides to create a three-dimensional mandala. 

Information

Golden World: Infinite Light by Yoshitaka Amano 

~GOLDEN VIEW OF THE WORLD~

Running: November 23 – December 8, 2022

Venue: Myoshin-ji (1 Hanazonomyoshinjicho, Ukyo-ku, Kyoto)

Hours: 9:00-12:00 / 13:00-16:00 *Tickets sold until 15:30

Admission: Adults ¥700 / Children ¥400

Details: https://goldenworld.jp/

Official Site: https://www.myoshinji.or.jp/

NAKED GARDEN ONE KYOTO Night Walk Project Invites Guests to Stroll Through the Tale of Genji

From November 11 until December 4, NAKED will hold the unique NAKED GARDEN ONE KYOTO event in Uji. The one-of-a-kind art project is being produced through a partnership with Kyoto City, Uji City, and Otsu City in Shiga Prefecture. Several events and art exhibitions will appear in the Kyoto area until December 25, 2022.

The project first began on September 15 at Kyoto City Hall, and it will move to Uji on November 11. NAKED's unique digital art will bring color to Uji, a place steeped in Japanese history and the heart of Japanese tea culture. The Asagiri Bridge, appearing in The Tale of Genji, will be illuminated, and the Zen temple Kosho-ji will be offering tea ceremonies and a digital teamaking experience for guests to enjoy. NAKED's popular Distance Lanterns will return, allowing visitors to explore Uji at night while properly socially distancing. 

At Kosho-ji, guests can enjoy the renewed DANDELION PROJECT. Created by Ryotaro Muramatsu, the art project has appeared in a number of towns and cities around the world, inviting participants to create flowers and send them around the globe digitally as a hope for peace. Visitors can use their smartphones to send dandelion fluff with their name on it to the metaverse version of Kosho-ji and beyond, eventually causing a digital flower to bloom. 

Why not come take a quiet walk through the streets of Uji, Kyoto? 

Works

Urasenke Tea Ceremony and Digital Teamaking Experience

『DANDELION PROJECT』by RYOTARO MURAMATSU / NAKED

NAKED Distance Lantern®︎

Asagiri Bridge and Kotosaka Interactive Illuminations

NAKED Tsukubai®︎

Chazuna's New Mobility C⁺walkT Experience

Sanrio Characters, Representatives of Japanese Pop Culture, Gather in Kyoto

The 60th Anniversary Sanrio Exhibition: The Beginning of Kawaii will be held at the Kyoto City KYOCERA Museum of Art from October 7 until December 11, 2022. Cinnamoroll, the grand prize winner of the 2022 Sanrio Character Awards, visited the event on opening day, and second place winner Pompompurin visited on October 8. 

The exhibition itself traces the long and storied history of Sanrio, as the company celebrated its 60th anniversary in 2020. Guests will be able to learn more about 'kawaii culture,' something that has since garnered worldwide attention and become massively popular with audiences around the globe. Fans of specific Sanrio characters will be able to see how each was designed, and rare drawings and products will be on display.


Visitors will be able to trace how Sanrio developed each character's personality and style over time, and will surely see how the company placed major importance on communication with audiences. Sanrio's characters continue to transcend time, popular with people of all ages.

Information

60th Anniversary Sanrio Exhibition: The Beginning of Kawaii
Venue: Kyoto City KYOCERA Museum of Art, Main Building,
North Corridor 2F (124 Okazaki Enshojicho, Sakyo-ku, Kyoto)
Running: October 7 – December 11, 2022
Details: https://www.ktv.jp/event/sanrio/


Attack on Titan Playing Cards Win Big at the Ani-Monozukuri Awards 2022

At the 5th annual Kyoto Ani-Monozukuri Awards 2022, a collection of Attack on Titan playing cards made in traditional Japanese style took the Gold Prize in the Craft Design category. In Japanese, monozukuri means 'to make something by hand.'

The Kyoto Ani-Monozukuri Awards aims to revitalize business between the anime industry and local companies and organizations. It honors outstanding collaborative products, inviting those with a creative streak to try their luck at designing something uniquely anime-inspired. This year's awards show saw 157 total entries, with one winning the grand prize, seven winning both gold and silver, and six winning bronze.

Charaditional Toys was launched this year, and the company aims to create items for adults who love anime characters. The Gold Award was granted to the company after judges were inspired by the traditional Japanese craftsmanship and high quality shown in the final product. Made by Oishi Tengudo, a company founded in Kyoto in 1800, the cards were made using classic methods. These 48 original playing cards are like nothing fans of Attack on Titan have seen before. 

A second project is scheduled for release in winter 2022, so stay tuned!

©諫山創・講談社/「進撃の巨人」The Final Season製作委員会

Sound! Euphonium Collaboration Cafe Opens at Kyoto's Hotel Keihan

Fans of the Sound! Euphonium anime will want to visit Hotel Keihan Kyoto Grande from September 23 until November 20, 2022! The second-floor restaurant Octava will be holding a special collaboration cafe with the series in conjunction with the Keihan Electric Railway. The project is part of the collaboration between the series and the local railway that began in August, and fans will be able to order food and drink items inspired by their favorite characters.

Collaboration Menu

Kumiko's Omurice

Reina's Pasta with Sweet and Spicy Tomato Sauce

Hazuki's Matcha Ice Cream & Sapphire's Macarons

Mr. Taki's Spicy Curry Pizza

Sound! Tuba-kun's Fruit Cake

Drink Menu

Kumiko's Strawberry Milk

Reina's Butterfly Pea

Hazuki's Blue Soda

Sapphire's Orange Juice

Band President & Vice President's Matcha au Lait

Straw Tags

Bonuses

Bonus for Dining In-store: Lunch Mat

Drink Order Bonus: Coaster (5 varieties, 1 secret)

*Coasters will be given at random.

Life-size Panels

From omurice and pasta to fruit cake and spicy curry pizza, there is certainly a dish perfect for everyone at the cafe. Guests can also enjoy five different types of drinks, and a coaster will be handed out at random for each order. Those dining at the cafe will enjoy their meal on a special lunch mat, and life-size character panels will be perfect for snapping some photos for social media. Music from the series will be played on-site, so come enjoy while you can!

Information

Keihan Electric Railway x Sound! Euphonium 2022

Running: September 23 – November 20, 2022

Lunch: 11:30-14:30 (Last order at 14:00)

Dinner: 17:30-22:00 (Last order at 21:30)

*From 2:30 to 5:30, only items from the take-out drink menu are available.

Reservations Now Open

Reservations: https://bit.ly/3RFPf4i   

Venue: Hotel Keihan Kyoto Grande, 2F Restaurant Octavar
https://www.hotelkeihan.co.jp/kyoto/restaurant/