Additional Cast Revealed for Tokyo Ghoul Live-Action Sequel, Set Photo Released
Additional cast has been unveiled for the Tokyo Ghoul sequel live-action film slated for a summer 2019 release.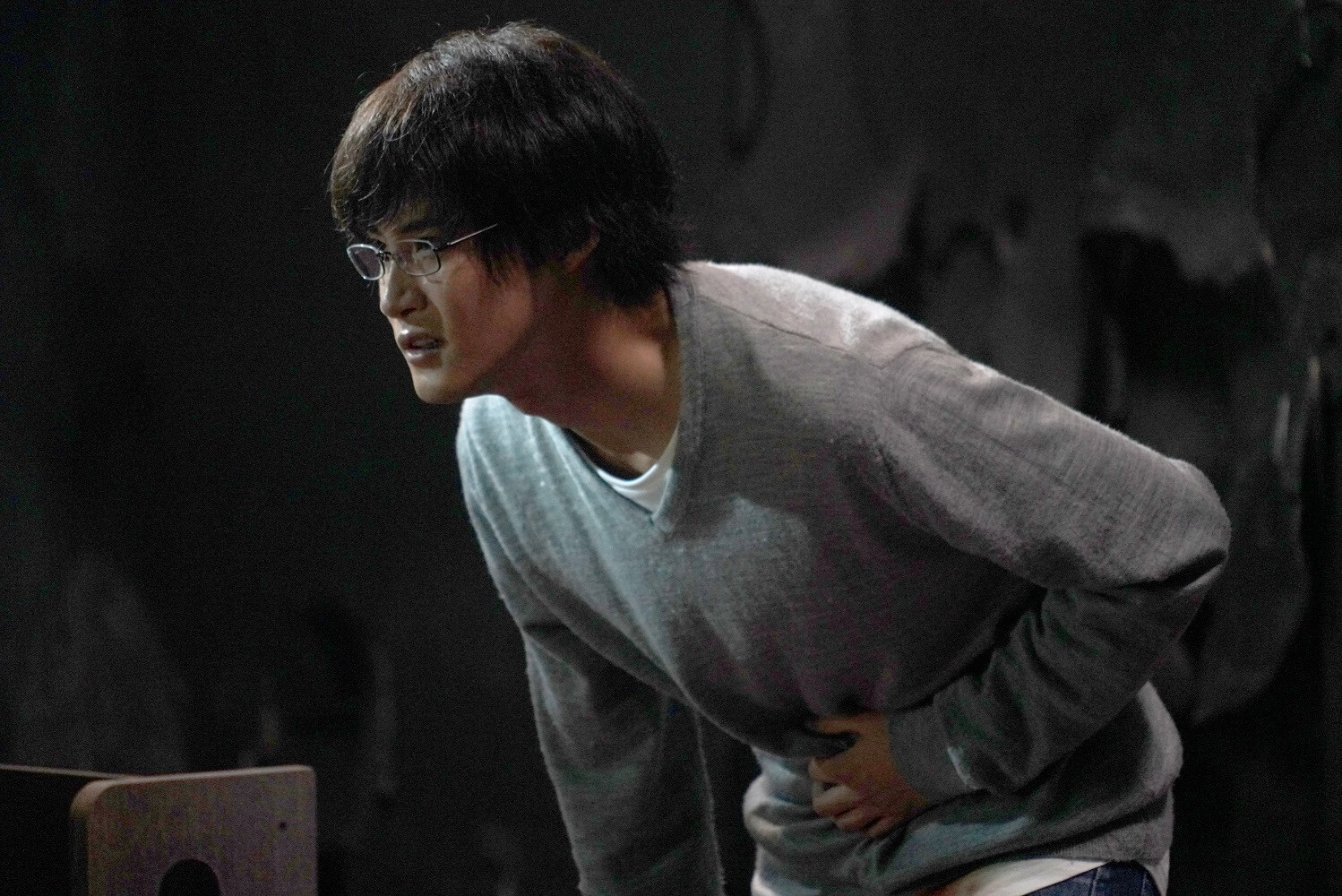 Shunya Shiraishi will reprise his role as Nishiki Nishio, a ghoul and Kaneki's upperclassman and university. Speaking about his role as the character, Shiraishi commented: "I saw once more when filming what it meant to be a ghoul." A new photo on set was also released featuring him and his confrontation with Shuu Tsukiyama who is played by Shota Matsuda.
In the first film, Nishiki opens a violent battle with Kaneki, but in the sequel he stands alongside him to face the Gourmet and protect his lover, Kimi Nishino, revealing his loving affections rooted in the middle of the fight between humans and ghouls.
Comment: Shunya Shiraishi (Nishiki Nishio)
"A lot of people who had watched the film said to me 'Nishiki's dead, isn't he?' but somehow or another he returned alive. He's invulnerable. I saw once more when filming what it meant to be a ghoul. Please look forward not to the continuation of Tokyo Ghoul but a new Tokyo Ghoul."
Information
Tokyo Ghoul 2 (Tentative Title)
Release Date: 2019 in Japan
Official Website: http://tokyoghoul.jp/
©Sui Ishida / Shueisha ©Tokyo Ghoul Production Committee
RELATED ENTRIES
Giant 1/6 Scale Tokyo Ghoul Figure to be Sold at Tokyo Otaku Mode TOKYO in Shibuya PARCO

Tokyo Otaku Mode Inc. is set to display and start taking orders for a new 1/6 scale figure by Figurama from Sui Ishida's hit manga and anime series Tokyo Ghoul. Available in Japan only, it will be sold at the new Tokyo Otaku Mode TOKYO store from November 22 at 10:00am at the new Shibuya PARCO shopping complex.

Figurama is a Hong Kong-based figurine maker which has crafted many figures from popular titles such as Attack on Titan, Hellsing, Devilman, and Trigun, to name a few. The standout characteristic of their work is the size of their figures, the composition, and how detailed the figures are despite being so large.

The Tokyo Ghoul figure set to appear at Tokyo Otaku Mode TOKYO stands 63cm high, 44cm wide, and 35cm deep. It features series protagonist Ken Kaneki versus Yamori, who made Kaneki's hair turn white.

Only 800 of these figures have been made, of which Tokyo Otaku Mode TOKYO will sell 40, making them an extremely rare and limited edition collectors items. Perfect for any fan of the hit series!

©Sui Ishida/Shueisha・Tokyo Ghoul Production Committee

Information

TOKYO GHOUL: KANEKI VS YAMORI 

Maker: Figurama
Series: Elite Fandom
Scale: 1/6 

Materials: Ecofriendly Polystone, Translucent Resin, PU, LED 

Size: 63cm x 44cm x 35cm
Price: ¥100,000 (Tax excluded, shipping charge included)

Figurama Official Website: https://figurama-collectors.com/ 

Lorenzo Ferro and Yutaro Discuss the True Crime Film 'El Angel' | MMN Interview

The 2018 Argentine-Spanish true crime film El Angel is set to hit theatres in Japan this year on August 16.

The movie is inspired by the real-life Argentine serial killer Carlos Robledo Puch. It was screened at the 2018 Cannes Film Festival and was chosen for the Best Foreign Language Film at the 91st Academy Awards in the Argentine category. The film caught public attention and has enjoyed great success, and that's in huge part thanks to Argentina actor Lorenzo Ferro, a newcomer who has made his acting debut with his role as Puch. He plays the character naturally and effortlessly, capturing the seemingly "pure" looks of Puch coupled with his evil intent, a killer who had free reigns to do whatever he needed to do to achieve his goal. The 60s-70s fashion that Ferro dons in the film is also a highlight worthy of note.

MOSHI MOSHI NIPPON spoke to Ferro who came to Japan to promote the film, and Yutaro, who is the same age as Ferro, and is a model that has recently become very busy in the acting world. We questioned them about them about the film, the character role, and fashion.

*Interview translated from Japanese.

──What are your thoughts after having seen El Angel, Yutaro?

Yutaro: This was actually my first time watching an Argentine movie. The first thing that piqued my interest was the unique sound of the language. With the story, when I heard that it was about a serial killer I thought it would be a pretty graphic portrayal, but it wasn't. Even people who aren't good with graphic and shocking kinds of films would be able to watch this.

──That kind of reasoning and moral compass [which the film depicts] makes you feel kind of uneasy, doesn't it?

Yutaro: Obviously the things that the protagonist Carlos does is against the law and morally wicked, but he himself doesn't believe any little thing he does is bad. He moves on instinct which in his mind is somehow acceptable, and that's dangerous. Was it hard for you to create the character, Lorenzo?

 

Lorenzo: It really was tough. I hadn't played a character until then, so the first thing I had to learn was just being in front of a camera. Playing the role came after. I had to become "friends" with the movie and "friends" with the camera. Those were the first things I needed to do to fulfill my commitment.

The whole shoot took around a month and a half, but prep time was half a year. During that time I practised playing piano and mastered riding a bike. It was a lot of work, but when I finally saw the completed movie, I felt it was definitely worth all the effort.

Yutaro: When you're playing someone who is far from anything like yourself, prep time is really important, isn't it? You have to gather material on the role and really use your imagination. I also make sure to properly communicate with the director before shoots. I ask about the film's theme and intent. If our perceptions don't match then it's not going to hold up on screen.

Lorenzo: It's definitely important to respect the director and communicate with them effectively. When we were filming, I wanted to make sure I didn't forget to see the director as a friend. For instance, if the hierarchal relationship is overly strict and the director is the kind of person to look down on you and order you around, then you can't build trust. I also think the best kind of relationship is when you can give your own opinion. Saying to them like, "That was no good, was it?" [laughs] "Why do I gotta do the same thing 40 times!?" You should be frank and express your doubts.

Yutaro: Speaking of that, it's important to have trust with your fellow cast members too. I believe that even if you're filming together, if you can't build that trust, that subtle distance between you will be conveyed [in the scene]. You yourself have got to try and converse with them in a positive manner. Go out for a meal together before a shoot, talk together about your roles.

──You live your days laboriously, Yutaro, including as an actor. What does a time look like for you when things get particularly tough?

Yutaro: I've recently been doing a lot of shoots for multiple films at the same time. When that happens I find it very important to maintain retention so that I don't forget my roles. In that sense, I also find that it's important to look at how you spend your time outside of shoots when you're working an acting job.

Lorenzo: Oh, yeah! Having spare time during shoots is a curse as an actor [laughs] Even if you fire yourself up―preparations are done, you've done your warmups, and you say, "Right, time to shoot!"―you have to start from zero again if you have time until the next shoot. That happens quite a lot.

 

──So you're demanded to have self-discipline too. El Angel is set in 1970s Buenos Aires. The fashion and interior designs seen in the film really stood out.

Yutaro: For me personally the women's clothes left an impression on me, particularly the one piece that Carlos's mother wears. The clothes that Carlos wears in each scene too. They're plain and simple but cool. I liked the leather jacket he wore when he went on a double date with his pal Ramón.

Lorenzo: Wow, you really took in at all the little details. The influence for Carlos and Ramón was drawn heavily from James Dean and Marlon Brando who were both popular actors at the time.

Yutaro: Oh, really?

Lorenzo: Like smoking cigarettes and wearing a leather jacket. We naturally had an amazing stylist who prepared our outfits for us. We were both also conscious of people like James Dean and Marlon Brando when we played Carlos and Ramón.

──What kind of clothes do you like, Lorenzo?

Lorenzo: I usually wear the kind of thing I have on now. I have a lot of rough-looking clothes. I really like fashion, my wardrobe is packed [laughs] The more clothes you have the harder it is to decide what to wear, so I really want to just wear the same t-shirt, pants and shoes all the time [laughs].

Yutaro: I looked at your Instagram, you wear t-shirts with Japanese games and anime characters on them, don't you? You have a Super Mario one on today, and I saw a Pokémon one on your Instagram. I like how you venture to wear t-shirts of games that were popular a while back now.

Lorenzo: Really? Thanks, that makes me happy. The overalls you have on now are really cute, but I think that's because it's something that would suit you. If I wore something like that I'd probably look like a clown [laughs].

Yutaro: Do you have a criteria when picking out a character t-shirt?

Lorenzo: Well, I try not to wear t-shirts of franchises I don't like, or games I haven't played yet, or of bands I've never listened to before [laughs]. I'm wearing a Mario t-shirt today but there's still much I don't know about Japanese games or culture. I'm interested in many different cultures of many different countries, so I want to know more about Japan.

Yutaro: In that case, let's go shopping together in Harajuku next time!

Writer: Takanori Kuroda

Photographer: MURA

Models: Yutaro, Lorenzo Ferro

Translator: Joshua Kitosi-Isanga

©2018 CAPITAL INTELECTUAL S.A / UNDERGROUND PRODUCCIONES / EL DESEO

Information

El Angel

Release Date: August 16, 2019 (Japan)

Cinemas: Shibuya CINE QUINTO, Human Trust Cinema Yurakucho, Shinjuku Musashino-kan, and elsewhere across Japan

Director: Luis Ortega

Producers: Pedro Almodóvar, Agustin Almodóvar (Wild Tales, 2014) 

Distributor: Gaga Corporation

Running Time: 115 Minutes

Japanese Subtitles: Rie Harada

Rating: R15

Official Website: https://gaga.ne.jp/eiennibokunomono

©2018 CAPITAL INTELECTUAL S.A / UNDERGROUND PRODUCCIONES / EL DESEO

TALENT PROFILE

Yutaro

Yutaro was born in Hiroshima on June 3rd 1998. His modeling career has earned him lots of attention as a fashion icon of the new generation. The famous model also works as a "charisma" shop assistant. Yutaro has gained his reputation as a "mysterious and handsome guy" from his appearance on Japanese variety shows. His debut was made on the show "Gyoretsu no Dekiru Horitsu Sodanjo" and has since then appeared on numerous different TV shows. He challenged himself to appear on stage for the very first time in March this year and is gaining popularity by the day for his diverse work.

Special Tokyo Ghoul S Compilation Showcases Kaneki & Tsukiyama's Relationship

A special compilation video for the recent live-action film Tokyo Ghoul S, which hit Japanese theatres on July 19, was recently released.

Before the film's release, it premiered in Tokyo, Osaka and Paris to rave reviews. At the premiere events, Shota Matsuda, who plays Tsukiyama, proclaimed the movie as "a romance film between Tsukiyama and Kaneki."

The compilation video reveals Kaneki's many encounters with Tsukiyama, from their first encounter to their aggressive battles, as well as the iconic scene from the original manga series when Tsukiyama sniffs a handkerchief with Kaneki's blood on it in pure ecstasy. The video includes the film's theme song Introduction by QUEEN BEE which was written and composed by band vocalist Avu-chan.

The films directors, Hiramaki Kazuhiko and Takuya Kawasaki, also explained how much they focused on making sure Tsukiyama, who is popular amongst Tokyo Ghoul fans, was a strongly written character. They described in particular the climactic battle scene which isn't just a simple fight and instead is an opportunity for Kaneki to not only express himself to Kaneki but also eat him as he sees Kaneki as an ingredient. Kaneki is drowned in Tsukiyama's adoration for himself. Speaking about the role, Masataka Kubota, who plays Kaneki, said he made sure to play more of a passive role.

©Sui Ishida / Shueisha   ©2019 "Tokyo Ghoul S" Production Committee

Information

Tokyo Ghoul S

Based On: Tokyo Ghoul (Young Jump Comics, Shueisha) by Sui Ishida

Directors: Hiramaki Kazuhiko / Takuya Kawasaki

Screenwriter: Chūji Mikasano

Distributed by: Shochiku

Release Date: July 19, 2019 (Japan)

Official Website: http://tokyoghoul.jp/

QUEEN BEE Release Music Video For Tokyo Ghoul S Main Theme 'Introduction'

QUEEN BEE just dropped their new music video for Introduction on YouTube.

The song is taken from their latest album Ju which hit shelves back in May. The song will feature as the main theme for the forthcoming film Tokyo Ghoul S, the sequel to the live-action adaptation of the popular manga and anime series Tokyo Ghoul.

The music video was directed by Nakane Sayaka who has worked on QUEEN BEE's most recent videos including HALF, Hypnotize, and Holy War.

©Sui Ishida / Shueisha   ©2019 "Tokyo Ghoul S" Production Committee

Information

Ju

Released: May 22, 2019

First Press Limited Edition (CD+DVD): ¥4,500 (Before Tax) [AICL-3700〜3701] *Includes 84-page booklet & sticker sheet

Regular Edition (CD-Only): ¥3,000 (Before Tax) [AICL-3702]

QUEEN BEE Official Website: http://www.ziyoou-vachi.com/

Tokyo Ghoul S

Based On: Tokyo Ghoul (Young Jump Comics, Shueisha) by Sui Ishida

Directors:Hiramaki Kazuhiko / Takuya Kawasaki

Screenwriter: Chūji Mikasano

Distributed by: Shochiku

Release Date: July 19, 2019 (Japan)

Official Website: http://tokyoghoul.jp/

Toshio Suzuki & Studio Ghibli Exhibition Bound For Nagasaki This Summer

The second run of the Toshio Suzuki & Studio Ghibli Exhibition is set to take place at Huis Ten Bosch in Nagasaki from July 13 to September 23. The event is focused on longtime Studio Ghibli producer Toshio Suzuki and centres on specific "words" he wishes to convey through this work.

The exhibition had its first run in Tokyo back in April this year. We covered that event in detail so be sure to give it a read.

The enormous 3-meter tall Yubaba & Zeniba centrepiece will return at the Nagasaki exhibition. Visitors can draw omikuji fortunes from the display which have Suzuki's keywords written on them along with his explanation of them. You can take these home with you―a perfect addition for your Studio Ghibli collection!

An extremely special merchandise shop will also open at the site with exclusive items and products on sale and decor and decorations that will have you feeling you have stepped right into an enchanting world woven by Studio Ghibli.

Fan: ¥702 (Tax Included)

Get your hands on an official Spirited Away fan to cool yourself down at the event this summer. On one side is an illustration of Yubaba and on the other some powerful words from Suzuki.

Tote Bag: ¥1,620 (Tax Included)

Express your love for Studio Ghibli everyday with this tote bag featuring the same illustration of Yubaba―which is the main visual for the exhibition―on the side. It's big enough to be worn on your shoulder making it a convenient day-to-day item.

Tea-Towel: ¥1,296 (Tax Included)

This beautiful tea towel is made in collaboration with dyed goods company Chikusen who have been around since the Edo period. It has a traditional indigo blue colour and is made from high quality material. A perfect gift and souvenir for any fan of Studio Ghibli.

We can't forget the themed food menu either. You'll find it on the first floor of Huis Ten Bosch at the Tea Salon.

Bath House Dessert: ¥850 (Tax Included)

A fitting dessert for any guest of the Spirited Away bath house, look forward to a bamboo charcoal-black chocolate-sprayed vanilla ice cream, colourful sugar candy and a cookie. It's also served with iced corn tea.

Toast For Adventure Lovers: ¥650 (Tax Included)

Served with a glass of iced corn tea is a delicious egg-topped slice of toasted baked in the hotel bakery. Like you see in anime series, it makes you want to grab it, shove it between your teeth and run outside on an adventure.

Any fans of Studio Ghibli's work aren't going to want to miss out on this very special event. If you're in Japan this summer be sure you get to go.

©️TS ©️Studio Ghibli

Information

Toshio Suzuki & Studio Ghibli Exhibition

Running: July 13, 2019 – September 23, 2019

Location: Huis Ten Bosch Art Museum, Huis Ten Bosch (1-1 Huis Ten Bosch Machi, Sasebo, Nagasaki Prefecture)

Time: 9:00-21:00 *Depending on day – check official website for details

Prices

*Free for those who hold any of Huis Ten Bosch's passport tickets including the 1-Day Passport, Moonlight 4 Passport, After 5 Passport, VIP Premiere Passport, and Yearly Passport

*For those who hold a Sansaku (Walking) ticket: Adults ¥800, Children ¥700, Toddlers & Preschoolers ¥500

*For those who hold a Harbour Zone-only ticket: Adults ¥1,600, Children ¥1,400, Toddlers & Preschoolers ¥1,000

(Harbour Zone Entry Price: Adults & Children ¥1,000, Children & Preschoolers ¥500)

Huis Ten Bosch Official Website: https://www.huistenbosch.co.jp/

Tokyo Ghoul S Live-Action Film Shown & Cast Give Q&A at Japan Expo in France

The sequel to the live-action film Tokyo Ghoul, entitled Tokyo Ghoul S, will be released on July 19, 2019. The first film dropped in 29 countries around the world in July 2017 and went on to become a huge hit. The sequel features a whole new staff team with returning cast members.

Tokyo Ghoul S was shown at the 20th Japan Expo event in Paris, France on July 7, the first pre-release screening since its premiere in Tokyo. Several cast members including Masataka Kubota (Ken Kaneki), Shota Matsuda (Shū Tsukiyama) and Maika Yamamoto (Touka Kirishima) as well as the film producer Tomohiro Nagae appeared at the event for a Q&A session with fans.

The French fans welcomed the staff on stage with a round of applause as Kubota and Matsuda greeted them with a "Bonjour!" They got straight into the Q&A, with Kubota, who plays the half-ghoul Kaneki, explaining to the crowd, "All of you eat meat and vegetables, but ghouls are only able to eat people."

He continues, "People go mad when it's them who are to be eaten. But I think that's part of the appeal of this movie."

The producer Nagae elaborated on the film's deep theme: "One thing about this film is how universal its theme is. No matter where you go in the world, it's mutual. Humans and ghouls experience much drama throughout the franchise, but this also applies to those close to you. When you're watching the film, try thinking what would happen if you yourself became a ghoul."

When asked about their favourite characters in the films, Kubota answered Juzo Suzuya, Matsuda answered Kaneki, and Yamamoto said her own character Touka.

Matusda also earned huge cheers from the crowd with his Tsukiyama-like answer, saying: "In this film Tsukiyama says for the first time since meeting Kaneki that he wants to eat him, so now I can't think of anything else but him."

When asked what fans should look forward to in this film, Kubota simply said "Shota Matsuda!" Matsuda followed this up saying, "I believe this is a romance film between Tsukiyama and Kaneki. Look forward to that aspect of it too."

©Sui Ishida / Shueisha   ©2019 "Tokyo Ghoul S" Production Committee

Information

Tokyo Ghoul S

Based On: Tokyo Ghoul (Young Jump Comics, Shueisha) by Sui Ishida

Directors:Hiramaki Kazuhiko / Takuya Kawasaki

Screenwriter: Chūji Mikasano

Distributed by: Shochiku

Release Date: July 19, 2019 (Japan)

Official Website: http://tokyoghoul.jp/

Ginza's Hidden Tokyo Ghoul Restaurant Receives Extended Opening Period

To celebrate the upcoming July 19 release of Tokyo Ghoul S, Japanese movie studio and production company Shochiku opened its 'immersive' blood-themed Tokyo Ghoul restaurant on July 5. The location of the restaurant has been kept a secret, but it is somewhere in Ginza, wrapped in 40,000 beautiful roses.

The restaurant was originally set to stay open until August 4, but due to all tickets for its 31-day run selling out in just three days, it has been extended until August 18. Tickets for these extra two weeks will go on sale on the restaurant's official website on July 12 at noon (JST).

Tokyo Ghoul Restaurant Details: The Location of This Bloody Rose Tokyo Ghoul Restaurant in Ginza is a Secret

Die-hand fans of Tokyo Ghoul aren't going to want to miss out on this exclusive ghoulish gourmet experience.

Information

Ghoul Restaurant

Running: July 5, 2019 – August 18, 2019 (*extended by two weeks)

Opening Hours: Two Slots – Slot ① Meeting 17:00 / Dining 17:30-19:30, Slot ② Meeting 20:00 / Dining 20:30-22:30

Location: Somewhere in Ginza (*Those who purchase a ticket will be told the exact location)

Official Website: http://afroand.co/ghoulrestaurant/

Tokyo Ghoul:re Cafes in Ikebukuro & Nagoya Receive Opening Extension

The Tokyo Ghoul:re cafes based on the popular manga series, which are running at the Ikebukuro and Nagoya branches of THE GUEST Café & Diner: they will now run until July 28 and 29 respectively. The Fukuoka and Sapporo cafes will continue to run until June 30.

The cafes are serving up a menu of food, drinks and desserts inspired by the series as well as decor and decorations.

Kaneki's Mask Curry: ¥1,490 (Before Tax)

When you order Kaneki's Mask Curry it comes with a drink or sparkling non-alcoholic beverage of your choice served in a vessel inspired by Kaneki's mask. You'll look like Kaneki too when drinking out of it.

Tsukiyama's Gourmet Roast Beef: ¥1,590 (Before Tax)

This roast beef dish is inspired by Tsukiyama, also known as the "Gourmet" in the series. The dish includes cheese that looks like an eyeball, pasta made to look like ears, and of course the meat.

Quinque Rice Flour Dumpling Sweet Red Bean Soup: ¥1,390 (Before Tax)

The name of this dish says it all―dango made in the image of characters' Quinques. It also comeos with a bowl of strawberries, chestnuts and rice flour dumplings.

Torso's Milk Tea: ¥790 (Before Tax)

Fans of the series will recall Karao Saeki a.k.a "Torso." He gets his name from being a ghoul serial killer as he decapitates and dismembers his victims, leaving only the torso. This beverage includes bloody red berry sauce which is best enjoyed when mixed into the milk tea

Customers at the cafe will receive the above-pictured lunch mat exclusive to the cafe. Those who order a drink will also receive one of 12 possible coasters chosen randomly.

Several pieces of merchandise are also being sold.

Tokyo Ghoul:re Slider Pouches: ¥900 Each (Before Tax)

Tokyo Ghoul:re Tapestries: ¥2,500 Each (Before Tax)

If you're in Japan this summer, don't miss this opportunity to visit the Tokyo Ghoul:re Cafe.

©️Sui Ishida / Shueisha

Information

Tokyo Ghoul:re Café List

THE GUEST Café & Diner (Ikebukuro PARCO Main Building Floor 7F)

Address: 1-28-2 Minami-Ikebukuro, Toshima Ward, Tokyo

Running: June 6, 2019 – July 28, 2019

Opening Hours: 10:00-22:00 (Food Last Orders 21:00 / Drinks 21:30)

*Merchandise shop open 10:00-21:00

THE GUEST Café & Diner (Nagoya PARCO West Building Floor 8F)

Address: 3-29-1 Sakae, Naka Ward, Nagoya, Aichi Prefecture

Running: May 17, 2019 – July 29, 2019

Opening Hours: 10:00-21:30 (Food Last Orders 20:30 / Drinks 21:00)

*Merchandise shop open 10:00-21:00

THE GUEST Café & Diner (Fukuoka PARCO Main Building Floor 5F)

Address: 2-11-1 Tenjin, Chuo Ward, Fukuoka, Fukuoka Prefecture

Running: May 31, 2019 – June 30, 2019

Opening Hours: 10:00-20:30 (Food & Drink Last Orders 20:00)

THE GUEST Café & Diner (Sapporo PARCO Floor 4F)

Address: Minami 1 Jonishi, Chuo Ward, Sapporo, Hokkaido

Running: May 24, 2019 – June 30, 2019

Opening Hours:

[Weekdays & Sunday] 10:00-20:00 (Food Last Orders 19:00 / Drinks 19:30)

[Saturday] 10:00-20:30 (Food Last Orders 19:30 / Drinks 20:00)

Café Website: http://the-guest.com/

New Tokyo Ghoul S Trailer Narrated by Tsukiyama's Anime Voice Actor Mamoru Miyano

A premiere event was held in Tokyo on June 11 for the forthcoming release of Tokyo Ghoul S―the sequel to the live-action film Tokyo Ghoul―which is set for release on July 19. It was revealed at the event that QUEEN BEE will perform the main theme Introduction and a new trailer was shown showcasing the track.

Now, an all-new trailer has been released and it features narration by Mamoru Miyano, the voice actor for Shuu Tsukiyama in the Tokyo Ghoul anime adaptation. Tsukiyama is played by Shota Matsuda in the upcoming film.

Speaking about the narration, voice actor Mamoru Miyano commented: "Tokyo Ghouland Shuu Tsukiyama are both irreplaceable things for me, so I feel honoured to be involved once again like this. I was really overjoyed that the staff were excited about my narration [laughs]. But what's more is that Shota Matsuda's Shuu Tsukiyama is simply amazing. I really was thrilled! Just watching the trailer my heart skipped a beat at his sexiness, so I want to see the whole movie already! Please look forward to its release!"

©Sui Ishida / Shueisha   ©2019 "Tokyo Ghoul S" Production Committee

Information

Tokyo Ghoul S

Based On: Tokyo Ghoul (Young Jump Comics, Shueisha) by Sui Ishida

Directors:Hiramaki Kazuhiko / Takuya Kawasaki

Screenwriter: Chūji Mikasano

Distributed by: Shochiku

Release Date: July 19, 2019 (Japan)

Official Website: http://tokyoghoul.jp/

Tokyo Ghoul S Cast Members Speak at Tokyo Premiere Event

A premiere event was held in Ebisu, Tokyo on June 11 for the upcoming live-action film Tokyo Ghoul S which is set to hit Japanese cinemas on July 19. Members of the cast attended the event, including Masataka Kubota who is reprising his role as Ken Kaneki in the sequel movie.

The event began outdoors on a specially-built stage. The guests were welcomed by a flurry of applause as they stepped onto stage dressed in chic outfits. Kubota began by calling, "This summer is…" to which fans responded "Tokyo Ghoul!" He stood before the fully-packed crowd and expressed his enthusiasm for the film: "Tokyo Ghoul S is the sequel to the last film. It has a sense of realism, but in places it's also gentle, and in others it's eerie. I can say with confidence that we have been able to create an incredible movie."

Masataka Kubota will play Ken Kaneki

The event then moved into The Golden Hall where guests greeted the crowd and talked about the upcoming movie. Kubota said: "The cast, including the new character Tsukiyama (Matsuda) as well as Touka (Yamamoto), have all stirred [their characters] in a new way. Because of that, I believe even those who didn't watch the first movie will be able to enjoy this one."

Kubota, Matsuda and Touka shot many scenes together and mentioned how the three of them kept in close contact even after the shooting had finished.

Shota Matsuda will play Shuu Tsukiyama

Maika Yamamoto will play Touka Kirishima

At the end of the event, Kubota announced that QUEEN BEE's song Introduction will be used as the film's main theme. A new trailer was then shown which includes a sneak peek at the song. You can watch it below.

Tokyo Ghoul S 90-Second Trailer

Kubota praised the song for being simultaneously uptempo and wild which he said was a perfect match for the movie. He also expressed his hope for people to be glued to their seats and fully immersed in the film.

Matsuda explained how he tried to think of Tokyo Ghoul S as a romance during the shooting of the film and challenged himself to really think that he wanted to eat Kaneki. Kubota responded to this, saying that the film is packed full of loved from Matsuda.

©Sui Ishida / Shueisha   ©2019 "Tokyo Ghoul S" Production Committee

Information

Tokyo Ghoul S

Based On: Tokyo Ghoul (Young Jump Comics, Shueisha) by Sui Ishida

Directors:Hiramaki Kazuhiko / Takuya Kawasaki

Screenwriter: Chūji Mikasano

Distributed by: Shochiku

Release Date: July 19, 2019 (Japan)

Official Website: http://tokyoghoul.jp/

QUEEN BEE to Perform Tokyo Ghoul S Live-Action Film's Main Theme

Masataka Kubota, who is reprising his role as Ken Kaneki in the upcoming live-action film Tokyo Ghoul S, announced at the film's premiere at The Golden Hall in Ebisu that QUEEN BEE will perform the movie's main theme song.

The song is titled Introduction and is taken from QUEEN BEE's new album Ju which hit shelves in May. The band also previously performed the song HALF as the ending theme for the TV anime series Tokyo Ghoul:re.

QUEEN BEE released a new artist photo to promote the new collaboration.

Speaking about their return to the franchise once again, QUEEN BEE's vocalist Avu-chan commented: "Talks began on the day when we had finished everything on our album Ju―the music, the photos, and the music videos […] Introduction is the last song on the album. It's a song that follows the road down ten years of QUEEN BEE, and we are honoured that it will begin as the theme song for Tokyo Ghoul S. Please look forward to it."

©Sui Ishida / Shueisha   ©2019 "Tokyo Ghoul S" Production Committee

Information

Ju

Released: May 22, 2019

First Press Limited Edition (CD+DVD): ¥4,500 (Before Tax) [AICL-3700〜3701] *Includes 84-page booklet & sticker sheet

Regular Edition (CD-Only): ¥3,000 (Before Tax) [AICL-3702]

QUEEN BEE Official Website: http://www.ziyoou-vachi.com/

Tokyo Ghoul S

Based On: Tokyo Ghoul (Young Jump Comics, Shueisha) by Sui Ishida

Directors:Hiramaki Kazuhiko / Takuya Kawasaki

Screenwriter: Chūji Mikasano

Distributed by: Shochiku

Release Date: July 19, 2019 (Japan)

Official Website: http://tokyoghoul.jp/

Tokyo Ghoul S Live-Action Film Scene Teasers Showcase Kaneki, Touka, Tsukiyama & Others

New photos have been unveiled showcasing the cast in various scenes from the upcoming sequel to the live-action Tokyo Ghoul film, entitled Tokyo Ghoul S.

We see protagonist Kaneki (Masataka Kubota) donning his Anteiku work attire as well as a shot of his Kakugan, or "red eye"―a state ghouls go in when they are hungry or when they use their Kagune, a predatory organ which is used as a ghoul's weapon.

We also see Touka (Maika Yamamoto) pulling a fighting pose as she stands off against Tsukiyama, her and Kaneki's arch-enemy.

Other cuts include those of Kaneki-obsessed gourmet Shuu Tsukiyama (Shota Matsuda) where he encounters Kaneki at Anteiku, and another where he is facing off against Kaneki while smirking an evil smile.

We also see Kaneki's best friend Hideyoshi Nagachika (Kai Ogasawara) chatting with Kaneki as well as the ghoul Nishiki Nishio (Shunya Shiraishi) and his human lover Kimi Nishino (Mai Kiryu).

Finally, we see Itori (Jiyoung) whispering something into Kaneki's ear.

Tokyo Ghoul S will be released in Japan on July 19, 2019.

©Sui Ishida / Shueisha   ©2019 "Tokyo Ghoul S" Production Committee

Information

Tokyo Ghoul S

Based On: Tokyo Ghoul (Young Jump Comics, Shueisha) by Sui Ishida

Directors:Hiramaki Kazuhiko / Takuya Kawasaki

Screenwriter: Chūji Mikasano

Distributed by: Shochiku

Release Date: July 19, 2019 (Japan)

Official Website: http://tokyoghoul.jp/