Tokyo Disneyland® Announces Beauty and the Beast & Big Hero 6 Attractions for Spring 2020
Tokyo Disneyland is set to build a whole new range of attractions as well as an entertainment theatre, restaurant shops and more over an area that spans 47,000 m² across three of its seven themed areas: Fantasy Land, Tomorrowland and Toon Town.
*Photos are for illustrative purposes only
An area based on the Disney movie Beauty and the Beast will open in Fantasy Land. An attraction called Beauty and the Beast: The Story of Magic will open inside a 30 meter rendition of the castle from the movie. Guests will be pulled through famous scenes from the movie on the ride―which moves like it is dancing―as iconic songs from it provide the soundtrack to the experience.
Belle's village will be recreated and be home to a store called Village Shops, a restaurant called La Taberunu do Gaston and more, all to make you feel like you're really in the movie.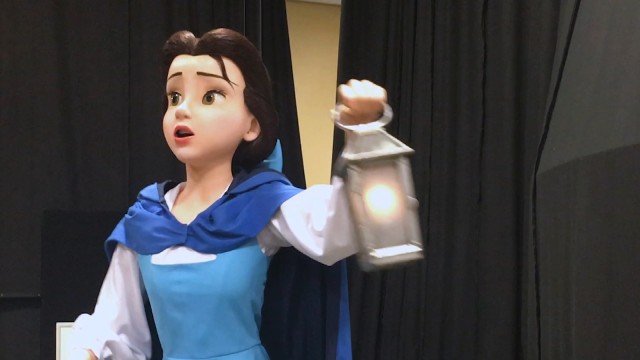 Tokyo Disney Resorts also released a video on its official YouTube channel showcasing behind-the-scenes of constructing the new areas.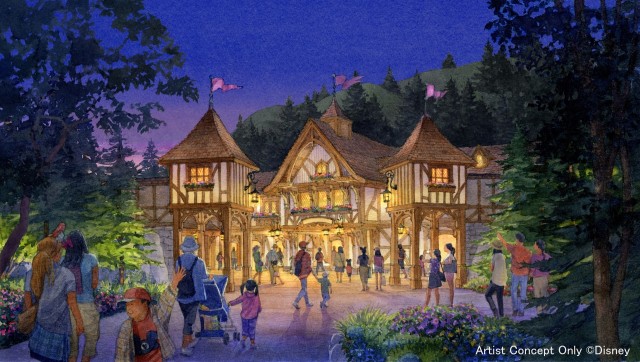 Fantasy Land will also give rise to Tokyo Disneyland's first authentic indoor theater called Fantasy Land Forest Theater. Guests can expect to see a host of live performances from the Disney cast who will "take people on a trip through the wonderful world of music."
Over at Tomorrowland a new Big Hero 6 attraction is being built called Baymax's Happy Ride. The ride is pulled along by "Care Robots" and will thrill guests with unpredictable movements. A space-themed popcorn shop called Big Pop will serve popcorn of all different flavours.
Finally, in Toon Town, a new facility called Minnie's Style Studio is being built where guests can meet Minnie Mouse. Guests will work as fashion designers and take photos with Minnie as she wears various stylish outfits.
Be sure to mark spring 2020 in your calendars and head to Tokyo Disneyland where you will meet all-new dreams and magic!
RELATED ENTRIES
Kaori's Easy Recipe: Learn to Make Baymax Mushi-Pan Steamed Bread

With just a small bit of ingenuity, turn everyday food into something cute using Kaori's Easy Recipe! With a few simple ideas, an ordinary recipe magically transforms into a cute dish.

Today, I'll teach you how to make Baymax mushi-pan steamed bread.

Ingredients

This recipe makes 5 portions

140g strong flour

20g granulated sugar

Pinch of salt

3g dry yeast

3g baking powder

5g vegetable oil

85ml-90ml milk (room temperature)

1

Mix everything together in a food processor. If you don't have a food processor, you can also knead the ingredients well by hand.

2

Ferment at 40℃ for 40 minutes. If you don't have a fermentation machine, leave in a warm environment.

3

Once the dough has doubled in size, divide into five portions and put into separate cups. If using paper cups, rub a little bit of oil inside.

4

Bake in the oven at 40℃ for 20-25 minutes.

5

After baking, steam in a steamer for 12-13 minutes. If you don't have a steamer, put into a frying pan or large pot with a little bit of water and cover.

6

Once cooled, use some nori seaweed to make Baymax's face and you're done!

Kaori Kubota (@kaopan27)

I live in Hokkaido and I love to make character themed foods, desserts and pastries♡

I want to see my family smile, so I enjoy putting in a bit of effort to make character foods and changing food into something cute♡

You can see more of my character foods and character bento boxes on my Instagram page → @kaopan72

Review: Tokyo Disneyland's New Big Hero 6 Attraction and Minnie's Style Studio

Tokyo Disneyland® is set to open its all-new Beauty and the Beast area of the park tomorrow on September 28, 2020. It's opening in line with the new Big Hero 6 attraction, Minnie Mouse area where guests can meet Minnie, and the park's new popcorn shop.

MOSHI MOSHI NIPPON was granted early access to the news areas, so here's our review!

Check out our review of the new Beauty and the Beast area too here: https://www.moshimoshi-nippon.jp/362152

The Happy Ride with Baymax: The world's first Big Hero 6 attraction

The Happy Ride with Baymax ride has guests joining one of the personal healthcare companion robots on an exciting cart ride.

The park is limiting the number of people allowed on the attraction at once due to the pandemic. To board the attraction, guests need to download the app after entering the park.

Big Pop: Tokyo Disneyland's first popcorn shop

Tokyo Disneyland's first permanent popcorn shop opens in Tomorrowland.

This space-themed shop serves up a whole range of flavours like cookie cream, caramel and cheese, and strawberry milk. There's also four different popcorn baskets to choose form, including Big Hero 6 and Beauty and the Beast designs.

Minnie's Style Studio: Meet Minnie Mouse

This studio imagines Minnie Mouse as an international fashion designer who designs outfits, shoots photos, and more. Guests can meet Minnie Mouse at her studio if they book in advance.

©Disney

Review: Tokyo Disneyland's New Beauty and the Beast Area

Tokyo Disneyland® is set to open its all-new Beauty and the Beast area of the park tomorrow on September 28, 2020. It's opening in line with the new Big Hero 6 attraction, Minnie Mouse area where guests can meet Minnie, and the park's new popcorn shop.

MOSHI MOSHI NIPPON was granted early access to the Beauty and the Beast area – here's our review!

Check out our review of the new Big Hero 6 attraction and Minnie's Style Studio too here: https://www.moshimoshi-nippon.jp/362221

The world of Beauty and the Beast brought to life

The area connects Belle's village to Beast's castle by way of the forest. At the entrance to the village, guests will immediately spot the cottage of Maurine, Belle's father and the vilage inventor. Beyond that is Gaston's water fountain as well as a restaurant inspired by Gaston's bar. There are also other shops that Belle visits in the film, such as the bookshop. It's like stepping into the magical world itself.

When you leave the village and head through the forest, you are met by the spectacle that is Beast's castle, coloured in a cute pink. There's a large-scale attraction inside called "Enchanted Tale of Beauty and the Beast."

The Tokyo Disneyland-original attraction "Enchanted Tale of Beauty and the Beast"

The attraction, located inside the towering 30m-tall castle, features magical cups that guests board. The cups dance in rhythm to music from the film as they take guests through iconic moments seen in the Disney classic.

There are many surprises and discoveries to be found inside the castle.

The park is limiting the number of people allowed on the attraction at once due to the pandemic. To board the attraction, guests need to download the app after entering the park.

Village shops based on the movie

The Village Shops area features a line of shops inspired by those seen in Belle's town, each of which sells various items from clothing to accessories and souvenirs.

There are around 100 pieces of merchandise for fans to sift through.

The shops are also carrying out measures against COVID-19, showcasing the items in a display only so they cannot be touched when entering the store. Guests must use the sign-up system on the app beforehand if they want to enter the shop.

La Taverne de Gaston

All the little details have been captured to recreate Gaston's bar, making it like a snippet right out of the film.

Big Bite Croissant

 

Very Cheers

Sweet Gaston

The menu features a line-up dishes, drinks, and desserts, like sausage croissants with, French toasted cheese sandwiches, soft drinks made to look like beer, and more. The bar also requires booking on the app prior to visiting.

Le Fou's Churros (Apple Caramel)

Le Fou's is located next to La Taverne de Gaston where you can get your fingers on snacks like apple caramel churros.

And don't miss up on visiting the new popcorn wagon either which serves popcorn in a Beauty and the Beast bucket.

The new Beauty and the Beast area is a must-visit for any fan of the film, or for people who want to feel like a Disney princess.

©Disney

Disney's Beauty and the Beast Themed Cafes to Open in Tokyo, Osaka and Nagoya

OH MY CAFE is set to take a Beauty and the Beast theme at three of its branches in Tokyo and Osaka from June 19, and subsequently Nagoya from June 26, for a limited time.

The concept of the cafe is based on the Beast gifting Belle a library. The main visual for the collaboration sees Belle wearing a green dress which she only wears during the library scene. The cafe too will fittingly take on a library look.

<Beauty and the Beast> Night Sky Cream Curry Rice: ¥1,890

A mild curry themed on Beast and Belle's romantic ball.

<Something There> Snow Thawed Love Cream Pasta: ¥1,990

Inspired by the scene in which Belle and Beast come closer together. Mushroom cream penne served with truffle meringue.

<The Mod Song> Chip's Assistance Afternoon Tea: ¥1,090 / With Spoon: ¥1,690

A tea set with the cute chipped cup Chip, a scone, and tea jelly. The perfect after-meal conclusion.

<Enchanted Rose> Rose Water: ¥890 / With Coaster: ¥1,590

A refreshing rose water mixed with lemon. Maybe you too will be able to find true love with a sip.

Message Cards (9 Designs): ¥450


Tinned Tea (Red/Blue): ¥1,600 Each

The cafe will also sell lots of special, exclusive merchandise.

Additionally, those who book a table in advance and order from the menu will receive one of 4 possible lunch mats chosen randomly. And if you spend over ¥2,000 (tax included) on merchandise at the cafe you'll get one of 9 possible bookmarks.

Information

Beauty and the Beast OH MY CAFE
Tokyo: OH MY CAFE TOKYO / June 19, 2020 – August 16, 2020
Address: Tokyu Plaza Omotesando Harajuku (Floor 3F), 4-30-3 Jingumae, Shibuya, Tokyo

Osaka: kawara CAFE&DINER Shinsaibashi / June 19, 2020 – August 16, 2020
Address: Shinsaibashi OPA (Floor 9F), 1-4-3 Nishishinsaibashi, Chuo Ward, Osaka, Osaka Prefecture

Nagoya: kawara CAFE&KITCHEN Nagoya PARCO / June 26, 2020 – August 25, 2020
Address: Nagoya PARCO South Building (Floor 5F), 3-29-1 Sakae, Naka Ward, Nagoya, Aichi Prefecture

Beauty and the Beast OH MY CAFE Reservations: https://bandb.ohmycafe.jp

Big Hero 6's Baymax Turns Into Tasty Confections in Q-pot.'s Accessory Range

Q-pot is an accessory brand whose products are made to look just like delicious desserts. The brand also has its own Disney-inspired line called "Disney Story Dreamed by Q-pot." into which it has added the cute Baymax from Big Hero 6.

Baymax is a tall, round, and white healthcare-providing robot who is gentle by nature. Q-pot. has turned him into delicious confection accessories for their Disney range.

Daifuku

Necklace: ¥9,500 (Before Tax) / Ring: ¥6,000 (Before Tax) / Bag Charm: ¥7,500 (Before Tax)

 Daifuku is a Japanese confection which features a round mochi filled with some kind of sweet filling, usually anko red bean paste. The shape of a daifuku is perfect for capturing Baymax's form.

Underneath the squishy accessories is what feels like real anko.

Macaron

Necklace: ¥10,000 (Before Tax) / Ring: ¥8,000 (Before Tax)

For these accessories, Baymax has been turned into the traditional French macaron. It's like Baymax really has been filled with fluffy cream.

The necklace and ring are also topped with various decorations like the cute little heart.

Information

Baymax Collection

Order Window: May 27, 2020 – June 14, 2020

Deliveries: From Late July 2020

*Dates subject to change depending on manufacturing conditions

Available: Q-pot. ONLINE SHOP (From 12:00pm JST)

*Please note that physical Q-pot. stores are temporarily closed and so the release date of this product in-store is TBA

Tokyo Disneyland and Tokyo DisneySea Release Their Own Spotify Music Playlist

Tokyo Disneyland and Tokyo DisneySea launched their first ever music playlists on all major streaming websites on Friday, including on Spotify and Apple Music.

Music from Tokyo Disneyland features everything from famous ballads and show music from the park to Tokyo Disneyland's nostalgic anniversary theme song, a "Ride Through Mix" that has you feeling like you're on the park's attractions, and more. It's a magic-filled Tokyo Disneyland musical fantasy.

Music from Tokyo DisneySea follows the same course as the Tokyo Disneyland playlist, except it also has the theme songs of the park's seven ports. It's packed full of imagination the likes of which you can only experience at Tokyo DisneySea.

New songs are set to be added from both parks each season, so you can feel like you're at Tokyo Disneyland and Tokyo DisneySea from your own home all year round!

Japan Coronavirus: Tokyo Disneyland® and DisneySea® To Close Temporarily Until March 15

Tokyo Disneyland and DisneySea will be temporarily closed until March 15 to reduce the spread of the new coronavirus. Japan's Coronavirus Countermeasures Taskforce has advised that there is a high risk of spreading the infection at large-scale sports and culture events and facilities where large numbers of people travel from across the country and congregate in one area. As many facilities and events in Tokyo are being restricted, postponed and even cancelled over the next two weeks, Tokyo Disneyland and DisneySea announced that both parks will close temporarily from February 29 – March 15, 2020.

The parks plan to reopen on March 16, 2020, however this will be decided following consultation with concerned administrative agencies and will be announced on their official website. If you have already purchased tickets which are valid during the parks' closing dates, please refer to the links below.

Baymax Themed Food Flies Into Tokyo Disneyland Ahead Of New Big Hero 6 Attraction

The world is about to get its first Big Hero 6 themed park attraction, "The Happy Ride with Baymax," at Tokyo Disneyland when it opens on April 15, 2020.

In promotion of the exciting new ride, Tokyo Disneyland has announced it will serve six different Baymax inspired menu items starting from April 8ーa week before The Happy Ride with Baymax's grand opening.

Baymax Curry – ¥1,480 @ Center Street Coffeehouse

When you think of Baymax, you think of his white, chubby round face and body. Well, that image has been brought to life in this curry dish, with Baymax's cute appearance recreated in the form of white rice. The dish takes inspiration from the spicy chicken wings made by Hiro's auntie, Cass.

Special Pancake Set – ¥1,080 @ Center Street Coffeehouse / Time Served: 13:00-18:00 (Not serving June 1, 2020 – September 2, 2020)

Like the curry, this pancake set is also sold at Center Street Coffeehouse. It comes with two thick pancakes topped with Baymax's faceーwhich is a Japanese 'manju' steamed cakeーassorted berries, strawberry sauce, and other delicious delights, mixing together Japanese and western flavours.

Sparkling Tapioca Tea (Cheese Cream & Berries) – ¥600 @ Tomorrowland Terrace / Time Served: 14:00-17:00

BB Popcorn w/Basket – ¥2,600 @ The Big Pop

There's also a dessert-style drink at Tomorrowland Terrace which is a berry flavoured ice tea packed with dollops of cheese cream, as well as popcorn which comes with a popcorn basket of Baymax riding. This will be sold at the new popcorn shop, The Big Pop, which is opening on April 15.

Tuck into some cute and delicious Baymax food at Tokyo Disneyland before The Happy Ride with Baymax opens for business.

©Disney

Tokyo Disneyland® Celebrates Opening Of New Park Area With Special Menu Line-Up

Tokyo Disneyland's new biggest area is set to open on April 15, 2020, which will house four new exciting facilities: the new Beauty and the Beast attraction, the Fantasyland Forest Theatre, the Baymax's Happy Ride attraction, and the Minnie's Style Studio.

To celebrate the new area's opening, several restaurants and eateries in Tokyo Disneyland will serve up some special menu items. Participating restaurants are calling this special menu line-up "New Dreams, More Fun!" Let's take a look.

Sparkling Drink (Mixed Fruits) – ¥450 @ Boiler Room Bites and elsewhere

Boiler Room Bites and other eateries in the park are serving these colourful sparkling drinks packed full of fresh fruit pieces. The cups have special designs of Disney characters like Mickey mouse, Minnie  Mouse, and Baymax.

Special Set – ¥990 @ Refreshment Corner

The special set being served at Refreshment Corner is inspired by Beauty and the Beast. It includes an apple cinnamon hot dog (contains nuts), a unique combination of juicy sausage, cinnamon, caramel, and nuts.

Blue Bayou Course – ¥5,200 @ Blue Bayou Restaurant

Another Beauty and the Beast-inspired dish is this special full course served at the Blue Bayou Restaurant. Buffet-style eatery Crystal Palace Restaurant will also serve up new dishes themed on each of the four new facilities of the new area starting on June 1, with a new one being introduced with each season.

©Disney

Tokyo Disney Resort® Celebrates Toy Story's Hamm With Pig Pink Merchandise

Tokyo Disney Resort is set to show some love to Hamm, everybody's favourite piggy bank from the Disney/Pixar animated film series Toy Story, from February 28 with the arrival of some exclusive Hamm merchandise. This includes fashion items with pink woven into it amongst other accessories and miscellaneous pig picks.

*All Hamm merchandise will be sold from March 2 with the exception of sling bags, which will be sold from March 23.

Dress up with Hamm

Short Sleeve T-Shirt: ¥3,900

T-Shirt: ¥3,900

The unisex t-shirts include one design with a print of Hamm's adorable face, and another more stylish t-shirt with a retro design.

Cap: ¥2,900

Body Bag: ¥2,900

Coins aren't the only thing Hamm can carry for you – with the new body bag, you can entrust your personal belongings to him, like your phone, card, coins, and so on, all while looking stylishly pink.

Pass Case: ¥1,900

Headband: ¥1,700

Other items include a pass case of Hamm's face, as well as a cute pig ear headband. There are lots of other items in the collection too.

Pink life dining

Tumbler: ¥1,100

Plate: ¥1,100

Fill the piggy bank that is your belly with food together with the pink tumbler and plate featuring designs that are actually used at restaurants throughout Tokyo Disneyland and Tokyo DisneySea.

Mini Towel: ¥680

Hand Cream & Lip Balm: ¥2,200

The mini towel, hand cream and lip balm set, and other items are all pocket-size, so you can take them anywhere with you.

This is just a small look at the pink range that's set to beckon spring early. Don't miss out on these exclusive items.

*Product designs and designs are subject to change without notice

*Available while supplies last

*Photos are for illustrative purposes only

©Disney©Disney/Pixar 

Tokyo Disneyland Reveals The First Image of Its New Baymax Attraction

On April 15, 2020, Tokyo Disneyland's largest renovation project will unleash its large number of new facilities and attractions to the public all in one go. On that day, Tomorrowland will be unveiling its new Big Hero 6 attraction 'The Happy Ride with Baymax'. Tokyo Disneyland is the only Disneyland in the world to have one. The first ever images of the ride have been unveiled. 

But hold on – is that Baymax is riding shotgun? The perfect form of our favourite white personal healthcare companion has been replicated 22 times. Each Baymax is committed to caring for each passenger's health and happiness. 

As the ride takes off, the 22 Baymaxes get to work, each steering a car unpredictably to send you on an unimaginably exciting journey. The upbeat music will add an extra layer of thrill to your adventure.  Leave yourself in the care of Baymax, who will steer you on an unforgettable and unpredictable ride which is sure to put a smile on your face.

If you're a Big Hero 6 fan, you just have to check out the new Baymax-themed ride at Tokyo Disneyland. 

* The image in this article is an illustration
©Disney

Tokyo Disneyland's Very Very Minnie! Event is a Must-Experience For Minnie Mouse Fans

Fans of Minnie Mouse won't want to miss her special "Very Very Minnie!" event that she is hosting at Tokyo Disneyland right now until March 19. Expect to see plenty of cute decorations, experience eating cute food, and getting your hands on some cute merchandise♡

Hand washing area

You're sure to have never experienced hand washing like this before. Keep your hands clean at the park with this special soap which when dispensed is shaped like Minnie Mouse wearing her iconic ribbon. This is available for the duration of the event only, so head to Tomorrowland or Critter Country to try it out.

Exclusive Minnie merchandise

Around 80 pieces of limited edition Very Very Minnie! merchandise are being sold for the event.

Parkers – Medium ¥4,900, Large ¥5,200 / Cap – ¥3,000 / Scarf Towel – ¥1,500

Dress up like Minnie Mouse with one of the two parkers, one featuring white and black polka dots of different sizes, and the other with red and white ones. There's also a cute cap, and scarf towel, so you can enjoy the event even more.

Cushion – ¥2,300

Hand Cream Set – ¥1,600

Wall Pocket – ¥2,900 (*Items in pockets sold separately)

There's also  a cushion which you can put your hands in to keep warm this winter, a set of hand creams, a useful wall pocket which you can store various items inーand many more items, up to 80 of them!

Themed menu

When looking for something to eat, make sure you try out one of the many Minnie-themed food and drink items.

Cranberry Vanilla Mouse Cake with Souvenir Plate – ¥800 / Yoghurt & Raspberry Mouse with Souvenir Cup – ¥800 / Served at: Sweetheart Cafe

At the Sweetheart Cafe, you can get your hands on one of two of these desserts which come with their own free souvenirs which you can take to use at home. You won't be able to resist the addictive sweet and sour flavour of the berries.

Special Set – ¥1,980 / Served at: The Plaza Inn

The Plaza Inn has a very special set prepared: a hearty meal featuring two hamburgers, ice cream for dessert with a white chocolate mousse adorned with Minnie's ribbon, and more.

Popcorn with Buckets – ¥2,300

You'll find this bucket sold at the popcorn wagon next to The Gazebo. It features a design of Minnie looking good in various outfits. If you're wanting popcorn at Very Very Minnie! then look no further.

Minnie Mouse's influence can be felt all over Tokyo Disneyland right now, so make sure you see everything when visiting for Very Very Minnie!

©️Disney