Roppongi Hills 2019 New Year Events: Lucky-Dip Bags, Exclusive Meals & More
Roppongi Hills is set to host a series of "luck-filled" events for the new year starting on January 1st and ending on January 3rd. Expect lots of deliciously-prepared meals, "fukubukuro" lucky-dip bags, early discounts up to 70% and more.
The Grand Hyatt Tokyo hotel will also serve up a limited-time menu for the new year as well as sell cookies based on the 2019 sexagenary cycle, French confections and more. Additionally, there will be taiko drum performances and lion dancing on stage at Roppongi Hills Arena across the duration of the 3-day celebrations.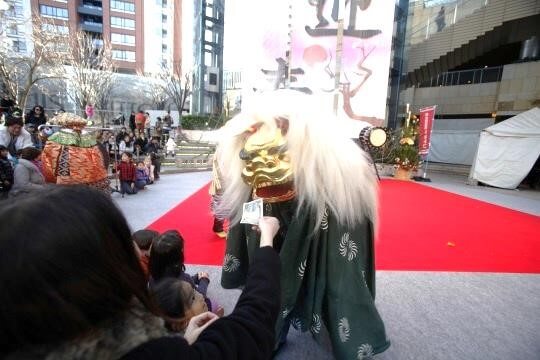 New Year Events
A range of events will take place at Roppongi Hills Arena to welcome the new year. New Year's Day will see a taiko performance, lion dancing and more while traditional games will be played on January 2 and 3 which both adults and children can enjoy.
Location: Roppongi Hills Arena
Date: January 1, 2019 – January 3, 2019
Price: Free
January 1 (12:00-15:00)
Price: Free
Taiko Performances – 12:30 / 13:30 / 14:30
Lion Dancing – 13:00 / 14:00
Sake Offering – 13:00 (*Available to the first 200 people who obtain a ticket at the venue, available from 12:00) 
January 2 (11:00-16:00)
Price: Select parts of the event will charge
Taiko Performances – 11:00 / 13:50 / 15:30
Lion Dancing – 11:10 / 13:30 / 15:00
Koto Performances: 11:30 / 12:30 / 14:30 (*The koto workshop will be closed at 11:30-11:50, 12:30-12:50 and 14:30-14:50)
Koma Spinning Top Competition (January 2 Only) – 13:00 (*Available to the first 12 people who obtain a ticket at the venue, available from 12:00)
Kendama Competition (January 3 only) – 13:00 (*Available to the first 20 people who obtain a ticket at the venue, available from 12:00)
Traditional Games (Koma-mawashi, Kendama, Beigoma, Otedama
New Year's Food: "Fuku Gohan"
15 restaurants and cafes at Roppongi Hills will serve their own "fuku gohan" (lucky food) from January 1 to 3. The keywords put into these meals are luck, happiness, omen and beginnings. Everything on their menus are made best with the best ingredients and are all visually stunning.
Running: January 1, 2019 – January 3, 2019
15 restaurants and cafes participating. Serving times differ for each place.
*Subject to change without notice.
Specially Selected Japanese Black Beef 2019 – Tomahawk Steak (1kg): ¥9,660 (*10 served per day)
This rib eye roll tomahawk steak is made of 1kg specially selected Japanese black beef from Kagoshima and is served on the bone. Its hearty size means it can serve 3-4 people. It normally costs ¥14,000 but they will serve it with 31% off in line with for the 31st Heisei year.
Serving: 17:00-20:00
*Mandatory Reservations: Available until 15:00 the same day.
New Year Cupcake 2019 (Left): ¥540 / Fortune Cupcake (Right): ¥640 (*10 of each served per day at LOLA's Cupcakes Tokyo)
Last year's popular cupcakes will be sold for the entire event. This includes the vanilla flavoured "New Year 2019" cupcake and the chocolate "Fortune Cupcake."
New Year Fukubukuro Lucky Bags

Fukubukuro lucky-dip bags will be sold at Roppongi Hills on New Year's Day from 11:00am. Try your hand at getting a range of fashion items, food, confections and more with 55 shops participating.
Running: January 1, 2019 – January 3, 2019
Stores: 55
Roppongi Hills ennerre
Price: ¥31,500 (worth ¥155,520) *20 available per day
Grand Hyatt Tokyo's New Year Menu
The Grand Hyatt will sell special cookies to celebrate the year of the boar. You can also try a French galette des rois tart, enjoy a line-up of "osechi" new year food and more.
Running: December 29, 2018 –  January 31, 2019
Location: Fiorentina Pastry Boutique (Grand Hyatt Tokyo Floor 1F)
Opening Hours: 9:00-22:00 (cakes and tarts available from 10:00-22:00)
Boar Cookies: ¥918 each / Set of 4 Small Cookies: ¥1,512
The cookie line-up includes a number of different designs perfect as new year gifts including the wild boar, piglet, shishimai lion and more.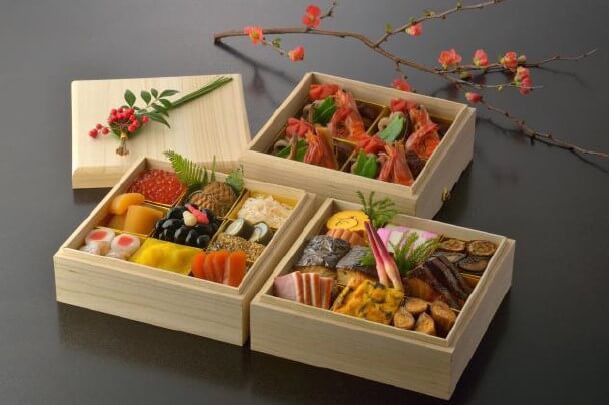 3 Layer Osechi: ¥75,600
The beautiful osechi meal comes with three drawers of food made with Japanese ingredients by Grand Hyatt Tokyo's head chef.
Reservation Period: October 1, 2018 – December 20, 2018
Restaurant: Shunbou (Grand Hyatt Tokyo Floor 6F)
Reservations: Telephone, online or in the restaurant
Pick-Up: December 31, 2018 at 11:30-16:00
Enjoy the winter season and celebrate he coming new year at Roppongi Hills!
RECOMMENDED ENTRIES
Roppongi Hills Christmas 2018: Keyakizaka Illuminations, 10m Tall Christmas Tree & More!

Christmas at Roppongi Hills is a bustling time having brought together 7 million people last year. There will be lots happening this year, starting with Keyakizaka street being lit up from early November up to Christmas Day. Illuminations will be held in 3 places and there will be numerous events including a Christmas market and concerts.

Around 700,000 LED lights will decorate the trees of Keyakizaka street, bringing to light that charming feeling of Tokyo wintertime. This marks the 15th year of the street's illuminations, and this year's theme is "LIVE veil." Passersby will be greeted with the glow of crisp blue and snow white LED lights. The bridge located in the centre of Keyakizaka street will make for a great photo with Tokyo Tower in the background.

Date: Early November 2018 – December 25, 2018
Time: 17:00-23:00

Location: Roppongi Keyakizaka-dori

A Christmas market will take place at 66 Plaza which will be overlooked by a towering 10m tall Christmas tree. The tree will light up during the event making for a must-visit spot with that special someone.

Date: Early November 2018 – December 25, 2018
Time: 17:00-24:00

Location: 66 Plaza

If you take a stroll along West Walk you'll also see a very unique looking "knitted" Christmas tree. This specially made tree is made of a knitted material that will feel soft to touch. You'll even be able to lie down at the base of it. The material the tree is made of will also run through the corridor of West Walk, embracing the area with warmth.

Running: November 16, 2018 – December 25, 2018 (subject to change)

Location: 2F West Walk South Side and Corridor

As well as the Christmas market and concert, the restaurants and cafes will also sell Christmas cakes, and there will be plenty of opportunities for Christmas shopping.

Take your family, friends or special someone to Roppongi Hills for Christmas this year!

■Information

Roppongi Hills Christmas 2018
Location: Roppongi Hills (Roppongi Keyakizaka-dori, 66 Plaza, West Walk, Roppongi Hills Arena, Oyane Plaza, and elsewhere)

Christmas Market 2018

Date: November 23, 2018 – December 15, 2018

Time: 11:00-21:00

*On the first day (November 23) the market will open in the evening.

*Opening times extended to 22:00 on Fridays, the weekend and December 24.

Location: Oyane Plaza

Nogizaka46 Artwork Exhibition to Take Place at Sony Roppongi Museum

Having wrapped up the Snoopy Museum in September 2018, the Sony Music Roppongi Museum is set to open as a new and even more exiting museum next year. The first exhibition to welcome the re-opening will be the Nogizaka46 Artworks Daitai Zenbu Ten ('Exhibition of Almost All Nogizaka46 Artwork') which will run from January 11 to May 12.

Fans of the Japanese idol group Nogizaka46 can look forward to seeing CD covers on display as well as actual outfits worn during their music videos, unreleased artwork and much more. It will be an accumulation of almost all of their artwork since their debut in 2012.

Exclusive merchandise developed for the event will be sold, and there will even be a café called the Zaka CAFE with food made in collaboration with the members. Live concert footage will be screened using a crystal LED display that will make you feel like you're really there.

Special preview days of the event will be held from November 11 to 14 giving an early peek into the exhibition before it opens to the general public on January 15. Tickets to the early previews go on sale via on November 30 from noon (JST) via Lawson Tickets. General tickets will be available on December 15 from 10:00am (JST)

Further information on the menu items, merchandise and more will be posted on the venue's official website in the coming months.

Information

Nogizaka46 Artworks Daitai Zenbu Ten
Location: Sony Music Roppongi Museum (5-6-20 Roppongi, Minato, Tokyo)
Running: January 11, 2019 – May 12, 2019
Opening Hours: 10:00-20:00 (Last Entries 19:30) *No scheduled closures
Access: 7-minutes on foot from Roppongi Station via Tokyo Metro / 10-minutes on foot from Azazu-Juban Station

Tickets
Adults/University Students: Set Date ¥1,800/ Same Day ¥2,000
High School/Junior High School Students: Set Date ¥800 / Same Day ¥1,000

Elementary School Students: Set Date ¥400 / Same Day ¥600
*Set date tickets are bought in advance and mean you can only enter on a specific date. Sold via Lawson Tickets.

*Same day tickets are sold at the museum depending on the amount of set date tickets that have been sold on that day.
*Free for those aged 6 and under.

Official Website: https://smrm.jp/

Craft Sake Week to Take Place in Roppongi Hills in 2019

Sake brands from all across Japan are set to gather at Roppongi Hills next year for Craft Sake Week, an event celebrating Japanese sake that will run from April 19 to 29.

First held in Roppongi back in 2016, Craft Sake Week is produced by JAPAN CRAFT SAKE COMPANY which is spearheaded by Hidetoshi Nakata who has tried well over 300 brands of sake all over Japan. The event is being held as "a place for people to enjoy and learn about top brand sake." Each day of the event will have its own theme which will be led by 10 different sake breweries. Each and every brand is valued equally, giving attendees a chance to find their favourite brands and brewers.

As well as being able to try out different drinks, there will be a chance to talk to sake experts who can advise on the best ways to pick out and enjoy sake. A line-up of food will also be available to complement the beverages on show. There will be many popular restaurants in attendance.

To date, around 400,000 people have attended the event including those from outside Japan, and the event aims to bring in even more visitors from overseas. The event has grown in popularity and is now also recognised worldwide.

Nakata doesn't just want to celebrate and promote sakeーhe also wants to spread Japanese culture. That's why every little thing at the event has been considered, from the venue design down to the cups you drink from.

The event won the Golden World Awards in October this year, an international award which recognises excellence in public relations practice. It was highly regarded for creating a space to spread Japanese sake culture to a diverse audience and for making sake appealing to the world.

If you're in Japan next year and a true lover of sake then you won't want to miss the 4th run of Craft Sake Week.

Information

CRAFT SAKE WEEK at ROPPONGI HILLS 2019

Location: Roppongi Hills Arena (6-10-1 Roppongi, Minato, Tokyo)

Date: April 19, 2019 – April 29, 2019

Time: 12:00-21:00 (Last Orders 20:30)

Participating Breweries: 110 in Total / 10 per day (subject to change)

*The line-up of breweries and restaurants participating will be announced at a later date.

Official Website: http://craftsakeweek.com/rh/

"Sakenomy" – Official App: http://www.sakenomy.net/
RELATED ENTRIES
Roppongi Hills Christmas Market 2019: Authentic German Food, Christmas Ornaments, Desserts & More

Christmastime has fallen on Roppongi Hills as it kicked off Roppongi Hills Christmas 2019 on Monday. The event sees the return of the gorgeous Keyakizaka illuminations from last year.

Keyakizaka-dori Street runs almost 400 meters, along which "Snow & Blue" LED lights glow and glisten like frost-covered trees, turning the street into a winter wonderland. For 2019, a very special photo spot has been designed by Japanese illustrator Yu Nagaba as pictured above amongst the ocean of illuminations. Over on the West Walk, passersby will spot a draped Christmas tree.

Starting this Friday (November 15), more illuminations will light up over at Mori Garden, which will reflect enchantingly from the garden lake, and 66 Plaza will be lit up too. All of these illuminations will glow until late in the night, making them a perfect spot for a little evening date.

A Christmas market will take place starting on November 30 which will feature German food and drinks, a shop where you can buy a real fir Christmas tree, and more. And on November 15, restaurants and cafes at Roppongi Hills will adorn their menus with Christmas cakes, sweets, and dinner plans.

Christmas Market 2019

2019 marks the 13th year of the Roppongi Hills Christmas Market, and this year, many of Japan's leading shops are taking part. The market will recreate the atmosphere and decor of a German Christmas market, with gorgeous decorations lining the roof, as well as the 11 stalls which will sell German-made Christmas sundries, German mulled wine, frankfurter sausages, and more. There will be over 2,000 individual items to find.

Christmas Cakes & Merry Desserts

Top: Christmas Show Girl ¥3,672 / Bottom: Christmas Tree ¥10,800 @ LOLA'S Cupcakes Tokyo

Cafes and restaurants have cooked up various treats for the Christmas season which will be sold between November 15 to December 25, including Christmas cakes to complete your Christmas dinner, desserts so cute they almost seem a waste to eat, and little items perfect to give as gifts. There's plenty on the menu to be enjoyed with friends, family and loved ones.

Have a very special and merry little Christmas this year at Roppongi Hills.

Information

Roppongi Hills Christmas 2019 

Running: November 11, 2019 – December 25, 2019
Locations: Roppongi Hills (Roppongi Keyakizaka-dori, 66 Plaza, West Walk, Roppongi Hills Arena, Rooftop Plaza, and elsewhere)

Official Event Page: https://www.roppongihills.com/en/sp/christmas/2019/

Christmas Market 2019

Running: November 30, 2019 – December 25, 2019

Time: 11:00-21:00 (Until 22:00 on Fridays, Saturdays & Christmas Eve)

Location: Rooftop Plaza

Keyakizaka Illuminations

Running: November 11, 2019 – December 25, 2019

Time: 17:00-23:00

Location: Roppongi Keyakizaka-dori

ROPPONGI HILLS HAPPY HALLOWEEN 2019: Monster Desserts, Horror Film Parade & More

Roppongi Hills has announced this year's Halloween festival. Titled "ROPPONGI HILLS HAPPY HALLOWEEN 2019," it will take place from October 1 to 31, packed full of spooky fun from a Halloween costume parade to a ghoulish gourmet menu line-up, featuring an always-unique array of food and drink.

Halloween Cupcakes – ¥638 Each @ LOLA'S Cupcakes Tokyo (Available from October 5)

LOLA'S Cupcakes has baked up an assortment of cute monster motif cupcakes, with flavours including pumpkin, purple sweet potato and more. Whichever one you pick, it's sure to give you a smile and delight your taste buds.

Halloween Mixed Berry Cake – ¥530 @ Roasted coffee laboratory

Creepy eyeballs adorn this cake, which is topped with blackberries and blueberries while drizzled in bloody blackcurrant jam. The cake is layered with sponge, fresh cream and a sweet and sour strawberry jelly.

Happy Monster – ¥980 @ Cafe Crepe

Delight in this cute pumpkin and fresh cream crepe, filled with pumpkin ice cream and snug in an orange crepe wrap. Housed inside is an adorable purple sweet potato mont blanc monster wearing a witch's hat.

A movie-themed parade will take place on Saturday October 26 at the event in line with the 2019 Tokyo International Film Festival. Children and adults can take part in the parade if they dress up. The 1km parade will last 25 minutes.

Gift bags will be given to all kids who get involved!

▼Halloween Parade

Date: October 26, 2019

Time: 10:30-13:30 (subject to change)

Location: Roppongi Hills Arena

Participation Conditions: Anybody who dressed up can join (the theme is "Movies")

Participation: Free

Enquiries: 03-6406-6000 (Roppongi Hills Information)

Halloween will hit Roppongi Hills for the entire month of October. Be sure to visit if you're in Japan next month!

Roppongi Hills Renovates Food Court Revealing Mouthwatering Michelin Guide Restaurants

Looking for a delicious Michelin-approved food experience? You surely cannot go wrong with heading to Roppongi Hills; a large-scale development project located in Tokyo, which is known for its nightlife and and shopping. Roppongi Hills is also home to the shopping mall Metro Hat, which is currently renovating its food court on basement floor 2. The foodcourt will have its grand opening on October 29th. 

The renovation will introduce seven new restaurants to the food court. Some of these include ramen shops and Yakitori restaurants which are bringing brand new rare dishes and flavours to the table.

Let's look at our recommendations:

Ginza Kagari (銀座 篝)

Chicken Soba: ¥900 (before tax)

Ginza Kagari is known for their notorious never-ending queues. In 2016 and 2017, it earned a place in the Michelin Guide Tokyo and even became popular overseas. One of their specilaties is their chicken soba. The broth is packed with the goodness and flavour of the entire chicken and even the bones. The flavour of the broth is exquisite and rich. The salt kaeshi sauce which is made from a mix of soy sauce, mirin and sugar goes perfectly with the soup. The salt mixture in the sauce consists of a range of natural salts which contain the natural goodness of the sea and perfectly enhance the flavours of the soup.

Location: Metro Hat Hollywood Plaza Floor B2

Opening Hours: 11:00 ー 23:00 (L.O: 22:00)
Website: https://www.roppongihills.com/en/  (The website is scheduled to open during mid October)

Yakitori Kokorikoan (焼鳥 ここりこ庵)

Yakitori (chicken skewer): ¥200 (before tax)

You must not miss out on Kokorikoan's Chicken Skin Hotpot ー a dish that is rare even to Tokyo. This dish is the perfect opportunity to discover a new kind of flavour and a new way to enjoy food. This restaurant prepares their dishes using special and rare cuts of chicken and chicken that is freshly ground in the morning. The chicken is flavored using traditional flavorings such as tare sauce and salt as well as flavorings that are not so conventional in Japan such as balsamic vinegar, herb vinegar, madeira wine, brandy and much more. Each cut of meat is prepared with the most careful methods and best seasonings to fully bring out the flavours. 

Location: Metro Hat/ Hollywood Plaza Floor B2
Opening Hours: Lunch: 11:00 ー 15:30 (L.O.15:00)  Dinner: 17:00 ー 23:00 (L.O.22:00)

Website: https://www.roppongihills.com/en/ (The website is scheduled to open during mid October) 

 Pintokona (ぴんとこな)

As a cheap place to enjoy authentic sushi, Pintokona has become a very popular restaurant. Now, it is having a fresh renewal. This sushi is made by using seasonal ingredients from around Japan. From November 1 to 30, there will be an exciting new menu that includes fresh fish from Miyazaki and authentic shochu (Japanese spirit). There will also be a fair that you also should not miss out on. 

Location: Metro Hat/ Hollywood Plaza Floor B2
Opening Hours: Lunch: 11:00 ー 15:30 (L.O: 15:00) Dinner: 17:00 ー 23:00 (L.O: 22:00)

Website: https://www.roppongihills.com/en/ (The website is scheduled to open during mid October) 

AFURI(アフリ)

Yuzu Orange and Salt Ramen: ¥1000 (before tax) 

Popular ramen shop AFURI sells a ramen with a translucent gold-coloured soup made using the natural spring water that gushes from the foot of Mount Afuri (Mount Oyama) located in the Tanzawa Mountain Range of the Kanto Region. Carefully selected chicken bones, pot herbs, kombu (kelp) and katsuobushi (fermented and smoked fish) is boiled in the water to add to the flavour. The whole wheat flour used to make the noodles creates a wonderfully fresh, chewy texture. The chashu roast pork pieces are freshly barbecued upon each order, creating a fresh and delicious flavour. AFURI also sells vegan ramen which is particularly popular among foreigners.

We have a full report on our heavenly trip to AFURI so if you are curious to find out more, please check out our this article: Introducing AFURI—Harajuku's Michelin-Starred Ramen Restaurant

Location: Metro Hat/ Hollywood Plaza Floor B2
Opening Hours: 11:00 ー 23:00 (L.O:22:00)
Website: https://www.roppongihills.com/shops_restaurants/restaurants/00100.html

There are just so many popular shops and restaurants at Metro Hat that you will be spoilt for choice. We hope you enjoy exploring the rich culture of Roppongi. 

Experience the Attack on Titan VR Game at the MORI Tower Sky Deck in Roppongi Hills

As part of the ongoing Attack on Titan Exhibition FINAL event that is taking place at MORI Arts Center Gallery until September 8, a new addition has been added to the event that will take place from August 6 to September 8.

Titled "Sky Deck ~The Colossal Titan's Invasion~," the event will take place on the open-top roof of Roppongi Hills MORI Tower that will make use of the surrounding environment and utilise AR technology to project the Colossal Titan before your very eyes, up 270 meters high.

What happens when the Colossal Titan himself appears before you in real life? This virtual experience will give you a peek into the cruel and terrifying world of Attack on Titan.

Information

Attack on Titan Exhibition FINAL x Sky Deck ~The Colossal Titan's Invasion~

Location: Roppongi Hills Tokyo City View Sky Deck (Roppongi Hills MORI Tower Rooftop)

Running: August 6, 2019 – September 8, 2019

Time: 11:00-18:00

*Sky Deck opening hours extended to 22:00 (last entries 21:30) on August 25

*Sky Deck opening hours reduced to 17:00 on August 10 due to the firework festival (August 11 if postponed)

*Last entries are 30 minutes before each respective closing time

Price: Sky Deck fee only (AR is free to experience): General ¥500 / Aged 4-12 Years ¥300

*Separate fees are charged for entry to the exhibition, sky deck, and Mori Art Museum

*The recommended age for the AR experience is 7+ years

Full Details (Japanese): http://tcv.roppongihills.com/jp/news/2019/08/3400/index.html

Attack on Titan Exhibition FINAL (English): https://www.kyojinten.jp/en/

Bask in the Cool Summer Evenings at MIDTOWN LOVES SUMMER 2019

Tokyo Midtown is holding an event this summer titled MIDTOWN LOVES SUMMER 2019 from July 12 to August 25.

The concept of the event is "The Evening Cool of Japanese Summer" and will have people enjoying the warm evenings on verandas, beside the murmuring streams, and in big open environments surrounded by nature.

A digital art exhibition will be set up with benches for people to enjoy. This piece of modern digital art captures the cool of Japanese summer. Fog will fill the large lawn and colourful lights will illuminate the area to create a magical atmosphere.

At the outdoor ROKU MIDPARK LOUNGE you will be able to sit down at a table and enjoy the feeling of the cool air under the shade of the trees. This limited-time lounge is held annually and this year is taking place in collaboration with Japanese craft gin brand ROKU. Enjoy sipping on some special cocktails and tucking into food.

ASHIMIZU presented by Iyemon takes place at Midtown Garden's small running stream where you can dip your legs into the water. This is the 10th time it has been held and has become a popular summer event.

The Roppongi Uchimizu Daisakusen is also making a return. This annual summer event brings in lots of people every year. Uchimizu is a Japanese pastime of sprinkling water onto the pavements, and this year it is also being held as a way to tackle Tokyo's 'heat island' effect. Stored water will be used including rain water and waters from wells. Take your own bottle, fill it up and get spraying!

Information

MIDTOWN LOVES SUMMER 2019

Running: July 12, 2019 – August 25, 2019

Location: Tokyo Midtown

Mizu to Ikiru SUNTORY Hikari to Kiri Digital Art Garden

Running: July 12, 2019 – August 25, 2019 (*Will close if it rains)
Time: Fog 15:00-23:00 / Lights 18:00-23:00
Location: Lawn Plaza
Price: Free

ROKU MIDPARK LOUNGE

Running: July 12, 2019 – August 25, 2019 (*Will close if it rains)
Time: Weekdays 17:00-22:00 (Last Orders 21:30) / Weekends & Holidays 15:00-22:00 (Last Orders 21:30)

*Weekend times apply from Tuesday August 13th to Friday August 16th
Location: Midtown Garden

ASHIMIZU presented by Iyemon

Running: July 12, 2019 – August 25, 2019 (*Will close if it rains)

Closed: Tuesdays
Time: 14:00-20:00
Location: Midtown Garden

Roppongi Uchimizu Daisakusen

Date: July 23, 2019

Time: Reception open from 17:20 / Departure at 17:40 (*Will stop if it rains)
Locations: Departure from Tokyo Midtown Canopy Square. Will run from the Roppongi Crossing area to the Gaien Higashi-doriarea.
Price: Free

Tokyo Midtown Official Website: https://www.tokyo-midtown.com/

Former Japanese football player Hidetoshi Nakata attended opening ceremony for KitKat and sake pairing event currently being held in Roppongi!

A regional KitKat Pairing Bar called "Gotouchi no KitKat Pairing Bar" is currently running in Roppongi Hills, Tokyo. The pop-up bar features an AI's recommendations of regional KitKats with Japanese sake from among 1,650 combinations of pairings.

You can also witness the event vehicle covered in 15 varieties of Gotouchi KitKat prints at the event in Roppongi Hills.

The sake brands featured at the event are brands carefully selected by famous Japanese former football player Hidetoshi Nakata, who has been promoting sake to the world. He has built his expertise by visiting more than 350 breweries nationwide. Nakata was also present to kick off the event! Nestlé's managing executive officer Cedric Lacroix also makes an appearance.

Cedric Lacroix commented that the products created with the help of Nakata have a favourable reputation in Japan. He stated that he is incredibly pleased to be working with Nakata for the pairing bar, as he is full of knowledge in the field of sake.

Nakata stated:

"We don't have the mindset of creating a new product, but we intend to focus on the act of celebrating with people from the region by creating something new.

Besides the KitKat Nihonshu Masuizumi and Umeshu Tsuru-ume, there is now a third collaboration KitKat flavour being released!

You can experience 150 different pairings of KitKats and sake that have been carefully chosen by Nakata before they are on sale anywhere else! The AI will be introducing regional (Gotouchi) KitKats such as Kyushu Amaou strawberry and Gunma Asian skunk cabbage KitKat!

"The sweetness of the chocolate combined with the sharp aftertaste of the dry alcohol is very interesting. The taste differs from person to person so I would like everyone to try it for themselves", continued Nakata.

"Having chocolate with alcohol is quite a normal thing to do, however, both chocolate and Japanese sake have a long, deep-rooted culture in Japan. There's the impression that Japanese sake only goes well with traditional Japanese food (Washoku). Hopefully, this event helps people to discover this new combination of chocolate and Japanese sake", he continued passionately. 

The Gotouchi KitKat Pairing Bar will be running until national holiday Monday 29th April. Come try this brand new experience involving regional KitKat flavours and their matching Japanese sake!

Information

Gotouchi no Kit Kat Pairing Bar / ご当地キットカット ペアリング BAR

CRAFT SAKE WEEK at ROPPONGI HILLS

Address: Roppongi Hills Arena, 6-9-1, Roppongi, Minato Ward, Tokyo

Open daily from 19th ー 29th April 2019 (12 p.m. to 9 p.m.)

One order = 2 CRAFT SAKE WEEK event coins.

For one order, you can choose 1 type of Japanese sake (60 ml) from 110 varieties + one KitKat from 15 varieties.

※ The coins can be purchased at the CRAFT SAKE WEEK venue and can be used for purchasing food and drink.

 

CRAFT SAKE WEEK at ROPPONGI HILLS 2019

場所: Roppongi Hills Arena, 6-9-1, Roppongi, Minato Ward, Tokyo

Running: Friday 19/04 ー national holiday Monday 29/04/2019 (11-day event)

Event hours: 12:00 ー 21:00, last orders: 20:30

Participating breweries: 10 per day, 110 in total.

There are 15 restaurants in total.

※ Please refer to the website below for more information.

Price: CRAFT SAKE starter set ¥3,500 (Includes sake glass + 11 food & drink coins)

Additional food & drink coin sets:

10 coins ー ¥1,500 set

22 coins ー ¥3,000 set  

38 coins ー ¥5,000

※ After making your first purchase, you can return to purchase extra coins without the sake glass fee by reusing your glass.

Official website: http://craftsakeweek.com/rh/

Limited Edition Starbucks Mamezara Plates & More Releasing at Roppongi Hills

An array of new products and food dishes limited exclusively to the stores at Roppongi Hills are being released this month.

ULTRABOOST 19W: ¥23,760 (Tax Included)

adidas Brand Core Store stocks a plethora of sportswear from running shoes to training gear, football clothing and more. These are the new and improved ULTRABOOST trainers which have been stripped down and remodelled. They maintain solid resilience like a spring, boast unrivalled durability, and are high in efficiency. They hold the wearer's foot in proper place when running while exhibiting reliable elasticity ensuring great propulsive power. adidas has made them even more adequate for the shape of the foot and cut the points of the shoe that apply unwanted pressure. They fit so well they feel like a second layer of skin.

Baby Shoes collection: ¥37,800 (Tax Included) *1 size in 3 colours, EU Size 18

Christian Louboutin's second baby shoes collection will be sold exclusively at Roppongi Hills from April 18. Available in three colours, the design features a small handmade ribbon with the shoe upper being made entirely from satin. The red leather souls add a cute touch to the shoes' overall looks. Each design matches the colours of the women's 2019 spring/summer La Massine Flat collection meaning mothers can match with their kids.

Starbucks Mamezara Set ART: ¥2,700 (Before Tax) *Up to 5 per person

The Roppongi Hills branch of Starbucks will release a set of three mamezara plates on April 25 made in the image of a Starbucks cup. One features the coffee chain's logo and the other two are illustrations inspired by the artistic culture of Roppongi Hills.

Limited Edition Lunch "Fukuoka Prefecture Japanese Yam & Wagyu Black Beef Sukiyaki Gozen": ¥3,780 (Tax Included)

Restaurant Kakiyasu's limited-time lunch set was originally set to run until mid-April but it has been extended until the end of May. The set comes with grated and fluffy Japanese yam from Fukuoka Prefecture topped on the thinly sliced beef.

There are lots of other exclusive items and dishes coming to Roppongi Hills too. Check the store list below.

Information

adidas Brand Core Store

Area: Hillside (Floor 2F)

Opening Hours: 11:00-21:00

TEL: 03-5771-1020

Official Website: http://adidas.jp/maintenance/index.html

MUSE de Deuxieme Classe

Area: West Walk (Floor 2F)

Opening Hours: 11:00-21:00

TEL: 03-5413-3607

Official Website: http://deuxieme-classe.jp/

Christian Louboutin

Area: West Walk (Floor 2F)

Opening Hours: 11:00-21:00

TEL: 03-6812-9810

Official Website: www.christianlouboutin.com

Starbucks Coffee (West Walk Branch)

Area: West Walk (Floor 2F)

Opening Hours: 07:00-23:00

TEL: 03-3403-7713

Starbucks Coffee (West Walk Lounge Branch)

Area: West Walk (Floor 1F)

Opening Hours: Weekdays 11:00-21:00 / Saturday 09:00-21:00 / Sunday & Holidays 9:00-20:00

TEL: 03-5771-1117

Starbucks Coffee (Metro Hat/Hollywood Plaza Branch)

Area: Metro Hat/Hollywood Plaza (Floor B1F)

Opening Hours: 07:00-23:00

TEL: 03-3403-7716

Starbucks Coffee (Tsutaya Tokyo Branch)

Area: Roppongi Keyakizaka-dori (Floor 1F)

Opening Hours: 07:00-04:00

TEL: 03-5411-2667

Kakiyasu

Area: West Walk (Floor 5F)

Opening Hours:

[Weekdays] Lunch 11:00-15:00 (Last Orders 14:00 / Dinner 17:00-23:00 (Last Orders 20:30)

[Weekends & Holidays] Lunch 11:00-15:00 (Last Orders 14:00 / Dinner 17:00-22:00 (Last Orders 20:30)

TEL: 0120-33-1129

Official Website: https://www.kakiyasuhonten.co.jp/

Roppongi Hills Official Website: https://www.roppongihills.com/

This AI Chooses the Best KitKat Flavour to Pair With Your Sake

The Gotochi KITKAT Pairing Bar will be open at Roppongi Hills from April 19 to 29 serving KitKat and sake pairings chosen from 1,650 combinations by AI.

Japan is known for its KitKat flavours, with a total of 350 having been created to date, 40 of which are always available. Many of those flavours are made using ingredients from local regions across the country where they sold at those places' souvenir shops. Their unique flavour combinations and colours have tickled the fancy of Japanese people and foreigners alike.


The KITKAT Pairing Bar offers a new way for both locals and overseas visitors to enjoy eating KitKats by picking which flavour will go best for them when paired with sake.

You must answer 5 questions at the bar from which the AI will filter your tastes from 150 combinations chosen that day. There will be a total of 1,650 combinations available across the 11 day period.

Of course, you can purchase your local flavour KitKat there and then. The sake combinations were carefully selected and curated by Hidetoshi Nakata, a former soccer player and experienced sake expert who has tried well over 350 brands of sake all over Japan. The sake pairings are supervised by CRAFT SAKE WEEK.

Have the AI find your flavours!

Information

Gotochi KITKAT Pairing Bar

Running: April 19, 2019 – April 29, 2019

Time: 12:00-21:00

Location: CRAFT SAKE WEEK at Roppongi Hills (Roppongi Hills Arena, 6-10-1 Roppongi, Minato, Tokyo)

Menu: One 60ml Japanese sake from 110 varieties + One KitKat from 15 varieties

Price: 2 coins per order. Coins can be bought at CRAFT SAKE WEEK and can be used when eating and drinking at the venue.

CRAFT SAKE WEEK at ROPPONGI HILLS 2019

Location: Roppongi Hills Arena (6-10-1 Roppongi, Minato, Tokyo)

Date: April 19, 2019 – April 29, 2019

Time: 12:00-21:00 (Last Orders 20:30)

Participating Breweries: 110 in Total / 10 per day (subject to change)

Participating Restaurants: 15

Tickets: https://passmarket.yahoo.co.jp/event/show/detail/018hu6103wzsy.html

Official Website: http://craftsakeweek.com/rh/

"Sakenomy" – Official App: http://www.sakenomy.net/

Venue for Japanese sake event CRAFT SAKE WEEK is a work of art!

Sake brands from all across Japan are set to gather at Roppongi Hills in Tokyo for "CRAFT SAKE WEEK at ROPPONGI HILLS 2019"; an eleven-day event celebrating top-class Japanese sake that will run from April 19 to 29. The venue will be decorated with the Japanese essence of traditional handicrafts. During these 11 days, Roppongi will be transformed into a magical artistic space.

CRAFT SAKE WEEK is where you can enjoy an atmosphere of a total of 110 carefully chosen Japanese breweries and numerous top-class restaurants. The venue was designed with this intention and has been designed with meticulous attention to detail. There will be a special guest attending the event; Yuko Nagayama! Nagayama designed the Japan Pavilion for Expo 2020 which is a worldwide innovation exhibition that will be held in Dubai.

Hidetoshi Nakata worked alongside Nagayama to create the concept for the design of the venue and after much debate, they decided to base the design on something that represents the origin of the essence of Japanese culture: rope. Hemp rope is featured in the design as it has a variety of applications in Japan from festivals to everyday purposes and has been used since ancient times. The hemp rope used for this venue design is flexible and has excellent durability. Hemp rope has a sense of volume and is also light and weightless. No matter what perspective you view it from, its appearance has a dynamic impact.

A Statement by Hidetoshi Nakata

This event space created by Nagayama is not just high quality, but creates an atmosphere of the warmth of everyday life in Japan. You can feel this unique world she has created. This is a unique world that only Nagayama is capable of creating as a female architect. It is stylish and you can feel the comfort. I requested that she creates something that depicts and allows you to physically experience the wondrous essence of Japanese culture.  

A statement by Yuko Nagayama

I created this environment out of sustainable materials that have been used by Japan for many, many years. This environment is a place intended to lightly embrace those who love Japanese sake. I took advantage of the height of Roppongi Hills Arena. It's 16 km tall and 570 hemp trees were used to make the three large canopies that cover the event space. The canopies naturally curve due to gravity. This natural curvy shape can be seen from afar and has become the symbol to represent the event.

One by one, experience a range of Japanese breweries, and discover the depths of the flavours of Japanese sake. Not only is the alcohol the attraction, but the venue design is entirely new and magical. People from Japan and around the world will be gathering at this event so please come take your fill!

Information

CRAFT SAKE WEEK at ROPPONGI HILLS 2019

Venue: Roppongi Hills Arena (6-9-1, Roppongi, Minato Ward, Tokyo)

Open: Every day from Friday 19/04/2019 ー National holiday Monday 29/04/2019 (11 days)

Opening hours: 12:00 ー 21:00 (Last orders: 20:30)

Opening hours are the same on each day.

Participating breweries: 10 each day (Total of 110)

Participating restaurants: 15

※ For more information, please refer to the official event website mentioned below.

Prices: CRAFT SAKE starter set: ¥3,500(Sake glass + 11 food and drink coins) Extra coin set: ¥1,500 set(10 food and drink coins), ¥3,000 set (22food and drink coins) , Extra coin set: ¥5,000 set(38 food and drink coins)

※ Those who have already attended this event twice before can bring their glass and only have to pay for the coins to enjoy this event.

 

Advanced ticket reservations available now at PassMarket:

https://passmarket.yahoo.co.jp/event/show/detail/018hu6103wzsy.html

 

Official website: http://craftsakeweek.com/rh/

Häagen-Dazs Matcha Salon to Open in Roppongi in April

Häagen-Dazs Japan will opened a matcha-packed Matcha Salon for a limited-time at Roppongi Hills Cafe from April 24 to May 5.

Häagen-Dazs first arrived in Japan in 1984 and has since been enjoyed for 35 years. To celebrate this landmark, this Matcha Salon will serve up a 6-item green tea course to commemorate the Häagen-Dazs Green Tea ice cream, the first flavour that hit the Japanese market.

After the green tea flavoured ice cream was released Häagen-Dazs went on to serve up flavours developed in America. In coming to Japan the company wanted to create a flavour that more met the demands of Japanese palates, and so they settled on matcha, an ingredient that has been enjoyed in Japan for hundreds of years. Much trial and error was carried out to bring out the creamy flavour of Häagen-Dazs ice cream and matcha bitterness which is what led to the Häagen-Dazs green tea ice cream.

Tea leaf management is no easy task. The flavour of leaves can change completely from various factors such as the weather. To ensure Häagen-Dazs Green Tea could be preserved and made consistently, staff carry out organoleptic tests to create a tea leaf blend that Häagen-Dazs can use.

Since matcha is weak to heat and light, the powdering of the tea leaves is done in a dark room. This is done inside a millstone which does not heat up as easily as metal, ensuring residual heat does not get into the tea leaves. Because of this delicate process, only a dozen or so grams of matcha can be made in one millstone every hour.

Special cups were even developed to package the green tea ice cream which makes it hard for light to get in.

If you've yet to try this special ice cream made for Japanese people then make sure you get the chance.

Information

Häagen-Dazs Matcha Salon

Running: April 24, 2019 – May 5, 2019

Opening Hours: 11:00-22:30

*Up to 1 hour's seating permitted

Häagen-Dazs Japan Official Website: https://www.haagen-dazs.co.jp/

See the Cherry Blossoms From the Sky at the Tokyo City View Observation Deck

The Tokyo City View Observation Deck at Roppongi Hills is holding a hanami event this spring titled Tenkuu no Ohanami 2019 ("Flower Viewing From the Sky 2019") which will run from March 15 to April 7.

From the observation deck you can glimpse the cherry blossoms dotted around some of Tokyo's most famous sites and landmarks including Tokyo Tower, Tokyo Skytree, Yoyogi Park, Shinjuku Gyoen and more. Aoyama Cemetery in particular, located in the direction of Shibuya and Shinjuku, will be a sight to behold from high above.

Roppongi Hills Spring Festival 2019 will also be running from April 5 to 7 at the Sky Deck where they are holding a kimono campaign. If you arrive dressed in a kimono then you can get in the Sky Deck for free. Beautiful music will provide the soundtrack to the exciting event.

Finally, up on the 52nd floor restaurant and bar lounge, a selection of cherry blossom inspired dishes will be serve, and brand-new springtime souvenirs will line the shelves at the souvenir shop.

Enjoy a panoramic view in the heart of Tokyo of the city's spectacular cherry blossom spots.

Information

Roppongi Hills Observation Deck Tokyo City View

Location: Mori Tower Floor 52F / Sky Deck (6-10-1 Roppongi, Minato Ward, Tokyo

Price: Adult ¥1,800 / University & High School Student ¥1,200 / 4-13 Year Olds ¥600 / Seniors (65+ Years) ¥1,500

Sky Deck Ticket: ¥500 (¥300 for those aged 4-12)

Opening Hours:

Weekdays & Holidays – 10:00-23:00 (Last Entries 22:30)

Friday, Saturday & Day Before Holidays – 10:00-01:00 (Last Entries at Midnight)

Sky Deck – 11:00-20:00 (Last Entries 19:30)

Official Website: https://tcv.roppongihills.com/en/index.html

Kimono Campaign – Free Entry to Sky Deck

Running: April 5, 2019 – April 7, 2019

Details: Those who visit dressed in a kimono can enter the Sky Deck for free (normally ¥500).

*However, you still must have paid entry to the observation deck (prices listed above).

Attack on Titan Exhibition to Take Place at Mori Arts Center Gallery in Roppongi

The first Attack on Titan exhibition to be held was "WALL TOKYO" back in 2014 at The Ueno Royal Museum, a collection of art pieces made in collaboration with contemporary artists which brought in 250,000 fans.

This summer, five years on, a new exhibition entitled "Attack on Titan Exhibition Final" will be held at Mori Arts Center Gallery in Roppongi from July 5 to September 8. Pre-sale tickets for the initial pre-opening will be released on April 9.

Fans can look forward to an array of art pieces that represent the world of Attack on Titan, voice guides from characters in the anime, more original drawings than the last event, and much more.

Further details will be announced on the exhibition's website and social media pages in the near future.

Information

Attack on Titan Exhibition Final

Location: Mori Arts Center Gallery (Roppongi Hills Mori Tower Floor 52F, 6-10-1 Roppongi, Minato Ward, Tokyo)

Running: July 5, 2019 – September 9, 2019

Pre-Opening: July 5, 2019 – July 7, 2019

First Period: July 8, 2019 – August 4, 2019

Second Period: August 5, 2019 – September 8, 2019

Opening Hours: 10:00-20:00 (Last Entries 19:00)

Exhibition Website: http://www.kyojinten.jp/

Pre-Opening Tickets

On Sale: April 9, 2019 at 12:00 (JST) – April 16, 2019 at 23:59 (JST)

Valid: July 5, 2019 – July 7, 2019

Price: ¥1,900 (Tax Included)
Available: Via Ticket Pia

July 5 (3 Slots) – 10:00 / 13:00 / 16:00

July 6 (5 Slots) – 10:00 / 12:00 / 14:00 / 16:00 / 17:30

July 7 (5 Slots) – 10:00 / 12:00 / 14:00 / 16:00 / 17:30

*Tickets bought are allotted to a specific time slot

For information on regular advance tickets and same-day tickets please visit: http://t.pia.jp/help/index.jsp

©Hajime Isayama・Kodansha / Attack on Titan Exhibition FINAL Production Committee

©HK/AOTFE