Shenron adidas Originals by Dragon Ball Z to be Released on December 22
The fourth and final sneaker designs in the adidas Originals by Dragonball Z brand will be released on December 22. This ongoing sneaker line has comprised of 8 different models that have been released sequentially throughout and are all based on three of the main hero x villain fights from the internationally beloved anime series.

The first two releases in this collection were the Goku-inspired ZX 500 RM DB's and the Frieza-themed YUNG-1 DB's. The second two releases were the Gohan design DEERUPT RUNNER DB's and the Cell-coloured PROPHERE DB's. The third two releases were the Vegeta OREGON ULTRA TECH DB's and the Majin Buu KAMANDA 01 DB's.
The final two pairs will be EQT SUPPORT MID DB's both based on the most iconic character in all of Dragon Ball: Shenron.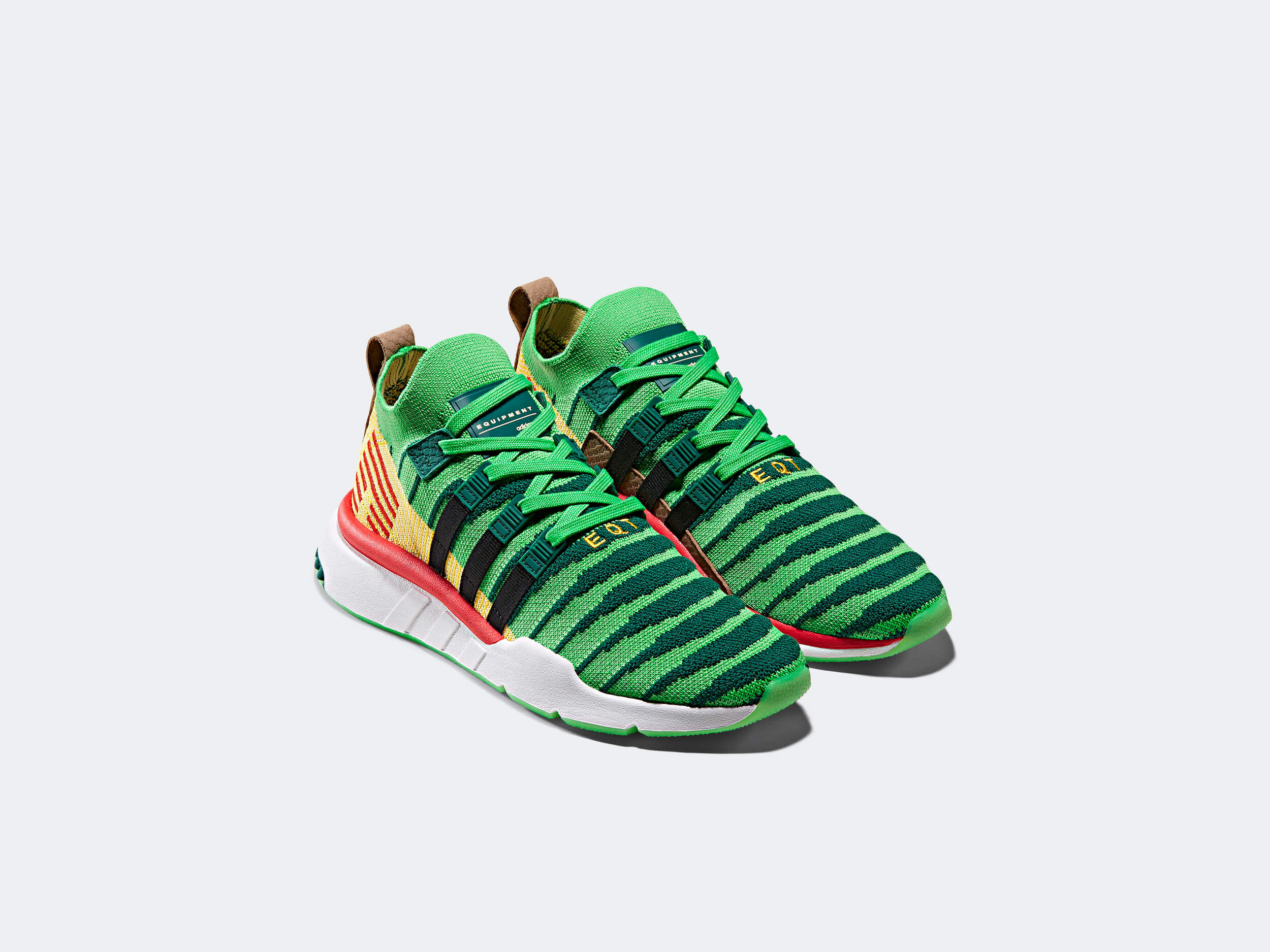 Shenron EQT SUPPORT MID DB D97056: ¥20,000 (+Tax)
This first pair takes Shenron's classic green and gold colour. The shoes come with the latest Primeknit™ uppers for his dragon scales in addition to a leather heel counter. The heel portion of the trainers have a gold accent too that represent Shenron's underbelly. His name is also embroidered as "神龍" in kanji. The trainers have EQT design mid-soles and the iconic adidas Three Stripes logo embossed on them.
Shenron EQT SUPPORT MID DB DB2933: ¥20,000 (+Tax)
These exclusive models are available in limited stock at adidas stores only. They feature a gold colour with Shenreon's name written on Primeknit™ uppers in kanji and all-black EQT mid-soles. This green and gold colour palette serves as a perfect sign off to the adidas x Dragon Ball collaboration as representing one of the most powerful character in the series.
Kick off the new year with a pair of these very special sneakers!
Information
adidas Originals by Dragonball Z
Available Stores
adidas Originals Flagship Store Tokyo
adidas Original Shops in Japan
adidas Brand Core Stores (Shibuya, Shinjuku, Sendai, Nagoya, Hiroshima)
adidas Online Shop: http://shop.adidas.jp/originals/dragonballz
RECOMMENDED ENTRIES
adidas Originals by Dragonball Z to be Released on September 29

adidas is teaming up with Dragon Ball Z for the very first time to release their new adidas Originals by Dragonball Z line of sneakers.

You can look forward to kicking it with 7 different sneaker designs which will be released over the next few months. The first two models are inspired by Goku (ZX 500 RMDB) and Frieza (YUNG-1DB) and will drop on September 29. Both will come packaged in special boxes. This will be followed by Son Gohan (adidas Deerupt) and Cell (adidas Prophere) in October, Vegeta (adidas Ultra Tech) and Majin Buu (adidas Kamanda) in November and finally Shenron (adidas EQT Support Mid ADV Primeknit) in December.

The sneakers are sure to leave an impression people as they combine the classic adidas design with generation-transcending and internationally beloved Dragon Ball Z franchise.


Goku (ZX 500 RM DBD97046): ¥17,000 (Pre-Tax)

These ZX 500 RM sneakers are inspired by Goku with a blue and orange colour palette. They are still made with the classic mesh and suede like the originals and by keeping the iconic three stripes they have been able to recreate the outfit that Goku wears. The toe box and sides are lined with yellow mesh to symbolise turning Super Saiyan. The back of the shoe also features Goku's kanji "悟" and the sides also features Flying Nimbus graphics.


Frieza (YUNG-1 DB  D97048): ¥22,000 (Pre-Tax)

This pair of YUNG-1 DB sneakers is inspired by Frieza, showcasing a white and purple colour palette. It has a smooth and impactful silhouette, combining a variety of materials including suede. There's also a touch of pink to finish that Frieza look. The purple TPU material is made to look like Frieza's shiny shoulders while the suede emboss patches on the sides represent his tough and strong body. The tongue and insoles also feature Dragon Ball illustrations.

If you're a fan of the Dragon Ball series then boast your love for the franchise with these awesome-looking sneakers. Stay tuned for the other models coming out over the coming months.

Vegeta & Majin Buu adidas Originals by Dragon Ball Z to be Released on November 24

The third kick of sneakers in the adidas Originals by Dragonball Z brand has been announced for a November 24 release. This ongoing sneaker line will see 8 different models appear throughout the rest of 2018 all based on three of the main hero x villain fights from the internationally beloved anime series.

The first two releases in this collection were the Goku-inspired ZX 500 RM DB's and the Frieza-themed YUNG-1 DB's. The second two releases were the Gohan design DEERUPT RUNNER DB's and the Cell-coloured PROPHERE DB's.

The next two pairs fans can look forward to are the OREGON ULTRA TECH DB's and KAMANDA 01 DB's inspired by Vegeta and Majin Buu respectively.

Vegeta (OREGON ULTRA TECH DB D97054): ¥20,000

Based on one of Dragon Ball's most memorable characters, the uppers on the OREGON ULTRA TECH DB's make use of blue and gold, a colour-combo reminiscent of Vegeta's battle suit. Embroidery is also used on the toe box to recreate his armour. His white gloves, boots and chest piece are portrayed through the white used on the outside of each shoe. Fans will also instantly recognise the iconic quote on the heel tab which reads "Over 9000!"

Majin Buu (KAMANDA 01 DB D97055): ¥18,000 (Pre-Tax)

The KAMANDA 01 DB's are inspired by Majin Buu, the most powerful villain in Dragon Ball. The pink nubuck uppers feature the adidas Three Stripes but made in the image of the holes dotted around Buu's head and body. The heel patch includes the letter "M" written on it like on Buu's belt, and the outer-sole is wrapped in transparent rubber to recreate his pants. There are many little details and references to Buu, and there's also the golden KAMANDA logo.

Have you been following this sneaker series? It's a must-have for fans of Dragon Ball. Which pair do you want the most?

Information

adidas Originals by Dragonball Z

Available Stores

adidas Originals Flagship Store Tokyo

adidas Original Shops in Japan

adidas Brand Core Stores (Shibuya, Shinjuku, Sendai, Nagoya, Hiroshima)

adidas Online Shop: http://shop.adidas.jp/originals/dragonballz

Gohan & Cell adidas Originals by Dragon Ball Z to be Released on October 27

The second release in the line of Dragon Ball Z inspired adidas Originals will drop on October 27, 2018.

Officially titled "adidas Originals by Dragon Ball Z," this sneaker line will see 8 different models appear throughout the rest of 2018 all based on three of the main hero x villain fights from the internationally beloved anime series.

The first two releases in this collection were the Goku-inspired ZX 500 RM DB's and the Frieza-themed YUNG-1 DB's. Fans can now look forward to the new Gohan DEERUPT RUNNER DB's and the Cell PROPHERE DB's coming later this month.

The DEERUPT RUNNER DB's come in a tonal purple colour inspired by Gohan's iconic battle suit. They have a webbing mesh overlay and shiny reflectors down the sides made to look the wearer is turning Super Saiyan. There's also logos on the heel patches expressing Gohan's respect to his mentor, Piccolo. Gohan's name is also written in kanji on the heels. There's also an adidas x DBZ logo on the insoles for this collaboration.

The PROPHERE DB's are modelled on Gohan's arch-enemy, Cell. They come with Cell's iconic green exoskeleton colour with a purple accent – a reference to his wings. This pair is a nod to one of the most notorious villains in the series.

Show your love for DBZ by getting your hands on one of the sneaker pairs in the line-up!

Information

DEERUPT RUNNER DB  D97052

RRP Price: ¥18,000 (+Tax)

PROPHERE DB D97053

RRP Price: ¥18,000 (+Tax)

Main Stores (Product numbers different at each store)

adidas Originals Flagship Store Tokyo

adidas Original Shops in Japan

adidas Brand Core Stores (Shibuya, Shinjuku, Sendai, Nagoya, Hiroshima)

adidas Online Shop: http://shop.adidas.jp/originals/dragonballz
RELATED ENTRIES
Dragon Ball Confections Kamehameha Into FamilyMart Convenience Stores in Japan

Character-inspired Japanese confectionery series Tabemas has revealed that its next batch of sweet treats are Dragon Ball Super inspired. The sweets were released at FamilyMart convenience stores in Japan on July 28, 2020.

'Tabemas' is an abbreviation of the Japanese words taberareru masukotto, meaning 'mascots that you can eat.' It is a Japanese confectionery series that combines well-known characters and Japanese sweets made from ingredients like red bean paste, sugar and rice flour. The sweets are also made with a dough called "nerikiri" which is used in making traditional Japanese wagashi sweets.

Tabemas Dragon Ball Super: ¥369 Before Tax | 1 set of 2

The confection designs include the iconic Dragon Balls from the series up to Seven-Stars, as well as Shenron.

Shenron is matcha-flavoured. Using nerikiri dough, Tabemas has brought the dragon god to life with his iconic red gaze, whiskers, and tail. Each of the seven Dragon Balls are filled with custard cream. One set of these confections comes with both Shenreon and one of the Dragon Balls, so fans can enjoy both flavours.

As well as all of the seven Dragon Balls, there are two secrets ones too. What exactly they are requires a trip to FamilyMart.

©Bird Studio/Shueisha・Fuji TV・Toei Animation

Information

Tabemas Dragon Ball Super
Released: July 28, 2020

Available: At the chilled desserts section of FamilyMart convenience stores in Japan

*Available while supplies last

*Stock date may differ from branch to branch

*Select stores not participating

Official Website:  https://www.bandai.co.jp/candy/tabemas/dragonball/

One Piece and Dragon Ball Z Design Watches Released by G-SHOCK

CASIO G-SHOCK has announced a collaboration with the popular anime series One Piece and Dragon Ball Z, with watch designs for each show releasing in July and August respectively.

GA-110JOP: ¥26,400 (Tax Included)

The GA-110JOP One Piece watch uses the popular GA-110 model G-SHOCK which has a distinct big case. It's covered in a black base colour and features an illustration of Luffy strong and grown up. At 9-o'clock is a motif of Luffy's straw hat, while at 3-o'clock is the word "WANTED." Additionally, when the hour and minute hands both strike 2-o'clock and 4-o'clock, they combine with slanted golden lines to create the "X" shape that Luffy has on his chest.

The back cover features the "G-SHOCK x One Piece" logo.

GA-110JDB: ¥26,400 (Tax Included)

Like the One Piece watch, the Dragon Ball Z one also uses the GA-110 model and is coloured in that iconic DBZ orange. The design is inspired by Goku going through training to become stronger. The lettering and logo is gold for accent. At 9-o'clock is the Four-Star Dragon Ball while at 3-o'clock is the letter "Z."

On the back cover of this one it features the Dragon Ball Z logo.

Both watch designs will for sure be appreciated by fans for their detailed designs and references.

Information

GA-110JOP
Release Date: July 2020

GA-110JDB
Release Date: August 2020

Dragon Ball Z Clothing and Accessory Collection to Drop in Collaboration With BAPE®

A BATHING APE® is teaming up with Dragon Ball Z to release a special collaborative collection of attire and accessories on June 27, 2020 at all BAPE STORE® branches in Japan, BAPE.COM, and ZOZOTOWN.

BAPE® last collaborated with Dragon Ball for the release of the hit anime film Dragon Ball Super: Broly. The design for the the new collaboration takes inspiration from the company's mascot character BABY MILO®.

The collection includes a T-shirt, hoodie, denim jacket, and other must-grab items.

Jump Force Deluxe Edition Arrives On Nintendo Switch This August

The Deluxe Edition of Spike Chunsoft's fighting game Jump Force published by Bandai Namco Entertainment is set to hit Nintendo Switch on August 27, 2020.

Jump Force is a fighting game that brings together a roster of over 50 characters from popular series the manga magazine Weekly Shonen Jump such as One Piece, Naruto, Dragon Ball, and many more. The game pits the characters in real world locations like New York and Matterhorn and has players battle it out.

The new trailer showcases some of the unique gameplay features which Nintendo Switch players will be able to enjoy, such as being able to play six-player local multiplayer games. The Nintendo Switch edition is packaged with the full game plus Character Pass 1 which introduces nine new characters into the long roster.

Those who pre-order the physical edition of the game will receive three One Piece, Dragon Ball, and Naruto avatar costumes and Frieza's pod as pictured below.

©JUMP 50th Anniversary
©BANDAI NAMCO Entertainment Inc. ©2017 Nintendo

Information

JUMP FORCE DELUXE EDITION Nintendo Switch™
Release Date: August 27, 2020
Platform: Nintendo Switch™
Official Website: https://www.bandainamcoent.com/games/jump-force

*Nintendo Switch and the Nintendo Switch logo are trademarks of Nintendo.

*YouTube is a trademark Google LLC.

Dragon Ball Z Desk Tool Collection Releasing in Collaboration With DyDo Drinks

To celebrate the release of their two new drinks, DyDo DRINCO, Inc. is collaborating with Dragon Ball Z to release a unique collection of convenient tools for computer desks. They will be released together with the drinks in limited quantities from March 9, 2020 at convenience stores and volume sellers across Japan.

*Pete Licata, 14th World Barista Championship Champion

①Super Saiyan Goku – Card Stand / ②Great Ape Vegeta – Cotton Swab Holder / ③4th Form Frieza – Eye Drop Stand / ④Raditz – Pen Stand / ⑤Captain Ginyu – Mechanical Pen Refill Stand / ⑥1st Form Cell – Clip Holder / ⑦Majin Buu – Phone Stand

Seven different tools will be sold, each a model of popular characters from Dragon Ball Z. They not only decorate your desk space, but also tidy it up and make things more convenient.

These are the perfect gift to all Dragon Ball Z fans as well as anime fans who like to nerd-up their desks!

©Bird Studio/Shueisha・Toei Animation


Information

Information

Dragon Ball Z Desktop Tool Collection

Release Date: March 9, 2020 (While supplies last)

Target Products:

①DyDo Blend Low Sugar Sekaiichi no Barista Kanshu (260ml) – ¥130 (Before Tax)

②DyDo Blend Black Sekaiichi no Barista Kanshu (275ml) – ¥124 (Before Tax)

Available: At convenience stores and volume sellers in Japan

adidas Teams Up With Pokémon to Release First Generation Pixel Graphic Collection

adidas Japan and Pokémon have collaborated to create a new apparel collection featuring the Pokémon games' first generation graphics. The items dropped today in Japan at adidas store branches and its online shop, Sports Authority, G-FOOT, and Pokémon Centre.

PKM PXL Unisex T-Shirt – ¥3,490 / Released: January 22, 2020

PKM PXL Unisex T-Shirt – ¥3,490 / Released: January 22, 2020

The collection includes adidas tracksuits, t-shirts, pants, short pants, and three types of footwearーwhich kids and adults alike can get behind.

ADIHOOPS MID 2.0 PKM Kids – ¥5,490 / Released: January 22, 2020

ADVANCOURT PKM Kids – ¥4,990 / Released: January 22, 2020

PKM Kids Tracksuits – ¥6,990 / Rolling out March 2020

For the kids sneakers, the adidas Advantage and Hoops Mid 2.0 uppers feature Pokémon pixel graphics, redefining the adidas shoes to give them a retro feel.

ADVANCOURT PKM Unisex – ¥7,990 / Released: January 22, 2020

PKM TRAINER Unisex T-Shirt – ¥2,990 / Released: January 22, 2020

For the adults, they can enjoy the adidas Phosphere running shoes, which feature a distinct pixel design.

You Pokémon Trainers out there that pick up an item from this collection in Japan will receive one of five possible A5-size stickers. They are limited in stock, so catch 'em all before they run out!

©2020 Pokémon. ©1995-2020 Nintendo/Creatures Inc. /GAME FREAK inc.

A.T.A.D: Harajuku's New adidas Store to Open in Collaboration With atmos

adidas Japan is collaborating with atmos—Tokyo's streetwear and sneaker focused boutique—to open a new shop called A.T.A.D in Harajuku on December 20, 2019.

adidas Japan has collaborated with countless artists to date, and this will be its first with atmos, together with whom it will showcase streetwear sneakers the likes of which people have never seen.

A carefully selected line-up of adidas' newest shoes will be displayed at the counter where customers order their shoes like they would a drink at a bar. They can pick the model, colour, and size, and can try them on before making a purchase. The current designs, logos and other items in the store were created by YAR, a creative studio spearheaded by Japanese graphic artist YOSHIROTTEN.

The store also plans to sell items exclusive to A.T.A.D in collaboration with Japanese artists. More information will be posted on the store's official Instagram page.

Information

A.T.A.D

Grand Opening: December 20, 2019

Address: Majima Bldg. 1F, 4-29-1 Jingumae, Shibuya, Tokyo
Opening Hours: 11:00-20:00

Official Instagram: @a.t.a.d_tokyo

Dragon Ball T-Shirts Designed by Collage Artist Kosuke Kawamura Releasing at UNIQLO

UNIQLO's graphic t-shirt brand UT is collaborating with Dragon Ball Z once more to release a new line of t-shirts designed by Japanese collage artist Kosuke Kawamura. The clothing items will be released in late November.

The line-up features men's and kid's t-shirts and sweaters.

Men's T-Shirts

★

★

The collection features a line-up of 28 t-shirts and sweaters in both men's and kid's sizes.

Men's Sweaters

★

Designs feature Kawamura's iconic collage style, with character illustrations, names, the title logo, Goku's famous Kamehameha, and more.

Kid's T-Shirts

The collection also features two UT originals not designed by Kawamura, with illustrations of Goten and Trunks.

Kid's Sweaters

If you're a fan of the DBZ universe then you won't want to miss out on this latest collection from UT. Check out the full collection here.

*Items marked with ★ are those designed by Kosuke Kawamura

©️@Bird Studio/Shueisha, Toei Animation

©️BIRD STUDIO/SHUEISHA ©️2018 DRAGON BALL SUPER the Movie Production Committee

©︎Kosuke Kawamura

Information

Dragon Ball UT

Release Date: Late November 2019 (subject to change)

Men's T-Shirts (12 Designs) – ¥1,500 (Before Tax)

Men's Sweaters (6 Designs) – ¥2,900 (Before Tax)

Kid's T-Shirts (6 Designs) – ¥990 (Before Tax)

Kid's Sweaters (4 Designs) – ¥1,500 (Before Tax)

Available: At UNIQLO Japan stores and online site

*Select items available at select stores and online onl

Full Collection: https://www.uniqlo.com/jp/store/feature/uq/ut/dragonball/

Dragon Ball Escape Game―Save the World From Human Extinction

Real Dasshutsu (Escape) Game is teaming up with Dragon Ball to bring a new real life escape game titled Chikyuujin Shoumetsu Kara no Chou Dasshutsu ("The Great Escape From Human Extinction") which will run from March 22 to May 31.

The event was originally held in 8 cities across Japan last year from August to December, bringing in over 20,000 players. It is set to return once more to the same 8 cities as well as Asakusa and Kyoto for a total of 10. The game will also be playable in English from April 12.

Advance tickets are priced at ¥2,400 and same-day tickets at ¥3,900. There is also an advance ticket option to receive the above-pictured bag too for ¥3,900.

Experience the new Dragon Ball escape game powered up bigger and better than ever.

Information

Chikyuujin Shoumetsu Kara no Chou Dasshutsu ("The Great Escape From Human Extinction")

Running: March 22, 2019 – May 31, 2019
Available in English: April 12, 2019 – May 31, 2019

Locations

Ajito of Scrap Asakusa
Ajito of Scrap Shimokitazawa Nazo Building
Ajito of Scrap Yokohama
Ajito of Scrap Sendai
Ajito of Scrap Nagoya
Ajito of Scrap Tenjin, Fukuoka
Ajito of Scrap Kyoto
Ajito of Scrap Osaka Nazo Building
Ajito of Scrap Okayama
Ajito of Scrap Sapporo

English Locations

Ajito of Scrap Asakusa
Ajito of Scrap Yokohama
Ajito of Scrap Nagoya
Ajito of Scrap Kyoto
Ajito of Scrap Osaka Nazo Building

Tickets

Advance: ¥2,400 (w/ bag ¥3,900)

Same-Day: ¥2,900
*Same-day tickets will not be available if all advance tickets have sold out.
*The optional bag is only available will advance tickets.
*This game requires access to the internet via smartphones, tablets or other devices. Not compatible with feature phones. Any online fees charged are the responsibility of the player.

Event Page: http://realdgame.jp/dragonballsuper/

adidas x Keiichi Tanaami Create 'adicolor by Tanaami' Collaborative Collection

adidas is joining hands with Japanese pop artist Keiichi Tanaami for the very first time for the spring/summer season to release the new "adicolor by Tanaami" collection on March 21.

Active since the 1960's, Keiichi Tanaami's skills span a wide variety of media and genres. He is a pop artist, graphic designer, animator and illustrator whose works have been displayed all over the world including places such as MoMA, Walker Art Center and The Art Institute of Chicago in the US, M+ Museum for Visual Culture in Hong Kong, Berlin State Museums in Germany and so on.

Tanaami put his unique character and life experience into his designs, and this he is putting into the iconic silhouette of adidas Originals to create wholly original designs.

Nine pieces of apparel will be released in the collection including the California T-shirt―probably the most symbolic item of adidas Originals―the Firebird Tracksuit which is making a comeback for the first time in 4 years, and more.

Before the items' official release they will go on pre-sale at BEAMS Y HARAJUKU on March 8. Keiichi Tanaami himself will also do a reception and signings. Attendees will get their hands on a sheet of limited edition stickers too.

Speaking about the collaboration, Keiichi Tanaami said: "I was very excited to get the opportunity to collaboration with adidas Originals on this project. Their logo being at the core of the production was my creative catalyst. I believe I have been able to evolve wearable art and create something new and wonderful together with adidas Originals."

Information

Pre-Sale

A pre-sale of the following items will take place at BEAMS T HARAJUKU from March 8, 2019: TANAAMI HERO HOODIE (DV2031) / TANAAMI FB TRACK PANTS (DY3855) TANAAMI FB TRACK TOP (DY3856) / TANAAMI HOODIE (DY6691) / TANAAMI PANTS (DY6692)

BEAMS T – Signing & Reception
Date:  March 8, 2019

Time: 17:00-21:00

Location: BEAMS T HARAJUKU (3-25-15 Jingumae, Shibuya, Tokyo)
The first 20 people to purchase an item from the collection will get a photo and signing by Keiichi Tanaami.
Signing: 17:00-18:00
Details (Japanese): https://www.beams.co.jp/news/1391/

General Sale
adidas Originals Flagship Store Tokyo
adidas Originals stores in Japan
adidas Online Shop: http://shop.adidas.jp/originals/tanaami/
BEAMS T HARAJUKU: https://www.beams.co.jp/beamst/

Dragon Ball Super: Broly Main Theme Music Video by Daichi Miura Reaches 2 Million Views

Daichi Miura's new single Blizzard will be released on December 19. The music video was released just last week and broke one million views in only four days. This is Miura's fastest music video to reach one million views. The song is the main theme for the anime movie Dragon Ball Super: Broly.

See the music video below:

As well as the title track the single also features a remix of Blizzard by Nao'ymt who is also the producer of the new release and who also produced Miura's previous single Be Myself. As well as all of this, both editions of the single include a live version of Blizzard from Miura's tour titled "DAICHI MIURA LIVE TOUR 2018 ONE END" as well as an English cover of the track sung by the artist himself. Purchasing the single means fans can enjoy the title track in a number of different ways.

And if you pick up a copy with a DVD you'll get to see the live footage of the song performed on the same tour.

Information

Blizzard

Release Date: December 19, 2018

CD+DVD Edition: ¥1,800 (Pre-Tax)

CD Only Edition: ¥1,200 (Pre-Tax)

'Dragon Ball Super: Broly' CD Cover Edition: ¥1,200 (Pre-Tax)

Dragon Ball Super: Broly

Release Date: December 14, 2018

©Bird Studio / Shueisha © "2018 Dragon Ball Super" Production Committee

Official Website: http://www.dbmovie-20th.com/

"Daichishiki" – Daichi Miura Official Fan Club: https://daichi-miura.jp/

Daichi Miura Official Homepage: http://avex.jp/daichi/

Original Dragon Ball Merchandise Releasing at ASOKO

ASOKO―a store selling a range of miscellaneous items―has announced it will sell collaborative merchandise to celebrate the release of Dragon Ball Super: Broly. The items will be available from December 15.

Dragon Ball Super: Broly (Designs: Kazuhiko Ifuku)

Kazuhiko Ifuku is a designer and familiar face at ASOKO who has teamed up with buggy to design a whole collection of Dragon Ball related items, not just for the Broly movie but for the Super series and original series too.

Dragon Ball Super: Broly (Designs: buggy)

There are over 85 items to get your hands on for both kids and adults to enjoy, from kids t-shirts to umbrellas and more.

Information

ASOKO de DRAGON BALL

Store List:
ASOKO Harajuku (6-27-8 Jingumae, Shibuya, Tokyo)
ASOKO Kobe Harborland (umie Mosaic Floor 2F, 1-6-1 Higashi-Kawasakicho, Chuo Ward, Kobe)
ASOKO Lalaport EXPO CITY (Lalaport EXPO CITY Floor 1F, 2-1 2-1 Senribanpakukōen, Suita, Osaka Prefecture)
ASOKO KAWARAMACHI OPA (KAWARAMACHI OPA Floor 1F, Kawaramachi Dori, Nakagyo Ward, Kyoto, Kyoto Prefecture)
ASOKO+3COINS Ikspiari Maihama (Ikspiari Floor 3F, 1-4 Maihama, Urayasu, Chiba Prefecture)

Official Website: http://www.asoko-jpn.com/

©Bird Studio / Shueisha ©2018 "Dragon Ball Super" Production Committee