Hokkaido Hyaku Soba: The Restaurant That Serves 100% Buckwheat Soba Noodles
Hokkaido Hyaku Soba is a new restaurant that just opened in Asakusabashi, Tokyo that serves soba noodles that are made using 100% buckwheat flour.
The restaurant has opened in a joint agreement with Ikkyu Soba―a famous restaurant that opened in the city of Tomakomai, Hokkaido in 1975―to bring their delicious flavours to Tokyo.
Only the best soba noodles are used at the restaurant, all of which are made in Hokkaido. By having them delivered directly from their place of production it will ensure an authentic 100% buckwheat flavour.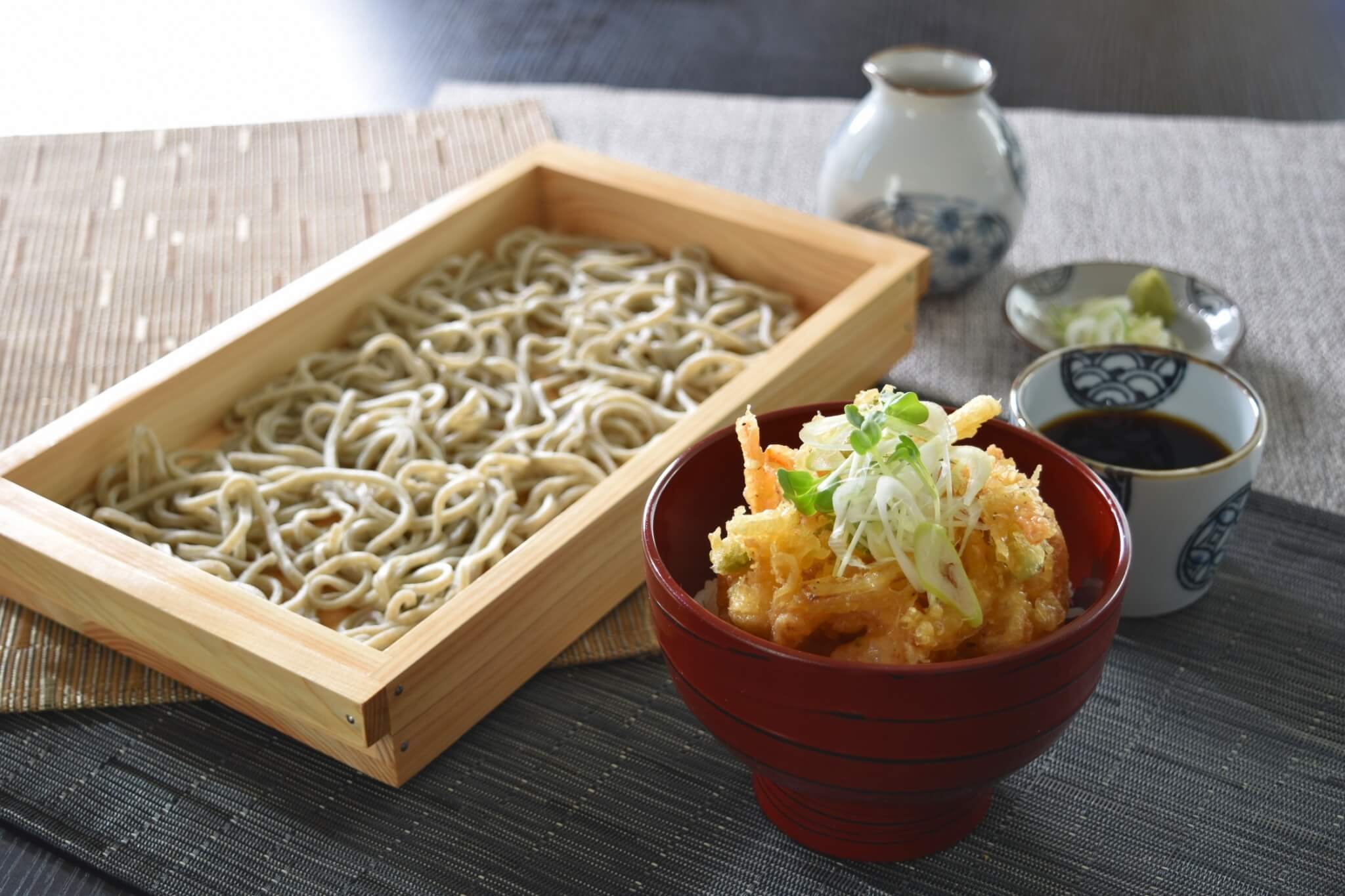 The restaurant will also serve a dish that combines the noodles with scallops and other seafood ingredients caught in Hokkaido. It is served with shiodare salt-based sauce which is made from 41 ingredients including salt that is obtained from burning seaweed, salt-marinated rice malt and more. Made by experts to match perfectly with the meal, the restaurant describes the sauce as "addictive."
The wasabi serve at the restaurant is from the brand Yamakawa Wasabi. It is delivered to the restaurant still in soil to preserve its freshness.
Another dish on the menu is the "Yuki Wasabi Saka Soba" which is sprinkled with this wasabi. It is 1.5 times more 'spicy' than regular wasabi so it is sure to add a kick to the meal which travels through your nose and leaves a mellow sweetness in your mouth.
Now you can try authentic 100% buckwheat soba from Hokkaido while you're in Tokyo.
Information
Hokkaido Hyaku Soba Asakusabashi
Address: 1-32-5 Yanagibashi, Taito Ward, Tokyo
No Fixed Holidays.
Opening Hours: 11:00-22:00
Price Range: ¥500-¥1,500 (Tax Included)
TEL: 03-5846-9138
Website: https://100soba.com
RELATED ENTRIES
KAIKA TOKYO by THE SHARE HOTELS: Asakusa's New Artist Lounge and Hotel Fusion

KAIKA TOKYO by THE SHARE HOTELS is set to open on July 15, 2020 as the 8th branch of THE SHARE HOTELS, a chain of renovated hotels which aim to find and share new beauty of the local area.

KAIKA TOKYO is renovated from a 7-floor 1966 warehouse building and is comprised of an artist lounge and a hotel. It aims to become a new hub for contemporary art in Japan.

The name "KAIKA" is derived from several Japanese words, all of which are read as kaika: "開架" which means open-access i.e. giving open access to the warehouse, "開化" which means enlightenment i.e. to spread and make known Japan's art culture, and "開花" which means blossom, i.e. to bring out the talent of future artists.

Sumida is a city popular amongst local and foreign tourists for its many art and cultural facilities. It is a promoter of art and culture in many ways, and KAIKA Tokyo aims to be a part of that process. One way in which it will do this will be with the new "KAIKA TOKYO AWARD." The judge for awarding the prize is Yūji Akimoto—the director of and lecturer at Tokyo University of the Arts—and Japanese artist Noritaka Tatehana. The prize itself will be having your art piece displayed inside KAIKA TOKYO. To commemorate the grand opening, an exhibition by Noritaka Tatehana himself entitled FORM AND COLOR will be displayed until August 16, 2020.

The downstairs lounge which is accessible to guests will include the art storage area as well as the KAIKA TOKYO AWARD winning pieces. There are also appliances and amenities for guests to freely use too, like kettles, microwaves, plates, cutlery, washing machine, and a vending machine.

Rooms have a relaxed vibe to them thanks to the colours and materials used. There are 73 rooms in total split across 10 different types which can cater to 2, 4, and even 6 people.

The 1st floor bar lounge is open to non-guests during the evenings where they sell Japanese tea cocktails, coffee, Japanese finger food, and more. The coffee served uses single-origin beans from a local cafe in Sumida, Tokyo. The bar is open 19:00 to midnight, with last orders ringing in at 23:30.

Information

KAIKA Tokyo by THE SHARE HOTELS
Grand Opening: July 15, 2020
Address: 2-16-5 Honjo Sumida Ward, Tokyo
Access: 8-minutes on foot from Asakusa Station / 9-minutes on foot from Honjo-Azumabashi Station / 9-minutes on foot from Kuramae Station

Official Website: https://www.thesharehotels.com/kaika/

Stock Your Kitchen With Japanese Kitchenware Tools by SALON adam et rope'

SALON adam et rope' has launched its new "Nihon no Daidokoro Dougu" (Japanese Kitchen Tools) collection which features a curated selection of Made In Japan kitchenware and cookware items from high quality Japanese brands.

Kasane

Top: ¥12,000 / Middle: ¥12,000 / Bottom: ¥9,000 (Before Tax)

Traditionally, Japanese knives were made by men with men in mind, but these Kasane knives are made by women to fit with the modern age. They are made in such a way to feel comfortable in smaller hands. The handles are made from rare natural wood from the cerasus jamasakura trees of Gifu Prefecture which give them a texture that changes as you continue to use the knives. The blades themselves are made from high-carbon stainless steel which gives them superior sharpness and durability. The blade edge is the result of a new technology developed by Sumikama called "Zero Edge" which makes them thin and sharp.

Kaji Donya

 
Left: ¥1,300 / Middle: ¥2,000 / Right: ¥2,800 (Before Tax)

Left: ¥1,000 / Middle: ¥1,200 / Right: ¥2,000 (Before Tax)

These handy stackable containers are made by Kaji Donya, a company based in Tsubame, Niigata. The height of each one is the same which makes them super convenient when stacking inside fridges.

Ceramic Grill: ¥1,400 (Before Tax)

The ceramic grill is a longtime seller at SALON. If you're grilling bread on it, it leaves the outside crispy and the inside nice and soft. It uses far-infrared rays which means the water content of the ingredients grilled on it is not lost, allowing for the full tasty flavour to stay locked in and the food plump and juicy.

Father's Day: Otokomae Tofu Celebrates Dad's Around the World With New Tofu Product

Japanese tofu company Otokomae Tofu is celebrating Father's Day this year by releasing its new "Chichi no Hi Tofu" (Father's Day Tofu) at supermarkets around Japan for a limited time between June 15 and June 21.

When you pour soy sauce over the Father's Day Tofu, a message of gratitude appears on the tofu's surface in Japanese. This is a unique, one-of-a-kind tofu experience. There are four messages in total which translate to: "Manly," "Thanks always, dad. I love you, live a long life," "You work so hard papa, I love you," and "Dad."

Giving your dad some Father's Day Tofu is sure to make for a Father's Day to remember!

Information

Chichi no Hi Tofu (Father's Day Tofu)

Running: June 15, 2020 – June 21, 2020

Price: ¥158 (Before Tax)

Available: Supermarkets in Japan (Except Hokkaido and Okinawa)

Otokomae Tofu Official Website: http://otokomae.com

McDonald's Japan: Chicken Tatsuta Mentai Cheese & Other Japanese Flavoured Foods Coming to the Menu

McDonald's Japan is introducing some mouth-watering new foods to its menu including two which incorporates chicken tatsuta: the "Chicken Tatsuta Mentai Cheese" which is made with walleye pollack roe, and the bite-sized "Hitokuchi Tatsuta"ーthe latter of which is arriving to the side menu.

It is also introducing the "Rice Chicken Tatsuta" burger following the success of the "Rice Burger" which was released at stores for the first time earlier back in February of this year.


These new menu items will be released on May 13, 2020 at all McDonald's branches in Japan for a limited time.

Chicken Tatsuta Mentai Cheese

Chicken tatsuta is a popular Japanese dish which combines a soft, soy ginger-soaked chicken patty with spicy sauce and stuffs it inside a bun. McDonald's new "Chicken Tatsuta Mentai Cheese" adds spicy walleye pollack roe mayo and smooth white cheddar cheese to the equation. It will be available all day round, including for the morning menu.

Hitokuchi Tatsuta

Rice Chicken Tatsuta

The "Rice Chicken Burger" will be available in the evenings only.

Japanese actor Toshiyuki Nishida is appearing in the TV commercials to promote the "Hitokuchi Tatsuta" while comedian Nobuyuki Hanawa and actor Katsumi Takahashi appear in the "Rice Chicken Tatsuta" commercials which feature a re-recording of the song SWEET MEMORIES ~Amai Kioku~ by Seiko Matsuda.

Tokyo's New Sake Ice Cream Shop Launches Crowdfunding Campaign to Ship Ice Cream Around Japan

SAKEICE is an ice cream shop that offers a new kind of ice cream experience, combining Japanese sake and alcohol together with the frozen treat. The shop opened in Akusaka, Tokyo in March this year.

However, due to the outbreak of the COVID-19 pandemic, the store has had to close temporarily. SAKEICE wants to cheer people up during these turbulent times with their ice cream, and has therefore announced the launch of a crowdfunding campaign so they can set up a website where people can order ice cream in Japan and have it delivered to them.

I tried out their ice cream

Otokoyama / Nihonshu Ice

SAKEICE's ice cream is laced with lots of Japanese alcohol. I tried the Otokoyama and the Nihonshu Ice, the latter of which is an original ice cream flavour exclusive to SAKEICE. They both contains around 4% alcohol. I were curious exactly how they would taste.

I started with the Nihonshu Ice. The moment the ice cream hits your tongue, your taste buds are met with its smooth texture, and your nose is filled with the full bodied flavour of nihonshu. The velvety texture on your tongue as it melts is to die for. The Otokoyama has a refreshing kick to it when compared to the Nihonshu Ice. It's creamy, but the aftertaste is refreshing, so we recommend it for people who aren't a fan of sweet treats. Both are sure to leave you feeling satisfied, and maybe a little flushed afterwards.

These ice creams contain alcohol, so keep that in mind when coming here with minors, kids, pregnant women, or if you're driving.

 

They have non-alcoholic flavours too!

Matcha / Cherry Blossom

Of course, they have non-alcoholic options too. I tried out the matcha and cherry blossom flavours.

The matcha one has an irresistible bitterness layered inside the sweetness. You get that real rich matcha taste too. The cherry blossom ice cream is a cute light pink colour and has a subtle sweetness to it. If you don't like alcohol then you'll definitely want to try one of delights.

mūya: Tokyo's New Cafe Opening by 'Bread, Espresso &' Serving Fluffy Mū Bread

Bread, Espresso & is a cafe chain with 17 branches in Japan, including Omotesando. The company is set to open an entirely new cafeーspecialising in Bread, Espresso &'s popular mū breadーcalled mūya on April 17, 2020 in Asakusa Mizumachi.

Bread, Espresso &: https://www.moshimoshi-nippon.jp/254815

Mizumachi is a new shopping centre also opening on April 17, 2020. It's near Solamachi in Tokyo Skytree Town, and sits betwixt Kaminarimon and Tokyo Skytree.

mū

Mū is an original bread recipe baked up by Bread, Espresso & that's made with lots of butter, giving it a rich taste. The word means "soft" in French. When you break a piece off the fluffy loaf, that rich buttery smell fills your nose.

inside the cafe

The mū loaf is a cube shape, and the interior of the shop has cube designs all over it.

Customers sit at tables with chairs that stack up like cubes – a unique and original design.

French toast

Mū is the main dish at mūya, which can be served as it is, as a sandwich, as French toast, or even in a parfait.

When you're passing through Asakusa, be sure to pop into mūya to try the famous mū bread of Bread, Espresso &.

Information

mūya

Address: 1-2-12 Mukojima, Sumida City, Tokyo 131-0033
Opening Hours: 8:00-20:00
No Fixed Holidays

TEL: 03-6240-4880
Homepage: http://www.bread-espresso.jp/

Popular Yakiniku Restaurant Futago to Open New Branch at THE JUNEI HOTEL in Kyoto

FTG Company, which operates 74 restaurants inside and outside Japan, is set to open its new restaurant Nikukappou Futago at THE JUNEI HOTEL Kyoto in Higashiyama, Kyoto on March 27, 2020 where it will serve authentic Japanese wagyu beef and full courses.

THE JUNEI HOTEL Kyoto is a small luxury tourist hotel housing eleven rooms in total, including its Bamboo Suite. Bamboo can be found throughout all the rooms as part of the hotel's concept: "A sojourn embraced by bamboo in a moonlit space." The rooms, as well as the hotel interior overall, showcases beautiful traditional handiwork using bamboo.

Inside Nikukappou Futago

Nikukappou Futago fuses traditional Japanese elements with modern ones. It features half-size eating areas as well as private areas. Customers can expect their private dining experience to include freshly-cooked full courses with high quality Japanese wagyu and seasonal ingredients.

Menu in Japanese *Menu will change monthly

Nikukappou Futago's concept is "A relaxed adult's Iki." The word iki here refers to a range of different meanings in Japanese, like "sophistication," "breath," "spirit," and "life." The restaurant will work to serve a hospitable service that enables each and every person to enjoy that iki that lives inside them.

Foie Gras & Wagyu Filet Mouthful Bowl

Wagyu Loin & Kyoto Vegetable Shabu-shabu

The course is made with seasonal ingredients and vegetables. Plus, in using a range of cooking methods, the original flavour meat of the meat is intensified.

Wagyu Sirloin Sumiyaki

Enjoy a selection of high-quality rare wagyu cuts like sirloin, filet, loin, and more. You can also enjoy a selection of classic Japanese dishes like yakiniku, shabu-shabu, and sukiyaki, all in one course.

Like the changing seasons in Kyoto, the menu will be altered every month to bring something new. Discover your iki and enjoy a great meal at Nikukappou Futago.

Information

Nikukappou Futago THE JUNEI HOTEL KYOTO

Address: THE JUNEI HOTEL KYOTO Floor 1F, 4-139 Honmachi, Higashiyama Ward, Kyoto
Grand Opening: March 27, 2020
Opening Hours: 17:00-23:00  (Last Orders 22:00)
No Fixed Holidays

Seats: 32 (6 Half-Size Rooms / 2 Private Rooms
TEL: 075-525-0052

Course Price: ¥11,000 (Tax and service charge not included) *Course menu to change each month

Official Website: https://nikutei25.com/

Winners Announced For The 7th Washoku World Challenge Competition

The final round for the 7th Washoku World Challenge Competition was held in Tokyo on February 20 and 21, which saw WANG Wei Ping of China, and chef at SUN with AQUA JAPANESE DINING SUNTORY, as the winner.

The two-day event brought together five chefs from Hong Kong, Singapore, Paris, Donostia-San Sebastian, and New York come together to compete and show their skills create dishes based on the competition's main theme of "Umami" and this year's theme of "Texture and Mouthfeel."

The judges said: "This 7th edition demonstrates that the finalists' technical level keeps improving every year. Creating Japanese dishes that incorporate the characteristics and unique ideas of other countries' culinary cultures, while respecting the fundamentals of Japanese cuisine built on the concept of umami, expands the potential of Japanese cuisine. The creations of each one of the finalists embodied this notion."

Middle Contender: WANG Wei Ping, 1st Place Winner

WANG Wei Ping's Dish

On the first day, the chefs used the same ingredients to create a "nimonowan." On the second day, they forged their own original dishes using five or more ingredients which they arranged on a Japanese "hangetsubon" tray.

When reacting to his victory, Wang Wei Ping said: "I thank the owner and other members of my restaurant. After returning to Shanghai, I would like to continue conveying the excellence of Japanese cuisine, which is both healthy and tasty."

Finalists

Hong Kong

First Place: WANG Wei Ping (China, SUN with AQUA JAPANESE DINING SUNTORY)

USA

Second Place: Yael PEET (USA, Fury's) *The restaurant will be open this summer.

Singapore

Third Place: Loh Man HONG (Singapore, FAT COW)

Paris

Wojciech POPOW (Poland, Beaverbrook)

Judges

– Head Judge: Mr. Yoshihiro MURATA

(Chairman of Japanese Culinary Academy, Owner and chef of Kikunoi, Japanese Cuisine Goodwill ambassador)

– Deputy Head Judge: Mr. Masahiro NAKATA

(Director of Taiwa Gakuen Education Inc. President of Kyoto Culinary Art College)
– Judge: Mr. Hideaki MATSUO

(Owner of Japanese Cuisine KASHIWAYA, Japanese Cuisine Goodwill ambassador)
– Special Judge: Yoshio KOJIMA

(Comedian)

Japanese Tea Crepe Cafe OCHABA Opens Second Branch in Asakusa

OCHABA opened its first branch in Shinjuku in March last year as the first cafe in Japan specialising in Japanese milk tea. The cafe has announced that it will open its second branch in Asakusa on February 22, 2020. The new cafe will introduce a new item to the menu: crepes. The chewy wraps are made with matcha and Japanese tea and filled with mascarpone and fresh cream.

Plain Tiramisu – ¥600


Kogashi Houjicha Puree – ¥650

Strawberry Daifuku – ¥730

The cafe will also serve OCHABA's famous Japanese milk tea topped up with warabimochi, made using carefully-selected tea leaves from Maruzen Tea, a Shizuoka-based tea company with a history spanning more than 70 years.

If you love Japanese tea, you'll love OCHABA's desserts made using all different kinds of teas.

Information

OCHABA Asakusa

Address: Asakusa Orange Street, 1-39-14 Asakusa, Taito Ward, Tokyo

Opening Hours: 11:00-19:00

Official Website: https://ochaba.net

Fermented Food Cafe 'Tsuke x Koji Haccomachi' to Open in Kyoto's Sanjo Area

Tsuke x Koji Haccomachi is a new cafe opening in the Sanjo area of Kyoto on February 22, 2020, that is centred entirely on fermented foods.

The name "Haccomachi" derives from the Japanese word Hakko (Hacco), meaning fermented, and Komachi (Comachi), meaning a beautiful woman. The cafe hopes for people to incorporate fermented foods into their livesーsomething which is rooted in Japanese food cultureーand live comfortably.

The cafe's logo showcases the making of kōjiーa type of mould used in the fermentation process of certain food products in Japan, like soybeans. The logo hope to pass down this long upheld tradition.

Hakko fermentation is a major part of Japan's food culture. Since ancient times, the sweetness and umami brought about by the enzymes in the fermentation process have served to accompany many foods in the country, such as miso, soy sauce, mirin, rice vinegar, and so onーall traditional condiments used in the Japanese kitchen that are still fundamental today.

The menu at Tsuke x Koji Haccomachi features a line-up of fermented foods made in Kyoto, including those from Kyoto-based soybean makers Fujiwara Shokuhin, Sawai Shoyu Honten which has produced the same high quality soy sauce for decades, sake brewery Kitagawa Honke which has been around since the Edo Period, and more.

A Small Look at the Menu

Lunch Menu

Haccomachi Special – Fermented Lunch Plate: ¥1,690

This lunch plate is an assortment of hors d'oeuvre made with fermented condiments, tandoori chicken that has been pickled to elevate the umami, marlin fish, soup, and more.

Dinner Menu

Spare Ribs On The Bone in Miso Yuan Yaki: ¥1,490

This hearty portion of spare ribs are marinated in a miso, mirin, and soy sauce mix. Taste the full umami flavour of the juicy meat.

Namerō Miso Salmon in Yoghurt Sauce: ¥770

The salmon is served namerō style, a type of tataki or pounding method, in miso. The yoghurt has both a refreshing and rich flavour.

Homemade Komekoji Rice Malt Sweet Sake Yoghurt: ¥470

The splitting of the sour yoghurt serves to elevate the sweetness of the sake. This is a drink that even those who don't like sweet sake are sure to enjoy.

Cafe Menu

Miso Pound Cake w/ Vanilla Ice Cream: ¥550

The miso pound cake is a collaboration with Japanese confectionery company Sarasa, which has 6 branches of cafes and shops in Kyoto. It's made using komekoji rice malt powder provided by an old-fashioned Japanese shop (菱六もやし). The umami of the miso is intensified, and the cake stays moist thanks to the powder. It's served with a dollop of refreshing vanilla ice cream.

Blackcurrant & Vanilla Sweet Sake Affogato: ¥550

A unique spin on the affogato dessert which has you pouring hot sweet sake over tangy and refreshing blackcurrant sherbet and rich vanilla ice cream. Enjoy the mix of the hot sake and the cool ice cream.

Discover the Japanese tradition of fermentation at Tsuke x Koji Haccomachi, opening February 22, 2020.

Information

Tsuke x Koji Haccomachi

Grand Opening: February 22, 2020
Address: 78-1 Masuyacho, Shitagaru Yanaginobamba Sanjo-dori, Nakagyo Ward, Kyoto,
Opening Hours: [Weekdays] 11:00-15:00 & 17:00-22:00 / [Weekends & Holidays] 11:00-22:00

Closed: Wednesdays
Official Website: https://haccomachi.jp/

Asakusa's New Conveyor Belt Sushi Chain Kura Sushi Offers a Traditional Japanese Space

Muten Kura Sushi opened the first of its its all-new chain of "global flagship" sushi restaurants in Asakusa BOX on January 22.

This kaitenzushi restaurant, or "conveyor belt sushi," aims to promote Japanese culture. It wants people, both Japanese and foreign, to rediscover the wonders of kaitezsushi, and what better place to open its first branch than Asakusaーone of the biggest tourist hot spots in Tokyo?

The restaurant's design and decor takes on a more traditional approach, drawing inspiration of Japan's Edo period with classic ukiyo-e paintings and paper lanterns adorning the walls, amongst many other things. This classic image of Japan has found its way to the dining space itself too, with flat tables made from plain wood and chairs topped with tatami. This gives it that air of grace and beauty which is typically associated with traditional Japanese culture, as well as a relaxed atmosphere.

The logo used on the restaurant's paper lanterns, crockery, staff uniform and elsewhere was designed by Japanese art director and creative director Kashiwa Sato. It was created for the brand to be used on all future branches, including all Japanese restaurants and those planned for the US and Taiwan.

The restaurant even has several Japanese festival games for customers to play, like target practice and ring toss. They can win coupons that can be used in the restaurant, and kids can win toys too.

Some of the staff can speak foreign languages too, and tablets that you order food from are available in 4 languages.

Staff also carry a "Langogo Genesis," a speech translation machine, to allow for smooth customer service. It's connected to an AI language server which can speak and translate quickly in 104 languages.

This global flagship restaurant also has a self check-in and payment system. Using touch screen, customers will be shown their seats automatically. The AI also adds up how many plates you have used by scanning their QR codes, and this is used to determine how much you need to pay. This means you needn't wait for someone to bring the bill, you just head straight to the till.

There's also a smartphone app (called スマホでくら) which you can use to book a table and makes for easy checking in when you arrive at the restaurant.

Head to Kura in Asakusa, Tokyo to enjoy Japan's longtime affordable and delicious fast food: sushi.

Information

Kura Sushi Asakusa ROX

Address: Asakusa ROX Floor 4F, 1-25-15, Asakusa, Taito Ward, Tokyo)

Opening Hours:

January 22-26 @ 12:00-21:00 (Last Orders 20:30)

From January 27 @ 11:00-23:00 (Last Orders 22:30)

Official Website (English): http://www.kura-corpo.co.jp/en/

8 Delicious Breakfasts to Enjoy in Tokyo's Traditional District Asakusa

Asakusa is one of the most touristic spots in Tokyo and enjoys its traditional temples as much as its modern scene. If you're up early with a day of sightseeing and shopping ahead, starting your day with a good breakfast is the best way to make the most of it. To help out, we've got a list of eight recommendations for breakfast in Asakusa which includes both Japanese and western-style foods – bon appetit!

Pelican Cafe 

Pelican Cafe runs the old bakery called Pan no Pelican which was established in 1942. This delicious menu is not available anywhere else. The scrumptious breakfast menu includes five different meals to choose from. The picture above shows the Ham Katsu Sandwich – a filling breakfast sandwich containing a thick slice of Asakusa ham.

Pelican Cafe 

Address: Floor 1, 3-9-11, Kotobuki, Tokyo

Opening Hours: 

Breakfast: 9:00 – 11:00

Regular Menu: 11:00- 17:00 (Last Orders)

Closed: Sundays, National Holidays

Closed for summer holidays and the New Year's Period

Official Website: https://pelicancafe.jp/index.html

February café

We've previously visited February café for their scrumptious french toast and now we're back for seconds. You can order the breakfast bread set (Asa Pan Set) from 8:10 am to 11:00 am. The bread used for the set is actually Pelican no Pan bread. This is ideal for those of you who want to enjoy breakfast near Kappabashi.

February café

Address:1-7-8 Kaminarimon, Taito, Tokyo 

Opening Hours: 8:10-19:00 (Last Orders: 18:30)

No Regular Holidays

Official Website: http://www016.upp.so-net.ne.jp/February-Cafe/

Coffee Lodge Akaishi

Coffee Lodge Akaishi is located behind Asakusa Kannon and is open from 9:00 am to 4:00 am. This place is loved by everybody from tourists to locals. Their top dish is their Ebi Sando – a sandwich that contains battered shrimp, tartar sauce, cabbage and sauce. The old traditional-style interior provides the perfect relaxing atmosphere to catch your breath between sightseeing and shopping. 

Coffee Lodge Akaishi

Address: 3-8-4 Asakusa, Taito, Tokyo

Opening Hours: 

Tuesday to Saturday: 09:00 – 04:00/ Sundays and National Holidays: 09:00 – 01:00

Closed: Mondays

Tabelog: https://tabelog.com/tokyo/A1311/A131102/13058004/

Misojyu

Misojyu's popular breakfast set includes miso soup, one onigiri, a delicious half-boiled egg, and pickled vegetables. Misojyu is committed to using organic vegetables in their miso soups for healthy and balanced meals so this is the perfect way to start your day. 

Misojyu (Miso Soup Shop)

Address: 1-7-5 Asakusa, Taito, Tokyo

Opening Hours: 

Breakfast: 8:30 – 10:00

Regular Menu: 10:00 – 19:00

No Regular Holidays

Official Website: https://misojyu.jp/

SUKE6 DINER

SUKE6 DINER serves up delicious brunches from the morning and homemade sausages and smoked fish dishes in the evening. The breakfast menu is available from 8:00 am to 11:00 am and serves up homemade granola and bread freshly baked on the third floor of the diner. You can also enjoy their scrumptious sandwiches which are topped with meat and vegetables.

SUKE6 DINER

Address: Ayumi Building Floor 1-2, 1-11-1, Hanakawado, Taito, Tokyo

Opening Hours: 

Tuesday – Friday: 8:00-22:00

Lunch:10:00 – 17:00

Weekends and National Holidays: 8:00 – 21:00

Closed: Mondays

Official Website: http://suke6diner.com/

SaboAsaichi

If you're near Inarichō then pop into Sabö Asaichi for a delicious breakfast, shokupan or Okara bread that is made from bean curd lees. Toppings include red bean paste and butter, honey and butter and red bean paste and cream cheese. Besides bread, you can also add an onigiri and miso soup to your meal so you can enjoy both a western-style and Japanese-style breakfast in one go.

SaboAsaichi

Address: 6-1-15, Higashiueno, Taito, Tokyo

Opening Hours: 8:00 – 20:00 

Closed: Sundays and Mondays

Official Twitter: https://twitter.com/saboasaichi

SUKEMASA COFFEE

If you're looking for a good latte or espresso to start your day then SUKEMASA COFFEE got your back. A unique feature of the café is that the staff are all dressed in kimonos. The picture above shows the café's Red Bean Paste and Butter Dog. A rich filling of red bean paste and butter is sandwiched inside crispy bread.

SUKEMASA COFFEE

Address: Kimizuka Bldg. 102, 2-29-2, Asakusa, Taito, Tokyo

Opening Hours: 8:00 – 19:00

Closed: Tuesdays

Official Website: https://sukemasa.tokyo/

MIMOSA

MIMOSA's morning menu sees toast, sandwiches and the best of Asakusa's delicious breakfasts. The star of the show is the Big Hotcake (¥720 After Tax) which is a five-layer pancake topped with Calpis butter and a side of whipped cream. You'll want to savour the nostalgic flavour forever. If you cannot finish your meal, you can take it away with you.

MIMOSA

Address: 4-28-6 Asakusa, Taito City, Tokyo

Opening Hours: 8:00 – 17:00

Closed: Mondays

Tabelog: https://tabelog.com/tokyo/A1311/A131102/13088749/

 If you're an early bird in Asakusa, treat yourself to a hearty western or Japanese breakfast at one of these cafés and you'll be sure to have a fantastic day. 

*The cafés and restaurants may update their opening hours and menus at any time so please check their official websites and social media for the most accurate information.