Hokkaido Hyaku Soba: The Restaurant That Serves 100% Buckwheat Soba Noodles
Hokkaido Hyaku Soba is a new restaurant that just opened in Asakusabashi, Tokyo that serves soba noodles that are made using 100% buckwheat flour.
The restaurant has opened in a joint agreement with Ikkyu Soba―a famous restaurant that opened in the city of Tomakomai, Hokkaido in 1975―to bring their delicious flavours to Tokyo.
Only the best soba noodles are used at the restaurant, all of which are made in Hokkaido. By having them delivered directly from their place of production it will ensure an authentic 100% buckwheat flavour.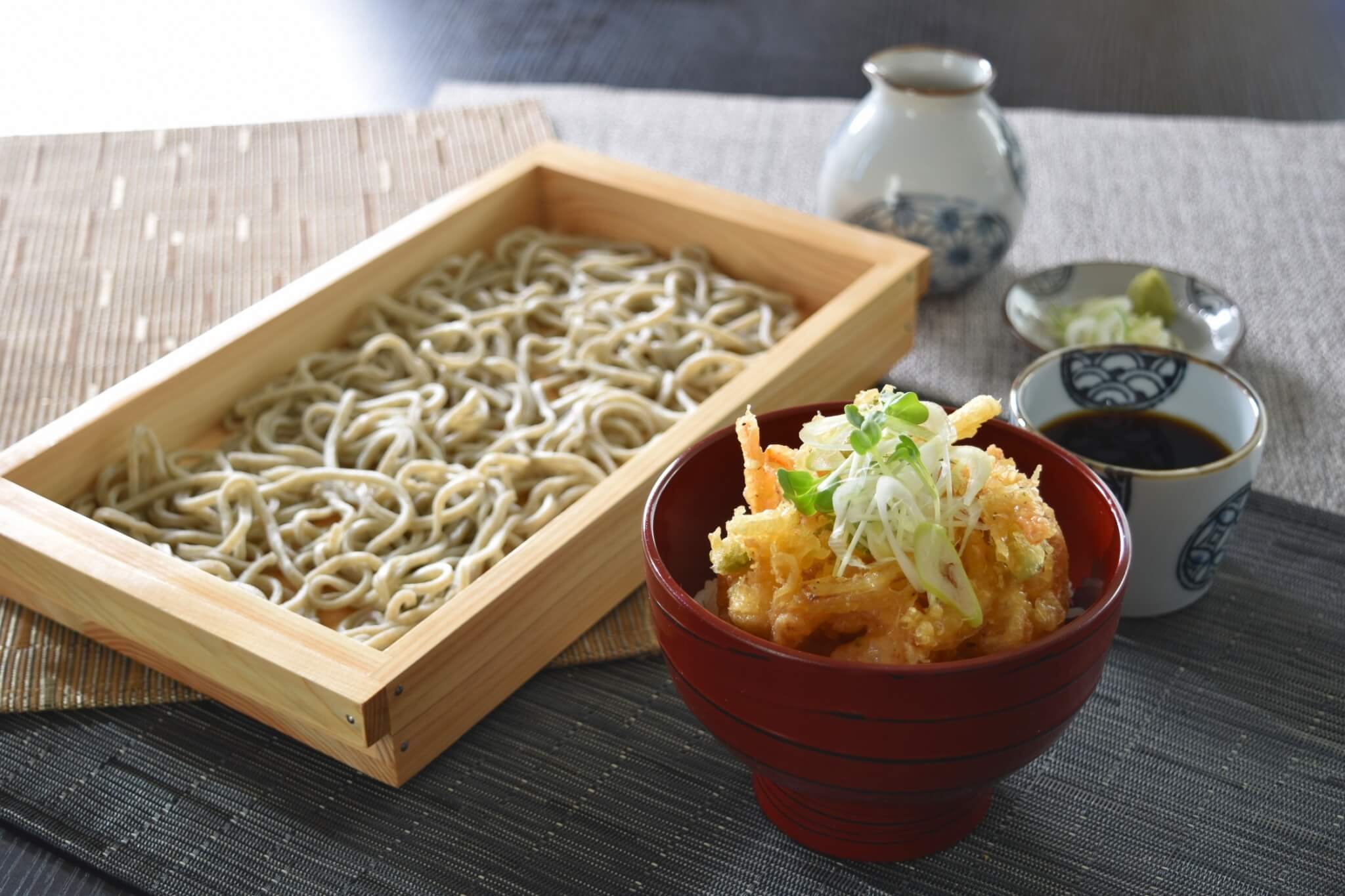 The restaurant will also serve a dish that combines the noodles with scallops and other seafood ingredients caught in Hokkaido. It is served with shiodare salt-based sauce which is made from 41 ingredients including salt that is obtained from burning seaweed, salt-marinated rice malt and more. Made by experts to match perfectly with the meal, the restaurant describes the sauce as "addictive."
The wasabi serve at the restaurant is from the brand Yamakawa Wasabi. It is delivered to the restaurant still in soil to preserve its freshness.
Another dish on the menu is the "Yuki Wasabi Saka Soba" which is sprinkled with this wasabi. It is 1.5 times more 'spicy' than regular wasabi so it is sure to add a kick to the meal which travels through your nose and leaves a mellow sweetness in your mouth.
Now you can try authentic 100% buckwheat soba from Hokkaido while you're in Tokyo.
Information
Hokkaido Hyaku Soba Asakusabashi
Address: 1-32-5 Yanagibashi, Taito Ward, Tokyo
No Fixed Holidays.
Opening Hours: 11:00-22:00
Price Range: ¥500-¥1,500 (Tax Included)
TEL: 03-5846-9138
Website: https://100soba.com
RELATED ENTRIES
Anime Series Chibi Maruko-chan Inspires New Sake from Hatsukame Brewery in Shizuoka

Last year, Hatsukame Sake Brewery, a staple in Shizuoka Prefecture, released a collaborative special edition sake featuring Papa Hiroshi from the anime series Chibi Maruko-chan. The collab makes sense, as the anime series takes place in Shizuoka Prefecture. Bottles sold out incredibly fast, so it's no wonder that the brewery has now opened orders for the 2022 batch! The special products will be available on June 4, just in time for Father's Day. Customers can choose from the Junmai Ginjo or Junmai Daiginjo varieties.

Junmai Ginjo Papa Hiroshi Vintage 2022

Junmai Daiginjo Papa Hiroshi Vintage 2022

The Junmai Ginjo Papa Hiroshi Vintage 2022 was made with water, rice, and yeast from Shizuoka, where the series takes place. With a refreshing aroma and a gentle sweetness derived from the Homarefuji rice, the flavor is sure to arouse your palate!


The original label featured on the bottle shows Papa Hiroshi enjoying local sake with tuna sashimi from Shizuoka with Mt. Fuji in the background. All bottles will come with a paper box featuring a similar design. The turtle on the label is the symbol of Hatsukame Brewing! It's recommended that customers drink their sake with local tuna–it's the perfect combination.

The Daiginjo variety is made from rare Aiyama rice, known as the 'Diamond of Sake Rice.' Polished and carefully prepared by hand, the aroma of the sake is reminiscent of tropical fruits. The final product has a rich sweetness.

Last year's label showed Papa Hiroshi in a Kimono watching the first sunrise over Mt. Fuji. Be sure to grab a bottle to experience the taste of Shizuoka! Only 223 bottles will be available, so be quick!

©さくらプロダクション/日本アニメーション ©Hatsukame Sake Brewery Co., Ltd. ©Nexus Co., Ltd.

Information

Junmai Daiginjo Papa Hiroshi Vintage 2022

Now available to order
Release Date: June 4, 2022 *After the release date, orders will be shipped within 3 weeks from the order date.
Where to Buy: Saketsunagi Online Shop https://saketsunagi.base.shop

 

Limited Edition Sake Released Alongside NFT Art to Share the Value of Japanese Spirits with the World

Two incredible new Junmai Daiginjo bottles, the highest-quality sake, have been released in limited quantities. Hitou ASCENDING and Touka ILLUMINATING were made by sustainable means and incorporate NFT art to share the process of sake creation with the world.

 

While sake companies keep traditional Japanese production methods alive, some are seeking to solve problems in the sake industry by turning to current technology, like the blockchain and NFTs. In this age of convenience and automation, this particular sake maker is aiming to show the true value and authenticity of Japanese craftsmanship to the rest of the world. 

Certain types of sake can only be made and enjoyed at certain times of the year, as they are not suitable for storage at room temperature and can only be consumed for a brief period to get the best taste. Many sake fans around the world might not be aware of this, so the new NFT collaboration aims to educate!

 

The bottles contain unique ukiyo-e NFT art prints of a dragon and phoenix on the bottle, respectively. Those who purchase a bottle will also find the year of production and bottle number etched onto the glass with lacquer. Be sure to keep the bottle even after the delicious sake is gone!

Story

Rice / Tobe Rice
In Tokamachi, Niigata Prefecture, farmers have been cultivating this unique brand of Koshihikari rice without the help of pesticides or fertilizers for over two decades. The rice is called the best in all of Japan, and one-third of its yield is used to make sake.

Water / Pure Groundwater

The Japan Median Tectonic Line, also known as the 'Dragon's Vein,' is a massive fault line that is home to numerous sacred sites, including  Suwa Grand Shrine, Toyokawa Inari Shrine, Tenkawa Benzaiten Shrine, Ise Grand Shrine, and the Koyasan Mountain. The groundwater found here is some of the purest found in Japan and flows from the Bungui Pass in Ina, Nagano Prefecture. The pass has been featured in many publications as one of the most famous power spots in Japan.

Brewing / Ono Brewery

While dealing with some of the harshest winter weather in Japan, the brewery has continued to create sake the old-fashioned way–with human hands. For the creation of these two bottles, the brewers took on the challenge of making a very small amount of sake, something they had never done before. Based on the concept of "making the most of the environment," the rice was prepared in a special room with no air conditioning under the watchful eye of the master brewer.

Bottle Art/ Ukiyo-e Artist, Shun
The art displayed on the bottle is printed in a unique way, allowing it to be put on display separately. The Japanese-style art is perfect for the collaboration and was inspired by one specific hope: that a new path will open to those who work hard after the many difficulties and troubles caused by the pandemic.

Bottle Making / Maruyoshi Kosaka Wood & Urushi Works


The circular label symbolizes the moon (water) and the sun (fire), each representing a world where different values are not only accepted but welcomed. Hand-painted and made with pure platinum and gold leaf by the talented craftsman at Maruyoshi Kosaka Wood & Urushi Works in Shiojiri, Nagano, these advanced painting techniques are sure to impress.

Each Bottle Features the Brewing Year, Number Printed in Lacquer

Marked with a unique serial number, all proceeds from the sales of these special sakes will be used to maintain and promote sustainable agriculture, support sake brewers, and bring traditional Japanese craftsmanship to the world.

Information

Junmai Daiginjo – 'Hitou ASCENDING,' 'Touka ILLUMINATING'

Limited Quantity
Official Site: https://hitoutouka.com/

Flower Miffy Juice Garden in Asakusa Offering Limited-Time Drink Perfect for Early Summer

Flower Miffy Juice Garden, a drink stand inspired by Flower Miffy, a florist version of the Dutch character Miffy, has begun selling the perfect drink for the early summer weather. The Marguerite Cream Soda is on sale now at the Asakusa location.

Marguerite Cream Soda

Flower Miffy Glass Vase Flower Frame

The Marguerite Cream Soda features refreshing lemon soda topped with sliced lemon, thick vanilla ice cream, a Miffy cookie and a marguerite flower. Visitors can also find a special Miffy glass vase at the Asakusa store for a limited time, perfect for displaying flowers at home.


Come enjoy shopping for Miffy goods while sipping a refreshing beverage this summer!

Illustrations Dick Bruna Ⓒ copyright Mercis bv,1953-2022 www.miffy.com

Information

Flower Miffy Juice Garden
Address: Flower Miffy Juice Garden Asakusa
Limited Time Beverage: Marguerite Cream Soda
Available starting April 28, 2022
Official Site: https://www.benelic-flower.com

Japanese traditional confectionery brand OKOSHIYA TOKYO opens in Marunouchi Building

Japanese traditional confectionery Okoshiya Tokyo, a brand specializing in okoshi (rice cake), opened in the Marunouchi Building on December 15, 2021.

OKOSHIYA TOKYO is a brand specializing in okoshi, operated by a small Japanese confectionery manufacturer in downtown Tokyo which is celebrating its 60th anniversary. OKOSHIYA TOKYO opened in Tokyo's Marunouchi Building as a store where customers can directly purchase the long-established okoshi, which has been sold only through the online store.

OKOSHIYA Maple Almond(60g)

aun 18 pieces (6 types x 3 pieces)

OKOSHIYA TOKYO's crispy okoshi is a new texture that can be eaten easily. The sweetness is kept low so that you can enjoy the natural flavor of the ingredients. It has a nostalgic and comforting taste.

Marunouchi (3 types x 3pieces) *Marunouchi Building Limited Edition

There are many theories about the origin of the word "okoshi", but it comes from the word "koshi", which means "to rise", and has been eaten as a confectionery for good luck. It can be used as a "friendship blessing" for friends who meet again after a long absence, a "cheering blessing" for those who are working hard towards their dreams and goals, a "love blessing" for a beloved partner, or to " bring good fortune" to newlyweds who are starting a new chapter in their lives. Let's convey not only the delicious taste but also your feelings to your loved ones through OKOSHIYA TOKYO's okoshi.

Information

OKOSHIYA TOKYO

Where: B1 1-4-2 Marunouhi, Chiyodaku, Tokyo, Maru Biliding B1F

Access: One-minute walk from Marunouchi South Exit of JR Tokyo Station, directly connected to Tokyo Station on the Marunouchi Line.

Opening Hours: Weekdays/Saturday 11:00~21:00 /Sunday/Bank Holiday 11:00~20:00

Official site: https://okoshiya.official.ec/

Asakusa Hanayashiki and the TV animation Gintama announces Details of the Collaboration Event

The amusement park Asakusa Hanayashiki will hold a collaboration event with the TV anime Gintama titled Gintama Festival from December 20, 2021 to January 16, 2022.

Mission clear bonus acrylic coasters (4 types/randomly distributed).

Original Merchandise (example)

Reward for ordering original food: one original coaster (10 types/randomly distributed).

The lineup for the Gintama Festival includes sales of event-exclusive original merchandise, a riddle solving rally, and collaboration food. In addition, the special ticket, an advance ticket with special offers that will make the event even more enjoyable, will be available for purchase.

Please look forward to this special event that Gintama fans can enjoy to the fullest.

©空知英秋/集英社・テレビ東京・電通・BNP・アニプレックス

Information

Gintama Festival

Running: From December 20 until January 16, 2022.

Closed on January 11 and 12.

Where: Asakusa Hanayashiki.

Opening Hours: 10:00~18:00 (Subject to weather conditions).

*Opening hours for January 10 to 14, 2022: 10:00-17:00.

*Last entry is 30 minutes before closing.

Details: https://hanayashiki-event.com/info/753

Adorable Hamster-shaped Cakes from Kyoto Now on Sale

Aoki Koetsudo, a 129-year-old confectionery shop in Kyoto, and 2:00, a Kyoto-based company specializing in unique products, have come together to create some incredibly cute hamster-shaped cakes. These pastries are called monaka, and feature azuki bean jam filling sandwiched between two crisp wafers made from mochi. Each set includes 6 wafers, six helpings of bean jam, and a bag of nuts, so customers can enjoy creating the pastries themselves! 

How to Enjoy Hamster Monaka

Fill the Hamster-shaped monaka with as much azuki jam as you like. 

Cover the monaka with the wafer and add one of the nuts provided. 

Paint the eyes and ears with chocolate to give each pastry some personality!

Gyoza Festival 2021 Opens at Nagoya PARCO

Pan-fried dumplings, or gyoza, can be found all over Japan from fine restaurants to convenience stores. They're cheap, easy to consume, and incredibly tasty. Those able to make it to Nagoya PARCO by December 26 can experience this year's Gyoza Festival, bringing together some of the best examples of creative and mouthwatering gyoza in the country. 

A number of participating restaurants within Nagoya PARCO have developed unique gyoza-centric menus, including Kimchi Gyoza from Yansando, Chicken Wing Gyoza with spicy tartar sauce from Kyoto Shijo Kuon, and Spicy Gyoza from ANDY CURRY, participating in the event for the first time. Yummy Hawaiian Barbeque is also offering nine new menu items only found at Nagoya PARCO, including Gyoza Pie. 

Participating Shops

Yansando Ueno Honten

ANDY CURRY

Nagoya Chicken Noodle Shop

Longhu Patio

Kyoto Shijo Kuon

FUJIYAMA55 RAMEN STAND​

Okuyama Yasuzou Himonoterasu

Yummy Hawaiian Barbeque

Information

Gyoza Festival 2021

Running: November 26 – December 26, 2021

Location: Nagoya PARCO West Building 7F

Official Site: http://www.parco.co.jp

Niigata Prefecture Unveils Rurouni Kenshin Collaboration Sake

Rurouni Kenshin is one of the most popular anime and manga series around the world, hitting the scene in Japan back in 1994. Original manga author Nobuhiro Watsuki spent most of his childhood in Nagaoka, Niigata prefecture, an area known throughout the country for its delicious rice. Harasho, a liquor store in Nagaoka, has announced a new collection of Rurouni Kenshin-themed sake to celebrate the series. 

The Rurouni Kenshin manga series was originally serialized in Weekly Shonen Jump from 1994 until 1999. The sequel, Rurouni Kenshin: The Hokkaido Arc, is currently ongoing in Jump Square. The series has been a smash hit, selling over 72 million copies and inspiring both animated and live-action film adaptations and an anime series. 

The sake will be produced at three distilleries in Nagaoka city, and each of the three will feature unique characteristics. Each label features imagery from the manga series and would make the perfect gift for fans (as long as they are of age!) 

Information

Rurouni Kenshin x Niigata Sake Series

Fukusen Natural Sake: ¥1,350

Koshino Hakugan Ginjo Sake: ¥1,500

Ofuku Shuzo Ginjo Sake with No Added Alcohol: ¥1,800

Special 3-bottle Set: ¥4,650

Number of Bottles Released: 2,000 of each type, special 3-bottle sets available until sold out

Preorders Now Open

Release Date: December 1, 2021

Details: https://echigo.sake-harasho.com/shopbrand/ct332/

Where to Buy: 

Online Store: https://echigo.sake-harasho.com/

Liquor stores part of the Echigo Meimon Collective

Major tourist facilities in Niigata Prefecture

Lottery Open to Snag ALIENS GALAXY 2021, a Sake That Traveled Through Space

Want a bottle of sake that's been to space? Liquor Innovation is opening a lottery through October 16 to snag a bottle of ALIENS GALAXY 2021, and as you would imagine the number of these items is extremely limited. 

ALIENS GALAXY 2021 started brewing on October 1, 2005, also known as 'Sake Day.' Using Kochi-grown yeast and rice, this brew then spent ten days orbiting the Earth on the Russian spacecraft Soyuz. This is only the second year ALIENS GALAXY 2021 will be available, after an incredibly positive response in 2020. With a refreshingly light and dry taste, the sake is a great example of Kochi's dry sake culture, and showing up to a party with this in hand is sure to have people talking! 

Okinawa's Hotel Nikko Alivia Announces Season 3 of Monogatari Kaiseki Menu

SAWA, a restaurant featuring both Japanese and traditional Ryukyu cuisine, will begin the third season of its delicious and artful Monogatari Kaiseki menu starting October 1, 2021. Each season featured a selection of dishes inspired by original stories created by the head chef, and with the new installment, guests will also be supporting the reconstruction of Shuri Castle which suffered damage after a 2019 fire. The restaurant is located at Okinawa's Hotel Nikko Alivia, and the meal will be available until October 31. 

Monogatari Kaiseki: Appetizer 'Beneath the Moonlit Night' 

Monogatari Kaiseki: Grilled Items 'Vampire's Dinner' 

Monogatari Kaiseki: Dessert 'Pumpkin Ghost/Tidings of Autumn' 

In this imagining, a collection of ghosts and spirits gather at the Shuri Castle Festival on Halloween to compete in a cooking competition, and guests are invited to judge each dish. A drink pairing set will also be available. 

5% of all sales will be donated to the Okinawa Prefecture Shuri Castle Fire Restoration and Recover Fundraiser, to help rebuild the historical site. 

Information

Monogatari Kaiseki Halloween Story – Shurijo Festival –

Available: October 1 – October 31, 2021

Hours: 18:00-21:30 (Last order at 21:00) 

Address: SAWA Restaurant at Hotel Nikko Alivila

*Limited to 10 per day.

Reservation Line: 098-989-9021

Official Site: https://www.alivila.co.jp

Kageki Shojo!! Anime Series Gets Event at Tokyo's Amusement Park Asakusa Hanayashiki

Asakusa Hanayashiki, an amusement park in Tokyo, has announced a summer event in collaboration with the ongoing anime series Kageki Shojo!! which will take place from August 21 to September 12.

Cute original artwork illustrated for the event

Take part in the stamp rally

Original Ticket Folder (With Pseudo Ticket)

Original merchandise

Bromides: ¥550 (Tax Included)

Acrylic Figure: ¥500 (Tax Included) / Acrylic Figures: ¥880 Each (Tax Included)

Acrylic Keyrings | ¥770 Each (Tax Included)

Pins: ¥300 Each (Tax Included)

Receive a free postcard when you order a drink or dessert

Receive a free coaster when ordering a drink

Receive an original tote bag when buying a special ticket

Kageki Shojo!! is a manga series by Kumiko Saiki. The anime adaptation began airing on July 4. A collection of cute original illustrations of 22 characters from the series have been drawn for the event which will be dotted around the park. Fans can also take part in a themed stamp rally, enjoy food inspired by the series, buy merchandise, and more.

Solve Mysterious in Tokyo While Walking Around Asakusa in This New IRL Game

Japanese IRL mystery game production company Haregake is launching a new game in collaboration with Cosmos Hotel Management who are known for managing the apartment hotel chain MIMARU. MIMARU Tokyo Asakusa STATION, a new branch, is set to open on April 22.

This game will take place around Asakusa in Tokyo and can be played by couples, families, and groups. The event is being carried out with all necessary COVID-19 safety measures in place and aims to get people learning more about the wonders of Asakusa with a game that incorporates elements of the district's traditional buildings, culture, and more. It's a chance to sightsee around one of Tokyo's most iconic areas while solving puzzles at the same time.

The game kit can be bought at the vending machine inside MIMARU Tokyo Asakusa STATION when it opens later this month. It includes the story, which you can read below, and everything you need to get yourself started. There's also no time limit, so players can take as long as they like while they enjoy the sights.

The Game's Story

"I want you to find the treasure of Asakusa for me."

So says the request that finds its ways to you – you, who are a detective.



A certain wealthy individual once resided in Asakusa.

He left a letter behind, and now this letter is in your hands.

"This map – perhaps it shows the location of this treasure."

Will you be able to locate the treasure resting in Asakusa?

Head on out and solve the mystery as you walk around the district.

Information

Asakusa Detective Game: The Secrets of the Millionaire's Forgotten Letter

Japanese Game Name: 浅草街歩き探偵録〜富豪の残した手紙の秘密〜

Start Date: April 22, 2021 (Not a limited-time event, will be held permanently)開

Start Point: MIMARU Tokyo Asakusa Station

Address: 2-20-4 Kaminarimon, Taito-ku, Tokyo, 111-0034

Official Website: https://nazotoki.mimaruhotels.com/