Psycho-Pass Event Taking Place at TOKYO JOYPOLIS in 2019
Haregake, a creator of riddle-solving games that have brought in over 100,000 participants, has developed an all-new puzzle game called "Psycho-Pass: Sinners of the System in JOYPOLIS" that is set to run at the indoor theme park TOKYO JOYPOLIS in Daiba, Tokyo from January 11 to March 17 next year.
The game will make use of the entire JOYPOLIS building and have participants solving riddles. You will take the role of an executive officer and use your smartphone to talk with Shinya Kogami, Nobuchika Ginoza and Shuusei Kagari to gather clues and solve the puzzles.
Trailer: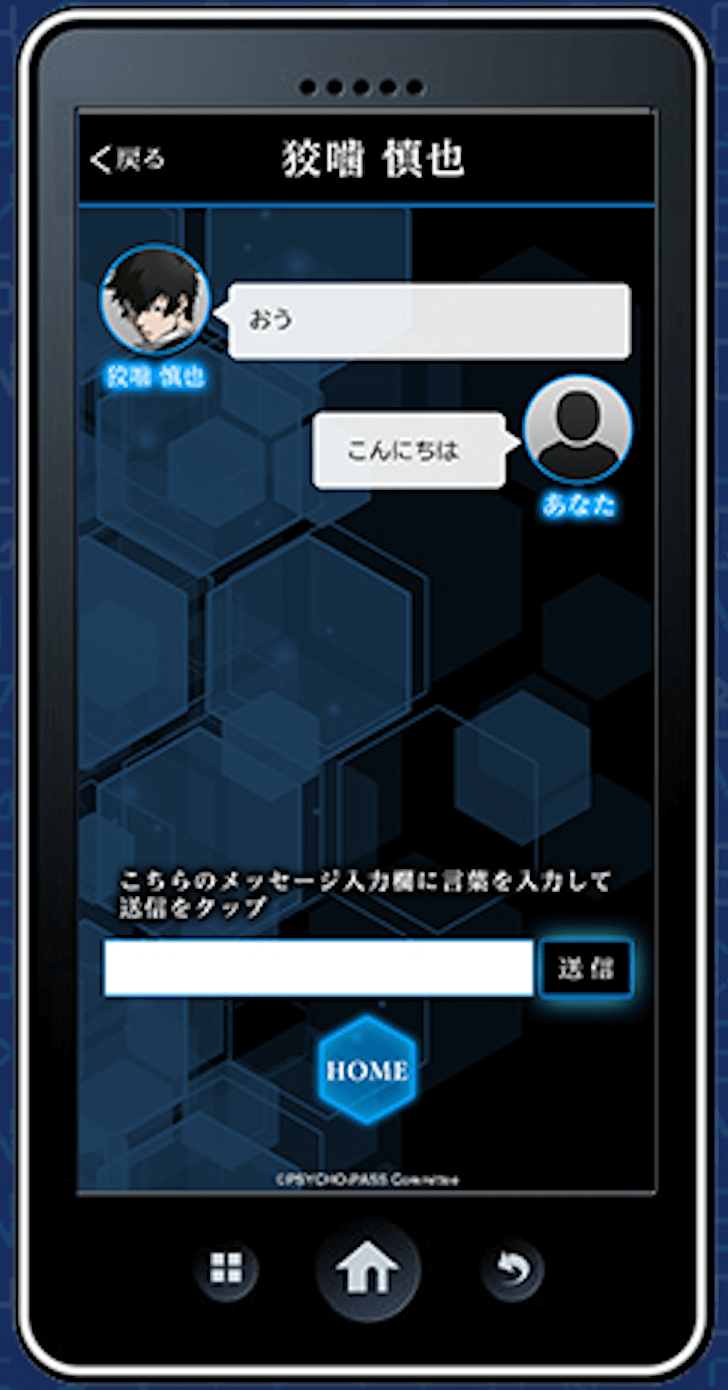 An incident took place with unknown origins that led to a murder… Will you be able to identify and stop the killer?
Information
Psycho-Pass: Sinners of the System in JOYPOLIS
Location: TOKYO JOYPOLIS
Address: DECKS Tokyo Beach 3F-5F, 1-6-1 Daiba, Minato Ward, Tokyo
Running: January 11, 2019 – March 17, 2019
Reception Hours: 10:00-21:00
Access: 2-minutes on foot from Odaiba-kaihinkōen Station via Yurikamome Line / 5-minutes on foot from Tokyo Teleport Station via Rinkai Line
Participating: Purchase a ticket at the theme park on the day
Ticket Price: ¥1,500 (Separate fee charged for entry to TOKYO JOYPOLIS)
TOKYO JOYPOLIS Entry Fee: Adults (18+ Years) ¥800 / Children (17-Years and Below) ¥500
Event Page: https://nazoxnazo.com/psycho-pass_ss/joy
©Psycho-Pass Production Committee
RELATED ENTRIES
UWS AQUARIUM GA☆KYO, Inspired by Japanese Traditions and Legends, Open in Odaiba

UWS AQUARIUM GA☆KYO, an aquarium inspired by Japanese traditions and legends, opened at Aqua City Odaiba on July 13, 2022. The curious aquarium and art facility is split into five spaces, each based on a particular Japanese legend or tradition. 

Area 1 – WABISABI

Area 2 – OIRAN

Area 3 – MANGEKYO

Area 4 – YURAKU

Area 5 – RYUGU

Virtual Goldfish Scooping

This mixture of aquarium and entertainment venue was produced by GA☆KYO. Each of the five spaces invites guests to understand and appreciate a particular part of Japanese traditional culture, as well as to experience the beauty of living things. Come enjoy this unique installation the next time you're in Tokyo!

Information

UWS AQUARIUM GA☆KYO
Venue: Aqua City Odaiba 3F (1-7-1 Daiba, Minato-ku, Tokyo)
Official Site: https://uws-gakyo.com

Aquarium Inspired by Japanese Traditions to Open at Aqua City Odaiba

On July 13, UWS AQUARIUM GA☆KYO, an aquarium inspired by Japanese traditions and legends, will open at Aqua City Odaiba. Separated into five unique sections, this curious aquarium is located in a shopping complex popular with locals and tourists alike. 

UWS AQUARIUM GA☆KYO will depict five aspects of traditional Japanese life and history: Wabi-sabi, Oiran, Mangekyo (Kaleidoscope), Yuraku, and Ryuugu. These will be explained below if you aren't familiar.

Area

WABISABI
Wabi-sabi is a Japanese aesthetic in Japanese art centered on the acceptance of transience and imperfection. In the aquarium, this is shown by using delicate driftwood, bonsai, and crystal. Characteristics of wabi-sabi include asymmetry, simplicity, and roughness.


OIRAN
An Oiran was a high-ranking courtesan in Japanese history. In this work, goldfish are surrounded by beautiful and enchanting features inspired by these gorgeous women.



MANGEKYO


Mangekyo is the Japanese word for kaleidoscope. This collaborative work invites viewers into a unique space filled with paintings by Tsuyoshi Nigamushi along with disco balls. You'll want to snap some trippy pictures!



YURAKU
This special exhibition invites guests to experience virtual goldfish scooping and fortune-telling. Made using modern technology in a space inspired by Japan's four seasons, yuraku means pleasure in Japanese.



RYUGU


Ryuugu refers to the Palace of the Dragon King found in the ancient tale of Urashima Taro. 

This spatial work will utilize the sea around Odaiba and transport visitors to another place and time.


Come enjoy these five unique spaces with your five senses and become more acquainted with traditional Japanese beauty.

Information

UWS AQUARIUM GA☆KYO

Grand Opening on July 13, 2022

Hours: 11:00-21:00

Venue: Aqua City Odaiba 3F (1-7-1 Daiba, Minato-ku, Tokyo)
Official Site: https://uws-gakyo.com

7th Dance Music Festival ULTRA JAPAN 2022 to be Held in Odaiba

ULTRA JAPAN 2022 will be held at TOKYO ODAIBA ULTRA PARK II in Tokyo on September 17 and 18, 2022!

ULTRA JAPAN is the Japanese version of ULTRA MUSIC FESTIVAL (UMF), one of the world's largest urban dance music festivals held yearly in Miami since 1999. This year marks the 7th event in Japan, and the festival has been held in over 21 countries around the world. In 2016 and 2017, it was named the #1 festival in the world in a fan poll by DJ MAG. 

ULTRA JAPAN has become a staple of the dance music community in Japan, attracting over 530,000 people since it was first held in 2014. The festival has been number one in terms of attendance among all dance music festivals held in Japan, bringing together some of the world's best DJs and delighting fans with intense special effects. The festival is only 15 minutes from Shibuya!

Stay tuned for more information about the artist lineup for ULTRA JAPAN!

Information

ULTRA JAPAN 2022

Dates: September 17, 18

Venue opens at 10:00 / Show begins at 11:00 *Weather permitting.

Venue: TOKYO ODAIBA ULTRA PARK II (Odaiba ULTRA JAPAN Special Venue / Aomi, Koto-ku)

Tickets: ultraJapan.com/tickets
Official Site: https://ultrajapan.com 


teamLab Borderless to Close Odaiba Location in August, Tickets Available Through Final Day

teamLab Borderless, a digital art museum currently housed in Odaiba's Mori Building, will be moving to a more central location in Tokyo in 2023. In preparation for the move, the Odaiba location will close on August 31, and tickets for July and August are available now. Each ticket must be purchased ahead of visiting, and each specifies a date and time for entry. Tickets are available while supplies last. 

 teamLab 'Forest of Resonating Lamps – One Stroke' ©teamLab


teamLab Borderless opened in Odaiba in June 2018 and features a group of artworks that form one borderless world. Artworks move out of rooms and communicate with other works, influencing other pieces and sometimes intermingling with each other with no boundaries. They also shift depending on the season. In its first year, the museum attracted 2.3 million visitors, surpassing the Van Gogh Museum in the Netherlands to become the most popular single artist's museum in the world. People from over 160 countries and regions visited, and in 2019, teamLab Borderless broke a world record for the most visitors to a museum showcasing art from a single artist. Borderless received numerous national and international awards, including being named one of the World's Greatest Places 2019 by Time Magazine and receiving a Thea Award for Outstanding Achievement at the 25th Annual Thea Awards.


Highlight Video: https://youtu.be/VowWhpZzH24

 

The 10,000 square meter complex will be open until August 31, offering visitors a singular experience through a borderless world of art. Expectations are high for the museum's new location, scheduled to open in central Tokyo in 2023. 



teamLab Planets TOKYO DMM will be open in Toyosu until the end of 2023. 

Information

Mori Building Digital Art Museum: Epson teamLab Borderless

Address: Odaiba Palette Town 2F (1-3-8 Aomi, Koto-ku, Tokyo)
Tickets on Sale Now
Designated Admission Times from July 1 until August 31, 2022
Official Site: http://borderless.teamlab.art/jp

teamLab Borderless in Odaiba Unveils Final Spring Exclusive Piece Before Closing

Spring scenery will welcome guests to the teamLab Borderless exhibit at the Mori Building Digital Art Museum starting March 2, 2022. teamLab Borderless is a group of artworks that form one borderless world. Artworks move out of rooms, communicate with other works, influence, and sometimes intermingle with each other with no boundaries. They also shift depending on the season.

teamLab Borderless in Odaiba is scheduled to close on August 31, 2022, so this will be the only chance to catch this incredible display!

Forest of Resonating Lamps – One Stroke, Cherry Blossoms, teamLab, 2019

Forest of Resonating Lamps – One Stroke, Spring Mountain Fields, teamLab, 2019

Proliferating Immense Life – A Whole Year per Year, teamLab, 2020

Memory of Topography, teamLab, 2018

Flowers in Layered Ultrasubjective Space, teamLab, 2018

Flowers Bloom in an Infinite Universe inside a Teacup, teamLab, 2016

Tea Tree, teamLab, 2018

Drawing Factory

Each installation will filter through new colors and illustrations. A Whole Year per Year will include new spring flowers, multiplying to over 100,000 blooms before dispersing around guests. 'Memory of Topography' depicts a massive landscape based on Japan's four seasons, and in March and April, cherry blossoms and lavender will appear beside terraced rice paddies, wisteria trellises, and gently flowing rivers. 

At the Drawing Factory, guests can also make their own original goods to be taken home as keepsakes. Get your creation printed on T-shirts, pins, or hand towels!

Information

Mori Building Digital Art Museum: Epson teamLab Borderless
Address: Odaiba Palette Town (1-3-8 Aomi, Koto-ku, Tokyo)

Official Site: http://borderless.teamlab.art/jp

Godzilla Escape Room to Open at Atami Bay Resort Korakuen in Spring

Escape rooms invite family and friends to solve exciting puzzles and riddles within a time limit, and have become massively popular around the world. Since the first one opened in 2007, over 8 million people in Japan have participated in one of these exciting events held everywhere from apartment buildings to amusement parks.

The Escape from Godzilla event will be held throughout the Atami Bay Resort Korakuen, and will ask players to solve mysteries throughout the hotel. Visitors will need to explore rooms and sometimes interact with hotel staff to reach the end. SCRAP, known for its numerous crossover escape games, created the project.

Atami is the setting of the decisive battle in the 1962 film King Kong vs. Godzilla. 2022 is the 60th anniversary of the film, and guests are invited to enjoy an original story and original images showing Godzilla's attack on present-day Atami in cooperation with Toho.


Keep an eye out for more details coming later in February!

©SCRAP TM & © TOHO CO., LTD.

Popular Puzzle-Solving Toy 'Nazokan' Returns to Shelves After Selling Out

SCRAP, a company known for its unique escape games, have recently started selling its 'Nazokan' (Mystery Can) product at stores nationwide starting December 22, 2021. These items sold out instantly upon initial release, and have been highly praised by puzzle-lovers, including popular actress and model Nanase Nishino!

Two kinds of 'Nazokan' are on sale: The 'Golden Angel Can' and the 'Silver Devil Can.' Each large can contains a number of difficult puzzles and riddles.

Following its initial launch in October 2021, the first production run sold out in only six days. Puzzle fans have been begging for a second production run, and to celebrate the re-release, actress and model Nanase Nishino has released her comments on the product. Nishino is known as major puzzle fan, so what does she have to say? 

Comment from Nanase Nishino

When I first grabbed a 'Nazokan,' I was excited to see what sorts of mysteries I'd find inside, and I was ready to take on the challenge.
Spending my time on each puzzle, I completely lost track of time, and I came away with a real sense of accomplishment.
You can solve it alone,
or work together with your friends,
or even give it as a gift to someone who loves riddles!
I hope everyone has fun with this amazing product!

Information

'Nazokan' (Mystery Can)
―Calling All Puzzle Lovers! We've Fit Tons of Puzzles and Riddles into this Can!―
Price: ¥3,000 (Tax Included)

Where to Buy: Real Escape Game Stores and Tokyo Mystery Circus

Special Site: https://www.scrapmagazine.com/nazokan/

Love Live! Nijigasaki High School Idol Club x Oedo Onsen Monogatari Event Announced

The Tokyo-based bathhouse Oedo Onsen Monogatari is set to collaborate with the anime series Love Live! Nijigasaki High School Idol Club with a special event titled 'Tokimeki Onsen Monogatari' from July 30 to September 5. This will mark the site's final collaboration with an anime series as the bathhouse is closing on September 5.


For the collaboration, panels and decorations featuring original artwork of the Nijigaku members is featured around the bathhouse. There's also a special photospot featuring a backdrop of a scene taken the anime's second episode.

A lottery draw will take place where you can pay ¥550 for a chance to win a cushion, illustrated print, or bromide. There are also 10 collab drinks as well as three pasta dishes to pick from. Fans can also get their hands on exclusive merch such as keyrings, tees, tapestries, and more.

Mr. Osomatsu Escape Game Heads to Fukuoka

SCRAP's Mr. Osomatsu themed escape game "Escape From the Black Market Empire," which is currently taking place in Tokyo, Nagoya, and Osaka, has proven so popular that it's set to open in Fukuoka on August 1.

Exclusive merchandise when buying select tickets: glass, coaster, business card, and card case

Sticker Set ¥300 / Folder ¥1,000 / Pins ¥500 / Acrylic Keyrings ¥800 / Mini Tote Bags ¥2,000 (Tax Included)


The escape game, which is called "Escape From the Black Market Empire," features an original voiced story (recorded by the original voice actors) that has players using their smartphones to communicate with the six Matsuno siblings. They must work with them to help repay their debt.

The event also has its own exclusive merchandise. In Fukuoka, it will be held at SPACE on the Station on the 6th floor of SOLARIA STAGE which is located not even a minutes' walk from Nishitetsu Fukuoka (Tenjin) Station.

Information

Mr. Osomatsu Escape Game: Escape From the Black Market Empire

Start Date: August 1, 2021

Venue: SOLARIA STAGE (6th Floor – SPACE on the Station)

General Tickets: ¥2,700

Advance Tickets w/Merchandise: ¥5,700

Official Website: https://realdgame.jp/osomatsusan/

Detective Conan Escape Games Open in Japan

In promotion of SCRAP's new Detective Conan themed escape game Escape From the Scarlet Investigation (Blood Task Force), five of the company's past escape games made in collaboration with the anime series are being revived for a temporary period.

Escape From the Orient Express

Escape From the Magical Castle

Escape From the Black Assassin

Escape From the Final Public Examination

Escape From the Navy Blue Art Museum

Here's what it's like to play..

SCRAP's escape games are made in collaboration with many different series and see players become a character in the story where they must solve puzzles and riddles to find a way out. They have collaborated with Detective Conan since 2013 during which over 1.3 million people have played. The newest entry to the series is Escape From the Scarlet Investigation (Blood Task Force).


Five previous escape games make a return this year including Escape From the Orient Express (2014), Escape From the Magical Castle (2015), Escape From the Black Assassin (2016), Escape From the Final Public Examination (2018), and Escape From the Navy Blue Art Museum (2019). Each features a completely original story set in the world of Detective Conan.

©青山剛昌/小学館・読売テレビ・TMS 1996
©青山剛昌/小学館

Information

Escape From the Scarlet Investigation (Blood Task Force)

Japanese Title:「緋色の捜査網からの脱出」

Release Date: 2021

Details:  https://realdgame.jp/conan2020/

Escape From the Orient Express

Japanese Title:「オリエント急行からの脱出」

Tokyo
Venue: Tokyo Mystery Circus
Running: August 4, 2021 – September 12, 2021
Details: https://mysterycircus.jp/events/8933

Aichi
Venue: Real Dasshutsu Game Nagoya (formerly Nazo Complete Nagoya)

Running: September 2, 2021 – September 20, 2021
Details: https://www.scrapmagazine.com/nazocomplex/events/orient_express2021/
 

Escape From the Magical Castle

Japanese Title:「奇術城からの脱出」

Tokyo
Venue: Real Dasshutsu Game Kichijoji
Running: August 19, 2021 – September 5, 2021
Details: https://www.scrapmagazine.com/nazobldg_kichijoji/events/2021conan3/
 

Escape From the Black Assassin

Japanese Title:「黒き暗殺者からの脱出」

Aichi
Venue: Real Dasshutsu Game Nagoya (formerly Nazo Complete Nagoya)

Running: July 29, 2021 – August 29, 2021
Details: https://www.scrapmagazine.com/nazocomplex/events/assassin2021/

Tokyo
Venue: Real Dasshutsu Game Kichijoji

Running: September 15, 2021 – October 24, 2021
Details: https://mysterycircus.jp/events/8934
 

Escape From the Final Public Examination

Japanese Title:「公安最終試験からの脱出」

Aichi
Venue: Real Dasshutsu Game Nagoya (formerly Nazo Complete Nagoya)

Running: August 26, 2021 – September 26, 2021
Details: https://www.scrapmagazine.com/nazocomplex/events/project_zero2021/
 

Escape From the Navy Blue Art Museum

Japanese Title: 「紺青の美術館からの脱出」

Tokyo
Venue: Real Dasshutsu Game Kichijoji

Running: September 9, 2021 – September 26, 2021
Details: https://www.scrapmagazine.com/nazobldg_kichijoji/events/2021conan7/

The Promised Neverland Escape Game Has You Running Away From the Forest Demons

Japanese real-life escape game creative company SCRAP is set to open a new game in collaboration with the anime series The Promised Neverland. Titled "Escape from the Demons' Forest," the game will open in seven cities across Japan on July 8.

Escape game bring people together in a themed space where they have to solve puzzles in order to escape. Players of this new game take on the role of one of the special children to be eaten like Emma, Ray, and Norman. They must work alongside the characters while avoiding the demons guarding the area. If you've always wanted to feel like you're in the world of The Promised Neverland, this immersive experience is on way of getting there.


SCRAP has collaborated with The Promised Neverland before, with their 2019 game receiving the Best Event Award for its original story and level of immersion. The new game is sure to be a similar experience, with newly-recorded voice lines for Emma, Norman, and Ray who players will interact with.

Players who book a ticket in advance can also receive a special message in a bottle.

©白井カイウ・出水ぽすか/集英社・約束のネバーランド製作委員会
*「リアル脱出ゲーム」は株式会社SCRAPの登録商標です。

Information

Escape From the Demons' Forest

Japanese Title:「人喰いの森からの脱出」

Duration: 60 minute
Players: 1-4

Location: SCRAP venues in Japan

Tickets: Now on Sale

Official Website: https://realdgame.jp/neverland2021/

teamLab Borderless Tokyo Celebrates 3rd Anniversary With Two New Installations

June 21 will mark three years since MORI Building DIGITAL ART MUSEUM: EPSON teamLab Borderless first opened. Located in Odaiba, Tokyo, the digital art museum is commemorating its anniversary with two new installations: Sketch Aquarium: Connected World and Sharing Rock Mass, Transcending Space. Experience digital art, which blurs the lines between reality and fantasy, change in real time as people come into contact with it.

MORI Building DIGITAL ART MUSEUM: EPSON teamLab

Sketch Aquarium: Connected World

teamLab describes this exhibit:

The fish drawn by everyone swim around in this aquarium.

Color in a fish on the paper provided. See the picture you have drawn come to life in the massive aquarium in front of you, swimming together with the fish drawn by other people. If you touch the swimming fish, they will swim away. If you touch the food bags, you can also feed the fish.

The tuna you draw will transcend the boundaries of the artwork and swim out into the Sketch Aquariums and Sketch Oceans of exhibitions around the world. And the tuna drawn in other parts of the world may appear and swim in the Sketch Aquarium right in front of you.

Sharing Rock Mass, Transcending Space

teamLab describes this exhibit:

A rock mass floats in the world of the teamLab Borderless museum in Shanghai. The rock mass floats through the hallway of teamLab Borderless Shanghai and sinks into the wall. The rock mass transcends the physical space of the museum itself, the part that sinks into the wall appears in the world of the teamLab Borderless museum in Tokyo.

When people touch the part of the rock mass emerging in Tokyo, it shines with blue light. This light flows to the rock mass sunken into the wall in Shanghai. When people touch the part of the rock mass sunken into the wall in Shanghai, it shines with a red light which flows to the rock mass here in Tokyo. When red light flows into the rock mass, it indicates that someone in Shanghai is touching the rock mass.

teamLab is represented by Pace Gallery, Martin Browne Contemporary and Ikkan Art International.

Information

MORI Building DIGITAL ART MUSEUM: EPSON teamLab Borderless

Address: Odaiba Palette Town, 1-3-8 AOmi, Koto-ku, Tokyo

teamLab Borderless Official Website: https://borderless.teamlab.art/
teamLab Official Website: https://www.teamlab.art/

*teamLab Borderless introduced a booking system on June 1, 2021 to restrict admissions in an effort to combat COVID-19