Mickey Mouse and Friends greet the New Year in Kimonos at Tokyo Disney Resort!
To celebrate New Year, Mickey Mouse, Mini Mouse and their other Disney friends greeted guests at the famous Tokyo Disney Resort. The "New Year's Greeting" started at Tokyo DisneySea ® at 09:45 am. This was the first time that Mickey, Mini and friends have ever been dressed in Kimonos. They came with kites, spinning tops and many other New Year's toys to entertain the guests and celebrate the New Year.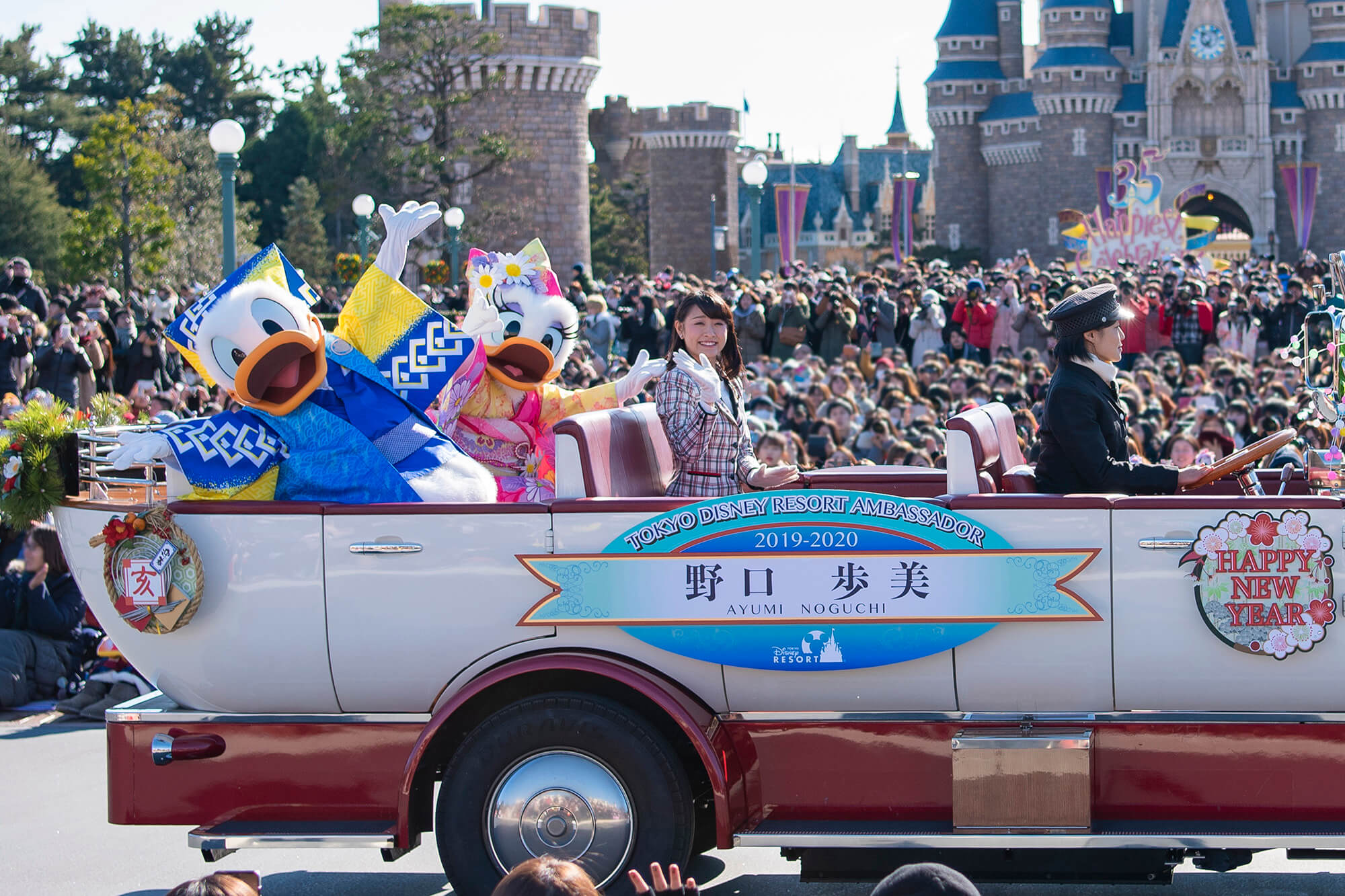 Meanwhile, Tokyo Disneyland 
® started their New Year's Greeting event at 10:50 am. The 2019-2020 Tokyo Disney Resort ambassador Ayumi Noguchi also made an appearance. She waved at the guests and was greeted into her office.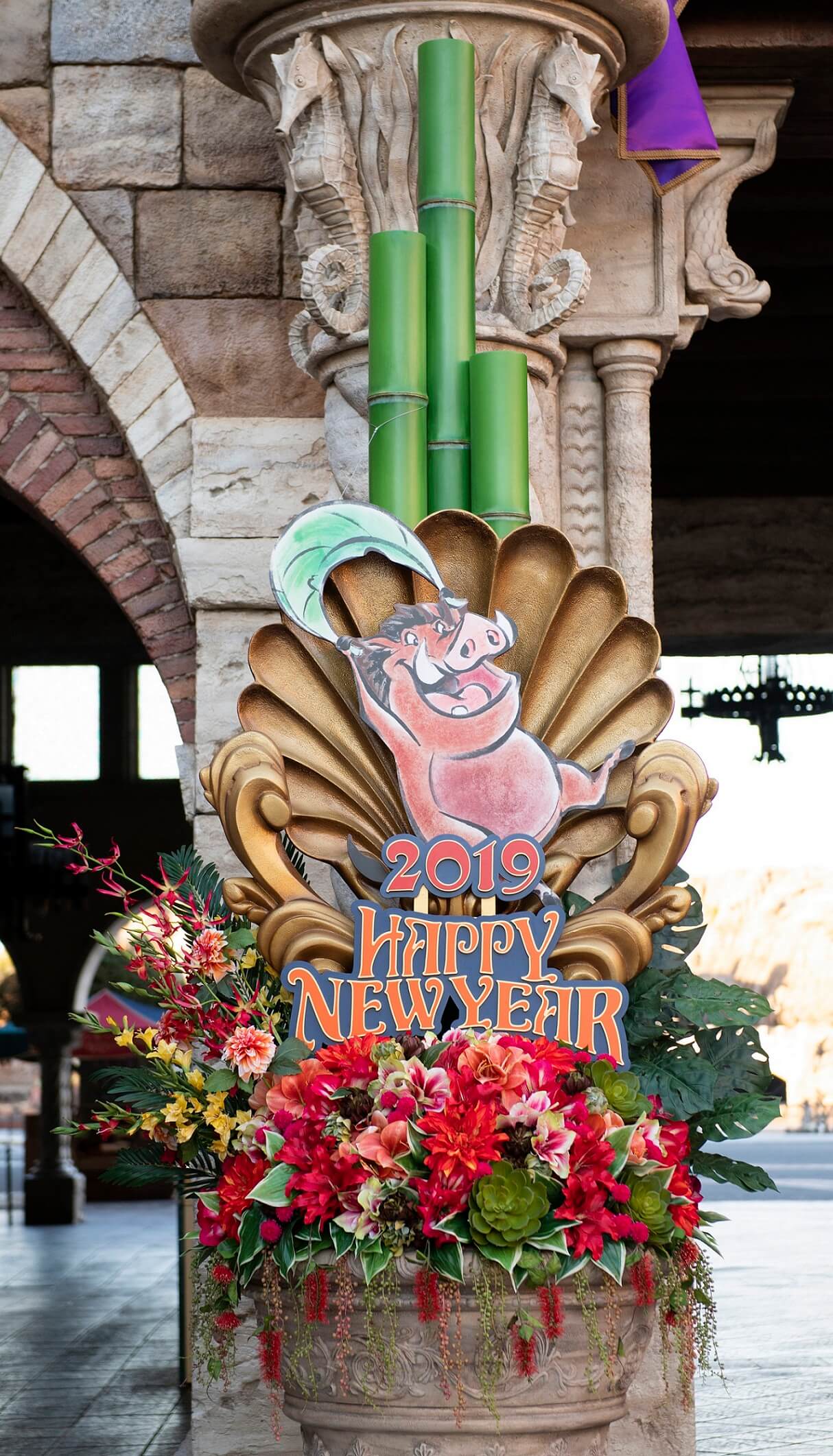 As 2019 is the Year of the Pig, the park was decorated with New Year's decorations, such as New Year's pine plants and banners bearing the image of Pumbaa from Disney's The Lion King. Tokyo Disney Resort's official YouTube channel (東京ディズニーリゾート公式
/TokyoDisneyResortOfficial) 
released a video of Mickey Mouse and Friends dressed in Kimonos, celebrating New Year and having fun together.
This New Year's program finishes on Sunday 6th January. Tokyo Disney Resort combined 35 years of theme park fun with a Japanese New Year's celebration – this showy atmosphere is so unique to Tokyo Disney Resort – you should come see it for yourself!
RELATED ENTRIES
Tokyo Disney Resort Reveals Its Spooky Halloween Programme and Character Costumes

Get ready for some spooky fun as Tokyo Disney Resort® transforms for the 52-day-long horrifically exciting Disney Halloween from September 10 to October 31. Head to DisneySea to be captivated by the new harbor show Festival of Mystique, or get spooked out of your skin at the Spooky "Boo!" Parade at Disneyland. Today, we will be revealing the spooky looks of both parks.

Tokyo DisneySea Festival of Mystique Costumes

Working with the main theme of a medieval European halloween, inspiration has been taken from the living creatures and waves at the port town Porto Paradiso. 

Mickey Mouse's costume inspiration comes from the the bones and scaly body of a sea creature. He will also be seen wearing a broach decorated with beautiful jewels. 

Minnie Mouse's costume resembles that of a medieval princess. You will see her in a fancy hat that bears beautiful pearls. Her costume is covered in scales on the chest and on the back which really suits her.

Tokyo Disneyland's Spooky Boo! Parade Costumes

Disney friends have joined forces with a group of spooky spirits. You just can't miss out on this rare chance to see your favourite Disney characters disguised as ghosts and skeletons. The strange and unusual atmosphere is sure to send a chilling shiver down your spine. 

Mickey and Minnie will be completely refreshing their colourful look. Mickey's necktie and Minnie's skirt are very mysterious and particularly intriguing.  Please come check them out!

Enjoy the beautiful costumes and the fun range of events this Halloween at Tokyo Disney Resort.

©️Disney

Disney Christmas 2019 at Tokyo DisneySea: Spend This Year's Holiday Season With That Special Someone♡

Tokyo Disney Resort has announced this year's Disney Christmas which will take place at Tokyo Disneyland® and Tokyo DisneySea® from November 8 to December 25. This is the Tokyo DisneySea® event line-up. For the Tokyo Disneyland® schedule, click here.

'Tis the season to be jolly this year at Tokyo DisneySea, where the Christmas spirit is set to fall and settle like December snow across the park with a fantastic line-up of festive entertainment programs, magical decorations and more. Guests are invited to join the Disney cast in welcoming a very merry Christmas at this year for Disney Christmas 2019.

It's Christmas Time!


The "It's Christmas Time!" show returns again this year to Mediterranean Harbor to wrap guests in the Christmas spirit, featuring Mickey Mouse and friends along with singers and dancers who will perform to classic Christmas tunes.

Colour Of Christmas


This magical performance takes place at nighttime on the water at Mediterranean Harbor, featuring a huge 15-meter tall shimmering Christmas tree. Held annually, this will mark the show's eighth and final run. Disney characters including Mickey will also be present for the performance.

The whole of Mediterranean Harbor will be wrapped in the Christmas spirit, with the huge tree in the centre and little trees all around, and onlookers all with their own wishes for the holiday season. Snow will also fall during the performance to create a romantic atmosphere.

Special Christmas Merchandise

Pouch – ¥2,000 (Tax Included)

Around 65 very special pieces of merchandise will be available for guests to pick up, many themed on the It's Christmas Time! show. The pouch features the cute scene of Mickey and Minnie line dancing which you will see in the show. The available plush toys also have a Christmas-y gold bell on them. All of these items will be available from November 1.

There will also be adorable Duffy and Friends merchandise to pick up. Some of these items are themed on Cape Cod Village in winter, an area in the park which serves as a greeting spot for Duffy and his friends. These Christmas items will be available from November 6.

Christmas Food & Drink

A festive feast of 15 drinks and dishes will be served for Disney Christmas, from seafood pasta to roast beef sandwiches and more. There will also be a reindeer-inspired dessert as well as alcoholic cocktails and much, much more.

Enjoy a very merry Christmas this year at Tokyo DisneySea.♡

Disney Christmas 2019 at Tokyo Disneyland: Spend This Year's Holiday Season With That Special Someone♡

Tokyo Disney Resort has announced this year's Disney Christmas which will take place at Tokyo Disneyland® and Tokyo DisneySea® from November 8 to December 25. This is the Tokyo Disneyland® event line-up. For the Tokyo DisneySea® schedule, click here.

Disney Christmas Stories

Disney Christmas Stories celebrates the holiday season with a magical parade which will bring together the Disney cast members with their loved ones. The characters will dress in festive outfits and deliver to guests their own Christmas stories. Seven joyous Christmas stories will unfold before guests' eyes, from a merry family outing with Donald Duck, his beloved Daisy Duck and his three nephews Huey, Dewey, and Louie, to the star couple Mickey and Minnie Mouse.

The parade will seemingly stop all of a sudden which will be followed by ringing bells, signalling the start of a Christmas party. Snow will fall along the parade route, and the cast members will invite guests to join them in celebrating a heart-warming Christmas.

Christmas Decorations

An enormous 15-meter tall Christmas tree will tower over World Bazaar and illuminate the streets with its brilliant lights together with dazzling projections, combining with the festive music to create a romantic atmosphere.

The plaza in front of Cinderella's Castle will glimmer with Christmas adornments as well as Christmas presents, Winnie the Pooh decorations, and more. Each themed land across the park will also be embellished in Christmas colours, bringing a merry little Christmas to the park.

Special Christmas Merchandise

Glass Set – ¥2,200 (Tax Included)

Around 65 special Disney Christmas themed items are set to go on sale from November 1, from glasses to cushions and more, all of which can be used for Christmastime at home. Featuring designs of the Disney characters, each item is sure to bring an air of that nostalgia we all feel at Christmas.

Christmas Food & Drink


Also available from November 1 is a very special Christmas menu made up of 15 dishes and drinks. There's the seafood cream bread packed with melted cheese, a hot dog dressed in the colours of Christmas with its eye-catching red bun and white cheese, and more. There's also a dish inspired by the Disney film Beauty and the Beast who are set to appear in the parade.

Enjoy a very merry Christmas this year at Tokyo Disneyland.

Live the Disney Princess Dream With Tokyo Disneyland Hotel's Luxurious Afternoon Tea

If you've had the chance to visit Tokyo Disneyland or Tokyo DisneySea you will have tried the many delicious dishes and drinks on offer at its variety of restaurants. But did you ever know that Tokyo Disney Resort also offers afternoon tea?

Tokyo Disneyland Hotel serves the only afternoon tea set across the entire resort on occasion in line with certain events.

We had the pleasure of joining Disney mega fan Kanako as she went to visit the hotel to try this very special afternoon tea.

Tokyo Disneyland Hotel is the closest hotel to the entrance of Tokyo Disneyland. The first thing you will notice upon stepping inside is its use of Victorian decor. The ceiling also stands tall, opening the entire hotel up to give it a sense of space.

The afternoon tea is sold at the Dreamers Lounge in the lobby. In line with the Donald's Hot Jungle Summer event currently taking place at Tokyo Disneyland until September 1, the tea set is also "hot jungle summer" themed.

The first thing to note about the three-stack set is how refreshing and summery it looks – a perfect selection for the hot season. It comes with sandwiches, hors d'oeuvre, scones, desserts, and a choice of tea or coffee.

Kanako started with the very top plate. The plate itself is decorated with what is supposed to look like Donald's footprints and splashes of water.

The dessert on the left is haupia, a traditional Hawaiian dessert made with macadamia paste and roasted coconuts. It's crunchy and has an incredible flavour.

Sitting temptingly next to it is the panna cotta and melon coulis. It contains a single sage leaf which adds flavourful herb notes. The entire dessert itself has a satisfyingly refreshing taste which covers your taste buds with a single mouthful.

The middle plate features two types of scones: plain and pineapple. They come with separate servings of clotted cream and honey to lather the scones in. The latter scone is cute in that it's actually shaped like a pineapple. It's crunchy and delicious and goes exquisitely with the accompanying tea.

The tea menu has many options. Kanako went for the "Darjeeling Summer" from the premium tea selection. When you order from the premium menu your tea is prepared in a sleeping pot that is both cute and extravagant as you would expect with an afternoon tea set.

The bottom plate contains a bunch of different appetisers including tuna and okra tartar, mango and mascarpone canapé, tomato and fish capellini, keema curry quiche, and an ethnic pork sandwich.

Kanako was very happy with her hors d'oeuvre, saying: "Everything is delicious, but I really like the combination of the pork and the slightly chewy bread for the pork sandwich!"

The chilled cone cream scoop was very refreshing and a perfect palate cleanser.

Finally, the cute hot jungle summer dessert plate which caught our attention from the very start. It comes with a tropical cream cheese and passion fruit mousse, white grape and shiikuwasha jelly, and Peach Melba which looks like flowing magma.

You might be surprised to find out that the jungle leaves on the plate aren't actually part of the plate's design but in fact green chocolate carefully sprayed on.

Even the Goofy, Mickey and event logo on the plate are delicately made from chocolate. Once you know that you'll definitely be reaching for the camera straight away!

The Peach Melba is a lovely combination of peach compote and vanilla ice cream topped with raspberry sauce and almonds. Its mix sweet and sour flavours remind one of summertime.

It's not everyday you see a cream cheese mousse, is it? The one that Donald is sat on. Kanako especially enjoyed its passion fruit scent and velvety texture. It's made even more delicious when eaten together with the jelly surrounding it.

So, which was your favourite, Kanako-chan?

"Everything tasted amazing, but my favourite was the haupia♡ It's moderately sweet, and I really liked the flavour of the coconut! Everything in the afternoon tea set is cute down to the tiniest details, so it's perfect for taking photos for social media. I definitely wanna go again!"

The Donald's Hot Jungle Summer themed afternoon tea set is being served from 11:30-17:00 until September 1, 2019. Places are limited so I recommend making a reservation in advance.

Enjoy your summer to the fullest with this tropical afternoon tea set!

©️Disney

Information

Donald's Hot Jungle Summer Afternoon Tea Set

Running: July 8, 2019 – September 1, 2019

Location: Dreamers Lounge, Tokyo Disney Hotel

Serving: 11:30-17:00

Price: ¥4,000

Reservations: https://reserve.tokyodisneyresort.jp/

*Customers and guests can make reservations for the afternoon tea set.

*If you are not staying as a guest at the Disney Hotel then please make your reservation on the Tokyo Disney Resort website.

*Please note that servings are limited each day.

Tokyo DisneySea's New 'Song of Mirage' Show is a Must-See

Tokyo DisneySea fans have been waiting in excited anticipation for the opening of the park's new attraction Soaring: Fantastic Flight on July 23. But did you know that an all-new show also started on the same day?

I visited Tokyo DisneySea together with models Saki Shibata and Kanako to see this new show. It's called Song of Mirage and features Mickey, Minnie, Donald and Goofy as the cast.

The show takes place at the Hanger Stage in Lost River Delta. Mickey and the rest of the cast are led to the mysterious city of  Rio Dorado by a cane that Donald found.

From the very start of the show the characters are sucked into this magical place by the mysterious cane. During this time Donald ends up getting himself in trouble. Mickey also takes part in a dance battle where he shows off his cool moves which leaves Minnie positively in awe. Each character has their own performance which guests can look forward to seeing.

The most overwhelming part of the show however is the voice of the diva who appears during the set. She sings beautifully yet powerfully and it gave me goosebumps.

The singing and dancing throughout, as well as the realistic projection mapping were all spectacular. We were completely drawn into the story and the vibrant and dynamic performances that tied it together.

The performers singing and dancing in their golden costumes too were a sight to behold.

Saki's reactions were really charming as her face changed every single second while she laughed, clapped and really got into the show. Kanako, who loves Disney, was extremely pleased to see her favourite characters on stage too.

There is both reserved and free seating at the show. Reserved seating must be booked in advance but is allocated through a lottery system where people are chosen randomly. The schedule for bookings can be found on the official website.

The Disney cast wear adventurer costumes during the performance, and you can buy plush toys of them wearing them too!

If you're visiting Tokyo DisneySea then be sure to catch the show during your breaks between attractions and parades.

©Disney

Soar All Over The World With DisneySea's Brand New Attraction Soaring: Fantastic Flight

Tokyo DisneySea will open their new attraction Soaring: Fantastic Flight on July 23. This ride is an immensely popular attraction at theme parks around the world. DisneySea has created a new adaptation of this ride, offering a brand new and original experience to visitors.

Model Saki Shibata from MOSHI MOSHI NIPPON Editorial Department headed to DisneySea with model Kanako for an exclusive opportunity to experience this attraction before it opens to the rest of the public!

Climb up the stairs next to the Mediterranean Harbor and the attraction will lie right before your eyes. 

Before you enter the building, you will notice that there are lots of photo spots outside. 

You will also spot Camellia Falco; a keen flyer who became the first woman to be accepted in the Society of Explorers and Adventurers in 1851.

The Museum of Fantastic Flight located in the Mediterranean Harbor is celebrating Camellia Falco's innovation in the field of aviation by holding a special commemorative exhibition dedicated to her and her research. 

The final room of the museum is a gallery filled with Camellia's outstanding achievements.

Finally, it was time to climb aboard the invention of Camellia and her colleagues; an aircraft called the Dream Flyer.

The Dream Flyer was a magnificent trip. We soared through the sky, through the nature and around famous places of the world.

We were propelled from one place to another, experiencing a range of new atmospheres and surroundings in so many ways. At each location, we felt the wind and temperature of each country on our skin and could even smell a mix of intriguing smells unique to each location. 

The final destination we arrived at was our most favourite… 

This DisneySea original attraction is overflowing with imagination. It was like flying through an imaginary world. You absolutely must check it out. 

Fantastic Flight Churros (Pineapple): ¥400

Fantastic Flight Drink (Lychee Bubble Tea): ¥450

To celebrate the opening of the new attraction, new Fantastic Flight-themed merchandise and foods have been released. Zambini Brothers' Ristorante is even selling pineapple flavoured churros and bubble tea. Just looking at the blue sky colour of these delicious treats will leave you feeling refreshed.

Postcard: ¥200 

Origami Notebook: ¥400

Socks (22 ー 25cm/ 25 ー 27cm): ¥700

Please check out the full goods range!

It has been quite a while since DisneySea has opened a new attraction, so the park is booming with excitement in anticipation for its grand opening to the public! Climb aboard the Soaring: Fantastic Flight ride and embark on a worldwide adventure! 

©Disney

Enjoy Pirate-Themed Food, Cocktails, Desserts And More at DisneySea This Summer

Tokyo DisneySea launched their special event called Disney Pirates Summer which will run until September 1. The event includes the launch of 16 colourful pirate-themed menus. 

We headed straight to Mediterranean restaurant Cafe Portofino to fill ourselves up on the delicious menu. Cafe Portofino is the nearest restaurant to the entrance of DisneySea. Once you find the Mediterranean Harbor, you will find it on the right. 

 Special set: ¥ 1,880 ① Potatoes and Roast Beef Salad ②Linguine topped with Olive and Caper Tomato Sauce and served with Battered Yellowfin Sole Fish ③ Lychee Pudding with Lemon Jelly topped with Mixed Fruit ④ A choice of Soft Drink ⑤ Pay an extra ¥310 for an alcoholic drink. 

I ordered the special set which is surprisingly big but definitely enough to satisfy the hungry pirates, who are always boasting about their enormous appetite. 

I started with the potato and roast beef salad, which was dressed in balsamic vinegar. The taste was so refreshing which is just what you want during the summer. The rosemary-flavoured potatoes were soft and a perfect match with the beetroot.   

The linguine was chewy and springy and the capers produced a mildly tangy flavour. I am not usually a big fan of olives, but these were very delicious. The battered fish was crispy and not oily, which is suitable for children and adults. 

Just looking at the lychee pudding with lemon jelly is enough to make you feel refreshed. It is packed with fruit and takes on the image of a pirate's treasure chest that is full of colourful rubies. This is the perfect way to clean your palate. 

Ordering the special set allows you to choose a soft drink. If you pay an extra ¥310, you can change this drink into an alcoholic drink. 

Sparkling Cocktail ( Rum and Mango Sherbet) On its own: ¥680

This cocktail takes on the image of a pile of pirate treasure. Mango sherbet sits on top of the cocktail like nuggets of precious gold. The base of the cocktail is rum and peach and the refreshing alcoholic flavour of the rum is moderately sweet, spreading instantaneously through your mouth on your first sip. The solid texture of the mango makes the cocktail even more enjoyable, so please mix it thoroughly before devouring. 

The bakery next to Cafe Portofino called Mamma Biscotti's Bakery is selling desserts which come with souvenirs that you can take home with you.

Mango Jelly and Orange Mousse with Souvenir Mug: ¥800

Jelly, mousse and meringue whip is layered in the mug. This refreshing dessert not only looks pretty, but is also made up of a range of fun textures for you to enjoy. 

You can take the souvenir mug back home with you. Its design features Mickey Mouse and friends dressed as pirates. 

Coffee Roll Cake with Souvenir Plate: ¥800

This is the perfect dessert for adults because it is slightly bitter. The layers of sponge, cream and bitter coffee makes for a range of delicious flavours. This plate's design also features Mickey Mouse, who has dressed up as a pirate for the event. This would be perfect to take home with you to remember your trip!

DisneySea is the perfect place to cool down this summer and create many wonderful memories, so please do pay a visit. 

©️Disney

Tokyo Disneyland's Hot Jungle Summer Event Offers Up Flames, Drenching Water & Delicious Food

Hi, everyone! It's Midori from MMN's editorial team.

Donald Duck is the star of Tokyo Disneyland right now with his Hot Jungle Summer festival that is running right now until September 1. It is packed full of events, limited time food and exclusive goodies all themed around summer.

The limited time food is taking on water and fire motifs with restaurants serving up both cool and refreshing looking items and hot summery items. I paid a visit to the festival together with Kanako so we could try out these seasonal meals and drinks.

Sparkling Drink (Blue Syrup) – ¥380

We headed over to Boiler Room Bites located inside Adventureland and tired out their blue coloured "sparkling drink." Blue syrup is added to the cup inside which chewy pieces of jelly bob up and down in the soda. Its appearance alone is enough to cool you down, it's really pretty!

They sell other sparkling drinks too, including a red coloured one with raspberry syrup and a yellow one with lemon syrup. It's cute and fun for you and your friends to get different coloured ones♡

For an extra ¥350 you can also get this huge yellow souvenir straw with Donald on the front. Simply kawaii♡

Cream Shaved Ice (Tropical Fruits) – ¥550 (Tax Included)

The tropical fruits flavour of Tokyo Disneyland's popular cream shaved ice is available for the festival only. It's a mix of shaved ice and soft serve ice cream.

It's sold at Troubadour Tavern in Fantasyland and comes with huge pieces of pineapple. It's not too sweet and is the perfect refreshment for the hot summer weather.

Special Set: ¥960 (Tax Included)

You can get this special set at the refreshment corner of World Bazaar. It comes with a bright red hot dog topped with cheese and a vegetable sauce packed full of veggies. The sauce is spicy and will whet your appetite!

It also comes with a drink and fries so you're sure to get your lunchtime fill.

Special Set: ¥1,080 (Tax Included)

Camp Woodchuck Kitchen in Westernland is popular for its turkey legs. This mouthwatering set comes with a tasty hamburger seasoned with curry sauce and topped with cheese. Even in the hot summer this one is a must-try. It also comes with fries and a drink.

The restaurant sells a whole load of other bites too like the onigiri burger, waffle sandwiches and more, all ideal for lunch. Sift through the menu and make your choice♡

Mango Milk Soft Serve Ice Cream w/ Raspberry Sauce – ¥400 (Tax Included)

If you want ice cream then you'll want to head to Squeezer's Tropical Juice Bar in Adventureland where they're selling mango and milk flavoured soft serve ice cream drizzled in raspberry sauce. The sweetness of the ice cream and sourness of the raspberry sauce go together really well. It's available for a limited time only so don't miss out!

That goes for everything else listed here, it's all limited-time-only, so if you're in Tokyo this summer then be sure to head on over ASAP!

©Disney

Tokyo Disney Resort at Night is a Must-Experience With Chill Shows & Events

Tokyo Disney Resort's® summer events have officially begun. There are plenty of exciting events to experience during the daytime this summer at Tokyo Disneyland and Tokyo DisneySea, but there are equally as many fun evening events too.

Let's take a closer look at what you can look forward to during summer nights this year at both parks and the Disney Ambassador Hotel.

Oh! Summer Banzai – Flames and water surround the Cinderella Castle

Oh! My Summer is the first stage show to be held at the Cinderella Castle in six years and will offer up a whole new kind of summer evening entertainment at Tokyo Disneyland. It will feature the impressive use of flames and drenching sprays of water to entertain the park guests.


A colourful jungle background will provide the setting for the show with Donald Duck as the main character who will be joined by Mickey, Minnie and other members of the Disney cast.

Together with the thundering music, thrilling dancing and refreshing water sprays, guests can look forward to a fiery show that in fact serves to cool them down from the summer heat.

If you're looking to cool down during the day then be sure to check out the Pirates of the Caribbean themed Pirates Summer Battle and Zootopia themed Judy and Nick's Jumpin' Splash events too to get sprayed with cold water.

Oh! Summer Banzai

Location: Castle Forecourt, Tokyo Disneyland

Performance Time: 20-minutes (Twice a day)

Event Page: https://www.tokyodisneyresort.jp/en/tdl/show/detail/938/

Barnacle Bill's – Chill out with beer and sausages at DisneySea

The blackcurrant beer cocktail and cheese-filled bone sausage set sold at Barnacle Bill's in American Waterfront is a must-try. The beer is super refreshing accompaniment for the hot weather and goes perfectly with the sausages.

 

Barnacle Bill's

Location: American Waterfront, Tokyo DisneySea

Running: July 8, 2019 – September 1, 2019

Official Webpage: https://www.tokyodisneyresort.jp/en/tds/restaurant/detail/430/

Empire Grill – A full course meal at Disney Ambassador Hotel

As part of the Tokyo Disneyland event Donald's Hot Jungle Summer, the Disney Ambassador Hotel is serving a special dinner course.

The course includes an assortment of ethnic flavours with beautiful plating. The sweetbreads doused in mango sauce have been made to look like Donald's feet.

For mains you can choose between quail farcie or beef loin. We ordered the latter. The meat is beautifully juicy and tender. It comes with feijoada on the side with chilli beans and vegetables. The crunchy tortillas are so delicious you'll want seconds.

The true standout from this gourmet course however is the dessert which is accompanied by Donald and Daisy Duck! It's a mix of white chocolate mousse topped with fruit and jelly. The hearts on the plate add that extra kawaii flavour to this special dish. It almost seems a waste to eat it… is what we said as we wolfed it down.

We also recommend the special Donald Hot Jungle Summer drink. Its tropical taste and colour makes it the perfect beverage for summer time.

If you order the drink you even get one of these exclusive coasters.

"Donald's Hot Jungle Summer" Empire Grill Dinner

Running: July 8, 2019 – September 1, 2019

Serving: [Dinner] Weekdays 17:30-21:00 / Weekends & Holidays 17:00-21:00 (*2 hours allotted)

Price: ¥10,000

"Donald's Hot Jungle Summer" Special Drink

Running: July 8, 2019 – September 1, 2019

Serving: [Lunch] 11:30-14:00 [Dinner] Weekdays 17:30-21:00 / Weekends & Holidays 17:00-21:00 (*2 hours allotted)

Price: ¥1,300

Official Website: http://www.disneyhotels.jp/en/dah/restaurant/index.html

Get Soaked at Tokyo DisneySea's Pirates Summer Battle Event

True summer is on the horizon as Japan's rainy season slowly begins to let up. Tokyo DisneySea's special summertime event Disney Pirates Summer began on July 7, and if you're looking to cool down from the hot weather, you won't want to miss the Pirates Summer Battle Get Wet show that is running until September 1.

The show is inspired by the world of Pirates of the Caribbean and features Captain Jack Sparrow and Captain Barbossa and his band of pirate comrades. It felt like being thrown into the sea life ourselves when we visited.

It begins with Barbossa, who occupies Port Paradiso, and some of his fellow pirates setting forth to plunder Captain Jack Sparrow's legendary ship. The remaining pirate ruffians left at the port begin loitering around.

The sound of a horn then burst across the water as the legendary ship appeared. On board is Jack Sparrow who has been defeated by Barbossa to which his fellow pirates cheer. Barbossa then set his eyes on us to become pirates too and shouted that he was going to find out if we had what it takes.

The test began and water was fired at the crowd, the pirates yelling at us things, "So ye wanna be pirates?" and "You want treasure too, don't ya?"

It was at that moment that Jack Sparrow appeared once again on a rickety ship. The crowd were tested on what they had learned and were encouraged to intimidate Jack Sparrow, but…

…all of a sudden a merry banquet began! Everybody soaked each other in water, sang and drink. It was during this time that the sly Jack Sparrow took action, causing Barbossa to enrage with fury.

With water shooting and flames blazing during the final battle, who came out victorious? You'll have to visit Tokyo DisneySea to find your! Enter the wild world of the pirates and get wet this summer for Disney Pirates Summer.

©️Disney

Tokyo DisneySea's Disney Pirates Summer Event Merchandise & Food Pre-Sale Announced

Tokyo DisneySea's®︎ special event "Disney Pirates Summer" will begin next week on July 9.

The event is themed around the internationally beloved Disney film franchise Pirates of the Caribbean and will include a show featuring Captain Jack Sparrow and Captain Barbossa, exclusive merchandise, a themed menu and more.

Today we will look at some of the merchandise and menu items that are set to roll out at the park early on July 8, one day before the event starts.

T-Shirts: ¥2,600 / Wristband: ¥900 / Bandanas (From Left): ¥1,500, ¥1,720, ¥2,500 @ Emporio, Tokyo DisneySea

Pirates Ear Hat: ¥2,000 @ Emporio, Tokyo DisneySea

Fashion Glasses: ¥2,000 @ Emporio, Tokyo DisneySea

Fans of the films can look forward to getting their hands on a "Get Wet" t-shirt as well as a range of dress-up items like the Mickey Mouse ear hat, glasses and more. Blend in with the event by picking up some pirate gear!

Toy: ¥2,000 @ Emporio, Tokyo DisneySea

You can also get your hands on a Mickey Mouse version of the popular game Pop-Up Pirate. Slide the swords into the barrel and try not to make Mickey pop up!

Mug: ¥2,000 @ Emporio, Tokyo DisneySea

Marshmallows: ¥900 @ Valentina's Sweets

Other pirate goods include a tankard, marshmallows packaged in a pirate ship box and more to make your Caribbean experience even more fun.

No pirate can hunt to find treasure without a meal in their belly. Check out some of the items on the special pirate menu whipped up exclusively for Disney Pirates Summer.

Cafe Portofino's Special Set: ¥1,880

Cafe Portofino in Mediterranean Harbor is serving this special set containing potato and roast beef salad linguine with an olive caper tomato sauce topped with a yellowfin sole fritter, lychee pudding and lemon jelly with mixed fruits, and a soft drink of your choice. Lots of food for a great price.

Cafe Portofino's Alcoholic Rum & Mango Sherbet Sparkling Cocktail: ¥680

To refresh and keep you cool on your sail is this alcoholic cocktail which has a rum base is mixed with mango sherbet and peach.

New York Deli's Special Set: ¥1,230

New York Deli in American Waterfront is also serving up a special set: a sandwich containing pork and shrimp in a lemon marinade, French fries, and a soft drink of your choice. Another cool choice for summertime.

New York Deli's Alcoholic Vodka & Orange Jelly Sparkling Cocktail: ¥680

The sandwich at New York Deli goes perfectly with this sparkling cocktail so be sure to give them a try.

Become a pirate this summer and Tokyo DisneySea.

©Disney

3 Must-Try Summertime Bubble Teas at Tokyo Disneyland & DisneySea

Bubble tea continues to be ever popular in Japan this summer, especially at Tokyo Disneyland and Tokyo DisneySea which not only is selling its much-loved classics but a selection of new refreshing beverages too. Let's take a look at three of these drinks new this July that not only enjoyable to drink but fun to look at too.

Coffee Tapioca Latte

The Coffee Tapioca Latte is appearing as part of Tokyo DisneySea's special event Disney Pirates Summer. The colour of this coffee flavoured delight is reminiscent of the Black Pearl from the 2003 Pirates of the Caribbean movie. It's not overly sweet and so is perfect for those who prefer more adult flavours. Enjoy the event with a cup of this pirate brew in hand.

Running: July 8 – September 1, 2019

Price: ¥500

Available: Mamma Biscotti's Bakery, Tokyo DisneySea

Fantastic Flight Drink (Lychee Tapioca)

Inspired by the new Soaring: Fantastic Flight attraction arriving at Tokyo DisneySea on July 23, this drink contains lemon jelly and lychee flavoured chewy tapioca pearls. Lychee flavoured tapioca pearls are for sure a rarity―have you ever seen them?

Running: July 8 – September 1, 2019

Price: ¥450

Available: Zambini Brothers' Ristorante, Tokyo DisneySea

Sparkling Tapioca Tea (Mango & Citrus)

For a limited time only, this refreshing Sparkling Tapioca Tea will be served up at Tokyo Disneyland, a black tea with mango flavoured tapioca and grapefruit jelly. A perfect summertime sip for the hot weather with its refreshing black tea taste and fruity fragrance.

Running: July 8 – September 1, 2019

Price: ¥600

Available: Tomorrowland Terrace, Tokyo Disneyland (Serving at 14:00-17:00 only)

There are plenty of other new bubble tea drinks apart from these ones too, some of which are on sale right now, such as the Tapioca Mango Drink with its foundation of tiny chewy tapioca balls, the subtly sweet Strawberry Tapioca Tea with fresh strawberries pieces in it as well as large-grained tapioca balls, and more.

If you're heading to either park be sure to order a cup of bubble tea!せ

Information

Tokyo Disney Resort