Hello Kitty & My Melody Gift Sets by GODIVA Released at Sanrio
GODIVA Japan has teamed up with Sanrio to produce four Hello Kitty and My Melody gifts sets. The products were released on January 9, 2019 at Sanrio shops, the Sanrio online store and department stores with Sanrio sections.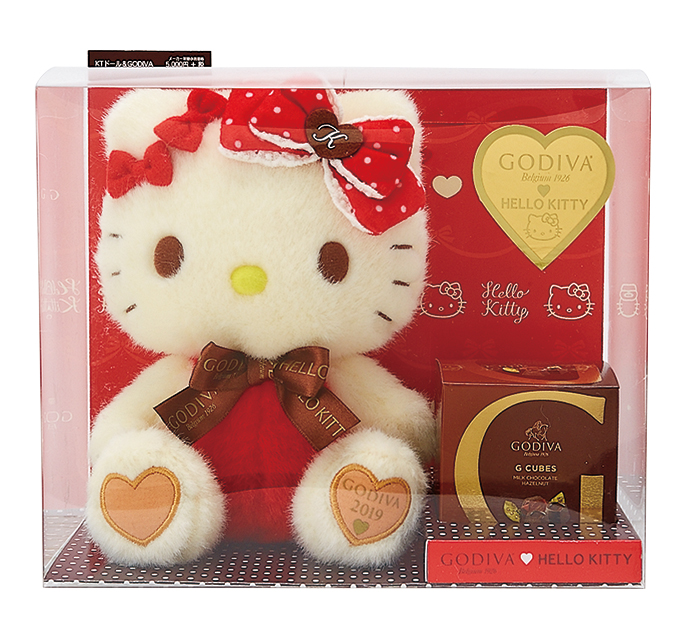 The sets come with chocolate from the internationally beloved and leading premium chocolate brand GODIVA which has been around for over 90 years. They also some with Hello Kitty and My Melody plush toys and mascot holders. This combination will make for the perfect Valentine's Day gift.
The toys and holders have the GODIVA logo written on them along with 2019 for those looking to give a New Year's gift or to add to their collection.
This marks the 8th collaboration between Sanrio and GODIVA. It began in 2013 when they released a Hello Kitty gift sets with individually wrapped chocolate, a original design plush toy and mascot holder. My Melody join the collection in 2015.
This gift set series sees sales by a lot of male customers as they are popular as gifts from guys to girls in Japan. Which one do you want the most?
RELATED ENTRIES
Make Your Own Original KitKat at Tokyo's KitKat Chocolatory Miyashita Park Shibuya

Nestlé Japan is opening a new branch of KitKat Chocolatory inside Shibuya's new shopping mall Miyashita Park on August 4, 2020.


KitKat Chocolatory is a direct-to-consumer chain, serving premium, handcrafted KitKats made with top quality ingredients and production methods under full direction by Takagi Yasumasa―the owner and chef of LE PATISSIER TAKAGI. Its product line-up features a range perfect as gifts to friends, family and co-workers, or as a treat to yourself.

Japan is home to eight KitKat Chocolatory branches. The new Miyashita Park Shibuya branch will open as the fourth in Tokyo, as well as the first where you can create your own KitKat products.

My KITKAT: ¥2,000 (Before Tax)

"My KITKAT" comes as the world's first KitKat service where consumers can create their own original chocolate bars.

KitKat Waffle: ¥1,000 (Before Tax)

KitKat Chocolatory Sublime Soft Cream: ¥630 (Before Tax)

KitKat Chocolatory Miyashita Park Shibuya will also sell a variety of unique and exclusive KitKat desserts, like luxurious soft serve ice cream topped with couverture chocolate. It will also offer a cafe menu created by Nespresso, where customers can pair Chocolatory desserts with seasonal coffee menus, and more.

Shibuya-esque wall art will decorate the interior of the shop, making for plenty of photo opportunities.

Information

KitKat Chocolatory Miyashita Park Shibuya

Grand Opening: August 4, 2020

Address: Miyashita Park South 2F, 6-20-10 Jingumae, Shibuya, Tokyo

Opening Hours: 11:00-21:00 (Last Orders 20:00)

TEL: 03-6427-6811

Official Website: https://nestle.jp/brand/kit/chocolatory/

Handmade Hello Kitty Double Wall Glasses to be Released in Japan

GOODGLAS Japan has revealed its cute new Hello Kitty double wall glasses which it will release in Japan on July 20, 2020.

Glass products at GOODGLAS are all handmade and use the traditional glass blowing method. When you pour either your hot or cold drink into the glass, Hello Kitty's face stands out even more—and depending on the beverage you pour inside, you can create different looks. The glasses also come in four variations with different coloured ribbons: red, pink, blue, or gold.

You can make your own glass desserts too. There are plenty of ideas you can try to bring the cafe experience into your own home.

Information

Hello Kitty Double Wall Glass

Pre-orders: July 17, 2020

Release Date: July 20, 2020

GOODGLAS Japan Official Website: https://www.r-kj.com/ 


LOFT

The glasses will also be released at select LOFT branches throughout Japan. More info can be found on GOODGLAS's website.

Ueno Marui

Available: July 18, 2020 – July 23, 2020

Location: Ueno Marui 1F Event Space

Address: 6-15-1 Ueno, Taito-ku, Tokyo

Hello Kitty Themed Sports Collection Released in Collaboration With Samantha Thavasa

Samantha Thavasa Japan Limited has released a new Hello Kitty sports themed bag collection in collaboration with Sanrio as part of the company's Samantha Thavasa Petit Choice brand. Titled "We Love Sports!!", pre-sales for the collection opened on Samantha Thavasa's online shop on July 15. In-store general sales will begin at Samantha Thavasa Petit Choice branches and its online shop in Japan on July 22.

Judo Kitty

Tennis Kitty

The collaboration series sees Hello Kitty going all-out sports with soccer, baseball, swimming, volleyball, tennis, judo, and various other sports.

Baseball Kitty 2-Way Mini Shoulder Bag: ¥12,000 (Before Tax) / Flat Pouch: ¥5,500 (Before Tax)


Hello Kitty is wearing her baseball outfit and is ready to strike a home run with this two-way shoulder bag and pouch.


The bag comes with a snap flap set so you can customise this stylish bag for any occasion

The flat pouch is a must-have piece of sports gear, whether for storing medicine, band-aids, and any other items. It's the perfect size for storing little things.


Swimming Kitty Sacoche: ¥5,500 (Before Tax) / Flat Pouch: ¥5,500 (Before Tax)

Hello Kitty wears a wardrobe of different outfits in this sports series. For this one, it's her swimming gear. The sacoche is ideal for putting your smartphone away, and inside are three compartments for storing cards. Keep your credit card or sports game tickets safe.

Fastener Charms: ¥3,800 (Before Tax)

Add some more excitement to your pouch or bag with one of these sporty fastener charms.

The collection is ideal for both popping out to the shops, going to a sporting event, or pretty much any occasion. Hello Kitty is here to share her love of sports with you.

©1976,2020 SANRIO CO., LTD. APPROVAL NO. L611478

Tell the Time With the Kawaii New Hello Kitty KAORU Wristwatches

Japanese watchmakers MARUZEKI released a new collection of Hello Kitty wristwatches as part of their KAORU model series on June 27, 2020.

KAORU x Hello Kitty Sweets Collaboration: ¥4,180 (Tax Included)

MARUZEKI's "KAORU" watches are inspired by aromatherapy, implementing a world-first concept that lets the wearer enjoy their favourite fragrances on the go. Designed and created with Japan's state-of-the-art materials and technology, the Hello Kitty collection of 3 watches come with vanilla, strawberry, and coconut scents.

The 'Vanilla White' fragrance is like a waft of sweet candy. It's a popular scent seen in products, and uses a mix of aroma oils and perfumes to create the uplifting fragrance. The watch face has an illustration of Hello Kitty enjoying a cup of tea.


'Strawberry Pink' is inspired by strawberry milk and strawberry shakes. They recommend this one if you're wanting a change of pace. This clock face has Hello Kitty enjoying some apple pie and talking on the phone.


'Coconut Mint Green' is a relaxing blend of coconut and passion fruit. Hello Kitty is dressed adorably as a mother making an apple pie for this design.


The watches are packaged in special boxes with a cute pop-up Hello Kitty inside like that of a picture book. This itself serves as kawaii decoration, and makes for a great gift to someone (or yourself!)

Hello Kitty Cafe to Open in Narita Airport's Anime Deck This July

KADOKAWA is set to open a Hello Kitty themed cafe on the Narita Anime Deck—which is located on the Main Building second floor of Narita International Airport Terminal 2—for a limited time from July 3, 2020 to October 2, 2020.

The Narita Anime Deck

The Narita Anime Deck opened inside Narita International Airport Terminal 2 in November 2019. It's an entertainment facility where travellers from around the world can experience and enjoy Japanese anime culture in various forms such as with character merchandise, food, events, and a variety of photo spots.

Hello Kitty Cafe

The facility has collaborated with numerous anime series to open up limited-time cafes since it opened. This time around it is joining paws with Hello Kitty, a face known to all across the globe. As well as themed food, drinks and merchandise, customers can take a Hello Kitty quiz, learn the history behind Hello Kitty, and more.

An Original Food Menu


Hello Kitty's Lovely♡ Pink Curry: ¥1,500


Hello Kitty's Gurakoro Burger: ¥1,500


Hello Kitty's Strawberry Pancake: ¥1,400


Hello Kitty's Strawberry Parfait: ¥1,200

An Original Drinks Menu

The incredible drinks menu is diverse, including lattes where you can get 46 different latte art designs of Hello Kitty from 1974-2019. It could be fun to pick your birth year, or a year where you have fond memories.

Hello Kitty's Colourful Tapioca Drinks (Matcha Milk/Strawberry Milk/Milk Tea): ¥720 Each

 
Hello Kitty's Marshmallow Coffee: ¥800


Hello Kitty's Latte (46 Designs): ¥720 Each

Novelties

For every item you order from the collaboration menu, you can also receive one of 46 possible original coasters once again featuring a different design of Hello Kitty between the years 1974-2019.

1st Line-Up: July 3, 2020 – August 2, 2020


2nd Line-Up: August 3, 2020 – September 2, 2020


3rd Line-Up: September 3, 2020 – October 2, 2020

If you're travelling through Narita Airport anytime this year up to October, then be sure to head on up to the Narita Anime Deck to dine at the Hello Kitty Cafe.

© 1976, 2020 SANRIO CO., LTD. APPROVAL NO. L611439

Hello Kitty Becomes Japan's Mythical Mermaid Figure Amabie in New Merchandise Collection

A new collection of merchandise is being released for Sanrio's popular character Hello Kitty this August which sees her becoming Amabie, a legendary Japanese mermaid which emerges from the sea and prophesies an epidemic.

The first alleged appearance of Amabie was in Higo Province (now Kumamoto Prefecture) during the closing years of the Edo period. Legend has it that if a disease spreads, you must draw a picture of Amabie and show it to those who fall ill to cure them.

Antibacterial Face Mask Pouch: ¥1,300 (Before Tax) *Design subject to change


Antibacterial Eco Bag: ¥1,100 (Before Tax) *Design subject to change

The item collection includes an antibacterial mask pouch, eco bag, and more—all items that are best used during the time of the COVID-19 pandemic.

Lemon Drops: ¥400 (Before Tax) *Available Late June 2020


Cream Sandwich: ¥600 (Before Tax) *Available Late June 2020

Delicious sweets will also be available from late June.

This line-up is a great way to bring some smiles about during these current turbulent times, whether as a gift to yourself or someone special to you.

©︎1976, 2020 SANRIO CO., LTD.

Hello Kitty Takes Over Osaka's Maid Cafe '@home cafe'

The Osaka branch of @home cafe—a chain of maid cafes that originated in Akihabara—is collaborating with Sanrio to serve up a Hello Kitty experience from July 1 for a limited time, with special decorations, food, and exclusive merchandise.

@home cafe Akihaabra collaborates with Sanrio characters every year. In 2018, it joined hands with My Melody and Cinnamoroll, and in 2019 with Pompompurin. In January this year, it teamed up with Hello Kitty, who is now heading to the Osaka cafe.

The cafe will be decorated with cute pictures of Hello Kitty and her twin sister Mimmy, as well as pink and yellow gingham designs for each character.

The maids at @home cafe Osaka will also wear special Hello Kitty and Mimmy maid outfits for the duration of the collaboration.

Food Menu

Hello Kitty's KAWAII♡ Pink Curry: ¥1,400 (Before Tax) *Comes with a free certificate-style card


Hello Kitty & Mimmy's Moe Moe Ribbon Pasta Plate: ¥1,300 (Before Tax)


Hello Kitty's Lovely Sweet Sandwich: ¥1,300 (Before Tax)

Dessert Menu

Hello Kitty's Moe Moe Parfait / Mimmy's Kyun Myun Parfait: ¥1,000 Each (Before Tax)


Okyumuka Cake Topped With a Bright-Red Apple: ¥1,000 (Before Tax)

All customers who dine at the cafe will receive one of two possible lunch mats for free. You get one of three free coasters too when you order a drink.

Hello Kitty x @home cafe Merchandise

Acrylic Key Rings (3 Designs): ¥600 Each (Before Tax)


Mirror: ¥800 (Before Tax)

See Hello Kitty and Mimmy transform into maids at @home cafe Osaka.

©1976,2020 SANRIO CO., LTD. APPROVAL NO.S603899

Information

Hello Kitty x @home cafe Osaka

Running: July 1, 2020 – August 31, 2020

Location: @home cafe Osaka 1F

Address: SEM Bldg. 1F, 4-19-13 Nipponbashi, Naniwa Ward, Osaka

Opening Hours: [Weekdays] 11:00-22:00 / [Weekends & Holidays] 10:00-22:00 (Last Orders 21:20)

Official Website: http://www.cafe-athome.com/

Hilton Osaka Serves Up Hello Kitty and My Melody Themed Summer Buffet

The Folk Kitchen on the 2nd floor of Hilton Osaka is set to serve up the "Summer Sweets Buffet Festival ~Hello Kitty & My Melody Collaboration Tea Party~" from June 19, 2020 to September 13, 2020. The menu is made up of 25 colourful and summery desserts, as well as 7 vegan desserts made without any eggs, milk or animal products.

The buffet is a step up from last year's "Fashionable Hello Kitty Dessert Buffet" which we covered.


This year's summer buffet tea party combo is a sweet amalgamation of finger licking and lip smacking flavours. In the middle of the "Ice Cream Cup Cheesecake" is a moist baked cheesecake topped with cream cheese—and all of this hugged by a crunchy cone.

Then there's the "Lollipop Mousse Green Apple," a vivid green iced candy with a fresh apple mousse filled with apple jam for a mix of sweet and sour flavours. The "Vegan Melon Cream Soda Jelly" is a melon flavoured jelly topped with a cream made from fizzy lime foam. If you're wanting cake, then there's the fluffy "Pineapple Chiffon Cake" topped with lots of cream.


The "Pudding à la Mode" is topped with a chocolate My Melody picture, of which there are several designs.

The vegans too have their fair share of refreshing summertime bites to enjoy too, like the "Vegan Peach Bellini" which uses agar-agar instead of gelatin. It's a delightful combination of muscat grape jelly and peach jam. The "Vegan Chocolate Chip Cupcakes" have a fresh kick to them thanks to the fruity pineapple and soy milk combo. Other delights include the "Soy Milk Cream Fruit Bun," "Vegan Piña Colada Panna Cotta," and more.

The buffet also includes 5 savoury food dishes too like cold corn soup, curry, salad, and more.

On the 1st floor cafe and bar MYPLACE of Hilton Osaka, customers can order the above-pictured Hello Kitty & My Melody afternoon tea which is served in a jewellery box-like set.

Information

Summer Sweets Buffet Festival ~Hello Kitty & My Melody Collaboration Tea Party~
Location: Folk Kitchen (Hilton Osaka Floor 2F)
Running: June 19, 2020 – September 13, 2020

Time: 15:00-16:30

Prices
[Weekdays] ¥3,950 per person / ¥1,950 for those ages 4-11 years
[Weekends/Holidays] ¥4,250 per person / ¥2,100 for those ages 4-11 years
*Comes with drink of choice from tea, coffee, hot chocolate, and others

*Listed prices do not include 10% consumption tax or service charge

Official site:https://www.hiltonosaka.com/plans/restaurants/sweets/folkkitchen_2006

Summer Sweets Buffet Festival ~Hello Kitty & My Melody Afternoon Tea Set~
Location: MYPLACE (Hilton Osaka Floor 1F)
Running: June 19, 2020 – September 13, 2020
Time: From 12:00 until it sells out (limited quantity per day)

Price: ¥3,500 per person

*Comes with drink of choice from tea or coffee

*Listed prices do not include 10% consumption tax or service charge

Reservations: 06-6347-7111

Photos are for illustrative purposes only. Menu line-up and opening hours subject to change.

Hilton Osaka Official Website: https://www.hiltonosaka.com/

2020 Sanrio Character Awards: yoshikitty Places 1st Place in Three Countries

The final results for the 2020 Sanrio Character Ranking were announced on Tuesday, with Cinnamoroll placing number one overall. Yoshiki's collaboration character yoshiki ranked 1st place in France, Germany, and Brasil, as well as 2nd place in China and 6th place overall. This marks the 5th year that yoshikitty has ranked in the Top 10.

yoshikitty is a character based on the X Japan band member Yoshiki. The character has proven popular around the world, with merchandise so popular it never fails to sell out.

A special "Tanita Award" was also given to yoshikitty, and to celebrate, a limited-edition yoshikitty "Digital Health Meter" will be sold on the Tanita website. Costing ¥4,400 (tax included), it is now available to order until July 31, 2020, with a limited number of 100 models available.

Yoshiki thanked yoshikitty fans around the world on his official Twitter and Instagram pages for voting and making the character place so high again this year. He also said: "I wonder if I should composed a yoshikitty theme song too to express my gratitude to everyone (haha). I want to continue delivering wonderful music to you all to repay you, even just a little. Thank you." (translated from Japanese by MMN)

Eggs 'n Things Harajuku's Exclusive Chocolate Mint Pancakes Ship Nationwide in Japan

Eggs 'n Things Japan has announced that it is releasing its "Harajuku Chocolate Mint Pancakes" and "Mango Salsa Chicken & Eggs" to all branches throughout Japan (excluding temporarily closed branches).

Harajuku Chocolate Mint Pancakes: Eat In ¥1,480 (Before Tax), Takeout ¥880 (Before Tax) | Serving: May 15, 2020 – June 11, 2020

The Harajuku Chocolate Mint Pancakes speak for themselves. Enjoy a serving of mint flavoured pancakes drizzled in smooth mint cream which is sure to send a refreshing tinge through your nose. It's topped with an Oreo cookie, chocolate mint ice cream, and served with a side of chocolate sauce.

*The takeout option doesn't come with whipped cream or chocolate mint ice cream

Mango Salsa Chicken & Eggs: ¥1,280 (Before Tax) *Takeout option available | Serving: May 15, 2020 – June 11, 2020

A plate of juicy fried chicken and a punchy mango salsa with a flavourful coriander taste and spicy kick.

Two perfect dishes to enjoy an early summer this year, coming to Eggs 'n Things in Japan this Friday.

Hello Kitty Inspired Doughnuts Released by Floresta Nature Doughnuts

Healthy doughnut makers Floresta Nature Doughnuts released two doughnuts in collaboration with Hello Kitty on Tuesday which are available to purchase on their website and in-store at select branches.

 

The adorable Hello Kitty and her twin sister Mimmy arrive at Floresta for the very first time. Both doughnuts are great gifts to treat yourself to, for Mother's Day, or to send a friend you can't meet right now due to the lockdown.

 

Hello Kitty Doughnut Collaboration – ¥450 Each (Before Tax)

Both ring doughnuts are topped with freeze dried strawberries and seat the cute Hello Kitty and Mimmy.

Floresta is also selling sets of these doughnuts on their websiteーyou can get four in total, that's two each, in the set.

Select branches are selling these doughnuts, but due to emergency measures many branches are closed or now have reduced opening hours. If you're in Japan and thinking of visiting one of the stores, make sure to check the company's social media and take all necessary precautions when going out.

Information

Hello Kitty Doughnut Collaboration

Released: April 28, 2020

Floresta Online Store: https://floresta-ec.jp

*Available while supplies last

*Online orders are being prioritised

*You can select a delivery time once you have made your order

Exercise at Home With Hello Kitty and Shimajiro in New Video Series

Kodomo Challenge, a brand created by Benesse Corporation which helps support the growth and education of infants, has joined hands with Sanrio to release a series of exercise videos in English, Japanese, and Chinese. Titled "Exercise with Friends," the series lets you exercise together with popular characters from Japan.

The first video features Kodomo Challenge's character Shimajiro and Sanrio's character Hello Kitty. The video is part of a bigger project called "Daisuki na Minna to Issho Project" (Together With Everyone We Love) which aims to bring smiles to people's faces and relieve their worries during the ongoing COVID-19 pandemic.

Japanese Version

English Version

Chinese Version

*A Traditional Chinese version will be released on April 30, 2020

The videos are being enjoyed on Japanese social media where people have commended the videos for being easy for kids to follow as well as pretty good exercise for adults too.

Lots of Friends Version (Japanese)

The newest entry to the series adds several other characters into the mix including Kumamon, Mell-chan, and Cheburashka.

Make sure you're getting in your daily exercise at home during the lockdown, and if you're in need of motivation, join Hello Kitty and Shimajiro!