Hello Kitty & My Melody Gift Sets by GODIVA Released at Sanrio
GODIVA Japan has teamed up with Sanrio to produce four Hello Kitty and My Melody gifts sets. The products were released on January 9, 2019 at Sanrio shops, the Sanrio online store and department stores with Sanrio sections.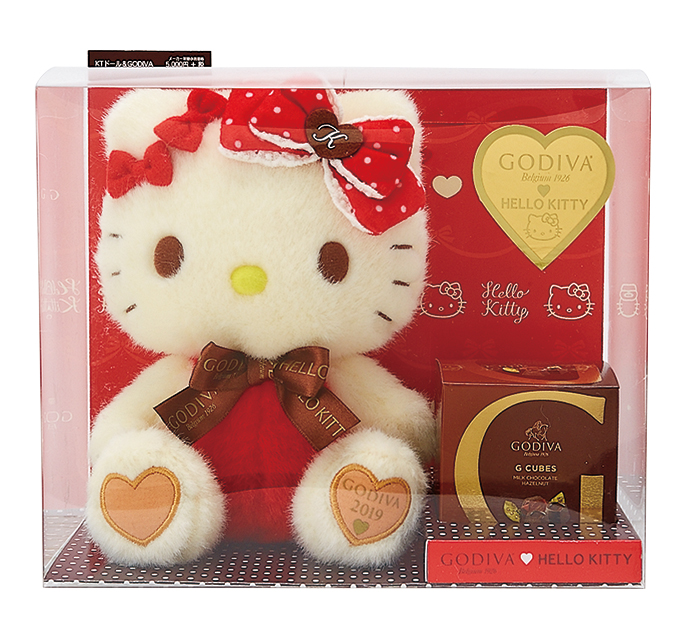 The sets come with chocolate from the internationally beloved and leading premium chocolate brand GODIVA which has been around for over 90 years. They also some with Hello Kitty and My Melody plush toys and mascot holders. This combination will make for the perfect Valentine's Day gift.
The toys and holders have the GODIVA logo written on them along with 2019 for those looking to give a New Year's gift or to add to their collection.
This marks the 8th collaboration between Sanrio and GODIVA. It began in 2013 when they released a Hello Kitty gift sets with individually wrapped chocolate, a original design plush toy and mascot holder. My Melody join the collection in 2015.
This gift set series sees sales by a lot of male customers as they are popular as gifts from guys to girls in Japan. Which one do you want the most?
RELATED ENTRIES
Mister Donut Collaborates with Belgian Royal Chocolate Brand Wittamer

Mister Donut locations nationwide are now selling products from the 'misdo meets Wittamer' collection, developed in collaboration with the Belgian royal patisserie brand Wittamer. These tasty treats will be available at participating shops until late February. 

Since 2017, under the brand slogan "Good Things Come to Mister Donut," the brand has collaborated with a number of companies from around the world to invigorate its already delicious selection of sweets. To start 2022, the beloved donut chain is teaming up with Wittamer to bring their 'Chocolat Samba' and 'Praline Chocolat' to customers throughout Japan.

The newly-developed chocolate donut batter is made by applying the same method to make cakes to donuts, creating a light mouthfeel very much like taking a bite of chocolate cake. By combining it with ganache cream and whip, the flavor becomes even richer. It might be difficult to take a bite of something so beautiful, but if you're near a Mister Donut, you should give these a try before they're gone!

misdo meets Wittamer Collaboration

Chocolat Samba: ¥200 (Without Tax)
The donut's chocolate dough is covered with ganache cream and filled with ganache whip. Pay close attention to the glossy texture inspired by the Chocolat Samba cake.

Chocolat Hazlenut: ¥200 (Without Tax)
Covered in graham cracker hazelnut cream and filled with ganache whip, the cocoa powder on top takes the flavor to new heights.

Chocolat Caramel: ¥200 (Without Tax)
Caramel mocha cream and ganache blend together with caramel chocolate and nuts for a decadent and luxurious treat.

Chocolat Blueberry: ¥200 (Without Tax)
Chocolate dough and blueberry jam blend seamlessly with ganache cream. Topped with raspberry-flavored chocolate flakes, this is a showstopper.

Information

misdo meets Wittamer Collaboration

Running: January 7 – Late February 
Available at Participating Mister Donut Locations Nationwide

Official Site: https://www.misterdonut.jp

Chocolate Specialty Shop Minimal Offering Rare Strawberry and Chocolate Treats

Japan-based chocolate specialty store Minimal is now offering a limited-edition set of gateau chocolates with fresh strawberries from Mei Strawberries in Kagawa Prefecture. These are available for preorder and are perfect for Valentine's Day!

These sweets were a huge hit last year, selling out immediately. The rare variety of strawberries used is only found in 1 percent of Japanese strawberry farms, and these are blended with milk cream and specialty chocolate. 




The strawberry jam found on the top of each chocolate piece is made from these rare Nyohou strawberries.  Originally a small-grained variety, the Nyohou varietals send from Mei Strawberries in Kagawa Prefecture are larger with a beautiful dark-red color. Fragrant, juicy, and sweet, they also have a slight acidity that provide a more complex flavor.


 

To maximize the natural strawberry flavor, the chocolate is made from Madagascar cocoa beans with a more berry-like flavor. Only slightly roasted, the graininess is intact, leaving a more powerful and rich flavor. A milky sweet cream has also been added to the center to provide a better balance.

This is the second year that the company has worked with these strawberries from Mei, and after making a number of prototypes, Minimal has found the best possible way to express these unique flavors in harmony. 


Information

Fresh Gateau Chocolate & Strawberries featuring Mei Strawberries

Price: ¥3,510 (Tax Included)
Release Date:   

Online Store/LINE Preorders: December 24, 2021~

Yoyogi Ueno Store: January 15, 2022

Sales Period: Until the End of February 2022
LINE: https://page.line.me/yrn4346m?openQrModal=true

Official Site: http://mini-mal.tokyo

MINISTOP Ice Cream Specialty Store 'MINI SOF' to Launch My Melody Collaboration

MINI SOF, a shop specializing in soft-serve ice cream since 1980, is now offering products in collaboration with the popular Sanrio character My Melody! A limited number of sweets and goodies will be available until January 31, 2022, with New Year grab bags containing special coupons for sale until January 9, 2022.

W Rich Soft-Serve Ice Cream

My Melody Collaboration Campaign

2022 Lucky Bag

Blanket

Desktop Calendar

Tote Bag

Soft-Serve Vanilla Ice Cream (with Strawberries and Chocolate) with Original Glass

Pink

Purple

Double Rich Strawberry Waffle Cone Soft-Serve with My Melody Collaboration Sleeve

Sleeve Design 1

Sleeve Design 2

Sleeve Design 3

Double Rich Strawberry Shortcake

My Melody Original Pouch

Design 1

Design 2

My Melody Original Keychain

Acrylic Keychain Design 1

Acrylic Keychain Design 2

Participating Characters

My Melody

Kuromi

My Sweet Piano

Information

My Melody Collaboration Campaign

Running: December 30, 2021 – January 31, 2022
*MINI SOF limited-edition pouches and acrylic keychains will also be available.

2022 Lucky Bag

*Limited to two bags per person.

Available: December 30, 2021 – January 9, 2022

Coupon Expiration Date: January 31, 2022

Official Site: https://www.ministop.co.jp/minisof/

My Melody and Kuromi Interior Gaming Goods Now on Sale

Don Quixote is now selling a new collection of interior goods perfect for gamer girls! The My Melody and Kuromi collaboration is a part of 'Don Quixote x Sanrio Characters,' and these goods can be found nationwide.

The number of girls playing video games is on the rise thanks to more interest in e-sports and more free time at home. Girls with computers love to decorate their PC space, and this new collection is perfect for those wanting some sassy Sanrio flare. Merch includes a gaming chair, neck pillows for comfort, and fuzzy rugs to liven up any space.

*Product images are examples only. The final products may differ. 

Mario, Pokemon, and Other Iconic Characters Dance Together at USJ's New Parade for Spring 2022

After a year on hiatus, Universal Studios Japan will be bringing back the daytime parade with the  'NO LIMIT! PARADE,' scheduled to be held for a year starting in Spring 2022.

 

 

The 'NO LIMIT! PARADE' is like a dance party, unifying each guest as one with the power of dance. The energetic entertainment turns everybody into "the protagonist."

In addition to well-known 

park characters like the Minions and Hello Kitty, Mario and his Nintendo friends will also be joining the parade from their home in the super popular Super Nintendo World™, bringing some Pokémon buddies along for the ride. The various worlds will collide to a range of party tracks, from 60's rock to modern EDM, with each character performing a representative dance.

By dancing with these iconic characters and entertainers, everybody can become "The Protagonist" – young or old! The grand finale of each parade truly pushes the meaning of NO LIMITS, with production exceeding all expectations. Each visitor will feel their mind and body growing "Super Energetic" from all the fun with this all-new entertainment experience!

Become one with the all-star cast at the 'NO LIMIT! PARADE!'

 WIZARDING WORLD and all related trademarks, characters, names, and indicia are © & ™ Warner Bros. Entertainment Inc. Publishing Rights © JKR. (s21)
Minions and all related elements and indicia TM & © 2021 Universal Studios. All rights reserved.
© Nintendo
TM & © 2021 Sesame Workshop
© 2021 Peanuts Worldwide LLC
© 2021 SANRIO CO., LTD. APPROVAL NO. EJ1100402
TM & © Universal Studios & Amblin Entertainment
© 2021 UNIVERSAL STUDIOS
©2021 Pokémon. ©1995-2021 Nintendo/Creatures Inc. /GAME FREAK inc.
TM & © Universal Studios. All rights reserved.

Hello Kitty and Cosmetics Company Shu Uemura Release Holiday Collection

Japanese cosmetics brand Shu Uemura is releasing two new holiday collections in collaboration with beloved Sanrio character Hello Kitty! The first collection, featuring twelve items, will go on sale on November 1, 2021, and the second collection, featuring four items, will be available on November 15, 2021. Only limited quantities will be available. Preorders are now available on the official online store. Certain products will also be available at Sanrioworld GINZA 1F starting October 30 to celebrate the new collaboration. 

Bold, edgy, and chic makeup looks

Rich Collection Lineup

1st Collection Lineup

Rock the Party Palette (6 limited-time colors/ 4 existing colors): ¥9,900 (Tax Included) 

Discogram Eye Palette (6 limited-time colors): ¥7,150 (Tax Included) 

Unlimited Disco Glitz Lipstick (2 limited-time colors): ¥4,070 (Tax Included) 

Unlimited Satin Lipstick (2 limited-time colors): ¥4,070 (Tax Included) 

Unlimited Lacquer Shine Lipstick (1 limited-time color/1 existing color): ¥3,740 (Tax Included)

Unlimited Cream Lipstick (2 limited-time colors): ¥4,180 (Tax Included) 

Ulim8∞Sublime Beauty Cleansing Oil (Limited-time packaging) 450ml: ¥12,650 (Tax Included) / 150ml: ¥5,060 (Tax Included)

Limited-Time Channel Goods

*Available only at the official online store and Global Flagship Beauty Boutiques

Unlimited Satin Lipstick VIP Auburn: ¥4,070 (Tax Included) 

Hard Formula 9 Seal Brown: ¥2,860 (Tax Included) 

Rock the Party Premium Makeup Box: ¥35,200 (Tax Included) 

Rock the Party Mini Lipstick Set: ¥7,150 (Tax Included) 

*Available only at the official online store and Global Flagship Beauty Boutiques

The new collaborative collection is inspired by Tokyo nightlife and is perfect for creating both a glamorous rock 'n roll look or something more soft and sweet. A number of new shades of eyeshadow and lipstick appear in this holiday collection, so why not snag some of these high-quality goods before they're gone? 

© 2021 SANRIO CO., LTD. APPROVAL NO. L614617

Information

shu uemura x Hello Kitty 1st Collection

Limited-Time Release Starting November 1, 2021 / 12 Items Total

Preorders Begin October 15, 2021

2nd Collection

Limited-Time Release Starting November 15, 2021 / 4 Items Total

Preorders Begin November 8, 2021

Where to Buy: 

Shu Uemura Locations Nationwide and Online / Global Flagship Beauty Boutiques

Official Site: https://www.shuuemura.jp

Hello Kitty and Pierre Hermé Collaboration Series Coming to Sanrio Stores

Everyone's favorite cartoon cat Hello Kitty is about to celebrate her birthday! To celebrate, Sanrio is releasing a collection of limited-time goods in collaboration with world-famous patisserie Pierre Hermé starting October 20, 2021. These items will be on sale at Sanrio stores nationwide, in specific department stores, and on the official Sanrio online store. 

Collaboration with Hello Kitty's favorite sweet, Ispahan

Ispahan, a raspberry cake, is Hermé's signature dessert. For Hello Kitty's birthday celebration the creator drew the character in an elegant rose-inspired dress inspired by the sweet. This design was made with the hope that Hello Kitty will continue to bring different people and cultures together for years to come. 

Mascot Keychain  Hello Kitty/Mimmy: ¥2,530

Accessory Case: ¥3,080

Inspired by Pierre Hermé's Ispahan and Satine sweets, fans will love these colorful goods perfect for a birthday celebration. 

Hello Kitty Birthday Doll: ¥15,400 (Tax Included)

Each year a Hello Kitty Birthday Doll is released, and 2021 is no different! This year, the doll is wearing an elegant dress designed exclusively for the collaboration. Each one has an embroidered serial number on the left leg, and quantities will be limited. 

Gâteau Anniversaire Hello Kitty: ¥2,640 (Tax Included)

This special birthday dessert will be available at Pierre Hermé Paris Aoyama from November 1 to November 15. It includes a special Hello Kitty Ispahan along with a scoop of rose ice cream and a dusting of raspberry powder!

©'21 SANRIO 著作(株)サンリオ

Information

Hello Kitty and Pierre Hermé Collaboration Design Series

Release Date: October 20, 2021

Sanrio Official Goods Page: https://www.sanrio.co.jp/goodsinfo/kt-pierreherme-202110/ 

Hello Kitty and Pierre Hermé Birthday Doll 2021

Price: ¥15,400 (Tax Included)

Release Date: October 20, 2021

Where to Buy: Sanrio Stores, Sanrio Areas at Department Stores

Gâteau Anniversaire Hello Kitty 

Available: November 1 – 15, 2021 *Limited-time only

Where to Buy: Pierre Hermé Paris Aoyama 2F Heaven

Sanrio Puroland Announced Pumpkin-themed PURO HALLOWEEN Event

The cutest theme park on Earth, Sanrio Puroland has announced that this year's PURO HALLOWEEN event will run from September 10 until October 31. The theme for this year's event is "pumpkins," and fans will be able to pick up some special spooky merch during the celebration!

New Show 'Halloween Pumpkin Time' 

Limited-time Stage Show 'Mewkledreamy March, Gather! ☆Dreamy Mates' 

Photo Spot

PURO HALLOWEEN Special Greeting, featuring characters in Halloween costumes

Event Menu

PURO HALLOWEEN Merchandise

PURO HALLOWEEN x Gyuunyuu Special Collaboration

Gyuunyuu Collab Game 'Let's Go to the Pumpkin Party!'

Gyuunyuu Collab Food and Merchandise





This event aims to be happy and bright, something to be expected of a place with so many adorable characters. Visitors will be able to catch a new show, 'Halloween Pumpkin Time,' on the first floor of Puroland. Featuring Hello Kitty and Cinnamoroll in new Pumpkin-themed costumes, it's not to be missed!

Plenty of dancing and games will take place during the event, and the popular show 'Mewkledreamy March, Gather! ☆ Dreamy Mates' will be updated with a Halloween theme. At the end of the show, visitors can catch characters Myu, Peko, and Suu in special costumes.

Popular photo spots throughout the park will be updated for the event, and PURO HALLOWEEN Special Greeting will welcome guests to spend time with their favorite characters. (Fee required for Special Greeting.)

The PURO HALLOWEEN menu utilizes plenty of fall goodies like pumpkin and sweet potato. After eating your fill, pick up some country-style merchandise featuring Sanrio characters enjoying the pumpkin harvest! Limited-edition goods feature these new illustrations, and can only be bought during the event period. The Sanrio Puroland Online Shop will also begin selling original goods starting September 3, and limited-edition Acrylic Stands (13 varieties) will only be available online.

Sanrio Puroland is also collaborating with Gyuunyuu, a popular manga artist and illustrator on social media. The artist created an original character, Pumpkin-chan, for the event, and the little girl will be joining Hello Kitty and Cinnamoroll in various places throughout the park.

The collab game 'Let's Go to the Pumpkin Party!' will ask guests to complete an original comic strip by solving puzzles while exploring Puroland, perfect for children and parents. (Fee required for collab game.)

Which Sanrio character would you like to meet during the Halloween season?

© 2021 SANRIO CO., LTD. TOKYO, JAPAN  著作 株式会社サンリオ

Kaori's Easy Recipe: Learn to Make Two-Layer Mizu Yokan

With just a small bit of ingenuity, turn everyday food into something cute using Kaori's Easy Recipe! With just a few simple ideas, an ordinary recipe magically transforms into a cute dish. 

Today, I'll teach you how to make two-layer Mizu Yokan, perfect for a hot summer day!

You don't even need an oven to make this sweet treat–just let it chill and harden! It's great as a summer vacation snack. 

Ingredients

This recipe makes 2 cups. 

For Mizu Yokan: 

120g fine-grained sweet bean paste

100cc water

Pinch of salt

1-2g Kanten powder

For Matcha Flavoring:

5g matcha

20g sugar

100cc water

1-2g Kanten powder

1

Place bean paste, water, salt, and Kanten powder into a pot and boil until dissolved. 

⚠The Kanten powder needs to be heated for a further 1-2 minutes after boiling to harden properly. After boiling, reduce heat to low. 

2

Pour mixture into container. 

After about 30 minutes at room temperature, the mixture will start to harden. Work on the matcha flavoring when it begins to harden. 

3

Place matcha, water, sugar, and Kanten powder in a pot and boil thoroughly. 

As you did with the Mizu Yokan, reduce heat to low and continue cooking through. 

4

When the mixture is heated through, gently pour it over the Mizu Yokan and refrigerate until ready to serve. 

This is delicious with a variety of toppings, from red bean paste and fresh cream to Shiratama dumplings and fresh fruit!

Kaori Kubota (@kaopan27)

I live in Hokkaido and I love to make character themed foods, desserts and pastries♡

I want to see my family smile, so I enjoy putting in a bit of effort to make character foods and changing food into something cute♡

You can see more of my character foods and character bento boxes on my Instagram page → @kaopan72

Japanese Snack Company Meiji Announces Collaboration to Celebrate 5th Anniversary of Pop Group SutoPuri

Snack company Meiji has announced a collaboration between the popular six-member pop group Strawberry Prince (shortened to SutoPuri) and their newest sweets, Strawberry & Chocolate Kinoko no Yama and Strawberry & Chocolate Takenoko no Sato! While these sweets are celebrating their one-year anniversary, Strawberry Prince has already been putting out catchy songs for five years! Can you believe it? 

The Kinoko no Yama/Takenoko no Sato Super Strawberry Festival is happening for a limited-time, from August 3, 2021 to October 2, 2021. 

Strawberry & Chocolate Kinoko no Yama

Strawberry & Chocolate Takenoko no Sato

How to Play

 Campaign Prize: Kinoko Takenoko Super Strawberry Festival Set

How to Enter the Photo Campaign

Special Collaboration Video

 

A popular name on streaming sites, SutoPuri currently has more than 1.48 million followers on their official YouTube channel, with over 4 million views between its six members. Their third full-length album 'Strawberry Prince' was released in November 2020, and reached #1 on the Oricon Weekly Album Ranking chart on November 23, 2020. They also hit the top of the Yahoo Kids People's Search Ranking in 2020! It seems that their popularity won't end any time soon. 

A special AR Fireworks Display will also be held, where you can celebrate these two exciting anniversaries from the comfort of your own home! Just hold your smartphone over the package of your favorite participating Meiji sweets, and SutoPuri will appear in front of your eyes, with fireworks launching to the tune of 'Strawberry Color Summer Fireworks!' Not enough? You'll also be able to take pictures of SutoPuri while you chat with the members! Using just one of the participating products will summon a member of SutoPuri at random, but using two will invite all six to enjoy the event together with you! Depending on the product, the fireworks will change, so be sure to experience them all!

Be sure to follow Kinoyama-san (@kinoko_meiji), the Takesato Brothers (@takenoko_meiji), and Apollo (@meiji_apollo_pr) on Twitter! During the event, post your favorite AR fireworks photos on Twitter with the tag #KinokoTakenokoSuperStrawberryFestival (#きのこたけのこ超いちご祭り), and 450 people will be selected at random to receive the original goods set! 

With many fireworks displays cancelled this year due to the Coronavirus pandemic, this is a way to still create some happy summer memories at home with SutoPuri!

Sanrio Set to Debut the Cutest Musical in the World, From Hello Kitty

Are you ready to see the cutest show on Earth? Starting August 24, the From Hello Kitty musical will bring a collection of the most popular Sanrio characters to the IHI Stage Around Tokyo to perform a musical like no other. From Hello Kitty, Dear Daniel and Cinnamoroll to Pom Pom Pudding, My Melody and Little Twin Stars, it's a full roster of adorable talent! Did we mention that the theater rotates 360 degrees? 

Created to celebrate 60 years of Sanrio, the musical's message is simple and wholesome: let's bring the world together and all get along. The show will give the audience an insight into the character's thoughts and histories like never before, and will feature a special version of the popular Sanrio Puroland Miracle Gift Parade, with a new story that can only be seen in this performance. 

Sebastian Masuda will serve as the production's art director, and will no doubt bring a unique brand of cuteness to the stage performance. Music producer Hyadain will be bringing plenty of pop and dance numbers, and anime fans may recognize his works: he provided tracks for shows like Nichijou and Bakuman! 

The production will be directed by Yukio Ueshima, known for his work on The Prince of Tennis musicals, based on the incredibly popular sports manga of the same name. He has also worked on over 200 other stage shows, including a number of Japanese Broadway adaptations. 

The IHI Stage Around Tokyo is the only theater in Asia capable of rotating 360 degrees. The circular auditorium can seat over 1,300 spectators, and is surrounded by a stage and massive screen, providing a one-of-a-kind experience that can't be found anywhere else. For those ultra-Sanrio fans, a limited number of meet and greet events will be taking place daily, giving you the chance to take pictures with your favorite characters!

We could all use some cheering up after the events of the past year. If you can make it, be sure to check out the loveable stage performance on Earth before it closes on September 26, 2021!

Information

Sanrio Kawaii Musical From Hello Kitty

Run Dates: August 24, 2021 – September 26, 2021
Closed on Mondays (Closed Tuesday if Monday is a national holiday.)
Venue Address: IHI Stage Around Tokyo, 6-4-25 Toyosu, Koto Ward, Tokyo
Official Site: https://www.tbs.co.jp/stagearound/fromhellokitty/

Lotte's Craft Sake Chocolate brand YOIYO Releases Yakushima Flavour

YOIYO is a chocolate brand created by confectionery company that fuses chocolate with sake. Online pre-orders for its second release opened on June 6, and it's scheduled to release on June 13. This chocolate is made with Single Malt Komagatake Yakushima Aging, a whisky made at the Shinshu Mars Distillery in Miyada, Nagano.

YOIYO YAKUSHIMA NEW

YOIYO KOMAGATAKE 

限定TASING SET KOMAGATAKE×YAKUSHIMA


YOIYO uses specially-selected sake from across Japan and infuses it with the brand's own smooth and tasty milk chocolate. One bites makes it feel as if you have visited the region in which the sake is produced thanks to the combination of pure water, ingredients rooted in the land, and the use of traditional techniques. The brand's name YOIYO is Japanese for 'good evening' as Lotte wants people to enjoy indulging in the chocolate at dusk or after dinner.

Single Malt Komagatake Yakushima Aging is a whisky that is aged for 5+ years, and Lotte picks only from the best barrels. A bite into the chocolate first invites the full flavour of the whisky before the sweet and rich beckon of the chocolate arrives.


Lotte is also releasing a limited-edition tasting set which includes a bar of their first YOIYO release so chocoholic and sake-lovers out there can enjoy taste testing both.