Hello Kitty & My Melody Gift Sets by GODIVA Released at Sanrio
GODIVA Japan has teamed up with Sanrio to produce four Hello Kitty and My Melody gifts sets. The products were released on January 9, 2019 at Sanrio shops, the Sanrio online store and department stores with Sanrio sections.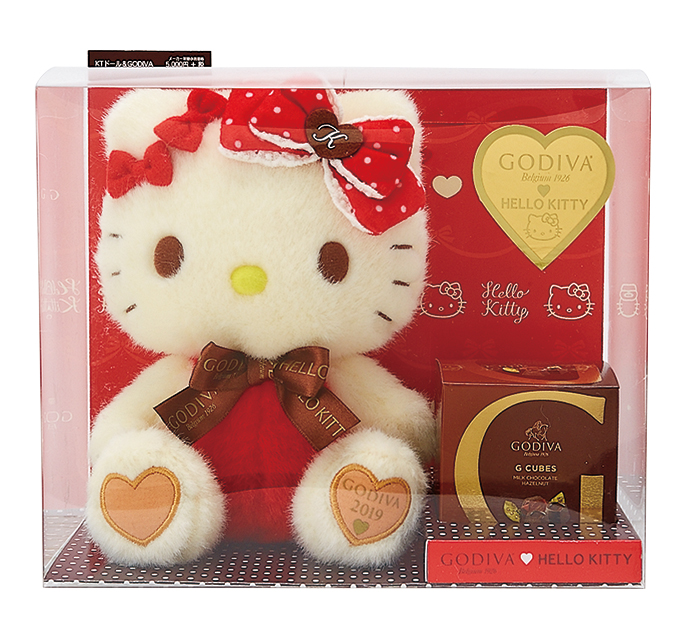 The sets come with chocolate from the internationally beloved and leading premium chocolate brand GODIVA which has been around for over 90 years. They also some with Hello Kitty and My Melody plush toys and mascot holders. This combination will make for the perfect Valentine's Day gift.
The toys and holders have the GODIVA logo written on them along with 2019 for those looking to give a New Year's gift or to add to their collection.
This marks the 8th collaboration between Sanrio and GODIVA. It began in 2013 when they released a Hello Kitty gift sets with individually wrapped chocolate, a original design plush toy and mascot holder. My Melody join the collection in 2015.
This gift set series sees sales by a lot of male customers as they are popular as gifts from guys to girls in Japan. Which one do you want the most?
RELATED ENTRIES
KitKat Japan Releases New Mini Maple Chocolate Bars For Earth Day

In accordance with Earth Day, which is set for April 22, Nestlé released its limited-time KitKat Mini Maple on Monday to raise awareness of environmental issues and the future of the planet.

KitKat Mini Maple (3 Included)

KitKat Mini Maple (12 Included)

9 packaging designs with different messages related to the environment

'KitKat Always For Earth Day' online talk event to take place on April 30

In September 2019, Nestlé began packaging five of its major large-sized KitKat bags in paper bags rather than plastic, and since autumn 2020, most of their large sized bags are now made from paper. This has helped reduce 450 tonnes of plastic per year.

Now, Nestlé is releasing a new collection of packages for Earth Day featuring original designs by up-an-coming young artist SUGI. Each features messages from members of MIMO, a group managed by Japanese model Mila Aina, stating messages about helping to protect the environment and the future of planet earth.

Tokyo's New Vegan Dessert Shop the vegan marshmallooow Opens in Ginza

Ginza Mitsukoshi is welcoming a limited-time vegan dessert shop by the name of 'the vegan marshmallooow' which is open from April 1 to June 30. This shop is known amongst the vegan community in Japan for its vegan cakes, and due to that positive response, is now opening its first long-term promotional pop-up shop in collaboration with Mitsukoshi Isetan Group.

Online orders opened at Mitsukoshi Isetan on March 27 with a delicious line-up that includes their signature vegan chocolate cake.

A look at just some of the mouth-watering line-up

Chocolate Cake

Their number one most popular order: a gorgeously gluten-free mirror cake made with rich chocolate.

 

<NEW> Whole Fruit Cake

For those who like something a little more fruity and refreshing, this juicy cake is topped with assorted fruits like setoka orange, peach, kiwi, blueberry, strawberry, and more. The gluten-free sponge and soy cream give it a light texture that's also rich.

 

<NEW> Special Chocolate Cake Slice

An exquisite three-layered version of the shop's iconic chocolate make made with plant-based ingredients. Its triple tier is formed harmoniously of sponge, chocolate mousse, and cream. A single serving for a single sweet tooth.

Strawberry Shortcake

Two moist layers of gluten-free strawberry sponge with a soy milk base. Smooth, creamy, light, and delicious.

 

Mont Blanc

This mont blanc is specially made with Japanese chestnuts. The addition of soy cream elevates the nutty flavour throughout. A crunchy tart and fluffy sponge also makes for a textural sensation.

the vegan marshmallooow's vegan cake now available online at Mitsukoshi Isetan

Vegan Chocolate Cake Set (3 Pieces)

Sanrio's Pompompurin, Cinnamoroll, and My Melody Collaborate With Beauty Brand LUX

Total beauty brand LUX is set to collaborate with Sanrio on its non-silicone hair care series LUX LUMINIQUE which will launch on March 29.

LUX LUMINIQUE Damage Repair Pompompurin

LUX LUMINIQUE Happiness Blue My Melody

LUX LUMINIQUE Botanical Pure Cinnamoroll

This marks the second collaboration between LUX and Sanrio, following the success of the first back in June 2020. The collection includes the LUX LUMINIQUE Damage Repair with Pompompurin who is celebrating his 25th anniversary this year. For the LUX LUMINIQUE Happiness Blue we get My Melody wearing her super cute trademark, and for the LUX LUMINIQUE Botanical Pure, Cinnamoroll makes an appearance, the fan-favourite who won the Sanrio Character Ranking last year for the third year in a row.

The products are packaged in cute designs featuring the trio enjoying a well-deserved bath, inviting you to do the same as you enjoy the collection when it launches on March 29.

Information

LUX LUMINIQUE x Sanrio Characters

Release Date: March 29, 2021

Official Website: http://www.lux.co.jp/

Cherry Blossom Chocolate and Soda Releases From MAISON CACAO

Japanese aromatic raw chocolate brand MAISON CACAO is launching a new Kamakura-based brand called Shiki to Maison ("Four Seasons & Maison") which will feature chocolates that capture the events and culture found throughout the four seasons in Japan.

The first entries to the series are cherry blossom chocolates which are available from March 26 to April 4, as well as cherry blossom drink which can be enjoyed on March 27 and 28.

 

Aroma Raw Chocolate SAKURA ¥2,200 / Cacao Vinegar Soda SAKURA ¥550 (Before Tax)

Aroma Raw Chocolate SAKURA

Indulge in a box of these luxury cherry blossom chocolates which are made with 100% cacao powder which have a refreshing white chocolate aftertaste. The chocolates are made with cherry blossom as well as a fresh cream laced with salt-pickled cherry blossom. They also include a paste made from liquid drawn from cherry blossom petals. It's a taste of Japanese spring with every bite.

Cacao Vinegar Soda SAKURA

This springtime beverage includes a cacao vinegar made from cacao pulp and is coupled with fragrant cherry blossom. This one is available at the Komachi and Cacao Hanare branches as well as at CHOCOLATE BANK.

Information

Shiki to Maison Sakura Sweets

Japanese Product Name: 四季とメゾン 桜スイーツ

Serving: March 26, 2021 – April 4, 2021

MAISON CACAO Official Website: https://onlineshop.maisoncacao.com/

Häagen-Dazs Releases Matcha Chocolate Cookie and Almond Caramel Cookie Ice Cream

Häagen-Dazs Japan released two new ice cream flavours as part of its Decorations mini cup series on March 23: the Matcha Chocolate Cookie and Almond Caramel Cookie.

The visually-striking Häagen-Dazs Decorations series is a smooth, rich-flavoured ice cream with delicious toppings to compliment the ice cream.

For the third entry to Decorations, Häagen-Dazs welcomes back the Almond Caramel Cookie from 2019 and adds the all-new matcha and chocolate combo Matcha Chocolate Cookie.

Matcha Chocolate Cookie / Almond Caramel Cookie – ¥295 Each (Before Tax)

Even more delicious after stirring

The best way to enjoy Decorations is to first spoon the ice cream as it is to taste the flavours. After that, you'll want to stir it all together to all the flavours and textures fuse, creating a delightful contrast between the soft ice cream and crunchy toppings.

Almond Caramel Cookie

Almond Caramel Cookie takes inspiration from the Florentine biscuit which is a sweet pastry topped with nuts and fruits. The cup contains delicious caramel butterscotch ice cream laced with caramel sauce, all of which is topped off with crumbly sliced almonds and crunchy butter cookie pieces.

Matcha Chocolate Cookie

The Matcha Chocolate Cookie is exactly what it says on the cup: a fragrant matcha ice cream infused with chocolate sauce and topped with sweet chocolate and matcha cookies.

Information

Decorations: Almond Caramel Cookie & Matcha Chocolate Cookie

Released: March 23, 2021

Where: Japan (Supermarkets, convenience stores, department stores, and elsewhere)

Product Page: https://www.haagen-dazs.co.jp/decorations_2021/

Rurouni Kenshin x Hello Kitty Collaboration Launching to Promote Manga's Upcoming Live-Action Films

In promotion of the forthcoming live-action films Rurouni Kenshin: The Final and Rurouni Kenshin: The Beginning, both of which will be released on April 23 and June 4 respectively this year, the series is rolling out a collaboration with Sanrio's globally-beloved character Hello Kitty on April 14.

Original Merchandise

Rurouni Kenshin x Hello Kitty Plush Toys (2 Designs) | ¥3,850 Each (Tax Included)

Rurouni Kenshin x Hello Kitty Plush Toys (4 Designs) | ¥2,750 Each (Tax Included)

Rurouni Kenshin x Hello Kitty A4 Folder Set | ¥495 (Tax Included)

Rurouni Kenshin x Hello Kitty Bottle | ¥1,540 (Tax Included)

Rurouni Kenshin x Hello Kitty Tote Bag | ¥2,200 (Tax Included)

Rurouni Kenshin x Hello Kitty Ballpoint Pens & Mechanical Pencils (2 Designs) | ¥770 Each (Tax Included)

Rurouni Kenshin x Hello Kitty Hand Towels | ¥1,430 (Tax Included)

Rurouni Kenshin x Hello Kitty Pins (6 Designs) | ¥330 Each (Tax Included)

Rurouni Kenshin x Hello Kitty Acrylic Stands (8 Designs) | ¥715 Each (Tax Included)

Rurouni Kenshin x Hello Kitty Sweets Paradise Collaboration Cafe

Menu Excerpt

Kenshin Hello Kitty Beef Bowl / Battousai Hello Kitty Omurice

Enishi Hello Kitty Orange Crepe / Tomoe Hello Kitty Anmisu / Kaoru Hello Kitty Strawberry Pancake

Acrylic Mascot Key Rings

10 Designs

Plush Toys

This marks the second collaboration between Rurouni Kenshin and Hello Kitty, the first taking place back in 2014 in promotion of Rurouni Kenshin: The Legend Ends. Fans can get their hands on a collection of cute merchandise with Hello Kitty dressed as various characters from the series, as well as tuck into a themed menu which will first be served at Sweets Paradise Ueno ABAB from April 22 before rolling out to six more Sweets Paradise branches in Japan.

©和月伸宏/集英社 ©2020 映画「るろうに剣心 最終章 The Final/The Beginning 」製作委員会

Hello Kitty Themed Restaurant HELLO KITTY SMILE Launches 3rd Year Anniversary Event

The Hello Kitty-themed media art venue and restaurant HELLO KITTY SMILE is celebrating 3 years since its opening on Awaji Island back in April 2018 with a special anniversary event that's running from March 20 to May 31.

Challenge yourself to puzzles in the Princess's Palace of the Dragon King

Enjoy a musical performance with the Smile Parade

Win Hello Kitty freebies

Tuck into the anniversary menu

Hello Kitty Afternoon Tea | ¥3,500 (Tax Included)

Acrylic photo frame with every menu order

Acrylic photo frame with every menu order

HELLO KITTY SHOW BOX

There are many exciting things happening to celebrate the 3rd anniversary of HELLO KITTY SMILE, from performances and events to exclusive merchandise, a themed menu, and more. But that's not all, as visitors have the chance to win tickets to the HELLO KITTY SHOW BOX theatre restaurant. Only ten groups can win per day for the duration of the celebrations.

Ⓒ2021 SANRIO CO., LTD. APPROVAL NO. L617982

Information

HELLO KITTY SMILE 3rd Anniversary Event

Running: March 20, 2021 – May 31, 2021

Opening Hours: 10:00-19:00

Closed: Tuesdays

Address: 177-5 Nojimahirabayashi, Awaji, Hyogo Prefecture

Official Website: https://awaji-resort.com/hellokittysmile/

Hello Kitty Gets Afro Ribbon Hair in New Merchandise Collection

Japanese women's brand Couture Brooch has launched its second collaboration with Sanrio's beloved character Hello Kitty to release a new collection of merchandise featuring the cute cat with afro-like hair made from ribbons.

The Collection

Plush Toy | ¥4,400 (Tax Included)

Ribbon T-Shirt | ¥4,400 (Tax Included)

Eco Bag | ¥4,950 (Tax Included)

Ribbon Tote Bag | ¥5,500 (Tax Included)

PVC Pouch Bag | ¥6,000 (Tax Included)

Zip Hoodie | ¥6,600 (Tax Included)

Ribbon-haired Hello Kitty returns once more from the end of last year for the brand's second collaboration with the Sanrio character. If you love ribbons, and adore Hello Kitty, this is one collection not to miss out on.

ⓒ'21 SANRIO APPR.NO.L619313

The Ultimate Chocolate and Confectionery Indulgence is Here With LIFE IS PÂTISSIER's White Day Gifts

Japanese chocolate and baked goods bakery LIFE IS PÂTISSIER is now selling a collection of luxurious treats for White Day, the sequel to Valentine's Day in Japan, via their online store until March 14.

 

 LIFE IS PÂTISSIER is a takeout chocolate bakery that specialises in chocolate and baked confections. Some of their signature items include their pound cake and chocolate bonbons. They also serve sable biscuits, madeleines, and much more. They are based in Jiyugaoka, a neighbourhood in Meguro, Tokyo, where they enjoy plenty of customers both local and tourists. Due to the pandemic, they are currently operating entirely online.

 

LIFE IS PÂTISSIER White Day Gifts 2021

Leaf Caramel | ¥1,800 (Before Tax)

Crunchy chocolate caramel bites drizzled in even more sweet, melty caramel.

Macarons | ¥2,300 (Before Tax)

A rainbow-coloured collection of raspberry, pistachio, caramel, lemon, and chocolate macarons.

 

Madeleines (Contains 6) | ¥2,800 (Before Tax)

Refreshing madeleines made with a mix of Japanese and Italian lemons. Refrigerating them gives the outer icing a delicious crunchy texture.

Strawberry Milk Crunch | ¥900

Smashed cookies and caramel combined with strawberry chocolate and milk chocolate.

Special Box | ¥4,500 (Before Tax)

A very special collection of raspberry chocolate treats coated in dark chocolate.

Flower Swag | ¥3,200

A fragrant flower swag composed of an assortment of fresh flowers. Perfect for decorating walls and doors and overtime become dried flowers.

White Day Cards

LIFE IS PÂTISSIER is also offering White Day cards which people can couple with their gifts.

Meiji Chocolate Announces the Results of its 2020 National Confectionery Elections

In 2018 and 2019, Japanese snack and confectionery brand Meiji held its own National Elections for its long-selling chocolate brands Kinoko no Yama and Takenoko no Sato. In 2019, Jun Matsumoto and Akihiro Miwa represented each of these chocolate snacks respectively by helming the Kinoko Party and Takenoko Party. People across Japan would listen to each side's case and vote for which party, and therefore which chocolate, they liked the most.

The 2020 elections however took a different approach, instead spreading a message of love across Japan rather than a heated debate on which snack is better. The votes opened on September 15 last year and ran for four months where data was collected for each of Japan's 47 prefectures to see where each snack was more popular in each part of the country.

The 2018 and 2019 elections saw an accumulative total of 26,518,982 votes submitted. People passionately made their cases for which snack they liked the most. For 2020, Meiji wanted to bring people together and cheer them up by holding a survey that was catered most towards understanding people's love for their snacks.

Chiba hails as the place in Japan where Kinoko and Takenoko are most popular

46 of Japan's prefectures saw more love poured for Takenoko in 2020. The remaining prefecture, Fukuoka, saw more love given to Kinoko.

The 2020 elections saw participation by 300,161 more people than previous years.

Illustrations drawn of Team Kinoko and Team Takenoko supporters

The survey ranked each prefecture by popularity, and special illustrations were drawn for four prefectures each where Kinoko and Takenoko were the most popular.

Survey Database

Meiji published the data breakdown which can be downloaded for free.

It contains a wealth of information related to what people voted for.

Have you tried either of these popular snacks? If you travel to Japan, be sure to pick them up at any convenience store near you.

Hello Kitty Movie to be Directed by Jennifer Coyle and Leo Matsuda

Sanrio and Warner Bros. Japan have announced the release of the first-ever Hollywood adaptation Hello Kitty movie which will be directed by animation veterans Jennifer Coyle and Leo Matsuda. New Line Cinema and Flynn Picture Company are on board for the film which will be a hybrid fusion of live-action and animation. The film's title and release date have yet to be announced but it has been confirmed that it will be released worldwide.

Ⓒ 2021 SANRIO CO.,LTD.

Jennifer Coyle and Leo Matsuda are top-class artists and directors who bring their incredible history in and experience working with animation to the project. This marks their first collaboration, both of them beating many other directors to the job.

Jennifer Coyle

Coyle's early days are rooted in series such as King of the Hill where she was a storyboard artist. She worked as a producer for the HBO Max animated series Harley Quinn and has also directed episodes in the hit animated series Bob's Burgers, lent her penned her art for The Spectacular Spider-Man, and more.

Jennifer Coyle Photo by Andrew Marlin

Jennifer Coyle | Comment

"This is not only a rare chance to bring a beloved character to life, but also to spread the message of love, friendship and inclusivity that Hello Kitty stands for. The world so needs her brand of joy and happiness."

Leo Matsuda

Matsuda is a Brazilian director whose career began at Walt Disney Animation. He has worked on films such as Big Hero 6, Zootopia, Ralph Breaks the Internet and most recently Abominable for DreamWorks Animation. 

Leo Matsuda Photo by Peter Lefevre Photography

Leo Matsuda | Comment

"Growing up in Brazil with a Japanese family, I was surrounded by the whimsy of Hello Kitty and it served as a reminder that it's okay to be different. Along with Jen, FlynnPictureCo. and New Line, I am delighted by this incredible opportunity to work with one of the most universally beloved characters and expand their relatable Sanrio stories even further."

2021 Sanrio Character Ranking Voting Begins in April

Sanrio has finally announced news about the 36th annual Sanrio Character Ranking. This year's award event, the 2021 Sanrio Character Ranking, will open initial votes on April 9 to May 24 when fans can vote for their favourite character from Sanrio's roster. As with previous years, the 2021 run will also welcome the "Collaboration Category" of the awards which will feature 27 character entries from those who have collaborated with other companies and businesses over the past year.

Ichigo Shimbun is a monthly magazine published by Sanrio. It not only includes information about the latest character merchandise, but is also the place where the Sanrio Character Ranking first began in 1986. From Sanrio's long list of over 450 characters, just 80 are entered into the awards each year. Cinnamoroll took first place for the 3rd year in a row at the 2020 Sanrio Character Ranking which we covered in detail, including the initial first round up of winners and second round up.

Normally, the results are announced in-person at a big event. This year's announcement gathering was originally scheduled for June 8, but was cancelled due to the COVID-19 pandemic. It will now be hosted online instead, and fans will also be able to vote using the new Sanrio members service Sanrio+.

This year's 80 entrants are now being rolled out over on the official Sanrio Character Awards Twitter page.

This Year's Award Theme: "The Witness of a New World – Your Support Will Change the Future"

Every Sanrio Character Awards has a theme, and this year's is, "The Witness of a New World – Your Support Will Change the Future." The "new world" refers to the future of Sanrio—which celebrated its 60th anniversary last year—that fans will bear witness to. The key visuals for the 2021 Sanrio Character Awards have the characters holding a magnifying glass with which they are peeking into that new world.

 

New Entrants Announce Everyday On the Official Twitter Page

The Sanrio Character Rankings' official Twitter page will post the key visuals and personal messages from all 80 entrants on its official Twitter page between February 26 to March 31. Leading this year's awards ceremony are the popular characters Kuromi, Badtz-Maru, and Hangyodon. Voting opened on February 25.

 

How to Cast Your Vote

Votes for the 2021 Sanrio Character Ranking can be cast online, at Sanrio shops, and for the first time, on the new Sanrio members service Sanrio+. Votes for the Collaboration Category however can only be placed online. Last year's vote was open to all fans worldwide. It is unconfirmed whether this year will be the same, but stay tuned as we follow the event.

Online Votes (Smartphone Only) *Cannot be cast on computers or tablets

Sanrio Shops

Sanrio Online Shop

Ichigo Shimbun (May 2021 Issue, on sale April 10 / June 2021 Issue, on sale May 10).

*Ichigo Shimbun voting open from April 10

Sanrio+ Members Smile Vote (Sanrio Shops/Online Votes)

Sanrio+ Members Ticket Vote (Online Votes) *More info TBA

Other Voting Methods (TBA)

 

Vote With Sanrio+

Sanrio+ allows members to exchange 100 Smiles (the currency on the Sanrio Shop) for two voting chips. Members can exchange a maximum of 1,000 smiles for 20 chips in one go. The chips are spent at the voting box on the Sanrio Shop. One chip counts for a total of three votes.

Additionally, when members first log in to Sanrio+ on the voting website, they can used 50 Smiles to cast one vote. Members can vote with a maximum of 500 smiles in one day. One Smile vote counts for a total of two votes.

Stay tuned for the latest news and updates on the 2021 Sanrio Character Ranking.

Information

2021 Sanrio Character Ranking

Running: April 9, 2021 – May 24, 2021 (From April 10 in Ichigo Shimbun)

First Round-Up Announcements: April 14, 2021 at Noon (JST)

Second Round-Up Announcements: May 13, 2021 at Noon (JST)

Winner Announcement: June 8, 2021 (Online event, details TBA)

News Page: https://www.sanrio.co.jp/news/mx-ranking2021-20210225/