MANGA ART HOTEL TOKYO: The Manga-Filled Hotel That Never Sleeps
MANGA ART HOTEL, TOKYO is a new hostel opening in the Jinbōchō district of Chiyoda in February 2019. Its theme is "the hotel that never sleeps" and it will provide a real manga experience for fans of the reading genre.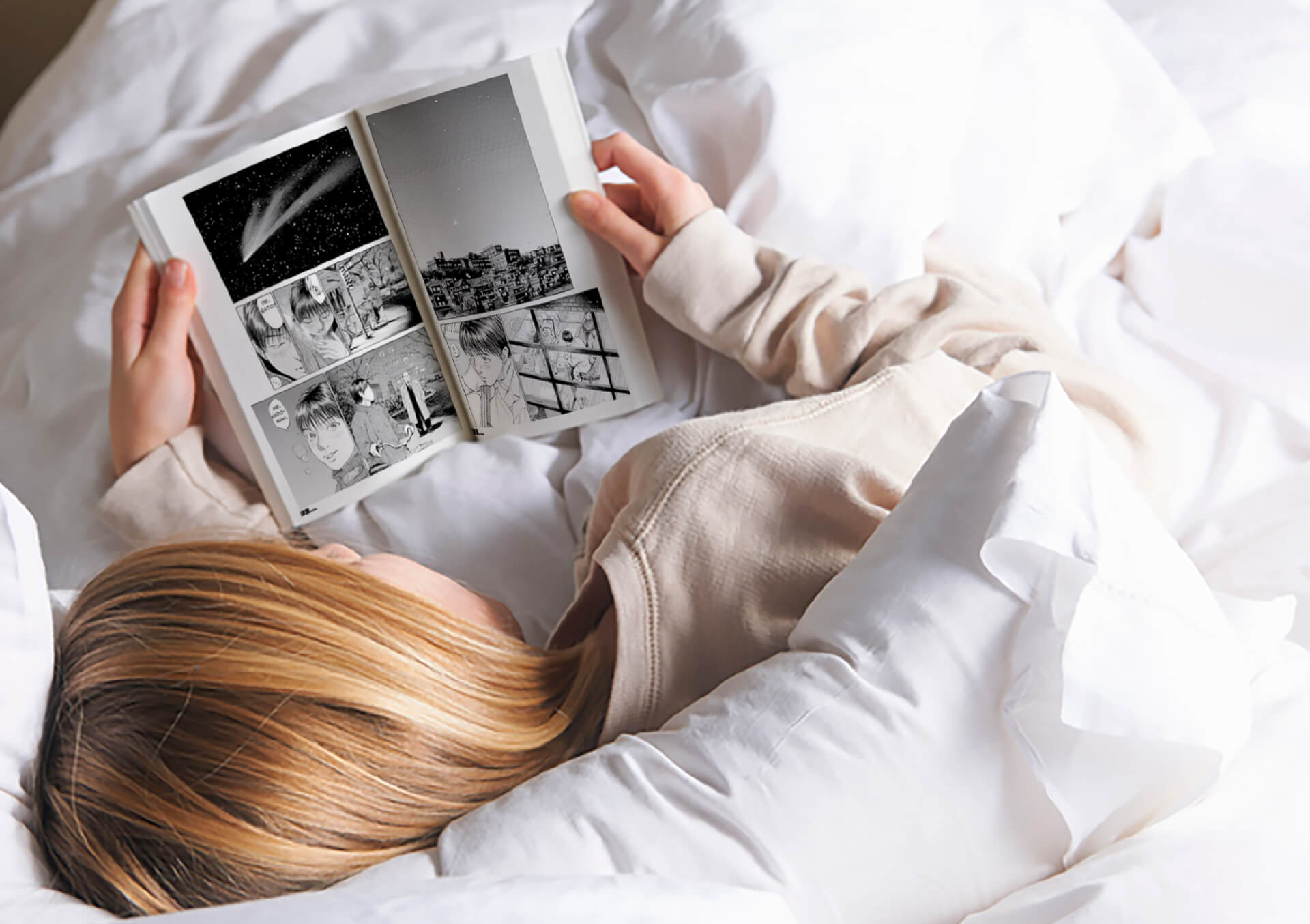 This project began in response to the increasing number of foreign visitors travelling to Japan in the run up to 2020 to get more people to learn and love Japan.
The hotel focuses on the art side of manga and will boast an unending selection of books for guests to choose from. The manager will directly communicate with guests to create a culture and community of manga lovers.
Walking past the bookshelves will be like stepping into another world. The 5,000+ manga books have been specially curated from an art perspective. Each title will have a recommendation comment alongside it written by the manager. There are many series waiting there to be discovered. There is of course English manga available too. All of the books can also be at the hotel.
Jinbōchō is known as the "district of books." Many book shops and publishers line its streets, so MANGA ART HOTEL, TOKYO will fit in perfectly.
The hostel has also teamed up with popular pyjama brand Nells who are currently developing original manga pyjamas to sell at the hostel so guests can fully immerse themselves in the dream world of manga.
If you're visiting Tokyo this year and love manga then be sure to check it out.
Information
MANGA ART HOTEL TOKYO
Address: LANDPOOL KANDA TERRACE Floors 4F & 5F, 1-14-13 Kanda Nishikicho, Chiyoda Ward, Tokyo
Opening: February 2019
Rooms: 35 (16 Female / 19 Male) *Separate floors for men and women
Access
1-minute on foot from Exit B7 of Ogawamachi Station via the Toei Shinjuku Line.
1-minute on foot from Exit B7 of Shin-Ochanomizu Station via the Tokyo Metro Chiyoda Line.
7-minutes on foot from Exit A9 of Jimbōchō Station via the Tokyo Metro Hanzōmon Line.
Official Website: https://mangaarthotel.com
RECOMMENDED ENTRIES
Tokyo's TRUNK Hotel Appears in Celebrated Living Magazine's The Platinum List Awards

Boutique hotel TRUNK (HOTEL) in Tokyo was selected in the September 2018 issue of Celebrated Living for The Best Boutique Hotels in the magazine's "Platinum List Awards."

TRUNK first opened in 2017 in the district of Jingumae, Shibuya. It has an open environment that takes in all kinds of people, decked out with guest rooms, a restaurant, shop and lounge. They focus on five categories – Environment, Local First, Diversity, Health and Culture while promoting socialisation.

Nominees for the The Platinum List Awards are chosen by a panel of judges who look at a diverse range of elements including travel, fashion, media, sports and art. Hotels which stand out from the rest are voted for by readers of Celebrated Living.

The newest list released in September saw readers choose the 77 best facilities from 19 countries out of 215 hotels, resorts, restaurants, spas and so on across the world. TRUNK was the only place from Japan to appear in the ranking. It was praised for the originality of its rooms and uniqueness of activities prepared for guests amongst other things.

If you're looking for a hotel experience that's a little different then consider staying at TRUNK in Tokyo.

Hotel 1899 Tokyo: Tea Themed Hotel Opens for Business in Shimbashi

Ryumeikan, a hotel and restaurant business that first established in 1899, opened its new tea-themed boutique hotel in the Toranomon area of Shimbashi on December 1, 2018.

The hotel boasts a favourable location being close to a string of popular tourist hot spots including Ginza, Roppongi and Marunouchi. It's also very accessible being only 20 minutes from Haneda Airport by taxi and within walking distance from four stations that run JR and Tokyo Metro lines.

There are four types of unique designer rooms to choose from that are made in the image of a Japanese tea house. Room types include a double room for two people and twin rooms only.

The 35 rooms are all fitted with bench sofas that likens to an engawa, a porch-like area found around the outside of old-style Japanese houses.

In seven of the rooms the inner half of the flooring next to the bed is raised which also evokes that engawa essence. There's also a sink next to the bed which blends with the interior design.

The front desk is also inspired by Japanese tea houses. The hotel's tea experts can pour Japanese tea for you and will even make it how you like it if you give the word.

Amenities in the hotel are of course also tea-themed. The shampoo and body soap are hotel originals and have green tea in them. Teapots and teacups are also prepared for guests with which they are given a selection of four different tea types: sencha, gyokuro, wakoucha and bancha. Of these four types there are ten varieties that are changed daily, and all of them are of the 1899 brand.

All the bed mattresses in the rooms are from the Japanese bedding company Air Weave. Next to the beds are lamps that are made to look like a chasen, a type of whisk used for making tea. They come with a button so you can set the lighting to how you want it.

The hotel is decked out with all the latest facilities including free Wi-Fi, free use of Handy with which you can make free calls inside and outside Japan, and more. Guest rooms even have tablets in them.

On the first floor you'll find DELI&BAR 1889 Tokyo, a restaurant and delicatessen serving tea, tea flavoured meals and tea flavoured sweets.

The restaurant is initially open for guests only where they can enjoy a free buffet style breakfast.

The restaurant's grand opening for the general public will be on January 16, 2019. The menu includes a range of healthy soups, side dishes made using Japanese green teas like matcha and houjicha, otsumami at nighttime and more. Side dishes start at an affordable price of ¥120 each. Items on the deli menu can also be ordered for takeout.

If you're looking to enjoy the quaint beauty of Japanese tea while staying in Japan then look no further than Hotel 1899 Tokyo.

Information

Hotel 1899 Tokyo

Address: 6-4-1 Shimbashi, Minato Ward, Tokyo

Opening Day: December 1, 2018

*The grand opening of the hotel's restaurant to the general public will be held on January 16, 2019

Access: 6-minutes on foot from Onarimon Station, 9-minutes from Shimbashi Station, 10-minutes from Daimon Station, 13-minutes from Hamamatsucho Station

TEL: 03-3432-1899

Official Website: http://1899.jp/hotels/tokyo/en/

Sleep in Andy's Bedroom at Toy Story Themed Disney Hotel Opening in 2021

Tokyo Disney Resort has announced that it will open a new Toy Story themed Disney Hotel in 2021.

The 600-room establishment will take full inspiration from the beloved franchise with toys decorating everywhere from the inside to the inside. Guests can look forward to immersing themselves in the world of Toy Story with Andy, Woody, Buzz and pal motifs dotted everywhere throughout. Each room is made to look like Andy's iconic room with colourful furniture.

The opening of the hotel means the resort can welcome even more guests and accommodate their needs.

Brand new areas are also being developed for Tokyo Disneyland and Tokyo DisneySea with spring 2020 and 2022 opening dates respectively. New attractions and programs will also hit both parks next year.
RELATED ENTRIES
Manga Series Dandadan Gets Collaboration Merch at Tower Records to Celebrate Volume 3

To celebrate the release of volume 3 of the Dandadan manga series, participating Tower Records locations in Japan will be selling some collaborative merchandise starting on December 3. The items will also be available to purchase on Tower Records Online. 

Acrylic Keychain (8 varieties): ¥715 (Tax Included) 

*This product is limited to 16 per person.

Square Pins (6 varieties): ¥605 (Tax Included) 

*This product is limited to 12 per person. 

Sticker (Momo Ayase, Okarun, Aira Shiratori & Turbo-Granny, 3 Varieties): ¥880 each

Tiny Pin: ¥660 (Tax Included) 

Sticky Note Set: ¥880 (Tax Included) 

Towel:  ¥2,200 (Tax Included) 

Reversible Reuseable Bag: ¥2,200 (Tax Included) 

T-shirt (Okarun, Turbo-Granny, 2 varieties): ¥3,850 each

©︎龍幸伸 / 集英社

Information

Dandadan x TOWER RECORDS

Release Date: December 3, 2021 *Reversable bag will go on sale December 10

Participating Locations: Shibuya, Shinjuku, Sapporo PIVOT, Sendai PARCO, Ikebukuro, Akihabara, Machida, Kawasaki, Nagoya Kintetsu Pass'e, Umeda NU Chayamachi, Fukuoka PARCO

Tower Records Online: https://tower.jp

Details: https://tower.jp

Manga Artist Macoto Takahashi Collaborates With Tsudanuma PARCO for Christmas Event

Legendary shojo manga artist Macoto Takahashi is collaborating with Tsudanuma PARCO in Funabashi, Chiba, for the 2021 Christmas event from November 19 until December 25, 2021. The creator recently released an art book featuring many of his works titled 'Macoto Takahashi's Jewelry Box.' An exhibition featuring mini-prints and mini-panels of works featured in the book will also be held, and merchandise will be on sale both on-site and online. 

Main Visual

Window

After his debut in 1953, Takahashi published the manga series Arashi wo Koete and Princess Anne. His signature style of depicting glittering stars in the eyes of his protagonists would have a lasting influence on other manga artists. In the 1960s and 1970s, he was at the helm of many magazine covers and illustrations for popular girls' manga magazines like Nakayoshi, Shojo Friend, and Margaret. Despite his classic style, his works are still largely popular today. The main visual for the event 'Lucky Star' features a girl in a red Christmas-themed costume surrounded by animals, blue snowflakes, and delicate lace.

Information

MACOTO CHRISTMAS 2021

Running: November 19 – December 25, 2021

Location: Tsudanuma PARCO 1F Entrances, Windows (Christmas Decorations) /

B Building 4F, In front of ACADEMIA Kumazawa Bookstore, Next to Escalators (Exhibition / Shop)

Online Store: https://kaeru.parco.jp/shop/detail/shop000027204/

Hotel MIMARU Offering Christmas Room in Collaboration with Awesome Store

Lifestyle shop Awesome Store is collaborating with the MIMARU hotel chain to create a secluded and supremely cozy Christmas Room. The special room will only be available from December 1 until December 25, 2021. Each spacious room features a kitchen and is decorated with plenty of holiday goodness, making it the best place to spend the Christmas season with family and friends. 

Original tableware from Awesome Store will be left in each room, so guests can easily throw a Christmas party by having food delivered or grabbing takeout. There's no need to decorate, as the space will be completely overrun by ornaments and garlands. How would you like to spend Christmas here? 

Information

Awesome Store Christmas Room

Available: December 1 – December 25, 2021

Participating Hotels:
MIMARU Tokyo Akasaka

MIMARU Tokyo Nihombashi Suitengumae

MIMARU Tokyo Ueno Okachimachi

MIMARU Tokyo Ueno Inaricho

Reservations/Official Site: https://mimaruhotels.com/

Popular Seinen Manga Series Mononogatari Getting Anime Adaptation

Manga series Mononogatari is finally getting an anime adaptation. The series began in Shueisha's Miracle Jump in April 2014, switching to Ultra Jump in January 2016. Onigunso, the manga's creator, drew an original illustration to celebrate the announcement and posted it to Twitter along with a comment. 

Comment from Onigunso

"Thanks to the support of so many people, Mononogatari is becoming an anime series. Thank you to all of the readers, and thank you to everyone involved in this project! As a manga artist, I draw the character's movements and words, but it can be hard to visualize exactly how it would look in motion. As the author, I'm looking forward to seeing how the characters appear on screen. I hope you'll continue supporting both the manga and anime series in the future!"

Mononogatari Synopsis

As objects get older, they eventually get worn-out and rusty. When this happens, they develop a 'soul,' becoming a tsukumogami. Hyoma Kunato hates these creatures for stealing something important from him. Traveling to Kyoto, he meets Botan Nagatsuki, a girl who loves tsukumogami and lives with six of them as her family.

©オニグンソウ/集英社

Sanrio Starts First Multiprotagonist Manga Series 'Maimaimaigoen,' Focusing on Growing Pains

Sanrio has started an ambitious new manga project. 'Maimaimaigoen' is currently being serialized on the Young Ace UP website, and a special music video by Vocaloid producer Kairiki Bear has been released to celebrate the series start. A free game is also under development and is scheduled to be released during 2021. 

Nursery School Students: (From the Top Row, Left) Maria, Hikaru, Shinta, Kanata, Daigorou, Lion, Lime, Zoya (From the Bottom Row, Left) Madoka, Yuzuriha, Hayate, Mamoru, Rinrin, Wataru, Daiya, Aki

Teachers: (From the Left) Yuu Okada, Rumi

The Mysterious Lifeform, 'Froggy Egg' 

(c)Yakan Nabeya

(c)Yakan Nabeya

'Maimaimaigoen' is an ensemble drama series focusing on emotional growing pains. In an age where many people feel uncomfortable in their own skin, this story is sure to hit close to home, affirming that it's perfectly okay to be just the way you are. The story invites readers into the world of many diverse characters, each with incredible individuality. 'Maimaimaigoen' aims to team up with unique creators in the future, and with that in mind, Sanrio has released some guidelines for fan content. This is the first time Sanrio has ever directly offered support to fan creators. 

To commemorate the manga's release, a collaborative music video with popular Vocaloid creator Kairiki Bear is now available to watch on YouTube. The artist has over 560,000 subscribers. 

The latest information about the project will be released on pixivFANBOX, along with new creator content and behind-the-scenes stories. Don't miss it!

Synopsis


One day, a group of nursery school students and their teacher, Yuu, go on a field trip to Sanrio Puroland. Suddenly, they are swept away into a deserted amusement park called 'Yuuropia.' 

Froggy Egg, a mysterious creature from this strange world, explains that by completing the attractions in the park, the children can return to their world…

Love of Kill Anime Adaptation Coming January 2022, 1st Key Visual and Trailer Unveiled

The popular manga series Love of Kill is getting an anime adaptation in January 2022, and the first image and trailer have been released. The key visual shows the members of Ritzland Support, the organization to which the main character Chateau Dankworth belongs, and the people targeting Son Ryang-ha. In the first trailer, you can see a glimpse of the fierce battles between hitmen to expect in the series set to Toshiki Masuda's theme song Midnight Dancer.

Key Visual

1st Trailer

 

More cast members have also been announced: Kenyu Horiuchi will play Ritzland Support owner Euripedes Ritzland, Kohei Amasaki will play Jim (named Indian in the manga), Tomoaki Maeno will play Hou, and Hochu Otsuka will play Donny. Each actor has also provided a comment about the upcoming series. 

To celebrate the release of the first trailer, a special campaign is taking place on Twitter now, with the winner snagging a script signed by the aforementioned actors as well as Saori Onishi (Chateau) and Hiro Shimono (Son Ryang-ha). Don't miss it!

Cast Comments

Kenyu Horiuchi (Euripedes Ritzland) Comment
When I was chosen to perform in the Love of Kill anime adaptation, I quickly fell in love with the series. I expected it to be about this twisted love between killers, but it's much deeper than that. So many characters are intertwined, and their pasts are continuously being unraveled. There's a love between two incompatible people, and it is portrayed with such heartache. The story is so action-packed and full of content. I play the role of Euripedes Ritzland, who is unreliable but who gets things done when he has to. There is so much kindness in his heart. I just hope that everyone who sees the show enjoys it–it's a wonderful work of art.

Kohei Amasaki (Jim) Comment


I've loved Jim as a character since I read the original manga, so I'm super excited to play him. There was a lot of trial and error while I tried to find the best way to express him, and I hope you'll enjoy what I came up with! The story is addicting, the characters are fascinating, and Jim is a major player in the story…Please watch!

Tomoaki Maeno (Hou) Comment


This is a super impactful character. Ho has his own personal beliefs and objectives, and these drive his every action. My first impression of Ho was that he was a somewhat unlikeable character, but I grew to love his cunning. He knows that he could be killed if he isn't careful at every moment. Please enjoy his story.

Donny (Hochu Otsuka) Comment


I am so excited to portray Donny in Love of Kill. Donny was born in noir and lives in noir. I absolutely love noir novels, so this is my dream role! It's ruthless, it's cruel, it's filled with sorrow. I hope you'll look forward to the first episode!

Toshiki Masuda (Opening Theme) Comment


This is the first time I've ever performed an anime theme, so I've really been feeling the pressure. While creating this song, I wanted it to express the world of Love of Kill without spoiling anything. Please enjoy the song as much as I do!

Aika Kobayashi (Ending Theme) Comment


I'm so proud to announce that I will be performing the ending theme, Makoto Period, for the Love of Kill anime series. I read the original manga before starting the project, and I ended up binging it in one go. While reading, I couldn't help but wonder–what is true and what is false? It's sad, it's filled with love and pain. I created this song with those feelings in mind. Please enjoy the show!

OMO7 Asahikawa Resort in Hokkaido Offers Polar Bear Valentine's Day Girls' Party Package

Not a fan of Valentine's Day? Want to get away from all the in-your-face romance and just have a good time with your gal pals? OMO7 Asahikawa by Hoshino Resort in Hokkaido is offering a limited-time polar bear-themed Valentine's Day Girls' Party package for all of February 2022. The single polar bear room, opened in November 2020, will be transformed into its Valentine's Day version. 

Valentine's Day has been popular in Japan for many years and is a day when women give gifts to men to express their feelings. However, in recent years, it has also become a less romantic event for some–people are buying chocolate for themselves, or giving candies to friends. The polar bear room is perfect for girlfriends who just want to relax and have a good time. Why a polar bear? The Asahikawa Zoo is nearby and is an incredibly popular attraction.

The Polar Bear Valentine Room, Only Available for One Party per Day

Decorated from top to bottom in cute bears, guests can also wear matching polar bear loungewear, perfect for those Instagram shots. This will be a girls' gathering you'll never forget!

Polar Bear-inspired Snacks for the Perfect Girls' Night

When girls get together, they just love to chat. But talking so much can make you hungry, so plenty of snacks will be waiting in the guest room! If you're not in the snacking mood, they also make wonderful souvenirs. 

Polar Bear Desserts, A Must-Have in Asahikawa

The area around OMO7 Asahikawa is lined with stylish cafes where you can take a break from your daily life. After enjoying the Valentine's Room, head out into the nearby neighborhood to Fukuyoshi Cafe for some polar bear sweets. The treats are included with the price of the room, so there's no reason to miss it!

SPYxFAMILY Anime Adaptation to be Celebrated at Animate for Limited Time

Last week, it was announced that the popular manga series SPYxFAMILY would receive an anime adaptation by Wit Studio and CloverWorks in 2022. Animate locations across Japan will be celebrating this amazing news with a special SPYxFAMILY anime-themed fair from November 27 until December 12, 2021. Certain goods will also be available online!

Written and illustrated by Tatsuya Endo, SPYxFAMILY has been running in Shonen Jump+ since 2019. With over 11 million copies in circulation, it has been growing more and more popular over the past two years, with volume six recently becoming the series' second consecutive volume to debut at number one on Oricon's weekly list of best-selling manga. SPYxFAMILY tells the story of a spy who must 'build a family' to complete a mission, not realizing that the girl he adopts as his daughter and the woman he agrees to fake marry are a mind reader and an assassin. 

Merchandise

Clear Folder (3 varieties): ¥440 each (Tax Included) 

Acrylic Keychain (3 varieties): ¥715 each (Tax Included) 

Acrylic Stand (3 varieties): ¥1,650 each (Tax Included) 

Tote Bag: ¥1,980 (Tax Included) 

For every ¥1,000 spent on SPYxFAMILY goods during the event, visitors will receive a random clear bookmark (3 varieties). A bonus illustration of Loid, Yor, and Anya will also be gifted as a bonus. 

Are you excited for the upcoming anime adaptation?

(C)遠藤達哉/集英社・SPY×FAMILY製作委員会

Artist Macoto Takahashi, Known for Shojo Manga Paintings, Releases Art Collection

You've likely seen Macoto Takahashi's artwork before. Imagine a girl with large, starry eyes, clad in over-the-top elegant clothing. For the past 68 years, Takahashi has been drawing princesses and girls to turn heads, each of them full of life and captivating coquettish energy. 

After his debut in 1953, Takahashi published the manga series Arashi wo Koete and Princess Anne. His signature style of depicting glittering stars in the eyes of his protagonists would have a lasting influence on other manga artists. In the 1960s and 1970s, he was at the helm of many magazine covers and illustrations for popular girls' manga magazines like Nakayoshi, Shojo Friend, and Margaret. 

Since 1992, Takahashi has regularly held solo exhibitions of new works, and these activities have expanded overseas as well. His paintings were used in the 2018 Comme des Garçons SS collection, and there's no sign that his style will fall out of favor any time soon. 

On October 28, an art book filled with Macoto Takahashi's beloved images was released. The 232-page book features over 150 works from the 1960s to the current day and is compact enough to bring anywhere. 

Information

Macoto Takahashi's Jewelry Box

Released: October 28, 2021

Price: ¥3,300 (Tax Included) 

Hoshinoya Tokyo Offers New Safe & Mask-Free Dining Experience Using 'Lantern Partitions'

Hoshinoya hotels each offer a unique experience with their own theme. The Otemachi-based Yoshinoya Tokyo has announced the new "Tokyo Lantern Dinner," which has been proposed to suit the 'New Normal' of the Covid-19 generation. The new dining option was opened to customers from October 13 2021 and blends the new rules of restaurant partitions and mask wearing with Japanese culture, using lantern partitions to allow customers to enjoy their food with peace of mind. Customers can remove their mask as they sit under the lantern partition, which lights up your face and meal with a soft glow, meaning you can safely enjoy conversation and see your partner's face as you talk and eat. Conveniently, the lantern also prevents splashing, making eating out in the Covid-19 era even easier! 

The Lantern Partition was Developed with a Long-Established Lantern Company

Nippon Cuisine ~Fermented~

The partition lanterns were created by Kojima Shoten, a long-established lantern shop based in Kyoto which was founded in the Kansei-Edo period. The original lantern-shape was crafted by the professionals, from the structure all the way to the painting. The unique shape of this elastic lantern allows customers to enter and exit freely, and part of the lantern has been made using a 0.15mm transparent vinyl meaning that face-to-face conversations can be held with ease. In addition, the lantern is equipped with a light that gently illuminates the face and food of the person seated beneath it.

 

 

Yoshinoya Tokyo usually only accepts dining reservations from those staying at the hotel, but customers can now invite non-guests specifically to enjoy the main meal together.  They have prepared a variety of options for meetings and events that previously couldn't meet up due to the Covid situation, such as meetings between families before marriage, anniversaries, birthdays, business dinners, and more. 

 

 

Hoshinoya Tokyo is a Japanese Inn that respectfully combines the comforts of the modern day with traditional Japanese culture. The dining room, located on the first basement floor, offers 'Nippon Cuisine' made using a combination of Japan's historical fermentation culture and French cooking techniques.  The menu includes a wide variety of ever-popular fermented foods and seasonings, such as soy sauce and miso, along with preserved foods such as pickles and salted fish. The lactic acidosis bacteria found in these foods is referred to as a "Good Bacteria," known for its positive effects on the body and its ability to regulate gut bacteria. 

The taste and nutritional value of each meal has increased due to fermentation and aging, using seasonal ingredients from around Japan and French cooking techniques to bring out the flavor, resulting in a new and original taste. 

 

Why not check out Hoshinoya Tokyo and experience this new-era Japanese dining experience for yourself?

Information

Tokyo Lantern Dinner

Available From: October 10 2022 

Reservations: https://hoshinoya.com/tokyo (Must be made at least five days in advance)

Capacity: One group per day

Manga Artist Kazuo Umezu's Work Featured in UMEZZ ART PROJECT Exhibition

UMEZZ ART PROJECT logo featuring self-portrait by Kazuo Umezu ©Kazuo Umezu

The UMEZZ ART PROJECT, focusing on the works of manga artist Kazuo Umezu, is coming to Tokyo City View in Roppongi Hills in Tokyo from January 28 until March 25, 2022. The artist is widely known for his work on a number of horror series including Cat Eyed Boy and The Drifting Classroom, Working in the industry since 1962, his works have inspired a number of other manga creators, with Urusei Yatsura and Inuyasha creator Rumiko Takahashi once serving as Umezu's assistant.

Orochi(1969-1970)


The Drifting Classroom(1972-1974)


My Name is Shingo(1982-1986)


*Dates of serialization in parentheses.


©楳図かずお/小学館

'Kyoto Yura Hotel M Gallery' New Halloween Menu Features Adorable Monster Motifs

The '1F Lounge & Bar 1867' at the Kyoto Yura Hotel M Gallery will be hosting a Halloween themed afternoon tea from October 1 2021, with tea sets and cocktails available. The premium hotel is owned by Accor, a Paris, France based group that owns over 5,000 hotels and resorts in 110 countries.

The Halloween-themed afternoon tea has been made by Jennie Chiu, a pastry chef who grew up in America, the home of Halloween. The afternoon tea features cute and playful monster motifs, including a witch-hat Mont Blanc, a Cassis and Chestnut Cake topped with a small ghost, and a spider-web topped Raspberry and Chocolate Mousse. For savory treats, Chef Nishimura Niki has prepared Foie Gras soaked in Salted Koji, plus two luxurious lobster dishes.

The creative Halloween cocktails were brainstormed by Yamazaki Sousei, who ranked in the Japan Top 10 category of bartending competition 'WORLD CLASS 2021.' The Halloween and apple pie inspired lineup was inspired by Scotland and the Celtic people, looking back to when Halloween was first celebrated. 

Enjoy some adult-only time in this retro-modern "family mansion" themed space. 

Information

Halloween Afternoon Tea Set

Availability: October 1 ~ October 31 2021

Location: Lounge & Bar 1867 

Serving Hours: 12:00 and 15:00 *Please reserve your table by 17:00 on the day prior to your arrival

Halloween Cocktails

Availability: October 1 ~ October 31 2021 

Price: ¥1,900
Location: Lounge & Bar 1867

Serving Hours/Opening Hours: 11:30 ~ 21:00 (L.O. 20:30) 

Official Site:  https://kyotoyurahotel-mgallery.com/ja