Tokyo's TRUNK Hotel Appears in Celebrated Living Magazine's The Platinum List Awards
Boutique hotel TRUNK (HOTEL) in Tokyo was selected in the September 2018 issue of Celebrated Living for The Best Boutique Hotels in the magazine's "Platinum List Awards."
TRUNK first opened in 2017 in the district of Jingumae, Shibuya. It has an open environment that takes in all kinds of people, decked out with guest rooms, a restaurant, shop and lounge. They focus on five categories – Environment, Local First, Diversity, Health and Culture while promoting socialisation.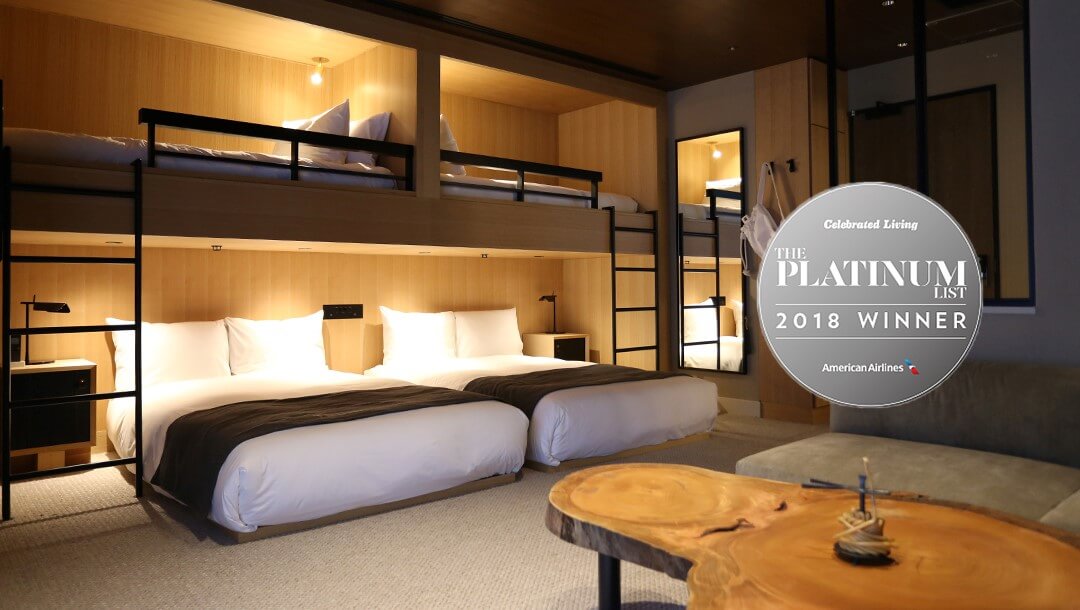 Nominees for the The Platinum List Awards are chosen by a panel of judges who look at a diverse range of elements including travel, fashion, media, sports and art. Hotels which stand out from the rest are voted for by readers of Celebrated Living.
The newest list released in September saw readers choose the 77 best facilities from 19 countries out of 215 hotels, resorts, restaurants, spas and so on across the world. TRUNK was the only place from Japan to appear in the ranking. It was praised for the originality of its rooms and uniqueness of activities prepared for guests amongst other things.
If you're looking for a hotel experience that's a little different then consider staying at TRUNK in Tokyo.
RECOMMENDED ENTRIES
A new, state of the art hotel which has robots "Henna Hotel Tokyo Ginza" was opened

A hotel which has robots and cutting edge installations called, "Hennna (weird) Hotel Tokyo Ginza" was opened on the 1st of February.

This will be the second Henna Hotel in the Tokyo area and the fifth in Japan. As it is expected that more foreign visitors will be visiting city centers throughout Japan, this is the first Henna Hotel to begin business in the center of Tokyo.

"Henna Hotel Tokyo Ginza" is located near Tokyo Metro Yurakucho Line " Shintomicho Station" (two minutes on foot) and is close to Tsukiji and Ginza.

Two humanoid robots are installed at the front desk and a bar is located on the 1F where you can enjoy 300 kinds of alcohols including the rum produced by the rum specialized bar "Bar Lamp" in Ginza. During the daytime, the bar changes into a lounge where lodgers can chat casually. The hotel is very comfortable to stay in since they offer iRemocon, ChromeCast, mobile devices and the rooms are cleaned using an auto cleaning machine.

They are offering quality services to their customers as a hotel that combines "human services," "robot services" and "state of the art installations" under the concept of "keep changing."

Let's have a great time at this new type of hotel.

■Information

Hennna Hotel Ginza

Address: 2-2-1, Tsukiji, Chuoku, Tokyo

TEL:050-5894-3771 (10:00 to 18:30 – everyday)

Tokyu Corporation are working with proprietors in areas adjacent to the Tokoyo Line to redevelop the southern district of Shibuya Station and establish what has been named the Shibuya Stream.

The facility will be turned into a new hotel named Shibuya Stream Excel Hotel Tokyu under the Tokyu Hotels Co., Ltd. brand.

The Shibuya area is home to several of Japan's sightseeing landmarks and is a hub for businesses. The 3 hotels managed by Tokyu Hotels hold an occupancy rate of over 90%. These factors not only mean that room demand is high in the area, but also that there is a lack of accommodation facilities. Shibuya also has a lack of offices, so to combat this,  places like Shibuya Stream and Shibuya Scramble Square Higashitou, which is scheduled to open in 2019, are working to construct more office buildings. The hotel will be located in floors 9 to 13 in Shibuya Stream Excel with 177 rooms.

The hotel's concept is 'The Shibuya Sensibility,' which looks to stimulate sensibility from Shibuya to the people of the world. The 4th floor area will be home to the lobby lounge, a restaurant and a bar which are filled with a causal vibe. The brand new guest rooms are fitted with an original 'vintage modern' design and have excellent functionality to stimulate the sensibility of people from Japan and those coming from overseas, as well as creative workers gathered in Shibuya. It aims to be a door to the unexpected to excite people.

Let us watch over the future development of Shibuya's new culture with Tokyu Group, who are looking to Shibuya as an "Entertainment City."

Kyukamura Oku-Musashi: A New Hotel 70-Minutes From Ikebukuro Surrounded by Nature

Kyukamura Oku-Musashi is one of 37 resorts in Japan managed by KYUKAMURA HOTELS. On July 10, the hotel will hold the grand opening of its new building, the Nishikawa Kan.

Since the hotel opening in July 2013, it has held a room occupancy rate of over 85. The new building is being opened to further promote the appeal of the region's environment to people. Each room in the new building serves to bring nature closer to guests with concept rooms where they can enjoy the woodland, or rooms with an outdoor living area with a view of the trees.

The top floor is decked out with a telescope where you can enjoy starry sky parties. There will also be activities arranged to head out into nature, such as going to Koma River just 2-minutes' walk away to enjoy the clear streams, go to the cafe or get involved in cast net fishing. The hotel is an indoor establishment that invites its guest outside. Prices range from ¥14,500 (1 night 2 meals) at the Nishikawa Kan.

Nishikawazai x Tendo Mokko Concept Rooms: Japanese-Modern "Forest"

These concept rooms are designed by Tendo Mokko, a furniture maker in Japan. The rooms are decked out using carefully selected wood from the forest of Nishikawazai. Enjoy gazing out of the window at the forest and feeling at one with the trees.

1st Floor: Japanese-Modern "Yuu" (Play)

All the rooms have similar sized outdoor living areas and are all equipped with different hammocks and benches. You can enjoy a view of the gardens and the forest lining the river.

Top Floor: Japanese-Modern "Sora" (Sky)

These rooms have an open roof balcony so you can lie down and gaze at the stars. And if you ascend to the rooftop you can enjoy sky parties using the telescope provided.

Open Air baths – Smell the 200-Year Old Hinokis

The new open air baths sit next to 200-year-old hinoki cypress trees.

Forest Dining "Sai"

This Japanese style buffet uses ingredients grown naturally in Saitama, such as sweetfish and potatoes grown in the Koma River next to the hotel. All of the tables and chairs are made using wood from Nishikawazai so you can feel the warmth of the lumber.

Satoyama Experience

Experience cast net fishing in the Koma River and hear the stories of active huntsman. You can also learn to make a xylaphone from Nishikawazai wood, craft keyrings and more.

Open Cafe in the Middle of the River

Enjoy the cool open cafe by Koma River and play in the water.

Log House River BBQ with Your Dog

Enjoy a BBQ in a cottage by the river where the kingfishers fly. In line with the grand opening, guests are allowed to stay overnight with 1 pet.

Get your fill of nature and enjoy a wonderful hotel experience at Kyukamura Oku-Musashi.
RELATED ENTRIES
Top Six Hotels on Booking.com for Nighttime Sceneries and Light Displays in Japan

The diverse range and large number of accommodations and trip services found on Booking.com is phenomenal. As one of the world's largest travel accommodation booking websites, this is the first port of call for many who want to guarantee seamless travel plans. Today we're announcing Booking.com's top accommodations for heart-warming light up events and nighttime views. For couples looking for a romantic getaway in Japan, let this article be your guide.

Hotel La Suite Kobe Harborland (Kobe, Hyogo)

Hotel La Suite Kobe Harborland is a five-star hotel located near Harborland Waterfront which enjoys an extraordinary view of the sea. The rooms are fitted with a spa bath and there is even a rooftop terrace with comfy sofas to relax. All guests are treated to a romantic view right from their window. The hotel is situated just a 20-minute walk from Kobe's grandest winter illumination event called 2019 Kobe Luminarie. If you want to get up close to magnificent works of art, this hotel is for you.

Review Rating: 9.5/10.

Click here to view Hotel La Suite Kobe Harborland on Booking.com

Yokohama Royal Park Hotel (Yokohama, Kanagawa)

Yokohama Royal Park Hotel is situated on floor 52 and upwards in Yokohama Landmark Tower. Being located in the second tallest building in Japan surely has its perks. Soak in the beautiful cityscape and the best view of Yokohama Bay Bridge to your heart's content. You can only imagine the breathtaking view available in every room. Facilities in the hotel include a fitness centre with an indoor pool, eight diverse restaurants and a massage facility (fee applies). A brand new shopping mall called Yokohama Hammerhead recently opened in close vicinity which is the perfect place to spend the afternoon or have a bite to eat.  

Review Rating: 9.0/10.

Click here to view Yokohama Royal Park Hotel on Booking.com

The Prince Park Tower Tokyo, Minato, Tokyo

With the iconic figure of Tokyo Tower glowing right outside your window, the Prince Park Tower Tokyo stands tall in Shiba Park. Prince Park Tower Tokyo enjoys spacious rooms, entertainment facilities such as bowling and karaoke, and relaxation facilities such as saunas, massage services and much more. Limited facilities include access to the fitness centre, onsen spas, indoor swimming pool and the lounge on floor 33. You can purchase a room with the view of Tokyo Tower on Booking.com 

Review Rating: 8.9/10 

Click here to view Prince Park Tower Tokyo on Booking.com 

Garden Terrace Nagasaki Hotel & Resort (Fukuoka, Nagasaki)

Located on Mount Inasa, this hotel offers a beautiful view of Nagasaki. There is a wide variety of facilities including an outdoor swimming pool (open depending on the season) and bars. Guests can enjoy the mystical and romantic nighttime scenery from the poolside. The hotel even offers a wedding plan, making it the perfect place for couples. 

Review Rating: 8.9/10.

Click here to view Garden Terrace Nagasaki Hotel & Resort on Booking.com

mizuka Nakasu 3mizuka Nakasu 3 -unmanned hotel (Fukuoka)

This hotel is located in Nakasu, Fukuoka just 500m away from Seiryu Park, the old municipal guest palace Kihinkan Hall and the historic monument Hakata Machiya Kishin Takatoro. Each room has two bunk beds and can fit up to four guests. Enjoy the hotel's barbeque or takoyaki set with friends or family with the fantastic nighttime view of Fukuoka. 

Review Rating: 8.8/10

Click here to view mizuka Nakasu 3 -unmanned hotel on Booking.com

Ryukyu Onsen Senagajima Hotel (Naha, Okinawa)

Ryukyu Onsen Senagajima Hotel's magnificent outdoor pools, onsen, massage services and buffet restaurant that overlooks the picturesque sea at night should be enough to get your attention. You can enjoy a SPA OSa beauty treatment and even water sports or golf in the area. This is a wonderful way to celebrate the first Christmas of the Reiwa Era with your friends or family.

Review Rating: 8/7/10

Click here to view Ryukyu Onsen Senagajima Hotel on Booking.com

If you're visiting Japan this Christmas, consider one of these relaxing hotels and their glorious views.

*Review Ratings are based on reviews received in the past two years (from December 2017 to December 2019) on Booking.com and are calculated based on scores given in the following categories: cleanliness, comfort, location, facilities, staff and value for money.

Hotel Royal Classic Osaka: A Museum & Hotel Fusing Tradition and Innovation in an Art Museum-Style Space

Shin Kabuki-za is an old theatre in Osaka that has been loved by locals since it opened in 1926. The theatre is set to find new life as Hotel Royal Classic Osaka, a new hotel developed by Japanese architect Kengo Kuma which is set to open on December 1, 2019. The MOSHI MOSHI NIPPON editorial team received exclusive access to view the hotel before it opens to report on it and showcase how it differs completely from other hotels with its characteristic charms.

Its direct connect to Namba Station means super easy access

Hotel Royal Classic Osaka is situated in the central part of Osaka Minami. Direct access to the hotel from the Osaka Metro section of Namba Station will be made available from March 2020, allowing for easy access and the reassurance that you won't get lost wandering the streets trying to find your accommodation. Its location means easy access for tourists and travellers with a lot of luggage, working professionals who want to shorten the distance between commutes as much as possible, and pretty much any other scenario where accessibility is a priority.

An iconic building exterior combining tradition and modern innovation

Shin Kabuki-za is known by the locals who live in the area for its magnificent karahafu roof gables. The hotel will inherit this symbolic part of the theatre's design and restore the lower part of the building. The upper part makes use of multiple layers of aluminium to create a dynamic and intricate design, resulting in a unique appearance that fuses both the traditional formation of the original theatre with a modern touch. Thanks to Kengo Kuma's skillful architectural work, the building merges effortlessly with the surrounding buildings while retaining the local culture.

It's as much of an art museum as a hotel

Olympic Girl 100m by Ay-O (Takao Iijima)

The hotel also stands tall and proud as an art museum. As you walk down its corridors, your eyes will meet a plethora of gorgeous pieces of artwork which serve to lay guests into a sense of calmness and tranquility. These works are scattered throughout the hotel, both at the front desk, guest rooms, and elsewhere, making it feel like you have really stepped into a museum of art. High-class pieces also line the walls nonchalantly, so give yourself time to appreciate the many masterpieces you'll find there.

  

High ceilings create spaceーspace which is nothing less than relaxing

There are 150 guest rooms in total, consisting of Standard Rooms, Premium Rooms, and Suite Rooms. Not only does each and every room boast a beautiful and panoramic window view of Osaka's nightscape, they also enjoy high ceilings, creating a sense of space and freedom.

Wood is the base of all the rooms, giving them a natural and relaxed feeling. The furniture is simple which gives the rooms a minimalist design, again adding to the space and sense of luxury. We stayed in one of the Standard Rooms. Don't let going for Standard make you feel inferior, however, as we felt the room was incredibly spacious with plenty of space to store luggage.

Room lighting is controlled with a tablet located next to the bed. The tablets are compatible in four languages. Each icon on them also has universally easy-to-recognise pictures for easy use.

Also, the bathtubs in Standard Rooms have a little window that looks into the main bedroom. If you're with someone you're on good terms with, whether friends, family or a loved one, you can communicate back and forth while you take a soak. (There is of course a sliding door so you can close it off too!)

We were also shown around one of the Suite Rooms which are fitted with a living room and spacious washroom. It really is penthouse-level extraordinary.

The bathrooms have a window that looks out across the city nightscape, allowing for an indulging soak with a breathtaking view. It's not one we could afford every single time we book a hotel, on a special occasion one time it's an absolute definite.

 

Amenities galore to pamper your hair and body

The rooms come with a long line-up of fantastic amenities, like comfy cotton PJs, fluffy slippers, and our personal favourite: a compressed bag for your clothing. 

The amenities in the washroom were bountiful too, from shampoo to conditioner, shower gel and body gelーall of which, by the way, are by the Thai organic brand Panpuri. They all smelled incredible and filled the bathroom with their gorgeous scent.

They have all your ordinary must-haves too like a hair comb, cotton buds, toothbrush, and so on.

KUMO KUMO: The bar and lounge with comfy sofas

The hotel building has a total of twenty floors. After enjoying our time in the hotel portion, we headed up to the bar and lounge KUMO KUMO on the 20th floor. Inside the elevator, piano music plays while you gaze at the several pieces of art fitted inside. There was even a piece by Yayoi Kusama, so be sure to take a look.

When entering KUMO KUMO, there's not only seats at the counter, but lots of sofas too with a window view.

Jazz music flowed through the bar and lounge, which is best enjoyed with a cup of delicious sake while staring out over nighttime Osaka.

HAFU is a restaurant for guests only that serves breakfast.

Their menu consists of lots of healthy options, from fruits to salads.

The chef will also prepare fresh hotel-grade egg and meat dishes too, amongst other delicious delights. There's also a range of slim-friendly menu items made with foreign guests in mind. The assortment was truly incredible, we can't recommend this place enough.

Of course, there's yogurt, mini sweets and other dessert-like morning treats to indulge in too. It was a breakfast for the gods.

YURAYURA: A restaurant that combines Japanese and Western cuisine


The team enjoyed lunch at YURAYURA too, a buffet-style restaurant that also seats non-guests. Their menu is an amalgamation of the Japanese and Western palate, serving carefully-selected ingredients from countries around the world.

They had various foods from around Asia too like nasi goreng from Indonesia, as well as Korean japchae, and more.

Other things we spotted were pincho and small-cut sweets too.

For Japanese food there were things like freshly-fried tempura, and large cuts of roast beef which were cut there and then by the chef.

What I was personally happy about was their cafe menu, with things like cafe latte and other hot drinks. It was a satisfying 90-minutes spent, wolfing down food and then enjoying some sweets with a cafe latte.

5 spaces that can be used for weddings, parties & more


The hotel building even houses two chapels, as well as banquet halls, which can be used for weddings, parties and more. The chapels have large windows that let in plenty of natural sunlight. The use of natural wood also gives the room a warm feeling to it.

Floor 8's HANAEMI

There are five banquet halls in total each on a different floor and each with their own concept. Those on floors 7, 8 and 9 even have terraces for parties too. Whether you're having a party, a wedding, or a conference, there is a room for you.

Hotel Royal Classic Osaka's speciality is its inclusion of leaving a part of traditional Japan in there while still letting you feel the Japan of today. Whether you're travelling to Osaka for some sightseeing and fun, or you're in the business scene and need a regular-use hotel, look no further. We felt connected to Osaka in our experience there, so if you're planning a trip to Osaka, be sure to book with Namba's newest landmark.

Information

Hotel Royal Classic Osaka

Address: 4-3-3 Namba, Chuo Ward, Osaka

Grand Opening: December 1, 2019

Access:

①From March 2020, the hotel will be directly connected to Exit 12 of Namba Station in the Osaka Metro section

②4-minutes on foot from Namba Station via the Nankai Main Line

③3-minutes on foot from Namba Station via the Hanshin Namba Line

④10-minutes on foot from Namba Station via the JR Line by way of Namba Walk (underground)

Official Website (English): https://hotel-royalclassic.jp/en/

Tokyo's My Hero Academia Themed Hotel Rooms Unveil Designs | Tokyo Prince Hotel

Tokyo Prince Hotel has announced a collaboration with the upcoming anime film My Hero Academia: Heroes: Rising which is set for release on December 20, 2019. Bookings are now open for their My Hero Academia themed hotel rooms, which will be available to stay in from December 7 this year until February 29, 2020.

The room designs and hotel plans were revealed today. There are two plans available: the "Concept Room Plan" where guests can stay in a room that recreates the world of the movie and comes with free merchandise and a themed drink, and the "Regular Room Plan," which features a regular hotel room decked out with lots of My Hero Academia decorations, and also comes with the merch and drink.

The concept room is split into two rooms: the first recreating the room in which the students of class 1-A meet the protagonist, Izuku Midoriya, and the second on Midoriya's bedroom.

Expect to see illustrations of the students as well as the Villains in the rooms too. Bookings are first-come, first-served, so don't miss out!

©️2019 "My Hero Academia THE MOVIE" Production Committee ©️Kohei Horikoshi/Shueisha

Information

My Hero Academia Collaboration Hotel Plan

Location: Tokyo Prince Hotel

Running: December 7, 2019 – February 29, 2020

Bookings: Open from December 22, 2019 (First-come, first-served)

Booking Page: https://www.princehotels.co.jp/tokyo/plan/contents/myheroacademia_stay/

Plan Details

①Concept Room Plan (Original Merchandise & Drink)

②Regular Room Plan (Original Merchandise & Drink)

Amenities:

・Pop-up card

・Metal keyring

・Pass case

・Toothbrush set

・Original drink (w/ coaster)

This Relaxing Onsen Hotel with Picturesque Nature and Luxurious Local Cuisine is the Perfect Getaway

Japan is full of picturesque locations where you can be at one with nature and soak the tiredness of your body away in the onsen baths. If you are looking for an escape from busy working life, then you're in luck: Today we'll be introducing you to a modern onsen hotel which is perfect for families, lovers, and even solo travellers. 

Escape from Tokyo on the bullet train, ride the Zairai line and finally, catch a bus. After your two-hour journey, you will arrive at onsen hot spot Uonuma city in Niigata Prefecture. Today, we'll be heading to Tomoya Hotel. The picturesque scenery of paddy fields and mountains will unfold before your very eyes and put your mind at ease.    

Sunlight pours over the reception desk from the giant window. It was time to check in. After being informed on meal times and private onsen rentals, I quickly headed to my room.

I was given room 305. The warm wooden structure made the room feel lavishly large. Whether you're snuggling up with a lover, chilling out with friends or relaxing with family, the atmosphere and size of the room allows for flexible usage.

The Sanashi river was right outside my window. I could watch the soothing clear water flow out to the horizon for hours. 

The room was prepared with loungewear, bath towels, toothbrushes, socks and many other amenities. It was even fitted with a fridge and water heater. 

From the lamps lighting the stairway and hallway sofas to the displayed artwork, every item in Tomoya Hotel is a carefully selected item of special design. 

There was even a DJ area next to the lobby which contained a surprising stash of records, CDs and DVDs which was uncountably large. Being able to discover new music and films is another admirable feature of the hotel. 

The front lobby is filled with a fresh and liberating atmosphere. There are plenty of spots to sit and read to yourself as the melodies of records weave through the air.

The shop sells specially selected products including locally produced juice, snacks and much more. You can even purchase Tomoya Hotel's original skincare goods. Reading the cheerful and thoughtful comments written on the goods by the manager made it clear that every single item in the shop was chosen with the utmost care. 

One by one, several lavish courses arrived at my door for dinner that evening. The locally-sourced ingredients and seasonal vegetables were served with Niigata prefecture's uonuma koshihikari rice, which is famed as Japan's best rice. 

Nameko mushroom hotpot, salt-fried East Asian trout, tofu mixed with lotus root, and sashimi were just some of the hotel's many original dishes that were brought to my door. As the rice was harvested from the first crop of the year, it was very sweet and so delicious that I helped myself to multiple servings without realising. The food was flavoured and seasoned very lightly to ensure that guests could fully enjoy the true flavours of the fresh harvest from the mountains and the sea. The luxurious dinner was highly enjoyable. 

I enjoyed sipping a small glass of Tomoya's chilled Reishu sake with my meal. This is an original recipe sake created by Tomoya Hotel and local sake brewery Tamagawa Shuzo. It was so refreshing, easy to drink and perfectly complimented every dish. The hotel provided a rich variety of alcoholic dinks including refreshing beer, carefully-selected wines, rare local sake, homemade fruit liqueurs, and more.

The onsen is home to rich history dating back to the year 1300 when it first opened its doors to the public. There are two types of private rental onsen and large public onsen indoors. Some square-shaped baths sit right beside a small stream which branches off from the Sanashi river. Treat yourself to a soothing soak in a historical onsen while absorbing the beautiful scenery. 

After finishing your relaxing soak, head to floor 1 of the main building to spend some time relaxing. This space is for guests to use freely and how they please. There are bookshelves lined with books and games available.

The first floor of the hotel annexe was my favourite place. Music from a variety of genres is played here. A disco ball hangs high, splashing light across the spacious room. There is a ping-pong table, a pool table, massage chair, piano, an old Nintendo game, manga and much more. It may seem like a relaxing place at first glance, but my heart was racing with excitement as I got hooked on the games.

The following morning, breakfast was delivered right to my room again. Seeing the tray filled with a luxurious mix of both western and Japanese-style cuisine was very pleasing to see. I indulged in yaki-fu: baked wheat gluten which is a specialty of Niigata, fried fish, rolled Japanese-style omelette, homemade cheesecake and much more. All the meals served at the hotel are made with the utmost care and precision. 

If I were to introduce all the wonderful services and features of Tomoya hotel then there would be no end to this article. The main highlights were the delicious meals made with locally sourced ingredients, the soothing onsen, the music, films and experience of art culture, and of course, the opportunity to get in touch with nature, watching the water trickle down the mountain streams as your mind discovers peace. 

If you are looking to heal your body, mind and soul whilst discovering nature and art, then Tomoya Hotel is perfect for you. 

Writer:Ellie(MOSHI MOSHI NIPPON)

Hotel Chinzanso Tokyo to Hold Christmas Evening Party at Le Jardin Restaurant

Hotel Chinzanso Tokyo has announced that it will hold a special Christmastime "Evening Party" from December 20-25 at Le Jardin, the hotel's stylish cafe/restaurant that offers a gorgeous view of the hotel's quiet garden landscape.

The Evening Party will take place just a little later than afternoon tea time where customers can tuck into some succulent meat and fish. The hotel has held it for the past 14 years, and anyone that has experienced it will tell you that you'll want to go back after trying it once.

At the party, seasonal food is served on an extravagant 3-tier hors d'oeuvres stand together with champagne. You will never forget the taste of the chef's specially-prepared thick cut roast beef, as well as your own choice of dessert, tea, coffee and more.

The roast beef in particular is hugely popular, with repeat customers flocking to get a taste of its delicious flavour. It's seasoned with salt, fennel, rosemary and juniper berries, and garlic before being browned in the frying pan and subsequently cooked in an airtight pack together with a mirepoix made from carrots, onions, celery and other ingredients on a low heat at 63°C for 3 hours. This is the secret to the meat's popularity, resulting in soft and succulent heaven.

Menu items will be served in Christmas colours, including some made to look like Christmas trees, and there is also a meal plan that includes a present.

Enjoy a wonderful dinner time this Christmas in Tokyo at Hotel Chinzanso Tokyo.

Information

Christmas Evening Party

Running: December 20, 2019 – December 25, 2019

*Reservations required

*Musical performances to take place on December 20 and 21 (18:30-21:00)

Time: 18:00-22:00 (Last Orders 20:30)

Location: Le Jardin, Hotel Chinzaso Tokyo Floor 3F

Price: ¥4,600 (¥8,000 w/ present) (Tax & service charge not included)

Reservations/Enquiries: 03-3943-0920 (10:00-21:00)

Keio Plaza Hotel Tama's Hello Kitty & Sanrio Rooms Celebrate 5th Anniversary

To celebrate 5 years since the grand opening of the Hello Kitty Room at Keio Plaza Hotel Tama, guests are being treated to a very special present.

Friday November 1 marked the 45th anniversary of Hello Kitty. Together with the 5th anniversary of the hotel room, all guests who stay in any of the Sanrio character-themed hotels at Keio Plaza Hotel from now until February 29 next year will receive an application paper. Once they fill it out and then post it in the box in the lobby on the second floor they will be entered for a chance to win a one-night ticket to one of the three Sanrio character rooms. Exclusive merchandise will also be sold to commemorate the 5-year milestone.

The hotel poster promotional videos for the three rooms over on their homepage. This includes the revamped Hello Kitty Room, the My Melody Room which opened back in June, and the Little Twin Stars Room.

Information

Sanrio Character Room Ticket Campaign

Running: November 1, 2019 – February 29, 2020

Keio Plaza Hotel Tama

Address: 1-43 Ochiai, Tama, Tokyo

Official Website: https://www.keioplaza.com/tama/index.html

Hoshino Resorts to Open New Facilities in Okinawa, Hawaii & 3 More Places

Hoshino Resorts opened HOSHINOYA Guguan in Taiwan in June and Iriomotejima Hotel in Okinawa in October this year. It will also open Risonare Nasu in November. The hotel chain has now just announced that it will open 5 more new facilities in 2020, pushing the number of locations they manage up to 45 next year.

Iriomotejima Hotel

Risonare Nasu

Hoshino Resorts prides itself on offering a hotel experience that makes use of local regions as well as offering unique experiences. With their catalogue of facilities now set to increase, the company has a released a video detailing the five new hotels.

The five new hotels will open in Hawaii, Nagato in Yamaguchi Prefecture, Tsuchira in Ibaraki Prefecture, Kohama Island in Okinawa Prefecture, and mainland Okinawa.

The Hawaii hotel, named Hoshino Resorts Surf Jack Hawaii, describes itself as an "ohana-friendly retro boutique hotel with a satisfying Waikiki experience."

Nagato, Yamaguchi will give rise to the 16th hotel in Hoshino Resorts' brand of KAI hotels, named KAI Nagato. It will open in the Yumoto Hot Spring area and be inspired by Yamaguchi's traditional tea houses as well as buke samurai culture. Look forward to bathing in the hot springs of this traditional Japanese inn, steeped in history and culture.

Over in Ibaraki Prefecture, Hoshino Resorts will open Japan's biggest cycling resort, named Hoshino Resort BEB5 Tsuchiura, which we covered earlier this month. It will act as a "base camp" to enjoy cycling, with its core concept being "more an izakaya and less travel-focused where you can enjoy a laid-back time with friends." It hopes to put a new spin on travel by combining the worlds of cycling and accommodation.

Okinawa is getting three new hotels. Hoshino Resorts Risonare Kohama will feature 60 rooms each their own private villas. Its concept is "a private beach resort on a remote island swimming with the manta rays" and will offer a beach and resort-like experience to guests with views of the white sand and blue ocean.

HOSHINOYA Okinawa will be inspired by gusuku which refers to castles in the Ryukyu Islands that feature stone walls, with the hotel itself being enveloped in one. The hotel will be surrounded by the gorgeous ocean and coast, offering that quintessential Okinawan resort experience.

The tables at Hoshino Resorts Banta Cafe will offer a breathtaking view of Okinawa's grand seas, with a menu serving food and drink made with Okinawan ingredients.

2020 is looking to be a big year for Hoshino Resorts as it begins expansion. If you're travelling to Japan, why not check if one of their hotels is near where you're looking to stay?

Eat & Drink in Harajuku at MOSHI MOSHI ROOMS' Rooftop BBQ

Since opening in Harajuku last year, MOSHI MOSHI NIPPON's ultra-kawaii hotel MOSHI MOSHI ROOMS has been the talk of the town. We are here to announce a new BBQ plan for guests which is held on the hotel rooftop and which you can attend empty-handed.

MOSHI MOSHI ROOMS is only an 8-minute walk from Harajuku Station. You'll know you've arrived when you spot our neon sign pictured above. It's on the roof of this building you can look forward to getting your teeth into a delicious BBQ and chugging down drinks.

The rooftop design takes on a pop appearance, mixing blue with yellow. This cute design alone is enough to get you excited for what's to come. And since there are no tall buildings around us, you get a great view of Harajuku from below.

The BBQ plan comes equipped with everything you need: a fire, plates, cups, ingredients, and alcohol. We have a great option of drinks, including beer, wine, whisky, and soft drinks. There's also a beer server so you can enjoy your beer nice and frosty. If we don't have a drink you'd like, you can bring your own too. There's a FamilyMart and other shops nearby, so head there to stock up.

BBQ Set – ¥6,000 Per Person (Before Tax) *Photo is a select portion example for 5 people

For grub, our lineup includes meat, fish, egetables, fried onigiri, and sweets. There's Japanese beef too, as well as Japanese chicken, pork, lamb, sausage, and more. We prepare the most delicious ingredients for the current season. There's a lot of different meats to choose from, so rest assured you won't go hungry.

All the food is seasoned for you, so you can drop it all on straight away and get straight to eating.

Make a toast with your drinks and tuck in! The wagyu beef is nice and plump once it comes off the fire. One bite of the soft meat will treat your taste buds to a luxurious sweetness and the meat's delightful juices.

The chicken is seasoned sweet and spicy. It has a crunchy exterior and soft inside. The lamb is seasoned well too and has that distinct deep flavour lamb has.

Our fish and vegetables are all in season too. The fish pictured above is salmon cooked in foil and seared skipback tuna. The salmon is seasoned with butter and soy sauce. All of the delicious flavour of the skipback tuna is intensified while prepared on the fire, and the inside is sumptuously tender. It's seasoned with citrus soy sauce.

This here is giant okra which I tried for the first time. Giant okra is in season right now too. It's a lot more elastic than your regular size okra and has a juiciness when you bite into it.

I was so full already… until dessert arrived! These is a dessert sweet potato roasted on the fire.

I topped it with vanilla ice cream and tea flavoured ice cream before sprinkling on cornflakes to finish.

The mix of the hot potato and cold ice cream is a match made in heaven inside your mouth. The roasted sweet potato has a subtle sweetness which mixes perfectly with the creamy ice cream. I originally thought I was full but there's always room for dessert.

There are parasols too in case it rains. You can even rent out tents from the hotel if you like.

If you're looking to stay in Harajuku, come and see us at MOSHI MOSHI ROOMS and enjoy a BBQ with a rooftop view of Harajuku.

Writer: Sayuri Mizuno (MOSHI MOSHI NIPPON)

Translator: Joshua Kitosi-Isanga

Information

MOSHI MOSHI ROOMS BBQ Plan

Address: 2-18-7 Jingumae, Shibuya, Tokyo

Price: From ¥6,000 Per Person (Reservations Available)

Set Ingredients:

・Meat: Wagyu beef and other meats in season

・Fish: In season fish

・Vegetables: In season vegetables

・Other: Fried Onigiri, Satsuma Sweet Potato Dessert

・Drinks: 1 Beer Server, White Wine, Red Wine, Whisky, Shochu, Tea, Water, Orange Juice, Cola (soft drinks are served in 2ltr bottles)

Set Equipment:

・Grill, BBQ, Tongs, Plates, Cutlery, Cups

Reservation/Enquiries: info@moshimoshi-nippon.jp

*Prepared ingredients will differ from season to season

THE MACHIYA SHINSEN-EN: Kyoto's New Traditional & Modern Fused Hotel

THE MACHIYA SHINSEN-EN is a new hotel that just opened on Tuesday (October 15) located just a five-minute walk from Kyoto's world heritage site Nijō Castle. Renovated from an old Kyoto-esque townhouse, this 21-room hotel fuses traditional Japanese architecture with the modern, complete with a lounge on the first floor decked with an open space where guests can enjoy a gorgeous breakfast if they choose the option. The friendly staff will be waiting to welcome guests to the hotel like friends.

The hotel's name derives from Shinsenen, a Japanese Buddhist temple and Kyoto sightseeing  spot located just a one-minute walk from the site. The temple is home to Japan's only "ehomaki shrine" where Toshitokujin, the goddess of auspicious directions for the current year, is enshrined. The temple is also home to an enormous and beautiful lake, and is said to provide good luck with marriage ties, something which is known to everyone in Kyoto. The "machiya" part of the hotel's name means "townhouse" in Japanese.

The hotel combines the traditional with the modern effortlessly, with four types of suite rooms available including the spacious corner suite rooms, as well as suite rooms that focus more on traditional Japanese architecture, namely that of the old-fashioned townhouse. All suite rooms have a kitchen, washer/dryer, and other convenient amenities for those looking for a longer stay, as well as for families and larger groups.

THE SHINSEN-EN Deluxe Suite

Located on the top floor, this corner suite room offers a spacious environment and enjoys plenty of natural lighting for the window which takes up an entire wall. There are both beds as well as a tatami area with futons so you can pick how you want to sleep. There's also a roomy washroom as well as a dining space with a fully-equipped kitchen and washer dryer. The room also has a sofa, TV, refrigerator, free WiFi, and more for your convenience.

THE MACHIYA Deluxe Suite (Dragon)

This suite room has a Japanese aesthetic with its paper sliding doors and hanging scrolls. Natural light seeps in from the ceiling window fitted to the high ceiling. As well as the Japanese-style bedroom, it also has a western-style bedroom and living room, as well as both beds and futons, so you can pick if you want a Japanese sleep or a western sleep. There is a fully-equipped kitchen and washer dryer. The room also has a sofa, TV, refrigerator, free WiFi, and more for your convenience.

THE SHINSEN-EN Suite

The entrance to this suite room has lattice doors and stone paving, welcoming you with that traditional Japanese aesthetic. The spacious room basks in natural lighting from the enormous windows. There is a fully-equipped kitchen and washer dryer. The room also has a sofa, TV, refrigerator, free WiFi, and more for your convenience.

In addition to suite rooms there are four other types including Deluxe Twin, Superior Hollywood Twin, Hollywood Twin, and Classic Hollywood Twin. The rooms enjoy indigo blue and orange colouring for a relaxed and modern feel. Each have their own washrooms, toilets, sofas and desks. Additionally, all first floor rooms can be connected, so you can turn them into full 2-3 or 4-5 people spaces.

Guests can use the first floor lounge space freely and at their own leisure. And if they choose so they can also enjoy breakfast there.

The front desk staff can speak both English and Japanese so can support foreign travelers. The hotel is situated in a great place for sightseeing, so be sure to consider booking at the all-new THE MACHIYA SHINSEN-EN if travelling to Tokyo.

Information

THE MACHIYA SHINSEN-EN

Opened: October 15, 2019

Address: 17-1 17 Shinsenencho, Nakagyo Ward, Kyoto

Access: 5-minutes on foot from Nijōjō-mae Station

Rooms: 21 (approx. 22-45㎡)

Capacity: 2-5 people

Breakfast: Served in first floor lounge for an additional fee

Official Website: https://shinsen-en.com/

Experience Art and the Japanese Tea Ceremony Come Together at hotel koe tokyo's Private Lounge

"hotel koe tokyo" isn't your everyday normal hotel. Developed and produced by "koe," the hotel brings together fashion, music, cuisine, and a luxury accommodation experience. In line with DESIGNART TOKYO 2019, the hotel has announced it will hold a reservation-only event entitled "DESIGNART TOKYO 2019: Tea ceremony by artless+asahiyaki" at its third-floor private lounge on October 19 and 20.

Asahi ware is a type of Japanese pottery originating in Uji, Kyoto almost 400 years ago. Hosai Matsubayashi is the 16th generation master of this long-running workshop, known as Asahiyaki, and he's set to collaborate with Shun Kawakami, an artist and art director of global branding agency artless Inc. The collaboration is being held to promote Japanese culture not only to the people of Japan but those overseas too, and "hotel koe tokyo" is the perfect place to do it due to the huge number of foreign visitors that stay at the hotel.

The two of them have taken the traditional Japanese tearoom and have put a modern spin on it. Normally, this private lounge of the hotel is only usable by guests staying there, but this reservation-only event will grant exclusive access to all. It brings together Japanese tea and art in the form of a special tea-making course. Attendees will follow Hosai Matsubayashi's instructions and prepare their own tea. During the session, both Matsubayashi and Kawakami will give talks on their work while you enjoy your tea.

Take advantage of this special occasion to learn about the beauty of Japanese tea.

Information

Tea ceremony by artless + asahiyaki
Dates: Saturday October 19, 2019 / Sunday October 20, 2019
Time: 4 Slots – ①12:00 / ②13:30 / ③15:00 / ④16:30 (60 minutes each)
Capacity: 10 per slot
Location: hotel koe tokyo ("koe lounge" on Floor 3F)
Content: Tea Making + Tea Art
Price: ¥3,000 (Before Tax)
Reservations:  https://www.tablecheck.com/ja/shops/hotelkoe-tokyo-privatelounge/reserve
*This event is reservation-only

Suiran Ranks as Japan's Best Hotel in Condé Nast Traveler For Second Year in a Row

"Suiran, a Luxury Collection Hotel, Kyoto" has ranked as the number one hotel in Japan for the second year in a row in the Japan's Top Hotels category of Readers' Choice Awards 2019 in Condé Nast Traveler.

The Condé Nast Traveler Readers' Choice Awards lists the world's best travel experiences as ranked by international travellers. Over 600,000 people voted Suiran as Japan's best hotel for the second time.

Suiran is located in Arashiyama, Kyoto and first opened in March 2015 under a brand of luxury hotels known as The Luxury Collection®. The hotel's concept is to make full use of Arashiyama's appeal, lauded for its deep culture and history, while paving the way to the future. It houses guests from around the world who can enjoy a view of Arashiyama's lush natural landscape which changes beautifully with the seasons, and who can experience a fusion of the traditional and the modern while being served classic Kyoto hospitality.

Speaking about the award, the hotel's general manager Hiroyuki Hatori said the following: "I am greatly honoured that we have been given the number one spot two years in a row in this internationally-recognised poll. To all the people in the region who continue to support Suiran, and to all our guests who use the hotel, I thank you from the bottom of my heart. These results are an incentive to further work hard with our associates to ensure this is a hotel that people will love even more."

If you are travelling to Kyoto and looking for a place to stay, why not consider the city's best: Suiran, a hotel which continues to pass down tradition while embracing the modern?

Information

Suiran, a Luxury Collection Hotel, Kyoto

Address: 12 Sagatenryūji Susukinobabachō, Ukyo Ward, Kyoto

Access: 15-minutes on foot from Saga-Arashiyama Station / 6-minutes on foot from Arashiyama Station via Keifuku Electric Railroad / 15-minutes on foot from Arashiyama Station via the Hankyu Arashiyama Line

Official Website: https://www.marriott.com/hotels/travel/ukylc-suiran-a-luxury-collection-hotel-kyoto/

Izu Shaboten Zoo Opens New Hotel Izushaboten Village

Izu Shaboten Zoo in Ito, Shizuoka has opened its very own hotel Izushaboten Village Petit Hotel which is less than a minutes' walk from the zoo itself, making it an ideal location for those looking to see the animals so they can take their time at their own leisure.

The hotel offers various different rooms, from modern and chic to the Izu Shaboten Zoo Room, Pirate Room and more. Each room has its own unique touch you won't find anywhere else. The hotel also offers an accommodation plan that comes with entry tickets to the zoo.

For food, guests can enjoy dining at La Chic, a new restaurant that opened in spring this year that makes use of homegrown vegetables and produce sourced from contracted farmers. Food is served in a semi-buffet style in mornings and evenings so you can make up your own dish. Non-guests can eat here too if they make a reservation*.

*Reservations for non-guests are dependent on free tables and other conditions. The menu style and ingredients and subject to change without notice.

If you're looking to visit Izu Shaboten Zoo, consider booking a room at their official hotel.