SEKAI NO OWARI's Tease New Albums 'Eye' & 'Lip' With New Artist Photos
SEKAI NO OWARI has posted new artist photos and unveiled the tracklists for the upcoming simultaneous release of their new albums Eye and Lip on February 27, 2019. This marks the first album release from the band since 2015's Tree.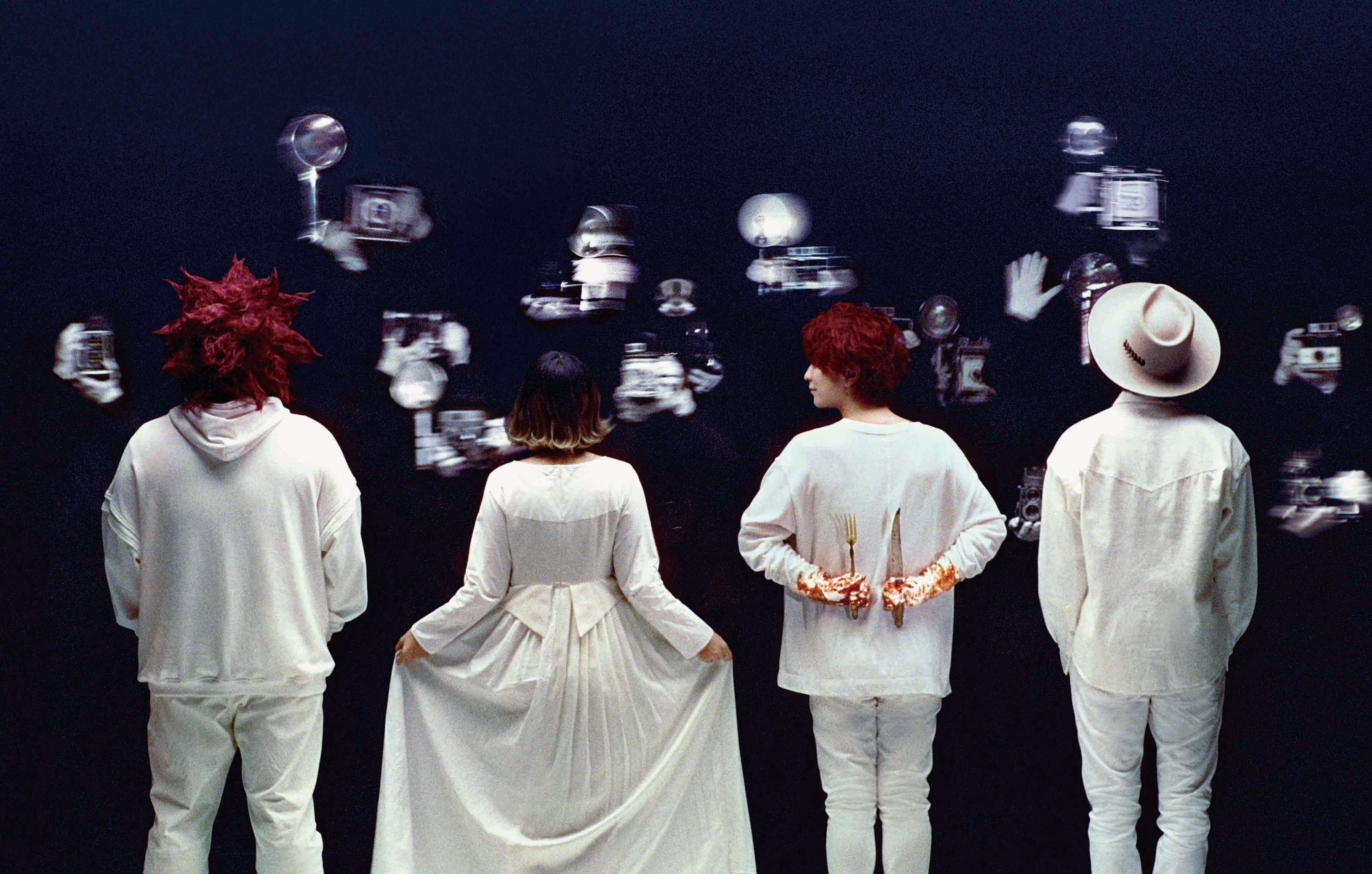 The photos are taken from the perspective of the band and the press. Each album will feature 13 songs for a total of 26 including their singles ANTI-HERO, SOS, Hey Ho, Rain and Sazanka; the digital single Illumination; as well as new songs and the not-yet-released Monsoon Night and Mr. Heartache.
Nakajin, Fukase and Saori display the full potential of their song and lyric writing skills across these two albums through a wide variety of different tracks. SEKAI NO OWARI are known for their fantasy-like image, but these records are described as seeing them showing a more human side to themselves in a change of career. Eye uncovers their weaknesses while Lip embraces their strengths. The albums dive deep into human nature in all of our feats and fears
SEKAI NO OWARI's discography will also be released on streaming services at midnight tonight (JST) – the entire back catalogue from their first album EARTH to their latest single Illumination. A special website has also gone live for Eye and Lip. Links below.
Information
Eye
Release Date: February 27, 2019
First Press Limited Edition (CD+DVD): ¥4,000 (+Tax)
Regular Edition (CD-Only): ¥3,000 (+Tax)
Lip
Release Date: February 27, 2019
First Press Limited Edition (CD+DVD): ¥4,000 (+Tax)
Regular Edition (CD-Only): ¥3,000 (+Tax)
SEKAI NO OWARI Official Website: http://sekainoowari.jp/
SEKAI NO OWARI Eye & Lip Album Website: http://www.toysfactory.co.jp/artist/sekainoowari/eyelip20190227
RELATED ENTRIES
SEKAI NO OWARI Announce 2020 Dome Tour in Tokyo, Osaka Fukuoka and Nagoya

SEKAI NO OWARI wrapped up their "The Colors" 2019 tour on November 18 with a final show in Beijing. The tour was their biggest to date, taking them to 17 venues for 32 concerts in front of 29,000 fans.

Despite having only just concluded this successful tour, the band have announced a Japan dome tour entitled "Du Gara Di Du" which will take place in spring 2020, marking ten years since they made their debut. This was announced on Japanese TV on November 27 during the broadcast of Best Artist 2019. The tour will kick off at Fukuoka Yahuoku! Dome on September 5, 2020 before taking them to Tokyo, Nagoya and Osaka.

A special website has gone live to promote the tour. More information will be released in the run up to the tour, so be sure to check it to keep up to date.

Information

SEKAI NO OWARI DOME TOUR 2020 "Du Gara Di Du"

2020/9/5 @ Fukuoka Yahuoku! Dome, Fukuoka

2020/9/9 @ Tokyo Dome, Tokyo

2020/9/10 @ Tokyo Dome, Tokyo

2020/9/13 @ Nagoya Dome, Nagoya

2020/9/17 @ Kyocera Dome Osaka, Osaka

Tour Special Website: https://sekainoowari-tour.jp/dugaradidu/

SEKAI NO OWARI Official Website: http://sekainoowari.jp/

SEKAI NO OWARI Performed at Makuhari Messe, Asia Tour To Follow

SEKAI NO OWARI is currently on their Japan tour "The Colours". From July 24 to 25 they performed at Makuhari Messe, leaving the venue on a very high note. 

After four years since the release of Tree, they released their albums Eye and Lip on February 27, 2019. In April, they followed up on the album releases with their Japan tour The Colours, which is their biggest tour to date with 28 performances in 13 venues across the country. This autumn, they will be touring Taipei, Seoul, Hong Kong, Shanghai and Beijing under the same live tour title, and much more. This is the most jam-packed schedule from SEKAI NO OWARI that anyone has ever seen. 

Over the two days at Makuhari Messe, approximately 32,000 fans attended to watch SEKAI NO OWARI.

A statement by vocalist Fukase:

We are performing at 24 locations for this tour. After a while it suddenly hit me that this is the biggest tour SEKAI NO OWARI has ever been on. It makes me happy to think that we managed to up our game to a whole new level without even realising it. Thank you for your support. After a year or so, we will be reaching our 10th anniversary, so we are thinking of what we could do to celebrate. Thank you and please continue to support us," he said, thanking the fans. 

That leaves just four more performances of the tour left. The last performances will be held on August 24 and 25th at the Mie Prefectural Sun Arena, bringing their grand tour to a close. In total, an estimated 280,000 fans will have attended this phenomenal tour. 

Photographers: 太田好治、立脇卓、鳥居洋介

Information

SEKAI NO OWARI TOUR 2019

The Colors

August 8(Thurs)Ecopa Arena, Shizuoka 

Augst 9(Fri)Ecopa Arena, Shizuoka 

August 24(Sat)Mie Prefectural Sun Arena, Mie

August 25(Sun)Mie Prefectural Sun Arena, Mie

End of the World

The Colors Asia Tour 2019

October 11(Fri)Taipei International Convention Center

November 2(Sat)Olympic Hall, Olympic Park, South Korea

November 13(Weds)Star Hall KITEC, Hong Kong

November 16(Sat)Mercedes-Benz Arena, Shanghai

November 18(Mon)BJ-EXPO Theatre, Beijing

SEKAI NO OWARI Official Website: http://sekainoowari.jp/

End of the World Official Website: https://endoftheworld.jp/

SEKAI NO OWARI's 'Eye' & 'Lip' Albums Released on Spotify, Apple Music & Other Streaming Services

SEKAI NO OWARI embarked on their nationwide "The Colors" tour yesterday which will take them to 13 venues across Japan to perform 28 shows.

Ahead of the tour, the band's two new albums Eye and Lip, which were released simultaneously on February 27, have been made available on major streaming platforms including Spotify and Apple Music.

Both albums reached No. 1 and No. 2 on the Oricon Weekly Album Chart respectively. Fans worldwide can now look forward to enjoying all 26 tracks from their single ANTI-HERO to other hits like SOS, Hey Ho, RAIN, Sazanka and Illumination amongst a host of other new songs as well as tracks previously only performed live like Monsoon Night and Mr.Heartache.

Information

Eye

Release Date: February 27, 2019

First Press Limited Edition (CD+DVD): ¥4,000 (+Tax)

Regular Edition (CD-Only): ¥3,000 (+Tax)

Lip

Release Date: February 27, 2019

First Press Limited Edition (CD+DVD): ¥4,000 (+Tax)

Regular Edition (CD-Only): ¥3,000 (+Tax)

Streaming Service Links: https://tf.lnk.to/EyeLip_Digital

Apple Music, Spotify, Google Play Music, LINE MUSIC, AWA and other major streaming platforms.

SEKAI NO OWARI Official Website: http://sekainoowari.jp/
SEKAI NO OWARI Eye & Lip Album Website: http://www.toysfactory.co.jp/artist/sekainoowari/eyelip20190227

SEKAI NO OWARI TOUR 2019 "The Colors": https://sekainoowari-tour.jp/thecolors2019

SEKAI NO OWARI's 'Witch' Used in Asahi Super Dry Commercial

SEKAI NO OWARI's song Witch is being used in the latest TV commercial for the Japanese beer Asahi Super Dry.

Witch is taken from the band's album Eye which was released simultaneously alongside their album Lip on February 27 this year. Its fast-paced and upbeat melody coincides perfectly with the running snow dogs in the commercial

The commercial began airing on Japanese TV on April 2.

SEKAI NO OWARI Digitally Release 'Kimi wa Tsukiyo ni Hikari Kagayaku' Theme Song

SEKAI NO OWARI dropped two new albums simultaneously on February 27, 2019―Lip and Eye―which marked their first studio album release Tree in 2015. Both albums ranked No. 1 and No. 2 on the Oricon Album Charts on March 6 respectively, and both continue to enjoy sound sales.

The four-piece Tokyo pop band has just made their song Mitsu no Tsuki -for the film- available for digital download and stream (March 15). The song is a special arrangement of the original track Mitsu no Tsuki included on Lip. It was written for the Japanese film Kimi wa Tsukiyo ni Hikari Kagayaku ("You Shine in the Moonlit Night") which also hit Japanese theatres on March 15.

Exclusive cover art was also released for the track which is inspired by the title of the film―shining moonlight.

SEKAI NO OWARI made the following statement about the newly-arranged track: "We discussed [a new version] while we were writing the new albums. The original song was already complete, but Mitsu no Tsuki -for the film- is a new arrangement written as the main theme for the film. We wrote it together with Takeshi Kobayashi, who was our sound producer. It has a classic sound but you can also still hear that it is us. I hope people will like it, it's very different from Mitsu no Tsuki on the album."

SEKAI NO OWARI just released the music video for "Food" and it's quite bizarre!

SEKAI NO OWARI has released the music video for their new song "Food"! SEKAI NO OWARI released two albums on 27th February entitled "Eye" and "Lip". The song "Food" is one of the songs on the album "Eye".

It has been three years since the band worked with Jun Tamukai, who was the director of this music video. The video is based on a psychedelic dinner party to which many strange guests are invited. A peculiar pink cube is brought to the dinner table and the dinner party begins. This music video presents the concept of the basic human need of "eating" in a rather unique and imaginative way. Please check it out!

SEKAI NO OWARI Release 'Stargazer' Music Video From New Album 'Eye'

SEKAI NO OWARI will released two albums simultaneously on February 27: Eye and Lip. While fans wait they can enjoy the new music video for Stargazer that just dropped, the final track of Eye.

The music video's story was written by lead vocalist Fukase who also wrote the lyrics for and composed the song. When coming up the story he pictured Yurina Hirate of Japanese idol group Keyakizaka46 playing the video's protagonist and so sent an offer. The two of them also conversed on NHK in the past, so Hirate accepted the offer.

Hirate performs the part of a girl living an ordinary life as referenced in the song.

The full music video took half a year to complete since its conception. This includes Fukase's desire to have a dance scene with a full moon in the background. Him and the staff had to confirm the timing and weather conditions for a real full moon and fit it into Hirate's schedule.

The dance scene at the end is so overwhelming as to take your breath away. The video itself was directed by Yuichiro Fujishiro who has worked on several videos for SEKAI NO OWARI including Sazanka.

*The video includes scenes characters not wearing a helmet while riding a motorcycle. Please note that this was filmed under strict supervision and for the purpose of this music video.

Speaking about the video, Fukase made the following comment: "In total the video shoot took close to a year after a desire to film a dance scene with a real moon in it. Despite heading to the location things happened such as the clouds hiding the moon, the sky being too bright in summer so not fitting with the shoot so we had to take a temporary break, and so on. I wrote the script and asked Hirate to come up with the choreography herself. The moon looks beautiful and like CG but it's the real deal. Even in terms of schedule we got it at the last moment on the final day with just minutes to spare. I am grateful to both all of the staff and Hirate who did the dance despite the tense air since she absolutely couldn't mess up. When I saw the final dance I felt feelings that couldn't be put into words while writing and composing the song. It was like a warm feeling in my heart, a feeling of awe, like tears were falling. I hope you all check it out."

The music video is included on the DVD that's coupled with Limited Edition copies of Lip. Both albums are also now available for pre-order on iTunes.

SEKAI NO OWARI's New Song Announced as 'Kimi wa Tsukiyo ni Hikari Kagayaku' Theme Song

It has been announced that the new song Mitsu no Tsuki -for the film- by four-member rock band SEKAI NO OWARI will be used as the main theme for the upcoming film Kimi wa Tsukiyo ni Hikari Kagayaku ("You Shine in the Moonlit Night") which hits theatres in Japan on March 15, 2019.

The song is a special arrangement of the original track Mitsu no Tsuki included on the band's upcoming album Lip which is being released simultaneously alongside another new album titled Eye, both of which are set to hit shelves on February 27, 2019.

The film's producer made the offer to SEKAI NO OWARI after picturing closing it with a peaceful innocence. His request was for the song to capture not the sadness but the yearning in that sense of loss from a beloved one dying. The song Mitsu no Tsuki encompasses the feeling of the film entirely almost as if it was written specifically for it. Japanese composer and musician Takeshi Kobayashi create a special arrangement of the song that vibrantly captures the essence of the human heart.

SEKAI NO OWARI made the following statement in relation to the song and film: "We had the talk while we were producing our new albums. Although the song was already complete at the time, Mitsu no Tsuki -for the film- is a new arrangement that fits as the theme song for the movie. We worked alongside Takeshi Kobayashi who was our sound producer. The song has a classic sound but you can still feel us in it. I would be happy if people enjoy how different it is to Mitsu no Tsuki from the album."

Japanese actress Mei Nagano who plays the role of Mamizu Watarase commented: "I was very happy to hear that they were arranging the song to tie in with the film. I was moved by this predestined encounter, how although it was already written, was perfect. I am overjoyed that this beautiful song uplifts you at the end of the film."

Actor Takumi Kitamura who plays Takuya Okada in the film also made a comment. "SEKAI NO OWARI are in charge of the main theme for Kimi wa Tsukiyo ni Hikari Kagayaku. What a chance encounter it was that a song that already excited links with the outlook of the film. It's like fate, just like how I came to play the role of Takuya. It makes me feel the afterglow of the film."

Information

Eye

Release Date: February 27, 2019

First Press Limited Edition (CD+DVD): ¥4,000 (+Tax)

Regular Edition (CD-Only): ¥3,000 (+Tax)

Lip

Release Date: February 27, 2019

First Press Limited Edition (CD+DVD): ¥4,000 (+Tax)

Regular Edition (CD-Only): ¥3,000 (+Tax)

SEKAI NO OWARI Official Website: http://sekainoowari.jp/
SEKAI NO OWARI Eye & Lip Album Website: http://www.toysfactory.co.jp/artist/sekainoowari/eyelip20190227

SEKAI NO OWARI Release Music Video for New Song 'Illumination'

4-piece pop band SEKAI NO OWARI have dropped a music video for their new track Illumination.

Strength and gentleness is portrayed through the carefully considered use of colour in the music video. We see four girls wearing colourless grey dresses which have hidden within them a kaleidoscope of vibrant colours. They are surrounded by three groups of dancers which are split into red, blue and yellow.

The beautiful coordination of colour and the lyrics are expressed through the dance moves which serve to only deepen the meaning of the words.

Be sure to check the video out for yourself!

Information

Illumination

Available to download on iTunes, Recochoku, mora, music.jp, Dwango, mu-mo and other major download services.

Available to stream on Apple Music, Spotify, Google Play Music, LINE MUSIC, AWA and other major streaming services.

SEKAI NO OWARI Official Website: http://sekainoowari.jp/