Exclusive Fate/stay night: Heaven's Feel II. lost butterfly Merchandise Announced For Cinemagoers
Fate/stay night: Heaven's Feel II. lost butterfly was released on January 12 and is now screening at 131 cinemas across Japan. The film earned ¥1.02 billion in the box office and over 648,000 people saw the film between January 12 and 23. It continues to draw in much attendance from its first week. Select cinemas have also been announced to screen the film with Japanese subtitles from February 2.
Exclusive merchandise has been announced for those seeing the film during its third week. This includes three different folders illustrated by ufotable. These are limited in stock and designs are chosen randomly.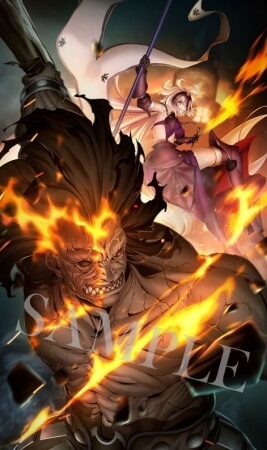 Additionally, those who start up the Fate/Grand Order app at any of the cinemas will receive a Gainen Reisou card.
9 new pieces of merchandise will also be sold there from January 26. They can be seen here.
If you have yet to see the film then don't wait any longer and go pick up some exclusive merch in the process.
Information
Fate/stay night [Heaven's Feel]」Ⅱ.lost butterfly
Release Date: January 12, 2019
Website: http://www.fate-sn.com/
©TYPE-MOON・ufotable・FSNPC
RELATED ENTRIES
Fate/Grand Order Original Soundtrack Announced For July Release

It has been announced that Fate/Grand Order Original Soundtrack Ⅳ it set to be released on July 15, 2020.

The 3-disc album compiles songs from the hugely popular mobile RPG Fate/Grand Order which has over 20 million downloads. This is the fourth soundtrack to be released for the game and includes tracks from the Lostbelt No.4 to No.5 arcs that were released between 2019 and this year. It will also include the tracks that have been used for in-game events for the first half of 2020.

It also includes the songs Shinen no Decadence, Sanzensekai, and Ryusei RODEO GIRLS which all feature vocals and have been used in TV commercials in Japan to promote the game.

More details can be found on the music page of Fate/Grand Order's official website.

©TYPE-MOON / FGO PROJECT

Information

Fate/Grand Order Original Soundtrack Ⅳ
Release Date: July 15, 2020

Price: ¥3,800 (Before Tax)

Discs: 3

*Product bonus item and design is subject to change without notice

Fate/Grand Order Official Website (Japanese): https://www.fate-go.jp/

Fate/Grand Order Official Website (English): https://fate-go.us/

'Fate' Anime Series Fairs to be Held at Animate Stores in Japan

Two fairs for the popular Fate anime series are set to be held at Animate branches across Japan: the "Fate/Grand Order – Absolute Demonic Front: Babylonia Climax Fair" and the "Fate/stay night Movie: Heaven's Feel – III. Spring Song Release Fair."

Fate/Grand Order – Absolute Demonic Front: Babylonia

Fate/stay night: Heaven's Feel

The Fate series began in 2004 with the release of the PC game Fate/stay night. This was the start of things to come to what would be turned into a franchise, eventually spawning anime series, animated movies, books, games, and more. The series continues to grow in popularity and is lauded the world over.

Special Clear Cards (5 Designs)

The "Fate/Grand Order – Absolute Demonic Front: Babylonia Climax Fair" will be held in conjunction with the TV anime series Fate/Grand Order – Absolute Demonic Front: Babylonia, which is set to begin airing on March  7, 2020. Fans who purchase or pre-order related merchandise will be gifted one of the above-pictured cards, including one of Ereshkigal and Kingu. Merchandise with these illustrations will be sold at Animate stores from March 7 onward, including folders, acrylic stands, and more.


Illustrations used on merchandise at the fair

The other fair will be held in promotion of the upcoming film Fate/stay night Movie: Heaven's Feel – III. Spring Song, the third and final movie in the Heaven's Feel trilogy. Fans will also get special cards at this fair when purchasing or pre-ordering merchandise. Like with the other fair, all-new character merchandise will be available to pick up using the above illustrations, like folders, acrylic stands, and more, from April 4.

 

©TYPE-MOON / FGO7 ANIME PROJECT
©TYPE-MOON・ufotable・FSNPC

Aimer's Fate/stay night: Heaven's Feel III. spring song Main Theme Music Video & CD Cover Released

The music video for Aimer's new song Haru wa Yuku has been posted on the singer's official YouTube channel. The song will be used as the main theme for the upcoming anime film Fate/stay night: Heaven's Feel III. spring song which will release on March 28, 2020 as the final film in the planned trilogy. Aimer also performed the main themes for the previous two films, Fate/stay night: Heaven's Feel I. presage flower (2017) and Fate/stay night: Heaven's Feel II. lost butterfly (2019).

Takahiro Miki was the director for Aimer's previous two main themes for the first two films, Hana no Uta and I beg you, which both have over 10 million views on YouTube. They star Japanese actress Minami Hamabe.

Both Takahiro Miki and Minami Hamabe have returned for the final music video too, completing the trilogy.

In the video, we see Minami Hamabe in two different outfits, black and white, standing underneath a cherry blossom tree in full bloom. Its beauty is a faint allusion to the Fate/stay Night: Heaven's Feel movie story line, mixed together with chaos. We also see Hamabe appear as she did in the Hana no Uta and I beg you music videos too.

Seeing an actress star in a long-term music video project like this, which has been ongoing since October 2017, is a rare thing indeed. The current version of the new music video is just a teaser, but the full version is scheduled to be released on Aimer's YouTube channel in the near future.

The artwork for Aimer's 18th single Haru wa Yuku/marie was also posted on her official website and features Aimer herself sat under a fully-bloomed cherry tree.

Aimer said: "I'm so incredibly happy to have been able to weave this story together into one from three songs with [Yuki] Kajiura and three music videos together with director Miki and Minami, finishing with 'Haru wa Yuku.' I'm filled with gratitude for the both of them [Miki and Minami]. I want everyone to watch this final piece while thinking about 'Hana no Uta' and 'I beg you.' I hope this music video and the song 'Haru wa Yuku' resonates with people deeply."

©TYPE-MOON・ufotable・FSNPC

Information

Aimer 18th Single – "Haru wa Yuku/marie"

Release Date:  March 25, 2020

First Press Limited Edition (CD+DVD): ¥1,700 (Before Tax) [SECL-2555~2556]

Regular Edition (CD-Only): ¥1,300 (Before Tax) [SECL-2557]

Limited Pressing Edition (CD+DVD): ¥1,700 (Before Tax) [SECL-2558~2559] *Fate/stay night: Heaven's Feel special packaging

Aimer Official Website: http://www.aimer-web.jp/

Fate/stay night: Heaven's Feel III. spring song

Release Date: March 28, 2020

Official Website: http://www.fate-sn.com/

Fate/Grand Order Anime Ending Theme Singer milet to Stream Live Studio Concert On YouTube

It has been announced that Japanese singer milet will promote the release of her upcoming 5th EP Prover/Tell me with a live streamed performance on YouTube which will take place on her channel on February 19, 2020 from 21:00 (JST) below.

milet 5th EP – "Prover / Tell me" Release Promotion STUDIO LIVE

milet is a Japanese singer-songwriter whose debut track inside you took home the Tokyo Drama Award last year. It also dominated the Recochoku Yearly Charts foro 2019, placing number one in the Download and Streaming categories for New Artist. milet made her industry-shaking debut in March last year, and continues to march forward with unstoppable force.

Her new song Prover, taken from her upcoming new EP Prover Tell me which is set for release on February 19, began being used as the second ending theme for the ongoing TV anime series Fate/Grand Order – Absolute Demonic Front on Sunday. The song was released as an individual track on online music platforms, placing on the Top 10 on iTunes, mora, Recochoku and elsewhere.

milet is set to embark on her "Green Lights" tour from March 6, 2020. The tour will take her to 7 locations for 8 shows including two performances at Akasaka BLITZ in Tokyo. Her solo tour last year saw all tickets sold out.

Information

Prover/Tell me

Release Date: February 19, 2020

First Press Limited Edition (CD+DVD): ¥1,500 (Before Tax) [SECL-2535~2536]

Regular Edition (CD): ¥1,250 (Before Tax) [SECL-2537]

Limited Pressing Edition (CD+DVD: ¥1,600 (Before Tax) [SECL-2538~2539] *Fate/Grand Order – Absolute Demonic Front: Babylonia CD cover

milet Official Website: http://www.milet.jp/

Fate/Grand Order – Absolute Demonic Front: Babylonia
Initial Broadcast: October 5, 2019
Official Website: https://anime.fate-go.jp/ep7-tv/

milet's Fate/Grand Order – Absolute Demonic Front: Babylonia Ending Theme Released Digitally

Milet will release her new EP Prover/Tell Me on February 19, 2020. In the run up to its release, the singer just dropped the track Prover today digitally ahead of the CD. The song is being used as the second ending theme for the ongoing TV anime series Fate/Grand Order – Absolute Demonic Front: Babylonia.

milet is a Japanese singer-songwriter whose debut track inside you took home the Tokyo Drama Award last year. It also dominated the Recochoku Yearly Charts foro 2019, placing number one in the Download and Streaming categories for New Artist. milet made her industry-shaking debut in March last year, and continues to march forward with unstoppable force.

Together with the early release of Prover, the song's official music video was also posted on the singer's official YouTube channel.

The video was shot in a single take, and sees milet alone aboard a tiny boat with the vast night sky above her. A great storm surges, but we see her pull through, with a flock of birds flying overhead towards the end.

milet – "Prover" MUSIC VIDEO


milet is set to embark on her "Green Lights" tour from March 6, 2020. The tour will take her to 7 locations for 8 shows including two performances at Akasaka BLITZ in Tokyo.

ⒸTYPE-MOON / FGO7 ANIME PROJECT

Information

Prover/Tell me

Release Date: February 19, 2020

First Press Limited Edition (CD+DVD): ¥1,500 (Before Tax) [SECL-2535~2536]

Regular Edition (CD): ¥1,250 (Before Tax) [SECL-2537]

Limited Pressing Edition (CD+DVD: ¥1,600 (Before Tax) [SECL-2538~2539] *Fate/Grand Order – Absolute Demonic Front: Babylonia CD cover

Download/Stream Links:

milet Official Website: http://www.milet.jp/

Fate/Grand Order – Absolute Demonic Front: Babylonia
Initial Broadcast: October 5, 2019
Official Website: https://anime.fate-go.jp/ep7-tv/

Fate/Grand Order Themed Cafe to Open in Omotesando

The third run of the Fate/Grand Order themed cafe, with designs produced by Sanrio, will take place at OMOTESANDO BOX CAFE&SPACE from September 5 to 29.

Fate/Grand Order is a popular online free-to-play RPG developed by Delightworks for smartphones and is based on the Fate/stay night franchise by Type-Moon. The story has continued to evolve since its released in July 2015, and as of July 2019, it has been downloaded more than 1.7 million times. A TV anime adaptation is slated for release in October 2019 and an anime film is in production for 2020.

This marks the third opening of this limited-time cafe, the previous two having taken place in December 2017 and August 2018 respectively. This year sees the introduction of new Servants as well as an all-new menu with the theme "Autumn tea room." Exclusive merchandise featuring designs of the Servants will also be available for fans to pick up.

When you book a table in advance (¥650 before tax per person) and order from the menu you'll receive one of the above possible 16 lunch mats.

And if you order a drink you'll get one of the 16 coasters. You'll get one of either piece of this original merchandise per item you order from the menu.

Menu Line-Up

Master & Mash Snow Field Meatballs – ¥1,490

This dish is piled with filling sauteed meatballs and mushrooms. The cream sauce is made to look like a snowy field. It's served with a side of jam for a succulent sweet and sour kick.

Romani & Vinci Waffle Sandwiches – ¥1,590

Waffles turned from desserts into a real meal, packed plump with chicken and cheese and served with a side of fries.

Gilgamesh & Merlin Afternoon Tea Set – ¥1,690

This gorgeous assortment of finger food includes cute cupcakes topped with Gilgamesh and Merlin. Enjoy together with a nice cup of tea.

Brynhildr & Sigurd Croquembouche Parfait – ¥1,390

Croquembouche is often served at weddings in Italy at France. Here, it has been turned into an easy-to-eat parfait. It's topped with salt ice cream, yogurt mousse and more, all in refreshing colours.

Fruit Tea (5 Flavours) – ¥790 Each (Male Master / Female Master / Mash / Romani / Da Vinci)

Matcha Milk Float (3 Flavours) – ¥790 Each (Okita / Ryoma / Izo)

Original Merchandise

Acrylic Key Rings (16 Designs – Chosen Randomly) – ¥650

Folder Set of 2 – ¥750

There are even more items on the menu as well as merchandise to look forward to at the cafe. Head to Omotesando and enjoy a beautiful autumn with the Servants!

 © TYPE-MOON / FGO PROJECT

*All prices listed are pre-tax. Photos are for illustrative purposes only.

Information

Fate/Grand Order Design produced by Sanrio – 3rd Collaborative Cafe

Running: September 5, 2019 – September 29, 2019

Location: OMOTESANDO BOX CAFE&SPACE (Pine Under Flat Floor B1F, 5-13-2 Jingumae, Shibuya, Tokyo)

Official Website: https://fgo-sanrio-cafe.jp/

*Reservations now open via the official website

Fate/Grand Order Themed Hotel Rooms Arriving to Sunshine City Prince Hotel

A new 'concept' floor of the Sunshine City Prince Hotel called IKEPI 25 is set to open in April this year and for the hotel's first tie-up the floor is collaborating with the internationally popular mobile game Fate/Grand Order.

IKEPI 25 is a new concept floor of the hotel that caters to fans of anime and manga. It's home to 4 shared communal spaces and 20 concept rooms all completely different from the main hotel.

Fate/Grand Order is an online free-to-play RPG that boasts huge popularity not only in Japan but overseas too with its user base comprised mostly of male gamers. It's available for download in Japan, China, Hong Kong, Macau, Taiwan, North America South Korea, Australia, Singapore, the Philippines, Vietnam and Thailand. It has been downloaded over 3.4 million times worldwide. A new anime season for the game is scheduled to be released this year

Information

IKEPI 25

Tie-Up: Fate/Grand Order

Concept Title: Hotel Chaldea

Opening: April 2019

Room Plan: 20 concept rooms

Plan Reservations: Available Early March 2019

Webpage: https://www.princehotels.co.jp/sunshine/ikepri25/

*Webpage scheduled to go live at the end of February.

Fate/Grand Order Official Website: https://www.fate-go.jp/

©TYPE-MOON / FGO PROJECT

Fate/stay night: Heaven's Feel II. lost butterfly Trailer & Main Theme Released

Fate/stay night: Heaven's Feel II. lost butterfly will premiere in Japan on January 12, 2019 as the second film of a planned trilogy. With less than a month to go, a second trailer was posted onto the Aniplex YouTube page. As well as new cuts from the film we get to hear the main theme song I beg you by Aimer.

Trailer

It has also been announced that fans who go and see the film in its first week will receive an illustration of Saber Alter drawn  by co-founder of TYPE-MOON himself Takashi Takeuchi.

In the run up to its the cinema release a special early screening has also been announced too. Pre-orders open on December 22 and those who enter will be chosen randomly to attend.

Not long is left now until we get to see the highly-anticipated sequel.

Information

Fate/stay night [Heaven's Feel]」Ⅱ.lost butterfly

Release Date: January 12, 2019

Website: http://www.fate-sn.com/

©TYPE-MOON・ufotable・FSNPC

Aimer 16th Single – "I beg you"

Release Date: January 9, 2019

First Press Limited Edition (CD+DVD): ¥1,750 (Pre-Tax)

*DVD includes: Aimer Fan Club Tour "été" Compilation Video

Regular Edition (CD-Only): ¥1,250 (Pre-Tax)

Limited Pressing Edition: ¥1,500 (Pre-Tax)

*Comes with special "Fate/stay night: Heaven's Feel II. lost butterfly" packaging

*Shipping until end of March 2019

Aimer Official Website: http://www.aimer-web.jp/

Fate/stay night: Heaven's Feel II. lost butterfly Early Screening
Date: January 9, 2019
Location: Shinjuku Wald 9 (19:00 / 19:20) & ufotableCINEMA (19:00)
Ticket Price: ¥1,800 (Reserved Seating)
Website: https://fate-sn.com/news/?article_id=49269