Chewy and Delicious Matcha Mochi Chocolate Released at Gion Tsujiri
Confectionery shop Gion Tsujiri released its new Matcha Mochi Chocolate on February 1.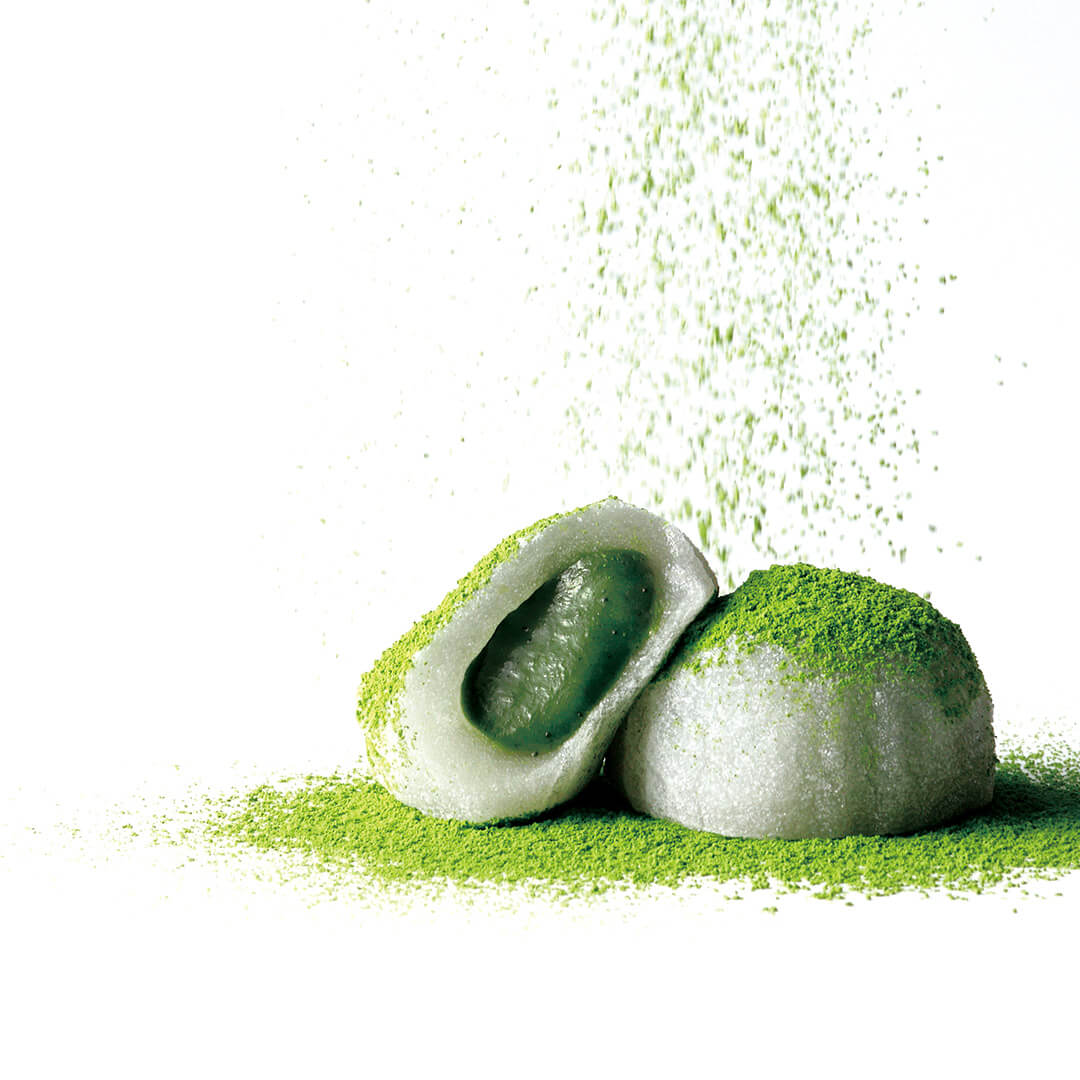 Matcha Mochi Chocolate (Box of 5): ¥1,080 (Before Tax)
This chewy mochi treat is filled with a cream made from chocolate and Gion Tsujiri's famous Uji matcha. One bite reveals the time and work put into this Japanese confection, an amalgamation of rich chocolate and carefully selected matcha.
To add even more flavour, Gion Tsujiri also sprinkles each one with bright-green matcha powder that makes them look visually stunning and smell fragrantly of matcha.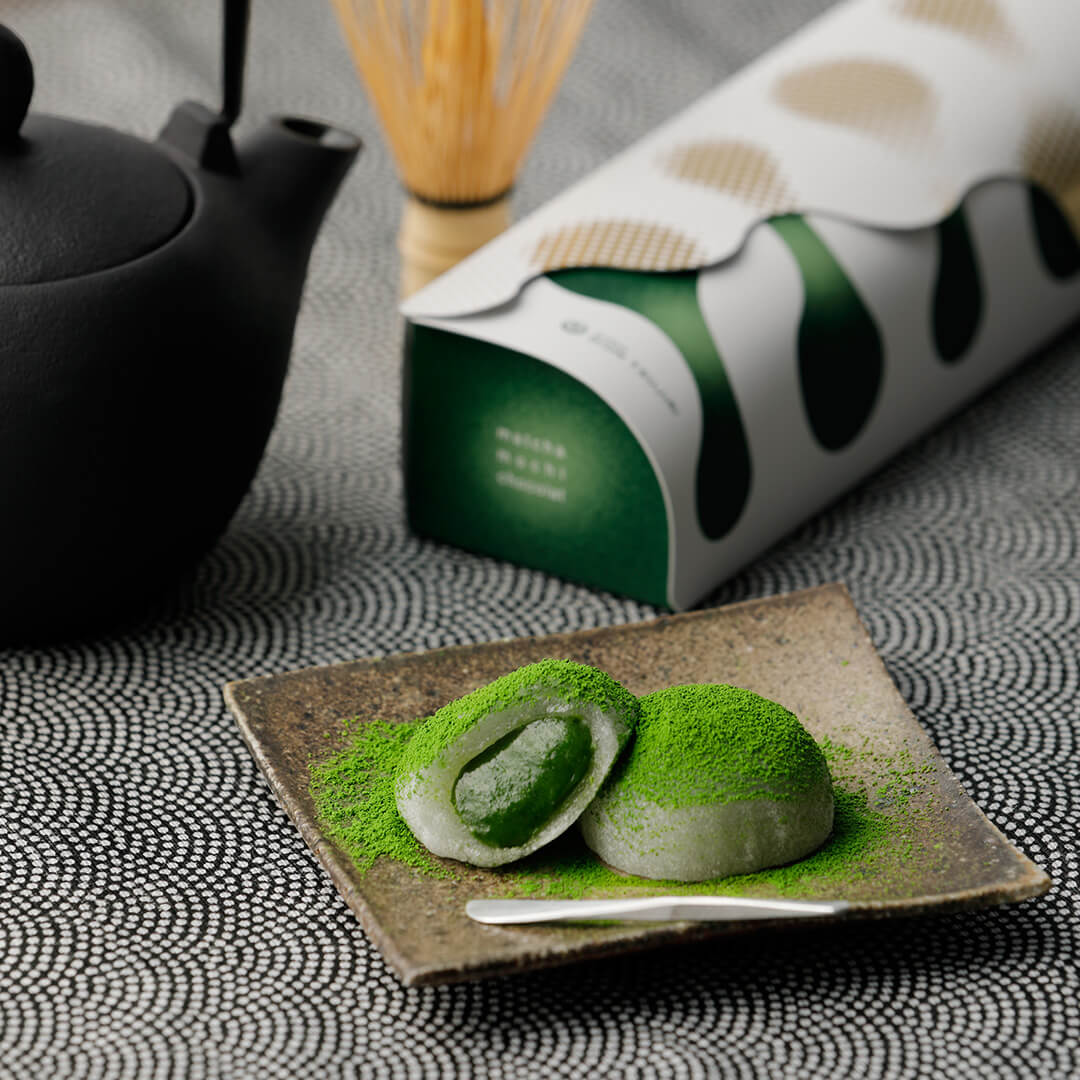 Available at branches in both Kyoto and Tokyo, be sure to pick up a box and enjoy the perfect combination of these Japanese ingredients.
Information
Matcha Mochi Chocolate
Released: February 1, 2019
*The product is limited in stock and will discontinue once all have sold
Available Branches
Kyoto: Gion Tsujiri Main Branch in Gion / Gion Tsujiri Kyoto Station Hachijo Exit / Saryo Tsujiri Kyoto Isetan
Tokyo: Saryo Tsujiri Daimaru Tokyo
Valentine's Market
The product is also available until February 14 at Daimaru Kyoto and Tokyo Skytree Town Solamachi (Floor 2F)
Gion Tsujiri Official Website: https://www.giontsujiri.co.jp
RELATED ENTRIES
Souvenirs at Tokyo Station's GRANSTA Shopping Complex Abundant For the New Year

Tokyo Station's GRANSTA and GRANSTA Marunouchi shopping complexes are holding a New Year's from December 26, 2019 to January 5, 2019 where sweets and souvenirs will be sold to beckon the new year. The items are based on the Year of the Rat in the Chinese zodiac for 2020.

Sweets and Souvenirs

Baked New Year 2020 (Contains 5) – ¥1,600 @ Fairycake Fair (Available from December 26)

Tuck into these adorable baked cookies with various celebratory designs including rats, flowers and the year 2020. They are egg flavoured and are made with caramel to create a taste similar to Japanese purin (a type of custard pudding).

 

High Grade Fresh Japanese Confection Assortment (Contains 6) – ¥1,848 @ Ginza Kanra (Available Mid-December to Mid-January)

Ginza Kanra's assortment of fancy confections are so pretty they almost seem a waste to eat, each with a variety of motifs such as a rat as well as "Gin no Suzu"ーa silver bell inside Tokyo Station that's famous as a meeting spot.

Ginza Kikunoya Fukiyose Kaiune Shikan (200g) – ¥1,998 @ Jimbocho Ichi no Ichi (Now on sale until all sell out)

This tin of assorted small sweets includes around 30 types of baked wheat bran treats and more. There's plenty to keep you going through the New Year celebrations.

Left: Eto Kokeshi Rat – ¥2,090 / Right: Mame Kokeshi Rat – ¥880 @ SHARED TOKYO (Now on sale)

Available in limited quantities only, these cute rat kokeshi dolls would look good even as decorations in small spaces. Their red and white colours add to the festive vibe as these are celebratory colours in Japan.

New Year's Card Shrimp Senbei Rice Crackers (Contains 11) – ¥1,080 @ Keishindo (Now on sale until all sell out)

Forget regular Christmas cards, hand someone one of these rice crackers instead which feature messages like "Here's to another great year" in Japanese as well as other New Year motifs.

Osechi and New Year's Bento

Houjou – ¥8,000 @ Asakusa Imahan (Available January 1 only)

Osechi is food prepared for the New Year in Japan, and this bountiful harvest includes Asakusa Imahan's famous wagyu black beef, red rice, rice with minced sea bream, and more. These are limited to 10 sets only.

Osechi Shoufuku Suzen – ¥1,800 @Sasahachi (Available January 1-3)

Another delicious mix of osechi like fish wrapped in kombu seaweed, hand-rolled sushi, and more—all of which goes down best with a cup of sake. Limited to 20 servings per day.

This is just a peek into what's available this New Year at Tokyo Station, so if you're using the station this year, be sure to stop by.

*All listed prices include tax

Information

New Year's Fair

Running: December 26, 2019 – January 5, 2020

TOKYO STATION GUIDE Official Website: https://www.tokyoinfo.com/

Häagen-Dazs Releases Strawberry Brownie Parfait and Fondant Chocolate Ice Creams

Häagen-Dazs Japan released two new mini cup flavours of ice cream on December 10 which will be available for a limited time only: the "Strawberry Brownie Parfait" and "Fondant au Chocolate."

The strawberry and brownie parfait ice cream is a mix of rich vanilla custard ice cream and chocolate brownie finished with a glaze of sweet and sour strawberry sauce. Enjoy a combination of three different flavours and textures.「

The "Fondant au chocolat" is a crispy sandwich filled with rich dark chocolate ice cream and chocolate sauce. It's sold in packaging that looks like a high-quality gift box.

If you're in Japan for the winter then be sure to pick up these two holiday season delights!

Information

Häagen-Dazs Mini Cup Strawberry Brownie Parfait (Limited Edition)

Price: ¥295 (Before Tax)

Release Date: December 10, 2019

Available: At supermarkets, convenience stores, department stores and elsewhere across Japan

Product Page: https://www.haagen-dazs.co.jp/strawberry_brownie_parfait/

Häagen-Dazs Mini Cup Fondant Au Chocolat (Limited Edition)

Price: ¥295 (Before Tax)

Release Date: December 10, 2019

Available: At supermarkets, convenience stores, department stores and elsewhere across Japan

Product Page:  https://www.haagen-dazs.co.jp/fondant_au_chocolat_2019/

Artist FUKI Collaborates with LINE MUSIC to Make Romantic Bubble Tea at Tai Parfait Cafe

LINE MUSIC-Bu is LINE MUSIC's research team that studies popular music trends among teen girls. LINE MUSIC-Bu teamed up with love song-writer FUKI, who is releasing one love per month for 12 months, in order to produce a new bubble tea drink and tapioca dessert especially for couples. The drink and dessert is being sold at Tai Parfait Cafe, Yokohama World Porters. FUKI will also perform at a free live gig at Yokohama World Porters on December 25, which is the last day of collaboration drink and tapioca dessert sales. 

The collaboration pair-tapi contains two different drinks in a twin split cup. One side of the cup is filled with cafe au lait and the other with a strawberry-flavoured drink. Both sides are stuffed with yummy tapioca pearls and are topped with a mountain of cream. This cute drink sees the perfect opportunity to get closer to your partner. 

The second collaboration treat is the Tai Parfait Tapi which is stuffed with strawberries and tapioca pearls. The adorable tai fish is made from sweet dough – and it has cute eyelashes too. The fish's enormously wide mouth can be seen chomping down on the delicious dessert. 

Enjoy a romantic bubble tea and make sure to check out FUKI's love song LOVE and CRY, which is based on a true story. The song is currently available on a number of digital music services. 

Teen girls full of love problems find FUKI'S songs highly relatable. As Yokohama World Porters will be lit up for Christmas, you just can't miss FUKI's performance on December 25.

Information

LOVE and CRY / FUKI

Digital Release: November 11, 2019

Link: https://jvcmusic.lnk.to/loveandcry

Tai Parfait Cafe

Selling Until: December 25, 2020

Location: Tai Parfait Cafe, Yokohama World Porters (Floor 5) 

Address:  2 Chome-2-1 Shinko, Naka Ward, Yokohama, Kanagawa 

Opening Hours: 11:00 ー 22:00

Christmas Free Live Gig

Event Name: FANTASTIC CHRISTMAS

Dates: November 8 ー December 25

FUKI's Performance Date: December 25

Times: 14:00 ー 14:30 and 16:00 ー 16:30 (Stage 2)

Location:Yokohama World Porters Kishamichi Promenade, 2nd Floor Stage 

Price: Free

Hilton Tokyo Bay Tips Over the Toy Box to Reveal Playful Pink Strawberry Dessert Buffet

Tokyo Disney Resort® 's official hotel Hilton Tokyo Bay will be serving up a strawberry dessert buffet called Strawberry Playroom from December 28 at lounge O. The buffet will be served exclusively on weekends and national holidays excluding New Year's Day.

Hilton Tokyo Bay has tipped over the toy box, creating a dessert buffet which is like the playroom of every little girl's dreams. The interior decor of the buffet room is a nostalgic throwback to the Vaporwave days of dial-up internet, bulky CRT TVs and retro games, however, everything is transformed with a pop pink filter. 

If you think the decor is playful, just wait until you see the desserts. Slice into the heart-shaped Very Berry Cream Cake and a strawberry and heart-shaped chocolate filling will come bursting out like a jack-in-the-box. This is the dessert to go for if you want a slice of fun.

Delving deeper into the world of toys, you will discover the Berry Brownie Toys dessert, which is garnished with chocolate robot toys. 

The MELTY or NOT Mousse Cake is the only time you won't feel disappointed seeing a dropped ice cream. This vanilla mousse cake is topped with a "melting ice cream" and is freshly baked from the fantasy oven.

When you need a break from all the sugar intake or are looking for a late lunch, make sure to check out the 15 savoury dishes. Some savoury dishes include the Infinite Coleslaw Tower, which is made of purple cabbage and crunchy fried noodles, the Peachy Pink Beetroot Scattered Sushi (Chirashizushi) which is made from purple sushi rice and the Macaroni Gratin Treasure Hunt which challenges you to find the macaroni with a unique shape. 

All together, the buffet includes approximately 40 varieties of fun savoury mains and desserts for you to enjoy and are bound to get lots of likes on your Instagram. 

Information

Strawberry Dessert Buffet: Strawberry Playroom

Location: Hilton Tokyo Bay Lobby "Lounge O"

(1-8 Maihama, Urayasu, Chiba)

Running: December 28, 2019 – April 12, 2020

*Open only on weekends and national holidays. Closed on New Year's Day.

Opening Hours: 3:00 ー 15:00/ 15:30 ー 17:30 (Two sessions per day, each runs for two hours each)

Price**: Adult: ¥3,100, 4 – 8 y/o: ¥1,200, 9 -12 y/o: ¥1,800

*Drinks bar access included (Approx. 15 drinks)

** Prices Before Tax and Service Charge

Reservation Tel:  047-355-5000 (Restaurant Extension Number)

 

Website:  https://www.hiltontokyobay.jp/plans/restaurants/sweets/lounge_1912

Japan's ROLL ICE CREAM FACTORY Releases Christmas Themed Menu

ROLL ICE CREAM FACTORYーan ice cream chain in Japan specialising in 'rolled' ice creamーreleased its Christmas menu today.

From Left: Reindeer's Christmas / Pink Pink Christmas / Blue White Christmas / Royal Pink Christmas

This will be ROLL ICE CREAM FACTORY's third-ever Christmas menu, which they have made even more fun. There are three festive ice creams to choose from, including two featuring Santa Claus and a reindeer. The ice creams can be served in either their regular cups, or the store's new "Fuwamoko" snowstorm cups, which looks like snow blowing in the wind. Check out the video below.

Until now, people would take photos of the ice cream being made, but these new cups make for an even more Instagrammable post. Edit in a Christmas song or your favourite music to make your own cute video for your Instagram Stories. The Christmas menu is available until December 25, but these cups will be served until late February 2020. You'll find the Christmas menu at the select branches and pop-up stores listed below.

Information

Christmas Menu (4 Flavours)

Running: December 1, 2019 – December 25, 2019

①Royal Pink Christmas

Price: Fuwamoko Cup ¥1,350 / Regular Cup ¥1,300

②Pink Pink Christmas

Price: Fuwamoko Cup ¥1,100 / Regular Cup ¥1,050

③Blue White Christmas

Price: Fuwamoko Cup ¥1,100 / Regular Cup ¥1,050

④Reindeer's Christmas

Price: Fuwamoko Cup ¥1,100 / Regular Cup ¥1,050

*Listed prices do not include consumption tax

Participating Branches

・ROLL ICE CREAM FACTORY Stores: Harajuku Omotesando (Tokyo), Dotonburi (Osaka), Aeon Mall Sakai Kitahanada (Osaka), LACHIC (Nagoya), Don Quijote Yamashita (Yokohama), Shinkyogoku (Kyoto)

・ROLL ICE CREAM FACTORY Pop-Up Shops: Shiki 0101 (Saitama) *December 18, 2019 – January 7, 2020 / TOKIWA (Oita) *December 21, 2019 – December 30, 2019

Official Website: https://rollicecreamfactory.com

Top 10 Most Popular Souvenirs to Pick Up at Tokyo Station's HANAGATAYA Store | 2019 Edition

HANAGATAYA is a souvenir variety shop that opened in Tokyo Station's central passage back in July. After over 5 months of sales, the store has revealed its Top 10 most popular products based on sales.

The line-up features a selection of HANAGATAYA exclusives, as well as products from elsewhere which have received pre-sales at HANAGATAYA. You will be spoilt for choice with this selection, all of which are perfect for ringing in the New Year when travelling back home. Let's take a look.

1st Place

Banana Custard Cream – Tokyo 2020 Olympic Emblem Design (Tokyo 2020 Official Licensed Product) – Contains 8 – ¥1,134 (Tax Included)

Officially licensed by the Tokyo 2020 Olympics, these chewy cakes are made from domestic Japanese rice, and are filled with deliciously creamy banana custard.

2nd Place

Tokyo Banana Butter Madeleine (Tokyo Banana World) – Contains 4 – ¥560 Tax Included)

Exclusive to HANAGATAYA come these all-new butter madeleine's created by famous confectionery company Tokyo Banana. These baked treats feature a buttery fragrance and taste, and are made with a banana confiture and finished with fresh lemon.

*Exclusive to HANAGATAYA GRANSTA Tokyo Central Street

3rd Place

Toro One Press Chocolate Chick (Tokyo Hiyoko) – Contains 3 – ¥648 (Tax Included)

This year marks 107 since the company Hiyoko was established. The "Toro One Press Chocolate Chick" is a new confection from them: an adorable skyward-looking chick made up of three chocolate layersーeach with their own distinct flavour. At the heart of the chick is a moist chocolate paste.

*Exclusive to Tokyo Station

4th Place

Cheese Wich – Contains 5 – ¥594 (Tax Included)

These light and refreshing cheese cookies, called Cheese Wiches, are filled with a chocolate-coated melted cheese sauce. Three layers means an enjoyable amalgamation of flavours and textures.

*Exclusive to Tokyo Station

5th Place

Chocolate Chestnut Eggs (Ginza Tamaya) – Contains 4 – ¥800 (Tax Included)

"Goma Tamago" is a popular bite-sized egg-shaped confection. This chestnut flavour was created for HANAGATAYA, a mix of dark chocolate and vanilla flavoured chestnut paste.

*Exclusive to Tokyo Station

6th Place

Strawberry Cookie Sandwich (Berry UP!) – Contains 8 – ¥1,296 (Tax Included)

Berry UP! is a cute confectionery brand which creates baked strawberry sweets. Keeping with that theme, they have created a crunchy quintuple-layered cookie sandwich filled with sweet and sour strawberry chocolate.

7th Place

Shinjuku Curry Ebi (Shinjuku Nakamuraya) – Contains 6 – ¥600 (Tax Included)

If you're looking for something more savoury, then this one's for you: Shinjuku Nakamuraya's light, fluffy and melt-in-the-mouth ebi, coated in curry spices. One nibble is enough to get you instantly hooked.

8th Place

Strawberry Polvorón (Berry UP!) – Contains 6 – ¥1,296 (Tax Included)

Another entry from Berry UP!, these polvorón shortbreads are made from lots of fresh strawberries mixed with condensed milk and mascarpone, creating a subtle sweetness that's enough to have your mouth watering.

9th Place

BLUE MELTIN SAND (Tokyo Campanella) – Contains 8 – ¥1,200 (Tax Included)

What if herbal tea and cookies became its own snack? That's what Tokyo Campanella asked too, and so make it a reality. Their BLUE MELTIN SANDs are cat's tongue cookies stuffed with a herbal tea sauce that has a natural blue colour.

10th Place

Premium Cacao Full Sablé (Mary Chocolate) – Contains 18 – ¥1,350 (Tax Included)

Finally, we have a premium edition of chocolate company Mary Chocolate's Cacao Full Sablés. This one's for the adults, a sophisticated combination of bittersweet chocolate and berries.

*Exclusive to HANAGATAYA GRANSTA Tokyo Central Street

Did you enjoy this list? Which one takes your fancy the most? Whether as a souvenir for the folks back home, or as a treat to yourself to celebrate 2020, if you're in Tokyo this year then be sure to give HANAGATAYA a visit.

Enjoy the Flavours of Sendai with the Zunda Shake Kit Kat

Sendai is famous for zunda mochi: a traditional dessert that fuses boiled mochi (rice cakes) and zunda (sweet edamame bean paste). The zunda mochi shop Zunda Saryo is collaborating with Nestlé to create a Kit Kat Mini with the regional flavour "Zunda Saryo Shake", which will be released on December 1 at a number of shops including souvenir shops around Sendai Station and Sendai Airport, and selected KASHO SANZEN shops*

*(Omachi  Hirose-dōri, Koji Matsushima and Monzen Matsushima) 

Zunda Saryo spreads the delicious flavour of zunda across Japan through their variety of zunda-flavoured desserts and drinks. The Zunda Shake is an original drink made by fusing carefully selected milk with vanilla and then blending it with zunda to create an original sweet shake to represent Sendai. Kit Kat's crispy wafers add texture to the layers of smooth chocolate, producing a divine flavour. Japan is home to more than 40 different Kit Kat flavours which are popular within Japan and overseas. 20 of those are from Japan's regional flavour series, which is a collaboration with a regional specialty. 

Foreigners and even Japanese visitors from other parts of the country will have never seen this new flavour before. The new Kit Kat Mini Zunda Shake flavour is sure to be the best way to experience the flavours of the region. 

The cream filling is kneaded with edamame powder and sandwiched between crispy wafers. The Kit Kat is coated in Zunda shake-flavoured chocolate, creating the perfect Kit Kat flavour.  

Whether you're looking for a small snack or a souvenir, the Zunda Shake Kit Kat is perfect for you.

Information

Kit Kat Mini Zunda Shake Flavour

Contains: 9

Price: ¥800 (Before Tax)

Purchase from: Souvenir shops around Sendai Station and Sendai Airport, KASHO SANZEN (Omachi  Hirose-dōri, Koji Matsushima and Monzen Matsushima) 

Release Date: December 1, 2019

Instagram Sensation Unicorn Ice Cream Shop Now Selling Christmas Reindeer Ice Cream

Looking for Instagram-worthy ice cream in Japan? You definitely need to check out Asakusa Tsuno Koi. Soon after opening in Tokyo's traditional Asakusa on July 5, 2019, their soft serve unicorn ice cream instantly earned its fame on social media. From November 28 to December 24, the ice cream shop will be releasing a series of Christmas-limited ice creams that are sure to become a hit sensation.

This shop is famous for being the only ice cream shop in the world to make unicorn-shaped cones out of financier cake dough and filling them with a sweet spiral of soft serve ice cream for the unicorn's horn. This Christmas, the shop is introducing Christmas-limited toppings, flowers and wreaths to the decorations menu, making customising your ice cream more fun than ever before. 

* According to research conducted by Asakusa Tsuno Koi. Protected status has been received for America, Korea and Japan. Applications are still being processed in the EU, Singapore and Mongolia.  

For the Reindeer Soft Serve Ice Cream (¥780), each and every single financier cone is baked carefully, but this time in the shape of a reindeer – and it's chocolate flavoured. Filled with soft serve ice cream, this reindeer is too cute to eat. 

The Christmas Tree (¥830) is a soft serve pistachio ice cream made using high-grade pistachos: the reigning queen when it comes to nut varieties. The ice cream is finished with one of Asakusa Tsuno Koi's original Christmas trees. 

The Santa Claus Soft Serve (¥500) is made using Asakusa Tsuno Koi's rich-flavoured vanilla ice cream. Young or old, the moment you set eyes on Santa Claus' face, a smile will automatically appear on yours! 

The Christmas-limited toppings include stars, candy, and gingerbread men (¥100 each). Can't choose? There is set including all three which costs ¥250.

The shop interior is also looking more Christmassy. The interior is a fusion of Asakusa's traditional heritage and the unicorn motif, which is popular in western countries. A colourful flowery background and Asakusa's traditional folding fans and umbrellas perfectly finish the western-Japanese fusion scene, which is currently soaking in fame on Instagram.

Asakusa Tsuno Koi is serving up a totally unique kind of ice cream that has not been spotted anywhere else in the world. The Christmas-limited ice creams are definitely worth the hype. 

 

* Prices Before Tax

Information

Asakusa Tsuno Koi 

Address: 1- chome-14-7 Asakusa Taito City

Closed: Wednesdays

Opening Hours: 11:00 – 18:00

Website (Japanese Only): http://www.38cogp.com/tsunokoi/

Fine & Fruity Christmas Tarts Baked Up at Qu'il Fait Bon in Japan For 2019

Japanese fruit tart specialist company Qu'il Fait Bon is serving five special tartsーincluding four new onesーat 10 of their branches for Christmas this year from December 20 to 25.

Eight Fruit Tart (New Tart) – ¥968 per piece / ¥9,684 Whole 25cm / ¥5,316 Whole 17cm / ¥3,357 Whole 13cm

Topped with eight kinds of fruit, this luxurious tart is filled with a white chocolate-laced custard cream and sat on a deliciously crunchy base. Each bite fills your mouth with an amalgamation of harmonious fresh fruity flavours.

Strawberry & Berry Cheese Mousse Tart (New Tart) – ¥1,235 per piece / ¥12,355 Whole 25cm / ¥7,322 Whole 17cm / ¥4,897 Whole 13cm

This tantalising tart is made with Le Gall cream cheese and is layered with sponge, cream and shortcake. It's finished with a topping of juicy strawberries and even more cream.

Sweet and Sour Berry & Chocolate Cream Tart (New Tart) – ¥967 per piece / ¥11,612 Whole 25cm / ¥6,139 Whole 17cm / ¥4,594 Whole 13cm

A more sophisticated tart for the grown-ups, this rich delight is the perfect indulgence for the holy night this Christmas, finished with a glossy sauce and sparkly gold leaf. The smooth bavarian sauce coupled with the sweet and sour berry assortment is a match made in heaven. For texture, there is added crunchy feuillantine made from thinly baked crepe dough.

Two-Coloured Grape Tart (New Tart) – ¥921 per piece / ¥7,369 Whole 21cm / ¥5,892 Whole 17cm

If you love grapes, then this tart is a dream come true: a combination of red and green grapes sat on top of a bed of crème raffinée and a cinnamon-sprinkled base. Enjoy the sweet, sour and juicy flavours.

White Chocolate Cream & Fukuoka Beni Hoppe Strawberry Tart – ¥1,647 per piece / ¥16,470 Whole 25cm / ¥8,138 Whole 17cm

This tart is made with beni hoppe strawberries from Fukuoka which are renowned for their rich taste and balanced sweetness and sourness. This tart is made with only the best selection of these large grapes. Enjoy this simple but extravagant combination of white chocolate custard cream, fresh cream, and light and fluffy sponge.

*Exclusive to the following Qu'il Fait Bon branches: Grand Maison Ginza, Aoyama, Tokyo Skytree Town Solamachi, Yokohama, Fukuoka, Hamamatsu, and Sendai

White Chocolate Cream & Fukuoka Amaou Strawberry Tart – ¥1,762 per piece / ¥17,625 Whole 25cm / ¥8,934 Whole 17cm 

This tart is also made with strawberries from Fukuoka, a type known as amaou. They are juicy, plump, and glossy red. They are paired perfectly with white chocolate custard and fresh cream.

*Exclusive to the following Qu'il Fait Bon branches: Grand Front Osaka and Kyoto

These tarts are available for a limited-time only, so treat yourself this Christmasーa time that comes only once a year!

*All listed prices include 8% consumption tax. Rate subject to change if dining in at a select branch. Select branches may not serve individual slices.

Information

Christmas Tart Menu

Available: In-branch. Reservations not available.

Running: December 20, 2019 – December 25, 2019

Participating Branches: Grand Maison Ginza, Aoyama, Tokyo Skytree Town Solamachi, Yokohama, Fukuoka, Hamamatsu, Sendai, Grand Front Osaka, Kyoto, Shizuoka

Product Page: http://www.quil-fait-bon.com/2019Xmas/

Qu'il Fait Bon Official Website: http://www.quil-fait-bon.com

Rihga Royal Hotel Tokyo to Release Celebratory Year of the Rat Roll Cake for 2020

As 2020 is the Year of the Rat in the Chinese zodiac, Rihga Royal Hotel Tokyo's gourmet shop Melissa is ensuring their customers thoroughly enjoy their New Year's celebration by releasing a roll cake dressed in Japan's traditional celebratory colours and decorated with 2020's zodiac theme of the Rat. The cake is appropriately named Akemashite omedetou gozaimouse, which is a play on words with the Japanese New Year's greeting "Akemashite omedetou gozaimasu". The roll cake will be sold from December 28 2019 to January 7, 2020 and only 10 will be sold per day.

Melissa has been selling Chinese zodiac-themed confections since 2010, basing designs on the animal of the zodiac celebrated in that year. The pâtissiers never fail to produce cute designs full of fun and personality. 2020 will see the release of a strawberry roll cake decorated with the Year of the Rat theme. Pink dough is wrapped around a strawberry and strawberry cream filling. The cake is topped with an adorable chocolate mouse, strawberries, raspberries, red currants, pâte de fruits, and many more delicious toppings. The red strawberries and white cream represent the traditional colours of celebration in Japan.

As the Year of the Rat is the first year of the Chinese zodiac's 12-year cycle, 2020 is a year to start afresh and look forward to a fruitful year. The pâtissiers are putting their heart and soul into each and every roll cake they produce, making this the perfect way to bring in the New Year.

Information

Akemashite omedetou gozaimouse! Kohaku Roll Cake (Year of the Rat New Year's Roll Cake)

Price: ¥2,800 (After Tax) 

Size: 9cm  diameter × 20cm length (approx)

To be sold at: Melissa (Takeout shop, Floor 1)

Opening Hours: 10:00 – 20:30

Availability: December 28, 2019 – January 7, 2020

* Reservations must be made 3 days prior to collection. A limit of 10 roll cakes will be sold per day.

* The image in this article is for reference only and may differ from the actual product.

Melissa, Rihga Royal Hotel Tokyo: https://www.rihga.com/tokyo

Valentine's Day 2020: Japanese Chocolates, Golden Desserts & More at GINZA SIX

Winter may be cold, but that's no excuse to stay indoors all day when there's so many seasonal events and festivals to be enjoyedーespecially in Japan. With Christmas and New Year's just on the horizon, it'll soon be time to begin preparations for Valentine's Day.

GINZA SIX is the biggest shopping centre in Ginza, a district itself which prides itself as the high end part of Tokyo. Seeing as Ginza is home to many internationally-known chocolatiers, you can bet that GINZA SIX is sure to deliver when it comes to high-quality Valentine's chocolates and sweets. And you'd be right in thinking that, because the shopping complex is ready to showcase some of the delectable delights set to pose in all of their delicious glory during the season of love. Whether it's a treat to some premium chocolate to your special someone, or a bit of self-indulgence, GINZA SIX has you covered this coming Valentine's Day.

But that's not all, because a string of pop-up shops are going to open too. Let's take a peek into what's to come.

Premium sweets made with the "4th type of chocolate"

We all know dark, milk, and white chocolate, but many people are still unaware of ruby chocolate. Made from ruby cocoa beans, the chocolate was officially unveiled in 2017, and is marketed as the "4th category" of chocolate. It will come as no surprise then that GINZA SIX will be making use of this still rare chocolate, as well as "blonde" chocolateーyet another unfamiliar type.

Valrhona Blonde Chocolate Plate With Jasmine Scent – ¥1,200 @ THE GRAND GINZA

Blonde chocolate's characteristic quality lies in its combination of caramel and biscuit. The chocolate artisans over at Valrhona, a Japanese chocolate company savoured by some of the world's top patissiers, have forged a blonde chocolate dome dessert injected with a raspberry puree and sweet vanilla mousse. The dessert is sat on a bed of crunchy crumble and surrounded with a pool of jasmine-scented blonde chocolate cream. This one's for the adults to enjoy.

Ruby Saku Langue de Chat (12 Pack) – ¥1,200 @ ISHIYA GINZA

For a limited time only, ISHIYA GINZA's langue de chat, also known as cat tongue biscuits, arrive in a ruby chocolate flavour. They took their delicious cat tongues and sandwiched smooth and sour ruby chocolate between them.

Japanese-style chocolates

These next chocolates are made with the Japanese spirit and palate in mind.

Tsujiri Collection (8 Pack) – ¥2,360 @ Tsujiri

The tea experts at Tsujiri have paired chocolate with matcha and houjicha, two types of tea that go perfect with chocolate. Bringing out the flavour of tea in their products is Tsujiri's speciality. Houjicha comes as the newest flavour to this product alongside koicha, yuzu, sesame praline, Japanese pepper, sakura strawberry, and brown sugar.

Kurosu Vinegar Raw Chocolate – ¥1,500 @ Shoubunsu Vinegar Brewery

Kurosu vinegar is smooth and doesn't have a strong flavour or smell. It goes well with these chocolates from the Shoubunsu Vinegar Brewery, including their slightly bitter milk chocolate and white chocolate with soy milk. Each bite offers a sweet, refreshing flavour.

Textural chocolates

If you're here for the texture, then you've come to the right place. From a dessert that combines light pound cake with rich mousse to a melt-in-the-mouth chocolate terrine, GINZA SIX has no shortage of sweets with tempting textures.

Rouge – ¥2,315 @ Patisserie Pavlov

This dessert is made with pound cake and rich mousse and is lavish with ganache. It's covered with a strawberry chocolate coating and finished with an artisanal chocolate decoration.

Chocolate Terrine – ¥6,000 @ FRANCK MULLER GENEVE

Luxurious is the word to describe this chocolate terrine, a heavenly mix of Swiss dark chocolate and tasty cultured butter, resulting in a complex flavour profile of richness and melt-in-the-mouth sweetness.

Dine-in Valentine's menu

Another way to enjoy your time at GINZA SIX for Valentine's 2020 is to sit down at one of the cafes or restaurants to enjoy one of their exclusive Valentine's Day menu items, such as an afternoon tea. It's a great way to spend your time with your loved one or as a get-together for all the singles out there!

La Saint-Valentin Afternoon Tea Sets – ¥4,200 (Serves 1) @ THE GRAND GINZA

"Noir & Blanc" (Black/White) is the theme of these afternoon tea sets, which come in two different colours and are towered with strawberry-packed sweets and savoury snacks. Will you go for the stylish noir, or the sophisticated blanc?

Coppa Valentine – ¥1,819 @ Café Cova Milano

Served in a wine glass, this strawberry dessert is a layered combination of sweet and sour strawberry sorbet, chocolate ice cream, and strawberry sauce. It's topped with heart-shaped chocolate and a rose bell.

Limited-time pop-up shops

CAFÉ COVA (GINZA SIX Floor B2F) 

CAFÉ COVA has lots of incredible surprises for the Valentine's season next year, including a chocolate box wrapped in beautiful packaging, as well as the above-pictured heart and rose panettone (which, by the way, they'll only be selling a select few of!)

Paul Smith POP UP SHOP (GINZA SIX Floor 4F) / Open November 27, 2019 – January 14, 2020

IDEAS FROM LONDON is a pop-up shop by Paul Smith that's set to bring ideas from the UK to Japan. See their new fashion collection, special collaborative items, and more.

This is just a select look at what's to come when the season of love hits GINZA SIX. Make sure you don't miss out.

Information

GINZA SIX

Address: 6-10-1 Ginza, Chuo Ward, Tokyo

Opening Hours: Shops/Cafes (B2F-5F) 10:30-20:30 / Restaurants (6F, 13F) 11:00-23:00

*Business hours differ from shop to shop.

No Fixed Holidays (But shops and restaurants will be closed on January 1, 2020)

Access: Directly connected to Ginza Station via the Tokyo Metro Ginza Line, Marunouchi Line and Hibiya Line.

TEL: 03-6891-3390
Website: http://ginza6.tokyo/

Kaori's Easy Recipe: Learn to Make Frozen 2 Milk Tea Muffins

With just a small bit of ingenuity, turn everyday food into something cute using Kaori's easy recipe! With a few simple ideas, an ordinary recipe magically transforms into a cute dish.

In this recipe, you'll learn to make cupcakes based on the upcoming Disney film Frozen 2 which is set to hit theatres worldwide on November 22, 2019. These cupcakes are inspired by the Anna and Elsa poster design for the movie. This recipe has parts that are a little more tricky compared to my usual recipes, but put yourself to the test and you'll end up with something delicious!

Milk Tea Muffin Ingredients (Makes 5)

100g weak flour

70g unsalted butter

50g granulated sugar

1 egg

1 tsp bottled chestnut syrup

5-6 chestnuts preserved in syrup

50ml milk tea

*To make the milk tea, add one black tea bag into 70ml of milk and draw 50ml from that

Bean Paste Ingredients

500g white bean paste (shiro-an in Japanese)

25g unsalted butter (room temperature)

20ml milk

A bit of of vanilla extract

A bit of Wilton White icing colour

1. First, we'll make the milk tea muffins. Bring the unsalted butter to room temperature and whisk with a hand mixer. Add the granulated sugar and continue to whisk. Whisk the egg fully, and then add slowly to the mixture. Make sure to add the egg slowly so as to not split the butter.

2. Sieve the wheat flour and baking powder and add to the mix. Slowly add the milk tea and continue to whisk to bring the mixture together.


3. Add a teaspoon of the chestnut syrup. Chop the chestnuts and add those too, then mix once again.

4. Add 70-80% of the mixture equally between five cupcake cups. Bake at 170° for approximately 25 minutes.

5. Next, we'll make the bean paste cream. Do this by mixing together the white bean paste, unsalted butter, milk, vanilla extract, and Wilton White all at once. The Wilton White makes the cream turn a pure white colour.

6: Allow the muffins to cool, lather over the bean paste to taste, and finally decorate. All done!


I added colouring to chocolate plastic for the chest part of the dress. Then I cut it up and added it to the cupcakes. I hope you enjoyed the recipe, be sure to try making your own movie-inspired handmade desserts at home too!

The long-awaited sequel to Disney's blockbuster animated is right around the corner. The first Frozen film touched the entire world with its frosty beauty with both its story and music. Let It Go in particular was a worldwide phenomenon, and was an immense hit in Japan too.

Frozen 2 will see Elsa embark on a dangerous journey with Anna, Kristoff, Olaf and Sven as she discovers why she was born with magical powers, the answer to which is threatening her kingdom.

The new film's main theme, Into The Unknown, captures the complex feelings and emotions Elsa holds as she steps forth, with all her anxieties and hopes, into a new world.

Frozen 2 Trailer Japanese Version

The first Frozen film was a widespread global hit and there's no denying that Frozen 2 will follow in its footsteps. Get together with your family, friends or lover to watch it for the best experience.

Kaori invites you into her world of character-themed food dishes in her recipe series. Be sure to check out her Instagram where she has uploaded many pictures of her character dishes!

Kaori Kubota (@kaopan27)

I live in Hokkaido and I love to make character themed foods, desserts and pastries♡

I want to see my family smile, so I enjoy putting in a bit of effort to make character foods and changing food into something cute♡

You can see more of my character foods and character bento boxes on my Instagram page→@kaopan27

©2019 Disney. All Rights Reserved.

Information

Frozen 2

Release Date: November 22, 2019

Distributed by: Walt Disney Studios/Motion Pictures

Directors: Chris Buck/Jeniffer Lee

Starring: Idina Menzel (as Elsa), Kristen Bell (as Anna)

Official Website: https://disney.co.uk/movies/frozen-2