【Interview】Worldwide known Japanese psychedelic band Kikagaku Moyo talk about their formation all the way up to their current release
Kigaku Moyo are a Japanese psychedelic band well-known throughout America and Europe, and who are becoming the talk of the town even in Japan.
The band formed in 2012. They released their self-titled album in 2013 from the Greek record label "Cosmic Eye Records/Sound Effect Records". From there, they began to gain attention throughout America and Europe, and subsequently released their EP "Mannatus Clouds" on April 2014 from "Captcha Records" in America and from "Cardinal Fuzz" in the UK. The guys are currently travelling the world with their music. They are playing a gargantuan number of venues with their acid and sitar melody music, from an America tour to a UK tour, and even more at festivals around the world.
Interview : Go Kurosawa(Kikagaku Moyo)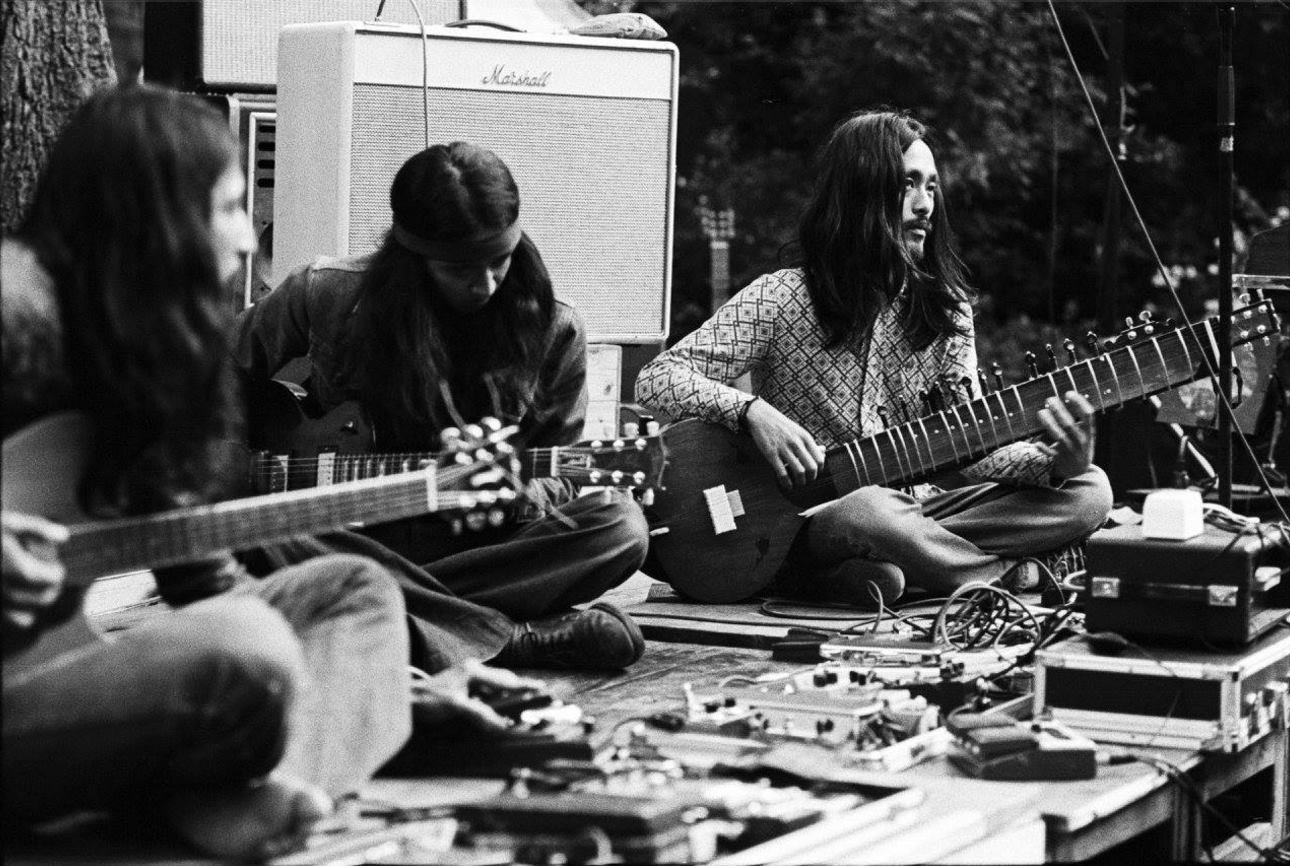 We wanted to make a band that didn't make much sense, so we spoke to mysterious people
I would like to ask everything about your band "Kikagaku Moyo", right from the very beginning until now. First, please tell us about how you got together, and how you met each other.
I was already living overseas from the beginning. I returned to Japan in 2011 and met Tomo (Vocal/Guitar) when I was skateboarding in my home town. He said "I'm going to America", and I'd already had the experience of living there so we ended up talking about a variety of things. That was the start of our friendship. Tomo ended up going to America after that, and we contacted each other once in a while. I met up with him two years later when he returned to Japan, and he said we should try going into the studio together, so I gave it a go. We both loved music after all.
So it was all quite light-hearted?
Yeah, it was. When we entered the studio, he couldn't play the guitar at all. But it all felt like it was about to becoming really interesting, and I wanted to play the drums.
Did you know what kind of band you wanted to become at that time?
I wanted to make a band that didn't make much sense. Gather some members: dancers, artists, foreigners, and put them in the band. Even if they had no skill it was fine, I wanted them to do what they loved. So we looked for people other than the two of us, and we started by asking people who looked mysterious around university. There was a guy on campus who would record the sound of the vending machines. We thought we had to have him, so we introduced ourselves. He's our bassist, Guy. We asked him "Are you in a band?" He said that he was writing solo music and could play the bass. There was also a foreign girl at the time called Angie who joined as a vocalist when we started doing live shows.
So it was the four of you at the beginning, right?
During the same time, Tomo said he had found another interesting person. They were working at the theatre museum, an Arab looking guy who was rolling tobacco at the smoking area. He's our guitarist, Daoud, and we invited him to our live show. He had a strong appearance and seemed like an interesting guy, so after we finished the performance we asked him if he wanted to join us, to which he responded, "sure". I then remembered that my brother Ryu (Sitar/Keyboard) played the sitar, so I invited him too.
So with that, you had all members in place. But for a short while, you had a female main vocalist, didn't you?
That's the way we did it then, but when we went to do recording Angie didn't turn up on the day. We thought that it couldn't be helped so Tomo did the vocals instead, and that's the set-up we've had ever since.
And with that, the band's course of direction was finally decided?
Everyone's taste in music was completely different; I'd never thought I would be aiming for a band like this. Tomo returned to America and was listening to heavy music which was popular at the time, Guy only listened to folk music, and I listened to a lot of psychedelic music from the 60s. I listened to bands like The Incredible String Band. That's the kind of thing I had In mind.
What was your first recording like?
We weren't aiming for release at the start, we just wanted to make some demos and so went ahead with recording those. My friend who helped with the recording at the time said "Why not try doing everything in one take? It doesn't matter if you make mistakes". So we really recorded everything in one take, and that become our 1st recording. We did live shows before and after the recording, so we were a bit all over the place which is something I really like about it. You can really feel it from the recording – that it's left the way it is. You can hear the energy of us from that time, and the feel of the song really shines through because of its low quality.
Were you able to make a kind of pivot for the band with that recording?
We were. It was a really bad recording, but it became something to aim for at that time. We've come a long way in a short amount of time, but when we finished that recording, we put it up on Bandcamp, and we were contacted all of a sudden by a label in Greece. We didn't know why, but it turned out that it was to be released. While that was going on, we started making our overseas blog, from which we received contact from an Australian band who wanted to tour with us. And before we knew it, we were to perform an overseas tour. I think it was in September 2013.
Tree Smoke(1st Album『Kikagaku Moyo』)
Had you performed in Japan a lot at that time?
We had performed in Japan, but we started to feel doubts about the live house's quota… We couldn't agree with the amount of money we had to spend to perform live. To put it another way, we didn't feel the tension to need to pay money in order to perform live. We wanted to change that system, so we contacted live houses one after the other who didn't have such quotas, and that's when we found The Ruby Room in Shibuya. That's when we became associated with "Austin Psych Fest" and started an event called "TOKYO PSYCH FEST". We had said before that we wanted to appear at "Austin Psych Fest". The name of the event has festival in it, and we thought we'd like to do it every month. Bands that thought we were good would call on us. For example, Japanese bands such as BOMBORI would call on us, and overseas bands would do so too. A lot of bands appear at this festival, so we thought we'd like to start our own label which we called "Guruguru Brain", a label managed by ourselves.
Overseas reaction to the first overseas tour, and onto Austin
What was your first overseas tour like in September 2013?
We were called to Australia for the time being, so we headed there. We were invited by Dreamtime, a psychedelic band from Brisbane, to play in Australia for 10 days starting in Melbourne and heading out to 7 or 8 other cities. Since it was our first time performing there, we were nervous and wondered how it would go, but surprisingly the response was very good, and that become a source of self-confidence for us, so much so that we felt that our performances become increasingly better and better. Rather than calling it a musical performance, I feel that we learned about our own energy and the way in which we want to display our band, as well as our on-stage behavior. We also never decide the set-list until just before the performance, and that's something we still do to this day. We aim for the show to develop from our jam, and we perform within that atmosphere. The band's direction was solidified with that tour.
You began on your 2nd recording when you returned from the tour, correct?
We did. Even more so, all the band members started living together as a result. It felt like we were on tour every day. Things like that started to happening, and the band's course of action was decided thanks to the Australia tour. Our 1st recording feels like a kind of "impetus" for our sound, but our 2nd recording was made with ideas that each member had been waiting to put into the sound. Furthermore, we were contacted around the same time by "Austin Psych Fest" which we had been aiming for, and we started work on our 2nd recording.
Kodama(2nd Album『Forest of Lost Children』)
What was it like to be part of "Austin Psych Fest", something you had your eyes set on?
Before Austin, we also played at a psychedelic festival in L.A. called "Desert Daze" which is located in a desert. There, we we included our 2nd recording to play to a crowd who didn't have that much interest in us, and we also wondered what kind of performance we should do. We also experienced touring a lot of America in a van. I feel that we were able to become stronger as a band because of those things. When we played Australia, I did feel that we finished without really knowing anything, but because we were able to do things such as stand on stage at "Austin Psych Fest", something we had our eyes set on, as well as being able to play at a number of festival and watch and meet a variety of artists, our professional mindset was born. Another happy thing that happened is something we heard from the staff at "Austin Psych Fest". It seems that our record and t-shirts sold the most out of everyone over the 3-days. Not only that, but people came to hold an interest us after seeing us live just once. I felt a sense of accomplishment that we had come that far. From there, we performed in different countries at a plethora of locations with our 2014 UK tour and 2015 European tour. All of this has made "Kikagaku Moyo" what it is today.
Live in Copenhagen, May 28th, 2015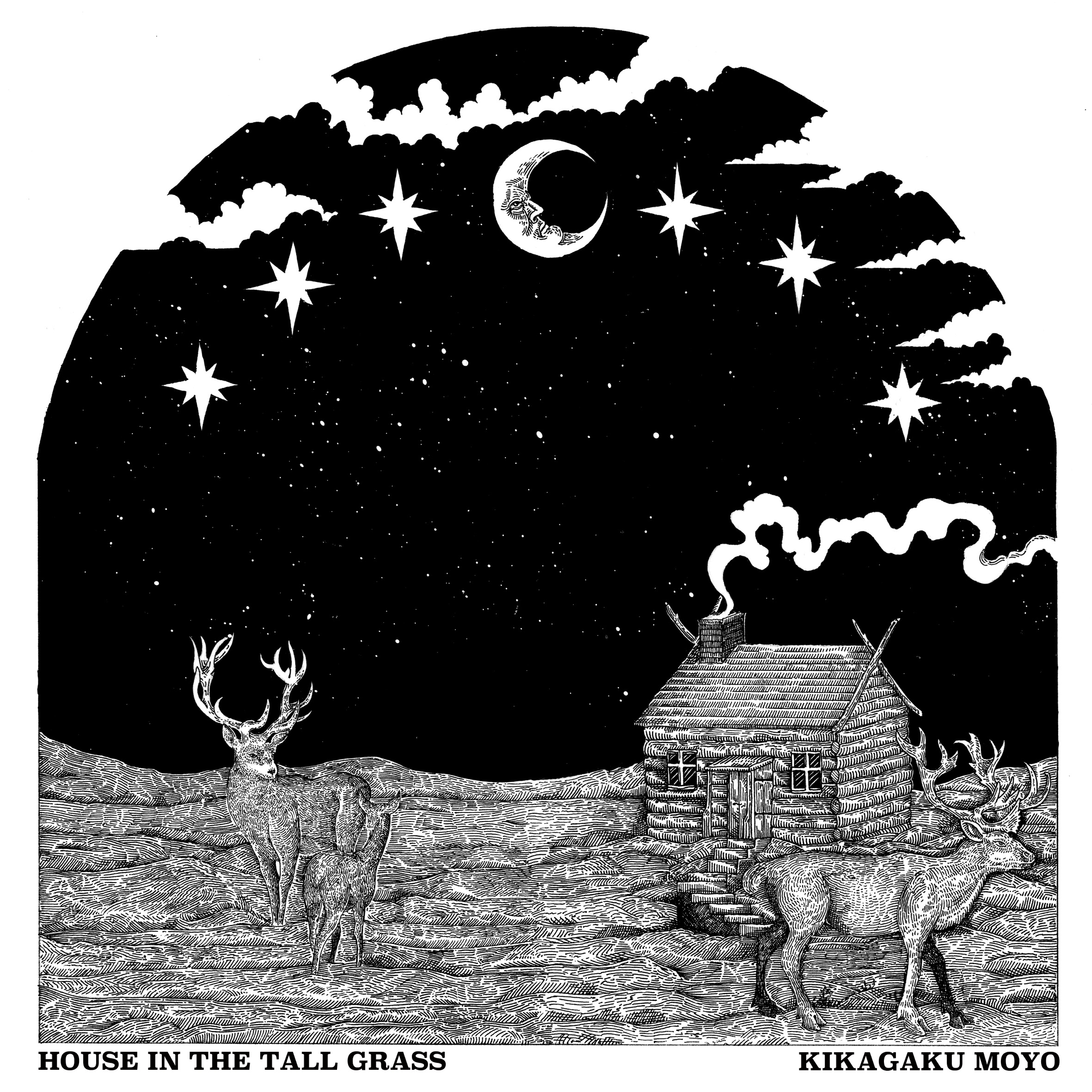 Your 3rd album "HOUSE IN THE TALL GRASS" was released from Guruguru Brain this year on May 13th. What kind of record is it?
While touring around the world and listening to all sorts of different music, we came to feel that our recent records don't have the feeling of an album, so we wanted to make a conceptual album. Until now, we were making music where the concepts would just kind of come to us, but with the new album we wanted to be clear and precise with how we record the sound.
What kind of sound is it?
The music that each of us listens to has changed a little since the beginning. I've started to listen a lot to things like soundtracks more than psychedelic stuff. When people ask me why I've come to like that kind of music, I tell them "The scene is painted in your mind when you listen to the sounds". I think us having toured around the world in all different kinds of places has had an influence too, but I came to think that we could try making the sights we have seen into sounds.
Can you give us an example of the kind of place or scenery you are talking about?
Places we went to on tour such as Northern Europe and Iceland. We tried to put the image of those places into our music. The members all went to the same places and saw different kinds of scenery, and we saw the same movies, so we tried making something while talking to each other about those things. We've never really made something that has come from our own language, we normally make our material by focusing a lot on visuals and images. But for this album, we decided to go ahead with it. All of those things are condensed into this one album, so I would be very happy if people could listen to it. All of the songs are currently streaming online.
We have had a nice long interview. To wrap up, please tell us about your future plans.
We will be touring Europe starting in May before we head over to the US to tour. We have quite a rigourous schedule, but we always have a lot of fun doing it. Once the album is released we will be heading on tour, and we've also been invited to Paris Fashion Week, so we'll be able to experience new things we haven't until now.
How about your activities in Japan? Will you be performing at any festivals?
The places we've been called to recently have been overseas so we will be focusing on those for now, but that doesn't mean we'll only be playing outside Japan. I'd like to do a lot more in Japan too. I want us to play at festivals in Japan and see how we will be received there. It's a lot more nerve-wracking than playing overseas… Other than that, we'd also like to collaborate with different Japanese artists. Not just in music, but videos, fashion, photography etc. too.
INFORMATION:
EUROPE SUMMER 2016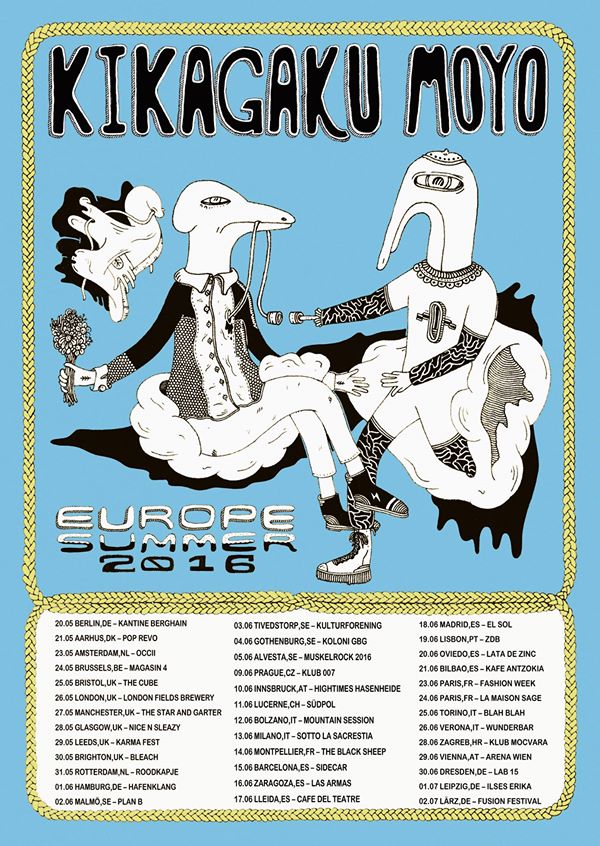 『HOUSE IN THE TALL GRASS』(発売中)
http://gurugurubrain.bandcamp.com/album/house-in-the-tall-grass
Twitter: https://twitter.com/kikagaku_moyo?lang=ja
Facebook: https://www.facebook.com/kikagakumoyo
Tumblr: http://kikagakumoyo.tumblr.com/
Bandcamp: https://geometricpatterns.bandcamp.com/music
Interview by Shotaro Tsuda
Text & Contributor by Qetic