Sailor Moon Design Masking Tape & Stands Released by Bandai
Premium Bandai is now taking orders for its new Sailor Moon inspired masking tape and stands via the Sun-Store Stationery Store.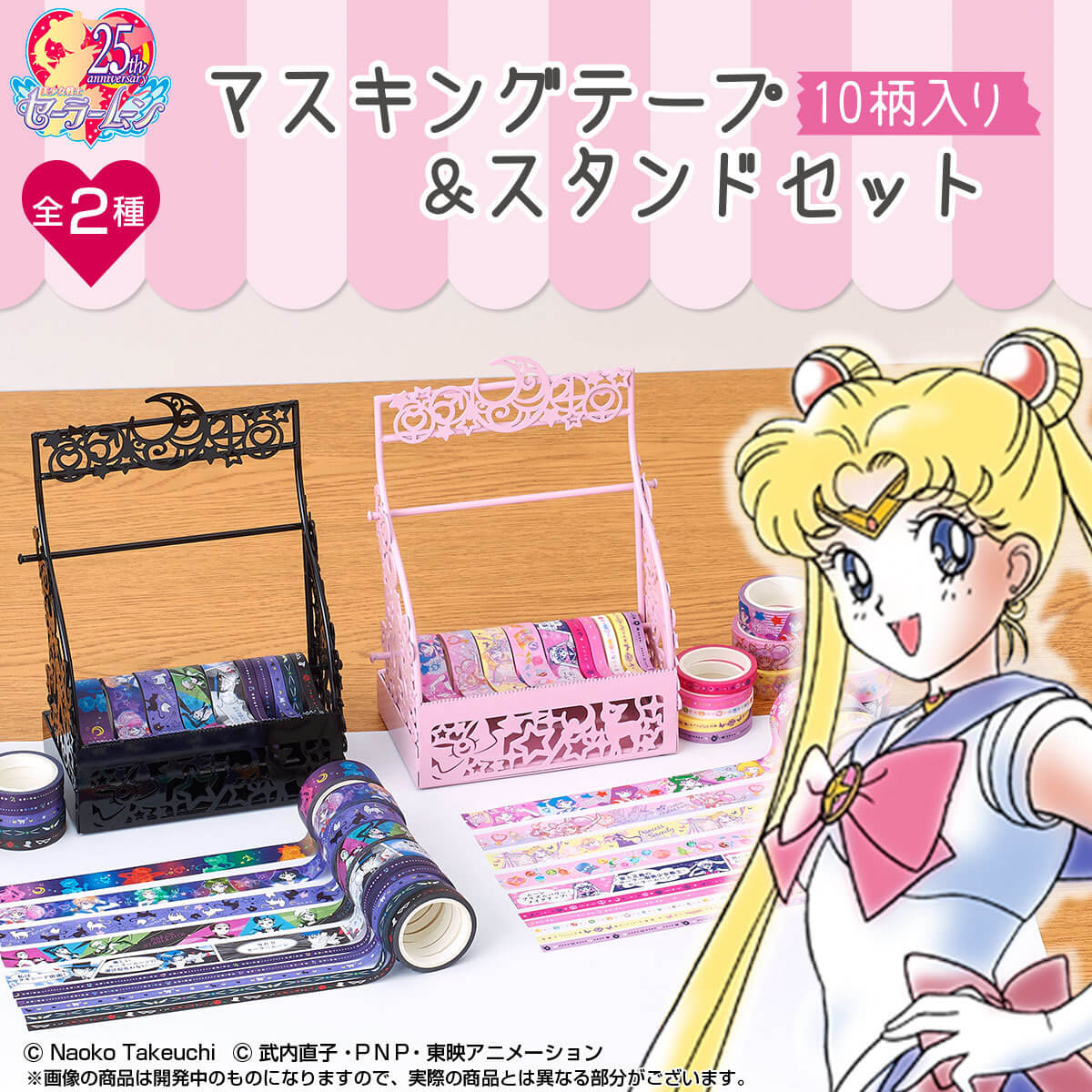 The eye-catching stands come in feminine pink and cool black, each with their own unique masking tape rolls.
Pink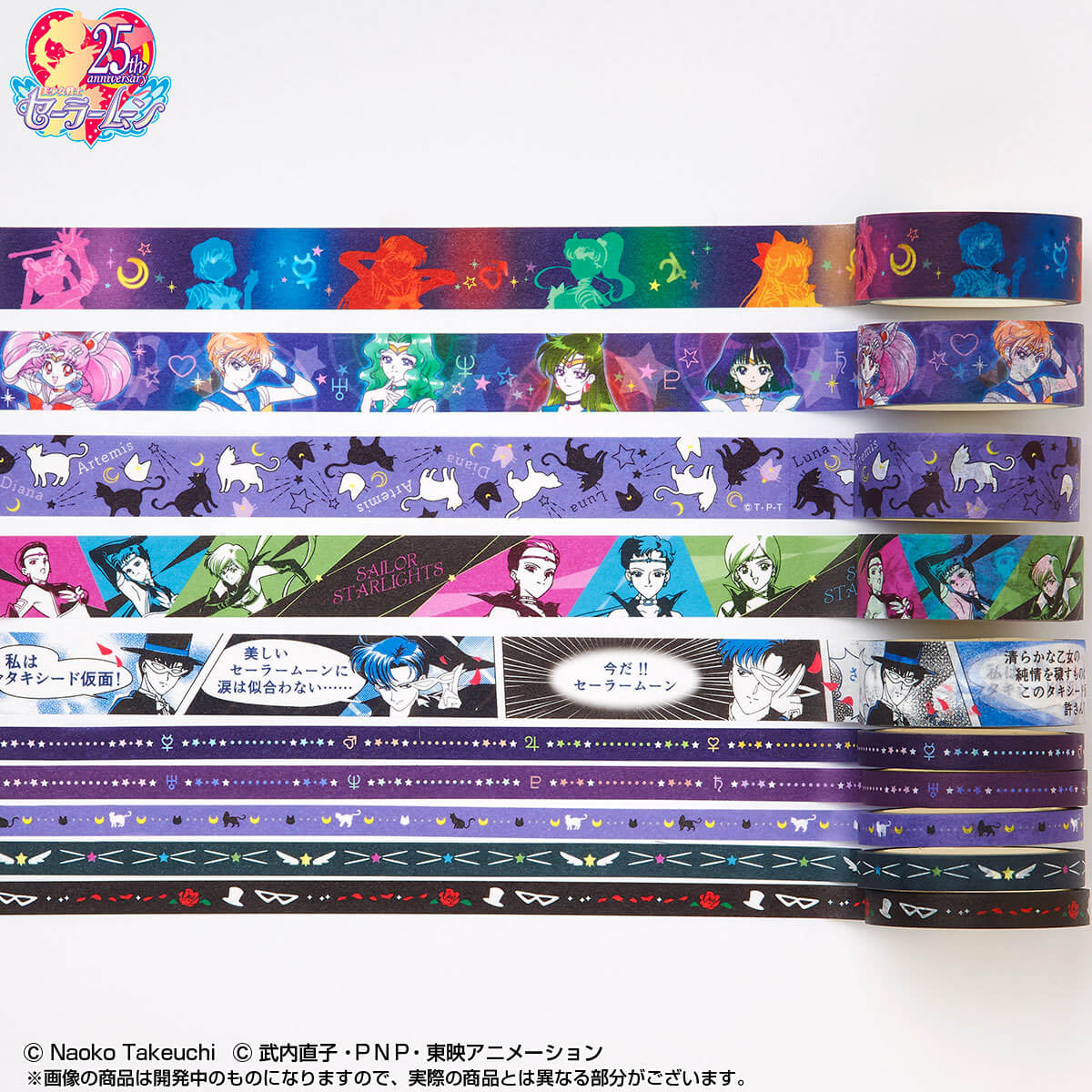 Black
Each set comes with 10 different tapes, 5 each of the easy-to-use standard 15mm and the smaller 6mm perfect for decorating notebooks and highlighting notes.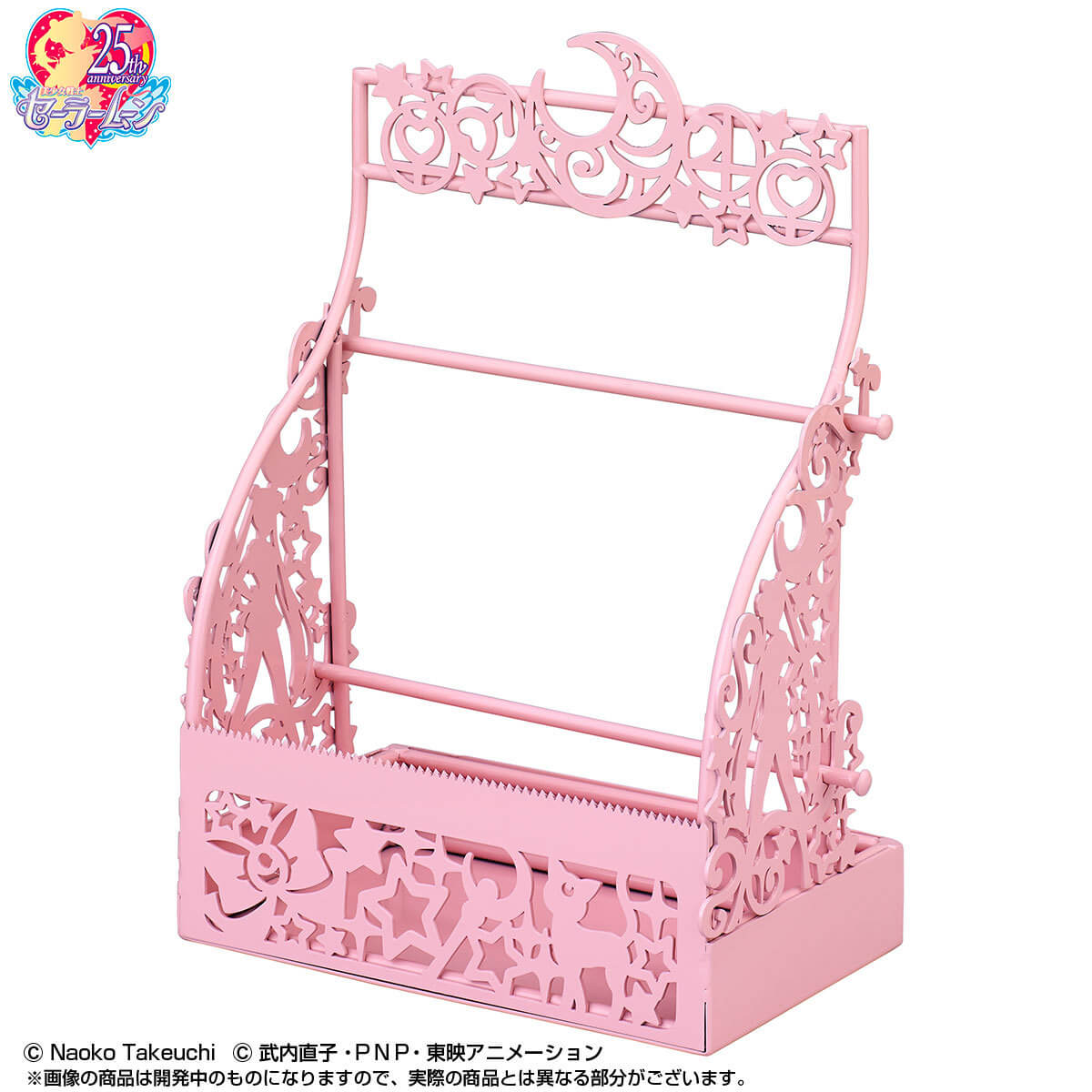 The masking tape stands are made of steel and are a glossy texture.
Upon closer inspection you can see how intricate the designs of the stands are, decorated with the silhouettes of Usagi, her guardian cat Luna and the guardian symbol.
Both are even fitted with a cutter for pulling out your tape and can be used for storing accessories, your smartphone and more on your desk once the tape runs out. This is an absolute must-have for fans.
Information
Sailor Moon Masking Tape & Stand Set
Price: ¥8,640 Each (tax included, shipping and handling fee not included)
Available: Premium Bandai – http://p-bandai.jp/item/item-1000133267/?rt=pr
Released: February 14, 2019
Delivery:  May 2019
*Please see the homepage for the latest information and details on the product.
*Please note that once the stock of this product has sold out, the product will discontinue.
*The product may have sold out by the time you access the page.
Sailor Moon 25th Anniversary Project Website: http://sailormoon-official.com/
Premium Bandai Official Website: http://p-bandai.jp/?rt=pr
©Naoko Takeuchi・PNP・Toei Animation
©Naoko Takeuchi
RELATED ENTRIES
Sailor Moon Store to Open at Paseo in Sapporo, Hokkaido for Limited Time Only

Kiddy Land will be holding the "Sailor Moon store -petit-" at Paseo, a shopping center connected directly to Sapporo Station in Hokkaido, for a limited time only from December 17 to March 27, 2022.

Sailor Moon store -petit- is a traveling branch of Sailor Moon Store, which gathers all the products of Sailor Moon series. During the period, there will be rewards for purchasing the products, so take this opportunity to visit the Sailor Moon Store.


© Naoko Takeuchi
© 武内直子・PNP/劇場版「美少女戦士セーラームーンEternal」製作委員会
© 武内直子・PNP・東映アニメーション

Sailor Moon Eternal Inspired Face Mask Protects and Looks Kawaii

Bandai Namco Group released a new Sailor Moon Eternal themed face mask as part of their 'CHARA-MASK' line for adults on Premium Bandai on June 14.





CHARA-MASK Sailor Moon Eternal | ¥2,200 (Tax Included)

The face mask, based on the Sailor Moon Eternal anime film, was designed in collaboration with Sailor Moon's author Naoko Takeuchi. It's lined with sparkly rhinestones to give it a cute finish.

Bandai's CHARA-MASK series features reusable masks fitted with anti-odour and anti-bacterial filters which can be swapped out. They are also made from comfortable light mesh fabric, can be washed, and worn for long periods of time. They are sized at 100mm in width and 130mm in height.

©︎ 武内直子・PNP/劇場版「美少女戦士セーラームーンEternal」製作委員会

Information

CHARA-MASK – Sailor Moon Eternal

Released: June 14, 2021 (Available while supplies last)

Delivery: October 2021

TIGER & BUNNY Anime-Inspired Stationery and Merch Releases in Japan

Fans of the TIGER & BUNNY anime series won't want to miss out on the new "TIGER & BUNNY Pop'n HERO" stationery and merchandise collection released by MOGURA ENTERTAINMENT's character themed stationery brand MOGURA Bungu on MOGU MALL on Monday.

The 10-piece collection features original designs and motifs of the main eight characters that appear in the series. Items include folders, letter sets, hand towels, bags, and more.

The Full Line-Up

Limited-Time 4-Piece Set

A-Set: ¥4,180 (Tax Included) / B-Set: ¥4,180 (Tax Included)

Those who order either the A or B set of four items will receive a free original sticker.

Freebies with every order

For every ¥2,000 spent on items in the TIGER & BUNNY Pop'n HERO collection, fans will receive one of the above eight possible hero stickers.

Rurouni Kenshin x Hello Kitty Collaboration Launching to Promote Manga's Upcoming Live-Action Films

In promotion of the forthcoming live-action films Rurouni Kenshin: The Final and Rurouni Kenshin: The Beginning, both of which will be released on April 23 and June 4 respectively this year, the series is rolling out a collaboration with Sanrio's globally-beloved character Hello Kitty on April 14.

Original Merchandise

Rurouni Kenshin x Hello Kitty Plush Toys (2 Designs) | ¥3,850 Each (Tax Included)

Rurouni Kenshin x Hello Kitty Plush Toys (4 Designs) | ¥2,750 Each (Tax Included)

Rurouni Kenshin x Hello Kitty A4 Folder Set | ¥495 (Tax Included)

Rurouni Kenshin x Hello Kitty Bottle | ¥1,540 (Tax Included)

Rurouni Kenshin x Hello Kitty Tote Bag | ¥2,200 (Tax Included)

Rurouni Kenshin x Hello Kitty Ballpoint Pens & Mechanical Pencils (2 Designs) | ¥770 Each (Tax Included)

Rurouni Kenshin x Hello Kitty Hand Towels | ¥1,430 (Tax Included)

Rurouni Kenshin x Hello Kitty Pins (6 Designs) | ¥330 Each (Tax Included)

Rurouni Kenshin x Hello Kitty Acrylic Stands (8 Designs) | ¥715 Each (Tax Included)

Rurouni Kenshin x Hello Kitty Sweets Paradise Collaboration Cafe

Menu Excerpt

Kenshin Hello Kitty Beef Bowl / Battousai Hello Kitty Omurice

Enishi Hello Kitty Orange Crepe / Tomoe Hello Kitty Anmisu / Kaoru Hello Kitty Strawberry Pancake

Acrylic Mascot Key Rings

10 Designs

Plush Toys

This marks the second collaboration between Rurouni Kenshin and Hello Kitty, the first taking place back in 2014 in promotion of Rurouni Kenshin: The Legend Ends. Fans can get their hands on a collection of cute merchandise with Hello Kitty dressed as various characters from the series, as well as tuck into a themed menu which will first be served at Sweets Paradise Ueno ABAB from April 22 before rolling out to six more Sweets Paradise branches in Japan.

©和月伸宏/集英社 ©2020 映画「るろうに剣心 最終章 The Final/The Beginning 」製作委員会

Cute Demon Slayer: Kimetsu no Yaiba Stationery Collection Includes Notebooks, Pencil Cases, and More

Ichiban Kuji is releasing a new stationery set themed on the popular anime and manga series Demon Slayer: Kimetsu no Yaiba at bookshops, Animate stores, and elsewhere in Japan on March 13.

Ichiban Kuji is a popular brand of kuji, sure-win lucky draw games in Japan where fans are guaranteed to win a piece of merchandise.

Demon Slayer: Kimetsu no Yaiba Stationery Collection

Promo Video


The Merchandise at a Glance

A-Prize: Pencil Case

B-Prize: Set of 3 Pens

C-Prize: Stickyle Compact Scissors (3 Designs)

D-Prize: A5 Notebooks (11 Designs)

E賞:和紙風クリアファイル 全15種 A4サイズ

Last Prize: Bamboo Pencil Case

The A-Prize is a pencil case inspired by Nezuko and Tanjiro, the B-Prize is a set of three different pens coupled with a metal charm, the C-Prize is the Stickyle compact scissors, and the D-Prize is a gorgeous collection of A5 notebooks.

(C)吾峠呼世晴/集英社・アニプレックス・ufotable

Sailor Moon Eternal Anime Film Promoted With Luna and Artemis Cheesecakes

Neko Neko Cheesecake, a bakery chain in Japan which cooks up cute desserts and pastries shaped like cats, is promoting the release of the two-part anime film Sailor Moon Eternal with two cheesecakes reminiscent of Luna and Artemis. The cakes will be sold from February 11 to March 25.

Sailor Moon Nyan Cheesecake (Mango) | ¥1,380 (Before Tax)

Sailor Moon Nyan Cheesecake (Strawberry) | ¥1,380 (Before Tax)

The cakes arrive in fruity mango and strawberry flavours, available both in-store at Neko Neko Cheesecake branches and via the online store All Hearts Mall in Japan. Both are also safely wrapped up and packaged in a cute box featuring a sailor uniform before being placed in a bag that has Luna and Artemis huddled together and sat atop a crescent moon.

The first film in the Sailor Moon Eternal series was released on January 8, 2021, and the second on February 11, 2021.

©武内直子・PNP/劇場版「美少女戦士セーラームーンEternal」製作委員会

Sailor Moon Eternal's Second Anime Film Promoted With Luna Shaped Bread

Japanese bakery Neko Neko Shokupan is promoting the release of the second in the two-part anime film series Sailor Moon Eternal by baking up a bread inspired by everyone's favourite feline: Luna. The bread will be sold from February 11 to March 25.

Neko Neko Shokupan Luna Bread w/ Chocolate Pen | ¥1,200 (Before Tax)

The bread is made of pastry laced with black cocoa powder. Luna's ears are strawberry flavoured and she  of course has her iconic crescent moon atop her forehead. She arrives safely packaged in a cube-shaped box decorated in night sky stars and the moon. This box is placed in an eye-catching bag with little Sailor Moon details that are sure to be familiar to any fan, including Luna herself as well as Artemis.

The bread is available in-store at Neko Neko Shokupan branches and via the online store All Hearts Mall in Japan

The first film in the Sailor Moon Eternal series was released on January 8, 2021, and the second on February 11, 2021.

©武内直子・PNP/劇場版「美少女戦士セーラームーンEternal」製作委員会

Limited-Edition Emerald Blue Sailor Moon Eternal Wristwatch Released in Japan

Citizen Watch brand wicca released a new emerald green wristwatch to commemorate the release of the new anime film Sailor Moon Eternal. The item was released exclusively on PREMICO's online shop in Japan on January 6, 2021, with a limited stock of just 3,000.

Wicca x Sailor Moon Eternal Special Collab Watch | ¥29,800 (Before Tax)

The watch features intricate nods to the film such as a crescent moon at the 12-o'-clock mark with a rhinestone, Pegasus and white wings on the bottom half, an emerald blue round face, the Crystal Carillon on the 6-o'-clock mark, and more.

The mesh strap is pink and gold to complete the a beautiful and feminine appearance. And since only 3,000 have been made, each watch also has its own Edition Number engraved into it. The watches are packaged in special gold leaf box with a Swarovski® crystal on it.

©武内直子・PNP/劇場版「美少女戦士セーラームーンEternal」製作委員会

Swarovski® is a registered trademark of SwarovskiAG.

Summon Magical Girl Vibes to Your Daily Life With the Sailor Moon Eternal x 3COINS Merch Collab

Japan's 300-yen store 3COINS collaborating with the upcoming anime film Sailor Moon Eternal, which will hit theatres in Japan on January 8, 2021, to release a collection of original merchandise which will drop at all 3COINS branches in Japan (including 3COINS+ plus, colle, 3COINS OOOPS!, 3COINS station, and ASOKO+3COINS) on January 16, 2021. The items will also be sold for a limited time at 3COINS sister brand store ASOKO Harajuku from January 16 to 29 as well as on the company's official online shop PAL CLOSET on January 18.

It's a line-up of 3COINS exclusives including a warm blanket for the winter season, a makeup basket to add fun to your makeup routine, a mug and plate with the Sailors on it, and more. There are 35 pieces of merch in total, all of which can be incorporated into your daily routine.

©武内直子・PNP/劇場版「美少女戦士セーラームーンEternal」製作委員会

Sailor Moon Eternal Lingerie Collection to Release in Collaboration With GiRLS by PEACH JOHN

GiRLS by PEACH JOHN has revealed that it's releasing a lingerie set in collaboration with the upcoming anime film Sailor Moon Eternal.

Peasy001 Sailor Moon Eternal ver. | ¥2,280 (Before Tax)


Sailor Moon Eternal Eternal Bra Set | ¥6,980 (Before Tax)


Sailor Moon Eternal Non Wired Bra Set | ¥3,980 (Before Tax)

A Sailor Moon Eternal limited-edition print of GiRLS by PEACH JOHN's popular Peasy001.

Sailor Moon Eternal Makeup Panties | ¥1,480 (Before Tax)


Sailor Moon Eternal Set Up | ¥3,980 (Before Tax)


Sailor Moon Eternal Lingerie Set | ¥3,980 (Before Tax)

The collection will drop online at GiRLS by PEACH JOHN, as well as PEACH JOHN stores in Shibuya, Shinjuku Sanchome, and Osaka on January 27, 2021. The collection will also roll out at overseas PEACH JOHN stores.

©武内直子・PNP/劇場版「美少女戦士セーラームーンEternal」製作委員会

Information

Sailor Moon Eternal Collaboration Collection
Release Date: January 27, 2021
Available in-store at: PEACH JOHN Shibuya / PEACH JOHN Shinjuku-Sanchome / PEACH JOHN Osaka / PEACH JOHN overseas
GiRLS by PEACH JOHN Official Website: https://www.peachjohn.co.jp/girls/

Sailor Moon Launches Fans Into Space at KONICA MINOLTA PLANETARIA

KONICA MINOLTA PLANETARIA TOKYO, Konica Minolta Planetarium "MANTEN" in Sunshine City, and Konica Minolta Planetarium "TENKU" in TOKYO SKYTREE TOWN® are set to collaborate with the upcoming anime film Sailor Moon Eternal starting on December 22, 2020.

Each of the planetariums' lobbies have been decorated into special Sailor Moon Eternal welcome zones, and fans can get their hands on a range of original and exclusive merchandise. At PLANETARIA TOKYO, their Cafe Planetaria is serving up a selection of Sailor Moon-themed food too.

Guided by the Light of the Moon: A Welcoming Under the Starry Sky

As part of the collaboration, PLANETARIA TOKYO, Planetaria "MANTEN," and Planetaria "TENKU" have a special welcome reception ready for visitors inspired by the two-part Sailor Moon Eternal movie.

New official artwork designed for the planetarium

A special new and original illustration has been drawn for the collaboration which is displayed at each venue as well as featuring on some of the merchandise being sold.

Welcome Zone

The Welcome Zone is decked out in Sailor Moon Eternal decorations, a special photo booth, and more for fans to feel like they're part of the anime film's work.

Locate Luna, Artemis, and Diana

If you find Luna, Artemis, and Diana at any of the planetariums, there will be keywords associated with them. The first 5,000 people at each planetarium tell these to a staff member will receive a special limited-edition Sailor Moon Eternal postcard.

Cafe Planetaria Collaboration Menu

Galaxy Doughnuts – From Left: Super Sailor Jupiter / Super Sailor Mercury / Super Sailor Moon / Super Sailor Mars / Super Sailor Venus | ¥600 Each (Before Tax)

Cafe Planetaria at PLANETARIA TOKYO is selling doughnuts worthy of a cafe whose menu focuses on having customers enjoy "the taste of the night sky." Each of the five galaxy doughnuts is inspired by the colours of the five main Sailors. There's also a selection of drinks and other desserts too.

Super Sailor Moon Lychee Milk | ¥800 (Before Tax)

A lychee juice and milk combi topped with a crescent moon-shaped lemon. Pour in the accompanying pink grapefruit juice to enjoy a new taste and cute appearance.

Tuxedo Mask's Chocolate Latte | ¥800 (Before Tax)

A truly striking beverage whose inspiration is sure to be instantly recognisable to Sailor Moon fans. It's none other than Tuxedo Mask who gets himself a macadamia nut and chocolate latte.

Super Sailor Moon Parfait | ¥1,200 (Before Tax)

A sweet and tangy parfait with colours based on the Sailor uniform. It's topped with amaou strawberry ice cream and pineapple jelly and adorned with a chocolate crescent moon and ribbon.

Super Sailor Chibi Moon Sweets Box | ¥1,100 (Before Tax)

An assortment of sweets treats like a raspberry and strawberry fruit sandwich, a berry-topped baked dessert, a heart-shaped macaron, and more.

Otome Berry Tart  ¥1,000 (Before Tax)

A fruity tart topped with assorted berries and a macaron made to look like the Crisis Moon Compact.

Planet Cocktail Series

Limited-Edition Coasters (3 Designs)

Fans who order one of the non-alcoholic cocktails from the Planet Cocktail Series will receive one of three limited-edition coasters for free. There are also alcoholic cocktails but these don't come with a coaster.

Sailor Moon Eternal Anime Film Gets Special Event at Yokohama Landmark Tower Sky Garden

Sky Garden, ab observation deck on the 69th floor of Yokohama Landmark Tower, is holding a special event in collaboration with the upcoming two-part anime film Sailor Moon Eternal from December 22, 2020 to January 31, 2021.

The event will commemorate the release of the first film, which is hitting Japanese theatres on January 8, 2021, with a range of exhibits, a VR experience called "VE DREAM FLIGHT" that puts visitors into scenes in the film, a line-up of original drinks inspired by the film, and more. And if you buy one of the special entry tickets you can get one of the original cards pictured above.

VR DREAM FLIGHT: Sailor Moon Eternal in 360°

See Super Sailor Moon and Super Sailor Chibi Moon transform and immerse yourself in scenes from Sailor Moon Eternal in a 360° virtual space.

Running: December 22, 2020 – December 27, 2020 / Weekends & Holidays in January

Time: 11:00-21:00 (Last Entries 20:30) / (from 10:00-18:00 on January 1, 2021 only)

Ages: 7+

Original Drinks

Super Sailor Chibi Moon Drink | ¥800 (Tax Included)

A strawberry latte inspired by Super Sailor Chibi Moon that's topped with chocolate hearts and a chocolate ribbon.


Pegasus Drink | ¥800 (Tax Included)

A refreshing Calpis beverage made with ramune flavoured jelly and topped with a Pegasus chocolate.

Exclusive Merch

Acrylic Key Rings | ¥935 (Tax Included)

Get your hands these limited-edition and exclusive acrylic key rings available at the Tower Shop to celebrate the release of Sailor Moon Eternal.

©武内直子・PNP/劇場版「美少女戦士セーラームーンEternal」製作委員会

Information

Sailor Moon Eternal Collaboration Event
Location: Yokohama Landmark Tower Sky Garden (Floor 69F)
Running: December 22, 2020 to January 31, 2021
*Open 10:00-21:00 (Last Entries 20:30) on December 31, 2020

*Open 10:00-18:00 (Last Entries 17:30) on January 1, 2021
Official Website: http://www.yokohama-landmark.jp/skygarden