Craftsmen unite! Come check out these Edo period glass crafts at Tokyu Plaza, Ginza!
For a three-day period from Friday 15th to Sunday 17th March 2019, There will be an event to celebrate a traditional Japanese glass craft called "Kiriko". The event will be held at Tokyu Plaza, Ginza in the Kiriko Lounge. Kiriko is glass craft that was manufactured from the end of the Edo period to the beginning of the Meiji period of Japanese history.
The exhibition will feature many creative Edo Kiriko crafts and a lineup of crafts made in the past five years. This new generation of Kiriko crafts will take to the stage at Ginza for all to see!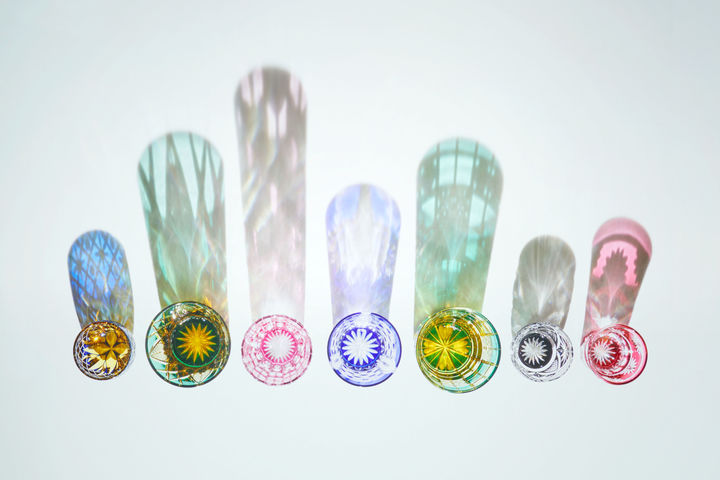 From 13:00 on each day of the event, there will be a gallery talk that explains the story of the crafts, particularly focussing on a selected prize-worthy craft. There is also a chance to get involved with Kiriko craft-making. To take part, check out Fujimaki select shop's official website as the website is currently accepting reservations.
From works and goods to taking part, come learn the different aspects of Edo Kiriko crafts at this event in Ginza!
Information
■Information
Edo Kiriko Exhibition
江戸切子新作展
Event period:Friday 15th ー Sunday 17th March 2019
Location:Kiriko Lounge, Tokyu Plaza, Ginza 
Tokyu Plaza, Ginza
Address:5-2-1, Ginza, Chuo Ward, Tokyo 
Opening times:11:00 ー 21:00
https://ginza.tokyu-plaza.com/
RELATED ENTRIES
Beauty Connection Ginza's Fruits Salon Reveals Mango Menu Line-Up

Beauty Connection Ginza and its second floor fruit course cafe Fruits Salon have been closed since April 8, 2020 as a result of the novel coronavirus (COVID-19) outbreak. But that hasn't stopped Fruits Corner wanting to deliver its tasty treats to customers as it reveals its new mango themed menu which is set to run for the whole month of June. It will be taking online orders.

Following the pear, citrus fruits, and strawberry line-ups, the new mango course is made up of four different vitamin-packed and refreshing accompaniments, all made with fresh mangoes from Miyazaki Prefecture.


Mango Full Course: ¥4,400 (Tax Included)


1st. plate "Terrine"


2nd. plate "Airy Tart"

Each of the four plates, packed full of rich and sweet mangoes, offers refreshing taste to give you that early summertime vibe.


3rd. plate "Parfait"


4th. plate "Dried Fruits/Mignardises/After-Meal Drink)

The third plate is a gorgeous, eye-catching parfait centred on mango gelato and made up of delicious ingredients that all come together harmoniously. Mix everything together to create new flavours. The full course is 90 minutes, and beckons you to use all five of your senses to enjoy it.

Doraemon 50th Anniversary Online Fair Launched at TSUTAYA Ginza

Since the launch of the manga back in 1970, Doraemon has brought smiles on people's faces in the form of books, anime, live-action films, collaborations with artists, and more, for the past 50 years.

To celebrate the franchise's 50th anniversary, TSUTAYA Ginza has opened an online fair on its website. TSUTAYA Ginza is a place where people of all ages and nationalities come from around the world, and the number one book the store can recommend as part of Japan's culture continues to be the first volume of Doraemon. For the entirety of 2019—that's January to December—the first volume of Doraemon was the number one best selling book at TSUTAYA Ginza.

Doraemon 50th Anniversary Fair

Doraemon Volume 1 (Tentoumushi Comics)

Doraemon has come to be a symbol of Japan and has been passed down generations, but there probably a lot of people who don't know how the story started. To find out, pick up a copy of volume one at TSUTAYA Ginza.

Doraemon Volume 0 (Tentoumushi Comics)

As part of the anniversary celebrations, a special volume 0 has been published. This full-colour book features 6 versions of the first Doraemon story as well as comments  by the author and more.

Doraemon Mizuhiki Accessories (Pins, Earrings, Piercings)

Mizuhiki are decorative Japanese cords which are used for important ceremonial occasions such as weddings, births, and funerals. These special Doraemon mizuhiki have been turned into beautiful accessories featuring Doraemon and Dorami's iconic blue and yellow colours respectively. They can be used for decorating clothes with and more.

This is just a peek at some of the celebratory merchandise on offer for the online fair. For the full list, check out the website below.

TSUTAYA BOOKS Reveals Store-Exclusive QLOCKTWO CLASSIC Design

The Ginza branch of TSUTAYA BOOKS has revealed that it will sell an exclusive shooting star design of the QLOCKTWO CLASSIC CREATOR'S EDITION.

The design was conceived in collaboration with GINZA TSUTAYA BOOKS, fusing together Japanese culture and art. The entire clock face is specially made using Japanese urushi lacquer and makes use of the maki-e Japanese lacquering technique where the lacquer is sprinkled with gold or silver powder for decoration. Only 12 of these models will be sold worldwide, making them a very limited-edition and exclusive item.

 

GINZA TSUTAYA BOOKS's Exclusive "Ryusei" Shooting Star Model

Two strong golden strokes shoot across the jet black design, both of which are made using a combination of 24k gold and a special 22.7k gold that's mixed with silver. This not only makes the thick lines powerful, but adds a touch of delicateness too. However, the focus of this design is the background lacquering. The two-coloured golden straight lines enhance the darkness of the lacquer to give the background a jet-black appearance. Emerging majestically from the gold and black contrastーwhich was created by the artisans of the Japan Traditional Crafts Exhibitionーare letters which form the time in word format. This combination of modern European art and Japanese craftsmanship is the culmination of beauty.

The standout characteristic of the QLOCKTWO CREATOR'S EDITION series is the craftsmanship. Yamada Heiando is a lacquerware shop founded in 1919 that purveys its products to the Japanese Imperial Household. The artisans of this shop tackled the difficult challenge of performing lacquering on large surfaces. The design of the new QLOCKTWO shooting star model is a traditional one even within the lacquerware of Yamada Heiando. The model realises that very challenge, producing wonderful craftsmanship on a large surface.

QLOCKTWO makes use of a ground-breaking time display system that originates in Germany which makes use of words in lieu of clock hands or numbers. As shown in the picture, the display is shown in typography, reading "IT IS HALF PAST SEVEN."

QLOCKTWO has received high praise amongst clock and watch enthusiasts in Europe, winning over 20 international design awards including the Red Dot Design Award, the iF Product Design Award, and the ADC Europe Gold Award. The product adds an elegant and modern touch to one's lifestyle. They are displayed around the world: one was set up at Paris's famous boutique Colette, which closed recently, as well as the world's oldest department store Bon Marche, and is part of the Parisan "elegant and modern lifestyle."

CHANEL Ginza's Rooftop Space to Welcome Gorgeous Terrace Café LE JARDIN DE TWEED

The rooftop terrace space of the CHANEL Ginza building is set welcome LE JARDIN DE TWEED this March which is collaborating with champagne producer Perrier-Jouët.

LE JARDIN DE TWEED will open for a limited time this March where it will run until late October. As the name of the chic café suggests, the space takes on a tweed design with trimmed plants housed throughout. They will serve finger food from BEIGE ALAIN DUCASSE TOKYO as well as afternoon tea and more.

For drinks, there is of course exquisite Perrier-Jouët champagne, as well as a selection of special original cocktails. Their detox non-alcoholic cocktails are special recommendations for refreshing the mind and body.

©PierreMonetta

Afternoon Tea – ¥4,800 (With Tea or Coffee) / With Perrier-Jouët – ¥6,000 (1 glass serving) Serving: 14:00-16:00

The items adoring the afternoon tea set will change with each passing season. Enjoy with a glass of Perrier-Jouët, tea, coffee, or one of the available soft drinks.

What could be more indulging than sitting atop CHANEL in Tokyo's high-end Ginza district while tucking into a tasty afternoon tea with a glass of champagne?

Information

LE JARDIN DE TWEED

Running: March 2020 – Late October 2020 (Subject to change)
Opening Hours: 14:00-22:00 (Last Orders: Food 20:30/Drinks 21:30)
Closed: Mondays/Tuesdays

BEIGE ALAIN DUCASSE TOKYO

Address: CHANEL GINZA Bldg. Floor 10F, 3-5-3 Ginza, Chuo Ward, Tokyo
Opening Hours:

<Lunch> 11:30-16:00 (Last Orders 14:00)
<Dinner> 18:00-23:00 (Last Orders 20:30)
Closed: Mondays/Tuesdays/Summer Season/New Year Holidays
Official Website: http://www.beige-tokyo.com/en/

Hanami in Japan 2020: Bite-Size Sushi Hanami Bento Lunch Box Releasing in Ginza

SHARI and SHARI THE TOKYO SUSHI BAR in Ginza, as well as CRAFT in Ariake, are releasing the perfect accompaniment to your hanami flower-viewing experience in Japan this spring: the "Hanami Roll Sushi Bento" lunch box, which consists of 36 bite-size sushi pieces made up of 12 different kinds of sushi. It will be available February 18 to April 30.

Hanami Roll Sushi Bento (36 Pieces/Serves 3-4): ¥4,500 (Tax Included)

As soon as your take the lid off this colourful assortment of rolled sushi, you'll find yourself reaching for your camera to snap a photo for Instagram. Each piece is 3cm in diameter and so is deliciously bite-sized. The line-up includes four new kinds of sushi rolls conceived for this release which use seasonal spring ingredients, like sakuradai cherry blossom sea bream, sakura ebi, rape blossoms, fuki giant butterbur, green beans, and moreーas well as eight other types of sushi that are popular classics at each of the three restaurants.

Shrimp Roll

From the four new rolls, we have the sakura ebi shrimp roll, which is served with a gorgeous cherry blossom colour. It's made with shibazuke pickles and vinegared rice, which gives it its colour, and contains, rape blossoms, okra, Chinese yam, and egg. The rape blossoms add a springtime bitterness to the sweetness of the sakura ebi, creating a wonderful combination of flavours.

Beef Butterbur Miso Roll

Then there's the sakuradai roll is wrapped with vinegared tobiko flying fish roe, okra, and cucumber, which is topped with sashimi-style sakuradai cherry blossom seam bream and salty cherry blossom leaves. The spring vegetable and tempura roll has shrimp and green bean tempura mixed with yuzu kosho paste; and finally, the beef butterbur miso roll, which contains beef rib seasoned in a sukiyaki style, finished with sesame seeds, and seasoned with butterbur miso.

The eight popular classics include the wagyu roll sushi seasoned with luxurious truffle oil, Italian roll, duck roll, salmon roll, spider roll (soft shell crab), and more. All of these varied picks go great with wine or champagne.

Hanami Roll Sushi Bento (9 Pieces): ¥1,200 (Tax Included)

The "Hanami Roll Sushi Bento" comes in various sizes. As well as the 36 pieces of 12 sushi types, there's also 18 pieces of 9 types (serves 1-2), and the 9 pieces of 9 types (serves 1).

Reservations are available until 15:00 the previous day. Order yours for your Hanami cherry blossom flower-viewing this year in Japan.

Information

Hanami Roll Sushi Bento

Available:

SHARI (TEL: 050-5357-5354) (Address: Mitsui Garden Hotel Ginza Gochome Floor 2F, 5-13-15 Ginza, Chuo Ward, Tokyo)

SHARI THE TOKYO SUSHI BAR (TEL: 050-5212-7574) (Address: ALBORE GINZA Floor 8F, 2-4-18 Ginza, Chuo Ward, Tokyo)

CRAFT (TEL: 050-5357-5353) (Address: CRAFT Floor 2F, 3-7-2 Ariake, Koto Ward, Kyoto)

Prices:

36 Pieces/12 Types (Serves 3-4 People): ¥4,500

18 Pieces/9 Types (Serves 1-2 People): ¥2,400

9 Pieces/9 Types (Serves 1 Person): ¥1,200

Reservations

Reservations can be made via telephone or in-store until 15:00 the previous day.

*Reservation Window: Telephone 10:00-20:00 / In-Store 12:00-22:30

*Depending on the ingredient stock, reservations may be made on the same day

*The Hanami Roll Sushi Bento is for takeaway only and cannot be eaten in the restaurant

Tokyo's GINZA SIX Reveals Colourful Spring Dessert Line-Up

GINZA SIXーthe largest shopping complex in Ginzaーhas unveiled some of the incredible desserts arriving for this spring only.

Ginza is famous for its host of restaurants which serve up gorgeously gourmet food throughout the four seasons, and so you can expect GINZA SIX's line-up to be something special. Let's take a look.

Strawberry Sweet Afternoon Tea – ¥4,200 (Before Tax) @ THE GRAND GINZA

"Shun'un" pecial Make Maruto Parfait – ¥2,300 (Before Tax) @ Nakamura Tokichi Honten Ginza

Strawberry Mix Candy – ¥593 (Before Tax) @ Candy Art Museum by PAPABUBBLE

The line-up of delectable treats at GINZA SIX won't just satisfy your sweet tooth, but your eyes too due to their delightful appearanceーlike the strawberry and roses littered afternoon tea, or the strawberry candy which is made using only the best available strawberries. The shops and restaurants at GINZA SIX have ensured to prepare sweets that will bring spring to mind Japanese springtime and the pink cherry blossoms.

Matcha Ganache – ¥1,800 (Before Tax) @ Tsujiri

Matcha & Tamba Azuki Bean Cake – ¥2,600 (Before Tax) @ Marlowe

Kurozu Vinegar Raw Chocolate – ¥1,500 (Before Tax) @ Shoubunsu Vinegar Brewery

Other tantalising treats include more Japanese-tasting selections, like cookies injected with a rich matcha ganache, raw chocolate doused with kurozu vinegar, gluten-free pound cake made with freshly-made Uji matcha, and more.

Of course, since this is a spring line-up, there are flowery fusions to find too, like candy topped with edible flowers and rose flavoured frozen fruit bars.

Rose & Raspberry – ¥520 (Before Tax) @ PALETAS

Spring Edible Flower Lollipops – ¥555 (Before Tax) @ Candy Art Museum by PAPABUBBLE

Aya Farm Saku Mango Selection – ¥3,800 (Before Tax) @ Aya Farm

If you're in Tokyo for spring, the cherry blossoms and hanami, then be sure to stop by GINZA SIX to indulge yourself this season.

Information

GINZA SIX

Address: 6-10-1 Ginza, Chuo Ward, Tokyo

Opening Hours: Shops/Cafes (B2F-5F) 10:30-20:30 / Restaurants (6F, 13F) 11:00-23:00

*Business hours differ from shop to shop.

No Fixed Holidays (But shops and restaurants will be closed on January 1, 2020)

Access: Directly connected to Ginza Station via the Tokyo Metro Ginza Line, Marunouchi Line and Hibiya Line.

TEL: 03-6891-3390

Official Website: http://ginza6.tokyo/

Gorgeous Bridge Ready To Embrace A New Shopping Complex Under Its 100-Year-Old Arches This Year

JR East Urban Development Corporation's new project for a new shopping complex to be built under an old bridge is underway. The old viaduct bridge, which stretches around 300m from Yūrakuchō station to Shimbashi station, has a history of 100 years. Its beautiful old brick arches will soon be home to HIBIYA OKUROJI, which is set to be completed by the end of June this year. 

The project will utilise the spaces under the arches of the bridge that have supported the railway tracks for the Tōkaidō Main Line and Tōkaidō Shinkansen high-speed railway for many years. Located in the depths of Hibiya, the bridge will soon be home to a new neighbourhood full of culture. Once complete, HIBIYA OKUROJI is sure to attract even more people to nearby neighbourhoods such as Ginza, Yūrakuchō and Shimbashi. 

Aiming to create a little "town" with its own culture, the shops to reside at HIBIYA OKUROJI will be full of originality, creating a wonderfully interactive environment. There will be 16 shops and 28 restaurants. Some restaurants to look out for include Nagoya's eel restaurant Unafuji, which is known for its long queues, and COOK BARN TOKYO, which makes dishes with ingredients sourced from Ibaraki. The shopping complex will also be home to a number of Japanese fashion brands including the handmade necktie shop KUSKA & THE TANGO from Tango, Kyoto, ivy league fashion brand VAN SHOP, trainers brand Panther, and outdoor wear brand finetrack.

 The name HIBIYA OKUROJI comes from the words "oku" (inside), which refers to its location away from the centre of Hibiya and Ginza, and "roji" which means "alley", which signifies its hidden location under the bridge's arches. The two words combined form the word "OKUROJI" to entice adventure-seekers to come discover the unique secrets hidden in the new area. The name surely has a ring of excitement to it and of course, the 100-year history of the characteristic bridge is even more of a mood-setter. 

If you're looking for an exciting and unique adventure of discovery to satisfy the curious traveller in you, the new HIBIYA OKUROJI shopping complex is a sure way to provide a fully satisfying day trip. 

Ginza is a district in Tokyo that lures in all the young people. From its high-brand fashion trends to its stylish top-tier cafés and restaurants, the minute the weekend arrives, Ginza is a tourism hotspot flourishing with young people looking for a good time.

When planning a day out shopping with friends in Ginza, for many of us the day's events revolve around where to go for lunch. Luckily, Instagram expert omao, whose city café and restaurant expertise is on a whole new level, has stepped in to help by sharing six stylish cafés in Ginza with us.

 

bills, Ginza


Ricotta Pancakes: ¥2,000 (Before Tax)

Bills is famous for their pancakes. Check out this luxurious stack of three thick ricotta cheese pancakes. Indulge in the flavour of ricotta cheese and the slightly salty butter, which softens the sweetness. Pour on the maple syrup to unlock a whole new level of deliciousness. It may be crowded on the weekends, but weekday mornings are a good time to go to ensure you get a spot. 

 

▼bills Ginza

Opening Hours: 8:30-23:00
No Fixed Holidays
Address: Okura House 12F, 2-6-12, Ginza, Chuo Ward, Tokyo

Website: https://billsjapan.com/jp/銀座

THE CITY BAKERY

Cinnamon Roll: ¥320 (Before Tax) , Other Items Unknown

city bakery is a café and bakery with its main branch located in New York. It is so popular that in Tokyo alone you can find a city bakery in Nakameguro, Shinagawa, Kichijōji and three more locations. As the name suggests, their specialty is bread but they also make amazing hamburgers, soups, salads and alcoholic drinks. The best part is that you can sit in the café and enjoy freshly baked bread still hot from the oven. 

▼THE CITY BAKERY

Opening Hours: 7:30-22:00
No Fixed Holidays
Address: B2F, Tokyu Plaza, 5-2-1, Ginza, Chuo Ward, Tokyo

Official Website: https://thecitybakery.jp

Ginza Ginger

Ginza Ginger's main store is located in Ginza but there is also a branch at Tokyo Skytree Town Solamachi. Having said that, the calm and exquisite atmosphere at the Ginza branch definitely makes it the winner of the two. Although shaved ice is usually only seen around Japan in summer, Ginza Ginger serves it throughout the year. They sell seasonal shaved ice flavours too which is highly recommended. If you're looking for a souvenir, don't forget to pick up their souvenir sweets which are made from ginger.

▼Ginza Ginger (Ginza main store)

Opening Hours:11:00-20:00
No Fixed Holidays
Address: Quartier Blanc GINZA, 1F2F, 1,4,3, Ginza, Shibuya, Tokyo

Website: https://tabelog.com/tokyo/A1301/A130101/13143693/

Ginza West

Ginza West has been around for a long time and is dedicated to delivering the best flavours by using natural ingredients and avoiding artificial colours and flavours. Pure white tablecloths are spread over the tables and chairs, creating a bright mood perfect for enjoying a dessert to yourself. Their popular "leaf pie" biscuits are the perfect souvenir for that friend who couldn't come.

 

▼Ginza West

Opening Hours:

Weekdays: 9:00-22:00 (Shop Closes: 23:00)

Weekends and National Holidays: 11:00-20:00
No Fixed Holidays
Address: 7-3-6, Ginza, Chuo Ward, Tokyo

Official Website: https://www.ginza-west.co.jp

Cafe Paulista, Ginza Main Branch

Cafe Paulista is said to be the place of origin for the slang word "Ginbura" which is a combination of the words "Ginza" and "Brazilian coffee" and literally means "to hang out" (have a coffee) with friends in Ginza. Although this café enjoys a classic and quiet atmosphere, it is the perfect place to make yourself at home and settle down with a warming cup of coffee. Come enjoy your weekend caffeine dose with a small slice of cake and you won't be disappointed.

▼Cafe Paulista, Ginza Main Branch

Opening Hours: Monday-Saturday:8:30-21:30

Sundays and National Holidays: 11:30-20:00
No Fixed Holidays
Address: Nagasaki Center Bldg.1F, 8-9-16, Ginza, Chuo Ward, Tokyo

Official Website: http://www.paulista.co.jp

centre the bakery

Tasting Set: ¥1,700

This café sells a shokupan set (sliced loaf set) which you can taste and compare. You can choose to eat in, however it is best to reserve in advance as it gets crowded quite quickly. This place is so popular that the queue for take out orders can stretch for an hour. Having said that, it is really worth the wait. You're guaranteed to leave fully satisfied. 

▼centre the bakery

Opening Hours: 10:00-19:00
No Fixed Holidays
Address: 1-2-1,Chuo Ward, Tokto

Website: https://tabelog.com/tokyo/A1301/A130101/13157424/

So, how about it?

If you're stuck on where to go for food in the city, you can count on omao's Instagram to be there to help. However, you won't be able to stop yourself from drooling – you have been warned. 

 

Photos and Original Text by: omao

Food Review | Going On An Adventure With Maruko & Coji-Coji at Ginza's MARUKO & COJICOJI CAFÉ

When I was a kid, I found myself relating to Maruko-chan a lot. I was bad at studying, I loved just kicking back and relaxing, was sly, was always spoiled by my mother. I've always thought I was just like Maruko. I spent my childhood together with her, reading Ribon magazine, reading manga, and watching anime. I love her so much that even to this day, when I'm at home on Sundays, I never fail to watch the show.

Then there was Coji-Coji, who has a mellow and laid-back outlook, whose lines are sharp and quick, and who, if you see him, is sure to get a surprised reaction out of you. I was raised reading Chibi Maruko-chan, meaning I was of course a fan of the author Momoko Sakura, so it was only natural that I loved Coji-Coji which she wrote too.

With that long introduction out of the way, it's time for the main event. Combining the best of both worlds and my two favourites, the new MARUKO & COJICOJI CAFÉ opened at Ginza Marionette Gate 1 on January 31 and it's set to run until July 31.

I form part of the editorial team here at MOSHI MOSHI NIPPON, and loving Maruko-chan as much as I do, I of course had to make a trip to the cafe. I was joined by Chinese model and talent Etsuna.

Artwork from the Markuko-chan and Coji-Coji picture book Ehon Maru Koji. The pictures have a gentle touch to them and are enough to make you feel at ease at the first glance.

You feel warm and fluffy seeing the two of them getting along together like this.

There's huge pieces of artwork too like this one Etsuna is standing next to.

The tables have these lunch mats on them. There's two designs; one of Maruko and Coji-Coji walking across a field of grass and another with them swimming in the ocean amongst the fishes. Both are just too precious♡ I feel happy seeing the two of them having fun together. Boy, am I glad I came here.

The menu line-up is overflowing with originality too, each like its own little art piece. I ordered the baked cheesecake with a drink and Etsuna got the parfait drink.

Coji-Coji Is Here Cheesecake (w/Drink) – ¥1,380 (Before Tax)

The cheesecake is topped with Coji-Coji and Mount Fuji cookies. You can get a Maruko-chan cookie instead of Coji-Coji too, but I went for the Coji-Coji one. The cheesecake has a refreshing taste with cream that's not overly sweet. And when you add the berry sauce, it becomes a completely different delicious flavour.

I ordered a hot black coffee as part of the set, and the mug it was serve in had an original design on it in line with the cafe's theme. You can buy these mugs new there too.

Onigiri Aliens & The Star Festival Parfait – ¥1,700 (Before Tax)

This drink is inspired by the Milky Way of Tanabata. It's topped with Maruko-chan, Coji-Coji, and alien cookies.

Etsuna was spellbound by its gorgeous purple colour too♡

The parfait and drink come in separate vessels、so I recommend enjoying them one at a time. After tucking into the subtly sweet fruits, vanilla ice cream, and cream of your parfait, feel even more refreshed with a sip of your cream cheese-filled drink.

The Three Of Us Get Along – ¥1,880 (Before Tax)

There are plenty of colourful options to choose from the menu, but the one that struck my attention the most was this tomato cream and pumpkin sauce mix which contains seafood.

You get an edible Maruko-chan and Coji-Coji on the side too with tears in their eyes… what a melancholic expression. I feel sad just looking at this one.

The character cookies aren't just printed on – each and every one is hand drawn carefully. Which means the both of them have lots of different expressions! And they seem such a waste to eat (though of course I ate them all…)

If you want to see what else is on the menu, check out our other article here: https://www.moshimoshi-nippon.jp/ja/289822

Mug: ¥1,200 (Before Tax)

The cafe sells its own exclusive merchandise too, like the mug I got when my coffee and cake arrived.

Masking Tapes – ¥350 Each / Ballpoint Pens – ¥600 Each

B6 Notebooks – ¥280 Each

I picked up a notebook, pen and some masking tape. Perfect for when the cherry blossom season starts.

Hand Towel: ¥400 (Before Tax)

Etsuna got her hands on a hand towel. Everything they have in stock is cute, so I urge you to get lost in the wares of the MARUKO & COJICOJI CAFÉ if you visit! It's possible to book a table in advance, but the weekends are particularly busy, so if you have a day in mind don't forget to book.

The MARUKO & COJICOJI CAFÉ is packed full of Momoko Sakura's world. It was a mix of fun, cute, sad, and relaxing.

When I'm looking at Chibi Maruko-chan, I think of Sakura, and my chest feels tight and painful. But coming to this cafe made me think that when I look at Maruko-chan and her radiating personality, not just in the world of anime but in various different places, I feel that even if I've become an adult, I can always live my life together with Maruko-chan and Momoko Sakura, and that makes me happy. If you love Maruko-chan, Coji-Coji, and Momoko Sakura too, then be sure to jump into the picture book world of Ehon Maru Koji at MARUKO & COJICOJI CAFÉ.

©️Momoko Sakura ©️Sakura Production

Information

MARUKO & COJICOJI CAFE

Location: Sunday Brunch, Marronnier Gate Ginza 1 Floor 4F (2-2-14 Ginza, Chuo Ward, Tokyo)

Running: January 31, 2020 – July 31, 2020 (Subject to change)

Opening Hours: 11:00-21:00

Reservations/Official Website: http://www.marucoji-cafe.com

GINZA SIX Announces New Stairwell Art Installation by Tokujin Yoshioka

A new piece of installation art is coming to GINZA SIX, the largest shopping centre in Tokyo's Ginza fistrict, next month. From February 27, Japanese artist Tokujin Yoshioka's "Prismatic Cloud" will adorn the stairwell until the end of October.

Tokujin Yoshioka is a Japanese artist whose grand and poetic nature-themed work has received international praise. His skills include art, design, and architecture, which are being put to use to give GINZA SIX a new face for 2020, the year of the Tokyo Olympics and therefore year in which many people from around the world are sure to flock to Tokyo's upmarket and luxurious district.

Prismatic Cloud is an enormous light sculpture inspired by clouds and the fundamentals of nature. It was originally showcased at the Allen Center in Houston, US, and has been arranged once more for it's Japan debut. It stretches an incredible 10 meters long and is made from 10,000 prism rods which are layered together, making light penetrate through them to look infinite. Its appearance changes depending where you view it from, both your position and your line of sight in relation to it.

GINZA SIX's stairwell is a symbol of the shopping centre, and it has become an art program filled with creativity and energy, with many international artists having displayed their works there, including Yayoi Kusama, Daniel Buren, Nicolas Buffe, Chiharu Shiota, and Klaus Haapaniemi. Prismatic Cloud is being overseen by Mori Art Museum, who also supervised Kusama, Buren, and Shiota's work. While these installations are set up for a limited time, GINZA SIX also houses some permanent artwork around the complex by artists from around the world.

Information

GINZA SIX

Address: 6-10-1 Ginza, Chuo Ward, Tokyo

Opening Hours: Shops/Cafes (B2F-5F) 10:30-20:30 / Restaurants (6F, 13F) 11:00-23:00

*Business hours differ from shop to shop.

No Fixed Holidays (But shops and restaurants will be closed on January 1, 2020)

Access: Directly connected to Ginza Station via the Tokyo Metro Ginza Line, Marunouchi Line and Hibiya Line.

TEL: 03-6891-3390

Official Website: http://ginza6.tokyo/

Luxury Kyoto Jewellery Brand NIWAKA Brings its Beautiful Collection to Ginza in Tokyo

NIWAKA is a Japanese jewellery brand that first launched in the city and ancient capital of Kyoto. The company has announced it is set to open a special concept store in Tokyo's district of Ginza, home to luxury shops, restaurants and outlets.

The new jewellery shop will boast the biggest collection in the country, housing five floors of fashion, bridal, and high jewellery.

NIWAKA's jewellery is renowned the world over, even being used by Hollywood actresses at the US Acadamy Awards for four years in a row.

The new concept store in Ginza aims to deliver everything about the NIWAKA brand, with its modern interior littered with traditional Japanese motifs. They hope to grow their name even more with stores overseas in the future.

The outside of the store is adorned with gorgeous and sparkling wisteria installations. Their abstract design makes them look like light bunches that sway gracefully.

Inside the store, each floor has its own theme, with traditional elements like lattice and paper sliding doors combined effortlessly with the modern design.

Los Angeles was the first to try NIWAKA's new collection which was used by famous red carpet actress, and it will now be sold in Japan at the new concept store. The first floor will include a range of fashion jewellery in the company's "Kyo no Matsuri" range as well as all-new accessories.

Floors 2-4 will house gorgeous bridal jewellery with centre showpieces and tables and chairs on both sides.

Up on the 5th floor will be the high jewellery, accessed via an elevator, which brings you to an incredible sparkling bamboo thicket-like space.

If you're looking to indulge in some expensive jewellery, worn by the famous actresses of Hollywood, then be sure to check out NIWAKA and visit their new Ginza store. Be on the lookout for future branches opening up in Japan and overseas.フ

Information

NIWAKA Ginza

Grand Opening: February 6, 2020

Address: 2-8-3 Ginza, Chuo Ward, Tokyo

Opening Hours: 11:00-20:00

Closed: Wednesdays (Except Public Holidays)/New Year Holidays

Official Website (English): https://www.niwaka-en.com/

Official Website (Japanese): https://www.niwaka.com/

Tokyo's MARUKO & COJICOJI CAFE Food Menu is Just Too Kawaii to Eat

Fans of Japanese mangaka Momoko Sakura won't be able to resist the new MARUKO & COJICOJI CAFE which is set to open at Sunday Brunch in Tokyo on January 31, 2020 for six months. It's collaboration between the manga series Chibi Maruko-chan and Coji-Coji, both by Momoko Sakura.

The cafe is opening to promote the release of the Chibi-Maruko-chan and Coji-Coji picture book. Customers can look forward to joining the two characters on their adventures as they are vividly recreated on their plates, with food and drink inspired by the beautiful scenes seen throughout the four seasons, cherry blossoms, Mount Fuji, and more. The menu line-up is an homage to Momoko Sakura's iconic work.

Today, we finally get to take a peek at what's on the menu at the cafe. Keep in mind this is just a small selection of what will be served.

*Menu item names are translated from Japanese

Homage Menu: Coji-Coji Came To Visit- ¥1,850 (Before Tax)

Both Marko-chan and Coji-Coji are made from cookies and are flying through the air together. Below them is Mount Fuji, made from rice and adorned with cherry blossoms. It's sat in a lake of cod roe cream sauce littered with tea leaves.

Summer Menu: King of Sun Kingdom – ¥2,000 (Before Tax)

Enjoy this healthy keema curry packed full of nutritious vegetables as well as a piece of French toast made from fresh eggs and milk. The individual suns are made from pumpkin flavoured mashed potato, while the two pals have written a letter that says "To the King."

Winter Menu: Three's Company – ¥1,880 (Before Tax)

Delicious butterfly pea and spinach purees sit atop a bed of shrimp tomato cream and pumpkin soup, creating an eye-popping mixture of colours.

Sweets: Coji-Coji Came to Visit Baked Cheese Cake – 1 Slice w/Drink ¥1,380 (Before Tax)

This baked cheese cake celebrates the two's meeting. You get one slice which will contain Mount Fuji and either Maruko-chan or Coji-Coji. Which will you be given?

Sweets: A Chat in the Cold Morning Chocolate Cake – 1 Slice w/Drink ¥1,380 (Before Tax)

Layered with sumptuous mango custard cream, this cute gateaux chocolate cake is moist and delicious.

Parfait Drink: Onigiri People & Star Festival – ¥1,700 (Before Tax)

Inspired by the Milky Way in the Tanabata festival, this parfait drink includes jelly under which hides an assortment of fruits, cream, and vanilla ice cream. The juice itself has a squirt of cheese cream in it too.

Special Drink: What's The Rainbow Invitation? – ¥980 (Before Tax)

A glass of lemonade that comes with a cafe-exclusive charm. There's jelly inside the glass which dances and sparkles as you stir.

The cafe itself will also be decorated in picture book art in the form of tapestries and other things. There will also be a display of Momoko Sakura's work, as well as Maruko-chan and Coji-Coji merchandise up for sale.

©️Momoko Sakura ©️Sakura Production

Information

MARUKO & COJICOJI CAFE

Location: Sunday Brunch, Marronnier Gate Ginza 1 Floor 4F (2-2-14 Ginza, Chuo Ward, Tokyo)

Running: January 31, 2020 – July 31, 2020 (Subject to change)

Opening Hours: 11:00-21:00

Reservations/Official Website: http://www.marucoji-cafe.com