Nana Komatsu & Mugi Kadowaki Kiss in New Trailer for 'Sayonara Kuchibiru'
Sayonara Kuchibiru ("Goodbye Lips") is an upcoming Japanese film starring co-leads Nana Komatsu and Mugi Kadowaki along with Ryo Narita. The musical movie is set to hit Japanese theatres on May 31, 2019.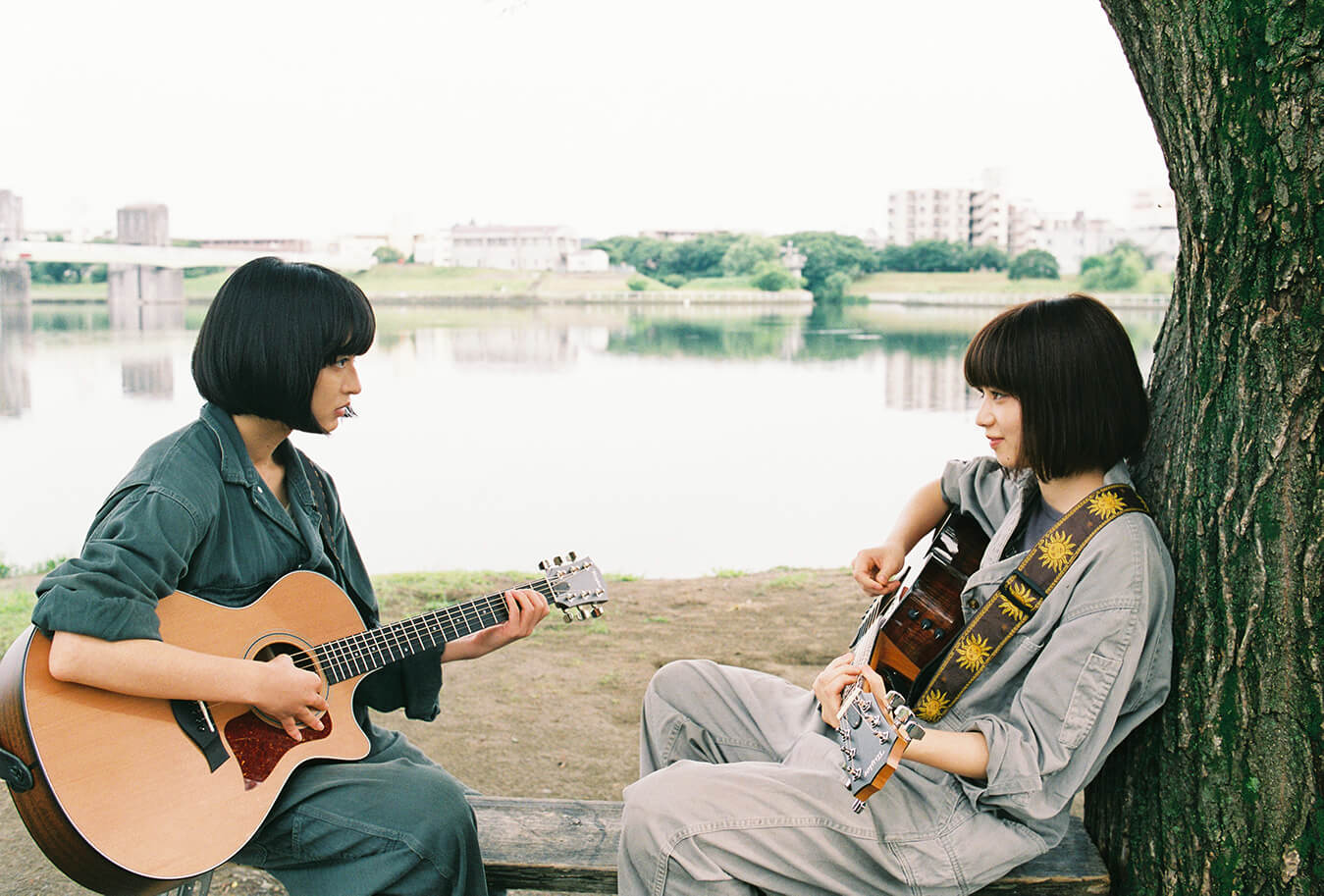 The film is directed and written by Akihiko Shiota (Harmful Insect, Dororo) whose career has made his name known at several film festivals overseas.
The film features big names in the music industry including Japanese singer-songwriter Motohiro Hata who produced the film's main theme Sayonara Kuchibiru and Aimyon who composed and wrote the lyrics for the insert song Tachimachi Arashi.
See the new trailer below.
Reo (Nana Komatsu) and Haru (Mugi Kadowaki) form the popular guitar duo HaruReo. In the trailer, we the musicians suddenly decide they want to break up, and confide in their attendant Shima once more. During their nationwide tour, a love triangle begins to form, as Reo has feelings for Shima, but Shima has feelings for Haru.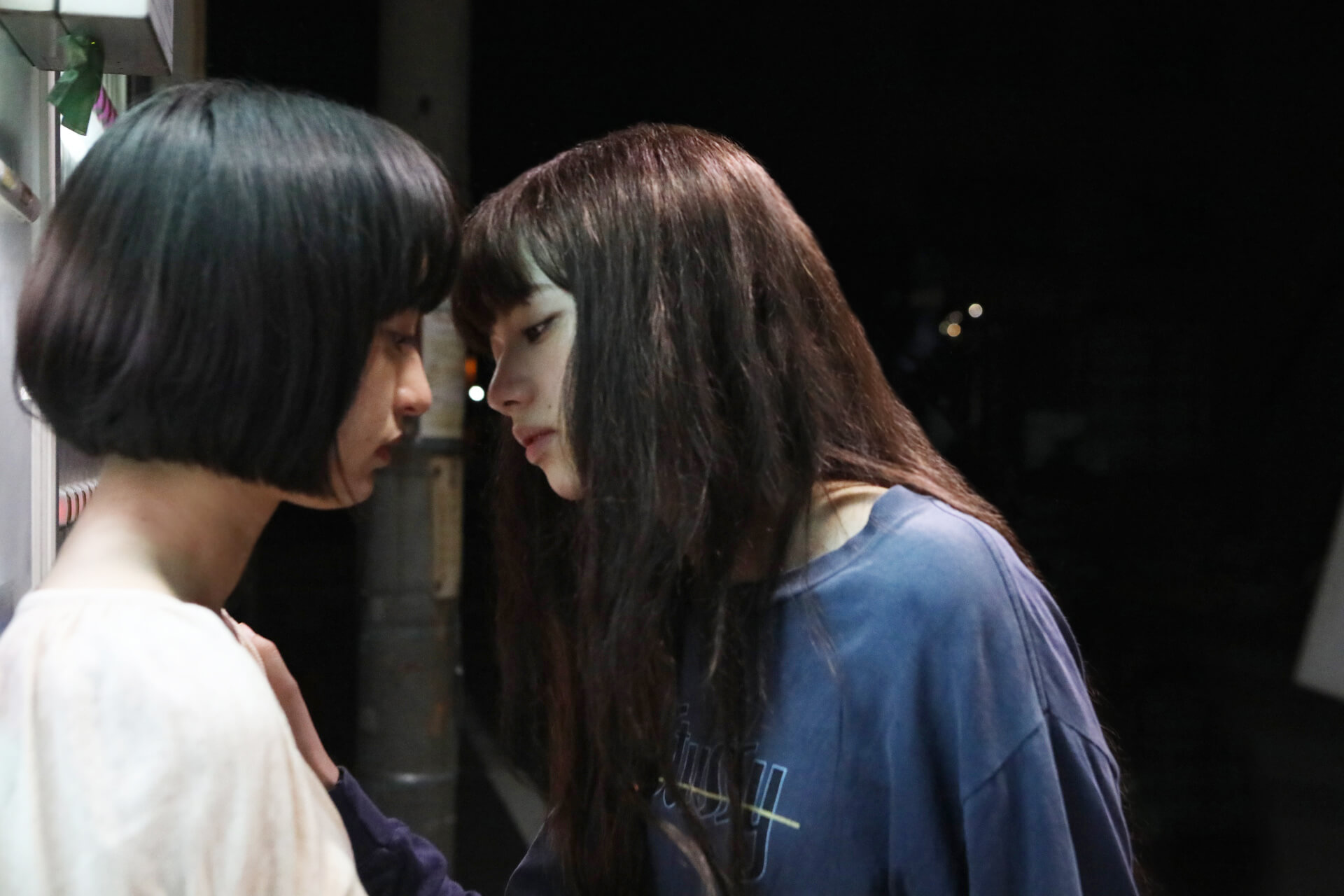 The trailer also reveals a kiss scene between the two singers. A single cut showcasing the moment before the kiss was released officially.
The actresses themselves both sing and perform HaruReo's songs. This is the first time that Nana Komatsu has had to sing in her career. She and Kadowaki underwent months of training to sing and play the guitar as well as film the emotional live scene we see in the trailer.
Sayonara Kuchibiru is set to tackle the bonds we have between people and the importance of looking ahead. Don't miss the film coming this spring.
Information
Sayonara Kuchibiru
Release Date: May 31, 2019
Screening: TOHO Cinemas Hibiya and elsewhere across Japan
Official Website: https://gaga.ne.jp/kuchibiru/
© 2019 "Sayonara Kuchibiru" Production Committee
RELATED ENTRIES
Fans Asked to Name Blimp Inspired by the Upcoming Film 'Doraemon: Nobita's Sky Utopia'

The film Doraemon: Nobita's Sky Utopia will be released on March 3, 2023. The 42nd Doraemon movie follows Doraemon, Nobita, and his friends as they venture off to find Utopia, a perfect land in the sky where everyone lines in joy and happiness. They do so using an airship with a time warp function on their adventure, and to commemorate the film's release, the Flying Doraemon Project began on January 14. A real-life 17-meter-long Doraemon blimp will soon appear in the sky, and fans are being asked to decide on a name for the craft.

The blimp, inspired by the Doraemon movie, will feature popular characters including Nobita, Shizuka, Suneo, and Gian. The blimp is the largest unmanned airship in Japan.

The message of the Flying Doraemon Project is to convey the feeling that in this day and age, children and adults alike can once again look upward and move forward toward their hopes and dreams.

Fans are asked to contribute ideas for the blimps name during the application period. Check the website for more details!

Natsume Mito to Appear in Upcoming Film 'Kono Chiisana Te'

Natsume Mito will star in the upcoming film Kono Chiisana Te (These Small Hands). The film will debut in theaters on April 8.

The movie is an adaptation of the manga series by Mamora Goda, also known for his works Kira Kira Hikaru and Mori no Asagao. The story follows a father who never cared for his daughter and a daughter who has forgotten her father.

This is the feature-length debut of director Hiroyuki Nakada, who previously worked as an assistant director on films such as Love is Light and Tsukuritai Onna to Tabetai Onna.

<Comment from Director Hiroyuki Nakada>

"What is a father?

This question came to me as I was watching my newborn son sleep.
Does supporting a family financially make a good father?
Can a man be a father in some other way? Can he do something else?
While I was pondering this, I came across Kono Chiisana Te.
I really wanted to find the answer to my question, so I decided to work on plans for this live-action film.

I hope that everyone who sees this film will take some time to think about their families in this fast-paced world."

<Story>
Kazuma, an illustrator, lives with his wife Sayuri and their three-year-old daughter Hina.

One night, while Kazuma is drinking with his work buddies, Sayuri gets into an accident and is hospitalized while out shopping.

Kazuma falls asleep at the bar and Hina wakes up alone the next day. She is rescued by the police and placed in an orphanage.

Given his actions, Kazuma can't take Hina home. Having done nothing to help raise her, he's decidedly unfit to parent. Sayuri doesn't wake up, and time continues to pass.

Desperate, Kazuma gradually realizes that there are people who care for him and want the best for his life. Determined, he sets out to repair his bond with his daughter.

When Kazuma visits, however, all Hina can do is cry. Has she forgotten her father's face?

(C)映画「この小さな手」製作委員会

Information

Kono Chiisana Te (These Small Hands)
Release Date: In theaters nationwide April 8, 2023at Euro Space and other locations
Original Story: Kono Chiisana Te by Mamora Goda / Hiroshi Yoshida
Director: Hiroyuki Nakada
Script: Yusuke Moriguchi
Theme Song: Karen Aoki
Producer: Sho Matsushima
Music: Rhythm & Note
Production: Kono Chiisana Te Production Committee
Distributor: Fulmotelmo Inc.
2022/Japanese/Color/Vista Size/90 minutes

<Starring>
Kouhei Takeda
Renwa Satou, Sei Ando
Chie Tsuji, Natsume Mito, Himena Irei, Kenji Mitamura, Yoko Asaji, Reon Yuzuki, Kanji Tsuda, Yuki Matsushita, Yasufumi Terawaki

SSSS.GRIDMAN Compilation Film Bonuses Revealed

Based on the Tsuburaya Productions Gridman live-action tokusatsu series from 1993, the
SSSS.GRIDMAN anime series aired in October 2018. A sequel, SSSS.DYNAZENON, followed in April 2021.

Ahead of the release of GRIDMAN UNIVERSE, an all-new anime film coming in March, both SSSS.GRIDMAN and SSSS.DYNAZENON will be getting compilation films. Each will only be
in theaters for two weeks.

劇場総集編『SSSS.GRIDMAN』

The SSSS.GRIDMAN film will be in theaters starting January 20. Those buying tickets will
receive a special illustration card with a voice drama created by Akira Amemiya, the director of the SSSS series, while supplies last. The title of the drama is Hinekuremono Demo (Even if You're Cynical) starring Soma Saito (Sho Utsumi) and Hass (Akari Kito).

The newly-revealed illustration card's design features Yuta Hibiki, Sho Utsumi, Rikka
Takarada, and Akane Shinjo happily snapping photos.

SSSS.DYNAZENON will be released for two weeks starting March 10, and those buying
tickets will also get an illustration card and a special voice drama written by Akira Amemiya.

The SSSS.GRIDMAN compilation film is being directed by Yoshiyuki Kaneko, who served as assistant director on the anime series. The film will show a somewhat new interpretation of the story under his new direction. Both compilation films will include extra footage leading
up to the release of GRIDMAN UNIVERSE on March 24, 2023.

©円谷プロ ©2023 TRIGGER・雨宮哲/「劇場版グリッドマンユニバース」製作委員会

Information

SSSS.GRIDMAN Compilation Film
Limited 2-week screenings begin January 20, 2023
Admission Bonus: Illustrated Card with Voice Drama by Akira Amemiya
Official Website: https://ssss-movie.net/

RecoChoku Announces Winners for Best Music of August 2022

13.September.2022 | MUSIC

Japanese music streaming site RecoChoku has announced the top song and album rankings for August 2022!

Unsurprisingly, Ado tops both the single and album charts with her new tracks from the movie ONE PIECE FILM RED. The singer provided the singing voice of Uta, a main character in the film which was released nationwide on August 6, 2022.

New Genesis, the theme from ONE PIECE FILM RED, was released ahead of the movie's release on June 8, 2022. It ranked 4th in the monthly rankings for June and July, and following the film's release in August, it shot to the top of the charts for four consecutive weeks, continuing to hold the #1 spot.

Ado also took first place in August's album ranking with her collection of songs from ONE PIECE FILM RED. Released on August 19, 2022, the album features a number of tracks made for the film, with seven different artists helping to produce these now legendary songs.

For the daily ranking on August 11, the top seven singles were all from this one album. Starting at the top spot, the songs included were: New Genesis, Where the Wind Blows, Tot Musica, The World's Continuation, Binks' Sake, I'm Invincible, and Fleeting Lullaby.

In the album ranking, it was number one in the weekly ranking for three consecutive weeks since its release on August 17 and continued its momentum to take the top position in the monthly ranking for the month of August.

Ado had her first top single ranking in February 2021 with Usseewa, and her first #1 album in January and February 2022 with Kyogen.

If you haven't listened to the singer's collection of songs from the most recent ONE PIECE film, you're missing out!

RecoChoku Monthly Music Award – August 2022 (Announced September 1, 2022)

Single Ranking


1st Place: New Genesis (Uta from ONE PIECE FILM RED) – Ado (Released June 8, 2022)
2nd Place: Start Over – THE BEAT GARDEN
3rd Place: Ame Sansan – King Gnu
4th Place: Where the Wild Blows – Ado
5th Place: Mixed Nuts – Official HiGE DANdism

https://recochoku.jp/ranking/single/monthly/

Album Ranking


1st Place: Uta's Songs from ONE PIECE FILM RED – Ado (Released August 10, 2022)
2nd Place: M – INI
3rd Place: BE:1 – BE:FIRST
4th Place: Falling into your eyes Record – Aimyon
5th Place: Suki Toiunowa Rock Daze! (Special Edition) – Nogizaka46

https://recochoku.jp/ranking/album/monthly/

©尾田栄一郎/2022「ワンピース」製作委員会

Popular singer Aimyon has released the music video for her song 3636 from her fourth original album, Falling Into Your Eyes Record. The album was released on August 17, 2022.

 

The video was directed by Classic 6, marking the first collaboration between the two. The lyrics of the song contain the phrase 'delivery box,' and this became a big theme in the direction of the video. Along with the video release, Aimyon and Classic 6 both released comments about the new creation, so be sure to read them below. 

3636 – Aimyon (Official Music Video)

Aimyon is currently on her largest-ever national tour, seeing the artist perform 28 shows in 14 cities throughout Japan. On November 5, Aimyon will perform her largest solo concert ever at Hanshin Koshien Stadium in Nishinomiya. 

 

Comment from Aimyon

"When the delivery box wouldn't open anymore, I felt as though my heart had been closed. I was so incredibly sad. I wondered if it had simply grown tired of me, and I went on a journey of endless delusion. I remembered what happened in that small room as the seasons passed."

 

Comment from Classic 6

"When I heard the song, I pictured Aimyon riding on a train in a private compartment, something that isn't common in Japan. It's also a metaphor for the time, space, and heart that the delivery box and Aimyon shared. That's what I imagined when I planned the video. I wanted it to be obvious. There was a way for both of them to keep going, to not stop along the way. Even now, the box alone is being carried somewhere far away."

Information

Falling Into Your Eyes Record

Released: August 17, 2022 

Standard Edition (CD Only): ¥3,080 (Tax Included)

Limited First Edition (CD+Blu-ray): ¥7,700 (Tax Included)

Limited First Edition (CD+DVD): ¥6,600 (Tax Included)

Aimyon Official Site: http://www.aimyong.net/

On June 8, popular singer Aimyon released her 13th single My First Love is Crying. Now, the music video is here–and it was filmed in a yakiniku restaurant!

 

The music video was directed by Tomokazu Yamada, who previously directed the videos for Aimyon's Marigold, Let the Night, Harunohi, The Smell of a Midsummer Night, On This Day We Say Goodbye, and Naked Heart. The video itself was filmed in one shot at a yakiniku restaurant in Tokyo, showing Aimyon eating alone and crying. A stirring and emotional song paired with this moving video will be enough to stir any fan's heart. 

My First Love is Crying – Aimyon

 

The coupling song, Satsuki, is available to stream now. The track is a continuation of the song Mini-Skirt and Hi-Lite from Aimyon's 11th single. The track features Moto Kawabe, the first time a male has participated in one of Aimyon's tracks. 

Aimyon is currently holding her largest-ever national tour, performing 28 concerts in 14 cities around Japan. 

 

Comments

Aimyon

"When I got dumped by the person I was dating, I can remember crying uncontrollably. 

I was asking myself "why me?" People would respond with "there's nothing you can do," or "this was for the best," or "there are other fish in the sea!" 

I ate, I drank, I reminisced, I cried, I got angry, and as time went on, I realized that I had forgotten why I loved him so much in the first place. 

But I still love him a little bit–and that pisses me off! That's the emotion I wanted to bring to this shoot."

 

Tomokazu Yamada (Director)

"In this age when people can easily impersonate (or quote) someone else, people like Aimyon, who is unapologetically herself, seem to shine more brightly. Even in the midst of her sadness, she wants to show that side of her to someone else in the hopes that it can help. She has the power to light up anyone's day with her honesty and sense of self." 

 

Popular singer Aimyon has released the music video for her new song Futaba, which premiered on streaming services on March 24, 2022.

The video was directed by Kodai Kobayashi, who previously directed videos for Only Under the Full Moon, Dream Chaser Bengal, Chika, and Till I Know What Love Is. Futaba was shot in locations all over Okinawa, and is a treat to watch. Check out comments from Aimyon and Kodai Kobayashi below!

Futaba – Aimyon (Official Music Video)

The track was used as the theme song during the March 23 broadcast of 'Aimyon 18 Festival' on NHK, which will be rebroadcast on April 3, 2022. Aimyon will perform the song live along with a special talk, so don't miss it!

 

Aimyon Comment

This was such a fun trip, and the director really captured so many different sides of me. 

When I saw the finished video, I thought to myself "Wow, I've really grown up!" Yet some of the expressions I made were the same ones I made as a child.

There are things you can only do as an adult and things you can only do as a child,

but all I care about is valuing the things I'm doing right now.

With that in mind, I jumped into the ocean for the first time in my life.

I was terrified, but it was something I always wanted to do. 

(I won't do it again!)

Kodai Kobayashi (Director) Comment

The team ran all over the place getting these shots. Please check out the final product made possible by these dedicated adults.

Aimyon's new track Futaba is now available to stream! The track was used as the theme song during the March 23 broadcast of 'Aimyon 18 Festival' on NHK. The show featured Aimyon collecting messages and videos from 17 to 20-year-olds across Japan which were then used to create the video. Ran Tondabayashi was in charge of the jacket photo and art direction.

 

The music video for Futaba will be released on March 31 at 20:00 on Aimyon's official YouTube channel.

 

The singer will start her new tour–her largest ever–in April.

Actor Mugi Kadowaki and Ballet Dancer Shoko Nakamura to Appear in Second Vogue Japan Collaboration Project

Vogue Japan has launched a special collaboration between actor Mugi Kadowaki and ballet dancer Shoko Nakamura for its YouTube channel. The video is now available to watch and shows how dance is bringing new life and light to the stillness caused by two years of the pandemic. This project is also linked to the April issue of Vogue Japan released on March 2 which features newly-shot photos of the performers that can only be seen in the magazine.

The first collaboration featured Mitsuki Takahata and RIEHATA. Kadowaki, who once dreamed of becoming a professional ballet dancer, later gave up on that dream. In this collab, she challenges that part of herself again as a form of self-expression. The video shows pro dancer Shoko Nakamura meeting with the actress to warm up and practice. Check out the full video on the Vogue Japan YouTube channel, complete with performances, interviews, and behind-the-scenes footage.

The choreography theme is 'the past and the future,' with the first half of the dance inspired by two people meeting in the past and crossing paths again. In the second half, the artists try to express themselves using paint.

"I made it a priority to move freely," Nakamura said. Drenched in colorful paints, the two danced playfully. "I feel so refreshed," Kadowaki said after filming ended. "If you're stressed  or in a situation where you're having a hard time being around people, just to the park and dance."

Nakamura reflected on the collaboration with a smile. "I think each of us went into this with our own thoughts and goals, but the second the music started, we just let it move us."

Information

Vogue Japan -Mugi Kadowaki and Shoko Nakamura: Connecting the Past and Future with Ballet

Watch on YouTube: https://youtu.be/htHCNzkKJSs

New 90-Second Trailer, Key Visual Released for DEEMO: Memorial Keys

DEEMO: Memorial Keys is scheduled to release in select locations nationwide on February 25, 2022, and a new key visual and 90-second trailer filled with brand-new footage just dropped!

 

The key visual was created by Mebachi, a popular illustrator known for creating the character designs for both DEEMO and the ending animation of Love Live! Nijigasaki High School Idol Club.

Against the backdrop of the castle where Deemo lives, a spiral staircase made of piano keys leads guests to a mysterious world. Alice, the main heroine, and Deemo, the masked girl, along with other characters are seen gazing up at the sky. Cherry blossom petals and light pour down from above in this emotional key visual that perfectly encapsulates the story's world.

DEEMO tells the story of a girl who falls from the sky. She has no memories and finds herself traversing a strange castle. The sound of piano rings out, and the girl must discover the truth of who she is, and where she finds herself.

DEEMO: Memorial Keys Trailer

Based on the popular DEEMO mobile game, many famous tracks from the title will appear in the movie, so fans shouldn't miss it!

ⓒRayark Inc./「DEEMO THE MOVIE」製作委員会

Aimyon Announces First Fan Club Tour and 14-city Arena Tour

Singer-songwriter Aimyon will hold her first fan club tour starting in January 2022, along with a 14-city arena tour beginning in April. The artist has seen an incredible amount of success since her major debut in 2016, winning Artist of the Year at the Billboard Japan Music Awards in 2019. 

The fan club tour will start on January 20, 2022, at Tachikawa Stage Garden in Tokyo before moving on to seven more locations through February. Those who want to join the fan club can visit the official website below. 

Aimyon's arena tour will start on April 16 at the World Hall in Kobe and will span 28 shows in 14 cities around Japan. This will be the singer's largest ever tour. 

On the artist's official website, a warning has been posted regarding the pandemic. Information and dates may change depending on the spread of COVID-19, so check the official tour page often. 

Information

AIMYON FANCLUB TOUR 2022 "PINKY PROMISE YOU"

January 20 – Tachikawa Stage Garden (Tokyo)

January 24, 25 – Festival Hall (Osaka)

January 27 – Sun Palace (Fukuoka)

January 31 – Sendai Sunplaza Hall (Sendai)

February 2 – Kanamoto Hall (Sapporo)

February 8 – Tokyo Garden Theater (Tokyo)

February 14 – Century Hall (Nagoya)

February 16 – Ueno Gakuen Hall (Hiroshima)

Aimyon Official Fanclub Site: https://sp.aimyong.net/aim/

AIMYON TOUR 2022

April 16, 17 – World Hall (Kobe)

April 23, 24 – Hiroshima Green Arena (Hiroshima)

April 29, 30 – Toki Messe (Niigata)

May 7, 8 – Makomanai Sekisui Heim Ice Arena (Sapporo)

May 14, 15 – Sekisui Heim Super Arena (Miyagi)

May 21, 22 – Saitama Super Arena (Saitama)

May 28, 29 – Ecopa Arena (Shizuoka)

June 4, 5 – Grandmesse Kumamoto (Kumamoto)

June 18, 19 – Okinawa Arena (Okinawa)

June 25, 26 – Ehime Prefecture Budokan (Ehime)

July 1, 2 – Yoyogi National Stadium (Tokyo)

July 5, 6 – Osaka-Jo Hall (Osaka)

July 9, 10 – Nagoya Civic General Gymnasium (Nagoya)

July 23, 24 – PIA Arena MM (Yokohama)

Aimyon Tour 2022 Site: https://www.aimyong.net/feature/livetour2022

Aimyon Releases Music Video for 'Heart,' Directed by Rachel Chie Miller

On November 24, 2021, singer-songwriter Aimyon will release her 12th single, Heart. Prior to the track's official release, the official music video has been uploaded to the artist's YouTube channel.

The video was directed by Rachel Chie Miller, who also directed the music videos for GOOD NIGHT BABY, Kimi wa Rock wo Kikanai, and Futari no Sekai. 

Heart – Aimyon [Official Music Video]

To celebrate the music video's release, the design of the original A5-sized Heart clear folder–scheduled to be the first purchase bonus for the single–was unveiled. 

Aimyon will hold an additional performance of her current narrative tour 'AIMYON Narative Tour 2021 -I Fell in Love With a Scar and a Demon!-' on November 30, 2021, at Nippon Budokan. The artist is currently celebrating five years since her major label debut, and she doesn't seem to be slowing down any time soon.

Comment from Aimyon

Does it depict the finale of the song, or the beginning? When I first saw the music video, I immediately realized how well it could capture someone's imagination. That's how amazing Rachel Chie Miller is! Living while consumed with thoughts of someone you love can only lead to the best kind of romance.

Comment from Rachel Chie Miller

Even when I'm trying my best to be calm, the more I think, the more restless I become and the more my mind wanders. I wanted to depict that here–that no matter how hectic your brain may be, life doesn't care, and it marches on.