Starbucks Omotesando Hills connects customers with nature and local history with new biophilic interior design
Starbucks Coffee Japan will open one of its highest quality stores in Omotesando Hills, Aoyama on Friday 12th April 2019. The Omotesando Hills store will be the first Starbucks in the country to incorporate biophilic design.
The concept of biophilic design attracts a great deal of attention from around the world. It is the concept of creating harmony between people and nature to improve wellbeing and happiness. Starbucks Omotesando Hills has created a space where you can feel the fullness of water and greenery, connecting the store's location to its surrounding areas in its impressive design such as the historical Meiji Shrine. A lot of greenery and water has been incorporated into the design. This is a new place where you can enjoy a line of Zelkova trees that is also at Meiji Shrine. You will be surrounded by a lively atmosphere with the light fragrance of coffee and plants in the air.
Design concept: SHADE GROWN ー under the zelkova tree
SHADE GROWN is a method of coffee cultivation in the shade that simultaneously protects the ecosystem of the rainforest. With this in mind, the Starbucks logo that greets customers as they walk in is accompanied by a logo that combines the first character of the word Omotesando with a design that symbolises the clean water flowing from Omotesando down to Meiji Shrine. This environment full of greenery spreads from the underground to overground to welcome people into the store.
The design of the cafe includes the sacred couple camphor tree. This is a set of two sacred trees at Meiji Shrine that is known as a power spot to strengthen relationships. From the shrine gate to the forest, the mystical layers of forest have been portrayed through the greenery and artwork.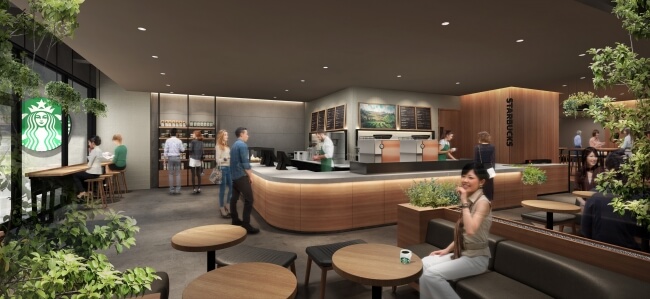 In the centre of the cafe, there is a projector that projects ripples and waves according to the weather. The concept is that water collects on the surface and percolates through the ground, forming into a water droplet that falls into the "water" to cause a ripple. This design feature connects the overground to the underground through water.
The counter where you pick up your drinks is decorated with a vase containing a single flower. As this flower is changed weekly, you can enjoy the changing seasons overtime. This experience and atmosphere will not only put you at ease, but will help you connect with nature and the local history. This is a new place where you can relax and enjoy a completely unique experience at your own pace.
Information
Starbucks Coffee Omotesando Hills
Address: 4 Chome-12-10, Jingumae, Shibuya City, Toky
Opening hours: Weekdays: 7:00 – 22:30/ Weekends & national holidays: 8:00 – 22:30
Grand opening: Frifay 12th April 2019
Website: https://www.starbucks.co.jp/
RELATED ENTRIES
Fate/Grand Order Themed Cafe to Open in Omotesando

The third run of the Fate/Grand Order themed cafe, with designs produced by Sanrio, will take place at OMOTESANDO BOX CAFE&SPACE from September 5 to 29.

Fate/Grand Order is a popular online free-to-play RPG developed by Delightworks for smartphones and is based on the Fate/stay night franchise by Type-Moon. The story has continued to evolve since its released in July 2015, and as of July 2019, it has been downloaded more than 1.7 million times. A TV anime adaptation is slated for release in October 2019 and an anime film is in production for 2020.

This marks the third opening of this limited-time cafe, the previous two having taken place in December 2017 and August 2018 respectively. This year sees the introduction of new Servants as well as an all-new menu with the theme "Autumn tea room." Exclusive merchandise featuring designs of the Servants will also be available for fans to pick up.

When you book a table in advance (¥650 before tax per person) and order from the menu you'll receive one of the above possible 16 lunch mats.

And if you order a drink you'll get one of the 16 coasters. You'll get one of either piece of this original merchandise per item you order from the menu.

Menu Line-Up

Master & Mash Snow Field Meatballs – ¥1,490

This dish is piled with filling sauteed meatballs and mushrooms. The cream sauce is made to look like a snowy field. It's served with a side of jam for a succulent sweet and sour kick.

Romani & Vinci Waffle Sandwiches – ¥1,590

Waffles turned from desserts into a real meal, packed plump with chicken and cheese and served with a side of fries.

Gilgamesh & Merlin Afternoon Tea Set – ¥1,690

This gorgeous assortment of finger food includes cute cupcakes topped with Gilgamesh and Merlin. Enjoy together with a nice cup of tea.

Brynhildr & Sigurd Croquembouche Parfait – ¥1,390

Croquembouche is often served at weddings in Italy at France. Here, it has been turned into an easy-to-eat parfait. It's topped with salt ice cream, yogurt mousse and more, all in refreshing colours.

Fruit Tea (5 Flavours) – ¥790 Each (Male Master / Female Master / Mash / Romani / Da Vinci)

Matcha Milk Float (3 Flavours) – ¥790 Each (Okita / Ryoma / Izo)

Original Merchandise

Acrylic Key Rings (16 Designs – Chosen Randomly) – ¥650

Folder Set of 2 – ¥750

There are even more items on the menu as well as merchandise to look forward to at the cafe. Head to Omotesando and enjoy a beautiful autumn with the Servants!

 © TYPE-MOON / FGO PROJECT

*All prices listed are pre-tax. Photos are for illustrative purposes only.

Information

Fate/Grand Order Design produced by Sanrio – 3rd Collaborative Cafe

Running: September 5, 2019 – September 29, 2019

Location: OMOTESANDO BOX CAFE&SPACE (Pine Under Flat Floor B1F, 5-13-2 Jingumae, Shibuya, Tokyo)

Official Website: https://fgo-sanrio-cafe.jp/

*Reservations now open via the official website

Shop in Harajuku & Omotesando With a Takeout Dessert From Q-pot CAFE

The real summer is here now, and what better way to cool yourself off during your shopping spree in Harajuku and Omotesando than with a cool and refreshing takeout dessert from Q-pot CAFE?

Melty Mousse (Peach x Apricot Seed) – ¥500 (Tax Included)

Q-pot CAFE's Melty Mousses are encased in an adorable jar. This one is a heavenly mix of fruity peach mousse and a smooth apricot kernel milk mousse. Laced in the peach mousse is a divine blend of raspberries and lychees. The subtle sweetness of the peach coupled with the sourness of the raspberries and refreshing taste of the lychees make this dessert a perfect summer pickup. Also hidden within the delicious mix are pieces of fresh and juicy peach.

Melty Mousse (Mint x Chocolate) – ¥500 (Tax Included)

This summer sees the return of Q-pot CAFE's popular mint chocolate mousse. Chocolate and mint are always an exquisite combination, and this mousse mix proves it, fusing rich chocolate with a cool mint kick. The cute melty-looking mint chocolate at the top also gives it an appetising appearance.

Cat Ice Creams – ¥600 Each (Tax Included)

Also returning once more this summer are Q-pot CAFE's adorable cat ice creams, a mix of ice cream and various toppings. Choose from strawberry, vanilla or chocolate.

All of these desserts will be available to buy from August 5. They are all super cheap and are perfect for getting for takeout and walking around Harajuku and Omotesando. Be sure to stop by if you're planning a shopping trip there this summer break.

Information

Melty Mousse

Release Date: August 5, 2019

Price: ¥500 (Tax Included)

Available: Q-pot CAFE Omotesando (3-4-8 Jingumae, Shibuya, Tokyo)

Cat Ice Creams

Release Date: August 5, 2019

Price: ¥600 (Tax Included)

Available: Q-pot CAFE Omotesando (3-4-8 Jingumae, Shibuya, Tokyo)

Q-pot CAFE Official Website: https://www.q-pot.jp/shop/cafe/

Starbucks Japan Announces 2nd Collaboration With Hiroshi Fujiwara's Design Project 'Fragment 'Design'

Following the success of the first collaboration back in 2017, Starbucks Coffee Japan has teamed up once again with Hiroshi Fujiwara and his design project Fragment Design. The collection this time around will include the Fragment/Starbucks VIA® Coffee Essence Caramel & Cup and the Mocha & Cup. Both will go on sale at most Starbucks branches and the online store in Japan from August 7.

Starbucks VIA® is an instant coffee produced by Starbucks which simply requires you to add milk and water, allowing you to enjoy Starbucks's signature taste wherever you go.

This Starbucks VIA® collaboration comes as a set with both the instant coffee packs as well as an iced coffee cup. The cups and packages are designed by Fragment Design which is spearheaded by Japanese musician and designer Hiroshi Fujiwara. The caramel flavour comes with a grey design and the mocha with navy.

Pick your coffee of choice and enjoy Starbucks at home, at the workplace or anywhere outdoors.

Information

・Fragment/Starbucks VIA® Coffee Essence Caramel & Cup (Includes 5 instant caramel coffee packs and 5 iced beverage short size cups)

・Fragment/Starbucks VIA® Coffee Essence Mocha & Cup (Includes 5 instant mocha coffee packs and 5 iced beverage short size cups)

Price: ¥1,300 Each (Before Tax)

On Sale: From August 7, 2019

Available: At most Starbucks branches in Japan and via Starbucks Japan's online store
*Limited to one purchase per customer

Starbucks Japan Official Website: https://www.starbucks.co.jp/

Vegan Bubble Tea Arrives at Harajuku's BOTANIST Tokyo Tea Stand

For the whole month of August, the BOTANIST Tokyo tea stand in Harajuku is serving two different tapioca bubble tea beverages. Just 100 of each will be sold each day.

The two delicious drink flavours include "Butterfly Pea Soy Milk Tea" and "Matcha Milk Tea." Both beverages are made with high quality tapioca pearls from bubble tea store Bull Pulu who serve up Taiwanese pop culture with their tasty menu.

Vegans shopping in Tokyo's Harajuku and Omotesando areas will be excited to try the vegan-friendly Butterfly Pea Soy Milk Tea. Both of the drinks are also sold in eco cups and come with paper straws.

Tapioca Butterfly Pea Soy Milk Tea – ¥600 (Tax Included)

The vegan-friendly option is a combination of bright and colourful butterfly pea tea and soy milk. It's laced with a tropical coconut syrup for enhanced flavour.

Tapioca Matcha Milk Tea – ¥600 (Tax Included)

The matcha milk tea is a combination of rich and smooth matcha foam and milk. It's mixed with a fragrant hazelnut syrup.

Both drinks are takeout only and are available to buy on the first floor. If you fancy a little refreshing drink while strolling through Harajuku then be sure to visit BOTANIST Tokyo.

Information

BOTANIST Tokyo

Address: 6-29-2 Jingumae, Shibuya, Tokyo (Shop – Floor 1F / Cafe – Floor 2F)
Business Hours: 11:00-20:00
Official Website: https://botanistofficial.com/shop/

Stone Oven Cooked Burgers Served at New Ishigamaya GOKU BURGER in Omotesando

Stone oven hamburger chain Ishigamaya Hamburg has opened its first global flagship branch Ishigamaya GOKU BURGER in Omotesando. The restaurant will be open for a limited-period of 2 years.

The classic hamburger is made from 100% ground beef, but at Ishigayama Hamburg they serve what is known as the "Hamburg Steak," a mix of onions, spices, breadcrumbs, milk and other ingredients in the patty. It's a popular dish in Japan alongside ramen and tonkatsu.

We visited Ishigamaya GOKU BURGER to see what a hamburger tastes like at a place that specialises in juicy, stone oven cooked Hamburg Steak.

The restaurant faces Omotesando Hills. It's in the same building as Heiroku Sushi on the second floor. It's very easy to spot with its big sign that reads "GOKU BURGER."

The cosy burger joint has a casual atmosphere to it, lit up by its many variations of lamps.

From the big windows you can look down onto the the streets of Omotesando.

From your table you can see the large stone ovens which cook the famous Hamburg Steak. The smell is incredible.

I ordered the ¥1,450 Avocado Cheeseburger. It looks really cool with the knife stuck through it. You can choose from three different sauces to coat your burger: Original, Teriyaki and the Chef's Special. I went with Original.

Time to tuck in! But before that, you've got to put on the gloves provided by the restaurant which come with every burger. So what explains why the sauce is served in a separate tray! The fact you get your own gloves is a great idea since it means it'll keep your hands nice and clean so you won't get grease all over them.。

The meat is succulent and extremely juicy. The burger juices and sauce blend together to make a really delicious flavour which make you just keep on dipping.

The hamburgers are made with red meat that has only a little fat content, with each burger formed by hand individually. And by cooking them in a stone oven it means the burger will cook evenly and all at once, sealing the flavours and juices in even more compared to infrared cookers. The buns too have an amazing taste and are nice and fluffy.

The potato fries are round rather than long and thin. They don't go soggy and go amazingly with the sauce too.

The ¥1,580 BLT Burger looks tasty too, it's packed full of colourful ingredients.

When you order the ¥1,380 Premium Hamburg Steak Regular Set they pour the sauce over for you, so I had to take a photo. The thick steak is crispy on the outside and soft on the inside so it maintains its juiciness.

If you love burgers then you'll definitely want to pay a visit to Ishigamaya GOKU BURGER to try a burger like no other.

Q-pot Reveals Summery Peach Themed Food and Accessory-Inspired Desserts

Q-pot is an accessory brand whose products are made to look just like delicious desserts. They also have their own cafe in Omotesando where they flip that concept, making desserts that look exactly like real accessories. The cafe has just unveiled its new refreshing peach themed drink and dessert line-up for summer.

Peach Pink Plate w/ Drink – ¥2,060 (Tax Included)

Available this summer only, Q-pot Cafe's peach pink plate is sure to tickle the fancy of girls out there. The peach mousse is a luxurious mix of peach puree and elderflower which give off a positively permeating fragrance. A sumptuous harmony of flavours is brought together when you locate the layers of the mousse which include a jelly centre containing sliced peaches, and an almond crunch bottom.

You also get the choice of one of four fancy macarons which contain refreshing peach sherbet and peach syrup.

Peach Pink Soda Float – ¥750 (Tax Included)

The refreshing peach pink soda float contains a peach syrup that allows the full-bodied fragrance of the peaches to come through as well as a satisfyingly sour pink grapefruit syrup, a dollop of salted milk ice cream, and a topping of peach. The drink sparkles like jewellery, and you're sure to shine beautifully too with just a sip.

Of course, Q-pot being Q-pot means that they have some peach-inspired accessories too.

Peach Whipped Cream Earring Set – ¥10,000 (Before Tax) / Little Peach Cake Necklace – ¥9,500 (Before Tax) / Peach Ice Cream Ring – ¥5,200 (Before Tax) / Peach Key Ring – ¥15,000 (Before Tax)

Express your love for peaches with this glamorously fruity line-up. They will make for perfect additions to your summer look!

Information

Q-pot Cafe "PEACH" MENU

Location: Q-pot Cafe Omotesando

Release Date: August 5, 2019

Reservations accepted via telephone and online.

TEL: 03-6447-1218 (11:00-20:00)

Website reservations accepted from August 5, 2019 at 13:00 (JST)

Q-pot. SUMMER 2019 "PEACH" Accessories

Available: at Q-pot. stores, Q-pot. Online Shop, Q-pot. International Online Shop

Official Website: http://www.q-pot.jp/

L'OCCITANE Omotesando: Japan's First Spa & Cafe Combination Store

The new L'OCCITANE Omotesando Voyage Sensoriel will open in the Omotesando and Harajuku area―Tokyo's hub of trends and culture―on July 27. This new concept store is Japan's first ever spa and cafe establishment where customers can enjoy L'OCCITANE with all five of their senses.

1st Floor: VERBENA CAFÉ by L'OCCITANE

Nestled in the corner of the first floor is the chic VERBENA CAFÉ where customers are treated to a menu blooming with fresh verbena, an ingredient you don't see everyday.


Fresh Verbena Blanc Manger – ¥1,280 (Tax Included)

Mango Verbena Parfait – ¥1,480 (Tax Included)

Sweet Tea Float Series – ¥1,280 Each (Tax Included)

The menu is tied to the seasons, so for this summer, you can look forward to cooling yourself off with the Fresh Verbena Blanc Manger and Mango Verbena Parfait, both made with fresh seasonal fruits, or a choice of one of the refreshing Sweet Tea Floats.

1st Floor: petit Spa L'OCCITANE

Also located on the first floor is the petit Spa L'OCCITANE which is opening as the first spa attached to a main branch. Their beauty menu covers everything from ageing care to relaxation. They also offer facial treatment services using Immortelle Divine Harmony―the latest in L'OCCITANE's skincare range―as well as the relaxing L'OCCITANE spa service which is guaranteed to send you off into a beautiful sleep.

1st Floor: VOYAGE SENSORIEL

The shop will also sell the elusive 86 Collection, a series of fragrances made in collaboration with Pierre Hermé Paris and sold at select stores only across the world.

Additionally, to celebrate the opening of the VERBENA CAFÉ, the shop will also sell limited edition verbena products and kits which can be gift wrapped.

If you're looking for a little luxury while in Tokyo then look no further than the spectacular new  L'OCCITANE Omotesando Voyage Sensoriel, opening July 27.

Information

L'OCCITANE Omotesando Voyage Sensoriel

Grand Opening: July 27, 2019
Address: Emoto Bldg. 1F/B1F, 4-29-4 Jingumae, Shibuya, Tokyo
Business Hours: 11:00-21:00 (Cafe Last Orders 20:00)
Official Website: https://jp.loccitane.com/omotesando

Q-pot Cafe's Dreamy Sailor Moon Afternoon Tea | Food Review

Hey, readers. I'm Midori from MMN's editorial team.

Sailor Moon fans are going to want to visit Q-pot right now―a cafe in Omotesando that makes desserts that look like real accessories―as the cafe is currently collaborating with the franchise. The inside of the cafe has been transformed into a cute and magical Sailor Moon world, the kind you could only imagine in your dreams. It has blown up since it opened on June 30 across Japanese social media.

There was no way I was going to miss a chance to eat here, so I took a trip to Q-pot to see what kind of kawaii things they had on the menu for the collaboration.

You'll know Q-pot when you see it in Omotesando by the pouring teapot on the wall next to the menu outside.

Strung up at the entrance are lots of ema plaques where people write their wishes and goals.

As soon as you step inside the cafe you are transported into a world of cute. The various chocolate and biscuit decorations on the wall are just plain kawaii. It gets you excited to start eating♡

I started by ordering the drink set which comes with the Moon Twilight Soda and Tuxedo Night Mocha. The soda contains berries and its lemon and apple flavour gives it a sweet and sour taste. The pink gradation is cute too♡

The mocha takes inspiration from Tuxedo Mask flying through the city at night. The rim of the glass is lined with sparkly sugar. The drink isn't just an ordinary cafe mocha – it secretly contains a sweet strawberry flavour which adds an enchanting aftertaste.

Next I tried the Transformation Brooch Macaron Cake. Shaped as a macaron, this cake is based by the brooch necklace which Usagi uses to transform into Sailor Moon. It's served on a ribbon-shaped plate which you can take home with you. The cake is filled with apricot and mango mousse inside which is pineapple♡

On top of the macaron is another exquisite macaron containing lemon jelly. The jelly and fruit sparkle to create a girly and gorgeous dessert. After you've eaten you can take the plate back to use at home!

And now for the crowning jewel: the Sailor Moon Afternoon Tea Set! This is one that anybody is going to crave when seeing it. It comes with two plate packed with food and desserts. The ribbon at the top is cute too.

The upper tier is adorned with macarons, mousse cakes, cookie sandwiches, and glass desserts.

The lower tier has sandwiches, vichyssoise soup, and olive and tomato pinchos.

The glass dessert is a raspberry mousse topped with Sailor Moon's Moon Stick. The mousse is fluffy and very tasty. The sourness of the berries isn't too strong either – it's a nice and light flavour.

When biting into the mousse cakes your mouth is filled with the gentle sweetness of the white chocolate.

Macarons are a popular dessert at Q-pot. The Sailor Moon ones are bite-sized and almost seem a waste to eat because of how cute they are. The cookie sandwiches, which are based on Luna and Artemis, are stuffed with lemon cream which has a refreshing taste. The cookies also have a delicious buttery flavour.

The lower tier sandwiches contain duck and broccoli. The sandwiches are small but you get a lot of veg so you won't go hungry. The soup is great not just as a light meal but as a palate cleanser after the desserts too. Try eating some when your stomach says it's full from all the sweet stuff!

My belly was pretty full after this afternoon tea set. I recommend ordering it for lunch.

If you're looking for a place to eat out with your girl friends when why not enter the fairy tale world of Q-pot for the Sailor Moon collaboration? Q-pot even has its own merchandise too so be sure to check it out!

©Naoko Takeuchi・PNP・Toei Animation

6 Must-Visit Little-Known Good Cafés in Omotesando

Omotesando―The hub for the latest trends and fashion in Japan, home to iconic landmark stores and sites aimed at the country's youth to cafés and restaurants that make you feel like a celebrity. Weekends are an especially busy time in the high-end avenue of Omotesando where shops and streets bustle with lines of locals and tourists out on shopping sprees.

Today we are joined by Japanese Instagrammer omao who's in-the-know when it comes to cafes, something you can tell with just one glimpse of their page. For those of you who are left wondering where to stop off for a coffee break or some lunch during your visit to the Omotesando and Harajuku area, omao is here to show you some stylish and little-known good spots.

Bread, Espresso &

At Bread, Espresso &, you can enjoy some seriously bread and coffee. This café and bakery offers both dine-in and takeout services. It's tucked away from the main street just a 5-minute walk from Omotesando Station's A2 exit.

On my visit this time, I ordered several different bread options. Everything looked so delicious that I felt spoiled for choice!

Red bean butter. There's no way on earth that could ever be unappetising. The pastry is super soft. Each individual order is packaged in its own bag which left a good impression with me in the hygiene department.

▼Bread, Espresso &

Address: 3-4-9 Jingumae, Shibuya, Tokyo

Business Hours: 8:00-20:00

No Fixed Holidays

Website: http://www.bread-espresso.jp/

CHAVATY

CHAVATY is a café specialising in milk tea. This one is also within just 5-minutes walking distance from the A2 exit of Omotesando Sation.

When I took this photo I ordered the tea latte and scone set. When you order an iced tea latte it comes in a cute bottle, but it was hot on this day so I got it hot. What surprised me from the get go was hot big the drink is! It's hugely satisfying, you really get your fill.

The houjicha latte I tried once was tasty too, but I was interested in the uva milk tea this time around. The scones were scrumptious as well! I particularly liked the honey-like fruit that comes with them.

▼CHAVATY

Address: Minami-Harajuku Bldg. 1F, 4-6-9 Jingumae, Shibuya, Tokyo

Business Hours: 10:00-20:00 (Last Orders 19:30)

No Fixed Holidays

Information: https://tabelog.com/tokyo/A1306/A130602/13224245/

montoak

montoak is a suspicious-looking building just an 8-minute stroll from Harajuku Station. It's my favourite spot; I've been here so many times.

The menu is delicious and there are lots of seats. My weakness is the Gorgonzola cheesecake.

▼montoak

Address: 6-1-9 Jingumae, Shibuya, Tokyo

Business Hours: 11:00-03:00

No Fixed Holidays

Website: https://www.montoak.com/

LATTEST

Another 5-minute stroller from Omotesando Station's A2 exit is LATTEST which I place in my top three favourite cafés in Omotesando. It can be a little hard to find, but it's a lot bigger than I thought.

I experienced their seasonal rose mocha. Simply amazing! Milk foam is just what I like. It's smooth and moist, and there's not a lot of it so it's not heavy. I like the coffee beans they use too. Cafés that have tasty mochas are just the best, right?

▼LATTEST

Address: LATTEST 1F, 3-5-2 Jingumae, Shibuya, Tokyo

Business Hours: 10:00-19:00

No Fixed Holidays

Website: http://www.lattest.jp/

The Local Coffee Stand

The Local Coffee Stand is sandwiched in the middle of Shibuya and Omotesando and about an 8-minute walk from Omotesando Station.

Their lattes are so, so good! First up, the foam is plump, and the sweetness of the milk really stands out. And the espresso, although it's full-bodied, isn't bitter and mixes deliciously with the milk. The coffee beans and food are both high-quality like that of a select shop, so I wanted to try eating and drinking everything they had.

I recommend the macadamia cookies. They have an eggy fragrance and are just mouth-watering.

I pretty much liked everything about this place.

▼The Local Coffee Stand

Address: 2-10-15 Shibuya, Shibuya Ward, Tokyo

Business Hours: Weekdays 8:00-20:00 / Weekends 9:00-19:00

No Fixed Holidays

Website: http://thelocal2016.com/

Franze & EVANS London

This is a popular Italian cafe-deli based in London. It's located away from the busy main street and can be reached in just 3-minutes from exit A3 of Omotesando Station.

During those awkward times when you want to eat a salad but want to eat cake too then this is the place you need to go. Their carrot cake is truly amazing, as is their salad. All the cakes they sell just seem to sparkle before you that it's nearly impossible to pick just one. The lemon cake caught my attention too…

It doesn't need to be said how great everything tastes, but the portions need to be mentioned as they are nice and hearty, and I love this place because of it.

▼Franze & Evans London

Address: Franze & Evans London 1F, 4-9-4 Jingumae, Shibuya, Tokyo

Business Hours: [Mon-Sat] 11:00-22:00 (Last Orders 21:30) / [Sun & Holidays] 11:00-21:00 (Last Orders 20:30)

No Fixed Holidays

Website: http://www.franzeevans.jp/#/

Did you enjoy these picks? omao has plenty of other recommendations and photos of coffee and desserts over on their Instagram page. If you're stuck for choice on what café to visit while in the city then be sure to follow them on Instagram.

Photo & Text: omao

Translation: Joshua Kitosi-Isanga

Aladdin Inspired Afternoon Tea Wishes Its Way to VINO BUONO in Omotesando

The Omotesando branch of VINO BUONO is now selling a special Aladdin-themed afternoon tea until September 1.

This luxurious tea set comes with a mix of light savoury food and desserts. But the savoury side of it isn't your conventional assortment, instead coming with four different selections including tandoori chicken pitta bread sandwiches, a couscous and seafood salad, and more.

The scones contain sweet and fragrant rosemary honey which fill are sure to tickle your fancy.

The Pistachio Macarons and Arabian Night Blanc-Manger are glazed in a beautiful blue colour reminiscent of the world of Aladdin. And don't forgot the cute Magic Lamp Cookie with its blue centre―it's almost too good to eat!

Other delights include the Mango & Flower Verrine, Pyramid Mousse, and gorgeous tea that looks like it has had a spell cast on it.

Take your special someone to VINO BUONO this summer and show them the world with this limited-time Aladdin afternoon tea.

Information

VINO BUONO

Address: Portofino Floor 2F, 3-15-5, Kita-Aoyama, Minato Ward, Tokyo

Business Hours: Weekdays 11:30-17:00 (Last Entries/Orders 15:00) / Weekends & Holidays 14:00-17:00 (Last Entries 15:00 / Orders 15:30)

*2 hours allotted

Closed: Mondays & Tuesdays

Official Website: https://www.bestbridal.co.jp/restaurant/vino-buono/

Special Afternoon Tea

Running: Now Until September 1, 2019

Price: ¥3,360 (Tax & Service Charge Included)

Toy Story 4 Themed Cafe Opens in Tokyo, Osaka, Sapporo& Nagoya

Did you catch Toy Story 4 at the cinema yet? If you're in Japan this summer then you won't want to miss the official Toy Story 4-themed cafes opening in Tokyo, Osaka and Nagoya on July 20 and in Hokkaido on July 21 for a limited time.

The film was released just last month but is only set to hit Japanese theatres on July 12. It serves as the fourth and final film in the Toy Story series, wrapping up the story that first warmed the hearts of the public when the first movie dropped back in 1995.

The cafe will be a toy box of fun for all fans of the films, featuring a Toy Story inspired menu and decorations laced with trivia.

It costs ¥500 (before tax) per person to book a seat at the cafe. Customers who order from the menu will receive one of 13 possible stickers pictured above in the style of theatre tickets.

Everyone who enters the cafe will also receive one of these 13 possible entry bands.

<Woody & Bo Peep> Fateful Reunion Plate (¥1,890)

Fans of Woody and Bo Peep should look at ordering the Fateful Reunion Plate, a chicken sandwich and vichyssoise set based on both characters' outfits. Find the sheep hidden amongst the dish!

<Duke Caboom> High in the Sky! Stunt Burger (¥1,890)

Duke Caboom's chicken burger is served with mint sauce and a heap of assorted vegetables. Fly high in the sky with the dish's delicious combination of flavours.

<Buzz, Ducky & Bunny> Night Carnival Pasta (¥1,790)

This meat pasta dish is topped with colourful vegetables. Keep the fun going at the moving carnival at night!

<Gabby Gabby & The Bensons> Afternoon Tea Set (¥1,790)

Paying tribute to Gabby Gabby and the dummies, the afternoon tea set comes with a tuna sandwich and a fruit and yogurt sandwich. To drink you can enjoy a decaff Earl Grey tea.

<Jessie> Pomegranate Water (¥890 or w/coaster ¥1,790)

Feel refreshed with Jessie's satisfyingly sour pomegranate water.

<Slinky> Orange Yogurt Smoothie (¥890 or w/coaster ¥1,790)

Or order Slinky's orange flavoured yogurt smoothie with kiwi sauce.

Ordering from the food menu will also get each person a specially-made paper apron.

There are lots of other items on the menu to look forward to as well. And don't miss out on the range of exclusive merchandise they have either.

Acrylic Key Ring (13 Designs): ¥500 Each

A5 Folder (10 Designs): ¥350 Each

Mini Duralex Glass (5 Designs): ¥800 Each

The Toy Story hype doesn't seem to show any signs of stopping just yet. Be sure to visit the official Toy Story 4 cafe in Japan.

©Disney/Pixar

© POOF-Slinky, LLC

*All prices include tax. Photos are for illustrative purposes only and so designs are subject to change.

Information

Toy Story 4 OH MY CAFÉ

Locations/Dates

Tokyo: OH MY CAFÉ TOKYO (Tokyu Plaza Omotesando Harajuku) / July 20 – September 16, 2019

Osaka: kawara CAFE&DINING Shinsaibashi / July 20 – September 16, 2019

Nagoya: kawara CAFE&KITCHEN Nagoya PARCO / July 20 – August 25, 2019

Hokkaido: Interlude Cafe / July 21 – September 16, 2019

Toy Story OH MY CAFE Official Website: https://toy.ohmycafe.jp/

Toy Story Official Website: https://toystory.disney.com/

Experiencing Kiki & Lala's Art Exhibition in Omotesando | Event Report

Hi, everyone. I'm Midori from MMN's editorial team.

Tanabata, also known at the Star Festival, is a traditional festival in Japan held annually on July 7 which celebrates the meeting of the deities Orihime and and Hikoboshi who are only able to see each other once a year due to being separated by the Milky Way. During the festival, Japanese people write their wishes on strips of paper and hang them on bamboo and go stargazing.

An eleven-day Tanabata event just began at Cat Street in Harajuku in collaboration with the Sanrio characters Kiki and Lala, also known as the Little Twin Stars. The sparkly and heart-throbbing event, titled LittleTwinStars MILKYWAY MUSEUM -T A N A B A T A- PRODUCED BY LIDDELL, invites people to celebrate Tanabata together with the characters amongst its gorgeous decorations and photo spots.

Upon entering the exhibition, visitors are met by a large crescent moon which they can sit on and hold star balloons to take a photo. The fluffy floating clouds are extremely cute too. The background also reminds one of Tanabata with its Milky Way-like starry sky.

This pure white wreath is inspired by Lala. Normally, you would hang your wishes from bamboo during Tanabata, but at this event you can put them on this wonderful wreath♡ The more strips of paper people hang on it the more busy and beautiful it becomes!

This cosy little booth is based on Kiki. Inside it is a bed of clouds which the Little Twin Stars are always sleeping on. The whole booth is packed full of fluffy clouds and cushions with draping stars so you can take some really nice photos. If you lay down on the bed you can see an enchanting light illuminate the ceiling. You won't want to come away!

Right next to this is the "Moviegenic Booth." A video plays while inside here featuring Kiki and Lala celebrating a cute Tanabata. This is a perfect spot to put on your Instagram story! And since it's a video it means you'll get a different photo from everyone else.

Floating overhead on the first floor are pink and light blue clouds which you can hang your wishes from too. If you search through them you'll find wishes written by Kiki and Lala and their friends too, so be sure to take a look.

Up on the second floor you can get your hands on some exclusive Kiki and Lala merchandise and dine at the themed cafe.

The cafe is a collaboration with Achi Base, a cafe located in Nagano Prefecture's village of Achi which is often called the most beautiful place in Japan for stargazing. Why not order one of their refreshing, limited-time herb teas? They are served in a cup with frozen berries. Grab a cup and serve yourself.

The liquid in the tank is a light blue colour, but…

When it runs into the cup it turns pink!

Even the tables in the cafe are super cute. If you pop your cup of tea on them they make for an extra kawaii photo.

No place in the entire exhibition has been neglected by Kiki and Lala as even behind the merchandise shelves are some sparkly pink decorations♡

Items at the shop include pink badges, folders and more―plenty of stationery and other things you can use in your day-to-day life. For more info on what's on offer check out the official website (Japanese).

The exhibition runs on 8 slots per day so there is no need to worry about overcrowding and being unable to snap photos. Tickets can be found right here, so don't miss out!

Information

LittleTwinStars MILKYWAY MUSEUM -T A N A B A T A- PRODUCED BY LIDDELL

Running: June 27, 2019 – July 7, 2019

Location: The Corner, Omotesando (5-29-1 Jingumae, Shibuya, Tokyo) Website: http://the-corner.tokyo/

Time: 60 minutes / 40 people per slot
①11:00-12:00
②12:15-13:15
③13:30-14:30
④14:45-15:45
⑤16:00-17:00
⑥17:15-18:15
⑦18:30-19:30
⑧19:45-20:45

Entry: Advance ¥500 / Same-Day ¥800
4+ People Group Tickets (Advance Only): ¥1,500

*Those aged 4 years and above must hold a valid ticket

Information Page: https://www.sanrio.co.jp/news/ts-event-20190527/