Takama Usa is a well talked-about Japanese actor who appeared in the popular TV series Ookami-kun ni wa Damasarenai and has feature in several TV commercials.
In this special feature, Usa attempts to find his own style through fashion. He will showcase two completely different styles: grown-up/sophisticated and street. There is also an interview with him at the end where he talks about the latest fashion, his work and his private life. Usa is maturing as a person day by day, so join him as he seeks to draw out new great things from himself.
mode style through beige gradations
By making your entire look beige you can eliminate that all-too-often firmness or hardness that jackets like this can have, instead giving them a softer appearance. The outfit is made more beautiful by adding tight accessories like glasses and loafers, giving an overall adult-look.
KINSELLA: Used Jacket ¥6,900, Used Turtle Neck Cut & Sewn ¥5,200 / Harajuku Chicago Omotesando: Used Pants: ¥1,900 / Gravis: Loafers ¥9,000 / Socks and glasses belong to the stylist
adding a touch of fun with trendy neon colours
Usa has constructed an edgy street style by having black as the base colour and adorning on it all a neon coloured jacket and bag. Sporty is the trend this season so he has stayed conscious of that while incorporating chicness with the turtle neck and skinny pants.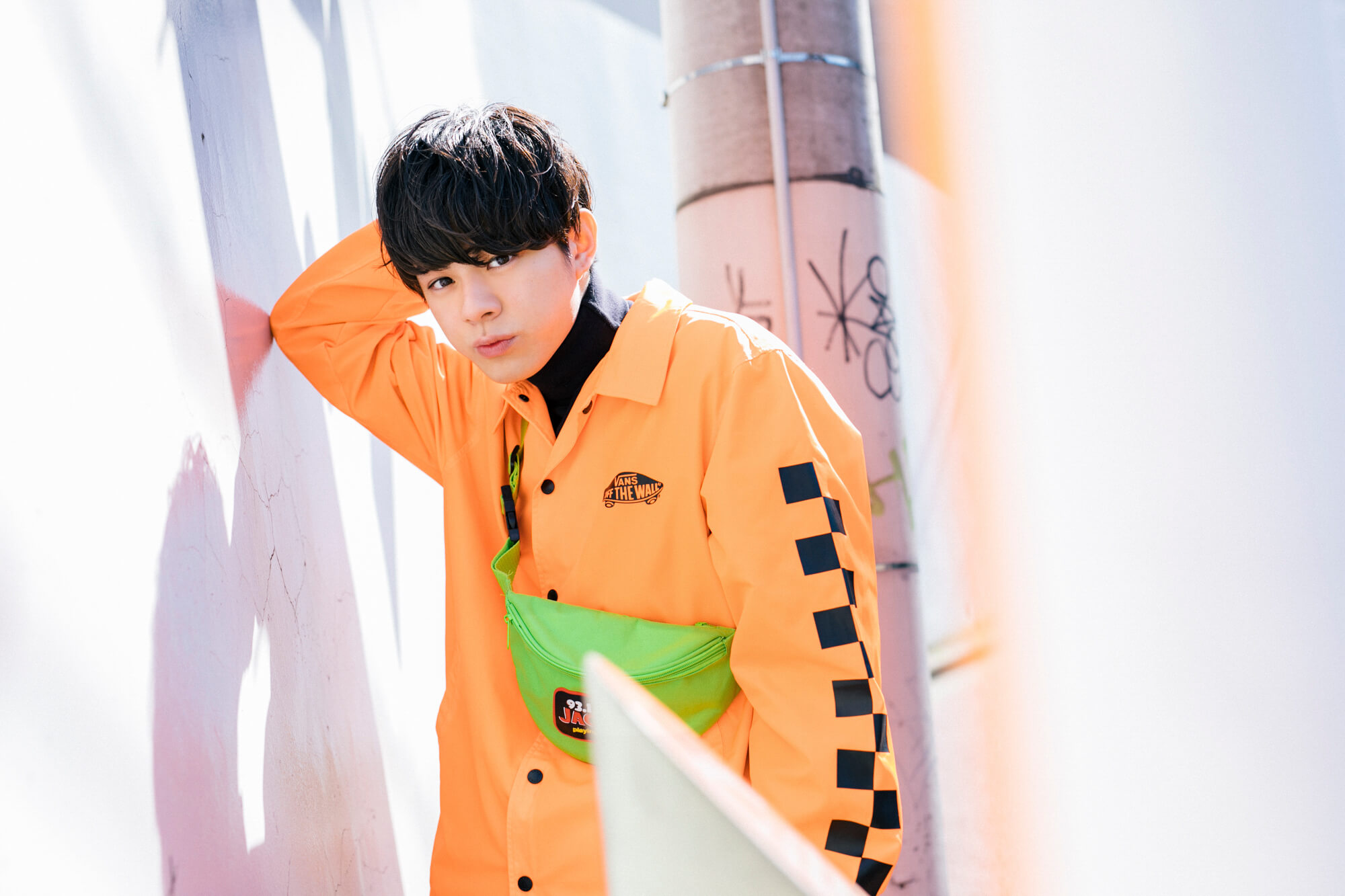 CaliforniaDept. Harajuku: Vans Coach Jacket ¥10,800, Vans Pants ¥13,000 / Gravis: Sneakers ¥10,000 / KINSELLA: Used Bag ¥2,400 / Socks belong to the stylist
<Interview>
−Fashion−
"Both of these styles were a challenge, but I really liked the beige one. Although it's not a colour scheme I wear much the items were easy to co-ordinate and the overall balance was close to what I usually go for. The glasses added freshness too. It made me want to start trying out this look. As for the neon style, it's close to what I look like a year ago. Although it felt a little embarrassing [laughs], I'm glad I was accustomed to the combination of black. My recent everyday looks have been all monotone recently. That's precisely the reason why it was my primary colour scheme until a year ago. I liked cute outfits too but I was influenced by friends around me when I went to Tokyo, plus I'm shifting more towards looking mature. I like second-hand clothing so I wander around Harajuku and Shimokita. Shibuya has some of my favourite shops too so I go there a lot. My friend also works there so I'm a frequent customer [laughs]."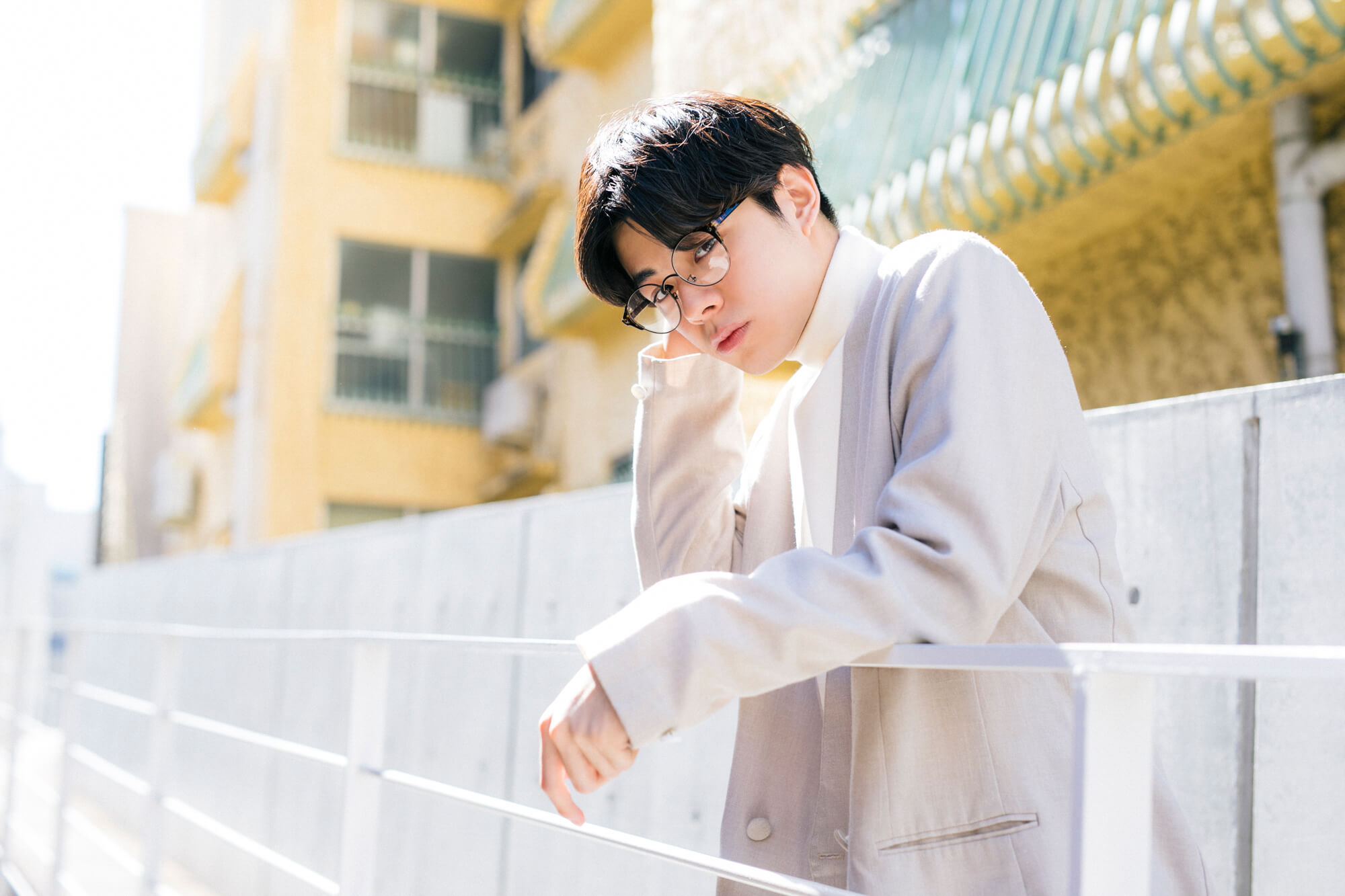 −Hobbies, Private Life–
"My hobbies are drawing, songwriting and playing instruments. I write down lyrics on my smartphone when things flash to my mind after seeing something and build from there. When it comes to the song I play the relevant instrument and find phrases that I think are good. I also like anime and I also started a manga collection recently. I really recommend Act-Age. Oh… you've probably realised, but I'm a bit of a shut-in [laughs]. I've also been crazy about skateboarding with my friend recently. That's my sole reason for going outdoors. I have a pet cat too so I play with it a lot."
–Work–
"What made me want to become an actor was performing at the Shiki Theatre Company in addition to various after school activities during elementary school. I learned many things there. I think those are the main things that led me to this job. When I thought about what I would be doing in the future I couldn't see anything else but this. My acting has changed recently, I feel it's become second nature to me. Becoming someone else through performing is a kind of stress reliever. I normally don't showcase my emotions, so it feels fresh to let it out in a big voice. I do get tired and there are tough times but I want to pile up plenty of experiences."
–Future Goals–
"On the bigger scale of things, world peace… This is said in a lot of places though [laughs] I spoke with another actor one time. He told me about a person who made jeans and donated all of the proceeds to someone else. I hope I can contribute to something in such a way―a way only I can."
Participating Stores
CaliforniaDept. (03-5413-6947)
KINSELLA (03-6447-4544)
Gravis (03-3476-5638)
Harajuku Chicago Omotesando (03-3409-5017)
Writer: Manami Ishi
Photographer: Kayo Sekiguchi
Translator: Joshua Kitosi-Isanga
Information
Takama Usa
Won the special prize for the MR DK CONTEST in 2016. Has learned dancing, sword fighting, piano and more since being a child. Debuted in his career as a serous actor in 2018. Garnered popularity for his role in AbemaTV's hugely popular "Ookami-kun ni wa Damasarenai."
Official Twitter Account: @usa_takuma
Official Instagram Page: @usa_takuma