【TokyoDinner】It is a great combination of uniquely counter seats and sauce smell of "Teppan-Yaki" in Kanda!
It is a good time to visit this okonomiyaki restaurant associated with Hiroshima Toyo Carp which won the championship for the first time in 25 years. (This baseball team is also known as the team where Hiroki Kuroda, who is currently playing in Major League Baseball, used to pitch.) Hiroshima Okonomi-yaki restaurant called "Carp" which is a 3 minute walk from the north entrance of Kanda station. It is a good reason for going to "Kanda-myojin" which is popular for sightseeing, and "Akihabara" which is known as anime cultural center from this restaurant.
  As the name suggests, the main store of this restaurant has a 40 year history in a Hiroshima-style okonomiyaki food theme park in Hiroshima city. They are delivered premium ingredients direct from Hiroshima. First of all, you choose the type of okonomiyaki and then pick the toppings after you sit at the table.
Regular customers at this restaurant recommend "Soba-iri Ika-tem"; 1,100 yen tax included. This okonomiyaki has a simple but rich flavor including a thin slice of pork belly which has sweetness and thin sliced cabbage, bean sprouts, and fried squid to give it a subtle flavor. It is part of the culture that you use a special spatula called "Kote" which is made of metal to eat this meal. The hostesses of this restaurant will show you how, so feel free to eat.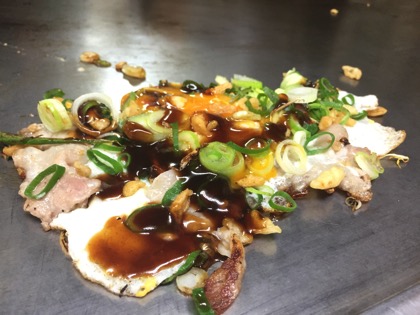 The smell of food cooked on a hibachi by chiefs in front of you makes you even hungrier. The Yamaoka family, which consists of 3 members, father, mother and son, is running this popular restaurant. The energetic conversations between these family members in the restaurant is one of the reasons that make people want to come back. The father of Yamaoka family, Toshihiko, participated in the Tokyo Olympics as a field hockey player in 1964.
Okonomiyaki has two different kinds: Kansai taste and Hiroshima taste. The ingredients are almost the same, but how you cook it is different. It is going to be interesting to taste Kansai food in Osaka after you enjoyed eating at Carp: Hiroshima style okonomiyaki restaurant. You will be able to tell the difference in these two types of Okonomiyaki.
■Carp Tokyo
Address:Hosaka Kanda Bldg, 3-5 Kanda-Kajicho, Chiyoda-ku, Tokyo
Tel:03-5296-0080
Open:Tue-Fri 11:00-22:00(L.O.21:30) Sat 11:00-21:00(L.O.20:30)
Close:Sun, Mon, Public holidays
Yuriko Ueki(Writer)
—
■Related article:Varieties of stand-up eating style restaurant in Japan
■Related article:How about having some cocktails in the morning in Akabane which is known as the town of heavy drinkers?
RELATED ENTRIES
Fruit Packed Sandwiches Get Whipped Up at Limited-Time Shop in Tokyo

The fruit sandwich eatery Maruichi Seika has opened a pop-up shop on the second floor of Kita-Senju Marui in Adachi, Tokyo. The shop is a collaboration between the popular local restaurant Ippo Ippo and Maruichi, a long-standing and much-loved fruit shop.

Fruit is the key ingredient at Maruichi Seika where they want customers stuffing their cheeks with strawberries, oranges, pineapple, and more. Fruit is packed into fat sandwiches and combined with mascarpone cheese for a filling treat. The bread is provided by Furansuya, a local bakery in Kita-Senju that has been running for over 10 years.

A Select Look at the Line-Up

Sky Berry | ¥740 (Tax Included)

This sandwich is named after a particular variety of strawberry is known as the Sky Berry. It's sourced from Tochigi Prefecture and is known for its superior sweetness, juiciness, and the fact that it's low in acidity. Ordering this lets you enjoy three different kinds of well-known strawberry: the titular Sky Berry, the Tochiotome which is also from Tochigi, and the classic Amaou from Fukuoka.

Setoka | ¥840 (Tax Included)

The Setoka is a rare and super sweet, full-bodied citrus fruit that's normally given as a gift in Japan. In sandwich form, it enjoys a perfect balance of sweetness and tanginess.

Pineapple | ¥630 (Tax Included)

The Golden Pineapple from the Philippines is the variety used in this sandwich, packed with mouth-watering sweetness and offering a rich fruity fragrance.

Maruichi Mix | ¥740 (Tax Included)

This sandwich is a combination of fruits including the Amaou strawberry from Fukuoka, the Kanjuku Kiwi from Ehime, and the Premium Banana from the Philippines. It also contains the best picked mikan which are bought fresh from the market every day.

If you've never tried a fruit sandwich in Japan and are in Tokyo this winter, then don't miss out on Maruichi Seika's limited-time line-up.

Information

Maruichi Seika

Address: Kita-Senju Marui Floor 2F – Kitchen Garden 350

Address: 3-92 Senju, Adachi-ku, Tokyo

Kita-Senju Marui Official Website: https://www.0101.co.jp/084/

Hand drip tea speciality shop Tokyo Saryo reopens Ochazuke stand for limited time only!

Tokyo Saryo was the world's first ever hand drip tea specialist shop. This year, they're celebrating the first tea of the season with the reopening of Ochazuke stand Tokyo Saryo. The Ochazuke stand was a big hit last year, and this year it will be open for a three month period from Wednesday 24th April to Wednesday 31st July.

Ochazuke is a Japanese dish that every Japanese person must have had at least once in their life. For many, it is a normal option for a light breakfast that you can make at home. It's just green tea poured over cooked rice. Simple! However, in recent years, replacing the green tea with dashi stock has become the most popular form of this breakfast. The Ochazuke stand hopes to encourage people to use green tea for their ochazuke in their daily lives more often by creating an original ochazuke dish which really carries the flavour of green tea. The recipe has been specially made to fit in with modern daily lifestyle.

This ochazuke is sprinkled with lots of green tea so you can really enjoy "eating" tea! Soft sprouting tea leaves that resemble the appearance of nori seaweed are collected and ground into a powder called tencha. This tea remains in its unground form of matcha. Pour water over the original green tea powder and the fragrance of the tea will be released!

Teahouse original ochazuke: Eel ¥500 Teahouse original ochazuke: Salmon ¥500
Teahouse original ochazuke: Scallop ¥500  Teahouse original ochazuke: Plum ¥500 (*tax included in prices stated)

 You can also add olive oil to your dish afterwards for just ¥50.

Order Tokyo Saryo's hand drip tea on top of your order (+¥150) and you will be presented with the first tea of the season that uses tea leaves freshly collected from Kagoshima. The leaves were collected on 7th April 2019 and a special recipe is used to make this tea.

It's not just tea they serve here! As an important base flavour, the stand also serves up dashi. This is made by combining bonito fish flakes and kombu kelp sourced from Makurazaki to produce a high quality and delicious flavour.

You can also choose to add a topping of Nicomaru Genmai which is made from brown rice. This is very popular among adults as it adds a luxurious fragrance to your meal.

You can eat in or take out for the same price. Every day, sales will end when they run out of rice, so get there as fast as you can!

Information

Ochazuke stand Tokyo Saryo (open for 3 months only)

(お茶漬けスタンド 東京茶寮)
Address: 1-34-15, Kamiuma, Setagaya, Tokyo

Running: Weds 24/04 ー Weds 31/07 2019
Opening hours: Weekdays ー 13:00 ー 20:00 /Weekends & national holidays ー 11:00 ー 20:00
Access: 7-minute walk from Sangenjaya station south exit B (Den-en Toshi line).
Closed: Mondays (Closed on Tuesdays if the previous day was a national holiday).

Open during Golden Week!

Official website: http://www.tokyosaryo.jp/

Tokyo Dinner: HEIJITSU HIRU DAKE's Curry in Kōenji is Served With Japanese Stock

Rinko Murata loves all types of curry. In this edition of Tokyo Dinner, she invites the person she wants to meet up with the most to eat the curry she's been wanting to eat the most.

This month's notable restaurant she stopped by was HEIJITSU HIRU DAKE in Kōenji, Tokyo. Their curry portions are generous and are good for the stomach and satiety center. They serve a curry flavoured with Japanese dashi, or 'stock.'

How do you spend your early afternoons when you have time off? Lounging around at home with quality time to yourself sounds like a good plan. Definitely appealing.

But this is a rare opportunity. How about going on a little adventure to try something you can get a kick out of because it's midday and a weekday?

I know the perfect curry house for your hungry selves. HEIJITSU HIRU DAKE.

As the Japanese name suggests, it's a curry that can only be eaten at lunchtime, a mysterious dish that doesn't appear on regular days off.

I land in Kōenji, a place I love the most. Even though iKōenji is Kōenji, the closest station to the restaurant is Higashi-Kōenji Station.

My vision is filled with all kinds of sights.

It's like being lost in a treasure chest.

This place is actually normally a café and goes by the name Schwarze Katze. It's open mainly on Friday night, weekends and holidays. "HEIJITSU HIRU DAKE" runs in a rented room in the café and and is open when the café is. It's kind of luxurious to have the chance to eat my favourite food (curry!) in a place like this.

My heart desires the Wadashi Soboro Curry (¥980) that I mentioned earlier. It also comes with self-service coffee for after your meal. For toppings you can choose whatever you like. Since I was there and didn't want to get lost on what to pick, I went for all the toppings (¥300).

The water I ordered comes in a plastic bottle. The tables have antique displays. Everything on them was wonderful.

The air was clad in that rich, familiar scent of curry, a special one that I would never get to eat had I not come here.

The instant I hold the curry in my mouth the delicious flavour of the dashi sparks in my mouth like fireworks. The broth has a slight thickness to it and a strong, deep flavour that fades into a soft aftertaste on the tip of your tongue. It's not at all spicy, and the goodness of the dashi is luxurious like being escorted by a gentleman. And I can't forget the smell.

My taste buds throb at this new sensation.

Like its name suggests, this is a dish where the Japanese dashi stands out above the ingredient crowd. The restaurant owner has gathered much experience in the kitchen from traditional Japanese cuisine to sushi, ramen, yakiniku, izakaya style and so on. He encountered this place by chance, and with one look he said to himself, "I want to try doing curry." The Wadashi Soboro Curry came about through his gained culinary experience combined with the aesthetics of the café.

To bring out the full flavour of the dashi so it isn't drowned out by the curry spices, the owner uses two types of skipjack tuna, kombu, dark sleeper, and dried sea slug, as well as a type of soy sauce called Kaeshi. 15 more ingredients are blended together to create the spices, creating deep and delicate flavours.

Now it's time for a session with the mountain of ingredients I greedily asked for. It's enshrined with classics like meat soboro, beefsteak, agedama, bonito flakes, and dried plum in addition to pickled daikon radish, crushed natto, Japanese ginger, and okra. The spinach and onsen tamago egg sit at the foot of the mountain and create a new culinary sight.

The base of the dashi is mobilized with a force of Japanese ingredients with a smell and flavour and that comes together harmoniously in your mouth. I'm spellbound by the flavours that stand out coupled with the pleasant textures of the agedama, daikon and ginger.

Hey, I must have hit every ingredient in there. All correct.

I added a sprinkle of pepper that was on the table and create yet another refreshing aromatic veil.

The compatibility of the pepper with the dish works so well precisely because it uses a Japanese dashi. Wadashi, or Japanese broth, is a staple of Japanese cuisine. The curry and Japanese soul carved into this dish resonates with me. It's my first time eating it, yet I'm still filled with a sort of nostalgia―a warm embrace.

I also understand why when the shop opens, the customers in the café stand up and change with the next line of customers. The owner has a wonderful sensitivity, and has worked out a way to put his own matchless warmth into each and every bowl. I caught sight of his gentle smile as he was cooking in the kitchen. It left an impression on me.

What a delicious curry to enjoy in such a wonderful place. All five of my senses have reached peak happiness. I grab my post-meal coffee and head onto the streets of Kōenji.

What a wonderful weekday afternoon.

Text:Rinko Murata
Photo:Kayo Sekiguchi
Edit:Miiki Sugita

Translator: Joshua Kitosi-Isanga

Information

HEIJITSU HIRU DAKE
Address: 1-21-21 Umezato, Suginami, Tokyo
Opening Hours: 11:30-15:00 (Weekdays Only)

Official Twitter: @Heijitsuhirudake

Chef Jun Kurogi to release Japanese caviar brand "CAVIAR PURE"

Kurogi is a Japanese restaurant that is said to be the most difficult in Tokyo to get a reservation. The owner, Jun Kurogi, has a group company called A KUROGI HALAL FOODS, who is releasing a new brand of caviar called CAVIAR PURE together with JAPAN CAVIAR, Inc – the biggest producer of caviar in Miyazaki Prefecture – with the hope of global expansion. CAVIAR PURE will go on sale starting December 13th.

 

JAPAN CAVIAR's caviar brand "CAVIAR PURE" uses leading edge techniques and delicate skill that has been handed down through the years to produce a great flavour unique to Japan that was born from the Japanese mindset to deliver only the best of the best.

A lot of high grade imported caviar uses preservatives, pasteurization and high salinity (5-7%) to prioritize the prolongation of food storage. However, using this process reduces the flavour and freshness of the caviar. That's where "CAVIAR PURE" comes in. Only sturgeons that are raised healthily are harvested for their fresh roe which is processed into caviar. The company is also able to produce a low salt concentration thanks to blending low mineral salt. This is where the real flavour of the caviar comes in: as once it has been cured to bring out the good flavour it is quickly put in cold storage producing fresh caviar for you to enjoy.

 

Moreover, everything from harvesting to the production of the caviar is consistent in Miyazaki Prefecture. No chemicals are used at any point during the rearing of the sturgeons – they are reared within strict guidelines which are are firmly adhered to so as to not spoil the flavour.

 

The deciding factor of the caviar's great taste is the natural flavour of the caviar brought out by blended low mineral salt. The seasoning uses only the best blended salt selected by the caviar masters around the world. Jun Kurogi is one of those masters and demonstrates excellence of his seasoning with the harvested caviar.

 

If you're feeling a little bit luxurious then why not try some high quality caviar obtainable only in Japan?

■Information

CAVIAR PURE [Gold 10] 10g – ¥8,000 (tax excl.) *comes in standard packaging

CAVIAR PURE [Gold 30] 30g – ¥23,100 (tax excl.) *comes in standard packaging

CAVIAR PURE [Gold 100] 100g – ¥74,000 (tax excl.) *comes in standard packaging

Optional gift packaging – ¥2,000 (tax excl.) *comes with shell spoon

(The optional gift packaging from brings out the beauty of CAVIAR PURE even more. You can pick a 2 or 3 drawer box.)

Online Shop: http://japancaviar.shop/

Rakuten Travel announced the ranking of accommodations which offer popular game dishes.

The travel reservation site, "Rakuten Travel" announced  its"2017 / Ranking of accommodations which offer game dishes." They calculated the number of the users and days the users stayed targeting the plans including the word "game (gibier)"and announced that "Shinjo Kanko Hotel" won first place.

 "Gibier" is a French word meaning the flesh of wild animals and it has developed as a food culture of aristocracies in Europe since old days.

No.1 / Aichi Prefecture / Shinjo Kanko Hotel

No.2 / Shizuoka Prefecture / Gensen Kakenagashi no Yu Oyado Sakaya

No.3 / Nara Prefecture / Totsugawa Onsen Seikyo no Yado Sansui

No.4 / Wakayama Prefecture / Ryujin Onsen Bijin Tei

No.5 / Ishikawa Prefecture / Shiramine Onsen Hotel Happo

 

 "Shinjo Kanko Hotel" which won first place offers a curry using venison every morning. Okumikawa is an area near the hotel rich in nature and the meat of the animals living in this area is tasty since it does not contain much fat. Venison contains less fat than other kinds of meat and contains lots of protein and iron. Also, venison is not smelly, so it is suitable for beginners of game dishes.

"Gensen Kakenagashi no Yu Oyado Sakaya" which won second place has been offering "Daimyoyaki," a famous dish which grills brawn, pork and beef with vegetable produced locally (Amagi). Their brawn nabe (Japanese hot pot) made with miso sauce which takes about a week to make is known as the local dish of Amagi and you can enjoy it during the autumn and winter seasons. The users of the accommodation are saying "Daimyoyaki is a simple dish where you grill meat and vegetables together but it is very tasty."

 "Totsugawa Onsen Seikyo no Yado Sansui" in Nara Prefecture which won the third place is an accommodation which offers local foods located in Totsugawa Village rich in nature. The brawn nabe using the natural brawn of Totsugawa and the tea ceremony dishes where you can enjoy venison, brawn and Chinese soft-shelled turtles at once are offered. They use clean spring, locally grown vegetables and meat. The users of the accommodation are saying, "I heard some game dishes are smelly but the dishes offered by this accommodation were very good."

Why don't you enjoy full-fledged game dishes at Japanese accommodations?

■Information

2017 Ranking of Accommodations Which Offer Popular Game Dishes.

Ranking date: 2017,10,11 (Wed.)

The method of collecting information: Calculated the number of the users and days the users stayed targeting plans including the word "game (gibier)"

Target dates: 2016,10,1 (Sat.) to 2017,9,30 (Sat.)

Rakuten Travel Facebook: https://www.facebook.com/RakutenTravel/

Rakuten Travel Instagram    @rakutentravel

Rakuten Travel Application: https://travel.rakuten.co.jp/service/smartphone/

"Shinjuku Kakekomi Gyoza" begins sales of 5-colored gyoza

At the juicy-meat gyoza (dumpling) specialty store, "Shinjuku Kakekomi Gyoza / Kabuki-cho Store" they will begin the sales of the 5-colored colorful gyoza, "Colorful Rainbow Gyoza" starting from 2017 November 16th (Thurs.)

The interior of "Shinjuku Kakekomi Gyoza" has been designed to look like the Edo Period fire fighter organization, "Hikeshi-tai." Paper lanterns hang from the ceiling and there are wooden tabs hanging all over the wall. When you enter this store, you will feel as though you have time-slipped into the Edo Period and you can enjoy the atmosphere and the lively feeling.

"Colorful Rainbow Gyoza" has a skin with a chewy texture and is packed full of meat. The 5 colors of the gyoza are made of the following; squid ink, turmeric, spinach and red peppers. The skin does not absorb water and become soggy so it is good as a take-away item. This gyoza is not only very delicious but is a very photogenic 5-colored gyoza.

This gyoza uses specially chosen cuts of pork and special attention has been paid to the "umami" flavor of the meat. It is a "shoronpo"-like gyoza with lots of meat juices. The secret of the meat juices is the fact that high-quality scallop muscles and fish soup is used. The flour used to make the skin has a chewy texture and is suited to envelop the meat juices. No garlic or "nira" (leek) is used so it is very popular with women. The more you chew the more the meat juices fill your mouth and it is a truly exquisite gyoza.

2017, November 29 (Wed.) is known as "good meat day" (The reading of the numbers in Japanese – "ii niku" means "good meat.") On this day a "Ii Niku no hi" campaign will be carried out. The campaign will be carried out from 23:00 ~ 5:00 (90 minute duration) for all customers who have reservations after 23:00. "Colorful Rainbow Gyoza" (500 yen per order) will be offered (the 5 gyoza will be the following gyoza; boiled gyoza, fried gyoza, deep fried gyoza, gyoza cutlet and colorful rainbow gyoza.) Customers can eat as much as they like for this price.

This gyoza has now been registered as a "GYOZA&TOKYO" food item. This labeling is a part of a promotion campaign to announce good food to foreign guests to Tokyo. "&TOKYO" is a logo for Tokyo citizens, private business persons and foreign travelers. It will be used to highlight the charms of Tokyo. Various activities and things can be places before the "&" mark and this will express this Tokyo charm. They aim to spread this movement and by adding various activities and things at the front of the logo "&TOKYO" help to make this logo a symbol of Tokyo.

Why not try this gyoza which tastes delicious and looks awsome.

■Information

Colorful rainbow gyoza

Price: 5 for 500 yen (tax not included)

"Nikujiru Sai" (Colorful rainbow gyoza start of sales campaign) Overview

Time: 2017 November 29th (Wed.) 23:00 ~ 5:00

Duration: 90 minutes

Intended customers: Persons who have made reservations for after 23:00 (Reservations must be made before 15:00)

Price: 500 yen (with tax 540yen)

   *At least one drink and one food item must be ordered

Content: Colorful Rainbow Gyoza one serving (500 yen) includes 5 gyoza (boiled gyoza, fried gyoza, deep fried gyoza, gyoza cutlet, Colorful Rainbow Gyoza) as much as you like

How to make a reservation: Make a reservation by going to the store's website. *In the "questions and requests box" please write, "Nikujiru Sai"

Website: https://yoyaku.toreta.in/kakekomi-gyoza/

Shinjyuku Kakekomi Gyoza / Kabuki-cho store

Address: 1&2F No.58 Tokyo Building, 1-12-2 Kabuki-cho, Shinjuku-ku, Tokyo

Hours: Open 24 hours a day / no holidays

TEL:03-6233-7099

URL: http://www.kakekomi-gyoza.com/

&TOKYO official website: https://andtokyo.jp/

Five Japanese-style cafes in Tokyo where you can enjoy the culture of ninja, Japanese food and Japanese desserts.

There are lots of stylish cafes in Tokyo and the number of "Japanese-style cafés" is increasing.

In this article, I will introduce to you some modern but good-old Japanese-style cafes.

"Ninja Sabo KUNOICHI" where you can meet with ninjas (Shibuya)


The concept of this café is "a café where you can meet with ninjas." Of course, the menu items will be delivered by "kunoichis" (female ninja). They sell special menu items such as "omusubi"(rice balls) which you can learn how to make, KUNOICHI's special dango (rice dumpling) and cherry-blossom gelidium jelly. They also sell lots of nihonshu (sake) so you can use the café as a bar.

◼︎Information

Ninja Sabo KUNOICHI

Address: 2-23-6, Higashi, Shibuyaku, Tokyo

Business hours: 10:00 to 22:00 (21:30L.O.)

Fixed holiday: None (except for year's end and New Year holidays)

TEL:03-5778-4419(a reservation can be made from 11/8)
URL:http://galtpop.jp/kunoichi/jp/

A Japanese tea-café where you can enjoy "Yamecha"-"CHAKAS CAFÉ" (Kohto-ku)

CHAKAS CAFÉ is a café where one can enjoy Fukuoka Prefecture's brand tea, "Yamecha" (the tea will be served in a teapot) and handmade onigiri.

You can enjoy full-fledged tea and onigiris produced by a "Japanese tea appraiser" and a "five-star rice master" everyday.

Detailed:http://www.moshimoshi-nippon.jp/60179

>>next page

Tempura, Soba and Gyoza! Six recommended restaurants which offer Japanese food other than Sushi

Japanese food is not only sushi! There are a lots of wonderful traditional Japanese dishes. Let us introduce to you 6 restaurants witch offer Japanese food in Tokyo.

GYOZA BAR Comme a paris(Aoyama)

Gyoza is a representative popular food that is loved by many people. "GYOZA BAR Comme a Paris" in Aoyama is a new style Gyoza restaurant where you can enjoy gyoza with natural wine or champagne.  It is also known as the restaurant that Masakazu Narukami from restaurant called, "Narukami" which received one star in the Michelin guide book, is in charge of creating the menu, so their side dishes and sauces incorporate his own uniqueness. Cilantro, gyoza (680yen tax included) and Onion gratin gyoza (920 yen tax included) are popular in addition to the standard menu items such as Vegetable gyoza (520yen tax included) and Pork gyoza (550yen tax included). Especially, Onion gratin gyoza has a great combination of the chewy texture of the gyoza skin which tastes like boiled gyoza and the rich onion gratin's flavor.

Detailed information:http://www.moshimoshi-nippon.jp/42992

■Information

GYOZA BAR Comme a paris

Address:2-2-4 Aoyama Alcoop205, Shibuya, Shibuya-ku, Tokyo

Hours:5:00PM to 11:45PM(L.O.11:30PM)

Holiday:Sunday

Tel:03-6427-6116

TEL:03-6427-6116

Tamawarai(Harajuku)

The 3 major noodle dishes in Japan are ramen, soba-noodles, and udon-noodles. What people like about these noodles is how different they are according to the area. Broadly speaking, people in the East like soba noodles, and people in West like udon-noodles. Therefore, Tokyo is in the soba culture area. If you are looking for a modern type of restaurant, there is the Michelin-starred restaurant called "Tamawarai" in Harajuku. The building is located in a residential area, and does not look like a soba noodle restaurant. Steamed soba noodles which are made of coarsely ground buckwheat has a rich flavor when you chew it. They do not serve many kinds of appetizers, but they are proud of their menu items such has miso flavored shrimp, tempura, and herring which is cooked for six days.

Detailed information:http://www.moshimoshi-nippon.jp/19569

■Information

Tamawarai

Address:5-23-3 Jingumae, Shibuya-ku, Tokyo

Hours:[Tuesday~Friday]11:30~15:00(L.O.14:30)18:30~21:30(L.O.21:00)

 [Saturday]11:30~20:00(L.O.19:30)

 [Sunday]11:30~17:00(L.O.16:30)

 Holiday:Monday (If Monday is a national holiday, the next day, Tuesday will be a holiday)

TEL:03-5485-0025

Moo Moo Paradise Kabuki-cho main store (Shinjuku)

You can't make it through the Japanese winter without eating a "nabe" (hot pot). Shabu shabu is a hot pot dish that you can enjoy no matter what the weather is like -hot or cold. "Moo Moo Paradise Kabuki-cho main store" is mostly popular among young people. The first store started in Kabuki-cho in 1993, and now there are forty branches all over the world. They slice the meat right before they serve it up. The soup stock for shabu shabu is extracted from exclusive oxtails.  They offer organic ponzu and sesame dressing for the dipping sauce. They are very particular about the food they serve.

Detailed information:http://www.moshimoshi-nippon.jp/24978

■Information

Moo Moo Paradise Kabuki-cho main store

Address: Humax Pavillion Shinjuku Kabuki-cho Bldg. 8F, 1-20-1 Kabuki-cho Shinjuku-ku, Tokyo

Hours:Monday~Friday17:00~23:00(L.O.22:30)

Saturday・Sunday・Public holidays11:30~23:00(L.O.22:30)

Holiday:no holiday

TEL:03-3208-0135

>>next page

Seven Japanese restaurants which offer fabulous lunches (below 1,500 yen) recommended by the "master" of Harajuku!

Hello, everyone. My name is Shiota. I am the curator of MOSHI MOSHI BOX's Harajuku Information Center and I visit Harajuku about six days a week.

In this article, I will introduce to you some restaurants where you can enjoy Japanese lunches popular among people from both home and abroad.

"bio ojiyan café" where Japanese dishes can be enjoyed in a stylish space


The standard menu of this café is ojiya (rice stew) made of various healthy ingredients. You can custom-make your own ojiya by choosing the broth and toppings at will.

They also sell set menus such as donburis.

詳しくはこちら:http://www.moshimoshi-nippon.jp/ja/67336

和風・イタリアンまでバラエティ豊かな「うどん伊呂波」


少し変わったものを提供し、お客様に楽しんで頂きたい思いから、和風×イタリアンを融合した創作うどんを考案しているお店。もちろん、しっかり和風のメニューもそ揃っています。麺にしっかりと弾力があってとても美味しいですよ。

Detailed information:http://www.moshimoshi-nippon.jp/67375

"Udon Iroha" which sells a variety of udons from Italian udon noodles to Japanese udon noodles.


This restaurant offers original udon noodle menus which are a mixture of an Italian taste and Japanese taste. Of course, they sell many Japanese dishes as well. The noodles they offer are chewy and very delicious.

Detailed information:http://www.moshimoshi-nippon.jp/71295

■Information

Trusukamero

Address: 4-27-2, Jingumae, Shibuyaku, Tokyo

TEL:03-5413-3947

Business hours: 【weekday】12:00 – 16:00(L.O.15:30) 17:30 – 23:00(L.O.22:00)

【Saturday/Sunday/holiday】12:00 – 23:00 (L.O.22:00)

Access: 5 minutes on foot from Tokyo Metro Chiyoda Line "Meiji Jingu Mae" / 7 minutes on foot from Harajuku Station

>>next page

Offering Japanese cuisine from a world viewpoint. The restaurant in Harajuku, "Tsurukamero"

A new style restaurant "Trusukamero" was opened in Harajuku, Tokyo where many people gather from home and abroad. They will offer a "new Japanese cuisine" that cannot be categorized as "traditional Japanese."

 "Trusukamero" is located in the "Urahara" area (an area behind Meiji Street, in front of Takeshita Street). The outside design of the restaurant is modern and unique. A turtle and crane are depicted on raised wooden slats. The neon wall shines at night giving it an Asian-like atmosphere.

3階建ての店内は古材を再利用したテーブル席、障子戸で仕切られた半個室、小上がりの堀座敷など全86席。装飾には鶴亀の彫刻が入った欄間や漆の祝い膳など、自社のアンティークコレクションの中から選んだ器や雑貨を使用している。

The restaurant consists of three floors and has 86 seats including table seats using old wood, private rooms with sliding paper doors, and parlors. They use special bowls and sundries chosen from their antique collections such as transoms with carvings of cranes and turtles and festive tables.

With regards to their lunch menus, they offer sashimi, tendon (tempura rice ball) udon noodles and gyoza (dumpling)/curry which all Japanese people love. They also offer various kinds of a la carte dishes centering around "nabes" (Japanese hot pot dish) so that adults can drink alcohol comfortably.

The most popular lunch menu they offer is a chewy dish called "Teuchi Gyoza Teishoku"(Gyoza set meal) (780 yen). The gyoza skins are all hand-made and they are fried to give a crispy texture.

The most popular lunch menu among foreign tourists is a gorgeous looking menu called "Daitendon" (highest quaility-1,980 yen / high quality-1,380 yen). Guests can enjoy giant congers and shrimps.

Other than that, they offer "Mjiyama Chicken Cutlet Curry) (large 980 yen / medium 880 yen) which is made with flavored vegetables, spices and chicken broth, "Tori Yuzu Udon" (udon noodles with chicken and citrus fruit) which uses one of the popular fruits in Japan "yuzu," sashimi set menu, tonkatsu (pork cutlet) set menu. All of the dishes are large but they are cooked in a precise manner and they are very delicious.

※The prices noted above does not include tax

For the dessert menu, they offer three kinds of parfait that look like a bonsai (potted tree) which are maccha (green tea) parfait with taiyaki (fish-shaped pancake filled with bean paste) and bean ice cream bar on the top, chocolate parfait, berry banana parfait (all of the parfaits comes with a doughnut). They also offer many kinds of Japanese desserts such as zenzai (sweet red bean soup), kuzukiri (starch noodles), maccha set and kombucha (dried kelp tea) set.

The neon of the restaurant is turned on at nighttime and the restaurant becomes an izakaya (Japanese bar) which offers more than 40 kinds of "nabe" menus. They offer sashimi, eel and yakitori (grilled chicken) which are all big hit dishes with alcohol-lovers.

Their "nabe" menus (40 kinds) include standard menus such as sukiyaki, shabushabu (thin slices of beef parboiled in hot soup) and angelfish pot and special menus like "Heidi Nabe" using cheese and milk and "Curry Niku (beef) Nabe" using home-made curry broth.

The recommended "nabe" is "Medetai Nabe" which will bring you good luck. The menu includes the head of red sea bream and harusame noodles.  The taste of the fish-broth-based soup is so delicious!

Let's enjoy the taste of Japanese cuisine at this new type of Japanese restaurant "Trusukamero" in Harajuku.

■Information

Tsurukamero

Address: 4-27-2, Jingumae, Shibuyaku, Tokyo ■TEL: 03-5413-3947

Business hours 【weekday】12:00 – 16:00(L.O.15:30) 17:30 – 23:00(L.O.22:00)

【Saturday, Sunday and holidays】12:00 – 23:00 (L.O.22:00)

Access: 5 minutes on foot from "Meiji Jingu Mae" Tokyo Metro Chiyoda Line / 7 minutes on foot from Harajuku Station

A "delicious and fun" restaurant which offers Japanese traditional cuisine will open in Ebisu!

 "Kappo Akemi" which will offer traditional Japanese cuisine will be opened in Ebisu from the 13th of September, 2017 (Wed.)

Full-fledged dishes will be created by the restaurant's chefs under the direction of the head chef who trained in a long-stablished Japanese restaurant called "Nada Man." However, the restaurant itself and the menu items are not fancy. The restaurant will offer a wide variety of dishes from standard Japanese dishes to original dishes. It will be a unique restaurant where you can enjoy your mealtime from before eating your meal.

【Examples of the menu items】

・Nodoguro no Nitsuke (the fish, blackthroat seaperch caught in Shimane Prefecture, boiled in soy sauce)

・Kurokiri Daikon (boiled radish)

・Deep Kisu ( the fish, sillaginoid)

・A5 Kuroge Wagyu (Japanese black cattle)  "Katsube Gyu" Steak / Irizake (seasoned sake)

Some of the menu items have unique names but all of them are very delicious. Why not visit the restaurant and check out the taste of these dishes.

Most of the ingredients used in Kappo Akemi are gathered from their special palces. Unique and rare ingredients such as fresh fish and "Kokuryu Ginjo Buta" (pigs, a little drunk because they are raised on sake) are used in the restaurant.

The most recommended ingredient is "Katsube Gyu," black cattle produced in Shimane Prefecture. The quantity of this cattle is only about 10% of Kobe Gyu or Omi Ushi and thus the cattle is called as "the phantasmal cattle." This breed of cattle has received many awards and you can enjoy this rare meat in many different ways, the method of cooking changing according to the season.

There are many seats in this restaurant in addition to counter seats. For those of you who want to enjoy your meal as you chit-chat with your friends, you should choose table seats. The restaurant can be used on many different occations such as on a drinking session, a date or business entertainment.

The "Handachi" (half-standing) seats are unique. You can sit on a high seat and table and enjoy your meal in a casual fashion. These seats are handy when you want to eat something before going back to home after work or eat your meal in a short amount of time.

Counter seats are very special. You can enjoy your meal while watching the the head chef's cookery techniques. It will be a rare and good experience to watch the beautiful job of the head chef and listen to stories regarding the ingredients of the dishes.

Why not enjoy a meal in a very comfortable restaurant.

■Information

Store name: Kappo Asami

Address: 1F of Planx Bolta, 11-9, 2nd street of Ebisu Nishi, Shibuya-ku, Tokyo

Store hours: 17:30~23:00(L.O 22:30)

Holidays: No holidays in September

 "Kappo Asami" teaser site: https://kappo-akimi.com/

【Tokyo Cafe】Yonchome, Kouenji – reasonable prices, comfortable atmosphere and great lunch.

The orange Chuo line of the station can be seen from the large window on the wall. Sometimes it's the yellow Sobu line. Without having even left the ticket barriers, you can catch a glimpse of it from the platform. When night descends over the district, the window frames light up with illumination. Welcome to Yonchome cafe in Kouenji. I can't believe it's been 7 years that I've wandered up and down these streets! Today we are going to introduce the one place I can't stop loving. It is located in the charming Kouenji and is the home of this wonderful window view.

Leave the south exit, walk along the rotary and you will eventually arrive at Yonchome cafe, which is on the 2nd floor of the building. What a fitting name for a cafe located in Yonchome, Kouenji!

Open the thick wooden door and you will discover a cafe with an interior bigger than you imagined. With 100 seats, the atmosphere of the cafe is moderate and spacious, with a good distance between the tables and an overall calm feel. Sit here and you will easily lose track of time. Amongst the mood lights and glistening stain glass windows, of course the seat of your choice would be next to the window, where the evening light entwines with the ambient glow that radiates from the Chuo line.

However, when the weather is fine or when a mild midday breeze rolls in, it's hard to resist a seat on the terrace! A book in one hand and coffee in the other, or raising a toast with beers, watching the busy people walking the steers below. What's your style?

The heartily portioned lunch sets are reasonably priced and delicious, making this restaurant really stand out. The regular menu includes generous portions that are ideal for sharing. Happy hour runs on the weekdays from 17:00 〜 21:00, during which time draft beers and the house wine sells for just ¥230! The main charm of Yonchome is its value for time and money.

The deluxe taco-rice with soft boiled egg (デラックスタコライス 半熟卵添え) costs ¥1,000. As the name implies, it is an extravagant and luxurious dish. No matter how hungry you are or how many people are in your group, this meal is the perfect size to share or devour solely to yourself. The dish is packed with a variety of ingredients such as vegetables, meat and cheese. The spicy sauce packs the perfect punch to balance out the mild egg. Order a beer for the perfect finish to your feast.

Speaking of beer, the anchovy potatoes (¥500) make for the perfect accompaniment. Although the potatoes are quite large, the crispy skin, tempting aroma, and creamy and salty anchovy butter enhance its wow-factor. This is the ultimate combination of flavours! Although this is quite a quirky dish to single out, I must say out of all the potato dishes I have ever had in my life, this was the best!

Whether you drink alcohol or steer clear of it, there is something for everyone at Yonchome Café. The coffee, alcohol and soft drinks range is particularly large. They also sell special summer homemade lemonade for ¥630, which is the perfect way to refresh yourself and quench your dry days against the heat of summer.

Light pours passionately into the café, yet the atmosphere is calm. No matter when the food arrives, it is always delicious. No matter what time you arrive, you will be greeted by comfort. Whether it be afternoon or evening, whether you come alone or in a crowd, you will always feel welcome.

Like the view outside your window, our feelings change every day. However, you can always count on this café to always be here, unchanged. You can return to your favourite spot, your favourite seat and enjoy your favourite meal.

As the day winds down and the night time illumination lights up, the Chuo line is still running. Seated next to the window that exposes the Chuo line in operation, I thought to myself that maybe, this is my favourite spot.

Photo:Kayo Sekiguchi
Editor:Namiko Azuma
Original text by:Miiki Sugita

Translated by: Samantha Fernandes

Source:She magazine

■ Information:

Yonchome Café

Address:2nd floor, 4-28-10, Kouenji, Suginami
Telephone number:050-5592-9317
Opening hours:11:30-15:00(lunch menu: 11:30-15:00、Happy Hour: weekdays 17:00-21:00)
Fixed closing days:None

Related article:【Tokyo Cafe】Enjoy a calm and relaxed time at "Café SOROR" in Ōtsuka

Related article:【Tokyo Cafe】Visit the café which has a menu that gives you great impact Vol,6 "Kissa Housekibako"