【Tokyo Dinner】Gyoza and champagne is the new standard. "GYOZA BAR Comme a Paris" in Aoyama
Gyoza is a representative popular food that is loved by many people. Recently, even "gyojo (Gyoza girl)" who call them self gyoza lover has appeared. The bar style gyoza store that you can eat gyoza with champagne or wine is especially popular among ladies.
"GYOZA BAR Comme a Paris" in Aoyama is a new style Gyoza store that you can enjoy gyoza with natural wine or champagne.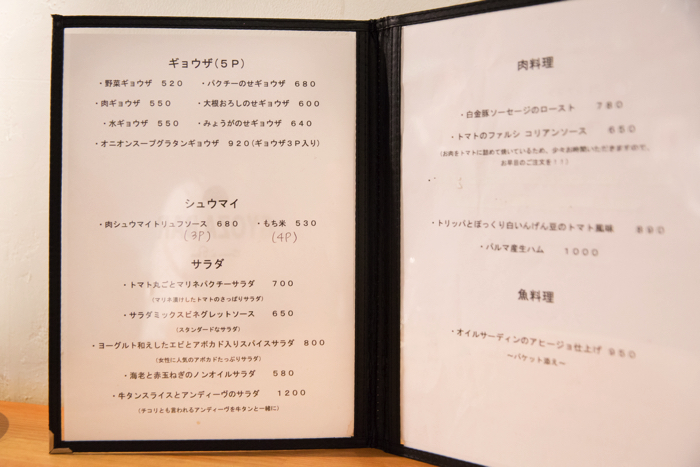 It is also known as the restaurant that Masakazu Narukami from restaurant called "Narukami" which received one star in Michelin guide book is being in charge of creating menu, so their side dishes and sauce have his own uniqueness. Chef Narukami said, "I had heard that the gyoza and champagne store is getting really popular in Paris, so I actually visited there. When I saw French people eating gyoza like as a patty, I thought that Japanese is going to like it for sure as well."
Cilantro, gyoza(680yen include tax) and Onion gratin gyoza(920 yen include tax) are popular other than standard menu such as vegetable gyoza(520yen include tax) or pork gyoza(550yen include tax). Especially, onion gratin gyoza has a great combination of chewy texture of wrap taste like boiled gyoza and rich onion gratin's flavor. These are good to eat as an appetizer or to eat to finish up the meal. I bet you are going to like this surprisingly good combination of gyoza and wine once you eat it!
■Information
Address:2-2-4 Aoyama Alcoop205, Shibuya, Shibuya-ku, Tokyo
Tel:03-6427-6116
Hours:5:00PM to 11:45PM(L.O.11:30PM)
Holiday:Sunday
RECOMMENDED ENTRIES
【Tokyo Lunch】 Gorge on the best hamburgers at Michelin-starred restaurant known for its exquisite tasting meat

"UMAMI BURGER" from Los Angels has come to Japan this March, and draws public attention. However, the Japanese hamburger is as good as that. In these days, there are so many restaurants that serve "special hamburger" as good as the ones in hamburger stores. The latest trends of meat dish and casual dining boost the popularity of a gourmet hamburger.

Especially, the lunch time only hamburger cooked by the chef who works for restaurants that granted the stars in Michelin Tokyo. In the "Tateru Yoshino Bis" located in "Park Hotel Tokyo," there is an extreme hamburger created by Takeru Yoshino who is considered to be a French master. It was originally one of the lounge menus in this hotel, but it got very popular so he started serving it in the restaurant only at the lunch time.

The hamburger is considered to be American food, but Yoshino added the basic French cook technique on his hamburger.

The weight of the beef patty is 150g. You can put some ketchup, mayonnaise and mustard just as old American style.

 "Bis burger" in Tateru Yoshino Bis

It is has the simple but well-balanced ingredients such as cheddar cheese, lettuce and crispy bacon. Only 15 plates of this is served in a day. It cost 1900yen.

Address: shiodome media tower. 25F, 1-7-1 Higashishinbashi,Minato-ku,Tokyo

Keiko Kodera(Writer)

The hamburger from the restaurant which boasts meat dishes is as good as the one which is made by star chefs. There is a only hamburger in the restaurant on Saturdays, Sundays, and holidays called "ruli-ro" located in Mishuku that has a lot of good casual dining.

Not only is the patty grilled over a charcoal fire, but also the combination of ingredients are great. It is great thing for hamburger fans that can enjoy the hamburgers not only in hamburger stores but also some dining restaurants.

"ruli-ro hamburger" in ruli-ro

There is a lot of ingredients such as sunny side egg and smoked bacon. Other than this, ratatouille burger and avocado burger are also popular. It cost 1500yen.

Address: 3-16-3 Ikejiri, Setagaya-ku, Tokyo

−−−

Related article:【Tokyo Dinner】The yakiniku restaurants that you want to use for special occasions.

Related article:【TokyoDinner】The food that has been loved with alcohol in old town Tokyo

【Tokyo Cafe】 If you want to eat delicious bread, visit "Ore no Bakery & Café", Ebisu!

Today we will be introducing a café located in the city that sells exquisite food and drinks. This café opened last year and takes particular care when making bread.

To pursue the true essence of good flavour, a variety of three breads, bursting with the flavours of extraordinary passion are the main attraction of this café.

Ore no Italian, ore no French – ORENO corporation manages a number of eating establishments. It was under these business conditions that "Ore no Bakery & Café" opened. One day, the manager said "Let's make Japanese bread!" and the business kicked off.

We were lucky to have a chat with the café manager Takeda-san. Takeda-san was cute with a shy smile and passionately talked about bread. – a surprisingly attractive staff member! ♪

Three varieties of Japanese bread have been developed. One of these includes the "Ore no seishoku pan" – this 12X25X12cm loaf costs ¥1,000 tax included. The unique point of this bread is that it is eaten raw. The bakery also uses Hokkaido wheat and Kitanokaori as a base. The base dough is baked using milk from Nakahora farm. The springy and soft texture of the bread is its unique selling point. This bread is best enjoyed two hours after being freshly baked.

You must try a cup of blended coffee with the bread (¥380 tax included). At Ore no Bakery & Café, a sommelier is in charge of brewing the coffee to create a magnificent blend. Brazilian, Mandheling, and Kenyan coffee beans are used as the base for blending. After endlessly searching for the perfect accompaniment for the bread, the manager finally arrived at this coffee as the solution. This 300ml volume of coffee will satisfy you.

There is also a capsule machine located in the store. The capsules hold approximately 1 portion of coffee beans. There are many people who take the opportunity to use the capsule machine when they are in the café.

The open plan kitchen is spacious, allowing you to be drawn in with the sight fresh goods being prepared.

During this season, enjoy the fresh lustrous greenery outdoors with the terrace seating. Relax in the spacious green environment.

The most popular sandwich is the fluffy "atsuyaki tamago sandwich" (¥680 including tax). This is a thick rolled egg sandwich. The sweet balance of flavour between the dashi stock used to make the atsuyaki tamago and the bread is so delicious you will be able to eat several in a row. An extra kick of mustard and you got a flavour you can just keep eating.

The new menu also features the 4 variety cheese toast (Yonshu cheese toast – ¥580 tax included). A slice of tin bread topped with grana padano, gorgonzola, cheddar and mozzarella – surely this combination is heaven! With no added sugar, taste this snack and feel refreshed. The deep, rich flavour of the cheese makes for an exquisite blend of flavours. This superb blend of cheeses combined with the topping of honey makes it a superb product.

You cannot live everyday life without bread, and furthermore this bread is definitely worth its price – top class! The café is also located in Yebisu Garden Place, which can easily be accessed from anywhere, so how about dropping by after a shopping trip or a date?

Information

Ore no Bakery & Cafe

Address:Ebisu Garden Place Tokei Hiroba, 4-20-6, Ebisu, Shibuya, Tokyo
Tel:03-6277-0457
Holiday:No fixed holiday dates
Hours:Café 8:00 ~ 21:00(Last orders: 20:00)
Bread selling times: 10:00 ~ 21:00
Web: http://www.oreno.co.jp

Related article:【Tokyo Cafe】Visit the café which has an original menu that will give you great impact volume 3. Kinshicho "Kissa Knit"

【Tokyo Dinner】Nostalgic food! The next trend is Monjayaki!? Shibuya"Osozai to Senbei-Monja Sato"

The good old days food such as spaghetti Neapolitan, shaved ice cream, hot cake, and yakisoba has been becoming popular again. These are nostalgic foods for looking back at good old memories for people who are born in Showa era(1926~1989), and it also is kind of new food for people who are born in Heisei era(1989~).

I would like to focus on "Monja-yaki" as the next Showa gourmet trend. People who are living in other than Kanto area may not be familiar with this food. There are two different ways to cook Monja-yaki in Tokyo; Asakusa way and Tsukishima way.

The big difference is to make the base or not. The base is like building a breakwater not to spread dough on the pan. Tsukishima way is to make a base with ingredients such as cabbage at first and then pour the dough on to it. On the other hand, Asakusa way is to make the thin crust with dough at first and then eat it with chopped ingredients on the pan.

Sato Koji who manages unique restaurants such as "Cristiano's" in Yoyogi-uehara and "Pappon Kitchen" in Shibuya opened the new restaurant called "Osozai to Senbei-Monja Sato" this year.

As a lot of experienced chefs who learns a lot about multi cultural food, he prepared from standard Monja-Yaki to unique ones such as Russian style ones(1620yen include tax) which has beets and sour cream and Thailand's style(1620yen include tax) which has fish sauce.

Asakusa style thin crust type Monja is the one which Mr.Sato has been eating since he was little. I highly recommend you to enjoy the nostalgic food in this at home restaurant.

■Information

Address:1-9-22 Moritomo Building 1F, Tomigaya Shibuya-ku, Tokyo

Tel:03-6804-9703

Hours:[Monja]11:00AM to 3:00PM(Lunch time)/6:00PM to 10:00PM(Dinner time)

Holiday:Monday
RELATED ENTRIES
Blue Afternoon Tea Ready to Bring Happiness to June Brides in Aoyama, Tokyo

The Vino Buono Restaurant, located just across the street from the Aoyama St. Grace Cathedral, will offer a special blue-themed afternoon tea set from June 1 until July 31, 2022. The blue theme is meant to bring happiness, and guests will be able to enjoy treats inspired by the deep blue sea.

The summer lineup includes a grapefruit-flavored ocean jelly topped with meringue coral, lemon-flavored macaroons in the shape of pearl oysters, coconut mousse, a galette resembling a mussel, and other ocean blue and crashing wave white-colored sweets with coral and shell motifs. Seafood-infused savory treats such as smoked salmon sandwiches on croissants and seaweed salt french fries will also be served. Guests can also enjoy two types of scones as well as unlimited black and herbal tea.



An old European legend claims that women getting married in June will always be happy. During this wonderful wedding season, why not come enjoy a romantic afternoon tea experience?

Panasonic LUMIX and NAKED Team Up for Exhibition at LUMIX BAE TOKYO in Aoyama, Tokyo

Art collective NAKED is teaming up with Panasonic LUMIX digital cameras for a new version of the NAKED BIG BOOK. The new work is on display at LUMIX BASE TOKYO in Aoyama until May 29, 2022. 

LUMIX BASE TOKYO is a gallery inspired by the LUMIX brand of digital cameras. The location is meant to serve as a base for the next generation of creators and strives to bring tons of creative energy to those looking to hit it big as artists in the future. 

Naked and LUMIX have come together to make LUMIX BASE TOKYO not only a showroom but also a place where guests can experience creativity in a new way. The NAKED BIG BOOK," the brand's most famous work, has been decorated with seasonal flowers and will be exhibited for a limited time. 

NAKED BIG BOOK invites visitors to enter a storybook world with each turning page. The work uses projection mapping on a giant book sculpture to inspire audiences and wow guests with the wonders of technology. The book has appeared at FLOWERS BY NAKED and other locations throughout Japan in the past. 

The exhibition will also feature original artwork inspired by LUMIX's marketing campaign for 2022, 'COLORS OF LUMIX.'

Information

NAKED BIG BOOK – LUMIX Collaboration Version
Venue: LUMIX BASE TOKYO (2-chome-11-17 Minamiaoyama, Minato-ku, Tokyo)
Running: April 26 – May 29, 2022
Hours: 11:00-19:00 / Closed on Mondays, New Years holiday
Admission: Free
Official Site: https://lumix-base.jpn.panasonic.com/

Alice in Wonderland' Inspired Afternoon Tea Served at Aoyama St. Grace Cathedral for Seven Days Only

For seven days only from January to April 2022, the Aoyama St. Grace Cathedral wedding hall will open its doors to those wanting their fill of Alice in Wonderland-inspired sweets! 'Alice's Tea Party' will be an afternoon tea experience you'll never forget, and reservations are required.

The limited-time-only afternoon tea will feature a variety of adorable sweets that look like they popped out of a picture book, from Berry and Pistachio Bunny Ears Mousse to the Queen's Chandelier Butter Sandwich Cookies decorated like playing cards. Each sweet makes use of seasonal ingredients like strawberries, perfect with chocolate dips, petite tarts, and macaroons.

Information

Sweets Palette Afternoon Tea 'Alice's Tea Party' 

Running:

January 19, 2022
February 2, February 9
March 2, March 9, March 16
April 6 *Reservations Required
Times:

First Seating 12:15-13:45(Open at 12:00)

Second Seating 14:45-16:15(Open at 14:30)
Price: ¥4,500 per person (Tax and Service Charge Included)
Address: Aoyama St. Grace Cathedral Guest House (3-9-14 Kita-Aoyama, Minato-ku, Tokyo)

Access: 3-minute walk from Omotesando Station Exit A1 on Ginza Line / Chiyoda Line / Hanzomon Line
Reservations: https://www.bestbridal.co.jp/guestparty/tokyo/akasaka_aoyama_omotesando/stgrace_aoyama/2022event-10/ 

Valentine's Themed Menu Now Serving at FENDI CAFFE by ANNIVERSAIRE in Omotesando

Luxury Italian brand FENDI is currently teamed up with the iconic Aoyama-based ANNIVERSAIRE CAFÉ OMOTESANDO to serve up a special Valentine's Day themed menu at the cafe which it's calling "FENDI CAFFE by ANNIVERSAIRE."

Cake Set | ¥2,800 (Before Tax)


Tart Saison | ¥1,000 (Before Tax)

The cake set and tart saison are revamps of current menu items, now topped with in-season strawberries. The cafe has also been adorned with romantic red roses and multi-coloured decorations for this year's Valentine's Day.

Information

FENDI CAFFE by ANNIVERSAIRE
Running: November 28, 2020 – February 14, 2021
Where: FENDI CAFFE by ANNIVERSAIRE
Address: 3-5-30 Kita-Aoyama, Minato-ku, Tokyo

Opening Hours: 11:00-20:00
TEL: 03-5411-5988
FENDI Official Website: http://www.fendi.com

Los Angeles Pottery Maker Victoria Morris Gets Pop-Up Shop in Tokyo

Select shop LOVELESS has opened a pop-up store for Los Angeles native pottery maker Victoria Morris at their flagship store LOVELESS Aoyama in cooperation with Harajuku OS1 Gallery. It will run from December 5 to 10.


This is the first pop-up shop themed on flower vases to open at LOVELESS. To promote the shop, customers can pick up a limited-edition T-shirt featuring a photo of one of Victoria Morris works.

Additionally, those who purchase select products at the shop, or order a drink from the HADEN BOOKS cafe on the first floor of LOVELESS Aoyama, will receive an A2 poster featuring Morris's pottery work. These are available on a first-come, first-served basis.

Information

LOVELESS Aoyama
Address: 3-16-1 Minami-Aoyama, Minami-ku, Tokyo
Opening Hours: 11:00-20:00
Official Website: https://www.loveless-shop.jp/ 

Aladdin Inspired Afternoon Tea Wishes Its Way to VINO BUONO in Omotesando

The Omotesando branch of VINO BUONO is now selling a special Aladdin-themed afternoon tea until September 1.

This luxurious tea set comes with a mix of light savoury food and desserts. But the savoury side of it isn't your conventional assortment, instead coming with four different selections including tandoori chicken pitta bread sandwiches, a couscous and seafood salad, and more.

The scones contain sweet and fragrant rosemary honey which fill are sure to tickle your fancy.

The Pistachio Macarons and Arabian Night Blanc-Manger are glazed in a beautiful blue colour reminiscent of the world of Aladdin. And don't forgot the cute Magic Lamp Cookie with its blue centre―it's almost too good to eat!

Other delights include the Mango & Flower Verrine, Pyramid Mousse, and gorgeous tea that looks like it has had a spell cast on it.

Take your special someone to VINO BUONO this summer and show them the world with this limited-time Aladdin afternoon tea.

Information

VINO BUONO

Address: Portofino Floor 2F, 3-15-5, Kita-Aoyama, Minato Ward, Tokyo

Business Hours: Weekdays 11:30-17:00 (Last Entries/Orders 15:00) / Weekends & Holidays 14:00-17:00 (Last Entries 15:00 / Orders 15:30)

*2 hours allotted

Closed: Mondays & Tuesdays

Official Website: https://www.bestbridal.co.jp/restaurant/vino-buono/

Special Afternoon Tea

Running: Now Until September 1, 2019

Price: ¥3,360 (Tax & Service Charge Included)

Tokyo Dinner: HEIJITSU HIRU DAKE's Curry in Kōenji is Served With Japanese Stock

Rinko Murata loves all types of curry. In this edition of Tokyo Dinner, she invites the person she wants to meet up with the most to eat the curry she's been wanting to eat the most.

This month's notable restaurant she stopped by was HEIJITSU HIRU DAKE in Kōenji, Tokyo. Their curry portions are generous and are good for the stomach and satiety center. They serve a curry flavoured with Japanese dashi, or 'stock.'

How do you spend your early afternoons when you have time off? Lounging around at home with quality time to yourself sounds like a good plan. Definitely appealing.

But this is a rare opportunity. How about going on a little adventure to try something you can get a kick out of because it's midday and a weekday?

I know the perfect curry house for your hungry selves. HEIJITSU HIRU DAKE.

As the Japanese name suggests, it's a curry that can only be eaten at lunchtime, a mysterious dish that doesn't appear on regular days off.

I land in Kōenji, a place I love the most. Even though iKōenji is Kōenji, the closest station to the restaurant is Higashi-Kōenji Station.

My vision is filled with all kinds of sights.

It's like being lost in a treasure chest.

This place is actually normally a café and goes by the name Schwarze Katze. It's open mainly on Friday night, weekends and holidays. "HEIJITSU HIRU DAKE" runs in a rented room in the café and and is open when the café is. It's kind of luxurious to have the chance to eat my favourite food (curry!) in a place like this.

My heart desires the Wadashi Soboro Curry (¥980) that I mentioned earlier. It also comes with self-service coffee for after your meal. For toppings you can choose whatever you like. Since I was there and didn't want to get lost on what to pick, I went for all the toppings (¥300).

The water I ordered comes in a plastic bottle. The tables have antique displays. Everything on them was wonderful.

The air was clad in that rich, familiar scent of curry, a special one that I would never get to eat had I not come here.

The instant I hold the curry in my mouth the delicious flavour of the dashi sparks in my mouth like fireworks. The broth has a slight thickness to it and a strong, deep flavour that fades into a soft aftertaste on the tip of your tongue. It's not at all spicy, and the goodness of the dashi is luxurious like being escorted by a gentleman. And I can't forget the smell.

My taste buds throb at this new sensation.

Like its name suggests, this is a dish where the Japanese dashi stands out above the ingredient crowd. The restaurant owner has gathered much experience in the kitchen from traditional Japanese cuisine to sushi, ramen, yakiniku, izakaya style and so on. He encountered this place by chance, and with one look he said to himself, "I want to try doing curry." The Wadashi Soboro Curry came about through his gained culinary experience combined with the aesthetics of the café.

To bring out the full flavour of the dashi so it isn't drowned out by the curry spices, the owner uses two types of skipjack tuna, kombu, dark sleeper, and dried sea slug, as well as a type of soy sauce called Kaeshi. 15 more ingredients are blended together to create the spices, creating deep and delicate flavours.

Now it's time for a session with the mountain of ingredients I greedily asked for. It's enshrined with classics like meat soboro, beefsteak, agedama, bonito flakes, and dried plum in addition to pickled daikon radish, crushed natto, Japanese ginger, and okra. The spinach and onsen tamago egg sit at the foot of the mountain and create a new culinary sight.

The base of the dashi is mobilized with a force of Japanese ingredients with a smell and flavour and that comes together harmoniously in your mouth. I'm spellbound by the flavours that stand out coupled with the pleasant textures of the agedama, daikon and ginger.

Hey, I must have hit every ingredient in there. All correct.

I added a sprinkle of pepper that was on the table and create yet another refreshing aromatic veil.

The compatibility of the pepper with the dish works so well precisely because it uses a Japanese dashi. Wadashi, or Japanese broth, is a staple of Japanese cuisine. The curry and Japanese soul carved into this dish resonates with me. It's my first time eating it, yet I'm still filled with a sort of nostalgia―a warm embrace.

I also understand why when the shop opens, the customers in the café stand up and change with the next line of customers. The owner has a wonderful sensitivity, and has worked out a way to put his own matchless warmth into each and every bowl. I caught sight of his gentle smile as he was cooking in the kitchen. It left an impression on me.

What a delicious curry to enjoy in such a wonderful place. All five of my senses have reached peak happiness. I grab my post-meal coffee and head onto the streets of Kōenji.

What a wonderful weekday afternoon.

Text:Rinko Murata
Photo:Kayo Sekiguchi
Edit:Miiki Sugita

Translator: Joshua Kitosi-Isanga

Information

HEIJITSU HIRU DAKE
Address: 1-21-21 Umezato, Suginami, Tokyo
Opening Hours: 11:30-15:00 (Weekdays Only)

Official Twitter: @Heijitsuhirudake

Healthy Hamburger Shop 'Jiyugaoka Burger' Opens in Aoyama

Healthy hamburger chain Jiyugaoka Burger opened its third branch in Aoyama on June 6.

The restaurant's belief is that safe food that's healthy for your body equals in a delicious meal. All of their burgers are handmade one by one. They make their own original patties and buns and strive to use as many fresh and organic domestic products as they can. The burgers shine through in their flavour which makes full use of the ingredients used.

Their original patties are handmade every morning out of 3 parts each with different coarseness. They ride on the strength of each part, and by altering the roughness, create a patty with a chewy texture that locks in the flavour of the meat and juice.

They are particular about their buns too. They have a winning texture that is irresistible even when you're eating it with meat and veg between one. The restaurant uses no eggs or dairy products*, so those with allergies can rest assured you'll be safe.

*The buns are made in a factory where there is bread made with eggs and dairy products.

The company is very much focused on the producing area of its vegetables and their quality. They used thick sliced sweet onions grown by Awaji Island producer Narui. Their organic potatoes are from Hokkaido Niseko Farm and are cooked with the skin on.

The new Aoyama branch of Jiyugaoka Burger has a white woodwork interior and the ceilings are high giving it a sense of space and comfort. There's a large table in the middle which accommodates up to 12 people and can be used alone or for parties at night. There's also 4-person tables for groups or business meetings. There's also terrace seats that looks out onto Gaien-Nishi Dori, also known as Platinum Street.

Check out their healthy hamburgers for yourself!

■Information

Jiyugaoka Burger Aoyama

Address: Passage Aoyama 1F, 2-27-18 Minamiaoyama, Minato, Tokyo

Opened: June 6, 2018

Opening Hours: 11:00-22:00 (Last Orders – Food 21:00 / Drinks 21:30)

Closed: New Year's Holiday

Access: 2-minutes on foot from Exit 1A of Gaiemmae Station via Tokyo Metro Ginza Line

TEL / FAX: 03-6459-2994

Website: https://jiyugaoka-burger.com/

Vogue Fashion'S Night Out 2018 to Take Place in Tokyo, Kobe, Nagoya & Osaka

Vogue is the world's most influential fashion magazine. The Japanese edition, Vogue Japan, is once again holding Vogue Fashion'S Night Out (FNO) this year, a global event for shopping and fashion.

Hosting this year's night out is Tokyo on September 15, Kobe on September 22, Nagoya on October 27, and Osaka on November 17 and 18.

FNO was created by editor-in-chief of Vogue Anna Wintour. It's the world's biggest fashion event that takes place in countries where Vogue is published and aims to invigorate the fashion industry.

The event began in Japan in the same year and grew rapidly across the country. This year marks its 10th run.

The 10th annual FNO will return to its origins of spreading the joy and depth that fashion brings to people and share the enjoyment of shopping.

Special guests will be invited again this year to host ceremonies, and in addition to plans in store from various shops, there will also be charity projects in place once more.

 

Comment from Mitsuko Watanabe, Vogue Japan Editor-in-Chief

"FNO is shows liveliness year by year and has become an annual event. This memorable 10th year will take place in four cities, the biggest scale in FNO history. From the bottom of my heart I'm looking forward to getting to meet people in each of these places in Japan."

FNO is a must-see for fashionistas. Get involved and come face to face with the world's cutting edge styles!

■Information

VOGUE FASHION'S NIGHT OUT 2018 

Tokyo – 10th Annual Run
Locations: Omotesando, Aoyama, Harajuku areas

Date: Saturday September 15, 2018

Kobe – 2nd Annual Run
Locations: Daimaru Kobe, Kyukyoryuichi areas

Date: Saturday September 22, 2018

Nagoya – 1st Annual Run
Location: Matsuzakaya Nagoya

Date: Saturday October 27, 2018

Osaka – 7th Annual Run
Locations: Hankyu Umeda, Hankyu Men's Osaka

Dates: Saturday November 17, 2018-Sunday November 18, 2018

VOGUE JAPAN Official Homepage
www.vogue.co.jp/fno

Aoyama Flower Market Celebrates Opening of London Branch with 'Flower Afternoon Tea'

Aoyama Flower Market Tea House operates as a café that lets you breathe in the seasons by promoting the fundamental principle of a lifestyle surrounded by flowers and greenery.

To celebrate the opening of the London branch of the café, Aoyama Flower Market Selfridges, the main branch in South Aoyama will serve a 'flower afternoon tea.'

Aoyama Flower Market Selfridges is the first shop by Aoyama Flower Market to open in the UK, and the second to open overseas, following their store in Rue du Bac, Paris. They sell a mix of different item, including wicket baskets, mizuhiki (a type of decorative cord), pottery, not to mention lifestyle bouquets, a popular product in Japan.

 

The flower afternoon tea will run from April 23 to May 31. After enjoying mini sandwiches or scones you can tuck into 'Flower French Toast,' 'Rose Jelly' made with damask rose scent and extract which has a beautifying effect, and more.

 

There are also over 15 drinks to choose from, including fresh herbal tea made using a blend of 5 difference organically harvested herbs, flower tea, seasonal flavoured tea, and more.

Enjoy a luxurious afternoon tea menu over at Aoyama Flower Market Tea House!

■Information

Flower Afternoon Tea

Address: Aoyama Flower Market Tea House (South Aoyama Main Branch), 5-1-2 Minami Aoyama, Minato, Tokyo

Running: April 23, 2018―May 31, 2018

Time: Weekdays 14:00-18:00 (Closed weekends, holidays and May 1-May 2)

Price: ¥2,600 per person (2 people or more only) *tax excl.

Capacity: 5 groups per day (up to 10 people max.)

Contents:

Light Food & Desserts

・Scone w/ rose jam and cream

・Mini sandwich (2 types)

・Mini cake with pistachio and raspberry mousse

・Mini earl grey chiffon cake

・Rose jelly

・Flower French toast (w/ vanilla ice cream)

Drinks

・Fresh herbal tea, flower tea, flavoured tea, and more.

*15 drinks available. Alcohol not served.

Website: http://www.afm-teahouse.com

Aoyama Flower Market Selfridges (London)

Address: 400 Oxford Street, London W1A 1AB

TEL: 020-7788-6212

Opening Hours: Monday to Saturday 9:30-21:00 / Sunday 11:30-18:00

Tokyo Stroll: Shopping & Sightseeing with Mozuku-kun the Dog #3 – Café Kitsuné, Minamiaoyama

In this featured series, dog lover and model Yuna Yabe heads out with her trusty partner Mozuku to visit hot spots that people and their dogs enjoy, while deepening her bond with him. In this article, the two of them stopped by Café Kitsuné during a morning stroll which is a coffee shop developed by French fashion brand Maison Kitsuné.

The time is 9am. Mozuku has a spring in his step as he walks the streets of Omotesando. The two companions cross the pedestrian crossing at Omotesando Crossing and gaze at the show windows of the high fashion brands. After walking a little, they arrive at Café Kitsuné.

The entrance to Café Kitsuné has a traditional Japanese vibe to it, fenced in with bamboo. The café is designed as a Japanese teahouse from the perspective of a French person.

The ceilings are low. Do you know why? It's a bit off topic, but if you don't have a low posture in a Japanese tearoom you can't enter. There's a reason for this. It's because when entering a tearoom, everyone is expected to be equal.

When you enter Café Kitsuné, there's not much distance between people – you are close to them. That sense of relief might be the reason.

 The wallpaper has an arrow feather design known as yagasuri and a water design called seigaiha. Although it has a French pop feel to it, it's relaxing, perhaps due to the traditional Japanese base décor.

You can also purchase souvenirs at the café, including original mugs and stationery. Is that a dog ear on the side of the mug?! … No, it's a fox ear.

The barista was working quietly but nimbly at the sheet copper counter.

A vase was placed in the middle of the table. The flowers were arranged by the café staff and breathe seasonal life into the Japanese space.

The menu includes things like French toast, a ham and cheese sandwich, pound cake and so on, all of which go perfect with coffee.

The espresso machine is a Marzocco Linea. It's a big machine with three portafilters. The taste of coffee changes depending on the day's temperature and level of humidity. To tackle that, the barista changes the quantity of beans each day to maintain the same taste of the coffee.

To convert the coffee into Maison Kitsuné's "New Classic" fashion theme, the espresso doesn't have that common acidic flavour to it. Instead, it's made with a classic taste and fragrance, making it stand out from the rest. The original blend coffee beans also has just a sweet touch of citrus fruits.

Yuna-chan ordered the iced latte (¥560). The sweetness of the coffee together with the milk was balanced perfectly. It had a mellow taste.

Dogs are allowed from the entrance all the way to the terrace. Here, Yuna popped Mozuku on her lap and enjoyed a short coffee break.

Mozuku climbed onto a terrace seat and stared at Yuna-chan sipping her iced latte. She had an expression on her face like she was immersed in the stylish, grown-up café.

This is the proper way to use an elegant café when taking a walk in the city. Enjoying stopping by a café with early summer budding before your eyes in the early morning with your dog is a wonderful thing. Yuna-chan, with her coffee in hand and Mozuku by her side walking the streets of Omotesando, looked like a polished, sophisticated Tokyo girl.

'Let's go out again, Mozuku!'

■Information

Café Kitsuné
Address: 3-17-1 Minamiaoyama, Minato, Tokyo
Opening Hours: 9:00-19:00
Access: 3-minutes on foot from Omotesando Station via the Tokyo Metro Chiyoda Line, Hanzomon Line and Ginza Line
TEL: 03-5786-4842
Website: https://shop.kitsune.fr/stores

*Dogs cannot walk with your inside the café. Please use a dog carrying bag when entering

Model:Yuna Yabe/Mozuku @yunaaay1030

Yuna Yabe won the grand prix prize at the "Zipper×ASOBISYSTEM Model Auditions" at the age of 15. She is an expert not only in fashion but make-up and video editing too. She's an influential figure to the people in her generation. Recently, her work has expanded greatly, such as appearing in music videos. Her activity continues to grow and looks to be very promising indeed.

Writer:Ai Watanabe

Photograph:Kayo Sekiguchi

Translator: Joshua Kitosi-Isanga

Showa Music Event for Foreigners & Young People to Take Place in Aoyama

KAYO & J-POP Encyclopedia is a music event hosted by Japanese and non-Japanese DJs set to take place in Aoyama on March 31. Two American DJs will perform at this 300-person capacity event. People from countries all around the world are expected to be there, like those from overseas on their way back from hanami.

In this current time where people are trying to end the Heisei Period, vinyl records are popular not only in Japan but are also having a boom across the world too. Take part in and enjoy this Showa music event where young Japanese people and overseas visitors will gather.

■Information

KAYO & J-POP Encyclopedia

Address: H2 AOYAMA BLDG B1F, 5-10-1 Minamiaoyama, Minato, Tokyo

Date: March 31, 2018

Time: 16:00 – 22:30

TEL: 03-5466-3181

Website: http://ameblo.jp/kayo-pops/