Hello Kitty cafe with 45th anniversary menu to open for a limited time at Seibu Ikebukuro!
This year will mark the 45th anniversary for Hello Kitty; one of Sanrio's most popular characters! To celebrate, a Hello Kitty cafe will run from Thursday 25th April ー Sunday 7th July 2019. The cafe will open at Dining Park Ikebukuro, which is on the 8th floor of Seibu Ikebukuro main store, close to the east exit of Ikebukuro station.
The cafe will sell cute desserts that tickle your heart and hearty meals that will satisfy your stomach as well as your heart! This is your chance to enjoy a menu that is overflowing with originality!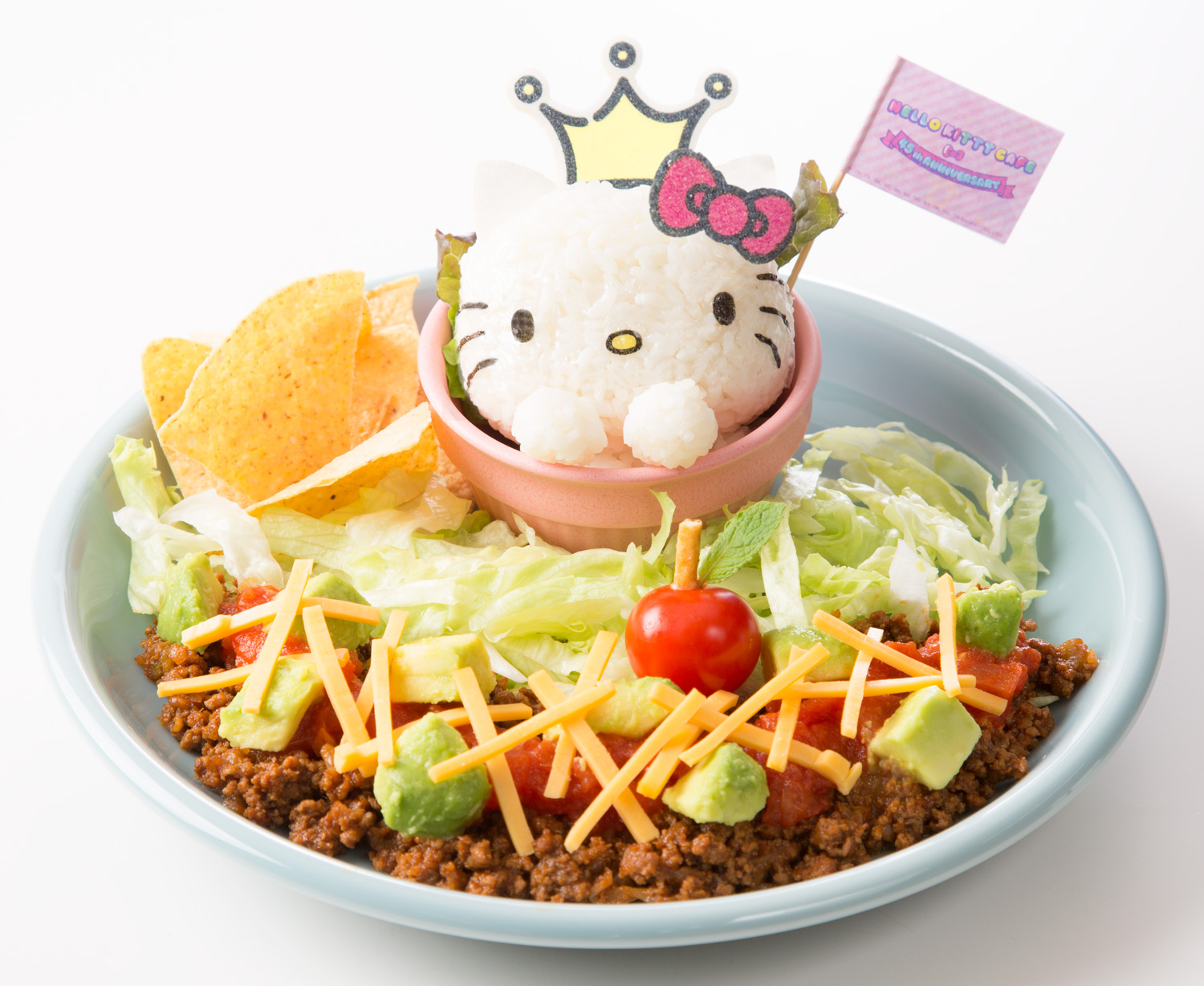 Hello Kitty peeping out from taco rice ¥1,690 (price includes tax)
The taco rice dish features Hello Kitty wearing a tiara. She is peeping out from a cup surrounded by lettuce and taco meat. The meal is topped with bright tomato sauce, diced avocado and cheese! Finally, there are some taco chips set into the taco meat. Mix the mince with the Hello Kitty rice to enjoy your meal! Don't forget to look out for the mini apple made from a mini tomato and mint leaf!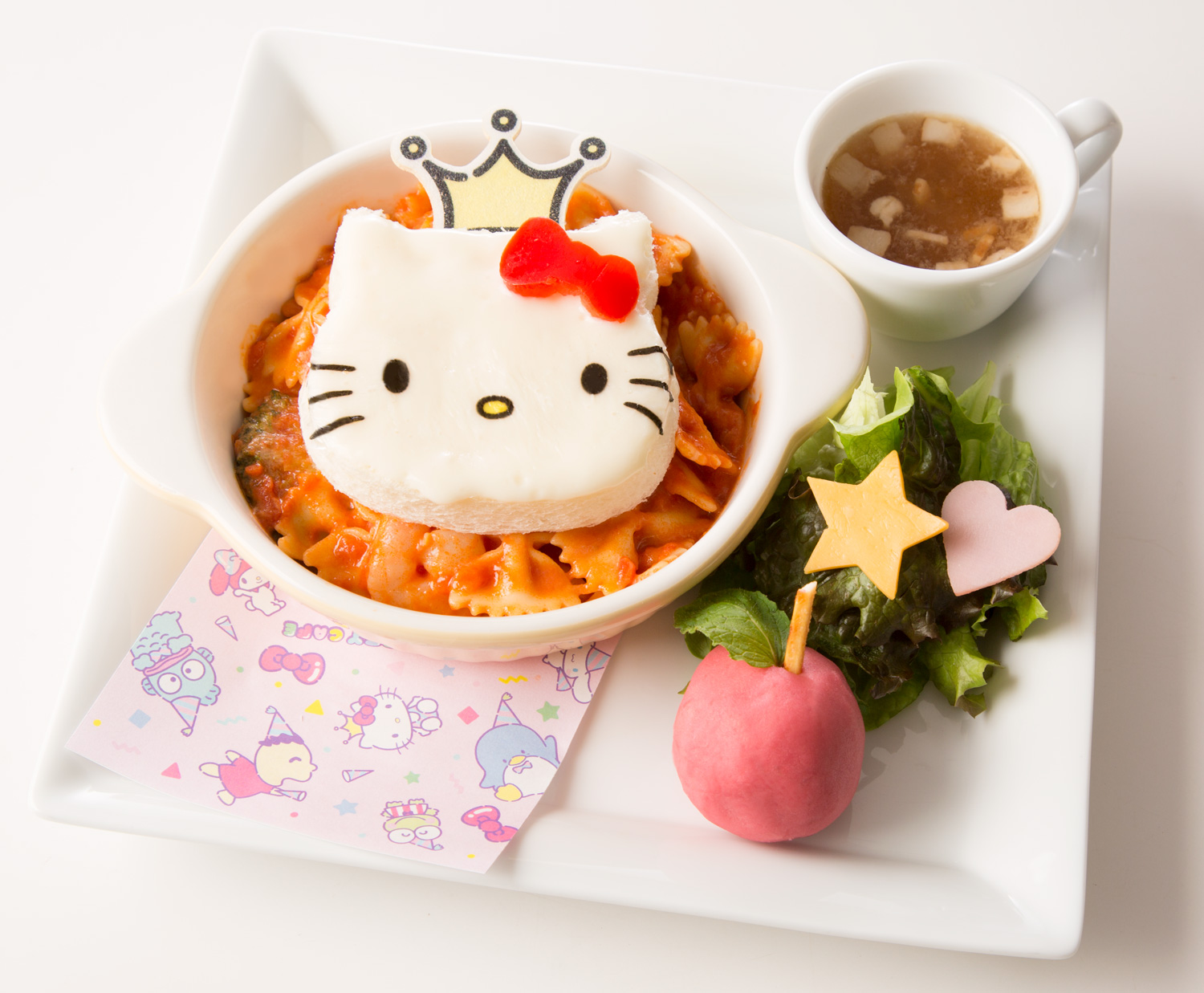 Hello Kitty tomato cream pasta  ¥1,590 (price includes tax) 
This is pasta mixed with tomato cream sauce and spread over a plate. It is then topped with cream cheese sauce and garnished with a large piece of bread with Hello Kitty's face on it! Beetroot is used for the colouring. There is also an apple made from mash potato salad. The dish comes as a set accompanied by mushroom soup to make for a filling meal.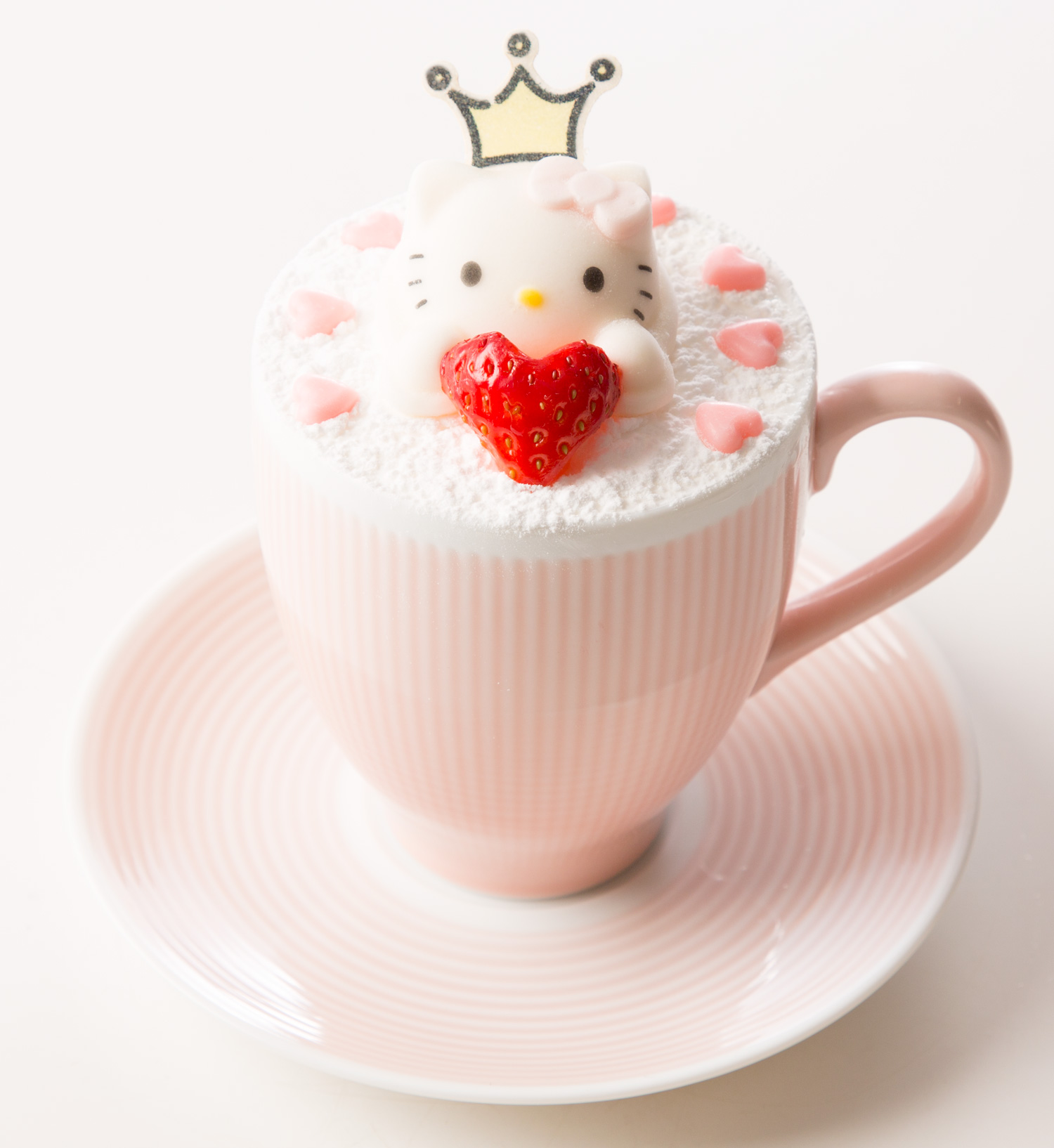 Hello Kitty cup trifle ¥1,290 (price includes tax)
Blue curaçao panna cotta, sponge cake, and strawberry sauce with mixed berries make the three layers of the trifle. Whipped cream is spread over the top of the cup and then garnished with a marshmallow Hello Kitty holding a heart made from a strawberry. This is the perfect dessert to celebrate the anniversary!
Hello Kitty tapioca gradation drink ¥890 (price includes tax) 
Enjoy a gradation of tasty colours created by pink strawberry yoghurt, blue curaçao yoghurt and white whipped cream! This cute tapioca drink combines the acidity of the yoghurt with the chewy texture of the tapioca. You also just cannot miss the cafe-limited design on the cup which features the 45th-anniversary celebration of Hello Kitty and other popular characters!
There will also be a range of 45th-anniversary Hello Kitty merchandise available!
This is your chance to enjoy the countless number of goods, foods and drinks that are carefully crafted for maximum Hello Kitty goodness!
©1976, 2019 SANRIO CO., LTD. APPROVAL NO.S585334
Information
Hello Kitty Cafe Ikebukuro
Address: :Gourmet stadium II, Seibu Ikebukuro 8th floor (1-28-1, Minami-Ikebukuro, Toshima, Tokyo
Running: Thurs 25/04 ー Sun 07/07 2019
Opening hours: 11:00 ー 23:00 (Open from 10:30 on Sat, Sun & national holidays)
※Last orders: food: 21:30, drinks:22:00
No regular closing days. Closing days subject to Seibu Ikebukuro closing times.
TEL:03-5949-5675 (dial in number)
Sanrio character cafe official website: https://www.sanrio.co.jp/special/chara-cafe/
RELATED ENTRIES
2021 Sanrio Character Ranking Voting Begins in April

Sanrio has finally announced news about the 36th annual Sanrio Character Ranking. This year's award event, the 2021 Sanrio Character Ranking, will open initial votes on April 9 to May 24 when fans can vote for their favourite character from Sanrio's roster. As with previous years, the 2021 run will also welcome the "Collaboration Category" of the awards which will feature 27 character entries from those who have collaborated with other companies and businesses over the past year.

Ichigo Shimbun is a monthly magazine published by Sanrio. It not only includes information about the latest character merchandise, but is also the place where the Sanrio Character Ranking first began in 1986. From Sanrio's long list of over 450 characters, just 80 are entered into the awards each year. Cinnamoroll took first place for the 3rd year in a row at the 2020 Sanrio Character Ranking which we covered in detail, including the initial first round up of winners and second round up.

Normally, the results are announced in-person at a big event. This year's announcement gathering was originally scheduled for June 8, but was cancelled due to the COVID-19 pandemic. It will now be hosted online instead, and fans will also be able to vote using the new Sanrio members service Sanrio+.

This year's 80 entrants are now being rolled out over on the official Sanrio Character Awards Twitter page.

This Year's Award Theme: "The Witness of a New World – Your Support Will Change the Future"

Every Sanrio Character Awards has a theme, and this year's is, "The Witness of a New World – Your Support Will Change the Future." The "new world" refers to the future of Sanrio—which celebrated its 60th anniversary last year—that fans will bear witness to. The key visuals for the 2021 Sanrio Character Awards have the characters holding a magnifying glass with which they are peeking into that new world.

 

New Entrants Announce Everyday On the Official Twitter Page

The Sanrio Character Rankings' official Twitter page will post the key visuals and personal messages from all 80 entrants on its official Twitter page between February 26 to March 31. Leading this year's awards ceremony are the popular characters Kuromi, Badtz-Maru, and Hangyodon. Voting opened on February 25.

 

How to Cast Your Vote

Votes for the 2021 Sanrio Character Ranking can be cast online, at Sanrio shops, and for the first time, on the new Sanrio members service Sanrio+. Votes for the Collaboration Category however can only be placed online. Last year's vote was open to all fans worldwide. It is unconfirmed whether this year will be the same, but stay tuned as we follow the event.

Online Votes (Smartphone Only) *Cannot be cast on computers or tablets

Sanrio Shops

Sanrio Online Shop

Ichigo Shimbun (May 2021 Issue, on sale April 10 / June 2021 Issue, on sale May 10).

*Ichigo Shimbun voting open from April 10

Sanrio+ Members Smile Vote (Sanrio Shops/Online Votes)

Sanrio+ Members Ticket Vote (Online Votes) *More info TBA

Other Voting Methods (TBA)

 

Vote With Sanrio+

Sanrio+ allows members to exchange 100 Smiles (the currency on the Sanrio Shop) for two voting chips. Members can exchange a maximum of 1,000 smiles for 20 chips in one go. The chips are spent at the voting box on the Sanrio Shop. One chip counts for a total of three votes.

Additionally, when members first log in to Sanrio+ on the voting website, they can used 50 Smiles to cast one vote. Members can vote with a maximum of 500 smiles in one day. One Smile vote counts for a total of two votes.

Stay tuned for the latest news and updates on the 2021 Sanrio Character Ranking.

Information

2021 Sanrio Character Ranking

Running: April 9, 2021 – May 24, 2021 (From April 10 in Ichigo Shimbun)

First Round-Up Announcements: April 14, 2021 at Noon (JST)

Second Round-Up Announcements: May 13, 2021 at Noon (JST)

Winner Announcement: June 8, 2021 (Online event, details TBA)

News Page: https://www.sanrio.co.jp/news/mx-ranking2021-20210225/

Sanrio Releases Tea Gift Set in Collaboration With World Tea Brand LUPICIA

World tea brand LUPICIA launched its 7th collaboration with Sanrio on Thursday (February 25) featuring a range of tea gift sets. Every year, LUPICIA releases a wide variety of rea-related gift sets for White Day, the spring season, Mother's Day, and more.

Four Fruit Fruity Tea With Lidded Mug

Hello Kitty LUPICIA Mug & Flavoured Tea | ¥3,300 (Tax Included)

My Melody LUPICIA Mug & Flavoured Tea | ¥3,300 (Tax Included)

Cinnamoroll LUPICIA Mug & Flavoured Tea | ¥3,300 (Tax Included)

Kuromi LUPICIA Mug & Flavoured Tea | ¥3,300 (Tax Included)

This year adds the dearly beloved Kuromi to the new collaboration which features a variety of fresh and fruity teas together with a mug that comes with a lid to keep your tea hot.

Will you be having tea with Hello Kitty, My Melody, Cinnamoroll, or Kuromi?

(c)'21 SANRIO 著作(株)サンリオ

Gundam x Hello Kitty Collaboration Merchandise Now Available to Buy Outside Japan

Online Japanese proxy shopping service ZenPlus is now stocking items of the ongoing Gundam x Hello Kitty collaboration by the anime apparel brand R4G. This means if you're outside Japan, you can now finally get in on this unique and exciting collaboration.

Gundam x Hello Kitty

Gundam x Hello Kitty T-Shirt / Field Coat

Gundam x Hello Kitty Anime Scene T-Shirts

The Gundam x Hello Kitty collaboration began in 2019 to tie in the 40th anniversary of the popular Mobile Suit Gundam franchise and the 45th anniversary of Sanrio's most popular character Hello Kitty. Now the project is heading overseas for fans worldwide to enjoy the collaboration.

Cute Hello Kitty and Little Twin Stars Face Masks Release in Sanrio Collaboration

Japanese sneakers select shop atmos pink teamed up with Sanrio to release a cute collection of face masks on Thursday (January 28).

KIKI&LALA★atmos MASK Colours: White/Blue – ¥1,400 (Before Tax)

HELLO KITTY♡atmos MASK Colours: White/Pink – ¥1,400 (Before Tax)

The masks can be washed and are durable, fast-drying, block pollen, and cut UV. Face masks are part of everyday life now, so why not add a little fun to routine?

Hello Kitty Hairbrushes Ensure Your Locks Are Kept Kawaii at All Times

Hairbrush brand WetBrush® joined hands with Sanrio to release a new collection of Hello Kitty design brushes at drug stores and variety stores across Japan on Friday (January 15).

Under My Umbrella | ¥1,540 (Before Tax)

Bubble Gum | ¥1,540 (Before Tax)

Original | ¥1,540 (Before Tax)

WetBrush® is a hairbrush brand sold in over 70 countries worldwide that can be used on damaged hair, wavy hair, thin hair, wigs, and more without causing damage to lovely locks, leaving hair detangled and silky smooth.

The Hello Kitty collection features three brushes with different designs – a must have for any fan of Sanrio's most recognisable face.

Information

WetBrush® x Hello Kitty Collaboration
Released: January 15, 2021

Available: Drug stores and variety stores in Japan (Select branches not participating)

Official Website: http://www.wetbrush.jp

D-UP x Hello Kitty Eyelash Fixer EX Launches in Japan

If you're looking to look as cute as Hello Kitty, then you'll want to pick up the new D-UP Eyelash Fixer EX, a product by D-UP released in collaboration with Sanrio on Friday (January 22) at Don Quijote stores in Japan. The product will also begin rolling out at variety shops and drug stores from March 5.

D-UP Eyelash Fixer EX is a super strong glue for false eyelashes. First released in 2000, it has gone to enjoy huge popularity in Japan where it has sold over 27 million units. It is also popular outside of Japan too.

With face masks now a norm for everyone worldwide, makeup trends are now tending towards the eyes, and so D-UP is launching its 5th collaboration with Hello Kitty, a partnership which first began in 2021.

D-UP Eyelash Fixer EX552 Hello Kitty S | ¥5,990 (Tax Included)

The packaging and product design features a retro style coloured in pastel colours and Hello Kitty.

Information

S5D-UP Eyelash Fixer EX552 Hello Kitty S
Pre-Release: January 22, 2021 @ Don Quijote
General Release: March 5, 2021
D-UP Official Website: https://d-up.co.jp/

Hello Kitty Valentine's Day Chocolates by Bicerin Are Sure to Surprise Your Lover

Café Al Bicerin released a special collection of chocolates in Japan for Valentine's Day on Wednesday (January 20) in collaboration with Hello Kitty.

Café Al Bicerin is a cafe in Torio, Italy, that first opened back in 1763. It has a long history and is a place that was enjoyed by the likes of Friedrich Nietzsche and Ernest Hemingway.

Bicerin × Hello Kitty Love Assortment | ¥2,160 (Tax Included)

Bicerin × Hello Kitty Love Assortment | ¥2,160 (Tax Included)

Valentine's Baci di Dama (Includes 5) | ¥1,350 (Tax Included)

© 2021 SANRIO CO., LTD. APPROVAL NO. L617585

Information

Bicerin x Hello Kitty Valentine's Collection
Released: January 20, 2021
Available: Bicerin Japan (Ginza SIX, Takashimaya Shinjuku, Midland Square, Hankyu Umeda, Roppongi Hills, Tokyo Midtown Hibiya)
Official Online Store: https://shop.bicerin.co.jp/
Official Website: http://www.bicerin.co.jp/

Couture Brooch Collaborates With Hello Kitty To Release Adorable Bags, Pouches and More

Ladies fashion brand Couture Brooch collaborated with Sanrio's most popular character Hello Kitty to release a new line of adorable fashion items which were released on December 11, 2010.

The new line includes a total of six different items with original designs by Couture Brooch including bags, pouches and smartphone cases. All items in the series feature Hello Kitty's signature ribbon motif. This is the perfect port of call when looking for a Christmas present for someone who loves cute designs. The ribbon afro Hello Kitty image is an original collaboration design and cannot be purchased anywhere else.


The collaboration items were released on Couture Brooch's official website on December 11. From December 16, the items will be available in shops across Japan and at selected Sanrio shops.

Make the most of a kawaii ribbon look with these adorable Hello Kitty collaboration items.

Sanrio's My Melody, Pompompurin, and Little Twin Stars Keep Your Face Masks Safe

Sanrio released pre-sales of its new Sanrio Characters Mask Bags for face masks via the online shop Asunarosha on Wednesday (December 9).


Following the success of the Hello Kitty and Cinnamoroll face mask bags released in September, all of which sold out, Sanrio is adding new designs into the mix. The bags are washable and allow you to carry your mask around conveniently and hygienically.

My Melody, Pompompurin, Little Twin Stars (Kiki & Lala) | ¥700 Each (Before Tax)

The new designs include the popular characters My Melody, Pompompurin, and Little Twin Stars (Kiki & Lala).


Hello Kitty, Cinnamoroll | ¥700 Each (Before Tax)

Hello Kitty and Cinnamoroll are also making a return so fans can pick from 5 different designs.

Sanrio Puroland is also releasing a cute collection of face mask and mask cases on December 18.

©1976, 1996, 2001, 2020 SANRIO CO., LTD.

Hello Kitty and Dear Daniel Winter Doughnuts to be Served at Floresta

Floresta Nature Doughnuts, a doughnut cafe that hand-makes doughnuts using organic ingredients, is baking up Hello Kitty and Dear Daniel doughnuts this Christmas from December 11 to 25. They will be served in-store at be available to order online in Japan.


Floresta Hello Kitty & Dear Daniel Christmas Doughnuts | ¥450 Each (Before Tax)

Both ring-shaped doughnuts are covered in a chocolate coating with Dear Daniel's made with organic matcha and Hello Kitty's with strawberry powder made from strawberries grown in Japan. The doughnuts are dusted with organic coconut flakes to look like snow and are decorated with the Star of Bethlehem.

These two doughnuts are naturally sweet and are the perfect kawaii treat to indulge in for this year's Christmas in Japan.

©'76,'99,'20 SANRIO APPR.NO.L610318

Hello Kitty Turns Into Pixelated Figurine in Collaboration With Adam Lister

Isetan has teamed up with New York-based artist Adam Lister to release an official Hello Kitty figurine which hit the company's online store on Wednesday (November 11). It is also available to buy internationally via Adam Lister's online shop.

SPECIAL PRODUCT DESIGN & MEDICOM TOY

Adam Lister x HELLO KITTY (18cm Tall) | ¥18,700 (Tax Included)

The toy was made in collaboration with creative design company SPECIAL PRODUCT TOYS and MEDICOM TOY.

Adam Lister brings his signature pixelated style

Adam Lister is a New York-based visual artist whose work consists of geometric interpretations of iconic imagery and pop culture references. He breaks down classic images to their most elemental forms by combining the deconstructed and minimal aesthetic of pixelated graphics with the transparency of watercolour paint and the flatness of acrylic paint.

Lister's artwork has been exhibited in numerous galleries throughout the world and he has also collaborated with streetwear brands, athletic companies, and other artists.

©1976, 2020 SANRIO CO, LTD. APPROVAL No. L614063

Canon to Release Special Hello Kitty iNSPiC Mobile Printer

Canon Marketing Japan has announced the release of a special Hello Kitty model of its iNSPiC PV-123 pocket-sized mini printer.

The iNSPiC PV-123 is a mini printer designed for the smartphone generation that lets users print photos instantly. Canon's new model is made in collaboration with Sanrio's popular character Hello Kitty.

Not only does the printer itself feature a cute Hello Kitty design, it also lets users print special Hello Kitty themed frames and stamps using the Canon Mini Print app. These are available until October 31, 2021 for the Hello Kitty model only.

The iNSPiC PV-123 HELLO KITTY is the perfect companion for mobile printing, making it super easy to print your memories wherever you are.