Presenting the Tokyo station bento lunch rankings to accompany your Golden Week travels!
Japan's favourite holiday Golden Week technically starts on Saturday 27th April. This year, the holiday stretches over a long 10 days and I'm sure there's many of you who will be taking the bullet train to travel or to visit your families! That's where Tokyo Station's best bento lunch rankings come in handy!
Gransta
1st place: Shrimp, crab & salmon bento (Tsukiji Sushi Sei, Marusei) ¥1,250 (price after tax)
This bento is packed with salmon and shrimp and pieces of crab meat. It's quite popular amongst girls!
2nd place: Beef in sweet ankake sauce served with fried rice (KAMONKA) ¥741  (price after tax)
Beef boiled in a special sweet ankake sauce and then dished up with fresh fried rice when the order comes in!
※ Sales may continue only until the start of summer.
3rd: place Ginger-fried pork bento (Asakusa Teppantei) ¥1,190 (price after tax)
The beef used is from Japanese Black cattle, which is sourced from within Japan. The strong ginger taste makes for a very adult-like flavour.
Ecute Tokyo
1st place: Large hamburg steak with kinako pork katsu bento (TSUBAME GRILL DELI)  ¥1,280  (price after tax)
You can enjoy both TSUBAME GRILL DELI's popular hamburg steak and pork katsu in one hearty serving!
※ Limited to Ecute Tokyo, only 50 of these bentos will be sold every day.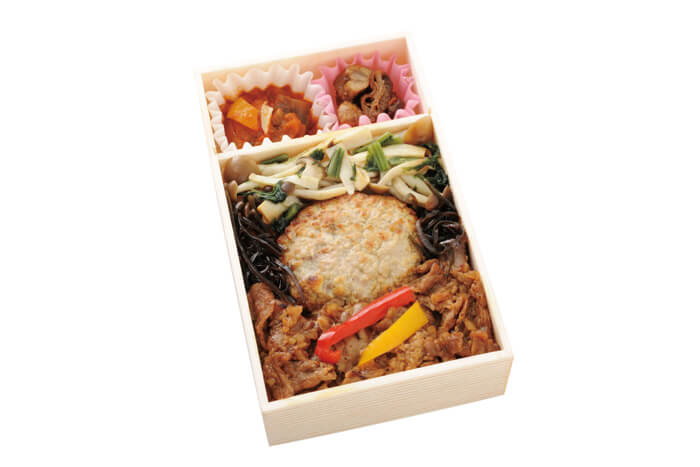 2nd place: Hifumi bento (Furusato ryouri Fukuzen) ¥1,350  (price after tax)
Flame-seared Kanzaki aged beef, sweet and spicy beef tendon boiled in soy sauce and Japanese pepper, and a hamburg steak made from beef and hakkinton (creamy, delicious pork), seasoned with shio-kombu. This is your chance to enjoy three different kinds of meat and deliciously seasoned kombu (kelp).
3rd place:  Yellowtail fish in teriyaki sauce and nori seaweed bento (Hakejyoyu Noribenyamanobori) ¥1,944 (price after tax)
This isn't too oily and the Japanese Amberjack yellowtail even remains plump and delicious when cooled. There are only a limited number of these bento and once they're gone, they're gone!
Extra: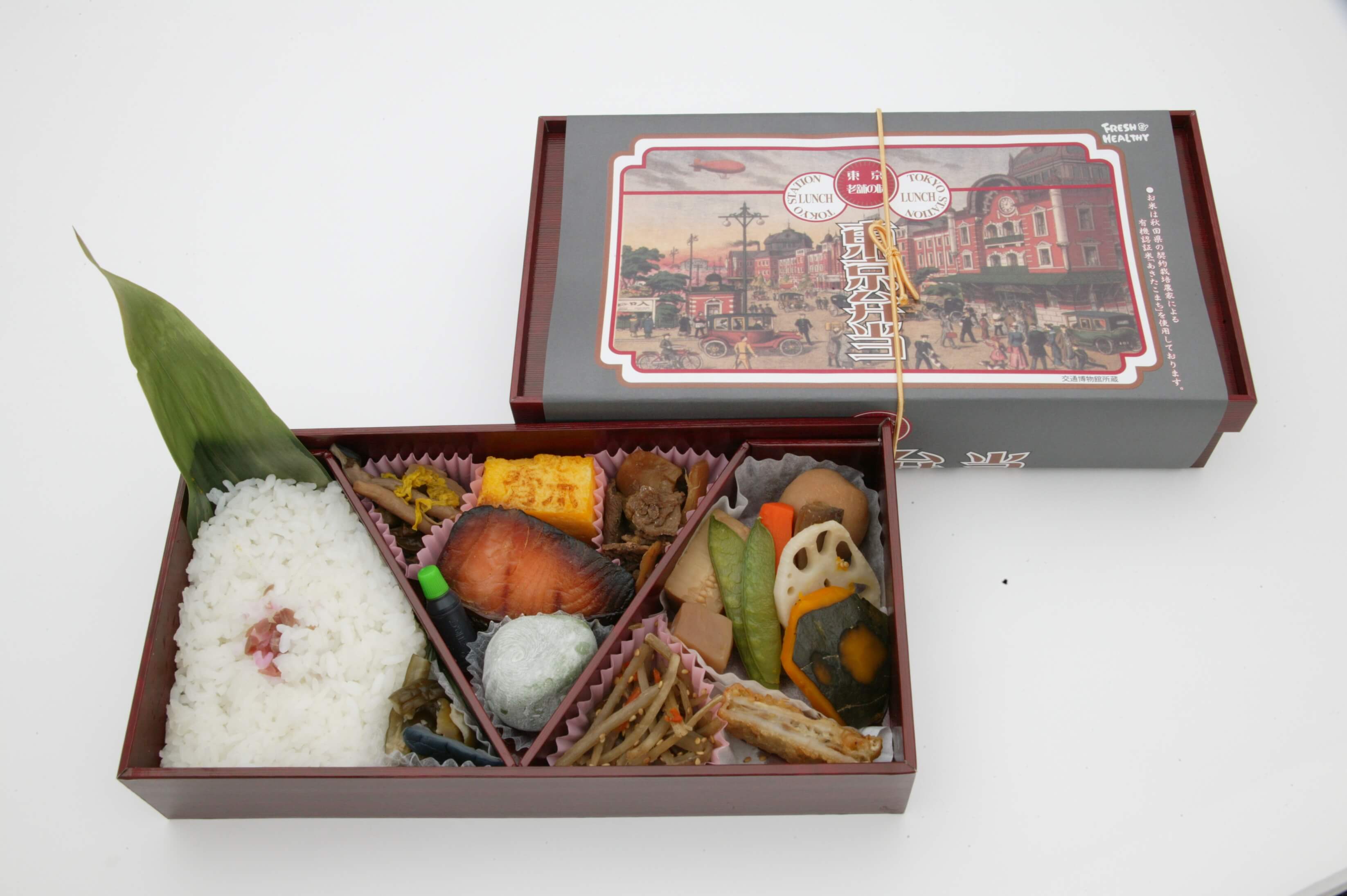 Tokyo station bento: Nihombashi Daimasu, Tokyo  ¥1,680  (price after tax)
If you're looking for the perfect Tokyo ekiben (station-bought lunch box), this is it! It comes in a box with a beautiful Tokyo station print and retro wrapping. The contents are also delicious and carefully made, packed with the special flavours of an experienced bento-making shop.
Pop by to discover these lunches and enjoy the holidays!
RELATED ENTRIES
Hanami in Japan 2020: Bite-Size Sushi Hanami Bento Lunch Box Releasing in Ginza

SHARI and SHARI THE TOKYO SUSHI BAR in Ginza, as well as CRAFT in Ariake, are releasing the perfect accompaniment to your hanami flower-viewing experience in Japan this spring: the "Hanami Roll Sushi Bento" lunch box, which consists of 36 bite-size sushi pieces made up of 12 different kinds of sushi. It will be available February 18 to April 30.

Hanami Roll Sushi Bento (36 Pieces/Serves 3-4): ¥4,500 (Tax Included)

As soon as your take the lid off this colourful assortment of rolled sushi, you'll find yourself reaching for your camera to snap a photo for Instagram. Each piece is 3cm in diameter and so is deliciously bite-sized. The line-up includes four new kinds of sushi rolls conceived for this release which use seasonal spring ingredients, like sakuradai cherry blossom sea bream, sakura ebi, rape blossoms, fuki giant butterbur, green beans, and moreーas well as eight other types of sushi that are popular classics at each of the three restaurants.

Shrimp Roll

From the four new rolls, we have the sakura ebi shrimp roll, which is served with a gorgeous cherry blossom colour. It's made with shibazuke pickles and vinegared rice, which gives it its colour, and contains, rape blossoms, okra, Chinese yam, and egg. The rape blossoms add a springtime bitterness to the sweetness of the sakura ebi, creating a wonderful combination of flavours.

Beef Butterbur Miso Roll

Then there's the sakuradai roll is wrapped with vinegared tobiko flying fish roe, okra, and cucumber, which is topped with sashimi-style sakuradai cherry blossom seam bream and salty cherry blossom leaves. The spring vegetable and tempura roll has shrimp and green bean tempura mixed with yuzu kosho paste; and finally, the beef butterbur miso roll, which contains beef rib seasoned in a sukiyaki style, finished with sesame seeds, and seasoned with butterbur miso.

The eight popular classics include the wagyu roll sushi seasoned with luxurious truffle oil, Italian roll, duck roll, salmon roll, spider roll (soft shell crab), and more. All of these varied picks go great with wine or champagne.

Hanami Roll Sushi Bento (9 Pieces): ¥1,200 (Tax Included)

The "Hanami Roll Sushi Bento" comes in various sizes. As well as the 36 pieces of 12 sushi types, there's also 18 pieces of 9 types (serves 1-2), and the 9 pieces of 9 types (serves 1).

Reservations are available until 15:00 the previous day. Order yours for your Hanami cherry blossom flower-viewing this year in Japan.

Information

Hanami Roll Sushi Bento

Available:

SHARI (TEL: 050-5357-5354) (Address: Mitsui Garden Hotel Ginza Gochome Floor 2F, 5-13-15 Ginza, Chuo Ward, Tokyo)

SHARI THE TOKYO SUSHI BAR (TEL: 050-5212-7574) (Address: ALBORE GINZA Floor 8F, 2-4-18 Ginza, Chuo Ward, Tokyo)

CRAFT (TEL: 050-5357-5353) (Address: CRAFT Floor 2F, 3-7-2 Ariake, Koto Ward, Kyoto)

Prices:

36 Pieces/12 Types (Serves 3-4 People): ¥4,500

18 Pieces/9 Types (Serves 1-2 People): ¥2,400

9 Pieces/9 Types (Serves 1 Person): ¥1,200

Reservations

Reservations can be made via telephone or in-store until 15:00 the previous day.

*Reservation Window: Telephone 10:00-20:00 / In-Store 12:00-22:30

*Depending on the ingredient stock, reservations may be made on the same day

*The Hanami Roll Sushi Bento is for takeaway only and cannot be eaten in the restaurant

Six Recommended Souvenirs You Can Buy At Tokyo Station

It is already summer! As people return to their families in the countryside or embark on a special trip with friends, Tokyo station is just a thriving hive of busy bees. That is why today we will be introducing you to a variety of general souvenirs that you can buy at Tokyo Station and take to your friends and family. 

Souvenirs for Visitors to Japan

Tokyo Station Hand Towel (SHARED TOKYO): ¥1,404 (after tax )    ※ GRANSTA-limited 

This hand towel is decorated with classic illustrations of Tokyo Station's reliefs and clematis flowers. The flowers portray the message: "happiness of travellers"

Furoshiki Patchin (SHARED TOKYO ) 1 set: ¥2,484 (after tax) 

This is a beautiful shaped piece of wood with four holes. When you wrap your bento lunch inside a cloth, this piece of wood comes in handy when tying the corners of the cloth together. In moments, you can turn a normal piece of cloth into a useful bag. When you are going on a trip and have lots of luggage, this will come in very handy. 

Character-themed Souvenirs

Suica Penguin O-mikuji Fortunes (TRAINIART TOKYO): ¥594 each (after tax)

Perhaps you are familiar with the Suica card, which is a form of rechargeable contactless card used to pay for train fares in Japan. For fans of the adorable Suica Penguin, which is the mascot of the card, this gift is a must. Peel off the sticker on the bottom and a red string will be revealed. Pull the string and your fortune will be revealed to you!

Unusual Souvenirs

Stained Glass-Style Bookmark (Neue ): ¥1,188 (after tax) 

How about a luxurious stained glass-style book mark? This would make the perfect gift for any bookworm. Just having this would make you excited to get reading.

Bullet Train Souvenirs 

TOKYO STATION SOCKS (Happy Socks): ¥972 (children )/¥ 1,620 (prices after tax ) ※GRANSTA-limited 

The pop-coloured socks are perfect for pumping energy through any child's feet! There are also socks for adults which come in more mature colours which are easier to colour coordinate. These socks are easy to put on and are a great way to add a touch of cuteness to your look. 

Electric Pen: E6 Series Super Komachi Shinkansen /Electric Car Pen E5 Hayabusa (Neue): ¥648 (after tax)

 Tip the pen and the bullet train will zip to Tokyo Marunouchi Station. There's no doubt that train fans and children would love to get this present. 

We hope this article helps you choose a souvenir on your next visit to Tokyo station.

Information

Tokyo Station City Official Website: 

Stop by the Golden Week fair at Gransta in Tokyo station for bento lunches, sweets and much more!

From Monday 22nd April to national holiday Monday 6th May 2019, there will be a Golden Week Fair held within Tokyo station. The fair will be held at Gransta shopping centre within the ticket gates and at Gransta Marunouchi which is located outside of the ticket gates. This is your chance to browse for the perfect gifts ranging from limited edition sweets, alcohol and general goods to bento lunches and small side dishes that are perfect for when heading on a trip. For 10 days only, Gransta will be filled with a variety of fair goods. As the national holiday Children's Day is approaching, there will also be sweets and small gifts available.

Baked Reiwa (10 cakes) ¥3,000 ※Limited number sold per day <Within GS/B1 ticket gates > Available:until 7th May

These cute cupcakes are sure to put a smile on your face without you even knowing! The icing designs include the Japanese characters for "Heisei" and "Reiwa", which are Japan's old and new era names respectively. There are also some cute animals designs and a round circle design that represents the sun!

Caffarel : Tokyo gianduja chocolate pie (contains 8)   ¥1,080 (tax included) <Within GS/B1 ticket gates>

Caffarel's gianduja chocolate pie is exclusive to Tokyo station! This is your chance to casually enjoy Caffarel's signature chocolate!

Kyou no gohan Wasai no kuni: Edokko bento ¥980 (including tax)  <Outside GS Marunouchi/B1 ticket gates>

These bento lunches are seasoned with traditional flavourings. You can enjoy sweet miso and anko karaage, Edo vegetables simmered in sake, and many other flavours used since Tokyo was called Edo.

Ginza Cozy Corner: Exciting suica penguin zoo (9 mini cakes included) ¥2,484 (tax included) ※ Only 50 will be sold! Available: 26th April ー 6th May

 These cute round egg cakes include designs such as the suica commuter pass penguin and adorable footprints!

Come browse the fair in Tokyo station and buy some amazing goods!

(C)Chiharu Sakazaki/JR East/DENTSU

Information

GRANSTA(グランスタ)

Address: JR Higashi Nihon Tokyo station, 1-9-1, Marunouchi, (basement floor 1/ floor 1 outside the ticket gates), Chiyoda, Tokyo

Opening hours:08:00 ー 22:00 (Open until 21:00 on Sunday and on the last day of Golden Week. )

※ Opening hours of some shops may vary.

※ Gransta shin-area opening hours: 09:00 ー 22:00

(Open until 21:00 on Sunday and on the last day of Golden Week. )

Website: https://www.tokyoinfo.com/shop/mall/gransta/

 

GRANSTA MARUNOUCHI(グランスタ丸の内)

Address: 1-9-1, Marunouchi Chiyoda, TokyoJR Higashi Nihon Tokyo station (basement floor 1 outside the ticket gates)

Opening hours:10:00 ー 22:00 (Open until 21:00 on Sunday and on the last day of Golden Week. )

※ Opening hours of some shops may vary.

Website: https://www.tokyoinfo.com/shop/mall/gransta_marunouchi/

Top 10 Best Souvenirs & Top 5 Best Bento Sold at Tokyo Station

The latest rankings have been announced for the Top 10 most popular souvenirs and Top 5 most popular bento sold at Gransta.

Gransta is an indoor shopping facility inside Tokyo Station. It is made up of two facilities: Gransta is in the B1 area beneath the Central Passage of Tokyo Station inside the ticket gates, while Gransta Marunouchi is outside the Marunouchi underground ticket gates. Shops there sell everything from freshly made bento to side dishes, exclusive sweets and confections and more. There's even the huge miscellaneous and cosmetics zone where a range of goods are sold.

The top rankings for souvenirs and bento are as follows.

Souvenirs 

1st Place: Tokyo Station Set of 10 Waffles (¥1,300)

Shop: R.L Waffle Cake

This set of waffles contain five types of waffles available only at Tokyo Station together with five of R.L Waffle Cake's popular waffles. It comes in colourful packaging with the Marunouchi station building illustrated on it. The waffles are packed with a bunch of different creams including custard cream, chocolate cream, matcha cream, strawberry cream and more.

2nd Place: Gin no Budo Chocolate Sandwich (Almond)

Price: 8 Set – ¥712 / 12 Set – ¥1,080 / 18 Set – ¥1,620 / 24 Set – ¥2,160

Shop: Gin no Budou

This popular delectable can only be purchased at Tokyo Station. The most the shop has sold in a day is over 50,000. It's a sandwich-like confection made with smooth and melty milk chocolate and white chocolate together with the shop's own hard and crispy chocolate nuts.

Bento

1st Place: Spanish Bellota Iberico Pork on Rice (¥1,100)

Shop: Eashon

Taking the No. 1 spot in the bento category is Eashon's consistently popular pork bento. It's made using only the best Bellota Iberico pork from Spain. It has maintained the most sales of any other bento in Gransta for 10 consecutive years. Its special quality comes from the melt-in-the-mouth fat and sweet and spicy sauce which goes well with the rice. You can also get completely new flavours when eating it with mustard. It's also served combined with ginger pickled in sweet vinegar, resulting in an array of flavours you won't tire from down to the last bite.

2nd Place: Jou Nigiri (¥1,550)

Shop: Tsukiji

This ten-piece sushi bento is made with fresh ingredients shipped directly from Takewaka Tsukiji. It is made in front of you by a sushi expert. The sushi includes medium fatty tuna, sweet shrimp, salmon, greater amberjack and more. It also comes with tamagoyaki.

*Please note that ingredients may change depending on stock.

The list includes a line-up of fantastic choices as gifts and souvenirs, so be sure to use it as reference.

Information

GRANSTA (Inside Ticket Gates)

Address: JR Tokyo Station, 1-9-1 Marunouchi, Chiyoda-ku, Tokyo

Opening Hours: 8:00am-10:00pm (Until 9:00pm on Sundays)

Website: http://www.tokyoinfo.com/shop/mall/gransta/

GRANSTA Marunouchi (Outside Ticket Gates)

Address: JR Tokyo Station, 1-9-1 Marunouchi, Chiyoda-ku, Tokyo

Opening Hours: 8:00am-10:00pm (Until 9:00pm on Sundays)

Eat All the Meat You Can at ecute Shinagawa's 'Shinagawa MEAT LOVERS' Event

Shinagawa Station is a convenient location for travel as not only do bullet trains arrive and depart there but it's also very easy to get to airports.

The Tokyo Meat Market takes place every October in Shinagawa which brings people flocking from afar to get their teeth stuck into the meat on offer. In line with this year's market, another event titled "Shinagawa MEAT LOVERS" will take place at ecute Shinagawa South from October 1 to 21.

Take a look below to see what you can expect to look forward to at the event.

Meat Sandwiches

TAMEALS Classic Burger w/Fries – ¥900 @ TAMEALS (ecute Shinagawa South)

This burger boasts a filling patty with an original bun made completely with whole grain flour that both hug together to make the perfect combination. If you're looking for a quality burger then don't pass up this opportunity. Served from 11:00am.

La Terre Hot Dog – ¥378 @ Boulangerie La Terrie (ecute Shinagawa South)

La Terre's hot dog is made with sausage from Kyushu that is completely free of preservatives and colouring agents. The rich, sweet and soft bread they use is made from 100% wheat flour.

Anshen Buffu (Roti & Pastrami) – Whole ¥1,188 / Half ¥594 @ PAUL (ecute Shinagawa)

This sandwich is made with PAUL's exquisite bread and is packed with roast beef and pastrami. The roast beef is combined with a horseradish sauce. The flavour goes perfectly with sake. Available at ecute Shinagawa only.

Meat Bento / Onigiri

Japanese Black Beef Bento – ¥2,650 @ Asakusa Imahan (ecute Shinagawa)

This luxurious bento set brings out the full flavour of its Japanese Black wagyu that can be enjoyed together as both sukiyaki and yakiniku. Available at ecute Shinagawa only.

Japanese Black Beef & Black Angus "W Black" Beef Hamburg Steak Bento – ¥1,380 @ MADE IN JAPAN Tsubame Grill (ecute Shinagawa)

Tsubame Grill's Hamburg steak is made with two kinds of 100% beef, clocking in at a hearty 160g. Experience its delicious flavour available just for this event. Available at ecute Shinagawa only.

Char Siu Yaki Onigiri  – ¥260 Each @ Onigiridokoro Kongariya (ecute Shinagawa)

This plump onigiri is topped with a cheddar cheese-covered char siu covered in a steak sauce. Available at ecute Shinagawa only.

Meat Deli

Basque Style Terrine – 1 Pack ¥650 @ Table Ogino (ecute Shinagawa)

A spicy patty made in the image of the Basque Country. It's packed with pig ear and tongue that give texture, pork, and chicken liver. The flavour of everything has been condensed into the patty for a richer taste.

Wagyu Sukiyaki Steamed Bun – ¥445 Each @ PAOPAO (ecute Shinagawa)

Enjoy the full flavour of Yamagata beef wrapped carefully into a steamed bun. Available at ecute Shinagawa only. Only 20 made per day.

Japanese Beef With Seasoned Oyster Mushrooms (100g) – ¥798 @ RF1 (ecute Shinagawa South)

This beef platter lets you enjoy the full delicious flavour of meat. The beef goes perfectly with the salt and peppers oyster mushrooms. Limited quantity available.

Sweets

Yanesen Grape Anmitsu – ¥604 @ Funabashiya (ecute Nippori)

These sweet treats are a collaboration with Vegeo Vegeo. They are pione grapes covered with anmitsu―syrup covered anko―from Yanesen. Available at ecute Nippori only.

Kawane Sencha Siberia Cake – ¥648 @ Dalloyau (ecute Nippori)

This cake is made in collaboration with Thés du Japon which opened in Yanaka, Tokyo in August this year. The cake is filled with a mousse made with Kawane sencha tea and an anko jelly. Available at ecute Nippori only.

Imomitsu Roll Cake – ¥480 Per Slice @ Drip Mania (ecute Nippori)

This product is made in collaboration with Amendoroya, a shop specialising in imomitsu – honeyed potato. They have taken Drip Mania's popular roll cake and made it more delicious with purple sweet potato. Available at ecute Nippori only.

A campaign is also being held to get people walking around the district of Yanesen. It is taking place in collaboration with products from shops around Yanesen as well as products in ecute Nippori using ingredients from places around Yanesen. Get your hands on the map and enjoy walking around the neighbourhood.

As well as the delicious meaty goodness listed above there's plenty more where that game from, so head to Shinagawa this October.

◼︎Information

Shinagawa MEAT LOVERS

Running: October 1, 2018 – October 21, 2018

Yanesen Campaign

Running: October 1, 2018 – October 21, 2018

ecute Shinagawa・Shinagawa South

Address: 3-26-27 Takanawa, Minato Ward, Tokyo

TEL: 03-3444-8910

Website: https://www.ecute.jp/

Souvenirs & Bento: Taste the Flavours of Tohoku at ecute's Plus Tohoku Fair

It can be tough picking out gifts and souvenirs, especially in Japan.

In this article you'll find some great choices at 4 branches of the train station shopping complex ecute where they will hold the Plus Tohoku Fair from September 3 to 24. Get your hands on a range of food gifts and souvenirs from fruits to meat and fish, all made with ingredients from the Tohoku region of Japan.

Recommended Gift: Fruits

Fig Tart – ¥594 (Tax Included) / le billet (ecute Tokyo)


This tart is made with sweet and refreshing figs from Fukushima Prefecture. It's made with a custard containing cream cheese. Available at ecute Tokyo only.

Raihou Strawberry Chiffon Sandwich – ¥700 (Tax Included) / OVO (ecute Omiya)

This fluffy chiffon cake sandwich is made with the finest quality eggs and is filled with raihou strawberries from Miyagi Prefecture which are known for being a luxury. Available at ecute Omiya only.

4 Fruit Sandwich – ¥540 (Tax Included) / Sandwich House Marchen (ecute Ueno, Tokyo) & Sandwich Café Oishii Marchen (ecute Omiya)

This colourful and hearty sandwich is made with a variety of fruits including La France pears from Yamagata Prefecture and apples from Aomori Prefecture. Only 30 made per day.

Shine Muscat Grape Éclair – ¥320 (Tax Included) / Dolce Felice (ecute Ueno)

When you bite into this éclair your mouth is filled with the refreshing sweetness of the fresh cream mixed with fresh fruit Shine Muscat grapes. Only 30 made per day served after 11:00am. Available at ecute Ueno only.

Baked Apple Tart – ¥1,480 (Tax Included) / Andeli (ecute Omiya)

This limited edition autumn tart is packed with Jonathan apples from Yamagata Prefecture. Only 16 available per day. Available at ecute Omiya only.

Goro Goro Kurenai no Yume Apple Pie – ¥1,296 (Tax Included) / Rapoppo (ecute Ueno) & Rapoppo mini-on (ecute Omiya)

Kurenai no yume is a new variety of apple grown in Akita Prefecture that's a deep red all the way through the peel to the meat. This apple has been taken and made into a deliciously plump pie. Only 12 made per day.

Recommended Gift: Meat

Iwate Yamagatamura Shorthorn Beef Bento – ¥1,580 (Tax Included) / Daichi wo Mamoru Deli (ecute Tokyo)

Shorthorn makes up only 1% of the beef share in Japan. This carefully brings out all the flavour of the red meat which comes from cows that graze from spring to autumn and are raised carefully. Available at ecute Tokyo only.

 

Yamagata Beef Shigureni & Soboro – ¥1,000 (Tax Included) / Tsukada Nojo OBENTO&DELI (ecute Ueno) & Tsukada Farm Tokyo (ecute Keiyo Street)

This bento is made with beef carefully selected  by Yamagata beef experts. The sweet and hot shiguredani complements the dish perfectly.

Yamagata Pork & Three Mushroom Cream Stew – ¥1,060 (Tax Included) / Madame Bro (ecute Keiyo Street)

The pork in this dish comes from the famous Hirata Farms in Yamagata Prefecture. It's topped with three kinds of mushrooms. Available at ecute Keiyo Street only. Served from 11:00am-10:30pm.

Seasonal Vegetable Katsu & Hirekatsu Bento – ¥1,150 (Tax Included) / Hirata Bokujo (ecute Tokyo)

This bento comes with edamame from Yamagata and mozzerella cheese wrapped in pork from Hirata Bokujo. It also comes with pork fillets. Available at ecute Tokyo only.

Beef & Seafood Spicy Bento – ¥2,380 (Tax Included) / Kakunoshin TSB (ecute Keiyo Street)

Enjoy Japanese Black beef and oyster from Iwate Prefecture in this one bento. It comes with homemade warishita making it a very delicious bento! Only 20 made per day. Available at ecute Keiyo Street only.

 Tohoku Wagyu Rice Balls – ¥390 each (Tax Included) / Omusubi Momochi (ecute Keiyo Street)

These rice balls are made luxuriously with wagyu beef from Tohoku. Only 20 made per day.

Recommended Gift: Fish

Bigeye Tuna & Sea Urchin Eggs Hokkai Don – ¥1,500 (Tax Included) / Sushi Rikizou (ecute Ueno) & Uoriki Seafood Sushi (ecute Keiyo Street)

This luxurious bento is made with raw bigeye tuna from Miyagi Prefecture and sea urchin eggs from Iwate Prefecture.

Hiraizumi Uni Gohan – ¥1,200 (Tax Included) / Furusato Ryori Fukuyoshi (ecute Tokyo) & Miyage Kasen (ecute Ueno)

This bento includes eel steamed in a specially made soy sauce dashi, chewy salmon roe from Sanriku, and kukiwakame seaweed which plays a major role in bringing out the flavours of the ocean in this dish.

Mackerel Sushi (4 Pieces) – ¥1,296 (Tax Included) / Wakahiro (ecute Ueno)

These thick mackerel sushi pieces still have the juicy fat on them and are made with vinegar. The kombu from Hokkaido brings out the deliciousness of the mackerel.

Coho Salmon & Sea Urchin Egg Bento – ¥1,167 (Tax Included) / Chirashi Sushi Kanzan (ecute Ueno)

This bento comes with a large serving of salmon from Miyagi Prefecture topped with lots of sea urchin eggs. Only 30 made per day. Available at ecute Ueno only.

Baby Scallop Pollack Cream Doria – ¥800 (Tax Included) / Humming Cafe By Plame Collome (ecute Ueno)

This dish is small but full of flavour. It's packed with lots of sweet baby scallops from Aomori Prefecture and made with a white sauce accented by walleye pollack roe and melted cheese. Available at ecute Ueno only.

Head to one of these four ecute branches where this food from Tohoku and more is set to gather!

■Information

Plus Tohoku Fair

Locations: ecute Omiya, ecute Ueno, ecute Tokyo, ecute Keiyo Street

Running: September 3, 2018 – September 24, 2018

ecute Omiya

Address: 630 Nishikicho, Omiya Ward, Saitama, Saitama Prefecture

Opening Hours: 8:00am-10:00pm (*Select shops not participating)

ecute Ueno

Address: 3F JR Ueno Station, 7-1-1 Ueno, Taito Ward, Tokyo

Opening Hours: 8:00am-10:00pm (*Select shops not participating)

ecute Tokyo

Address: 1-9-1 Marunouchi, Chiyoda Ward, Tokyo

Opening Hours: 8:00am-10:00pm (*Select shops not participating)

ecute Keiyo Street

Address: 1-9-1 Marunouchi, Chiyoda Ward, Tokyo

Opening Hours: 8:00am-10:00pm (*Select shops not participating)

ecute Website: https://www.ecute.jp

Recommended Bento Meals & Finger Food from Tokyo Station

Establishments inside Tokyo Station and the surrounding area are preparing lots of bento and finger food that are perfect for outings in Japan this spring. The plaza in front of Marunouchi Station, as well as hotels, are also hosting a series of events and plans until the end of May. If you're considering an outing in Japan this season, then consider dropping by Tokyo Station.

Bento Sold for Over Half a Century

These bento boxes have a long history spanning over 50 years since the first sales.

Chicken Bento – ¥900 (Tax Included) / Nihonbashi Daimasu

Since sales began in 1964, the chicken bento is loved by many people. It's a classic mix of tomato flavoured rice and chicken karaage. Oldies are long fans of this one.

Ishikari Shake Meshi – ¥1,030 (Tax Included) / Sapporo Tachiuri Shokai

This bento dates back to 1923 and has been a familiar flavour at Sapporo Station for 95 years. Salted salmon roe is put onto salmon rice. It's a colourful and vivid meal.

Gransta & Gransta Marunouchi

This list includes a bento perfect for the Golden Week season as well as finger food that can be enjoyed even if you're busy or in a hurry.

Salted Nigiri – ¥1,500 (Tax Included) /

This sushi is eaten refreshingly with seaweed salt and sudachi. The fresh flavour of the fish covers your entire palette.

*Sold at Gransta only. Available April 23–September 30.

Red Brick Pork Kabayaki – ¥1,180 (Tax Included) / Sasahachi

This pork kabayaki bento is inspired by the red bricks at Marunouchi Station. When you take off the lid the scent of the food wafts around your nose and will make you want to reach for a beer. It can also be shared with families or groups or people.

*Sold at Gransta only.

Ecute Tokyo

Here's a selection of recommended bento for trips out as well as some popular sake.

Fukagawa Bento – ¥1,200 (Tax Included) / Sushi Zanmai

Ecute Tokyo's number one most sold bento. It's piled with plenty of sweet and salty boiled clams.

Yokitori Bento – ¥1,150 (Tax Included) / Kushikura

A popular bento containing 3 types of skewers – negima, thigh and tsukune – and minced chicken with soy sauce served on rice.

Popular Sake

THE Karuizawa Beer – ¥300 (Tax Included) / Fukuzen

This refreshing beverage is made with famous cool water from Mount Asama in Karuizawa, Nagano Prefecture. It's delicious however many times you take a sip. Brewed craft beer.

Montlacs Cup Wine (Red/White) – ¥297 (Tax Included) / Nicolina

This wine is brewed and matured from fresh and fruity grapes from Nagano. It comes with a cup so you can enjoy drinking it on the train or on the go too.

There's lots of other varieties of bento lined up too! If you're heading out then be sure to stop by Tokyo Station first to stock up.

▼Check out these articles too

"Bento, Sweets and Gifts Arriving at GRANSTA in Tokyo Station for a Limited Period"

https://www.moshimoshi-nippon.jp/103708

"MOSHI MOSHI BOX staff recommends 6 Tokyo souvenirs!"

https://www.moshimoshi-nippon.jp/92277

■Informtion

Tokyo Station City Official Website

Feel Like You're Inside a Magical Picture Book at "Ehon no Naka no BAR" in Tokyo

NAKED Inc. and Namco Limited have teamed up to open a non-alcoholic bar that takes on the appearance of a picture book. Ehon no Naka no BAR opened on February 28th and will stay open for a limited period of time.

The bar is conceived around the concept of your movements initiating events that move you to the core. Aimed at working women in their 20s and 30s, they serve food, drink and healing.

Themed on a mysterious forest locked inside of a picture book, NAKED bring the world of the book to life with projection mapping and sensing technology. The interactive images projected change with people's movements."

Place your hands on the table to bloom flowers or hold them out to create ripples in a lake. When you put your plate on the table, birds will approach you. And there's plenty more where that came form. Enjoy a 'mocktail' (non-alcoholic cocktail) and you're plunged into an immersive digital world.

Immersive yourself in an extraordinary environment that'll really have you thinking you're inside of a picture book.

■Information
Ehon no Naka no BAR
Address: Tokyo Station South Tower, Cafe Superiore, Gran Tokyo South Tower B1F, 1-9-2 Marunouchi, Chiyoda-ku, Tokyo
Opening Hours: Weekdays 11:00-23:00 / Weekends & Holidays 11:00-21:00
No Fixed Holidays.
TEL: 03-6891-8765
Website: https://www.namco.co.jp/cafe_and_bar/ehonnonaka/

MOSHI MOSHI BOX staff recommends 6 Tokyo souvenirs!

Tokyo Station is a station used by many tourists. When you visit Tokyo, of course, you will want to buy some souvenirs. But you may wonder, what souvenirs are "good" Tokyo souvenirs?

In this article, the staff of MOSHI MOSHI BOX Harajuku Tourist Information Center, who love to travel, will introduce to you some recommended souvenirs which can be bought in and around Tokyo Station.

"Ohana no Babaroa Ball Cake"recommended by our Spanish staff, Luki.

I am sure that this gift is suitable to be given to women who loves flowers.

The product uses eatable flowers and has a gorgeous looking/splendid taste.

"Torotoro Yaki Cup Cheese" recommended by our Hong Konger staff, Minimal.

A very popular product where some days about 4,000 pieces are sold in a day! The combination of the melty cream cheese and crunchy cookie tart is awesome.

You can enjoy the product by heating it or cooling it.

"Siretoco Doughnut"recommdend by our Chinese-speaking staff, Banako

Many cute animals are place on top of a doughnut and of course, the doughnuts taste good.

Each animal is very cute and there are Tokyo Station-limited variations!

"Tokyo Banana – Banana Yogurt Flavor" recommended by the Miss ID Semi-Finalist, Midori.

Did you know that a new version of Tokyo Banana (a very famous sweets item of Tokyo), a collaborative item with the panda cub in Ueno Zoo called Xiang Xiang, was released!?

The flavor of the product is banana & yogurt. Eating this item will feel a bit "mottainai"to eat. That is, it looks too cute to be eaten because the illustration of the panda cub is so cute!

"Gomatamago" recommended by our English-speaking staff, Ellie.

This sweets item is a standard souvenir of Tokyo. The black sesame paste, and black sesame jam are wrapped inside a castella sponge cake and the whole cake is coated with a white chocolate.

The splendid harmony of the 4 layers is addictive. The shape of the product which looks like an egg is very cute♡ The name, Gomatamago means, "goma" = "sesame" and "tamago"="egg."

"Tokyo Hiyoko" recommended by the director of MOSHI MOSHI BOX, Shiota.

A standard Tokyo souvenir dessert comprised of a sweet bean jam wrapped in a soft dough.

Don't miss the various of flavors which are sold for a limited time offers!

How did you like our MOSHI MOSHI BOX staff recommended Tokyo souvenirs? Please refer to this article when you are not sure which Tokyo souvenir to buy. Let's have fun in Tokyo!

6 Tastiest New Year's Confectioneries at Tokyo Daimaru for 2018 Year of the Dog

Daimaru is one of Japan's most well-known department chain stores that sells everything from clothing, accessories, food and more. The Tokyo branch can be found at Tokyo Station. Every year you see lots of people scrambling to seek out a Tokyo gift on the ground floor and first floor of the shop where they sell both traditional Japanese and western confectioneries.

2018 is the Year of the Dog on the Chinese zodiac, which is good news because a whopping 50 dog-themed gifts have been announced at Daimaru to welcome the New Year. Whether you're looking for a New Year's gift or something for your loved one, we're going to show you the best 6 items on the list and the stores selling them, so you know where you need to go in Tokyo Daimaru.

Mozoroff: New Year's Welcome Denmark Cream Cheese Cake (Dog) – ¥1,080

Mozoroff's popular cheesecake has had a little makeover to make it appropriate for 2018: a dog version!

Minamoto Kitchoan: Ema Fukushourai – ¥1,296

This set comes with doggy design black soy beans stuffed in sweet bean jelly and melt-in-the-mouth New Year's dog sweets (for you, not your dog!) Fukushourai means they will bring you good fortune, and they come with an ema which is a Japanese wooden plaque.

Kanou Shojuan: Kanou Shojuan Shichifukujin – ¥2,700

The shichifukujin are the seven gods of luck and good fortune. This little set contains seven different New Year's good-luck confectioneries such as porgies, lotus root, and chestnut natto. Best of all, they come boxed in the takarabune, the treasure ship that bears the seven lucky gods.

Ryoguchiya Korekiyo: New Year's Sweet Bean Jelly Gyodaika (2 incl.) – ¥1,836

Contains a set of 2 'saogashi,' a rectangular shaped Japanese sweet, to welcome the New Year.

Funabashiya: New Year's Saichuu (Dog) – ¥1,850

Comes with a set of 4 dog-shaped and 2 round snacks, all filled with large-grained adzuki bean paste from Hokkaido.

Toraya: New Year's Sweet Bean Jelly – ¥3,240

Packaged in small limited edition packaging, the heart and skill of Toraya breathes through these sweet bean jelly treats.

We hope you get your hands on some year of the dog goodies for the New Year!

"Going-back-home"season souvenirs! Ranking of souvenirs in Tokyo!

The souvenir dessert ranking "Tokyo Station Limited × This Year's New Products" was announced by Tokyo Station City (Researched by The Tokyo Station City Committee).

First place: NY PERFECT CHEESE

This is a very popular dessert which sells about 15,000 packs per day. It is a dessert where you can enjoy the taste of cheese along with langue de chat(cat tongue) which has gouda cheese inside and white chocolate which has cream and cream cheese inside.

Second place: Yakitate Press Butter Sandwich

One piece / 170 yen (tax included) (Press Butter Sandwich / South Exit)

This is a very popular sweets item which was released in April of 2017 and sold about 150 thousand pieces to date. The product is only sold at the shop inside Tokyo Station and you can buy freshly baked product. When one eats this box-shaped crunchy cookie the thick and creamy butter- cream and the slightly salty butter-caramel melts inside one's mouth.

Third place: Pudding Marble Chocolate Suica

16 pieces: 756 yen (tax included) (Pensta/Yaesu South Exit – beside the vending machine)

A marble chocolate shaped like the penguin printed on Suica cards. The case of the chocolate has a sticker of Suica on it. It is recommended for those of you who want to buy a unique souvenir.

Fourth place: Cookie Package

20 pieces Station-limited Package: 1,857 yen (tax included) (Tokyo Milk Cheese Factory/Keiyo Street)

Two packages including 10 cookies (salt & camembert cookie / honey & gorgonzola cookie) are wrapped with the Tokyo Station – Marunouchi limited packaging. This great variety of cookies will for sure make anyone happy to receive this gift.

Fifth place: Welcome☆TOKYO

1,580 yen (tax included) (Shiretoko Doghnut/Keiyo Street)

A "decoration doughnut" which was created based on the motif of the historical red bricks used in Tokyo Station – Marunouchi. The product comes with three unique doughnuts. The cute look of the product is gaining popularity.

Sixth place: Suica no Penguin Korokoro Cube

324 yen (tax included) (Waffle/cake specialized store R.L/GRANSTA)

"Korokoro Waffle Cube" is a popular baked dessert with sales of more than one million pieces per year. "Chocolate Caramel"has rich caramel textured chocolate chips inside. This sweets item is placed inside a cube-shaped box with an illustration of Suica's penguin.

Seventh place: Tokyoeki Monaka

Six pieces: 1080 yen (tax included) (Miharado Main Store / GRANSTA)

This is a standard dessert of an established shop. The monaka (Japanese traditional dessert) of an established Japanese dessert shop which was opened in 1877 is very simple and sophisticated. The product does not use any additives and is a superb product where you can enjoy the sweetness and scent of the ingredients. The package of the product has an illustration of Tokyo Station – Marunouchi on it.

Eighth place: Gin no Suzu Sandwich Pancake Strawberry

297 yen (tax included) (Colombin / GRANSTA)

A sandwich-shaped, waffle pancake which has strawberry cream and fresh strawberries in it. "Matcha & Anko (sweet red bean paste)" is also recommendable.

Ninth place: Wa Rusk (Tokyo Station – Marunouchi package)

Ten pieces – 650 yen (tax included) (Waraku Beniya/ecute Tokyo)

The package of this "ecute Tokyo"-limited product has the design of Tokyo Station – Marunouchi. "Wa Rusk" uses rich tasting cultured butter.

Tenth place: Tokyo Custar

Six pieces: 2,700 yen (tax included) (ARDEUR / GRANSTA)

This is a rich-tasting custard pudding using raw cream. This pudding is softly boiled, so you can enjoy both the hard part and the soft part.

Tokyo Station is gathering much attention nowadays with its "Marunouchi Station Open Area" which was renewed on the 7th of December. Let's check out the souvenirs of Tokyo Station.

AI×ART. "Shisen de Hana Saku Art Ten" produced by Naked will be held in Tokyo Station

Naked will hold an exhibition titled, "Shisen de Hanasaku Art Ten" utilizing the latest AI technology, NEC the WISE*1.

The collaborative art works produced by NEC the WISE will be exhibited at the Gyoko Access Tunnel connected to Tokyo Station from the 13th of November 2017 (Mon.) to the 26th of November.

 "Shisen de Hana Saku Art Ten" is an experience-base event where the art works utilizing AI alters when viewed from different angles.

The scenes where flowers grow, and butterflies flutter around will be presented through the art works. A world where many forms of life connect to each other can be seen.

Precise art works are created based on Japanese painting styles. Colorful and lively stories such as flowers blooming and growing will be presented.

 The exhibition will be held at Gyoko Access Tunnel connected to Tokyo Station. Let's experience this new form of art at the entrance to Tokyo.

◼︎Information

Shisen de Hana Saku Art Ten

Address: Gyoko Access Tunnel connected to Tokyo Station (Marunouchi, Chiyodaku, Tokyo)

Date: 2017,11,13 (Mon.) to 11,26 (Sun.) 11:00 to 19:00

URL::http://naked-inc.com