Hand drip tea speciality shop Tokyo Saryo reopens Ochazuke stand for limited time only!
Tokyo Saryo was the world's first ever hand drip tea specialist shop. This year, they're celebrating the first tea of the season with the reopening of Ochazuke stand Tokyo Saryo. The Ochazuke stand was a big hit last year, and this year it will be open for a three month period from Wednesday 24th April to Wednesday 31st July.
Ochazuke is a Japanese dish that every Japanese person must have had at least once in their life. For many, it is a normal option for a light breakfast that you can make at home. It's just green tea poured over cooked rice. Simple! However, in recent years, replacing the green tea with dashi stock has become the most popular form of this breakfast. The Ochazuke stand hopes to encourage people to use green tea for their ochazuke in their daily lives more often by creating an original ochazuke dish which really carries the flavour of green tea. The recipe has been specially made to fit in with modern daily lifestyle.
This ochazuke is sprinkled with lots of green tea so you can really enjoy "eating" tea! Soft sprouting tea leaves that resemble the appearance of nori seaweed are collected and ground into a powder called tencha. This tea remains in its unground form of matcha. Pour water over the original green tea powder and the fragrance of the tea will be released!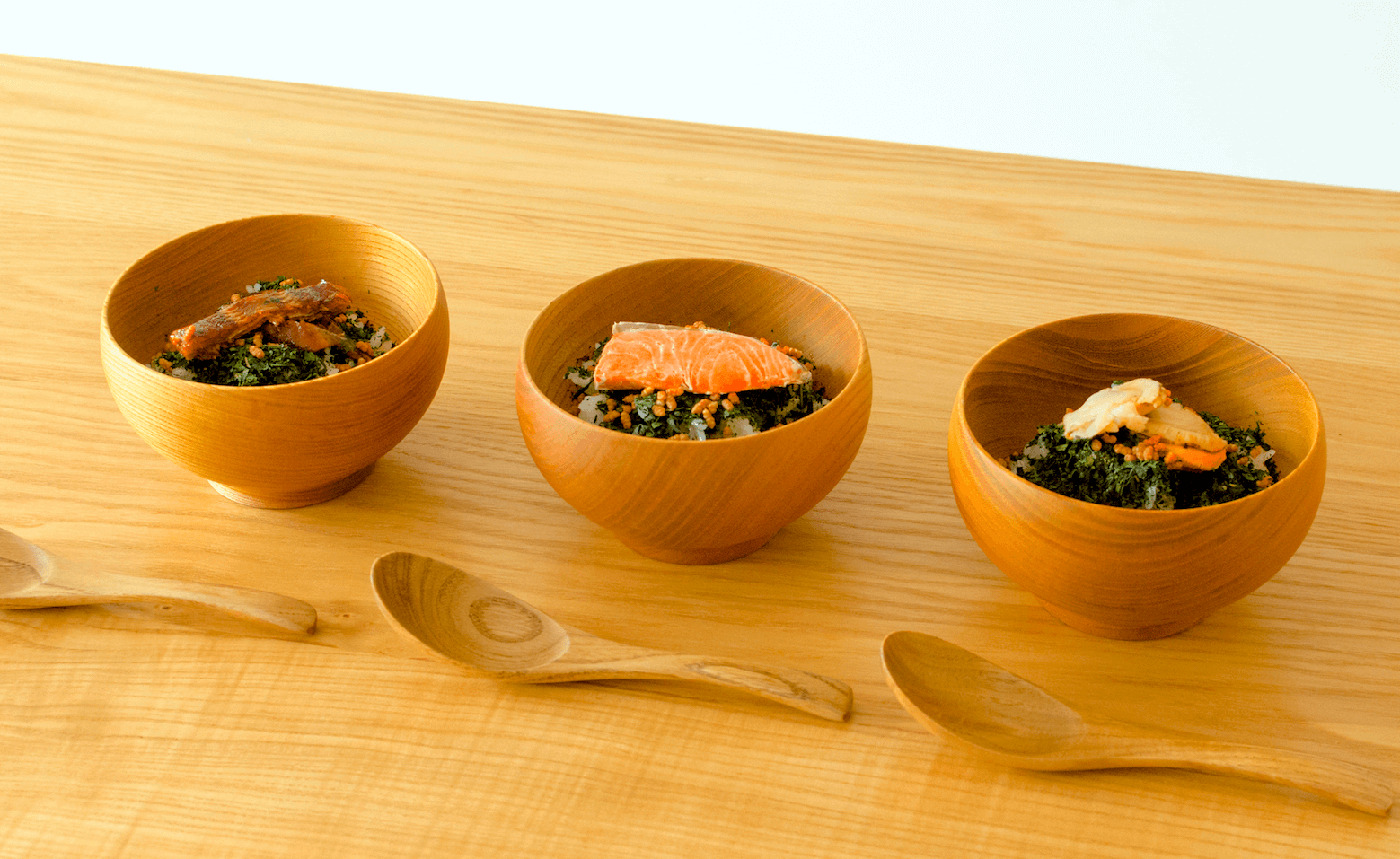 Teahouse original ochazuke: Eel ¥500 Teahouse original ochazuke: Salmon ¥500
Teahouse original ochazuke: Scallop ¥500  Teahouse original ochazuke: Plum ¥500 (*tax included in prices stated)
 You can also add olive oil to your dish afterwards for just ¥50.
Order Tokyo Saryo's hand drip tea on top of your order (+¥150) and you will be presented with the first tea of the season that uses tea leaves freshly collected from Kagoshima. The leaves were collected on 7th April 2019 and a special recipe is used to make this tea.
It's not just tea they serve here! As an important base flavour, the stand also serves up dashi. This is made by combining bonito fish flakes and kombu kelp sourced from Makurazaki to produce a high quality and delicious flavour.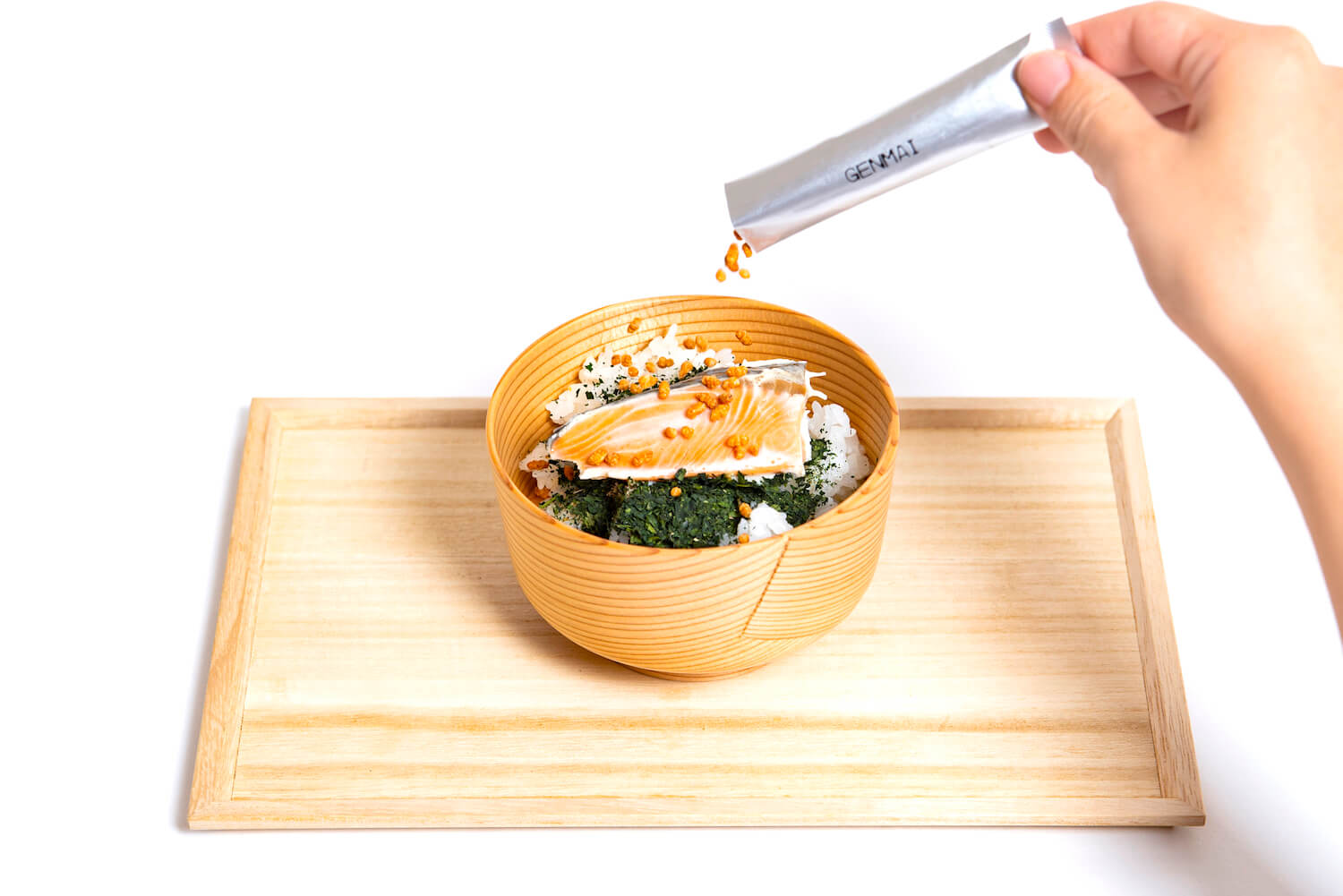 You can also choose to add a topping of Nicomaru Genmai which is made from brown rice. This is very popular among adults as it adds a luxurious fragrance to your meal.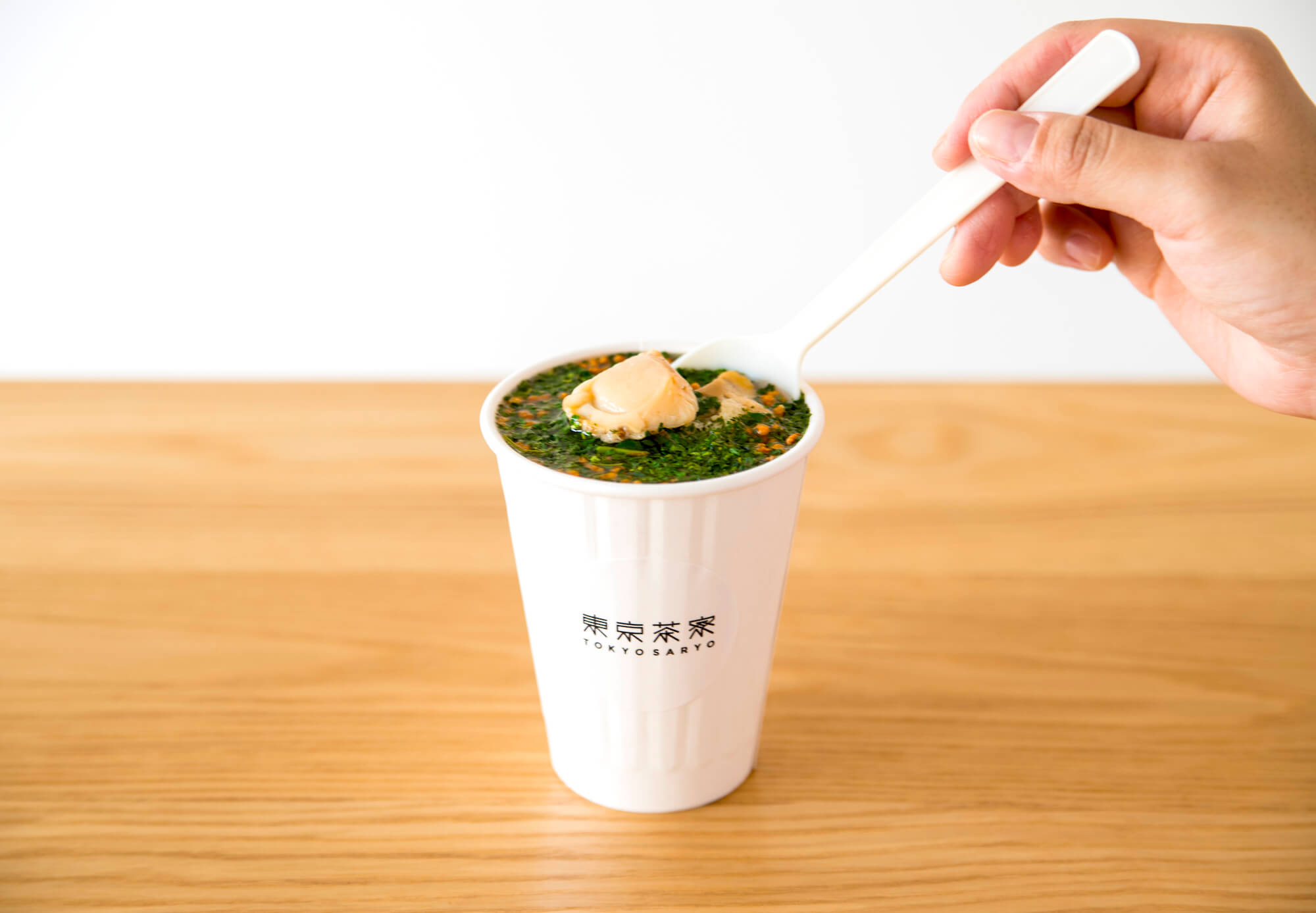 You can eat in or take out for the same price. Every day, sales will end when they run out of rice, so get there as fast as you can!
Information
Ochazuke stand Tokyo Saryo (open for 3 months only)
(お茶漬けスタンド 東京茶寮)
Address: 1-34-15, Kamiuma, Setagaya, Tokyo
Running: Weds 24/04 ー Weds 31/07 2019
Opening hours: Weekdays ー 13:00 ー 20:00 /Weekends & national holidays ー 11:00 ー 20:00
Access: 7-minute walk from Sangenjaya station south exit B (Den-en Toshi line).
Closed: Mondays (Closed on Tuesdays if the previous day was a national holiday).
Open during Golden Week!
Official website: http://www.tokyosaryo.jp/
RELATED ENTRIES
FUKUCHA to Offer Limited-Time Strawberry Desserts with Uji Tea Pairings

FUKUCHA Teahouse, a Fukujen cafe in Kyoto, will start a limited-time Strawberries and Uji Tea Fair on January 8, 2022. Last year's Matcha fair was incredibly popular, and certain items will also be available again in 2022. The new menu includes a strawberry version of the popular Herbal Tea Pairing Set, making it even more fun and elegant! Guests can enjoy flavorful Uji green tea along with a number of tasty strawberry treats. 

Mont Fraise: ¥1,150

Mont Fraise means 'mountain of strawberries' in French. This dessert is made with thin white chocolate and sponge cake soaked in matcha syrup with matcha cream and strawberries covering every inch. It is also served with a green tea chocolate sauce. 

Strawberry Pairing Set: ¥1650

The strawberry version of the popular Herbal Tea Pairing Set on the regular FUKUCHA menu.
・Ginger Blend Genmaicha and Strawberry Cheese Tart
・Hibiscus Blend Hojicha and Strawberry Chocolate Bonbons
・Cinnamon Blend Twig Tea with Strawberry Cream
・Peppermint Blend Twig Tea with Large Strawberry

Marscapone Strawberries: ¥1450

Using 10 strawberries, this parfait is designed to look like a herbarium. Putting a spoon into the light mascarpone cream will reveal the bright green color of the matcha chocolate sauce.

Information

Strawberry and Uji Tea Fair

Running: January 8 – May 15, 2022
*Limited to 10 Servings per day.

Official Site: https://www.fukujuen.com/

Wakura Onsen in Ishikawa Prefecture to Hold Special Illumination, Luxurious Tea Time

The Wakura Onsen Tourist Association is sponsoring a new project to illuminate Seirinji Temple, a nationally registered cultural property. Along with this light show, guests can enjoy a luxurious tea time starting on January 8, 2022. This year, the pavilion and garden will be lit up again, and the entrance will be decorated with traditional local paper lanterns. 

The historic property was built in 1909 as a resting place for Emperor Taisho. Only two such buildings exist in Japan: one in Hamada City, Shimane Prefecture, and the other at Wakura Onsen. Both were registered as Tangible Cultural Properties of Japan in 2017. 

 

Last year, the area was photographed for posters and pamphlets as part of the 'Japanese Beauty Hokuriku' campaign organized by JR East, JR West, and the Central JR Railway.

Each Saturday evening through February 26, guests will be invited to enjoy a different kind of atmosphere while enjoying a very fancy tea time. The program has been very well received by visitors, so it shouldn't be missed!


The light-up of the temple and garden, with its slowly changing colors, will transport guests to another world. The entrance to Seirinji Temple will be redecorated and lit up, and a pathway of lights will be created from the gate to the entrance of the pavilion using paper lanterns.

Information

Seirinji Temple Illuminations & Luxury Tea Time

Running: Saturdays from January 8 – February 26, 2022 

First Seating: 17:00  

Second Seating: 18:00

Address: Seirinji Temple, Wakura Onsen (61 Wakuramachi, Nanao, Ishikawa)

*Available for guests of Wakura Onsen

Official Site: https://www.wakura.or.jp

Three PEANUTS Collaboration Tea Cans Available From Senchado Tokyo

Single-origin Sencha speciality store Senchado Tokyo will be collaborating with PEANUTS for the PEANUTS ~Look To Tomorrow~ limited event, held between August 11 and 24, 2021.

"We're All Friends" Theme

"We're All friends" is the theme of the PEANUTS ~Look to Tomorrow~ collab, with PEANUTS & Friends themed goods available to purchase. Senchado Tokyo offers "teatime with friends" and "a solo teatime."

The collaboration has been produced and designed to offer a fun teatime at home, with joy in every option.

The collaboration item designs feature Snoopy reading while drinking tea, Snoopy relaxing in an empty cup, and Charlie Brown enjoying some tea while listening to records.

PEANUTS Collaboration Single-Origin Sencha Can: ¥1,977 (Tax Included)

PEANUTS Collaboration Hojicha Can: ¥1,836 (Tax Included)

PEANUTS Collaboration Genmaicha: ¥1,944 (Tax Included)

The Sencha is made using single-origin blend Uji Midori from Kyoto, while the Hojicha is made with stems shallowly roasted in far-infrared to bring out a dazzling fragrance. The Genmaicha blend uses single-origin Saemidori and brown rice.

Whether you're relaxing with a cup of tea or enjoying a toast with somebody precious, why not invite Snoopy to join your teatime?

。

Sendagaya's Japanese Tea Cafe Hachiya Reopens After Renovations

Hachiya, a Japanese tea cafe located in Setagaya, Tokyo, reopened on June 28 after undergoing renovations.

Handmade onigiri rice balls

Seasonal fruit anmitsu with Japanese tea set

Hachiya offers a new way to enjoy Japanese tea, serving it in a range of styles such as carbonated, as a tea latte, in smoothies, and more. It's located in Setagaya, a stylish and relaxed part of Shibuya that's surrounded by trees and plants and has become more talked about in recent years. Alongside the cafe's reopening, it has also introduced new items to the menu such as onigiri and animitsu which can be enjoyed together with a cup of tea.

Matcha with confections

Ice cream available in four flavours: vanilla, nanko-ume, sobacha, and kusa mochi

Other new menu items include a set of matcha and confections as well as four different ice cream flavours, all of which go perfect with Japanese tea.

The cafe has incorporated a new lightning system and has also introduced a special coating that uses photocatalysis which can eliminate up to 99% COVID-19, allowing for guests to enjoy their time there safely.

Information

Hachiya

Reopening: June 28, 2021

Address: 3-2-10 Setagaya, Shibuya-ku, Tokyo

Opening Hours: 8:30-18:30 (Last Orders 18:15)

Closed: Weekends / National Holidays/ New Year

Acccess: 2-minutes on foot from Kita-Sando Station / 8-minutes on foot from Harajuku Station

Hachiya Official Website: http://8ya.jp/

Kirin Announces Restoration Project With Gogo no Kocha Milk Tea

Kirin Beverage launched the Gogo Tea Happiness Project on June 1, 2021. The project will donate the proceeds made from select products to locations in Japan that require support in restoration efforts. The first product to launch is the 'Gogo no Kocha for HAPPINESS Kumamoto Strawberry Tea' which released in limited quantities in Japan on Tuesday.

 

Kirin Group launched a similar project in 2011 called the 'Kirin Bond Project.' in 2016, they began efforts to support the people of Kumamoto after the earthquake that struck there that year – to 'bind' them to the future. From then until 2018, they also shot commercials for their Gogo no Kocha milk tea brand at Miharashidai Station, Shirakawa River, and other places around Kumamoto, as well as promoted the village of Minamiaso to showcase its beautiful natural environment.

The Gogo Tea Happiness Project takes Kirin back to Kumamoto to continue helping to support restoration efforts, something the company has been doing since July 2011 after the Great East Japan Earthquake struck. For every bottle of Gogo no Kocha for HAPPINESS Kumamoto Strawberry Tea sold, not only does 3.9 yen of the proceeds go towards supporting Kumamoto, it also gives people around Japan the chance to try a type of strawberry grown in Kumamoto called yuubeni. The project also ties in with the 35th anniversary of Kirin's Gogo no Kocha tea.

Information

Gogo no Kocha for HAPPINESS Kumamoto Strawberry Tea

Japanese Product Name: キリン 午後の紅茶 for HAPPINESS 熊本県産いちごティー
Released: June 1, 2021

Available: Japan

Price: ¥140 (Before Tax)

Official Website: https://www.kirin.co.jp/

Cinnamoroll's Warm & Fluffy Dessert Party to Grace Hilton Osaka This Summer

Hilton Osaka's second floor restaurant Folk Kitchen has announced a collaboration with Sanrio to serve up Cinnamoroll's Warm & Fluffy Dessert Party, a food menu themed on Sanrio's popular character Cinnamoroll who took home the number one spot in the 2020 Sanrio Character Ranking. He was born up on a cloud in the sky, and that's where guests are invited to dine with him: on his dessert wonderland, featuring around 25 dreamy-cute items, atop a fluffy cloud. The restaurant will take on special decorations for the menu's duration, and guests might even spot some other familiar Sanrio faces too like Hello Kitty, My Melody, and more.

Raindrop & Dance Yogurt Ring Cake

Kuru Kuru Coffee Cup Peach Mousse

Warm & Fluffy Cloud Mousse

Cafe Cinnamoron Cream-Loaded Pastries /Brown Sugar Chocolate Flower Tarts

Marshmallow Truffle

I Dropped My Ice Cream – Chocolate Mousse & Blackcurrant Cake

This is Hilton Osaka's third summer dessert buffet in a row held in collaboration with Sanrio's characters. Focusing on the greatly loved Cinnamoroll, whose fandom is mostly made up of those in their teens and 20's, guests can look forward to tucking into a deliciously kawaii menu. The restaurant's pastry chef Hyaku, also known as the wizard of smell and texture, recommends the 'Raindrop & Dance Yogurt Ring Cake' which is made with a fruity mango cream that melts into a creamy sour mousse. The raindrops are represented by chocolate, and the fluffy cloud is actually crunchy meringue. The dessert captures the bright and sparkly world of Cinnamoroll.

The 'Kuru Kuru Coffee Cup Peach Mousse' is loaded with peach compote and vanilla mousse for an exquisite balance of flavours. It's topped off with Sanrio characters made of chocolate.

The 'Warm & Fluffy Cloud Mousse' has a gorgeous pink gradation. Inside the honey mousse is a refreshing layering of sudachi citrus jelly, fresh orange, and pistachio biscuit.

There's also the 'Cafe Cinnamoron Cream-Loaded Pastries' and 'Brown Sugar Chocolate Flower Tarts' which capture the cuteness of Cinnamoroll.

There's also a refreshing dessert-in-a-glass for cooling down over the summer: the 'Marshmallow Truffle' which is inspired by unicorns. It has alternating layers of raspberry and lychee cream which when mixed create all-new delights for your taste buds.

Another fun item on the menu is the 'I Dropped My Ice Cream – Chocolate Mousse & Blackcurrant Cake.' Now that's a mouthful! The ice cream cake is steeped in elderflower foam which goes amazingly well with the chocolate mousse. Other bites include the hibiscus-scented 'Almond Panna Cotta White Peach Compote' and the 'Rainbow Agar-Agar' among other things.

Cinnamoroll's Warm & Fluffy Dessert Wonderland – Sanrio Characters Collaboration Afternoon Tea Set

There's even a special afternoon tea set served in a cute little jewellery box!

There are many kawaii moments to be had in Japan, and this is one of many!

Information

Cinnamoroll's Warm & Fluffy Dessert Wonderland – Sanrio Characters Collaboration Tea Party

Japanese Name: シナモロールのふわもこスイーツワンダーランド ~サンリオキャラクターズ コラボティーパーティー~

Running: June 4, 2021 – September 12, 2021

Where: Folk Kitchen (Hilton Osaka Floor 2F)

Serving Times: Everyday 15:00-16:30

Price: [Weekdays] ¥4,900 Per Person / [Weekends] ¥5,300 Per Person

Afternoon Tea Set

Running: June 4, 2021 – September 12, 2021

Where: MYPLACE Cafe & Bar (Hilton Osaka Floor 1F)

Serving Times: 12:00 until daily limited stock runs out

Price: ¥4,500 Per Person

Official Website: https://osaka.hiltonjapan.co.jp/plans/restaurants/sweets/folkkitchen-2106

Enjoy a Cup of High Quality Japanese Tea in the Morning at This New Cafe in Nagoya

Mirume Shinryoku Sabo is a new cafe and tea-lover paradise that opened in Nagoya on May 10, 2021, serving high quality bottled Japanese tea, desserts, and other delicious delights.

Daifuku : Eat-In ¥250 (Tax Included)

Ise Tea Sweet Bean Jelly: Eat-In ¥250 / Store ¥500 (Tax Included)

Ise Tea Cheesecake: Eat-In ¥350 / Store ¥3,300 (Tax Included)

Mirume Shinryoku Sabo is the newest cafe to be opened by Shinryoku Sabo, an award-winning tea company in Mie Prefecture. The cafe's tea experience includes using a kyuusu, which is a type of small teapot, to brew Isecha green tea. Customers can learn the best way to prepare tea from an in-house instructor of Japanese tea, who will also provide backstory on the tea leaves used. Their deliciously brewed cup can be paired with a variety of desserts like daifuku, maju, cheesecake, and more.

The cafe also sells the "Morning Bottle," its signature bottled cold-brew tea which is prepared on the day in the early morning. Bottles can be returned to the cafe to be reused, allowing for no waste. Since the tea is cold-brewed, it also contains little caffeine.

Information

Mirume Shinryoku Sabo
Address: 1-36-57 Nagono, Nishi Ward, Nagoya, Aichi 451-0042, Japan
Opening Hours: [8:00-10:00] Morning Bottle only / [11:00-22:00] Cafe & Store
Closed: Wednesdays

TEL: 052-551-3366

Official Site:https://www.shinryokusabo.co.jp/

Sanrio Releases Tea Gift Set in Collaboration With World Tea Brand LUPICIA

World tea brand LUPICIA launched its 7th collaboration with Sanrio on Thursday (February 25) featuring a range of tea gift sets. Every year, LUPICIA releases a wide variety of rea-related gift sets for White Day, the spring season, Mother's Day, and more.

Four Fruit Fruity Tea With Lidded Mug

Hello Kitty LUPICIA Mug & Flavoured Tea | ¥3,300 (Tax Included)

My Melody LUPICIA Mug & Flavoured Tea | ¥3,300 (Tax Included)

Cinnamoroll LUPICIA Mug & Flavoured Tea | ¥3,300 (Tax Included)

Kuromi LUPICIA Mug & Flavoured Tea | ¥3,300 (Tax Included)

This year adds the dearly beloved Kuromi to the new collaboration which features a variety of fresh and fruity teas together with a mug that comes with a lid to keep your tea hot.

Will you be having tea with Hello Kitty, My Melody, Cinnamoroll, or Kuromi?

(c)'21 SANRIO 著作(株)サンリオ

teamLab Serves a Forest Sauna, Ruins Art, and Tea Experience at Mifuneyama Rakuen Hotel

If you visit Mifuneyama Rakuen Hotel in Saga Prefecture, you'll discover teamLab's permanent exhibition teamLab Ruins and Heritage: Rinkan Spa & Tea Ceremony. On Friday (February 19), the exhibition began serving EN TEA, a new brand of tea grown in Hizen.

The exhibition is an art and sauna experience by teamLab and the Mifuneyama Rakuen Hotel Rakan Bath, the winner of SAUNACHELIN in 2019 and 2020. There, visitors can clear their minds, feel the ever-expanding space through their bodies, and immerse themselves in the art and the forest dotted with ruins. After their sauna experience, they can enjoy a cup of EN TEA to wind down.

EN TEA is a brand of tea made in collaboration with tea master Shunichi Matsuo and Maruwakaya, a brand that focuses on Japanese traditional culture and brings together artisans. It's brewed at a low temperature for 15 minutes which lowers the amount of caffeine inside. After enjoying the sauna, visitors can visit the EN TEA HOUSE at Mifuneyama Rakuen Hotel for their cup.

Fruit Packed Sandwiches Get Whipped Up at Limited-Time Shop in Tokyo

The fruit sandwich eatery Maruichi Seika has opened a pop-up shop on the second floor of Kita-Senju Marui in Adachi, Tokyo. The shop is a collaboration between the popular local restaurant Ippo Ippo and Maruichi, a long-standing and much-loved fruit shop.

Fruit is the key ingredient at Maruichi Seika where they want customers stuffing their cheeks with strawberries, oranges, pineapple, and more. Fruit is packed into fat sandwiches and combined with mascarpone cheese for a filling treat. The bread is provided by Furansuya, a local bakery in Kita-Senju that has been running for over 10 years.

A Select Look at the Line-Up

Sky Berry | ¥740 (Tax Included)

This sandwich is named after a particular variety of strawberry is known as the Sky Berry. It's sourced from Tochigi Prefecture and is known for its superior sweetness, juiciness, and the fact that it's low in acidity. Ordering this lets you enjoy three different kinds of well-known strawberry: the titular Sky Berry, the Tochiotome which is also from Tochigi, and the classic Amaou from Fukuoka.

Setoka | ¥840 (Tax Included)

The Setoka is a rare and super sweet, full-bodied citrus fruit that's normally given as a gift in Japan. In sandwich form, it enjoys a perfect balance of sweetness and tanginess.

Pineapple | ¥630 (Tax Included)

The Golden Pineapple from the Philippines is the variety used in this sandwich, packed with mouth-watering sweetness and offering a rich fruity fragrance.

Maruichi Mix | ¥740 (Tax Included)

This sandwich is a combination of fruits including the Amaou strawberry from Fukuoka, the Kanjuku Kiwi from Ehime, and the Premium Banana from the Philippines. It also contains the best picked mikan which are bought fresh from the market every day.

If you've never tried a fruit sandwich in Japan and are in Tokyo this winter, then don't miss out on Maruichi Seika's limited-time line-up.

Information

Maruichi Seika

Address: Kita-Senju Marui Floor 2F – Kitchen Garden 350

Address: 3-92 Senju, Adachi-ku, Tokyo

Kita-Senju Marui Official Website: https://www.0101.co.jp/084/

CoCo Fresh Tea & Juice Releases Valentine's Day Chocolate CoCo Dinosaur Beverages

Tastea Trustea Japan released two new beverages on Friday (February 5) for Valentine's Day at CoCo Fresh Tea & Juice in Japan: the CoCo Dinosaur and Tapioca CoCo Dinosaur.

CoCo Dinosaur ¥520 / Tapioca CoCo Dinosaur ¥580

The two teach beverages are made with a rich chocolate sauce and fresh milk. They are topped with chocolate and brown sugar syrup for a sweet combination of flavours and textures. An enjoyable beverage that is both refreshing and Instagram-worthy for Valentine's Day.

Information

CoCo Fresh Tea & Juice
Serving: February 5, 2021 – End of February 2021
Where: All 12 branches of CoCo Fresh Tea & Juice in Japan
CoCo Fresh Tea & Juice Japan Official Website: https://cocofreshtokyo.amebaownd.com/

Japan's First Earl Grey Shop Makes Appearance at Chocolate Mode 2021 Event in Saitama

&EARL GREY, the first shop in Japan to sell exclusively earl grey products, is appearing at the Chocolate Mode 2021 event at Isetan Urawa in Saitama which is taking place until February 14. Visitors can look forward to tucking into a sweet selection of delicious earl grey flavoured ice creams.

Double Chocolate Gelato & Macaron: Chocolate & Continental Earl Grey / Chocolate & Sunshine Earl Grey / Chocolate & Exotic Earl Grey – ¥605 Each (Tax Included)

Earl Grey Rich Milk Tea Gelato: Butterfly Pea & Earl Grey / Pistachio & Matcha / Mango Passion & Jasmine / Mixed Berries & Rooibos / Peche de Vigne & Honeybush Lavender – Single ¥495, Double ¥550, Triple ¥605 (Before Tax)

&EARL GREY has prepared a sweet line-up of rich ice creams made using high quality tea leaves from Japan, China, Sri Lanka, South Africa, and elsewhere. And for Valentine's Day, some of the ice cream options have been topped with cute macarons.