Hand drip tea speciality shop Tokyo Saryo reopens Ochazuke stand for limited time only!
Tokyo Saryo was the world's first ever hand drip tea specialist shop. This year, they're celebrating the first tea of the season with the reopening of Ochazuke stand Tokyo Saryo. The Ochazuke stand was a big hit last year, and this year it will be open for a three month period from Wednesday 24th April to Wednesday 31st July.
Ochazuke is a Japanese dish that every Japanese person must have had at least once in their life. For many, it is a normal option for a light breakfast that you can make at home. It's just green tea poured over cooked rice. Simple! However, in recent years, replacing the green tea with dashi stock has become the most popular form of this breakfast. The Ochazuke stand hopes to encourage people to use green tea for their ochazuke in their daily lives more often by creating an original ochazuke dish which really carries the flavour of green tea. The recipe has been specially made to fit in with modern daily lifestyle.
This ochazuke is sprinkled with lots of green tea so you can really enjoy "eating" tea! Soft sprouting tea leaves that resemble the appearance of nori seaweed are collected and ground into a powder called tencha. This tea remains in its unground form of matcha. Pour water over the original green tea powder and the fragrance of the tea will be released!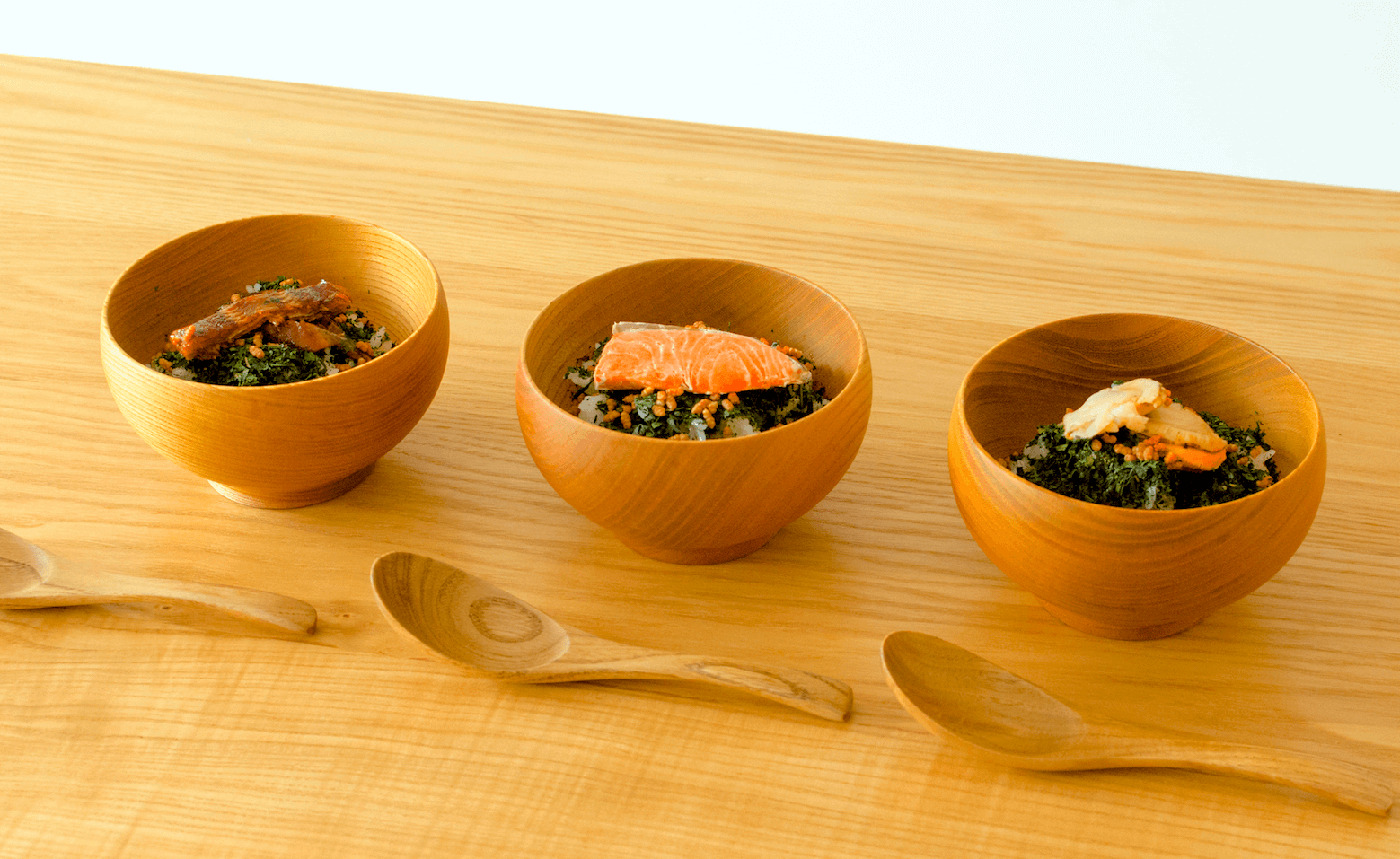 Teahouse original ochazuke: Eel ¥500 Teahouse original ochazuke: Salmon ¥500
Teahouse original ochazuke: Scallop ¥500  Teahouse original ochazuke: Plum ¥500 (*tax included in prices stated)
 You can also add olive oil to your dish afterwards for just ¥50.
Order Tokyo Saryo's hand drip tea on top of your order (+¥150) and you will be presented with the first tea of the season that uses tea leaves freshly collected from Kagoshima. The leaves were collected on 7th April 2019 and a special recipe is used to make this tea.
It's not just tea they serve here! As an important base flavour, the stand also serves up dashi. This is made by combining bonito fish flakes and kombu kelp sourced from Makurazaki to produce a high quality and delicious flavour.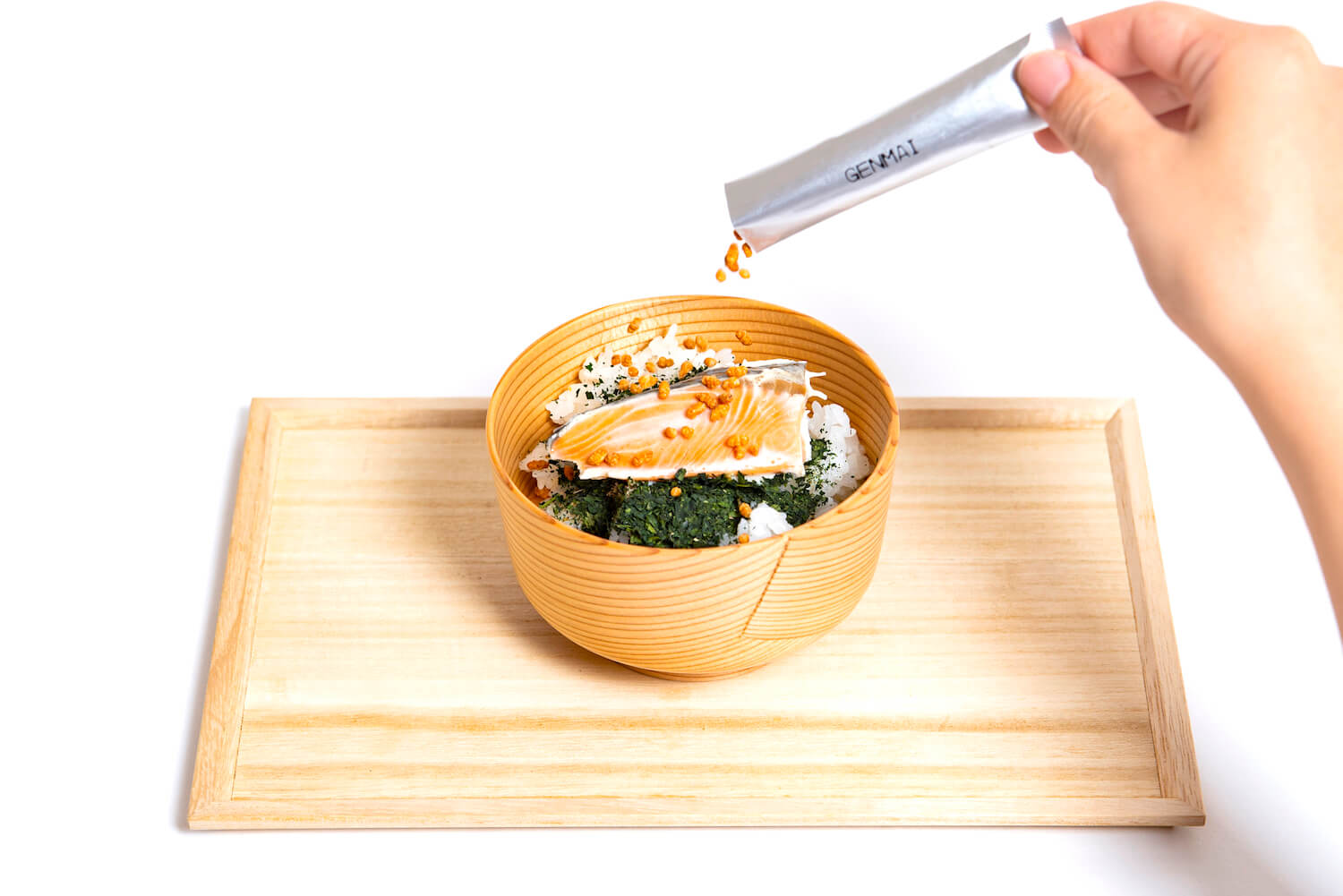 You can also choose to add a topping of Nicomaru Genmai which is made from brown rice. This is very popular among adults as it adds a luxurious fragrance to your meal.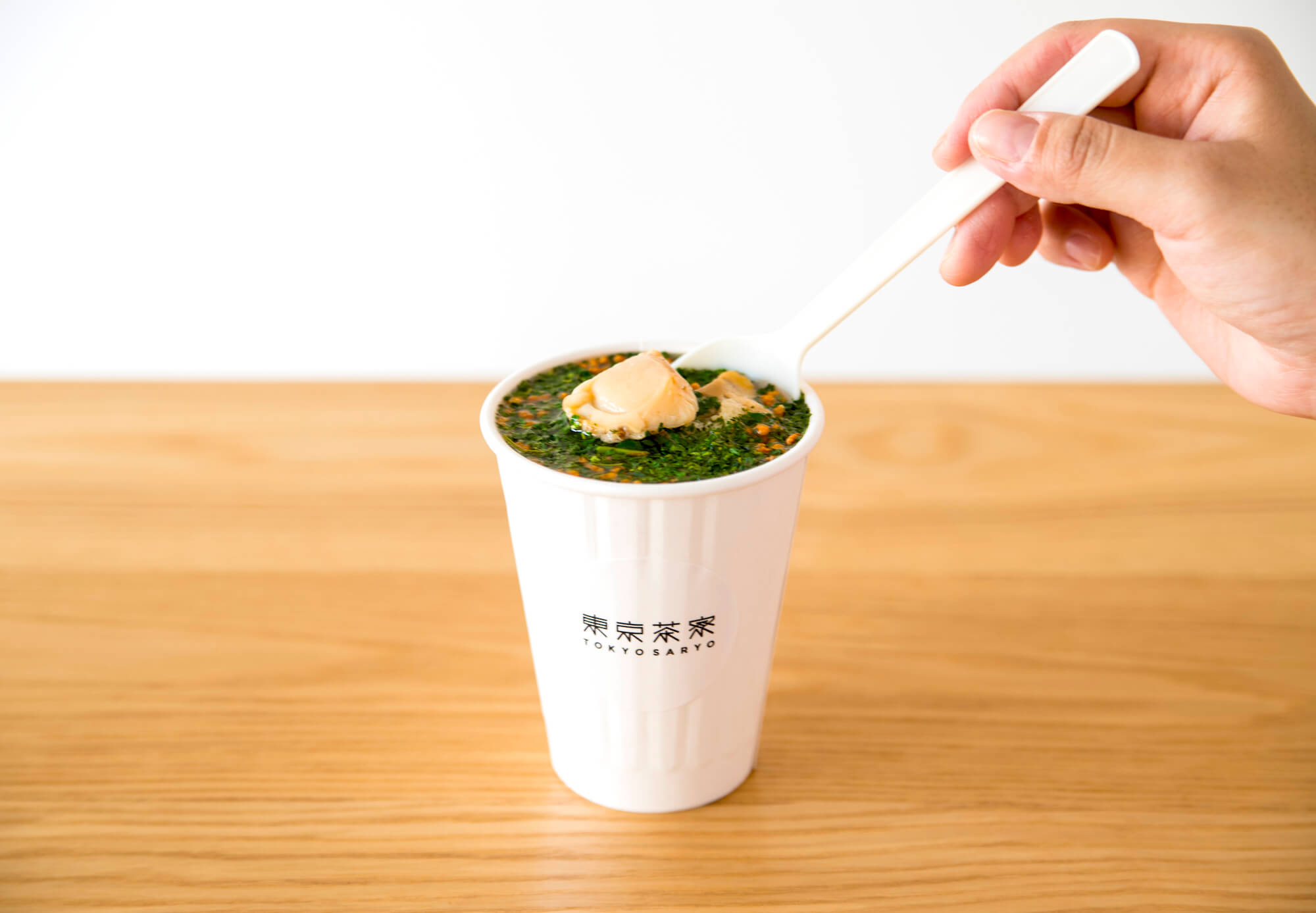 You can eat in or take out for the same price. Every day, sales will end when they run out of rice, so get there as fast as you can!
Information
Ochazuke stand Tokyo Saryo (open for 3 months only)
(お茶漬けスタンド 東京茶寮)
Address: 1-34-15, Kamiuma, Setagaya, Tokyo
Running: Weds 24/04 ー Weds 31/07 2019
Opening hours: Weekdays ー 13:00 ー 20:00 /Weekends & national holidays ー 11:00 ー 20:00
Access: 7-minute walk from Sangenjaya station south exit B (Den-en Toshi line).
Closed: Mondays (Closed on Tuesdays if the previous day was a national holiday).
Open during Golden Week!
Official website: http://www.tokyosaryo.jp/
RELATED ENTRIES
Doraemon's Official Store Launches Limited Edition Dorayaki-Flavored Black Tea

Doraemon's Mirai Department Store, Doraemon's official shop, has announced a limited edition black tea flavored with the character's favorite food: dorayaki! The tea and four special themed plates will be available starting November 11, 2022. The tea itself is provided by the tea specialty shop LUPICIA. 

Doraemon's Mirai Department Store Black Tea (Dorayaki Flavor)

Doraemon's Mirai Department Store is now offering this special tea in an adorable themed tin.

The flavor of the tea is inspired by Doraemon's favorite food, dorayaki, a sweet Japanese pastry filled with red bean paste. The gorgeous blue and red toppings blended into the tea leaves were inspired by Doraemon himself, and fans will want to enjoy a cup as they lose themselves in the classic manga or anime series.

Doraemon's Mirai Department Store Tasty Plate (4 varieties)

These 14cm square plates are perfect for snacks with tea. Dishwasher-safe, fans can pick from four designs, each showing Doraemon enjoying some tasty treats. 

©Fujiko-Pro

Snoopy Tea Brand SNOOTEA Launches Chocola Tea for the Holidays

Since its start in 2007, the Snoopy tea brand SNOOTEA has remained popular with Peanuts fans and tea fans alike. Typically, the brand has sold black tea in cute tins featuring Snoopy and his friends.

Starting November 7, fans can purchase a special Chocola tea made by tea blender Shuntarou Kumazaki. Blended to suit Japanese water and inspired by the world of Peanuts, it promises to be the perfect flavor for the holidays.

Made with cacao nibs, the flavor of standard black tea is punctuated with a chocolate aroma. The tea leaves themselves come from India, Sri Lanka, and Kenya, and are blended together in a balanced way to create an appealing taste that will have tea lovers coming back again and again. This blend is also perfect for making milk tea, and fans can even add whipped cream and marshmallows. This tea also goes well with strawberries, oranges, bananas, and other fruits, as well as nuts!

Snoopy and his friends dressed in winter attire will appear on each tin, adding to the festive holiday spirit. On the online store, customers can also find Darjeeling, Earl Grey, Apple Tea, and other varieties.

© 2022 Peanuts Worldwide LLC

Laid-Back Camp Tea Now Available in Limited Quantities

Kimikura, a specialty tea shop in Shizuoka Prefecture, is collaborating with Laid-Back Camp Season 2! Fans will be able to purchase Kimikura's popular green tea in limited edition packaging showing Rin Shima enjoying a piping hot cup. This limited edition item will be available at the Kimikura online store and Kimikura's physical shops starting July 8, 2022. 

The high-quality Kakegawa tea is made from leaves picked after 88 nights and has a lovely mellow fragrance and a full-bodied flavor.


This is the third collaboration with Laid-Back Camp, and fans of the series or Rin won't want to miss it.

Why not rewatch Laid-Back Camp with a nice cup of this tasty tea?

Information

Kimikura's Retreat

Release Date: July 8, 2022

Green Tea (Produced in Shizuoka Prefecture)

Available in limited quantities

Where to Buy: Kimikura Online Shop (https://kimikura.online/item/7078)

Kimikura Main Store, Kimikura Shizuoka Gofukucho Shop, KIMURACAFE

Tea Ceremony Brand Saron Launches Customizable Matcha Shaved Ice for a Limited Time

Nara-based tea ceremony brand Saron is serving up a tasty treat perfect for the warm weather! White shaved ice with dark matcha topping is now available until mid-September, and guests are invited to adjust the taste by altering the amount of tea added.

Lately, Nara has been experiencing a major shaved ice boom. Inspired by Himuro Shrine, known for housing a guardian deity of ice, the city introduces plenty of created recipes for the summer treats each year. The tea ceremony brand Saron was founded by Nakagawa Masashichi Shouten, in business since the Edo period–so it's safe to say that the company knows what they're talking about!

Guests can enjoy shaved ice made from pure Yamato ice, which is frozen for 72 hours, gently shaved, and topped with Nara's Kasiya sweet bean paste, shiratama, agar, and condensed milk that has been boiled for four hours. 

To finish off this luxurious dish, guests can add koicha, a thick matcha tea with concentrated flavor and incredible sweetness and depth. Polished twice as much as typical matcha, this is a taste you'll never forget.

Why not come enjoy this traditional Japanese sweet this summer?

Information

Saron – White Shaved Ice with Dark Matcha Topping

Available: May 11 – mid-September

Where to Buy: Saron Nara (31-1 Ganriincho, Nara)

Official Site: https://salon-tea.jp/

The Royal Park Hotel Iconic Kyoto to Offer Immersive Meditation Rooms

The pandemic has caused problems for people all over the world. Mental health has taken a beating over the last few years, and in order to help people take back control of their mental wellness, The Royal Park Hotel Iconic Kyoto will begin offering immersive meditation rooms for guests only! These rooms will allow guests to enjoy a soothing private space and will be available starting April 1, 2022.

Blank meditation 

tea mediation 

The Medicha meditation rooms consist of two spaces: 'blank,' where guests are surrounded by mist, and 'tea,' where guests will immerse themselves in beautiful water patterns. An original program shown on in-room televisions at the hotel will also instruct guests in the art of meditation. 

In 'Blank Meditation,' guests will stand in a cool mist and immerse themselves in layers of diverse sounds and shifting colors of light. This will help quiet the mind and create a 'blank slate' mentally. 

The 'Tea Meditation' room invites visitors to spend time with themselves while getting lost in shimmering water patterns in a dimly lit space as they carefully brew their own tea. Two types of tea are on offer, each with distinct aromas and flavors.


 

Enjoy an Open-Air Tea Ceremony with This New Collaboration Set

Established in 1716, Nara-based store Nakagawa Masashichi will release two types of open-air tea ceremony sets in limited quantities at its online store and select locations around Japan on April 6, 2022.

The last time the shop released these items in 2020, they sold out instantly. The set is a collaboration with Snow Peak, a manufacturer of high-quality outdoor goods, and Salon, a brand attempting to get more young people involved in tea ceremonies by injecting the tradition with a modern touch.

 

The coating around the light and strong titanium teacup is made of a sturdy cotton canvas often used in outdoor tools. Each of the eight items in the set were made with the ruggedness of nature in mind while also preserving traditional beauty. The double set is a new addition to the lineup and includes two tea bowls and two confectionary bowls to make entertaining others more simple.

Open-air tea ceremonies date back to the Muromachi period, and in the Sengoku period, it is said that tea was served in the mountains during the march of Toyotomi Hideyoshi. These ceremonies are traditionally less formal than the indoor version, so it's easier for those new to the experience to relax and enjoy!

Information

Single Open-Air Tea Ceremony Set / Double Open-Air Tea Ceremony Set
Release Date: April 6, 2022
Where to Buy:
Nakagawa Masashichi
Official Site: https://nakagawa-masashichi.jp/

Participating Stores: Sapporo Stellar Place / S-PAL Sendai / Shibuya / Tokyo Main Store / Terrace Mall Shonan / Futako Tamagawa Rise / Perie Chiba / OPA Takasaki / LUMINE Omiya / Nara Main Store / LUCUA 1100 /  Takashimaya Gate Tower Mall / Aeon Mall Okayama / AMU Plaza Hakata Citty / AMU Plaza Kumamoto

Snow Peak
Official Site: https://ec.snowpeak.co.jp/snowpeak/ja

Participating Stores: Snow Peak Headquarters / Snow Peak Land Station Harajuku / Snow Peak Land Station Hakuba / Snow Peak Land Station Kyoto Arashiyama


Cherry Blossom Viewing Themed Café "Nintama Rantaro Chaya" to Open in Tokyo and Osaka

Two limited-time-offer collaboration cafés named "Nintama Rantaro Chaya" are coming to Tokyo and Osaka! The Tokyo location is now open, and the Osaka location is scheduled to open on February 18. Based on the long-running anime series Nintama Rantaro, this cafe invites guests to enjoy the falling cherry blossoms set to bloom in the spring. While the series hasn't found much popularity outside of Japan, it premiered in 1993, and continues to be a big hit with kids and adults alike!

Reservation Bonus: Original Sticker Sheet (3 varieties)

Drink Order Bonus: Original Coaster (20 varieties)

Menu

[Bento Team] Piping Hot Dashi Udon and Onigiri Bento Set

[Bento Team] Mountain & Seafood Bento

[Dumpling Team] Chicken Meatball Set

[Teahouse Team] Chouji & Isaku's Chazuke Set

Desserts

[Bento Team] Cherry Blossom Viewing Sweets Set

 [Dumpling Team] Two Peas in a Pod Anmitsu

 [Dumpling Team] Shaved Ice and Sweet Dango Set

 [Teahouse Team] Traditional Garden Plate

Drinks

Free Tea 

Shinbei's Dango Latte / Rantaro's Matcha Milk / Kirimaru's Shiny Lemon Soda

Fourth Grade Transforming Drink / Fifth Grade Purple Sweet Potato Milk Tea / Sixth Grade Matcha Lemonade

Original Merchandise

Pin (20 varieties, random)

Acrylic Keychain (20 varieties, random)

Acrylic Pin (20 varieties, random)

Acrylic Stand (Bento Team, Teahouse Team, Dumpling Team)

Clear Folder Set (Set of 3)

10-piece Sticker Set A, 10-piece Sticker Set B





The cafe menu has been divided into three 'teams': the Bento Team, the Dumpling Team, and the Teashop Team. Characters have been divided into these three teams, and many of the available dishes are based on everyone's favorite aspiring ninjas! Original merchandise and special offers will be available at the cafe as well, with the items featuring newly-drawn illustrations for the event.

©尼子騒兵衛/NHK・NEP

Information

Cafe Nintama Rantaro Chaya 2022

Location/Dates: 

Tokyo: 

BOX cafe&space Tokyo Solamachi / February 10 – April 3, 2022
Tokyo Skytree Town Solamachi 1F #8 (1-1-2 Oshiage, Sumida-ku, Tokyo)


Abeno-ku, Osaka:

Abeno contact / February 18 – March 27, 2022
Abeno Q's Mall 4F (1-6-1 Abenosuji, Abeno-ku, Osaka)

Reservations Now Available
Reservation Fee: ¥715 (Tax Included) *Includes bonus
Cafe Original Merchandise Available until April 3 at 23:59
https://nintama-cafe.jp/online_store 

Official Twitter: https://twitter.com/nntm_cafe (@nntm_cafe )

Official Site: https://nintama-cafe.jp/

Wako Tea Salon in Ginza Offering Seasonal Strawberry Parfait

Those familiar with the Ginza district of Tokyo will recognize the iconic Wako clock tower. The department store sells everything from watches to chocolates, and on the second floor of the Wako Annex, guests will find the Tea Salon. The bright and relaxing place invites adult shoppers to enjoy seasonal sweets, with its popular Strawberry Parfait constantly reinvented depending on the time of year.


This season's strawberry parfait includes pistachios and local fruit. For a limited time, guests can also enjoy the Lychee and Raspberry Parfait until the end of February. A Fruit Parfait is available in March and April, and the Chocolate Parfait is available year-round.

At the Wako Annex Tea Salon, visitors can also enjoy light meals alongside tea and coffee specially blended for Wako by Yoshiaki Kawashima, known as the 'coffee hunter.'

Strawberry Parfait

Lychee and Raspberry Parfait

Fruits Parfait

Chocolate Parfait


ティーサロンのメニューの中でも人気の高い、季節限定のパフェを堪能してみては?

Information

Wako Annex 2F Tea Salon

Address: 4-chome 4-8 Ginza, Chuo-ku, Tokyo
Open Year-Round (Except New Year holidays)
Hours: 10:30 – Last order at 19:00 (Last order at 18:30 on Sundays and holidays)
Access: Immediately in front of Ginza Station Exit B1 on Tokyo Metro
*Young children are not permitted in the restaurant.
Online Store: https://shop.wako.co.jp/
Official Site: https://www.wako.co.jp/


150-Year-Old Teahouse Releases Crayons Made from Discarded Tea Leaves

The domestic crowdfunding service Makuake has opened preorders for a unique new product: 'tea crayons,' made from tea leaves that would otherwise be thrown away. These will be available for purchase from January 31 until March 21, 2022, and a set of teas specially blended by tea masters will also be available to buy on the site. 

Hojicha (Roasted Green Tea): These leaves have a light brown color reminiscent of the color of a roasting fire.

Sencha (Green Leaf Tea): Asamiya, known as one of Japan's five most famous tea-producing areas, produces sencha exclusively. This yellow color is to be expected of the variety.

Kabusecha (Covered Tea): The pride of Tsuchiyama, these tea leaves are cultivated by covering the fields to produce a sweeter taste. Kabusecha is characterized by its vivid green color.

Gyokuro (High-Quality Green Tea): To produce this fine tea, the land is covered for more than 20 days in a very time-consuming process. Gyokuro has a strong, sweet flavor, and can be recognized by its darker green color.

Matcha (Powdered Green Tea): Matcha from Shiga Prefecture is not very well known throughout Japan, but it is extremely tasty and is popular in tea ceremonies. It also has a beautiful dark green color.

Yasuharu Maeno, a tea master, includes the names of each region and species of tea leaves used.

Hotel and Workshop Mimaru Suites Kyoto Shijo Holds Japanese Tea Workshop

Mimaru Suites Kyoto Shijo is a unique hotel combined with a shop selling traditional Japanese tools and kitchen items. Kura Daily Store and Kawataki Kyoto Kitchen Shop, both in business for over 100 years, sell their wares at this cozy lodging space.

Fuya Ryu-Ryoku Japanese Tea Workshop

Hachidaime Gihei Rice x Mimaru Tool Shop Earthenware Pot Lunch

Following the six months since the shop's opening, the hotel has collaborated with Fuya Ryu-Ryoku, a Japanese tea salon promoting the tea found in Miniamiyamashiro Village in Uji. They are also working with Hachidaime Gihei, one of Kyoto's oldest rice shops with a line of restaurants in Gion and Ginza. Guests can now take a workshop led by knowledgeable instructors to make a delicious meal of rice and local tea! The workshop is open to non-guests as well.

Mimaru Suites Kyoto Shijo features spacious guest rooms with two or more bedrooms and separate living and dining areas. The Mimaru Tool Shop in the lobby sells a wide variety of goods from vases and cutlery to cooking utensils and more. Guests can actually choose their favorite items and enjoy them in their room's kitchen.

Information

Mimaru Suites Kyoto Shijo

Address: 717-1 Inabadocho, Shimogyo-ku, Kyoto
Access: 3-minute walk from Shijo Station on the Kyoto City Subway Karasuma Line / 7-minute walk from Karasuma Station on the Hankyu-Kyoto Line
Official Site: https://mimaruhotels.com/jp/hotel/suites-kyoto-shijo/ 

FUKUCHA to Offer Limited-Time Strawberry Desserts with Uji Tea Pairings

FUKUCHA Teahouse, a Fukujen cafe in Kyoto, will start a limited-time Strawberries and Uji Tea Fair on January 8, 2022. Last year's Matcha fair was incredibly popular, and certain items will also be available again in 2022. The new menu includes a strawberry version of the popular Herbal Tea Pairing Set, making it even more fun and elegant! Guests can enjoy flavorful Uji green tea along with a number of tasty strawberry treats. 

Mont Fraise: ¥1,150

Mont Fraise means 'mountain of strawberries' in French. This dessert is made with thin white chocolate and sponge cake soaked in matcha syrup with matcha cream and strawberries covering every inch. It is also served with a green tea chocolate sauce. 

Strawberry Pairing Set: ¥1650

The strawberry version of the popular Herbal Tea Pairing Set on the regular FUKUCHA menu.
・Ginger Blend Genmaicha and Strawberry Cheese Tart
・Hibiscus Blend Hojicha and Strawberry Chocolate Bonbons
・Cinnamon Blend Twig Tea with Strawberry Cream
・Peppermint Blend Twig Tea with Large Strawberry

Marscapone Strawberries: ¥1450

Using 10 strawberries, this parfait is designed to look like a herbarium. Putting a spoon into the light mascarpone cream will reveal the bright green color of the matcha chocolate sauce.

Information

Strawberry and Uji Tea Fair

Running: January 8 – May 15, 2022
*Limited to 10 Servings per day.

Official Site: https://www.fukujuen.com/

Wakura Onsen in Ishikawa Prefecture to Hold Special Illumination, Luxurious Tea Time

The Wakura Onsen Tourist Association is sponsoring a new project to illuminate Seirinji Temple, a nationally registered cultural property. Along with this light show, guests can enjoy a luxurious tea time starting on January 8, 2022. This year, the pavilion and garden will be lit up again, and the entrance will be decorated with traditional local paper lanterns. 

The historic property was built in 1909 as a resting place for Emperor Taisho. Only two such buildings exist in Japan: one in Hamada City, Shimane Prefecture, and the other at Wakura Onsen. Both were registered as Tangible Cultural Properties of Japan in 2017. 

 

Last year, the area was photographed for posters and pamphlets as part of the 'Japanese Beauty Hokuriku' campaign organized by JR East, JR West, and the Central JR Railway.

Each Saturday evening through February 26, guests will be invited to enjoy a different kind of atmosphere while enjoying a very fancy tea time. The program has been very well received by visitors, so it shouldn't be missed!


The light-up of the temple and garden, with its slowly changing colors, will transport guests to another world. The entrance to Seirinji Temple will be redecorated and lit up, and a pathway of lights will be created from the gate to the entrance of the pavilion using paper lanterns.

Information

Seirinji Temple Illuminations & Luxury Tea Time

Running: Saturdays from January 8 – February 26, 2022 

First Seating: 17:00  

Second Seating: 18:00

Address: Seirinji Temple, Wakura Onsen (61 Wakuramachi, Nanao, Ishikawa)

*Available for guests of Wakura Onsen

Official Site: https://www.wakura.or.jp