5 years since her debut ー Eir Aoi's last performance was held at the Nippon Budokan! When will she spring back into action?
Eir Aoi had her last live performance on Friday 4th and Saturday 6th November 2016 at the Nippon Budokan. When will she spring back into action? We don't know yet…
In the last 5 years of her musical activity, she had only announced one break. After announcing her long-term break this year in August, she stood on stage at her final live at the Nippon Budokan before a crowd filled with devoted fans. As the tension in the Budokan was rising to its peak, the live performance began and many fans could be seen crying!
As she performed her first song of the evening "Sirius", the whole venue was wrapped in the warmth of her singing. She continued with many of her biggest hits including "AURORA" and "Cobalt Sky". She barely took a break to talk to the audience! When she was about to perform her last two songs of the live, she finally started to talk to the audience. Her words were "I know that the performance is almost over, but please enjoy it to the very end!" She finished the live with her latest single "Wings" followed by "INNOCENCE".
She wore red plaid clothing for her encore and entered the stage alone. She then apologised for announcing her long period break in August and began talking about the many beautiful memories she has of her 5 years as an artist. She performed "frozen eyez" — a song which she calls her "first song", as it was released before her major debut and even made an appearance in popular magazine "LisAni". She also performed "Tsunagaru Omoi" — the first ever song she had ever composed and wrote lyrics for by herself. As she performed, the audience could see tears rolling down her cheeks.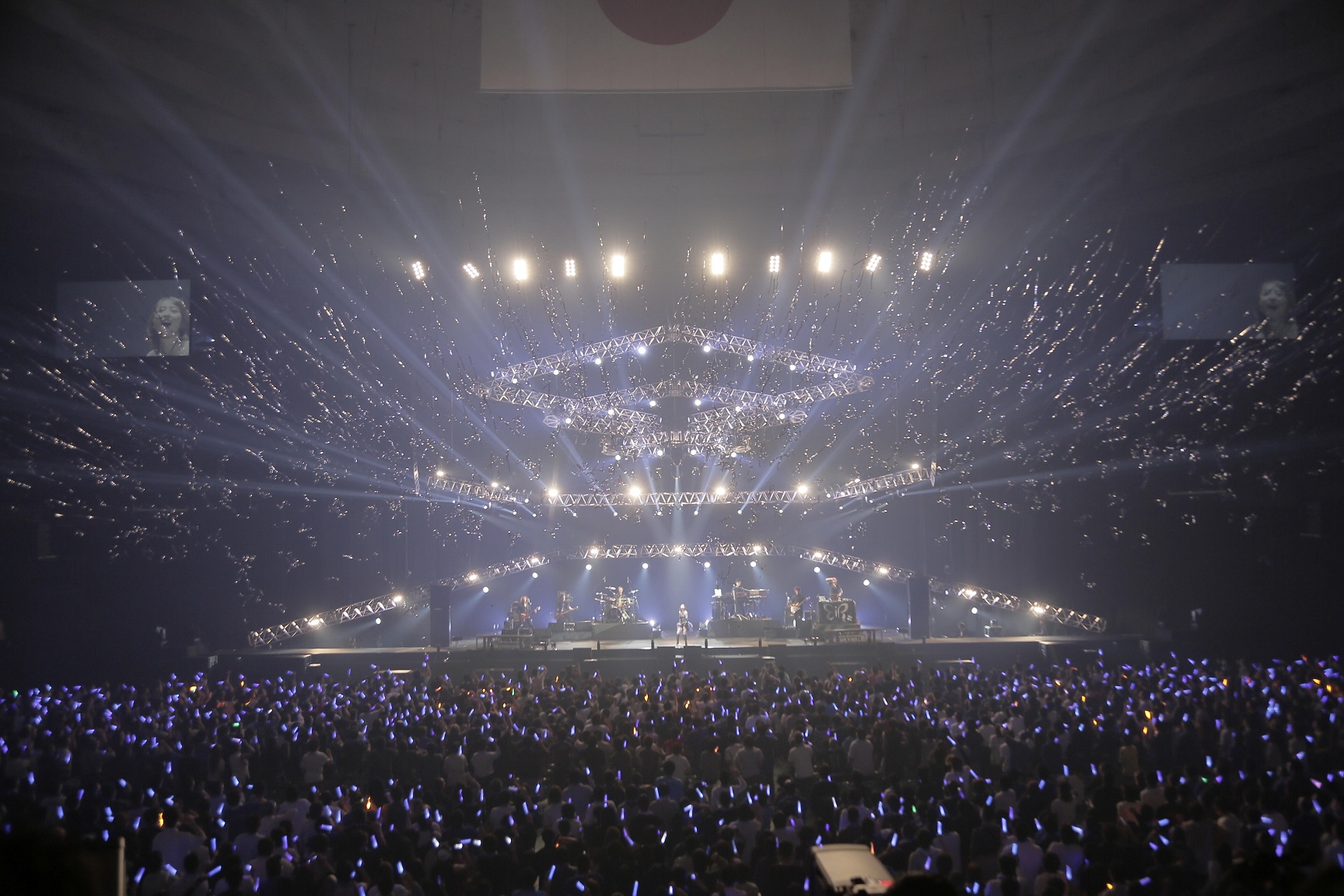 Before performing her final song, she spoke to the audience once more. She directed her gratitude and feelings to the staff and fans and said; "Thank you for finding me. Thank you for loving my songs. Thank you for always supporting me."
Her final song was "Niji no Oto" and with that, a bright light fired up at the back of the stage which she disappeared into, making everybody question whether her existence was just a dream…Her live LAST BLUE consisted of 24 songs including 3 songs for the encore. With everything that happened over these two magnificent days, the curtains finally closed.
≪ Eir Aoi LIVE summary≫
Eir Aoi 5th Anniversary Special Live 2016 at the Nippon Budokan 〜LAST BLUE〜
4th November 2016(Fri)OPEN:18:00 / START:19:00
5th November 2016(Sat)OPEN:16:00 / START:17:00
RELATED ENTRIES
Eir Aoi has released the music video for her new song Ryuusei which is currently serving as the opening theme song to the ongoing anime series Sword Art Online Alternative: Gun Gale Online.

Mei Hata makes an appearance in the music video, a young actress who has performed in dramas. The video expressively captures the sensitive feelings of a girl.

Eir Aoi's Comments:

"The music video for Ryuusei has been released. The actress Mei Hata appears in this one. The video tells the story of a girl who, despite being hurt by her daily life, still holds strong confidence in herself. This is the first music video I have done that has elements of a drama. My feelings have been put into this song, so I'd be happy if they resonated with other people."

Mei Hata's Comments:

"This is this first time I've appeared in a music video. I'm very happy to have been able to take part in Eir Aoi's wonderful music. I don't have any lines in the music video, I just act it out, so I was worried about how best to express everything, but after talking with the director, I was able to do it while valuing the emotions put into the song. I want lots of people to watch it."

Director – Takashi Tadokoro's Comments:

Eir's performance on the day was nothing short of powerful. The composition of the performances were simple as scenes, but the power embedded in her ability to convey emotions in her eyes, as well as her facial expressions and performance had me locked on and focused while I was watching without even realising. I also felt the same power in her determination. And Hata's power of expression in her acting is really something! At first glance she seems like a delicate girl, but her true essence is that she's extremely strong. The two of them were the best match for the acting in this performance."

The CD cover for Ryuusei / Yakusoku, which is set to hit shelves on June 13, has also been unveiled for the first time.

The beautiful cover with its air of exotic and the vibrant illustration make for a cool makeup.

Eir Aoi has sprung back into action with full force, so much so that it feels like she never went on hiatus.

The singer will perform a solo show at the Nippon Budokan on August 16 to set her return in stone. Pre-sale tickets are currently on sale via her fan club, so be sure to check it out if you're interested.

■Information

Eir Aoi 14th Single – "Ryusei / Yakusoku"

*Ryusei is the Opening Theme for the TV anime series Sword Art Online Alternative: Gun Gale Online.

On Sale: June 13, 2018

Price:
First Press Edition: CD+DVD ["Ryusei" & "Yakusoku" Music Videos] + Photobook \2,000 (+tax)
Regular Edition: CD \1,200 (+tax)
Anime Edition: CD + DVD ["Sword Art Online Alternative: Gun Gale Online" Non-Credit OP] \1,600 (+tax)

Digital Download/Stream: https://EirAoi.lnk.to/ryuusei

Music Video: https://youtu.be/S7u6y3IuPjQ

Eir Aoi Special Live 2018 ~RE BLUE~ at Nippon Budokan

Location: Nippon Budokan

Date: August 16, 2018

Tickets

Eir Aoi Official Website

Eir Aoi's First Solo Concert Since Hiatus to be Held at Nippon Budokan on August 16

After taking time away from the spotlight due to her poor both, Eir Aoi returned to the music scene in February this year. And she's about to set her return in stone.

It has been announced that the J-pop singer's first solo concert since her return will be held at the Budokan on August 16, 2018 for a special show titled Eir Aoi Special Live 2018 ~RE BLUE~ at Nippon Budokan.

This will mark her first solo concert in 21 months since her performance at the Budokan in November 2016. Just as the lyrics to her song Yakusoku say: "I will keep my promise / I will deliver this song." She has kept her promise and will return to the stage.

It has also been announced that Eir Aoi's official fan club Eir Land will undergo a re-opening on May 7 at noon. Pre-sale tickets for the August show will also be available for fan club members on the same day.

Eir Aoi is back in the scene. Be sure to stay up to date with the latest news.

■Information

Eir Aoi Special Live 2018 ~RE BLUE~ at Nippon Budokan

Location: Nippon Budokan

Date: August 16, 2018

Eir Aoi Official Fan Club "Eir Land"

Renewal Opening: May 7, 2018 at Noon

*Pre-sale tickets for the August show at the Nippon Budokan will also become available for fan club members on this day.

*For full details on become an Eir Land member, please visit the official homepage.

Eir Aoi – "Ryusei"

Full Stream Date: April 22, 2018 at 0:00 (JST)

*Opening Theme for the TV anime series Sword Art Online Alternative: Gun Gale Online.

Eir Aoi 14th Single – "Ryusei / Yakusoku"

*Ryusei is the Opening Theme for the TV anime series Sword Art Online Alternative: Gun Gale Online.

On Sale: June 13, 2018

Price:
First Press Edition: CD+DVD ["Ryusei" & "Yakusoku" Music Videos] + Photobook \2,000 (+tax)
Regular Edition: CD \1,200 (+tax)
Anime Edition: CD + DVD ["Sword Art Online Alternative: Gun Gale Online" Non-Credit OP] \1,600 (+tax)

Eir Aoi Official Website: http://www.aoieir.com

Eir Aoi Reveals New Visual for "Sword Art Online Alternative: Gun Gale Online" OP Song

J-pop singer Eir Aoi unveiled her latest artist photo for her new song Ryusei ("Meteors") which will serve as the opening theme song for the forthcoming anime adaptation of Keiichi Sigsawa's light novel Sword Art Online Alternative Gun Gale Online.

Eir Aoi went on hiatus from her activities in November 2016 due to health issues. Her return has sparked riotous excitement through the community.

As the song title suggests, her striking new artist visual bears a vivid resemblance to meteors, with the singer herself enveloped in countless bright, shining stars.

The next installment to the immensely popular Sword Art Online series will begin airing in Japan on April 7th from midnight. Ryusei will also be available for digital purchase on April 22nd via iTunes, mora, Recochoku, animelo mix, and other digital platforms.

Don't miss out on the newest release from Eir Aoi.

■Information

Eir Aoi 14th Single – "Ryusei / Yakusoku"

On Sale:

2018 4.22 – "Ryusei" Digital Release

2018.6.13 – "Ryusei / Yakusoku" CD Release

Price:

First Press Edition: CD+DVD ["Ryusei" & "Yakusoku" Music Videos] + Photobook \2,000 (+tax)
Regular Edition: CD \1,200 (+tax)
Anime Edition: CD + DVD ["Sword Art Online Alternative: Gun Gale Online" Non-Credit OP] \1,600 (+tax)

Wedsite: www.aoieir.com

Sword Art Online: Alternative Gun Gale Online Opening Theme "Ryuusei" by Eir Aoi Announced

Sword Art Online (SAO) is an internationally acclaimed anime series that first broadcast back in 2012. In February 2017, the movie Sword Art Online: Ordinal Scale was released, which was seen by over 1.77 million people and grossed ¥200 billion at the box office.

The next story in the SAO saga, Sword Art Online: Alternative Gun Gale Online, will begin airing in April. The story, written by Keiichi Sigsawa (Kino's Journey), is noted for its battle scenes steeped in reality and intensity.

It has been announced that singer Eir Aoi will provide the opening theme for the forthcoming anime adaptation with her new song Ryuusei. A new commercial was released featuring the song.

Be sure to check out Eir Aoi's new song and don't miss the new SAO.

■Information

"Sword Art Online: Alternative Gun Gale Online" Official Website:

Eir Aoi Official Website:http://www.aoieir.com

Eir Aoi resumes her music career! The music video of her new song, "Yakusoku " was released

Eir Aoi who stopped her music activities from the day she performed at Nippon Budokan in November 2016, announced that she will resume her music career starting from spring of 2018. Also, it was announced onher official website that she will release a new song called "Yakusoku" (promise).

On the 1st of February, a blue light started to pulse on her website and her fans went into anticipation mode thinking, "new information might be announced soon!" Then on the 8th of February (Thurs.), an official announcement was made that she will resume her music career and release her new song "Yakusoku."

Aoi Eir "Yakusoku" (YouTube Edit)

"Yakusoku" is a song created/written by Aoi herself representing her feelings and determination and is a "prelude song" of her music activity restart.

She will go into full swing in her music activities starting from this spring. Let's keep an eye out on her restart activities!

Seiko Oomori kicks off her Japan tour "2017 LIVE TOUR kitixxxgaia" with an emotion-packed show at Sendai Rensa!

2017 marks 10 years for Seiko Oomori's music career. The Japanese singer-songwriter shows no sign of slowing down as she continues to soar through the music scene, having released her third album "kitixxxgaia" back in March this year. With her new record in hand, Seiko Oomori has begun a new Japan tour entitled 2017 LIVE TOUR "kitixxxgaia". The tour kicked off on June 2nd at Sendai's Rensa.

Joining Seiko Oomori on this tour is the indispensable and familiar line-up of A-chan (Kinoko Teikoku, Guitar), Kenji Hatakeyama (H MOUNTAINS, Guitar), Eramegumi (Masakita 89, Bass), Kenta Sakurai (Guitar, Percussion, etc), Pierre Nakano (Ling Tosite Sigure, Drums), and sugarbeans (Tommy & Sammy).

The stage was decorated with a majestic backdrop of the artwork from Seiko Oomori's new album. Seiko and the band members were ebullient in their performance from the get go. The crowd joined in the fun with their indomitable excitement. The feeling in the room between the fans and Seiko was one of unshakeable unity as the performance began with tracks from "kitixxxgaia."

As the night went on, Seiko went on to perform the ballad track "Orionza," singing in cheery unison with the crowd. Seiko Oomori proves once again during this song that her live shows are packed full of emotion thanks to the phantasmagoric tone of the music provided by the band such as the guitar riffs, as well as Seiko's acapella, and the unified singing of everybody watching that reverberated through the room, all of which combined to bring tears to the fans' eyes.

A beautiful moment was born during that blissful air as Seiko let an elementary school girl play her guitar that she had been playing. It was also an unexpected song to be performed for one of Seiko's concerts, so she defied people's expectations for a good cause.

Seiko Oomori's tour will continue until July 20th where it will conclude in Tokyo at ZEPP Diver City. There's plenty more singing from Seiko to be heard and music from the band to enjoy during this tour. We look forward to seeing her grow even more by the end of it.

It was also announced that Seiko will release a brand-new single on August 9th which will be performed throughout her tour. We can expect to see plenty more from her as she shows no sign of letting up. For those people who reserve themselves a copy of the new release, you will be eligible to receive a special goodie that you can only obtain at one of her concerts. Be sure to check it out if you plan to go to one of her shows.

■Information

Seiko Oomori – 2017 LIVE TOUR "kitixxxgaia"

Dates:

Friday June 2nd, 2017 / Venue: Sendai Rensa / DOORS 18:00, START 19:00

Friday June 23rd, 2017 / Venue: Fukuoka BEAT STATION / DOORS 18:30, START 19:00

Friday July 7th, 2017 / Venue: Sapporo PENNY LANE24 / DOORS 18:30, START 19:00

Thursday July 13th, 2017 / Venue: Osaka BIG CAT / DOORS 18:15, START 19:00

Friday July 14th, 2017 / Venue: Nagoya CLUB QUATTRO / DOORS 18:00, START 19:00

Thursday July 20th, 2017 / Venue: Tokyo ZEPP Diver City / DOORS 18:00, START 19:00

http://oomoriseiko.info/live/tour.php?id=1000965

New Single

Title: draw(A)drow

On Sale August 9th, 2017

Related article:LADYBABY collaborated with Omori Seiko in a two-man live! They announced that Series Vol.4 will be held!

Related article:The 3rd wave of artists announced for "KAGA MUSIC FESTIVAL 2017" including tofubeats, Maki Nomiya & more!

MAN WITH A MISSION conclude their final show with support from JIMMY EAT WORLD and announce joint US tour with them!

With their latest single "Dead End in Tokyo" in hand, MAN WITH A MISSION recently held the last of their extra shows for their "Dead End in Tokyo Tour" at Shinkiba STUDIO COAST. Joining them as special guests on stage for this string of encore shows was American rock band JIMMY EAT WORLD, who haven't performed in Japan for almost 6 years (and almost 9 years as a solo act). MAN WITH A MISSION announced at the final show that they will be joining JIMMY EAT WORLD in a joint tour in America for September this year.

 

JIMMY EAT WORLD stepped onto the stage as the opening act, who released their 9th album "INTEGRITY BLUES" back in October 2016 which marked their 20th anniversary since their major debut. The show was a joint gig with set lists that focused around enjoy the bands' old and new music rather than just the newer material.

From the get go the crowd gave a huge round of applause and cheered for the band as they walked onto stage. The crowd were devoured by the sound of JIMMY EAT WORLD who played songs such as "Work" and "Lucky Denver Mint."

The crowd sang along for their final two tracks, "Sweetness" and "The Middle," before their set came to a close. They are two universally love tracks by fans, so people made sure to give it their all for the last of JIMMY EAT WORLD's performance.

MAN WITH A MISSION were then welcomed on stage. Guitarist and vocalist Jean-Ken Johnny screamed, "It's been a while, Tokyo. Let's go!" The band stirred up the crowd even more with their performances of "Get Off of My Way" and "Hey Now."

Bassist for the band Kamikaze Boy ran around the stage, and DJ Santa Monica also left his booth to join in with the madness on the floor in front of the stage. The band went full high-speed from the very beginning, before performing the next song, "Give it Away."

Amongst a powerful ensemble of instruments, the music was amplified to 100 by Tokyo Tanaka's powerful vocals and Jean-Ken Johnny's rapping.

DJ Santa Monica braved a stage dive into the pumped up crowd for "distance" and was joined by Kamikaze Boy who was held up by the crowd as he continued to play his bass.

The latter half of the performance began with "NEVER FxxKIN' MIND THE RULES" where the band got creative and technical with their sound and played freely.

Spear Rib upped the drive of the crowd even more with his drumming skills. The band then began to play the famous guitar riff of "Smells Like Teen Spirit" which sent everybody in the venue wild.

The band were also having a huge blast, but it was the crowd whose overwhelming power reverberated throughout the room.

Jean-Ken Johnny described the fact that the band had been lucky enough to not only play alongside Hi-STANDARD at the end of 2016 for AIR JAM 2016, but now JIMMY EAT WORLD, as "indescribable."

The members of MAN WITH A MISSION talked about their ups and down as a band for the past 7 years, looking back at how their path had not just been full of fun times, but also how they had been put down many times before. But they also said to look back at themselves as guys who always have a smile on their face, and to continue working hard together. Their drive and self-confidence is linked to the scale of their sound and their toughness as a band which has continued to pierce through, rather than what kind of music they like or what principles they subscribe to.

Their almost 3-month long tour ended with a 'let's meet again at our next show' to the crowd and a performance of "Dead End in Tokyo."

The encore consisted of a special digest video entitled "Ookami Daizenshuu V" (Japanese: 狼大全集Ⅴ) and the announcement of their joint tour in America with JIMMY EAT WORLD scheduled for September 2017.

Be sure to keep your eyes on this wolf pack and their endeavours as they continue to pierce through the scene even further.

Information:

■Latest Release Information

 <MAN WITH A MISSION>

New Film "Ookami Daizenshuu V"

On Sale June 14th, 2017

[First Press Limited Edition] Includes 2 DVDs (SRBL-1744~5) ¥5,093+tax

[Regular Edition] Includes 2 DVDs (SRBL-1746~7) ¥4,630+tax

[Blu-ray] Includes 1 Blu-ray (SRXL-123) ¥5,556+tax

<JIMMY EAT WORLD>

Jimmy Eat World

9th Album "Integrity Blues" (SICP-4999)

Now on sale at ¥2,200+tax.

Related article: MAN WITH A MISSION's song "Dog Days" features in the new "Asahi Dry Zero" TV commercial song!

Related article: MAN WITH A MISSION is appearing on the video "FENDER FEEDBACK" as a non-human head artist

Haruna luna's 5th anniversary live was a great success! Her new single and album will be released soon.

Haruna luna, a popular animation song artist who sings theme songs for various popular animations, held her 5th anniversary live concert titled,"Haruna luna LIVE 2017 5th Anniversary Fes. ♡with you♡" on the 2nd of May at Zepp Diver City Tokyo (Odaiba). Her concert was a great success and many of her fans were mesmerized.

May the 2nd was Haruna's 5th anniversary since her debut. Since her live, called a "Fes." invited many guest artists, the venue was filled with excitement. The first song was "Binetu no Tuki" which gathered attention because it was included in the addendum CD before her debut. At the beginning of the concert, she performed the rock tunes "Kyoso Refrain" and "Ai wo Utae" and after that she performed her masterpieces such as "Overfly." The stage then changed to scary atmosphere and she performed Machigerita triptych medley which is a song on her 1st album.

After that, the first guest AKIRA appeared and they performed "Kinki no Gyosei" which is included in her mini album released in February of this year. After this serious, dark and erotic song, they softened their fans's heart with some good talking.

After that, Kotoko appeared on stage. They collaborated together which very rare and performed "ANIMAX MUSIX 2017 OSAKA," "C3 in Hong Kong" and "S×W –soul world-" and set the fans on fire.

Finally, the last guest, Moso Calibration appeared on stage. They performed "Sakurairo Diary" which is the ending theme song of the TV animation "Saenai Kanojo no Sodatekata ♭and announced that they will be holding an event on the 18th of June (Sun) in SHIBUYA CLUB QUATTRO.

In the last part of the concert, they performed both popular songs and songs that cannot often be heard live and the popular song "Kimiiro Signal." In this song Moso Calibration performed as dancers.

After the encore, Haruna performed her debut song "Sora ha Takaku Kaze wa Utau" and announced that she will release a new album in the near future. She also told her fans that "We will continue to perform together for 6, 7, 8 years" and concluded the live with "Lunatic Word." She released her new single "Stella Breeze" on the 3rd of May and will release her 3rd album "LUNARIUM" on the 21st of June. She is also planning to appear on various lives and events, so please check them out.

■Information

Stella Breeze

Release date: May 3rd

3rd album

LUNARIUM

Release date: 21st of June

 "Saenai Utahime no Special Live ♭" Haruna luna × Moso Calibration

Date:June 18th, 2017 (Sun) Open 17:00 / Start 18:00

Venue: SHIBUYA CLUB QUATTRO

Performers: Haruna luna and Moso Copulation

Ticket: Standing \4,860 (tax included)

−−−

Related article:Luna Haruna charms a crowd of 3,000 anime fans at "Kawaii Kon"

Related article: Anime song artist, Luna Haruna will release her new song, "STELLA BREEZE" on May 3rd and she made this lyrics!

BABYMETAL's unforgettable performance at London's O2 Arena with the Red Hot Chili Peppers

"BABYMETAL". If you haven't heard of this band yet then you must be living under a rock.

BABYMETAL have proven to be a limitless and unprecedented trio that continue push the boundaries of the music industry.  If you've seen their name in the headlines over the past year in particular, then you know exactly what I'm talking about. Just when I thought that these three young girls from Japan had no way of topping that amazing and surreal performance together with Rob Halford of Judas Priest at the Alternative Press Music Awards back in July, the Red Hot Chili Peppers announce that they are to take the same BABYMETAL with them on the UK leg of their "The Getaway World Tour".

The tour was originally planned to begin on December 5th and end on December 15th, with two consecutive performances at a few of the scheduled venues, including the famous O2 Arena in London with a capacity of 20,000. However, due to popular demand, a third date was added for The O2, extending it to December 18th. This is the show that I attended.

The huge arena faded to black and screams echoed throughout. When the lights came on, out stepped the Kami Band. The girls followed and they opened the night with the epic "Road of Resistance" which included call-and-response interaction with the audience to get them pumped for what was to follow. BABYMETAL performed "KARATE" as well as a number of classics that included "Gimme Choco!!!", "Megitsune" and of course "Catch me if you can" which has come to be the track where the Kami Band show off their true skills on their instruments with solos from each member.

What truly made the night, however, was when Chad Smith of Red Hot Chili Peppers surprised the audience by joining the Kami Band and the girls on stage as the drummer. Chad himself dressed as a Kami Band member, donning the white robes and make-up. He was officially dubbed "Chad Metal" by the girls during his performance. What followed was an absolutely incredible cover of two Judas Priest songs, "Painkiller" and "Breaking the Law", the same songs the band performed with Rob Halford in July. It was an unexpected treat and loved by fans that recognised the songs. SU-METAL has come a long way with her amazing singing ability, and these covers really showed her potential. SU-METAL thanked Chad Metal for joining them on stage and he went off. But Chad soon returned to the stage with a birthday cake for SU-METAL, whose birthday was on December 20th, and the entire venue sang Happy Birthday for her. Chad then spoke some heartfelt words about BABYMETAL, saying "BABYMETAL's been on the tour with us for all the UK. We love having them, they're amazing. They're beautiful, wonderful, talented people."

BABYMETAL are set to tour with METALLICA on their "WORLDWIRED TOUR 2017" in Seoul on January 11th, 2017. They will then join Guns N' Roses for their "JAPAN TOUR 2017" where they will play 4 dates on January 21st, 22nd, 25th and 29th in Osaka, Kobe, Yokohama and Saitama respectively. The power and love of BABYMETAL is evident to see. If they're heading to a city near you, don't miss out on your chance to see a performance from one of the biggest names in metal today.

Writer: Joshua Kitosi-Isanga
Studying Japanese and has a deep interest in Japanese pop culture.
Currently enrolled at university in the UK and has studied abroad in Japan for 1-year.
Writer & Translator at MOSHI MOSHI NIPPON.

−−−

■Related article:I can't know with just the music! What's the fascination with Perfume & BABYMETAL, two groups gaining attention all over the world!?

■Related article:Judas Priest vocalist Rob Halford joins BABYMETAL onstage for an epic performance【Video】

AAA perform their first ever solo dome tour to 18,000 people and announce new single & album!

7-member male and female group AAA completed the finale date of their dome tour "AAA Special Live 2016 in Dome -FANTASTIC OVER-" at Tokyo Dome on Wednesday (November 16th).

This was their first ever dome tour since their debut 11 years ago. Across four days they played to a packed out crowd of 18,000 fans at Osaka's Kyocera Dome and Tokyo Dome. They performed a total of 22 songs, both classics as well as their latest tracks.

Members Nishijima and Urata performed a capella for "Miss you". For "LOVER", all the members hopped aboard a luxurious and gorgeous float which had a wireless camera that spanned 10m in length and 6m in height, as well as a huge LED screen, which had the crowd going wild. The screen showed a video that was made by "Possible Productions", a film production company in LA. They have made film footage for big name overseas artists such as Eminem and Big Bang for their live tours, but this was their first time making one for a Japanese artist. It was an absolutely spectactular performance for their first ever dome tour.

During the encore, the group announced a new single and a new album to be released next year on February 8th and February 22th respectively, which of course had the fans screaming. It's looking like 2017 will be a year to watch out for AAA.

■Information
AAA / New Single On Sale February 8th・New Album On Sale February 22nd! http://avex.jp/aaa/news/detail.php?id=1043013#

"Namida no Nai Sekai" Music Video: https://www.youtube.com/watch?v=0ls3T69eV2o

ーーー
■Related Article: Multi Super Performance Group ; AAA

http://www.moshimoshi-nippon.jp/19630

■Related Article: AAA energise fans with their Asia tour — to be followed by their solo dome tour in Japan & electrifying news!

After Report of Nakata Yasutaka & Kyary Pamyu Pamyu's Two-man Live『YSTK×KPP』

Following the concerts in Nagoya and Osaka, Nakata Yasutaka and Kyary Pamyu Pamyu wrapped up their two-man tour 「~SPECIAL DJ×LIVE ZEPP TOUR 2016~『YSTK×KPP』」 with a final performance at Zepp DiverCity on Monday November 14th.

The concert began with the figure of Nakata Yasutaka visible up high in his DJ booth shrouded in dazzling, gorgeous lighting and smoke as he opened the night up with the track "Dancing Planet ft.VERBAL".

Kyary Pamyu Pamyu then took to the stage, dolled up in a red one-piece outfit, and performed "CANDY CANDY" which had the entirety of the huge audience up in a heated frenzy. Kyary featured in the CAPSULE song "Motor Force", after which her and Nakata Yasutaka performed a special version of "PONPONPON", all the while displaying their awesome chemistry and perfect synchronisation. It was a night of non-stop action as the performance mixed DJ party vibes together with a concert feel.

Kyary got down with the beat and danced while fans waved their penlights like crazy. Everyone in the venue waved their towels for "Kira Kira Killer". The whole venue became a dance floor as the songs continued to flow, such as a powerfully arranged version of "Mondai Girl", and as the sound of the electronic beats beat.

There was then an intermission, during which Nakata played CAPSULE's "Another World". Kyary returned to the stage to perform "Ninja Re Bang Bang" and "do do pi do", and waved a giant flag as she sang, exciting the audience.

To let the audience cool down and rest a bit, Kyary sang her ballad "Oyasumi", comforting everyone into a relaxed mood. Nakata then performed his latest solo track "NANIMONO (feat. Kenshi Yonezu)" which is used as the main theme song for the movie "Nanimono".

Afterwards, Nakata and Kyary both assembled themselves on stage for the last spurt of the show. They pushed for the climax as they performed the upbeat song "Invader Invader" and a more dynamic arrangement of "Fashion Monster."

It was then that the duo performed a song from their upcoming double A-side single for the very first time on the tour, titled "Harajuku Iyahoi" (Japanese: 原宿いやほい), scheduled to be released on January 18th, 2017. Fans threw their fists into the air during the phrase in the chorus "Harajuku de iyahoi! toriaezu iyahoi!" (Japanese: "原宿でいやほい! とりあえずいやほい!"), bringing a hugely successful end to the performance.

Cries for an encore didn't stop, bringing Nakata and Kyary back on stage to go all out in a performance of "Tsukema Tsukeru". Kyary then asked Nakata "How did you find our first two-man live?" to which he responded "It was an amazing experience". Kyary agreed, saying "It really was. We've powered up!"

Kyary went on to give some moving comments: "We've been able to perform in Tokyo, Nagoya and Osaka for this first ever two-man tour. Ever since I debuted, and even now, I have been a huge fan of Nakata Yasutaka, so I was actually really nervous about doing this two-man tour, but it went really well and we have been able to complete all 3 performances with no troubles. Thanks so much to all of you!" Kyary ended in a fired up voice, saying "If we get the opportunity to do this once more please be sure to come along again!"

The duo went on to perform the final song, "Sai & Co", and fans went all out with their remaining energy, before the curtains finally closed on the night. Nakata and Kyary's two-man live was extremely special as it displayed the power of their chemistry, while also drawing out new sides of both of them.

ーーー

■Information

~SPECIAL DJ×LIVE ZEPP TOUR 2016~『YSTK×KPP』

Zepp DiverCity (DOORS 18:00/START 19:00) DiverCity Tokyo Plaza 1 Chome-1-10 Aomi, Koto, Tokyo 135-0064

・New Single Details

Artists: Nakata Yasutaka/Kyary Pamyu Pamyu

Full details regarding the contents of the single and the single's title will be announced at a later date.

※The special VR item add-on release from Kyary Pamyu Pamyu that was announced in August will now be released as part of the double-A side single in 2017.

ーーー

■Related Article: Worldwide famous and popular Japanese artists including Kyary Pamyu Pamyu and CAPSULE to perform at MOSHI MOSHI NIPPON FESTIVAL!

http://www.moshimoshi-nippon.jp/20082

■Related Article: Kyary Pamyu Pamyu × Nakata Yasutaka to release a Double A-side single! A certain overseas artist will feature in Nakata's track with guest vocals from Kyary Pamyu Pamyu!

http://www.moshimoshi-nippon.jp/20427

■Related Article: Kyary Pamyu Pamyu's First art exhibition to be held at Laforet Harajuku from December 16th!

Cheeky Parade announce their rival group for battle of the bands, the next installment of their live series!

Cheeky Parade have begun their series of concerts titled "LIVE LIVE LIVE", with vol.0 recently being held at Shibuya WOMB. The group are now moving onto the next installment, vol.1, which will come in the form of battle of the bands.

The vol.0 show began with a big mirror ball in the center of the room and a huge screen on stage. Tickets were sold out; there was a huge line of around 300 people waiting to enter the venue, eventually packing it out. The girls pumped everyone up by playing a list of Cheeky Parade hits, such as "SKY GATE", "Tactics" and "Colourful Starlight".

During the middle of the concert the girls made use of the club space to enact short skits, and member Seran Mizorogi even tried DJing for the first time, all of which amounted to a new kind of performance from Cheeky Parade.

In the final part of the performance, as if they were showing their true ability, they concluded with a string of powerful songs, including "Hands up!" and "Lost+Found". Everyone also celebrated during the encore for member Yuuna Sekine who turned 22 at the end of September. This was truly a special event.

Vol.1, the next installment to the concert series, will be a battle of the bands against Hige Dri VAN. Pitting against Hige Driver with songs such as "Check It Out", which is hugely popular even overseas, and their latest single "Hands up!", it will be interesting to see how the two groups get along. The fact of how they are both so different is attracting some serious attention!

■Information
Official Website: http://www.cheekyparade.jp/

ーーー

■Related Article: Interview: Having performed at the CBGB festival and currently gaining international attention, just who are "Cheeky Parade"?

http://www.moshimoshi-nippon.jp/20142

■Related Article: MOSHI MOSHI INTERVIEW: Cheeky Parade