AmPm's New Song 'more' Features DedachiKenta On Vocals
AmPm have announced that they will release a new song entitled more feat. DedachiKenta & FUNTYME on May 22. The electronic duo previously worked with popular Japanese group A6 and now they have invited DedachiKenta on board for vocals to their new track.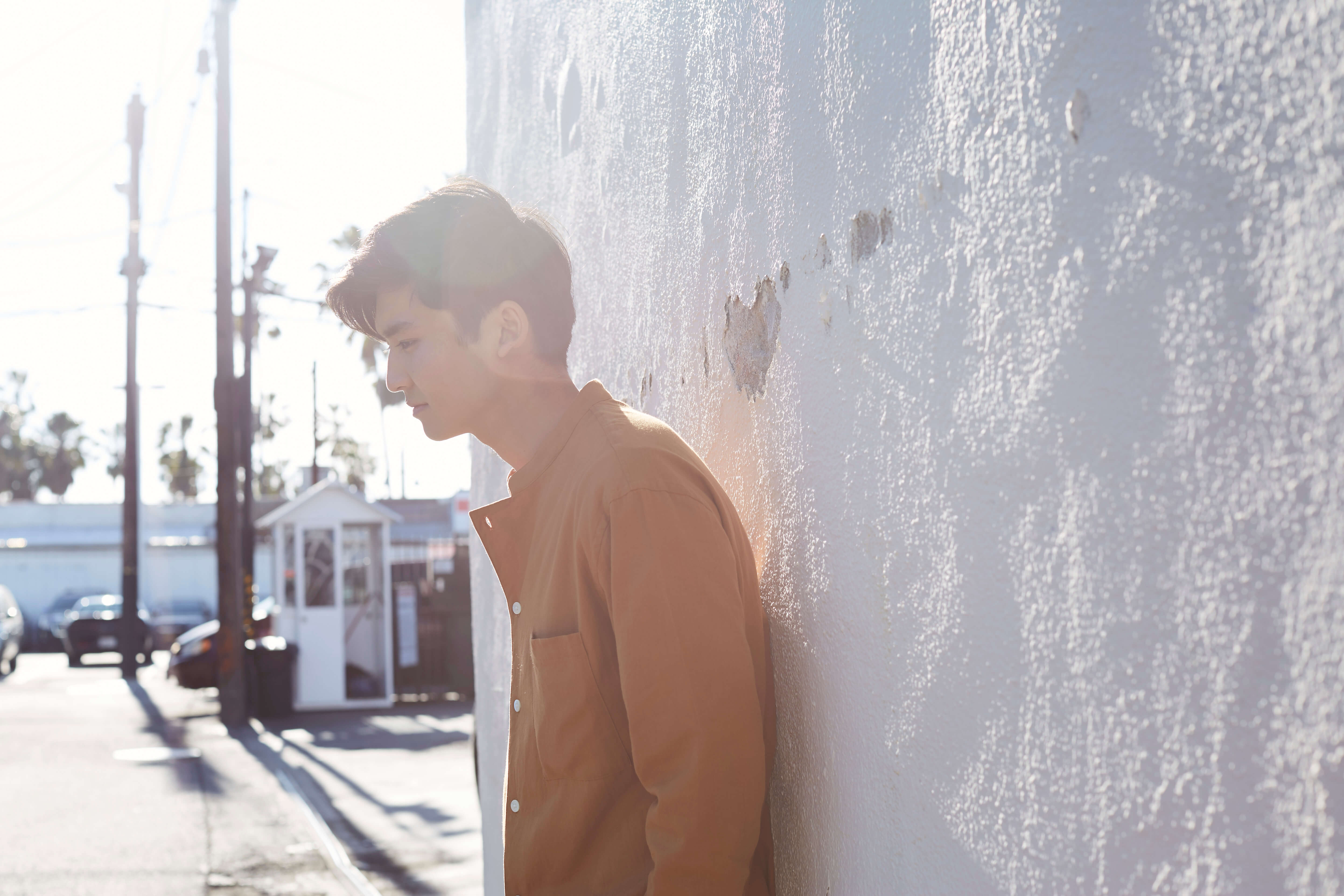 DedachiKenta is a 19-year-old singer-songwriter currently living in Los Angeles. He joined Office Augusta's new label "newborder recordings" in November last year and released his first debut tracks as an artist This is how I feel and Memories. Both songs made it onto FM29 across Japan and the singer made it onto YouTube's "Artists to Watch" list.
AmPm's new song is described as having a different taste to what we're used to from the masked duo. Its melody is "catchy with a feeling of refreshment." The music is laced together by DedachiKenta's honest and pure vocals and is a peek into the coming summertime.
DedachiKenta will appear as a guest at AmPm's upcoming performance at GREENROOM FESTIVAL '19 on May 25. AmPm completed their first solo concert last month so we look forward to seeing what they have in store later this month.
© & ℗ PLAY RECORDS & Avex Entertainment Inc.
RELATED ENTRIES
AmPm Give In-Depth Explanation of NFT Appeal During 5th Anniversary Project

In 2017, the masked musical unit AmPm made its debut with the song Best Part of Us, and has continued to attract listeners from all over the world. In celebration of its 5th anniversary in 2022, the pair are planning tons of new projects. Each will be announced on the 16th of each month.

 

Along with releasing original music, AmPm has been working to create valuable assets in the Metaverse, starting with the sale of NFT. In a first for a Japanese artist, the pair began selling a limited trial of unreleased music in 2021. Recently, AmPm announced some new NFT digital art.

 

Based on the pair's experience of music curators, the NFT project hopes to provide unique pieces for an affordable price, allowing as many people as possible to become familiar with the NFT space.

 

AmPm recently purchased 'Jidori Girls,' a project by JidoriDeployer, on OpenSea. They decided to purchase it not only because of its immediate appeal, but also because it fit with AmPm's worldview.

 

After the announcement, there was an exchange on Twitter with the creator of Jidori Girls. Fans from around the world also chimed in with comments like "You are incredible," "Awesome collab!," and "Thanks for joining our community!" 

AmPm Delivering "THE BOOK"

https://youtube.com/shorts/MD2xQcLScjs

In the note section, the pair explained the NFT, how they came to purchase it, its appeal, and the significance of the purchase.

 

It's unclear how NFTs will affect AmPm's future activities. Fans will just have to stay tuned to find out!

Tokyo (VIVID Remix), a remixed version of AmPm's dance track Tokyo, was released on Friday, January 7, 2022.


 

AmPm / Tokyo (VIVID Remix)

 

The original song was released in March 2021 and was the first full-fledged dance track based on AmPm's roots in dance music. Inspired by the neon city of Tokyo, it was released on Sushi Muzik, an up-and-coming label based in Amsterdam and founded in 2020. The company has released tracks from dance music legends like Norman Doray, Roland Clark, Kryder, and Eddie Amador. 

The remix was done by DJ VIVID, who is from the United States but based in Tokyo. Leading the Asian club scene, he has released his original music on A-list labels like Armada and Enhanced Music and has reached #19 on the US Billboard Dance Chart and #8 on the US Radio Chart.

 

Message from VIVID

"AmPm's unique sound found in 'Tokyo' inspired me to bring a house-y vibe geared for the underground nightclubs in Japan."

 

Message from AmPm

"We're happy to have started 2022 with such a fast-paced song. The original song itself was pretty fast, but this more dense sound is something that only DJ VIVID can provide. I think listeners will enjoy the difference between this and the original track. 

I hope that this year, people from all over the world will be able to gather in Tokyo."

AmPm Releases Summer Dance Tune with American Singer Amanda Yang

Masked unit AmPm has been gaining listeners from around the world since the release of their debut track Best Part of Us feat. Michael Kaneko in March 2017.

Their new single, Everyday feat. Amanda Yang, was released on August 20, and was made available to stream on the same day. 

 

Everyday feat. Amanda Yang

 

Amanda Yang is an American singer/songwriter with over 110 million streams on Spotify. Her soulful and clear vocals blend perfectly with the catchy tropical house beats, making this the quintessential refreshing 2021 summer anthem. This release also features previously released AmPm tracks Travelling Light and Own this Groove. 

 

Comment from Amanda Yang


Everyday is about getting caught off guard and falling in love with someone. Being vulnerable is hard. So, I wanted to capture the moments when you realized that you were no longer just "casual" with someone. The moments that showed it grew into something bigger. Everyday is about finally letting your guard down and being open to loving someone without restrictions.'

 

Comment from AmPm

'Beginning in 2021, we're not just releasing artist collaborations like we were before–we're releasing pure dance tracks. Everyday is a great combo of AmPm's past trends and this year's dance music trend. It's a simple and easy to understand summer tune, so we hope people can just enjoy the heat while vibing to this track. Even though there are still tons of restrictions in place this summer, we hope turning this song up a little louder will help raise everyone's spirits.' 

 

AmPm are set to release their brand new digital single New York City on June 18. The Japanese masked duo made their debut and name known worldwide with the release of Best Part of Us feat. Michael Kaneko back in March 2017.

The track will be their second release of 2021 following Tokyo back in March which came as the duo's first dance track. It's a foot-stomping house music number with elements of techno and soulful house that make you think of New York.

 You could say New York City is also AmPm going back to their roots as the city is where they both donned their masks and began music together.

AmPm released their song Afterflow in collaboration with Taiwan-based singer Kimberley Chen last month  so be sure to check that out below too.

 'AmPm / Afterglow (feat. Kimberley Chen)' (Music Video)

AmPm released their new single On The Black and White feat.Doul (Dipha Barus Remix) on April 23. The masked duo, who made their debut and name known worldwide with Best Part of Us feat. Michael Kaneko back in March 2017, are no strangers to remixing tracks, but this comes as the first time one of their owns tracks has been remixed by another artist.

AmPm's song On The Black and White has been remixed by Indonesian music producer Dipha Barus. The original track, which features Doul, was released in January of this year. Barus keeps the emotional undertone of the original and transforms it into a number to move your feet to. There's even a music video for it which you can check out below – it gives you an even better feel for the song. 

AmPm/On The Black and White feat. Doul (Dipha Barus Remix)

Dipha Barus and AmPm have some words about the remix which we've translated below.

Message from Dipha Barus 

"It's truly an honour, and I'm overjoyed, being requested to remix AmPm's On The Black and White. I'm grateful, since I've been in contact with them ever since we performed on the same stage together in 2017. It's been a really fun experience getting stuck in with this remix. I can say with confidence that I've made the best thing I possibly could. I pray that my brothers are satisfied with the results, and I hope in the near future I can perform together with them again once we're done with this!"

Message from AmPm

"We've been in touch with Dipha ever since we performed together at SPOTIFY ON STAGE in Indonesia in 2017. He's unique, and we can feel his identity as an Indonesian artist on many of his songs. He's someone we have great respect for. We've longed to work on a project with him. We've thought about having numerous different people remix our songs before, but for our first remix there's no one else but him. It's our first time experiencing our music being reborn by someone else's hands, and it's more than we could have hoped for. We're so excited, and we look forward to performing with him again."

TV Anime Fruits Basket Opening Theme 'Chime' Gets Remixed by AmPm

Masked music duo AmPm released a remix of Ai Otsuka's song Chime on music download and streaming services, along with a music video, on Wednesday (October 7).

Since August, Ai Otsuka has teamed up with music producers and track makers of various genres to release a remix of one of her songs per month. Chime comes as the third of hers to receive a remix. The first was PEACH which was remixed by Tomggg and the second Kingyo Hanabi by ANIMAL HACK. AmPm have produced music for a whole range of Japanese artists such as V6  and Ken Hirai, and have remixed for the likes of Afrojack and Nicky Romero outside of Japan.

Chime is used as the second opening theme for the first season of the 2019 TV anime adaptation of Fruits Basket. The song is hugely popular within anime community both inside and outside Japan.

Check out the colourful music video for the remix below which is inspired by the fairy tale The Ugly Duckling.

Ai Otsuka – "Chime (AmPm Remix)" Music Video


AmPm | Comment

"We've had the chance to remix a lot of different songs, but this one was the hardest to remix. The original track is fast-paced, and Otsuka's voice is persistent. We went through a lot of trial and error which is unusual for us. We wondered things like, 'Can we tamper with this part' and 'Have we finished?' The original song was written as the second opening theme for season one of the Fruits Basket anime, but this remix feels more like and ending theme. If the original is the chime to start the day, then the remix is the one to signal the end of it. But we want people to think of it more as an ending that connects to tomorrow, rather than a cut off. We also think that although it's the same song, you can take the lyrics differently between both versions, so we hope that makes the existence of a remix more fun for people so they can listen and compare!"

AmPm's Fruits Basket Opening Theme Lyric Video Released

Since dropping their debut track Best Part Of Us feat. Michael Kaneko in March 2017ーwhich has over 33 million plays on Spotifyーmasked music duo AmPm have garnered fans worldwide. They wrote the opening theme song Prism feat. Miyuna for season two of the ongoing TV anime series Fruits Basket which began airing on April 6.

Fruits Basket is an internationally celebrated series, with the manga having sold over 30 million copies worldwide. A lyric video for the opening theme was posted on the official avex YouTube channel which features clips from the anime series.

AmPm – "Prism feat. Miyuna"

This is the first song with full Japanese lyrics to be composed by AmPm, a group with global following. The chill music fuses beautifully with the warm embrace of Miyuna's vocals.

©Natsuki Takaya・Hakusensha/Fruits Basket Production Committee


Information

AmPm – "Prism feat. Miyuna"

Release Date: April 8, 2020

©℗ A.S.A.B / PLAY RECORDS

Stream AmPm: https://ampm.lnk.to/ampm

 

Fruits Basket – Season 2

Initial Broadcast: April 6, 2020

2nd season Opening Theme: "Prism" by AmPm feat. Miyuna

2nd season Ending Theme: "ad meliora" by THE CHARM PARK

 

Fruits Basket Official Website: https://fruba.jp/

AmPm to Perform Fruits Basket Anime's Season Two Opening Theme 'Prism' feat. Miyuna

Since dropping their debut track Best Part Of Us feat. Michael Kaneko in March 2017ーwhich has over 33 million plays on Spotifyーmasked music duo have garnered fans in worldwide. And it's now been revealed that they will perform the opening theme song for the upcoming second season of the TV anime series Fruits Basket.

The song is entitled Prism and features Miyuna on vocals. Miyuna is a 17-year-old Japanese singer who gained fans across Japan last year for her incredible singing talent. This will also be AmPm's first song sung entirely in Japanese. The track will be released on April 8, 2020.

Fruits Basket was serialised in Hana to Yume, published by Hakusensha, from 1998 to 2006. The entire 23-volume series has sold over 30 million copies worldwide. The original 26-episode anime adaptation by Studio Deen ran in 2001 from July to December. A new series with new cast and staff began aired from April to September last year. Its long-awaited second season will return next month on April 6. The season two ending theme ad meliora will be performed by THE CHARM PARK.

Hear both Prism and ad meliora tie together the highly anticipated second season of Fruits Basket when it airs on April 6.

©Natsuki Takaya・Hakusensha/Fruits Basket Production Committee

Information

AmPm – "Prism feat. Miyuna"

Release Date: April 8, 2020

©℗ A.S.A.B / PLAY RECORDS

Stream AmPm: https://ampm.lnk.to/ampm

Fruits Basket – Season 2

Initial Broadcast: April 6, 2020

2nd season Opening Theme: "Prism" by AmPm feat. Miyuna

2nd season Ending Theme: "ad meliora" by THE CHARM PARK

Fruits Basket Official Website: https://fruba.jp/

After their debut in 2017 AmPm became a worldwide sensation, captivating listeners on a global scale who have collectively smashed the play button on their tunes over 50 million times. Just yesterday, the masked duo AmPm released their new song Is This A Game feat. Talitha., Chocoholic & Evanturetime on March 4, 2020.

AmPm – Is This A Game feat. Talitha., Chocoholic & Evanturetime

The song features 23-year-old Malaysian pop artist Talitha. from Kuala Lumpur. It's a mix of AmPm's beautiful chill dance sound with Talitha's weet and soulful voice. The refreshing-sounding dance tune reminds one of the cool winters of southern Malaysia.

The song, which sings of love games, also has a tropical dance sound to it, created by AmPm together with Chocoholic and Evanturetime. It comes after AmPm's previous collaboration with Singaporean R&B/funk trio brb. on Sorry That I Love You.

Masked music group AmPm is releasing their new song 'Sorry That I Love You feat. brb. & Chocoholic' on November 6. After their debut in 2017 AmPm became a worldwide sensation, captivating listeners on a global scale who have collectively smashed the play button on their tunes over 50 million times. 

After releasing their popular hit track 'more feat. DedachiKenta & FUNTYME' back in May this year, their new song will be their second release of 2019. This time, AmPm have created the track in collaboration with R&B/funk trio brb., who are popular in Singapore, and Japanese track-maker Chocoholic. 

As the title entails, 'Sorry That I Love You' is full of bittersweet lyrics fused with brb.'s R&B vibes and AmPm's signature chill dance track style. 

AmPm's series of unmissable hit tunes, including the single they released in collaboration with V6 back in June, are available on major streaming services so make sure to check them out. 

Information

Sorry That I Love You feat. brb. & Chocoholic

Release: November 6, 2019 

© (P) PLAY RECORDS & Avex Entertainment Inc.

AmPm Streaming and Downloading Links: https://ampm.lnk.to/ampm

AmPm is an electronic music duo that has kept the global music market in mind since their debut back in 2017. Their debut track Best Part Of Us has enjoyed its majority of Spotify streams from overseas fans. They have also collaborated with several international artists such as Ayden and Frida Sundemo.

The masked duo are now set to write the song All For You for Japanese boy band V6 which will be featured on their upcoming double A-side single Aru Hi Negai ga Kanattanda. The track will feature AmPm's iconic mysterious dance sound and English lyrics backed by V6's utterly addictive harmonies.

AmPm commented the following on the release: "This track has been the hardest to make out of any songs we have worked on to date. In the end, and through trial and error, we believe we have brought together Chocoholic's strength, who is the main track-maker of the song, and Arner and Chiris's gentleness, who are in LA and who we worked together with."

Information

All For You

Release Date: June 5, 2019

Japanese electronic duo AmPm claimed a spot on the international stage with Best Part Of Us, their debut track which was released in March 2017 and has garnered over 1.9 million streams on Spotify worldwide, 70% of which are from outside Japan, establishing them as an international influence. Following up on their recently released single Travelling Light feat. Frida Sundemo, AmPm have announced yet another new track.

Titled Faded Love, the song once again features vocals from Michael Kaneko with whom they joined creative hands with for the international hit Best Part Of Us. Kaneko's voice calmly intertwines with the mysterious sounds of the synths. It's almost a vivid reminder of Best Part Of Us. The song will serve as their final track of the year and is a perfect match to the winter season.

Comment: AmPm
"The reason we released this song at the end of the year is because everyone including ourselves hasn't necessarily had a [completely] happy year; everyone must have had at least one painful experience. We released it during this season because we want people to take that experience into the next year. We pray that people can look back over this year and face the new one with a positive attitude. We hope this song can help support everyone a little."

Faded Love feat. Michael Kaneko is now available on Spotify and other major online music services.

Information

AmPm – "Faded Love feat.Michael Kaneko"
Released: December 5, 2018
Official Website: https://avex.jp/ampm/