Shiseido and teamLab Collaborate at New Shiseido Forest Valley in Singapore
Shiseido Forest Valley is an immersive new indoor forest in Jewel Changi Airport in Singapore. Together with this new area, Shiseido has is also collaborating with teamLab on their new art installation SENSE. By opening Shiseido Forest Valley in Jewel Changi Airport which is used by people across the globe, Shiseido will be able to increase their international presence.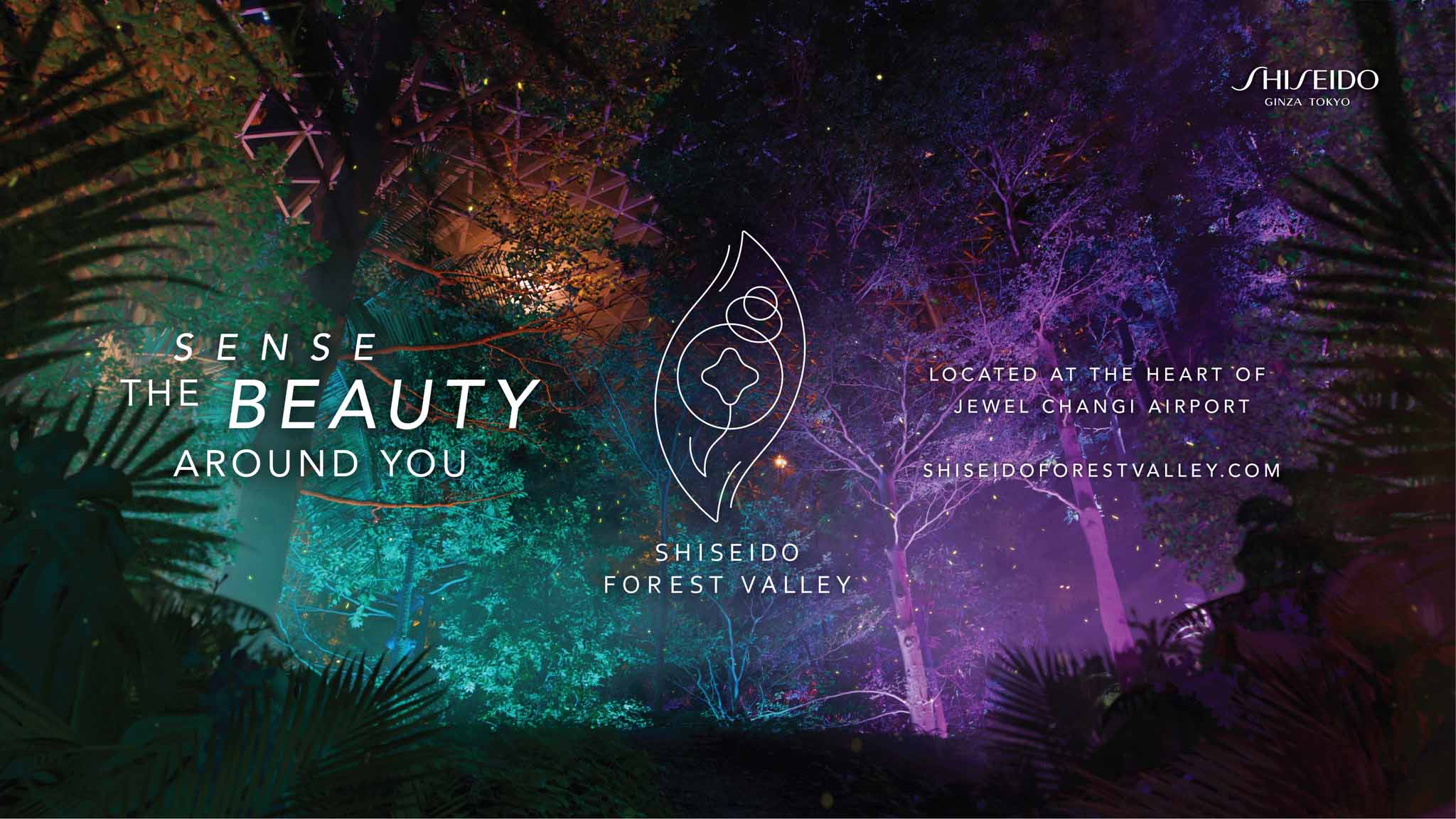 Jewel is a mixed-development and expansion of Changi Airport which describes itself as a "gateway where the world meets Singapore, and Singapore meets the world." This 1.46 million sq ft complex is built up of gardens, attractions, retail and more all of which integrates with nature and sits under a stunning steel and glass dome.
Shiseido Forest Valley bathes in natural sunlight and is surrounded by nature with plants at every turn and a giant waterfall in the centre. teamLab's SENSE installation combines nature, beauty and art through a Japanese aesthetic. Relax and take a stroll through the forest and enjoy the sights, sounds and tranquillity.
Information
SHISEIDO FOREST VALLEY
Address: 78 Airport Boulevard, Singapore (Inside Jewel Changi Airport)
SENSE
Location: Shiseido Forest Valley, Jewel Changi Airport 78 Airport Boulevard, Singapore
Opened: May 13, 2019
Entry: Free
Open: 24-hours a day all year round
Shiseido Official Website: https://www.shiseido.co.jp/index.html
RELATED ENTRIES
Winter Scenery Coming to teamLab Forest Fukuoka for a Limited Time

The permanent museum teamLab Forest Fukuoka is bringing winter scenery to the virtual exhibition for a limited time starting November 20, 2021. Many of the virtual exhibits will be covered in fluffy snowflakes as butterflies flutter by in seasonal winter colors. Animals made of winter flowers will wander by guests as they explore this magical world. 

Works to Feature Seasonal Changes

Soft Terrain and Granular Topography – A Whole Year per Year – teamLab, 2020

Flutter of Butterflies, Ephemeral Life – A Whole Year per Year – teamLab, 2020

Shifting Valley, Living Creatures of Flowers, Symbiotic Lives – A Whole Year per Year – teamLab, 2020

Animals of Flowers, Symbiotic Lives II – A Whole Year per Year – teamLab, 2019

teamLab's works are drawn in real-time by computer programs and are constantly changing and evolving, with many changing with the seasons. This is the perfect place to enjoy the winter season out of the cold!

teamLab Reconnect Art and Sauna Exhibition Unveils New Autumn Art Space

Art collective teamLab has made a splash with their Reconnect exhibition, inviting visitors to enjoy a number of alternating hot and cold baths to transform their senses as they traverse a massive and constantly transforming art exhibition. From October 18 until November 23, the exhibition will feature incredible autumn scenery, including the piece 'Proliferating Immense Life in the Rain – A Whole Year per Year.' This constantly-moving image is not pre-recorded, but rather, the leaves will sway and respond to visitors' movements. Due to the popularity of the exhibition, more ticket plans are now available, including morning tickets for limited entry on weekdays. Guests can also reserve one sauna room for private use.

Ephemeral Solidified Light
teamLab, 2021, Interactive Installation, Sound: teamLab

Step into the Light Circle
teamLab, 2021, Interactive Digital Installation, Sound: Hideaki Takahashi, teamLab

A Whole Year per Year / Proliferating Immense Life in the Rain – A Whole Year per Year
teamLab, 2020, Interactive Digital Installation, Sound: Hideaki Takahashi

Levitation
teamLab, 2021, Digital Installation, Sound: Hideaki Takahashi

In collaboration with popular app TikTok, Reconnect aims to be a more down-to-Earth art experience. Rather than going to a prestigious museum, guests are invited to reconnect with the world and with the concept of time as they explore the exhibition. With senses heightened by the use of each sauna, visitors might find that they are able to relax and experience the beauty of the world more than ever before. 

Information

teamLab & TikTok, teamLab Reconnect: Art and Sauna

Address: 5-10 Roppongi, Minato-ku, Tokyo (Across from Keyakizaka Intersection) 

Running: March 22, 2021 – November 23, 2021

Hours: 10:00-23:00 (Last entry at 21:30)

Official Site: https://reconnect.teamlab.art/jp

Shiseido x Pokémon T-Shirts Collab Exhibition Held at Minato Mirai, Yokohama

The limited-time 'BEAUTY EXPANSION' exhibition is being held at 'Shiseido Global Innovation Center S/Park' between October 15 and 20 2021. 

 

For the event, Shiseido's beauty artists have collaborated with 'Pokémon Shirt,' the personalized Pokémon shirt service. The special exhibition relives the visual collaboration between Shiseido's top hair and makeup artist Harada Tadashi and 'Pokémon Shirt,' with behind the scenes footage and more.

From the inspiration for the Harada Tadashi and 'Pokémon Shirts' collaboration to the three key visuals,  the exhibition has been split into sections to show how the visuals were created. With drawings, crocheted hair parts, and more, you'll learn about the order of production, how visuals are created, and even how new ideas about beauty are formed. 

 

Not only can you relive the creation process of a top creator, but you will also experience the ever-changing and evolving expression of "beauty." The music used for the promotional video was inspired by the key visuals and produced by Conisch, a music writer and producer who has worked for many animated TV shows and has even previously written the theme song for Pokémon. The hair and makeup fashion show held on October 20 will be broadcast on YouTube, with guest appearances from Harada Tadashi and Conisch themselves. The incredible show will combine the world of Pokémon, the key visuals, and all kinds of motifs to match the space, so be sure to check it out! 

 

©Pokémon. ©Nintendo/Creatures Inc./GAME FREAK inc.
ポケットモンスター・ポケモン・Pokémonは任天堂・クリーチャーズ・ゲームフリークの登録商標です。

Information

BEAUTY EXPANSION

Duration: October 15 ~ October 30 2021 (closed on Sunday)

Venue: Shiseido Global Innovation Center (S/PARK)

Official Site: https://spark.shiseido.co.jp/ 

Opening Hours: 11:00 ~ 18:00

Address: 1-2-11 Takashima, Nishi-ku, Yokohama City, Yokohama 

Entry Cost: Free

 

Online Streaming

Availability: October 20 ~ December 31 2021

Shiseido on YouTube: https://www.youtube.com/user/SHISEIDOofficial 

teamLab Installation, Future Park Coming to Shenzhen in Summer 2022

Art collective teamLab has announced a massive new interactive art space coming to C Future City in Shenzhen, China! Set to open in the summer of 2022, the facility will also house a permanent installation of teamLab Future Park, an educational virtual 'amusement park' inviting kids and adults to create things together.

Universe of Water Particles and People Create Vortices
teamLab, 2021 

teamLab Future Park

C Future City will permanently house four gigantic interactive public artworks that will be forever changing and shifting, influenced by people's behavior. Art by teamLab is always inspired by how people connect with one another, so the installation completely relies on those who come to experience it. 

This so-called 'amusement park of the future' project was born out of the idea that co-creativity could transform people and cities. Rather than being an individualistic endeavor, teamLabs wants people to come together to bring new ideas and pieces to life. 

Look forward to teamLab's new installation in Shenzhen in Summer 2022!

Shiseido Releases Video for Global "POWER IS YOU" Campaign

Japanese cosmetic company Shiseido, sold in 88 countries around the world, has released a new conceptual video for its global "POWER IS YOU" campaign.

The short video features a star-studded cast of ambassadors from a variety of fields, including Megan Rapinoe, co-captain of the U.S. women's national soccer team, known for her advocacy and creative style that defies stereotypes. The athlete has commented on her inclusion in the "POWER IS YOU" campaign, proud to show her authentic self and inspire others to live their truth.

Comment from Megan Rapinoe

"Shiseido makes so many of the products I use in my daily life, so when I was invited to collaborate on this new campaign, I didn't even have to think about it. Partnering with such a great company means a lot to me. I deeply believe in the individual power of every human being, and I think that anyone has the power to change the world. "POWER IS YOU" represents the power each of us has to alter the world for the better, which is something that resonates with me personally. I want young people especially to know that it is possible to change things. I hope they do, and I hope that this campaign helps to inspire more people to feel the same." 

Conceptual Videeo

The song used for the campaign is Utada Hikaru's Find Love. The singer also appears in the video as an ambassador. 

Comment from Utada Hikaru

"The source of all power is believing in yourself.

It takes courage to know yourself, but being honest with yourself is the key to finding that inner beauty. Courage is beautiful." 

Finally, Ursula Corbero, who gained international fame for her role in the Netflix series Paper House, appears as the final ambassador. The actress is an avid philanthropist and has long supported a number of causes including breast cancer awareness, childhood cancer awareness, and climate change awareness. She is also the founder of Ymas, a company of artists allowing people to attend movie premieres and special behind-the-scenes events. 

Comment from Ursula Corbero

"Inner beauty comes from positivity.
Tap into your individual energy, and if there's something you want to do, do it!
It's okay to make mistakes. Life is not perfect, and those imperfections make it beautiful." 

Editor's Choice! 3 Best Exhibitions to Visit Before Time Runs Out

Autumn has shaped up to be a great time for art lovers to explore Japan, with a number of inspiring exhibitions of all different genres popping up around the country. The editorial team at Moshi Moshi Nippon has taken special notice of three must-visit events still open now, so be sure to check these out while you still can!

[Tokyo] 'Shonen, Shou' 

Yasunari Ikenaga, a leading figure in the world of contemporary beauty painting, is currently holding an exhibition featuring portraits of the up-and-coming actor and model Shou. Pay special attention to the delicate techniques the artist utilizes to capture the subject's expressions. 

Running: Until October 15, 2021

Details: https://www.moshimoshi-nippon.jp/497728

[Fukuoka] teamLab Forest

Art collective teamLab has opened a permanent museum in Fukuoka City! Those wanting to see the interactive exhibits transformed for autumn, however, better hurry before the event ends.

Now Open

Details: https://www.moshimoshi-nippon.jp/500506

[Saitama] Machi Tawara: #JustOneLike – From Salad Anniversary to Size of the Future

Japanese poet Machi Tawara, the winner of the Kadokawa Tanka Award in 1986, is a powerhouse in the world of prose. Her 1987 book Salad Anniversary sold over three million copies, and 35 years later, the writer is still at the forefront of her field. This exhibition depicts her life in words and is sure to inspire. 

Running: Until December 5, 2021

Details: https://www.moshimoshi-nippon.jp/500300

Text: Natalie (MOSHI MOSHI NIPPON)

Massive teamLab Exhibition to Open in Hamburg, Germany in 2024

Art collective teamLab, popular for its digital art installations, will open a large-scale art space in Hamburg, Germany in 2024. 'teamLab Borderless Hamburg: Digital Art Museum' will consist of a series of immersive works by the collective, inspired by the idea that all things are connected. Permanent exhibitions from teamLab are currently on display in Singapore, Tokyo, Shanghai, Macau, and other global cities, with more set to open in Beijing, Utrecht, and Jeddah, in the near future. 

Forest of Resonating Lamps – One Stroke. 2016. 

Forest of Flowers and People: Lost, Immersed and Reborn. 2017. 

Crows are Chased and the Chasing Crows are Destined to be Chased as well, Transcending Space. 2017. 

 A Whole Year per Year / Proliferating Immense Life – A Whole Year per Year. 2020. 

Chromatic Light Wall. 2019.

Birth. 2019.

Wander through the Crystal World. 2018.

Memory of Topography. 2018. 

teamLab's boundary-less art swirls and moves, interacting with other pieces, influencing each other, and blending together to create new works. Visitors will experience art without walls, and inspiration will certainly come as they wander through these incredible installations. 

In 2018, in its first year of operation, teamLab Borderless in Odaiba, Tokyo, welcome 2.3 million visitors from more than 160 countries around the world. This incredible success earned it an impressive accolade: as a single artist's museum, it recorded the largest annual number of visitors in the world, surpassing the Van Gogh Museum in Amsterdam. The museum was also named one of the 'World's Greatest Places 2019' by TIME Magazine. 

Enjoy Kyoto Vegan Ramen Among teamLab's Artwork in Tokyo with New Store

teamLab Planets TOKYO DMM, located in Toyosu, Tokyo, have completed the refurbishment of their outdoor food stand, opening Vegan Ramen UZU Tokyo on October 8 2021. The new shop allows customers to eat vegan ramen from Kyoto in a new art space from teamLab. In addition, the teamLab Flower Shop & Art will be opening, a shop where customers can purchase orchids previously used in one of the group's art pieces to take home with them. 

 

Menu

Vegan Ramen Flower (Cool): ¥1,980 (Tax Incl.)

Vegan Ramen Tea: ¥1,650 (Tax Incl.)

Vegan Ramen Soy Sauce: ¥1,320 (Tax Incl.)

Vegan Ramen Miso (Spicy): ¥1,320 (Tax Incl.)

Newly Released Works

Reversible Rotation – Non-Objective Space, teamLab, 2021


Table of Sky and Fire, teamLab Architects, 2021


Floating Flower Garden: Flower, Myself and Cognate, Garden and Myself as One

teamLab Planets Original Tote Bag


 

The menu at Vegan Ramen UZU uses no animal products like meat or fish, instead condensing the taste of vegetables into a delicious ramen that you can enjoy in a space designed by teamLab. Vegan Ramen UZU Kyoto first opened in March 2020 to great popularity, with many customers queuing for over an hour to get inside the store. 

At the new Tokyo store, customers can enjoy a bowl of vegan ramen while enjoying teamLab's latest art installations, the Non-Objective Space and the Table of Sky and Fire.

Not only that, you can also take home some of the orchids used in the Floating Flower Garden: Flower, Myself and Cognate, Garden and Myself as One exhibit that was held from July 2, along with a section of teamLab merchandise such as stickers, patches, postcards, and more, at the newly opened teamLab Flower Shop & Art store.

Look forward to tasting this healthy ramen while immersed in an artistic space!

Don't Miss Out! 6 Art Exhibitions to Visit This Fall

2021 hasn't been as free as many of us would like. Restrictions are still keeping many people inside, but a number of incredible art exhibitions throughout Japan are the perfect place to get out of the house safely, and away from dense crowds. From contemporary art to traditional Japanese-style paintings, these exhibitions offer a glimpse into the history and culture of Japan. Catch them before they're gone!

[Niigata] Sado Island Galaxy Art Festival

Being held on Sado Island, this exhibit features a breathtaking glowing sculpture created to pay homage to the historical Sado gold mine. 

Running: Until October 2, 2021

Details: https://www.moshimoshi-nippon.jp/497645

[Hokkaido] JOZANKEI NATURE LUMINARIE – WATER LIGHT VALLEY

This light-up event, now in its sixth year, presents the beauty of nature by inviting guests on an illuminated night walk beside the Toyohira River. 

Running: Until October 20, 2021

Details: https://www.moshimoshi-nippon.jp/487231

[Kyoto] Japanese Landscapes Discovered: Views from and for the Outside World

Focusing on the Meiji period, this exhibition takes visitors on a journey through the oil and watercolor works of the time through landscapes and customs depicted in this massive collection of rare paintings. 

Running: Until October 31, 2021

Details: https://www.moshimoshi-nippon.jp/497403

[Saga] VOLVO teamLab: A Forest Where Gods Live

Located at the Takeo Onsen in Mifuneyama Rakuen park, this teamLab installation surrounds guests with bright and interactive autumn scenery. 

Running: Until November 7, 2021

Details: https://www.moshimoshi-nippon.jp/496150

[Hyogo] Rokko Meets Art -Art Walk 2021-

Rokko Mountain, beloved since the Meiji Era for its magnificent views and natural beauty, is now playing home to a number of contemporary art pieces. 

Running: Until November 23, 2021

Details: https://www.moshimoshi-nippon.jp/498413

[Tokyo] Memories of the City: A Thirty Thousand Year History of Tokyo

At this massive exhibition at the Edo-Tokyo Museum, guests can wander through 30,000 years of human history as mapped through the Japanese capital, from the Paleolithic era to the present day.

Running: Until December 5, 2021

Details: https://www.moshimoshi-nippon.jp/498106

TEXT: Natalie(MOSHI MOSHI NIPPON)

Autumn Scenery Coming to teamLab Forest Fukuoka for a Limited Time Only

The permanent museum teamLab Forest Fukuoka is bringing autumn scenery to the virtual exhibition for a limited time only beginning September 18, 2021. A number of animals made of autumn foliage will be roaming through the space, and you won't want to miss this memorable experience!

teamLab Forest Highlights

Shifting Valley, Living Creatures of Flowers, Symbiotic Lives – teamLab, 2020

Animals of Flowers, Symbiotic Lives II – teamLab, 2019

Soft Terrain and Granular Topography –  teamLab, 2020

Flutter of Butterflies, Ephemeral Life –  teamLab, 2020

The prolific works of the teamLab art collective change with the seasons. In the Forest of Movement, guests can enter the 'Shifting Valley, Living Creatures of Flowers, Symbiotic Lives' exhibit, where creatures made of flowers exist in a three-dimensional space. For this fall event, these flowers will be those found in the autumn months. The 'Soft Terrain and Granular Topography' will display tons of colorful grains raining down on visitors, while the 'Flutter of Butterflies, Ephemeral Life' will change the usual butterflies to have autumn colors as they fly around guests. 

teamLab Forest is a new museum created by art collective teamLab. The museum consists of two sections: the first, 'The Catching and Collecting Forest,' invites guests to explore with their smartphone to capture various unique creatures, while the second, 'The Athletics Forest,' is a physical creative space which asks visitors to use their body to immerse themselves in interactive areas. 

Would you like to visit this distinctive museum in Fukuoka on your next trip to Japan?

Information

teamLab Forest Fukuoka – SBI SECURITIES Co., Ltd.

Autumn Scenery Coming on September 18, 2021

Venue: BOSS E・ZO FUKUOKA 5F, Next to Fukuoka PayPal Dome (2-2-6 Jigyohama, Chuo-ku, Fukuoka)

Official Site: http://forest.teamlab.art

teamLab Announce New Autumn-Limited Scenery for Art Exhibition in Mifuneyama Rakuen Park in Kyushu

The natural art exhibition "VOLVO teamLab: A Forest where Gods Live," hosted by teamLab at the Takeo Onsen in Mifuneyama Rakuen park, will be decorated in autumnal scenery for a limited time to mark the season. The lights will be lit up in the shades of autumn leaves, while interactive seasonal flowers will bloom in your tea. The Light Sculpture of Flames will also be unveiled, exhibiting until November 7 2021.

VOLVO teamLab: A Forest where Gods Live

Works that change with the seasons 

Forest and Spiral of Resonating Lamps in the Forest – One Stroke, Autumn Mountain, teamLab, 2018.

Flowers Bloom in an Infinite Universe inside a Teacup, teamLab, 2016.


Newly Opened Works

Light Sculpture of Flames, teamLab, 2016.

The Mifuneyama Rakuen Park was built on a 500,000 square metre site that has been surrounded by nature for over three million years. This year marks the seventh year of the 'VOLVO teamLab: A Forest where Gods Live" outdoor exhibition, which opens every summer and autumn. The exhibition combines nature and art on a grand scale, even featuring in CNN's list of "Outdoor art exhibitions to see around the world."

One of the special features of teamLab's works is that they change with the season, including this one, where the colours will be changed to match the Autumn.

The lamps in the Forest and Spiral of Resonating Lamps, which can be found in the lobby of the Mifuneyama Rakuen Hotel, will light up in warm fall shades to create the Autumn Mountain. In addition, you can enjoy drinking tea brewed using seasonal flowers at the Flowers Bloom in an Infinite Universe inside a Teacup installation. This is a unique Autumn experience!

The Light Sculpture of Flames has been on display at teamLab's large-scale solo exhibition and will be shown in public for the first time, having been described as the "first art piece to be accepted in Silicon Valley."

The interactive light sculpture forms a 3D flame using multiple light points and will be shown in a collaboration space with VOLVO, the exhibits main partner.

 

Why not immerse yourself in the nature of Autumn with teamLab?

teamLab Solo Exhibition Opens at San Francisco's Asian Art Museum

A solo exhibition from Japanese digital art collective teamLab opened at San Francisco's Asian Art Museum on July 23, 2021. The museum has one of the most extensive collections of Asian art in the world, housing over 18,000 pieces of art and artifacts spanning over 6,000 years. 

teamLab: Continuity was created to express a world without boundaries, and is housed in the Akiko Yamazaki & Jerry Yang Pavilion, a new long-term addition to the museum. 

Forest of Flowers and People: Lost, Immersed and Reborn, 2017. 

Crows are Chased and the Chasing Crows are Destined to be Chased as well, Transcending Space, 2017.

Crows are Chased and the Chasing Crows are Destined to be Chased as well, Transcending Space

Crows are Chased and the Chasing Crows are Destined to be Chased as well, Flying Beyond Borders, 2018.

Crows are Chased and the Chasing Crows are Destined to be Chased as well – Black in White, 2014.

The Way of the Sea, Transcending Space – Colors of Life, 2018.

The Way of the Sea, Flying Beyond Borders – Colors of Life, 2018.

Sharing Rock Mass, Transcending Space, 2019.

Reversible Rotation – Cold Light, 2019.

Reversible Rotation, Flying Beyond Borders – One Stroke, Cold Light, 2019.

Reversible Rotation – Continuous, Cold Light, 2018.

Flutter of Butterflies Beyond Borders, Ephemeral Life, 2016.

The Void, 2016. 

Flutter of Butterflies Beyond Borders, Transcending Space, 2019.


Born From the Darkness a Loving, and Beautiful World, 2018.

Life Survives by the Power of Life II, 2021.

Sketch Ocean, 2020.

When humans perceive the world around them, we tend to divide everything into pieces and parts. teamLab: Continuity asks visitors to try and see everything without boundaries, with the understanding that everything is connected. While traditional art often takes the form of individual physical objects, the pieces throughout this exhibition move and flow, often influenced by and communicating with other works. By the end of a tour, teamLab wants people to see the beauty in the idea of togetherness and continuity. 

 

Information

teamLab: Continuity

Open Date: July 23, 2021

Location: San Francisco Asian Art Museum

Address: 200 Larkin St., San Francisco, CA

Hours: 

Monday/Friday/Saturday/Sunday: 10:00-17:00

Thursday: 13:00-20:00

Closed: Tuesdays and Wednesdays, November 25, December 25, January 1. 

Tickets/Details: https://www.teamlab.art/jp/e/asianart/

Official Site: https://asianart.org/