Travel booking service Rakuten Travel has unveiled the 2019 rankings for the top leisure hotel picks among female travellers! The ranking list displays hotels with combined leisure facilities that were ranked a 4.5/5 stars or more. This list is based on the most highly rated accommodation plans associated with they keyword search "single traveller" in Rakuten Travel's keyword search.  
So which hotel comes in first place?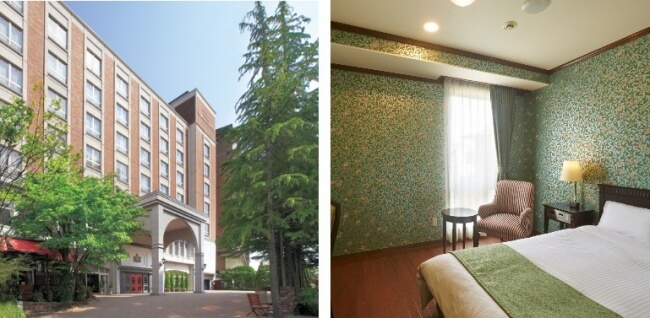 1st place: Dogo Onsen Old England Dogo Yamanote Hotel (exterior & guest room)
Dogo Onsen was also ranked first place last year in December as the top hot spring hotel for solo female travelers. The hotel's theme is traditional Britain. The interior is filled with a very old-style British atmosphere which female travellers find particularly appealing! This place caters a lot for the needs of solo travellers.
This hotel is also situated in a hot spring hot spot (no pun intended). The main building for the Dogo hot springs and other sightseeing spots are within walking distance so even a single traveller can easily enjoy a stroll to and from these spots at their own pace.
From the carefully designed wallpaper to the comfy queen-size bed, these rooms are so relaxing.  If you want to check out later, you can change your breakfast plan to a lunch plan, giving you even more time to relax. Guests have stated that the entrance, lobby, hallways and guest rooms are mesmerizing. If you love antiques, this is the place for you!  Many commented that the extension phone located in front of the elevator was so beautiful that they couldn't hold in their surprise!
Link: https://travel.rakuten.com/hotel/Japan-Ehime_Prefecture-Matsuyama-Dogo_Onsen_Old_England_Dogo_Yamanote_Hotel/20469/
2nd place: Hotel Nikko Alivila (outdoor pool & guest room)
In second place comes Hotel Nikko Alivila, Okinawa, which is just a 70-minute drive from Naha airport by car. This large white-walled resort is located in a village called Yomitan (Nakagami District, Okinawa).
From this hotel, you can perfectly enjoy the picturesque clear and beautiful Nirai beech as it spreads before your very eyes. An exotic Okinawa island atmosphere fills the resort, courtyard, corridors, and lobby, where you can relax and enjoy an extraordinary experience. It is also very easy to access the hotel from the airport via the direct limousine bus!
Link: https://travel.rakuten.com/hotel/Japan-Okinawa_Prefecture-Yomitan-Hotel_Nikko_Alivila/11052/

3rd place: Setre Glover's House Nagasaki (lounge & guest room)
In third place comes Setre Glover's House, Nagasaki. The hotel was once a residential area where foreigners lived in private residential housing. The western style-style design of the area's past still influences the hotel today, creating a very pleasant western private housing atmosphere. The lounge contains around 270 books that guests are welcome to read as they relax. There is an all-you-can-drink drinks bar which serves soft drinks and alcoholic beverages for free.
The single traveller plan aimed at female solo travellers even provides you with the space of a two-person room all to yourself! Organic shampoo and other luxurious amenities are also provided, making the hotel a popular pick for many!
Link: https://travel.rakuten.com/hotel/Japan-Nagasaki_Prefecture-Nagasaki-Setre_Glover%27s_House_Nagasaki/147780/
For the rest of the ranking list, please check out Rakuten Travel's official website. If you're embarking on a solo getaway in Japan, this is the website for you!
RELATED ENTRIES
Experience a Front Row Seat of Karuizawa's Tranquil Forests at HOSHINOYA

HOSHINOYA Karuizawa has announced a special summer plan for guests called "Mori no Hotori cafe&Bar ~Suijo no Tokutoseki~" (Cafe & Bar by the Forest ~Special Seats on the Water~). The midsummer evening plan is available for one group per day and takes place at the hotel's cafe and bar which sits by a forest and faces the Kera-Ike Pond. It invites guests to relax under the starry night sky on the water and enjoy the sounds of nature while enjoying drinks and bites to eat.

Japan is known for its summer hot summers. However, Karuizawa enjoys a cooler climate, so evenings dip to around 20°C for a comfortable temperature.

Stargazing on top of the water

HOSHINOYA Karuizawa is connected directly to Karuizawa Wild Bird Sanctuary. At the entrance, by the Kera-Ike Pond, is the hotel's Mori no Hotori cafe&bar which is open all year. The cafe/bar fusion is surrounded by Karuizawa's lush forests, and it's here that guests can enjoy sitting on specially-prepared seats on the water. It will feel like they are walking on water as they approach their seats where they can take their shoes off and sit on the tatami mats to gaze at the stars.

Calm the heart with an enchanting performance

When you walk up the stairs that face Kera-Ike from HOSHINOYA Karuizawa, your ears will be met with the enchanting sound of crystal bowls which add a mysterious depth to the natural sounds of the forest, spiriting guests away to another wonderful world.

Indulgent drinks and food

Guests can pick from a range of drinks and bites to eat scented with fruits, wood, and other natural fragrances of the forest. There arw six drinks to choose from including a gin and tonic made with lindera umbellata, a type of camphor, as well as a whisky made with ripe fruits. Food includes chocolate made from lindera umbellata and kuma bamboo grass, cherry blossom and walut chips, and more.

Information

Cafe & Bar by the Forest ~Special Seats on the Water~

Japanese Plan Name: 森のほとりcafe&bar ~水上の特等席~

Running: July 1, 2021 – August 31, 2021
Book Here: https://hoshinoya.com/karuizawa/

*Bookings must be made 5 days in advance

Requirements: Must be aged 20+ years / HOSHINOYA Karuizawa guests only
Time: 20:00-21:00
Capacity: 1 group of two people per day

Notes: Will not take place if it rains

Official Website: https://hoshinoya.com/

The Promised Neverland x Hotel Keihan Room Plan Collaboration Begins

Hotel Keihan launched a new guest room plan in collaboration with the anime series The Promised Neverland at its Tokyo, Kyoto, Osaka, Nagoya, Sendai, and Sapporo branches on Tuesday. It also released a collection of exclusive merchandise which can be bought at each hotel's front desk.

Guest Rooms

Exclusive Merch Line-Up

Pins | ¥550 Each (Tax Included)

Key Rings | ¥550 Each (Tax Included)

Lobby display

The hotel plan was originally scheduled to take place for three months but has been extended by a further month to accommodate for travel restrictions as well as guest demand. New prices have also been introduced to make it more accessible to people. Fans of the anime series can get their hands on a range of items not available anywhere else too including pins, key rings, folders, and more.

The hotel room designs are inspired by both seasons of The Promised Neverland and come with life-size panels, wall decorations, and more, so fans can look forward to getting sucked into the world of the anime series.

(C)白井カイウ・出水ぽすか/集英社・約束のネバーランド製作委員会

Kyoto's Ace Hotel Celebrates 1 Year Anniversary With Special Hotel Plan

Ace Hotel Kyoto will commemorate its first anniversary on June 11, 2021. The hotel opened on the site of the historical former Kami Branch of the Kyoto Central Telephone Office which was completely renovated and refurbished. The hotel takes on an 'East Meets West' theme with elements of art and culture found throughout. As part of the celebration, the 98-year-old Samiro Yukino, a dyer and the man responsible for creating the hotel's logo, has made sign posters and will display 242 photos from his immense collection of 17,000 photographs he has taken over the years in 10 guest rooms as part of the special hotel plan.

Ace Hotel Kyoto Tatami Suite

Ace Hotel Kyoto Standard Twin

Samiro Yunoki

Ace Hotel displays works of art from artists from both Japan and abroad all around the building, from the hotel's iconic logo to dye work, paintings decorating the guest rooms, eye-catching tapestries, and more. Despite the pandemic which began last year, Ace Hotel has enjoyed many guests staying there. In celebrating of their first anniversary, they are releasing offering their 'We Are One' package for guests booking Suite rooms.

Ace Hotel ranked No. 9 in the 'Most Popular New Hotels' in TripAdvisor's 2021 Traveller's Choice Best of the Best Hotels. It was also the only Japanese hotel to rank in the list.

Information

Special Hotel Package – "We Are One"

Location: Ace Hotel Kyoto

Start Date: June 11, 2021

Guest Rooms: Exclusive to just 10 rooms

Booking/Details Here: https://www.acehotel.com/kyoto/

Colourful Dessert Buffet 'OWNER OF A COLORFUL HEART' to be Served at Conrad Osaka

Conrad Osaka is set to serve a very special rainbow-coloured dessert buffet called 'OWNER OF A COLORFUL HEART' at its Atmos Dining restaurant in collaboration with Japanese artist Sebastian Masuda, who is known for his iconic work in Japan's culture of 'kawaii,' from June 4 to August 31.

OWNER OF A COLORFUL HEART Peach Dessert Buffet

The colourful line-up aims to bring light and strength to people during these dark times. It says that if we were to shine a light on our hearts, the hidden colours of our hearts would illuminate for all to see. We are all owners of a colourful heart. The beautiful and mouth-watering dessert table conceived by Masuda was made after he had discussions with Jimmy Boulay, executive chef at Atmos Dining, who helped bring this peach-filled sweet treat bounty to life.

The picturesque buffet is made so colourful thanks to a range of natural ingredients such as paprika, turmeric, coconut, rose, and more. The 'Colourful Heart Tarts,' which look like baby peaches, are fluffy and made sweet with peach and vanilla. The 'Sunshine in the Dark' is bright yellow like sunshine and contains peach and vanilla caramel cream. The 'Peach Prism Cupcakes' glisten vividly, and the 'Daisy Celebration' is a wonderful mix of almonds, rose mousse, and peach compote. Below is a small peek at just some of the goodies on this summertime feast.

Menu Sneak Peek


Marble Marble Mousse

Colourful Heart Tarts

Sunshine in the Dark

Peach Prism Cupcakes

Spring Garden

Daisy Celebration

Playful Macarons

The restaurant also has a photo booth where you can take photos together with some of Sebastian Masuda's most iconic works. There's also merchandise from the artist's own brand Sebastian Masuda ART. And that's not all – a special hotel plan at Conrad Osaka is also available where guests can stay in rooms decorated in Masuda's art. The plan comes with the dessert buffet attached. There are just three rooms a night with this plan for the duration of the buffet.

Bonus Item

Win a free glass of sparkling wine by posting a photo of yourself with a heart in the picture at the buffet with the hashtag #ownerofacolorfulheart.

If you're in Osaka this summer, show that you're also the owner of a colourful heart at this very special dessert buffet.

Information

OWNER OF A COLORFUL HEART Peach Dessert Buffet

Running: June 4, 2021 – August 31, 2021

Times: [Mon-Thur] 15:00-17:00 / [Fri-Sun & Holidays] 14:30-18:00

Price: Adults ¥6,200 / Children ¥3,100

*Prices will change to ¥6,800 and ¥3,400 respectively for Obon from August 7 to 16

Venue: Atmos Dining (Conrad Osaka Floor 40F)

Address: 3-2-4 Nakanoshima, Kita-ku, Osaka-shi, Osaka

Reservations: Online / Telephone (06-6222-0111 )

Official Website: https://conrad-osaka.hiltonjapan.co.jp/restaurants/conrad-sweets/summer2021

Parfait Inspired by Kyoto Zen Garden Arrives at AMAN KYOTO

The Kyoto-based luxury resort and spa AMAN KYOTO is now serving a special parfait for spring and early summer until June 30 which is inspired by traditional Japanese zen gardens.

Zen Garden Parfait

The Living Pavilion by Aman

Situated quietly in a secret garden at the heart of a forest, AMAN KYOTO is just a stone's throw from Kyoto's famous golden Kinkaku-ji Temple. This secluded spot is home to abundant nature with green filling your vision at every turn.

The Zen Garden Parfait is enjoyed at the resort's dining space, The Living Pavilion. The sponge of the cake and the cookies are made with matcha and made to look like the moss of a zen garden. The delicious 'stones' are made from houjicha tea cookies, while the crunchy cocoa-flavoured cat tongue biscuits are reminiscent of trees. White chocolate sits hidden underneath the garden panna cotta while fragrant matcha tiramisu, which is made from organic matcha from Uji, helps to complete that garden look. Other sweet additions include rich matcha cream, a nine-layered tiramisu, yuzu ice cream, yuzu jam, and more.



The parfait is served in an original matcha bowl made by Japanese ceramics artist George Nakamura.

Information

Zen Garden Parfait
Available: Until June 30, 2021
Price: ¥5,300 (Tax Included)
TEL: 075-496-1335 (9:00-18:00)
Book Online: https://www.aman.com/ja-jp/resorts/aman-kyoto/dining/living-pavilion-aman
*Bookings required

*Limited number of parfaits per day

*Parfait available as an additional dessert with lunch, dinner, and afternoon tea courses

*Those ordering the parfait on its own as a visitor must book for 3:00pm or 3:30pm

Enjoy Breakfast Fruits While Gazing at Mount Fuji at this Glamping Experience

HOSHINOYA Fuji, a hotel which opened as Japan's first glamping resort, has announced the Glamping Fruits Breakfast summer plan which is set to run from June 20 to August 31.

HOSHINOYA Fuji is located in Japan's prefecture of Yamanashi, a place that enjoys a bounty of fruit cultivation. Yamanashi has been called the "Fruit Country," offering a variety of different fruits. In fact, it has been the biggest producer of peaches, grapes, and plums in Japan for over 10 year. The glamping masters of HOSHINOYA Fuji have had knowledge bestowed on them from the growers of these sweet gems who have advised on the safety and best ways to prepare land for fruit growing, characteristics of fruits grown throughout the year, and other means of support. Now, guests at HOSHINOYA Fuji are set to serve these fruits to guests at breakfast this summer.

Dine outdoors from a terrace with a breathtaking view

Guests will enjoy their breakfast out on a sofa on a private terrace that overlooks Mount Fuji and Lake Kawaguchi. With the support of the hotel's Glamping Master, food will be prepared outdoors using a skillet and burner. The main dish is roasted peaches made with bacon and fresh herbs. The salty bacon and sweet peach make for a delightful combination. Best of all, ingredients and condiments are all prepared for guests in advance so they can enjoy a hands-free outdoor experience.

Indulge in high quality fruits

Eight varieties of fruit are available during the breakfast experience including peaches, Shine Muscat, pione, and more. And only the tastiest fruit is served to customers.

An optional tour is available with the plan which offers guests a chance to depart HOSHINOYA Fuji early in the morning to visit a peach farm in the city of Fuefuki. Guests are given exclusive access to the farm where they can learn all about how the peaches are grown from the farmers. At the end, they can tuck into some freshly-picked peaches with a glass of sparkling wine in hand.

Information

Glamping Fruits Breakfast
Running: June 20, 2021 – August 31, 2021
Location: HOSHINOYA Fuji / Fuefuki Peach Farm
Time: 7:30-10:00
Capacity: One group of up to 3 people per day
Bookings/Details: https://hoshinoya.com/fuji/ (Bookings must be made 2 weeks in advance)
Note: Ingredients and menu subject to change

Stay Inside This Kyoto Townhouse Now Offering a New Accommodation Plan

Tsumugi Machiya Inn has opened a new day-use plan which offers a chance for guests to enjoy an entire Kyoto-style townhouse to themselves for the day for up to 10 hours. The plan comes with a lunch service attached.

喧騒を外れた一棟貸しでプライベートな時間を

Enjoy the 'Tsumugi Dining' experience with a lavish bento

Gorgeous guest rooms

Inside Tsumugi Dining

Tsumugi Machiya Inn first opened its doors in April 2016 as a way to 'tie' (tsumugi) people to local towns. The hotel accommodation brand now has around 60 branches, offering guests chance to rent out an entire building to themselves for a day.

With the pandemic still in full swing, the desire for travel can be felt around the world. In Japan, it is difficult to travel between prefectures for many, and the risk of coming into contact with others is still a widespread fear. That's where Tsumugi Machiya Inn's new day-use plan comes in, offering people a chance to enjoy a stay elsewhere without the worry of bumping into other guests. The plan comes with lunch made with meat from Kyoto and other seasonal ingredients. The food is delivered to the private accommodation at an allotted time. There are luxurious beds, a bath, and other little amenities for a wonderful, relaxing stay.

Check out the links below to see which branches are participating in this plan.

Relax With Cows and Sheep at Hoshino Resorts Tomamu in Hokkaido

Hokkaido's largest hotel resort Hoshino Resorts Tomamu is set to open its enormous new 100-hectare farm area this summer for a limited time between July 1 and September 30. Guests are invited to sit and lay amongst the farm's animals during the warm season.

Relax in nature

The farm area was originally an agricultural ground home to around 700 cows. Hoshino Resorts Tomamu wanted to bring the space back to its origins for people to enjoy, and so it is now operating as 100s hectares of farmland. The resort has offered a range of limited-time experiences on the land in the past, such as the Cow & Daytime Nap Hammocks where people can doze on hammocks and count the sheep, as well as the Pasture Lounge, and more.

What to expec

Inhale the smells of nature while laying on some comfy beds

Guests are invited to kick back and relax on a warm and cosy bed spanning 30 meters. Its large size means you don't have to come into close contact with everyone, enabling you to enjoy yourself withour worry. Cushions and blankets are also prepared.


Soak up the sights and sounds of the farm

The cows on the grass

Hammocks for a siesta snooze

Yagi the Postman

Information

Farm Beds

Running: July 1, 2021 – September 30, 2021

Price: Free

Time: 10:00-16:00

Location: Hoshino Resorts Tomamu Farm Area

Note: Accessible to hotel and daytrip guests 

*Will not run if the weather is bad

Official Website: https://www.snowtomamu.jp

Exquisite Afternoon Tea to be Served in Tokyo in Collaboration With Pierre Hermé

InterContinental Tokyo Bay is set to serve up a special afternoon tea by French pastry chef Pierre Hermé at five of its restaurants including New York Lounge from June 1 to August 31.

A colourful, fruit-filled line-up

From the left: Mosaic Cheesecake, Macarons, Ispahan, Emotion Satine

From the left: Jardin de Misole, Jardin de L'atlas, Infiniment Cassis

Chocolate gateaux line-up

Two jam scones, one with raspberry and one with lemon

The savoury items are made by the French restaurant next door

The full afternoon tea at New York Lounge

The full afternoon tea at Hudson Lounge

The full afternoon tea at Manhattan

The full afternoon tea at La Provence

The full afternoon tea at Italian Dining Zillion

The afternoon tea line-ups are a collaboration between French pastry chef Pierre Hermé, who has been called the pastry industry's Picasso, and award-winning executive chef Junji Tokunaga. Their first time working together, the duo have created an afternoon tea service packed with fruits like passion fruit, raspberry, orange, lychee, lemon, and more. Tokunaga also baked up chocolate gateaux as an homage to Hermé.


Items on the menu include Pierre Hermé's signature Ispahan which is a rose-flavoured macaron stuffed with rose cream, fresh lychee, and raspberry; Mosaic Cheesecake which harmoniously combines griotte cherries and pistachio; the refreshing Emotion Satine in all its passion fruit, orange, cream cheese, and mascarpone richness; four original gateaux chocolate oranges by Tokunaga; scones, and more.

The afternoon tea served at French Dining Manhattan, a restaurant which has a terrace overlooking Tokyo Bay, also comes with its own original savoury line-up, while Fine Dining La Provence and Italian Dining Zillion serve up lunch plates with theirs.


Information

Pierre Hermé x Junji Tokunaga

Running: June 1, 2021 – August 31, 2021

Venues

<Pierre Hermé x Junji Tokunaga Summer Sparkle Afternoon Tea>
New York Lounge/Hudson Lounge/Rainbow Bridge View Dining & Champagne Manhattan


<Pierre Hermé x Junji Tokunaga Summer Sparkle Afternoon Tea-Style Dessert w/Lunch Plan>
La Provence/Italian Dining Zillion

Hokkaido's New Hotel Boasts a Famous Hot Spring and Overlooks the Tsugaru Straits

Core Global Management is set to open the all-new Yunokawa Onsen Umi to Akari Hewitt Resort on July 1, 2021. In line with its opening, Japanese calligrapher Shoko Kanazawa has been put in charge of designing the hotel's name logo.

The sea and sky meet in the Infinity Onsen

Tsukifune: the buffet restaurant

Enjoy Japanese-style food at Kumonami

Tatami baths

Fires prepared by the staff everyday

A look inside the guest rooms

A look inside the guest rooms

Yunokawa Onsen is one of the three major hot spring resorts in Hokkaido. During the Edo period, Matsumae Chikatsumaru, who later became the lord of the Matsumae domain, and Enomoto Takeharu, the president of the former Tokugawa shogunate, are said to have bathed in this very hot spring. Yunokawa Onsen Umi to Akari Hewitt Resort is a chance to enjoy the good old days of Hakodate Yunokawa.

The rooftop offers an unbroken view of the incredible Tsugaru Straits. Guests can also enjoy a tranquil moment at the historic hot spring with a cup of Hakodate's local sake and dango in hand underneath a moonlit sky while surrounded by the lights of fishing fires. There's also a chance for both kids and adults to take a dip in a tatami bath – something you don't really see in Japan.

Information

Yunokawa Onsen Umi to Akari Hewitt Resort

Address: 3-9-20 Yunokawacho, Hakodate, Hokkaido 042-0932, Japan
Access: 5-minutes by car from Hakodate Airport
Official Website: http://hewitt-resort.com/hakodate-yunokawa/

MITAKE: The New Ryokan That Opened in Japan's City of Ninja Iga

VMG HOTELS & UNIQUE VENUES has renovated a four-room building located inside the Iga-based ryokan NIPPONIA HOTEL IGAUENO JOKAMACHI and transformed it into a new accommodation called MITAKE. The new building opened on May 1, 2021.

The ryokan is located in the former castle town shitamachi area of Iga Ueno Castle in Mie Prefecture's city of Iga. The city is a hub of historical architecture with countless buildings left over from multiple periods including Edo, Meiji, Taisho, and Showa. Its historical value earned it a spot on the 20th Century Heritage List carried out by ICOMOS. However, more and more buildings are becoming vacant in the city due to a decrease in its population in recent years, leading to many of these traditional sites being unused. This is where the idea to open MITAKE came from as part of an effort to renovate historical buildings and townhouses.

The two-storey building exterior has polearm-shaped ultra-fine lattice windows. It has also kept the same wood that was used at the time of its building during the early Meiji Period. It was originally preserved as a centre for the future of traditional townhouses but management by NOTE eventually ceased. It is now managed by VMG.

All guest rooms have the original exteriors and beams preserved but have been given a modern touch with new furnishings to create a sophisticated combination of old and new. All necessary social distancing and COVID-19 precautions are being carried out at the hotel and new building.

Häagen-Dazs Dessert Buffet Whipped Up at Keio Plaza Hotel

Keio Plaza Hotel in Shinjuku, Tokyo, is welcoming Häagen-Dazs through its doors who have prepared a very special dessert buffet for the hotel's "Summer Trip with Häagen-Dazs" service. The sweet treat line-up will be served from June 1 to September 30 along with a range of savoury foods from around the world – an inviting prospect to those unable to travel during the pandemic.

Sweets Collection with Häagen-Dazs ~Ice Cream Holic~ | General ¥4,800, Children (Aged 4-12)

The first entry to the Summer Trip with Häagen-Dazs is the "Sweets Collection with Häagen-Dazs ~Ice Cream Holic~" dessert buffet. To protect customers, all desserts are ordered and served like a course rather than going to pick up the food yourself. This marks the third year of the dessert buffet, and this time it's inspired by ice cream shops in New York, the home of Häagen-Dazs. Ice cream will be served in a cool and refreshing variety of ways.

Experience that feeling of picking out a flavour from the ice cream store with a line-up of eight flavours including classics such as vanilla and strawberry as well as the new rich royal milk tea. Each serving is customisable with numerous toppings.

Other menu items include mini ice cream croissants, ice cream sodas, ice cream cake, and more. There's also a line-up of savoury food too if you want to line your belly before dessert: fried chicken, burgers, hot dogs, fries, and so on.

While the buffet is on, the hotel restaurant itself will be transformed into an ice cream theme park with summery tropical fruit colouring as well as designs and decor inspired by ice creams and cones.

Information

Sweets Collection with Häagen-Dazs ~Ice Cream Holic~

Running: June 1, 2021 – September 30, 2021

Bookings; Now Open

Location: Jurin (Keio Plaza Hotel Floor 2F)

Address: 2-2-1 Nishi-Shinjuku, Shinjuku-ku, Tokyo

Slots: 15:00-17:00 (Last Orders 16:30) / 15:30-17:30 (Last Orders 17:00)

Jurin Official Page: https://www.keioplaza.com/restaurants/coffee.html