Love Korea and Oreos? Have Both At CAFE de BINGSU in Tokyo's Korea Town Shin Okubo!
Hi Everyone! This is Midori from MOSHI MOSHI NIPPON's Editorial Department!
Did you know that oreo desserts are popular in Korea? If you're a big fan of Korea and oreos, then I've got great news for you: You can enjoy both these things in Tokyo, too! More and more Korean cafés are releasing oreo ice creams and oreo bingsu (Korean shaved ice desserts). You can find these cafés in Harajuku…but why not go all out and visit Tokyo's biggest Korea town Shin Okubo?  
One Korean-style dessert that I really can't get off my mind is the Oreo Cheesecake I had at CAFE de BINGSU. That day, I left Shin Okubo station and headed down the main street called Okubo-dori. This is where I encountered CAFE de BINGSU. 
There was a sign inside the building that pointed me in the right direction. I tackled those stairs to the 2nd floor.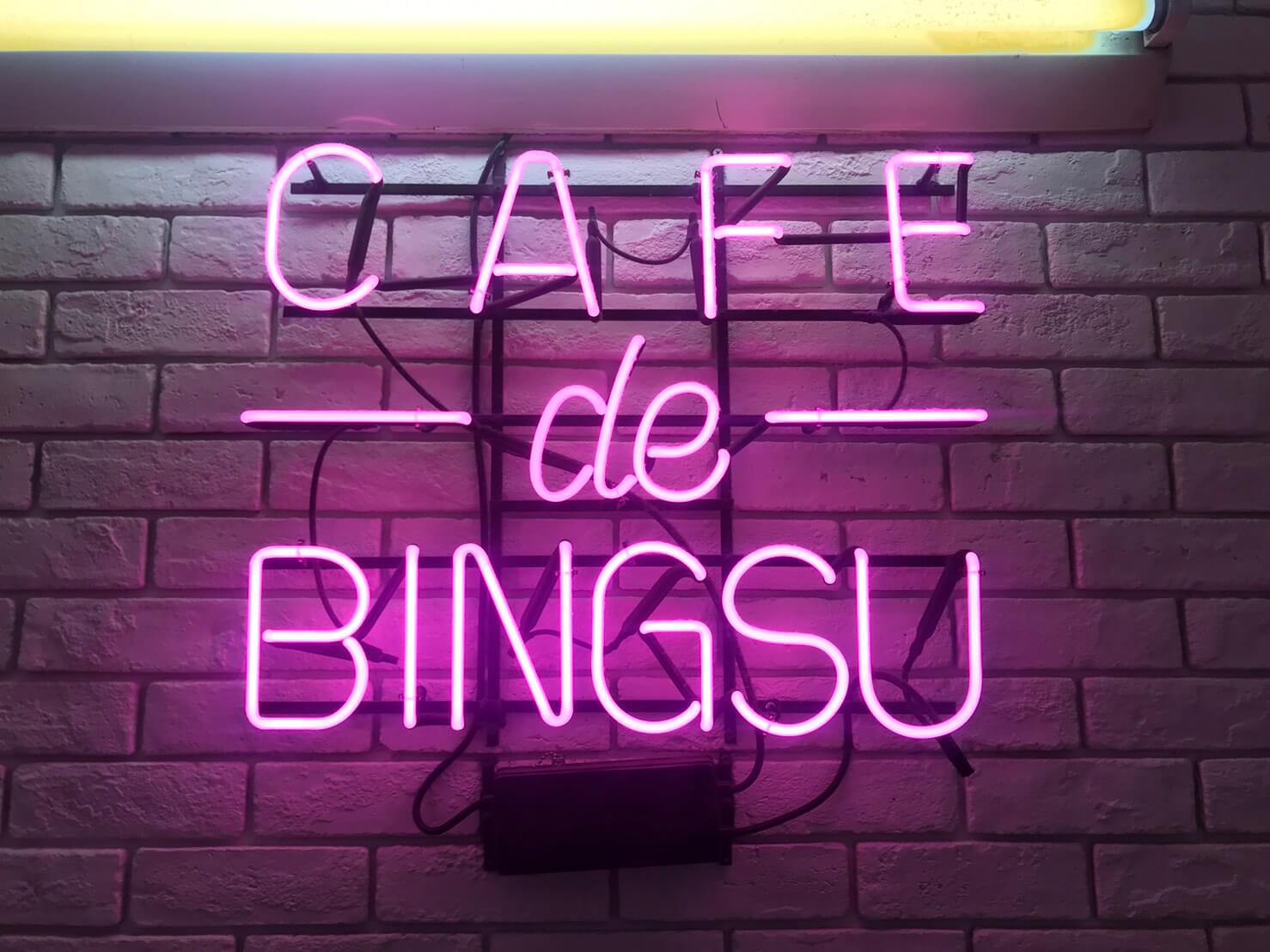 Look at that neon sign!!
Once I entered, I was immediately greeted by a cuddly bear. When you visit, make sure you get a photo together! ♡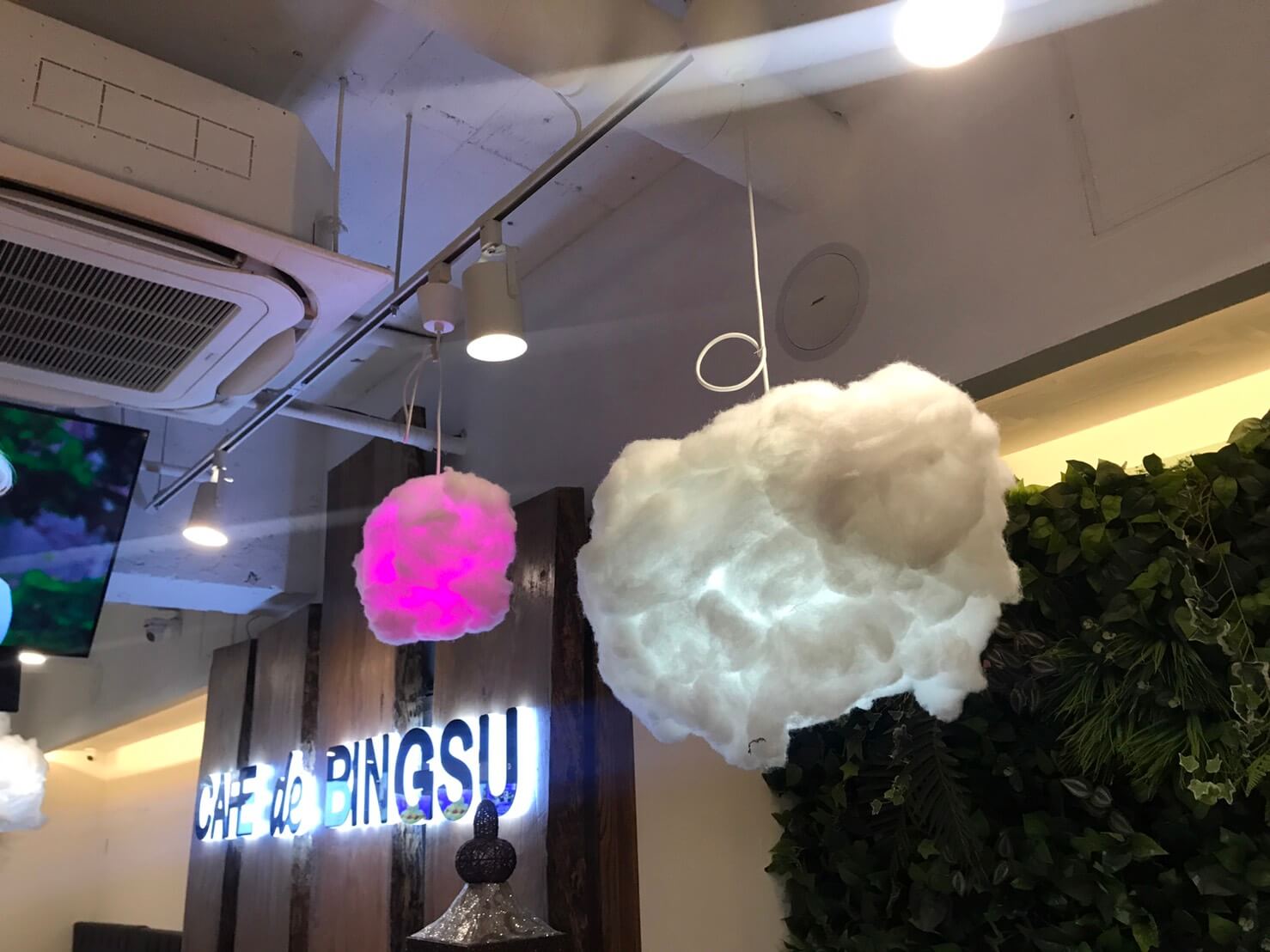 The illumination of the café is soft and beautiful. ♡ Whichever seat you take, your photos will always look good. I made my way over to the counter quickly to place my order.
Soooo cute!!
An oreo cookie with a face! Under the oreo cookie is a generous mountain of oreo cream cheese. It's just so cute I can't eat it…
…Oops I did.
This was like an enhanced luxury oreo. The oreo cream cheese was full of flavour that no oreo fan would be able to resist. The cheese flavour was very pronounced yet not overpowering and the aftertaste was very refreshing. Although this cheesecake is full of rich flavors, it was easy to eat without feeling any regret.
It's not just the Oreo Cheesecake at CAFE de BINGSU that you should try, however. The bingsu, drinks, in fact the whole menu is mouthwatering. You can order your food and drinks to go and enjoy them whilst strolling the streets, but the café's atmosphere is just so wonderful… I recommend taking a break inside to make the most of your experience!
RELATED ENTRIES
Häagen-Dazs Release New Soybean Flour Brown Sugar Syrup and Zunda Mochi Ice Creams

Häagen-Dazs Japan has announced that it will release two new flavours from its popular hanamochi ice cream series on September 17: "Soybean Flour Brown Sugar Syrup" and "Zunda."

Soybean Flour Brown Sugar Syrup Hanamochi

The soybean flour brown sugar syrup hanamochi was released back in 2015 and returned again in 2017. This year, Häagen-Dazs is bringing is back even more delicious than before. They have blended together a variety of soybean flours to elevate the ingredient's original flavour.

The top of the mochi is sprinkled with a blend of lightly roasted black and yellow soybeans. By roasting them, the original taste and fragrance of the soybean comes through tenfold. Dark roasted soybean has also been combined with milk for a velvety texture, and the entire thing is drizzled in a rich original brown sugar syrup sauce which further enrichens the soybean flavour.

Zunda Hanamochi

Zunda is sweet soybean paste made from mashed edamame beans and a flavour that has been gaining popularity in Japan in recent years. Häagen-Dazs is incorporating the flavour for the first time in their hanamochi series.

The lumpy texture of the crushed edamame goes deliciously well with the chewy mochi, taking the original authentic taste and texture of edamame to a whole new level. Mixing it with soybeans and rich milk turns it into a smooth ice cream in your mouth. The sauce also contains a sprinkle of salt to bring out the flavour of the zunda.

The packaging has also been updated, inspired by their flavours and topped with a golden lid, giving it a modern-Japanese appeal. Don't miss out on these two new flavours.

Information

Soybean Flour Brown Sugar Syrup Hanamochi (Limited Edition)

Price: ¥319 (Tax Included)

Release Date: September 17, 2019

Available: At supermarkets, convenience stores, and department stores across Japa

Product Page: https://www.haagen-dazs.co.jp/hanamochi_1909/

Zunda Hanamochi (Limited Edition)

Price: ¥319 (Tax Included)

Release Date: September 17, 2019

Available: At supermarkets, convenience stores, and department stores across Japa

Product Page: https://www.haagen-dazs.co.jp/hanamochi_1909/

Kusatsu Onsen's Emerald Green Pudding is a Must-Try After a Dip in the Hot Springs

Kusatsu Onsen is a hot spring resort in Gunma Prefecture that is one of Japan's three principle hot spring locations. The site opened its new Japanese custard dessert (known as 'purin') shop, Kusatsu Onsen Pudding, on August 24, which serves the most incredibly smooth purin you have ever tried, each inspired by the hot springs.

Once you've stepped out of the nice warm hot springs of Kusatsu Onsen you can refresh yourself with a delicious purin packed full of love from the shop which has created a flavour you can only try by travelling to Gunma and going there. Each and every dessert is made fresh in the shop to further elevate its exclusivity as a local speciality.

Kusatsu Onsen Pudding also makes sure to use local and regional ingredients where it can to help support manufacturers and producers. Their purin is also made with a special type of milk sourced from in Gunma known as Haruna milk. The milk is made as delicious as can be by ensuring cows are raised on a healthy natural diet of grass on green pastures in Gunma bathed in plenty of sunlight.

Yuhata Purin

The Yuhata purin is inspired by the hot spring areas where mineral deposits are harvested, its jelly taking on a gorgeous emerald green colour. It's lemon and lime flavoured, the perfect flavour to enjoy when stepping out of the hot water, and one which goes surprisingly well with purin.

Yumomi Purin

The staple purin of the store, this purin is based on yumomi, a method used for cooling the hot water with paddles from which cold water gushes forth. This velvety delight is made with lots of fresh cream and high-quality vanilla beans from Madagascar for added punch.

Furomage

A pun on the word fromage, with furo in Japanese meaning "bath," the Furomage purin uses a rich cream cheese base which has a seriously smooth texture. It's topped off with strawberry jelly for the perfect combination, packing a perfect balance between sweet and sour.

Yuhata Soft (Milk/Yuhata/Mixed)

Choose from the Yuhata soft serve ice cream which is ramune flavoured and inspired by the flowing water of the hot springs or the Haruna milk-mixed vanilla flavoured Milk soft serve. If you can't pick, then choose mixed for a bit of both. A satisfyingly refreshing pick for when you're done in the hot springs.

The shop has plans to sell purin made using bamboo steamers in the near future, so you're pudding can be steamed like yourself after a dip in the water! The wooden spoons used to eat the desserts are also made in the image of the paddles used in yumomi too.

Six Scrumptious and Satisfying Sodas in Kyoto You Have To Try

At MOSHI MOSHI NIPPON, we have introduced a lot of kawaii bubble tea drinks you can in enjoy in Kyoto. However, we have much more to offer you than just bubble tea news! Today we have summarised the top soda drinks you can enjoy in Kyoto which both look and taste amazing. With the help of kyoto cafe life tiara 's phenomenal photos, we will be introducing you our top six picks.

SHIN-SETSU /Nakagyō-ku

Blood Orange (left)  Blue Curaçao (right): ¥690

With a variety of 24 colourful cream sodas on the menu, this café offers a rainbow of flavours to enjoy. Your aesthetic soda is best enjoyed within the the picturesque American-style interior of the café, which is filled with antiques and cute pink decorations.

▼SHIN-SETSU

Address: 277 Enpukujimaecho, Nakagyo Ward, Kyoto

Opening Hours:

Weekdays: 12:00-19:00(L.O)

Saturdays 13:00-19:00(L.O)

Sundays 12:00-19:00(L.O)

No fixed holidays

Official Instagram: @shinsetsu.kyoto

Rhône(ローヌ)

On top of the refreshing blue ocean of soda floats a scoop of ice cream ー what a nostalgic image. The bright red cherry accents the flavour. Rhône serves not only delicious sodas but also homemade pudding and many other delicious desserts which are sure to leave your stomach satisfied. 

 

▼Rhône

Address: 645-1, Sanjoinokumacho, 

Nakagyo Ward, Kyoto

Opening Hours: 12:00-22:00

Closed: Wednesdays and Thursdays

Kissa Zou (喫茶ゾウ)

After becoming a big hit in Nagoya, Kissa Zou opened a new branch in Kyoto earlier this year in April. An adorable elephant (zou) can be seen riding the very top of your scrumptious soda. It is just too cute to eat!

▼ Kizza Zou 

Address:440-3 Santeicho, Kamigyo Ward, Kyoto,

Opening Hours: 9:00-18:00(L.O 17:00)

No fixed holidays

NOTTA CAFE

Cream Soda with Oiri Sweets (left) :  ¥600 Custard Pudding (right): ¥500

NOTTA CAFE's cream sodas have decorated the front pages of magazines before. A large crowd of oiri (Japanese-style round sweets) of a variety of colours can be seen huddled together riding the ice cream float on top of this cream soda. This ice cream soda is one of a kind and full of a variety of textures and flavours so you must try it.

▼NOTTA CAFE

Address: 37 Saiinkitayakakecho, Ukyo Ward, Kyoto

Opening Hours: 11:30-20:00 (Wednesdays: 11:30-21:00)

Closed: Mondays (additional irregular holidays)

Kissa Soirée (喫茶ソワレ)

Blue Sky Cream Soda (left) Strawberry Cream Soda (right): ¥700 each

This soda is topped with vanilla ice cream and a sakuranbo cherry. When the ice cream mixes with the soda, it becomes creamy. The interesting interior of this café is the perfect place to enjoy your luxurious sparkly cream soda.

▼Kissa Soirée

Address: 95, Nishikiyamachidori Shijo Agaru Shincho, Shimogyo-ku, Kyoto

Opening Hours

1st floor: 13:00-19:00 (L.O.18:00)

2nd floor: 14:00-19:30 (L.O.18:45)

Closed:Mondays

Maeda Coffee (前田珈琲)

This butterfly pea herb tea has minty aroma and a refreshing taste.  When you mix it, it gradually turns pink so you can enjoy the flavour as well as the changing appearance of your drink.

▼Maeda Coffee

Address:  236 Takoyakushi Dori Karasuma Nishi Iru Hashibenkeicho, Nakagyo- ku, Kyoto

Opening Hours: 7:00-19:00

Open all year round.

If you are ever in Kyoto, make sure to check out these cafés. If you are looking for more inspiration, look no further than kyoto cafe life tiara's Instagram, which is full of delicious desserts in the Kansai region.

Text and photos: @happy_pinkrose_tiara

Tokyo Station's Christmas Cakes Are a Must-Buy Present This Holiday Season

Two of Tokyo Station's shopping areas, GRANSTA and GRANSTA MARUNOUCHI―which are accessible inside the ticket gates and outside the ticket gates respectively―are set to hold the GRANSTA Christmas Fair from November 5 to December 25.

GRANSTA x Tokyo Staion Hotel

The main GRANSTA shopping area is joining hands with Tokyo Station Hotel for the very first time to release a line of hotel-original Christmas cakes.

Noel – ¥6,200 (Tax Included) @ Tokyo Station Hotel (*10 servings per day)

This pine tree stump chestnut cake was originally sold to support the reconstruction work of the Tokyo Station Marunouchi Building which was held until 2012. Topping the chestnut sweet potato base is a mix of chestnut mousse and coffee cream. This is topped with two types of chestnut pastes in a spiral shape to create the tree rings.

Bûche Chocolat Vanille – ¥5,500 (Tax Included) @ Tokyo Station Hotel (*10 servings per day)

The Bûche Chocolat Vanille is an exquisite yule log made with melt-in-the-mouth chocolate mousse and vanilla cream inside which hides sweet and sour, kirsch-soaked cherries and sauteed pears. The top of the log is temptingly lined with even more cherries to give it both that rich look and even richer taste.

Tokyo Station Marunouchi Building Cake Designs

GRANSTA will also sell cakes inspired by Tokyo Station. As well as the ones shown here, there are ones based on the bullet trains and more.

Station Building Fruit Cake – ¥4,320 (Tax Included) @ Colombin (*only 100 available)

Exclusive to GRANSTA comes this special Christmas fruit cake based on the station building. It would make great gift to bring to the Christmas party.

Cupola de Tokyo – ¥3,780 (Tax Included) @ Caffarel (*only 50 available / *design still a WIP so may differ from the photo)

This colourful Christmas cake draws inspiration from the gorgeous interior designs of the north and south domes of the Tokyo Station Marunouchi Building.

Suica Penguin Cakes

The adorable Suica Penguin is the mascot of Suica contactless smart cards used at train stations.

Suica Penguin Cake – ¥5,400 (Tax Included) @ Dalloyau (*only 100 available)

The main Suica Penguin cake is a combination of chocolate mousse and a cream made from tonka beans. This cute cake is sure to bring joy to any child this Christmas♡

Suica Penguin Chocolate Raspberry – ¥490 (Tax Included) @ Fairycake Fair (*30 servings per day)

Fairycake Fair has whipped up a chocolate cream-topped cupcake filled with raspberry jam. This one is for those who want something a bit smaller than a ginormous cake!

There are lots more cakes to look forward to, including ones in very limited quantities. If you're in Japan this Christmas season, be sure to pay a visit to GRANSTA and GRANSTA MARUNOUCHI in Tokyo Station.

©Chiharu Sakazaki / JR East / DENTSU Suica by JR East Suica

Information

GRANSTA

Address: JR East Tokyo Station Building Floors B1F & 1F (Inside Ticket Gates), 1-9-1 Marunouchi, Chiyoda Ward, Tokyo

Opening Hours: 8:00-22:00 (Until 21:00 on Sundays)

*Opening hours differ for select shops in GRANSTA

*The GRANSTA New Area opening hours are from 9:00-22:00(Until 21:00 on Sundays)

GRANSTA MARUNOUCHI

Address: JR East Tokyo Station Building Floors B1F (Inside Ticket Gates), 1-9-1 Marunouchi, Chiyoda Ward, Tokyo

Opening Hours: 10:00-22:00 (Until 21:00 on Sundays)

*Opening hours differ for select shops in GRANSTA MARUNOUCHI

GRANSTA Official Website (Japanese): https://www.tokyoinfo.com/shop/mall/gransta/

PEANUTS Café and PEANUTS DINER to run Nostalgic Flying Ace Fair

The PEANUTS Cafe and PEANUTS DINER located in Nakameguro, Yokohama and Kobe will be holding a nostalgic Snoopy Flying Ace Fair from September 4th at all branches.

The first time this fair was held, Snoopy dressed as an Astronaut. As this is the second time the fair will be held, Snoopy will be present at all PEANUTS Cafes and PEANUTS DINERs in a different costume. This time, his costume is themed around the series Flying Ace. Pilot Snoopy will be soaring into the scene fully equipped in his Flying Ace gear, steering his red doghouse to battle his rival the Red Baron as he did in those nostalgic daydreams. 

During the fair period, there will be a whole new menu of drinks and original merchandise themed around Snoopy's classic look where he is wearing his Flying Ace aviator hat and red scarf.

Flying Ace Green Tea Latte: ¥700 before tax (eat in) Comes with a limited original drinks coaster

Take out: ¥600 (after tax) 

The colour of the green tea takes on the image of Snoopy's green helmet. The sweetness and bitterness of the flavours perfectly balance out. The strawberry syrup adds a tangy accent of flavour. The vibrant colour creates the imagery of Snoopy's red scarf fluttering in the breeze. The drink is topped with vanilla ice cream and whipped cream and is studded with cocoa cookie bullets penetrating through its deliciously creamy surface. If you love sweet drinks, then come taste the flavour of Snoopy's adventurous daydream.

* The limited original coaster is only given to those who order to eat in.

* As there are a limited number of these coasters, there is a possibility that they will run out before the end of the fair period.

Original Flying Ace Eco Tote Bag (green/orange):¥1,500 (before tax)

The PEANUTS Cafe in Meguro has also released a limited edition Flying Ace version of their popular Original Eco Tote Bag. This bag is available in the two fair colours: green and orange. This A4-sized bag is the perfect size for multiple uses. It can be folded and stored inside your main bag as a sub bag or even used as your main bag.

If you are a Snoopy fan, make sure to stop by!

© 2019 Peanuts Worldwide LLC

Information

Flying Ace Fair: IT'S A BEAGLE LIFE "HOW'S THIS?

Running: September 4 ー November 4, 2019

Running at: PEANUTS Cafe Nakameguro
Address:2 Chome-16-7 Aobadai, Meguro City, Tokyo

Website: http://www.peanutscafe.jp/

White Miso Cheese & Fig Shaved Ice Serving This September at Hachiya in Tokyo

Since July, the tea stand cafe Hachiya has been releasing one brand-new shaved ice flavour every month. The final flavour arriving on September 2 is the autumn-vibe white miso cheese and fig shaved ice which will be sold exclusively at the Sendagaya branch until September 30.

White Miso Cheese & Fig Shaved Ice – ¥1,000 (Tax Included)

The shaved ice is an original homemade blend of full-bodied white miso cheese syrup and fig syrup. The milk white and light pink contrast make this one beautiful and delicious-looking dessert.

Hidden inside the shaved ice is sweet white bean paste dressed with cashew nuts. It's also topped with extra cashew nuts as well as dried strawberries. The dessert has a soft chewy texture and is packed with flavour which fills your mouth as it melts on your tongue.

September marks the end of the summer and the call of autumn. Japan is known for its celebration of the seasons, so why not join in with this delicious autumnal delight? And if you're no good with cheesy desserts, you can order the shaved ice with just fig syrup too.

This is a limited-time item which will discontinue once all of the syrup runs out. Don't miss out!

Information

White Miso Cheese & Fig Shaved Ice

Running: September 2, 2019 – September 30, 2019

Available: Hachiya (Sendagaya Branch)

Price: ¥1,000 (Tax Included)

Hachiya (Sendagaya Branch)
Address: 4-1-8 Sendagaya, Shibuya, Tokyo

Opening Hours: 9:00-19:00
TEL: 03-6368-6647

Closed: Weekends & Public Holidays

Hachiya Official Website: http://8ya.jp/

Halloween Treats, Wagashi, Drinkable Potato Desserts & More at GINZA SIX This Autumn

This autumn, Ginza's biggest shopping complex GINZA SIX is serving up a sumptuous selection of seasonal sweets and desserts. Their main components this year are apples and potatoes. Expect to enjoy potato in an entirely new way, and get ready for the spooky season with a line-up of Halloween treats that everyone can enjoy.

Let's take a look at just some of the gourmet delights arriving for the autumn season, some of which are already on sale.

Potato Desserts

Drinkable Potatoes (Purple Sweet Potato/Ripe Potato/Potato Leaf) – ¥600 Each @ Minamikaze Noukasha Dessert House (Available: October 1 – October 31)

We're at a point in time now where not only can we eat potatoes―we can drink them too! These potato dessert drinks come in three flavours: fruity Purple Sweet Potato, rich Ripe Potato, and Potato Leaf. The potatoes used to make all of the drinks were farmed from Minamikaze Noukasha's 160 potato farms.

Set of 5 Native Potato Pies (Oiran Potato/Genji Potato/White Potato/Hayato Potato/Tanegashima Purple Sweet Potato) – ¥2,500 @ Minamikaze Noukasha Dessert House (Available: October 1 until all sold)

Methods to make potato cultivation even easier were introduced almost 400 years ago in Japan. Cultivating original varieties of potatoes is difficult―it's mostly not done today. These pies are proudly made with those rare native potato varieties.

Potato Parfait – ¥2,000 @ JOTARO SAITO (Quantity: Only 10 served per day)

This gorgeous parfait is made with a purple sweet potato and sweet potato cream and is layered with agar-agar, rice flour dumplings, and ice cream. Inspired by the form of an affogato, it's topped with potato ice cream drizzled in a warm rice sauce.

Halloween Goodies For Grown-Ups

Halloween Party Pumpkin Purin – ¥4,800 @ Marlowe (Available: October 1 – October 31) *Must order within 3 days

This party-sized Halloween-exclusive rich pumpkin custard pudding contains cinnamon and nutmeg. It's even topped up with a jack-o-lantern face.

Glowing Lollipop Candy – ¥833-¥1,111 @ Candy Art Museum by PAPABUBBLE (Available: September 21 – October 31)

These lollipops come on sticks with LED lights that make the candy glow a ghoulish light, making them a great Halloween treat.

Halloween Afternoon Tea Set – ¥4,200 @ THE GRAND GINZA (Available September 1 – October 31)

Feast on an exquisite Halloween afternoon tea set made up of an exquisite selection of drinks and desserts.

Apple Desserts

Apple Gummy – ¥2,777 / Apple Gummy Candy – ¥1,666 @ Candy Art Museum by PAPABUBBLE (Available: August 27 – November 4)

The apple gummy is about the size of a Jonathan apple. If you're wondering what flavour it is, you'll have to wait until you bite into it to find out! The apple gummy candy set takes on flavours of different apple varieties.

Pom Caramel – ¥800 Each @ PHILIPPE CONTICINI (Available: August 27 – November 4)

These cute and round vanilla flavoured apple mousses are filled with an apple compote, which has a hint of star anise, and cream caramel. They're packed full of apple-y goodness and maintain PHILIPPE CONTICINI's refined flavours.

This Year's Must-Try Autumn Treats

Bessei Maruto Parfait "Shubo" – ¥2,300 @ Nakamura Tokichi Honten (Available: October 1 – November 30)

Exclusive to the Ginza branch of Nakamura Tokichi is this specially made parfait, layered with autumn-time ingredients including Japanese chestnut matcha cream, fig, chestnut sherbet, and bean paste. You can really taste the rich matcha notes in this beautiful dessert.

Kyoto Koicha Terrine Inori no Kajitsu – ¥2,000 @ Tsujiru (Available from September 1)

A great little gift is this terrine chocolat, made with chestnut, black soybeans, fig, and cranberries.

Did you enjoy this list? All of these items are autumn-exclusives and some are very limited in stock. Be sure to enjoy all the flavours of autumn this year in Japan.

*All listed prices include tax

Information

GINZA SIX

Address: 6-10-1 Ginza, Chuo Ward, Tokyo

Opening Hours: Shops/Cafes (B2F-5F) 10:30-20:30 / Restaurants (6F, 13F) 11:00-23:00

*Business hours differ from shop to shop.

No Fixed Holidays (But shops and restaurants will be closed on August 26, 2019)

Access: Directly connected to Ginza Station via the Tokyo Metro Ginza Line, Marunouchi Line and Hibiya Line.

TEL: 03-6891-3390
Website: http://ginza6.tokyo/

4 Must-Try Kawaii Bubble Teas & Desserts in Kyoto

Japan is a haven for bubble tea and tapioca-based beverages. Here on MOSHI MOSHI NIPPON we have covered many shops selling these tasty drinks in Harajuku―the town which started the tapioca boom in Japan―but today we will be heading to the ancient city of Kyoto.

We are joined by Kyoto café life tiara who posts photos of the best drinks and desserts they have tried around the Kansai region of Japan. They have provided us with photos of two must-try bubble teas and two must-try desserts in Kyoto.

ROCCA & FRIENDS PAPIER KYOTO in Shijo

ROCCA & FRIENDS PAPIER KYOTO is just a 5-minute walk from Shijo Station. The cafe is made from a traditional townhouse along an old-fashioned Kyoto-esque street.

It takes a little while for your drink to arrive placing your order, but that's because each beverage is carefully handmade from fresh. I ordered the mango smoothie soda and the strawberry smooth soda. Both are fruity and super refreshing and full of chewy tapioca pearls.

▼ROCCA & FRIENDS PAPIER KYOTO

Address: 735-2 Shinkamanzacho, Shimogyo Ward, Kyoto, Kyoto Prefecture

Opening Hours: 10:00-18:00

Closed: Mondays

Official Instagram Page: https://www.instagram.com/rocca.papier/

&Hana in Shijo

&Hana is located at the back of Kyoto Daimaru. The cheese rose tapioca milk tea I bought is a cute pink colour. It's a mix of rose which is good for skin and relaxation, sweet brown sugar tapioca, and sour cheese.

Draped at the back of the cafe are bunches of dried flowers which provide an Instagrammable background for your drinks.

▼&hana

Address: 619 Nishiuoyacho, Shimogyo Ward, Kyoto, Kyoto Prefecture

Opening Hours: Weekdays 11:00-22:00 / Weekends & Holidays 10:00-22:0

No Fixed Holidays

Official Instagram Page: https://www.instagram.com/and_hana_/

KISSHOKARYO KYOTO in Gion

This honey and tea parfait is special because they only serve 20 of them a day. Tapioca pearls go well not just in drinks but in desserts like this one too♡

The fluffy shaved ice is a perfect match with the homemade Earl Grey tea syrup. The rest of the parfait is made up of milk tea flavoured jelly, tapioca pearls, tea ganache, and other delightful surprises.

I enjoyed mine with lots of syrup and roasted soybean flour!

▼KISSHOKARYO KYOTO Gion Honten

Address: 306 Ishibashicho, Higashiyama Ward, Kyoto

Opening Hours: 10:00-19:00 (Last Orders 18:30)

No Fixed Holidays

Official Website: https://kisshokaryo.jp/

MASHOLA in Kawaramachi

MASHOLA is a South Korean-style cafe which of course sells tapioca pearl drinks, but also this delicious capo egg brulee tart as well. As soon as you put the order in their fire up the tarts fresh along with hot tapioca pearls for a heavenly melt-in-the-mouth experience.

They also sell bottled strawberry milk packed full of fresh strawberries, and for an extra ¥80 you can top if off with tapioca.

▼MASHOLA

Address: 406 Sakuranocho, Nakagyo Ward, Kyoto, Kyoto Prefecture

Opening Hours: 11:00-20:00

No Fixed Holidays

Official Website:  https://mashola.business.site/

Did you enjoy this list? Kyoto café life tiara has lots of other tempting recommendations of drinks and desserts on their Instagram page too, so if you're looking for something to try while in the Kansai region of Japan be sure to give them a follow.

Text & Photos: @happy_pinkrose_tiara

Translation: Joshua Kitosi-Isanga

Colourful New Agar & Mango Jelly Drink Released at Kyo Yakasa Pudding in Kyoto

Kyo Yakasa Pudding opened its doors to the world back in April, and since then they have whipped up many different kinds of Japanese custard pudding, known as purin. Earlier this month they released their all new "Yasaka Cider," a jelly-like drink which became a hit on Japanese Instagram (search with #京八坂プリン).

The shop's most popular product since launching is the Kyo Yasaka Pudding―named just like the shop. It has a honey and lemon flavoured jelly which is full of agar and mango jelly balls, giving it a cute appearance and very refreshing flavour and completely new kind of texture.

Now, the shop has released its new Yasaka Cider. The word "Cider" in Japanese doesn't actually refer to the alcoholic drink, but instead is usually a carbonated mixture of lemon and/or lime.

Available this summer only, the Yasaka Cider is the perfect accompaniment for cooling yourself down while strolling the streets of Kyoto, filled with Kyo Yasaka Pudding jelly, agar balls, mango jelly balls, and an in-house made lemon slice and honey mix. The beverage is made fresh to order and comes in a cute bag which you can carry around easily with you.

There are lots of great photo opportunities for Instagram in the store too! If you're in or travelling to Kyoto this summer then be sure to stop.

Information

Kyo Yakasa Pudding

Address: 87-4 Hoshinocho, Higashiyama, Kyoto, Kyoto Prefecture

Opening Hours: 10:00-17:30

No Fixed Holidays

Website: http://www.kyo-yasaka-pudding.co.jp

Spooky Halloween Doughnuts Float Into Krispy Kreme Japan

Krispy Kreme Doughnuts Japan (KKDJ) is carving its jack-o-lanterns out early this year in time for Halloween as it reveals its new series of holiday-themed doughnuts titled "MONSTER HARVEST in Monster DINER."

This pumpkin, chestnut and apple flavoured selection will be available at most Krispy Kreme branches across Japan from September 11 to October 31.

Pumpkin Custard Jack

Price: ¥230

The jack-o-lantern is the centrepiece of Halloween, and now you can much on one in doughnut form! Its face is coated in dark chocolate and filled with a velvety pumpkin custard cream. It also contains some pumpkin seeds for a crunch.

Black Cat Chestnut

Price: ¥250

The black cat's dark chocolate covered face includes crunchy cracker ears, giant white chocolate button eyes, and caramel chocolate nose and whiskers. Inside it's filled with a rich chestnut cream made from domestic chestnuts. The bottom part of the face is also sprinkled with tasty poppy seeds.

Apple Caramel Monster

Price: ¥230

This cute apple monster is a new addition to the KKDJ Halloween range. It's made from a juicy, sweet and sour apple nappage made from the juice of apples grown in Aomori Prefecture. The single eyeball is made from a mix of white and dark chocolate and is what makes this doughnut so cute. The single pumpkin seed at the top completes the monster's apple disguise.

Halloween Sprinkle

Price: ¥190

Covered in rainbow sprinkles, this custard pudding (purin) flavoured doughnut is subtly sweet and satisfyingly crunchy.

Halloween Dozen (Box of 12)

Price: ¥2,000

If you're having a Halloween party with family or friends then this box of dozen doughnuts is the perfect treat, containing all of the above doughnuts as well as some of KKDJ's classic doughnuts. You save ¥440 by picking up this box.

Don't miss this year's seasonal delights from Krispy Kreme.

Information

MONSTER HARVEST in Monster DINER

Running: September 11, 2019 – October 31, 2019
Krispy Kreme Doughnuts Japan Website: https://krispykreme.jp/

4 Must-Try Kawaii Aesthetic Tapioca Drinks in Aichi Prefecture

Japan is a haven for bubble tea and tapioca-based beverages. Here on MOSHI MOSHI NIPPON we have covered many stores selling these tasty drinks in Harajuku―the town which started the tapioca boom in Japan―but today we will be heading southwest of Tokyo to Aichi Prefecture, located in central Honshu Island, to look at 4 must-drink tapioca drinks.

We are joined by meme whose Instagram page is packed full of drinks and desserts from cafes across Japan.

The Flower Table in Sakae

Located inside the MITSUKOSHI shopping complex in Nagoya's retail and entertainment district Sakae is The Flower Table. I absolutely recommend this store for those who aren't good with sweet drinks as you can choose between having sugar or no sugar.

Your taste buds are hit by the flavour of the milk tea on the first sip which has a bite to it. The tea leaves used by the shop in this drink are from Kusumi Tea, a Paris-based premium tea brand.

If you're someone who likes chai then this taste is sure to tempt your palate. Not only does the milk tea taste exquisite, the tapioca pearls are sweet and satisfyingly chewy too. And let's not forget to mention their adorable takeout cup designs!

▼The Flower Table

Address: MITSUKOSHI Nagoya Sakae Store Floor 3F, 3-5-1 Sakae, Naka Ward, Nagoya, Aichi Prefecture

Opening Hours: 10:00-19:30 (Food Last Orders 19:30)
*Food not served until 11am, only drinks between 10-11am
*Afternoon tea sets, parfaits and other teatime menu options served from 2pm

Official Website: https://theflowertable.owst.jp/en/

BON CAFÉ in Sakae

BON CAFÉ can also be found in Sakae. I had heard lots of praise about this place before my first visit so I was eager to get in there. I ordered two drinks: the mango cream cheese tea (with cream and tapioca pearls) and the brown sugar milk tea (with tapioca pearls). It's hard to tell by the photos but both drinks are packed with tapioca pearls aplenty.

I'd heard before that the mango cream cheese tea was like a "dessert that you can drink," and I can confirm that it's true. It's topped with fresh cream and pearls so it's just as satisfying as a mango parfait.

▼BON CAFÉ

Address: Apa Hotel Nagoya Nishiki Floor 2F, Nishiki 3-15-30, Naka Ward, Nagoya, Aichi Prefecture

Opening Hours: 11:00-23:00 (Last Orders 22:00)

No Fixed Holidays

Official Website: https://bon-cafe.jp/tapioca/

Peripatos in Kita-Okazaki

Drinks at Peripatos are takeout-only. Their bottle designs are cute and simple with just a kitty illustration on them. The three drinks in the photo are Very Berry, Tropical, and Hazelnut & Caramel Sauce with coffee jelly.

The tropical drink has pieces of fresh mango in it while the Very Berry has fresh strawberry and chewy strawberry flavoured tapioca pearls in it. My friend ordered the Hazelnut & Caramel one which has coffee flavoured jelly in it instead of tapioca pearls. You sip it while crushing the jelly.

The shop interior is really cute too!

▼Peripatos

Address: 4-4 Ida Nishimachi, Okazaki, Aichi Prefecture

Opening Hours: [Mon-Tues & Fri-Sat] 11:00-21:30 / [Thurs & Sun] 11:00-18:00

Closed: Wednesdays

Official Instagram Page: https://www.instagram.com/c.peripatos/

Watashi to Cafe in Kariya

At Watashi to Cafe I ordered the strawberry milk tapioca drink. The pearls in this drink are strawberry flavoured too, and there's a lot of them making is super tasty. The glasses they come in are cute too.

They also sell beautiful herbarium-like drinks. These don't have tapioca pearls in them but I recommend these too!

▼Watashi to Cafe

Address: 2-20 Minamisakuramachi, Kariya, Aichi Prefecture

Opening Hours: Lunch 11:00-15:00 / Dinner 15:00-Midnight

Closed: Tuesdays

Official Website: https://watashitocafe.gorp.jp/

Did you enjoy this list? meme has lots of other tempting recommendations of drinks and desserts on their Instagram page too, so if you're looking for something to try while in the Tokai region of Japan be sure to give them a follow.

Translation: Joshua Kitosi-Isanga

Häagen-Dazs Releases Purple Sweet Potato Tartelette & Rich Pumpkin Ice Cream

Häagen-Dazs just released their new Purple Sweet Potato Tartelettes and Rich Pumpkin mini ice cream cups in Japan. They will be available for a limited time only.

Purple Sweet Potato Tartelette

Concealed inside a crispy coating laced with purple sweet potato powder is a rich custard ice cream seeping in a subtly sweet purple sweet potato sauce. A tried and tested treat for autumntime, these crispy ice cream sandwiches not only taste like the sweet purple root vegetable, but they also take on their vibrant colour too.

Through much trial and error, Häagen-Dazs have been able to create the perfect harmony of flavours between the sweet potato and ice cream. The custard ice cream brings the richness of the egg and lifts the notes of the sweet potato to even greater heavenly heights.

Rich Pumpkin Mini Cup Ice Cream

The new pumpkin ice cream is drizzled in a pumpkin sauce packed full of plump pumpkin perfection. And by cooking fresh pumpkin, the flavour is condensed and made even richer, filling your mouth with the gentle sweetness of pumpkin.

Both the ice cream and the sauce are made with Ebisu pumpkins from Hokkaido. And like the tartelettes, these mini ice cream cups retain that bright original flavour of the squash plant.

Taste the flavours of all with these two new delicious desserts from Häagen-Dazs.

Information

Häagen-Dazs Crispy Sandwich Murasaki Imo (Purple Sweet Potato) Tartelette (Limited Edition)

Release Date: August 20, 2019

Price: ¥319 (Tax Included)

Available: At supermarkets, convenience stores and department stores in Japan

Product Page: https://www.haagen-dazs.co.jp/murasaki_imo_tart/

Häagen-Dazs Mini Cup Rich Pumpkin (Limited Edition)

Release Date: August 20, 2019

Price: ¥319 (Tax Included)

Available: At supermarkets, convenience stores and department stores in Japan

Product Page: https://www.haagen-dazs.co.jp/rich_pumpkin/