Espresso, Tapioca & Other Adult-Oriented Shaved Iced Flavours This Summer at Omotesando Hills
Eleven cafes and restaurants at Tokyo's shopping complex Omotesando Hills will serve various "adult-oriented" shaved ice desserts from June 14 to August 31. The limited run is a continuation of last year's adult flavoured shaved ices, but this year more establishments are climbing aboard.
Check out these 5 flavours that are a must-try this summer.
Frozen Milk Black Tapioca & Mango Shaved Ice: ¥1,404 (Tax Included) @ Kageyamarou (Floor 3F)
*Limited to 20 per day
Kageyamarou are whipping up a fluffy, Taiwan-style shaved ice seeped in the sweet taste of mango and topped with fresh mango pieces. Accompanying on the side are big chewy tapioca pearls as well as a mango purin.
Serving Time: 11:00-21:00 (Except 16:30-17:30) *Serving until all 20 orders have sold.
Chai-Style Shaved Ice w/ Homemade Dates, Dried Fruits & Rum: ¥1,080 (Tax Included) @ Cosme Kitchen Adaptation (Floor B2F)
This shaved ice is made in the image of chai tea. It contains agar of dates―a superfood―and vitamin C-packed berries making this a great choice for those looking to look and stay healthy. It contains alcohol but can be ordered non-alcoholic. For an additional ¥216 (Tax Included) it also comes with hot or iced tea.
Serving Time: 11:00-22:00 (Until 21:00 on Sundays)
Hokkaido Yamakawa Nouen's Yamakawa Wasabi & Watermelon Shaved Ice: ¥1,512 (Tax Included)
@ Yasaiyamei (Floor 3F) *Limited to 30 per day
Yasaiyamei and bringing back this delight again which was popular last year. Served in a real watermelon, this upgraded version is packed with sweet watermelon and Yamakawa Wasabi made by Yamakawa Nouen in Hokkaido for a fiery punch. It comes with an original blend herb tea served hot.
Serving Time: 15:00-22:00 (Except 16:00-17:00. Until 21:30 on Sundays) *Serving until all 30 orders have sold.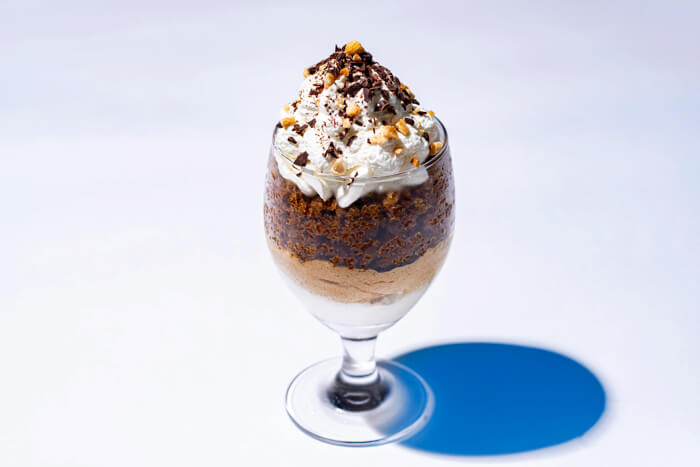 Hazelnut & Espresso Granita: ¥1,296 (Tax Included) @ Fratelli Paradiso (Floor 3F) *Limited to 15 per day / Contains alcohol
Sat on top of a dollop of ice cream is a rich and bitter espresso granita steeped in Frangelico hazelnut liqueur. This Italian-style shaved ice recreates the granita, a semi-frozen dessert with origins in Sicily.
Serving Time: 11:00-22:00 (Until 21:00 on Sundays)
Daisy Mandarin Shaved Ice: ¥1,728 (Tax Included) @ 37 Roast Beef (Floor 3F) *Limited to 20 per day / Contains alcohol
This citrus-packed shaved ice contains daisy mandarins, marmalade sauce and an orange liqueur for a refreshing and bitter mix. It's also topped with crunchy meringue made with coconut oil.
Serving Time: 11:00-22:00 (Except 16:30-17:30 on weekends and holidays)
If you're in Tokyo this summer, be sure to plan a trip to Omotesando Hills to try them.
Information
Adult-Oriented Shaved Ice
Running: June 14, 2019 – August 31, 2019 (Not Running August 26, 2019)
Omotesando Hills
Address: 4-12-10 Jingumae, Shibuya, Tokyo
Official Website: https://www.omotesandohills.com/
*Restaurants and cafes whose last orders are different on weekdays and Sundays will have the same last order days on weekdays on July 14 and August 18 and the same last order days on Sundays on July 15 and August 12.
RELATED ENTRIES
Report: The Successful Second Tabekko Doubutsu Cafe Stand in Omotesando

The second Tabekko Doubutsu Cafe Stand event opened in Omotesando on November 1, 2022. Paying homage to the classic snack first released in 1978, the cafe features a number of tasty snacks inspired by the thin animal-shaped cookies popular around the world.

This second event will run through January 9, 2023. Reservations are required, and many dates were completely sold out prior to the event's start date, particularly on weekends. We decided to visit, anxious to see what the fuss is all about.

We were first shocked to see the popular animals enjoying oden! Original goods featuring the characters enjoying the quintessential Japanese winter dish are only available at the cafe. From acrylic keychains to figures, visitors can snag some adorable merchandise to commemorate their trip to the exclusive event. Why not snag some items that would be useful on a daily basis, like a notebook or an apron?

For food, visitors can snag a special Oden Set and Chinese Dumplings, both perfect for the winter. The oden features popular ingredients like egg, daikon, fish cake, and mochikinchaku, each branded with the popular animal characters. Drinks include soy milk, green tea milk, and milk tea. 

In addition to the exclusive Lion Cake which is limited to 25 servings a day, guests can find chocolate bananas and other sweets on the menu, including a Sweets Set limited to those reserving special seats at the venue. For every ¥1,000 spent on food and drink items, customers will receive one Tabekko Doubutsu trading card!

The exhibition space is a must-see for fans of this legendary snack, filled with rare works including an adorable and very colorful print of every animal holding a bowl of oden. Of course, a photo spot has been set up for visitors to take some prime shots for social media!

Don't miss the animal meet and greet, which is making its triumphant return from the last event! Visitors can interact with different animals on different days, so check the official Twitter page (@tabekko_cafe) for the schedule and more information! The number of visitors per day is limited, so make a reservation as early as you can.

Come enjoy these heartwarming treats while you have the opportunity!

Information

Tabekko Doubutsu Cafe Stand Omotesando

Running: November 1, 2022 – January 9, 2023 *Reservation required
Closed: December 28, 2022 – January 3, 2023
Hours: 11:00 – 19:00
Address: SPAGHETTI Cultural Space 1F
5-3-13 Jingumae, Shibuya-ku, Tokyo
Closest Station: Omotesando
Reservations: https://t.livepocket.jp/p/tabekko_omotesando
Official Twitter: @tabekko_cafe https://twitter.com/tabekko_cafe
*Please see the official Twitter page for the latest information!

Luxury Brand Burberry Collaborates with Manga Series Blue Period on Original Story

Burberry has announced a collaboration with the popular art manga Blue Period! The unlikely pair will team up on an original story featuring a new character Lola, who is an anthropomorphic version of Burberry's iconic Lola bag designed by Riccardo Tisci. This original story booklet will be gifted exclusively to visitors to Burberry stores nationwide starting August 20, 2022. Fans can also enjoy the digital version on Burberry.com.

This story depicts the emotional journey of Yatoria Yaguchi and Ryuji Ayukawa as they meet and are progressively more influenced by Lola. Hachitaro is inspired by Lola's boldness, inner strength, purity, and free self-expression, and is inspired to free himself from everything external and internal holding him back.

To commemorate this partnership, a special wallpaper featuring an illustration by Tsubasa Yamaguchi, the author of Blue Period, will be available exclusively from Burberry's official LINE account starting on the first day of the collab. The Burberry Omotesando takeover event will also run through September 5, so come enjoy a fashionable manga world!


©Tsubasa Yamaguchi/Kodansha

Masquerade-Inspired Halloween Sweets Buffet Opens in Omotesando

The Strings Omotesando will hold the Violet Masquerade sweets buffet at GRAMERCY HOUSE, a banquet venue on the second floor, on select dates from September 7 until October 27, 2022.

Guests can enjoy a selection of desserts featuring chestnuts, grapes, and other autumn treats in calming violet space. Why not come enjoy the feel of a masquerade while eating your fill of sugary delights?

The event will feature jewel-like tarts lavishly decorated with figs and grapes, strawberry cheesecake inspired by a courtly flower garden, and lemon mousse shaped like a fanciful headdress. The buffet itself will be decorated with masks and glittering ornaments.

The buffet will also include lunch with a lineup of savory dishes such as spiced grilled chicken, black curry made with charcoal, and purple sweet potato potage.

Visitors showing up to the buffet wearing violet will receive an original purple mocktail called Fancy Violet. Why not come for a girls' night out or a family dinner this Halloween season?

Information

Violet Masquerade Sweets Buffet

Running: September 7 – October 27, 2022
*On select dates only. These dates will be announced on the website.
*Weekdays only.
Venue: GRAMERCY HOUSE / The Strings Omotesando 2F
Hours: 12:00-14:00 *120-minute seatings

Details / Reservations: https://www.strings-hotel.jp/omotesando/event/sweetsbuffet/#next

Summer-Exclusive Shaved Ice Available at Tokyo Tower Adjacent Terrace Dining TANGO

Terrace Dining TANGO, located at the base of Tokyo Tower, will begin selling three unique flavors of shaved ice for summer starting on July 1! These tasty treats will only be available until August 31, so be sure to visit while you can.

WA! Bear

TANGO's original shaved ice is popular every summer, and in 2022, customers can grab a bear-shaped treat made with brown sugar syrup and condensed milk.

Strawberry Milk ~Rose Scented~

Made with fluffy ice and homemade strawberry sauce, this delectable treat is topped with condensed milk and smells like sweet roses. Inside, customers will find rose gelato and strawberry compote.

Taiwanese Pineapple and Coconut

This fluffy shaved ice is topped with coconut milk, Taiwanese pineapple, and a generous dollop of sweet sauce. The ginger adds a spicy accent, keeping it interesting until the final bite.

Terrace Dining TANGO is attached to The Place of Toyo, a wedding hall overlooking Tokyo Tower. The shaved ice, available only during the summer, is made of natural ice that has been filtered and frozen slowly for 48 hours to create a fluffier texture. Each is served with a special sauce made by the restaurant's pâtissier.

Come enjoy these sweets that make summer a little more fun!

Information

Terrace Dining TANGO Summer Shaved Ice

Available: July 1 – August 31, 2022

Address: 3-chome-5-4 Shibakoen, Minato-ku, Tokyo (1F)
Official Site:http://www.tango-tpt.com/

Popular Snack Tabekko Doubutsu Inspires Collaboration Cafe in Omotesando

A new concept cafe for the popular snack Tabekko Doubutsu will be opening in Omotesando for a limited time, from July 5 until August 21. The snack is similar to animal crackers in the west, though these little creatures are a little cuter.

Korean-style Macaron Set

Tabekko Doubutsu Cafe – Omotesando Goods Set (4 varieties)

Tabekko Doubutsu Cafe – Omotesando Mini Drawstring Pouch (9 varieties)

Tabekko Doubutsu has been hugely popular with young children and adults alike since the snack was first released in 1978. Guests visiting the collaboration cafe can enjoy themed sweets and new merchandise along with a special photo spot perfect for social media!

Tea Ceremony Brand Saron Launches Customizable Matcha Shaved Ice for a Limited Time

Nara-based tea ceremony brand Saron is serving up a tasty treat perfect for the warm weather! White shaved ice with dark matcha topping is now available until mid-September, and guests are invited to adjust the taste by altering the amount of tea added.

Lately, Nara has been experiencing a major shaved ice boom. Inspired by Himuro Shrine, known for housing a guardian deity of ice, the city introduces plenty of created recipes for the summer treats each year. The tea ceremony brand Saron was founded by Nakagawa Masashichi Shouten, in business since the Edo period–so it's safe to say that the company knows what they're talking about!

Guests can enjoy shaved ice made from pure Yamato ice, which is frozen for 72 hours, gently shaved, and topped with Nara's Kasiya sweet bean paste, shiratama, agar, and condensed milk that has been boiled for four hours. 

To finish off this luxurious dish, guests can add koicha, a thick matcha tea with concentrated flavor and incredible sweetness and depth. Polished twice as much as typical matcha, this is a taste you'll never forget.

Why not come enjoy this traditional Japanese sweet this summer?

Information

Saron – White Shaved Ice with Dark Matcha Topping

Available: May 11 – mid-September

Where to Buy: Saron Nara (31-1 Ganriincho, Nara)

Official Site: https://salon-tea.jp/

Fendi and Harajuku Omotesando Keyaki-kai Collaborate on #FendiTsunaguOmotesando Art Project

Italian luxury fashion brand Fendi has teamed up with Harajuku Omotesando Keyaki-kai on a new street art project! 'TSUNAGU – Omotesando Street Art Project' was unveiled on April 29, 2022.

 

The project, which aims to improve the city's scenery and share positive messages, is on display in Omotesando, a popular area with young people. The canvas is the formal site of the Oriental Bazaar, an iconic part of Omotesando for over four decades. Under the theme of 'hope,' three young artists will be displaying their artwork in a massive temporary enclosure on the site. Hopefully, Japan really will open tourism soon so that guests from around the world can enjoy these inspiring pieces!

The first piece of art was unveiled on April 29 and was drawn by Dai Tamura, a young Japanese artist who has attracted worldwide attention after becoming an illustrator for the NBA. The dynamic and powerful compositions vividly depict endangered animals and plants alongside delicate flowers to symbolize hope for the futures of these beautiful creatures. 



Be sure to keep an eye out for the next installation coming soon!

Information

TSUNAGU – Omotesando Street Art Project

Location: Oriental Bazaar Former Site

Address: 5-9-13 Jingumae, Shibuya-ku, Tokyo

Official Site: http://www.fendi.com

Idol Group Shiritsu Ebisu Chugaku to Open One-Day 'Ebisen Cafe' in Omotesando

The popular idol group Shuritsu Ebisu Chugaku will open a one-day-only cafe in Omotesando on May 1, 2022! The location will open in conjunction with CookpadTV, which hosts the popular show 'Shiritsu Ebisu Culinary Institute.'

The members of Shiritsu Ebisu Chugaku are passionate about cooking, making this the perfect project. Since October 2021, the girls have streamed their cooking stories and ideas on CookpadLive, and now, they're ready to put their hearts and souls into each and every item on this cafe menu. Visitors will also be able to purchase original merchandise on-site and see some of the member's costumes! 


Reservations for the cookpadLive Ebisen cafe are required, and the lottery for reservations is open now. Some of the menu items and original goods offered at the cafe are also available for purchase on cookpadLive's official E-commerce site, so don't worry if you aren't able to attend in person on May 1!

The cookpadLive Ebisen Cafe will feature a special lunch time, dinner time, and cafe time. The nine members of Shiritsu Ebisu Chugaku will appear in three teams for each session.

THE STRINGS Omotesando Offering Cherry Blossom & Strawberry Afternoon Tea for Take-Out

The ZelkovA Cake Boutique at the wedding venue THE STRINGS Omotesando is offering a Cherry Blossom & Strawberry Afternoon Tea set to-go from March 3 until April 26! How would you like to experience an authentic afternoon tea experience from the comfort of your own home?

Mini Afternoon Tea Set

The original take-out box can be displayed on a table in a standard three-tier afternoon tea format. Each set contains a number of spring-inspired sweets including a tasty Mont Blanc with strawberries and a tiramisu made with sponge cake soaked in strawberry extract and layered with cherry blossom mascarpone cream. The savory menu also includes pink strawberry sandwiches with shrimp and cabbage.

 

Two kinds of tea from the luxury Singapore tea brand TWG will be included in the set, and a mini afternoon tea set with seven types of sweets will also be available for purchase.

Third Installment of Popular 'cookpadLive Attack on Titan' Collaboration to Open in Tokyo and Osaka

CookpadTV is continuing to hold AniCook events, using anime and manga to make cooking more fun. A new collaboration with Attack on Titan is here, following two very successful tie-ups in the past. The cookpadLive Titan Festival Vol. 3 event will begin on March 17, 2022, and will be based on the theme of the character's memories. A lottery for entry is now open, and guests can look forward to tons of exclusive items only on sale at each venue and online during the event period.

Food

That Day's Determination…Carbonara Hamburger / That Day's Vow…Genoa Chicken Fricassee/Unyielding Will…Risotto Rice Croquettes

Desserts

The Courage to Believe…Mont Blanc Roll/Qualities of a Leader…Brownie Parfait/That Day's Sunset…Orange Cream Pancake

Drinks

Menu Order Bonus

Titan Festival Vol.3 Exclusive Goods

B-SIDE LABEL Collaboration Exclusive Goods

The event will take place in Omotesando in Tokyo and Shinsaibashi PARCO in Osaka. The collaboration menu expresses the character's worldview during The Final Season, and the limited-edition merchandise will feature newly drawn illustrations of Eren and his friends as they march towards the series' highly-anticipated end.


Along with newly-drawn illustrations, the collaboration project will also include goods made along with B-SIDE LABEL, a pop art group. Look forward to it!

©諫山創・講談社/「進撃の巨人」The Final Season製作委員会

Information

cookpadLive Titan Festival Vol. 3

Location: 

cookpadLive cafe Omotesando
Address: Ao Building 3F (3-11-7 Kitaaoyama, Minato-ku, Tokyo)
Running: March 17 – April 17, 2022
Hours: 11:00-21:00

cookpadLivecafe Shinsaibashi
Address: Shinsaibashi PARCO 5F (1-8-3 Shinsaibashisuji, Chuo-ku, Osaka)
Running: March 17 – April 17, 2022
Hours: 10:00-20:00

Artist Mai Yoneyama Opens Exhibition at ZeroBase Omotesando

Animator and illustrator Mai Yonoyama has opened a solo exhibition at ZeroBase Omotesando from February 10 until February 14, 2022. The exhibition will show off her new work 'printemps' for the first time, and 30 other unique works will be on display. Some will be on sale as well, and guests will be able to see '00:00:00,' which was exhibited at the 'START ART FAIR 2021' in London last year.

Merchandise featuring popular motifs from the artist's works will be on sale during the exhibition. Certain exhibited works will be sold on the special webshop in extremely limited quantities.

Comment from Mai Yoneyama

I'm pleased to announce that I will be holding a solo exhibition in cooperation with Credit Saison. All of my past and recent works will be on display, and I hope that you'll be able to see and feel the value of my art.

My new work is also the first in a series of seasonally-themed pieces. Enjoy the image of a plant budding and filling the world with a lovely scent.

THE STRINGS Omotesando Offering Authentic Strawberry Afternoon Tea to Enjoy at Home

THE STRINGS Omotesando is now selling the 'STRINGS Take-out Strawberry Afternoon Tea' at the ZelkovA Cake Boutique until March 2, 2022.

The original take-out box can be transformed into a three-tiered afternoon tea stand, featuring a gorgeous array of sweets studded with sweet and sour strawberries. Everything from strawberry shortcake with its cute pink cream, mousse, tarts, panna cotta, and sandwiches are included.


Each person will also enjoy two kinds of tea from TWG Tea, a luxury tea brand from Singapore.