LuLuLun Face Mask: A Beautifying Souvenir From the Japanese City Ise
When travelling abroad, I find myself buying and taking back lots of different souvenirs for myself and my family. I look for those items that are made with each region's particular materials and ingredients. By handing them out to people, I'm also sharing a little bit of that place with the people around me too.
Today I introduce to you the "Ise LuLuLun" face mask, a souvenir from the Japanese city of Ise that's perfect for that one person we all know who's into beauty and cosmetics.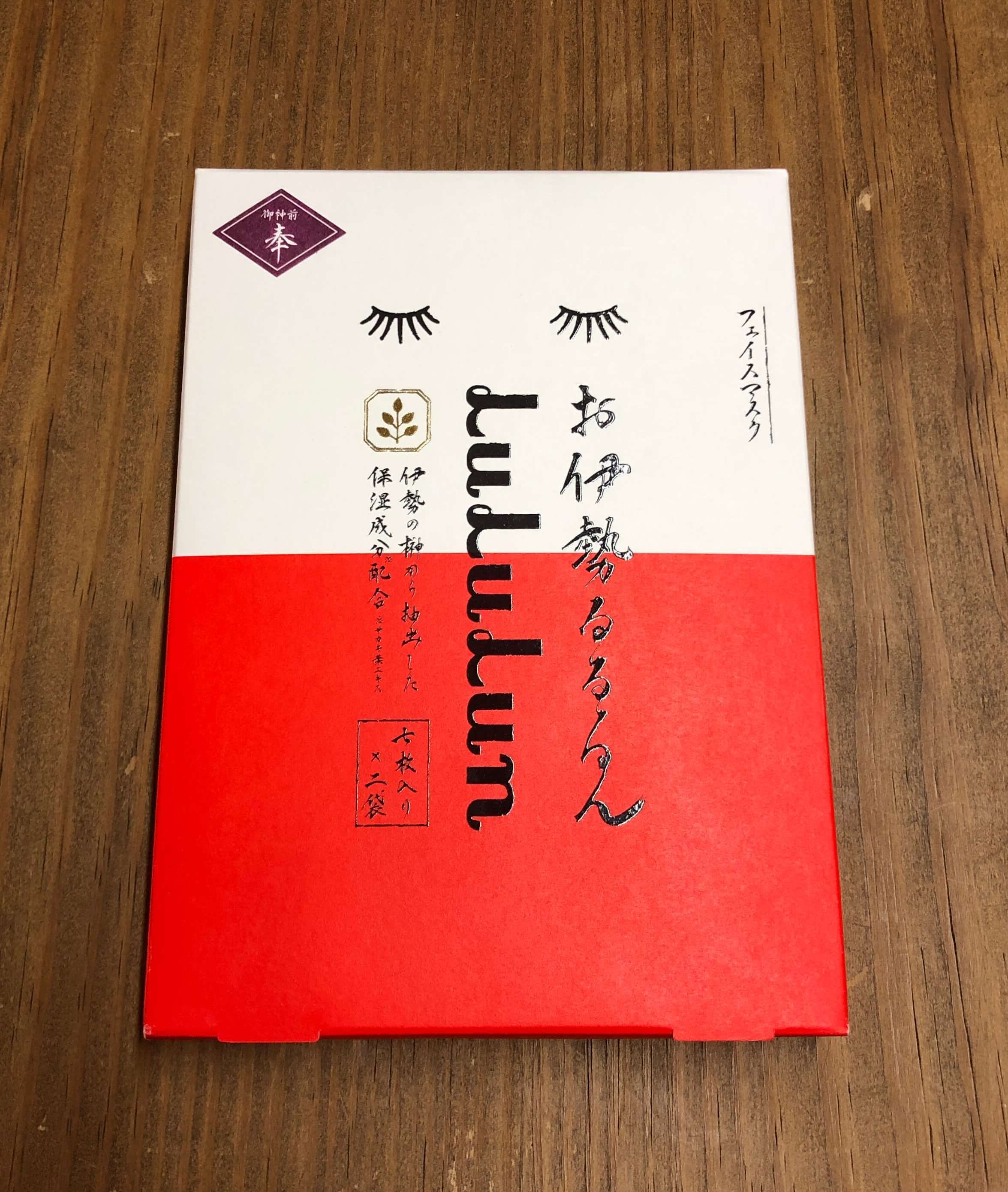 The Ise LuLuLun is part of the popular "Tabi Suru LuLuLun" face mask series which sees limited edition face masks sold in different regions. The masks are made from an assortment of ingredients and plants. They are sold not just in Japan but around the world. Some of the variants to hit Japan have included Okinawa Shequasar and Shōdoshima Olive.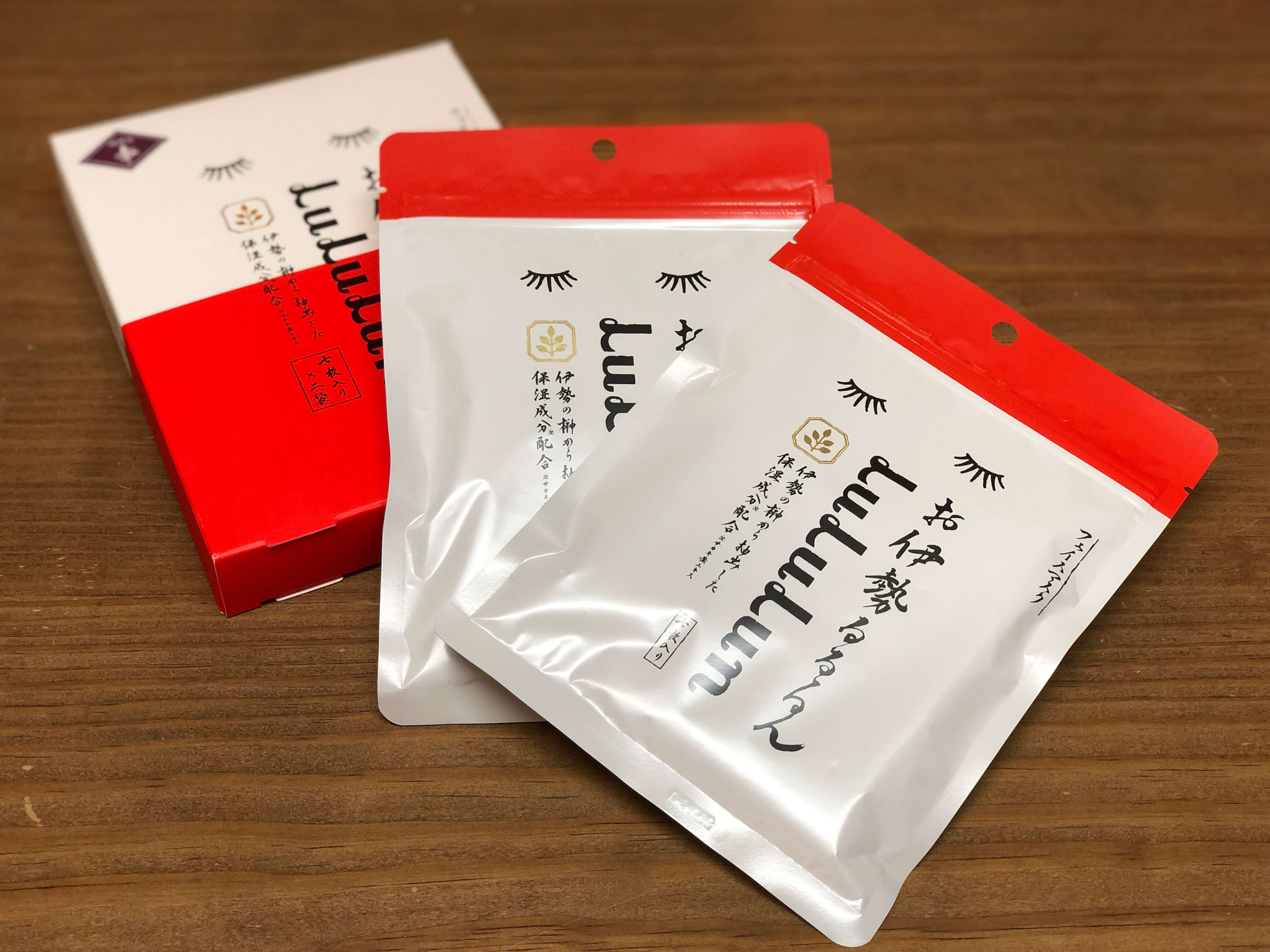 Ise Lululun is the first product in Japan to include extract of sakaki leaf which moisturises the skin. Sakaki is a flowering evergreen tree native to several Asian countries including Japan and is used as a symbol of longevity and vitality. The extract was made in cooperation with Ise City's manufacturing and tourism department, making this a very special product indeed. The sakaki is used in various Shinto activities such as offering them to altars and household shrines. Ise itself is home to many sasaki trees from which the extract in the Ise Lululun is made. Its moisturising effect ensures the skin stays nice and moist.
Let's get onto talking about what it's like to use this product. I've used Lululun packs in the past, but the feature of the Ise Lululun is absolutely the fragrance it gives off. The instant you bring the mask to your face your nose is filled with a smell akin to a forest of trees. If you close your eyes it's like you're enveloped in nature. It gives you a feeling of peace and tranquillity. And the way it relaxes you is nothing short of incredible… It's truly a gift and souvenir from Ise, bound with the air and scent of the city.
My face felt so smooth the day. I think I'll definitely be using this again for special occasions.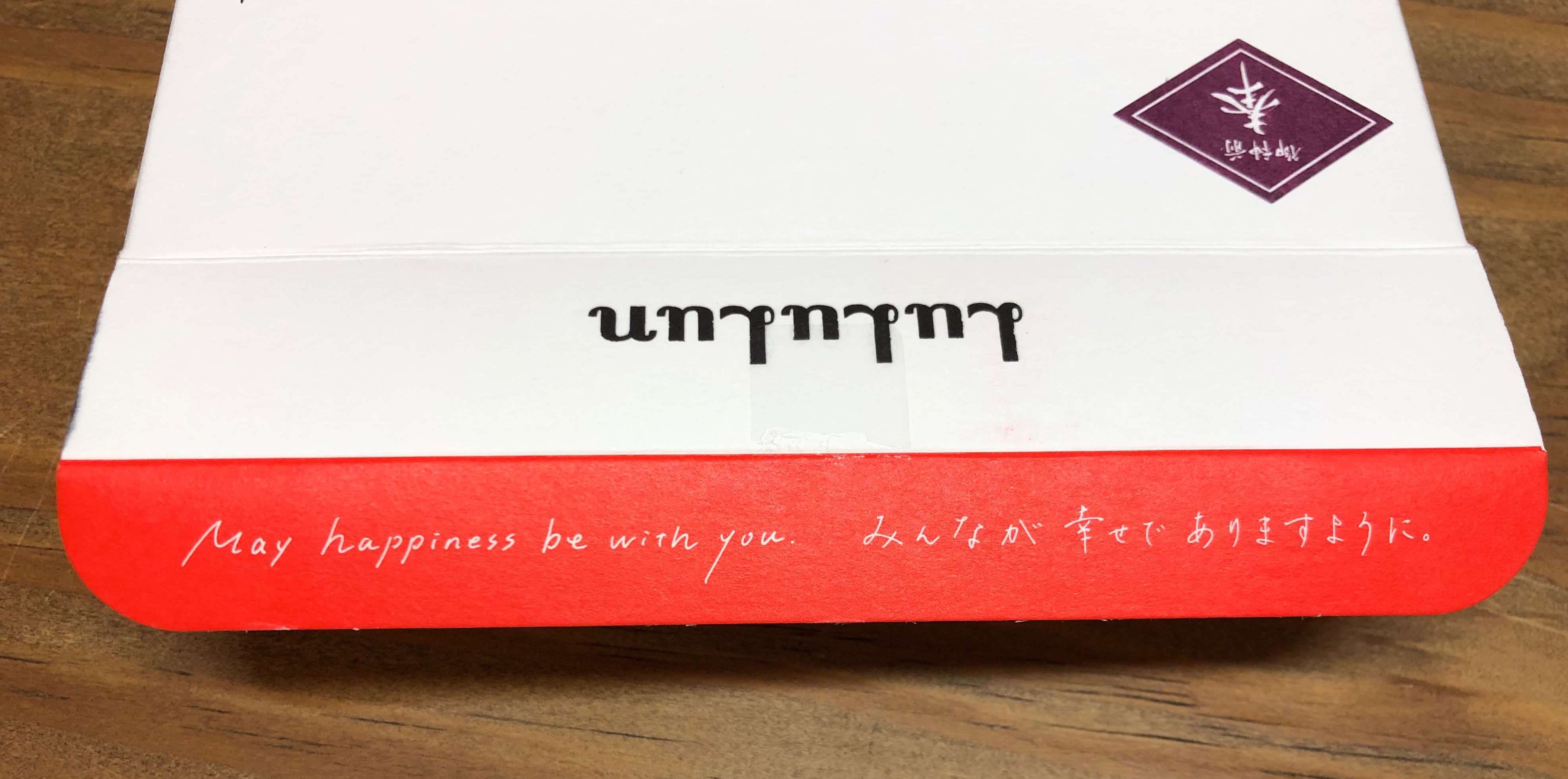 The Ise Lululun is a fusion of the Ise spirit of "being thankful for and treasuring every day" and Lululun's own spirit of being in high spirits and sound health. At the end of the day it made me hold my head high and say "thank you" to today. I was also warmed by the message written on the packaging (which you can see above).
If you plan a trip to Ise be sure to check out this exclusive beautifying item and maybe pick one up as a souvenir.
Writer: Sayuri Mizuno (ASOBISYSTEM)
Translator: Joshua Kitosi-Isanga
Information
Ise Lululun
Price: 2 Packs of 7 – ¥1,000 (Before Tax) / 4 Packs of 7 – ¥1,700 (Before Tax)
Available: At souvenir shops in Mie Prefecture, Aichi Prefecture and select parts of the Kansai region
Official Website: https://lululun.com/oise/
RELATED ENTRIES
Top 10 Most Popular Souvenirs to Pick Up at Tokyo Station's HANAGATAYA Store | 2019 Edition

HANAGATAYA is a souvenir variety shop that opened in Tokyo Station's central passage back in July. After over 5 months of sales, the store has revealed its Top 10 most popular products based on sales.

The line-up features a selection of HANAGATAYA exclusives, as well as products from elsewhere which have received pre-sales at HANAGATAYA. You will be spoilt for choice with this selection, all of which are perfect for ringing in the New Year when travelling back home. Let's take a look.

1st Place

Banana Custard Cream – Tokyo 2020 Olympic Emblem Design (Tokyo 2020 Official Licensed Product) – Contains 8 – ¥1,134 (Tax Included)

Officially licensed by the Tokyo 2020 Olympics, these chewy cakes are made from domestic Japanese rice, and are filled with deliciously creamy banana custard.

2nd Place

Tokyo Banana Butter Madeleine (Tokyo Banana World) – Contains 4 – ¥560 Tax Included)

Exclusive to HANAGATAYA come these all-new butter madeleine's created by famous confectionery company Tokyo Banana. These baked treats feature a buttery fragrance and taste, and are made with a banana confiture and finished with fresh lemon.

*Exclusive to HANAGATAYA GRANSTA Tokyo Central Street

3rd Place

Toro One Press Chocolate Chick (Tokyo Hiyoko) – Contains 3 – ¥648 (Tax Included)

This year marks 107 since the company Hiyoko was established. The "Toro One Press Chocolate Chick" is a new confection from them: an adorable skyward-looking chick made up of three chocolate layersーeach with their own distinct flavour. At the heart of the chick is a moist chocolate paste.

*Exclusive to Tokyo Station

4th Place

Cheese Wich – Contains 5 – ¥594 (Tax Included)

These light and refreshing cheese cookies, called Cheese Wiches, are filled with a chocolate-coated melted cheese sauce. Three layers means an enjoyable amalgamation of flavours and textures.

*Exclusive to Tokyo Station

5th Place

Chocolate Chestnut Eggs (Ginza Tamaya) – Contains 4 – ¥800 (Tax Included)

"Goma Tamago" is a popular bite-sized egg-shaped confection. This chestnut flavour was created for HANAGATAYA, a mix of dark chocolate and vanilla flavoured chestnut paste.

*Exclusive to Tokyo Station

6th Place

Strawberry Cookie Sandwich (Berry UP!) – Contains 8 – ¥1,296 (Tax Included)

Berry UP! is a cute confectionery brand which creates baked strawberry sweets. Keeping with that theme, they have created a crunchy quintuple-layered cookie sandwich filled with sweet and sour strawberry chocolate.

7th Place

Shinjuku Curry Ebi (Shinjuku Nakamuraya) – Contains 6 – ¥600 (Tax Included)

If you're looking for something more savoury, then this one's for you: Shinjuku Nakamuraya's light, fluffy and melt-in-the-mouth ebi, coated in curry spices. One nibble is enough to get you instantly hooked.

8th Place

Strawberry Polvorón (Berry UP!) – Contains 6 – ¥1,296 (Tax Included)

Another entry from Berry UP!, these polvorón shortbreads are made from lots of fresh strawberries mixed with condensed milk and mascarpone, creating a subtle sweetness that's enough to have your mouth watering.

9th Place

BLUE MELTIN SAND (Tokyo Campanella) – Contains 8 – ¥1,200 (Tax Included)

What if herbal tea and cookies became its own snack? That's what Tokyo Campanella asked too, and so make it a reality. Their BLUE MELTIN SANDs are cat's tongue cookies stuffed with a herbal tea sauce that has a natural blue colour.

10th Place

Premium Cacao Full Sablé (Mary Chocolate) – Contains 18 – ¥1,350 (Tax Included)

Finally, we have a premium edition of chocolate company Mary Chocolate's Cacao Full Sablés. This one's for the adults, a sophisticated combination of bittersweet chocolate and berries.

*Exclusive to HANAGATAYA GRANSTA Tokyo Central Street

Did you enjoy this list? Which one takes your fancy the most? Whether as a souvenir for the folks back home, or as a treat to yourself to celebrate 2020, if you're in Tokyo this year then be sure to give HANAGATAYA a visit.

Tokyo Station's Top 10 Edible Winter Souvenirs as Chosen by Station Staff

There is just a month and a half left of 2019, with Christmas, the winter holidays and New Year celebrations right around the corner.

Tokyo Station City has compiled a list of must-grab food-related souvenirs and gifts at Tokyo Station. If you've ever visited Tokyo Station, you'll know that you can be spoilt for choice from the amount of goodies you can get your hands on. The list is based on the votes of 305 station staff members working at Tokyo Station who have voted on their Top 10 most recommend souvenirs to pick up this winter.

The staff members went around the shopping area and taste-tested different edible souvenirs across an 8-day period. Their early thoughts as they went down the list were how delicious or unique things were, but they soon began to take it more seriously to consider things like price, how easy an item was to carry and transport, and what certain people might like in particular.

If you're travelling to or from Tokyo Station during the holiday season, be sure to bookmark this list so you know what to buy for on the flight back home!

1st Place

Rakumadoka @ Terra Saison (GRANSTA) – 5 Set ¥1,080 (Tax Included) / 8 Set ¥1,728 (Tax Included)

This cheesecake is like a cream cheese-stuffed souffle-like sandwich. Branded with the words "Gin no Suzu" (a place in Tokyo Station) and "Tokyo," this seasonal product is exclusive to Tokyo Station. In December last year, they sold over 1,500 in a day.

2nd Place


Mount Baum Kuchen @ Nenrinya (Meihinkan) – ¥1,080 (Tax Included)

With its French bread texture, this delightful treat has a fragrant scent, is moist, and is simply delicious. It has a rich buttery taste and is baked slowly to perfection.

3rd Place

Shinjuku Curry Arare Ebi @ HANAGATAYA (GRANSTA) – 6 Set ¥600 (Tax Included)

This rich curry snack is made by Shinjuku Nakamuraya, and has a light melt-in-the-mouth texture with spicy curry seasoning and shrimp flavour. The shrimp flavour comes from a mix of shrimp powder and shrimp oil. The mix of curry powder and spices gives it a really authentic curry taste.

4th Place

Tokyo Vegetable Rice Crackers @ nomono (GRANSTA Marunouchi) – 12 Set ¥950 (Tax Included) / 18 Set ¥1,598 (Tax Included)

An assortment of rice crackers with three different flavours: great burdock, onion, and pumpkin. They have a set of 18 too which is perfect for handing out to lots of people.

5th Place

Maple Pie Sandwich @ The Maple Mania (GRANSTA) – 8 Set ¥1,944 (Tax Included)

Coated in caramel, this crunchy pie is made with a cream laced with maple sugar. Exclusive to Tokyo Station, the packaging design for this dessert is made with souvenirs in mind as it's made so it's easy to carry and take around with you.

6th Place

Kuzumochi @ Funabashiya Koyomi (ecute Tokyo) – 24 Cut (Serves 1-1.5) ¥790 (tax Included) / 36 Cut (Serves 2-3) ¥895 (Tax Included) / 48 Cut (Serves 4-5) ¥1,200 (Tax Included)

Funabashiya's kuzumochi is made with wheat starch that is fermented over a 450 day period before being cooked. It claims to be "the only fermented Japanese wagashi confection." Since it is fermented over such a long period of time, it takes on a unique flavour and elasticity.

7th Place

Cheddar Cheese Pie Sandwich @ Tokyo Milk Cheese Factory (ecute Keiyo Street) – 6 Pack ¥1,620 (Tax Included)

A crunchy pie filled with an addictive cheddar cheese cream. Exclusive to ecute Keiyo Street.

8th Place (Joint)

Premium Cacao Full Shortbread @ HANAGATAYA (GRANSTA) 8 Set ¥648 (Tax Included) / 18 Set ¥1,350 (Tax Included) / 27 Set ¥2,052 (Tax Included)

This is a premium edition of the store's Cacao Full Shortbread, made using the methods used to make the chocolate brand Merry Chocolate. The crunchy texture and full-bodied flavour of the cacao has been left as it is, while a few things have been added to make it a little more luxurious: French sour cream butter, strawberries, and raspberries.

8th Place (Joint)

Yaoki Senbei @ Mankaso (Meihinkan) – 16 Set ¥1,080 (Tax Included)

These plump senbei rice crackers are made with 100% domestic rice and come in six different delicious flavours: agodashi soy sauce, salted, shrimp, seaweed, plum and coarse sugar, and chirimen pepper.

10th Place

Tartlette Neuf @ le billet (ecute Tokyo) – 6 Pack ¥1,728 (Tax Included) / 9 Pack ¥2,592 (Tax Included)

la billet make their own tarts, and this assortment comes in a variety of flavours. Exclusive to Tokyo Station. A great option as a gift for meeting a business in Japan.

Which of these looks most tempting to you? Let us know on Twitter or Facebook!

The Perfect Souvenir: Kyoto's Famous OTABE Confections in Velvety Matcha Chocolate

If you're in Kyoto looking for a delicious elegant souvenir for your people back home then BijuuCo.,ltd. is your port of call. Their irresistible desserts vary from their well known sweet bean paste-filled Yatsuhashi to their Kyo-Baum. They will be releasing the mouthwatering Matcha Chocolate OTABE from November 20, 2019.

The rich aroma of the matcha chocolate will be the first thing to entice you. The matcha Yatsuhashi is made from specially selected water and Koshihikari rice, which is famed as Japan's best rice. The soft and chewy texture of the Yatsuhashi dough gently embraces a velvety, melt-in-the-mouth matcha chocolate ganache filling. These OTABE confections are bursting with the flavours of Kyoto and are only available to purchase for a limited period.

OTABE combined with Kyoto's famous matcha chocolate is matcha match made in heaven. If you're ever in Kyoto, you must try it.

Information

Matcha Chocolate OTABE

Selling: November 20, 2019 to the start of May, 2020

Price: Box of 10 (2 packs of 5): ¥660 Before Tax

Eat within 11 days of production.

Purchasable from souvenir shops in Kyoto and Kyoto Station. 

Official Website: http://www.otabe.kyoto.jp/

This Week's Breakfast: Warming Up With Asa Kayu at Asora no Chaya in Ise

One thing I do at least once a week without fail is treat myself out to some delicious food or dessert. I find it very important time well spent in order to live a happy, fulfilling life.

During a business trip to Ise, I decided to treat myself to some breakfast in the coastal city. I got up nice and early and went to pray at the Toyo' ukedaijingu of Ise Grand Shrine before making my way to Asora no Chaya to order some of their Asa Kayu ("Morning Porridge") to warm myself up since I was feeling a little cold.

Asora no Chaya is about an 8-minute walk from Ise Stationーwhich by the way is the closest station to the Toyo' ukedaijingu of Ise Grand Shrineーand just a minute's stroll from the inner shrine itself.

At the entrance they had "Asa Kayu" written on the door as pictured above. The cafe itself is located on the second floor.

The cafe has wood-based decor, and the windows are nice and big, letting lots of natural light seep in. From the window I could see Ise Grand Shrine which I prayed at just moments ago. It's a place where you can wind down and relax.

I ordered the "Mike no Asa Kayu Awabi" (in Japanese: 御饌の朝かゆ 鮑). I found out that the word mike is used to refer to precious, sacred food. Apparently, your good fortune will increase if you eat it after praying to the god of food at the Toyo' ukedaijingu.

Mike no Asa Kayu Awabi (御饌の朝かゆ 鮑) – ¥2,040 (Tax Included)

My meal arrived in a wooden box. When I opened it, I was happy to see that I not only received the porridge, but other small plates and bowls of food too.

I was charmed by how shiny the rice was in the sunlight. To eat the thin rice porridge, you add the awabi, pickled vegetables, kombu, bonito broth and other ingredients.

The rice porridge is easy to digest and warms you up to the coreーthe perfect way to relax on a cold day. The combination of the tender bonito and the smooth porridge is a match made in heaven. It's a very simple dish with no unnecessary additions. It has a gentle flavour that makes your mind and body just wind down and relax.

As well as the rice porridge, the meal comes with other healthy foods too like dried fish, soft boiled egg and vinegared ingredients. For dessert, you get zenzai which is a type of sweet soup. This is a very special breakfast you can only experience here at this cafe, coupled with a view of Ise Grand Shrine, all in the early morning.

Whenever I wake up early, it feels like I'll have a very different start to the day than usual, but spending my morning in Ise, praying at Ise Grand Shrine and eating kayu porridge at Asora no Chaya had me holding my head high.

This morning, it was the start of another new day, and I began it feeling dignified.

Today's Souvenir

Awabi Gohan no Moto – ¥1,300 (Tax Included)

I wanted to share the happiness between friends and family on this fine day where I got to eat a delicious breakfast. This Awabi Gohan no Moto is an easy way to enjoy awabi. You took it together with rice to make awabi rice. Being able to purchase awabi, which is a high quality ingredient, at this price is an absolute steal.

Writer: Sayuri Mizuno (MOSHI MOSHI NIPPON)


Translator: Joshua Kitosi-Isanga

Information

Asora no Chaya

Address: Ise Sekiya Honten Floor 2F, 13-7 Honmachi, Ise, Mie Prefecture

Closed: Wednesdays

Opening Hours: Asa Kayu 7:30-10:00 / Lunch 11:30-14:30 / Cafe 7:30-17:00 (Until 16:00 on weekdays)

Official Website: https://www.asoranochaya.com

6 Must-Buy Japanese Fall/Winter Cosmetic & Skincare Items – MOSHI MOSHI NIPPON

Japanese cosmetics company Shiseido has released its new fall/winter skincare and cosmetic items. With the cold weather cloaking us with its bitter chill, we risk our skin becoming dry and flaky. Plus, with Christmas and the New Year right around the corner, now is the season to dress up and look stylish for parties and get-togethers.

We have selected 6 cosmetic items at Shiseido you should ready yourself with for the increasingly cold weather.


d program Kandan Barrier Essence: Protect your skin from the temperature difference

Outside it's cold, but indoors it's hot. That kind of temperature difference can damage your skin, but Shiseido has developed a product to tackle the problem. Part of their d program series, this product protect the skin from drying out by maintaining moisture in your skin during cold winters. The texture is adapted to those who have sensitive skin after washing. Skincare is important during this season, so be sure yours is protected.

d program Kandan Barrier Essence – ¥3,000

Official Webpage: https://www.shiseido.co.jp/dp/


ELIXIR REFLET Balancing Oyasumi Mask: Tighten your pores and replenish moisture overnight

The ELIXIR REFLET Balancing Oyasumi Mask coats your skin in a gel that balances sebum production and tightens pores while replenishing moisture. It's to be used 2-3 times a week and worn while you sleep, so apply it before getting into bed and enjoy waking up with gorgeous and glowing skin. It's a simple skincare routine and a great product that can be used for beautiful skin all-year round.

ELIXIR REFLET Balancing Oyasumi Mask

Official Webpage: https://www.shiseido.co.jp/elixir/reflet/

Senka All Clear Double W Foam: Cleanse your face and remove your makeup with thick foam
Senka is a skincare brand hugely popular not only in Japan but Taiwan, South Korea, and other parts of southeast Asia. This new product is a 2-in-1 makeup remover and facial cleanser.

One push of the bottle releases a nice thick dollop of foam which you apply to your face. You don't need any water, you can wash just with this. It's made with rice bran oil which easily removes makeup as well as unclogs pores for thoroughly cleansed and beautiful skin. It's a great product to use in those mornings when you're not using makeup.

In the same series from Senka is their White Beauty Serum in Foundation, a natural-looking foundation that gives that no-makeup look. It's packed full of beautifying components and is a great skincare option when using makeup.

This line is also easy to buy if you're living outside of Japan, so be sure to check it out.

Sengan Senka Senka All Clear Double W Foam -open price

Junpaku Senka White Beauty Serum in Foundation -open price

Official Webpage: http://www.hada-senka.com/


 Majolica Majorca Shadow Customize: Add accent to your night-out eye makeup

Majolica Majorca Shadow Customize is the perfect choice for eye shadow when you're looking to spice up your look for a Christmas or New Year's. It can also be used as everyday eye shadow, and contains highlight pearls and shading pearls which help to highlight your eye makeupーideal for parties. The line-up includes 19 colours, including 3 new ones: Masala Chai (reddish-brown), Cinnamon (orange), and Odo Brown (walnut). Pick your weapon of choice!

Majolica Majorca Shadow Customize: ¥500

Official Webpage: https://www.shiseido.co.jp/mj/


Integrate Nuance Eyebrow Mascara: Road to natural-looking eyebrows

Whenever you're going to an event, you want to put some effort into your eyebrows, right? This product is the ideal choice for getting those natural-looking eyebrows. It's a mascara but it's powdered so doesn't clump your brows. It comes in 5 different colours, so coordinate your brows accordingly with your outfit.

Integrate Nuance Eyebrow Mascara

Official Webpage: http://www.shiseido.co.jp/ie/

Limited Edition Frozen 2 Items: Great gift ideas
Five brands have teamed up with "Frozen 2″ to release their own Anna and Elsa-inspired cosmetic designs.

MAQuillAGE's lipstick is shiny like snowflakes and is fun to use when putting on your makeup.

Limited Edition "Frozen 2"  Designs

Official Webpage: https://www.shiseido.co.jp/cms/onlineshop/campaign/h/collaboration/

Sightseeing in Ise: 4 Must-Visit Souvenir Shops Near Ise Grand Shrine

The city of Ise is located in central Mie Prefecture on the eastern tip of Kii Peninsula, the largest peninsula on Japan's largest main island Honshu. Every year, the autumn season brings in a flurry of tourists and sightseers who flock to see the city's leaves expressing their vibrant hues of red and yellow. The city boasts a magnificent catalogue of sightseeing spots, but perhaps the most famous of all is Ise Grand Shrine, whose inner and outer shrine give visitors a sense of what the townscape looked like in ancient times. This can also be seen at Sarutahiko Shrine, amongst other places.

In this article, we're going to introduce you to 4 must-visit souvenir shops near the inner shrine for your Ise travel bucket list.

Amano Pearl

When talking about specialty products of Ise, the one thing that's sure to come to the minds of Japanese people are the pearls sold in the city. Amano Pearl can be found in Oharaimachi, an almost 1km long street lined with traditional shops. The owner themselves purchases and appraises the pearls while the shop staff manufacture and design gorgeous accessories to sell at an affordable price.

Accessory – ¥2,200

This rose-shaped necklace is a design favoured by women of all ages. They have plenty of other high-quality bargain picks like this too.

The shop's diverse line-up of beautifully accessories includes those perfect for combining with one pieces and dresses, as well as for parties. Prices and designs vary greatly, so there's bound to be something for everyone who steps inside this quaint store. So if you're shopping for souvenirs during your trip to Ise, then you absolutely have to pay a visit to Amano Pearl to see the city's famous pearls.

▶︎Amano Pearl – Oharaimachi Branch

Address: 45 Ujiimazaikechō, Ise, Mie

Opening Hours: 9:00-17:00

No Fixed Holidays

Official Website: https://www.amanopearl.jp/

Matsujiro Honey – Ise Oharaimachi Branch

Matsujiro Honey is a long-standing honey shop that was established back in 1912. The shop sells various varieties of honey, including flavours you won't find in supermarkets like apple honey and soba honey.

Hanabana – ¥864

Hanabana is the shop's No. 1 most popular variety of honey and it's made in Mie Prefecture. Its name in Japanese means "flowers," and as the name suggests, it includes the nectar of numerous types of flowers. It has a smooth texture and distinct full-bodied floral fragrance.

Centre: Mini Honey Soap – ¥503 / Right: Honey Soap – ¥2,200 / Left: ¥2,200 Honey Face & Body Oil (48ml) – ¥2,200

The shop even sells its own honey-imbued cosmetics, all made with natural ingredients. Their soap is made with their popular Hanabana honey, and gives off a flavoursome honey smell. Your skin is left smooth, moisturised and smelling great after using it.

Their rich honey oil too is made with 90% plant-derived oil and is free from preservatives. It's a great option for the coming dry season and is gentle on the skin.

If you visit the shop, they let you taste test their different types of honey too! Find your favourite.

▶︎Matsujiro Honey – Ise Oharaimachi Branch

Address: 7 Ujinakanokirichō, Ise, Mie

Opening Hours: 10:00-17:00

No Fixed Holidays

Official Website: https://www.matsujiro.shop/

Uoharu

Uroharu first opened its doors in 1931. Their products are sold as souvenirs to help spread the word of Ise's rich food culture.

Same No Tare – Salt Flavour / Mirin Flavour

The item you absolutely want to look out for when going into Uohara is their "Same No Tare," another Ise speciality. It was originally only eaten in Shima, Ise, but it was picked up on national television, leading it to become a food souvenir associated with Ise.

Uoharu's products are seafood based, and there's plenty to choose from. If you're looking for a food product specifically from Ise then look no further than Uoharu.

▶Uoharu

Address: 49 Ujinakanokirichō, Ise, Mie

Opening Hours: 9:00-17:00 (*Changes depending on season)

Closed: Wednesdays (Except on national holidays in which case closed on Thursdays)

Official Website: https://www.samenotare.jp/uoharu/

Henbaya – Oharaimachi Branch

Yet another speciality product of Ise comes from the much-beloved Henbaya, which first opened way back in 1775. The speciality products, also called "henbaya," can be ordered either for takeout or enjoyed in the shop.

Henbaya (Includes 2) – ¥160

Henbaya are thin, round sticky rice cakes made with top of the range domestic ingredients and packed with smooth red bean paste. Both sides of these deliciously fragrant rice cakes are browned, and when bitten into, fill and melt in your mouth with the sweet, smooth flavour of the bean paste.

At the Oharaimachi branch of Henbaya they sell various other rice cakes too, all chewy and made with high quality ingredients from Japan. Pick up a pair and enjoy the sweet taste of Ise.

▶︎Henbaya – Oharaimachi Branch

Address: 1-149-1 Ujiurata, Ise, Mie

Closed: Mondays (Except on national holidays in which case closed on Tuesdays)

Opening Hours: 9:00-17:00 (Eating in-store runs until 16:30)

*Products may sell out before 17:00

*Opening hours subject to change for January

So, if you're making a trip to the beautiful city of Ise, you now know the must-visit spots for finding souvenirs. Let us know if you visit any!

aminoRESQ: The No. 1 Hair Care Brand in Four Countries Revamps Its Design & Formula

The amino acid-blended shampoo brand aminoRESQ revamped its packaging design and improved its ingredient formula on September 25, 2019.

The hair care brand is popular not just in Japan, but around the world, and is ranked number one in four countries. It has proven a popular choice amongst models and beauty Instagrammers. Over 4 million items in the series have been sold. Up to now, other amino acid-based shampoos slacked when it came to how well it actually washed hair, but aminoRESQ solves that problem, having created a shampoo that washes thoroughly but gently.

The new and improved aminoRESQ is a rich blend of 6 amino acids and ingredients which nourish both the scalp and hair from their roots. It also contains proteins for a high-quality wash. They are absorbed well by the hair and supplement efficiently.

Their moist series of products battle against dry hair and prevent it from becoming frizzy, keeping it nice and moist.

The smooth series has a combination of amino acids, moisturising keratin, and silk for a smooth and glossy finish.

There are 20 types of amino acids spread across the series, such as serine, glycine, glutamic acid, alanine and ricin, which provide nutrition and nourishment to every point of your hair, making it strong and beautiful. If this sounds like something you're looking for, why not give it a shot?

Cute Pikachu, Mew, Eeevee and Snorlax Blush & Powder Release in Pokémon Cosmetic Series

The next set of beauty items in the popular Pokémon Cosmetic Series has finally been revealed: the Pokémon Cheek and Pokémon Pressed Powder will be released on September 10. The line-up includes Pikachu, Eevee, Mew, and Snorlax.

Pokémon Cheek – ¥1,300 (Before Tax)

The Pokémon Cheek is a cream-type blush that spreads smoothly on your skin without any stickiness. It's comfortable on the skin and is durable. It also contains micropearls and so gives your skin a natural shine.

It comes in four colours: Pikachu Milky Pink, Eevee Rose Pink, Snorlax Coral Pink, and finally Mew Pearl White which brightens your natural skin tone. The blush comes as a stick and so is ncie and easy to apply and carry around.

Pokémon Pressed Powder – ¥1,500 (Before Tax)

The pressed powder comes with its very own powder puff featuring a cute original design. The powder is mixed with minerals that are gentle on the skin as well as collagen. It leaves your face looking smooth and natural without any unwanted shiny patches.

Pick from four different colours: Pikachu Pink which brightens natural skin colour, Eevee Mint which elevates transparency, Snorlax Yellow which conceals blemished, and Mew Purple which brings out transparency and shimmer.

When out there in the wild catching Pokémon, why not look good at the same time? Be sure to check out the Pokémon Cosmetic Series, and stay tuned for any new products that are released.

Information

Pokémon Cosmetic Series – Pokémon Cheek / Pokémon Pressed Powder

Release Date: September 10, 2019

Available: Pokémon Center,  ITS'DEMO, Tokyu Hands, Village Vanguard, and elsewhere

Official Website: https://lovisia.jp/pokemon/

Cute & Shiny Doraemon Cookies & Dango Tin Are Kyoto Souvenirs You Can't Leave Without

If you're looking for must-buy souvenirs while in Kyoto then look no further. Heso Production are set to begin releasing Doraemon cookies and a cookie tin early this month at that are exclusive to souvenir shops and variety stores in Kyoto.

The cute printed cookies feature not only familiar faces from the Doraemon series, including the adorable cat robot himself, but illustrations of sights that are quintessential to traditional Kyoto culture including the five-story pagoda and the Daimonji bonfire.

Another must-grab is this shiny Doraemon tin. Also exclusive to Kyoto, the tin features a way-too-cute shiny design of Doraemon who is holding some dango.

The tin is filled with lemon flavoured ramune candy, a perfect nibble to have while travelling.

©Fujiko Pro・Shogakukan・TV Asahi・Shinei・ADK

Information

Dokodemo Doraemon Kyoto Exclusive Printed Cookies

Contains: 20

Price: ¥800 (Before Tax)

Release Date: Early September 2019 (Date may differ from store to store)

Location: Souvenir shops and variety stores in the Kansai region

Dokodemo Doraemon Kyoto Exclusive Shiny Tin

Contains: 2 bags (8g each) of lemon flavoured ramune candy

Price: ¥600 (Before Tax)

Release Date: Early September 2019 (Date may differ from store to store)

Location: Souvenir shops and variety stores in the Kansai region

Heso Production Official Website: https://www.heso-pro.com/

Coca Cola Adds Yamagata Prefecture to Stylish Regional Design Series

Coca Cola is adding a brand new design to their famous and stylish regional series. Coca Cola's Slim Bottle Region Design series features illustrations of famous landmarks around Japan on a slim and stylish bottle.  Yamagata Prefecture will be making its grand debut on the slim and stylish bottle on September 2nd and will be sold only in Yamagata Prefecture. 

The Slim Bottle Region Design series aims to add a refreshing kick to your travels. So far, a total of 31 different designs have been released. These new Coca Colas are the perfect way to splash excitement into whatever new food you discover on your travels in the region and will also provide you with the energy boost you need on a tough day of traveling. In previous years, this stylish Coca Cola bottle has even become a very popular souvenir. 

So far, designs based on regions all over the country have been featured on these bottles. Locations used so far include Hokkaido, Tohoku, Kanto, Hokushinetsu, Tokai, Kansai, Chugoku, Shikoku, Kyushu and Okinawawa. With Yamagata added to the collection, there will be a grand total of 32 different designs.   

Different illustrations to represent the famous foods and culture of Yamagata prefecture cover the entire surface of the bottle. You will notice a person waving a hat decorated with safflowers on a summer night which represents the prefecture's famous Hanagasa Festival. The illustration of the stylish streets of the Ginzan Onsen will definitely trigger nostalgic memories of the Taisho Era for many. The prefecture's specialty ー small and sweet sakuranbo cherries ー also make an appearance on the bottle. 

Information

Coca Cola Slim Bottle Region Designs

Coca Cola Slim Bottle Yamagata Design

RRP Price: ¥125 (250ml slim bottle)

Available: Souvenir shops, supermarkets, vending machines and elsewhere in Yamagata Prefecture.

On Sale: September 2, 2019

Coca Cola Official Website: cocacola.jp

Japanese Cosmetic Picture Book #2: Brightening Oil & Beauty Essence by AGILE COSMETICS PROJECT

Japan is home to an abundance of top-class, high quality cosmetic items. Knowledge about these cosmetics is slowly becoming widespread outside the country, with travellers stuffing their suitcases with everything they can to take back home with them.

Our featured series Japanese Cosmetic Picture Book is all about us here in the MOSHI MOSHI NIPPON team recommending products to you, our readers, that are made in Japan and that we use ourselves. Look forward to learning about the latest in cosmetics from the land of the rising sun.

Left: Clock G.e.n.e / Right: White Oil

The products we are taking a look at today are the White Oil and Clock G.e.n.e by AGILE COSMETICS PROJECT. The White Oil is an indispensable partner for the summer season while the Clock G.e.n.e is an essence that conditions the skin throughout the day.

AGILE COSMETICS PROJECT is a Japanese skincare brand that launched in November last year. They use completely natural ingredients in their products that are safe and good for your skin. What's characteristic about them however is that they update their products based on the demands of customers. To make products that their customer base will want to continue using, they focus on how an item feels on the skin, the functionality of its visual aspect, and its palatability amongst other things, all while making speedy improvements.

Has there ever been another brand that has listened to the desires of its users?

White Oil – ¥6,400 (Before Tax/Free Shipping) / Repeat Purchase – ¥5,500 (Before Tax/Free Shipping)

The White Oil is a two-layer product and so is to be shaken first before being used. Mixing two separate layers makes it easier for the oil to come together, down to the smallest corners of the outer layer. Ensure you mix it well before use.

When applied to your skin, it has a smooth texture despite being oil and does not become sticky. It feels very comfortable and natural on the skin and never becomes sticky even after applying, all while ensuring it stays moist. Since it's fairly smooth it means you can use it in summer and before you put on any makeup.

It's a personal favourite of mine. It makes a skincare routine super simple: after applying skin lotion you use the oil and you're done. It even comes in a stylish bottle and has a pleasant herb fragrance. I also have sensitive skin, so the fact that it's free from petroleum-based oils, mineral oil, parabens, UV absorption, and synthetic colouring is a huge plus.

I have used it for a week so I can't feel any change to my skin tone yet, but it has been incredible for keeping my skin in good condition. There are a lot of people on social media who have used it and have said that their skin tone has become brighter, so I will wait and continue using it!

Clock G.e.n.e – ¥7,000 (Before Tax/Free Shipping)

The second product to showcase is Clock G.e.n.e which was developed to create and maintain a "daily rhythm" in your skin. This liquid essence will treat one's tired skin, whether it be from your body clock being off, stress or the like. It adds moisture to the skin throughout the day and also protects it from damage and repairs at night.

It comes in a pipette-type bottle. It is added to your skin after applying moisturiser and makes it super soft. This too is made from 98% natural ingredients and is free from silicon, parabens, mineral oil, synthetic fragrances, and synthetic colouring, meaning people with sensitive skin can use it freely without worry.

If you use skin lotion, Clock G.e.n.e and White Oil in that order, your skin is going to feel completely different the next year. When you start using these items, people are going to complement how smooth your skin looks, so for me the effects are outstanding.

Even now, with the high level of satisfaction people have with these two products, the company are continuing to update them based on feedback buyers can give via the QR code that is coupled with the products. I feel strongly AGILE COSMETIC PROJECT's desire to create products that they want consumers to continue using means that they are making good products. Both items are sold online, but the first production batch for Clock G.e.n.e is currently sold out. They are set to release more in the near future, so be sure to peruse their website.

Writer: Sayuri Mizuno (MOSHI MOSHI NIPPON)

Translator: Joshua Kitosi-Isanga

Tokyo Station Top Souvenir and Bento Rankings 2019

Tokyo Station is a hive of thriving shops and restaurants. If you are wondering where to start, exit the ticket barriers and head to GRANSTA Marunouchi to discover a new world of bento lunches, souvenir gifts and much more. Still stuck on where to go? Lucky for you, GRANSTA Marunouchi shoppers have voted for their favourite bento meals, sweet souvenirs and general souvenirs. We have summarised the top three winners of each category.

A total of 69 shops have risen to the challenge, submitting a total of 73 of their top items. This year, a total of 4,500 voters took part in the survey, which is 2,000 more than last year. There were 10 winners in each of the three categories of Bento Meals, Sweet Souvenirs, and General Souvenirs. Today, we are presenting you with the top three of each category. (The prices below are the prices after tax has been applied)

▶︎Bento Meals Category

1st place: Asakusa Imahan Sukiyaki (Tokyo-limited)

Asakusa Imahan was founded in the 28th year of the Meiji era (1895) and still serves delicious traditional Japanese food. The Sukiyaki Bento is filled with a range of nutritious vegetables and luxurious Japanese Black wagyu beef, which is a shop specialty. Enjoy the wonderful sukiyaki flavouring of the vegetables and meat. 

Price: ¥1,450 Shop: Asakusa Imahan (浅草今半)

2nd place: Salted Salmon Roe and Salmon Belly Bento 

*Limit of 150 sold per day.

Price: ¥1,280 Shop: Ekibenya Matsuri (駅弁屋 祭 )

Salmon belly flavoured with natural fat is fried and topped with salmon roe coated in a soy sauce dressing. This exquisite bento is full of flavours that go well together.

3rd place: Shoro Sando

*Limit of 200 sold per day 

Price: ¥648 Shop: Tsukiji Shoro (つきぢ松露 )

The faintly sweet flavour of the tamagoyaki seasoned and flavoured egg is the perfect match with the mayonaise.

▶︎ Sweet Souvenirs Top 3 

1st place: Maple Pie Sandwich Biscuit (Tokyo Station-limited)

Price: ¥1,944 (box of 8) Shop: The Maple Mania  

Maple cream is combined with maple sugar and sandwiched between two delicious and crispy pie crusts. The box takes on the appearance of a red brick, making it the perfect Tokyo Station souvenir. 

2nd place: Tokyo chocolate Sablé (Tokyo Station-limited)

Price: ¥1,080 (box of 12) Shop: Marché du Chocolat 

The packaging features a beautiful illustration of Tokyo Station. There are two chocolate sablé flavours: raspberry and hazelnut.

3rd place: My Captain Cheese Set (Tokyo Station-limited)

Price: ¥1,080 (box of 8 packets)  Shop: MY CAPTAIN CHEESE TOKYO 

Although having just opened in April 2019, this shop quickly made the rankings. From the outer packaging to the flavour, the efforts put into the making of this souvenir are clear. This brand new sweet cheese-flavoured treat is a new GRANSTA-limited souvenir.

▶︎ General Souvenirs

1st place: Karuizawa Royal Blend

Limit of 30 made per day 

Price: ¥1,122 (whole loaf)/ ¥ 561 (half loaf) Shop: BOULANGERIE ASANOYA 

The recipe used to bake this bread was deeply loved by the Kazoku; the rich and noble family class that existed during the Showa Era of Japan. This thick and fluffy loaf is made with lots of fresh cream for a rich flavour.

2nd place: Suica Penguin Mamegui Wrapping Cloth and Suica Baumkuchen cake (Tokyo Station-limited)

Prices: Mamegui Wrapping Cloth: ¥648/ Baumkuchen: ¥ 540  Shop: Mamegui (まめぐい)

The Suica penguin, who is the mascot on the Suica smart travel card, is printed on this round Baumkuchen cake. Wrap it in the hankerchief-sized tenugui cloth and it will be the perfect petit present for your friend.  

3rd place: Lemon and Shiikuwasha Lemon Vinegar (Tokyo Station-limited)

Price: ¥1,728 (250ml) Shop: Nomusu Ekisupuresu Tokyo (飲む酢エキスプレ・ス・東京)

This dessert vinegar has a refreshing lemon flavour. The slight bitterness of the Shiikuwasha vinegar makes it a wonderful dessert flavour. 

If you are overwhelmed by the vast selection of bento lunches or souvenirs, referring to these rankings is a safe option. Have fun shopping at Tokyo Station!