LuLuLun Face Mask: A Beautifying Souvenir From the Japanese City Ise
When travelling abroad, I find myself buying and taking back lots of different souvenirs for myself and my family. I look for those items that are made with each region's particular materials and ingredients. By handing them out to people, I'm also sharing a little bit of that place with the people around me too.
Today I introduce to you the "Ise LuLuLun" face mask, a souvenir from the Japanese city of Ise that's perfect for that one person we all know who's into beauty and cosmetics.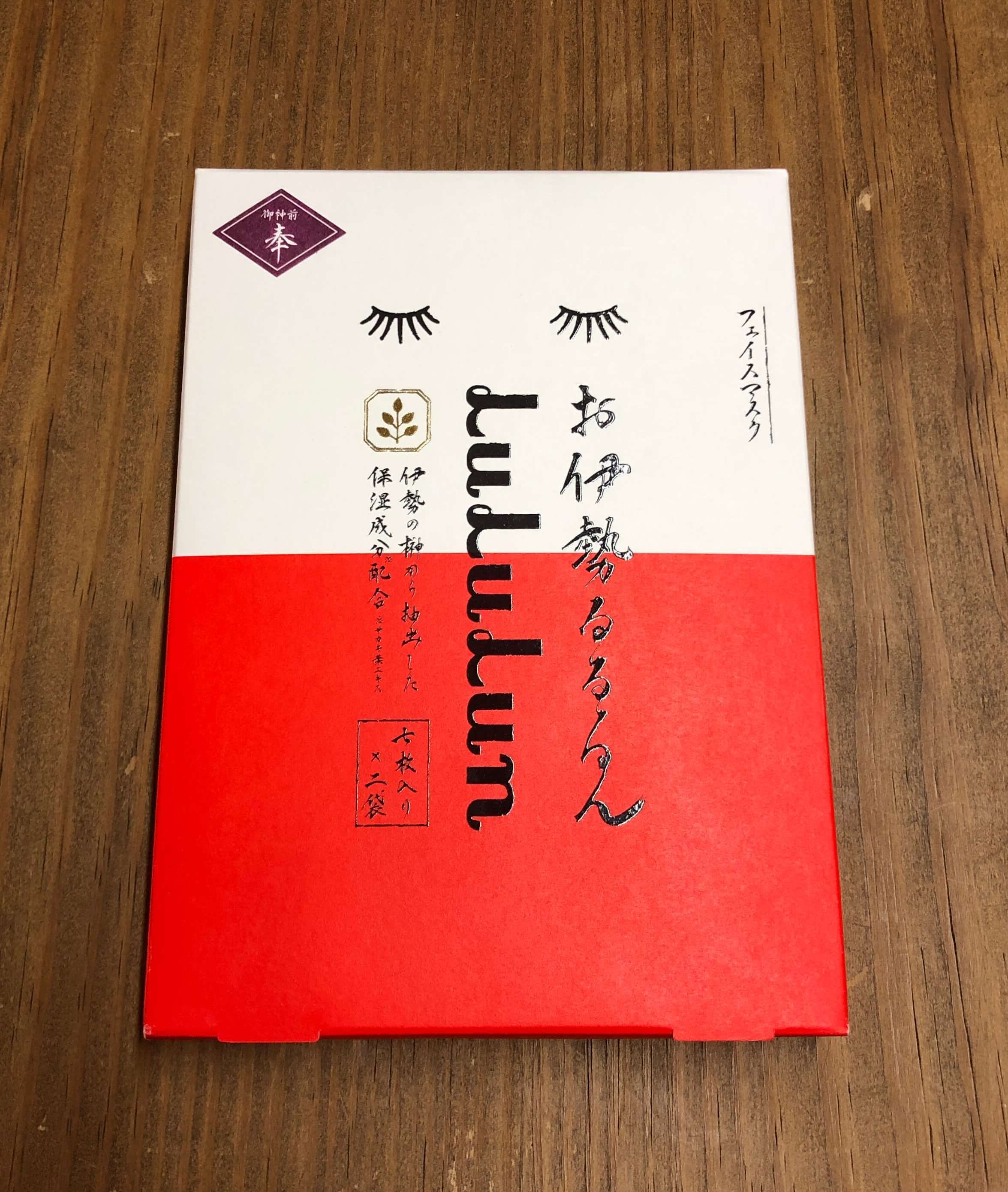 The Ise LuLuLun is part of the popular "Tabi Suru LuLuLun" face mask series which sees limited edition face masks sold in different regions. The masks are made from an assortment of ingredients and plants. They are sold not just in Japan but around the world. Some of the variants to hit Japan have included Okinawa Shequasar and Shōdoshima Olive.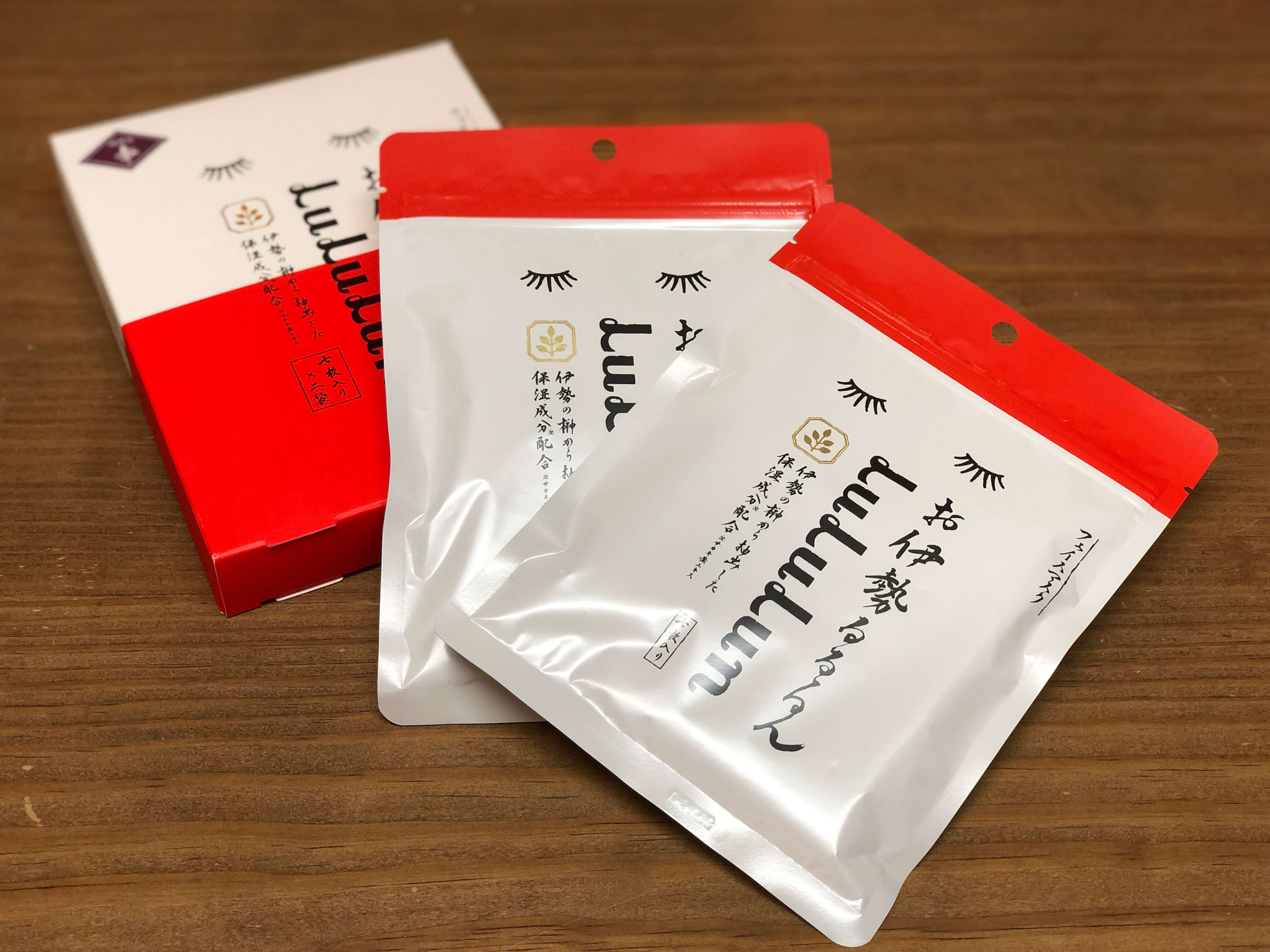 Ise Lululun is the first product in Japan to include extract of sakaki leaf which moisturises the skin. Sakaki is a flowering evergreen tree native to several Asian countries including Japan and is used as a symbol of longevity and vitality. The extract was made in cooperation with Ise City's manufacturing and tourism department, making this a very special product indeed. The sakaki is used in various Shinto activities such as offering them to altars and household shrines. Ise itself is home to many sasaki trees from which the extract in the Ise Lululun is made. Its moisturising effect ensures the skin stays nice and moist.
Let's get onto talking about what it's like to use this product. I've used Lululun packs in the past, but the feature of the Ise Lululun is absolutely the fragrance it gives off. The instant you bring the mask to your face your nose is filled with a smell akin to a forest of trees. If you close your eyes it's like you're enveloped in nature. It gives you a feeling of peace and tranquillity. And the way it relaxes you is nothing short of incredible… It's truly a gift and souvenir from Ise, bound with the air and scent of the city.
My face felt so smooth the day. I think I'll definitely be using this again for special occasions.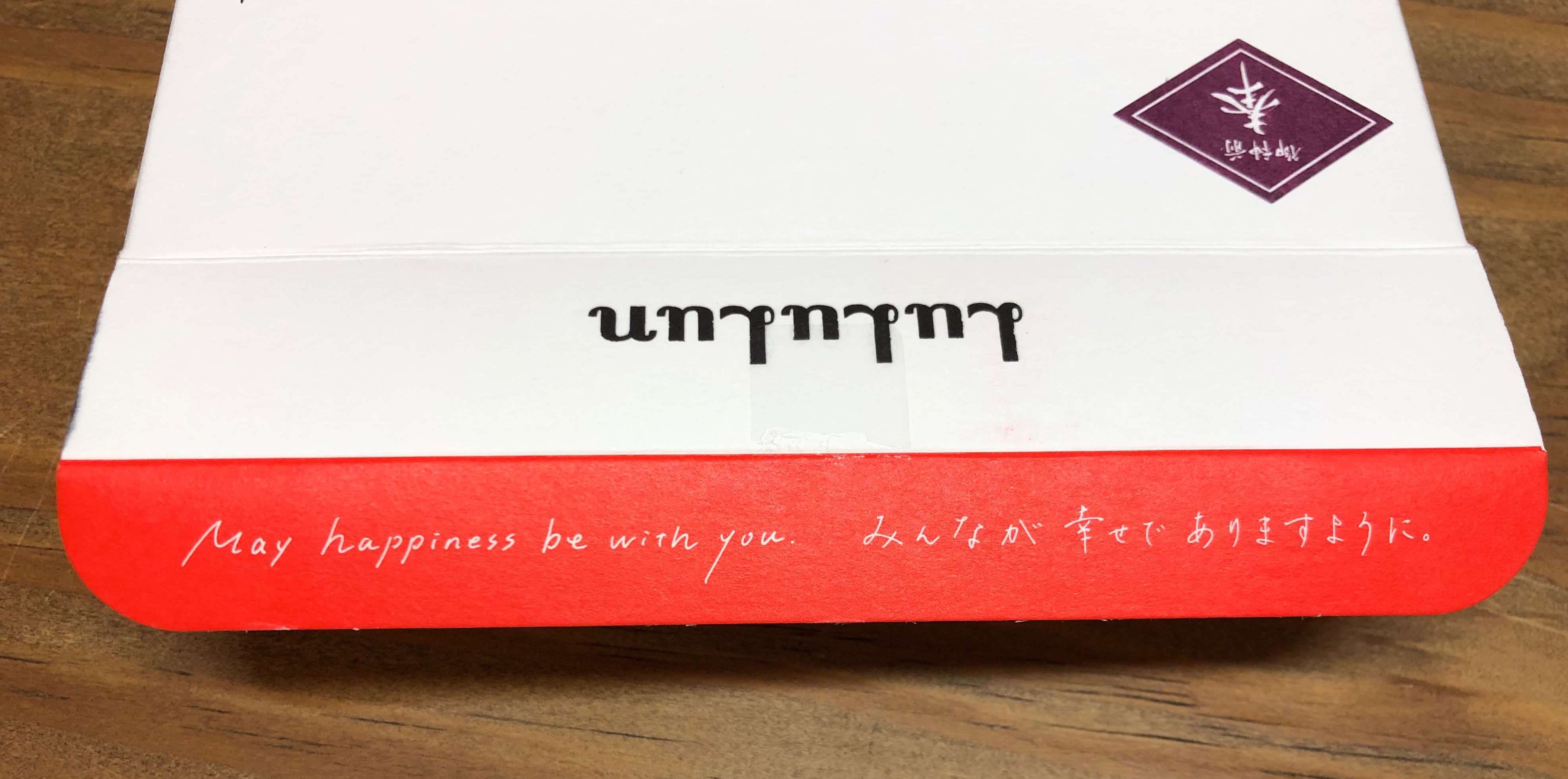 The Ise Lululun is a fusion of the Ise spirit of "being thankful for and treasuring every day" and Lululun's own spirit of being in high spirits and sound health. At the end of the day it made me hold my head high and say "thank you" to today. I was also warmed by the message written on the packaging (which you can see above).
If you plan a trip to Ise be sure to check out this exclusive beautifying item and maybe pick one up as a souvenir.
Writer: Sayuri Mizuno (ASOBISYSTEM)
Translator: Joshua Kitosi-Isanga
Information
Ise Lululun
Price: 2 Packs of 7 – ¥1,000 (Before Tax) / 4 Packs of 7 – ¥1,700 (Before Tax)
Available: At souvenir shops in Mie Prefecture, Aichi Prefecture and select parts of the Kansai region
Official Website: https://lululun.com/oise/
RELATED ENTRIES
Tokyo Station Top Souvenir and Bento Rankings 2019

Tokyo Station is a hive of thriving shops and restaurants. If you are wondering where to start, exit the ticket barriers and head to GRANSTA Marunouchi to discover a new world of bento lunches, souvenir gifts and much more. Still stuck on where to go? Lucky for you, GRANSTA Marunouchi shoppers have voted for their favourite bento meals, sweet souvenirs and general souvenirs. We have summarised the top three winners of each category.

A total of 69 shops have risen to the challenge, submitting a total of 73 of their top items. This year, a total of 4,500 voters took part in the survey, which is 2,000 more than last year. There were 10 winners in each of the three categories of Bento Meals, Sweet Souvenirs, and General Souvenirs. Today, we are presenting you with the top three of each category. (The prices below are the prices after tax has been applied)

▶︎Bento Meals Category

1st place: Asakusa Imahan Sukiyaki (Tokyo-limited)

Asakusa Imahan was founded in the 28th year of the Meiji era (1895) and still serves delicious traditional Japanese food. The Sukiyaki Bento is filled with a range of nutritious vegetables and luxurious Japanese Black wagyu beef, which is a shop specialty. Enjoy the wonderful sukiyaki flavouring of the vegetables and meat. 

Price: ¥1,450 Shop: Asakusa Imahan (浅草今半)

2nd place: Salted Salmon Roe and Salmon Belly Bento 

*Limit of 150 sold per day.

Price: ¥1,280 Shop: Ekibenya Matsuri (駅弁屋 祭 )

Salmon belly flavoured with natural fat is fried and topped with salmon roe coated in a soy sauce dressing. This exquisite bento is full of flavours that go well together.

3rd place: Shoro Sando

*Limit of 200 sold per day 

Price: ¥648 Shop: Tsukiji Shoro (つきぢ松露 )

The faintly sweet flavour of the tamagoyaki seasoned and flavoured egg is the perfect match with the mayonaise.

▶︎ Sweet Souvenirs Top 3 

1st place: Maple Pie Sandwich Biscuit (Tokyo Station-limited)

Price: ¥1,944 (box of 8) Shop: The Maple Mania  

Maple cream is combined with maple sugar and sandwiched between two delicious and crispy pie crusts. The box takes on the appearance of a red brick, making it the perfect Tokyo Station souvenir. 

2nd place: Tokyo chocolate Sablé (Tokyo Station-limited)

Price: ¥1,080 (box of 12) Shop: Marché du Chocolat 

The packaging features a beautiful illustration of Tokyo Station. There are two chocolate sablé flavours: raspberry and hazelnut.

3rd place: My Captain Cheese Set (Tokyo Station-limited)

Price: ¥1,080 (box of 8 packets)  Shop: MY CAPTAIN CHEESE TOKYO 

Although having just opened in April 2019, this shop quickly made the rankings. From the outer packaging to the flavour, the efforts put into the making of this souvenir are clear. This brand new sweet cheese-flavoured treat is a new GRANSTA-limited souvenir.

▶︎ General Souvenirs

1st place: Karuizawa Royal Blend

Limit of 30 made per day 

Price: ¥1,122 (whole loaf)/ ¥ 561 (half loaf) Shop: BOULANGERIE ASANOYA 

The recipe used to bake this bread was deeply loved by the Kazoku; the rich and noble family class that existed during the Showa Era of Japan. This thick and fluffy loaf is made with lots of fresh cream for a rich flavour.

2nd place: Suica Penguin Mamegui Wrapping Cloth and Suica Baumkuchen cake (Tokyo Station-limited)

Prices: Mamegui Wrapping Cloth: ¥648/ Baumkuchen: ¥ 540  Shop: Mamegui (まめぐい)

The Suica penguin, who is the mascot on the Suica smart travel card, is printed on this round Baumkuchen cake. Wrap it in the hankerchief-sized tenugui cloth and it will be the perfect petit present for your friend.  

3rd place: Lemon and Shiikuwasha Lemon Vinegar (Tokyo Station-limited)

Price: ¥1,728 (250ml) Shop: Nomusu Ekisupuresu Tokyo (飲む酢エキスプレ・ス・東京)

This dessert vinegar has a refreshing lemon flavour. The slight bitterness of the Shiikuwasha vinegar makes it a wonderful dessert flavour. 

If you are overwhelmed by the vast selection of bento lunches or souvenirs, referring to these rankings is a safe option. Have fun shopping at Tokyo Station!

Best Kyoto Souvenirs to Pick Up This Summer at Daimaru Kyoto

Are you planning to shop for souvenirs in Kyoto this August? Daimaru Kyoto has the perfect lineup for the summer season, from cool and refreshing wagashi confections to sweets made with matcha grown in Kyoto and more―all packaged in gorgeous in packaging exclusive to the Kyoto branch of Daimaru. Here's our top picks for summer 2019!

Ryo no Seifuu (Contains 8) @ Sasaya Iori, Floor B1F Wagashi Marketplace – ¥2,160 (Tax Included) *Available until Mid-August

Inspired by cool springs, this tasty Japanese-style confection comes in 4 different refreshing and fruity flavours.

Kuzu Nagashi (Contains 3) @ Oimatsu, Floor B1F Wagashi Marketplace – ¥1,339 (Tax Included) *Available until Mid-August

Indulge in two different flavours of arrowroot: one made with brown sugar from the island of Hateruma and another with sweet apricot juice. The brown sugar arrowroot is also mixed with honey and the apricot with apricot honey.

Kakitsubata (Contains 6) @ Shogoin Yatsuhashi Sohoten, Floor B1F Wagashi Marketplace – ¥540 (Tax Included)

Yatsuhashi is a classic Japanese confection and is a famous souvenir sweet in Kyoto. These uncooked yatsuhashi have a faint cinnamon aroma and are formed in a way similar to dango.

Salted Lemon Pound Cake (1 Cake) @ Adachi Otoemon, Floor B1F Wagashi Marketplace – ¥2,160 (Tax Included)

Laced with tangy lemon skin, this refreshing pound cake is topped with rock salt which elevates the flavours to delicious new heights.

Raw Uji Matcha Chocolate (Contains 8) @ ATELIER de GODIVA [Kyoto Branch Only], Floor B1F Wagashi Marketplace – ¥2,916 (Tax Included) *Available until Mid-August

Luxurious, rich and melt-in-your-moth raw chocolate made lavishly with bitter Uji matcha.

Kyo Chafure (Contains 5) @ Kyoto Tsuruya, Floor B1F Wagashi Marketplace – ¥810 (Tax Included)

These soft doughy sablés made with rich Uji matcha.

Koto no Natsu @ Nomura Kyotsukidani, Floor B1F Tsukudani Marketplace – ¥1,080 (Tax Included)

If you're looking for something a little more savoury then you'll absolutely want to check out the popular chirimen sansho, dried whitebait seasoned with pepper. It comes packaged in beautiful summery Kyoto packaging.

Did you enjoy this list? Be sure to pick up as many tasty edible Kyoto souvenirs while exploring the ancient city.

Tokyo Souvenirs Galore at Tokyo Station's New Gift Kiosk

Tourists and travellers using Tokyo Station this summer will be excited to hear that the all-new Gift Kiosk Tokyo souvenir shop will open at the Tokyo Station Shinkansen Yaesu Central Exit on August 7.

Gift Kiosk Tokyo's shelves are packed full of gifts and souvenirs aimed at travellers using the Shinkansen. This includes bundles of delicious sweets and desserts such as raw mooncake by Nakamuraya, Tokyo Souvenir Chocolate which comes in packaging featuring Tokyo's many iconic sites, and lots more.

Tokyo Chocolate Tokyo Souvenir :  ¥756 (Tax Included) 

The Tokyo Souvenir Chocolates are exclusive to Gift Kiosk and are a delicious retro-modern fusion combining 6 different chocolates and sweets made with traditional Japanese ingredients, offering an irresistible taste the likes of which you have never tried..

Nakamuraya's Raw Mooncake: Set of 5 – ¥756 (Tax Included) / Set of 8 – ¥1,188 (Tax Included)

Nakamuraya's chewy raw mooncake is made using traditional Japanese wagashi confection baking methods and is filled with sumptuous red bean paste. The paste is a blend of rich adzuki beans from Hokkaido and black sesame paste which has a strong flavour when combined with the beans. This is the first time it has been sold at Tokyo Station so all sweet tooths' eyes will be on this one.

As well as sweet treats, the store is full of drinks, bento boxes, sandwiches and other sundries. If you're passing through Tokyo Station, particularly if you're heading to another part of Japan using the Shinkansen, then be sure to stop by Gift Kiosk Tokyo.

Information

Gift Kiosk Tokyo

Business Hours: 6:30-22:30

*Photos are for illustrative purposes only

*Please be aware that items are subject to selling out

Official Website: https://www.kiosk.co.jp

2019 Top 10 Souvenirs Available at Daimaru Department Store, Tokyo

Looking for some delicious, well presented Japanese souvenirs? Head to Daimaru department store which is adjoined to Tokyo Station. On the first floor and basement floor lies a Japanese-style desserts and sweets area which contains approximately 70 delicious brands. Every day, approximately 30,000 desserts are sold to customers who are looking for souvenirs to bring to their family and friends. 

Now we have arrived at the summer holidays, there are many tourists who will soon reach the stage of panic where they are unsure of what souvenirs to bring back to their loved ones. Luckily, Daimaru Department store is a goldmine of beautifully presented Japanese-style sweet snacks made by top brands. Today, we present you with a list of the 10 fastest-selling souvenirs that were sold from July 2018 to June 2019. There is still plenty of time to get your hands on these souvenirs!

1st Place: N.Y.C. SAND: Caramel Sandwich Biscuits (box of 8) ¥1,080 (1st floor)

 As you take a bite, you will notice that the biscuit, chocolate and caramel will balance in perfect harmony just for a brief glorious moment. 

2nd place: Fukusaya: Fukusaya Cube (Cut into two) ¥270 (1st floor)

Have a small slice of luxury with this traditional recipe castella sponge cake which was specially made by experienced bakers. This is presented in a small, cute box. 

3rd place: Kamakura Toshimaya: Hato Sable (box of 10) ¥1,080 (1st floor)

This is a crispy dove-shaped shortbread biscuit which has a rich buttery flavour. This was first produced in the early 1900's during the Meiji period and is a souvenir limited to Tokyo.

4th place: Asakusa Mangando: Imokin ¥129 each (1st floor)

This baked treat is packed with the delicious flavour of sweet potatoes. The freshly baked scent is enough to draw you in. 

5th place: TOKYO BANANA STUDIO: Panda Banana Yoghurt (Box of 4) ¥515 (1st/basement floor) 

Children would just love to see the cute panda design. Wrap yourself in the mild banana yoghurt-flavoured cream.

6th place: Noix: Walnut cookie (Box of 4) ¥648 (1st floor)

This crunchy cookie is topped with a generous amount of caramelised walnuts.

7th place: Nenrinya: Mount Baum Shikkarime ¥756 (1st floor)

The outside of this baumkuchen is fragrant and crispy whilst the inside is soft and spongy. Take a bite to experience the wonderful texture of this European-style baked good. 

8th place: Azabujuban Agemochi-ya: Panchetta Agemochi (40g) ¥442 (1st floor)

The flavour of this baked mochi dough is like eating bacon cooked in an Italian style. This new flavour is a wonderful discovery that you should also try.

9th place: Sugar Butter Tree: SUGAR BUTTER SAND TREE (Box of 10) ¥690 (1st floor)

The crispy biscuit and melty white chocolate is a sublime combination that you will want to try again and again.

10th place:  Kanou Shoujuan: Ikkoten ¥270 each (1st floor)

A whole Japanese chestnut is smothered in a thick layer of Tamba Dainagon adzuki bean mix that is simmered lightly. This is especially delicious when eaten with tea. 

What do you think? When in desperate need of a souvenir for your family, friends or work colleagues back home, how about choosing one of the souvenirs listed above?

Information

2019 Souvenirs at Daimaru Department Store, Tokyo

Available Period: July 31 ー August 31.

Avaialble at: Daimaru Department Store Tokyo, Floor 1/Basement floor Hoppe Town

Daimaru Tokyo

Address: 1-9-1, Marunouchi, Chiyoda, Tokyo

Website: https://www.daimaru.co.jp/tokyo/

Kit Kat To Release Two Autumn Kit Kat Flavours

Indulge in the flavours of a Japanese autumn with the two new Kit Kat flavours of Kit Kat Chestnut and Kit Kat Sweet Potato. These will be released on August 19.

Thin wafers sandwich layers of the delicious autumn fillings. Even the white chocolate that wraps these wafers is infused with the flavour of sweet potato or chestnut respectively. The biggest appeal of these Kit Kat flavours is their mild sweetness.

The crispy texture of the wafers combined with the rich aroma and crumbly texture of the sweet fillings creates a whole new flavour to associate with a Japanese autumn. 

Kit Kat knows just how celebrate the coming of a new season!

Information

Kit Kat Mini Sweet Potato

Release: August 19

Pack size: 11

RRP: ¥500 (before tax) 

Purchase from: Supermarkets and drugstores across the country 

Kit Kat Mini Chestnut 

Release: August 19

Pack sizes: 12 or 3

RRP: pack of 12:¥500 (before tax) pack of 3: ¥120 (before tax)

Purchase from: Supermarkets and drugstores across the country. (Packs of 3 available at convenience stores).

Kit Kat Official Website: https://nestle.jp/brand/kit/

Enjoy Pirate-Themed Food, Cocktails, Desserts And More at DisneySea This Summer

Tokyo DisneySea launched their special event called Disney Pirates Summer which will run until September 1. The event includes the launch of 16 colourful pirate-themed menus. 

We headed straight to Mediterranean restaurant Cafe Portofino to fill ourselves up on the delicious menu. Cafe Portofino is the nearest restaurant to the entrance of DisneySea. Once you find the Mediterranean Harbor, you will find it on the right. 

 Special set: ¥ 1,880 ① Potatoes and Roast Beef Salad ②Linguine topped with Olive and Caper Tomato Sauce and served with Battered Yellowfin Sole Fish ③ Lychee Pudding with Lemon Jelly topped with Mixed Fruit ④ A choice of Soft Drink ⑤ Pay an extra ¥310 for an alcoholic drink. 

I ordered the special set which is surprisingly big but definitely enough to satisfy the hungry pirates, who are always boasting about their enormous appetite. 

I started with the potato and roast beef salad, which was dressed in balsamic vinegar. The taste was so refreshing which is just what you want during the summer. The rosemary-flavoured potatoes were soft and a perfect match with the beetroot.   

The linguine was chewy and springy and the capers produced a mildly tangy flavour. I am not usually a big fan of olives, but these were very delicious. The battered fish was crispy and not oily, which is suitable for children and adults. 

Just looking at the lychee pudding with lemon jelly is enough to make you feel refreshed. It is packed with fruit and takes on the image of a pirate's treasure chest that is full of colourful rubies. This is the perfect way to clean your palate. 

Ordering the special set allows you to choose a soft drink. If you pay an extra ¥310, you can change this drink into an alcoholic drink. 

Sparkling Cocktail ( Rum and Mango Sherbet) On its own: ¥680

This cocktail takes on the image of a pile of pirate treasure. Mango sherbet sits on top of the cocktail like nuggets of precious gold. The base of the cocktail is rum and peach and the refreshing alcoholic flavour of the rum is moderately sweet, spreading instantaneously through your mouth on your first sip. The solid texture of the mango makes the cocktail even more enjoyable, so please mix it thoroughly before devouring. 

The bakery next to Cafe Portofino called Mamma Biscotti's Bakery is selling desserts which come with souvenirs that you can take home with you.

Mango Jelly and Orange Mousse with Souvenir Mug: ¥800

Jelly, mousse and meringue whip is layered in the mug. This refreshing dessert not only looks pretty, but is also made up of a range of fun textures for you to enjoy. 

You can take the souvenir mug back home with you. Its design features Mickey Mouse and friends dressed as pirates. 

Coffee Roll Cake with Souvenir Plate: ¥800

This is the perfect dessert for adults because it is slightly bitter. The layers of sponge, cream and bitter coffee makes for a range of delicious flavours. This plate's design also features Mickey Mouse, who has dressed up as a pirate for the event. This would be perfect to take home with you to remember your trip!

DisneySea is the perfect place to cool down this summer and create many wonderful memories, so please do pay a visit. 

©️Disney

Japanese Souvenirs to Take Home With You This Summer at GINZA SIX

GINZA SIX hails as the largest shopping facility in Tokyo's upmarket district Ginza. This summer, the centre has a prepared a lineup of must-buy souvenirs and gifts, particularly in the food department, that will delight the family back home. Many of these items are available at GINZA SIX only giving you even more incentive to pay a visit while in the capital.

Listed by price range, we have selected some of these summer treats that we know you'll absolutely want to get your hands on.。

¥999 and under summer gifts made for showing a little thanks

Namacha Tea Jelly @ Nakamura Tokichi Honten – ¥417 (GINZA SIX only)

Tokichi is serving up a special GINZA SIX-only flavour of its matcha namacha jelly with added matcha bean paste. This bean paste is specially prepared matcha wrapped in white bean paste. It has a smooth texture and slight sweetness that marry together deliciously and heighten the richness of the flavour of the matcha.

Summer Limited Kohaku Tani Goldfish Yukata Ver. @ GINZA KYOUKASUIGETSU – ¥550 (GINZA SIX only)

These snacks comes in summery yukata design packaging with goldfish on them. Perfect for reminding one of Japanese summer.

¥1,000-¥2,999 summer gifts for adults

KOHAKU Fruit Bar @ PALETA – ¥1,482

This traditional wagashi (Japanese confection) is made from melted agar agar, sugar and starch syrup which is hardened to create a lollipop-like treat. Each one is handmade and crated with love and care by the confection artisans at PALETA who make them transparent like refreshing Japanese ice candy.

Basket of 5 Mio @ KASHISHOU SUEHIROAN – ¥1,759

This set comes with 5 different seasonal flavours which makes for the ultimate taste-testing gift.

¥3,000-¥4,999 delicious summers gift to share

Semi-Dried Fruits Box @ AYAfarm – ¥3,519

The perfect sharing gift to pick up, this box contains 9 different semi-dried fruits sourced from high quality fruits in Japan. The circular shape of the box make it great as a gift, and since each fruit is packaged individually, they can be enjoyed over time.

¥5,000+ premium Ginza-quality summer gifts for someone special

Parfum du Miel Series @ ハL'ABEILLE – ¥6,000 (GINZA SIX only)

Treat yourself or someone special to this premium lineup of original honeys which include bergamot, cognac and rose flavours. A sweet and tasty accompaniment to tea or ice cream.

This is just a small selection of the items on offer over at GINZA SIX right now this summer. To see more, be sure to plan a shopping trip there while in Tokyo.

Information

GINZA SIX

Address: 6-10-1 Ginza, Chuo Ward, Tokyo

Opening Hours: Shops/Cafes (B2F-5F) 10:30-20:30 / Restaurants (6F, 13F) 11:00-23:00

*Business hours differ from shop to shop.

No Fixed Holidays (But shops and restaurants will be closed on August 26, 2019)

Access: Directly connected to Ginza Station via the Tokyo Metro Ginza Line, Marunouchi Line and Hibiya Line.

TEL: 03-6891-3390
Website: http://ginza6.tokyo/

Kyoto Sightseeing | 4 Desserts You Must Try While in Kyoto

Kyoto is renowned for its historical architecture and richness in traditional Japanese culture, but did you know it's also home to some extremely cute and delicious desserts? Their sweets and desserts are actually pretty popular, some of which contain motifs and little nods to the city.

Today, Instagrammer meme takes us on a tour in Kyoto to try out 4 popular desserts.

JEREMY&JEMIMAH

JEREMY&JEMIMAH is a shop selling cute and colourful cotton candy. Their staple Wata-Hako cotton candy comes in 10 different flavours! In the photo we have yuzu, rose and matcha flavours. Of the two branches of the store, there is one along Furukawacho Shopping Street where you order your cotton candy for takeout, and another in Yasaka that serves cotton candy on long sticks.

We picked up a few different ones since there are so many flavours and designs. It was fun lining them up to take a picture.

We took them home to eat and they stayed nice and fluffy the whole way back. The yuzu one tasted a little herbal, like it was healthy for you.

▼JEREMY&JEMIMAH (Furukawacho Shopping Street Branch)

Address: Furukawacho Shopping Street, 444-3 Hachikenchō, Higashiyama Ward, Kyoto

Opening Hours: 11:00-17:00

Official Website: http://www.jeremyjemimah.com/

ROCCA & FRIENDS TRUCK

At ROCCA & FRIENDS TRUCK, you can order these iced dessert matcha and houjicha lattes which are topped with yatsuhashi―a confection sold in Kyoto―shaped into various sights across the city including Kyoto Tower, Hōkanji Temple, Daimonji, a Torii gate, and more.

I ordered the matcha latte. The drink itself isn't sweet at all so you can enjoy the full original rich and bitter flavour of the matcha. The fresh cream however is quite sweet so you can mix it into the drink as much as you want to get your desired flavour.

There are lots of great spots in the area such as the Hōkanji Temple pagoda and Yasaka Shrine so  you can snap some great sightseeing photos♡

▼ROCCA & FRIENDS TRUCK

Address: 370 Yasaka Kamimachi, Higashiyama Ward, Kyoto, Kyoto Prefecture

Opening Hours: 9:00-18:00

Official Instagram: https://www.instagram.com/rocca.truck/

Jumondo

We also visited Jumondo which sells Kyoto-style dango, or "sweet dumplings." We shared three different orders amongst three people: Danraku (団楽) which comes as a set with a drink, Dandan (だんだん) which comes with matcha, and Zenzai to Aburi Kuri Kinton (ぜんざいと炙り栗きんとん).

Once you order, the dango are made fresh so are served hot and chewy. Each dumpling is on the small side so are nice and easy to eat.

The Danraku comes with five different dumplings including sweet soy glaze, mashed sweet bean paste, soy sauce and black sesame seed, fried, and white miso. The Dandan comes with three types of your choice and a wafer filled with mashed sweet bean paste. The Zenzai to Aburi Kuri Kinton with mashed sweet potatoes with sweetened chestnut dango. The final one comes with matcha which can be served hot or cold.

Everything was tasty but my personal favourite was the yuzu flavoured white miso dumpling.

The one that everybody raved about was the Zenzai which is a thick soup that the dango are placed into. These dumplings are bigger, not too sweet and light. The soup went really well with the dango, it was super tasty.

▼Jumondo

Address: 76 Tamamizuchō, Higashiyama Ward, Kyoto

TEL: 075-525-3733

Official Website: http://jumondo.jp/index.html

Kyo Yasaka Pudding

Yasaka is a particularly popular tourist spot in Kyoto, and that's where the cute purin shop Kyo Yasaka Pudding is located.

Purin is a type of custard purring sold in Japan. The first pudding we picked up was the store's recommended option named after the store itself, the Kyo Yasaka Pudding. It contains a transparent lemon and honey flavoured jelly inside which there are small and colourful agar agar balls and mango jelly balls.

It has an enjoyable texture and a refreshing sweetness that I've never experienced before with other purin. It's very tasty!

There are five flavours to choose from, the others being hard, smooth, matcha and black soy bean, and houjicha black soy bean. All are served in tiny cute jars. Not only do they look great, they taste amazing too. Each is made with ingredients sourced in Kyoto including the milk, Uji matcha, houjicha, and black soy beans.

They also sell soft serve ice cream topped with candy balls, very Kyoto-like! You can choose from vanilla, matcha, or a mix of both. I think it'll be really fun if you can snap a photo of your ice cream with one of Yasaka's stylish locations in the background! Speaking of which, there was a cute illustration on the wall of the store so we took our photo there.

Be sure to pay a visit to Kyo Yasaka Pudding to pick up your own pudding whether as a souvenir or for yourself.

▼Kyo Yasaka Pudding

Address: 87-4 Hoshinochō, Higashiyama Ward, Kyoto, Kyoto Prefecture

TEL: 075-533-8338

Official Website: https://kyo-yasaka-pudding.co.jp/

Kyoto is full of shops selling desserts and sweets perfect to walk around and munch on while you walk its ancient streets, or to take home as a souvenir. Enjoy all the tasty things you can during your visit to this beautiful city♡

—

Photos/Text: meme

Translation: Joshua Kitosi-Isanga

Japanese Cosmetic Picture Book: #1―Skin Care & Moisturisation With RMK

Japan is home to a plethora of top-class, high quality cosmetic items. Japanese cosmetics are slowly becoming in-the-know outside the country, but there is still an abundance of products that are unknown to people.

In this new featured article series, we here in the MOSHI MOSHI NIPPON editorial team will showcase products made in Japan that we use. The brands and prices are unrelated to our picks, they are simply items we want to recommend for you to try.

The first items I've chosen are two moisturising products by RMK. RMK's skin care items cater to a variety of skin types and have been enjoyed by Japanese people of all generations for many years. The company renewed their skincare products on April 5 of this year. I tried out the update items for myself, so let's take a look.

The concept of the new items is "First Sense." Not only do they ensure your skin stays moist, they also "tailor" your skin to how you want to look.

I'm concerned about the outer part of my nostrils, and so I used the First Sense Hydrating Lotion Fresh, a moisturiser that balances water and oil content of your skin.

The lotion is a new combination of pear extract and sage leaf extract. Using cotton, the first use removes old keratin from the nose, and on the second and third uses it completely soaks into the skin. The white gel spreads well across the skin so feels comfortable. Its orange scent gives you a feeling of freshness in those tired and early mornings. I personally really like the smell, so I use it to relax before I sleep too.

Another item that was renewed was another moisturising item: the Balance Skin Conditioner for sensitive skin. It's alcohol free and contains hyaluronic acid. The texture makes your skin feel super gentle, moisturising it nice and deep. It contains ingredients that combat dry skin so is good to use when the season changes or to strengthen your skin barrier. It has a citrus and ginger fragrance which is extremely refreshing like the First Sense Hydrating Lotion Fresh. I have used this item when my skin has been drier than usual and when the pollen count has been high in the run up to spring.

RMK items are sold in the cosmetic section of department stores in Japan. They are also sold in Hong Kong, Taiwan and South Korea too, so be sure to check them out.

Writer: Sayuri Mizuno (MMN Editorial Team)

Information

RMK Official Website

Enjoy your chores more than ever before with this cute Rilakkuma-themed laundry bag by Felissimo! ♪

Felissimo is making washing more fun with the new character-themed Rilakkuma laundry bag.

Rilakkuma's everyday outfit is now a laundry net?! If you take a look inside the bag from the back zipper, you will notice that the inside of the bag has been accurately created and firmly secured to look just like Rilakkuma.

You'll feel as if Rilakkuma has come to stay at your house! Without realising, you'll be smiling at the sight of your new laundry bag swaying gently in the breeze alongside the rest of your laundry no matter where you are. If you're concerned about your delicates or socks, you can still wash them together with the rest of your laundry using this bag. You can put this bag directly in the washing machine! After you've finished the washing, you can easily carry the bag to the washing line by the handle! How useful!

The bag isn't fully transparent and it's made using mesh. This makes it perfect for carrying a change of clothes to the gym or your bath set for when you go to the hot springs!

Now you can finally enjoy doing the chores around the house thanks to the Rilakkuma laundry bag!

Information

Rilakkuma Dararinno hohon ♪ Character laundry bag

Price: ¥1,950 (+ tax)
Material: 100% polyester  ※ machine washable
Size :  50.5cm long X 35 ー 55cm wide,  handle length: 25cm
Maximum weight: 6kg

You can also choose to have a brand new laundry bag delivered to you each month (charges apply).

Made in China

Click here to purchase: https://feli.jp/s/pr190425/2/

Kirby-themed cosmetics lineup "Ichiban Coffret" is coming to Lawson stores!

A character lottery where you are always a winner?! A new Kirby-themed cosmetic goods lottery will arrive at Lawson convenience stores across Japan on Saturday 25th May 2019! The Ichiban Coffret collection consists of goods themed around the game Kirby's Dream Land.

A flower-themed Kirby original design! This is not available anywhere else. Whether you're a fan or not, you must see it!

Prize A:Dream cosmetics palette (only one type available), approx. size: 18cm

This cosmetics palette contains six different eyeshadow colours and two different blush colours. Not only is this the perfect colour scheme for the start of summer but the range of colours also makes it easy and suitable for anyone to use! The palette colour scheme is the same as that of the game! Upon opening it, you'll realise just how cute it is and you're bound to make use of it every day.

Prize B:Boyoboyo compact (only one type available), approx. size: 7.5cm

This compact takes on the shape of Kirby's face! This will give a cute, soft and even colour to your cheeks!

Prize C:Dazzling rouge (Two colours available), approx. size: 7cm

Kirby and Waddle Dee ー You can choose from two varieties of rouge lipstick. These easy-to-use lipsticks come in coral and pink ー choose one to brighten up your lips! ♪

Prize D:Kirarin lipgloss (three colours available) , approx. size: 10cm

These lipgloss containers have original designs. The three lipgloss colours are; glossy pink with a reddish tinge, clear pearl, and elegant pink pearl.

E prize:Mildly fragranced hand cream (three varieties available), approx. size: 5cm

There are three types of hand cream: pink floral, blue botanical, and orange garden. Now you have three different hand creams to choose from to suit your daily mood!

Prize F:Multipurpose colourful compacts (5 different colours available), approx. size: 4cm

This is a collection of cute round compacts! Each has a unique colour that is both simple and trendy! The five colours are pink, orange, red, pearl and brown! Each of the colours is a unique blend and has a creamy texture. Depending on the colour, you can also them as eyeshadow, blusher, lipstick, face highlighter and much more!

Last One prize:Coffret pouch, approx size: 25cm

You can fit all the items from the lineup into this bag! There's also an inside pocket ー what a useful item!

There are just so many cute goods as part of this line up so please check them out!

(C)Nintendo / HAL Laboratory, Inc.

Information

Ichiban Coffret: Kirby's Dream Land COFFRET COLLECTION
Available at:Lawson convenience stores (and many other places)
Available from: Sat 25th May 2019

More information:https://bpnavi.jp/t/kirby_c

※ Some stores may not have some/all of these items in stock. The lineup availability period may vary depending on the shop. The series of goods will no longer be available once stock runs out.
※ The goods may look different from the photos.
※ The details on the lottery and goods lineup are subject to change without notification.
※ "Last One" and "Double Chance" are registered trademarks.

Ise Ninja Kingdom is full of fun stuff to do! You can enjoy wearing the same clothes as Japanese people did long ago! We recommend you try it.

Take a stroll around Ise Ninja Kingdom and enjoy travelling backwards in time.

The revived castle grounds are full of photo spots! You can try on luxurious kimonos and take loads of Instagram-worthy photos! You can also dress up like a ninja and challenge yourself to a ninja adventure! This is your chance to embrace your inner ninja!

Although junk food comes to mind when one thinks of a theme park, Ise Ninja Kingdom has a lot of carefully prepared food. In the castle town, you can eat the same food that ninja would eat. There's plenty that adults as well as kids would enjoy. You can indulge in the Ise buffet or premium gourmet food that is all made using locally sourced fresh ingredients.

This is your chance to have an authentic experience of foods such as Sobauchi, and even watch chefs prepare tuna. You can watch, experience and eat!

According to an online survey conducted among leisure parks across the country in March 2019, Ise Ninja Kingdom was acknowledged as the "best cosplay theme park", the theme park with the tastiest food" and the best "ninja theme park"!

This is where you can make the memories of a lifetime so bring your family and friends to Ise Ninja Kingdom!