Beautiful Storybook Children of the Sea Author Depicts the Film's Hidden Secrets
Critically acclaimed manga artist Daisuke Igarashi is famous for his respect for the natural world that he so often illustrates in a unique and liberating style. His high tension manga series Children of the Sea has been picked up by animation studio STUDIO4℃. The upcoming animated feature film Children of the Sea, which has become big global news, will be released in Japan on June 7, 2019.
In the run up to the film's release, the official Children of the Sea Visual Storybook will be released in most bookstores across Japan on June 28.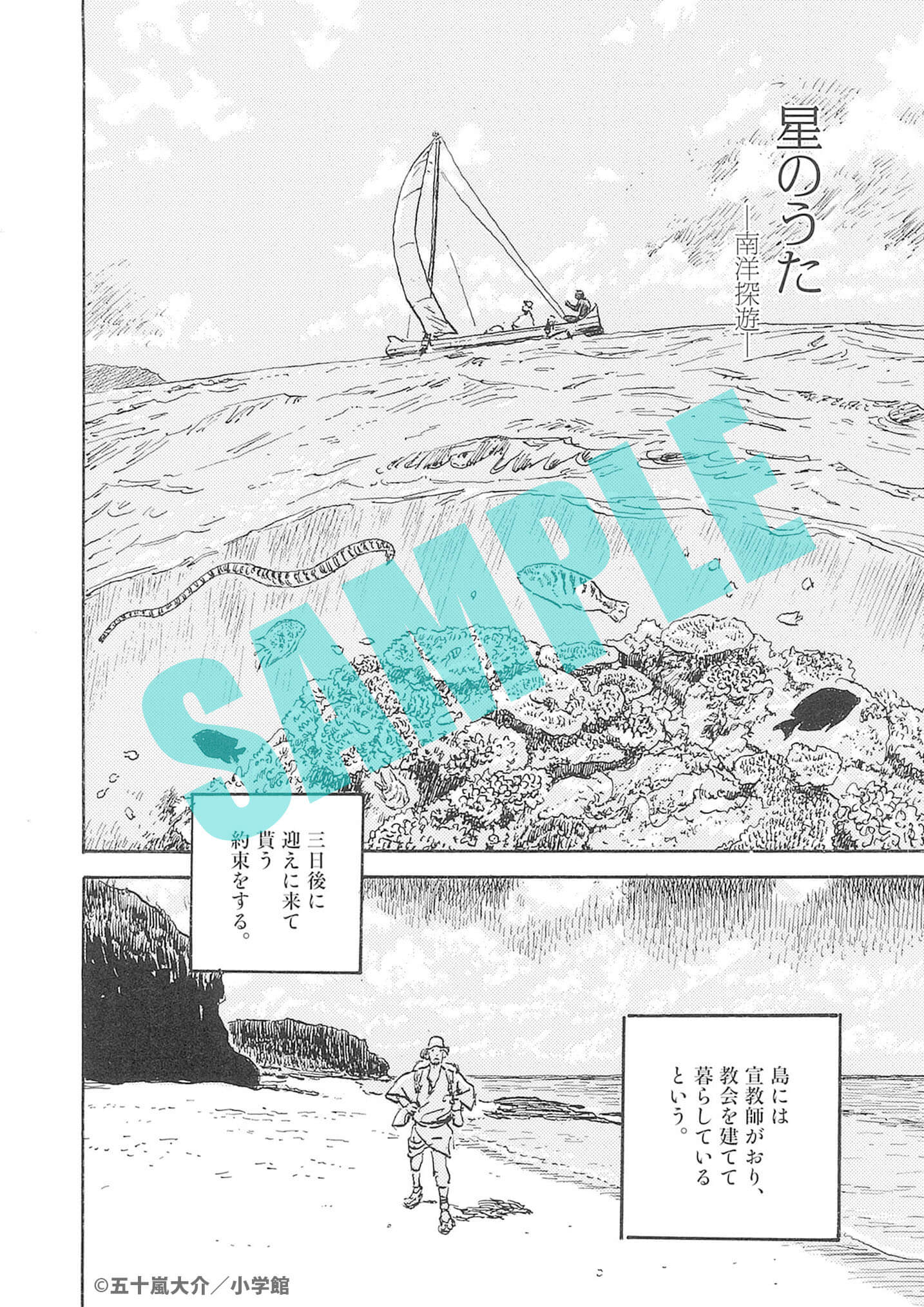 The book illustrates various scenes depicting the creation of the film, inviting the reader to enter the same room as its creators. The must-see content includes the talk between Kenshi Yonezu―who sings the film's main theme song―and the original Children of the Sea author Daisuke Igarashi. There is also the chance to follow Igarashi's steps as he created the story, learn about the recording of the voice of sensational child actress Mana Ashida​, and watch the figure of Joe Hisaishi as he composes the music for the film. This is a manga about the story of real people who made a mind-blowing masterpiece.
The luxurious volume contains 112 pages of cast interviews, staff interviews and hidden behind-the-scenes content. The book covers interviews of all of the wonderful  creatives such as Director Ayumu Watanabe, Character Designer/Chief Animation Director Kenichi Konishi, Art Director Shinji Kimura, CGI Directors Kenichiro Akimoto and Kotaro Hirano, Miyuki Itou, who was in charge of the Colour Design, and Joe Hisaishi who created the music. STUDIO4℃ location scouters who searched for beautiful areas as inspiration the film were also interviewed.
The storybook also contains details on the animation process and showcases original sketches by the animators. Konishi's layout corrections and edits of these sketches are also featured. From start to finish, this storybook is full of fascinating information and even includes the techniques used to create the film. This is one for all fans to enjoy―fans of the upcoming film, the original manga and STUDIO4℃!
©Daisuke Igarashi / Shogakukan / "Children of the Sea" Production Committee
Information
Children of the Sea Official Visual Storybook
Release Date: June 28, 2019
List Price: ¥1,800 (Before Tax) *Subject to change
Children of the Sea
Release: Friday 7th June (Japan roadshow)
Film Cast: Mana Ashida, Hiiro Ishibashi Seishuu Uragami, Win Morisaki, Goro Inagaki, Yu Aoi, Toru Watanabe, Min Tanaka, Sumiko Fuji
Director: Ayumu Watanabe
Music: Joe Hisaishi
Theme Song: Umi no Yuurei by Kenshi Yonezu (Sony Music Labels)
Animation Studio: STUDIO4℃ 
Released by: TOHO VISUAL ENTERTAINMENT
Official Website: www.kaijunokodomo.com
RELATED ENTRIES
Kenshi Yonezu's 'Umi no Yuurei' Tops Oricon's Daily & Weekly Charts

Kenshi Yonezu's newest single Umi no Yuurei was released just last Monday and clocked in at number one on both Oricon's Weekly Digital Singles for June 17 as well as on Billboard JAPAN's "Download Songs." It has now been revealed that the track has dominated not only the daily charts but the weekly charts too for a 2019 release.

The song's music video hit 10 million views on YouTube in just over 4 days, Yonezu's fastest video to do so. It has now amounted over 20 million views.

ⒸDaisuke Igarashi / Shogakukan

On its first day of release it hit number one on 26 music platforms and enjoyed 51,967 downloads according to Oricon. A week later for Oricon's Weekly Digital Single charts, it amounted 126,715 downloads, shooting it up to top place for the weekly charts. These numbers make Umi no Yuurei the song with the most downloads after a week for a 2019 release as of today.

This is Yonezu's 4th song to make it to number one on Oricon's Digital Charts since December 11, 2017 following the success of LOSER, Lemon and Flamingo.

Photo by Tomokazu Yamada

Not only did Umi no Yuurei top Billboard JAPAN's "Download Songs" but the Japan Hot 100 too. Its ability to reach number one on the charts despite not yet having a CD release is proof of its popularity.

Umi no Yuurei will be used as the main theme for the upcoming Japanese animated movie Children of the Sea.

Children of the Sea Main Theme 'Umi no Yuurei' by Kenshi Yonezu Heads to Karaoke Booths in Japan

Kenshi Yonezu's new song Umi no Yuurei, which is the main theme for the upcoming animated film adaptation of Children of the Sea, was released on Monday for digital download and on streaming platforms. It has now been announced that an exclusive music video featuring Yonezu himself will be available at JOYSOUND karaoke branches across Japan for a limited time from June 7 to August 6.

ⒸDaisuke Igarashi / Shogakukan

JOYSOUND is also offering special karaoke booths at six branches from June 7 to July 31 made in collaboration with the film. These rooms will plunge customers into an immersive experience that showcases the ocean in a 360℃ view. Look forward to singing Umi no Yuurei while watching the gorgeous music video.

A special talk between Kenshi Yonezu and Daisuke Igarashi, the author of the original Children of the Sea manga series, was also posted on Monday to celebrate the film's release.

Kenshi Yonezu & Children of the Sea Manga Author Daisuke Igarashi Interview Released

Kenshi Yonezu's new song Umi no Yuurei, which is the main theme for the upcoming animated film adaptation of Children of the Sea, was released today for digital download and on streaming platforms. An animated music video for the song was released last week and as of today has already amounted over 12 million views.

ⒸDaisuke Igarashi / Shogakukan

The single's digital CD cover is illustrated by Daisuke Igarashi, the author of the seinen manga series Children of the Sea. Up to now, Yonezu's jackets have been illustrated by Yonezu himself.

To celebrate the release of the film, a special website has gone live featuring a talk between Yonezu and Igarashi in Japanese.

Photo by Yoshiharu Ōta

The talk features several photographs of Yonezu and Igarashi at Enoshima Aquarium. The two of them give their personal thoughts on Children of the Sea as well as backstory to the recording process of the main theme by Yonezu. It is an insight not just for fans of the film and song but for creators too.

Photo by Yoshiharu Ōta

Children of the Sea will be released in Japan on June 7, 2019.

©Daisuke Igarashi / Shogakukan / "Children of the Sea" Production Committee

Kenshi Yonezu Releases Animated Music Video For 'Children of the Sea' Theme Song 'Umi no Yuurei'

Kenshi Yonezu will release his new digital single Umi no Yuurei on June 3. The song will be used as the main theme for the upcoming animated film Children of the Sea which is set to hit Japanese cinemas on June 7.

Until now, the song could previously only be heard in the film's trailer. 100 lucky people were also invited to an event for the film where they enjoyed an early screening of the song's official music video.

Fans of Yonezu and those looking forward to the forthcoming film will be pleased to hear that the music video has now been posted onto the singer's official YouTube channel.

The music video contains scenes from the movie itself. Those who were able to attend the premiere of the music video were plunged into a full oceanic experience as they watched it aboard a boat.

The boat's bottom floor was made to look like the deep sea. Dark and bubbly underwater sounds echoed through the vessel while an exhibition of sea creatures were put on display such as starfish and jellyfish. The display was made in collaboration with Enoshima Aquarium. There was also a huge picture of the Umi no Yuurei CD cover in the centre of the room. Originally illustrated by manga author Daisuke Igarashi, the picture spanned 1.2m on each side. Dim lights also filtered throughout the area to heighten that sense of being below the sea.

The first floor was made in the image of a beach. Heard up here were the sounds of waves. The huge visual pictured above is taken from Children of the Sea. There were also lit-up panels featuring scenes in the movie. There was also a video of whales running too.

Finally, up on the second floor, attendees were able to stand atop the deck which was dubbed the "Sea Sky." It was here the music video was projected onto the boat's mast.

This unique experience makes it the first time in Japan a music video was debuted on the ocean surface. It wasn't merely a viewing―it was a full body experience. The event was praised as making people feel as if they had become part of the music video.

In the animated music video, we get another peek at STUDIO4℃'s gorgeously detailed environments and sea life.

ⒸDaisuke Igarashi / Shogakukan

The CD cover for the single was also illustrated by Daisuke Igarashi.

Photo by Tomokazu Yamada

Umi no Yuurei will be released next Monday. Until then, be sure to check out the music video.

©Daisuke Igarashi / Shogakukan / "Children of the Sea" Production Committee

Kenshi Yonezu's Children of the Sea Main Theme 'Umi no Yuurei' Release Date & Music Video Announced

It has been revealed that Kenshi Yonezu's new song Umi no Yuurei―which is the main theme song for the upcoming animated film Children of the Sea, set for release on June 7―will be released as a digital single on June 3.

Photo by Tomokazu Yamada

In the run up to the release, people can sign up to be invited to a special pre-screening of the music video in Tokyo on May 27 before it is officially released.

©Daisuke Igarashi / Shogakukan

The single's digital CD cover is illustrated by Daisuke Igarashi, the author of Children of the Sea. Up to now, Yonezu's jackets have been illustrated by Yonezu himself.

"Children of the Sea" Trailer

In the film's trailer released earlier this month, we get a small listen of the theme song with its melancholic yet beautiful melody.

©Daisuke Igarashi / Shogakukan / "Children of the Sea" Production Committee

Information

Umi no Yuurei (Digital Release)

Release Date: June 3, 2019

Kenshi Yonezu – "Umi no Yuurei" Music Video Pre-Screening

Date: May 27, 2019

Time: Open 19:00 / Close 20:00

Location: Undisclosed

No. of People: 100

Sign-Up Page: https://uminoyurei-event.com/

Deadline/Winner Contact

Application Deadline: May 23, 2019 at 23:59 (JST)

Attendee Contact: Winners will be contacted sometime after noon (JST) on May 24, 2019.

Kenshi Yonezu Official Website: http://reissuerecords.net/

Children of the Sea

Release Date: June 7, 2019

Official Website: www.kaijunokodomo.com

Hear Children of the Sea's Main Theme 'Umi no Yuurei' by Kenshi Yonezu in New Trailer

Manga artist Daisuke Igarashi enthralls his readers with his unique representation of nature and his respect for the natural world. This manga has been turned into an intense film by world-famous animation studio STUDIO4℃. The film will be released in Japan on Friday 7th June! The second sneaky movie preview has now been released!

Kenshi Yonezu's new song "Umi no Yuurei" has attracted rather a lot of attention as the theme song for the movie. Now, the veil has finally been lifted, as the movie trailer features this song. Yonezu has been charmed by this manga since he was in his teens and he now he has written this song specifically for the new movie. Both the movie and the song share the same theme; "the most important promises cannot be put into words". Both the song and the movie represent this new outlook on the world.

The beautiful animation of STUDIO4℃ resonates beautifully with the emotional and beautiful melody sung by Yonezu, creating an entirely unique perspective on the world for the audience to dive into.

Key lines from the movie such as "we are just as bad as those blind to everything", spoken by the character Anglade who is voiced by Win Morisaki, and "the festival of life has begun"; the words of the main character Ruka, are included in the trailer. Strange occurances in Ruka's body, a sparkling star falling from the night sky, followed by a series of mysterious occurrences in space and in the sea ー for 60 seconds, you won't be able to take your eyes off the screen! The end of the trailer even shows Ruka being consumed by an enormous whale! The film just keeps bringing the adventures drawn in the manga to life!

You could get your hands on the first volume of the Children of the Sea for free via the LINE campaign that is being launched today so please check it out!

©2019 Daisuke Igarashi・Shogakukan / "Children of the Sea" Production Committee

Cameraman: Tomokazu Yamada

Kenshi Yonezu's New Song 'Umi no Yuurei' to be Used as Anime Film 'Children of the Sea' Main Theme

It has been announced that Kenshi Yonezu's new song Umi no Yuurei ("Ghost of the Sea") will be used as the main theme for the upcoming animated film Children of the Sea which is set to hit Japanese theatres on June 7, 2019. This is the first main theme Yonezu has written for a film.

The film is an adaptation of Daisuke Igarashi's manga series of the same name. The manga has received high praise, going on to win the 38th Japan Cartoonists Association Award and the top award in the manga category at the 13th Japan Media Arts Festival.

It is being animated by Studio 4°C who are known for their anime adaptations of Mind Game and Tekkonkinkreet amongst others.

The film follows Ruka Azumi (Mana Ashida) who encounters two boys, Umi and Sora, who were raised by dugongs. Hiiro Ishibashi will play the part of Umi and Seishuu Uragami will play the part of his older brother Sora. Win Morisaki will voice Anglade, a genius marine biologist who is pursuing the mystery surrounding Umi and Sora, while Min Tanaka will voice his former friend Jim who now takes care of the two brothers.

Daisuke Igarashi has admired Kenshi Yonezu since he made the official image song Number Nine for a special manga exhibition at the Louvre Museum.

Photographer: Tomokazu Yamada

New artist photos of Kenshi Yonezu has been released in line with the announcement. It was taken by Tomokazu Yamada who directed Yonezu's music video for Lemon which now has over 360 million views on YouTube.

Photographer: Tomokazu Yamada

Kenshi Yonezu released the following statement surrounding the release: "I think I must have been in my teens the first time I read [Children of the Sea], but I remember how overwhelmed I was over how amazing it is. Even if I go back and read it now it's still as impacting now as it was back then. What's more is that I have discovered new things reading it. I remember thinking if it ever became a film then I would want to make a song for it. I am deeply moved that the day has come where that has become a reality. Every day these paths few months have been filled with questions and answers to ensure what I make stays true to what the manga has while also adding to it. I'm looking forward to the day I hear it play in the movie theatre."

Daisuke Igarashi also commented: "I wonder how many years it's been since I first met Kenshi Yonezu. Since then I made connections with numerous people, and when it came to talking about having him do the theme song for Children of the Sea, I felt a strange uplift, like something that was always supposed to happen happened. While my heart is spread tall and deep, at the same time I feel nothing but inexpressible emotions in getting to hear this beautiful song, one which indicates the arrival point."

©2019 Daisuke Igarashi・Shogakukan / "Children of the Sea" Production Committee

Animated Film Children of the Sea Collaborates With Odakyu Odawara Line Trains

Children of the Sea is an upcoming animated film adaptation of Daisuke Igarashi's manga of the same name. It is being animated by Studio 4°C and is set for release in Japan on June 7, 2019.

In the meantime, as part of its promotion, it has been announced that the Odakyu Odawara Line will collaborate with the film.

From May 13 onward, trains along this train line will be decorated with Children of the Sea promotional posters and information. And on June 1, those who board the Enoshima Limited Express Romancecar will hear announcements made by Hiiro Ishibashi who is voicing Umi in the film.

But the fun doesn't stop there. A stamp rally will take place from June 1 to June 30. If you collect more than two of the six stamps available across six areas in the Enoshima area (where the film is set) and major stations on the Odakyu Line you'll receive an original novelty. Those who manage to obtain all the stamps will be randomly selected to win signed merchandise, poster and more. Stamps are to be presented at the Enoshima Aquarium where a model of a dugong will be housed, the marine animal that Umi and Sora are raised by in the film.

Board the Odakyu Odawara Line and take a trip to Enoshima where the film is set and immerse yourself in the world of Children of the Sea.

©2019 Daisuke Igarashi・Shogakukan / "Children of the Sea" Production Committee

Information

Children of the Sea x Odakyu Odawara Line Collaboration

Running: May 13, 2019 – June 16, 2019

Trains: Commuter's Car

Enoshima Limited Express Romancecar Event

Date: June 1, 2019

Train: Enoshima 3

Time: Departure from Shinjuku at 9:40AM, arrival at Enoshima at 10:42AM

Details:

①Pre-recorded announcements by Hiiro Ishibashi who voices Umi in Children of the Sea will be played on the train.

②Children of the Sea advertising leaflets will be handed out

Children of the Sea x Odakyu Odawara Line Stamp Rally

Running: June 1, 2019 – June 30, 2019

Stamp Locations (Stamp sheets located at each area)

①Shinjuku Station, Odakyu Line

②Sagami-Ōno Station, Odakyu Line

③Fujisawa Station, Odakyu Line

④Enoshima Aquarium

⑤Katase Enoshima Tourist Information Center

⑥Chigogafuchi Rest House Observation Deck

*Limited number of stamp sheets available

For more details, please visit: https://www.odakyu.jp/

Children of the Sea

Release Date: June 7, 2019

Official Website: www.kaijunokodomo.com

Additional Cast Announced For Animated Film Children of the Sea

The first trailer for the upcoming animated film adaptation of Daisuke Igarashi's manga series Children of the Sea was released last week. Animated by Studio 4°C, the film is set for release in Japan on June 7, 2019, and new cast members have just been revealed.

The film follows Ruka Azumi (Mana Ashida) who encounters two boys, Umi and Sora, who were raised by dugongs. Hiiro Ishibashi will play the part of Umi and Seishuu Uragami will play the part of his older brother Sora. Win Morisaki will voice Anglade, a genius marine biologist who is pursuing the mystery surrounding Umi and Sora, while Min Tanaka will voice his former friend Jim who now takes care of the two brothers.

Seishuu Uragami (Sora) appeared in the 2016 NHK drama Sanada Maru and received praise for his acting skills during the drama sequence of the variety show Tsuukai TV Sukatto Japan. He is also set to perform in the upcoming stage play adaptation of Hayao Miyazaki's Saihin Zensen this fall. Speaking about his first ever voice acting role in Children of the Sea, he comments: "I was very anxious at first, but it was so much fun as I began to put my voice to it. Sora brings out a different atmosphere. He has a particular tempo and rhythm in his speech. I spoke lots with director [Ayumu] Watanabe and made sure I was aware of the balance between how adults speak while sometimes letting out a younger voice."

Win Morisaki (Anglade) is the main vocalist of the J-pop dance and vocal unit PrizmaX. He also played the part of Daito in Steven Spielberg's Ready Player One (2018). This also marks his first time voice acting in an animated film. He comments: "I felt that I had to breathe together with the characters. Me and Anglade are two people in one. It felt great the moment our breathing matched."

Min Tanaka has appeared in multiple films and has performed in many of Studio 4°C's films over the past 13 years including Nezumi in Tekkonkinkreet. Speaking about his role in Children of the Sea he commented how it felt like his voice became part of his body for the role.

©2019 Daisuke Igarashi・Shogakukan / "Children of the Sea" Production Committee

Ocean mystery adventure movie Children of the Sea art book release!

Manga artist Daisuke Igarashi enthrals his readers with his unique representation of nature and his respect for the natural world. When the news of the STUDIO4℃ film adaptation of his fantasy manga Children of the Sea, the world just could not wait. The film will be released in Japan on Friday 7th June!

A few days ago, the official film trailer was released. Then, there was an announcement of the sale of an original picture book to which many commented with words of admiration and praise over its overwhelmingly high quality.

The enormous 238-page art book is crammed with the trail of the making process. After browsing the book there's no doubt that your perspective on the film will change!

The adaptation's art director Shinji Kimura previously worked on the epoch-making film adaptations for a number of works including Steamboy, Tekkonkinkreet, Blue Exorcist and Blood Blockade Battlefront. He produced the following statement about the Children of the Sea film adaptation:

 "The manga is so wonderful that I wonder whether there is even a point in making a film adaptation! Is it expected that countless numbers of staff members are required to complete this project? At the initial stages, Director Watanabe and Character Designer/ General Director and Producer Konishi also bore these concerns. We had the responsibility of recreating Igarashi's special world through animation alone. Everyday life was our starting point. From there, we moved on to create the sea and space. We created an artistic background as a neverending story and it is from this perspective that we created the film.

ー Film art director Shinji Kimura

Book your trip to the cinema to discover the secrets of the Children of the Sea and plunge further into Igarashi's world by uncovering the mysteries of the art book!

Information

Children of the Sea

Release:Friday 7th June (Roadshow countrywide)

Film official website: www.kaijunokodomo.com

Children of the Sea art book

Release:Friday 7th June

Price:¥3,600 + tax

Pages:248 (subject to change)

Children of the Sea Film Adaptation 1st Trailer Released

The first trailer for the upcoming animated film adaptation of Daisuke Igarashi's manga series Children of the Sea has been released.

The film is set for release in Japan on June 7, 2019. It is being animated by Studio 4°C who are known for their adaptation of Taiyō Matsumoto's Tekkonkinkreet which won the 2008 Japan Academy Prize for Animation of the Year.

Check out the trailer below.

The trailer opens with a scene of a humpback whale with the words "Nobody is aware of most of what goes on in the ocean" overlaid. It mentions the earth being made up of 71% water and from that how much we can really see or know. The film is set to explore these adventures for us.

From there we see the beginning of protagonist Ruka's (Mana Ashida) summer holiday. She encounters two boys, Umi and Sora, who were raised by dugongs. We also witness a mysterious memory Ruka has of when she was a child followed by the start of the trio's adventure to solve the mysteries of the ocean.

The trailer is accompanied by music from Joe Hisaishi who captures the wildness of the ocean in his melodies. He released the following statement: "What's interesting about this movie is that it has things you wouldn't expect as story. You could call it philosophical. I stuck to a minimalist music style for the entire picture, so it has been quite a challenge as a film score. The film inspires the viewer's imagination of the universe's memories and the effervescence of life."

©2019 Daisuke Igarashi・Shogakukan / "Children of the Sea" Production Committee