Kenshi Yonezu's New Song 'Umi no Yuurei' to be Used as Anime Film 'Children of the Sea' Main Theme
It has been announced that Kenshi Yonezu's new song Umi no Yuurei ("Ghost of the Sea") will be used as the main theme for the upcoming animated film Children of the Sea which is set to hit Japanese theatres on June 7, 2019. This is the first main theme Yonezu has written for a film.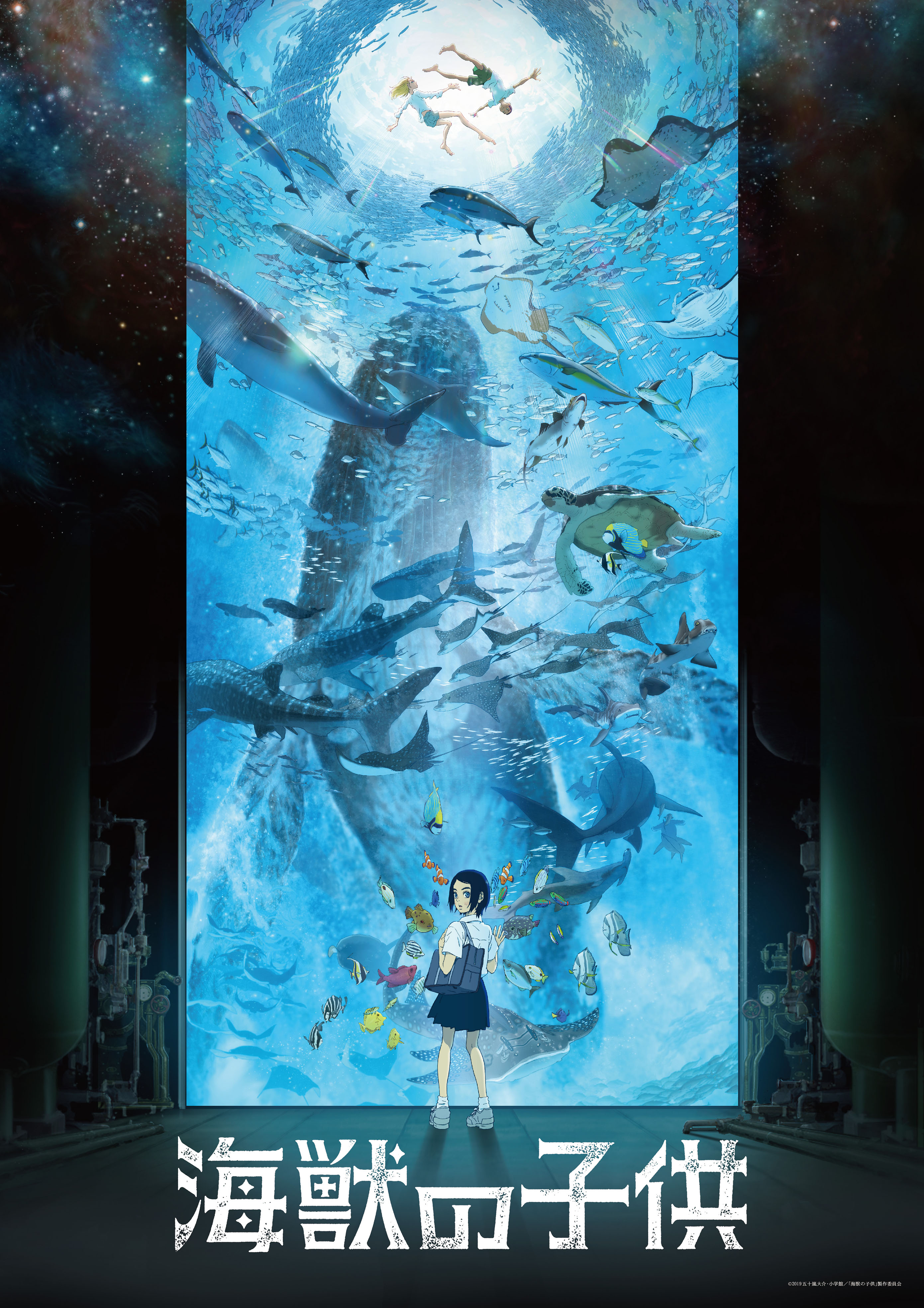 The film is an adaptation of Daisuke Igarashi's manga series of the same name. The manga has received high praise, going on to win the 38th Japan Cartoonists Association Award and the top award in the manga category at the 13th Japan Media Arts Festival.
It is being animated by Studio 4°C who are known for their anime adaptations of Mind Game and Tekkonkinkreet amongst others.
The film follows Ruka Azumi (Mana Ashida) who encounters two boys, Umi and Sora, who were raised by dugongs. Hiiro Ishibashi will play the part of Umi and Seishuu Uragami will play the part of his older brother Sora. Win Morisaki will voice Anglade, a genius marine biologist who is pursuing the mystery surrounding Umi and Sora, while Min Tanaka will voice his former friend Jim who now takes care of the two brothers.
Daisuke Igarashi has admired Kenshi Yonezu since he made the official image song Number Nine for a special manga exhibition at the Louvre Museum.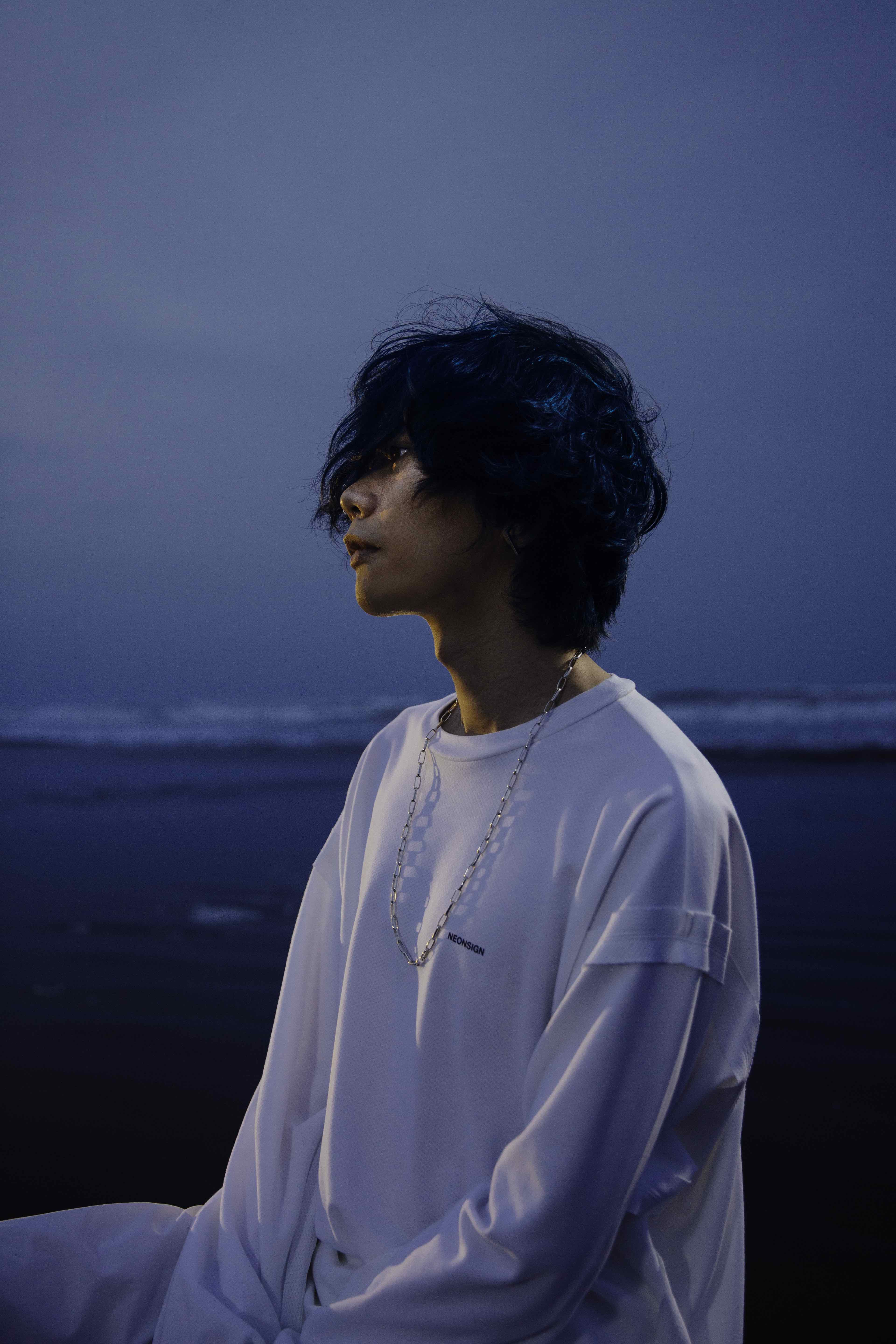 Photographer: Tomokazu Yamada
New artist photos of Kenshi Yonezu has been released in line with the announcement. It was taken by Tomokazu Yamada who directed Yonezu's music video for Lemon which now has over 360 million views on YouTube.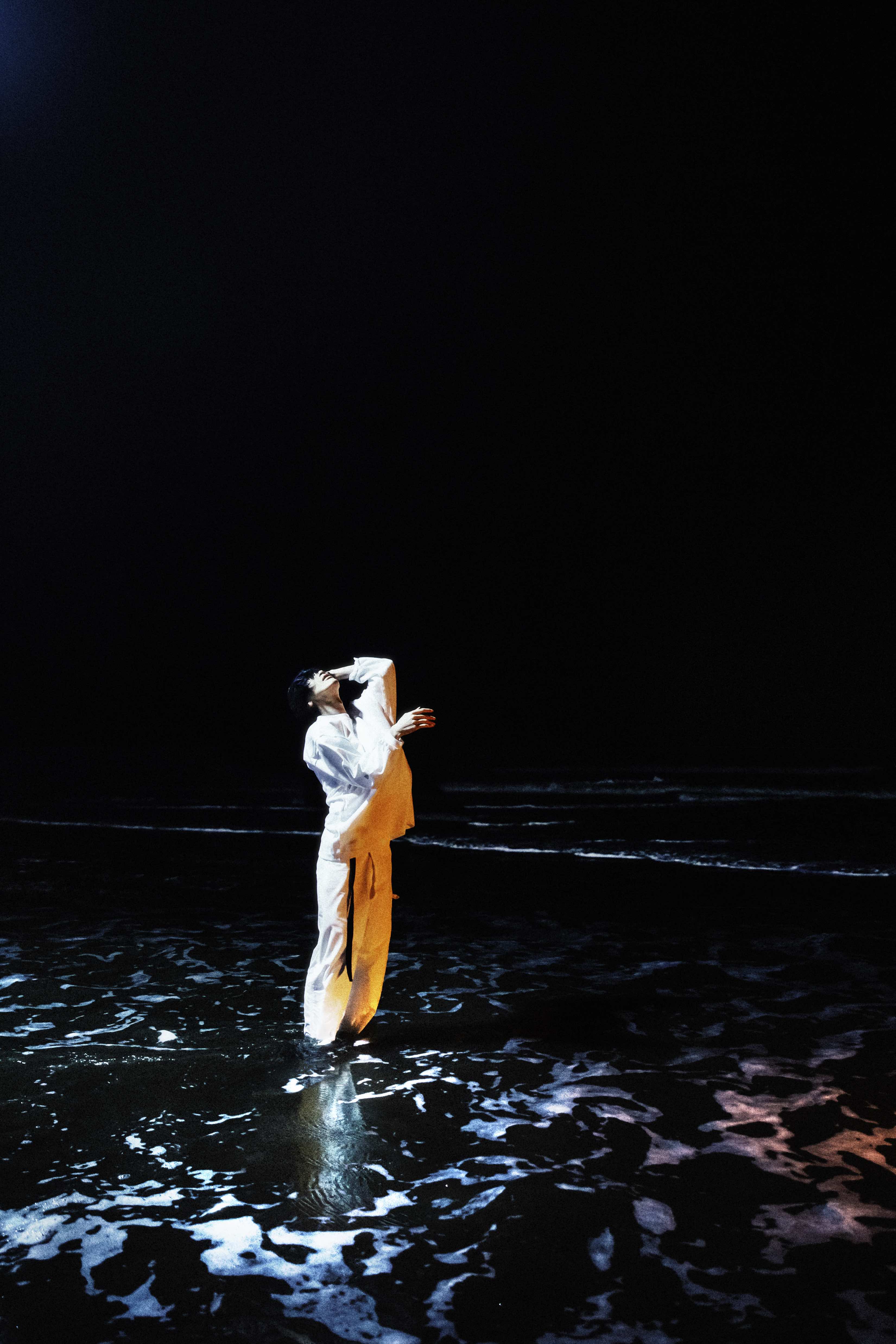 Photographer: Tomokazu Yamada
Kenshi Yonezu released the following statement surrounding the release: "I think I must have been in my teens the first time I read [Children of the Sea], but I remember how overwhelmed I was over how amazing it is. Even if I go back and read it now it's still as impacting now as it was back then. What's more is that I have discovered new things reading it. I remember thinking if it ever became a film then I would want to make a song for it. I am deeply moved that the day has come where that has become a reality. Every day these paths few months have been filled with questions and answers to ensure what I make stays true to what the manga has while also adding to it. I'm looking forward to the day I hear it play in the movie theatre."
Daisuke Igarashi also commented: "I wonder how many years it's been since I first met Kenshi Yonezu. Since then I made connections with numerous people, and when it came to talking about having him do the theme song for Children of the Sea, I felt a strange uplift, like something that was always supposed to happen happened. While my heart is spread tall and deep, at the same time I feel nothing but inexpressible emotions in getting to hear this beautiful song, one which indicates the arrival point."
©2019 Daisuke Igarashi・Shogakukan / "Children of the Sea" Production Committee
RELATED ENTRIES
Kenshi Yonezu Releases 'Paprika' Song Digitally as 2020 'HYPE' Tour Kicks Off

Kenshi Yonezu's song Paprika has become a hit amongst the children of Japan since its release, even taking home the top award at the 61st Kagayaku! Japan Record Awards. Its music video has garnered over 70 million views on YouTube, and tomorrow (February 3) the song will be released digitally.

This version of the song is a "self-cover" in which Yonezu sings. The original version was written and produced by Yonezu but he did not actually sing in it. In July 2018, he announced a new project to cheer on the people of the world in 2020 and beyond. It began with the formation of Foorin, a group of child singers who sang the original Paprikamusic video which Yonezu wrote the lyrics for as well as composed and produced the music. A was released in July 2018 which has amassed over 164 million views (as of January 1, 2020), which features Foorin performing choreography created by Tomohiko Tsujimoto and Koharu Sugawara.

At the end of 2019, Foorin had already performed on numerous music television programmes, and a new group was formed called Foorin team Eーa group of international children who performed Paprika in English. Thus began the worldwide phenomenon of Paprika.

Within just 4 days and 9 hours of its release, Kenshi Yonezu's self-cover version released on YouTube had already surpassed 10 million views. Now, the self-cover is set to be released digitally on February 3, 2020. The artwork for the digital release was created by Ryu Kato.

Paprika will be used for NHK's TV and radio program Minna no Uta ("Everybody's Song") throughout February and March.

Kenshi Yonezu's 2020 "HYPE" tour in Japan and Asia has finally kicked off. Find the full schedule below.

Information

"Paprika" Digital Single

Released: February 3, 2020

Digital Download: https://smej.lnk.to/9MqZk

NHK – "Minna no Uta"

Paprika will be used on air February-March 2020

Minna no Uta Official Website: http://www.nhk.or.jp/minna/

Kenshi Yonezu 2020 HYPE Tour Schedule

2020/2/1 @ Wakayama Big Whale, Wakayama Prefecture

2020/2/2 @ Wakayama Big Whale, Wakayama Prefecture

2020/2/8 @ Sun Dome Fukui, Fukui Prefecture

2020/2/9 @ Sun Dome Fukui, Fukui Prefecture

2020/2/15 @ Yokohama Arena, Kanagawa Prefecture

2020/2/16 @ Yokohama Arena, Kanagawa Prefecture

2020/2/22 @ Hiroshima Green Arena, Hiroshima Prefecture

2020/2/23 @ Hiroshima Green Arena, Hiroshima Prefecture

2020/2/27 @ Sekisui Heim Super Arena, Miyagi Prefecture

2020/2/28 @ Sekisui Heim Super Arena, Miyagi Prefecture

2020/3/7 @ Mie Prefectural Sun Arena, Mie Prefecture

2020/3/8 @ Mie Prefectural Sun Arena, Mie Prefecture

2020/3/11 @ Osaka-jo Hall, Osaka Prefecture

2020/3/12 @ Osaka-jo Hall, Osaka Prefecture

2020/3/17 @ Saitama Super Arena, Saitama Prefecture

2020/3/18 @ Saitama Super Arena, Saitama Prefecture

2020/3/25 @ Marine Messe Fukuoka, Fukuoka Prefecture

2020/3/26 @ Marine Messe Fukuoka, Fukuoka Prefecture

2020/4/4 @ Hokkaido Prefectural Sports Center, Hokkaido

2020/4/5 @ Hokkaido Prefectural Sports Center, Hokkaido

Taipei Concert
Concert Name: Kenshi Yonezu 2020 TOUR / HYPE IN TAIPEI
Date: April 18, 2020
Time: 16:00 OPEN / 17:00 START
Venue: Taipei Arena

Ticket Prices: NT$4,500 / 3,900 / 3,600 / 2,400 / 1,800 / 800
Promoters: 超級圓頂娯樂 / 大鴻藝術BIG ART
Enquiries: https://www.facebook.com/bigart.tw/

 

Shanghai Concert
Concert Name: Kenshi Yonezu 2020 TOUR / HYPE IN SHANGHAI
Date: April 29, 2020
Time: 18:30 OPEN / 20:00 START
Venue: Mercedes-Benz Arena Shanghai

Ticket Prices: 1680元 / 1280元 / 780元
Promoters: STAR GROUP上海星族文化艺术发展有限公司
Enquiries: http://www.newstargroup.com.cn/

Kenshi Yonezu Official Website: http://reissuerecords.net/

Kenshi Yonezu's 'Lemon' Music Video Breaks 500 Million Views On YouTube

Kenshi Yonezu's 2018 single Lemon has broken many milestones to date, and today marks yet another etching in history.

The music video for Lemon officially broke 500 million views on December 17, 2019 at 10:08am (JST), which marks one year and 295 days since it was released on YouTube. Yonezu now holds the record for most viewed Japanese artist on the video platform.

Photo by Tomokazu Yamada

Yonezu's other music videos have also garnered huge views: Uchiage Hanabi is on 327 million, Aine Kuraine is on 236 million, and LOSER is on 228 million (as of December 17, 2019). All nine of his music videos total over 1 billion views (the aforementioned four, orion, Peace Sign and Haiiro to Ao (+Masaki Suda), Flamingo, and Paprika), and he has 4.59 million subscribers, making him the most subscribed-to Japanese music artist. His channel also has over 2.4 billion views, and the numbers continue to soar.

Lemon enjoys yet another year of success following its overwhelming popularity upon its release in 2018. To thank fans for its success, a billboard has been put up at the Hachiko Exit of Shibuya Station in Tokyo, which reads "Kenshi Yonezu" on the left and "Music Carries On" on the right. It will be up until December 29, 2019.

'Lemon' by Kenshi Yonezu the First Song to Lead Billboard Charts in Japan and the U.S. for Two Consecutive Years

Particularly over the past two years, Kenshi Yonezu has been making history in the charts. His song Lemon was highlighted as song of the year on Billboard JAPAN Hot 100 of the Year 2019 and the U.S Billboard HOT 100 for two consecutive years in a row, making Yonezu the first ever artist to top the Billboard charts for two consecutive years in a row with the same song. 


Photo by Tomokazu Yamada

Following the release of Lemon in March 2018, its digital and physical downloads scored ranks in the charts 25 times, pushing Yonezu onwards to continue his streak into 2019 where he saw more no.1s, 3 million downloads on his song Lemon, which set the record for fastest downloaded song in Japan, and now almost half a billion views on the official music video for Lemon. The song's overwhelming popularity even scored it no.1 in Japan's karaoke rankings where it reigned for a whole 85 weeks: the longest of any song. 

 Yonezu dominated the Billboard JAPAN Hot 100 of the Year 2019 download rankings for two consecutive years in a row and four of his ten songs made it onto the charts, including Lemon at no.1, Uma to Shika at no.5, Machigai Sagashi at no.6 (performed by Masaki Suda, written by Yonezu) and Paprika at no.7 (performed by Foorin, written by Yonezu). His achievements even stretch to producing and he is loved by children and adults in Japan alike. 

Kenshi Yonezu-Produced Foorin team E Releases Paprika English Ver. Music Video and Song Worldwide

Aiming to cheer everybody on in the runup to 2020 and beyond, Kenshi Yonezu formed two music groups consisting of young children called Foorin and Foorin team E to perform the Japanese and English versions of his song Paprika respectively as part of an ongoing music project. 

Foorin team E "Paprika" Dance Video

Check out the English version of Paprika performed by Foorin team E on YouTube. 

Paprika was dropped on digital services worldwide on December 2. Paprika will also be released on CD in First-Press Edition and Regular Edition copies on January 22 in Japan. The First-Press Edition comes in a seven-inch jacket containing the lyrics on a displayable card, a DVD of the music video and origami paper. There is also the chance to get your hands on a bonus Paprika dream magnet which will be in limited availability at selected music shops in Japan. Information on places to purchase will be revealed in the near future. The illustration for the CD jacket was created by Ryu Kato, who also created the illustrations used in the music video for Kenshi Yonezu's cover of Paprika and the illustrations for the jacket of Foorin's version of Paprika.  

As is the case with the Japanese version of Paprika, the royalties generated by Yonezu from the release of the English version of Paprika and its secondary usage will be donated to Independent Administrative Corporations and Japanese sports foundations in order to assist athletes of the future generations.  

Photo by Takako Noel

Paprika is working up a sensation throughout Japan as a break-through kid's song. When Foorin released Paprika in 2018, the dance music video was viewed over 140 million times on YouTube and Paprika-related videos on NHK's website generated over 260 million views. The song's lyrics and music writer and producer Kenshi Yonezu even released his own cover of Paprika earlier this year in August. In just four days and nine hours since its upload, the cover was viewed over 10 million times, which is the fastest record for any of Yonezu's music videos. Now the video has over 50 million views and is loved by people of all generations. 

Yonezu's projects are propelling forward full steam ahead. Who knows what he's got next up his sleeve?

Information

Paprika by Foorin team E 

Release Date: December 2, 2019

*The song may be released on different digital services at different times. Please confirm the song's status after December 2, 2019

Kenshi Yonezu To Release English Version of 'Paprika' with English-Speaking Children

Foorin is a music unit made up of elementary school children with music and lyrics produced entirely by Kenshi Yonezu. Their single Paprika was released on August 15, 2018. Following auditions for native English-speaking children, Yonezu formed Foorin team E to create an English version of Paprika. 

Since the debut of Foorin's song and dance video in 2018, the song appeared in collaboration with NHK Educational TV and has made multiple appearances in events across Japan, adding a sprinkle of fun to the lives of Japanese children. It has become one of the most phenomenal kid's songs of the century. 

Yonezu's cover of the song became an instant hit among people of all generations and was well-received overseas. With a desire to make singing and dancing to Paprika more of a global sensation, he set about creating an English version of the song with native English-speaking children.

Foorin team E consists of main vocalists Jasmine (10) and Corban (8) and chorus and dancers Len (12), Evangeline (12) and Clara (6).

Foorin team E's first-ever performance of Paprika will take place at ABU TV Song Festival in Tokyo on November 19 at NHK Hall and they will also perform alongside Foorin for the first time at Japan's 70th NHK Kōhaku Uta Gassen. 

Get together with your family and younger siblings to enjoy two exciting versions of this cheerful song.

Foorin Artist Photo by Taro Mizutani

Kenshi Yonezu Artist Photo by Tomokazu Yamada

Kenshi Yonezu's New Single 'Uma to Shika' Achieves Record-Breaking Sales

17.September.2019 | MUSIC

Kenshi Yonezu released his new single Uma to Shika on September 11 and it has soon become a new record-breaking sensation. The song served as the main theme for the TBS Sunday drama No Side Game, which just aired its last episode. The Oricon Weekly Single Rankings revealed that the single has so far been sold 412,000 times, which is Yonezu's largest sale yet.

The first ever solo Japanese artist to make over 400,000 sales within the first week of a release was achieved by Tomohisa Yamashita in June 2006 with his song Daite Señorita. After 13 years and 3 months, a new record has been set by Yonezuー the perfect way to start the brand new Reiwa Era.   

The Download Chart shows that the rank for Uma to Shika is remaining steady. The Oricon Digital Single Ranking Chart shows that the single was downloaded 74,178 times in just one week, earning the top place. Since the single's advanced sales which started on August 12, the single has remained at No.1 for five whole consecutive weeks. 

In the drama No Side Game, Hayato Kimijima (played by Yo Oizumi) works as the general manager of the company's rugby team named Astros. He puts up a rigorous fight to keep the team from falling apart so that they can face off against their arch rival team known as the Cyclones. Despite suffering an injury, team player Jo Hamahata, who carries the spirit of the team, rises to the challenge of the fierce battle with every ounce of energy to ensure victory, gambling his sports career by wagering everything on his last shot.

The team members, staff and even the team supporters joined forces as one to ensure the team's win, putting every ounce of their body and soul into the match. The theme drama's theme song Uma to Shika is perfect for summing up this heated moment. The overwhelming feelings of the drama resonate in Yonezu's song and has even stretched out to inspire many viewers. Many fans are still sending in messages about their lingering feelings towards the final episode. 

Information

Uma to Shika Commemoration Event

Fukuoka

Location: Tenjin Kirameki Square

Dates and Times: Saturday, September 21 (10:00-20:00)

Sunday, September 22 (10:00-20:00)

Osaka

Location: NAMBA PARKS Canyon Court

Dates and Times: Saturday, September (11:00-21:00)

Sunday, September 29 (11:00-21:00)

 

Official Twitter Account: @tabi_dekajake

 

Important Event Information:

* Please refrain from sending enquiries directly to the venues.

*As the commemoration exhibitions will be held outdoors in a public location, please act with consideration for others who are passing by. 

* Events will be cancelled in the case of stormy weather. Announcements will be made on the event's official Twitter mentioned above. 

*If there are many attending this event, please cooperate as staff control the crowds by placing rules and guiding the queues. 

Kenshi Yonezu: New Single 'Uma to Shika'

Release Date: September 11, 2019

Product Information:

First Press No Side Limited Edition (CD+Whistle Pendant+Leather Cover): ¥1,900 (Before Tax) [SECL-2493~94]

First Press Limited Edition Version with DVD: (CD+DVD, Paper Cover): ¥1,500 (before tax) [SECL-2495~96]

Regular Edition: (CD only): ¥1,000 (before tax) [SECL-2497]

 

Kenshi Yonezu 'Uma to Shika' Special Edition Website: https://reissuerecords.net/umatoshika/

Kenshi Yonezu 'Uma to Shika' Streaming Links: https://smej.lnk.to/JCJ0B

Official Website: http://reissuerecords.net/

Kenshi Yonezu's 'Uma to Shika' Music Video Breaks 10 Million YouTube Views

10.September.2019 | MUSIC

Kenshi Yonezu dropped his new music video for Uma to Shika only a week ago and it has already amassed over 10 million views on YouTube.

The music video was directed by Tomokazu Yamada who also worked on Yonezu's Lemon and Flamingo music videos. It begins on a rooftop and sees a whopping army of 120 extras within which Yonezu himself appears. The music video has fans excited, and that fire isn't looking to die down anytime soon as comments continuously roll in from people around the world.

'Uma to Shika' Music Video

Uma to Shika will be released on CD on Wednesday this week. It will be used as the main theme for the Japanese drama No Side Game which will begin airing on September 15.

Information

Uma to Shika

Digital Download: https://smej.lnk.to/JCJ0B

CD Release Date; September 11, 2019

First Press No Side Limited Edition (CD+Whistle Pendant+Leather Cover): ¥1,900 (Before Tax) [SECL-2493~94]

First Press Video Limited Edition (CD+DVD+Paper Cover): ¥1,500 (Before Tax) [SECL-2495~96]

Regular Edition (CD-Only): ¥1,000 (Before Tax) [SECL-2497]

First Press Edition Bonus (All Editions)

Application card for a chance to purchase pre-sale tickets to Kenshi Yonezu's 2020 "HYPE" tour

Application Window: September 10, 2019 at 10:00 (JST) – September 15, 2019 at 23:59

*Available with first press copies only which are limited in stock

Uma to Shika Webpage: https://reissuerecords.net/umatoshika/

Kenshi Yonezu Official Website: http://reissuerecords.net/

Kenshi Yonezu Drops 'Uma to Shika' Music Video & Screens it at Omotesando Hills

04.September.2019 | MUSIC

Kenshi Yonezu's new song Uma to Shika ("Horse and Deer") has been No. 1 on Oricon's digital charts for three weeks in a row. The single will be released on CD on September 11.

In the run up to its release next Wednesday, the song's music video premiered at a "Mirror Screening" event yesterday (September 2).

The screening was held at Omotesando Hills Space O.

Fans were welcomed to the event with giant boards featuring photos taken from the music video. Further along the corridor were wall mirrors of various types which led to a place where the entire wall was a mirror, offering a diffused reflection of everything it mirrored. As fans waited in anticipation, the intro to Uma to Shika began playing before the the music video was suddenly projected onto the mirrors.

This offered an experience like no other as fans essentially became a part of the music video themselves.

"Uma to Shika" Music Video

The gorgeous music video was directed by Tomokazu Yamada who also worked on Yonezu's Lemon and Flamingo music videos. It features a cast of over 120 people who take part in a video like no other from Yonezu.

Information

Uma to Shika

Digital Download: https://smej.lnk.to/JCJ0B

CD Release Date; September 11, 2019

First Press No Side Limited Edition (CD+Whistle Pendant+Leather Cover): ¥1,900 (Before Tax) [SECL-2493~94]

First Press Video Limited Edition (CD+DVD+Paper Cover): ¥1,500 (Before Tax) [SECL-2495~96]

Regular Edition (CD-Only): ¥1,000 (Before Tax) [SECL-2497]

First Press Edition Bonus (All Editions)

Application card for a chance to purchase pre-sale tickets to Kenshi Yonezu's 2020 "HYPE" tour

Application Window: September 10, 2019 at 10:00 (JST) – September 15, 2019 at 23:59

*Available with first press copies only which are limited in stock

Store Bonus Item

Rubber Band

*Available on a first-come, first-served basis. Select stores and only stores only. Please check the stock of rubber bands at your place of purchase before buying to avoid disappointment.

Uma to Shika Webpage: https://reissuerecords.net/umatoshika/

Kenshi Yonezu Official Website: http://reissuerecords.net/

Kenshi Yonezu Releases Live Teaser For 2019 Tour Featured On Upcoming Single 'Uma to Shika'

A video has just dropped on Kenshi Yonezu's YouTube channel showcasing a teaser of his 2019 "Sekitsui ga Pearl ni Naru Koro" tour which will be featured on the DVD and Blu-ray discs coupled with the Video Edition of his forthcoming new single Uma to Shika which is set to hit shelves on September 11.

Kenshi Yonezu 2019 Tour "Sekitsui ga Pearl ni Naru Koro" Live Teaser

The teaser features snippets of some of his newest singles including Flamingo, TEENAGE RIOT and Gomen Ne as well as other clips with backup dancers and drummers like amen and Undercover. There is also a peek of his live performance of his hit song Lemon.

Kenshi Yonezu recently announced a new tour entitled "Kenshi Yonezu 2020 TOUR / HYPE." The tour was announced via digital signboards at train stations in cities across Japan where the tour is set to take place. The tour will run next year from February to April where Yonezu will hit up 10 arena venues for 20 performances, making it his biggest tour to date.

Yonezu's new single Uma to Shika will be released in three editions: the "No Side Edition," "Video Edition" and "Regular Edition." All three editions come with application cards for a chance to access pre-sale tickets to the singer's "HYPE" tour. Pre-sale sign-up will end on September 15.

Uma to Shika received an early digital release last week ahead of the CD release. It has stayed at No. 1 on Oricon's weekly digital single charts for two weeks in a row.

The "Video Edition" of the new single is limited-edition and will discontinue once all have been sold. If you're looking to get your hands on a copy to see the full show from his 2019 tour as teased in the live teaser then be sure to pre-order your copy ASAP.

Information

Uma to Shika

Digital Download: https://smej.lnk.to/JCJ0B

CD Release Date; September 11, 2019

First Press No Side Limited Edition (CD+Whistle Pendant+Leather Cover): ¥1,900 (Before Tax) [SECL-2493~94]

First Press Video Limited Edition (CD+DVD+Paper Cover): ¥1,500 (Before Tax) [SECL-2495~96]

Regular Edition (CD-Only): ¥1,000 (Before Tax) [SECL-2497]

First Press Edition Bonus (All Editions)

Application card for a chance to purchase pre-sale tickets to Kenshi Yonezu's 2020 "HYPE" tour

Application Window: September 10, 2019 at 10:00 (JST) – September 15, 2019 at 23:59

*Available with first press copies only which are limited in stock

Store Bonus Item

Rubber Band

*Available on a first-come, first-served basis. Select stores and only stores only. Please check the stock of rubber bands at your place of purchase before buying to avoid disappointment.

Uma to Shika Webpage: https://reissuerecords.net/umatoshika/

Kenshi Yonezu Official Website: http://reissuerecords.net/

Kenshi Yonezu 'Uma to Shika' New Single Details Released

Kenshi Yonezu's new single was released digitally on August 12―ahead of the CD release which is set for September 11. It serves as the main theme for the TBS Sunday drama No Side Game for which it has drawn a great deal of attention. The track has raked in 165,000 downloads on Oricon's digital single ranking (for August 26) and has taken the No. 1 spot on Billboard Japan's download song charts with 172,000 downloads, making it the song with the most number of downloads in the first week in 2019.

New details have been released on Uma to Shika, including the unveiling of the CD cover art, and the different editions it will be released in.

As with most of Yonezu's releases, the cover art of the new single was illustrated by the singer-songwriter himself. It will be released in three editions: the "No Side Edition," "Video Edition," and "Regular Edition."

The "No Side Edition" comes in pure white packing, decorated in silver leaf and manufactured in a way so that it feels like leather. The disc is printed with a picture label on it. The whistle-shaped pendant is made from metal and coated in a white matte while the string is white leather. And the whistle isn't just for show―it actually works too. The illustration itself is a mix of of a horse (uma) and deer (shika) which is the name of the single.

The "Video Edition" opens up like a book to reveal a CD and DVD both with picture labels on them. The DVD features a teaser of 11 songs covering 18-minutes taken from Kenshi Yonezu's "Sekisui ga Opal ni Naru Koro" 2019 tour. It also includes the music video for Umi no Yuurei.

All three editions come with application cards for a chance to get pre-sale tickets to Kenshi Yonezu's "HYPE" tour which will begin in February 2020 and take him to 10 cities for 20 shows. Pre-sale sign-up ends on Sunday September 15.

When bought at select stores, all CDs will come with a special leather wristband. These are available on a first-come, first-served basis at each store.

The single's "No Side" and "Video" editions are both limited-edition, so you'll want to put your orders in quick if you want a copy.

Information

Uma to Shika

Digital Download: https://smej.lnk.to/JCJ0B

CD Release Date; September 11, 2019

First Press No Side Limited Edition (CD+Whistle Pendant+Leather Cover): ¥1,900 (Before Tax) [SECL-2493~94]

First Press Video Limited Edition (CD+DVD+Paper Cover): ¥1,500 (Before Tax) [SECL-2495~96]

Regular Edition (CD-Only): ¥1,000 (Before Tax) [SECL-2497]

First Press Edition Bonus (All Editions)

Application card for a chance to purchase pre-sale tickets to Kenshi Yonezu's 2020 "HYPE" tour

Application Window: September 10, 2019 at 10:00 (JST) – September 15, 2019 at 23:59

*Available with first press copies only which are limited in stock

Store Bonus Item

Rubber Band

*Available on a first-come, first-served basis. Select stores and only stores only. Please check the stock of rubber bands at your place of purchase before buying to avoid disappointment.

Uma to Shika Webpage: https://reissuerecords.net/umatoshika/

Kenshi Yonezu Official Website: http://reissuerecords.net/

Kenshi Yonezu Announces Japan 2020 Arena Tour & Train Station Tour Information Boards

It has been announced that Kenshi Yonezu will head on a nationwide arena tour in Japan next year. The title of the tour is "Kenshi Yonezu 2020 TOUR / HYPE" and it will take place from February to April where he will hit up 10 arena venues for 20 performances, making it his biggest tour to date.

To help promote the tour, digital signboards at train stations in cities across Japan where the tour is set to take place suddenly began displaying information about the tour on August 12. In each city, the signboards simply displayed the name of the tour as well as the date and venue of that city which Yonezu will perform at. All of this was without any other prior announcements; news about the tour spread online by people posting photos of the signs in their city, effectively helping to spread the "hype."

Application cards for pre-sale tickets to the tour will be available on first press copies of Yonezu's upcoming new single Uma to Shika ("Horse and Deer") which will be released on September 11, 2019. The ticket window for ordering pre-sale tickets will run from September 10 to at 10:00am (JST) to September 15 at 11:59pm (JST). These will be available with all first press copies of both regular and limited editions.

Kenshi Yonezu is set to electrify fans once more on his "HYPE" tour, his first in almost a year.

Information

Kenshi Yonezu 2020 TOUR / HYPE Schedule

2020/2/1 @ Wakayama Big Whale, Wakayama

2020/2/2 @ Wakayama Big Whale, Wakayama

2020/2/8 @ Sun Dome Fukui, Fukui

2020/2/9 @ Sun Dome Fukui, Fukui

2020/2/15 @ Yokohama Arena, Kanagawa

2020/2/16 @ Yokohama Arena, Kanagawa

2020/2/22 @ Hiroshima Prefectural Sports Center (Hiroshima Green Arena), Hiroshima

2020/2/23 @ Hiroshima Prefectural Sports Center (Hiroshima Green Arena), Hiroshima

2020/2/27 @ Sekisui Heim Super Arena, Miyagi

2020/2/28 @ Sekisui Heim Super Arena, Miyagi

2020/3/7 @ Mie Prefectural Sun Arena, Mie

2020/3/8 @ Mie Prefectural Sun Arena, Mie

2020/3/11 @ Osaka-jo Hall, Osaka

2020/3/12 @ Osaka-jo Hall, Osaka

2020/3/17 @ Saitama Super Arena, Saitama

2020/3/18 @ Saitama Super Arena, Saitama

2020/3/25 @ Marine Messe Fukuoka, Fukuoka

2020/3/26 @ Marine Messe Fukuoka, Fukuoka

2020/4/4 @ Hokkai Kitayell, Hokkaido

2020/4/5 @ Hokkai Kitayell, Hokkaido

Pre-sale Tickets Price: Reserved Seating / Family Seating – ¥7,800 (Tax Included)

Pre-sale Ticket Window: September 10, 2019 at 10:00am (JST) to September 15, 2019 at 11:59pm (JST)

■Digital Signboard Station Locations

Running: August 12, 2019 – August 18, 2019

*The advertisements are displayed at random times at each respective location

・Locations

Hokkaido: JR Tower Floor 1F, East Concourse

Miyagi: Sendai Subway / Sendai Station East-West Walkway

Saitama: JR Omiya Station Central Ticket Gates

Kanagawa: JR Yokohama Central Walkway & South Ticket Gates

Fukui: JR Fukui Station Happiring Vision

Mie: Kintetsu Nagoya Station / Kuwana Station / Kintetsu-Yokkaichi Station / Shiroko Station / Tsu Station

Wakayama: AEON Style Wakayama

Osaka: Walkway in front of LUCUA Osaka at JR Osaka Station

Hiroshima: JR Hiroshima Station Shinkansen Ticket Gates

Fukuoka: Tenjin Station Subway, concourse between Central Exit and West Exit

Kenshi Yonezu New Single – "Uma to Shika"

CD Release Date: September 11, 2019

Digital Release Date: August 12, 2019

Official Digital Download: https://smej.lnk.to/JCJ0B

Uma to Shika Webpage: https://reissuerecords.net/umatoshika/

Kenshi Yonezu Official Website: http://reissuerecords.net/

Kenshi Yonezu's 'Lemon' CD Cover Displayed at Otsuka Museum of Art

Since Kenshi Yonezu released his single Lemon in March last year, it has gone on to enjoy huge success, reaching numerous milestones.

The song was written as the main theme for the TBS drama Unnatural which aired in January 2018. Its music video was released the following month and garnered huge views in an instant, and after just 475 days it had reached over 400 million. It was also the first Japanese music video to gain 300 million. Lemon has also sold over 300 million copies. It is the first song to rank three times in a row on Billboard JAPAN Hot 100: for both halves of 2018 and the first half of 2019.

Photo by Tomokazu Yamada

Speaking of its continued success, Yonezu comments: "I am thankful. It exceeded my expectations a long time ago, but I've been very interested to see just how far it will go. I'm mostly unaware of my own songs. I'd like it to continue to be loved by people."

As a show of gratitude to how much Lemon has resonated with people, the CD cover art will be displayed permanently at the Otsuka Museum of Art in Tokushima in the form of a ceramic tile from July 30.

Touban, or "ceramic tiles," don't lose their colour or deteriorate and so can keep their colour and shape for up to 2,000 years.

Information

"Lemon" Touban Exhibit

Exhibiting: From July 30, 2019 (*permanent exhibition)

Location: Otsuka Museum of Art, Sistine Hall (Fukuike-65-1 Narutochō Tosadomariura, Naruto, Tokushima Prefecture)

Size: 93cm x 93cm

Otsuka Museum of Art Official Website: http://o-museum.or.jp/

Kenshi Yonezu Official Website: https://reissuerecords.net/