Fashion lovers out there are going to absolutely love the first day of the MOSHI MOSHI NIPPON FESTIVAL – Saturday 26th – which will mostly be focused on collaborations with a number of big name Japanese fashion magazines. We'd like to detail who exactly you can expect to see on the first day – including performances from some very popular Japanese models as well as a string of famous music artists.
【Zipper】
Expect to see almost all of Zipper's most popular models gathered for the Zipper stage. You can look forward to seeing a fashion show that exhibits a slice of what's "in" now on the streets of Tokyo.
【KERA】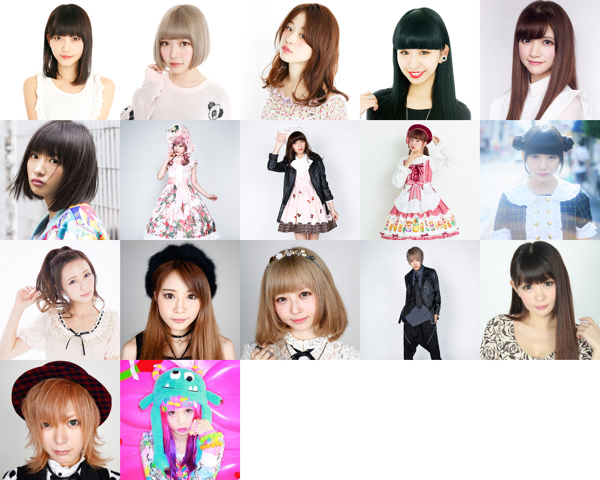 KERA is another Japanese fashion magazine that even has huge popularity with overseas lolita fans. There will be a line-up consisting of lolita models and girls dressed in male fashion. Moreover, models who have contributed greatly to the lolita culture will be announcing lolita awards.
【HR】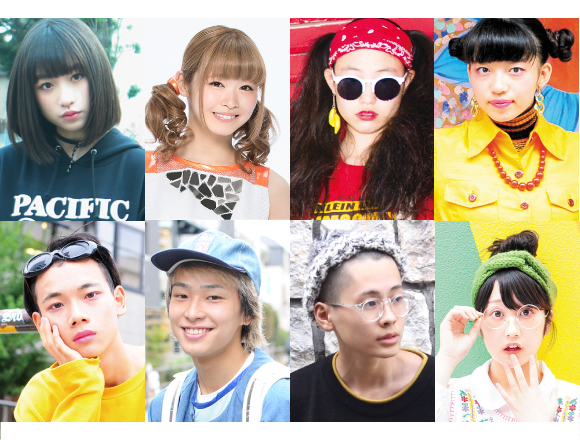 HR is a magazine for highschoolers and about highschoolers, featuring a line-up of models who are all high school students. The models for the HR fashion show will coordinate "seifuku" (school uniforms), a definite style that you can expect only from Japan.
【mer】
Fashion magazine "mer" will be putting on a show with cute Japanese models from around the country. They aim to showcase that this is the place to see Japanese culture.
【LIVE: Silent Siren】
Silent Siren are a 4-member girls rock band. They successfully completed their first overseas tour in 2014 and held one-man live shows in Hong Kong, Taiwan and Indonesia the following year. The band also finished up a world tour this year. Look forward to seeing a performance from Silent Siren this year at the MOSHI MOSHI NIPPON FESTIVAL, a group of girls who truly represent Japan!
【LIVE: Natsume Mito】
Natsume Mito made her debut with her song "Maegami Kirisugita" (translated: "I cut my fringe too short") and took Japan by storm by giving rise to a never before seen "Maegami Boom" or "Fringe Boom". See her perform this year at the MOSHI MOSHI NIPPON FESTIVAL. She has performed both in Japan and overseas at a festival in Taiwan. She will lighten up the MOSHI MOSHI NIPPON FESTIVAL even more with her music and performance that will fill you with energy simply by watching her.
【LIVE: BAND-MAID】
The definitive maid rock band BAND-MAID will be appearing at the MOSHI MOSHI NIPPON FESTIVAL this year. Don't take them lightly, however, for even though they may be dressed as cute maids, they pack a hell of a rock sound. The band are active both in Japan and overseas. Anticipation for their performance continues to rise having just finished their world tour.
【LIVE: TEMPURA KIDZ & Atarashii Gakkou no Leaders】
TEMPURA KIDZ continue to be recognised worldwide. They are a new-wave Harajuku style artist who boast colourful and cute looks and put on high energy dance performances. They perform mostly around Asia and have performed at 7 different festivals in 7 different countries. Do not miss this opportunity to see TEMPURA KIDZ live. They will have you captivated instantly with their bright and colourful music and animated dancing.
—
"It'd be boring if everyone was the same!!", so says Atarashii Gakkou no Leaders. They are a dance & vocal unit who stand out from the crowd with the kind of individuality and liberty you could only ever expect from them. Perhaps you'll be struck by their unpredictable and original performance too?
▼MOSHI MOSHI NIPPON Outdoor area contents
・FOOD AREA(NIPPON UMAI YOKOCHO)
The food area you can enter for free and eat all the Japanese food you can think of from some of the most famous restaurants around Japan!
There will be plenty of photo spots in the outdoor area! Tag your photos of the event with #moshifest and post them to your social media ♪
"Matsuri" is the Japanese word for festival, and as the name suggests there are plenty of matsuri performances you should check out. Let's take a look at what artists you'll have the chance to see on the MATSURI STAGE.
—
■Information
MOSHI MOSHI NIPPON FESTIVAL 2016 in TOKYO
Venue:TOKYO TAIIKUKAN (1-17-1 Sendagaya Shibuyaku Tokyo)
Date:November 26th(Sat.) and 27th(Sun.) , 2016
Tickets:http://msmsnippon16-1.peatix.com
※Foreigners who register beforehand can enter the venue free of charge on condition that they show their passport or residence card to the entry staff on the day of the event