Hotel Gajoen Tokyo to Hold Japanese Art Exhibition at Hyakudan Kaidan
Hotel Gajoen Tokyo is both a museum and a hotel which celebrated its 90th anniversary in December 2018. The establishment is set to hold its 5th Wa no Akari x Hyakudan Kaidan art exhibition at its Hyakudan Kaidan, or '100 Steps Staircase'―which was registered by Tokyo Prefecture as a Tangible Cultural Property in 2009 for its exceptional architecture and artistic beauty.
The event will run from July 6 to September 1 and will feature all-new exhibits from 40 independent artists and groups from around Japan: from Aomori in the north to Kagoshima in the south.
Bamboo Artwork by NIITAKE
Participating in the exhibition for the first time is bamboo artist NIITAKE from Nichinan, Miyazaki. His pieces will include entrancing room installations as well as a colourful collaboration with the Nagasaki Lantern Festival which enjoys an incredible one million visitors.
emullenuett: The Sand Art Duo
emullenuet are an up-and-coming duo who create artwork out of sand. The two of them have created some pieces just for this exhibition such as Japanese ranma transoms.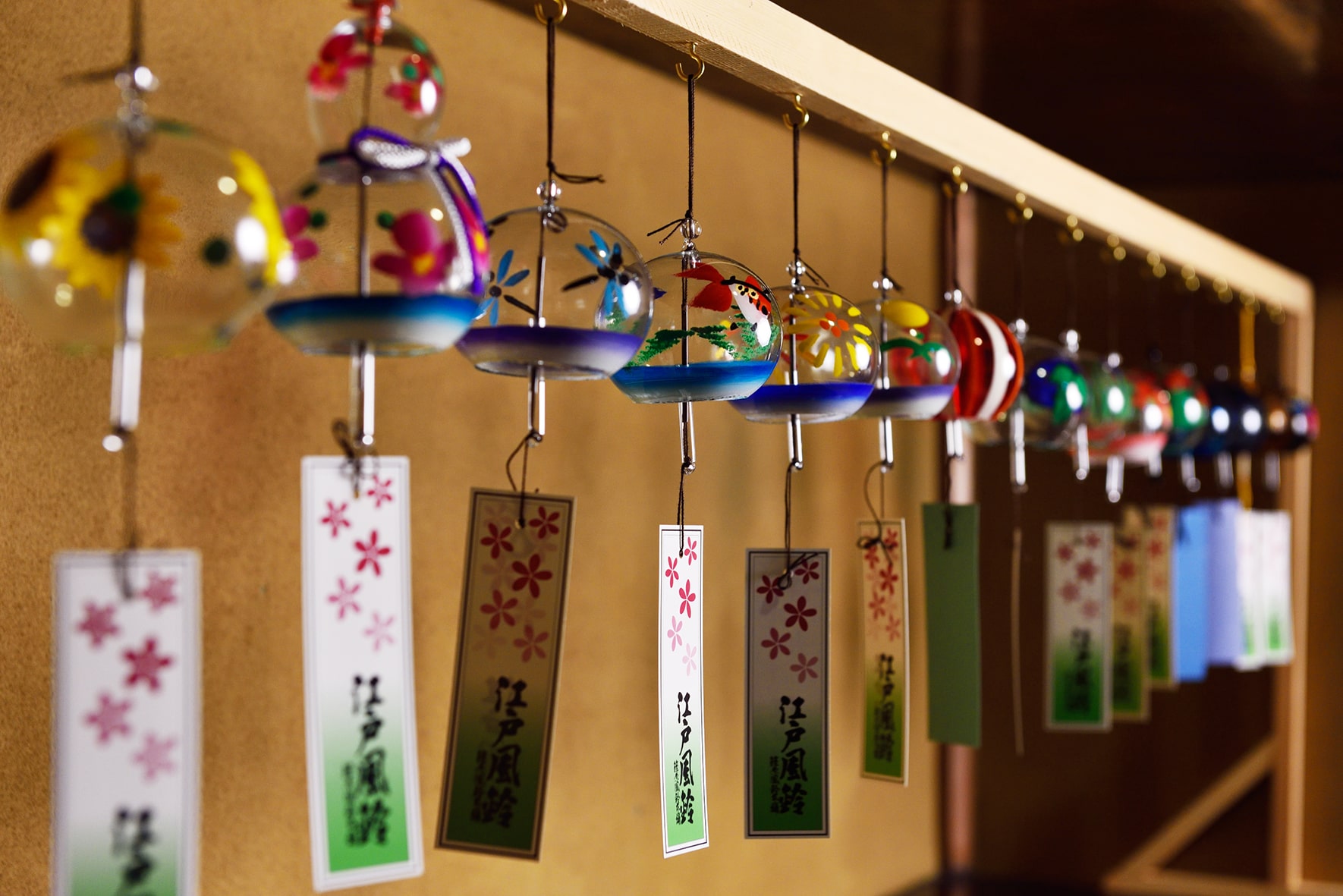 Edo Furin Wind Chimes
This dramatic exhibit will include lacquer work, glass work, metal carving and more by Tokyo Teshigoto―a group backed by the city of Tokyo which is a collaboration between contemporary designers and traditional Edo techniques which aims to pass down theses kills to the next generation. Summertime furin which chimes will also line the showcase with their delicate designs and sounds. Other contemporary artists will also display their work with Japanese-style paper, allowing for visitors to see cultural assets established during the early Showa period.
Aomori Nebuta
This year's exhibition will also see the return of some legends who have enjoyed popularity at previous runs of the event. As you descend the huge mother-of-pearl raden elevator you will be welcomed by an overwhelming assortment of standout pieces.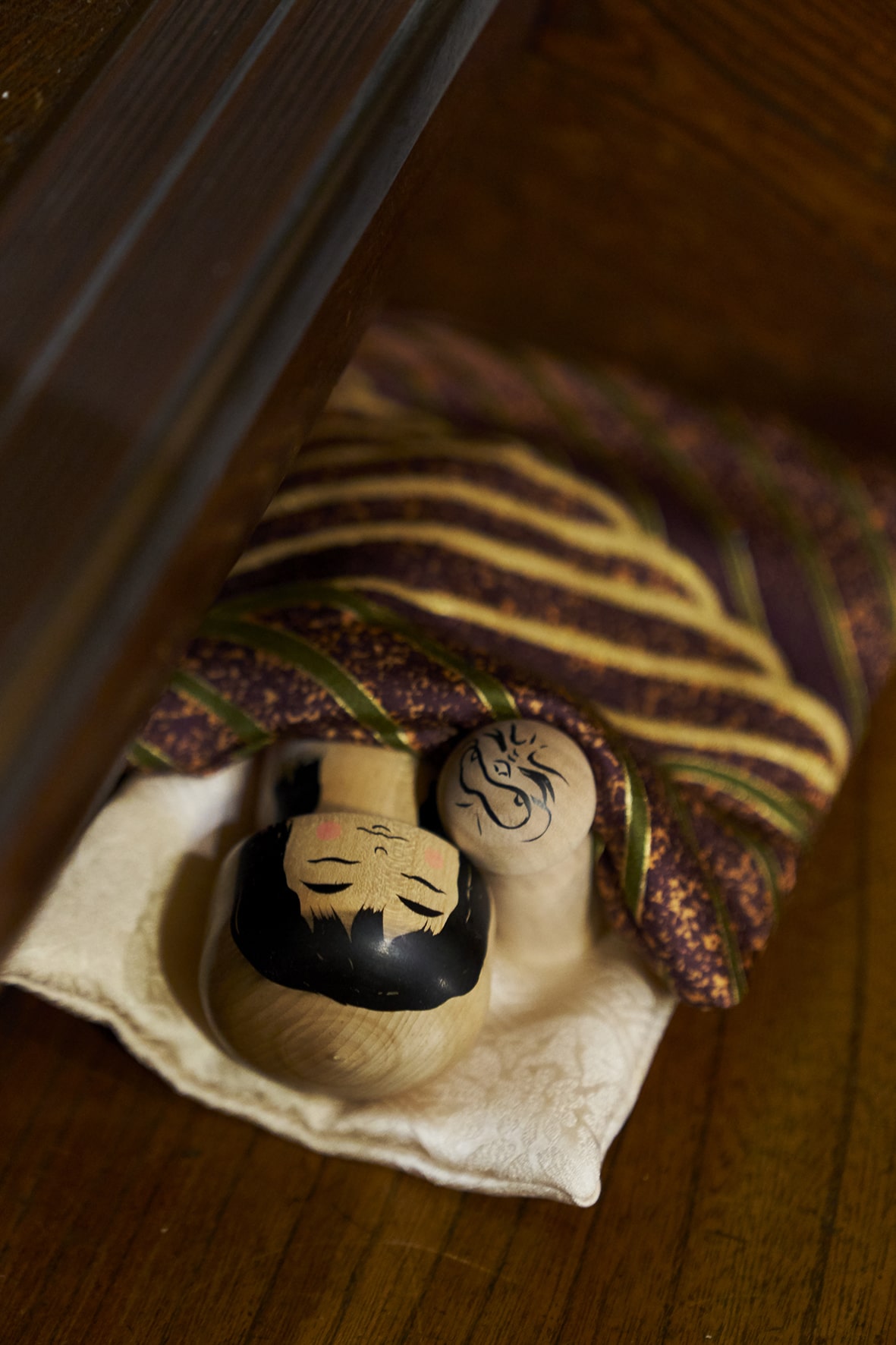 Ishimaki Kokeshi
Other popular names include Tadaharu Kawamura, a sculptor who works with natural materials such as leaves, shells and Japanese lantern cherries, and Takatoshi Hayashi who is known for their kokeshi dolls.
Information
Wa no Akari x Hyakudan Kaidan 2019 ~Kokoro no Shikisai~
Location: Hotel Gajoen Tokyo (1-8-1 Shitameguro, Meguro Ward, Tokyo)
Running: July 6, 2019 – September 1, 2019
Opening Hours: [Sun-Thurs] 10:00-17:00 (Last Entries 16:30) / [Fri-Sat & August 11-18] 10:00-20:00 (Last Entries 19:30)
*Photography allowed (Tripods, flash and photography for business purposes forbidden)
Price: Same-Day ¥1,600 / Advanced ¥1,300 (Special Advanced Price of ¥1,100 Until July 5) / University & High School Students ¥1,200 / Elementary & Junior High School Students ¥600
*Student ID required. Preschoolers permitted free entry.
TEL: 03-5434-3140
Online Tickets: https://www.e-tix.jp/100event/#akari
RELATED ENTRIES
Daidō Moriyama x KAMU kanazawa x Fukumitsuya Collaborate On New Sake 'Lip '

Fukumitsuya Sake Brewery has collaborated with the Kanazawa-based art museum KAMU kanazawa, and prominent Japanese photographer Daidō Moriyama to release a new sake called "Lip <Junmai>" which dropped on Fukumitsuya's online shop and three of their branches on February 22.

100 Bottles Signed by Daidō Moriyama

KAMU kanazawa is a modern art museum which centres on art expressing the culture of Kanazawa. On December 15 last year, the museum opened a new space called the "LIP BAR" which features prints of a close-up photo taken by Moriyama plastered on the walls, ceiling, and surfaces. Lip <Junmai> can be tasted at the LIP BAR from Monday to Saturday at 20:00-Midnight amongst a flurry of other cocktails.

The sake can also be bought online or in-store at Fukumitsuya, with a limited number of just 100 bottles signed by Moriyama himself.

The Sake at a Glance
The sake is an homage to Moriyama; a deep-flavoured junmaishu made with Yamada Nishiki and Kinmon-Nishiki rices.

The Design
The sleek and stylish bottle features a silver label layered with Moriyama's famous lip shot. The regular edition bottles have English on the front and Japanese on the back. The signed edition bottles are signed by Moriyama on the front and have a unique serial number on the back. All the bottles are frosted and bear Fukimitsya's logo. The box design was created by Kanazawa-based art director Katsura Matsuzawa.

Lip <Junmai>

©Daido Moriyama Photo Foundation Courtesy of Akio Nagasawa Gallery

Information

Daidō Moriyama x KAMU kanazawa x Fukumitsuya: Lip <Junmai>

Regular Edition: ¥3,500

Signed Edition: ¥25,000 (100 Bottles)
Released: February 22, 2021

Where: Fukumitsuya Online Shop / Fukimitsuya Kanazawa / Fukumitsuya Tokyo Midtown / Fukumitsuya Higashi

Official Website: https://www.fukumitsuya.com/ext/special/lip_junmai/

Art and Chocolate Melt Together in Chocola Meets Crowdfunder

A new chocolate brand by the name of Chocola Meets has been cooked up in Japan that prioritises bean to bar chocolate made from fairtrade cocoa beans. The brand's USP however lies in its collaboration with artists who pen work for the chocolate's packaging.

16 art pieces created by 4 artists for the craft chocolate packaging

Chocola Meets will begin selling its tasty chocolate collection from mid-March, but for those who can't wait, the brand launched a crowdfunding campaign on February 15 via CAMPFIRE which offers pre-sales.

 

Chocola Meets prides itself on its collaborative business model which provides support to participating artists by giving them a cut of sales. This includes the money made for the crowfunder as well as the proceeds made from chocolate sales.

Sasabe (Chocola Meets, Operations Officer) | Comment

"The concept for Chocola Meets is, 'Meet My Like: Experience What it Feels Like to Find Your Likes.' This is something we value and is the reason why Chocola Meets exists. The reason behind our collaborative business model of Art x Craft Chocolate, something which hasn't been done before, is to continuously offer that very concept – one which holds irreplaceable value. And in order to do that, we needed something that allows the artists to continue living comfortably. So we're giving proceeds from the chocolate to the artists which gives them an incentive to create."

The CAMPFIRE crowdfunder offers pre-sales of the chocolates at a discounted price. There are other benefits too, like framed art by the artists, coupons, and more.

Chocola Meets successfully met their Crowdfunding goal, having raised ¥430,700 of the pledged ¥300,000 (as of February 16, 2021).

The Prince of Tennis 20th Anniversary Celebrated at Niigata Prefecture Manga and Anime Museum

Niigata Prefecture Manga and Anime Museum is currently holding a special event to celebrate the 20th anniversary of the popular manga series The Prince of Tennis. Centred on both The Prince of Tennis and The New Prince of Tennis, the event is running until February 14.

©Takeshi Konomi / Shueisha

The event is a must-visit for fans of the manga series, who will get to enjoy seeing drafts by the author, full-colour manga panels, and more. They can also get their hands on a line-up of original merchandise produced for the event.

Information

The Prince of Tennis 20th Anniversary Exhibition

Japanese Event Title: ~連載20周年記念全国ツアー~ テニスの王子様大原画展「テニスの王子様」×「新テニスの王子様」
Running: January 16, 2021 – February 14, 2021
Venue: Niigata Prefecture Manga and Anime Museum

Address: 2-5-7 Yachiyo, Chuo Ward, Niigata
Opening Hours: [Weekdays] 11:00-17:00 / [Weekends & Holidays] 10:00-17:00
Exhibition Official Website: http://tenipuri.gengaten.com/
Niigata Prefecture Manga and Anime Museum Official Website: http://museum.nmam.jp

Japanese Band DISH// to Promote New Album 'X' With Tokyo Exhibition

The Japanese pop rock band DISH// will celebrate the release of their new album X, which is their first in almost two years, with an exhibition at PARCO FACTORY inside Ikebukuro PARCO in Tokyo from February 13 to 28.

The exhibition will feature a variety of displays related to the new record as well as explanations of the song lyrics in voice recordings by the band members themselves. There will also be a shop set up selling exhibition merch.

X will be released on February 24, 2021.

Information

DISHX EXHIBITION//
Running: February 13, 2021 – February 28, 2021

Time: 11:00-20:00 (until 18:00 on February 28)

Location: PARCO FACTORY

Address: Ikebukuro PARCO Floor 7F, 1-28-2 Minami-Ikebukuro, Toshima-ku, Tokyo
Entry Price: ¥500

*Attendees get a free sticker chosen randomly from 4 possible designs
PARCO FACTORY Official Website: https://art.parco.jp/parcomuseum/

JAPAN 47ARTISTS x CASA FLINE PROJECT Launches Second Collaboration

The "JAPAN 47ARTISTS x CASA FLINE PROJECT," a project by the ethical select shop CASA FLINE, launched its second collaboration on January 28, 2021 which sees the project come together with Nagano-based dyeing artist Katsuyuki Sado.

JAPAN 47ARTISTS x CASA FLINE PROJECT x Katsuyuki Sado Hand Towels | ¥2,800 Each (Before Tax)

The "JAPAN 47ARTISTS x CASA FLINE PROJECT" was set up by CASA FLINE to promote the traditions and artisanal work passed down in Japan for generations from a modern perspective. They do this through the release of products, interviews with craftsmen, releasing rare videos of artisans at work, and more, all to capture the beauty of the craft across Japan.

The project's second collaboration is taking place with the Nagano-based dye artist Katsuyuki Sado who has created a collection of hand towels. He describes the changing of colour in the dye process as similar to the way that sounds, light, wind, water, the seasons, and people change. The hand towels represent Japanese craftsmanship at its finest and make for worthy products for ownership.

Gorgeous Rugs by Artists Release in Collaboration With Bijutsu Techo

OIL by Bijutsu Techo has announced a series of collaborations with artists and the interior brand PACIFICA COLLECTIVES. The first wave of artists include Ai☆Madonna, Keeenue, Komuro Takahiro, and BIEN, whose works will feature at the OIL by Bijutsu Techo Gallery exhibition on the second floor of Shibuya PARCO from January 29 to February 15.

Rug design by Ai☆Madonna

Rug design by Komuro Takahiro

A collection of rugs will be exhibited at the event all of which are handmade in Japan. Available to purchase online through a lottery system, these high quality, Made-in-Japan rugs are sure to add colour to any room in the house.

Strawberry Loaded Afternoon Tea and Strawberry Cocktail to Welcome the New Year at Hotel Gajoen Tokyo

Hotel Gajoen Tokyo, which is a museum and hotel fusion, is serving up a special Strawberry Afternoon Tea and Strawberry Cocktail at its restaurant New American Grill "KANADE TERRACE" from January 6 to February 11 and February 15 to March 19 next year.

Strawberry Afternoon Tea | ¥4,500, with champagne ¥6,200 (1 Person/Before Tax/Service Charge Not Included)

New American Grill "KANADE TERRACE" is known for its afternoon teas, which are made with seasonal ingredients, as well as its cocktails. Their new Strawberry Afternoon Tea will welcome in the New Year with a strawberry and rhubarb tart, strawberry fondue, strawberry and mascarpone soup, and other sweet and savoury selections.

Strawberry Cocktail | ¥1,600 (Before Tax/Service Charge Not Included)

The Strawberry Cocktail is of course made with fresh strawberries as well as mint and soda for a fusion of sweet and tangy. Those who don't enjoy alcohol can rest assured they'll enjoy this alcohol-free cocktail.

Information

Strawberry Afternoon Tea / Strawberry Cocktail
Location: New American Grill "KANADE TERRACE" (Hotel Gajoen Tokyo Floor 1F)
Serving Dates: January 6, 2020 – February 11, 2020 / February 15, 2020 – March 19, 2020)
Serving Times: Afternoon Tea 14:30-17:30 / Cocktail 11:30-21:00
*Serving times are subject to change

*The afternoon tea is available while supplies last

Official Website: https://www.hotelgajoen-tokyo.com/archives/59170

Netflix Series Rilakkuma and Kaoru Gets Exhibition in Tokyo

An exhibition for the popular stop-motion animation Netflix series Rilakkuma and Kaoru will run at SEIBU Ikebukuro in Tokyo from December 27, 2020 to January 5, 2021. Fans of the series can look forward to plunging themselves into its adorable world with recreated sets, statues, photo spots, limited-edition merchandise, and more.

Stop-motion sets and figures used in the animated series

The actual sets and set pieces used for the stop-motion animation will be exhibited at the event including Kaoru's apartment, Rilakkuma who looks like he's about to pop to life, and more.

Stop-motion animation behind-the-scenes

Catch a behind-the-scene glimpse of the efforts put into creating the series including early sketches, character reference, designs, and more.

Take a photo at Kaoru's apartment

Fans of the series won't want to miss out on a special photo spot recreating Kaoru's apartment with Rilakkuma and co waiting to greet you inside.

Over 500 pieces of limited-edition merchandise

Special Replica Plush Toy Korilakkuma With Serial Number | ¥25,300 (300 available in Japan / 200 elsewhere)

Kaoru's Album Post Card Set | ¥1,650

Plush Pouch | ¥2,200 Each

Fans can get their hands on a selection of exclusive limited-edition merchandise, including a replica Korilakkuma plush toy of which only 200 are available, each with its own unique serial number on the foot.

Bonus Items

Designs given randomly

For every ¥5,000 spent in one transaction (tax included), visitors can receive a free original bag. These are available to the first 200 people per day of the exhibition.

© 2020 San-X Co., Ltd. All Rights Reserved.

Information

Rilakkuma and Kaoru Exhibition
Running: December 27, 2020 – January 5, 2021

Location: SEIBU Ikebukuro Floor 7F
SEIBU Ikebukuro Official Website: https://www.sogo-seibu.jp/ikebukuro/

Reborn! Anime Series Now Holding Online Exhibition Until February 2020

Japan's online exhibition service Anique began holding an exhibition on December 10 centred on the popular anime series Katekyō Hitman Reborn!.

Katekyō Hitman Reborn! Riunione

The exhibition welcomes the reunion of the Reborn! characters where they will talk, laugh, and continue the inextinguishable flame that is the Reborn! series.

What's an Online Exhibition?

Anique's online exhibitions take place at a real art museum which you can watch for free on a smart device and PC. The exhibition is divided into different rooms focusing on different arcs and episodes from the Reborn! anime series.

Episode Rooms
[Dec 10-16] Daily Life Arc

[Dec 17-23] Kokuyo Arc
[Dec 24-Jan 6] Varia Arc

[Jan 7-20] Future Arc

[Jan 21-Feb 3] Future Final Battle Arc

[Feb 4-17] All Episodes Exhibit

*Dates subject to change

Fans of the series can come together to comment their love for the series as well as get on group chats. Original artwork has been drawn for the exhibition, and there's even exclusive merchandise.

Event

The exhibition is currently holding a fan vote for their favourite scenes from the anime series. Winning scenes will be chosen to be displayed at the exhibition.

Voting Dates: December 10, 2020 – December 21, 2020

Exhibition Limited Edition Collection

Fans can remember the exhibition by getting their hands on one of the exclusive items available.

Reborn! Exhibition Exclusive Illustrations (7 Designs) | ¥34,000

7 illustrations have been drawn exclusively for the exhibition and framed. Fans who buy one will also receive a special certificate from the exhibition organisers, Anique.

Reborn! Exhibition Premium Rose Juice & Vongole Glass Set (8 Designs) | ¥12,000

Drink in style with an specially-made rose juice and gorgeous wine glass made in Italy. The bottle's label features illustrations of the anime characters.

Reborn! Exhibition Smartphone Cases (8 Designs) | ¥3,500

Deck your phone out with one of these 8 Reborn! character cases.

©︎天野明/集英社・テレビ東京・リボーン製作委員会

teamLab Borderless Shanghai Opens Museum Shop Selling Eco-Friendly Folding Rice Bag

Art collective teamLab opened a shop at their Shanghai-based art museum teamLab Borderless Shanghai on Saturday (December 5). teamLab Borderless Shanghai opened its doors in Huangpu, Shanghai, in November 2019, displaying around 50 pieces of artwork by teamLab. The company's Borderless project is a 'world of artworks without boundaries, a museum without a map.'

The museum's new shop sellings a variety of items, from stickers to postcards to the official teamLab Folding Rice Bag. More items are scheduled to be added to the stock in the future.

teamLab Folding Rice Bag

The eco bag can be folded up and stored when not in use. It's a 30kg rice bag that was acquired directly from the farmer, originally used for storing rice before milling and would normally be discarded after use. It's traditionally used to store and sell rice. Still present in the Japanese countryside today, these bags are made of strong, durable materials that protect the rice inside from moisture and damage. The bag is made of paper, and it can be folded up and stored in your pocket for use at any time.

Information

teamLab Borderless Shanghai
Address: Unit C-2 No 100, Hua Yuan Gang Road, Huangpu, Shanghai

Museum hours are temporarily shortened as below:

Monday:

Closed.

Tuesday to Friday:
10:30 – 18:00 (last entry 17:00)

Saturday, Sunday and public holidays:
10:30 – 20:00 (last entry 19:00)

Official Website: https://borderless.teamlab.art/shanghai/

Tokyo Ghoul Author Sui Ishida's Tokyo Exhibition Reveals Key Visual

Sui Ishida, the author of the internationally celebrated manga series Tokyo Ghoul which has shipped over 44 million copies worldwide, is getting his first ever large-scale exhibition next year. Titled "Sui Ishida Exhibition [Tokyo Ghoul JACK JEANNE]," the event is set to take place at Sunshine City in Ikebukuro, Tokyo from February 6, 2021 to March 7, 2021 before moving to Fukuoka Asian Art Museum on April 10 where it will run until May 16.

The first key visual for the event has been unveiled which Ishida drew himself for the exhibition. It features the protagonist of his Tokyo Ghoul series Ken Kaneki as well as Kisa Tachibana from his upcoming game JACK JEANNE.

The exhibition is a place to discover all things Sui Ishida and will focus on his career from zero to the spawn Tokyo Ghoul and his upcoming game Nintendo Switch title JACK JEANNE which he designed the characters, created the storyline, illustrations and scenarios for. There will be a range of exhibits, illustrations, and more to see.

Pre-sale tickets to the exhibition were released on Thursday (December 10) via the official websitw. The exhibition will be carrying out capacity restrictions each day in response to the COVID-19 pandemic.

The exhibition is a must-see for fans of the author's work.

©Sui Ishida/SHUEISHA ©Sui Ishida/BROCCOLI
*Nintendo Switch is a trademark of Nintendo.

Information

Sui Ishida Exhibition [Tokyo Ghoul JACK JEANNE]

Tokyo

Venue: Sunshine City Exhibition Hall A
Running: February 6, 2021 to March 7, 2021

Times: [Weekdays] 13:00-20:00 / [Weekends & Holidays] 10:00-20:00

Fukuoka

Venue: Fukuoka Asian Art Museum
Running: April 10, 2021 – May 16, 2021

Exhibition Official Website: https://www.ishidasui-ten.com

BUSTERCALL = ONE PIECE Exhibition to Take Place at Yokohama ASOBUILD

The BUSTERCALL Project is holding a One Piece themed exhibition called BUSTERCALL = ONE PIECE Exhibition at Yokohama ASOBUILD from November 20 to December 27 at Yokohama ASOBUILD. BUSTERCALL is a project formed of 200 artists and creators around the world to deliver events and exhibitions centred on the popular manga and anime series One Piece.

At BUSTERCALL = ONE PIECE Exhibition, fans can pick up a range of merchandise as well as make their own original T-shirts at the workshop.

Original Emblem: ¥1,000 (Tax Included) *27 designs

Original T-Shirt: ¥3,500 (Tax Included)  WHITE/BLACK SIZES: S/M/L/XL

 Fans can make their own original emblems which can be attached to one of 27 different T-shirts.

One Piece fans can also get their hands on a selection of apparel, figures, and other pieces of merchandise, some of which will also be available to buy online in Japan. Some creators are also selling special items in limited quantities.

Original Sticker

All fans who visit the art exhibition will get a free original sticker too.

Information

BUSTERCALL = ONE PIECE Exhibition

Venue: ASOBUILD Floor 2F ALE-BOX
Address: 2-14-9 Takashima, Nishi-ku, Yokohama, Kanagawa

Running: November 20, 2020 – December 27, 2020
Opening Hours: 10:00-20:00 (Last Entries 19:00)

Entry: Free
Official Website: https://jp.bustercall.com