Come Try These Tasty Matcha Meals and Desserts at OMATCHA SALON ー Coming Soon to Ikebukuro PARCO, Tokyo
From June 20, a new matcha tea shop will open on 8th floor of Ikebukuro PARCO Main Building (the restaurant floor). The OMATCHA SALON uses uji matcha green tea purchased from an old and traditional Kyoto shop called Kitagawa Hanbee Syouten.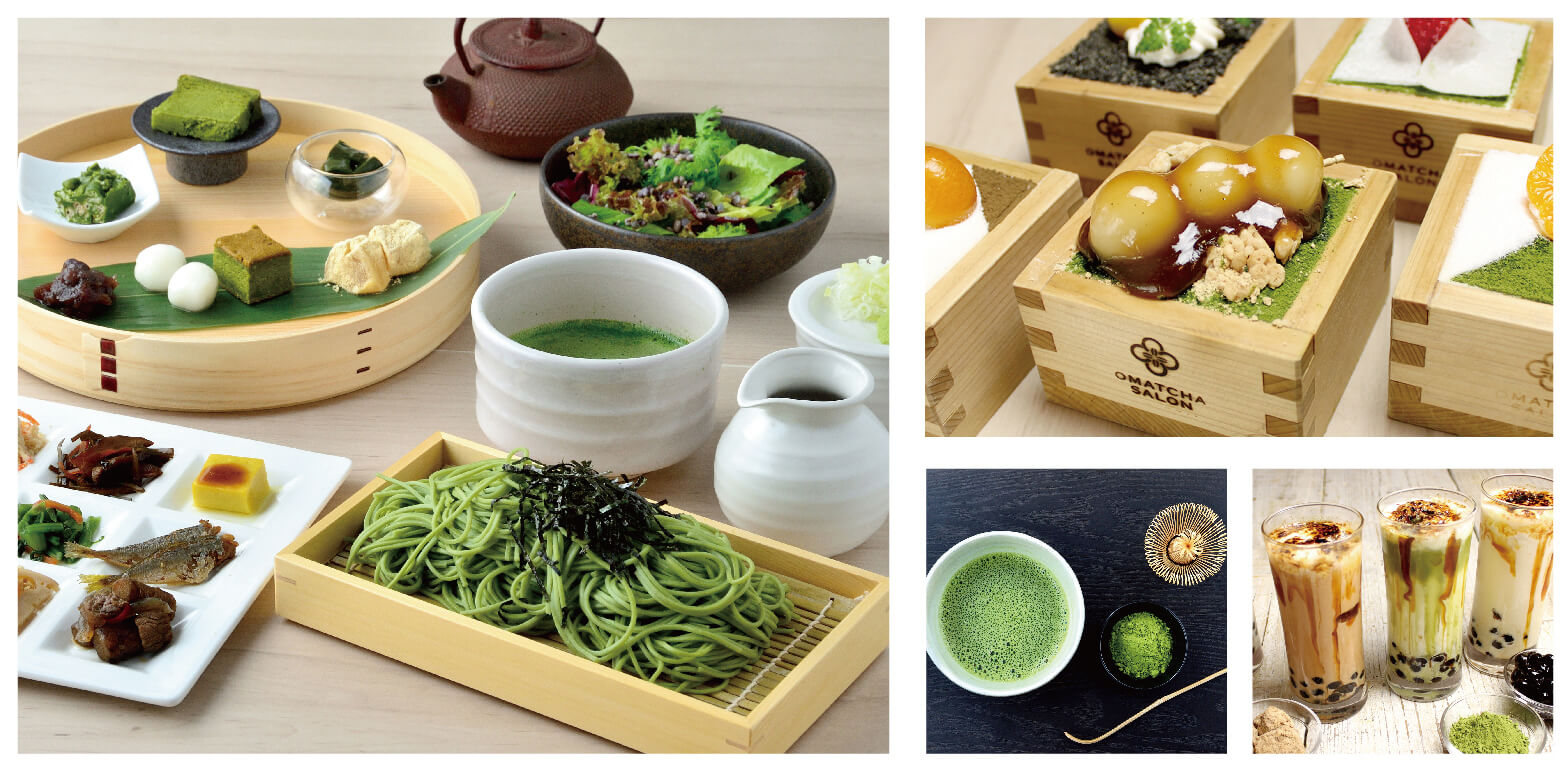 Their famous Matcha Soba Seiro comes in 14 varieties. (Seiro is a cold noodle dish served with a warm dipping sauce). Along with the grand opening, OMATCHA SALON also announced the release of a curry and uji matcha soba noodle menu that is bound to be loved by everybody. The curry is to be served risotto-style with cheese and cha soba* made with Japanese-style dashi stock and then cooked in a porcelain dish.
 *Cha soba is thin Japanese soba noodles that are infused with green tea.
The menu also features a detox salad cha soba which is served with a range of vegetables and assorted grains that are high in nutrients which are good for detoxing.
Other kinds of cha soba include the thick-sliced bacon carbonara cha soba which is made with a rich and creamy sauce, aromatic bacon and an onsen egg, which has a thicker yolk and runnier egg white.
There are also five tongue-tantalizing desserts, bubble tea made with fresh tapioca pearls, and much more. The desserts menu includes the Kitagawa Hanbee Syouten Mitarashi Dango which is a skewered rice dumplings in a sweet soy glaze and served with tiramisu which is made from mascarpone cream and uji matcha. There is also a tiramisu served with strawberry daifuku (rice cake stuffed with bean jam).
You should also check out the Ikebukuro-limited menu that serves Kogashi flour muscovado shaved ice.
As soon as you enter the OMATCHA SALON, you will notice a teakettle in the "CHASHITSU" where you can watch the finest selection of matcha tea being made before your very eyes. If you are looking for a place to take a relaxing break from your busy day, look no further than the OMATCHA SALON, Ikebukuro, PARCO.
Information
OMATCHA SALON Ikebukuro PARCO
Location: 8th floor Ikebukuro PARCO main building
Address: 1-28-2, Ikebukuro, Minamiikebukuro, Toshima City,
Opening Hours: 11:00 ー 23:00 (Last orders: food: 22:00, drinks: 22:30) 
TEL: 03-5927-1133
OMATCHA SALON Official Website: https://omatcha-salon.jp/
RECOMMENDED ENTRIES
Häagen-Dazs uses first tea pick of the season to make luxurious matcha and hojicha tea ice creams!

Häagen-Dazs Japan is releasing the matcha-flavoured crispy sandwich ice cream Green Tea Crème brûlée and a Japanese tea-flavoured latte ice cream in a mini cup called Hojicha latte. These two new ice cream flavours will be released on Tuesday 21st May countrywide at the same time for a limited period.

Green Tea Crème brûlée crispy sandwich ice cream (for a limited time only ) ¥272 (RRP before tax) 

The matcha crème brûlée made from matcha custard and caramel is the perfect flavour combination. This is encased in two crispy wafers. The rich aroma of matcha and the high quality sweetness is complemented with the creamy custard of the crème brûlée and provides a rich flavour for you to enjoy. A generous amount of caramel powder is used to create a deep-flavoured crème brûlée caramel. After biting through the crispy, fragrant wafer you will reach the subtle bitter flavour of the caramel.

Mini Cup Hojicha latte (for a limited time only ) ¥272  (RRP before tax) 

Two types of hojicha tea latte swirl together with a maple finish. You can enjoy the real taste of tea leaves and their delicious aromatic flavour. This ice cream became very popular when it was sold in 2017. It was made using leaves from the first pick of the tea season. These leaves are less bitter and less acidic, so you can enjoy the elegance of the tea along with the luxurious flavour of the milk. Both of these combined create an exquisite flavour. The temperature of the water in which the tea is brewed and the time it is brewed for has been carefully managed to produce a clear, refreshing aftertaste whilst maintaining the highly aromatic hojicha fragrance.  

Indulge in these two exquisite  Häagen-Dazs ice creams filled with carefully balanced flavours.

Information

Häagen-Dazs Matcha Crème brûlée (for a limited time only)

Launch: Tues 21/05/2019
Available at: Supermarkets countrywide, convenience stores, department stores, etc

Häagen-Dazs special edition website: https://www.haagen-dazs.co.jp/green_tea_creme_brulee/

 

Häagen-Dazs Hojicha latte (for a limited time only)

Launch: Tues 21/05/2019
Available at: Supermarkets countrywide, convenience stores, department stores, etc

Häagen-Dazs special edition website: https://www.haagen-dazs.co.jp/houjicha_latte/

Matcha & Hydrangea Festival 2019 Held by Green Tea Store Itohkyuemon

Uji-based green tea store Itohkyuemon is set to hold its Matcha x Hydrangea Matsuri 2019 in line with the hydrangea season until the end of June.

The main branch of Itohkyuemon in Uji is close to Mimuroto Temple, a temple famous for its hydrangea foliage visited by countless tourists during the rainy season. During this season, customers can be waiting up to 3 hours to enter the cafe. Last year, there were even days where they were closed by noon.

Hydrangea Parfait: Single – ¥1,280 (Tax Included) / Tea Set – ¥1,680 (Tax Included) / Yuzu Shizuku & Matcha Set – ¥1,980 (Tax Included)

The promotional video for Itohkyuemon's Hydrangea Parfait garnered over 1.5 million views on their official Twitter page. It is the season's No. 1 parfait, made with matcha hydrangea kinton, crushed hydrangea-coloured jelly, leaf-shaped matcha cookies, blueberries and more. This year, the shop introduces its new Yuzu Shizuku & Matcha Set.

Hydrangea Panna Cotta: ¥540 (Tax Included)

Matcha Hydrangea Kinton: ¥777 (Tax Included)

A variety of hydrangea-themed sweets and desserts will also be available to purchase and can be enjoyed in the cafe or ordered for takeout. This includes the Hydrangea Panna Cotta which sold out last year, the Matcha Hydrangea Kinton and more. All these treats are available in limited quantities.

Information

Hydrangea Parfait

Available: Now until end of June 2019

Branches: Uji Main Store / JR Uji Station Store

Hydrangea Panna Cotta

Available: Now until end of June 2019

Branches: Uji Main Store

Matcha Hydrangea Kinton

Available: Now until end of June 2019

Branches: Uji Main Store / JR Uji Station Store / Kyoto Station Store

Itohkyuemon Official Website: https://www.itohkyuemon.co.jp/corporate/

Uji Matcha Masters Tsujiri Release Summertime Soda and Parfait

Tsujiri―a tea chain specialising in Uji matcha tea―just released its refreshing new Matcha Yuzu Soda and ice cream and fruit Tsujiri Soft Summer Parfait on May 16 at five branches including Kyoto and Ginza. These are available for a limited time only.

Matcha Yuzu Soda (Left) / Tsujiri Soft Summer Parfait (Right)

The soda contains pieces of fresh yuzu, honey and bittersweet Uji matcha, all of which come together to create a striking colour combination. The refreshing summer parfait is an assortment of rich matcha flavoured soft serve ice cream, agar, apricot, and mashed sweet bean paste.

If you're looking for a way to combat Japan's hot summer heat then be sure to pick up one of these coolers during your shopping trip and sightseeing.

Information

Matcha Yuzu Soda

Price: ¥490 (Ginza Branch) / ¥432 (Kyoto Branch, Kyoto Tower Sando Branch, EKI MARCHÉ OSAKA Branch, arde! Shin-Osaka Branch)

Tsujiri Soft Summer Parfait

Price: ¥880 (Ginza Branch) / ¥670 (Kyoto Branch, Kyoto Tower Sando Branch, EKI MARCHÉ OSAKA Branch, arde! Shin-Osaka Branch)

Tsujiri Ginza
Address: GINZA SIX Floor B2F, 6-10-1 Ginza, Chuo Ward, Tokyo
Business Hours: 10:30-20:30
No Fixed Holidays
TEL: 03-6263-9988

Tsujiri Kyoto
Address: 215 Nakanocho Shijodori Yamato-oji Nishi Iru, Higashiyama Ward, Nakagyo, Kyoto
Business Hours: 11:00-20:00
No Fixed Holidays
TEL: 075-551-0220

Tsujiri Kyoto Tower Sando 
Address: Kyoto Tower Sando, 721-1 Higashishiokojicho, Shimogyo Ward, Kyoto
Business Hours: 9:00-21:00
No Fixed Holidays
TEL: 075-744-6417

Tsujiri EKI MARCHÉ OSAKA
Address: JR Osaka Station MARCHÉ OSAKA, 3-1-1 Umeda, Kita Ward, Osaka
Business Hours: 10:00-22:00
No Fixed Holidays
TEL: 06-6348-0058

Tsujiri arde! Shin-Osaka
Address: JR Shin-Osaka Station arde! Floor 2F, 5-16-1 Nishinakajima, Yodogawa Ward, Osaka
Business Hours: 10:00-21:00
No Fixed Holidays
TEL: 06-6379-3399

Tsujiri Official Website: http://www.tsujiri.jp

New shop on the block GRAN CHA makes brand new must-have Nara souvenir: Matcha daifuku!

Yamatocha is a type of green tea famously produced in Nara prefecture. It is said to be the origin of Japanese tea. With the ambition of creating a new kind of go-to souvenir that represents Nara prefecture, Yamatocha daifuku shop GRAN CHA will open on 28th April 2019.

*Side note*: Daifuku is a type of traditional Japanese sweet consisting of a rice cake filled with a delicious creamy filling.

Tea culture is said to have been started in Japan during the Heian period (794-1185) when Japanese missions returned from China's Tang Dynasty with tea seeds. Yamatocha seeds are planted more than 300m above sea level in cold highland. They are raised patiently so that they produce a wonderful aroma and the leaves maintain its juicy and aromatic flavours. These are the key characteristics of Yamatocha that make it so wonderful.

GRAN CHA struggled to find a method of maintaining the wonderful aroma of Yamatocha. After a lot of trial and error, the shop finally managed to produce daifuku that allows customers to enjoy a new matcha aroma as a result of different concentrations of matcha.

The daifuku is filled with only the ingredients for Yamatocha. GRAN CHA created five different strengths of matcha daifuku on a scale of 1 ー 5 in order of matcha strength. GRAN CHA put themselves up for the challenge of making their number 5 matcha daifuku the strongest matcha daifuku in Japan.

GRAN CHA even prepared a version of their matcha daifuku that comes on a skewer, making it easy for you to eat while on the move. You can also enjoy the traditional Japanese atmosphere of the interior of the cafe. They've even gone as far as to make an original daifuku shaved ice treat which is only available for a limited period!

Looking to take a breather during your Nara trip? Come refresh yourself with matcha daifuku! ♪

Information

Yamatocha daifuku specialist shop GRAN CHA

Address: 22, Higashimuki Nakamachi, Nara

Access: 3-minute walk from Kintetsu Nara Station

Opening hours: 10 am ー 5 pm

Shop information:  https://grancha-nara.com/

Try These Mouth-Watering Cherry Daifuku Sweets Made With Seasonal Cherries ♡

Kofukudo has been selling delicious and elegant Japanese sweets for over 140 years. From June 14, they will release a new season-limited flavour of their popular *daifuku. The season-limited sweet will be called Sakuranbo Daifuku. (Cherry Daifuku).

*Daifuku is a type of round, sweet mochi dough that is traditionally filled with a sweet filling such as red bean paste.

Cherry Daifuku: ¥270 each (after tax)

These daifuku are made using the seasonal Sato Nishiki cherries which are at their peak harvest time in June. This means that this is the only season where you can truly enjoy the beautiful flavour of this cherry. After extensive trial and error, a wonderfully balanced daifuku was created. The white bean jam has a mild sweet scent of cherry. Paying the slightest attention to detail, the sweet was carefully crafted in order to fully extract the fresh and juicy flavour of the cherries whilst preserving their high quality sweetness. A cherry casually sits on top of the white mochi of the daifuku. You just won't be able to resist taking pictures of this cute treat. 

This is perfect to set out on the dining table at a party. These seasonal sweet treats would also make the perfect gift when visiting a friend.

Take a light bite of luxurious daifuku to experience the best of traditional Japanese sweets.

Information

Sakuranbo Cherry Daifuku

Price: ¥270 each (after tax)

※ This product may not be available at all Kofukudo shops. The limited sales period, the contents of the product and the price may vary from shop to shop.

Kofukudo Official Website: https://www.kakiyasuhonten.co.jp/cate/brand/?c=001006001
RELATED ENTRIES
Hamtaro Cafe 2020 to Open in Tokyo, Saitama, and Osaka

LEGS COMPANY has announced that it will open three cafes based on the popular Japanese character Hamtaro in Tokyo and Saitama on July 30 and Osaka on July 31.

Hamtaro is a manga and storybook series created and illustrated by Ritsuko Kawai. The series began serialisation in 1997 and an anime adaptation first broadcast back in 2000. More than 20 years later, Hamtaro continues to enjoy much popularity in Japan.

Hamtaro Cafe 2020 will be themed around sunflowers and the sea, and will serve up a fun experience perfect for the hot summer. The Ham-Hams have come out of their Clubhouse to pay a visit to the seaside and enjoy the sun. There will be sunflower and ocean themed food, drinks, and desserts for everyone to munch on.

Yakisoba On Beach Hut Sunflower Bread: ¥1,499

A plate of yakisoba and egg arranged to look like a sunflower, with Hamtaro sat right in the middle.

Cone Cappy Hide and Seek Ice Cream Parfait: ¥1,399

Cappy is wearing a cone on his head and is hiding amongst the ice cream, chocolate banana, and fresh mint.

Ham Ham Glass Drinks: Drink Only – ¥789 Each / With Glass – ¥1,789 Each

There are two drinks to choose from: the orange flavoured Hamtaro and the yogurt flavoured Bijou.

Vinyl Pouch: ¥1,300


Mascot Keyring Hamtaro: ¥1,550

The cafe will also sell a range of exclusive merchandise too, which is scheduled to be available for online purchase as well in Japan.

Ham-Ham Fans (14 Designs)


Original Coasters (15 Designs)

Those who dine at the cafe will receive a free Ham-Ham fan, and if you order a drink you'll get a coaster too.

©Ritsuko Kawai / Shogakukan

Information

Hamtaro Cafe 2020

Booking Price: ¥500 (4 people max per booking) *Comes with free gift

Tokyo: TOKYO BOX cafe&space / July 30, 2020 – September 6, 2020

(Address: Tokyo Solamachi Floor 1F East Yard 8, Tokyo Skytree Town, 1-1-2 Oshiage, Sumida-ku, Tokyo)

Saitama: BOX cafe&space / July 30, 2020 – September 27, 2020
(Address: AEON Laketown kaze Lake Town Gate 1F, 4-2-2 Koshigaya, Saitama)

Osaka: Shinsaibashi contact / July 31, 2020 – August 16, 2020

(Address: 1-6-24 Kitahorie, Nishi-ku, Osaka-shi, Osaka Prefecture)

Official Website: https://hamutarocafe.sho.jp/

Hello Kitty Cafe to Open in Narita Airport's Anime Deck This July

KADOKAWA is set to open a Hello Kitty themed cafe on the Narita Anime Deck—which is located on the Main Building second floor of Narita International Airport Terminal 2—for a limited time from July 3, 2020 to October 2, 2020.

The Narita Anime Deck

The Narita Anime Deck opened inside Narita International Airport Terminal 2 in November 2019. It's an entertainment facility where travellers from around the world can experience and enjoy Japanese anime culture in various forms such as with character merchandise, food, events, and a variety of photo spots.

Hello Kitty Cafe

The facility has collaborated with numerous anime series to open up limited-time cafes since it opened. This time around it is joining paws with Hello Kitty, a face known to all across the globe. As well as themed food, drinks and merchandise, customers can take a Hello Kitty quiz, learn the history behind Hello Kitty, and more.

An Original Food Menu


Hello Kitty's Lovely♡ Pink Curry: ¥1,500


Hello Kitty's Gurakoro Burger: ¥1,500


Hello Kitty's Strawberry Pancake: ¥1,400


Hello Kitty's Strawberry Parfait: ¥1,200

An Original Drinks Menu

The incredible drinks menu is diverse, including lattes where you can get 46 different latte art designs of Hello Kitty from 1974-2019. It could be fun to pick your birth year, or a year where you have fond memories.

Hello Kitty's Colourful Tapioca Drinks (Matcha Milk/Strawberry Milk/Milk Tea): ¥720 Each

 
Hello Kitty's Marshmallow Coffee: ¥800


Hello Kitty's Latte (46 Designs): ¥720 Each

Novelties

For every item you order from the collaboration menu, you can also receive one of 46 possible original coasters once again featuring a different design of Hello Kitty between the years 1974-2019.

1st Line-Up: July 3, 2020 – August 2, 2020


2nd Line-Up: August 3, 2020 – September 2, 2020


3rd Line-Up: September 3, 2020 – October 2, 2020

If you're travelling through Narita Airport anytime this year up to October, then be sure to head on up to the Narita Anime Deck to dine at the Hello Kitty Cafe.

© 1976, 2020 SANRIO CO., LTD. APPROVAL NO. L611439

Mobile Game BanG Dream! Girls Band Party Gets Themed Cafe in Tokyo, Osaka, & Nagoya

LEGS COMPANY is opening three cafes in Tokyo (Ikebukuro), Osaka (Umeda), and Aichi (Nagoya) based on the popular mobile game Game BanG Dream! Girls Band Party for a limited time from July 31, 2020.

Game BanG Dream! Girls Band Party is a rhythm and adventure mobile game that was released in Japan in 2017. It is part of Bushiroad's "BanG Dream!" music media franchise which is centred on all-female bands.

Since summer 2017, LEGS COMPANY has opened themed cafes based around the game every year. 2017 saw the cafes focus on the vocalists of the bands in the game. In 2018, it was the keyboardists and DJs, and last year the drummers. Each theme brought with it illustrations and decorations created specifically for the cafes, as well as a food menu inspired by the characters, original merchandise, and more.

This year marks the 4th run of the annual summer cafe which will hit Tokyo, Nagoya, and Osaka. The theme this time around focuses on the seven main bands from the game. Seven characters from the bands, including one from a new band, will welcome fans in the form of kawaii-packed dishes, drinks, and desserts.

Yamabuki Bakery's Mini Croissant Plate (Poppin'party): ¥1,590 (Before Tax)


Kitazawa Butcher's Stamina Croquette Curry (Hello, happy world!): ¥1,490 (Before Tax)

All of the main dishes on the menu are colourful and vivid, plated with hearty portions of delicious and nutritional goodies.

Strawberry Rock Parfait (Afterglow): ¥1,290 (Before Tax)


Colourful Doughnut Sandwich (Pastel*Palettes): ¥1,290 (Before Tax)

This gourmet dessert is topped with fruit, so gorgeous it seems a waste to eat.

Grape: ¥890


Ramune: ¥890

There are colourful drinks too with each colour representing a different band. Support your favourite band by getting a glass!

Pin Set 2020 ver. (7 Designs): ¥3,100


Canvas Art (7 Designs): ¥3,500 Each


Birthday Pins (4 Designs): ¥650 Each

Fans can get their hands on plenty of exclusive merchandise too, and there's even birthday items and food available too.

Online Birthday Cake (4 Designs): ¥3,850 Each (+¥950 shipping fee)


Cushions (22 Designs): ¥3,800 Each

You can even order your own special birthday cake in Japan from the cafe, and they're not short on exclusive merchandise.

©BanGDream! Project ©Craft Egg Inc. ©bushiroad All Rights Reserved.

Information

Game BanG Dream! Girls Band Party Cafe 2020
Tokyo

IKEBUKURO BOX cafe&space / July 31, 2020 – September 6, 2020
Address: Matsumoto Kiyoshi Ikebukuro Part 2 (Floor 4F), 1-22-8 Higashi-Ikebukuro, Toshima-ku, Tokyo

Osaka

UMEDA BOX cafe&space / July 31, 2020 – September 6, 2020
Address: Umeda LOFT (Floor 1F), 16-7 Chayamachi, Kita-ku, Osaka, Osaka Prefecture

Aichi

NAGOYA BOX cafe&space / July 31, 2020 – August 30, 2020
Address: LACHIC (Floor B1F), 3-6-1 Sakae, Naka-ku, Nagoya, Aichi Prefecture

Booking Price: ¥650 (Before Tax) *Max 4 people per booking, comes with gift

Game BanG Dream! Girls Band Party Cafe 2020 Official Website: https://bang-dream-cafe.jp/

New Kaguya-sama: Love Is War Themed Menu Arrives in Akihabara

Royal Host, a family restaurant in Akihabara, is collaborating with the popular TV anime series Kaguya-sama: Love Is War to serve two different menu line-ups. The first is currently running right now until July 5, which we covered recently. This time we'll be taking a look at the upcoming second menu which will be served from July 6.

Kaguya-sama: Love Is War is a romantic comedy manga series written and illustrated by Aka Akasaka. A 12-episode anime adaptation premiered in January. The series's collaboration with Royal Host last year was such a success that the restaurant chain decided to bring it back again.

2nd Collaboration Menu


Five items make up this second Kaguya-sama: Love Is War x Royal Host menu.

~I Wanna Feed Miyuki Shirogane~ Kaguya Shinomiya's Handmade Pasta: ¥1,800 (Before Tax)

A tomato cream pasta topped with salted salmon roe and seafood, and served with a side of salad and garlic bread.

~Save the Student Council~ Student Council Member's Bonding Curry: ¥1,800 (Before Tax)

Butter rice topped with curry, spinach, melted cheese, boiled egg, and spicy onion rings. Served with a side of salad and mango dessert.

~Kaguya Shinomiya is Happy~ Kawaii Strawberry Parfait: ¥800 (Before Tax)

Bright-red sweet and sour strawberry sorbet topped with fresh strawberries.

~I Wanna Befriend Kei Shirigane~ Blue Lychee: ¥500 (Before Tax)

Lychee-flavoured soda topped with whipped cream.

~I Wanna Make Ai Hayasaka Feel Better~ Lonely Person's Cheesecake: ¥580 (Before Tax)

A slice of cheesecake drizzled in blueberry sauce.

When you order from this second collaboration menu you will receive a free and exclusive coaster.

Mug: ¥1,580 (Before Tax)


Before Tax: ¥3,500

There's also a selection of exclusive merchandise for fans to get their hands on too, like a mug, cushion, or acrylic stand.

©Aka Akasaka / Shueisha・Kaguya-sama: Love Is War Production Committee

Information

Royal Host Akihabara
Address: 4-5-4 Sotokanda, Chiyoda Ward, Tokyo

1st Collaboration Menu : June 13, 2020 – July 5, 2020

2nd Collaboration Menu: July 6, 2020 – July 30, 2020

Time: 11:00-22:00 (Last Orders 22:00)

Official Website: http://www.royal-holdings.co.jp/

Ikebukuro's Sunshine Aquarium to Open Magical New Jellyfish Area

Sunshine Aquarium in Ikebukuro, Tokyo is set to open its brand new jellyfish area as part of the aquarium's third major renovation on July 9, 2020.

Jellyfish Panorama Tank

Two tanks will grace this area: the magnificent moon jellyfish will dance across the 14-meter wide "Jellyfish Panorama" tank, while sea nettle jellyfish, which are known for their long tentacles, will swim in the "Jellyfish Screen."


The jellyfish exhibit already in Sunshine Aquarium is also being renovated, with gorgeous new flooring and walls being put in place. Six tanks will be housed here, including the 360° "Jellyfish Tunnel," "Jellyfish Loop," "Jellyfish Drop," and "Jellyfish Dream."

A Spectacular Performance of Music, Smells, and Lighting

The new jellyfish area will feature original sounds newly recorded to capture the vibe of the jellyfish's movements. There will also be special fragrances you can smell, as well as beautiful lighting that twinkles like the swaying of the water. All of this serves to make visitors feel calm and relaxed.

Exclusive Tully's Coffee Beverage

T's Splash Nata de Coco in Oasis: Have-In ¥649 / Takeout ¥637

This refreshing carbonated drink is inspired by jellyfish filled with lemon flavoured nata de coco coconut jelly. Exclusive to Sunshine Aquarium, the drink comes with one of four possible special jellyfish straw flags.

Grand Opening Commemoration Products

High Grade Jellyfish Confection: ¥400

Limited in stock, this confection was made in collaboration with Ikebukuro's long-stand confectionery shop Ikebukuro Miharado and also under the guidance of the aquarium's jellyfish staff.

Jellyfish Konjac: ¥972

Konjac shaped just like real jellyfish.

Grand Opening Commemoration Menu

Jellyfish Cold Greens: ¥1,100 / CHUKA SHUNSAI RYOURI・HINABE SHU (Alpa Floor 3F)


Blue Hawaii Tiny Aquarium & Jellyfish Jelly: ¥495 AGIO (Alpa Floor 3F) *15 served per day

Select restaurants in Sunshine City Alpa will also serve up some limited-time jellyfish-inspired dishes and drinks from July 9 to celebrate the opening of Sunshine Aquarium.

Information

Sunshine Aquarium
Address: Sunshine City World Import Mart Bldg. Rooftop, 3-1 Higashiikebukuro, Toshima Ward, Tokyo
Opening Hours: 9:30-21:00 (until September 10) / 10:00-18:00 (from September 11)

Entry Price

General (High School Students and Older) ¥2,200 (¥2,400 from July 9)

Children (Elementary & Junior High School Students) ¥1,200

Infants (Aged 4+ Years): ¥700

Official Website: https://sunshinecity.jp/

*Photos are for illustrative purposes only. All listed prices are tax-inclusive.

Natsume's Book of Friends Exhibition to Take Place at Animate Ikebukuro in Tokyo

The Animate Ikeubkuro Temporary Store has announced a special exhibition for Natsume's Book of Friends which will open on July 10, 2020 and be free to enter.

Natsume's Book of Friends

Natsume's Book of Friends is a manga series by Yuki Midorikawa. It was first published in the shojo manga magazine LaLa DX in 2003 and began serialisation in 2005. It subsequently switched to LaLa in 2008 where it continues to be published. A 74-episode anime adaptation spread across six seasons aired between 2008 and 2017.

There are five illustrations of Nyanko-sensei and keywords scattered around the 2nd floor of Animate Ikebukuro Temporary Store. If you can find them all, you'll receive a free folder as pictured above in the bottom right. The exhibition will also showcase illustrations drawn by Yuki Midorikawa, drafts, sined pictures, and more.

©Yuki Midorikawa/Hakusensha

Information

Natsume's Book of Friends Exhibition (Japanese Name: 「夏目友人帳」緑川ゆき先生複製原画展 & 復刻・ニャンコ先生を探せ!)
Running: July 10, 2020 – July 26, 2020

Location: Animate Ikebukuro Temporary Store (Floor 2F)

Find Nyanko-sensei
*Folders are limited in stock

*Free entry

*Restricted entry during busy times

*A face mask must be worn at all times in the store

*Event subject to change, postponement, or cancellation

Exhibition Website: https://www.animate-onlineshop.jp/contents/fair_event/detail.php?id=104117

Animate Ikebukuro Temporary Store Official Website: https://www.animate.co.jp/special/301734/

4 Refreshing Matcha Shaved Ice Flavours Released at Itohkyuemon in Kyoto

Kyoto's famous tea shop Itohkyuemon began serving four new Uji matcha and shaved ice mixed desserts on its menu yesterday (June 29). Itohkyuemon was founded in 1832 in the latter period of Edo. Ujitawara, the place in Kyoto where the shop is located, is famous for the tea served by Itohkyuemon which has been harvested by the Ito family for years.

Uji Matcha Parfait Ice: ¥1,490 (Tax Included) | Serving: Until Late September 2020 | Avaialble: Itohkyuemon JR Uji Station/Itohkyuemon Gionshijo

The Uji Matcha Parfait Ice uses a blend of matcha and milk-infused ice as its base. It's then topped with sweet treats like rice flour dumplings, red bean paste, ice cream, matcha jelly, and more to turn it into a parfait.

Uji Matcha Daifuku Ice: ¥1,290 (Tax Included) | Serving: Until Late September 2020 | Avaialble: Itohkyuemon JR Uji Station/Itohkyuemon Gionshijo

This Uji Matcha Daifuku Ice is an upgrade of the one Itohkyuemon served last year. It has a creamy custard base with matcha daifuku hidden in the shaved ice.

Fluffy Uji Kindokei Vanilla Ice Cream: ¥990, Matcha Ice Cream ¥1,090 (Tax Included) | Serving: Until Late September 2020 | Avaialble: Itohkyuemon JR Uji Station/Itohkyuemon Gionshijo


Fluffy Uji Kindokei Rice Flour Dumpling: ¥850, Rice Flour Dumpling & Vanilla Ice Cream ¥970, Rice Flour Dumpling Matcha Ice Cream ¥1,090 Serving: Until Late September 2020 | Avaialble: Itohkyuemon Uji Main Branch

These two "Kindokei" (Gold Watch) servings use more ice. At the main branch of Itohkyuemon they're more crunchy, while at the JR Uji Station and Gionshijo branches they're more fluffy.

Cute and Dreamy Tanabata Inspired Confections Arrive at Q-pot CAFE. in Omotesando

Q-pot CAFE. is celebrating Japan's Tanabata festival with a limited-time menu which was introduced on June 27.

Romantic Star Plate w/Drink: ¥2,060 (Tax Included)

This starry delight is plated with a fromage blanc filled with ganache cream and peach jelly. There's star-shaped meringue macarons filled with cream, creamy blueberry and blackcurrant panna cotta, star-shaped chocolate to represent the Tanabata deities Orihime and Hikoboshi, and a luxurious Q-pot CAFE. macaron.

さらに、レモンの皮を練り込み、サクッと焼き上げた星型クッキーには短冊のようにグラサージュショコラで願い事を込めて・・・クッキーを残さず口にすれば、願いもきっと叶うはず!


Romantic Peach & Elderflower Soda: ¥750 (Tax Included)

Refresh yourself with a summery glass of this peach and elderflower soda which is filled with blue, purple, and pink transparent jelly which twinkle like a kaleidoscope.

Bottled Drinks (Takeout Only): ¥1,296 Each (Tax Included) *Limited quantity available / *¥100 off if you take your own bottle

Enjoy a takeout bottle of "Aurora Lychee Tea Soda" with its romantic pink, purple, and blue gradation. This herb tea changes colour like magic, and contains marrow cheese plant, lychee puree, and Blue Curacao. The twinkling pearl powder makes it glow like an aurora.

There is also bottled Strawberry Tea Soda, Ginger Ice Milk Tea, and Honey Lemon Vinegar Soda.

If you're in Tokyo this summer, head to Q-pot CAFE. to enjoy a round of pastel-coloured Tanabata confections and drinks.

Information

Q-pot CAFE. Omotesando
Address: 3-4-8 Jingumae, Shibuya, Tokyo
Running: June 27, 2020 – July 20, 2020
*From July 21, 2020 to September 4, 2020 the cafe will be reservation-only in line with an event, and the regular menu will not be available.
*For the time-being, reservations can be made by telephone call only. Web reservations are currently not available.

Official Website: http://www.q-pot.jp

A Cafe With a View: Okinawa's New Seaside Cafe 'Hoshino Resorts Banta Cafe' Opens This July

Hoshino Resorts's new cafe Hoshino Resorts Banta Cafe will open in the village of Yomitan in Okinawa on July 1, 2020, offering a spectacular view.

The cafe is split into four distinct areas which overlook the the beach from atop a cliff. Customers are invited to take in the breathtaking scenery with a delicious dessert made from ingredients like mangoes, pineapple, and sugar—or a tasty meal.

An incredible beach cafe overlooking the sea

Banta Cafe runs along the western coast of Yomitan, a village in central Okinawa which is about an hour's drive from Naha Airport. The cafe gets its name from iyumibanta which in Okinawan dialect refers to the cliffs you climb to spot the shadows of fish in the water, and is also the name they give to enormous rocks. The cafe is located atop one of these iyumibanta, or cliffs, making Banta Cafe a fitting name. From the cliff, customers can enjoy a panoramic view of the horizon which stretches across infinity. According to Hoshino Resorts, Banta Cafe sits as the largest beach cafe in Japan, spanning 1600㎡.

4 Unique Areas to Pick From

Having four distinct areas to choose from means you can select where you want to go depending on your mood on the day. Let's take a look at each of them.

Rooftop Deck: A panoramic view welcomes you

Beyond the entrance is the Rooftop Deck which offers an unbroken view of the horizon. With the comfortable shadow cast by the eaves of the roof, and the sound of the rolling waves and wind, it feels like you're sitting on the deck of a boat.

Beach Terrace: Kick back and enjoy the sea breeze

The Beach Terrace is located along a footpath that leads from the top of the cliff down to the beach. This spacious area sits nice and close to the sea. The Okinawan Ryukyu-tatami flooring has cushions for you to sit on as well as cabanas, so you can sit and chat with people while enjoying the view of the ocean, offering the real Okinawan experience.

Rocky Terrace: Lose yourself in the green wild of nature

The Rocky Terrace is enveloped in plants and vegetation that has grown naturally—it's like a hideaway created by nature. The area has a wooden deck and rocking chairs for people to kick back and relax in, and there are tables with towering rocks that offer shade too.

Goro Goro Lounge: Lay down on a sofa and look out to the sea

The final area is the Goro Goro Lounge where an entire wall is made up of open windows. Here, you can relax and lay down nice and comfy on the sofas. There are long tables by the sofas too, perfect for pulling out a map or guidebook and planning the rest of your trip.

A true Okinawan cafe experience


Bubbly Jelly Soda

The cafe's "Bully Jelly Soda" is inspired from a traditional bubbly Okinawan tea called bukubuku cha. It's flavoured with lemongrass and mint and contains different jellies like mango and hibiscus.

Chulato

This gelato ice cream gets its name from the Okinawan word for delicious which is chura. Choose from a variety of classic Okinawan flavours like pineapple and guava and top your ice cream with purple yam and bitter melon chips, chinsuko, and more.

Food Menu


The food lineup is to die for, with tasty bites like pizza toast topped with bitter melon, pork and egg rice ball which is a soul food of Okinawa, hot dogs filled with juicy sausages, shrimp fritters served with mango sauce, fried chicken, and plenty of other finger food.

Witness the magnificent sunset during business hours


Banta Cafe is home to a gorgeous beach with coral. The sea is cobalt blue as far as the eyes can see, there are strangely shaped rocks worn by the waves, and in the evenings is an incredible view of the sunset which can be enjoyed with a cocktail in hand.

Hoshino Resorts Olu Grill


Banta Cafe will also have its own separate grilled food restaurant called Olu Grill. Olu is another Okinawan word which means "blue," in this case referring to the blue ocean. From fried steak served with an original sauce made from Okinawan awamori liquor and kurozu black vinegar to seafood and juicy burgers, there's plenty to fill you up.

Information

Hoshino Resorts Banta Cafe / Olu Grill
Grand Opening: July 1, 2020
Address: 560 Gima, Yomitan, Nakagami District, Okinawa Prefecture
Access: 60-minutes by car from Naha Airport / 90-minutes by limousine bus from Naha Airport

Hoshino Resorts Banta Cafe
Opening Hours: 10:00 until sunset
TEL: 098-921-6810
Official Website: https://banta-cafe.com/
*Breakfast service available from mid-July 2020. Serving hours will be 7:00-9:30

Hoshino ResortsOlu Grill
Opening Hours: [Dinner] 17:00-21:00 (Last Orders 20:30)
TEL: 098-921-6811
Official Website: https://banta-cafe.com/olu-grill/
*Reservations required. Lunch service available from mid-July 2020. Serving hours will be 11:00-15:00.

See KAWAII MONSTER CAFE HARAJUKU's New MONSTER X Girls

KAWAII MONSTER CAFE HARAJUKU has announced MONSTER X, a new roster of characters who are like sisters to the cafe's MONSTER GIRLS and are personifications of popular areas in the cafe: Mushroom Disco, Bar Experiment, and the Mel-Tea Room.

The theme and decor of KAWAII MONSTER CAFE HARAJUKU imagines customers inside the belly of a monster. But this is no ordinary digestion, as customers are pulled into a crazy and vivid world of colours. The cafe is split into various areas where you'll find the new MONSTER X girls: the colourful mushroom forest Mushroom Disco welcomes MUSH, the bewitching jellyfish Bar Experiment says hello to JELLY, and the candy-filled Mel-Tea Room beckons MELTY. Let's take a look at who these MONSTER X girls are.

MUSH

MUSH's theme is "Cheer." Her dress and hairstyle is fitted with lots of round mushrooms. She's here to cheer everybody up with the power of her vivid, Harajuku-esque colours.

Area: Mushroom Disco

Mushroom Disco is a giant forest of colourful, poisonous mushrooms and plants from outer space.

JELLY

JELLY's theme is "Deep." Her dress and hairstyle personifies the bar which take son the image of a luminous deep sea jellyfish. Her glittery cool beauty will captivate all who see her.

Area: Bar Experiment

An enormously bright, glistening jellyfish has wrapped itself around this bar which also couples as a laboratory where people can experiment with different drinks.

MELTY

MELTY's theme is "Sugary." Her name speaks for her droopy dress and hairstyle which looks like it's melting. She will heal all with her sweet and overwhelming aura.


Area: Mel-Tea Room

Follow the ants along the sugar trail and you'll find the tea party room adorned with ice cream, chocolate, and macarons.

Fashion x Entertainment x Virus Precautions

KAWAII MONSTER CAFE HARAJUKU will continue to entertain customers while taking all the necessary COVID-19 precautions. The staff will coordinate masks to their outfits fitting of the KAWAII MONSTER CAFE while still paying respect to the spirit of Harajuku's fashion style which encourages people to enjoy fashion however they like. When you look back at the history of Harajuku's street fashion, decorative masks and gas masks have always been around, so it will be business as usual at the KAWAII MONSTER CAFE.

Jokin Dance (Bacteria Elimination Dance)

Before your meal at the KAWAII MONSTER CAFE, the MONSTER GIRLS will pay a visit to your table and invite you to join in doing the Jokin Dance (Bacteria Elimination Dance). KAWAII MONSTER CAFE HARAJUKU is an entertainment restaurant, and so it can make even taking precautions against something like COVID-19 a fun time.

PEANUTS Cafe to Open Nagoya Branch in Autumn 2020

Sony Creative Products has announced that it is set to open the first Nagoya branch of the PEANUTS Cafe inside Hisaya-odori Park this autumn.

What is the PEANUTS Cafe?

PEANUTS Cafe first opened in Nakameguro in 2015. This was followed by Cafe Blanket which opened inside Roppongi's limited-time Snoopy Museum in 2016, both of which closed in September 2018. Then came the PEANUTS DINER which opened in the Minato Mirai area of Yokohama in 2017, and 2018 saw the grand opening of the 18-room PEANUTS HOTEL in Kobe in 2018. Last year, the Snoopy Museum was moved to Minami-Machida in Tokyo where another PEANUTS Cafe opened. The new PEANUTS Cafe Nagoya will be the first to open in the Tokai region of Japan.

The PEANUTS Cafe is an American west coast-style cafe based on the Peanuts comics by Charles M. Schulz. Customers can enjoy food, drinks, and desserts inspired by familiar faces from the comics like Snoopy and Woodstock. The cafe even has its own merchandise corner with exclusive items. The new Nagoya branch too will have merchandise available only in Nagoya.

Join Snoopy and his friends when PEANUTS Cafe Nagoya opens this autumn.

©2020 Peanuts Worldwide LLC

Information

PEANUTS Cafe Nagoya
Grand Opening: Autumn 2020

Address: Hisaya-odori Park, Naka Ward, Nagoya, Aichi Prefecture

Official Website: http://www.peanutscafe.jp/

Yuri!!! on ICE x Sanrio Characters Come Together at a Themed Cafe in Tokyo

LEGS COMPANY has revealed that it is opening a Yuri!!! on ICE and Sanrio fusion themed cafe called "Yuri on Ice x Sanrio Characters Cafe 2020" in Shibuya, Tokyo for a limited time from August 6, 2020.

Yuri!!! on ICE is a sports anime series centred on figure skating. It was produced by MAPPA and directed and written by Sayo Yamamoto together with Mitsurō Kubo. The series received rave reviews from anime watchers and the figure skating community.

LEGS COMPANY brought this collaborative cafe to Tokyo and Osaka once before back in September and October of 2017. The collaboration is set to return this summer, with this year's theme centred on an ice cream stand. The menu is made up of themed dishes, drinks, and desserts. Let's take a look at just some of the items on offer.

A Select Look at the Menu

Food


Utopia Akatsuki Simmered Cutlet Plate: ¥1,599

A Yuri!!! on ICE classic, this katsudon dish is served in a separated style.

Borscht Plate: ¥1,599

Borscht is a Russian dish that appears in the show, and in this plate it's served as a main. Enjoy together with the sour cream.

Paella Plate: ¥1,599

A Spanish dish that appears at the end of the show, served with fish, sauce, and a side of gazpacho cold soup.

Desserts


Pancake & Ice Cream Plate: ¥1,399

Enjoy a mix of sweet and sour flavours with a fruit and whipped cream-topped pancake and ice cream. You get to pick your favourite character for your ice cream.

Tiramisu & Ice Cream Plate: ¥1,399

You can choose your favourite character with the bittersweet tiramisu too.

Drinks


Soda Float: ¥989 (Bottom Left: Strawberry / Middle: Melon / Right: Blue / Top Left: Cola / Top Right: Coffee)

Stickers (14 Designs): ¥400


Mini Towels (3 Designs): ¥850 Each

Fans can get their hands on exclusive merchandise too which is also available online in Japan.

Fans (4 Designs) *For those who book a table in advance only


Coasters (7 Designs) *For those who order a drink only

The cafe will also offer free merchandise too, including fans for those who book a table in advance, coasters for those who order a drink, and more.

©はせつ町民会/ユーリ!!! on ICE 製作委員会
©1976,1989,1992,1993,1996,1998,2020 SANRIO CO.,LTD. APPROVAL NO.610406

Information

Yuri on Ice x Sanrio Characters Cafe 2020
Running: August 6, 2020 – September 22, 2020
Location: SHIBUYA BOX cafe&space (Shibuya LOFT 2F, 21-1 Udagawacho, Shibuya, Tokyo)

Reservations: Now Open
Reservation Price: ¥650 (*4 seats per reservation)

Yuri on Ice x Sanrio Characters Cafe 2020 Official Website:
https://yuri-sanrio-characters-cafe.jp/