BROWN & FRIENDS and BT21 Beach Themed Merchandise Releases at LINE Store in Harajuku
A lone-up of beach-themed merchandise released at the LINE flagship store in Harajuku on June 22 featuring a set of familiar faces including BROWN & FRIENDS and BT21.
Big Towel: ¥3,780 (Tax Included)
Face Towel: ¥1,512 (Tax Included)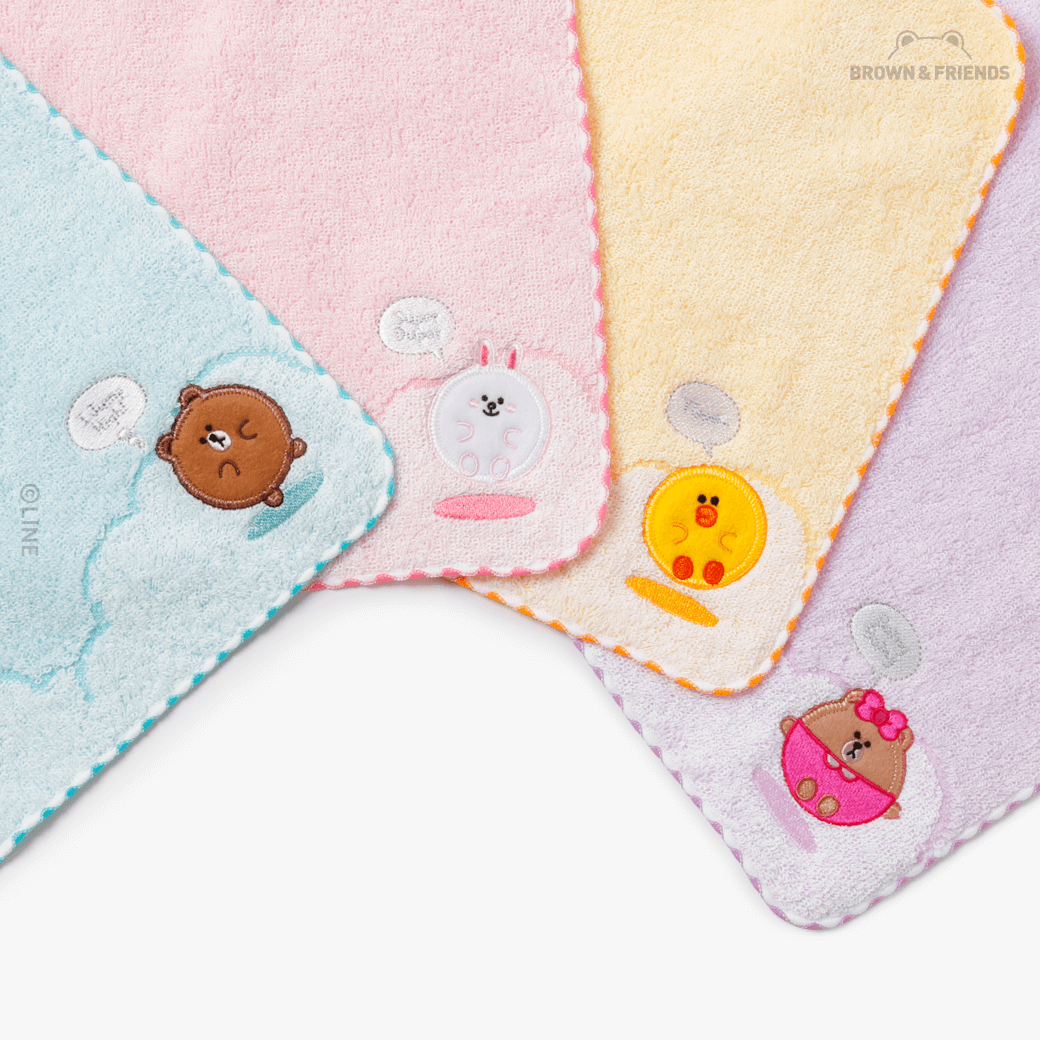 Mini Towel: ¥735 (Tax Included)
From the BROWN & FRIENDS range comes big towels and face towels featuring Brown and Cony donning swimsuits. The towels being sold in Japan are made by Imabari, a leading company in the towel industry and a representative of Japanese quality. They are super soft and have good water absorbency.
BROWN & FRIENDS Fan: ¥324 (Tax Included)
BT21 Fan: ¥648 (Tax Included)
BT21 fans will want to get their hands on the BT21 to cool themselves down this summer. The fan features the BT21 characters lined up on the beach wearing shorts and dancing in unison. There are several other fans too, including one of the BT21 characters wearing rubber rings, as well as ones of individual BROWN & FRIENDS characters.
Electric Fans
BROWN & FRIENDS, BT21 and Usamaru snacks will be released on July 5 including fruit drops, biscuits, cakes and more which make as perfect gifts to friends and family.
Information
"Enjoy Summer" Products
Released: June 22, 2019
Available: At LINE FRIENDS Flagship Store in Harajuku / LINE FRIENDS Online Store
LINE FRIENDS Flagship Store in Harajuku
Opening Hours: 11:00-21:00 (No Fixed Holidays)
Address: 4-31-12 Jingumae, Shibuya, Tokyo
TEL: 03-5785-3001
RELATED ENTRIES
New Track from Kyary Pamyu Pamyu Inspires LINE MUSIC Campaign

29.September.2021 | MUSIC

Kyary Pamyu Pamyu will release her first full-length album in three years Candy Racer on October 27, 2021. Ahead of the release, one new track, Jumping Up, will be shared early! This light and fun EDM track will, as promised, make you want to jump up and down along with the bass, and will be streaming starting September 29, 2021. 

In conjunction with this pre-release, a LINE MUSIC playback campaign will begin on September 29, with the top 10 listeners receiving a prize exclusive to the event. Be sure to listen to the song as many times as possible for your chance to snag this premium prize, the design of which will be revealed soon!

New BT21 Cafe Coming to Tokyo, Yokohama, Nagoya, Osaka, and Okinawa

The 9th BT21 Cafe ~Relaxing Holiday~ will be open for a limited time in six venues across Tokyo, Yokohama, Nagoya, Osaka, and Okinawa. If you're a fan of these adorable LINE FRIENDS, just take a look at the menu items and goods on offer!

Main Visual

The Menu

Chicken and Orange Hot Sandwich: ¥1,760 (Tax Included) 

Grilled Vegetable Curry: ¥1,870 (Tax Included)

Tandoori Chicken Tacos: ¥1,870 (Tax Included)

Scrambled Eggs with Smoked Bacon: ¥1,870 (Tax Included)

Mug Collection

Combo Meals

Pistachio and Chocolate S'mores: ¥1,540 (Tax Included)

Cinnamon Apple Pie: ¥1,540 (Tax Included)

Maple Lemon German Pancake: ¥1,650 (Tax Included)

Mixed Berry German Pancake: ¥1,650 (Tax Included)

Strawberry Mojito/Kiwi Mojito/Peach Mojito: ¥990 each (Tax Included)

Coffee (Iced/Hot) / Black Tea (Iced/Hot): ¥550 (Tax Included)

Original Merchandise 

Pins (Random, 7 designs): ¥660 (Tax Included)

Acrylic Keyrings (7 designs): ¥770 (Tax Included) / Clear Folder: ¥440 (Tax Included)

Stickers (7 designs): ¥770 each (Tax Included) / Placemat (2 designs): ¥1,000 each (Tax Included)

Swizzle Stick (7 designs): ¥990 each (Tax Included) / Tote Bag: ¥1,650 (Tax Included)

Canvas Pouch: ¥1,980 (Tax Included) / Mini-towel (7 designs): ¥990 each (Tax Included)

Bandana (2 designs): ¥1,320 each (Tax Included) / Marshmallows: ¥972 (Tax Included)

Customers who book a table in advance will receive a randomly selected A5-size clear folder and a random clear coaster for each drink ordered.

The first installment of the 9th BT21 Cafe run, ~MY LITTLE BUDDY~, began in July 2021. The menu and goods, based on cute babies and their friends, received rave reviews. 

 

~Relaxing Holiday~ is inspired by summer and being outside with friends. Menu items look like what people may eat while camping, and the original character art features your favorite BT21 characters eating their favorite foods. Various soups and desserts are available in cute souvenir cups, and anything ordered is perfect for posting on social media!

Which menu item looks the most delicious to you? 

 

*Images for reference only. 

©BT21

Information

BT21 Cafe 9th Run ~Relaxing Holiday~

Tokyo 1:
Address: SHINJUKU BOX café&space Lumine EST (B1F 3-38-1 Shinjuku, Shinjuku-ku, Tokyo)
Running: August 28, 2021 – October 3, 2021

Tokyo 2:
Address: HARAJUKU BOX Alta (3F 16-4 Jingumae 1-chome, Shibuya-ku, Tokyo)
Running: September 16, 2021 – October 31, 2021

Yokohama:
Address: Collabo_Index Lumine Yokohama (6F 2-16-1 Takashima, Nishi-ku, Yokohama, Kanagawa)
Running: September 1, 2021 – October 3, 2021

Nagoya:
Address: Nagoya Box café&space (B1F LACHIC, 3-6-1 Sakae, Naka-ku, Nagoya, Aichi)
Running: September 30, 2021 – November 7, 2021

Osaka:
Address: Shinsaibashi contact (1-6-24 Kitahorie, Nishi-ku, Osaka)
Running: August 27, 2021 – September 23, 2021

Okinawa:
Address: OKINAWA BOX café&space (Naha OPA 2F, 1-20-1 Izumizaki, Naha, Okinawa)
Running: September 3, 2021 – October 3, 2021

Official Site: https://2021-2.box-cafe.jp/

BT21 is a globally popular cast of characters from LINE FRIENDS.
*The products and menu items produced and sold by LEGS COMPANY, Ltd. are the result of an official license agreement with LINE FRIENDS Co., Ltd. and may not be reproduced or sold without permission from LINE FRIENDS Co., Ltd. 

LINE FRIENDS Collaborates With Minions For 10th Anniversary

As part of the LINE FRIENDS 10th anniversary celebrations, Illumination Entertainment and Universal Brand Development released the MINIONS X BROWN & FRIENDS collection at the LINE FRIENDS Harajuku store and the online store on July 22. A collection of digital accessories, camping items, and golf goods will also roll out in August. This includes a release at 17 branches of KIDDYLAND on August 7 as part of PLAY LINE FRIENDS.



BROWN & FRIENDS began as a stamp series on the Japanese messaging app LINE. The characters are now featured just about everywhere including as merchandise. See Brown and Sally meet Kevin, Bob, and Stuart from the hit animated films Despicable Me and Minions in the form of digital accessories aimed at tech lovers such as AirPods cases and smartphone clips as well as eco bags, golfing equipment, camping necessities, and more.

As part of the collaboration, Brown & Friends and Minions LINE stickers and Instagram filters will also be released in August. Check out the official LINE FRIENDS social media pages for related promotional videos too.

And for Japanese fans of both franchises, they get some Japan-exclusive merchandise too including a mini towel, hand towel, face towel, bath towel, denim tote bag, denim pouch, eco bag, hat, stationery, bottle, mug, neck pillow, and more.



©LINE/©UCS LLC

BT21 Cafe to Open in Five Japanese Cities For Summer 2021

The BT21 Cafe is set to see its 9th run in Japan when six of them begin opening in Tokyo, Yokohama, Nagoya, Osaka, and Okinawa from July 22. The theme this time around is "MY LITTLE BUDDY."

Main Visual

Uchiwa Fans (7 Designs) / Coasters (8 Designs)

Customers who book a table in advance will receive a free fan, and if they buy a drink, a free coaster.

The Menu

KOYA Gapao Rice | ¥1,870 (Tax Included)

RJ Omelette Stew | ¥1,870 (Tax Included)

SHOOKY Loco Moco Don | ¥1,870 (Tax Included)

MANG Coconut Green Curry | ¥1,870 (Tax Included)

CHIMMY Chicken Over Rice | ¥1,870 (Tax Included)

TATA Bibimbap | ¥1,870 (Tax Included)

COOKY Sushi Bowl | ¥1,870 (Tax Included)

Parfaits (Mango/Melon/Grapefruit) | ¥1,540 (Tax Included)

Mini Parfaits | ¥550 (Tax Included)

Milk Drinks (Strawberry/Mango/Blueberry) | ¥990 (Tax Included)

Shuwa Shuwa Fruit Tea | ¥990 (Tax Included)

Fuwamoko Latte | ¥990 (Tax Included)

Original Merchandise

Pins | ¥660 (Tax Included)

Acrylic Keyrings | ¥770 (Tax Included)

Folders ¥440 (Tax Included) / Clear Pouches ¥1,320 (Tax Included)

Pin Case | ¥1,320 (Tax Included)

Stickers ¥770 (Tax Included) / Acrylic Coasters ¥1,320 (Tax Included)

Milk Caramels | ¥1,080 (Tax Included)

The menu line-up is based on Asian cuisine and features cute dishes, drinks, and dessert combined with the BT21 characters. There's also a collection of exclusive merchandise for fans to get their hands on.

©BT21

Information

BT21 Cafe 9th Run ~MY LITTLE BUDDY~


Tokyo Cafe ①

Address: TOKYO BOX cafe&space Omotesando Hills (4-12-10, Jingumae, Shibuya, Tokyo)

Running: July 22, 2021 – August 29, 2021



Tokyo Cafe ②

Address: BOX cafe&space Lumine EST (3-38-1 Shinjuku, Shinjuku-ku, Tokyo)

Running: July 22, 2021 – August 22, 2021


Yokohama Cafe

Address: Collabo_Index Lumine Yokohama (2-16-1 Takashima, Nishi-ku, Yokohama, Kanagawa)

Running: July 22, 2021 – August 29, 2021


Nagoya Cafe

Address: Address: Nagoya Box Cafe&Space (B1F LACHIC, 3-6-1 Sakae, Naka Ward, Nagoya, Aichi Prefecture)

Running: August 26, 2021 – September 26, 2021


Osaka Cafe

Address: kawara CAFE&DINING Shinsaibashi (Shinsaibashi OPA 9F, 1-4-3 Nishishinsaibashi, Chuo-ku, Osaka)

Running: July 29, 2021 – August 29, 2021

Okinawa Cafe

Address: OKINAWA BOX cafe&space (Naha OPA 2F, 1-20-1 Izumizaki, Naha, Okinawa)

Running: July 22, 2021 – August 29, 2021



Table Bookings
Price: ¥715 (Tax Included) *Includes freebie

Cafe Website: https://2021-1.box-cafe.jp/


Popular LINE Sticker Series YOSISTAMP Opens Travel Themed Pop-Up Shop

The YOSISTAMP Premium Shop, a pop-up shop themed on the popular sticker series YOSISTAMP from the LINE messenger app, has been making its way around Japan since 2019. It recently opened inside Abeno Harukas Kintetsu in Osaka.

The store's merch line-up

The pop-up shop is themed on travel, and fans of the series can get their hands on a cute selection of exclusive merchandise. The shop even has a special photo spot for snapping pictures.

©YOSISTAMP

Information

YOSISTAMP Kaputto Premium Shop
Location: Abeno Harukas Kintetsu Wing Building Floor 9F

Address: 1-1-43 Abenosuji, Abeno Ward, Osaka, 545-0052, Japan
Running: June 2, 2021 – June 15, 2021 (Closed Weekends)

Opening Hours: 10:00-20:00 (Until 15:00 on 15:00)

*Subject to changes or closure depending on COVID-19
Abeno Harukas Kintetsu Official Website: https://abenoharukas.d-kintetsu.co.jp/

YOSISTAMP Official Website: http://yosistamp.co.jp/

Sanrio Character Ranking 2021 to Announce Winner in Collaboration With Tokyo Girls Collection

Sanrio has announced that the announcement ceremony for the winner of the 2021 Sanrio Character Ranking will take place in collaboration with Tokyo Girls Collection (TGC), a semi-annual fashion festival in Tokyo, on June 8. The event will be streamed live on Hello Kitty and TCG's respective LINE accounts, as well as Sanrio's official YouTube account, so that more people can tune in to this year's announcement and see which of Sanrio's characters will take the crown.

80 characters are participating in this year's Sanrio Character Ranking which will be announced in order from 80 to 1. This year also sees the return of the sub-award categories including Collaboration. Hosting the event as MC is tarento and actress Nao Asahi and the Japanese comedy duo Wagyu ga Tsutome.

But the winner announcement is not the only event scheduled for 2021's ranking. Since this time is a collaboration with TGC, there will be a fashion runway where popular models will show off their looks, a live performance with JO1 and the Sanrio characters, a rap battle, and more.

Fashion Runway: Famous models display the Sanrio character aesthetic

On the fashion stage, a line-up of well-known Japanese models will serve fashion inspired by Sanrio's most famous characters including My Melody, Kuromi, Little Twin Stars, and Pompompurin.

Marie Iitoyo and Maika Yamamoto will use a real-time composite photography system as they dress up as the adorable My Melody and her rival Kuromi. Serving the dreamy star-filled world of Kiki and Lala are Kaane and Sakura Saiga, Yoshiaki & Michi, and Rikariko. For the Pompompurin section, which is themed on the golden retriever's daily life, we have Nana Kato, Ami Komuro, Natsuki Deguchi, Sachi Fujii, and Roy. But that's not all as Sakachin, Yuki Higashihara, and Reina, who won the LINE LIVE auditions to appear on this year's fashion runway, will also appear.

A heated rap battle between the Sanrio characters

In the rap battle, KIRIMI-chan, Kuromi, Kogimyun, and Pompompurin will go head to head against special guests Tsukasa Saito of comedy duo Trendy Angel and Yuriyan Retriever. 

The Sanrio cast join music artists for a concert

The adorable Cinnamoroll, who is also expanding his work as an idol, will perform alongside JO1, while Hello Kitty will sing with singer-songwriter Sonoko Inoue.

A new virtual experience using the latest technology

Japanese digital advertising company CyberAgent, who produced virtual events and 3DCG content, will be using the latest in 3DCG and XR tech to blur the lines between reality and the virtual space with an interactive experience, such as people's comments on social media and the video displaying in real time, and more.

LINE Disney Tsum Tsum Puzzle Game Breaks 90 Million Downloads

Japanese messaging app LINE announced that their casual puzzle game LINE: Disney Tsum Tsum has broken 90 million views. The popular game launched a collaboration with the Star Wars franchise on Tuesday which is set to run until May 31.

LINE: Disney Tsum Tsum is based off Disney's collectable stuffed toy series. The game launched first in Japan on January 29, 2014, before rolling out to the US, UK, Europe, Asia, and elsewhere on July 1 of the same year. Tsum Tsum and 400-or-so characters are popular around the world with the toys having appeared in Disney films, commercials, at events, and more.

 

In celebration of the puzzle game reaching 90 million downloads, the Today's Mission feature is offering a 10x bonus. The game is also collaborating with Star Wars until the end of May where Darth Vader and a Stormtrooper are making an appearance. And for the duration of May, the game's title logo and background music has been changed into traditional Japanese styles.

 

Tsum Tsum Tenka Touitsu Event

Another in-game event is also ongoing where players can receive pins and a Princess Minnie by clearing the mission.

©Disney 

©Disney/Pixar 

©& TM Lucasfilm Ltd.

Popular Japanese LINE Character Raccos Second Plushie Collection Revealed

Following the popularity of the first Raccos plushie which released earlier this month, a second collection is being released featuring Penguin, Mage, and Onemu, at the end of May at entertainment facilities in Japan.

Raccos is a character series created by planner and animator Takada Bear of CHOCOLATE Inc.

The characters are popular stamps on the Japanese messaging service LINE. The new plush toys size in at 16cm and are super cute.

©CHOCOLATE Inc.

Furla x LINE FRIENDS Capsule Collection Releases in Japan

Italian luxury goods company Furla has collaborated with the messenger app LINE to release a capsule collection featuring the LINE FRIENDS characters. The collection was released on April 23 at FURLA Shinjuku Scramble Square, FURLA Lumine Omiya, and FURLA Kinshicho PARCO.

FURLA LINE FRIENDS Capsule Collection

The line-up, which is officially titled FURLA LINE FRIENDS, welcomes the popular LINE FRIENDS original characters BROWN, CONY, and SALLY on seven different items such as micro bags, card cases, and more.

The micro bags, which are in this season, make up the entirety of the characters' faces and come with adorable leather. They are perfect for coupling with kawaii outfits, adding a sense of accessory to a look. The slim leather 'envelope' zip case is multipurpose and serves as a bag-in-bag as it can easily slot away in any handbag. There's also card cases with zip pockets so your favourite LINE FRIENDS character can keep your cards safe while you're out and about day and night.

Furla and LINE FRIENDS have also created an original phone wallpaper which can be downloaded.

MICRO BAG | ¥29,700 (Tax Included)

MICRO BAG | ¥29,700 (Tax Included)

MICRO BAG | ¥29,700 (Tax Included)

S ENVELOPE | ¥22,000 (Tax Included)

S ENVELOPE | ¥22,000 (Tax Included)

M CARD CASE | ¥17,600 (Tax Included)

M CARD CASE | ¥17,600 (Tax Included)

Information

FURLA LINE FRIENDS

Released: April 23, 2021

Where: FURLA Shinjuku Scramble Square / FURLA Lumine Omiya / FURLA Kinshicho PARCO

FURLA Official Website: www.furla.com

LINE Friends Themed Cafe Opens in Ikebukuro

The popular LINE Friends characters now have their own pop-up cafe inside Ikebukuro PARCO which is running until April 25. The characters form part of a series of stickers used on the Japanese messaging app LINE which is used by other 200 million people worldwide.

The Menu

Brown's Beef Burger | ¥1,250

Lattes | ¥950

LINE FRIENDS Parfaits | ¥1,100 Each

Cafe-Original Merchandise

Alphabet Die-Cut Stickers | ¥330 Each

Lunch Tote Bag | ¥1,650

Brown Mug | Available to the first 300 people who visit to the cafe

Join Brown, Cony, and Sally as they serve up a fun and tasty menu along with a collection of merchandise exclusive to the cafe as well as items also sold at the LINE Friends Store.

Information

LINE FRIENDS POP-UP CAFÉ

Running: April 1, 2021 – April 25, 2021

Where: THE GUEST cafe&diner Ikebukuro

Address: Ikebukuro PARCO Floor 7F, 1-28-2 Minami-Ikebukuro, Toshima-ku, Tokyo, 171-8557

TEL: 03-5391-8604

Official Website: http://the-guest.com/

BT21 T-Shirts Release at AEON Stores in Japan

AEON's casual fashion brand Doublefocus has released a collection of t-shirts and tote bags in collaboration with the popular LINE FRIENDS characters BT21 at 100 of their stores in Japan.

BT21 Print T-Shirts A

BT21 Print T-Shirts B

BT21 Print T-Shirts C

BT21 Print T-Shirts D

BT21 are the LINE messenger app characters created by K-pop group BTS. Now fans can be with their favourite characters wherever they go with this special AEON-exclusive collection.

Kiii Presents Kagimatsuri Pop-Up Shop Event to be Held in Shibuya

Kiii has announced a pop-up shop event called Kagimatsuri which is set to run at MAGNET by SHIBUYA109 from April 23 to May 9. It will welcome a range of exclusive merchandise by popular Japanese creators, including a selection of items by famous Japanese illustrator Yuuki Kikuchi who is known for his hit 4-panel comic strip series 100 Nichi Go ni Shinu Wani which follows the story of a crocodile who doesn't know he's going to die in 100 days. 100 panels were released across 100 days on his Twitter page with the final comic strip garnering over 2 million likes.

 

Buy Exclusive LINE Stamps

¥120 Each

In the run up to the event, a selection of LINE stamps made by eight popular creators is know available for purchase over on the LINE store.

Information

~Kiii Presents~ Kagimatsuri

Japanese Event Name: 〜Kiii Presents〜かぎまつり

Running: April 23, 2021 – May 9, 2021

Where: MAGNET by SHIBUYA109

Address: 1-23-10 Jinnan, Shibuya, Tokyo, 150-0041

Event Page: https://kiii.co.jp/news/6859/