【Tokyo Cafe】Visiting Japanese Coffee shop where you can encounter the foods which give you great impact. Vol.1 Uguisudani"Kissa Den"
It takes about five minute walk from Uguisu-dani train station which is famous for having least number of getting-off passengers in Yamanote line. It is also good access to Ueno area. This ordinary coffee shop; the big yellow tent is a landmark, called "Kissa Den" which was built in 1971.
This coffee shop was originally popular for neighbor or regular customers as a place to rest, but it started getting popular among young generations. They even say they don't mind being in line for a long time to get their food. Their food attracted a great deal on SNS.  Two of the most popular menus in Kissa Den are "Cream Soda" and "Gra-Pan" which makes you want to give a glad shout.
This "Cream Soda (550yen)" looks like its wearing a charming steeple-crowned cap. This ungainly looking that looks like you accidentally dumped ice cream into a soda makes me smile.
The ice cream that has been made by same recipe for more than forty years has a simple taste and crisp texture more than creamy. To scoop the ice cream with spoon on the top of the ice cream cone is the regular customers' style to eat this food. The sweet bubbles pops in my mouth after I drink this soda with melted ice cream.
Everyone was used to be dreaming of Cream Soda when they are little. The original place of Cream Soda is "Shiseido Parlor Ginza main store." It is kind of surprising that this nostalgic taste is originally from this elegance old established parlor. This fascinating drink's popularity is currently spreading to all over the world by SNS. It is worth trying this drink when you visit Japan.
If you like pudding, you should try this "Soft Maki Pudding (500yen)" which is served to only the first twelve arrivals each day. The previous owner has cooked this pudding every morning since this coffee shop was established. It has thick egg taste and lightly sweetened. The rich egg taste and ice cream smoothly melted together in a moment after I put in my mouth.
Everybody would be impacted by this dynamic appearance. This is another specialty of food called "Gra-Pan (850yen)" which is recommended for gluttons.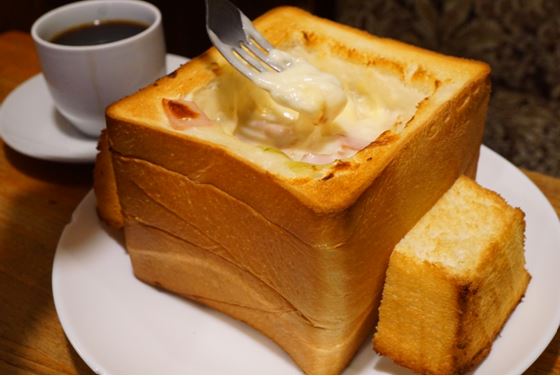 It is full of hot creamy caserol inside of about 600 gram, 10 centimeters high loaf of bread. White sauce full of ingredients is soupy like a stew more than creamy. First of all, you should dip the piece of bread sitting beside this loaf of bread into the caserol, and tear the heel of bread and eat same way. You can enjoy texture of the bread from silky and moisture one to crisp one. If you have more room, try the special seasonings sitting on the table. This "all seasoning" which has mixed salt, paprica and chili powder make this food taste mild, and tabasco makes this food spicy. I'm sure you won't get tired of this food because you can enjoy changing the flavor as you like.
I found myself grabing my iphone before I noticed. Because I found the foods that I really want to show off to somebody. My adventure to find the specialty of foods that you can only taste at Japanese café has just begun.
※They all include tax.
■Information
Kissa Den
Address:Maison Negishi Uguisudani 1F, 3-3-18 Negishi, Daito-ku, Tokyo
Shiseido Parlour Ginza
Address:Tokyo Ginza Shiseido Building 4F/5F, 8-8-3 Ginza, Chuo-ku, Tokyo
Yuriko Ueki(Writer)
—
■Related article:【MOSHI MOSHI GOURMET】The best Fruit Parlor where you can enjoy seasonal fruits in Japan.
■Related article:【MOSHI MOSHI GOURMET】Let's go eat the specialty foods!
RELATED ENTRIES
Make Your Own Chocolate Pokémon Pies With Lotte's Confectionery DIY Kit

Japanese confectionery company Lotte is launching a new version of its popular Choco Pie dessert in collaboration with Pokémon.

Pokémon Trainers out there with sweet tooths are given an ordinary blank Choco Pie which they can decorate with the accompanying assorted chocolates, nuts, and sweets to create their favourite Pokémon. They can create their own from their mind or follow the recipe provided.

Choco Pie Art with Pokémon will be released by Lotte in Japan on November 24, 2020.

©Nintendo・Creatures・GAME FREAK・TV Tokyo・ShoPro・JR Kikaku ©Pokémon

Luxurious Christmas Desserts Whipped Up at Ginza's SHISEIDO PARLOUR SALON DE CAFE

SHISEIDO PARLOUR SALON DE CAFE in Ginza, Tokyo, is serving up Christmas cheer this year in the form of a delightful selection of desserts from December 1 to 29.

Christmas Angel Parfait | ¥2,300 (Tax Included)

Made with super sweet Le Lectier pears and combined with assorted berries, this parfait is like a gift from the heavens.

Present From The Heavens w/ Drink | ¥2,500 (Tax Included)

A super cute Christmas assortment with a Christmas present made from white chocolate and berry yam, a snowman made from yuzu citrus-laced milk ice cream, and more.

Shiseido Parlour Story w/ Drink | ¥2,600 (Tax Included) *Served weekdays only

Ensemble Chocolate w/ Drink | ¥2,200 (tax Included)

A brownie made from a combination of Belgian, French, and Swiss chocolate surrounded by ganache, ice cream, and more, served with a spread of berry sauce.

Strawberry Parfait | ¥2,000 (Tax Included)

A simple but deliciously sweet parfait made with koiminori strawberries from Nagasaki. It's served with ice cream and sauce but only contains 10g sugar content.

Information

SHISEIDO PARLOUR SALON DE CAFÉ
Address: Tokyo Ginza Shiseido Building 3F, 8-8-3 Ginza, Chuo-ku, Tokyo

TEL: 03-5537-6231 (Reservations Not Required)

Opening Hours:

[Mon-Sat] 11:00-21:00 (Last Orders 20:30)

[Sun & Public Holidays] 11:00-20:00 (Last Orders 19:30)

Closed: Mondays (Except Public Holidays) / New Year Holidays

Official Website: https://parlour.shiseido.co.jp/

Pikachu Caramel Frappes Zap Their Way to Pikachu Sweets by Pokémon Cafe This Holiday Season

Pikachu Sweets by Pokémon Cafe in Ikebukuro, Tokyo, is adding the new "Caramel Pika Pika Frappe" to its menu this holiday season from December 5, 2020 to January 15, 2021.

Caramel Pika Pika Frappe | ¥700 (Before Tax)

The adorable beverage is based on the Japanese custard pudding known as purin. It's laced with caramel sauce, closed off with a squirt of whipped cream, and finished with a sprinkling of chocolate chips for accent.

Pikachu Sleeves

The drink also comes with one of four possible Pikachu sleeves which feature designs in promotion of the upcoming animated film Pokémon the Movie: Secrets of the Jungle (also known as Pokémon the Movie: Coco) which will be released in Japan on December 25, 2020 and in the US in 2021.

© 2020 Pokémon.©1995-2020 Nintendo/Creatures Inc./GAME FREAK inc.
Pokémon, ポケットモンスター, and ポケモン are registered trademarks of Nintendo, Creatures Inc., and GAME FREAK inc.
© Nintendo・Creatures・GAME FREAK・TV Tokyo・ShoPro・JR Kikaku
© Pokémon © 2020 Pikachu Project

McDonald's Luxurious Chocolate Frappes in Collaboration With GODIVA Are Mouth-Watering

McDonald's Japan has revealed two new beverages which will be sold at McCafé by Barista branches of McDonald's from November 25: the "GODIVA Chocolate Espresso Frappe & Macaron" and the "GODIVA Chocolate Espresso Frappe."

This is McCafé by Barista's first collaboration with the Turkish chocolate company GODIVA. The drinks were made under the supervision of Yannick Chevolleau, an executive chef and chocolatier pâtissier at GODIVA, bringing together a match made in heaven of rich chocolate and espresso.

GODIVA Chocolate Espresso Frappe – Regular Size (¥540)

The beverage contains a dark chocolate sauce which combines cacao powder and roasted cacao beans which is mixed together with fragrant espresso and milk before being topped with whipped cream drizzled in a couverture chocolate sauce made from 54% Belgian chocolate.

GODIVA Chocolate Espresso Frappe & Macaron – Regular Size (¥540)

You can also get it topped with a vanilla-flavoured macaron which adds sweetness to the rich beverage and looks even more Instagram-worthy.

Information

GODIVA Chocolate Espresso Frappe & Macaron
GODIVA Chocolate Espresso Frappe
Serving: November 25, 2020 – Mid January 2021 (subject to change)
Available: At McCafé by Barista branches of McDonald's in Japan

Mickey & Friends Disney Christmas Cupcakes to be Released at Ginza Cozy Corner

Japanese confectionery company Ginza Cozy Corner is teaming up with Disney once again to release a new Christmas collection of cupcakes on December 1.

Colourful Disney treats for the holiday season

This sweet seasonal collection is inspired by Mickey & Friends and contains nine unique cupcakes which depict the characters getting ready for their Christmas party.

Disney Christmas Collection (Contains 9) | ¥2,500 (Before Tax)

Cupcakes include a Santa-hat wearing, chocolate ganache-filled Mickey cream cheese cake, a strawberry jam-filled Minnie mousse cake, a lemon and mint cream-packed, Christmas decoration-adorned Donald tart, a banana and mint cream Pluto tart, an orange cream Goofy chocolate cake, and more.

The cakes are packed in a special Disney Christmas box which is sure to catch the attention of sweet tooths this holiday season, perfect for stay-at-home Christmas parties.

Information

Disney Christmas Collection
Running: December 1, 2020 – December 25, 2020

Ginza Cozy Corner Official Website: https://www.cozycorner.co.jp/

Starbucks Japan Reveals Matcha x Matcha White Chocolate Frappuccino®

Starbucks Coffee Japan has revealed that its second instalment of its limited-edition holiday season 2020 beverages will be the "Matcha x Matcha White Chocolate" and "Matcha x Matcha White Chocolate Frappuccino®" which customers can order from November 24. A new batch of festive Starbucks merch will also hit Japanese branches on November 30.

A harmonious fusion of matcha and sweet white chocolate

Matcha x Matcha White Chocolate Frappuccino® Tall ¥590 (Tall-size only)

Matcha x Matcha White Chocolate: Short ¥450 / Tall ¥490 / Grande ¥530 / Venti® ¥570 (Hot option only)

Matcha is one of Starbucks Japan's signature flavours and just to happens to have been in the spotlight in last year's holiday season drinks. This year sees marbling mixture of of rich matcha sauce and sweet white chocolate syrup with the Frappuccino®, finished with a squirt of whipped cream, brownie bits, and snowy powdered sugar. The hot version comes as a marriage of matcha and white mocha mixed together with steamed milk to warm the cockles of hearts during the cold months.

New holiday season merchandise

The theme of the second batch of merchandise is "Brilliant Season" which capture the bright and sparkly vibe of winter like with the snowflake-covered stainless steel bottle, a glass mug with beads in it that move around when shaken, a snow globe, and more. The perfect line-up for capturing the holiday season mood during your coffee break.

Starbucks Japan is currently serving the Berry x Berry No-Bake Cheesecake Frappuccino® and Berry x Berry White Mocha holiday season drinks for the holiday season until November 24 when they will be replaced by the Matcha x Matcha White Chocolate and Matcha x Matcha White Chocolate Frappuccino®. It is also serving the Starbucks® Christmas Blend, Gingerbread Latte, and Macadamia Toffee Latte until Christmas Day.

Information

Matcha x Matcha White Chocolate and Matcha

Matcha White Chocolate Frappuccino®

Running: November 1, 2020 – December 25, 2020

Available: Starbucks in Japan
Starbucks Japan Official Website: https://www.starbucks.co.jp/

Toy Story's Little Green Men and Lots-o' Get Turned Into Confections at Japanese Convenience Stores

Bandai's character-inspired Japanese confectionery series Tabemas has revealed that its next batch of sweet treats will be inspired by the Little Green Men and Lots-o'-Huggin' Bear from the popular Pixar movie franchise Toy Story. The confections will hit 7-Eleven convenience stores in Japan on November 21, 2020.


Tabemas Toy Story | ¥258 Each (Before Tax)

The lovable Little Green Men and Toy Story 3's main antagonist Lots-o have been fully recreated, down to the finest details, into delicious confections. The details are well crafted you can almost hear the aliens chanting "OOOOOH" in unison! The sweets are also made with a dough called "nerikiri" which is used in making traditional Japanese wagashi sweets.

The Little Green Men are matcha flavoured while Lots-o is strawberry flavoured. Both contain Japanese bean paste, and neither use artificial colourings. Their colours comes from the original ingredients. Each sweet is also only 100kcal making is a perfect quick treat.

'Tabemas' is an abbreviation of the Japanese words taberareru masukotto, meaning 'mascots that you can eat.' It is a Japanese confectionery series that combines well-known characters and Japanese sweets made from ingredients like red bean paste, sugar and rice flour.

©Disney/Pixar

Information

Tabemas Toy Story 25th Anniversary – Little Green Man & Lots-o'-Huggin' Bear
Release Date: November 21, 2020
Available: At the chilled sweets section of 7-Eleven convenience stores in Japan

*Available while supplies last

*Stock date may differ from branch to branch

*Select stores not participating

Official Website: https://www.bandai.co.jp/candy/tabemas/toystory/  

Christmas-Themed Afternoon Tea Set to Arrive at Hyatt Regency Tokyo

Hyatt Regency Tokyo's brasserie Vicky's is reopening on November 20, 2020. To celebrate Christmas, Vicky's is serving up an adorable afternoon tea set which contains Christmassy desserts and savoury snacks. The afternoon tea set will be available on weekends and national holidays from November 21 to December 27, 2020.

Christmas Afternoon Tea Set: ¥4,400 (After Tax)

Enjoy a festive afternoon tea set in Vicky's comforting brasserie. For the occasion, head dessert maker Hirokazu Satō has created a selection of delicious pastries which take the forms of adorable Christmas characters. Enjoy the creamy layers of the strawberry mousse snowman, indulge in the aromatic pistachio cream tart which looks like a Christmas tree, and sink your teeth into a strawberry and pistachio macaron which looks like Santa Claus. Tuck into the strawberry shortcake which looks just like a Christmas present to finish off your dessert plate.

Minoru Ōtaki is in charge of the savory treats of the Christmas afternoon tea. The menu includes pulled pork sandwiches, quiche lorraine, fried shrimp and more. The savoury snacks balance out the sweet desserts and add a moderately savoury touch to your experience. Customers are also invited to indulge in the wide variety of delightful drinks.

To celebrate the reopening of Vicky's, Ōtaki has created a special dinnertime tapas selection where you can indulge in the natural flavours of fresh ingredients.

This Christmas afternoon tea is a wonderful way to relax after work or even with your friends.

Information

Christmas Afternoon Tea Set
Running: November 21 ー December 27, 2020
Location: Vicky's Brasserie, Hyatt Regency Tokyo Floor 1
2 Chome-7-2 Nishishinjuku, Shinjuku City, Tokyo
Teatime: 13:00 – 17:00 (Last Orders: 16:00)
*Available on weekends and national holidays only

Phone Number: 03-3348-1234

Vicky's Brasserie Official Website: https://www.hyattregencytokyo.com/portals/0/vickys/

A Cheesecake You Can Drink Releases at CheeseTable in Shinjuku

Shinjuku and Ikebukuro's popular cheese cafes CheeseTable released added a new hot version of their drinkable cheesecake to the menu on Tuesday (November 10), the perfect way to warm up as the season gets colder.

The cheesecake-in-a-mug is a popular menu item at CheeseTable and has continued to be changed and adapted to the seasons over the years. Until now it has only been available to drink cold, but for the first time they've introduced a hot option.

Strawberry Cream Drinkable Hot Cheesecake | ¥780 (Before Tax)


Chocolate Espresso Drinkable Hot Cheesecake | ¥780 (Before Tax)

There are two flavours to pick from, both of which offer the sensation that you're eating a real cheesecake. There's the creamy strawberry jam "Strawberry Cream" which is best enjoyed after stirring and the "Chocolate Espresso" which is a rich and sweet mix.

Honey Mascarpone Drinkable Cheesecake | ¥600 (Before Tax)


Brown Sugar Syrup & Soy Flour Drinkable Cheesecake | ¥600 (Before Tax)

The signature iced Honey Mascarpone and Brown Sugar Syrup & Soy Flour flavours are also must-tries. Honey Mascarpone has been popular since it was first release for its subtly sweet taste. The Brown Sugar Syrup & Soy Flour dessert drink is topped with soy flour warabimochi and rice flour dumplings. This latter flavour is very Japanese, combining the sweetness of the syrup with cream cheese.

If you're in Tokyo this winter then stay warm with a cup of cheesecake!

Information

Drinkable Hot Cheesecake
Shop Name: CheeseTable Shinjuku
Address: Pandora Bldg. 7F, 3-23-12 Shinjuku, Shinjuku-ku, Tokyo

TEL: 03-3226-8730

Access: 3-minutes on foot from JR Shinjuku's East Exit

Opening Hours
[Weekdays] Lunch 11:45-15:30 / Dinner 17:30-23:00
[Weekends & Holidays] Lunch 11:45-16:00 / Dinner 16:00-23:30

CheeseTable Official Website: http://www.sld-inc.com/cheesetable_shinjyuku.html

Attack on Titan The Final Season Themed Cafe to Open in Ikebukuro

Two branches of Animate Cafe, Animate Cafe Ikebukuro 3 and Animated Cafe Nagoya 2, are set to collaborate with Attack on Titan from November 25 in promotion of the anime's upcoming final season which will begin airing on December 7. This marks Animate Cafe's fourth collaboration with the anime.

Menu

Animate Cafe held a poll amongst customers who dined at the previous Attack on Titan collaboration cafes to find out what the most popular dishes were. These have been chosen to go on the menu for this collaboration.

5 Years Colossal Hamburger & Mother's Handmade Stew | ¥1,000


Eren Meringue & Bertholdt Tart | ¥750


Hange's Experiment Drink | ¥600


Eren's Death Wish Drink | ¥600

New additions to the menu include Hange's Experiment Drink and Eren's Death Wish Drink.


The Final Season Special Rose Cake | ¥750


Gorgeous Champagne Jelly | ¥600

Original merchandise


Big Acrylic Stands (4 Designs) | ¥1,600


Trading Pins (A Group: 6 Designs/B Group: 7 Designs/C Group: 4 Designs) | ¥400 Each


Print Cookies | ¥1,000 Each (Comes with 1 illustration card)

©️Hajime Isayama・Kodansha / Attack on Titan The Final Season Production Committee

Information

Animate Cafe x Attack on Titan The Final Season
Running: November 25, 2020 – December 14, 2020

Locations: Animate Cafe Ikebukuro 3 / Animated Cafe Nagoya

*On November 25, November 27, and weekends, customers must sign up to dine at the cafes – those who sign up will be selected randomly. On all other days, it's free-entry where you don't have to book, but keep in mind that the cafe may still be busy on these days.
Official Website:  https://cafe.animate.co.jp/event/shingeki2011/

Sai Sai Jaran Jaran #10: SILENT SIREN's Hinanchu Visits Tokyo's New Hotel sequence MIYASHITA PARK

Sai Sai Jaran Jaran is a featured series here on MOSHI MOSHI NIPPON from the members of the all-female band SILEN SIREN (aka Sai Sai) who visit various hot spots in Japan and experience different things, the Sai Sai way.

In Episode #10, SILENT SIREN drummer Hinanchu wanted to go and stay at a hotel in Tokyo, so she decided to take a trip to sequence MIYASHITA PARK, a new hotel inside Shibuya's new landmark shopping complex MIYASHITA PARK which itself opened in August 2020.

The newly-reborn MIYASHITA PARK is a four-storey shopping complex with stores located on the first three floors and the top floor being home to the park. The park houses a range of exercise and sports sites like a skate park and bouldering wall as well as the green area and even a Starbucks. This park is so spacious that it's easy to forget it's right next to busy Shibuya Station. It has been open for three months now and is already adored by the community.


sequence MIYASHITA PARK is an 18-storey hotel that stands on the north side of MIYASHITA PARK. It can even be accessed from the complex's fourth floor park which leads visitors to the lobby lounge. The park side of the hotel is also home to a cafe called VALLEY PARK STAND.


VALLEY PARK STAND can be used by non-guests at the hotel too and is open from morning to night time. The windows tower from the floor to the ceiling, allowing plenty of natural light into the cafe. There's plenty of seating areas with table seats, sofas, and benches.


MIYA PITA CHICKEN SHAWARMA ¥900 | FRENCH FRIES & COCKTAIL COMBO ¥800 (Tax Included)

VALLEY PARK STAND is a cafe themed on a fictitious valley park, acting as one big park situated in the middle of bustling Shibuya. Adventuring through the valley park is best done with one of the cafe's signature "MIYA PITA" pita sandwiches in hand.


The cafe offers a selection of coffees, pastries, and pitas for lunch and breakfast. In the evenings, customers can switch to the bar to enjoy something alcoholic. Their original craft cocktails are very popular and are made by a bartender who honed their craft while working in New York.

Hinanchu ordered the "Park & Pomegranate Bellini." Normally hotel cocktails are small, but the ones served at VALLEY PARK STAND are much more generous.


The cafe even sell their own merchandise, from mugs to tumblers and even picnic blankets so you can have a picnic in MIYASHITA PARK if the weather calls for it!

For more information about VALLEY PARK STAND, check out our full breakdown here.

VALLEY PARK STAND
Address: sequence MIYASHITA PARK 4F, 6-20-10 Jingumae, Shibuya, Tokyo
Opening Hours: 7:30-23:00 (Last Orders 22:30)
TEL: 03-6712-5442

Instagram: https://www.instagram.com/valleyparkstand/

The hotel check-in lounge can be found on fourth floor, the same as VALLEY PARK STAND. Check-in uses a new unmanned self-service system so all you need to do is follow the instructions.


Guest rooms are simple but the furniture and fixtures are of high quality. Hinanchu stayed in the 4-person "BUNK BED 4" room. Prices vary depending on the season, but it can cost less than ¥5,000 for one person to stay in a 4-person room which is a bargain!


The wide windows in guest rooms look out across MIYASHITA PARK. Depending on the hotel room you're in, you'll also be able to see landmarks like Tokyo Tower and Tokyo Skytree. The windows also read "Hi, TOKYO!" on them which makes for the perfect photo opportunity.


All rooms are also fitted with reading material by young authors. If you scan the QR code next to their piece, you can learn more about them and even make a donation.


Check-in is at 17:00 and check-out is 14:00 so guests can enjoy their stay leading into the early afternoon of the next day. The MIYASHITA PARK shops open at 11:00, so after checking-out, guests can go straight to shopping or lunch.

So, how did you find MIYASHITA PARK, Hinanchu?

"I've always lived in Tokyo, so I never imagined I'd stay in Shibuya, but you can really feel like a queen staying here! Despite it being smack bang in the middle of Tokyo, it's right next to the park which feels good. I definitely recommend it to those who live in rural areas that want to come and play in Tokyo since places like Shibuya and Harajuku are close by. The hotel is littered with art and stylish design, so it's not simply a stay but a creative experience too which I think will be popular with foreigners. I want to come here again on my own for a relaxing time!"


On the fifth floor of the hotel is the restaurant and bar Dōngxī Restaurant & Sakaba which offers both breakfast, and dinner. The new entertainment restaurant and bar SOAK is also opening on November 13.

If you're thinking of staying in Tokyo or Shibuya, be sure to look up sequence MIYASHITA PARK.

Photo: Kayo Sekiguchi
Text: Sayoko Ishii

Translation: Joshua Kitosi-Isanga

 

SILENT SIREN


SILENT SIREN is a four-member all-female band consisting of vocalist & guitarist Sumire "Suu" Yoshida, drummer Hinako "Hinanchu" Umemura, bassist Aina "Ainyan" Yamauchi, keyboardist Yukako "Yukarun" Kurosaka. In 2015, they performed their first solo concert at Nippon Budokan, making them the fastest Japanese all-female band in history to perform there since making their major debut. In April this year, they launched their own YouTube channel called "Sai Sai Channel." They released their 7th album mix10th on September 2, 2020. The band celebrated their 10th anniversary with a special live performance at Yamanakako Communication Plaza Kirara on September 20, 2020. For the latest information on SILENT SIREN, visit their official website here: http://silent-siren.com/

Tokyo Banana Launches Pokémon Confection Series With Pikachu as First Catch

Tokyo's official souvenir sweets brand Tokyo Banana has launched its new Pokémon Tokyo Banana series of confections.

The first tasty entry to the series is the Pikachu Tokyo Banana which will begin rolling out in limited quantities at 7-ELEVEN convenience stores across Japan from November 21, 2020. It will subsequently arrive as a permanent product at the Tokyo Station branch of Tokyo Banana on December 10, 2020.

Pokémon turn into adorable Tokyo Banana confections

Pikachu Tokyo Banana | Banana Flavour (Contains 2) | ¥291 (Tax Included)

Tokyo Banana are popular cream-filled cakes and are the official souvenir sweet of Tokyo. The Pokémon series turns these fluffy treats into cute confections for you to enjoy with your favourite Pokémon during snack time.

Pikachu: The first in the delicious line

Pikachu is first up in the Pokémon Tokyo Banana series. The adorable Pokémon has been turned into a banana custard cream-filled sponge cake.


There are six Pikachu designs in total which include Pikachu making a variety of cute faces as well as its tail.

Each of the Pikachu Tokyo Banana confections are individually packaged in bags which have a Poké Ball design.

Special packaging designs

The individual treats are then packaged in one of six possible Pikachu packets.

Pikachu Tokyo Banana will first roll out at 7-ELEVEN convenience stores in the locations listed below on the respective dates before heading to Tokyo Banana at Tokyo Station on December 10.

Scheduled

November 21 Release
Tokyo / Kanagawa / Chiba / Saitama

November 28 Release
Hokkaido / Aomori / Iwate / Akita / Miyagi / Yamagata / Fukushima / Ibaraki / Tochigi / Gunma / Niigata / Toyama / Ishikawa / Fukui

December 5 Release
Yamanashi / Nagano / Shizuoka / Aichi / Gify / Mie / Okayama / Hiroshima / Tottori / Shimane / Yamaguchi / Tokushima / Kagawa / Ehime / Kochi

December 12 Release
Osaka / Kyoto / Hyogo / Shiga / Nara / Wakayama / Fukuoka / Saga / Nagasaki / Oita / Kumamoto / Miyazaki / Kagoshima

*Not available in Okinawa

*7-ELEVEN sales are available while supplies last

Tokyo Banana – JR Tokyo Station

Pikachu Tokyo Banana will arrive at the JR Tokyo Station branch of Tokyo Banana inside HANAGATAYA on December 10. The second Pokémon is scheduled to be released in January 2021.

©2020 Pokémon. ©1995-2020 Nintendo/Creatures Inc. /GAME FREAK inc.
Pokémon, ポケットモンスター, and ポケモン are registered trademarks of Nintendo, Creatures Inc., and GAME FREAK inc..

Information

Pikachu Tokyo Banana

Pre-Sales: November 21, 2020
*Available at select 7-ELEVEN branches in Japan while supplies last

Pokémon Tokyo Banana @ Tokyo Station
Release Date: December 10, 2020
Location: HANAGATAYA at JR Tokyo Station
Tokyo Banana World: https://www.tokyobanana.jp/