Goldfish Art Exhibition Begins at Ooedo-Onsen Monogatari in Tokyo Odaiba
Onsen theme park Ooedo-Onsen Monogatari in Odaiba, Tokyo launched its biggest event of the year Kingyo Matsuri Art Exhibition on June 24. The festival feature a range of exciting exhibits including Japan's biggest terrarium developed by aquarium creator Masanori Miyazawa.
Aquarium ①: Japan's biggest Japanese-style Terrarium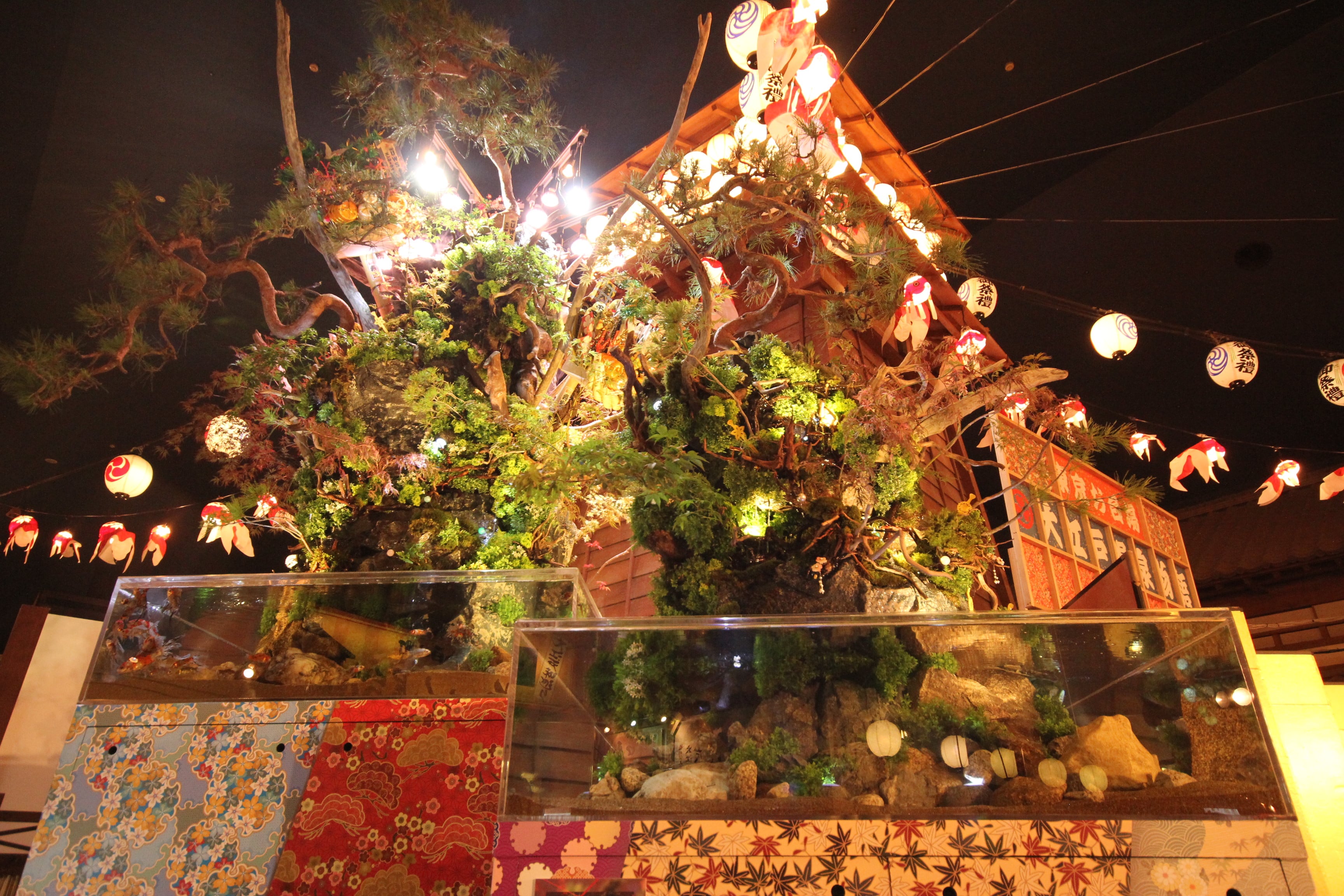 A terrarium is a sealable glass container inside which soil is placed to grow plants. Aquarium creator Masanori Miyazawa, who goes by the artist name GA☆KYO, has built Japan's biggest Japanese-style terrarium which represents the change from the old generation into the new. Standing at 5-meters tall and stretching 1.5-meters wide, the terrarium makes use of bonsai, moss and driftwood.
Aquarium ②: Yukata x Aquarium x Photo Spot
Inspired by the ladies of Edo Castle, beautiful cylindrical fish tanks with kimonos wrapped around them act as a great photo opportunity together with the goldfishes.
Aquarium ③: Meet the 1 Million Yen Ryukin Goldfish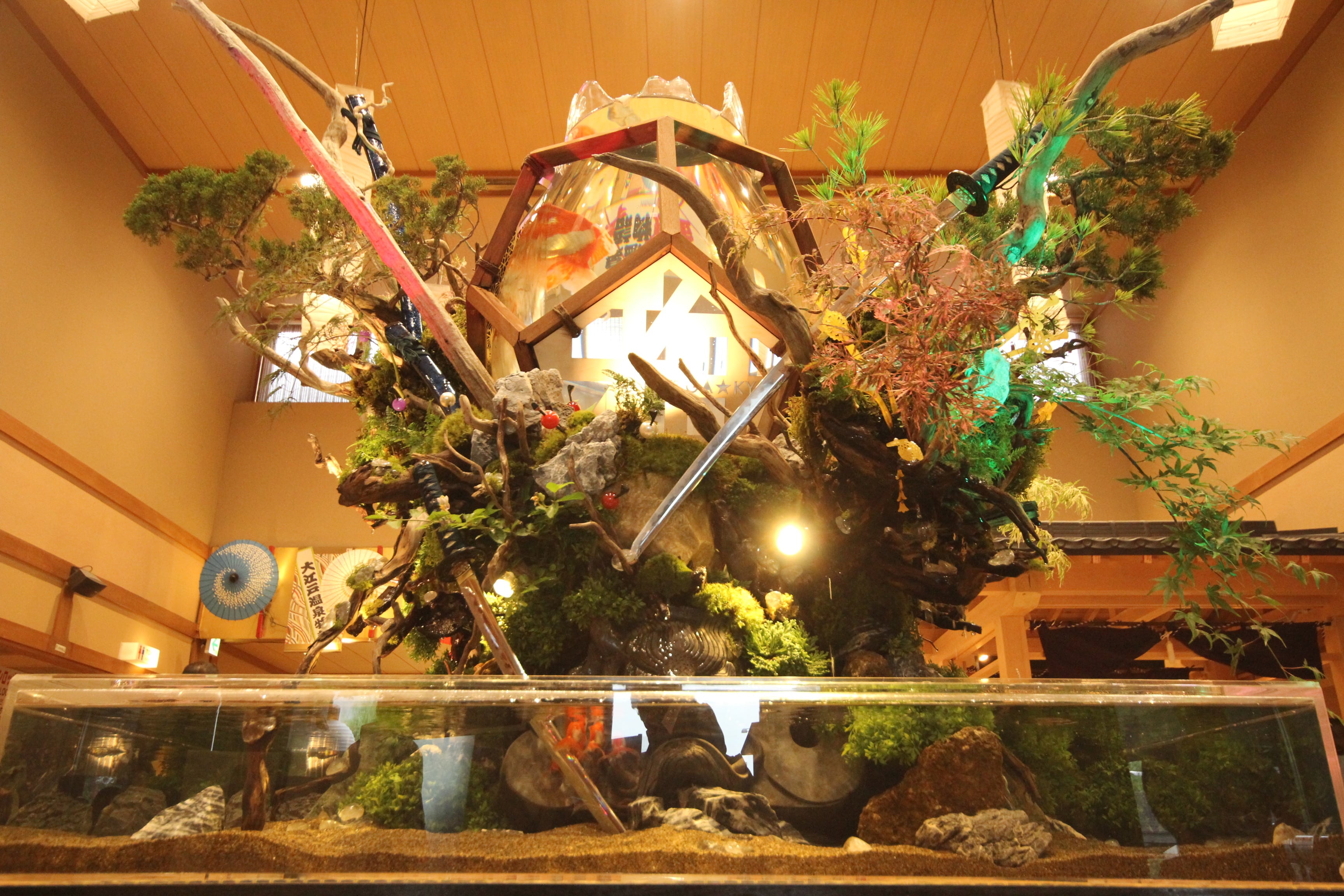 This innovative art installation pairs the Ryukin, a type of Japanese goldfish that has been sold in long-standing fish shops for more than 200 years, with onigawara decorative tiles that have been used to ward off spirits since ancient times, bonsai and more. Also in the exhibit is the "Pre-Edo Goldfish Tearoom" and "Large Round Fish Tanks."
Summer Festival Drinks & Desserts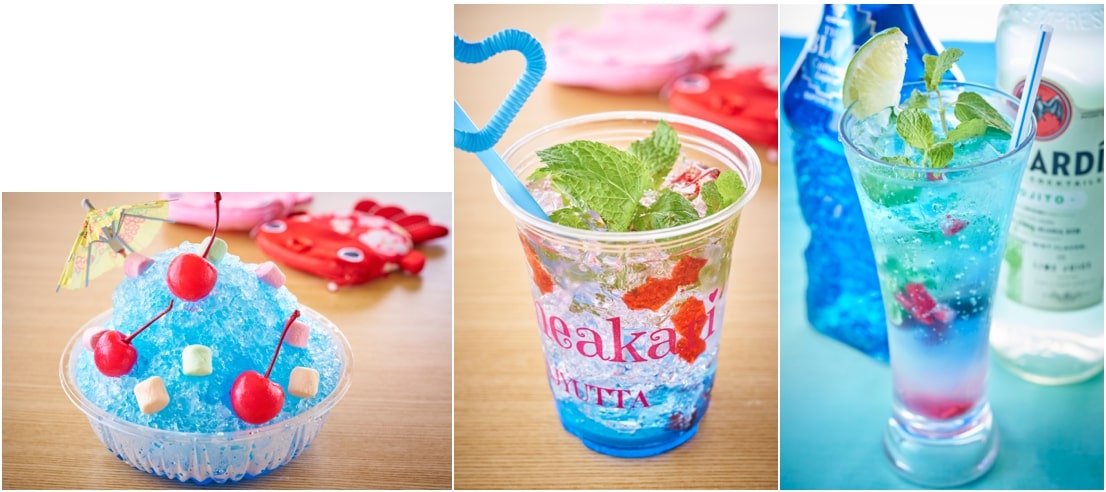 From Left: Blue Goldfish Shaved Ice: ¥550 @ Kuranoe / Goldfish Blue Hawaii Soda: ¥580 @ Yumeakari / Blue Mojito: ¥850 @ Ooedo Cafe
Feel the festive spirit with these summery drinks and desserts.
Goldfish Goodies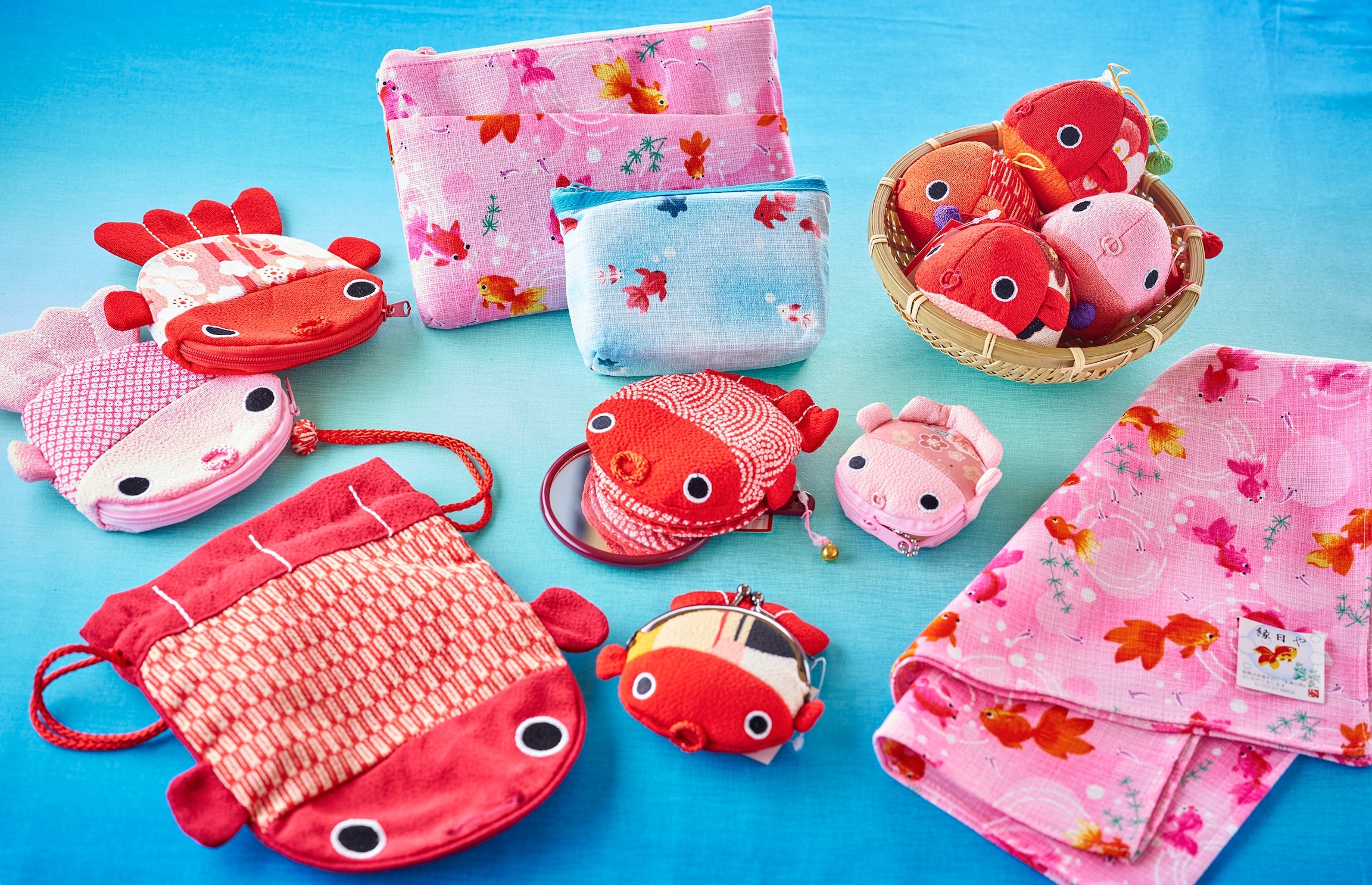 The souvenir store Ryokokuya is selling a range of goldfish themed merchandise perfect as gifts and souvenirs or for taking on summer trips with you.
RECOMMENDED ENTRIES
Hotel Gajoen Tokyo to Hold Japanese Art Exhibition at Hyakudan Kaidan

Hotel Gajoen Tokyo is both a museum and a hotel which celebrated its 90th anniversary in December 2018. The establishment is set to hold its 5th Wa no Akari x Hyakudan Kaidan art exhibition at its Hyakudan Kaidan, or '100 Steps Staircase'―which was registered by Tokyo Prefecture as a Tangible Cultural Property in 2009 for its exceptional architecture and artistic beauty.

The event will run from July 6 to September 1 and will feature all-new exhibits from 40 independent artists and groups from around Japan: from Aomori in the north to Kagoshima in the south.

Bamboo Artwork by NIITAKE

Participating in the exhibition for the first time is bamboo artist NIITAKE from Nichinan, Miyazaki. His pieces will include entrancing room installations as well as a colourful collaboration with the Nagasaki Lantern Festival which enjoys an incredible one million visitors.

emullenuett: The Sand Art Duo

emullenuet are an up-and-coming duo who create artwork out of sand. The two of them have created some pieces just for this exhibition such as Japanese ranma transoms.

Edo Furin Wind Chimes

This dramatic exhibit will include lacquer work, glass work, metal carving and more by Tokyo Teshigoto―a group backed by the city of Tokyo which is a collaboration between contemporary designers and traditional Edo techniques which aims to pass down theses kills to the next generation. Summertime furin which chimes will also line the showcase with their delicate designs and sounds. Other contemporary artists will also display their work with Japanese-style paper, allowing for visitors to see cultural assets established during the early Showa period.

Aomori Nebuta

This year's exhibition will also see the return of some legends who have enjoyed popularity at previous runs of the event. As you descend the huge mother-of-pearl raden elevator you will be welcomed by an overwhelming assortment of standout pieces.

Ishimaki Kokeshi

Other popular names include Tadaharu Kawamura, a sculptor who works with natural materials such as leaves, shells and Japanese lantern cherries, and Takatoshi Hayashi who is known for their kokeshi dolls.

Information

Wa no Akari x Hyakudan Kaidan 2019 ~Kokoro no Shikisai~

Location: Hotel Gajoen Tokyo (1-8-1 Shitameguro, Meguro Ward, Tokyo)

Running: July 6, 2019 – September 1, 2019

Opening Hours: [Sun-Thurs] 10:00-17:00 (Last Entries 16:30) / [Fri-Sat & August 11-18] 10:00-20:00 (Last Entries 19:30)

*Photography allowed (Tripods, flash and photography for business purposes forbidden)

Price: Same-Day ¥1,600 / Advanced ¥1,300 (Special Advanced Price of ¥1,100 Until July 5) / University & High School Students ¥1,200 / Elementary & Junior High School Students ¥600

*Student ID required. Preschoolers permitted free entry.

TEL: 03-5434-3140

Online Tickets: https://www.e-tix.jp/100event/#akari

Art Exhibition: 'Wa no Akari x Hyakudan Kaidan' to Take Place in Meguro Gajoen

Hotel Gajoen Tokyo is a hotel and museum celebrating its 90th anniversary this year. The hotel is home to the Hyakudan Kaidan, or 100 Steps Staircase, where the Wa no Akari x Hyakudan Kaidan art exhibition will take place from June 7 to September 2. This marks the 4th run of the event, which will put on a fantastic display of lights and installations celebrating Japanese summer and its events.

The 100 Steps Staircase was built in 1935 and has been a place of meeting for many people over the course of Gajoen's history. It was registered by Tokyo Prefecture as a Tangible Cultural Property in 2009 for its exceptional architecture and artistic beauty.

During the exhibition's first run in 2015, the Hyakudan Kaidan was celebrated in collaboration with the Aomori Nebuta Matsuri, a registered Important Intangible Folk Cultural Property. The ideas and concepts surrounding the exhibition have changed each year. The second run saw a boost in popularity with over 90,000 attendees, more than the prior year.

This year, 63 exhibitors will participate in the event, close to double the amount than last time. It will be a celebration of everything from the giant Aomori Nebuta Matsuri to Edo Kiriko glassware that you can hold in the palm of your hand. An amalgamation of festivities, art, design, craftsmanship and technology, attendees are permitted to take photos of anything there.

This year's exhibition will see a huge range of content, including art installations by MIRRORBOWLER, three new works completed by Majima Hidenori at the end of last year that took him 6 years to complete, a light-up byobu folding screen that people can draw on, products by body care brand SABON who originate from Israel and are celebrating 10 years since arriving in Japan, and much more.

There will be a bunch of collaborative projects too. Full details can be found on the event website.

Get up close with Japanese art and culture at this year's exhibition.

■Information

Wa no Akari x Hyakudan Kaidan 2018

Location: Hotel Gajoen Tokyo

Running: July 7, 2018 – September 2, 2018 (*No Holidays)

Time: [Monday-Thursday] 10am-5pm (Last Entries 4:30pm) / [Friday, Weekends, Holidays & August 13-17] 10am-8pm (Last Entries 7:30pm)

*Photography allowed. However, tripods and flash photography are prohibited.

Entry Price: Same Day – ¥1,500 / Advance – ¥1,200 (¥1,000 until July 6 at entrance) / Students – ¥800 (ID Required) / Children – Free

TEL: 03-5434-3140 (10am-6pm)

Official Page: http://www.hotelgajoen-tokyo.com/event/wanoakari2018

teamLab Brings "Resonating Trees" Permanent Digital Art Exhibition to Tokushimaken Bunkanomori Total Park

teamLab will set up their Resonating Trees exhibition as a permanent display at Tokushimaken Bunkanomori Total Park on April 29th. This digital art space transforms and alters with lights, sounds and tech when people are present.

teamLab is an 'artist collaborative, interdisciplinary creative group' made up of specialists including programmers, engineers, CG animators, mathematicians, architects – the list goes on. They work to blur together the art, science, technology and creative industries.

The exhibition set to hit Tokushimaken Bunkanomori Total Park is titled 'Resonating Trees' and is one of the team's Digitized Nature art projects. Rows and rows of trees will illuminate the area. Each of the tree lights is automatic so will resonate gently as they glow on with dazzling light before fading away. When passersby and animals pass through the trees, the colour of the lights will change and different sounds will play. Each trees' lights will diffuse one after the other.

Experience digital art like you've never seen it before with teamLab.

■Information

Resonating Trees

Open: April 29, 2018 (*Permanent Exhibition)

Location: Tokushimaken Bunkanomori Total Park

Address: Mukōterayama-1 Hachimanchō, Tokushima-shi, Tokushima Prefecture

Time: 19:00-21:00

Days: Tuesday–Sunday

Closed: Mondays (In the case that a Monday falls on a national holiday, it will close on Tuesday)

Entry: Free

Website: https://www.teamlab.art/jp/e/resonatingtrees_bunkanomori
RELATED ENTRIES
Poop-Themed Exhibition to Teach People All About Poop in Fukuoka

Fukuoka PARCO and Higashiyama Zoo and Botanical Gardens are collaborating to hold a poop-themed exhibition entitled "Poop Exhibition: Poop Academy Cultural Festival in Fukuoka" on floor B1F of the south building of Fukuoka PARCO from September 27 to October 27.

There will be many elements to the exhibition. The first of these is the language section where sentences written in Japanese will be draped all across one room, each with references to poop.

Above photo taken from the Ikebukuro exhibition

In the "Outdoor Lesson" corner, there will be cased displays of different animal droppings with descriptions, enabling people to see the different shapes and sizes poop comes in.

In the "Poop Arithmetic 3rd Year Students" corner is a photo spot where you can pose like the Poop Maths Teacher as shown on the right.

At the end of the exhibition there's an exam room where you can take a test based on what you have learned from the exhibition.

There'll even be a range of original and exclusive merchandise.

Postcard Set (5 Designs) – ¥400

Folders – ¥300

Toilet Roll – ¥348 / Character Tape Cutter – ¥700 / Leather Futon Books (2 Designs) – ¥500 Each

Japan is having a poop craze right now, with the opening of the Unko Museum in Yokohama which is also set to arrive in Shanghai next month.

*Photos are for illustrative purposes only. Listed prices are pre-tax. Event content subject to change.

Information

Poop Exhibition: Poop Academy Cultural Festival in Fukuoka

Running: September 27, 2019 – October 27, 2019

Opening Hours: 10:00-20:30 (Until 18:00 on October 27; last entries 30 minutes before closing times)

Location: Fukuoka PARCO South Building Floor B1F

Entry Price: ¥600 (Free entry for preschoolers)

*POCKET PARCO members get ¥100 off

Event Page: https://art.parco.jp/fukuoka/detail/?id=297

Complete a Mission and Explore Enoshima with The Mekakushi Dan

Ever dreamt of teaming up with the Mekakushi Dan from the Kagerou Project to complete a mission? Now you can and explore the wonders of Enoshima while you are at it. From September 14 to November 17, Enoshima will hold its biggest ever real life rescue game featuring Japanese mixed-media project The Kagerou Project. The event will be called Mekakucity Quest in Enoshima and will run over approximately two months.

From games and music to novels, anime and manga, The Kagerou Project characters have dominated the scene in a large range of media forms. The Mekakucity Quest in Enoshima was created in collaboration with SCRAP, who are famous countrywide for their real life escape games. 

This game can only be cleared by walking around Enoshima to find hints and answers to the challenges but don't worryーThe Mekakushi Dan will be in contact with you via the messaging app LINE to help you solve the riddles. 

Upon accepting your mission, you will receive a mission guide full of information on the mouthwatering gourmet food and fascinating history of Enoshima. The guide will take you on a wonderful journey of discovery through locations popular among tourists and even romantic date spots. This is the perfect way to enhance your Enoshima experience. 

Multimedia creator Jin, who is the founder of the Kagerou Project, has teamed up with SCRAP to create this exciting real life game which is full of fun contents that anyone can enjoy. The original storyline takes advantage of the wonders of Enoshima, creating a unique experience that is not available anywhere else. It is a rare opportunity to get close to the Mekakushi Dan and simultaneously enjoy the exciting culture of Enoshima. 

Your journey will start at Subana Kaikan (スバナ会館) which will be selling lots of Kagerou Project collaboration merchandise that cannot be obtained from anywhere else. Make sure to check out the official website for more information. 

There is an exciting bonus in store for those who successfully clear the game: A surprise phone call from Ene and Shintaro! Just hearing the voice message of these two popular characters is enough to send some fans wild. Those who clear the game will also have the opportunity to take part in a special lottery for the chance to win a ticket to watch the debut screening of the anime Kagerou Daze No.9 before anyone else. This series is set to go live next spring. 

*The debut screening is a private event that you can only take part in by clearing the Mekakucity Quest in Enoshima. There is no general screening event for those who do not succeed. 

As the sweltering heat of summer has finally subsided, this is the perfect chance to explore the wonderful tourist spots and indulge in the delicious local food of Enoshima while facing challenges with your pals or even your partner.

Information

Mekakucity Quest in Enoshima

Start Point: Subana Kaikan (スバナ会館), 1-9-12, Katasekaigan, Fujisawa, Kanagawa

Running: September 14 ー November 17, 2019 

Approximate amount of time required to complete the quest: 2 hours

Ticket Availability:

Selling on September 12, 2019 (10:00ー16:00)

*  Advanced tickets and more information is available on the official website.

* It is possible to obtain tickets after the ticket sale period has ended.

Official Website: https://realdgame.jp/mekakucityquest/

Tickets: http://bit.ly/2kJajwP

Pompompurin Zombieland: Save Pompompurin From Zombies at Sanrio's Horror Event

Sanrio's popular character Pompompurin is collaborating with Obaken, a horror experience creative company, to bring the brand new horror event known as Pompompurin Zombieland to Sanrio Puroland on November 16 and 30.

Tickets will go on pre-sale for official Pompompurin ambassadors, or Pombassadors, on September 14 at 10:00am (JST) and general sales will begin on September 28 at 10:00am (JST). To find out more about Pombassadors and how to become one click here.

Pompompurin Zombieland Promo Video

Horror experience planner Obaken is set to shake the cute world of Pompompurin into a terrifying zombie-infested one. In the story, Pompompurin was happily looking for some tasty mushrooms to pick when all of a sudden he eats a poisonous one by mistake. It is your mission to deliver him the antidote to stop him from becoming a zombie. Other unfortunate victims who also ate poisonous mushrooms have died and returned as the living dead and will roam around Puroland. The antidote to save Pompompurin, who is on the brinks of turning into a green zombie, lies in the non-poisonous mushrooms located in 6 areas of the park.

You must survive getting infected by the zombie virus and get your hands on mushrooms. If you succeed you'll receive an exclusive Pompompurin Zombieland pin badge stating that you have cleared the mission.

You can even pick up an exclusive Zombie Purin t-shirt. These are limited in stock and can't be bought anywhere else.

Additionally, if you wear a combination of yellow and brown-coloured clothing when attending the event―which are the colours of Pompompurin―you'll get the above-pictured Zombie Purin sticker.

Full details can be found on the event's website below. Don't miss out on this creepy-cute experience this autumn.

©︎'96, '19 SANRIO

Kusatsu Onsen's Emerald Green Pudding is a Must-Try After a Dip in the Hot Springs

Kusatsu Onsen is a hot spring resort in Gunma Prefecture that is one of Japan's three principle hot spring locations. The site opened its new Japanese custard dessert (known as 'purin') shop, Kusatsu Onsen Pudding, on August 24, which serves the most incredibly smooth purin you have ever tried, each inspired by the hot springs.

Once you've stepped out of the nice warm hot springs of Kusatsu Onsen you can refresh yourself with a delicious purin packed full of love from the shop which has created a flavour you can only try by travelling to Gunma and going there. Each and every dessert is made fresh in the shop to further elevate its exclusivity as a local speciality.

Kusatsu Onsen Pudding also makes sure to use local and regional ingredients where it can to help support manufacturers and producers. Their purin is also made with a special type of milk sourced from in Gunma known as Haruna milk. The milk is made as delicious as can be by ensuring cows are raised on a healthy natural diet of grass on green pastures in Gunma bathed in plenty of sunlight.

Yuhata Purin

The Yuhata purin is inspired by the hot spring areas where mineral deposits are harvested, its jelly taking on a gorgeous emerald green colour. It's lemon and lime flavoured, the perfect flavour to enjoy when stepping out of the hot water, and one which goes surprisingly well with purin.

Yumomi Purin

The staple purin of the store, this purin is based on yumomi, a method used for cooling the hot water with paddles from which cold water gushes forth. This velvety delight is made with lots of fresh cream and high-quality vanilla beans from Madagascar for added punch.

Furomage

A pun on the word fromage, with furo in Japanese meaning "bath," the Furomage purin uses a rich cream cheese base which has a seriously smooth texture. It's topped off with strawberry jelly for the perfect combination, packing a perfect balance between sweet and sour.

Yuhata Soft (Milk/Yuhata/Mixed)

Choose from the Yuhata soft serve ice cream which is ramune flavoured and inspired by the flowing water of the hot springs or the Haruna milk-mixed vanilla flavoured Milk soft serve. If you can't pick, then choose mixed for a bit of both. A satisfyingly refreshing pick for when you're done in the hot springs.

The shop has plans to sell purin made using bamboo steamers in the near future, so you're pudding can be steamed like yourself after a dip in the water! The wooden spoons used to eat the desserts are also made in the image of the paddles used in yumomi too.

Escape From Godzilla at TOKYO MYSTERY CIRCUS Escape Game Theme Park

TOKYO MYSTERY CIRCUS's catalogue of games just keeps on growing. The puzzle and escape game theme park has just announced the return of its escape game Escape From Shin Godzilla which is being held in collaboration with the 2016 film Shin Godzilla.

The event was previously held last April where it ran until October, enjoying huge popularity with over 40,000 escape game-goers. Players took the role of a member of the Kyosaitai―the anti-Godzilla task force―based in Kabukicho, Shinjuku where you will be tasked with solving puzzles to defeat the colossal giant.

The thrilling event returns once more with original visuals created to make it look like Godzilla has really invaded Kabukicho. Tickets are now on sale, and you can pick up exclusive merchandise and themed food at the venue too. Can you defeat Godzilla?

TM&©TOHO CO., LTD. ©SCRAP

Information

Escape From Shin Godzilla

Location: Himitsu Kichi Lab, TOKYO MYSTERY CIRCUS (Floor B1F)

Running: October 4, 2019 – November 10, 2019

Times

Weekdays: 13:20 / 16:20 / 19:20
Weekends & Holidays: 10:10 / 12:40 / 15:10 / 17:40 / 20:10
*The event will end 100 minutes after each starting time

Price
Advance: Single ¥3,300 / Group ¥12,000 / Repeater Group Ticket ¥12,000
Same-Day: Single ¥3,800 / Group ¥14,000 / Repeater Group Ticket ¥14,000
*Same-day tickets will not be available if all advance tickets sell out

 

TOKYO MYSTERY CIRCUS

Address: APM Bldg., 1-27-5 Kabukicho, Shinjuku, Tokyo, 160-0021

Opening Hours: Weekdays 11:30-23:00 / Weekends & Holidays 09:30-23:00

No Fixed Holidays.

Price: Free Entry (*Separate tickets required for games)

Official Homepage (English): https://mysterycircus.jp/en/

Event Page (Japanese): https://mysterycircus.jp/shin-godzilla/

Mitama Hot Spring in Yamanashi Ranks in Japan's Top 100 Night Views & Registers as Night View Heritage

Located in the beautiful little town of Ichikawamisato in Yamanashi Prefecture is Mitama Hot Spring, a "day-trip" type hot spring, which has just received a double award: it has been listed as one of Japan's Top 100 night views for the first time, and as a Night View Heritage of Japan.

Mitama Hot Spring is built on the southern tip of the Kōfu Basin―Kōfu being Yamanashi's capital city-which can be viewed in a breathtaking 180 degree panoramic view from the northern side of the open-air baths. The majority of the hot spring also faces the south which means a breathtaking nighttime view of the city, picturesque against a resplendent sky, as you soak in the warm embrace of the hot spring.

During the day, one's eyes can roll their gaze across the Yatsugatake Mountains at the front, and in the direction of west is Mount Kita, the second tallest mountain in Japan after Mount Fuji.

Mitama Hot Spring should absolutely be on your bucket list of things to do when visiting Yamanashi Prefecture.

Information

Mitama Hot Spring

Address: 2608 Ōtsuka, Ichikawamisato, Nishiyatsushiro District, Yamanashi Prefecture

Opening Hours: 10:00-23:00 (Last Entries 22:00)

*Closed around 5 days a year for inspection and maintenance

Price: General ¥700 / Elementary School Children ¥500 / Toddlers – Free

*General price set to increase to ¥780 this October

Official Website: http://www.mitamanoyu.jp/

Halloween at HEP FIVE Osaka: Horror Ferris Wheel, Guillotine Photo Spot & More

Osaka's landmark shopping centre HEP in Umeda is just a short 3-minute walk from Umeda Station, meaning you don't have to worry so much about looking over your shoulder to see if Michael Myers or Dracula is following this Halloween as you make your way to "HEP FIVE HORROR×HORROR AUTUMN."

This bone-chilling event is set to deliver horror, beauty and fashion all in one place.

Junji Inagawa's Horror Ferris Wheel

The Horror Ferris Wheel was such a hit last year that it's set to return again this Halloween, better and scarier than ever. There will be two Ferris wheels, each inspired by two of ghost story writer Junji Inagawa's masterpieces. Incorporating an all-new horror system, the Ferris wheels will take riders up 106 meters high for a hair-raising experience they cannot escape. Once you're in, you're in until the end.

Monster Food

Of course, no Halloween party is complete without some fang-tastic food. HEP FIVE's restaurants have each whipped up their own unique dishes for the holiday.

Lulu Hashimoto's Doll World

Lulu Hashimoto has garnered attention both in Japan and overseas as the "living doll" for her doll costume. She will be present at HEP FIVE where you can get a photo with her at the first floor entrance atrium.

Date: October 12, 2019

Time: Slot ① 13:00 (Floors 5F-6F), Photos at 13:30 / Slot ② 15:00 (Floors 3F-4F), Photos at 15:30 /  Slot ③ 17:00 (Floors B1F & 2F), Photos at 17:30

Locations: The initial fan greeting will take place at various places across the shopping centre, and photos will take place on the first floor atrium

Getting a Photo: Tickets will be handed out from 11:00 on the day. 15 people per slot on a first-come, first-served basis.

Horror Show Time

Ghost performed Sadawo is set to take on the form of Japan's most famous horror icon Sadako from Ringu while riding a Segway. Look forward to a whole host of terrifying performances.

Date: October 19, 2019

Times: ①12:00 (Floots 6F-7F) / ②14:00 (Floors 4F-5F) / ③16:00 (Floors 2F-3F) / ④18:00 (Floors B1F-1F)

Locations: Various places across the shopping centre

Guillotine Photo Spot

Get your photo taken at the guillotine photo spot at the first floor atrium and look like something straight out of a slasher movie. Make it even better by dressing up in cosplay or Halloween outfits with friends!

Enjoy a horror experience like no other this Halloween at HEP in Umeda, Osaka.

Information

HEP FIVE "HORROR×HORROR AUTUMN"

Location: HEP FIVE (5-15 Kakudacho, Kita Ward, Osaka, Osaka Prefecture)

Date: September 20, 2019 – October 31, 2019
HEP FIVE Official Website: https://www.hepfive.jp/

Go Grape Picking, Buy Fresh Fruit and Veg & More at Hills Marche in Tokyo This Autumn

Hills Marche is a market held every Saturday at ARK Hills in Tokyo, and on September 28, it is set to hold the Hills Marche 10th Anniversary "Great Harvest Festival."

Hills Marche began in September 2009 as the first project of Marche Japon which is run by the Japanese Ministry of Agriculture, Forestry and Fisheries. It has become one of Tokyo's representative markets, with more than 740,000 people having attended since its establishment.

The 10th Anniversary Great Harvest Festival brings together farmers from all across Japan, with fresh fruit and vegetables harvested from that morning. There will also be various events including a grape-picking session. Lots of lunch options will also be served using fresh vegetables used as the market.

Farmers Band Together

A total of 44 sellers from both Japan and overseas will set up shop for the Marche. The first 100 people to shop at over 5 stalls and collect the stamps will also receive a festival tote bag.

Taste and Compare 10 Varieties Of Grape

From popular varieties such as Shine Muscats to rarer, hard-to-find varieties, choose from 10 different types of grapes to enjoy. You'll be surprised at how different their sweetness and sourness is!

Go Grape Picking

Have even more fun by picking your own grapes at Karayan Square. Kids and adults alike will enjoy this experience. Bring friends and family and relish in the flavours of the autumn harvest.

Time: From 11:00

Price: ¥500
Anyone can join, but the grapes are limited in stock, so it's first-come, first-served!

Bistro Marche with Ark Hills Cafe

The Ark Hills Cafe is also celebrating its 10th anniversary alongside Hills Marche and will collaborate with the market for the occasion. Tuck into a healthy buffet made with ingredients from Hills Marche and enjoy a saxophone performance by Japanese musician Shunosuke Ishikawa. There will also be discount lunches using the ingredients from the market from September 24 to 27.

Price: General – ¥1,000 (Tax Included) / Elementary School Children & Younger – ¥500 (Tax Included)
Time: 10:00-15:00 (Last Entries 14:00)

Jazz Performances: ①11:15 / ②12:15 (subject to change)

There's plenty more to look forward to as well, including lots for parents and children to enjoy together such as workshops.

Information

Hills Marche 10th Anniversary "Great Harvest Festival"

Date: September 28, 2019

Time: 10:00-15:00

Location: ARK Hills Karayan Square (1-12-32 Akasaka, Minato Ward, Tokyo)

*Hills Marche is normally held until 14:00, but it has been extended an extra hour for the anniversary

*An opening ceremony will also be held from 9:20-9:50 to commemorate the celebrations

*Festival will go ahead if it rains but will stop if the weather turns stormy

Official Website: https://www.arkhills.com/en/hillsmarche/

Warm The Cockles Of Your Heart This Christmas at HOSHINO Karuizawa Area

This holiday season, Hoshino Resorts is set to hold a Christmas event at HOSHINO Karuizawa Area, a place managed by the company which brings together people who love culture and nature. It will run from November 16 to December 25.

The event's theme is "A Town Where Happiness Shines." From mistletoe illuminations to xmas desserts and more, you're sure to have the cockles of your heart warmed this year at this happiness-filled festival.

Mistletoe Illuminations

At Harunire Terrace, where 16 shops line the cosy wooden terrace, the columns and overhangs will be adorned in Christmas garlands, and mistletoe-shaped illuminations will dangle from tree branches.

You can spot a lot of mistletoe in Karuizawa Wild Bird Sanctuary. Even in wintertime the plant does not wither, instead keeping its green leaves, which in folklore has led it to be viewed as a symbol of immortality.

Mistletoe is known in many cultures as a symbol of happiness. In the Western world, lovers who stand under mistletoe are expected to kiss. The warm illuminations are set to light a warm and romantic atmosphere to all those who attend.

Mistletoe Lanterns

As well as the illuminations, there will also be mistletoe lanterns hiding in the trees to celebrate romantic love this Christmas. Get ready to count down with everybody at the event as when you reach zero, all of the lanterns will turn on at the same time. There will even be mini live performances where you can sing along to Christmas songs.

Christmas Sweets at Hoshino Resorts Karuizawa Hotel Bleston Court

Order the "Episode de Noel" at Hoshino Resorts Karuizawa Hotel Bleston Court for a delicious Christmas sweets dessert course of 4 treats.

This is just a peek inside the stocking of what's to come at the festival. There will be a hot chocolate bar, fresh s'mores, kids events, photo spots, a Christmas market, and more. Ride your sleigh into HOSHINO Karuizawa Area this winter.

Information

HOSHINO Karuizawa Area Christmas 2019

Running: November 16, 2019 – December 25, 2019

Time: 16:00-23:00 (Times differ for certain events)

Location: HOSHINO Karuizawa Area

Entry: Free

TEL: 0267-45-5853

Mistletoe Illuminations

Location: Harunire Terrace

Running: November 16, 2019 – December 25, 2019

Time: 16:00-23:00

Mistletoe Lanterns

Location: Harunire Terrace, Woods

Running: December 7th, 8th, 14th, 15th, 21st-25th

Time: 16:50-17:10

Price: Free

Dessert Course

Running: December 13, 2019 – December 25, 2019

Time: 10:00-16:00

Price: ¥3,500 (pre-tax and service charge)

HOSHINO Karuizawa Area

Address: Hoshino Nagakura, Karuizawa, Kitasaku District, Nagano Prefecture

TEL: 0267-45-5853

Access: 15-minutes by car from Karuizawa Station (via JR Hokuriku Shinkansen)

Official Website (English): http://www.hoshino-area.jp/en

Gamers! Rally Your Teammates For A New Quest: TOKYO GAME SHOW

The TOKYO GAME SHOW is in a league of its own. It is a mecca for gamers who cannot get enough of Japanese games and entertainment. This is where Japan's major game publishers from all kinds of platforms unite to put on an enormous exhibition. 

This includes the opportunity to explore games that are yet to be released as well as hear new announcements about the direction developers are steering the future of gaming. There's no lagging behind. This is a major event for the gaming industry, raking in leagues of heroes every year. 

On August 28, a total of 2,417 game booths were announced, which is the largest number the event has ever seen in its history. This event is home to games on a range of platforms including for console, smartphone and PC. The enormous variety of genres includes the most cutting-edge and latest trends including Esports, VR and much more.

For those of you who love cosplay, this event is your chance to finally meet your fantasy. The outside area of Hall 9 will have a Cosplaying Area Stage where two events will take place: a cosplay fashion show and a gathering. 

On Saturday 14th, Hall 1 event stage will hold the Cosplay Collection Night@2019 event where participants and event staff will take over the stage in game character cosplay. Spectating is free, so feel free to watch as each cosplayer dominates the entire stage, showing off their excellent craftsmanship and skills as they walk the runway and strike a pose definitely worth saving in your highlights! 

On Sunday 15th at 2:30 pm, cosplayers will take to the stage in units of two or more to put on a dance or combat show that you just cannot critically miss out on. 

Schedule:

September 14 (Sat)  From 12:00 ー Cosplay Runway  From 15:30 ー Cosplay Runway

September 15 (Sun) From 13:30 ー Cosplay Runway From 14:30 ー Cosplay Dance and Combat Shows From 15:30 ー Cosplay Runway

The Gathering is where cosplayers can interact with one another and have photos taken ー the perfect opportunity to send those friend requests. On September 14, a gathering dedicated to the Final Fantasy Tales Series will take place on the Cosplay Area Stage. On September 15, there will be gatherings for the Dynasty Warriors and Samurai Warriors series.

Schedule:

September 14  13:00-13:30 Final Fantasy Series Gathering  14:00-15:00 Final Fantasy Tales Series Gathering 

September 15 12:30-13:00 Dynasty Warriors and Samurai Warriors Series Gathering

More information on the exhibitions, booths and events will be announced on the morning of September 12 so please check it out. 

There is no better way to multi kill your time than to spend the entire day at TOKYO GAME SHOW 2019 ー get your tickets and GLHF!

Information

TOKYO GAME SHOW 2019

Event Information

Business Days*: September 12 & 13, 2019 (10:00~17:00)

*Business Days are open to industry and press only.

Public Entry*: September 14 & 15, 2019  (10:00~17:00)

*Doors may open at 9:30 am according to conditions on the day.  

Venue: Makuhari Messe (Mihama Ward, Chiba)

Exhibition Halls 1-11/ Event Hall/ International Conference Hall

Entry Fee: Advanced tickets: ¥1,500 (after tax)

On The Door: ¥2,000 (after tax)

Those under Elementary School age can enter for free (public entry days only)

Official Website: https://expo.nikkeibp.co.jp/tgs/2019/en/

Japan's Poop Museum Dumps Its Load in Shanghai

The poop-themed exhibition Unko Museum is set to roll into Shanghai on October 19 where it will run until January 3 next year.

The museum first appeared at the entertainment facility ASOBUILD, which is connected to Yokohama Station, where it is still running as Unko Museum YOKOHAMA. It was then followed by Unko Museum TOKYO where it is still open at DiverCity Tokyo Plaza. This will mark the museum's first trip overseas.

Just 4 months after opening in in Yokohama, the museum had amassed over 200,000 visitors. The subsequent Tokyo museum served to promote the new Japanese concept of "kawaii poop" to tourists both Japanese and foreign. It was a huge success and enjoyed substantially more visitors than predicted.

With the museum receiving huge attention from both Japan and overseas, Shanghai was chosen as the next destination as a means to develop the concept outside Japan since Shanghai is one of the main global cities of the Asian region. There is also the fact that mainland China has a population of over 1.4 billion. The Unko Museum aims to promote and establish itself as a new entertainment experience.

The museum will be set up at Joy City Shopping Mall, which is home to a whole host of experience entertainment, as well as restaurants, shops, and even a Ferris wheel. It will have the same content as the museum in Japan, including giant poop statues, the "Unstagenic Area," a combination of the Japanese word for "poop" (unko) and the words "Instagram" and "photogenic" with cute and stylish poops, and more.

Information

Unko Museum SHANGHAI
Address: Joy City Shopping Mall Floor 4F, 166 Xizang N Rd, Zhabei Qu, Shanghai Shi, China
Running: October 19, 2019 – January 3, 2019
Opening Hours: 10:00-22:00 (Last Entries 21:00)

Official Website: https://unkomuseum.com/

Andy Warhol Exhibition to Grace Kyoto's Kyocera Museum of Art in 2020

An exhibition centred around Andy Warhol, the American artist who was at the forefront of the pop art movement, is set to roll up to the Kyocera Museum of Art in Kyoto on September 19, 2020.

The exhibition will showcase pieces available only at the The Andy Warhol Museum in Pennsylvania, US. It will be the first Andy Warhol exhibition of its kind to hit Japan and will also touch on his deep knowledge of Kyoto.

The exhibition will be the first to take place in the museum's new Toyama Cube building which is currently under construction.

More details will be announced on the exhibition's website and social media accounts below.