Goldfish Art Exhibition Begins at Ooedo-Onsen Monogatari in Tokyo Odaiba
Onsen theme park Ooedo-Onsen Monogatari in Odaiba, Tokyo launched its biggest event of the year Kingyo Matsuri Art Exhibition on June 24. The festival feature a range of exciting exhibits including Japan's biggest terrarium developed by aquarium creator Masanori Miyazawa.
Aquarium ①: Japan's biggest Japanese-style Terrarium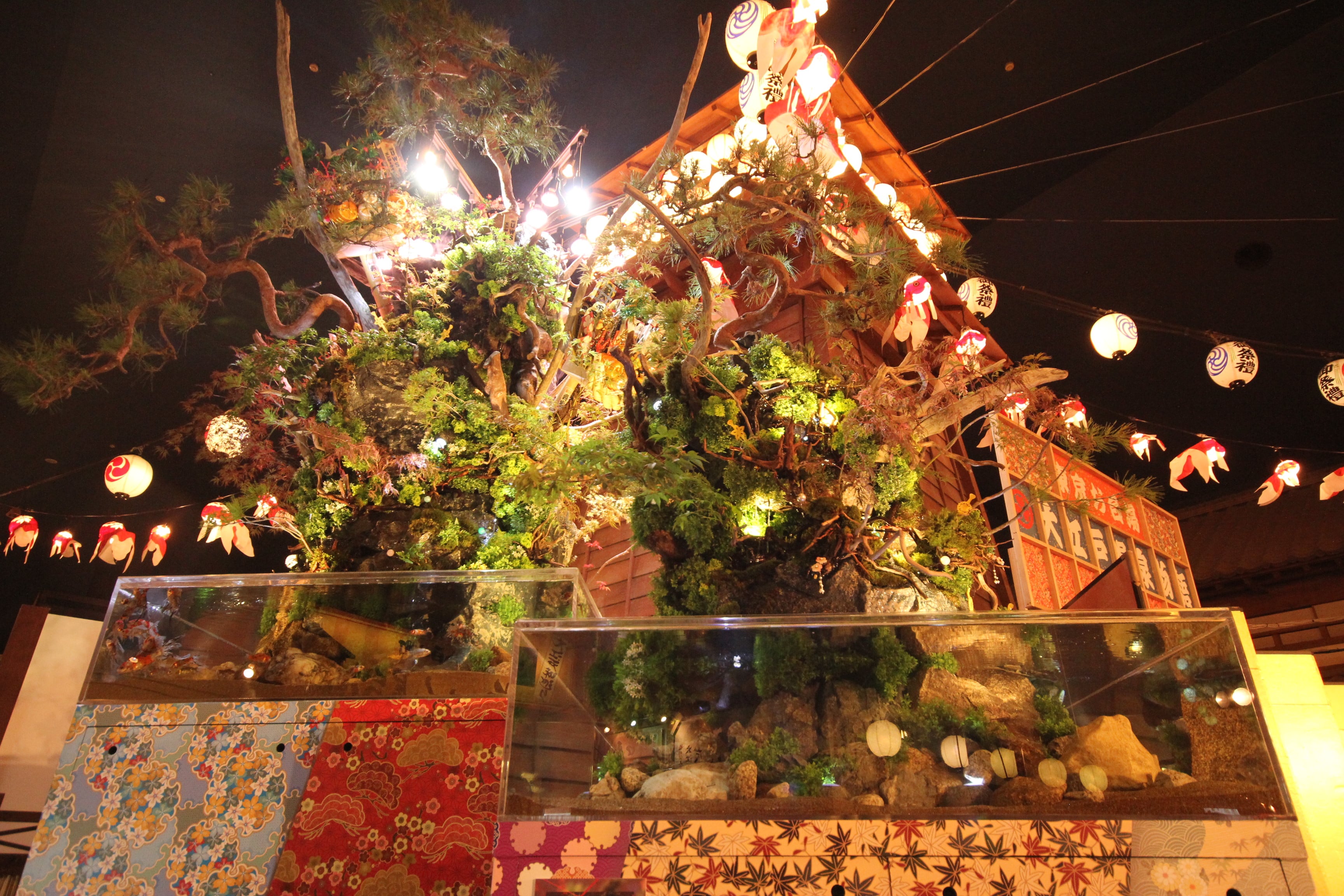 A terrarium is a sealable glass container inside which soil is placed to grow plants. Aquarium creator Masanori Miyazawa, who goes by the artist name GA☆KYO, has built Japan's biggest Japanese-style terrarium which represents the change from the old generation into the new. Standing at 5-meters tall and stretching 1.5-meters wide, the terrarium makes use of bonsai, moss and driftwood.
Aquarium ②: Yukata x Aquarium x Photo Spot
Inspired by the ladies of Edo Castle, beautiful cylindrical fish tanks with kimonos wrapped around them act as a great photo opportunity together with the goldfishes.
Aquarium ③: Meet the 1 Million Yen Ryukin Goldfish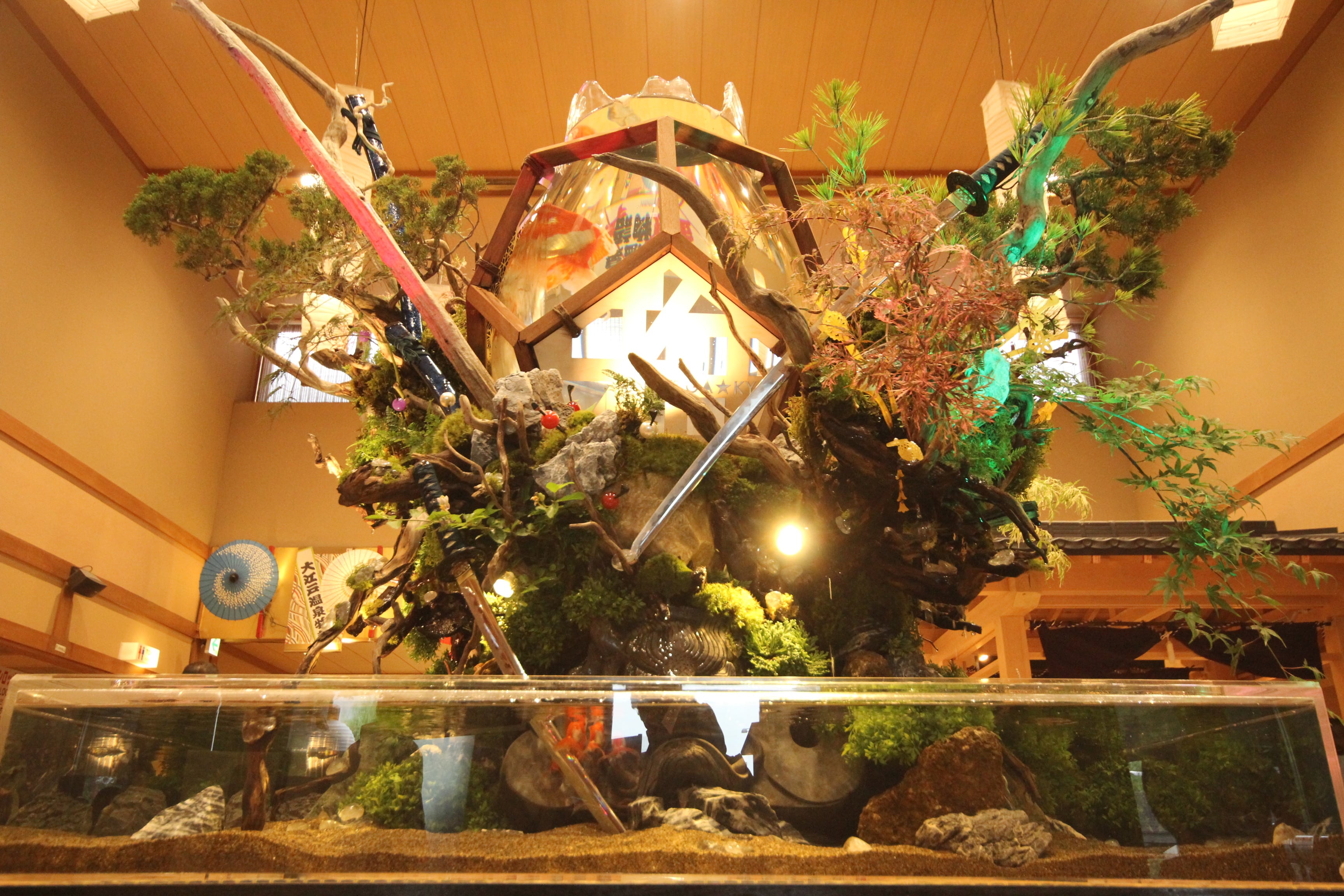 This innovative art installation pairs the Ryukin, a type of Japanese goldfish that has been sold in long-standing fish shops for more than 200 years, with onigawara decorative tiles that have been used to ward off spirits since ancient times, bonsai and more. Also in the exhibit is the "Pre-Edo Goldfish Tearoom" and "Large Round Fish Tanks."
Summer Festival Drinks & Desserts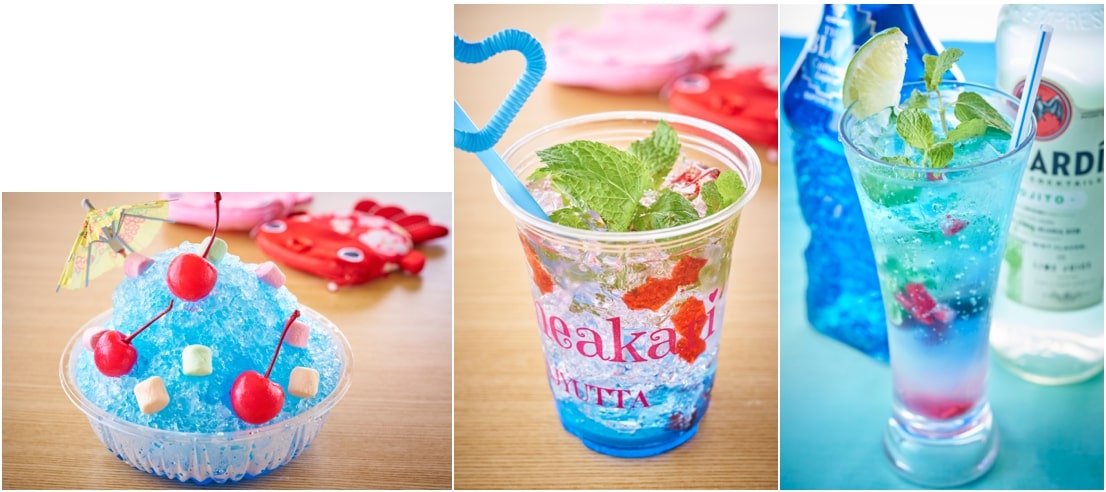 From Left: Blue Goldfish Shaved Ice: ¥550 @ Kuranoe / Goldfish Blue Hawaii Soda: ¥580 @ Yumeakari / Blue Mojito: ¥850 @ Ooedo Cafe
Feel the festive spirit with these summery drinks and desserts.
Goldfish Goodies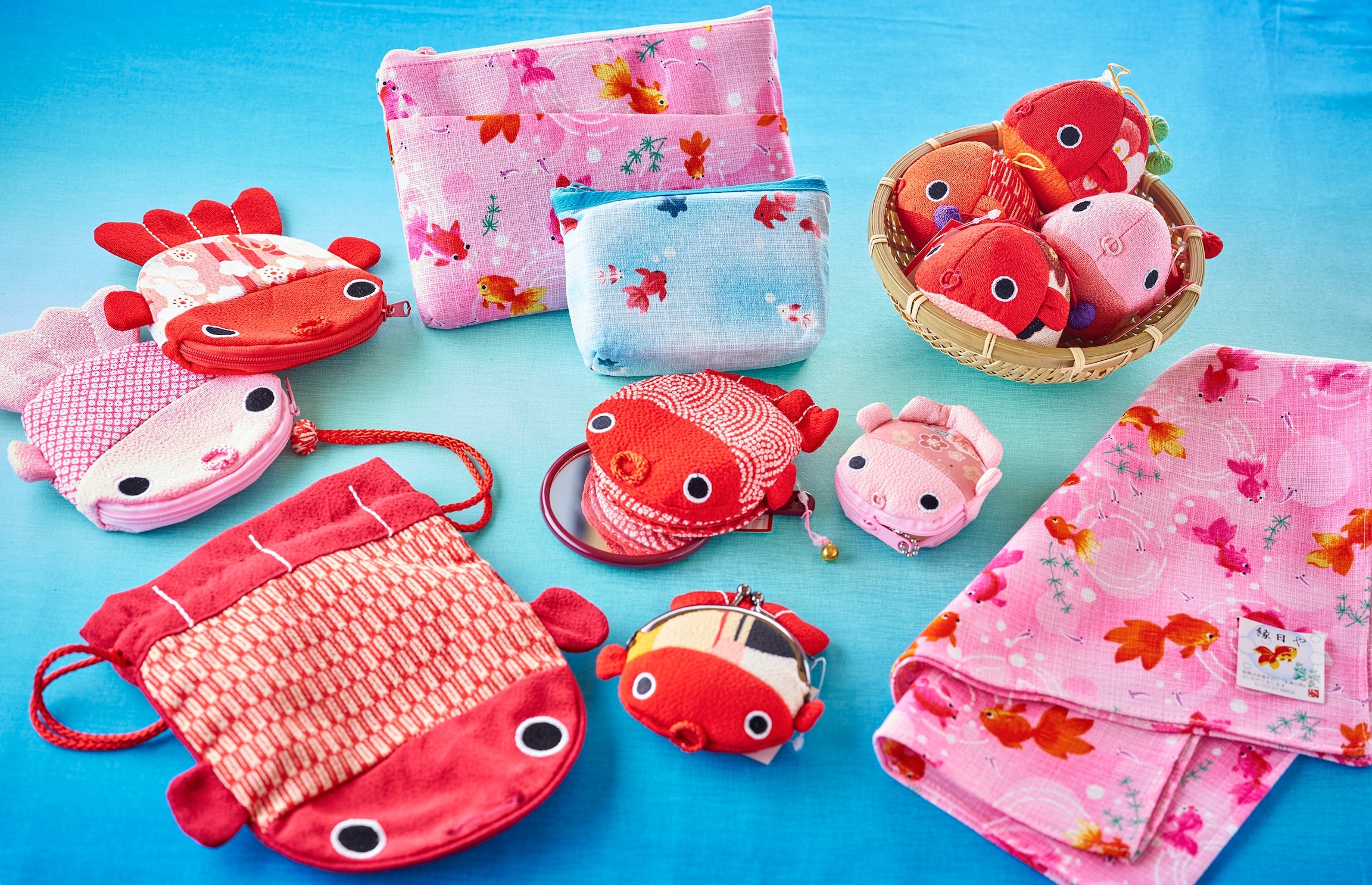 The souvenir store Ryokokuya is selling a range of goldfish themed merchandise perfect as gifts and souvenirs or for taking on summer trips with you.
RECOMMENDED ENTRIES
Hotel Gajoen Tokyo to Hold Japanese Art Exhibition at Hyakudan Kaidan

Hotel Gajoen Tokyo is both a museum and a hotel which celebrated its 90th anniversary in December 2018. The establishment is set to hold its 5th Wa no Akari x Hyakudan Kaidan art exhibition at its Hyakudan Kaidan, or '100 Steps Staircase'―which was registered by Tokyo Prefecture as a Tangible Cultural Property in 2009 for its exceptional architecture and artistic beauty.

The event will run from July 6 to September 1 and will feature all-new exhibits from 40 independent artists and groups from around Japan: from Aomori in the north to Kagoshima in the south.

Bamboo Artwork by NIITAKE

Participating in the exhibition for the first time is bamboo artist NIITAKE from Nichinan, Miyazaki. His pieces will include entrancing room installations as well as a colourful collaboration with the Nagasaki Lantern Festival which enjoys an incredible one million visitors.

emullenuett: The Sand Art Duo

emullenuet are an up-and-coming duo who create artwork out of sand. The two of them have created some pieces just for this exhibition such as Japanese ranma transoms.

Edo Furin Wind Chimes

This dramatic exhibit will include lacquer work, glass work, metal carving and more by Tokyo Teshigoto―a group backed by the city of Tokyo which is a collaboration between contemporary designers and traditional Edo techniques which aims to pass down theses kills to the next generation. Summertime furin which chimes will also line the showcase with their delicate designs and sounds. Other contemporary artists will also display their work with Japanese-style paper, allowing for visitors to see cultural assets established during the early Showa period.

Aomori Nebuta

This year's exhibition will also see the return of some legends who have enjoyed popularity at previous runs of the event. As you descend the huge mother-of-pearl raden elevator you will be welcomed by an overwhelming assortment of standout pieces.

Ishimaki Kokeshi

Other popular names include Tadaharu Kawamura, a sculptor who works with natural materials such as leaves, shells and Japanese lantern cherries, and Takatoshi Hayashi who is known for their kokeshi dolls.

Information

Wa no Akari x Hyakudan Kaidan 2019 ~Kokoro no Shikisai~

Location: Hotel Gajoen Tokyo (1-8-1 Shitameguro, Meguro Ward, Tokyo)

Running: July 6, 2019 – September 1, 2019

Opening Hours: [Sun-Thurs] 10:00-17:00 (Last Entries 16:30) / [Fri-Sat & August 11-18] 10:00-20:00 (Last Entries 19:30)

*Photography allowed (Tripods, flash and photography for business purposes forbidden)

Price: Same-Day ¥1,600 / Advanced ¥1,300 (Special Advanced Price of ¥1,100 Until July 5) / University & High School Students ¥1,200 / Elementary & Junior High School Students ¥600

*Student ID required. Preschoolers permitted free entry.

TEL: 03-5434-3140

Online Tickets: https://www.e-tix.jp/100event/#akari

Art Exhibition: 'Wa no Akari x Hyakudan Kaidan' to Take Place in Meguro Gajoen

Hotel Gajoen Tokyo is a hotel and museum celebrating its 90th anniversary this year. The hotel is home to the Hyakudan Kaidan, or 100 Steps Staircase, where the Wa no Akari x Hyakudan Kaidan art exhibition will take place from June 7 to September 2. This marks the 4th run of the event, which will put on a fantastic display of lights and installations celebrating Japanese summer and its events.

The 100 Steps Staircase was built in 1935 and has been a place of meeting for many people over the course of Gajoen's history. It was registered by Tokyo Prefecture as a Tangible Cultural Property in 2009 for its exceptional architecture and artistic beauty.

During the exhibition's first run in 2015, the Hyakudan Kaidan was celebrated in collaboration with the Aomori Nebuta Matsuri, a registered Important Intangible Folk Cultural Property. The ideas and concepts surrounding the exhibition have changed each year. The second run saw a boost in popularity with over 90,000 attendees, more than the prior year.

This year, 63 exhibitors will participate in the event, close to double the amount than last time. It will be a celebration of everything from the giant Aomori Nebuta Matsuri to Edo Kiriko glassware that you can hold in the palm of your hand. An amalgamation of festivities, art, design, craftsmanship and technology, attendees are permitted to take photos of anything there.

This year's exhibition will see a huge range of content, including art installations by MIRRORBOWLER, three new works completed by Majima Hidenori at the end of last year that took him 6 years to complete, a light-up byobu folding screen that people can draw on, products by body care brand SABON who originate from Israel and are celebrating 10 years since arriving in Japan, and much more.

There will be a bunch of collaborative projects too. Full details can be found on the event website.

Get up close with Japanese art and culture at this year's exhibition.

■Information

Wa no Akari x Hyakudan Kaidan 2018

Location: Hotel Gajoen Tokyo

Running: July 7, 2018 – September 2, 2018 (*No Holidays)

Time: [Monday-Thursday] 10am-5pm (Last Entries 4:30pm) / [Friday, Weekends, Holidays & August 13-17] 10am-8pm (Last Entries 7:30pm)

*Photography allowed. However, tripods and flash photography are prohibited.

Entry Price: Same Day – ¥1,500 / Advance – ¥1,200 (¥1,000 until July 6 at entrance) / Students – ¥800 (ID Required) / Children – Free

TEL: 03-5434-3140 (10am-6pm)

Official Page: http://www.hotelgajoen-tokyo.com/event/wanoakari2018

teamLab Brings "Resonating Trees" Permanent Digital Art Exhibition to Tokushimaken Bunkanomori Total Park

teamLab will set up their Resonating Trees exhibition as a permanent display at Tokushimaken Bunkanomori Total Park on April 29th. This digital art space transforms and alters with lights, sounds and tech when people are present.

teamLab is an 'artist collaborative, interdisciplinary creative group' made up of specialists including programmers, engineers, CG animators, mathematicians, architects – the list goes on. They work to blur together the art, science, technology and creative industries.

The exhibition set to hit Tokushimaken Bunkanomori Total Park is titled 'Resonating Trees' and is one of the team's Digitized Nature art projects. Rows and rows of trees will illuminate the area. Each of the tree lights is automatic so will resonate gently as they glow on with dazzling light before fading away. When passersby and animals pass through the trees, the colour of the lights will change and different sounds will play. Each trees' lights will diffuse one after the other.

Experience digital art like you've never seen it before with teamLab.

■Information

Resonating Trees

Open: April 29, 2018 (*Permanent Exhibition)

Location: Tokushimaken Bunkanomori Total Park

Address: Mukōterayama-1 Hachimanchō, Tokushima-shi, Tokushima Prefecture

Time: 19:00-21:00

Days: Tuesday–Sunday

Closed: Mondays (In the case that a Monday falls on a national holiday, it will close on Tuesday)

Entry: Free

Website: https://www.teamlab.art/jp/e/resonatingtrees_bunkanomori
RELATED ENTRIES
Gaze at Japan's Setting Sun Over the Horizon at Oedo Onsen Monogatari Shiomiso

Oedo Onsen Monogatari Hotels & Resorts reopened "Oedo Onsen Monogatari Shiomiso" on July 10, 2020 after the hot spring hotel underwent some revamps.

To commemorate the reopening, the hotel is now holding a dinner buffet and all-you-can-drink plan until August 31, 2020.

Take a dip in the famous Senami Onsen

Oedo Onsen Monogatari Shiomiso is home to Senami Onsen, a hot spring which first opened back in 1904 after the area was excavated for oil and the hot water shot out from the ground. Also known by the name "Netsu no Yu" (Hot Water), the hot spring has continued to offer rich quantities of water for over 100 years. Japanese poet and pioneering feminist Yosano Akiko wrote a poem about the place in 1937.

The water is thick and transparent, and also has chloride in it, which helps prevent sweat from evaporating, leading to moisturised skin. You also don't feel cold after leaving the water, and the water has sterilising properties. It's the perfect place to enjoy a relaxing experience while gazing out across the Japanese sea at the evening  setting sun.

Choose the right room for your trip

There are a number of different rooms to pick from that cater to all kinds of travels, such as the ocean view Japanese-style rooms which accommodate 2-5 people, rooms with a terrace, Japanese-style rooms with open-air baths, and more.

All-you-can-drink summer drinks and a gourmet buffet

The new restaurant serves up a menu by legendary Japanese chef Takaharu Takashina, with seasonal ingredients sourced in Niigata Prefecture. The restaurant serves a Japanese and Western fusion buffet, a diverse breakfast assortment, and more. There's sushi, fried foods, fish from the Japan sea, exquisite rice, and much more to enjoy.

Affordable summer all-you-can-drink

The all-you-can-drink plan comes with evening buffet as a set and is running until August 31, priced at just ¥1,500. Cool down from the summer heat with a refreshing beer, highball, or other beverage to enjoy with your meal.

All-You-Can-Drink Plan

Running: Until August 31, 2020

Time: 60-minutes max in the evenings

Menu: Beer, Shochu, Highball, Sours, and more.

Information

Oedo Onsen Monogatari Shiomiso

Address: 2-9-36 Senamionsen, Murakami, Niigata

Price: From ¥8,980 (1 night for 2 people with buffet / consumption tax charged separately)

TEL: 0570-032268 (9:00-19:00)

Official Website: https://shiomiso.ooedoonsen.jp/

Universal Studios Japan's 'We are One' Summer Festival Begins This July

Universal Studios Japan (USJ) reopened on June 19, 2020 after temporary closure as a result of COVID-19. The park is now running with strict measures in place to prevent the spread of the novel coronavirus, including practicing the 2m social distancing rule, making it mandatory to wear face masks, and so on. The park has posted a full video demonstration of the rules on their official website.

That means summertime is set to shine on USJ once again this year. The new 'Universal Summer Parade: We are One' event will begin on July 23 as the first parade held by the park since its reopening. Guests will be able to enjoy a fun and exciting summer at USJ with all the necessary precautions in place to ensure their safety.

Many familiar faces will gather at USJ to celebrate summer with guests, including the Minions, Elmo, Snoopy, Hello Kitty, and more. Each of them will board colourful floats for the parade during the parade, which will open with the fittingly-titled "Opening Float" followed by a flurry of unique floats like the flashy "Latin Float," cute European-inspired "Europe Float," the mysterious "Indian Float," and the finale "America Float," amongst many others. There will be music to entertain guests for laughs, smiles, and fun energy while characters and entertainers ride the floats and serve summertime vibes.

The peak moment of the parade will be when confetti rains down on guests in huge quantities. Flags can also be bought for the parade for the first time in this year. Performers and the park characters will be able to entertain guests at a distance while still connecting with them through the fun performances. A special "social distance" performance created in cooperation with the Osaka Prefectural Board of Education will also be part of the parade. This year's parade plans to have guests dancing and smiling even more than previous years to lift some of that stress away and give them the fight and energy to continue into tomorrow.

Universal Summer Parade: We Are One

Put your hands into the air as the sun beats down and the floats arrive to a lively rhythm. 'We are One' is the catchphrase, so get your boogie on and explode with excitement together with the entertainers and park characters for a heated summer parade!

Running: July 23, 2020 – August 27, 2020

Location: Parade Route

Time: One per day from 11:00am (approx 40 mins) 

Buy yourself a parade flag for ¥500 and wave it around to the beat of the festival!

Cool yourself off with some summer merch

Get your hands on some merch for cooling off, including the must-have summer "Handy Fan," a "UV Poncho" which keeps you cool in the heat of the sun, a classic "Sensu" folding fan, and more.

Feel the Japanese festivities with the Universal Market

The Universal Market will give that Japanese 'matsuri' festival vibe. Enjoy some cool desserts, spicy food, and more.

Left: Super Hot! Turkey Leg ¥1,000 / Centre: Peach Jelly Soda: ¥650 / Right: Frappe Sundae ~Strawberry & Blue Hawaii~ ¥750

Since guest safety is the number one priority this summer, the park will not be holding its famous splash performance where guests are soaked with water by water shooters.

Additionally, the parade will also not stop in any of the usual designated places and will instead keep on moving, meaning the parade can be enjoyed from anywhere along the parade route. Guests will be able to keep plenty of distance from others as they watch the parade.

The park also released a statement on its 'enhanced sanitation in park operations' on its official website so you can find out more about what USJ is doing to tackle the COVID-19 spread.

If you're in Osaka this year, you can still enjoy summer at Universal Studios Japan with all the necessary precautions in place.

Japan's Pingu Exhibition to Take Place in Ginza Showcasing Lots of Noot Noot Treasures

This year marks the 40th anniversary of the Swiss claymation children's television series Pingu. Japan is celebrating the milestone with the "Pingu Exhibition" which will take place on the 8th floor of Matsuya Ginza in Tokyo from August 12 to 24.

Original material for Pingu by the show's creator Otmar Gutmann will be exhibited, as well as the actual clay figures, dioramas, storyboards, and more that were used during the filming in Switzerland. Many of the 400 or so items on display have never been shown in Japan before.

There will also be a recorded interview with Seishi Kattou, the only Japanese animator that was working in the Pingu studio at the time. But the fun doesn't end there, as there will even be an AR attraction made using CG and original animations from the Pingu in the City 3D CG film.

A peek into the exhibition

The secret story behind Pingu's creation

Visitors will be able to learn about the author Otmar Gutmann as well as see production materials, storyboards, and other treasured items that give insight into how the creator and studio gave rise to Pingu.

Exhibits: Notes from Otmar Gutmaan, storyboards, clay figures, dioramas, pilot episode screening, and more

The Clay Room

Pingu's iconic exaggerated elastic movements are made possible through the use of clay. These movements play an important part in conveying characters' emotions and are one element of the show's storytelling. These movements will be exhibited in the event's Clay Room where you'll get to see different models morphing into different shapes. These clay figures are all handmade by the Pingu studio staff themselves.

Exhibits: Clay figures, tools, Pingu studio videos, and more

3DCG Animation and Pingu in the future

Pingu in the City is a Japanese 3D CG animated series which used the same style of the original series but instead opted for computer animation, adding a different layer of charm to the internationally adored series. Visitors will be able to enjoy this digital Pingu in a variety of ways.

Exhibits: Digital videos, AR, and more.

There will also be exclusive Pingu exhibition merchandise on sale, as well as pre-sales of Pingu merchandise yet to go on sale.

Shin Sobue (Pingu Exhibition Art Director) | Comment

"This will be the first all-out exhibition for Pingu, a series which has transcended borders from Switzerland and the UK to Japan. This will be a happy exhibition that neatly divides everything for people to enjoy, from its mysterious language to its comical movements, story, and laid-back humour." (Translated from Japanese by MMN)

©2020 JOKER

Information

Pingu 40th Anniversary Exhibition
Running: August 12, 2020 – August 24, 2020
会場: 松屋銀座 8階 イベントスクエア 東京都中央区銀座3-6-1
時間:営業日、開場時間は松屋ウェブサイトをご覧ください。
*最終日は17:00閉場 *入場は閉場の30分前まで
電話番号:03-3567-1211(松屋銀座 大代表)

Official site:http://www.pingu.jp/40th
*展示内容等は変更となる可能性があります。

ピングーアニメ公式サイト:http://www.nhk.or.jp/anime/pingu/

Yukai Resort Premium Toba Saichoraku: The New Hot Spring Resort Hotel in Mie Prefecture

Yukai Resort, a company in Japan which manages lots of famous hot spring resorts across the country, opened Yukai Resort Premium Toba Saichoraku in Toba, Mie on June 5, 2020.

Yukai Resort manages 29 well-established hot spring resort hotels and ryokan throughout Japan, including hotels where you can get one night with dinner and breakfast from just ¥7,500 (before tax) to ryokan where you can enjoy kaiseki meal courses, and more. All their luxury establishments feature hot springs surrounded in lush environments.

Yukai Resort Premium Toba Saichoraku opened on June 5, 2020 and is taking all of the necessary precautions against COVID-19 to protect guests and so that guests can enjoy a comfortable stay.

Yukai Resort Premium Toba Saichoraku is 10 minutes by car from Toba Aquarium and 30 minutes from Ise Grand Shrine, making it a great location to enjoy the sightseeing spots of Ise and Shima. The hotel's concept is centred on being an "active resort" where you can get the full Toba experience with history, the sea, and activities.

The large open-air communal baths look out onto Toba Bay. The baths are designed like infinity pools, giving the effect that they are connected to the sea. Guests can enjoy a dip in the day or evening so they can enjoy both a blue sky or starry sky. There are also saunas.

There is also an indoor swimming pool with warm water, as well as foot baths, a kids play park, karaoke room, and many more fun features.

Yukai Resort Premium Toba Saichoraku also houses Yukai Resort's first ever indoor glamping guest rooms with large tents decked with beds, sofa, carpet, cushions, and other amenities for a glamorous camping experience. There are glamping rooms with their own open-air baths that look out onto Toba Bay too, as well as both Japanese-style and Western-style rooms.

As a precaution against COVID-19, the restaurant is serving its food for takeout only until August 31, 2020. Guests can enjoy their meal in their rooms or in one of the many communal spaces. There's plenty of health Japanese food to enjoy including sushi, Matsuzaka roast beef, eel, tuna, and more.

Travel Virtually to Japan's City of Komoro in Nagano to See Cherry Blossoms, Soak in the Onsen & More

Komoro Tourism Bureau has developed the new "Komoro Tourism Channel" using Voicy, a news and media site which reports spoken information online. The channel focuses on the latest information with regards to tourism in Komoro, and focuses on the city's many different hot springs.

About Komoro

Komoro is a city in Nagano Prefecture. Komoro Castle is home to Kaikoen Park, which was chosen as the 100 best cherry blossom spots in Japan. The city also boasts a wide variety of onsen (hot springs) which offer amazing views and numerous different bathing experiences. Komoro Tourism Channel covers all of this and more.

Komoro is about 2-hours by car via the Nerima Interchange on Kan-etsu Expressway. It's also accessible from Tokyo via car. You can also reach it in around 24 minutes from Karuizawa Station via Shinano Railway.

Delivering the sounds of the relaxing onsen from Komoro

Komoro has eight water sources which provide water to its hot springs. The city sits 1,400 meters above sea level, from which each of its hot springs offer breathtaking views. The podcast on the hot springs, which is in Japanese, lets you feel like you're experiencing them from your very own home. More podcasts on Komoro are planned to be released in the future, and QR codes will be implemented are various hotels and tourist facilities in Komoro which when scanned will offer voice guides to those places.

Komoro Tourism Channel: https://voicy.jp/channel/1074

The Komoro Tourism Bureau is coming up with measures to continue promoting the city during the ongoing coronavirus pandemic. As well as Komoro Tourism Channel, it is also releasing information on its website, Twitter page, and elsewhere.

Kaikoen Park at Komoro Castle

Kaikoen Park at Komoro Castle is a tourist hot spot in Komoro. The castle itself was chosen as one of Japan's 100 most famous castle sites. It is also famous for the castle itself being situated lower than the town around the castle. Kaikoen Park was selected as one of Japan's 100 best cherry blossom spots, where around 500 trees bloom Yoshino cherries, shidare-zakura, higan-zakura, and more through April every year. The "Komoro-yae-beni-share" tree is an endemic species of cherry tree to Komoro and has a deep pink colour. The park also has towering stone walls and is home to the the front castle gate.

Komoro Castle Official Website (Japanese): https://www.komoro-tour.jp/castle/

Komoro Castle Official Website (English): https://www.komoro-tour.jp/lg_en/

Top 10 Must-Try Cherry Blossom Outdoor Bathing Experiences in Japan

Online Japanese travel website Jalan has published an article listing the Top 10 cherry blossom furo (bath) locations in Japan based on the results of a questionnaire it held.

Experiencing an outdoor Japanese bath is one thing, but it's made even more special when coupled with the view and scent of the springtime cherry blossoms. The line-up features a list of locations praised for their scenery and the blossom of the cherry trees.

1st Place: Hotel Keikyu Aburatsubo Kanchoso | Kanagawa Prefecture

The baths at Hotel Keikyu Aburatsubo Kanchoso offer a clear view of Koajiro Bay from the hills of the Miura Peninsula. The bright blue shimmer of the ocean and the overlooking sky is made even more vibrant by the Yoshino cherry and kawazu-zakura trees that stand around the bath. It's a tranquil spectacle as you gaze at the blue sea and enjoy your hot bath, which is full of beneficial minerals, as cherry blossom petals dance down from the trees onto the water surface.

2nd Place: Hotel Suehiro | Aichi Prefecture

This popular hotel offers a spectacular view of the ocean from the open-air rooftop bath. Around this time, the 300 Yoshino cherry trees are in full bloom down below. The common way of viewing cherry blossoms is to look up at the trees; but Hotel Suehiro offers the opposite for a unique Hanami experience.

3rd Place: Onsen Yumoto Hounoya | Nara Prefecture

Mount Yoshino is a famous cherry blossom spot as well as a designated UNESCO World Heritage Site. Onsen Yumoto Hounoya sits in the centre of it all, with cherry blossom trees rolling up and down all around. Enjoy a dip in the hydrogen carbonate spring water while you soak up the sights.

4th Place: Goriyaku no Yu | Chiba Prefecture

Among the mountains of the lush green city of Minamiboso lies Goriyaku no Yu. Three cherry trees bloom right in front of the open-air bath, which can be enjoy together with the striking mountains of the Yoro Ravine. Depending on the day, the petals of the cherry trees fall into the bath, dyeing it a beautiful pink.

5th Place: Fuga No Yado Chouseikan | Niigata Prefecture

Fuga No Yado Chouseikan is home to the largest open-air bath in the prefecture. It's surrounded by 10 Yoshino cherries, which are lit up at night to create a magical atmosphere. Enjoy their full bloom together as the season for the petals' fall begins.

6th Place: Hotel Kami no Yu Onsen | Yamanashi Prefecture

100 cherry trees can be enjoyed from the guest rooms, various baths, and inside the hotel at Kami no Yu Onsen. There are three kinds of cherry blossoms to see: the Yoshino cherry, yoshino-zakura, and yae-zakura. You can see them from the large public baths, but it's the Hanami Furo baths that you can rent out which provide the best experience. They must be booked via telephone.

7th Place: Fujino Yamanami Onsen | Kanagawa Prefecture

This spacious open-air bath is enveloped by a gorgeous garden which blooms many different flowers through the season, including the 11 cherry blossom trees. During the day, you can enjoy the elegance of the garden, and at night it is lit up to provide a bewitching experience. The hot water is pulled from 1,800 meters below ground. The water is praised for its rich minerals which warm you from the inside.

8th Place: Awanoyu Ryokan | Nagano Prefecture

Five Yoshino cherries are planted beside this milk-coloured bubbly bath. Only in a mountainous land such as this where spring arrives late can you enjoy the cherry blossoms together with the leftover snow atop the mountains. The ryokan's sulphur spring water contains carbon dioxide which warms the bath.

9th Place: Okayama Ikoi No Mura | Okayama Prefecture

Okayama Ikoi No Mura is a facility that offers a range of experiences, including coming into contact with animals. There are three bookable baths which offer your very own Yoshino cherry blossom tree view. The observatory deck at the facility is also popular as it overlooks the Seto Inland Sea.

10th Place: Shigisan Kanko Hotel | Nara Prefecture

Shigisan Kanko Hotel in Nara is easily reachable even from Osaka. There, guests can enjoy the full extent of the outdoors with the hot springs that reflect the mountains and the light pink Yoshino cherry trees.

These cherry tree furo baths, where even the steam of the water is dyed pink, can only be enjoyed for about half a month! So if you're planning a trip to Japan for the spring, cherry blossoms, and Hanami, be sure to put one of these picks on your list of must-visit places.

Okinawa's New Hot Spring Resort Lequ Okinawa Chatan Spa & Resort Opens

Lequ Okinawa Chatan Spa & Resort is the first hotel resort from Vessel Hotels. Operating on the concept of "Loving Yourself, Family, and the Town," the hotel opened in the town of Chatan in Nakagami, Okinawa on March 1, 2020.

Rooftop Infinity Pool & Cafe/Bar

Sat atop the hotel roof is a spa which houses an infinity pool that offers an unbroken view of Chatan as well as the picturesque sunset in the evenings. There's also a 3-meter high infinity pool, jacuzzis, and more, offering a luxurious space to relax.

Located to the side of the pool is a cafe and bar that serves a selection of original cocktails and fruity drinks as well as light food. When the sun sets and the evening settles, the pool lights are turned on, creating a relaxed atmosphere. Enjoy a cup of Japanese sake or one of the refreshing cocktails while staring down at nighttime Chatan.

Vessel Hotel's First Natural Hot Spring

Chatan Onsen hails as Vessel Hotel's first-ever natural onsen hot spring. The water is drawn from 1,400m underground, which provides relief and relaxation from a day of sightseeing and travelling. The hot spring has towering windows, and there's also a sauna for both men and women.

SPA SOLANI OKINAWA CHATAN – The Relaxation Salon

SPA SOLANI OKINAWA CHATAN is a "relaxation salon" which offers a Hawaiian-style spa experience using original products made using ingredients sourced in Okinawa. Oils are made with carefully-selected organic ingredients for that natural feeling. There are body treatments, messages, quick treatments, and more.

Filling Breakfasts at the Resort's Kitchen

Vessel Hotel has brought its "Happy Breakfast Project" to Lequ Okinawa Chatan Spa & Resort. Tuck into a variety of meals prepared with Okinawan ingredients, or try one of the household classic Okinawan breakfasts. Whatever you have, you are guaranteed the Okinawan experience to start your day off.

The restaurant's original souffle hamburger is made with a mix of Okinawan black cattle beef and Agu pork. The souffle is made in-house and prepared by the hotel guests' hands. Food is also served in Okinawan yamuchin porcelain.

DIOR FROM PARIS TO JAPAN Exhibition Shows Off Dress Line-Up Inspired by Japanese Culture

The DIOR FROM PARIS TO JAPAN exhibition at HANKYU Umeda Store in Osaka began on March 1 where it is set to run until March 22.

The collection features a complete line-up inspired by Japan's rich culture, from dresses serving haute couture to exquisite Lady Dior bags re-interpreted by various artists. This exhibition is a coming-together of DIOR and Japan and expresses savoir faire the way a maison should.

The exhibition is also home to a gift shop selling a range of different items. It also has an audio guide presented by Japanese actress and fashion model Yuko Araki and actor and model Ryusei Yokohama, both of whom were selected as Japan Fashion Ambassadors for this exhibition.

See the worlds of DIOR and Japan collide at DIOR FROM PARIS TO JAPAN.

Information

DIOR FROM PARIS TO JAPAN
Running: March 1, 2020 – March 22, 2020
Location: HANKYU Umeda Gallery (HANKYU Umeda Store Floor 9F)
Address: 8-7 Kakudacho, Kita, Osaka
Entry: Free

Official Website: http://bit.ly/DiorFromParisToJapan

Studio Ghibli Museum Photo Exhibition to be Held at HMV&BOOKS SHIBUYA in Tokyo

A photo exhibition will be held at the HMV Museum in Shibuya from March 6, 2020 for a limited time in promotion of the release of Studio Ghibli Museum's first official photo book, Ghibli Bijutsukan Monogatari ("The Story of the Ghibli Museum").

"Ghibli Bijutsukan Monogatari" Photo Book – ¥3,800 (Exhibition Pre-Sale: March 6, 2020 / General Release: March 20, 2020)

Photography is strictly forbidden at the Studio Ghibli Museum, but this exhibition gives a rare look inside without having to go inside. There will be panels of photos of both inside and outside the museum, a display of miniature figures of characters like the Robot from Laputa: Castle in the Sky, writings from Studio Ghibli film producer Toshio Suzuki, and more. The museum's popular photo spots will also make an appearance at the exhibition for taking a photo next to.

Exclusive Desk Calendar (*Limited to 500 people per day, first-come first-served)

Desk calendars will also be available, featuring the photos used at the exhibition.

Exclusive Exhibition Merchandise

Tote Bag – ¥2,000 / T-Shirt – ¥2,800 / Hanging Scroll – ¥30,000 / Photos (3 Designs) – ¥8,000 Each

Visitors will be able to get their hands on the photo book early at the exhibition, and those who buy it at HMV&BOOKS SHIBUYA will be invited to a signing and talk session on March 7, 2020 on a first-come, first-served basis. The signing will be attended by Kanyada and Toshio Suzuki, who will also be present at the talk event in addition to film director Ryutaro Nakagawa.

Exclusive merchandise will be sold at the exhibition. The exhibition itself encourages people to feel like a lost child, and its layout will reflect that without any set paths or routes.

Dive into the wonderful world of Studio Ghibli at the Ghibli Bijutsukan Monogatari Photo Exhibition.

*Please note that the number of people allowed to enter the exhibition will be restricted due to the ongoing situation surrounding the new coronavirus. This will widen the space between visitors and allow them to enjoy the exhibition in an uncrowded space. More details can be found on the official HMV Museum website.

Information

Ghibli Bijutsukan Monogatari Photo Exhibition

Location: HMV Museum (HMV&BOOKS SHIBUYA Floor 6F)

Running: March 6, 2020 – March 19, 2020

Opening Hours: 10:00-21:00 (Open from 17:00 on March 6, 2020)

Last Entries: 20:30

Entry Price: ¥500 (Tax Included) *Free for preschool children

Event Page (Japanese): https://www.hmv.co.jp/news/article/2002141000/

*Opening hours subject to alteration

*For more details, please check the event page above or HMV&BOOKS SHIBUYA's official Twitter page

Raise Your Own Sky Lantern at New Greenpia Tsunan in Niigata

New Greenpia Tsunan, a resort facility in Tsunan, Niigata, is holding an exciting sky lantern event every day until March 31, 2020.

 

The sky lantern event is held every winter at New Greenpia Tsunan, and has returned again for 2020. It began in 2012 as a means of showing respect for and praying for the revival of disaster-stricken areas, such as the areas affected by the 2011 Tohoku earthquake, the Nagano and Niigata earthquake, and so on. Every year, couples and families come together to put their prayers and wishes into the lanterns before letting them go into the night sky. The countless lanterns raised at once soar up high and light up the black cloak of the night like burning stars.

For 2020, the event will also sell lantern t-shirts, handkerchiefs, hand towels, cookies, and other themed items.

 

If you're travelling in or around Niigata in Japan this year, then don't miss New Greenpia Tsunan's very special winter event.

Information

Sky Lantern Event

Running: Everyday until March 31, 2020 (Except select days where the site is closed or booked)

Location: New Greenpia Tsunan (12300 Akinari, Tsunan, Nakauonuma-gun, Niigata)

Time: Weekdays – From 18:00 / Saturdays & Days Before Public Holiday – From 18:00 & 20:00 / March Onward – From 18:30

Booking: Bookings available until 17:00 on the day at New Greenpia Tsunan

Price: ¥1,500 (1 lantern)

Official Website: https://new-greenpia.com/

*In the case of stormy weather, the event will not proceed on that day

Take a Plunge at Natural Hot Spring Heiwajima Near Haneda Airport

When it comes to recommending things to do when travelling to Japan, one of the biggest attractions for tourists is the country's "onsen," or hot springs. If you're landing into Haneda Airport, or happen to be around that area when exploring Tokyo, then we can't recommend Natural Hot Spring Heiwajima enough.

Located inside BIG FUN Heiwajima, this hot spring facility commemorated its 30th anniversary last year, and underwent a revamp before reopening on March 28, 2019. There actually aren't that many large-scale hot spring spots in Tokyo, so to have one so close to Haneda Airport makes it the perfect location for your sightseeing and must-visit agenda.

Direct shuttle bus from Haneda Airport and equipped with suitcase lockers

A shuttle bus runs directly from Haneda Airport to Natural Hot Spring Heiwajima which takes just 15-minutes and can be boarded in the early morning and late at night. Additionally, the hot spring facility is also equipped with suitcase lockers if you have heavy luggage with you. It also has a lounge you can relax in, and the entire building has free Wi-Fi. Hotel check-ins are generally from 15:00. If you arrive early in the morning, you can take a dip and relax in a nice warm onsen to unwind before heading to your hotel.

Bus Details: https://www.heiwajima-onsen.jp/en/bus/

You can enter the hot springs with a tattoo seal

When going to an onsen in Japan, many places forbid entering if you have a tattoo, no matter how small. Some places let you cover them up before entering, and Natural Hot Spring Heiwajima is one of those places. You can purchase a tattoo seal for ¥200 (10cm x 15cm) to cover your tattoo, and then you're free to enter and enjoy your toasty bathe.

One of Tokyo's best natural hot springs

Heiwajima Hot Springs is one of the largest hot spring facilities in Tokyo, with 150 tons of hot spring water bubbling up from 2000 meters underground every day. The water leaves your skin smooth and moisturised.

Experience the spacious Viewing Spa (6:00 am – 2:30 am the following day)

The Viewing Spa is open late until 2:30am everyday, where guests can plunge themselves into the thermal water bath or sit in the hot stone bath. We recommend the stone bath for those who aren't good with super hot saunas as it's set at a comfortable temperature. There is also a highly-carbonated bath which helps open small blood vessels and promotes good blood flow which helps boost metabolism. Carbonated water is also said to beauty the skin and restore moisture.

Enjoy a variety of baths at the Shining Spa (9:30 am – 6:00 am the following day)

The Shining Spa is home to a variety of different baths including a hydro-jet Jacuzzi-style, reclining-style, and more. The one I personally enjoyed the most was the Micro Bubble Togoal Bath which wraps your body in delicate bubbles and smooth-like hot water. You feel really refreshed afterwards.

Get comfy in one of the relaxation areas

Natural Hot Spring Heiwajima offers plenty of relaxation spaces after your bath, including a restaurant, a lounge with a TV and reclining chairs, and more. They even give you a towel blanket in the lounge, so I ended up dozing off. There's a female-only lounge space too.

This is just a small look at the many services offered at Natural Hot Spring Heiwajima. Visit their website for more information, and be sure to pay it a visit when travelling via Haneda Airport to relax after your long flight.

Information

Natural Hot Spring Heiwajima

Address: BIG FUN Heiwajima (Floor 2F), 1-1-1- Heiwajima, Ota Ward, Tokyo

Open: 24 hours a day all year

Bathing Hours:

Hot Springs @ 9:30 am – 6:00 am the following day

Viewing Spa @ 6:00 am – 2:30 am the following day

Hot Stone Bath @ 10:00-23:00

Full Relaxation Price Plan

Adults: Weekdays ¥2,000 / Weekends & Holidays ¥2,300

Children: Everyday ¥1,000 (From 3 years old to elementary school-age) 

Infants: Everyday ¥300 (Under 3 years old)

*Covers 7 hours allotted time and includes spa wear and towel

Additional Fees

Midnight Fee: ¥1,500 (Adults/Children) from 2:00 am – 5:00 am

Hot Stone Spa Fee: ¥500 (Adults) *Includes towel, spa wear, and hot drink

Full Price List: https://www.heiwajima-onsen.jp/en/price/

Access – By ¥100 Shuttle Bus

①Take the bus for Heiwajima Natural Hot Springs departing from the #6 bus stop at the East Exit of JR Omori Station. (about a 10-minute ride)

②Take the bus for Heiwajima Natural Hot Springs departing from Keikyu Heiwajima Station. (about a 3-minute ride)

Additional Methods: https://www.heiwajima-onsen.jp/en/access/

Official Website: https://www.heiwajima-onsen.jp/en/

5 Must-Visit Beautiful and Romantic Lantern Festivals in Japan | 2020 Edition

The season for Japan's enchanting and romantic lantern events has finally arrived, and the line-up this year is diverse, from events where lanterns are the main attraction to lantern-lined festivals and Japanese matsuri festivals.

Hankyu Travel International compiled a list of these events , and we've pulled out some of the best ones for you.

Hanamaki Hoshi Meguri no Yoru | Iwate Prefecture

This year marks the third run of "Hanamaki Hoshi Meguri no Yoru," an event held during winter for guests staying at Hanamaki Onsen. The event is comprised of many elements, including fireworks, folk entertainment, and more. People will also write wishes and messages or draw pictures on their lanterns before sending them up into the winter night sky. Afterwards, they can enjoy a dip in the hot springs at Hanamaki Onsen to warm themselves up and unwind from the day.

Running: January 26, 2020/February 22, 2020/February 11, 2020/February 16, 2020/February 24, 2020

Location: Namari Ski Center
Address: Nakadaira-36-1 Namari, Hanamaki, Iwate

▼Hanamaki Hoshi Meguri no Yoru Tour
https://www.hankyu-travel.com/kokunai/keyword/%E3%81%AF%E3%81%AA%E3%81%BE%E3%81%8D%E6%98%9F%E3%82%81%E3%81%90%E3%82%8A%E3%81%AE%E5%A4%9C/?p_baitai=9599

China Lantern Festival | Chiba Prefecture

Tokyo German Village is hosting its second China Lantern Festival, inspired by the typical traditional festivals held in China during spring. A selection of 30 lantern installations of varying sizes made by the world's biggest lantern maker Lantern Group have been set up in the 50,000 square meter area. Pieces include lanterns over 10 meters long and high, lanterns floating on the water, moving lanterns, and more.

Running: November 23, 2019 – April 5, 2020

Location: Tokyo German Village

Address: 419 Nagayoshi, Sodegaura, Chiba

▼Tokyo German Village Tour
https://www.hankyu-travel.com/kokunai/keyword/%E6%9D%B1%E4%BA%AC%E3%83%89%E3%82%A4%E3%83%84%E6%9D%91/?p_baitai=9599

Tsunan Yuki Matsuri | Niigata Prefecture

Since 2012, the people of Tsunan in Niigata have raised sky lanterns into the sky to pray for the revival from the disaster that the Tohoku earthquake brought in 2011. It is a two-day festival, with the first day of the event taking place at night, and the second being the main day of the festival. The festival is so popular that tickets never fail to sell out quickly every year. It brings with it a host of events, from the lanterns to the snowboard straight jumping tournament, the hanging of snow lanterns, snowmobile rides, and more.

Running: March 14, 2020 (There will also be a lantern event the night before on March 13, 2020)

Location: New Greenpia Tsunan

Address: 12300 Akinari, Tsunan, Nakauonuma-gun, Niigata

▼Niigata Tsunan Sky Lantern Festival Tour
https://www.hankyu-travel.com/chubu-hokuriku/niigata/lantern/?p_baitai=9599

Nagasaki Lantern Festival | Nagasaki Prefecture

This festival was originally held during the Chinese New year by the people of Nagasaki Chinatown, but in 1994 it was given the name "Nagasaki Lantern Festival." To date, it has been attended by over 1 million people. This year, around 15,000 lanterns of varying sizes are set to light the streets. Taking place across several areas, some standout pieces include the peach-coloured lanterns at Nagasaki Chinatown, the ceiling lanterns at Hamanomachi Arcade, the water lanterns at Nagashimagawa Park, and more. On weekends, there are also parades, traditional Chinese performance, and other exciting events. And if you head to Nagasaki Confucian Shrine (also known as Koshi-byo), you can offer a love lantern to pray for happiness in your relationship.

Running: January 24, 2020 – February 9, 2020
Locations: Nagasaki Chinatown/Central Park/Tojin Yashiki/and elsewhere
Address: Various places throughout the city of Nagasaki

▼Nagasaki Lantern Festival

Hankyu Travel International Tour: Hankyu Travel International

Nagasaki Tourism Page: https://travel.at-nagasaki.jp/en/what-to-see/62/

Ryukyu Lantern Festival 2019-2020 | Okinawa Prefecture

Murasaki Mura Ryukyu Kingdom Theme Park is known for having originally been used as the set for several historical drama series, and was subsequently turned into a theme park after filming was finished. The Ryukyu Lantern Festival welcomes a variety of different lanterns, including Chinese lanterns, paper lanterns, various Asian lanterns, and more, each of which bring a completely different atmosphere depending on the area you are in. This year sees the welcome return of the annual lantern contest where 45 individual lantern pieces are exhibited. There are also different street performances every day on the Night Lantern Stage, as well as projection mapping displays, the Night Lantern Cafe, and more.

Running: December 1, 2019 – March 31, 2020

Location: Murasaki Mura Ryukyu Kingdom Theme Park

Address: 1020-1 Takashiho, Yomitan, Nakagami-gun, Okinawa

Murasaki Mura Official Website: https://murasakimura.com/

Be part of one of Japan's many beautiful lantern festivals this year and witness some seriously breathtaking night scenes.