Zoff Releases New Specs in Star Wars Collection
Japanese glasses brand Zoff has unveiled that it will release a new line of glasses in its Star Wars collection at its stores and its online store on July 12.
With Star Wars: The Rise of Skywalker set for a December 20, 2019 release, Zoff is getting in on the action by adding to its range. It first dropped the Star Wars collection back in 2018 where it developed glasses frames. This summer, it'll be stylish sunglasses.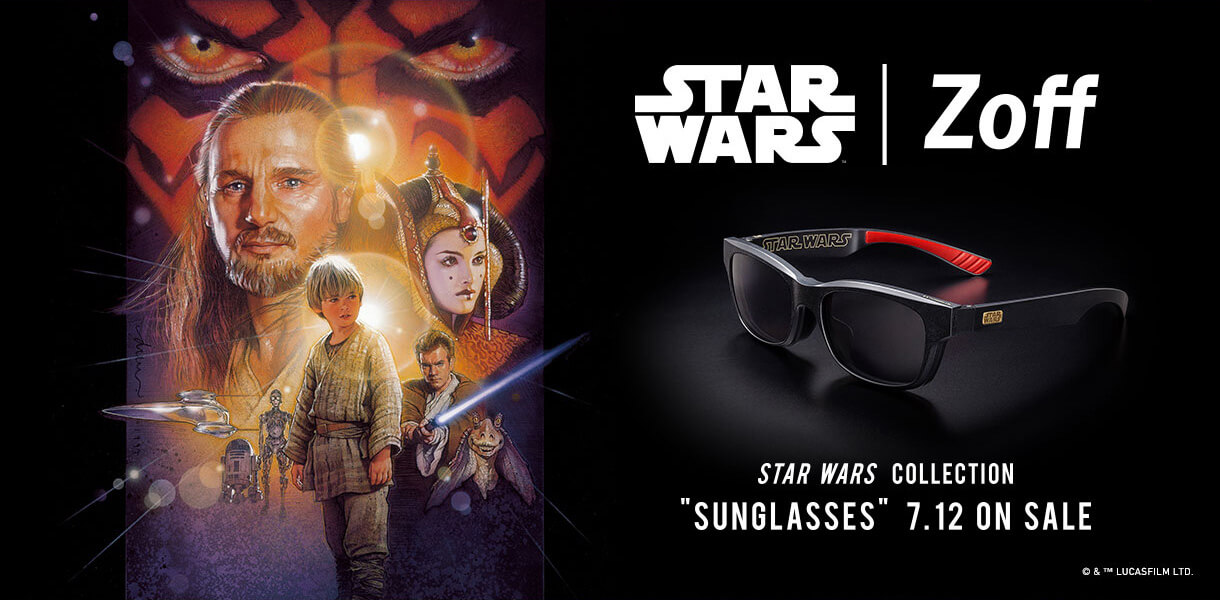 The sunglasses are inspired by the sequel trilogy with references to major characters including Anakin Skywalker as well as scenes only seen in the sequels including a young Obi Wan Kenobi and Yoda when he was lively.
Each model in the collection cuts 99.9%. The line-up includes a model with photochromic lenses, another with polarised lenses, The Zoff Night & Day that is both glasses and sunglasses, and more.
Zoff Night & Day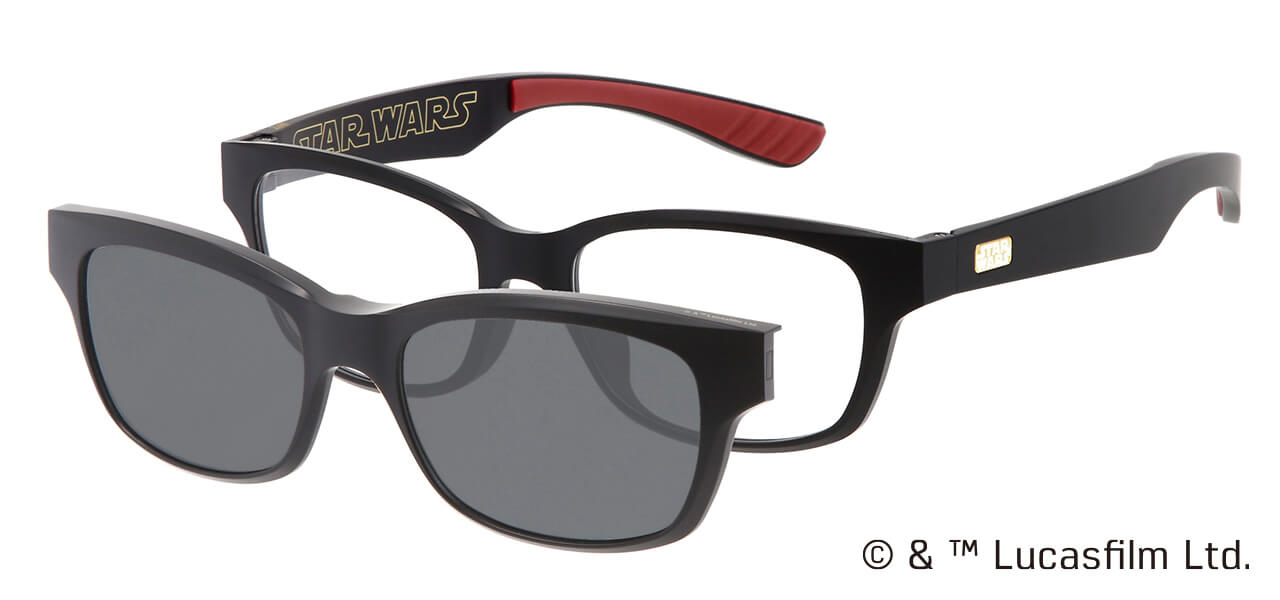 2 Designs – ¥9,500 Each (Tax Included) *Includes price for normal lenses
The outer metal chip of the glasses has the iconic Star Wars logo subtly branded onto it which reflects light while the inner part, which is the same metallic colour, has the same logo but larger. The glasses have a red colour, synonymous with the Sith, combined with yellow, a colour representing hope for the future.
Photochromic Lenses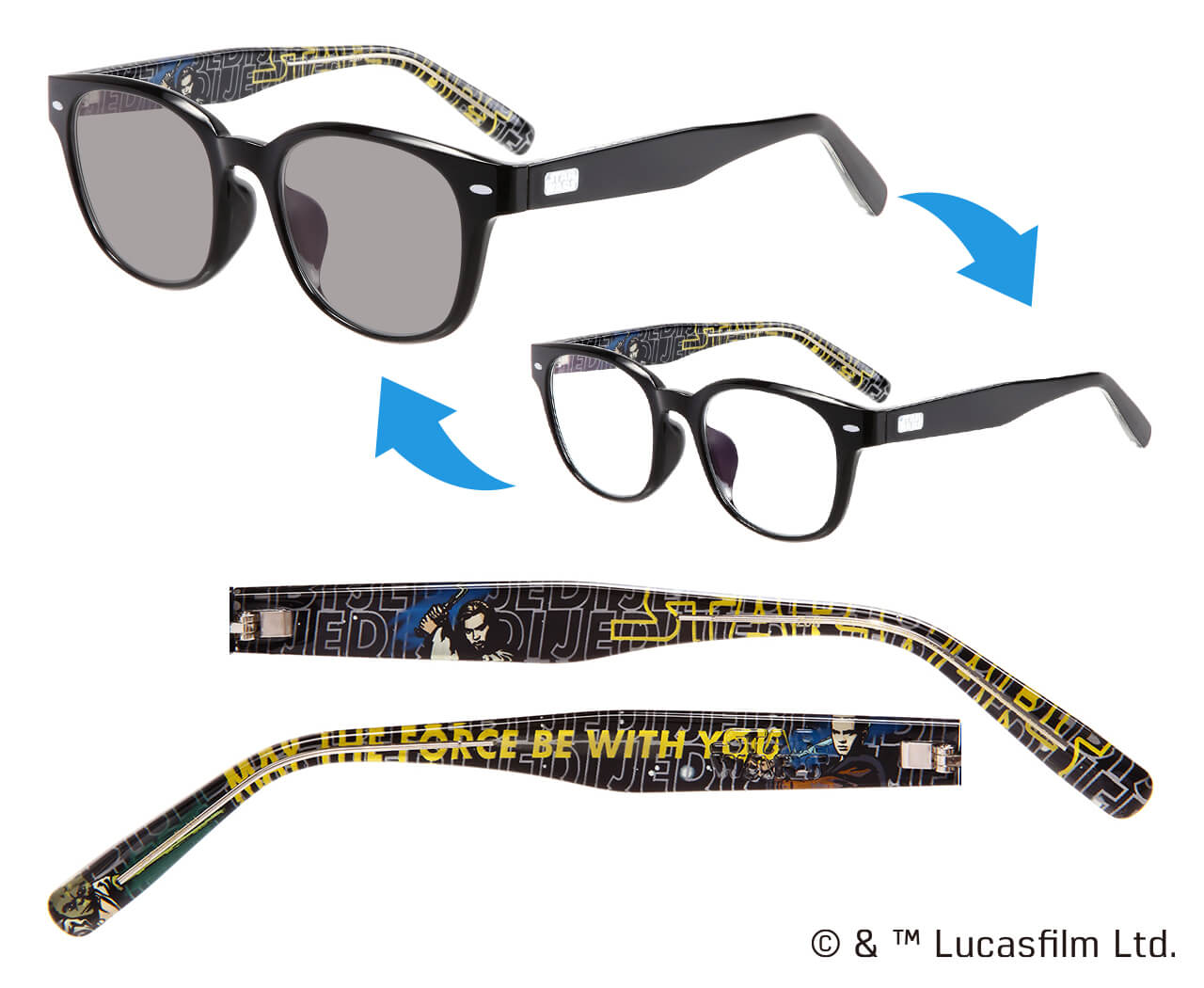 3 Designs – ¥7,500 Each (Tax Included) *An extra ¥3,000 for additional lenses
The colour of these lenses change depending on the amount of UV rays. With the photochromic lenses, the inner part is used as glasses while the outer part is used as sunglasses. There are three designs including Yoda and Anakin. Since the designs are on the inner part of the glasses they can be used in less informal settings too.
Polarised Lenses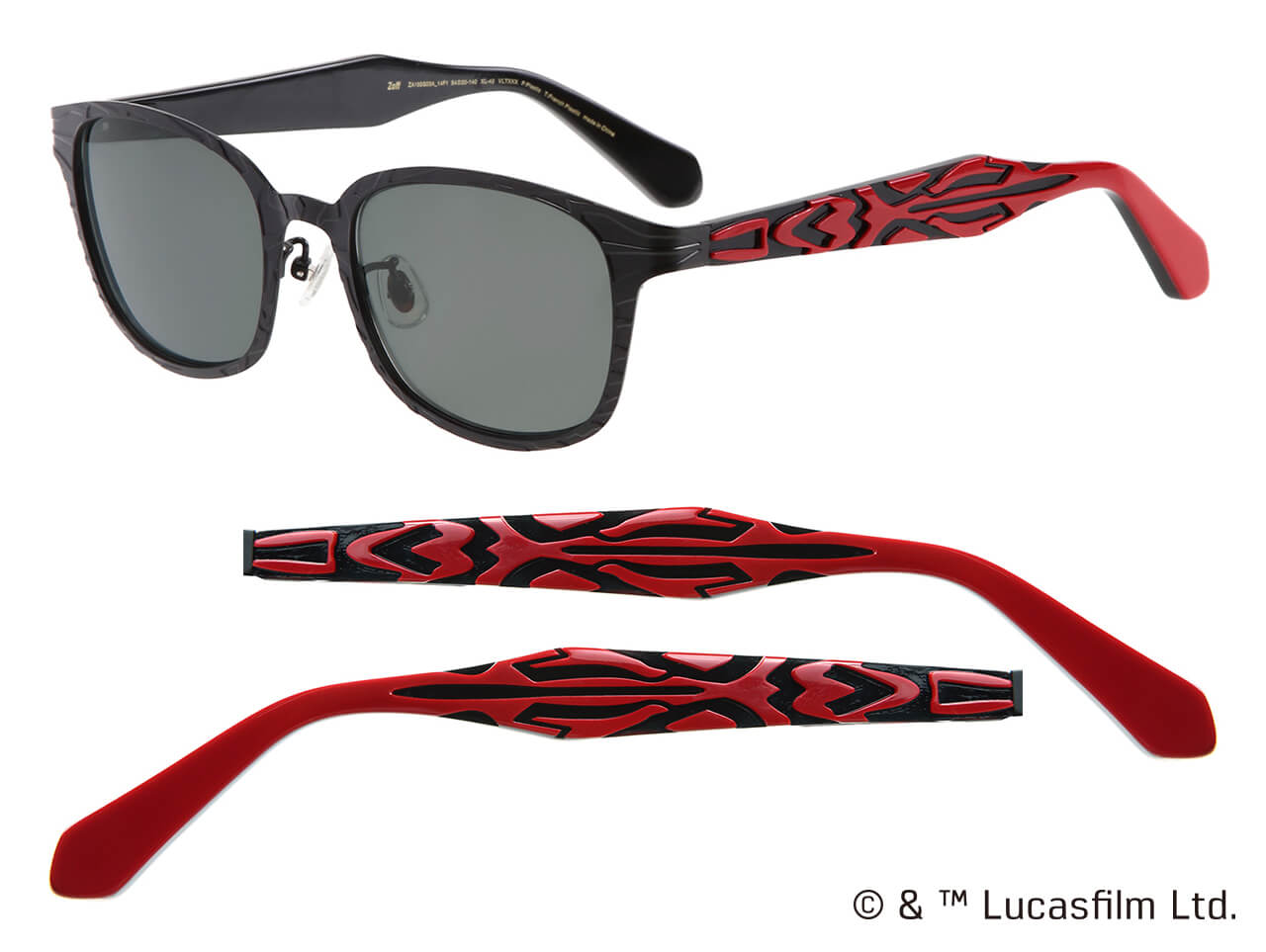 3 Designs – ¥7,500 Each (Tax Included) *An extra ¥5,000 for additional lenses
The polarised lenses cut reflected light such as on glares from roads and glass. This makes them ideal for driving, jogging, fishing and other scenarios where one is exposed to bright glares. The three designs feature Darth Maul from Star Wars: Episode I – The Phantom Menace, podracing, and Yoda's epic battle.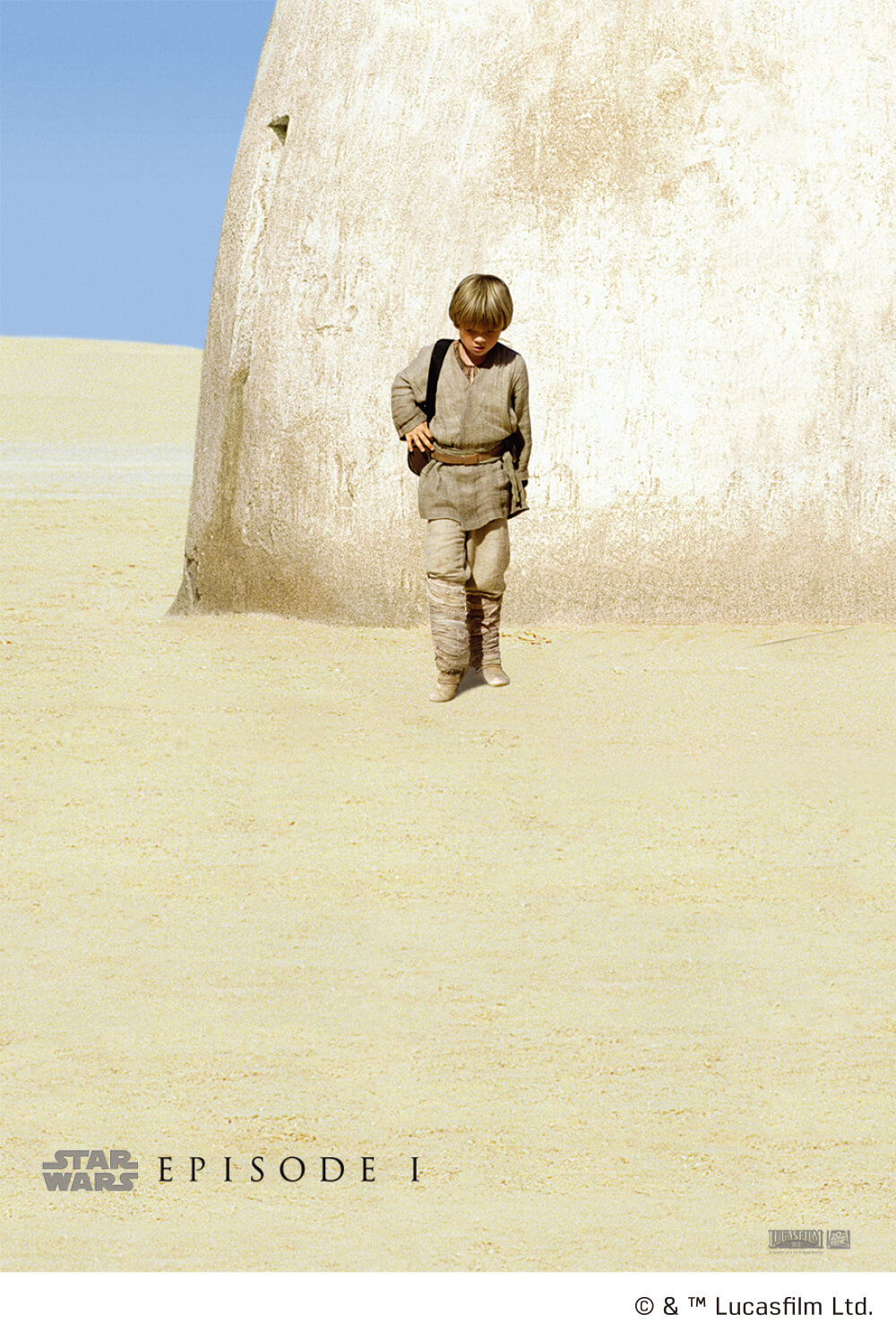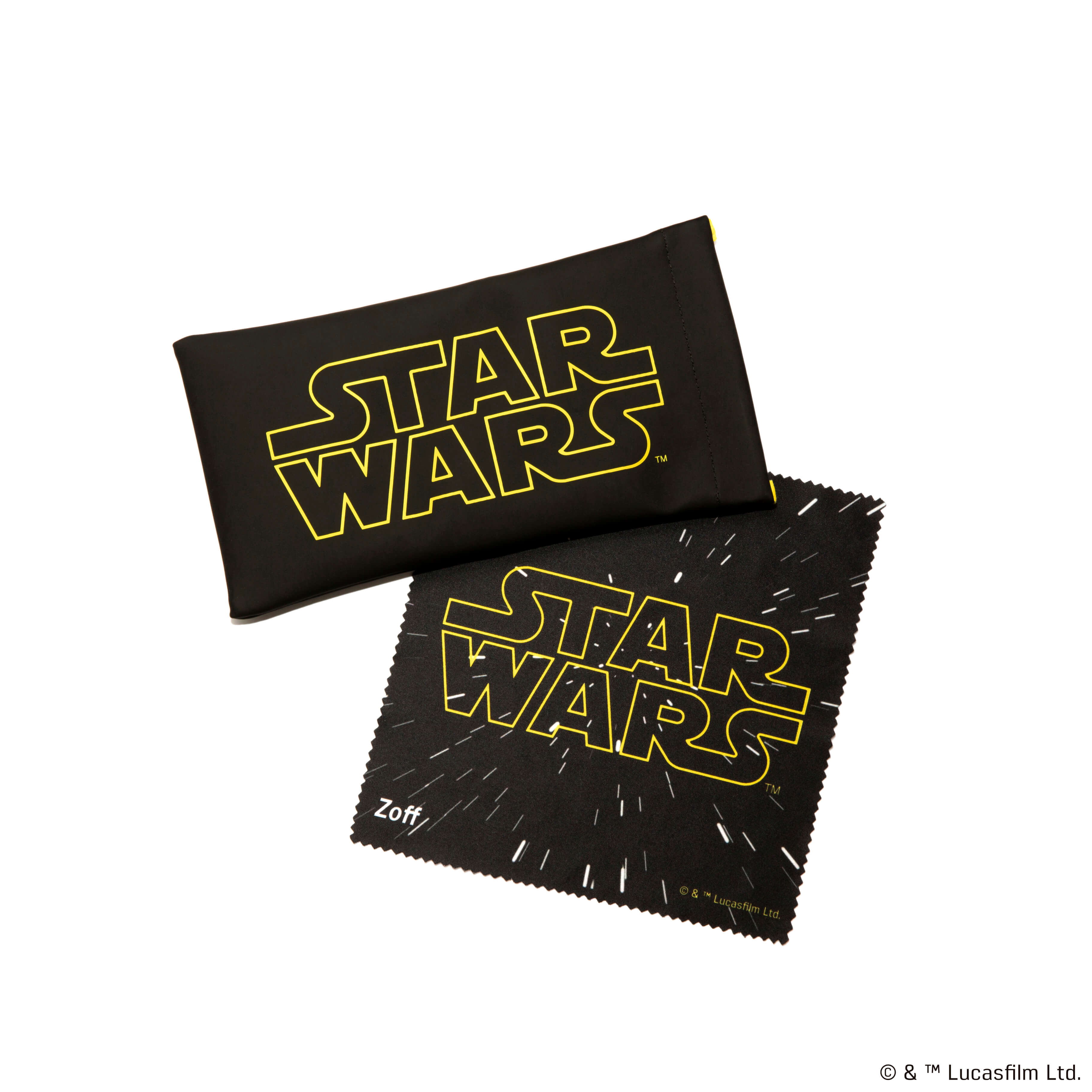 Glasses come with an original Star Wars case and cloth.
If you're a Star Wars fan, you won't want to miss out on this exclusive collection.
©️ & ™️ Lucasfilm Ltd.
Information
STAR WARS COLLECTION SUNGLASSES
Release Date: July 12, 2019 (from 11:00am JST on Zoff's online store)
Available: Zoff (excluding outlet branches), Zoff online store, Rakuten, ZOZOTOWN, and Amazon (subject to change)
Types: 5 Models in 8 Designs
Price: ¥7,500-¥9,500 (Tax Included) *All come with case and cloth
Product Page: https://www.zoff.co.jp/shop/contents/starwars-sunglasses.aspx
RELATED ENTRIES
Star Wars Theme Cafe Opens in Tokyo, Osaka, Nagoya, Hokkaido & Fukuoka

With The Rise of Skywalker concluding the Skywalker saga of the Star Wars film franchise, fans are left craving more from the galaxy far far away.

If you're one of those people, and need a fix before season two of The Mandalorian, which is coming in late 2020, then you'll want to hit up the all-new Star Wars-themed cafes now open for a limited time at branches of OH MY CAFE across Japan in Tokyo, Osaka, Nagoya, Hokkaido, and Fukuoka.

We visited the Tokyo branch of the cafe which is located inside Tokyu Plaza Omotesando Harajuku. Here's our report of this must-see cafe for Star Wars fans, a museum-like space chock-full of concept art.

Ready to greet you as you walk into the cafe is none other than Darth Vader. This life-size recreation of the Sith Lord is really striking, but don't worryーthough he is realistic, he won't use his Force choke on you, he only wishes for you to have a nice meal.

Plastered across the cafe walls are pieces of concept art used during the production of the Star Wars film series.

Here's a galactic showcasing of the cafe's menu. There are 7 food items and 5 drinks to choose from, all inspired by the franchise and its characters.

<STAR WARS> Far Far Away Galaxy Black Curry – ¥1,590

A signature dish of the cafe, this black curry features the Star Wars logo which is actually an edible wafer. The space design is bamboo charcoal-cooked rice which is mixed with spicy sauce and topped with peanuts for stars.

<BB-8> Seafood BB-8 Gratin – ¥1,690

Fans of BB-8 won't be able to resist this delicious gratin, served with salad and French bread for a full belly.

<Yoda> Root Leaf Stew – ¥1,590

This stew is inspired by Yoda living his final years in his little shack in Dagobah during Star Wars: Episode V – The Empire Strikes Back. It's packed full of vegetables and will no doubt be enjoyed by both kids and adults alike.

<R2-D2 & C-3PO> Buddy Burger Plate – ¥1,990

This set of two chicken burgers comes with an R2-D2 seasoned with béchamel sauce and a C-3PO burger seasoned with meat sauce. You can take the flags home with you too. We recommend sharing this between two people.

Portion Bread – ¥500

This is the one I was most interested in personally, because I was curious to know from its appearance how it would taste. It's the portion bread that Rey tries eating in the film. At first glance it looks crunchy, but to my surprise it was soft with a subtle sweet flavour.

Lightsaber Drinks – ¥600 Each (w/ Coaster ¥1,300)

From the left, the flavours are Darth Vader blood orange, Luke Skywalker ramune, and Yoda melon. When you draw your straw from the paper wrapping, it turns into a lightsaber!

<STAR WARS > Jet Black Coffee – ¥600 (w/Bottle ¥1,750)

These limited edition bottles of black coffee feature the famous Star Wars opening crawl credits. Which one you get is randomーa must-have for all fans!

After enjoying some Star Wars food and drink, it's time to check out the cafe's exclusive merchandise. There are 13 types of merch in total all bearing artwork from across the film series.

Folder – ¥350

I recommend picking up one of these folders made in collaboration with the cafe. It has illustrations of the food and drinks being sold there.

Tote Bag – ¥3,500

This tote bag has illustrations of characters from Star Wars and how they are all connected.

There's plenty of other must-grab merch too, from music to stationery and more.

Customers who spend over ¥1,000 (excluding tax) on any of these exclusive items will receive the above-pictured limited edition bag. These are limited in stock so are available while supplies last.

There's plenty of places inside for fans to take great photos, so make sure you snap lots.

Also, if you book a table in advance and order something from the menu, you'll receive one of these 25 possible A5 folders, so be sure to book before you go!

© & TM Lucasfilm Ltd.

*All listed prices are pre-tax. Photos are for illustrative purposes only.

Information

"Star Wars" at OH MY CAFE

Locations/Dates:

■Tokyo: OH MY CAFE TOKYO (Tokyu Plaza Omotesando Harajuku) / January 18, 2020 – February 23, 2020

■Osaka: kawara CAFE&DINING Shinsaibashi / January 17, 2020 – February 23, 2020
■Nagoya: kawara CAFE&KITCHEN Nagoya PARCO / January 23, 2020 – February 25, 2020

■Hokkaido: Cafe Interlude, Coach & Four Shinkawa-dori / January 24, 2020 – February 24, 2020

■Fukuoka: kawara CAFE & DINING KITTE Hakata / January 24, 2020 – February 26, 2020

"Star Wars" OH MY CAFE Official Website: https://sw.ohmycafe.jp/

Star Wars Themed Cafe Opens at Tokyo's Marunouchi Cafe

To celebrate the upcoming release of Star Wars: The Rise of Skywalker this Christmas, a promotional event entitled "STAR WARS Marunouchi Bright Christmas 2019 – Precious for you-" is taking place in the Marunouchi area of Tokyo from November 7 to December 25.

As part of the promotion, a cafe named "RISE CRYSTAL CAFE" themed on the film will open at the Marunouchi Cafe on the first floor of the Marunouchi Building skyscraper, with meals, drinks and desserts inspired by the movie.

*Menu item names listed below are translated from Japanese.

Dark Side Pasta – ¥1,650 (Tax Included)

If you're of the Dark side of the Force, then you'll devour this pitch-black squid ink pasta served with an eggplant and bacon tomato sauce. If you sink into the darkness low enoughーor just fork far enough into your pastaーyou'll find some delicious mascarpone cheese.

Holiday Wreath Taco Rice – ¥1,650 (Tax Included)

Featured on this round Christmas wreath are familiar faces from the Star Wars franchise including C-3PO, R2D2, and BB-8. It's made with assorted rice and topped with various vegetables like tomato and avocado, as well as cheese.

Galaxy Present Sandwich – ¥1,650 (Tax Included)

A present delivered from space, this tall sandwich is layered with ham, tomatoes, and vegetables, and is served with a side of R2D2 soy milk cream cheese.

Starry Christmas Chicken (Serves 1-2) – ¥1,980 (Tax Included) *Available at dinner only

Served succulently on the bone, this gorgeous piece of chicken is served with four different kinds of sauces based on the far far away stars of the night sky.

Light Side Soy Milk Parfait – ¥1,320 (Tax Included)

If you lean towards the Light side of the Force, then you'll love this subtly sweet parfait made with soy milk soft serve ice cream and soy milk cream. It's also topped with chocolate mint ice cream and agar-agar that gets its blue colour from natural ingredients.

Dark Side Soy Charcoal Parfait – ¥1,320 (Tax Included)

This chocolate parfait is crowned with black bamboo charcoal soy milk cream and agar-agar. The gentle sweetness of the soy milk ice cream mixed with the sweet and sour blackcurrant sorbet makes for a delicious pairing.

Light & Dark Fizz – ¥880 (Tax Included)

This one's for both Light and Dark seekers, a refreshing tea drink coupled with the common mallow herb. See what happens when you pour the elderflower and lemon syrup into the beautiful blue beverage.

Blue Milk – ¥880 (Tax Included)

Chewy blue jelly floats around in this drink which is made with low-fat almond milk.

Black Ginger Ale – ¥880 (Tax Included)

This jet-black ginger ale is made with bamboo charcoal and a ginger syrup that's made in-house. Its refreshing flavour makes it the perfect meal accompaniment.

Commemorate the final film in the Skywalker saga with a Star Wars-inspired meal!

 ©2019 & TM Lucasfilm Ltd.  

Information

RISE CRYSTAL CAFE

Running: November 7, 2019 – December 25, 2019

Location: Marunouchi Cafe (Marunouchi Building Floor 1F)
Times:

Lunch – [Weekdays] From 11:00 / [Weekends & Holidays] From 10:00

Dinner – [Weekdays] From 16:00 / [Weekends & Holidays] From 17:00

*Food last orders 1-hour before closing time, drinks last orders 30-minutes before closing time
*Not open during Dinner on Saturday November 16 as the space is being rented

Marunouchi Cafe Official Website: https://www.marunouchi.com/tenants/1046/

Star Wars: The Rise of Skywalker

Release Date: December 19, 2019

Director: J. J. Abrams

Distributed by : Walt Disney Studios

©2019 Lucasfilm Ltd. All Rights Reserved.

Official Website: https://www.starwars.com/films/star-wars-episode-ix-the-rise-of-skywalker

Star Wars: The Rise of Skywalker Film Scenes to Feature on Tokyo Disneyland's Star Tours Attraction

Tokyo Disneyland's popular attraction Star Tours: The Adventures Continue is set to incorporate scenes from the upcoming film Star Wars: The Rise of Skywalker which is set for release on December 19, 2019, serving as the final film to wrap up the Skywalker Saga. The scenes will feature on the attraction for a limited time from December 20, 2019 to March 19, 2020.

Guests can look forward to flying through the world of the filmーwhich is set to wrap up the Skywalker Saga.

Additionally, if you head to the Star Wars-themed merchandise shop Cosmic Encounter in Tomorrowland from December 2 onward, there is a photo spot to get your photo taken with D-O, the new droid set to appear in the upcoming film.

Case – ¥2,000 / Pouch Set – ¥2,800 / Luggage Tag – ¥1,000 / Blanket – ¥4,300

Rucksack – ¥3,900 / Hoodie – ¥5,900 / Drink Bottle – ¥2,700

The shop will also release 20 new pieces of merchandise on the same day, including items related to the new film as well as across the whole Star Wars franchise. This includes stylish clothing to travel goods and more.

Commemorate the release of the final film in the Skywalker Saga with a trip to Tokyo Disneyland.

©Disney

©Disney ©&™Lucasfilm Ltd.

Young ASOBISYSTEM Models Design Glasses Perfect for Everyday Fashion

Glasses brand Zoff teamed up with famous models Saki Shibata, Yuri Suganuma and Rinko Murata to produce a branded glasses series that is perfect to wear "All Day, Every Day". The girls designed these glasses to fit into and enhance your everyday life experiences. The Zoff CLASSIC Girls Collection -All Day, Every Day- series will be released across Japan from October 11, 2019. 

The main theme of this series is All Day, Every Day. From this, the three sub themes of morning, midday and evening were created and each model was put in charge of the designs for one of these themes. Shibata was in charge of 'morning' designs, Suganuma was in charge of 'midday' designs and Murata was in charge of 'evening' designs. Each model carefully thought of how the user would wear the glasses during their sub theme time in order to fully enhance their daily experiences. Each model also created a unique personal design out of metal for the temple tips of the glasses they designed. 

Before being released in stores, the glasses will be available to preorder from Zoff's official online store from 11am (JST) on September 20. From the same day from 9pm, there will be a one-hour-long live broadcast where the models will showcase their creations.  A limited number of the glasses will be available to preorder during this live broadcast. 

There is also a lottery taking place with the chance to take part in the Zoff CLASSIC Girls Collection Special Event which consists of two parts: A tea session where you can listen to the girls' stories on how they produced the glasses and even get some pointers on how to coordinate your look, and a special photography session with the three models. 

Designs by Saki Shibata

ZH191011 Available in 3 colours ¥7,000

These compact and circular-shaped rims are the perfect way to highlight your classic look or even a tomboy look. However you decide to wear these glasses, you will always look good with minimum effort. 

ZO192024  Available in 3 colours ¥9,000

The vintage style and matte coloured metal frame make these glasses perfect for both men and women. The carefully chosen size makes these extra special. 

Shibata's statement on the personalised symbol:

"I want the wearer to feel good the moment they put on these glasses. I designed these glasses to give the wearer confidence to hold their head high and say: 'Today is going to be a wonderful day and I am going to enjoy every moment of it.'"

Designs by Yuri Suganuma

ZP192020 Available in 3 colours ¥7,000

These frames are rectangular with soft round edges to make your face look smaller and your eyes look bigger. 

ZO191012 Available in 3 colours ¥9,000

A perfect mix between foxy and geeky, the roundness of these rims is subtle, adding a feminine touch to your look. Although you may get the impression that these glasses only go well with a few styles, they actually coordinate well with a surprisingly large range of styles.

Suganuma's statement on the personalised symbol:

"My design is a heart rate to represent how the wearer will feel when they put these glasses on. I hope my glasses make your heart jump with excitement." 

Designs by Rinko Murata 

ZP192019 Available in three colours ¥7,000

The metal frame is so beautiful that it is like wearing an accessory. The subtle colours of the frame make it perfect for casual clothing. If you are looking for something for everyday use, these are perfect. Big rims are trending right now. 

ZN191011 Available in three colours ¥9,000

There is a wonderful contrast between the different materials used and the circular-shaped lenses give a classic look. Switch the lenses for blue light blocking lenses to reduce the amount of blue light exposure from your computer and phone. 

Murata's statement on the personal symbol:

"I etched my initials 'rm' into the design. I hope the wearer feels the power to transform into a brand new person whenever they put on these glasses. I hope my glasses provide a sense of comfort and confidence to the wearer."

Whether you are a fan of the models or this is your first time hearing about them, you just have to check out their stylish designs which are suitable for men and women of all ages.

Information

Zoff CLASSIC Girls Collection -All Day, Every Day-

Price: ¥7,000/ ¥9,000 (Price after tax, includes price of standard lenses) 

*Comes as a set with a special case and microfiber cleaning cloth

Product Range: 6 different shapes in 3 different colours (18 designs in total)

Release Date: October 11, 2019 

* Available for preorder from 11am on September 20, 2019 from the following locations:

– Zoff Online Store

– Zoff Rakuten Market 

– Zoff ZOZOTOWN Store 

* The models will be presenting their glasses on the Live Shop! live stream for 1 hour from 9pm on September 20, 2019. During this hour, a limited number of the glasses will be available to preorder. 

Link: http://clk.nxlk.jp/NwGufFql/test

* All pre ordered goods from this series will be shipped to customers from the end of October. 

Purchasable From: All Zoff stores nationwide (Not available at shopping outlets), Zoff Online Store, Zoff Rakuten Market, Zoff ZOZOTOWN shop, Zoff i LUMINE (Also available at the following overseas Zoff stores: Shanghai, Hong Kong and Singapore).

Special Edition Website: http://clk.nxlk.jp/Z6IMGHK5/test

New Must-Grab Disney Merchandise Features Mickey Mouse, Marvel & Star Wars

Japan's consumption tax is set to increase on October 1 from 8% to 10%. If you're looking to bulk buy or grab up must-have items from Japan then now is the perfect time before the percentage goes up!

Today we will take a look some of Disney's premium pieces of merchandise which are must-grabs before the tax increase.

Disney Senryobako – ¥ 2,982,650 (Tax Included) *Rate subject to change

A senryobako, or "thousand gold coin box," is a box that was used during the Edo period to store koban, the former Japanese oval coin. This box features a Mickey and Minnie Mouse design that reads "Forever together" at the top. It also includes a set of 50 koban featuring Mickey and Minnie designs on them. This is a super special and premium gift item!

Available At: GINZA TANAKA

Mickey 90th Anniversary Design Signature Pot (18cm) – ¥30,000 (Before Tax) *Comes in 11 colours

This pot is being released in celebration of 90 years since Mickey's screen debut. The pot lid features the iconic outline of Mickey Mouse. It's also delivered in limited-edition packaging.

Available At: Le Creuset

Movie Masterpiece DIECAST: Avengers 1/6 Scale Iron Man Mark 7 Figure – ¥58,800 (Tax Included) 

This highly detailed figure looks like Iron Man jumped right out of the movie theatre screen. Several different models and pieces are on sale too for each movie the superhero features in the Marvel Universe. Collect them all to create a whole range of poses.

Available At: Hot Toys

ROYAL SELANGOR Star Wars Vehicles "X-Wing" – ¥37,800 (Tax Included)

ROYAL SELANGOR Star Wars Figurine "Darth Vader" – ¥54,000 (Tax Included)

Malaysian-based company Royal Selangor is the largest pewter manufacturer and retailer in the world. Their new X-Wing and Darth Vader models elicit that vintage space opera vibe.

Available At: Royal Selangor

Each and every one of these items is a luxury Disney product. If you're a collector or are looking to buy a present for a fan then now's the best time to grab any of these premium products!

©Disney © 2019 MARVEL © &TM Lucasfilm Ltd.

Feel like a Disney Princess With Zoff Ariel and Jasmine-Themed Glasses

Eyewear brand Zoff is releasing a Disney-themed glasses series called Disney Collection created by Zoff Princess Series Classic Line. The series features Jasmine from Aladdin and Ariel from The Little Mermaid. There are four different frame shapes and they are each available in two different colours. They cost ¥9,000  (before tax, includes standard lenses). These will be sold at Zoff stores across Japan from July 26th. You can reserve these in advance at the Zoff online shop from July 7th.

This summery collection consists consists of two main themes; the two Disney princesses Jasmine and Ariel. The glimmering beauty and daintiness of the two princesses is represented by the delicate decorations and stones. The carefully applied "princess colours" represent each of the princesses and are easy to coordinate with any outfit. For children and girls with small heads, you're in luck! The first ever S-size glasses in the series have been released. You and your child/ a small friend can now wear the same glasses when you go out together!

Jasmine

These glasses represent the independent, strong-willed Jasmine. The glasses take on the image of her beautiful silky hair and hair accessories. Sticking to the current trend, metal frames have been used for the structure of the glasses. There is also a gold engraving on the temple tips of the glasses for a luxurious touch. The wearer is bound to feel like an Arab princess.

Temple

Enjoy the beautiful image of her wavy hair. The tip of the temple even has her signature on the inside.

Frame Shapes

Stock no: ZP 1920007

Stock no: ZP 191004

Stock no: ZP 191005

Ariel

The adventurous and curious Ariel is depicted with a wave and shell design. The curvy frame represents the free waves that Ariel would explore. There is a subtle shell at the side of frame near the screws. When you fold the glasses, the rhinestones will tuck under the shell, glistening beautifully like a jewellery box.

Front side

Fold your glasses and the rhinestone looks like a pearl hiding in a shell.

Temple

The temple of the glasses take on the appearance of a wave. The tips of the temple are made to look like Ariel's mermaid tail.

The temple arm contains a beautiful dinglehopper; the mysterious human item that Ariel discovered at the ruins of the sunken ship that apparently humans use to comb their hair.

Frame Shapes

品番ZP 192006

品番 ZP 191002

For more information, please check the Special Edition Website. This is your chance to feel like a princess ♪

©️Disney

Information

Disney Collection created by Zoff Princess Series Classic Line

Product Range: Ariel, Jasmine: (16 glasses: Two princess themes, four different shapes, each in two different colours. )

Release Date: July 26, 2019 (subject to change)

Advanced reservations will be accepted at the Zoff official online store from June 7th.

Price: ¥9,000 (after tax, standard lenses included)

※ Each princess theme comes with an original design glasses case and lens cleaning cloth.

Available at Zoff stores across Japan including Zoff Rakuten Market, Zoff ZOZOTOWN and the Zoff online store.  (Does not include outlet stores)

Special Edition Website: https://www.zoff.co.jp/shop/contents/disney-collection_princess.aspx

Zoff have announced that their new Disney-inspired glasses collection Zoff SMART DisneyModel will be released on May 17, 2019.

Using the company's popular Zoff SMART glasses, the colourful collection features original designs of Disney characters including Mickey Mouse, Minnie Mouse, Donald Duck and Daisy Duck. Not only are the designs cute, the glasses themselves benefit from the functionality of Zoff SMART which makes them light and comfortable.

Line-up

Stock No.: ZJ191001 (Wellington)

The shape of these glasses shape fittingly to all face types. They're recommended for beginners to glasses.

Stock No.: ZJ191013 (Boston)

Both the top and bottom of these frames are wide. The round, Boston style of frame will give you that trendy look.

Stock No.: ZJ191012 (Oval)

The basic oval shape is enjoyed by all ages for the friendly appearance they give you.

品番:ZJ191014(バレル)※Web先行販売

The cool, sophisticated look of these glasses makes them perfect for school or the workplace.

Frame Patterns

Mickey Mouse

These line art and silhouette designs mean they will suit adults too. The use of black and brown with the Mickey patterns makes the design even more stylish.

Minnie Mouse

The Minnie designs feature a girly colour palette that fit everything from casual to feminine looks. Enjoy looking good in lots of different outfits just like Minnie.

Donald Duck

Donald Duck is popular with guys and girls of all ages. The cool colouring of his designs make them a unisex choice.

Daisy Duck

This line-up of feminine colours are very Daisy-esque. Zoff SMART seeks comfort, and what's great about these glasses is that you can adjust the nose pad to your liking.

Which frame and design are you eyeing up the most?

Information

Zoff SMART Disney Model
Types: 4 Frames / 4 Designs (Mickey Mouse, Minnie Mouse, Donald Duck, Daisy Duck) = 16 Combinations
Release Date: ¥9,000 (Before Tax) *Comes with glasses case and wipe with an original design
Available: At Zoff stores in Japan (except outlets), Zoff's online store, Zoff Rakuten, and Zoff ZOZOTOWN

Product Page: https://www.zoff.co.jp/shop/contents/disney-collection_zoffsmart

The reign of the Minions continues as Japanese glasses brand Zoff has revealed a new collection based on the popular characters from the Despicable Me series. The glasses line will be released at Zoff stores and the company website on April 26.

DAILY LINE

Opal Frame

Banana

The banana design features―you guessed it, a banana design, every Minions' favourite fruit. The inner part of the frame also has Gru's "G" logo on it.

Denim

This design is inspired by the denim dungarees that Minions are known for wearing. This design makes it easy for incorporating with casual fashion.

Leather

The leather quality is brought about using a special manufacturing technique. Its chic design is perfect for wearing to school or the workplace.

This "Daily Line" of glasses is perfect for both Minions fans and people wanting to just have fun with fashion in a nonchalant way. They are made using lightweight materials too and so are comfortable to wear. Zoff also stocks children's sizes of these glasses too making it perfect for parents and kids to have fun matching.

CLASSIC LINE

Round

Boston

The "Classic Line" uses metal frames―something which is popular right now―and is a golden colour, the Minions' favourite. The rims look thick when viewed from the side and so give them both a goggle-type and trendy look.

The classic spectacles too are lightweight and so are comfortable sat on the face. They are recommended for more mature fans of the Minions as well as people simply looking for classic-looking frames.

All of these glasses some with the above-pictured glasses case and wipe with the three most popular Minions illustrated on them: Kevin, Stuart and Bob.

TM &©Universal Studios

Information

Zoff x MINION

DAILY LINE: Releasing April 26, 2019

CLASSIC LINE: Releasing Mid-May 2019

Price: ¥7,000-¥9,000 (Before Tax)

Available: At Zoff branches (except at outelts), Zoff's online store, Zoff Rakuten and Zoff ZOZOTOWN

Zoff Online Store: https://www.zoff.co.jp/shop/default.aspx

The days are still cold as February draws to a close, but I want to get out of this rut of wearing winter clothes every day! If you feel the same as I do, why not pick out a new pair of glasses in preparation for spring and discover a new you?

clear frames and their natural appearance

I want to feel refreshed so I head to a record store to search for a new record. I might try out a genre I don't normally listen to.

I've gone for a casual look today with a sweater, jeans and sneakers. I add a scarf for style so I don't look too rough.

For those who like unique things but aren't confident with challenging themselves to something new, then I recommend getting glasses with clear frames. At a glance they look difficult to co-ordinate with, but they're in fact a fantastic choice that go with anything. It's good to try out things you normally wouldn't go for to make you feel refreshed.

Model's Glasses: Zoff – ¥7,000 (Before Tax)

Left: Zoff – ¥7,000 (Before Tax) / Right: Zoff – ¥7,000 (Before Tax)

rough brought to life with glasses

On my days off I usually hole up at home but today I went to chill at a local cafe.

I go for a rough look with a hoodie, checkered pants and sneakers. The colours are my silhouette are rough but this is balanced by my brow-framed glasses.

This type of frame of course goes well with tight, well-balanced looks, but why not try something different by combining with a rough outfit?

Model's Glasses: JINS – ¥12,000 (Before Tax)

Left: OWNDAYS – ¥10,980 (Before Tax) / Right: Zoff – ¥9,000 (Before Tax)

playing around with unique glasses

Wearing a jacket set-up like this makes you feel sophisticated. Grab a coffee during your work break, straighten your back and get through the last day of the week.

While an outfit like this will make you feel proper, paying attention to the size and material while taking into account the overall balance will have you looking even more dapper.

Since the outfit is so neat and trimmed you've gotta go with a quirky pair of glasses. This gives a playfulness.

Model's Glasses: OWNDAYS – ¥9,980 (Before Tax)

Left: Zoff – ¥9,000 (Before Tax) / Right: JINS – ¥12,000 (Before Tax)

my new standard

Everyone has their 'go-to' outfits. By adding just some little changes to your go-to you can experience a whole new you.

My long-sleeved trench coat coupled with the loose pants makes for a tight balance. Combining this with glasses that have a defined colour and shape brings the whole mood of the look together.

When I look in the mirror, I see an unfamiliar me. A new me.

Model's Glasses: JINS – ¥12,000 (Before Tax)

Left: Zoff – ¥9,000 (Before Tax) / Right: JINS – ¥5,000 (Before Tax)

Find the glasses that you look the look of and discover a you that you never knew existed too.

Source: https://asbs.jp/archives/37286

Kiko Mizuhara Appears at the Opening of Glasses Store Zoff at Mong Kok in Hong Kong

Japanese glasses brand Zoff opened its fifth Hong Kong branch at Langham Place in Mong Kok on October 10. American-Japanese model, actress and designer Kiko Mizuhara is used as the face of the brand's new Zoff Secret Agent series which is being sold in Hong Kong and China, but she also attended the store's opening event on October 20.

Operation

Undercover

Seducation

On-the-move

Mizuhara brought the latest fashion culture from Japan to the street of Hong Kong for Zoff Hong Kong's new season theme 'Future Tokyo Vision SPY' and debuted their four new secret agent styles: Operation, Undercover, Seduction and On-the-move.

She received a warm reception and huge round of applause when she stepped onto stage and greeted the locals in Cantonese. She was asked by the event moderator about her impression of Zoff: "I have had the opportunity to appear in Zoff's commercials and ads since I was about 20 years old. Their concepts are always packed with creative ideas. They often are able to seek out fantastic characters. I find that aspect of them interesting and believe it align with my own concept. I enjoy becoming someone other than me and creating with them."

When asked about the glasses she was wearing on staged, she explained: "Today's style is futuristic. I thought I'd try something different from my usual self so I picked out these sunglasses."

If you're looking to find the latest styles in Japan then be sure to check out Zoff's glasses range.

Winnie the Pooh Glasses Line to be Released by Zoff

To celebrate the Japanese release of Christopher Robin on September 14, glasses brand Zoff have announced a new and original Winnie the Pooh series of glasses. The line will be released in-store in Japan nationwide on September 14. The Zoff online store is taking early orders from August 31.

There are 25 designs to choose from split across two different lines. The London Line features cute prints of the characters on the temple while the Honey Line are made of metal to give a classic look. The series uses exclusive artwork that reflects the story of the movie, and each frame has metal parts that symbolize Pooh's favourite food in the world – honey. The glasses are for both kids and adults alike.

London Line
The colours are the front have been selected so they can be worn in most situations. The sides have a mellow tone and are coloured in a way perfect for co-ordinating with autumn and winter fashion. There are 16 pairs in the line-up with four types and four temple designs. They come in oval, square and stylish fox shapes.

・Frame Shape

Catalog No.: ZA181051 – Oval shape worn by people across all ages. Leaves a gentle impression.

Catalog No.: ZA181052 – Square shape that makes you look smart and punctual.

Catalog No.: ZA181053 – Large-shaped glasses that are a trend right now and easy to co-ordinate with glasses fashion.

Catalog No.: ZA181054 – Fox-shaped glasses that bring out femininity and personality.

・Temple Design

The temple designs were drawn specially for the release of the movie. The concept behind them is 'Pooh leaving the forest for the first time and going to London.'

Saying: A city-like vibe with typography of Pooh's famous sayings.
Friends: A fun design featuring Pooh's pals Piglet, Tigger and Eeyore.

Flags: A cool Union Jack design that screams London.
Woods: A relaxing scene inside Pooh's forest.

Honey Line
This line has metal frames and incorporates elements of glasses trends. They give off the shine of melty honey and are decorated with honeycomb studs . This stylish line can be enjoyed not just by Pooh fans but lovers of jewellery too.

Catalog No.: ZS182001 – The fox shape that stops at the eyeline emits a sense of elegance while the frontside honeycomb parts leave an impression of luxury.

Catalog No.: ZS182002 – A sweet design inspired by runny honey with elegant thin rims.

Catalog No.: ZS182003 – This design jumps on the trend of oversized glasses. The honeycomb shaped studs on the sides make you look cool.

Peek into the world of Winnie the Pooh with this new glasses range.

■Information
Disney Collection Created by Zoff "Winnie the Pooh Series"
Available: Zoff stores, Zoff online store, Zoff Rakuten, ZOZOTOWN and elsewhere
Release Date: September 14, 2018
Pre-orders: From August 31 via the Zoff online store
Price: ¥7,000-¥9,000 (Pre-Tax)
*Comes with original design glasses case and cloth.
Types: London Line – 16 Pairs (4 Shapes, 4 Designs) / Honey Line – 9 Pairs (3 Shapes, 3 Colours)
Webpage: http://www.zoff.co.jp/sp/disney-collection

*Winnie the Pooh Series to go live on the website on August 31

IC card cases using the motif of Millennium Falcon that appears in "Star Wars" is now on sale.

"FLASH Series," a sundry brand that sells products using technologies and facilities RE: circuit boards, started selling  "FLASH IC Card Case,"  "FLASH IC Card Clip" and "FLASH iPhone Case" using the motif of "Millennium Falcon(TM)" that appears in the "Star Wars" series.

The iPhone case uses an IC card clip and an IC card case using a circuit board mounted on an electrical part designed with the circuit board CAD. The product is designed in the same way as when designing real circuit boards. Since the circuit board CAD is not a design software, the products are designed manually by drawing lines using a mouse. The products are coated with plastic in a clean room to protect the parts. The products are only available in Japan.

Both the"FLASH IC Card Case" and the "FLASH IC Card Clip" have a gimmick where the mounted LED lights up when they are used in the collector's box and during IC-card shopping. This feature will make your everyday commute to school or work much more enjoyable. The card can be used as an ID card case if the size matches with your card.

The IC card case using the motif of「Millennium Falcon(TM)」has 8 blue LEDs mounted on the drive unit. The IC card case is made using an electric circuit. Three kinds of electric circuits (surface, middle part and reverse side) are pressed together to make the case. The printed electrical circuit is manufactured by FR-4 (glass fiber cloth and epoxy) and is light but strong. The circuit is also used in cars and industrial machines.

Two white LEDs are mounted on the front Floodlight part of FLASH IC card clip. The clip was developed under the concept of "not carrying around a wallet."An ID card can be inserted too.

FLASH iPhone Case has a red LED (without battery) mounted on the top laser cannon part. The LED does not light up normally but will light up randomly when strong radio waves are emitted. The characteristic of this case is its precise design created with an electrical circuit CAD. The lines of the electrical circuit CAD are all straight, so about 80,000 straight lines are used in the "Millennium Falcon(TM)" design.

For those of you who love Star Wars, you must get these products which use latest technologies!