A recipe for photogenic food #2 Bruschetta for Christmas
The cooking series #2 by Arisa Shirai, a cooking specialist. She has produced "the Photogenic Food"! She introduced "Bruschetta for Christmas". Check it up♪
———–
"Bruschetta of Santa Claus & Christmas Tree"
■Yield: 3 servings 
■Ingredients
Ÿ

  

80grams of sour cream

Ÿ

  

12 cherry tomatoes

Ÿ

  

3 black olives

Ÿ

  

★

A pinch of salt

Ÿ

  

★

A pinch of pepper

Ÿ

  

★

1 Tbsp. Olive oil

Ÿ

  

★

1 Tbsp. Vinegar of white wine

Ÿ

  

★

1.5 tsp. Honey

Ÿ

  

3 slices of Baguette
★: Blending these seasonings together
■How to prepare
①    Cut the all cherry tomatoes in half, and put into the ★
②    Spread the sour cream on the baguette (Only on the part of Santa Claus's beard and hats)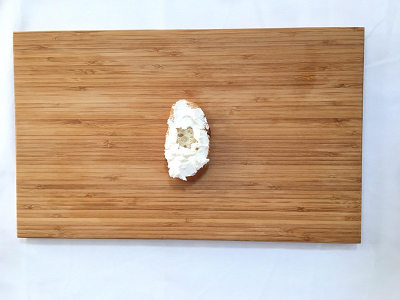 ③    Put the tomatoes at the part of hats
④    Put the black olives at the part of eyes
⑤    Cut the tomatoes more, and put it at the part of Santa Claus's nose
⑥    Make a ball of sour cream and put it on the top of hats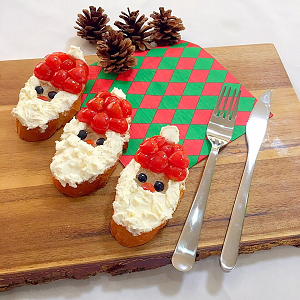 "Bruschetta of Avocado Tree"
 ■Ingredients
Ÿ

  

1/10 yellow bell peepers

Ÿ

  

1/10 red bell peppers

Ÿ

  

1/2 avocadoes

Ÿ

  

A piece of bread you like

Ÿ

  

5 grams of the crust

Ÿ

  

5 grams of mayonnaise

Ÿ

  

A slice of ham

Ÿ

  

1/2 slices of cheddar cheese

Ÿ

  

A larger diameter straw (using as cutter)

Ÿ

  

A toothpick
■How to make
①    Cut the avocado lengthwise in half and peal the 1/2 avocado (use only 1/2)
②    Cut the avocado in the shape of triangle and slice by 3mm from the bottom to the top of the avocado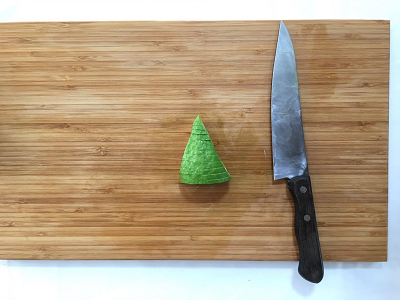 ③    Push the avocado lightly and slide it like a sector
④    Spread the mayonnaise and ③ on the bread
⑤    Cut the crust in square (1.5×2 cm) and put it at the part of tree's body
⑥    Mold the ham, yellow・red bell peppers by the straw (3 each) and topping
⑦    Hollow the cheddar cheese in the shape of the star and put it on the tree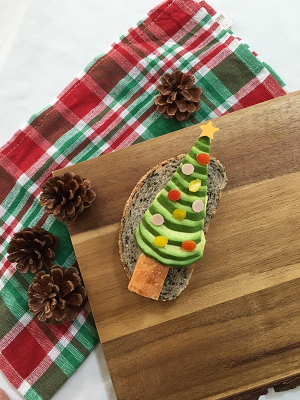 ———-
They are definitely kawaii♪ Please make these bruschetta and take a picture. Be sure to post to your SNS!
■Arisa Shirai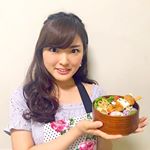 She is a visual food creator and Kyaraben Bento Cookies.She aims at making good-looking, tasty and heart-warming dishes.
・Instagram:arigohan
・Blog(only in Japanese):http://s.ameblo.jp/arinko0917
—
■Related article:Pop into the colourful pop world of KAWAII MONSTER CAFE HARAJUKU ー now upping its game for Christmas!
■Related article:Haven't seen anything like this steamed bean bum before! Animal shaped bum is too cute to eat!
RELATED ENTRIES
Drama Series Zenra Meshi, Starring Yutaro, to Get Official Photo Book in June

The Kansai Television drama Zenra Meshi, starring Yutaro, is getting an official photobook release on June 23, 2023 titled Zenra Meshi Official Photobook -Our Recipes Start Here-.

The unusual romantic comedy follows an elite businessman hiding an incredible secret–he loves to eat naked to relieve his stress. One day, this habit is revealed, and Ichijo finds himself quickly falling in love.

The official photobook will include over 30 pages of gravure photos of Yutaro (Miki Mahiro) and Shori Kondo (Futa Ichijo). Set as an epilogue taking place after the main story shown in the series, Futa and Miki can be seen enjoying a picnic date with a handmade bento and spending cozy time together in PJs at home.

Also included are 20 pages of solo photos of Futa wearing a suit and posing in front of a beautiful night scene and Miki wearing a hoodie in a restaurant that smells of spices. Both shoots were intended to look as though a lover snapped the images. The photobook also includes Mizuchi's Recipe Notebook, highlighting recipes from around the world with comments by popular cookbook author Yummy. Fans can also look forward to plenty of interviews with the cast and crew along with behind-the-scenes filming and production details.

Information

Zenra Meshi Official Photobook -Our Recipes Start Here-
Release Date: June 23, 2023
Price: ¥3,850
Publisher: Tokyo News
*The book may be released on a different date depending on the area.

■Purchase Bonus
Amazon: Limited Edition Cover
We! Premium Limited Store: Photo (Shori Kondo)
Seven Net Shopping: Autographed Photobook (Shori Kondo or Yutaro)

<Notes>
*The start date and time for orders may vary depending on the store. Check each company's website for details.
*Purchase bonuses and limited-edition copies are available while supplies last.
*Additional retailers and special offers may be added in the future.
*Availability will vary by store. Please check with each location for details.

Official Photobook Release Event
Date: June 24, 2023
Venue: Tokyo
More details will be released later in TOKYO NEWS magazine&mook (https://zasshi.tv/)

Hokkaido's Menkoi Nabe Kuma-chan Onsen, the Cutest Way to Eat Hotpot, Now Available Online

Chances are you've seen the Hokkaido Menkoi Nabe Kuma-chan Onsen. Menkoi means 'cute' in Hokkaido dialect, and these cute little bears are made from soup stock. Set them in a pot, and they begin to melt, looking like they're enjoying a hot spring bath. Once they melt, you can enjoy their delicious flavor! Currently, the only place in Japan to offer this adorable and creative dish is a little shop in Miyamasu-Zaka, Shibuya, which opened in 2021. The shop is full every day, and getting a reservation can take up to a month!

For those unable to visit Japan, you can now purchase these tasty bears online.


 

Variations Available Online

Grab one of these cute bears and whip up the tastiest and most adorable meal you've ever had!

Fate/Grand Order Galatea Cooking Project Recipes Available for a Limited Time

A selection of recipes inspired by the Fate/Grand Order mobile game are now available until February 11, 2022! These were developed by FGO Project and supervised by the popular site Cookpad.

FGO Original Apron Design

The cooking project is being held to commemorate the in-game Valentine's event going on for a limited time. Five recipes inspired by the game's armor will be introduced on social media, the game's official site, and Cookpad for five consecutive days, from February 7 until February 11. In addition, 50 people who respond to the Cookpad recipe will be selected by lottery to win an original FGO apron.

Don't miss these costume-inspired recipes!

©TYPE-MOON / FGO PROJECT

Second Pokémon Room Summer Vacation Project comes with Original Themed Recipes

Cosmos Hotel Management have announced a new Pokémon Room option at APARTMENT HOTEL MINIMARU, complete with special Pokèmon original recipes. APARTMENT HOTEL MINIMARU is a hotel service that offers spacious rooms and kitchen spaces, ideal for families and large groups.

You can make lasting summer memories as you cook adorable themed meals as a family in their incredible new Pokémon themed room.

Original Recipe (preview)

The dining and sleeping areas of the impressive new room are covered in Pokéball motifs, while the cute Pokémon appear to be playing hide and seek throughout the wallpaper. You'll be greeted by a giant Snorlax plushie on the bed and have your food served on Pokèmon themed plates and cups – Perfect for Pokèmon lovers! The room will be available at MINIMARU in Tokyo, Kyoto, and Osaka.

Following their Pokémon Card Game Sword & Shield / Family Pokémon Card Game free summer vacation project, MINIMARU have prepared several original recipes for guests of the new Pokémon Room. Try making some cute Pokémon dishes and desserts in the kitchen for yourself, with recipes including Pikachu Omurice and more!

The Pokémon Room offers 7 special dinner and snack recipes for parents and children to make during their stay. The ingredients are easily obtained at the local supermarkets and cooked in the kitchen space. You can even share your handmade masterpiece on social media using the hashtag #ポケモンルームレシピ (pokémonroomrecipe).

©2021 Pokémon. ©1995-2021 Nintendo / Creatures Inc. / GAME FREAK inc.
ポケットモンスター・ポケモン・Pokémonは任天堂・クリーチャーズ・ゲームフリークの登録商標です。

Disney's Lilo & Stitch and Donald Duck Recipe Kits Revealed

Japanese online supermarket Oisix released its "Donald Duck Summer Nasi Goreng Mountain" meal kit on July 15, and will release the new "Lilo & Stitch Hawaiian Loco Moco" version on July 29. Both are part of the "Kit Oisix" series of recipe kits which lets people cook up a meal inspired by characters.

Kit Oisix Donald Duck Summer Nasi Goreng Mountain

Kit Oisix Lilo & Stitch Hawaiian Loco Moco

Recipe book contents page

Recipe book step example

Summer Challenge from Donald section

Summer Challenge from Donald work sheet

A child taking on Donald's summer cooking challenge

The ingredients and recipe book delivered with the Donald Duck Kit Oisix

Lunch Mat

The ingredients and recipe book delivered with the Lilo & Stitch Kit Oisix

Lunch Mat

Both meal kits arrive with all the necessary ingredients and condiments needs to make delicious themed meals. They also come with a recipe book which features step-by-step breakdowns of how to prepare the meal as well as other fun bits such as a work sheet. The kits are aimed at parents and children and fostering their relationship, but if you love Disney, anyone can enjoy these cooking experiences.

Kaori's Easy Recipe: Learn to Make a Rilakkuma Banana Cake

With just a small bit of ingenuity, turn everyday food into something cute using Kaori's Easy Recipe! With a few simple ideas, an ordinary recipe magically transforms into a cute dish.

In this recipe, I'll show you how to make a delicious banana cake that is tasty even if refrigerated!

Ingredients

Makes a 18cm pound cake

2 ripe bananas

100g unsalted butter

50g granulated sugar

2 eggs

100g weak flour

1

Bring the butter to room temperature and mix it with the sugar until it becomes white. I used unsalted margarine for this.

2

Gradually add both the egg whites and yolks and pour slowly into the mixture while mixing. Mash the banana with a fork, add to the bowl, and mix.

3

Sieve in the flour and mix lightly.

4

Bake at 160℃ for 40-45 minutes and it's ready! I used a 15cm pound cake tin and muffin tin to make mine. If using a muffin tin, bake for 30 minutes.

Leave to cool and use the edge of the pound cake tin to cut ears. Finish by using a chocolate pen to draw on Rilakkuma's face.

Kaori invites you into her world of character-themed food dishes in her recipe series. Be sure to check out her Instagram where she has uploaded many pictures of her character dishes!

Kaori Kubota (@kaopan27)

I live in Hokkaido and I love to make character themed foods, desserts and pastries♡

I want to see my family smile, so I enjoy putting in a bit of effort to make character foods and changing food into something cute♡

You can see more of my character foods and character bento boxes on my Instagram page → @kaopan72

Make a Winnie the Pooh Themed Disney Dinner With This Meal Kit

Japanese organic food delivery service Oisix released a cute new Winnie the Pooh tomato curry meal kit on Thursday.

 

Kit Oisix "Winnie the Pooh" Tomato Curry

Make Pooh's face easily with a stencil sheet

Message cards come with the kit

The packaging

Lunch mats and pick

The story of Winnie the Pooh follows the titular character who lives in the Hundred Acre Wood and his adventures to find honey. The meal kit was designed with friendship and bonds in mind: in a time when we can't travel as often to see the people we love, Pooh is the perfect comrade and the embodiment of friendship perfect .

Pooh's yellow face is made from rice seasoned simply with saffron-infused sofrito. His face, which would be a lot of effort to try and create from scratch, can be made easily with the stencil sheet and paprika powder provided.

The meal kit is made to capture the feeling that your friends and loved ones are always with you. In the kit, you'll find a recipe card detailing how to make the food, a lunch mat with an illustration of Pooh and his friends on it, and a message card which you can mail to someone special.

To promote the kit, Oisix is holding a social media campaign. If you tweet a photo of your completed meal on Twitter or Instagram to someone you love with the Japanese hashtag #いつも一緒だよ you'll receive a free virtual background you can use on Zoom and other services.

Information

 Kit Oisix "Winnie the Pooh" Tomato Curry

Order Window: June 3, 2021 – June 17, 2021

Price: ¥2,950 (Tax Included)

Ages: 4+

Product Page: https://www.oisix.com/winniethepooh/press/

#いつも一緒だよ Social Media Campaign

Running: June 3, 2021 – June 24, 2021

How to Participate
Step 1: Post a photo related to the curry along with a message to someone you love (the photo can be the completed meal, a photo of you cooking it, the message cards, and so on)

Step 2: Add the following hashtags to your post on Twitter or Instagram: #いつも一緒だよキャンペーン #プーさん #tablefortomorrow

Cinnamoroll's Warm & Fluffy Dessert Party to Grace Hilton Osaka This Summer

Hilton Osaka's second floor restaurant Folk Kitchen has announced a collaboration with Sanrio to serve up Cinnamoroll's Warm & Fluffy Dessert Party, a food menu themed on Sanrio's popular character Cinnamoroll who took home the number one spot in the 2020 Sanrio Character Ranking. He was born up on a cloud in the sky, and that's where guests are invited to dine with him: on his dessert wonderland, featuring around 25 dreamy-cute items, atop a fluffy cloud. The restaurant will take on special decorations for the menu's duration, and guests might even spot some other familiar Sanrio faces too like Hello Kitty, My Melody, and more.

Raindrop & Dance Yogurt Ring Cake

Kuru Kuru Coffee Cup Peach Mousse

Warm & Fluffy Cloud Mousse

Cafe Cinnamoron Cream-Loaded Pastries /Brown Sugar Chocolate Flower Tarts

Marshmallow Truffle

I Dropped My Ice Cream – Chocolate Mousse & Blackcurrant Cake

This is Hilton Osaka's third summer dessert buffet in a row held in collaboration with Sanrio's characters. Focusing on the greatly loved Cinnamoroll, whose fandom is mostly made up of those in their teens and 20's, guests can look forward to tucking into a deliciously kawaii menu. The restaurant's pastry chef Hyaku, also known as the wizard of smell and texture, recommends the 'Raindrop & Dance Yogurt Ring Cake' which is made with a fruity mango cream that melts into a creamy sour mousse. The raindrops are represented by chocolate, and the fluffy cloud is actually crunchy meringue. The dessert captures the bright and sparkly world of Cinnamoroll.

The 'Kuru Kuru Coffee Cup Peach Mousse' is loaded with peach compote and vanilla mousse for an exquisite balance of flavours. It's topped off with Sanrio characters made of chocolate.

The 'Warm & Fluffy Cloud Mousse' has a gorgeous pink gradation. Inside the honey mousse is a refreshing layering of sudachi citrus jelly, fresh orange, and pistachio biscuit.

There's also the 'Cafe Cinnamoron Cream-Loaded Pastries' and 'Brown Sugar Chocolate Flower Tarts' which capture the cuteness of Cinnamoroll.

There's also a refreshing dessert-in-a-glass for cooling down over the summer: the 'Marshmallow Truffle' which is inspired by unicorns. It has alternating layers of raspberry and lychee cream which when mixed create all-new delights for your taste buds.

Another fun item on the menu is the 'I Dropped My Ice Cream – Chocolate Mousse & Blackcurrant Cake.' Now that's a mouthful! The ice cream cake is steeped in elderflower foam which goes amazingly well with the chocolate mousse. Other bites include the hibiscus-scented 'Almond Panna Cotta White Peach Compote' and the 'Rainbow Agar-Agar' among other things.

Cinnamoroll's Warm & Fluffy Dessert Wonderland – Sanrio Characters Collaboration Afternoon Tea Set

There's even a special afternoon tea set served in a cute little jewellery box!

There are many kawaii moments to be had in Japan, and this is one of many!

Information

Cinnamoroll's Warm & Fluffy Dessert Wonderland – Sanrio Characters Collaboration Tea Party

Japanese Name: シナモロールのふわもこスイーツワンダーランド ~サンリオキャラクターズ コラボティーパーティー~

Running: June 4, 2021 – September 12, 2021

Where: Folk Kitchen (Hilton Osaka Floor 2F)

Serving Times: Everyday 15:00-16:30

Price: [Weekdays] ¥4,900 Per Person / [Weekends] ¥5,300 Per Person

Afternoon Tea Set

Running: June 4, 2021 – September 12, 2021

Where: MYPLACE Cafe & Bar (Hilton Osaka Floor 1F)

Serving Times: 12:00 until daily limited stock runs out

Price: ¥4,500 Per Person

Official Website: https://osaka.hiltonjapan.co.jp/plans/restaurants/sweets/folkkitchen-2106

Studio Ghibli's Earwig and the Witch Gets Recipe Picture Book

Japanese publisher SHUFUNOTOMO released a new recipe picture book based on the Studio Ghibli's 3D CG movie Earwig and the Witch on April 28.

Earwig and the Witch Recipe Book | ¥1,540 (Tax Included) 

The book features simple to follow recipes including famous British meals, desserts inspired by the movie, and lots of other mouth-watering delights that look like something straight out of Earwig and the Witch.

St. Morwald's Home for Children's Shepherd's Pie

Shepherd's pie is a classic British meal and makes an appearance in the movie when Earwig eats it at St. Morwald's Home for Children. It's her favourite meal: mash sat on top of a tomato sauce-loaded mince, carrots, green beans, onion, and paprika combo.

 

Boy Scout Fried Toast

Fried toast is another common food on the British breakfast menu. The recipe takes thickly-sliced bread and fries it in the juices of bacon and sausage. It's based on the scene where Earwig messes up making her fried toast. The recipe is made Frech-style with egg, milk, sugar, and butter.

 

Earwig's Pretzels

Using hot cake mix, learn how to make frosted white chocolate pretzels that look like Bella Yaga's magical worm minions

Goro Miyazaki | Comment (Taken From Recipe Book)

"Cooking is fun, isn't it? I myself love cooking: taking various ingredients and peeling them, chopping them, crushing them, and mixing them. You boil, you steam, you simmer, you fry. Using fire makes it all the more fun. What I make doesn't always turn out perfect, but you can turn off and forget everything while you're cooking, but it's an amazing feeling when you sit down to eat the fruits of your labour and people tell you what you made is delicious. It's even more amazing when you eat something that someone else made for you. Tasty food is like magic. Speaking of which, the magical spells that Earwig learns at Bella Yaga's house are a lot like cooking. Carving, crushing, mixing. I'm sure that if you're a skilled witch you'll be a skilled cook too. I hope the people who read this book and think for the first time that they want to try out cooking will try making all sorts. Getting better at cooking might even lead you on the path to becoming a witch."

The recipe book's front cover was designed specially for this book by Goro Miyazaki.

Kaori's Easy Recipe: Learn to Make Baymax Mushi-Pan Steamed Bread

With just a small bit of ingenuity, turn everyday food into something cute using Kaori's Easy Recipe! With a few simple ideas, an ordinary recipe magically transforms into a cute dish.

Today, I'll teach you how to make Baymax mushi-pan steamed bread.

Ingredients

This recipe makes 5 portions

140g strong flour

20g granulated sugar

Pinch of salt

3g dry yeast

3g baking powder

5g vegetable oil

85ml-90ml milk (room temperature)

1

Mix everything together in a food processor. If you don't have a food processor, you can also knead the ingredients well by hand.

2

Ferment at 40℃ for 40 minutes. If you don't have a fermentation machine, leave in a warm environment.

3

Once the dough has doubled in size, divide into five portions and put into separate cups. If using paper cups, rub a little bit of oil inside.

4

Bake in the oven at 40℃ for 20-25 minutes.

5

After baking, steam in a steamer for 12-13 minutes. If you don't have a steamer, put into a frying pan or large pot with a little bit of water and cover.

6

Once cooled, use some nori seaweed to make Baymax's face and you're done!

Kaori Kubota (@kaopan27)

I live in Hokkaido and I love to make character themed foods, desserts and pastries♡

I want to see my family smile, so I enjoy putting in a bit of effort to make character foods and changing food into something cute♡

You can see more of my character foods and character bento boxes on my Instagram page → @kaopan72

Kaori's Easy Valentine's Recipe: Learn to Make Rilakkuma Hot Chocolate Sticks

With just a small bit of ingenuity, turn everyday food into something cute using Kaori's Easy Recipe! With a few simple ideas, an ordinary recipe magically transforms into a cute dish.

Today, I'll be showing you a simple recipe for Valentine's Day made with ingredients bought entirely from the 100 yen store Seria. I call it the "Rilakkuma Hot Chocolate Stick."

Ingredients

Square mould from Seria (makes six sticks)
1 bag of milk chocolates

1 bag of white chocolates

1 bag of dark chocolates

Toppings of your choice (I used caramel chocolate chips and walnuts)

1

Melt all the chocolates separately over a bain-marie.

2

Create layers with each chocolate type. Pick your first choice and pour into the mould and wait for it to set lightly before adding the next chocolate. For this recipe, I went ahead and added the chocolate a little before layers had finished setting to create a marbling effect.

✩I also added some strawberry chocolate I had left over from my Rilakkuma chocolates.

3

Once all your chocolate is in the mould, stick in some lollipops and add toppings of your choice making sure they don't overflow. This will ensure they set together with the chocolate.

4

Allow to set overnight and your chocolate stick is ready.

5

I made Rilakkuma chocolates from scratch and added those to the sticks to finish.

Kaori invites you into her world of character-themed food dishes in her recipe series. Be sure to check out her Instagram where she has uploaded many pictures of her character dishes!

Kaori Kubota (@kaopan27)

I live in Hokkaido and I love to make character themed foods, desserts and pastries♡

I want to see my family smile, so I enjoy putting in a bit of effort to make character foods and changing food into something cute♡

You can see more of my character foods and character bento boxes on my Instagram page → @kaopan72

Kaori's Easy Recipe: Learn to Make Banana and Black Tea Muffins

With just a small bit of ingenuity, turn everyday food into something cute using Kaori's Easy Recipe! With a few simple ideas, an ordinary recipe magically transforms into a cute dish.

Today, I'll be showing you a super simple dessert made using hotcake mix. I decorated the muffins with strawberries and a dusting of icing sugar to give them that Christmas feel.

Ingredients
1 bag of hotcake mix (150g)
1 large egg
20g sugar
25ml vegetable oil
30ml milk
2 ripe bananas
1 tbsp black tea leaves
*If you don't have loose black tea leaves you can use the leaves from inside of a black tea bag

1

Slice half of one banana for topping later. Mash the remaining one and a half in a bowl with a fork or potato masher.

2


In a different bowl, add all of the ingredients and mix together. Once mixed, add the mashed banana and mix again to combine.

3


Add the mix to muffin tins. The muffins will rise quite a bit so you may want to use less mix. Finish by adding the sliced bananas from Step 1 on top.
上に1でスライスしておいたバナナをトッピングする。

4
Bake at 180℃ on the middle shelf for 25 minutes.

5


Complete your muffins by dusting with icing sugar, fresh cream, and strawberries. I added a chocolate Hello Kitty on mine!

Kaori invites you into her world of character-themed food dishes in her recipe series. Be sure to check out her Instagram where she has uploaded many pictures of her character dishes!

Kaori Kubota (@kaopan27)

I live in Hokkaido and I love to make character themed foods, desserts and pastries♡

I want to see my family smile, so I enjoy putting in a bit of effort to make character foods and changing food into something cute♡

You can see more of my character foods and character bento boxes on my Instagram page → @kaopan72