Play Hide And Seek at After Hours Spooky Japanese Theme Park in Osaka
Hirakata Park in Osaka is set to host its scary nighttime horror event "Hide And Seek at Hiraka Park" again this year from August 26 to September 1. Tickets are now on sale via Lawson Tickets. The event is being held in collaboration with MBS, Yami and ICT of NTT West.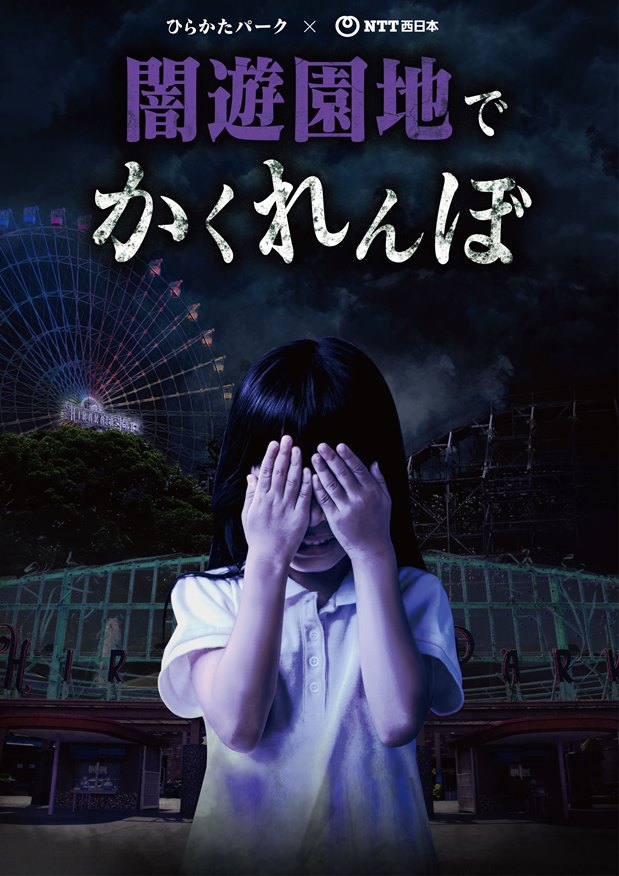 The park will take a turn for the worse as soon as evening settles and night envelops the sky, bringing a spooky shift to the usual mirthful atmosphere during the day. Something terrible will lurk in the dark after the park closes.
Participants of this event will need to use their electronic devices, such as a tablet or smartphone, to help them reach the goal within an hour while keeping hidden from any spirits that may be lying in wait in the shadows. We also recommend taking a spare pair of pants.
But that's not all, as guests at the park can now get involved in another frightening experience using VR technology. This VR game, which is called "The Vengeful Sleep Paralysis Ghost's Mansion," was introduced to the park on July 6 and is available for a limited time only.
If you're down for some hair-raising spooks but can't wait until Halloween, then you know where you need to go this summer.
Information
Hirakata Park x NTT West: "Theme Park Hide and Seek"
Location: The whole of Hirakata Park
*The meeting point is at the park's East Gate
Running: August 26, 2019 – September 1, 2019 & September 7, 2019 – September 8, 2019
Time Slots: ①19:00 / ②19:20 / ③19:40 / ④20:00 / ⑤20:20
*Participants are allocated an hour for each slot
*You must be at the East Game meeting point 5 minutes before your chosen slot
Price: Group Ticket (Up to 4 People)  – ¥14,000 (*comes with free bonus
Tickets: Lawson Ticket (L-Code: 55500)
*Where tickets are available on the day, they will only be sold up until 20:00 that day at Lawson and MINISTOP convenience stores. Please use the Loppi ticket machines in the stores and search for the tickets using the L-Code "55500."
Ticket Enquiries: Lawson Ticket – 0570-000-777 (10:00-20:00)
Homepage: https://www.mbs.jp/obake/
RECOMMENDED ENTRIES
Beautiful National Park Projection Mapping to Illuminate Shiraito Falls This Summer

For eight years now, Shiraito Highland Way, Karuizawa has been showing its gratitude to its summertime visitors with a special nighttime illumination display. This year, that time has come yet again. 

The illumination event will take place at Shiraito Falls (白糸の滝, Shiraito no Taki), which is a special area of conservation located in Joshin'etsu-kogen National Park. Abiding by the rules set by the Ministry of the Environment and after a careful study of the wildlife, ecosystem and natural surroundings, preparations have been made in order to hold a successful show without any negative environmental effects. This will be the first ever projection mapping event to be held in a national park in Japan amongst the nature.

The 2019 event will be filled with a rich variety of beautiful animation to highlight the beauty of Karuizawa's natural undertones and will also celebrate the new Reiwa era. The theme of the projection mapping will be "the birth of the earth and our prayers for the Reiwa period". 

This has been recognised as one of Japan's Nightscape Heritage sites, so please come witness it for yourself.

Information

2019 Shiraito Falls Projection Mapping, Karuizawa

Running: Friday ー Sunday from July 26 ー August 25, 2019

※ Running every day from August 12 ー August 15 

Show Times: 19:00 ー 21:00

※ For safety reasons, the illumination will be prepared from 18:30

※ The projection mapping show will run 9 times on each day in 15 minute intervals starting from 19:00) 

※ In times of overcrowding, there will be an entry limit.

※ To confirm whether the event will be postponed due to bad weather, please check the website below. 

※ On August 13 and 14 only, the first 200 visitors will be presented with Karuizawa Chocolate Factory sweets 

Official Website: http://www.karuizawa-shw.com/

Hi everyone! This is Midori from MMN's Editorial Department.

Now that summer is here, it's the perfect opportunity to visit a beer garden! Having a refreshing cold beer on a rooftop during a hot summer's day is on a whole new level. Every year, beer gardens put a lot of effort into coming up with new ideas for their customers to have the time of their lives. The entire atmosphere is an entirely new experience. That's why today, I will be introducing you to 2019's must-visit beer gardens in Kyoto and Osaka.

Or click here to discover Tokyo's top 5 beer gardens instead!  

Korean BBQ Sakeba

Head to the rooftop of Keihan City Mall which is attached to Temmabashi station  in Osaka for a Korea-themed beer garden. From grilled meats such as Korean grilled pork belly, (Samgyeopsal), and gourmet food such as cheese Dak-galbi (spicy stir-fried chicken), there are just so many delicious meals to try. You can treat yourself to the free self-service drinks or get your beers, highballs and lemon sours topped up as many times as you like! Korean grilled meat and beer is the perfect combination. No wonder it is so popular!

▼ Temmabashi Korean BBQ Sakeba

Address: Keihan City Mall rooftop, 1-1 Tenmabashikyomachi, Chuo Ward, Osaka,

Running: May 22 ー September 30, 2019 (No regular holidays.)

※ Closed on days of severe or stormy weather

Opening Hours: 17:00 ー 22:30 (Last entries: 20:00)

Official Website: https://www.matsuri-bbq.com

Hotel Keihan Rooftop Beer Garden

Before the rooftop garden opens at Keihan Hotel, Osaka, you can still enjoy alcohol at the "Choi Nomi" alcohol stand. Here, you pay for each individual drink, which is perfect for those who do not want to drink too much. You can also enjoy a couple of drinks here with friends while you are waiting for the beer garden to open. Whether you want to drink a little or go all the way, this beer garden caters for all kinds of alcohol-lovers. ♪

▼ Rooftop Beer Garden

Location: Hotel Keihan Kyoto Grande

Address: 31 Higashikujo Nishisannocho, Minami Ward,

Running: June 1 ー August 31, 2019

※ Closed during bad weather

Opening Hours: 17:30 ー 21:00 (Last orders: 20:45) (Choi Nomi alcohol stand opening times: 16:00 ー 17:30

Website: https://www.hotelkeihan.co.jp/Kyoto/

Senri Hankyu Hotel

Senri Hankyu Hotel Poolside Beer Garden also has private spaces this year, allowing you to relax in private with your friends without having to worry about others around you. Amongst all the typical drinks, you can also enjoy Smirnoff and Sangria. There will also be a variety of dance performances to keep you entertained including samba, hula and belly dancing. Grab your girlfriends and boyfriends for the perfect summer reunion party.

▼ Senri Hankyu Hotel Beer Garden

Location: Senri Hankyu Hotel Poolside

Address:  2-1 Shinsenri Higashimachi, Toyonaka, Osaka

Running: June 1 ー September 30, 2019

Opening Hours: Mondays ー Saturdays (17:30 ー 21:00)

Last orders: 20:30),

Sundays, national holidays: 17:30 ー 20:30 (Last orders: 20:00)

Website: https://www.hankyu-hotel.com/home/hotel/hh/senrihh/contents/beergarden/

Hotel New Hankyu Kyoto

Right now, the rooftop of Hotel New Hankyu, is home to a beer garden. From the same rooftop, you can enjoy a view of Kyoto Tower amongst the breathtaking scenery of nightfall in Kyoto. There is also a live performance menu at the grilled dish corner, performance desserts and much more. Treat yourself to a luxurious beer garden experience.

▼Hankyu Top Beer Garden Kyoto

Location: Hotel New Hankyu Kyoto (Rooftop )

Address: Opposite Kyoto station (Karasuma central exit), Shimogyo Ward, Kyoto

Running: May 17, 2019 ー September 23, 2019

On national holiday August 16, opening hours will change due to the Gozan no Okuribi festival of Kyoto.

Opening Hours: 17:30 ー 21:30

※ Open until 22:00 on Fridays and Saturdays during July and August, however a time limit of 120 minutes for each group of customers applies.

Website: https://www.hankyu-hotel.com/hotel/hh/kyotoshh/restaurants/beergarden

So, what do you think? A beer garden with friends is the perfect way to have fun with friends in the evening!

Ojamajo Doremi Anime Themed Cafe to Open in Tokyo & Osaka

To celebrate the 20th anniversary of TV anime series Ojamajo Doremi, two themed cafes named Ojamajo Doremi Cafe&Kitchen will open in Tokyo and Osaka from July 12 and August 29 respectively.

Ojamajo Doremi is an original magical girl created by Toei Animation that ran from February 1999 to January 2003. The series was a huge hit with young girls in Japan when it was released, sending them into a magical daze and further spreading the love for magical girl series. The Cafe&Kitchen is aimed at today's young girls and the girls from back then who have now turned into women. The cafe promises to be kawaii through and through.

Doremi's Adoration! Steak Sandwich Plate: ¥1,490

Steak is Doremi's favourite so there was no way the cafe was going to leave it off the menu. This steak sandwich is served in a baguette and is served with cheese sauce to make the steak even more delicious.

Momoko's New York Memories… Meat Ball Pasta Salad: ¥1,290

This dish is inspired by Momoko's memories of how New York tasted back when she lived there as a young girl. The salad pasta bowl is colourful and filled to the brim, representing Momoko's overflowing energy and liveliness. Pour the saffron flavoured cream cheese over to make it look and taste even more American.

Ojamajo Doremi's 20th Birthday Cake: ¥1,190

The Cafe&Kitchen is a celebration of the series's 20th anniversary, so they whipped up a birthday cake fitting for a magical girl. It's a combination of roll cake and sponge cake so you're sure to never tire of the flavour. Help celebrate Doremi's 20th by tucking into this whipped cream covered birthday cake!

Magical Girl Apprentice's Rainbow Pancakes: ¥1,190

Based on the iconic colours of the magical girls, this stack of cute pancakes are shaped like hearts. Scoop up the anglaise sauce and eat together with the pancakes for an even sweeter flavour.

Onpu's Purple Tapioca Milk: ¥790

The famous idol Onpu gets her very own brown sugar bubble tea with tapioca pearls. Served in her image colour, the drink is whipped with whipped cream and showered with rainbow sprinkles♡

Aiko's Blue Lemonade Float: ¥890

You're sure to cool yourself down in the summer heat with Aiko's blue lemonade topped with deliciously refreshing ice cream, lime and mint.

Acrylic Key Ring (6 Designs): ¥600

Clear Pouch (1 Design): ¥1,500

With art director by popular creators Etoile et Griotte, who are popular with lovers of kawaii things, the Cafe&Kitchen will also sell a selection of cute and exclusive merchandise.

Customers who book a table in advance (¥500 per person, excluding tax) and order from the menu will receive one of the six above-pictured original clear stickers chosen randomly.

Those who dine at the cafe will also receive one of these two possible original lunch mats.

Finally, customers who order a drink will receive one of six possible character coasters.

Visit the Ojamajo Doremi Cafe&Kitchen this summer to celebrate 20 years since the series first aired.

*All prices listed are pre-tax prices. Photos are for illustrative purposes only

©Toei Animation

Information

Ojamajo Doremi Cafe&Kitchen

Tokyo

Location: Gourmet Stadium II, Dining Park Ikebukuro, Seibu Ikebukuro Floor 8F

Address: 1-28-1 Minami-Ikebukuro, Toshima Ward, Tokyo

Running: July 12, 2019 – August 31, 2019

Osaka

Location: Abeno contact

Address: Abeno Q's Mall Floor 4F, 1-6-1 Abenosuji, Abeno Ward, Osaka

Running: August 29, 2019 – September 29, 2019

Booking Price: ¥500 (Comes with booking present, up to 4 people per booking)

Cafe Website: https://ojamajodoremi-cafe-and-kitchen.jp

Attack on Titan Exhibition FINAL Will Take Place at Hirakata Park in Osaka

It has been announced that Attack on Titan Exhibition FINAL will be on exhibit at Hirakata Park in Osaka from September 21 to December 1.

It was announced earlier this month that the exhibition is also to take place at the MORI Arts Center Gallery on the 52nd floor of Roppongi Hills MORI Tower from July 5 to September 8. The exhibition serves to plunge fans into the world of Attack on Titan in a number of different ways, from art displays to diorama reconstructions of the world and more.

Advance tickets for the Hirakata Park event will be released on July 1.

Information

Attack on Titan Exhibition FINAL (Osaka)

Location: Hirakata Park, Event Hall 1 (Hirakatakōenchō, Hirakata, Osaka)

Running: September 21 – December 1, 2019 (2 Periods: September 21 – October 27 / October 28 – December 1)

*The exhibited content will be different for both periods

Closed: Wednesdays

Opening Hours: 10-:00-18:00 (Last Entries 17:00)

Attack on Titan Exhibition FINAL Website: http://www.kyojinten.jp
RELATED ENTRIES
Tokyo Revengers Art Exhibition to Open in Tokyo and Osaka in 2022

The globally popular manga series Tokyo Revengers has been serialized in Weekly Shonen Magazine since 2017 and has sold over 40 million copies. An anime series began in April 2021, and a live-action film made its way to theaters in July. In 2022, a Tokyo Revengers art exhibition will be coming to Tokyo and Osaka for a limited time. The event will be coming to Tokyo in January and to Osaka in March.

Ticket + Merch Bonus: T-Shirt

Stickers for Visitors (6 varieties)

*One sticker will be given to visitors at random. Guests cannot choose the pattern. 

*Stickers cannot be exchanged unless they are defective. 

*Stickers will be available while supplies last. 

*Admission privileges will be distributed only to those with paid admission. 

Teaser images for the event have already been unveiled, and the first ticket lottery is now underway. 

(C)和久井健/講談社

Sebastian Masuda Kawaii Exhibition to be Held at 1,300-Year-Old Kanda Myojin Shrine

Sebastian Masuda, the Godfather of Kawaii, is bringing his 'Yes, Kawaii is Art' exhibition to Tokyo. If that isn't cool enough, the event will be held from December 4 until December 12, 2021, at the 1,300-year-old Kanda Myojin Shrine, known as one of the most important shrines during the Edo period. 

Kanda Myojin, the Tokyo Venue

Work at 'Yes, Kawaii is Art' Venue in Osaka

Related Event, 6%DOKIDOKI Fashion Show

Originally scheduled to arrive in Tokyo in September, the exhibition was postponed due to the state of the COVID-19 pandemic. Kanda Myojin is known as the site of the Kanda Festival, one of the three major Shinto festivals in Tokyo started by Tokugawa Ieyasu in 1600. The shrine is very close to Akihabara, and has become a place for technophiles to pray for their electronics!

Sebastian Masuda is known as the Godfather of Kawaii, and his colorful and crazy art is known around the world. In 2020, Masuda asked a number of questions to fans of Japanese pop culture around the world–what is Kawaii? Why does Kawaii cross borders, generations, and gender? This new exhibition tries to find an answer to those questions while bringing some joy and excitement to the local community. 

Osaka's City of Art Kitakagaya has hosted Masuda's exhibition since October 30, with his works spread out across three different venues. These will be open until November 30, 2021. 

Additionally, on November 13, a street fashion show by Masuda's popular Harajuku fashion brand 6%DOKIDOKI will be held at the third venue. The brand turns 26 this year. 

Information

Yes, Kawaii is Art

Tokyo Event

Sebastian Masuda's "Yes, Kawaii is Art" Exhibition at Kanda Myojin Shrine

Running: December 3 – December 12, 2021

Hours: 12:00-18:00

Address: Kanda Myojin Shrine (2-16-2 Sotokanda, Chiyoda-ku, Tokyo)

*Details to be announced at a later date.

Osaka Event

Exhibition Pricing

Venue 1: ¥500 (Weekdays) ¥1,000 (Weekends/Holidays) 

Both Venue 1 + Venue 2: ¥1,500 (Viewing) ¥2,000 (Experience) 

Venue 3: Free

Details: https://sebastianmasuda.com/works/osaka/

Access: Close to Kita-Kagaya Station on the Osaka Metro Yotsubashi Line, Exit 4

Map: https://www.google.com/maps/placelists/list/fGC5yMFnbboXkfjYxijLmbHIzgP88w

Venue 1: kagoo

Main Work: 'Colorful Rebellion -Seventh Nightmare-

Running: October 30 – November 21, 2021

Closed Mondays and Tuesdays, November 17

Hours: 12:00-18:00

Address: 5-4-19 Kita-Kagaya, Suminoe-ku, Osaka

Venue 2: Oto Building

Main Work: 'Fantastic Voyage, Prototype II' 

Running: November 5, 6, 7, 12, 13, 14

Hours: Shows at 13:00, 15:00, 17:00 *Only at 17:00 on November 14

Address: 5-5-1 Kita-Kagaya, Suminoe-ku, Osaka

Tickets: https://sebastianmasuda.peatix.com/

Venue 3: Chidori Bunka

Main Work: 'Colorful Rebellion -WORLD TIME CLOCK-

Running: November 12 – November 21, 2021

Closed on Mondays, Tuesdays, Wednesdays

Hours: 12:00-18:00

Address: 5-2-28 Kita-Kagaya, Suminoe-ku, Osaka

Related Event

6%DOKIDOKI Fashion Show 'Colorful Riot'

Date: November 14, 2021

Time: 15:00~

Address: Venue 1 (Free Admission)

Official Site: https://sebastianmasuda.com/

Sneaker Art Project artrA to Hold Final Exhibition in Osaka and Tokyo

Street culture is ever-evolving, and sneakers play a big part in street fashion. Combining sneakers and art, the artrA project is about to wrap up its first successful season. SNKRDUNK, Japan's premier sneaker selling app and popular shoe shop atmos have teamed up for this exhibition, which will feature the famous AIR JORDAN 1. These exhibitions have taken place in seven cities across Japan since July. The final exhibitions will be held in Osaka in November and in Tokyo in December. 

A total of 26 up-and-coming illustrators, graphic designers, and even ukiyo-e artists have come together for this unique event. The artwork in this exhibition will incorporate the AIR JORDAN 1 brand, and merchandise featuring this street-styled artwork will be available at the venue.

Those who purchase a T-Shirt on-site will be entered into a raffle to win a pair of AIR JORDAN 1 sneakers. In addition, a special lottery will allow winners to purchase a pair of sneakers to take home. 

Be sure to keep an eye out for the second season of the artrA project brought to you by ASOBISYSTEM!

Information

artrA – SEASON 1 FINAL –

"artrA Vol.8" in OSAKA

Running: November 19 – November 23, 2021

Hours: 10:30-20:00

Address: atmos SHINSAIBASHI (2-7-6 Shinsaibashisuji, Chuo-ku, Osaka) 

Admission: Free

"artrA Vol.8" in TOKYO

Running: December 24 – December 26, 2021

Hours: 11:00-19:00

Address: A.F GALLERY (3-21-8 Jingumae, Shibuya, Tokyo)

Admission: Free

Official Site: http://asobisystem.com/

Banana Fish Collaboration Cafe and Bar Coming to Tokyo and Osaka

While the Banana Fish anime series will make you cry, this new collaboration cafe will have guests smiling from ear to ear. This stylish New York-inspired cafe and bar will be open from November 25, 2021, until January 16, 2022, in Tokyo, and from December 2, 2021, until January 30, 2022 in Osaka. Guests can enjoy dishes and drinks inspired by the show's characters and can grab some limited merchandise too. 

Banana Fish began as a manga series in 1985 and was created by Akio Yoshida. Set in New York City, the series follows the teenage gang leader Ash Lynx as he tries to overcome his painful past and solve the mystery of 'banana fish,' a strange drug that drove his brother mad during the war in Vietnam. He is joined by Eiji Okumura, a Japanese college student and photographer's assistant who arrives in America to help with a story about gang violence. 

Menu

Tofu and Salmon Salad Bowl

His Main Dish for the Night

N.Y. Style Tacos

Grilled Banana Waffle

Chinese Sweets Plate

Chocolate Fondue

N.Y. Style Cheesecake with Caramel Nuts

Ash, Eiji, Shorter

Hot Cocoa, Hot Cafe Latte

Original Merchandise

Acrylic Pin (7 varieties, random)

Aurora Sticker (7 varieties, random)

Acrylic Stand (7 varieties, random) 

Acrylic Keychain (6 varieties, random)

Clear Folder Set (Includes two folders)

Acrylic Stand (Ash, Eiji, Shorter)

Acrylic Board

Cork Coaster (Ash, Eiji) / Cup Sleeve

Glass (Ash, Eiji) / Plate

Bonus for Advanced Reservation Holders: Paper Ornament (8 varieties, random)





How would you like to spend some time with these characters in a swanky New York-style cafe?

© 吉田秋生・小学館/Project BANANA FISH

Information

Banana Fish Cafe and Bar -New York Night-

Tokyo 

BOX cafe&space Omotesando Hills B3F (4-12-10 Jingumae, Shibuya, Tokyo)

Running: November 25, 2021 – January 16, 2022

Osaka

BOX cafe&space Umeda LOFT 1F (16-7 Chayamachi, Kita-ku, Osaka)

Running: December 2, 2021 – January 30, 2022

Reservations now open

Reservation Fee: ¥715 (Tax Included) *Includes reservation bonus

Official Site: https://bananafish-cafebar.jp/

Online Shop

Open: November 25, 2021 at 11:00 – January 30, 2022 at 23:59

KAWAII MONSTER KITCHEN by ASOBISYSTEM Opens in Osaka

For visitors to Tokyo who love Japanese pop culture, the KAWAII MONSTER CAFE was a rite of passage. Opened in Harajuku in 2015 and produced by the Godfather of Kawaii himself Sebastian Masuda, the restaurant was a love letter to all things cute. Starting in February 2021, ASOBISYSTEM has taken over the operation of this beloved property. 

Regrettably, due to the state of the world, KAWAII MONSTER CAFE HARAJUKU closed at the end of January 2021. However, the spirit of this colorful place isn't dead, and a new concept and menu are now coming to fruition in Osaka!

Contents

Monster Cake and Choppy

Monster Burger

Colorful Tonkatsu Monster Burger (Red): ¥1,380 (Tax Included, Drink Included) 

This bright red monster burger will make a great subject for an Instagram photo and is filled with pork cutlet and bacon dipped in a special tomato sauce. 

Colorful Shrimp Fritter Monster Burger (Blue): ¥1,380 (Tax Included, Drink Included) 

This tasty shrimp fritter sandwich is best enjoyed with plenty of tartar sauce!

Colorful Blue and Red Mini Burgers: ¥1,280 (Tax Included) 

Can't decide which burger you'd like to try? How about both! Guests can also design their own monster burgers with a special topping kit.

Monster Cooking

Cooking Class Fee: ¥700 (Tax Included) 

Cooking Class Fee with Cutlery: ¥1,000 (Tax Included) 

Length: 30 minutes

Ages 9+

Quiz Rally Card

Traverse the four floors of the Hug Museum for a special quiz rally! There will be one question on each floor, marked by Choppy! Those who answer all the questions correctly will receive an original mask case!

Monster Merchandise

 

The Hug Museum, sponsored by Osaka Gas, offers plenty of hands-on exhibitions related to food. The grand opening of the KAWAII MONSTER KITCHEN was held on November 2, and inspired children and adults alike to have fun with their food and embrace all th ings kawaii. A photo spot featuring a massive monster cake has also been installed, supervised by Sebastian Masuda. Come experience the spirit of kawaii culture in Osaka!

King of Kawaii Sebastian Masuda Opens Exhibition in Osaka

Artist Sebastian Masuda is a leading figure in Japan's culture of KAWAII. The creator of the popular Harajuku brand 6%DOKIDOKI, the creator has worked with Kyary Pamyu Pamyu and a number of other kawaii personalities in the past. Now, his exhibition titled 'Yes, Kawaii is Art' is coming to Osaka from October 30 to November 21, 2021. The event will take place in Kitakagaya, an art district located in an old factory area, with three distinct venues opening each week. Each will exhibit a different work. 

Fantastic Voyage Digest Video

Presale tickets for Fantastic Voyage, Prototype II, a performance taking place at the second venue, went on sale on October 21. The prototype was created as a device for 'imagining the isolated future,' and shows a transparent capsule traveling through space. The thirty-minute performance will surround viewers with sounds and images and is sure to dig deep into the psyche. 

An exclusive VIP plan will be available on October 30 and 31 and is reserved for only two groups per day. Those who can afford the ¥80,000 per person ticket price can enjoy a luxurious Halloween buffet at the Conrad Osaka hotel. Each scrumptious sweet was designed by Masuda himself, and VIP guests can also tour rooms where his works are displayed. Masuda will accompany visitors to directly explain his works, so the cost might be worth it!

Information

Yes, Kawaii Is Art 

Details: https://sebastianmasuda.com/works/osaka/

1st Showing – kagoo (General reception and ticket office)

Featuring 'Colorful Rebellion -Seventh Nightmare– and more 

Running: October 30 – November 21, 2021 (Closed Mondays and Tuesdays, and November 17)

Hours: 12:00-18:00

Address: 5-4-19 Kitakagaya, Suminoe-ku, Osaka

2nd Showing – Oto Building

Featuring 'Fantastic Voyage, Prototype II'

Open: November 5, 6, 7, 12, 13, 14 at 13:00, 15:00, and 17:00 (Only 17:00 on November 14)

Address: 5-5-1 Kitakagaya, Suminoe-ku, Osaka

Details: https://voyage-osaka2021.peatix.com/

3rd Showing: Chidori Bunka

Featuring 'Colorful Rebellion -WORLD TIME CLOCK– and more

Open: November 12 – 21, 2021 (Closed Monday, Tuesday, Wednesday) 

Hours: 12:00-18:00

Address: 5-2-28 Kitakagaya, Suminoe-ku, Osaka

6%DOKIDOKI Fashion Show 'Colorful Riot'

Date: November 14, 2021 from 15:00-16:00

Address: At 1st Showing location's Free Area

 "Yes, Kawaii is Art" VIP Plan

Yes, Kawaii is Art VIP Plan Including Conrad Osaka Halloween Buffet

Price: ¥80,000 per person (Tax Included, limited to two groups per day) 

Dates: October 30 & 31, 2021

Hours: 14:30-18:30

Private Art Tour Plan for Groups and Businesses

Price: ¥200,000 (Tax Included) 

Dates: November 6, 7, 10, 11, 12

Hours: Morning Group 10:00-12:00 / Evening Group 18:30-20:30

VIP Plan Details/ Reservations: https://forms.gle/BMjMHb9jr6RMZg1G7

Sumikko Gurashi Themed Cafes Open in Tokyo, Osaka, and Aichi to Commemorate Second Theatrical Movie

To commemorate the release of the their second movie, 'Sumikko Gurashi: Aoi Tsukiyo no Mahou no Ko,' Sumikko Gurashi will be opening the limited-time 'Night Party with Sumikko' cafe in Osaka on October 20, Tokyo on October 21, and Aichi on November 11.

 

(Advance Reservation Benefit Only) Original Invitation with Postcard (Five types)

Menu

Tokage's Night Party Curry: ¥1,430 (Tax Incl.)

Shirokuma's Warming Hot Rice Casserole: ¥1,430 (Tax Incl.)

Five's Recommended Children's Lunch: ¥1,650 (Tax Incl.)

Magician's Party ~Açai Bowl~: ¥1,430 (Tax Incl)

Aoi Tsukiyo's Fruit Punch: ¥1,100 (Tax Incl.) + ¥220 for one mini ice cream

Sumikko's Pudding Ice Cream: ¥880 each (Tax Incl.)

Starry Drink: ¥990 each (Tax Incl)

Dolomite Coaster

Hot Café Au Lait: ¥880 (Tax Incl.)

Original Goods

Acrylic Keyholder (Random out of five): ¥770 (Tax Incl.)

Phosphorescent Sticker (Random out of eight): ¥605 (Tax Incl.)

Acrylic Stand (Random out of five): ¥880 (Tax Incl.)


Muddler (Three types): ¥1,100 each (Tax Incl.)

Mug Cup: ¥1,980 (Tax Incl)

Purse: ¥1,100 (Tax Incl.)

Fluorescent Pen Set: ¥1,100 (Tax Incl.)

A5 Clear File Duo: ¥605 (Tax Incl.)

Bandanna: ¥1,870 (Tax Incl.)

The Sumikko Gurashi characters are beloved by both adults and children for their gentle touch and tone. Their first movie, 'Sumikko Gurashi Tobidasu Ehon to Himitsu no Ko' was released in November 2019 and received great popularity. The sweet story of the Sumikko's adventures through a story-book world attracted over 1.2 million viewers across Japan.

The heartwarming cafe menu includes "Tokage's Night Party Curry," "Shirokuma's Warming Hot Rice Casserole," Five's Recommended Children's Lunch,""Magician's Party ~Açai Bowl~," "Aoi Tsukiyo's Fruit Punch," "Starry Drink," and more. The cute, Instagrammable dishes feature the characters who feature in the movie, which tells a mysterious story that begins under a blue moon in the Sumikko's hometown. A lineup of limited edition goods and perks will also be available, adding to the movie excitement.

 

Enjoy a cute, social-media friendly meal and original merchandise at the exciting Sumikko Gurashi cafe!

©2021 Japanese Sumikko Gurashi Association Film Club

Information

Sumikko Gurashi Cafe

Date/Store

Tokyo: BOX cafe&space Tokyo SolaMachi (Previously TOKYO BOX cafe&space Tokyo SolaMachi)

October 21 ~ December 5 2021

1-1-2 Tokyo Sky Tree Town Solamachi 1F, Oshiage, Sumida-ku, Tokyo

Shinsaibashi, Osaka: kawara CAFE&DINING Shinsaibashi

October 20 ~ December 5 2021

1-4-3 Shinsaibashi OPA 9F, Nishishinsaibashi, Chuo-ku, Osaka City, Osaka

Aichi & Nagoya: BOX cafe&space Nagoya LACHIC 1F (Previously NAGOYA BOX cafe&space A) 

November 11 ~ December 12 2021

3-6-1 LACHIC Basement 1F, Sakae, Naka-ku, Nagoya City, Aichi

Reservation Fee: ¥650 (¥715 incl. tax) *Reservation comes with benefits *Up to four seats can be reserved per application.

Cafe Online Shop opens November 11 12:00 until December 12 at 23:59

Reservations & Official Site: https://sumikkogurashi-movie-cafe.jp 

Official Twitter: https://twitter.com/cafe_sumikko 

Online Shop: https://sumikkogurashi-movie-cafe.jp/online_store 

Popular SNS Character 'BLUE HAMHAM' has Landed at Hanshin Umeda, with New Limited Items

BLUE HAMHAM, a character by animator Arimura Taishi, will be featured at the 'BLUE HAMHAM POP UP SHOP -AUTUMN PLANET-,' open from October 8 until October 19 at Hanshin Umeda.  

Limited Goods

Event Limited T-Shirt (Size: M/L Colors: BLACK/WHITE): ¥4,400


Event Limited Sticker: ¥385



Event Limited Acrylic Stand: ¥1,320



Event Limited Keychain: ¥935

Novelties

Customers who spend over ¥6,000 will receive a free special shopping bag.

 

The event, which will be held in the newly opened Riakuro EVENT SPACE floor following the Umeda store renewal, will have four one meter-tall 3D BLUE HAM HAM statues greeting customers as they enter the store, each wearing adorable matching mufflers. There will be 15 new Autumn/Winter products overall, including T-shirts and stickers featuring artwork by creator Arimura Taishi. The BLUE HAMHAM muffler will also be available to purchase.

Customers who spend over ¥6,000 instore will receive a limited edition shopping bag for free! Not only that, customers who add the Official Hanshin Umeda LINE account will receive a coupon, while the first 200 customers will also receive an additional event-original postcard.

 

Popular animations will be looped on retro-themed TV monitors, allowing visitors to immerse themselves in the world of 'BLUE HAMHAM.' Be sure to check out this limited shop and the new Autumnal character designs! 

*Images are samples and may differ in real life.

©CHOCOLATE Inc.

Information

BLUE HAMHAM POP UP SHOP -AUTUMN PLANET-

Duration: October 8 2021 ~ October 19 2021 (Scheduled)

Location: Hanshin Umeda 4F Riakuro EVENT SPACE (13-13 Umeda 1-chome, Kita-ku, Osaka City, Osaka)

Official Site: https://bluehamham.com/ 

Hotel New Otani Osaka Offering Halloween Plans for a Limited Time

For those looking for a safe getaway for Halloween, Hotel New Otani Osaka is offering a limited-time room plan allowing guests to enjoy a selection of scrumptious and spooky dishes in the privacy of their hotel room. A bottle of very photogenic blue sparkling wine will also be served!




The menu includes a pumpkin quiche and mini-burgers, along with mummy-themed sausage pie rolls, black pasta with squid, and plenty of other treats to tantalize your taste buds. 

Enjoy a toast with the lively La Vague Bleue sparkling wine from France, offering a dry and refreshing taste perfect for pairing with food. Room service will be available to serve plenty of other drink items, including wine and cocktails!

Exclusive to the Halloween plan, a slightly terrifying sweets plate is available, featuring pumpkin mont blanc, bat-shaped cookies, eyeball blancmange, and more! If a Halloween getaway isn't in the cards this year, enjoy this completely private party in a luxurious hotel room instead! 

Universal Studio Japan to Expand Super Nintendo World with Donkey Kong Area

Since opening in March, Super Nintendo World at Universal Studios Japan has caught the world's attention, leading global game fans to pray even harder for Japan to reopen for tourism. Now, the park is scheduled to level up with a new Donkey Kong-themed area scheduled to open in 2024. 

Currently, Super Nintendo World is filled with Mario-inspired attractions, dining options, and shops, recreating some of the most memorable parts of the franchise in a larger-than-life way. The new Donkey Kong area will feature a roller coaster and more interactive experiences, as well as themed merchandise and food options. Guests will be able to walk through lush jungles, where Donkey Kong and his friends live. The creation of the new area will more than double the size of Super Nintendo World. 

Launched as an arcade game by Nintendo in 1981, Donkey Kong quickly took the world by storm, with games continuing to be released on Nintendo systems from the SNES to the Nintendo Switch. As of March 2021, the series has sold over 65 million units worldwide.

Comment from Nintendo's Shigeru Miyamoto

"I am very happy to be able to make the world of Donkey Kong a reality following the world of Mario. I am looking forward to creating a thrilling Donkey Kong experience with the amazing team at Universal. It will take some time until it is completed, but it will be a unique area for not only people who are familiar with Donkey Kong games but for all guests."

WIZARDING WORLD and all related trademarks, characters, names, and indicia are © & ™ Warner Bros. Entertainment Inc. Publishing Rights © JKR. (s21)
Minions and all related elements and indicia TM & © 2021 Universal Studios. All rights reserved. TM & © Universal Studios & Amblin Entertainment. TM & © Universal Studios. All rights reserved. © Nintendo

Second Tom & Jerry Cafe Opens in Tokyo and Osaka for Limited Time Only

Did you know that 'Cheese Day' takes place every year on November 11? To commemorate this tasty holiday, the second Tom & Jerry cafe will open for a limited time in Tokyo and Osaka, selling a variety of themed goods and original merchandise. 

Original Postcards (4 varieties), given to guests who purchase advance tickets

Menu

Jerry Cheese Omurice

BOOM! Macaroni & Cheese Burger

Rolling Meatball Pasta

Jerry and Tuffy Tiramisu

CHASE! Cheese Set 

BE HAPPY Cheesecake Parfait

Tom's Little Cake Plate

Jerry's Little Cake Plate

Tom's Cream Soda 

Jerry's Cream Soda 

Cheese Cream Tea

Tom and Jerry Cafe Latte  

Original Merchandise

Sticker (6 varieties, random)

Acrylic Charm (6 varieties, random)

Acrylic Magnet (5 varieties, random)

Acrylic Pin (5 varieties, random) / Clear Folder

Memo Pad with Case / Tote Bag 

Handkerchief / Mug

The animated Warner Bros. series Tom & Jerry celebrated 80 years in 2020 and became a fast favorite with kids. Tom the Cat and Jerry the Mouse are the perfect slapstick duo, and even after so many decades, the two characters still have plenty of fans. 

The first Tom & Jerry cafe was open from March until May 2021 to celebrate the release of the Tom & Jerry film. Due to an overwhelmingly positive response, the cafe is back with an updated menu and new goods!

The new menu includes a Macaroni and Cheese Burger inspired by the bulldog Spike, Meatball Pasta inspired by the diaper-wearing Toffee, a gorgeous cheese set, and character-inspired drinks. Popular at the previous cafe, the Omurice and Tiramisu are making a comeback. The space will be decorated with tons of cute and colorful character art, so don't miss out!

TOM AND JERRY and all related characters and elements © & ™ Turner Entertainment Co. (s21)

Information

Tom & Jerry Cafe

Shinjuku, Tokyo: 

Address: BOX cafe&space LUMINE EST Shinjuku B1F (3-38-1 Shinjuku, Shinjuku-ku, Tokyo)

Running: October 7 – December 5, 2021

Abeno, Osaka: 

Address: Abeno Q's Mall 4F (1-6-1 Abenosuji, Abeno-ku, Osaka) 

Running: October 8 – November 14, 2021

How to Reserve: 

Available on Online Shop from October 7 – December 5, 2021

Online Shop: https://tomandjerrycafe.jp/online_store

Official Site: https://tomandjerrycafe.jp/

Grand Front Osaka to Feature Disney Princess Christmas Tree

Starting November 11, Grand Front Osaka, home to over 260 different shops and restaurants, will host the 'Grand Wish Christmas 2021: Disney Ultimate Princess Celebration ~Sparkling Moments~' event! This global celebration pays special attention to the Disney Princess's qualities of courage and kindness, and guests are welcome to take part in the festivities until Christmas Day. 

An 11-meter high Christmas tree will feature motifs of popular Disney Princesses dancing atop a music box, while nearby photo spots will invite families to create some magical memories to last a lifetime. A digital stamp rally will take place throughout the facilities, while a limited-time pop-up shop will sell a variety of Disney goods. 

The song Starting Now -A New Me- will act as the theme song for the event, with a daily light show sure to infuse guest's hearts with joy and inspiration in this holiday season. 

(C)Disney 

(C)Disney/Pixar 

(C)2021 Disney and its related  entities

Information

Grand Wish Christmas 2021

Disney Ultimate Princess Celebration ~Sparkling Moments~

Running: November 11 – December 25, 2021 

Address: Grand Front Osaka North Building, South Building, Umekita Plaza, etc. 

Official Site: https://www.grandfront-osaka.jp/

Disney Princess Digital Stamp Rally

Running: November 11 – December 25, 2021 

Address: Grand Front Osaka 

Disney Princess Pop-Up Shop

Running: November 11 – December 25, 2021 

Address: South Building 4F Pop Up Space