See Hundreds of Japanese Wind Chimes at Nyoirin-ji Temple Festival in Fukuoka
Fukuoka is a tourist hot spot of Japan, bustling with tourists and travellers both from the island nation and those from overseas, especially from China, Taiwan and South Korea.
Situated on the northern shore of Japan's Kyushu Island, Fukuoka offers amazing shopping experiences and serves up some of the most delicious gourmet cuisine at its rows of restaurants. But nothing compares to its bountiful sightseeing splendours.
Rie is an Instagrammer who travels to all the different sightseeing spots Kyushu has to offer which she documents on her Instagram page. Today, she gives us a special look at one her most recommended places to visit in Fukuoka: Nyoirin-ji Temple.
Nyoirin-ji Temple is often nicknamed "Frog Temple" due to the many frogs you can see at the temple grounds, a rare sight at a Japanese temple. It's located in Fukuoka Prefecture's city of Ogori which can be reached by catching a Nishitetsu Tenjin Ōmuta Line train from Tenjin in the heart of Fukuoka and getting off at Mitsusawa Station. From there the temple is just a 15-minute walk.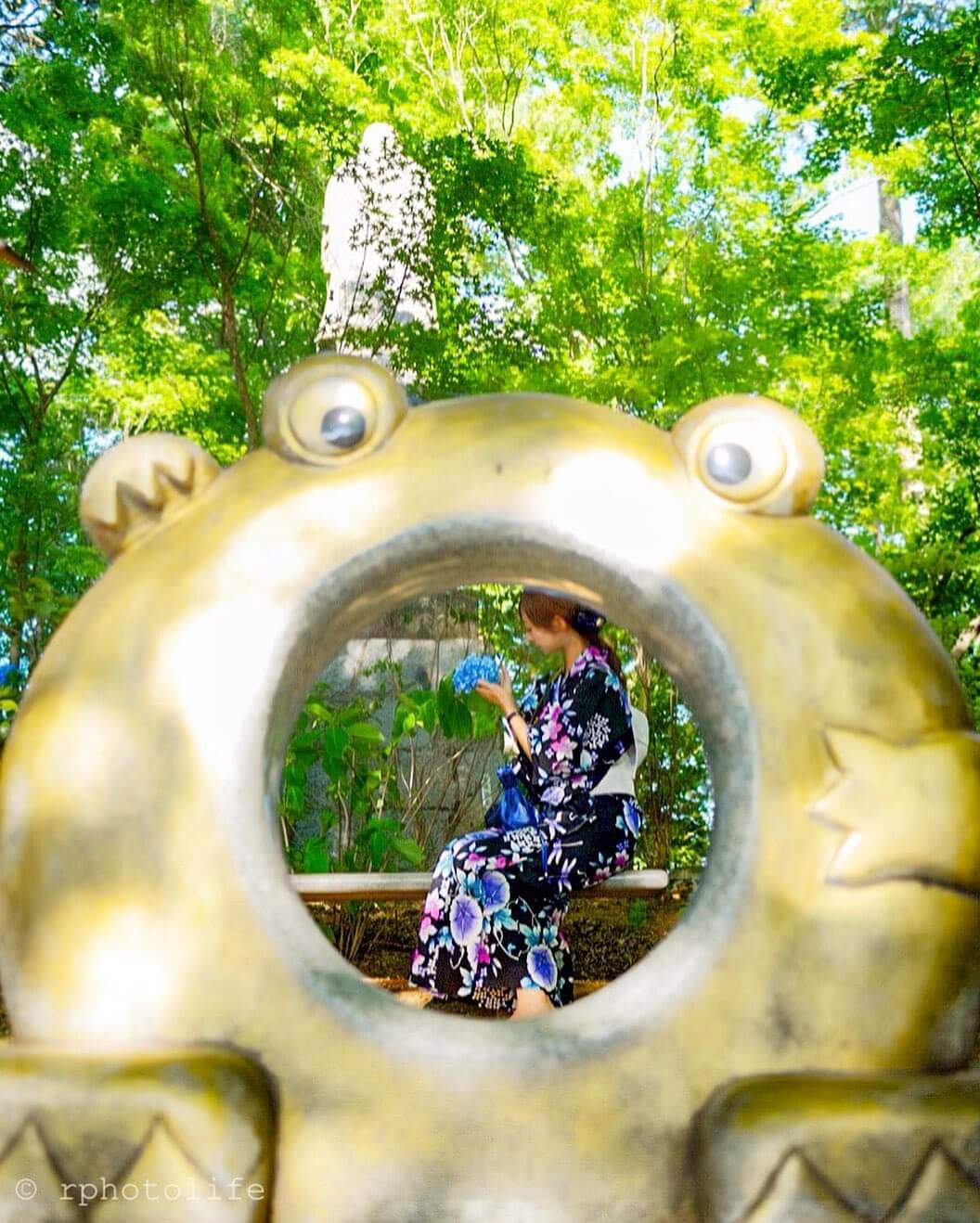 Nyoirin-ji Temple is the home of thousands of frogs. A lot of the frog ornaments and items at the temple were collected by the temple's chief priest.
There's one ornament which you can take a photo through as seen above, so you should definitely try taking one yourself in your own way. You can even get a goshuin stamp with a frog illustration too if you take your goshuincho stamp book.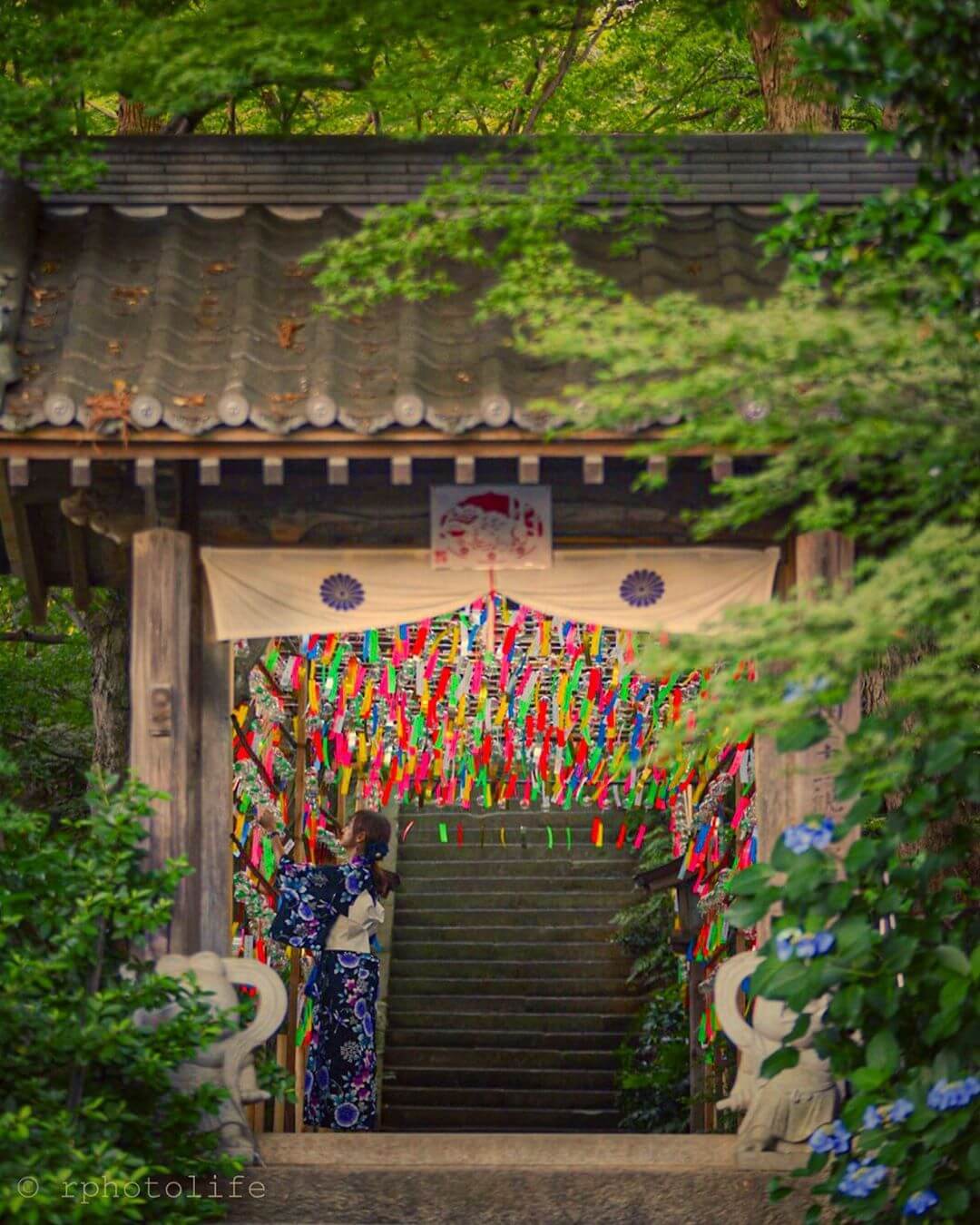 The frogs are a given at the Frog Temple, but a must-see is the Wind Chime Festival which is currently running until September. The temple entrance onward is decorated with lots of cute and colourful wind chimes.
Up the stairs you can walk through a wind chime tunnel which gives you a cool, refreshed feeling even in the hot summer.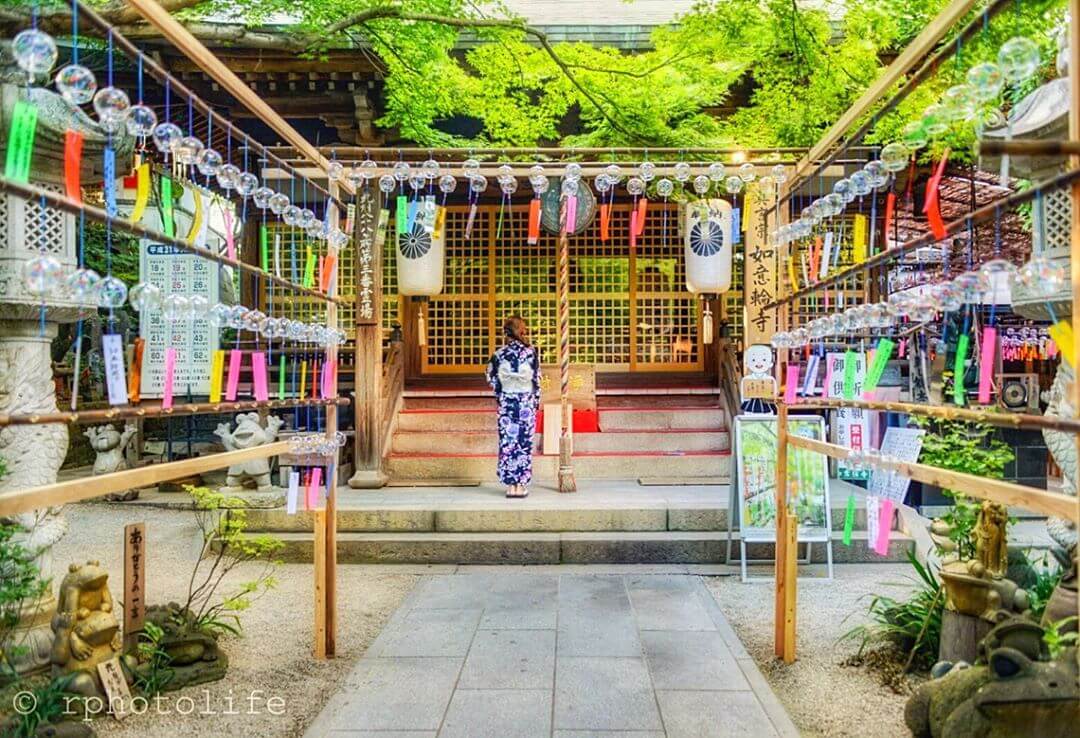 It costs ¥500 for one wind chime which you can write your wish on before hanging up. You can't take them home however so be cautious of that!
Nyoirin-ji Temple was built in 729. It is home to a Cintāmaṇicakra statue which is a rare sight in Japan. It is also a registered cultural property of Fukuoka Prefecture. It's not just a location for kawaii adoration―it has been long been loved by locals since ancient times and has a long history.
The wind chimes will be strung up until the end of September. Their gentle ring is sure to make you feel at peace, so why not try dressing up in a yukata like Rie and experiencing the festival for yourself?
Rie has many other examples of popular tourist destinations from around Kyushu on her Instagram page. Be sure to give her a follow if you're planning a trip to Kyushu yourself!
Photos by Rie
Information
Nyoirin-ji Temple
Address: 1728 Yokoguma, Ogori-shi, Fukuoka
TEL: 0942-75-5294
Access: 15-minutes on foot from Mitsusawa Station via the Nishitetsu Tenjin Ōmuta Line
Website: http://www.kyushyu24.com/frm10.aspx
RECOMMENDED ENTRIES
5 Best Cute and Stylish Cafes in Fukuoka

Sat on the northern shore of Kyushu is Fukuoka Prefecture, a hot spot for tourists both Japanese and foreign, particularly those visiting from parts of Asia such as China, Taiwan and South Korea.

Fukuoka has its fair share of famous tourist destinations and a delicious collection of gourmet restaurants, but did you know it's also home to lots of different cute and stylish cafes? Today, Instagrammer moe takes us on her trip around Fukuoka's plethora of popular coffee shops and shows 5 must-visit locations.

10 Coffee Brewers

A popular coffee shop also based in in Ōita Prefecture, 10 Coffee Brewers has another branch in Fukuoka's Daimyo district. The mouthwatering beverage you see in the photo above is a vanilla smoothie with tapioca pearls and a shot of espresso. Topped with Oreo cookies, marshmallows and cream, this crave-inducing coffee delight offers a mix of tasty treats and textures that are sure to fill you up after a cup♡

▼10 Coffee Brewers

Address: 1-10-18 Daimyo, Chuo Ward, Fukuoka

Opening Hours: 11:30-19:00

Closed: Mondays

Official Instagram Page: https://www.instagram.com/10coffee.fuk/

green bean to bar CHOCOLATE

I ordered two different mousses together with my coffee, both exclusive to this Fukuoka branch of the cafe chain. On the left is the Vietnam x Hojicha and on the right is the Tanzania With Crumble. The cacao beans in both are sourced in separate locations. You can order several different flavours to combine with your mousse. As well as hojicha there is sesame seed, mikan and more. The mousse is crafted with a beautiful spiral shape that screams Instagram-worthy at whatever angle you point your camera at. You can even order them for takeout♡

▼green bean to bar CHOCOLATE

Address: Nishietsu Tenjin CLASS Floor 1F, 1-19-22 Imaizumi, Chuo Ward, Fukuoka

Opening Hours: 11:00-21:00

Closed: Wednesdays

Official Website: https://greenchocolate.jp/

COFFEE & CAKE STAND LULU

LULU's beverages are served in simple and stylish cups. The drink on the left is the Houjicha Latte and the one on the right is a LULU Latte. Though the Houjicha Latte is a pure white colour it still has that proper houjicha taste to it. Their puddings are a must-try too and can be ordered for takeout but they were all sold out on this day. Their bouncy puddings are really popular, so if you see them on sale there you should definitely pick one up!

▼COFFEE & CAKE STAND LULU

Address: 2-3-26 Yakuin, Chuo Ward, Fukuoka

Business Hours: Weekdays 9:00-18:00 / Weekends & Holidays 11:00-19:00

Closed: Thursdays

Official Facebook Page: https://www.facebook.com/COFFEE-CAKE-STAND-LULU-1045325205611217/

NO COFFEE

NO COFFEE promotes a coffee lifestyle with their contemporary decor and drinks. The drinks in the photos are the matcha latte with espresso and frozen banana mocha.

The matcha latte mixes sweet matcha latte with a shot of full-bodied espresso to create a refreshing combination. The frozen banana mocha is my personal favourite and a perfect choice for when the weather's hot. The cafe is also a concept shop that sells a variety of miscellaneous items.

▼NO COFFEE

Address: 3-17-12 Hirao, Chuo Ward, Fukuoka

Business Hours: 10:00-19:00

Closed: Mondays (except on national holidays in which case the cafe will close on the following Tuesday)

Official Website: https://nocoffee.net/

W/O STAND

Last on the list is W/O STAND, a coffee chain that's popular not only in Tokyo but in Fukuoka too. The hypnotic drink in the photo is a caramel macchiato. It's common to see the illustration on the cup on Instagram in Japan. The picture is different depending on which branch you visit. Their menu is huge too so you'll definitely want to go back more than once to get coffee.

▼W/O STAND

Address: ARKCUBE103, 1-3-5 Daimyo, Chuo Ward, Fukuoka, Fukuoka Prefecture

Business Hours: 11:00-19:00

No Fixed Holidays

Official Instagram Page: https://www.instagram.com/without_stand_fukuoka/

Did you enjoy this list? Which cafe do you want to visit the most?

moe has many more photos of drinks, desserts and food she has tried in Fukuoka on her Instagram page too. If you're planning a trip to Fukuoka when travelling to Japan, be sure to follow moe's Instagram.

Photos & Text: momo

Translation: Joshua Kitosi-Isanga

BBQ, Beach House & Music Served at avex beach paradise FUKUOKA Landing Ashore Itoshima

Itoshima is a sizzling tourist hotspot in Fukuoka and this summer, Avex Inc. is turning up the heat with it's annual summer beach party avex beach paradise FUKUOKA to be held at Fukae beach!

Avex Inc. is going all out to add a splash of colour to your summer in true Avex fashion with an unforgettable beach party, plenty to experience and the all important beach house that first landed on the shore of Kyushu in the summer of 2016.

The beach house is a large container house with white as the main colour scheme. As you enter, you will be filled with the warm summer vibes of a luxury foreign resort. There's a sky lounge on the second floor of the beach house. You can take a seat here, taking in the picturesque view of the Genkai Sea in one sweep. This is a popular spot amongst the trendy young crowd, who cannot stop taking pictures.

The food and drink menu is also fully loaded with summer goodness. Thanks to the barbecue plans available on the official website, you can turn up empty handed, indulge in the barbecue, and enjoy the all-you-can-drink drinks! The BEACH BAR also has a large variety of other drinks including cocktails. The DJ booth is equipped with the latest sound system to make you feel just like you're at an outdoor concert.

As the first summer of the Reiwa era, avex beach paradise FUKUOKAis definitely going to be the hottest spot in Japan!

Information

avex beach paradie FUKUOKA

Open: Sat 6 ー Sun 7 July

Friday 12th July ー National hol. Monday 16 September.

Opening hours: 10:00 ー 20:00 ※ Sometimes varies

Location: Fukae Kaisuiyokujo, 2129-5 Nijofukae, Itoshima, Fukuoka

※ 30-min drive from Tenjin Kita ICexpressway exit.

※ Closest station: JR Chikuzen-Fukae Station (10-minute walk)

Visitor limits:

25 barbecue sites (up to 4 people per site)

6 sky lounge sites on 2nd floor  (Up to 4 people per site)

Extra facilities: Showers, powder rooms, coin lockers, changing rooms, separate boys & girls toilets, speaker system.

Reservations: 092-325-1188(Operation times: 10:00-20:00)

For more information on prices, please visit the avex beach paradiseofficial website: http://avexbeachparadise-fukuoka.com/

Visit the Abandoned Hotel, Tenjō-ji Temple & More at Mount Maya in Kobe

A new category added to the Cool Japan Award―which is run by the Cool Japan Association―is "National Park," which was claimed by Mount Maya in Kobe in May this year for its nighttime scenery.

Mount Maya is one of the major peaks of the Rokkō Mountains in Nada, Kobe and stands at a towering 702m high. Located close to the main city of Kobe, those who reach its apex will be able to see many different sights such as Kobe, Osaka, the Kii Peninsula, and Akashi-Kaikyo Bridge. Maya is popular not just with tourists and sightseers, but Kobe locals too who visit it with families to eat bento, or those who take their special somebodies to observe the nightscape.

Located on Mount Maya is Tenjō-ji, a temple which the mountain's name has its origins in. This year marks the run of a special event which is held at the temple once every 33 years. Visitors can also go on a guide walk to an abandoned hotel which is normally off limits to the public.

Let's take an in-depth look at all the exciting things one can do at Mount Maya.

Tenjō-ji Temple, Mount Maya

The originator of Mount Maya's name

Tenjō-ji can be found wrapped in nature at the peak of Mount Maya in its National Park. Visitors can enjoy all weathers atop the mountain as the seasons change, but if you go on a clear day, you'll be able to observe as far as Awaji Island, Akashi-Kaikyo Bridge, and Shōdoshima. The history of this temple―the only one in Japan to have been built by Maya-bunin―dates back to the year 646 when the high priest of India accepted Emperor Kōtoku's request to build it. Maya-bunin, the mother of Buddha, is prayed to as a guardian of safe childbirth and child rearing. This is where Mount Maya gets its name.

The door to three hidden Buddhist statues opened once every 33 years

Once every 33 years, a door is opened at the palace to reveal three hidden Buddhist idols: the Eleven-Faced Avalokitesvara, Acala, and Vaiśravaṇa. For the duration of its opening this August, Buddhist sermons will be given three times a day (10:30/12:00/14:00), and visitors will be able to obtain an exclusive goshuin stamp.

Running: August 1, 2019 – August 15, 2019

Time: 10:00-16:00 (Until 17:00 for this event)

Tour guide walk to Mount Maya's historic ruins

~Stroll around and trace the history of Mount Yama~

As well as the temple, Mount Yama formerly bustled with people looking to dine and as well as stay in the accommodation there. After the war and earthquake disasters, a campaign began to restore life to Mount Maya, one part of which is a tour guide walk to the historic ruins.

This includes a trip to the former Tenjō-ji temple site as well as the abandoned hotel which is off limits to the general public.

Mount Maya's Nightscape

~An internationally recognised landscape~

Mount Maya has been awarded the Cool Japan Award 2019 in the new National Park category for its gorgeous evening view from which one can see Kobe's streets, the port and more.

If you're planning a trip to Kobe be sure to use this article as reference!

Information

Tenjō-ji Temple – Mount Maya
Address: 2-12 Mayasanchō, Nada, Kobe, Hyogo

Opening Hours: 9:00-17:00
No Fixed Holidays.
TEL: 078-861-2684

Official Website: http://www.mayasan-tenjoji.jp/
RELATED ENTRIES
Naruto Themed Hotel Room Opens at GRAND CHARIOT Hokutoshichisei 135° in Japan

GRAND CHARIOT Hokutoshichisei 135°, a hotel and glamping facility located in Awaji, Hyogo, opened its new Naruto-themed room on June 1, 2020.

The room, called "Hokage no Bessou" (Hokage's Villa), is renovated from one of the resort's buildings, and aims to plunge guests into the world of ninjas.

The room takes inspiration from the Hidden Leaf Village and its characters, with references to the series and recreated scenes littered throughout. It also offers exclusive amenities for guests to enjoy.

Guests who stay in the Naruto room will receive a free ticket to the popular "Naruto & Boruto Shinobi Zato" attraction at the anime theme park Nijigen no Mori on Awaji Island where the hotel is located.

ⒸMasashi Kishimoto Scott / Shuiehsa・TV Tokyo・Pierrot

Information

Naruto Collaboration Room "Hokage no Bessou"

Grand Opening: June 1, 2020

Time: Check In 15:00-18:30 / Check Out 11:00

Capacity: 5 people

Price: From ¥93,000 (Before Tax/Service Charge Charged Separately)

Official Website: https://awaji-grandchariot.com/

OMOTENASHI MATSURI Festival to Deliver Japanese Culture to the World in Free Twitch Live Stream

OMOTENASHI BEATS has announced that it is set to serve Japanese culture to the world with its new DJ party event "OMOTENASHI MATSURI" which is set to stream live on Twitch on June 7, 2020.

OMOTENASHI BEATS is a project that fuses Japanese music with DJ culture. Its concept is to get people visiting Japan to experience Japanese culture and to deliver Japanese music to the rest of the world.

The event will be completely free to watch to everyone around the world on Twitch.

OMOTENASHI MATSURI / Official Trailer 

The DJ line-up OMOTENASHI MATSURI is as follows:

DJ KOO: A resident DJ with a career spanning 40 years who is also the leader of Japanese pop band TRF.
Motsu: Former member of m.o.v.e, a band with many a hit song including the Around the world which was used in the anime series Initial D.
DJ Arisa Komiya: Also known as the voice actress of Aqours member Dia Kurosawa in Love Live! Sunshine!!
DJ Zu from i☆Ris: A member of i☆Ris, a music unit formed of voice actresses and idols.
Shinichiro Kamio: The voice of Rio Mason Busujima from rap project Hypnosis Mic.
DJ Miyu Takagi: The voice actress for Shinobu Inuyose from the multimedia project D4DJ.
MIMORI from kolme: A member of kolme who write and produce their own music.
Tsunko: A cosplayer, anime song DJ, and the voice actress of Miyake Aoi from D4DJ.
Asanyan: DJ and multi-talent from social media.
DJ CAESAR from TOKYO: Produced Mobile Suit Gundam 40th Anniversary BEST ANIME MIX and is a huge name in the anime song scene.

10 big names will grace the line-up of the event. This will also be the first time Shinichiro Kamio and MIMORI have performed as DJs.

Japan Coronavirus: Room for Rescue Project Provides Free Accommodation to Foreigners Who Can't Get Home

With flights cancelled around the world, it is becoming increasingly harder for foreigners to return home from Japan, resulting in them being forced to change their plans, extend their stay, and live every day in stress and uncertainty. To lend a helping hand to foreign travellers in this stressful time, three accommodation companies Slacktide Co., Ltd, Shared Value Co.,Ltd. and Life Bonds, LLC, who manage Kaname Inn Tatemachi, Sakura Cross Hotel and BONDS HOUSE respectively, have launched a joint accommodation project called "Room for Rescue" which provides free accommodation to international visitors who cannot return home as a result of the current travel restrictions.

This collaborative project was launched to ensure that foreign travellers don't feel like their trip to Japan was a bad experience, which could be a reason to avoid visiting Japan again in the future and heavily impact the tourism industry.

Tokyo:BONDS HOUSE

Tokyo:Sakura Cross Hotel

Kanazawa: KANAME INN

Currently, three accommodations in Tokyo and one in Kanazawa have opened their doors to stranded foreigners.

Room for Rescue: Request a Room

https://kaname-inn.com/room-for-rescue/

To apply for a room, you need a valid visa and a cancelled flight ticket which meets Room for Rescue's criteria. For more information, please refer to the application page. The Room for Rescue project is also looking for more accommodations to join the fight against coronavirus and open their doors to stranded foreigners. If you own an accommodation in Japan and want to help foreign travellers, please apply using the link below.

Become Part of Room for Rescue (for accommodation owners)
https://kaname-inn.com/room-for-rescue/contact/


If you are an individual who wants to support this project, please consider donating via their crowdfunding page mentioned in the information section below.

Japan Opens Temple Priest Consultation Service For Those Worried About COVID-19

A new online consultation service by the name of "Soudan no Madoguchi" (Consultation Window) has been launched in Japan as a measure against rising stress levels as a result of the COVID-19 pandemic outbreak.

Stress levels are soaring in Japan because of the sudden societal changes people have had to adapt to, such as having to work from home. The novel coronavirus has had enormous impact the world over. Those in Japan who are suffering from heightened stress can now make use of the Soudan no Madoguchi one-to-one online consultation service where they can talk to a Buddhist temple priest.

The priests will listen to peoples' worries, whether it be about the worry of working from home, difficulties faced with raising kids, and so on. Consultations can take place without any references to Buddhism, but they are available in Japanese only. Slots are booked via the service's official website. The standard fee is ¥2,000, but this is not compulsory: those who have had a consultation can decide their own price at the end of the session.

Aoe Kakuhō – Chief Priest at Ryokusen-ji Temple

Mitsuaki Tooshima – Assistant Priest at Kyogan-ji Temple

Priests that people can talk to are all active priests from the contemporary world of Buddhism and include priests with MBA's, those with experience holding seminars on mental health, and more. Sessions offer the chance for people to look inward and relieve their worries. The service is a great way for those who want to talk to someone but are unable to.

Kyo no Ondokoro Marutamachi: Rent An Entire Kyoto Townhouse to Yourself

Kyo no Ondokoro Marutamachi is set to open in the Goshominami area of Kyoto on April 25, 2020. The single-accommodation hotel is a complete renovation of a traditional Kyoto-style townhouse.

Kyo no Ondokoro Marutamachi comes as the 7th branch of hotels from Kyo no Ondokoro. It's a single building to rent for up to 4 people, who can enjoy taking a soak in the man-made carbonated spring bath which is kind to the skin and hair, using the soft water shower, and getting ready in the spacious makeup corner. It's the perfect getaway for girl groups travelling together.

The hotel is in a convenient location for sightseeing in the ancient capital of Kyoto. The building has been completely renovated to adapt to modern lifestyle while still retaining those traditional elements of a Kyoto townhouse that was built during the Meiji Periodーand in an area that's rich in traditional scenery.

The lounge space sofa seats are inspired by Japanese rock gardens

The lounge space, which connects the second-floor bedrooms and the washitsu Japanese-style room, are furnished with unique round sofas. All the rooms open up to each other so guests can enjoy the company of each other during their travel stay.

Hinoki cypress artificial carbonated spring bath

Amenities

The round bath is made from hinoki cypress, and the carbonated water lets you stay glowing and nice and warm after you step out of it. The bathroom is also stocked full of amenities like shampoo courtesy of popular brand THREE.

Up to four people can apply their makeup together in the makeup corner

The makeup corner is big enough to sit four people so they can get ready for their day or night out together while chatting.

Colourful art pieces also adorn the walls of the makeup room, Japanese-style room and elsewhere to add a touch of beauty to them.

If you're planning a trip to Kyoto with the girls then why not book at Kyo no Ondokoro Marutamachi when it opens on April 25?

Information

Kyo no Ondokoro Marutamachi

Address: 341-2 Shōshōiotabichō, Nakagyō-ku, Kyoto, 604-0873

Grand Opening: April 25, 2020

Price: ¥30,000 per night

Bookings: Opened on March 27, 2020

Offcial Website: https://www.kyo-ondokoro.kyoto/en/

Pan Am to Release Travel Inspired Clothing Collection in Collaboration with MIZUNO

Japanese sportswear brand Mizuno is collaborating with Pan American World Airways (Pan Am) to release a clothing collection called "52 Collaboration with PAN AM" in their "Go to by mizuno" series of lifestyle attire for active adults at the end of March. It will be available in Mizuno stores, Mizuno's official online shop, and pop-up shops in Japan.

Travel is the theme of the collection, and is the first co-developed line-up from "Go to by mizuno." It incorporates the functionality of sportswear while promoting the fun and excitement of travel.

What is Pan Am?

Pan American World Airways, commonly known as Pan Am, was at the forefront of the airline industry during its 64-year run. It was the first company to adopt the Boeing 707 when it ordered 20 of them for commercial use in 1955. It became the world leading airline in both name and reality in the 1960s. In 1972, Idlewild Airport (now John F. Kennedy International Airport) became a hub for Pan Am, and they also set up a company building in Manhattan. The airline is still fondly remembered today, and is sure to be a name mentioned by those who have travelled around the world.

Collaboration Items

The clothing line-up of 38 itemsーspanning T-shirts, caps, socks, travel bags, and moreーfeatures the Pan Am logo and is made from waterproof and stretchy sports clothing that can be used for everyday wear.

Information

52 Collaboration with PAN AM

Sold at:
17 Mizuno stores (including MIZUNO TOKYO and MIZUNO OSAKA CHAYAMACHI)
Mizuno online shop
Department Stores (Kawanishi Hankyu, Nishinomiya Hankyu, Kintetsu Department Store, Nara, Kashihara, Moriguchi Keihan Department Store, Kobe Hankyu, Kawagoe, Fukudaya Department Store, Utsunomiya)
*Pop-up shops from late March to early May (check official website for shop list)
*Shonan Tsutaya pop-up exhibition (March 20-April 27)

Official Website: https://www.mizuno.jp/52goto/

Cherry Blossoms and Rape Blossoms Compete For Spring at Kusaba River in Fukuoka

The town of Chikuzen in Fukuoka Prefecture is home to a 2km strip of cherry blossom trees which bloom their pink beauty along the Kusaba River in spring. The area sees countless people flock there during the Hanami season to see the trees in full bloom.

But Kusaba River isn't only home to cherry blossoms; it also sees rape blossoms sprout their yellow flowers during springtime, which offers a beautiful contrast to the overhead pink from the cherry trees.

The place is lit up in the eveningsーa great chance to see the cherry blossoms in a different light at night.

Rich verdure lines the whole of Kusaba River, so be sure to visit if you're heading to Fukuoka this spring to see the cherry and rape blossoms.

Information

Kusaba River

Address: 875 Hisamitsu, Chikuzen, Asakura-gun, Fukuoka

Bloom Period: Late March – Early April

Access: 5-minutes on foot from Shincho Bus Stop (新町バス停) via Nishi Tetsu Bus

One Piece Goshuin Shrine Stamp Books Get Luffy and Trafalgar Law Designs

Movic has collaborated to release two special goshuincho books at Animate stores in Japan as well as the Animate and Movic online stores and select Mugiwara shops.

A Goshuincho is a book for collecting goshuin, which are stamps or seals given at shrines and temples across Japan. Every shrine and temple has its own unique goshuin which are stamped alongside calligraphy handwritten by the staff there and then who write the date and the name of the temple or shrine. We have covered goshuin here on MOSHI MOSHI NIPPON many times – click for more details.

Goshuincho – Luffy

Goshuincho – Trafalgar Law

The designs feature Luffy and Trafalgar Law made from gold leaf stood against backgrounds with traditional Japanese designs. Both books also feature their respective pirate logos. They are the perfect gift for any fan of One Piece heading to Japan to see the temples and shrinesーor to just add to their collection at home!


The order window for these books will run from March 16, 2020 to April 15, 2020 at Animate, Animate online, Movic online, at select Mugiwara storesーthe latter being the official One Piece merchandise shop. You won't be able to order them after April 15, so be sure to get your order in quick.

*Photos are of the product still in development. Actual product is subject to alterations.

*Product sales subject to change, extensions, or cancellations.

©Eiichiro Oda / Shueisha・Fuji TV・Toei Animation

Information

Goshuincho (2 Designs)
Price: ¥3,300 each (Tax Included)
Size: Approx. 16cm x 11cm
Product: Front Cover – Cloth with gold leaf / Inside: 24 folds
Order Window: March 16, 2020 – April 15, 2020

Release Date: June 19, 2020

Order here: https://www.movic.jp

THE LOCAL COFFEE STAND FUKUOKA: New Coffee Shop Opens in Fukuoka's Hakata Ward

Japan's biggest online coffee publisher Good Coffee is opening a new cafe called "THE LOCAL COFFEE STAND FUKUOKA" in Hakata, Fukuoka.

Good Coffee looks to bring together coffee lovers with all kinds of coffee shops. THE LOCAL COFFEE STAND FUKUOKA will be their second branch of "THE LOCAL COFFEE STAND" in Japan following the branch they opened in Shibuya, Tokyo.

Good Coffee provides a wealth of information and the latest news on where to get delicious coffee inside and outside Japan. They have joint sponsorship and manage the TOKYO COFFEE FESTIVAL where roasters from across the country all come together and serve coffee in a variety of ways, host live performances, and more.


The coffee beans at THE LOCAL aren't roasted in-house. Instead, the head barista, Yuji Otsuki, personally selects roasts every month from shops published on Good Coffee. This is a rare style of coffee shop in Fukuoka where every month, customers can enjoy a different cup of high quality coffee every month from popular roasters inside and outside Japan from the comfort of Fukuoka.

The coffee beans used for the cafe's opening month of March will be drip coffee from GLITCH COFFEE&ROASTERS in Jinbocho, Tokyo and espresso from CRAFTSMAN COFFEE ROASTERS in Shimonoseki, Yamaguchi. Events are scheduled to be held at THE LOCAL COFFEE STAND FUKUOKA every month where baristas and coffee roasters will be invited as guests.

Find your new favourite coffee at THE LOCAL COFFEE STAND FUKUOKA.

Information

THE LOCAL COFFEE STAND FUKUOKA

Address: 2-14-1 Hakataekihigashi, Hakata, Fukuoka, Fukuoka Prefecture

Opening Hours: 9:00-23:00 (*Pre-opening hours)
Access: 5-minutes from Hakata Station's Tsukushi Exit
Official Website: http://thelocal2016.com/fukuoka/

World's Largest Athletic Tower Banpaku BEAST to Open at Expo '70 Commemorative Park in Osaka

Banpaku BEAST is set to open as the largest athletic tower in the world at Expo '70 Commemorative Park on March 15, 2020, standing 24 meters tall.

The hexagonal tower was created by German-based amusement park attraction developers KristallTurm. It has four floors, each of which is its own "athletic area," as well as an observation deck. It is a comprehensive workout tower, offering 120 different kinds of athletic activities such as climbing and slacklining, meaning the fun will never end in a single day, and will have you wanting to go back for more.

The tower makes use of its full height; expect to use your entire body during your ascension, ride barrels, bikes, and more. Safety is guaranteed while still offering a heart-racing experience for those thrill-seekers. The facility can be used by both kids and adults alike who want to test themselves and feel refreshed after a good workout.


See Banpaku BEAST in action in the official video above.

Information

Banpaku BEAST

Location: Expo '70 Commemorative Park, Suita, Osaka

Time: Reception 9:30-15:00 / Open 10:00-16:30

Price: General ¥3,500 / Elementary school children and below ¥3,000
*Separate fee charged for entry to Expo '70 Commemorative Park's Natural and Cultural Gardens (General ¥260/ Elementary school children and below ¥80)
Access: 5-minutes from Expo Memorial Park Station via Osaka Monorail

Official Website: https://www.se-amuse.jp/bampakubeast/

MOSHI MOSHI ROOMS Opens Sentō Bathhouse and Sumō-Themed Fusion Accommodation Called 'DOSUKOI'

MOSHI MOSHI ROOMS is located in the heart of Harajuku's tourism welcomes travellers from all over the world to immerse in Japanese culture in a way they've never experienced before. The cherry blossom-themed accommodation SAKURA is a blooming success throughout the year and ORIGAMI's mesmerizing and clever designs never fail to make tourists crease their necks in amusement. 

The third Japanese culture accommodation has stomped into MOSHI MOSHI ROOMS as a fusion of sumō wrestling and sentō bathhouse culture called 'DOSUKOI'. The word dosukoi is phrase that sumo wrestlers shout out to get hyped up – perfectly summing up your excitement as you explore this spectacular fusion world from corner to corner. From a giant sumō hand to a historical sentō bathtub with a magnificent mural artwork scenery, the entrance, living room and sentō-style bathing area is overflowing with originality.

Living Room

The entrance to the living room is themed around a sentō bath. The tiled roof and traditional entranceway noren fabric dividers will be the first thing to welcome tired travellers. 

A giant sumō hand overshadows the light on the ceiling, representing the tsuppari striking technique used by sumō wrestlers. The furniture, including the soft sofa, rug and chairs, is white and beige to represent the colour of the sumō ring. 

The relaxing room is punctuated with powerful illustrations of sumō wrestlers that cover the wallpaper. 

Bathroom


The round bathtub is made from Japanese cypress wood and is large enough to fit 3-4 people – perfect to soak off your tiredness with friends and family. A large wall painting (mural)  of a grand ocean view dominated by Mount. Fuji stretches across the wall. A purple curtain is suspended above the circular bath, representing the mizuhikimaku curtain which hangs above a sumō ring. 

The dressing area is equipped with a fridge and chair like a traditional bathhouse. DOSUKOI guests will also find complimentary bath salts which are a gift.

The grand mural is an original piece by Kiyoto Maruyama – one of Japan's three remaining sentō mural artists. This graceful painting was created using a large and smaller brush. As you admire the bold colours and fine details of this rare art, which is fading away as society progresses, you will be sent on a journey back through time. 

Bedroom

The spacious sleeping area consists of two levels, each of which has enough room for two people to sleep. The room also has another bed in storage, meaning that up to five guests can stay. 

Sink and Toilet

The separate sink area is equipped with a hair dryer. There is also a Japanese Washlet toilet with multiple functions. 

Amenities and Extras

The kitchen is fully equipped with cooking utensils, a microwave, refrigerator and all the daily essentials. 

After a long, relaxing hot soak, put on a light yokozuna yukata robe and you'll feel just like a sumō champion. There are also many amenities and items that fit with the DOSUKOI theme. 

MOSHI MOSHI ROOMS isn't just a hotel but is also the perfect party space for you and your friends to get together. As the cold days are still with us, how about warming up in a toasty sentō-style bathtub with your friends?

Cherry Blossom Themed Sumikko Gurashi Store to Open at Ginkaku-ji Temple in Kyoto

The all-new Sumikko Gurashi Dou store is set to open permanently at Ginkaku-ji Temple in Kyoto on March 19, 2020.

Ginkaku-ji is a famous temple in Kyoto that was first built in 1490. It lives as a representation of the Higashiyama culture which flourished towards the end of the Muromachi Period. In 1994, it was designated as a World Heritage Site. The temple stands as a famous tourist spot of Kyoto.

Glasses Case – ¥1,500 / Contact Lenses – ¥1,100 / Mini Towels – ¥600 / Hanging Plush Toys – ¥1,100 / Cookies – ¥1,000 (All prices are pre-tax)

The new Sumikko Gurashi Dou store will be based entirely on the Sumikko Gurashi characters created by San-X. "Sumikko Gurashi" translates roughly to "life in the corner." The shop will take on a cherry blossom theme, where you can get your hands on exclusive and licensed products.

Sumikko Gurashi Yaki Takeout Cup (Contains 6) – ¥300 / Sumikko Gurashi Yaki Omiyage Bag (Contains 12) – ¥700 / Tapioca Drinks (3 Flavours) – ¥500 / Ice Cream (3 Flavours) – ¥500 (All prices are pre-tax)

There's also takeout food and drinks, like sweet and fluffy baby castella sponge cake, tapioca drinks, soft serve ice cream, and more.

And of course, the entire store will be adorably decorated in all things Sumikko Gurashi to ease your soul. If you're travelling to Kyoto and Ginkaku-ji Temple, then make sure you pop into Sumikko Gurashi Dou.

©2020 SAN-X CO., LTD. ALL RIGHTS RESERVED.