Bring Back Childhood Memories At The Lisa and Gaspard Afternoon Tea Collaboration Café
From July 25 to August 28, four Afternoon Tea shops will be collaborating with the French picture book Gaspard and Lisa to celebrate the book's 20th anniversary. The collaboration will only be running at the following branches: AEON Lake Town kaze, Koshigaya, LaLaport Yokohama, Terrace Mall Shonan and Nagoya LACHIC.
Tomboy Lisa Katsu Curry Plate (Drink included): ¥1,491 (after tax)  
Lisa's Tomato Chicken Curry (Kids Drink included) : ¥1,005 (after tax) 
The Tomboy Lisa Katsu Curry Plate consists of a European-style curry with a crispy chicken cutlet and carrot marinade. There is also a sweet apple and honey tomato chicken curry which is limited to kids only.
Peach Peach Clown Parfait Straight Out of the Picture Book: ¥1,404 (after tax)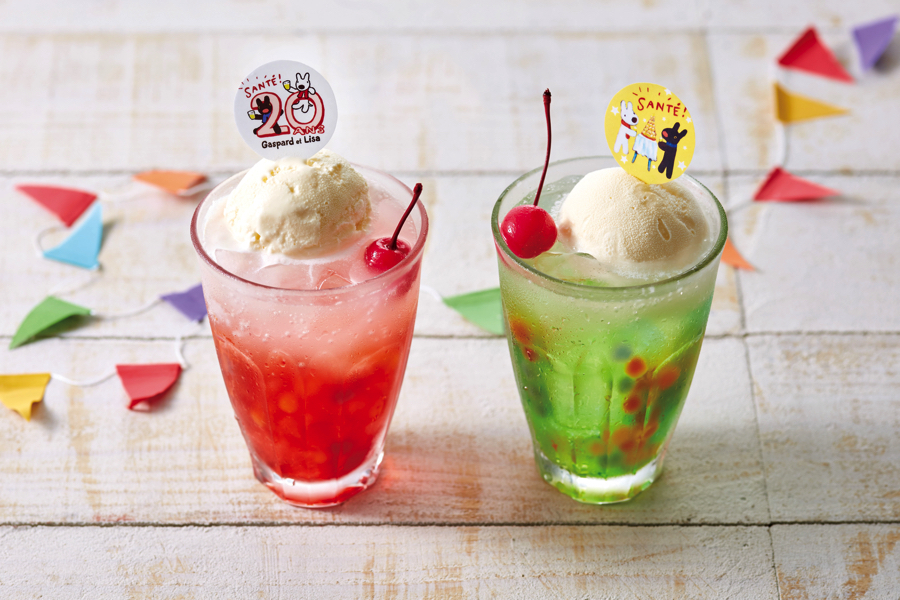 Lisa and Gaspard Strawberry/ Melon Sundae Sodas: ¥864 (after tax)
The menu also includes desserts and drinks from the picture book. For example, the peach peach clown parfait and two flavours of Lisa and Gaspard Sundae Soda. Make sure you order one of these drinks to go with one of the five delicious collaboration meals. 
During the collaboration period, the tea shop will be decorated with a special Lisa and Gaspard theme. There will be photo spots and even a book corner with 20 Lisa and Gaspard books (limited to Nagoya LACHIC only).
This is the perfect place to enjoy a special summer meal with your family so please check it out!
©2019 Anne Gutman & Georg Hallensleben / Hachette Livre
RECOMMENDED ENTRIES
Hello Kitty & Lisa and Gaspard Collaborative Merchandise Released

Sanrio's popular character Hello Kitty has teamed up with French fictional character duo Lisa and Gaspard to release a line of merchandise at Sanrio shops, Sanrio corners of department stores and the official Sanrio online shop.

These characters first collaborated in September 2017 with the announcement of a selection of merchandise with oil painting designs. This collection was released in Japan in January 2018. Their second collaboration was the creation of 7 new oil paintings along with an original picture book which was published by French publisher Hachette Livre in January this year.

This new series uses designs from the new oil paintings that were released last year and also featured in the picture book. The theme of the works is "Paris."

Foldable Tote Bag: ¥3,024 (Tax Included)

This foldable tote bag has an adjustable handle so you can use it as a carrier case.

iPhone 7/8 Case: ¥3,240 (Tax Included)

This case is compatible with the iPhone 7 a nd 8 and comes with a ring on the back.

A4 Clipboard: ¥972 (Tax Included)

This adorable A4 size clipboard can be used in a variety of situations whether at work or for studying.

The cute new collection can be enjoyed by fans and newcomers to the characters alike.

© 2019 Sony Creative Products Inc. / Hachette Livre, Anne Gutman and Georg Hallensleben ©1976, 2019 SANRIO CO.,LTD.

The Helpful Fox Senko-san Anime Themed Food & Drink Served Up in Ikebukuro

The Ikebukuro South Entrance branch of Danmaya Suisan is collaborating with the TV anime series The Helpful Fox Senko-san to served up a range of themed food and drinks from July 30 to August 30.

The story of The Helpful Fox Senko-san follows Kuroto Nakano, a salary man completely exhausted from his mundane routine of simply going back and forth to and from work. One day, an 800-year-old fox girl by the name of Senko appears to him to take care of him. Senko's food has a cosy homemade feel to it that serves to heal the heart and soul of her salary man. The food at Danmaya Suisan serves to bring this idea to life.

Ordering the Senko-san Set will get you all the food Senko-san serves in the anime series including meat and potatoes, sashimi and inarisushi. You'll also receive a free original lunch mat and rock glass designed by Senko-san. These items are available in limited supply.

For drinks, there are two alcoholic and two nonalcoholic, both inspired by Senko-san and Shiro.

If you decide to order a drink you'll receive one of four possible coasters.

Keep in mind that you need to book a table in advance to dine at the cafe, so if you're looking for some personal attention and hospitality from Senko-san, be sure to book ASAP!

Information

The Helpful Fox Senko-san x Danmaya Suisan Ikebukuro South Entrance

Reservations: 070-6407-4611 (Weekdays 10:00-22:00 / Weekends & Holidays 15:00-22:00)

*Please note that due to the high number of people expected, dining will be limited to 90 minutes per table to accommodate more customers

*If you want to order the Senko-san Set then please book this over the phone too

Menu

Senko-san Set: ¥1,080 (Tax Included)
Senko-san Set (With Rock Glass): ¥2,138 (Tax Included) *Limited supply

Alcohol

・Senko-san's Rum Ginger: ¥518 (Tax Included)

・Shiro's Beer Shake: ¥518 (Tax Included)

Nonalcohol

・Senko-san's Mango Smoothie: ¥518 (Tax Included)

・Shiro's Calpis Smoothie: ¥518 (Tax Included)

Danmaya Suisan Ikebukuro South Entrance

Address: Yoronotaki Ikebukuro Bldg. Floor B1F, 1-10-15 Nishi-Ikebukuro, Toshima Ward, Tokyo

Business Hours: Weekdays 16:00-Midnight / Weekends & Holidays 15:00-Midnight

Official Website: https://www.yoronotaki.co.jp/search/detail.html?CN=2793

Astronaut Snoopy Soars Up Tokyo Skytree For FIRST BEAGLE IN SKYTREE® Event

Tokyo Skytree is set to hold an event titled FIRST BEAGLE IN SKYTREE® from July 18 to October 14 in collaboration with the astronaut version of Snoopy which appeared in the original comic 50 years ago in March this year.

Strap on your space suits and get ready to head up the tallest tower in the world as its top floor, the Tembo Galleria―towering at 450 meters high―is transformed into a Snoopy space station. Learn about outer space with Snoopy and his friends, dine on food and drink themed on everybody's favourite beagle, and more.

Join snoopy as he makes his galactic debut as the first beagle in space. As you step into Shuttle 2 (the elevator) head up into the stars, you and your fellow astronauts will glimpse pictures an decorations taken from the Astronaut Snoopy graphic novel. While you watch the number of meters rolling up on the monitor as you soar higher and higher, you can rest assured the excitement of stepping out will surge simultaneously.

You've made it. You step out of the elevator into the Skytree Space Station where Snoopy and the gang will be ready to meet you. Be sure to snap a commemorative photo with them with the spacey background on the windows so you never forget this day. Once that's all done it's time to start your astronaut mission.

Continue up a further 110 meters to reach the peak of the Tembo Galleria and gaze at the wall decorations all along which celebrate Astronaut Snoopy's 50th anniversary with commentary. There's plenty of great opportunities for photos here too.

After learning about space, it's time to experience space yourself! Step into this area and take a photo that looks like you're floating in space with Snoopy. Nearby there are also boards with various commentaries on them regarding JAXA's work including the Akatsuki space probe, the Hayabusa2 asteroid explorer, astronaut gear for outside the space shuttle, sokol suits, space stations, and more.

It's finally time to depart for space exploration. At the space station's highest point (451.2m) you will find a special spaceship photo spot with beautiful illuminated half-globes and an illustration of the door to space behind you. Depart into the starry expanse with Snoopy, Charlie Brown and all the other characters of Peanuts.

Every astronaut needs a good meal to keep them going. Head back down to the SKYTREE CAFE on the Tembo Deck on floor 340F and enjoy a selection of themed desserts, drinks and more. You'll even get a free gift! Look forward to the Planet Bagel filled with avocado and basil, a Moon Surface Tiramisu, the Iced Charlie Brown Whipped Cream & Caramel Latte, and more.

Expect to sift through all the exclusive merchandise they'll have on offer too. All of this is available for a limited time only, so don't miss this chance to celebrate Snoopy as the FIRST BEAGLE IN SKYTREE®.

©2019 Peanuts Worldwide LLC 

©TOKYO-SKYTREE

Information

FIRST BEAGLE IN SKYTREE®

Running: July 18, 2019 – October 14, 2019

Location: Tokyo Skytree Tembo Deck and Tembo Galleria

Content

1. Decorations in Tembo Galleria

2. Original limited-edition merchandise at THE SKYTREE SHOP

3. Original limited-time menu at SKYTREE CAFE on floor 340 of the Tembo Deck

4. Stamp rally around Tokyo Skytree

5. Event for children's summer break research projects

Tokyo Skytree Official Website: http://www.tokyo-skytree.jp/en/

Snoopy Japan Website: http://www.snoopy.co.jp/

Catch Your Favourite Pokémon at the Pokémon Café in Nihonbashi

Hello, everyone. I'm Ren Koseki.

Whether it's the anime series, Pokémon Go or one of the many other games, the Pokémon franchise is loved by kids and adults alike. There was even the recent Detective Pikachu movie which was a huge hit as well! Obviously I went to see it too. That fluffy Pikachu was just too cute. Check out my Detective Pikachu hat in the photo.

I absolutely adore Pokémon and find myself often dining together with them at the Pokémon Café. Today, I'd like to show you all what it's like there!

The Pokémon Café is located inside the Pokémon Center (a merchandise shop) on the 5th floor of Nihombashi Takashimaya S.C.. It's important to keep in mind that the café is reservation-only. You must book a specific time slot before going. You can do this by heading to the café's official website.

Pokémon roam all around the café – it's like a dream come true for all fans! Trying to spot them all is another part of the fun of coming here.

There's a photo spot inside with two Pikachu in the background wearing cute staff uniforms. Expect to see Pikachu in many different forms like this which you won't find anywhere else.

Of course, the food and drinks on the menu are all Pokémon-themed too. Here is the drink I ordered:

Choose-Your-Own-Pokémon Latte: ¥756 (Tax Included)

The café's classic latte. You can choose to have latte art from all Pokémon up to No. 251 in the Pokédex. I ordered the Detective Pikachu version of Jigglypuff. I didn't want to ruin the beautiful art so it was hard to drink!

And for food…

Eevee Teriyaki Chicken Burger: ¥1,598 (Tax Included)

I ordered the Eevee burger which is available for a limited time until September 6. The café menu has regular options as well as limited-time-only items too so you're bound to see something new every time you visit.

Most importantly however is that you can expect a visit to your table from a real Pokémon!

Whoa, so fluffy! Eevee came to visit me this time around. You will get a visit from either Pikachu or Eevee. This was my 4th or 5th time at the café but the first time I got to encounter Eevee!

The Pokémon are led to each table by the staff to strike cute poses for you, and you're free to take as many photos and videos are you like!

This is my personal recommendation, but it's fun to take a photo together with your latte art and plush toy of your favourite Pokémon.

It looks like my Squirtle is enjoying itself too.

And that's the Pokémon Café, a dreamland for any Pokémon lover. Be sure to visit♡

Information

Pokémon Cafe
Address: 2-1-2 Nihombashi | Nihombashi Takashimaya SC East Bldg. 5F, Chuo 103-0027, Tokyo Prefecture
Business Hours: 10:30-22:00

Access: 5-minutes on foot from Tokyo Station's Yaesu North Exit via JR Line / 5-minutes on foot from Nihonbashi Station's B2 Exit via Tokyo Metro Ginza Line and Tozai Line / 4-minutes on foot from Nihonbashi Station via Toei Asakusa Line

TEL: 03-6262-3439

Reservations: https://reserve.pokemon-cafe.jp/

Official Website: https://www.pokemoncenter-online.com/cafe/

TALENT PROFILE

Ren Koseki

Earns charismatic support as a model from young girls. She appears in a variety of media with her cute appearance which says things you cannot imagine and speaks the opinions of a generation. She also films, edits and posts videos on her YouTube channel, 'Ren Channel.'

Pompompurin Cafe Collaborates With Bonobono To Release Cute Summer Menu

Pompompurin cafe Harajuku, Umeda and Yokohama will be collaborating with much-loved manga and anime character Bonobono. The collaboration will see a new menu make its way to the three Pompompurin cafes from July 11 to September 1, 2019. 

The theme of the collaboration is Bonobono and Pompompurin on a fun trip to the beach. The collaboration menu includes four meals that are both cute and delicious enough to fully satisfy both Bonobono and Pompompurin fans. 

Two friends swimming in white curry: ¥1,290 (before tax) 

Order the white curry dish and you will see the two pals are wearing matching mushrooms as hats. Pompompurin has come prepared to swim in the curry with a lifering made from a crispy mochi wafer (monaka). The two friends seem to be having lots of fun on their beach trip. The dish is decorated with large and colourful vegetables, shellfish-shaped ham and starfish-shaped bell pepper. This healthy dish is both filling and beautiful.  

Pompompurin English Muffin and Bonobono Doria (Doria: rice casserole dish with a creamy white sauce) ¥1,390 (before tax )

In the English muffin and doria meal, a slice of English muffin is topped with vegetables and a burger. Pompompurin's face is drawn on a slice of cheese that is placed on top. The meat doria is a casserole topped with a creamy white sauce, decorated with Bononono's face. Both the pals are seen expressing their friendship by wearing matching berets. This comes as a set with a salad topped with shellfish-shaped ham and chips. What a filling meal. 

Pompompurin Pancake Featuring Bonobono : ¥1,090 (before tax)

The pancake dessert plate features a Pompompurin pancake alongside a Bonobono sherbet that is ramune flavoured. The sherbert might be your first time tasting the unique Japanese flavour of ramune. Ramune is a Japanese soft drink that is blue in flavour and perfect for the summer. Make sure to leave enough room for dessert!

Good Pals in a Fluffy Soda ♪: ¥900 (before tax)  

Order the fluffy soda and you will be served with an ocean blue drink. Blue curaçao liqueur and grapefruit syrup are mixed with soda and topped with whipped cream. On top of the drink sits a mango ice cream-flavoured Pompompurin and a marshmallow Bonobono. This refreshing drink depicts the image of the two friends enjoying a swim in the blue ocean. 

Customers who order from the limited-time collaboration menu will receive a free postcard. 

All customers who dine in the café will receive a free table mat. Those who order a drink will receive a free drink coaster. 

※ These will no longer be given to customers when stock runs out.

Fill yourself with delicious and cute meals and drinks.  

© Mikio Igarashi /Takeshobo, Fuji TV, Eiken © 1996, 2019 SANRIO CO., LTD. APPROVAL NO.S601363

Information

Pompompurin Cafe, Harajuku

Address: CUTE CUBE HARAJUKU (floor 3), 1-7-1, Jingumae, Shibuya, Tokyo

Opening Hours: 11:00 ー 21:00 (Last orders: 20:00)  / (Drinks last orders: 20:30)

 

Pompompurin Cafe, Umeda 

Address: Hankyu Sambangai South Bldg. Basement floor 2, 1-1-3 Shibata, Kita-ku, Osaka

Opening Hours: Weekdays: 11:00 ー 22:00(Last orders: 21:30), Weekends/national holidays: 10:00 ー 22:00 (last orders: 21:30)

 

Pompompurin Cafe, Yokohama

Address: YOKOHAMA SOTETSU SQUARE, 2 Chome-1-5 Minamisaiwai, Nishi Ward, Yokohama, 

Opening Hours: 10:00 ー 21:00 (Last orders: 20:30)

  

Bonobono Official Website: http://www.bonoanime.jp/

Pompompurin Cafe Official Website: http://pompom.createrestaurants.com
RELATED ENTRIES
Aromatic Kamakura Raw Chocolate Brand to Open New Branch in Nagoya

MAISON CACAO, the company behind the aromatic raw chocolate brand of the same name, will open a store on floor B1F of JR Nagoya Takashimaya on March 3, 2021. It will be the brand's first permanent shop in Japan's Tokai region.

The company held a special Valentine's event from late January to Valentine's Day where MAISON CACAO made the second most sales. They also enjoyed other sold out products, and showcased some exclusive indulgences like the gold leaf-adorned "Aroma Raw Chocolate ARMOUR" and "Aroma Raw Chocolate STRAWBERRY" as well as the all-new "Cacao Butterland."

The Nagoya Line-Up

Aroma Raw Chocolate AMOUR | ¥6,000 (Before Tax)

Exclusive to this new Nagoya branch of MAISON CACAO, these "AMOUR" chocolates are all handmade using techniques that have been passed down through the company. The dark chocolates are wrapped in luxurious gold leaf and have a fruity, sweet, and bitter combination. One box contains a generous serving of 16.

Cacao Butterland | ¥2,000 (Before Tax)

MAISON CACAO uses cacao beans from Columbia to bake its menu. These gooey treats are made with cacao butter and chocolate caramel with a double layering of dark and white chocolate. A rich and filling serving of six comes in a box.

 

Aroma Raw Chocolate STRAWBERRY | ¥2,200 (Before Tax)

Also a Nagoya-exclusive, these strawberry variants are made with intensely sweet JApanese amaou strawberries white combine with the fragrance cacao butter and white chocolate for a refreshing taste. You get 16 in a single box.

But Wait, There's More…

Raw Chocolate Butter Cake | ¥3,500

A cake made with velvety chocolate butter cream packed with roasted nuts, raisins, and caramel chips.

Rich Raw Chocolate Tart STRAWBERRY | ¥2,000

Yet another exclusive to Nagoya, these crunchy tarts are lathered in amaou strawberry chocolate and filled with runny and fruity amaou strawberry cream. A box comes with three included.

Other Popular Goodies Available While Supplies Last

Aroma Raw Chocolate MAISON (Grape) | ¥2,400 (Before Tax)

Babka | ¥2100

Raw Gateau Chocolate | ¥2500 (Before Tax) 

Information

MAISON CACAO

Grand Opening: March 3, 2021

Location: JR Nagoya Takashimaya Floor B1F

Address: 1-1-4 Meieki, Nakamura-ku, Nagoya-shi, Aichi

Opening Hours: 10:00-20:00

MAISON CACAO Official Website: https://maisoncacao.com/

Japanese Spring Cherry Blossom Desserts and Food Bloom Pink at Tokyo Solamachi This March

Spring is arriving early at Tokyo Solamachi where shops and restaurants will be serving up their own cherry blossom themed desserts and dishes from March 1.

The Line-Up: A Delectable Excerpt

Vibrant Cherry Blossom Desserts Welcome Spring

Hanami Soft | ¥800

Where: Gion Tsujiri (East Yard Floor 6F)

Serving: March 1, 2021 – April 30, 2021

Feel the warm breeze of Japanese hanami with a parfait serving of cherry blossom bavarian cream and jelly, Uji match soft serve ice cream, cherry blossom chocolate, white flour dango dumplings, high quality red bean paste, wafer, and other little assorted treats.

Sakura Mochi Flavoured Spring Pancakes | ¥935

Where: Coconoha (West Yard Floor 4F)

Serving: March 1, 2021 – April 11, 2021

Coconoha's popular fluffy pancakes topped livingly with cherry blossom ice cream, chewy white flour dumplings, and sweet red bean paste.

 

Takeout Cherry Blossom Food

Sakura Sushi | Takeout ¥2,138, Eat-In ¥2,178

Where: Kirby Cafe Tokyo (East Yard 4F)

Serving: From March 19, 2021

A picnic serving of six springtime sushi rolls decorated with Kirby references which comes in a cute lunchbox.

Cherry Blossom Lassi | ¥520

Where: AMARI DELI (West Yard Floor 2F)

Serving: March 1, 2021 – April 11, 2021

A cherry blossom lassi in full bloom with fluffy whipped cream and finished with sprinkles of pink-coloured chocolate.

 

Cute Spring Cherry Blossom Snacks

Financier Sandwich Box – Sakura & Matcha | ¥1,500 (Contains 4)

Where: Afternoon Tea Room (East Yard Floor 3F)

Serving: February 25, 2021 – April 21, 2021

An assortment of two financier cakes: the Sakura Financier Sandwich which is cherry blossom flavoured and filled with white chocolate, roasted walnuts, and strawberry flakes, and the Matcha Financier Sandwich which is filled with milk chocolate, roasted walnuts, and pistachio. Available while supplies last.

 

Restaurant Menus Beckon Hanami

Spring Roast Beef Nigiri & Cherry Blossom Dashi Kishimen Noodles | ¥1,380

Where: Sugimoto (East Yard Floor 6F)

Serving: March 1, 2021 – April 11, 2021

Roast beef sushi rolls made with Nagoya Owari beef and served with slightly-salted flat kishimen noodles served in a cherry blossom flavoured broth. Limited to 10 servings per day.

This is just a sampled look at what's to come at Tokyo Solamachi this spring – if you're in Tokyo for the cherry blossom season, be sure to visit!

Information

Cherry Blossom Desserts & Dishes

Where: Tokyo Solamachi

Address: 1-1-2 Oshiage, Sumida-ku, Tokyo

Starting: March 1, 2021

TEL: 0570‐55‐0102 (11:00-19:00)

Tokyo Solamachi Official Website: http://www.tokyo-solamachi.jp/

Laforet Harajuku Welcomes High-End Brands and Tokyo's First Femtech Store For Spring 2021

Starting this month, Laforet Harajuku is readying itself for Spring 2021 with the rollout of items by high-end brands and shops, all with an audience in mind who simply love culture regardless of their age or gender. This spring will see the opening of Lois CRAYON, a brand that emphasises individuality and will be celebrating its 50th anniversary next year, as well as "circle in circle," a new spot that will serve as a gathering place for a variety of clothing brands like l'atelier du savon, CHILD WOMAN, and more.


Laforest will also welcome LOVE PIECE CLUB to Tokyo for the first time, a shop which opened as Japan's first centring on Femtech. It offers a variety of items to help support women's health through technology.

AIR will offer a diverse wardrobe of unisex items from popular street brands such as REVENGE STORM, STARWALK, THEATER8, and more. CHOA ONNI is exhibiting South Korean culture like wearing K-pop idol clothes to take photos, and ovgo B.A.K.E.R is serving up vegan food and gluten-free cookies.


Public toilets will display photos by photography unit Toki to Yamikaya and Alexander Julian.


March 6 | New Store Opening
《Floor 1F》Lois CRAYON




4.23| New Store Opening
《Floor 3.5F》circle in circle




March 26 | New Store Opening
《Floor B0.5F》LOVE PIECE CLUB




February 11 | New Store Opening

《Floor 3F》『    』AIR




February 25 | New Store Opening
《Floor B0.5F》ME'VE the store
 

March 12 | New Store Opening
《Floor B0.5F》




February 25 | New Store Opening
《Floor 5F》SpRay/Libby&Rose




February 25 | New Store Opening
《Floor B1F》CHOA ONNI




March 6 – April 4 | New Store Opening
《Floor 2F》ovgo B.A.K.E.R





《Floor B1F》Women's & Men's Gallery Toilets

  

 Toki with Alexander Julian

Alexander Julian
Yamikaya / FLOWER PUSHER

■Laforet Harajuku 2021 SS Promo Visual

Laforet Harajuku's Spring/Summer 2021 promo visual was created by Japanese art director Uenishi Yuri. Following the Autumn/Winter 2020 theme, Uenishi has conceived a new concept: 'CHARGE.' This theme focuses on the roots of plants that spread underground, with the yellow colour used in the visual reminiscent of electricity or lightning flashes.

Rare Snoopy Merchandise to be Sold at PEANUTS Cafe Nagoya

PEANUTS Cafe Nagoya is set to release a collection of rare merchandise on February 20 including a plush toys, bags, and a glass.

PEANUTS Cafe NGO Pelicans Snoopy Plush Toy | ¥2,700 (Before Tax)

PEANUTS Cafe NGO Pelicans Snoopy Plush Key Chain | ¥1,600 (Before Tax)

PEANUTS Cafe NGO Pelicans Musette Bag With Pins (Black/Hickory) | ¥4,800 Each (Before Tax)

PEANUTS Cafe NGO Pelicans Glass Jar | ¥1,200 (Before Tax)

PEANUTS Cafe Nagoya is a cafe themed on the popular Peanuts comic strip featuring Charlie Brown and Snoopy. It opened in autumn of last year and sells a range of crockery, apparel, and other merchandise related to the popular comic.

Information

Rare Snoopy Merchandise

Release Date: February 20, 2021

Where: PEANUTS Cafe Nagoya

Address: RAYARD Hisaya-odori Park, 3-18-15 Marunouchi, Naka-ku, Nagoya, Aichi

TEL: 052-211-9660

Official Website: https://www.peanutscafe.jp/

Disney Japan Celebrates Minnie's Day With Exclusive Minnie Mouse Merchandise

Minnie's Day is set to fall in Japan on March 2, so to celebrate, Walt Disney Japan is getting in on the festivities nice and early by announcing the release of a new Minnie Mouse merchandise collection, called the "Disney ARTIST COLLECTION by Kelly Park," which will be officially released at Disney stores in Japan on February 23. Pre-sales will also roll out at select stores and Disney Japan's online store shopDisney from February 19.

©Disney

©Disney

Plushie ¥3,300 / Makeup Brush Set ¥2,640 / Tote Bag ¥2,090 / Room Fragrance ¥4,180 / iPhone Case (iPhone 11) ¥3,520 / Mirror ¥2,420 / Ballpoint Pen & Notebook Set ¥1,980 – (Prices Include Tax)

©Disney

nuiMOs Plushie ¥2,750 (Tax Included)


Kelly Park is an artist that is enjoying immense popularity in South Korea right now. Their new "Disney ARTIST COLLECTION by Kelly Park" is an exclusive release in collaboration with Disney Store.

The line-up is a celebration of all things Minnie Mouse for her big day, aptly named "Minnie's Day," on March 2. Vibrant blue is the main colour for the collection which Kelly Park has created to support fellow dreamers out there – those who have big hopes and aspirations in their everyday lives. The designs are bright, beautiful, and full of positivity, making them a perfect pick for the coming spring season. Minnie fans can feel fresh this spring season with fahsion items, accessories, stationery, a variety of lifestyle goods, and more.

Disney's popular nuiMOs plushie range will welcome an exclusive new Minnie Mouse plushie on February 26 which features the date "March 2, 2021" on it for Minnie's Day. It also comes with a pin. These plushies are limited-edition and only 320 will be sold – a number that of course aligns with March 2.

Celebrate the day of the original Disney Princess with the new Disney ARTIST COLLECTION by Kelly Park.

Tokyo Nightlife Beckons With Tokyo Tower's NAKED SAUNA & SPA

It's time to strip down and relax as Japanese company NAKED announces that its 'NAKED NIGHT SAUNA' event, which is being held as part of its 'NAKED SAUNA & SPA' project, will take place atop Tokyo Tower from March 12 to 14. Visitors will also receive a relaxation drink called 'CHILL OUT' in collaboration with Endian.

NAKED SAUNA & SPA is a sauna project launched by NAKED in November 2020 to promote equilibrium of the senses. The first event was held in the village of Achi in Nagano Prefecture which is known for being Japan's best location for enjoying the starry night sky. The second event was themed around the concept 'Art of Meditation.' It was held in Ariake and had visitors becoming one with nature as they sat under the expanse of Tokyo's night sky to enjoy every gleaming speck that twinkled above them. It was an opportunity for busy city workers to reset and recalibrate.

Now, the project is set to host its third event in collaboration with Tokyo Tower. Visitors can enjoy towering above the capital's city streets as they enjoy a sauna experience inside exclusive tents. It will be a fusion of analogue and technology as people enjoy sitting by the fire, smoking shisha, and gazing at mist that will be pumped and illuminations that will be lit to create atmosphere. Of course, this entire event will be held in accordance with government guidelines to prevent the spread of COVID-19. Social distancing will be enforced which will include a drive-through system so you don't come into contact with people, and all visitors will have their own tents (groups of 4 max), and all tent saunas will be separated with partitions.

The tent saunas that will be used are MORZH SKY, a type of tent with a transparent roof made by the Russian tent company MORZH. They are provided by Sauna Camp.Inc. The tents are fitted with a stove and chimney so visitors can adjust the temperature to their liking.

To attend the event, you must register to the Facebook online community NAKED SAUNA CLUB and fill out the form that will be made available there on March 1 and 2. A select number of visitors will be chosen at random on March 3 and winners will be contacted directly on March 4 with further instructions.

If you're in Tokyo this March, then don't miss out on a chance to kick back and unwind up Tokyo Tower with a sauna treat.

Information

NAKED NIGHT SAUNA at Tokyo Tower

Running: March 12, 2021 – March 14, 2021

Location: Tokyo Tower

Address: 4-2-8 Shibakoen, Minato-ku, Tokyo

Opening Hours: 17:00-20:00

Price: ¥20,000 (tax included) for 1-day tent rental (max 4 people)

Tickets: Will be posted on NAKED SAUNA CLUB Facebook Group

NAKED Official Website: https://naked.co.jp

Japan's Snoopy Themed PEANUTS Cafe Reveals Charlie Brown Inspired Dessert

Six branches of the hugely-popular PEANUTS Cafe in Japan are welcoming a collection of tasty new seasonal menu items this Saturday which are set to be served until March 14.

The Limited-Time Line-Up

Brownie Charles's Brownie Chocolat | ¥950 (Before Tax)

Strawberry Whipped Hot Chocolate | Eat In ¥750 – Takeout ¥700 (Before Tax)

The collection includes a chocolate brownie inspired by the scene when Charlie Brown meets Peggy Jean for the first time. He is very nervous and mistakenly introduces himself as "Brownie Charlies." There's also a sweet strawberry hot chocolate topped with a squirt of whipped cream and drizzle of strawberry sauce.

(C) 2021 Peanuts Worldwide LLC

Information

PEANUTS Cafe Limited-Time Menu
Running: February 13, 2021 – March 14, 2021
Participating Branches: PEANUTS Cafe Nakameguro, PEANUTS DINER Yokohama, PEANUTS DINER Kobe, PEANUTS Cafe Kobe, PEANUTS Cafe Snoopy Museum, PEANUTS Cafe Nagoya
PEANUTS Cafe: http://www.peanutscafe.jp/
PEANUTS DINER: http://www.peanutsdiner.jp/
Snoopy Japan Official Website: http://www.snoopy.co.jp/

Baumkuchen Served Hot at Your Home Baked Up by Nenrinya

Japanese bakery and confectionery company Nenrinya is releasing a takeout baumkuchen dessert which can be warmed up at home. The baumkuchen was released at Nenrinya's JR Shinagawa Station branch on Monday (February 1) and will be released at their Daimaru Tokyo and Sogo Yokohama branches on February 16.

Hot Baum Shikkarime | ¥432 (Tax Included)

To heat up, you simply microwave it for 30 seconds at 500W. This leaves the inside moist and adds a crunch to the outside, all while helping to emit the sumptuous smell of that butter. It goes perfect with a cup of coffee, tea, or milk. Customise by adding some whipped cream or pour some melted chocolate over.

Information

Hot Baum Shikkarime

Japanese Product Name: ホットバーム しっかり芽

Nenrinya JR Shinagawa Station

Running: February 1, 2021 – April 30, 2021

*Serving from 12:00pm at this branch

Nenrinya Daimaru Tokyo & Nenrinya Sogo Yokohama

Running: February 26, 2021 – February 28, 2021

Nenrinya Official Website: https://www.nenrinya.jp/

Cute Milk Bottle Pudding Releases at Milk Bakers in Tokyo

Tokyo-based bakery Milk has released an adorable new milk pudding at two of its branches, both of which are served in cute milk bottles.

Smooth Pudding / Milk Pudding – ¥380 Each (Tax Included)

Box of 4

Box of 8

Pudding Soft

Carefully-selected and fresh milk of high quality is used to make these Japanese-style puddings, known as purin. Each and every one is handmade individually, and they can be bought separately or in boxes of 4 and 8. No preservatives, additives, of any nasty stuff is added to the dessert either.

Also on the menu is a milk-loaded soft serve ice cream. The cup it's served in has a cute retro design to it.

Information

Milk Pudding
Available: Milk Sano / Milk Shibuya
Address: 2-7-1 Sano, Adachi-ku, Tokyo
TEL: 03-5613-5550
Opening Hours: 10:00-18:00
Closed: Wednesdays
Official Website: https://tokyo-milk.jp/

GUNDAM FACTORY YOKOHAMA x my route Launch Collaborative Campaign

Japanese company @YOKOHAMA is helping to promote the regional development of Yokohama by collaborating with GUNDAM FACTORY YOKOHAMA using the multimodal mobility service app "my route" with the launch of a campaign.

The campaign is taking place for residents of Yokohama, running from February 8 to 28. All people need to do is download and open the app and fill out the form. Fifty lucky people will have the chance to win a free ticket to GUNDAM FACTORY YOKOHAMA, an amusement park themed on the popular Gundam franchise.

my route is an app that lets users search for the most affordable way to travel as well as letting them book and buy tickets. @YOKOHAMA's portal site is also now linked to the app, offering information about local stores, events, and other information regarding Yokohama.

Information

GUNDAM FACTORY YOKOHAMA Collaboration Download Campaign
Running: February 8 – 28 2021

GUNDAM FACTORY YOKOHAMA
Open: December 19, 2020 – March 31, 2022
Location: Yokohama, Yamashita Futo
Address: 279-25, Yamashitacho, Naka Ward, Yokohama, Kanagawa

Access: Minato Mirai Line

7-minute walk from Motomachi-Chukagai Station (Minatomirai Line)
Yokohama BAYSIDE BLUE Bus: 3-minute walk from Yamashitafuto Bus Stop

GUNDAM FACTORY YOKOHAMA Official Website: https://gundam-factory.net/

Special Edition Website: https://www.at-yokohama.net/topics/article20210208_02.html

ROLL ICE CREAM FACTORY x Mr. Osomatsu Collaborate On Themed Ice Creams in Japan

Japananese ice cream chain ROLL ICE CREAM FACTORY is collaborating with the TV anime series Mr. Osomatsu at seven of its branches from February 10 to March 14. It will include a selection of ice creams, hot drinks, and merchandise based on the characters from the popular comedy series.

ROLL ICE CREAM FACTORY x Mr. Osomatsu Collab Visual

Ice Cream Menu

Drinks Menu

Novelty Coasters (7 Designs)

Merchandise line-up

Campaign for 5 people to win prize

Coupon to receive novelties earlier

So what exactly is 'roll ice cream'? Just as the name suggests, liquid ice cream is poured onto a freezing cold plate which is then rolled with a spatula to create cylindrical shapes. As expected, roll ice cream continues to make its way onto Instagram for its cute visual impact and unique design. Roll ice cream began in Thailand before becoming a boom over in New York. It's now popular worldwide having spread across Europe and the rest of Asia too. The first branch opened in Harajuku, Tokyo, back in 2017.

Fans of Mr. Osomatsu can look forward to a special selection of berry, vanilla, chocolate mint, and other tasty ice cream scoops based on the Matsuno siblings. Each cup also comes with a toothpick featuring an illustration of the character. There are also three hot takeout beverages perfect for the cold inwter season.

Customers can get their hands on a novelty coaster at participating branches for every item they order from the Mr. Osomatsu menu. There are seven designs which includes a secret, unknown design.

ROLL ICE CREAM FACTORY is also hosting a campaign on their official Twitter and Instagram accounts for 5 lucky fans to win a free poster. Details below.

Information

ROLL ICE CREAM FACTORY x Mr. Osomatsu Collab Cafe
Running: February 10, 2012 – March 14, 2021
Participating Branches: ROLL ICE CREAM FACTORY (Harajuku/Omotesando/Marui Family Mizunokuchi/Osaka/Dotonbori/AEON Mall Tokushima/Nagasaki/Huis Ten Bosch, Hiroshima, Hatchobori/Kumamoto/Shimotori)
Collab Details: https://edith-online.com/lp/osomatsusan-rollice

Twitter & Instagram Campaign
Running: February 10, 2012 – March 14, 2021
How to Participate: Follow ROLL ICE CREAM FACTORY on Instagram or Twitter and post with hashtag #おそ松ロールアイス
Twitter Account: @ROLLICErCREAM_F
Instagram Account:  @rollicecreamfactory
*Winners will be contacted directly on Twitter/Instagram

ROLL ICE CREAM FACTORY Official Website: https://rollicecreamfactory.com/

Love Me Pom Poko! Manga Gets Themed Cafe at NewType Shinjuku in Tokyo

NewType Shinjuku, a subculture cafe and bar in Tokyo, is collaborating with Modomu Akagawara's manga series Love Me Pom Poko! from February 6 to 28. The cute and charming world of the series arrives not only on the food and drinks menu but in the form of merchandise and decorations too. As is the case with collaboration cafes in Japan, there's some free novelties for customers to enjoy when they purchase something from the menu too.

The Menu

©Modomu Akagawara/Hakusensha

©Modomu Akagawara/Hakusensha

Merchandise Line-Up

©Modomu Akagawara/Hakusensha

Novelty Coasters

©Modomu Akagawara/Hakusensha

Love Me Pom Poko! is not that known in the West yet, but if you happen to be in Tokyo this month, be sure to stop on by to experience the art of the series yourself.

Information

Love Me Pom Poko! Collab Cafe
Running: February 6, 2021 – February 28, 2021
Location: NewType Shinjuku
Address: Dash Bldg. 1F, 5-12-16 Shinjuku, Shinjuku-ku, Tokyo
Opening Hours: [Weekdays] 16:00-20:00 / [Weekends & Holidays] 11:00-20:00
TEL: 03-5315-4799
Official Website: http://ntsnjk.tokyo/